The front porch sets the tone for your home — it's the first thing visitors see when they arrive.
A freestanding welcome post is an easy way to add color and create an inviting vibe, all without the need to drill holes in your house.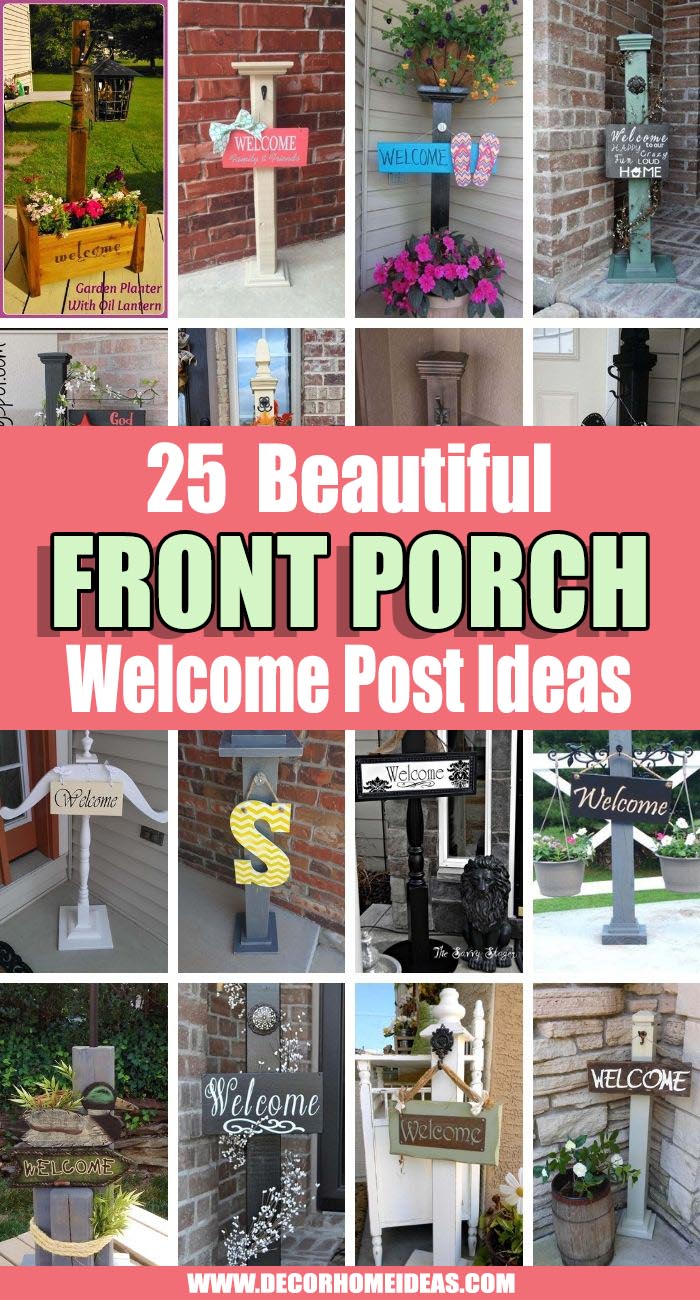 Whether your style is rustic or contemporary, these beautiful front porch welcome post ideas can help you create a positive first impression.
1. Classic Black And Burlap Welcome Sign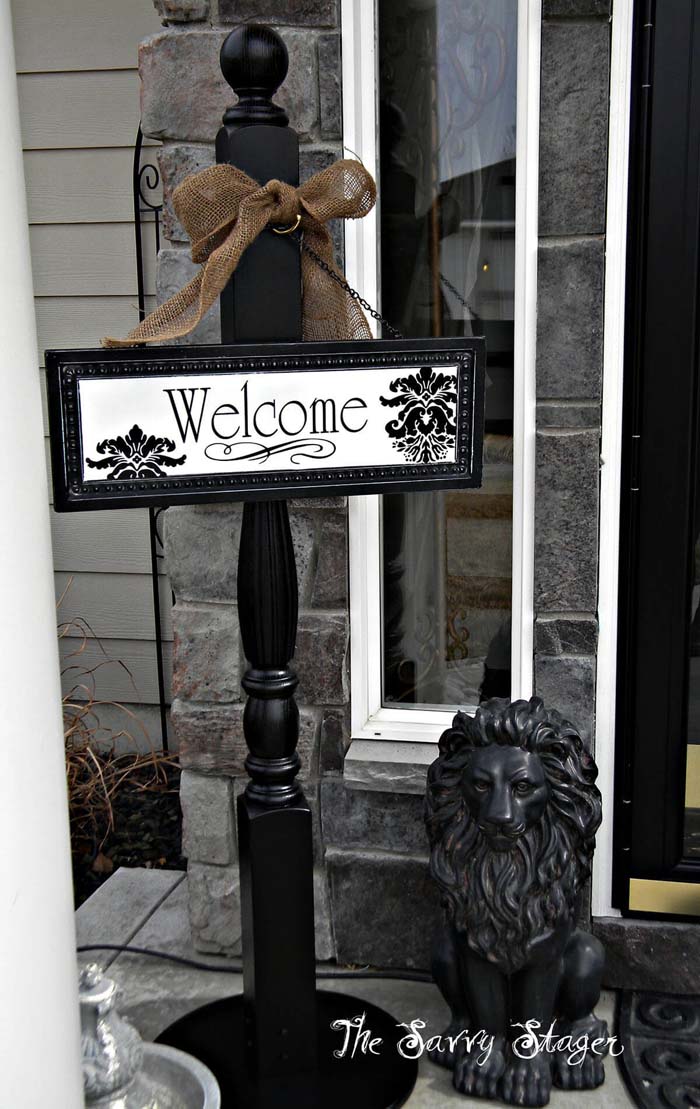 Elegant and striking, this baroque-style wooden post is sure to attract attention from everyone who passes by your house.
The black and white color scheme adds an edgy feeling to the curving turned-wood details, and the burlap bow adds a soft, rustic twist.
2. Repurposed White Valet Stand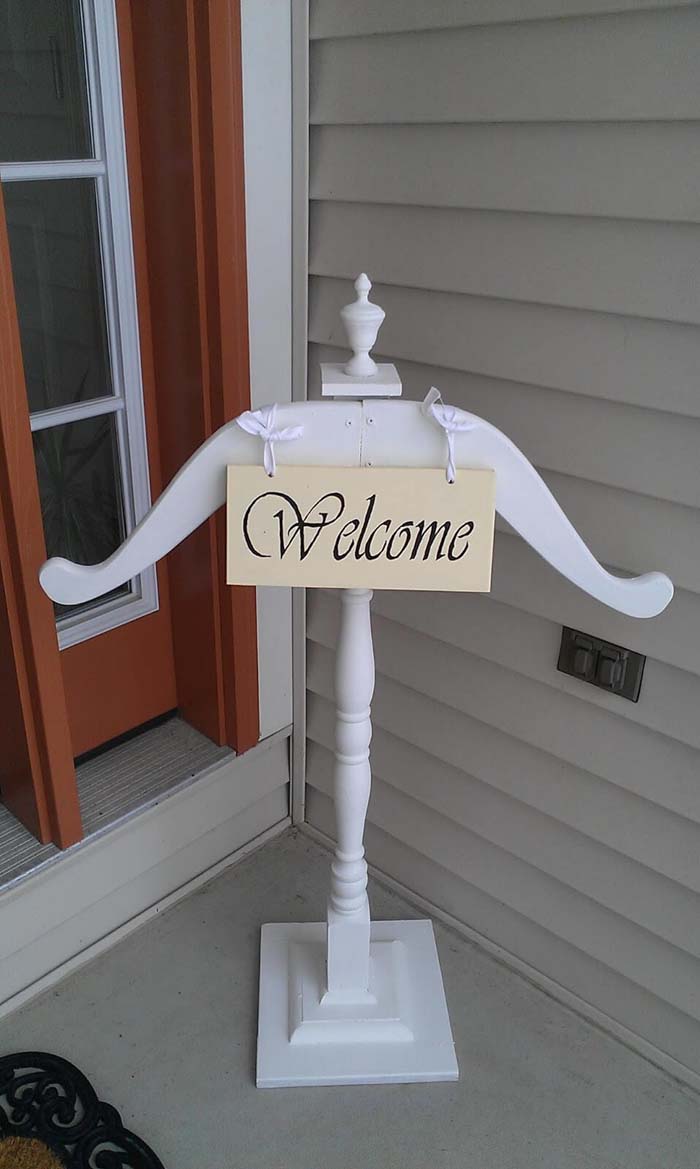 Turn a vintage wooden valet stand into a decoration for your front porch using an affordable can of spray paint.
White paint refreshes the stand, making it look bright and modern.
Tie on a welcome sign with ribbon bows for an Old-World vibe.
3. Hanging Sign Post With Seasonal Décor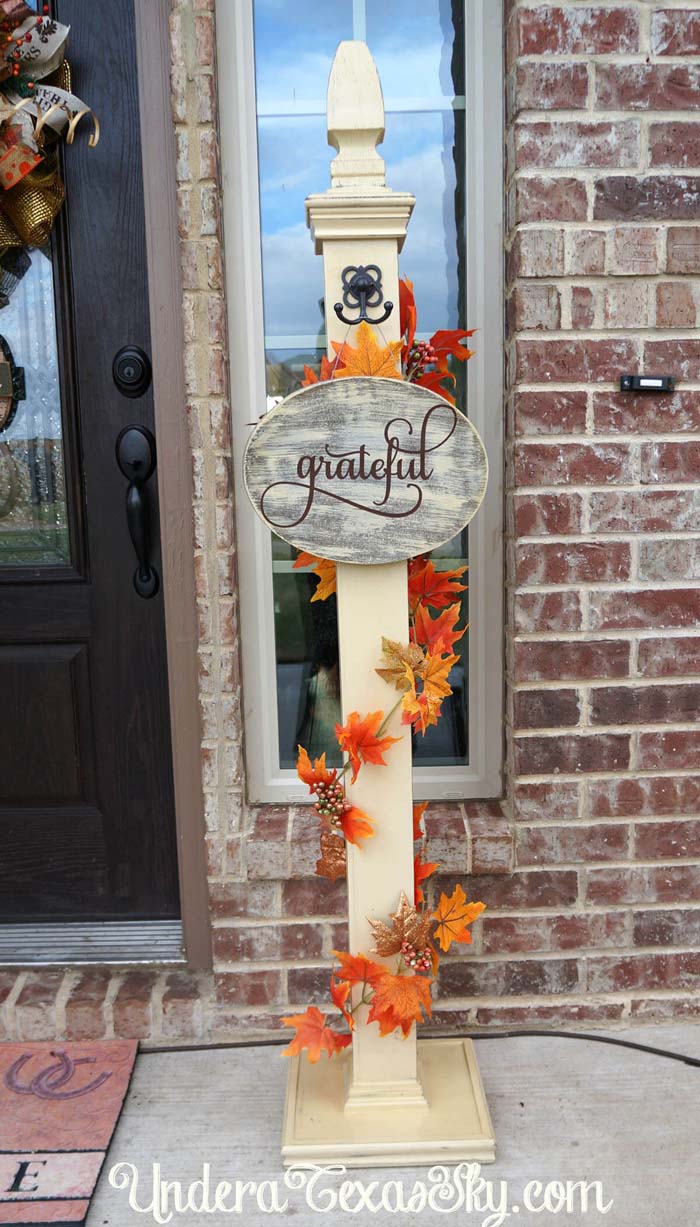 A welcome-sign post is a perfect spot to place seasonal decor.
When autumn comes around, wrap the post in a garland of artificial fall leaves to bring a pop of color and life to your front porch.
4. White Buds Pop Against Black

Here's another lovely way to show off your seasonal decorations.
In this case, the post and welcome sign are painted black, so they contrast beautifully with fall leaves, Christmas greenery, and spring flowers.

5. Cabin Style Post Grouping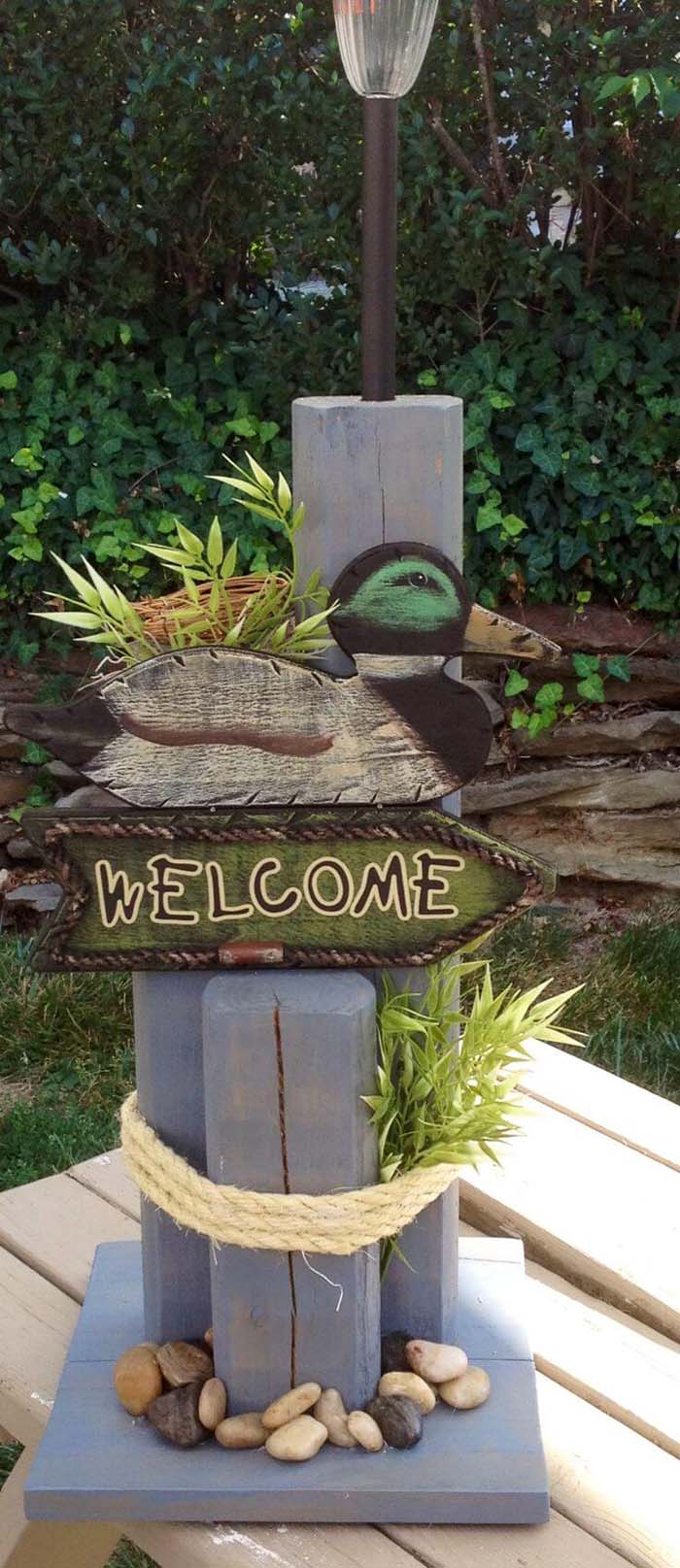 Personalize your front porch with a post that reflects your personality.
Here, a multi-tiered wooden post sets a nautical tone, while a rustic wooden-duck welcome sign creates a relaxed, down-home vibe.
6. Shelf Topped Post For Holding Flowers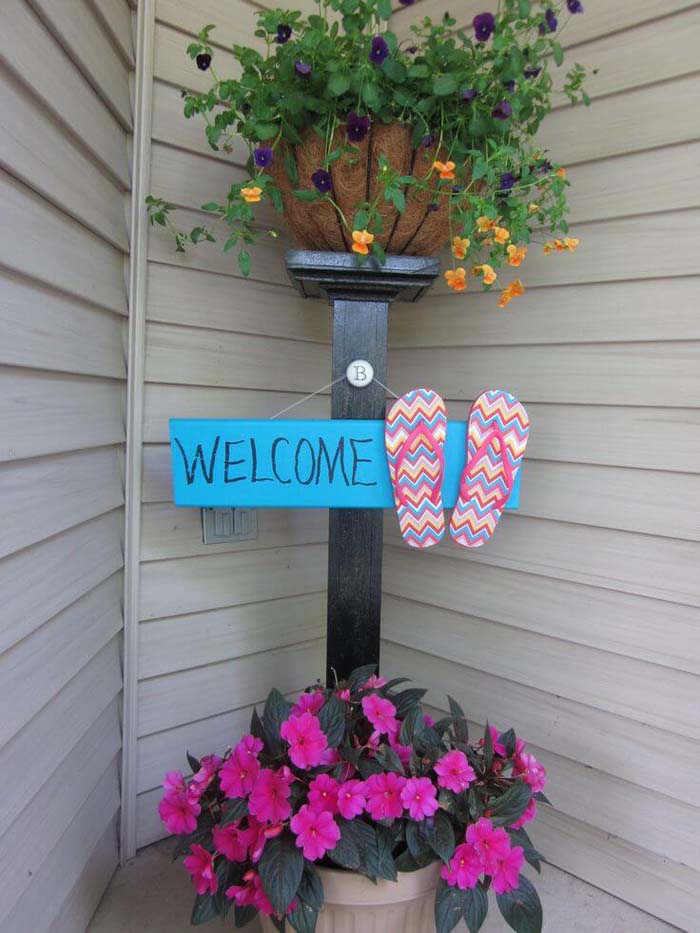 Fun and fresh, this front porch post offer a variety of ways to brighten your front porch.
The top of the post doubles as a stand for a flower pot, and an integrated hook supports a colorful welcome sign.
Switch out the sign and the plant any time you want a new look.
7. Welcome Post With Flower Hangers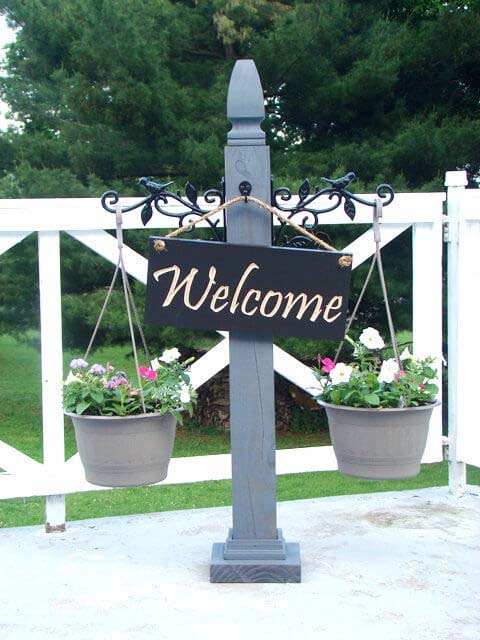 Do you love potted plants?
Add them to your front porch with a post that comes with built-in plant hangers.
Suspend a pot from each side for a splash of color, life, and curb appeal.

8. Bright Monogram Sign Post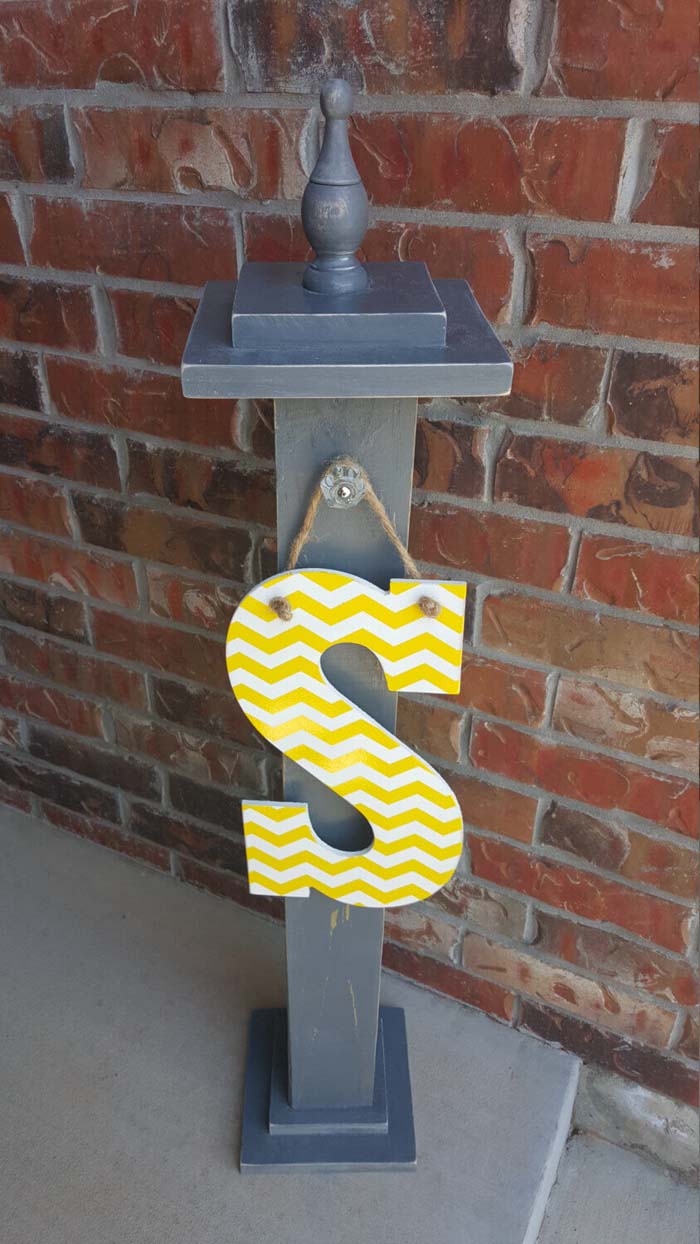 Your friends will be able to find your home with ease when you have a brightly colored initial sign hanging from a front porch post.
Since the letter itself is small, you have the freedom to use any color and pattern you like.

9. Simple Wooden Post With Hook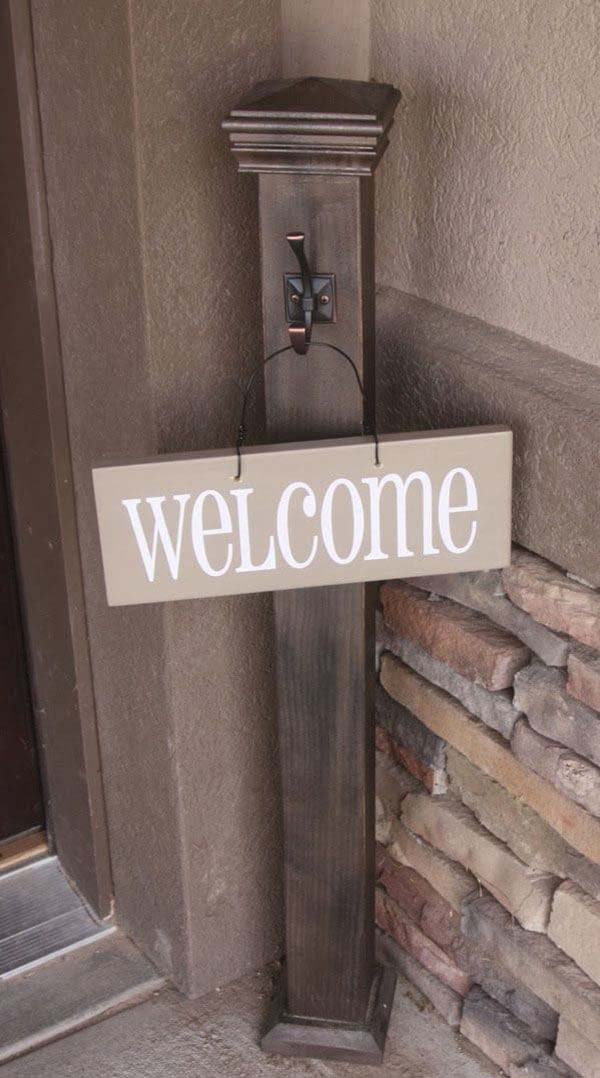 Refresh your porch without creating extra work by sticking to a simple design.
A sturdy post, a simple hook, and a neutral-colored sign look great year-round.
All you need to do is hose down the assembly every once in a while.
10. Neutral Painted Post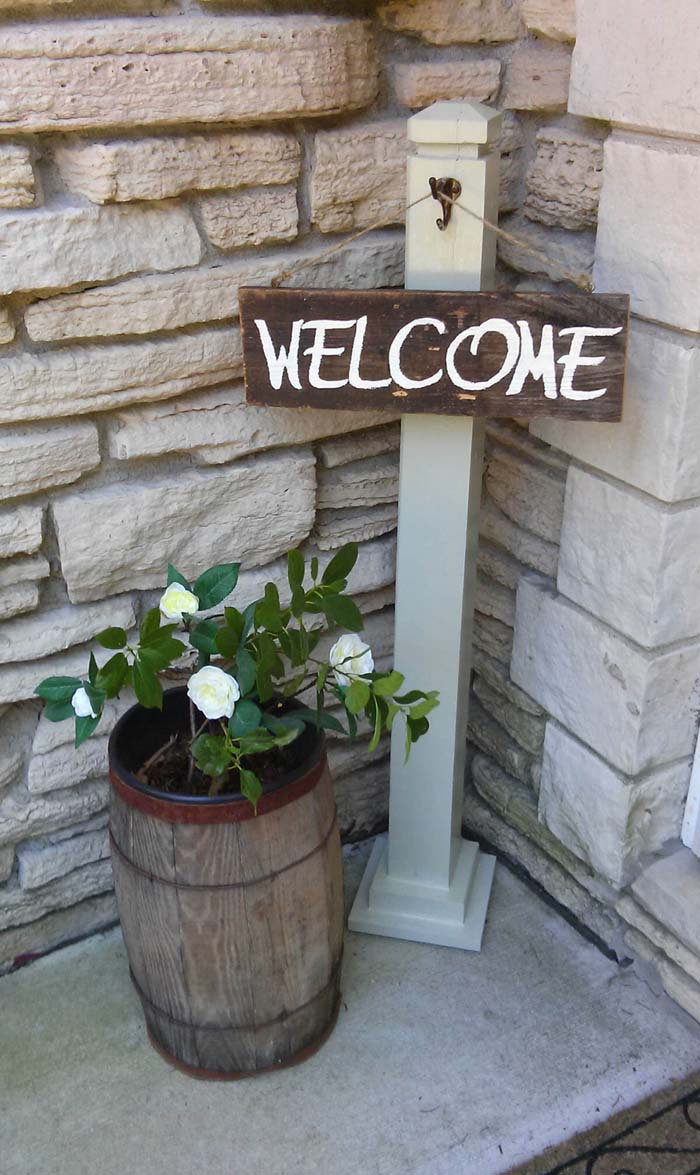 Cute and casual, this adorable Mission-style post looks beautiful in front of traditional and modern homes.
You can buy a wooden welcome sign or make your own with a tube of paint and a piece of repurposed wood.
11. Welcome Post With Hanging Lantern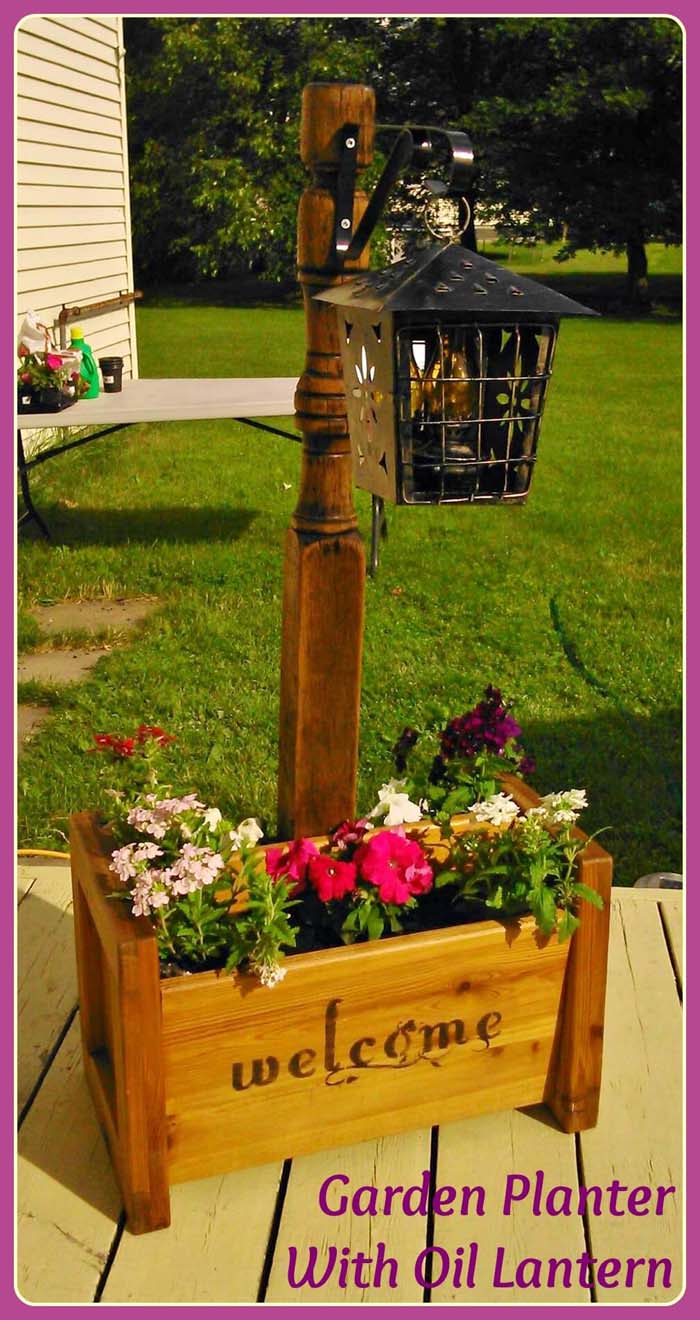 This clever post design combines a variety of useful and beautiful elements.
A built-in planter box doubles as a welcome sign, and a hanging lantern lights up your walkway when the sun goes down.
12. Antiqued White Post With Decorative Hook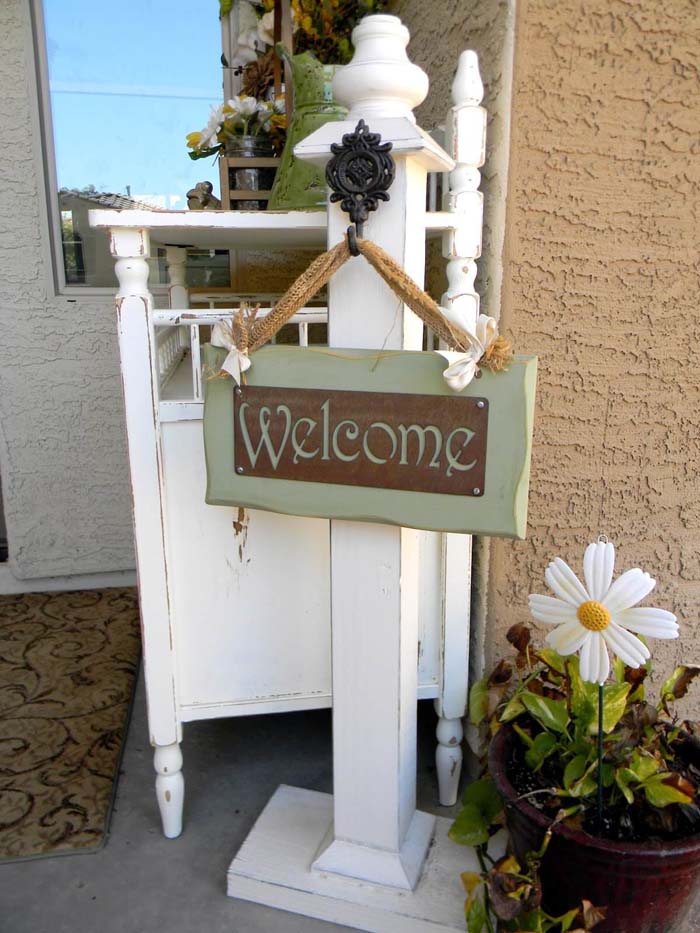 Bring a hint of Victorian charm to your home with an ornate wooden post.
Turned details, distressed edges, and an ornate hook create a romantic vibe.
We love the beautiful rustic welcome sign, which features a soft green color and a textured burlap hanging loop.
13. Add Bright Color And Flowers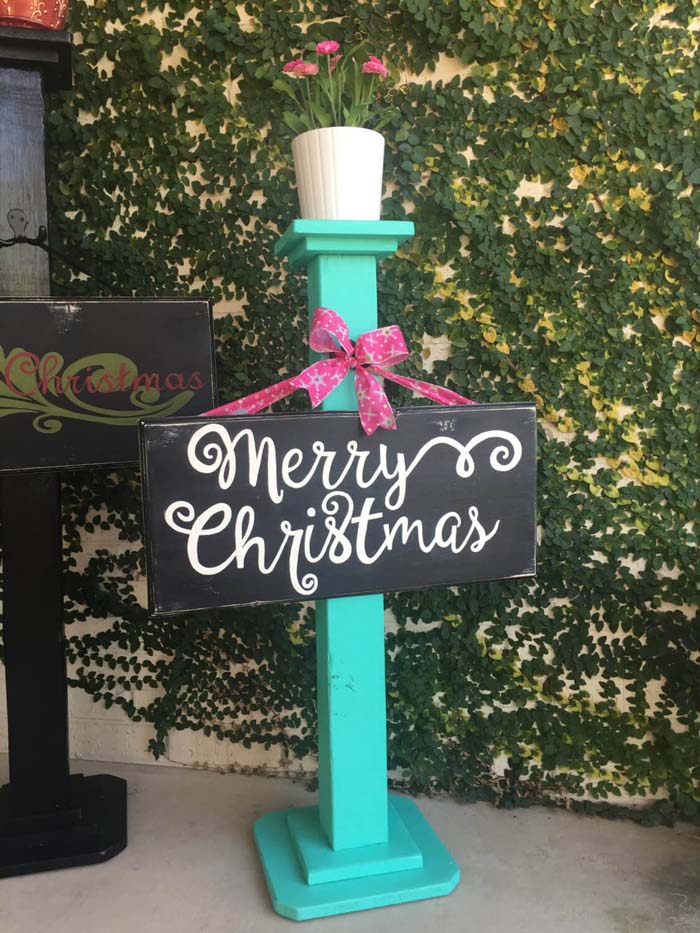 Are you longing to add color to your front entry?
Don't splash out on a new door or siding — instead, brighten the porch on a budget with a bright painted post.
Top it off with a flower pot and a cheerful painted welcome sign, and you can transform your home without breaking the bank.

14. God Bless America Porch Post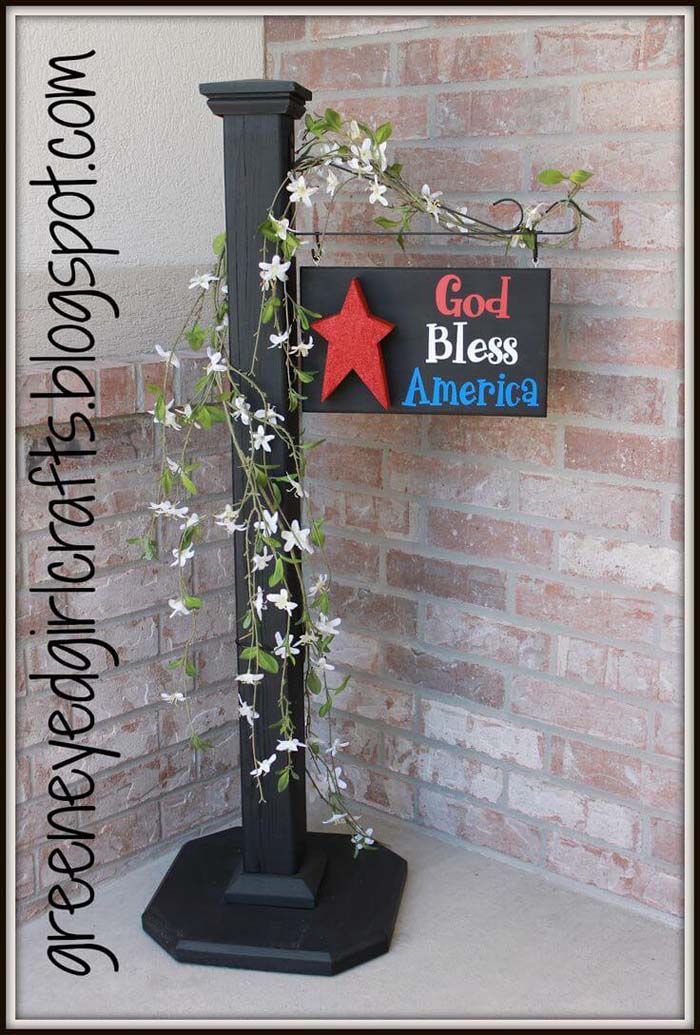 Show your love for the United States by combining a classic porch post with a patriotic sign.
The trick is to stick to a red, white, and blue color scheme; you can also add a star for good measure.
Display your sign in July or keep it up all year.
15. Grapevine Wrapped Lantern Post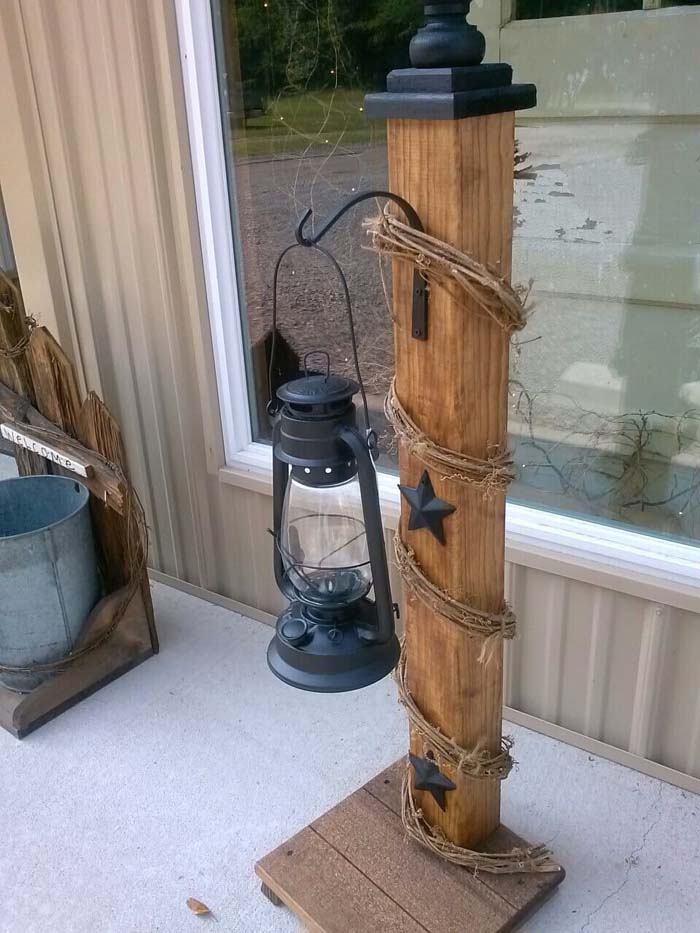 Rustic style is always on trend.
This post amps up your country-inspired design with a vintage lantern, vine garland, and wrought-iron stars.
We love the post itself, which features a striking wood grain and a warm, low-key stain.
16. Trailing Garland Welcome Post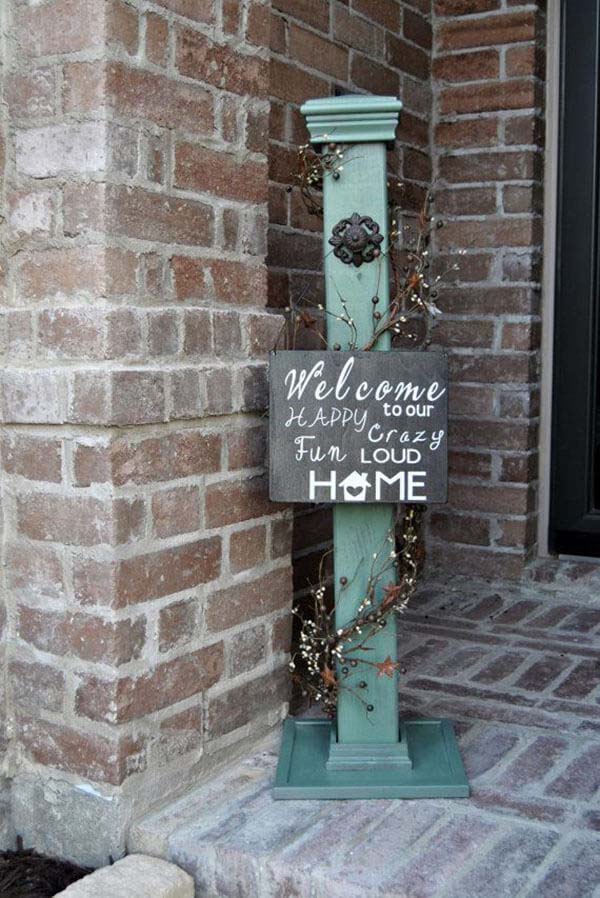 When you want to welcome guests with a personal touch, a hand-painted welcome sign is just the thing.
This homeowner added extra style by painting the post, adding a decorative plate, and wrapping the entire assembly in a seasonally appropriate garland.

17. Base For Decorative Welcome Sign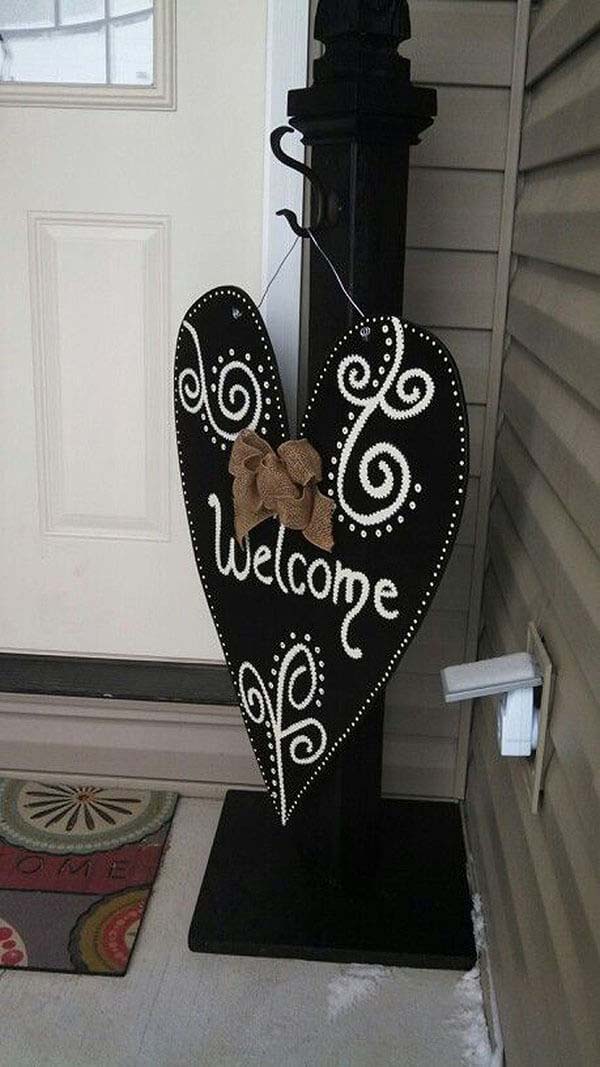 If you're handy with a needle and thread, you can personalize your front porch post with a fabric sign.
This heart-shaped sign is the perfect example — we love how the black and white accents keep it looking bold and modern.
18. Classic Post With Colorful Sign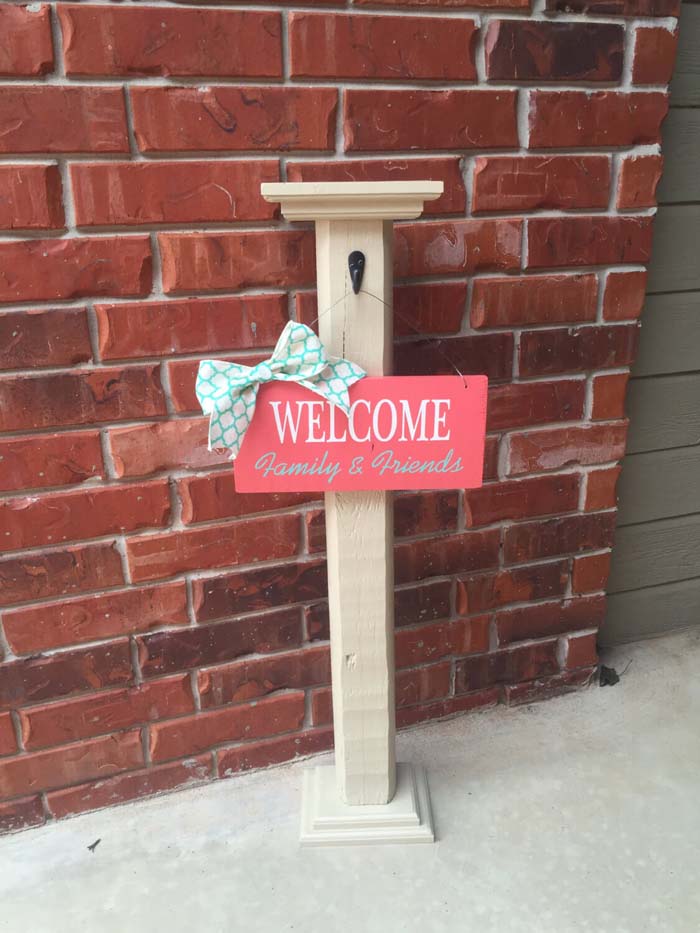 Do you have a tiny front porch?
Maximize the space with a slim welcome post.
The shallow post sits flush with the wall, showing off a beautiful welcome sign without getting in the way of foot traffic.

19. Versatile Post Offers Seasonal Décor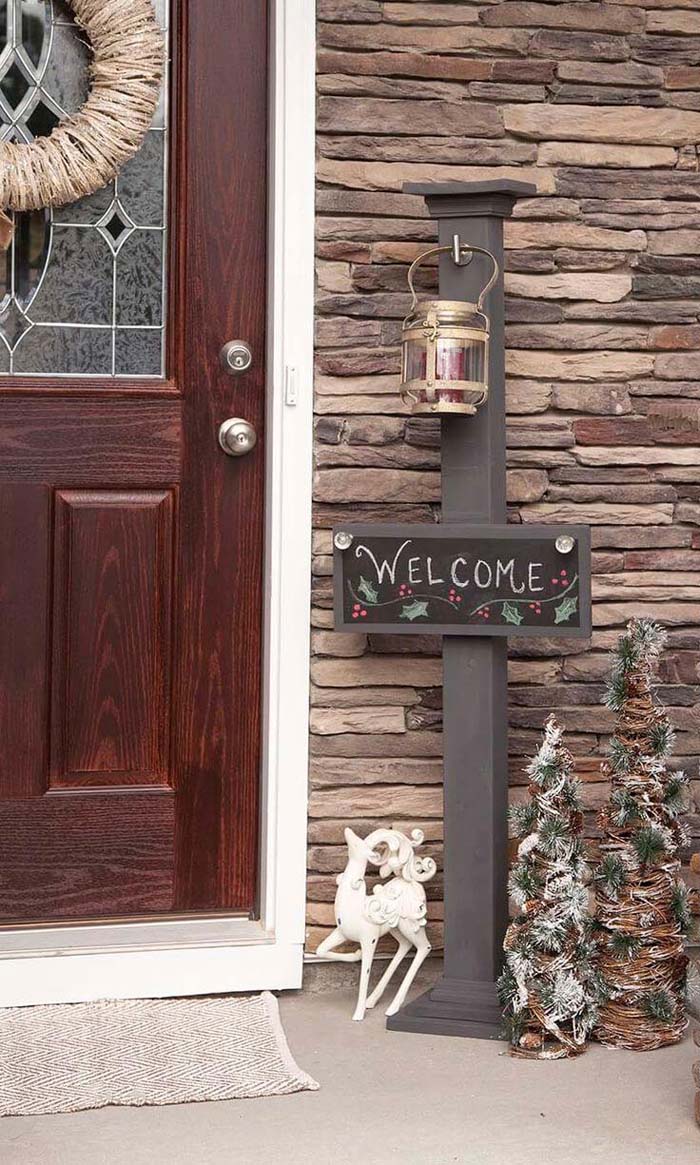 Enjoy the aesthetic of seasonal decorations with minimal work using a post with space for an interchangeable sign.
This model uses a clever set of hardware to hold the sign in place; just switch it out when the next holiday comes around.
via Home Depot
20. Rustic Porch Display Welcome Post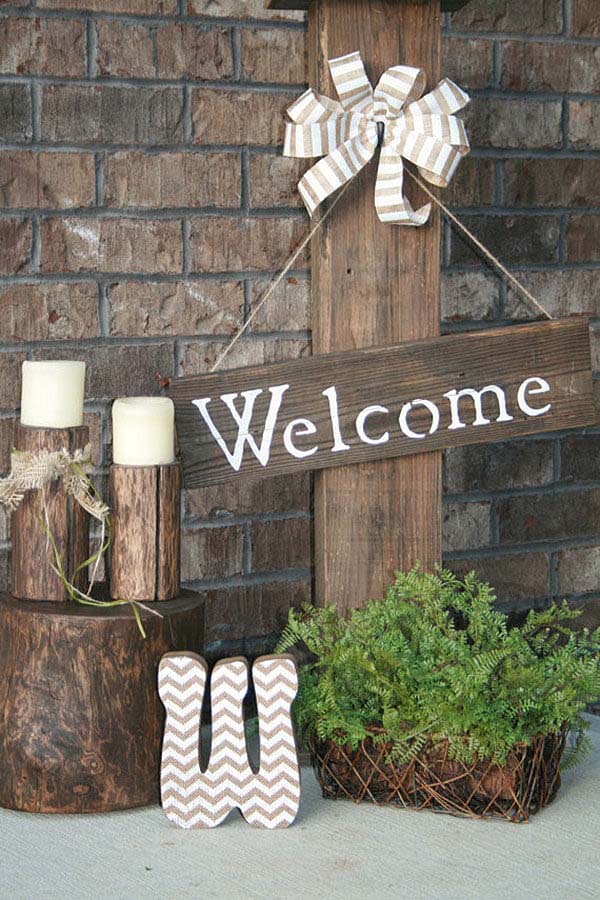 A rustic post and welcome sign make a beautiful canvas for seasonal accents.
Leave the sign up year-round — just add a new bow and a few small elements that signify the upcoming holiday.
Candles, sculptures, and potted plants complement the post and refresh your front entry.
21. Harvest Décor Fall Post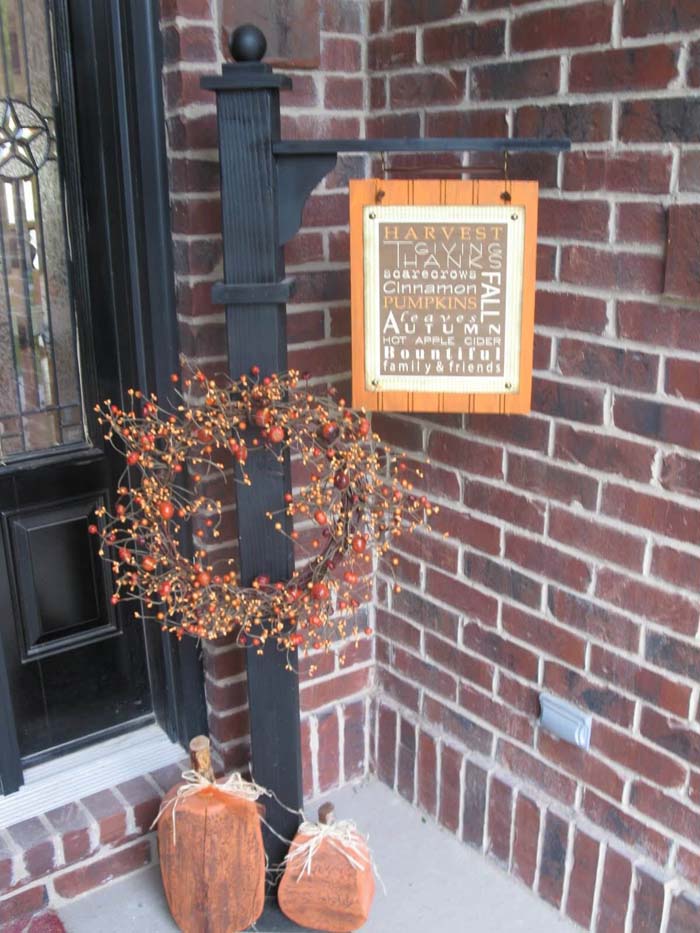 This clever front-porch post makes it easy to decorate.
The trick is to add built-in hooks. Two hooks support a seasonal sign, while another holds a wreath or a bow.
The post itself is black, so it looks lovely every day of the year.
22. Elaborate Post Offers Hanging Options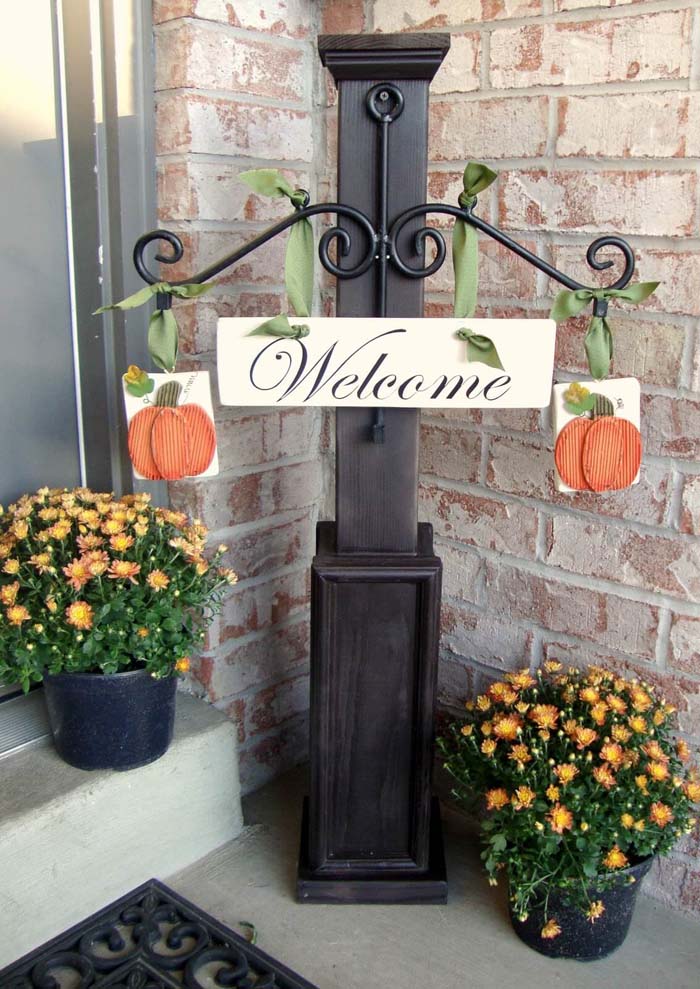 Halloween is one of the most exciting holidays for front-porch decorations.
Whether you're going for an autumnal vibe or a spooky theme, a post is a handy foundation.
Here, ribbon bows attach hanging pumpkins and a welcome sign for a fresh fall look.
23. Hand Painted Spring Post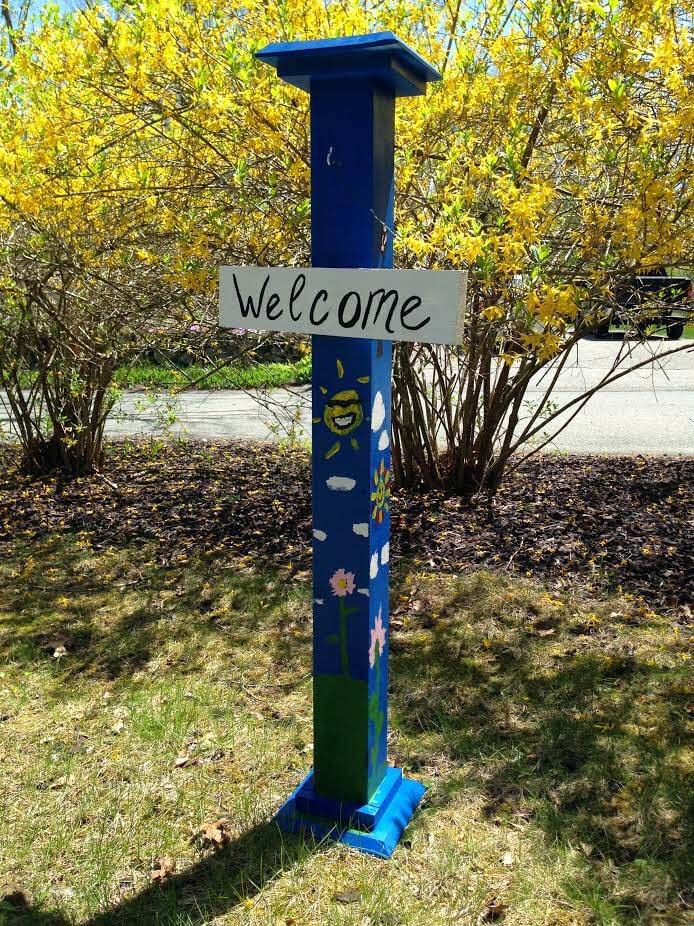 Bring a bit of whimsy to your yard or garden with a hand-painted post and welcome sign.
This is a fun way to involve your kids — give them some paint and set them free.
via Wilkerdos
24. Blue Hued Chalkboard Post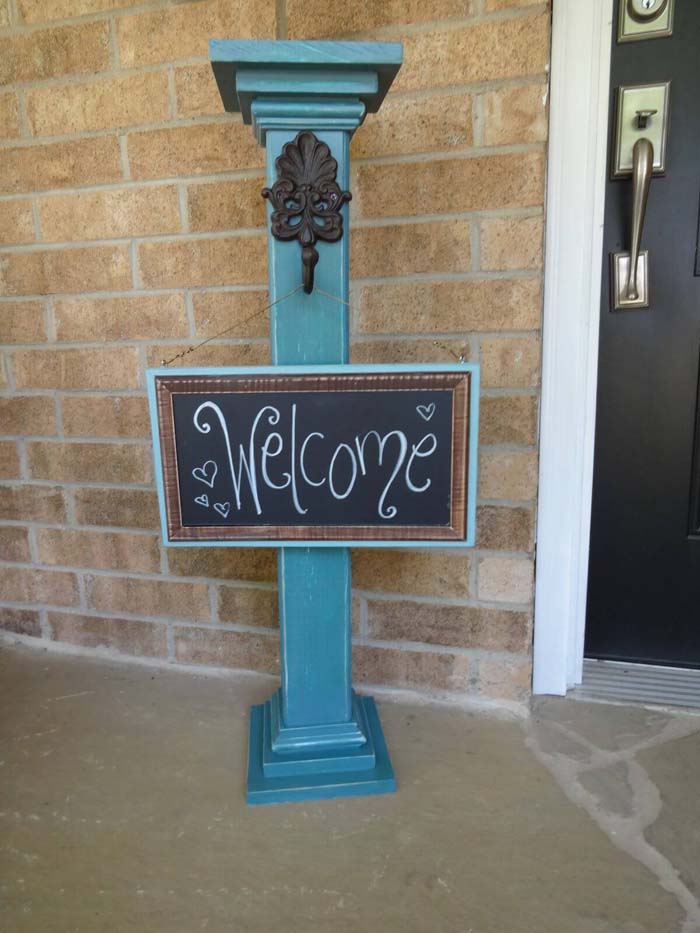 Prefer a sophisticated take on whimsy? This post is a great combination of magic and elegance.
The curving font and the ornate hook bring a soft, playful look, while the bright teal post is anything but ordinary.