30 Charming Porch Decoration Ideas That Will Stand Out All Year Long
We have discussed a few times the importance of the porch as being the first thing your guests see when visiting your home.
Following the rule that this part of our property should get attention enough to feel like an extension of the interior, we shouldn't also forget that its importance remains even when the warm days fly away.
The porch can be just as relaxing and a spot for friends gathering even in the colder months.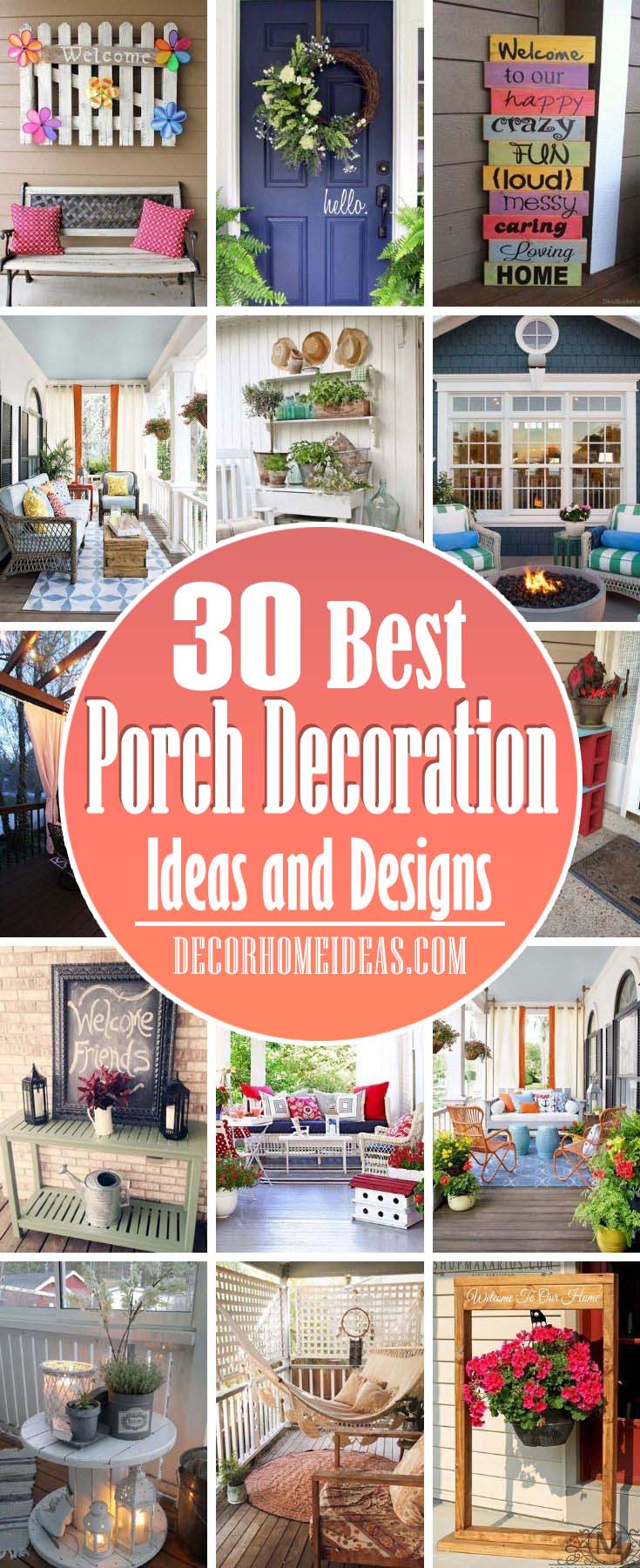 Don't forget to PIN this image for quick access to all these ideas!
Giving the porch a seasonal look is very difficult and time-consuming.
This is why we have decided to save you some time and efforts and show you a collection of decorations that are universal for all seasons and will add charm and curb appeal to your porch all year long.  
An Old Fashioned Welcome Sign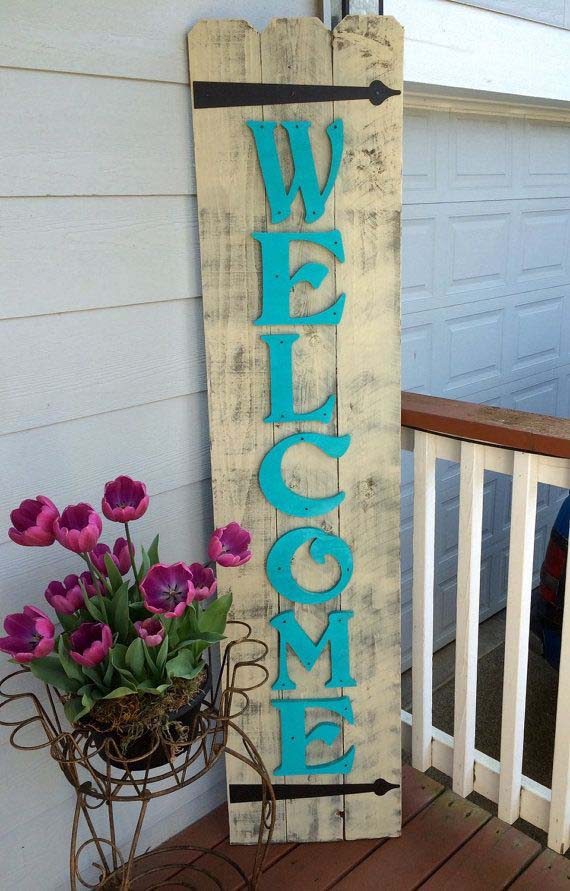 The "welcome" sign can be used as a stand-alone decoration that will suit all seasons décor. Its purpose is to clearly state how the hosts greet the visitors of their home.
Antique Porch Decoration Idea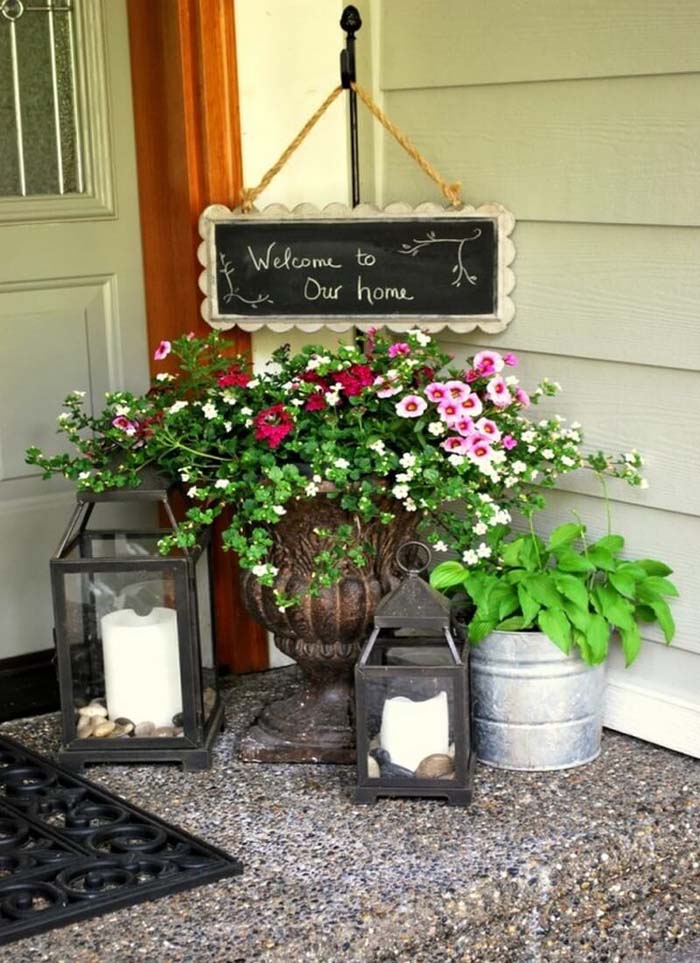 The combination of some lanterns with candles, a large antique vase and a vintage galvanized bucket creates a vintage welcoming spot that will treat the senses all year long.
The flowers in the vase and the bucket can be changed with seasonal ones or with evergreen twigs.
via Home Deco
Black Flowers Pots Turned Into Tiered Planter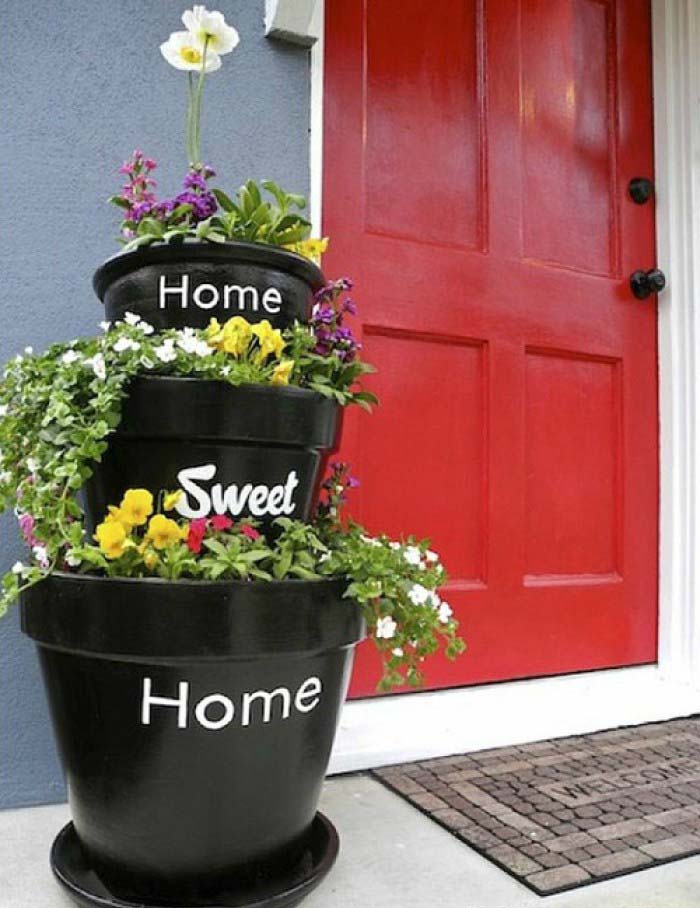 The tiered planter made of terra cotta pots is an easy DIY with a great decorative impact.
Its versatile feature comes from the inscriptions on each pot which are tightly connected with the home. In the cold months, they can serve to hold evergreen twigs or holiday decorations.
Black Painted Standing Welcome Sign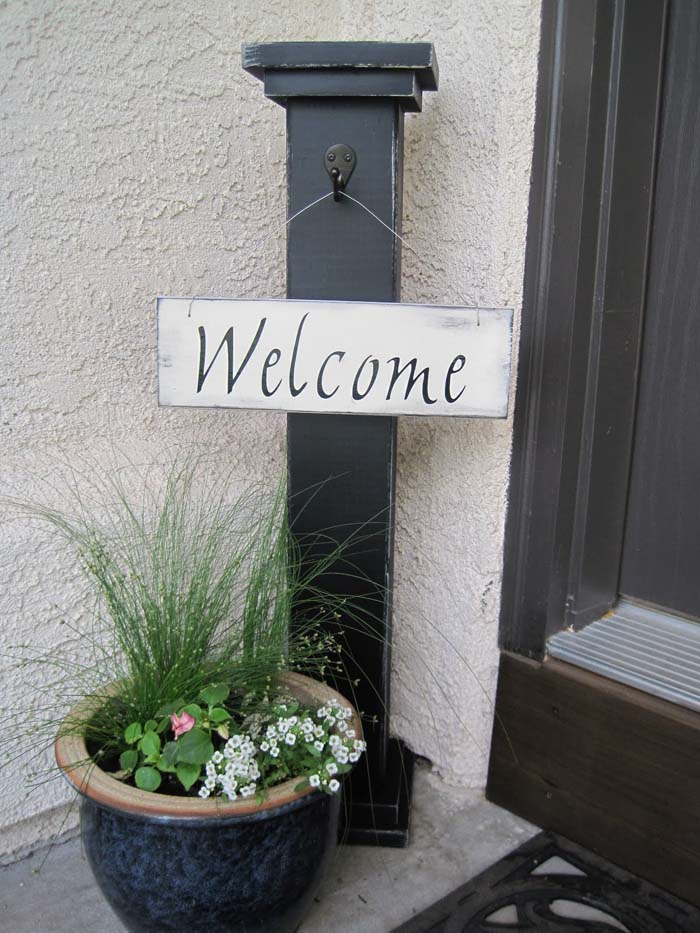 Another idea for a welcoming sign that stands on a rustic handmade post. It can stand before the front door all year long.
Change the accompanying decoration depending on the season. In spring and summer, place a rustic or antique flower pot; in winter- make a Christmas-themed decor arrangement; in fall- place pumpkins and grapevine balls.
via Kenzie Hand
Bold Colors Porch Decoration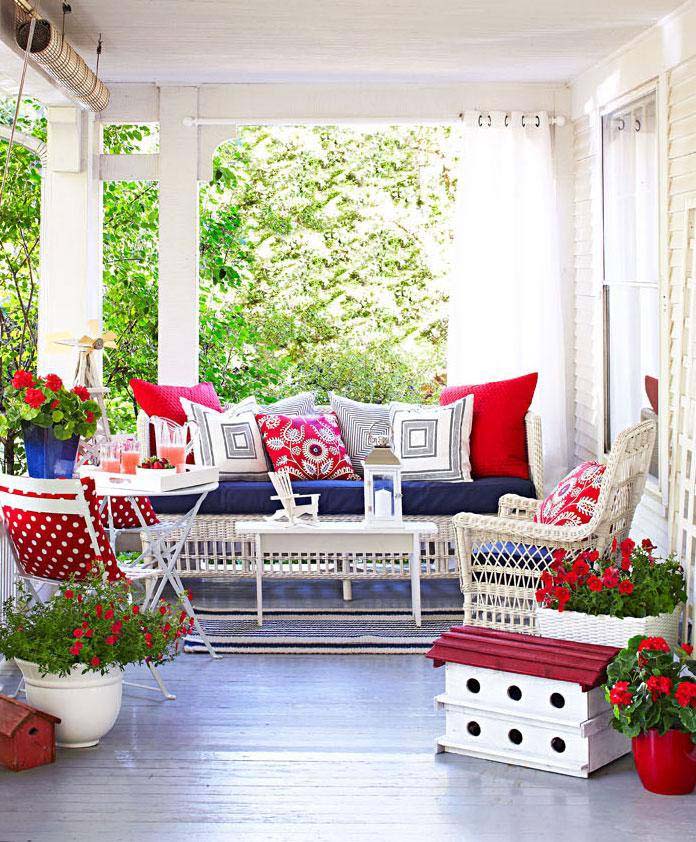 If you decide to leave the sitting furniture during the colder days, don't forget the main design rule about bringing the interior to the exterior.
With the help of some pillows, the chairs and the sofa become a comfortable relaxing spot to quickly attract conversations regardless of the weather conditions.
via Midwest Living
Cinder Blocks Flower Display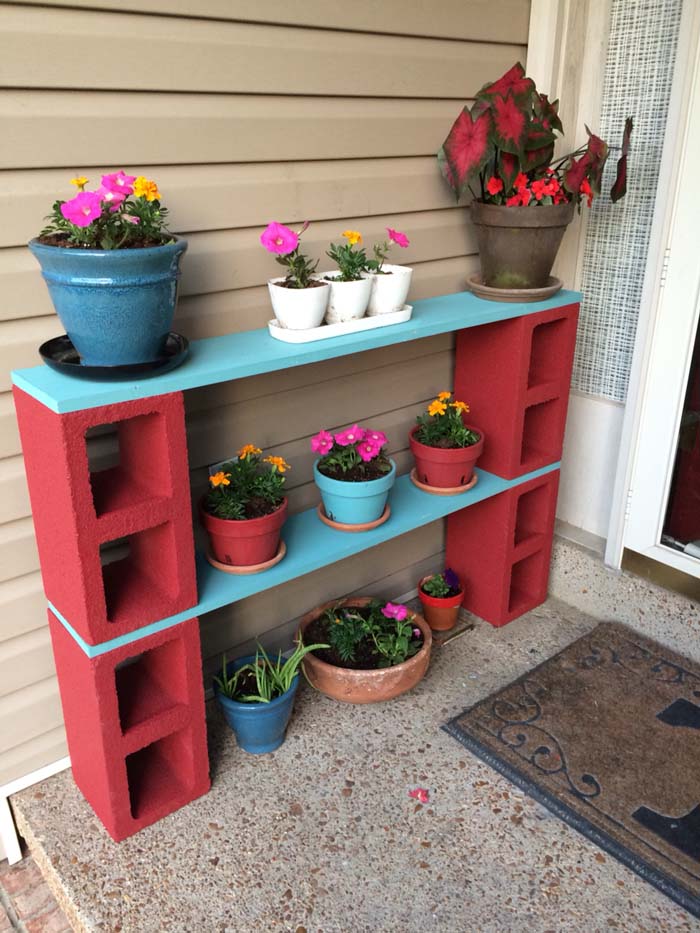 Cinder blocks are a source of numerous DIY ideas. They are cheap, strong and suitable for outer exposure.
With the help of four cinder blocks and two wooden boards, you can easily make a porch stand to accommodate seasonal decoration.
Add Some Coastal Vibe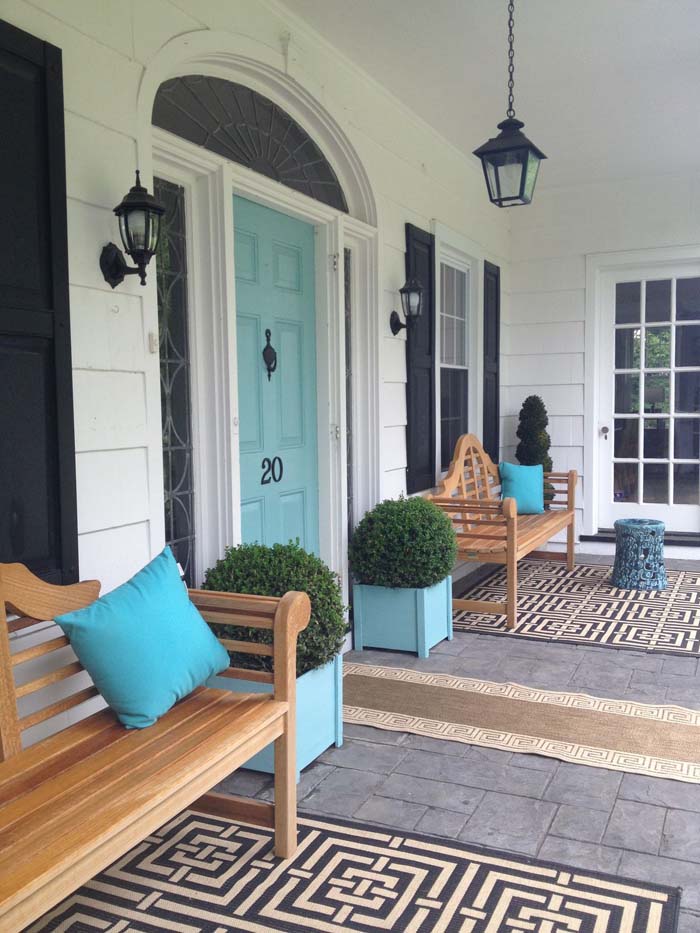 The combination of earthy and coastal colors is extremely good and very trendy. The beach presense expressed with colors will make the porch very welcoming and warm even in the cold days.
It will be best if blue and white colors are chosen for accents like pillows, planters, vases.
via Bellacor
Related: 40+ Amazing Beach House Interior Design Ideas
Colorful Spring Porch Idea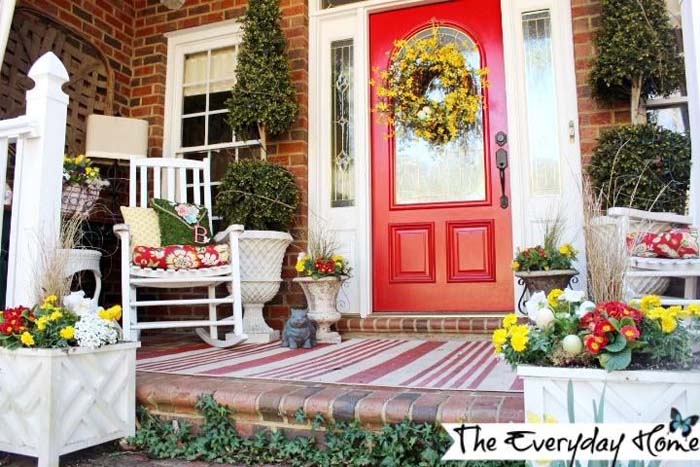 The bright colors are most needed in the cooler days when the warmth is limited. Make the porch a colorful place that will shine regardless of the weather.
Match the bright color of the front door with smaller accents like pillows, rugs and flower arrangements. Leave the rest white or in another neutral color to let the rest pop out.
Create an "Outdoor" Living Room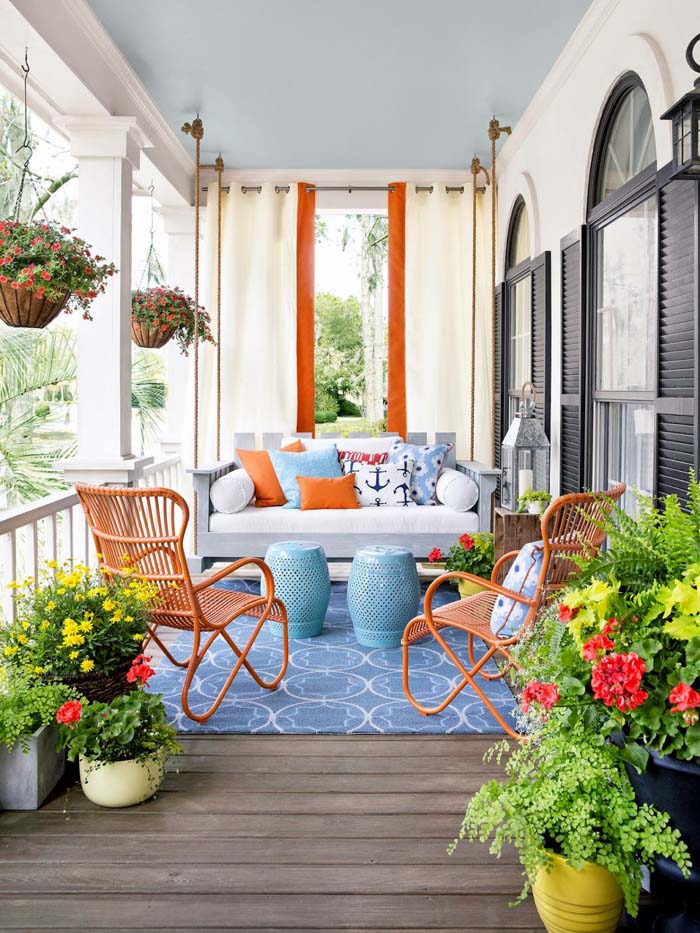 This is another example of how to bring the indoors out- by making it a copy of the living area. Furnish and decorate the porch with the same care and attention to the details as you would do for your living room.
Add a rug or carpet to define the space, some pillows to ensure comfortable sitting. Surround the sitting area with decorations that will make the space cozier and appealing.
It is a smart move if you add curtains or other privacy features that will serve as a shed during the hot days and will partially stop the cold during the cooler days.
via HGTV
Custom Plant Stand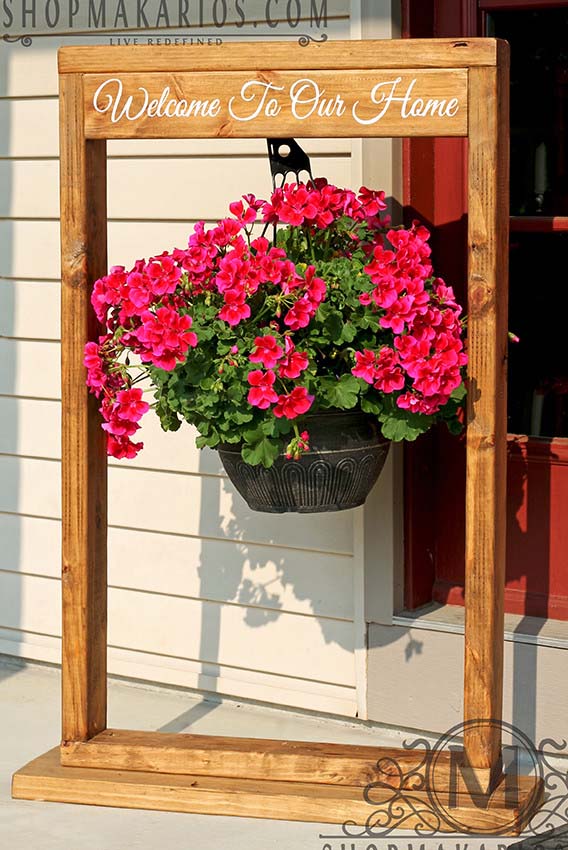 When you prefer a multifunctional and universal decoration for your porch, go for this frame. Its size and shape ensure spotting from the street.
The welcoming inscription on the top represents the owners feeling about their guests and property. The hook on the top gives the frame additional decorative function for seasonal adornment.
via Makarios Decor
Hang a Hammock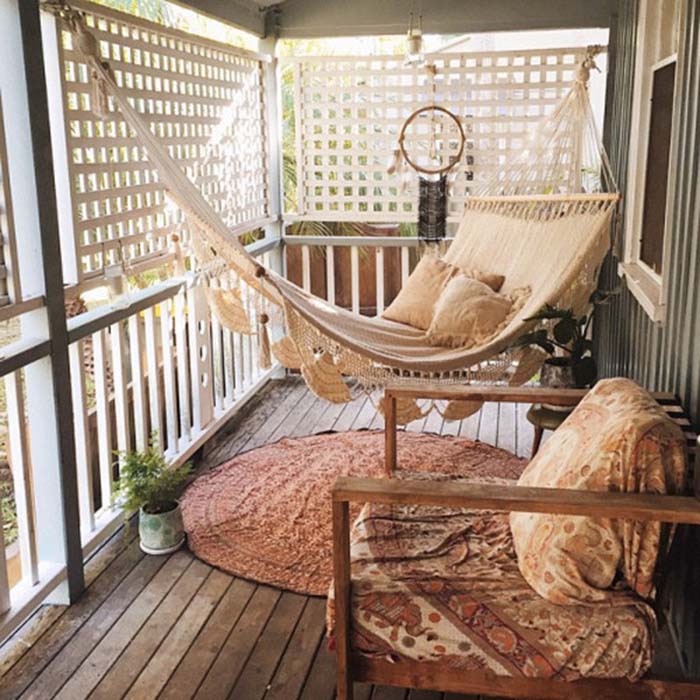 With a hammock on the porch you can't help but steal some spare time for reading a book. The hammock is an extra feature liked by all ages.
Its versatility comes from its compactness as it doesn't take up any from the porch floor and can be taken down any time it is not used.
Dark Floor Deck With Flowers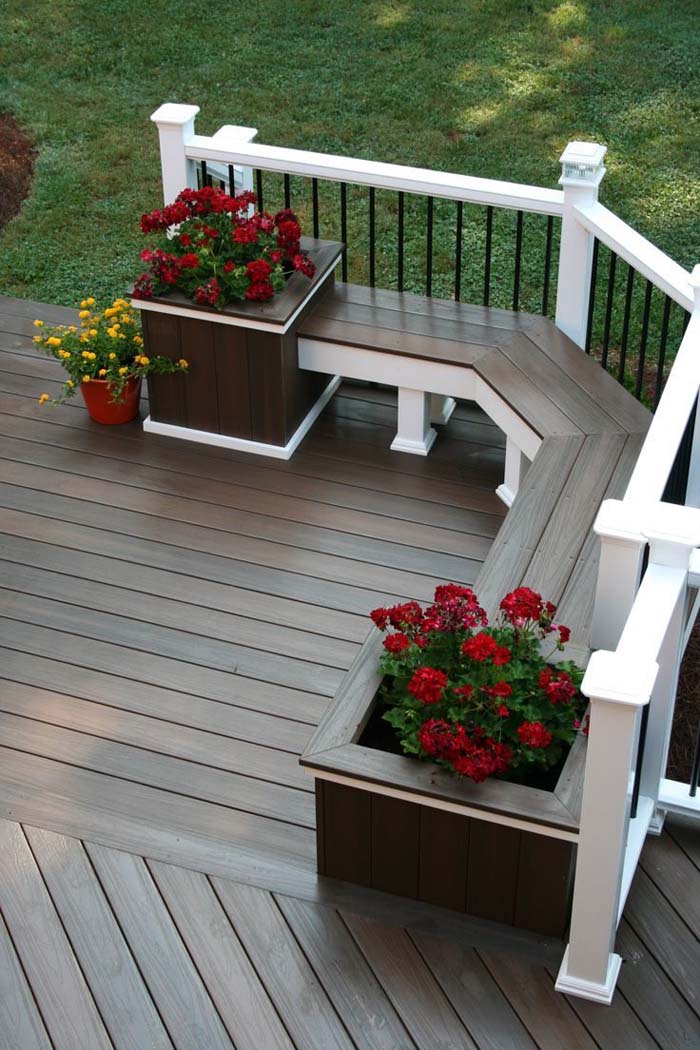 The benches define a gathering zone on the porch. Made of treated wood, they can resist any weather conditions and last for many years at exposure.
These features make them a preferred porch furniture all year long. Whether you choose a built-in or portable design, the benches will save the hassle of dragging out furniture.
Dark Tall Wood Planters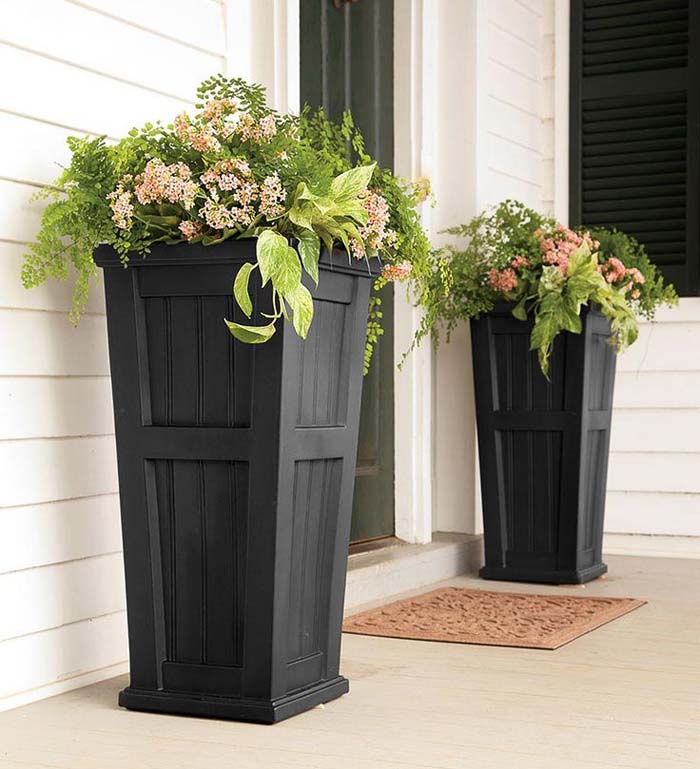 For an elegant porch decoration, choose a pair of tall urns that will frame the front door during all seasons. Regardless of the material they are made of, they will add texture and contrast to the space.
Depending on the plants they will accommodate, you will achieve a different effect. The greenery will provide simple and stylish touch, the blossoms will add contrast and delicacy.
DIY House Number Sign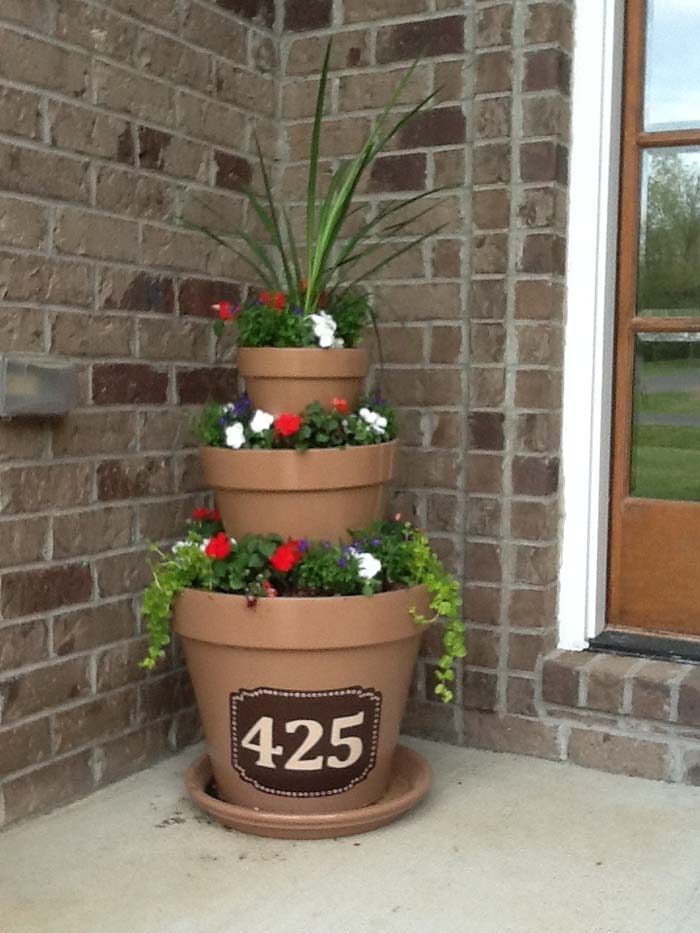 Add height and interest to your porch with a DIY tiered planter. The surface of the largest one is convenient for displaying your house number.
That and the possibility of changing the plants in the pots, make this tiered garden a decoration that can stand out all year long.
DIY Vertical Garden From Pallet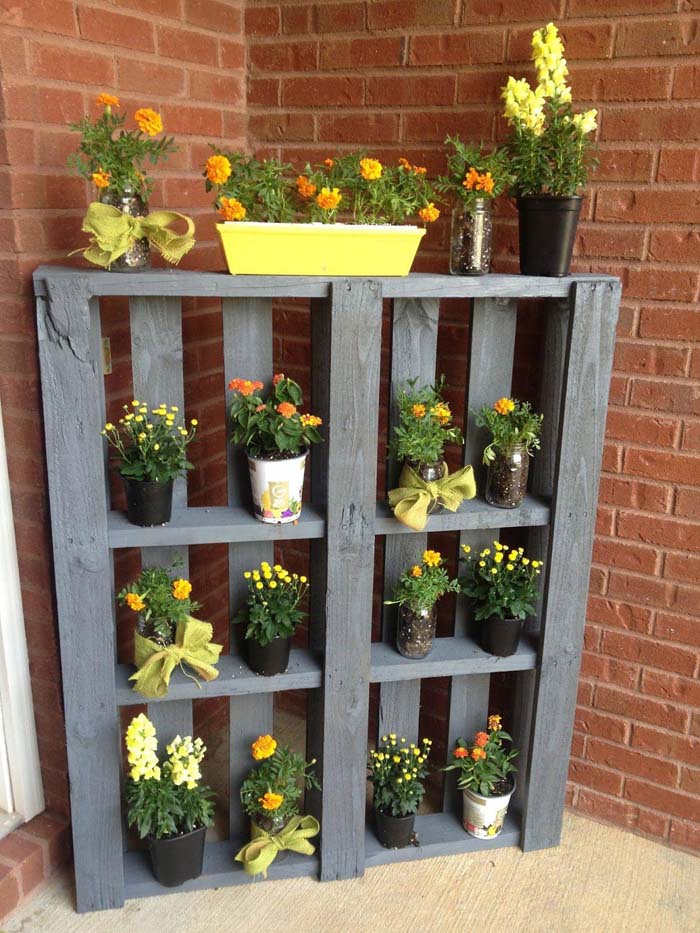 The vertical planters made from pallets are very suitable porch gardenening feature as they can fit even in the smallest space. How about the rest of the seasons when flowers are not available?
Well, the pallet slats provide wide possibilities for use- as a stand for holiday-themed decor, as a background for a welcome sign, as a lantern holder and many more.
Everyday Wreath For Front Door
The amount of opportunities to adorn your front door with wreaths throughout the year is endless.
You can easily make a basis for a wreath at home and change its decoration as the season ends. You can also go for a universal and long-lasting option by using faux flowers and materials.
Farmhouse Table With Welcome Sign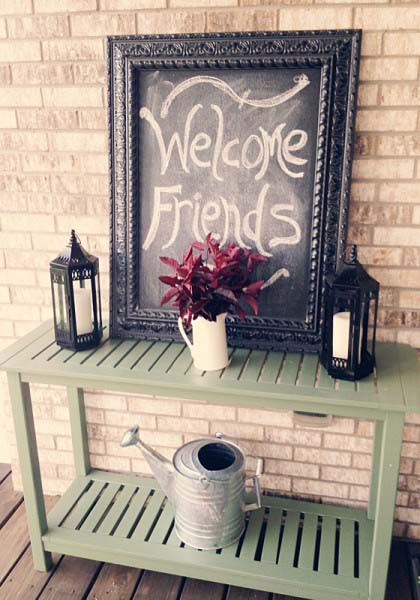 A rustic table that has prints from the old times will never be a surplus on the porch. It can be used as a stand for a vintage decorated nook.
In summer, it can easily change into a flower pot stand. In addition to all possible ways to use it, don't forget that it can become a side table.
Upstairs Porch With a Fire Pit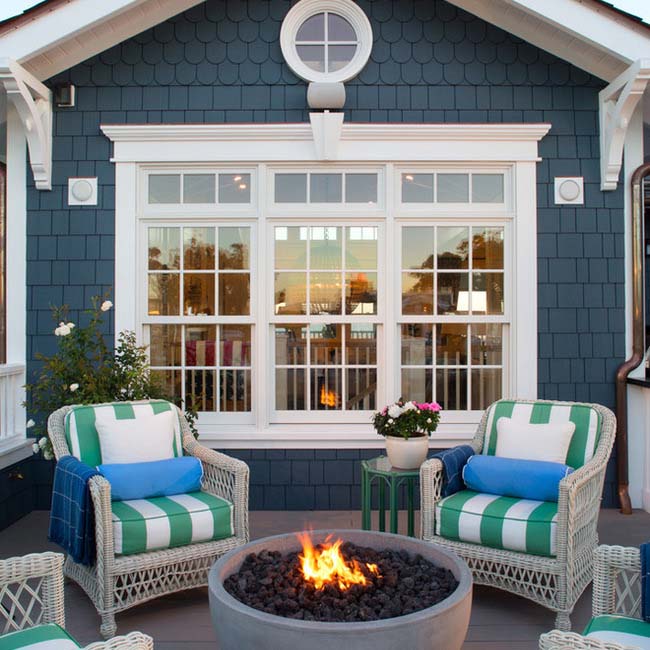 The firepit is a feature that can be left out at the porch and enjoyed all year long.
The entertainment level around the fire is always guaranteed as it naturally appeals for gathering, communication and mutually spent time.
Hanging Flowers Plant Stand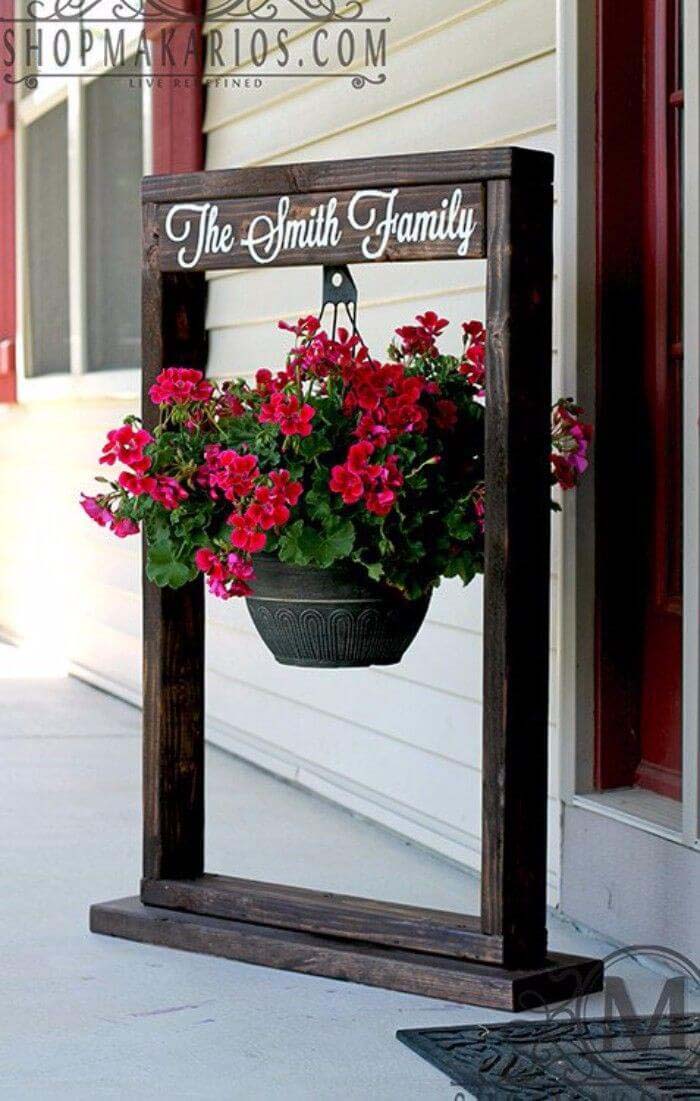 A free-standing frame with a flower pot is a genous way to state your family name. Placed next to the front door, it will give a heirloom feel to the place by the dark stained wood.
Instead of placing it somewhere else, just change the flower arrangement or the hanging decoration as the season changes.
via Makarios Decor
Outdoor Setting With Pergola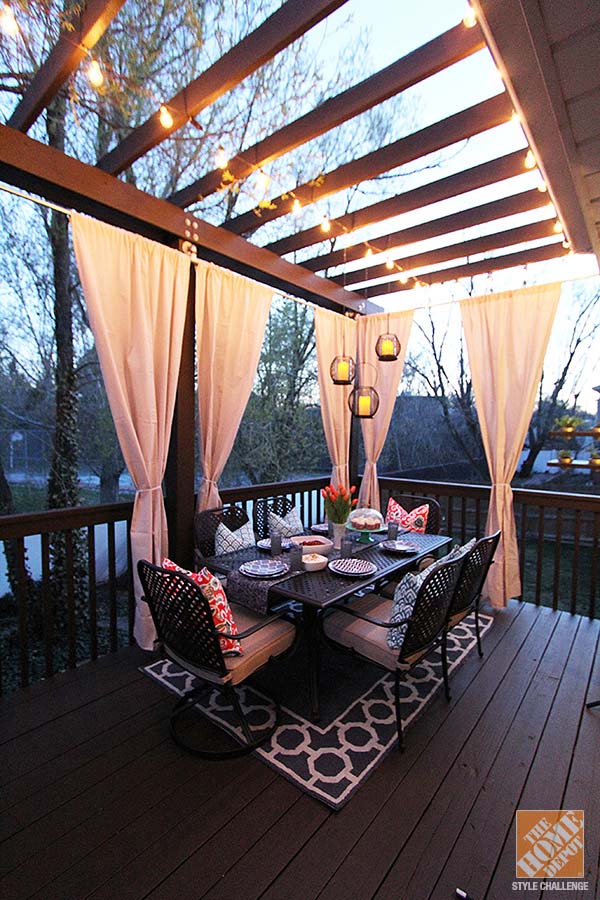 This porch setting invites with its coziness, comfort and refinement. The furniture is made of metal which ensures long years of use and durability against any weather.
The pillows provide not only comfort but also a splash of color. The curtains hung onto the pergola sides will provide shelter in summer and winter. The romantic feeling is additionally enhanced with the candle glass holders and string lights.
via Home Depot
Pastel Colors Themed Front Porch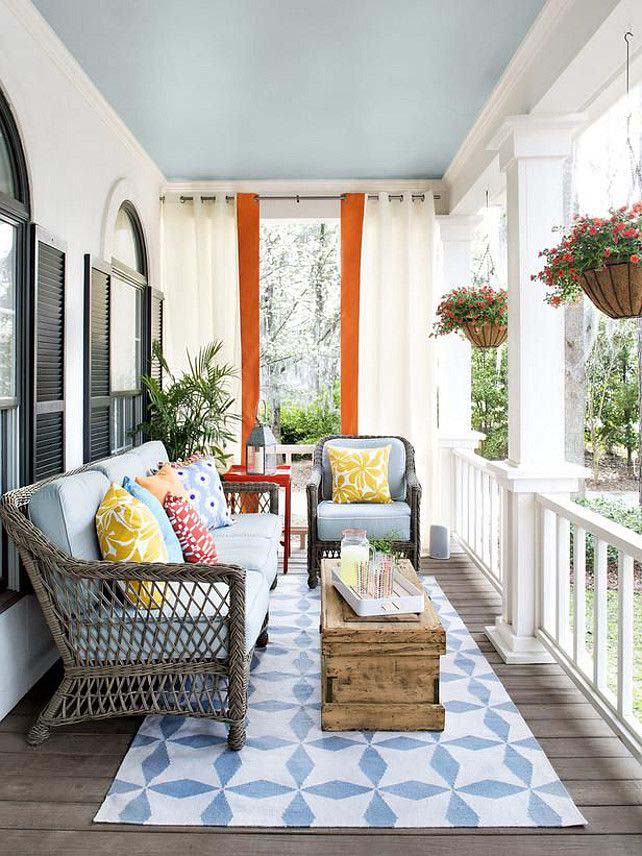 With only a few comfortable pieces of furniture, you can make the porch inviting and cozy all year long. A rattan sofa and an armchair will accommodate a big family.
Finish the rustic decor with an upcycled table made of an old chest. For additional living room recreation, place a rug on the floor.
Picket Fence Welcome Sign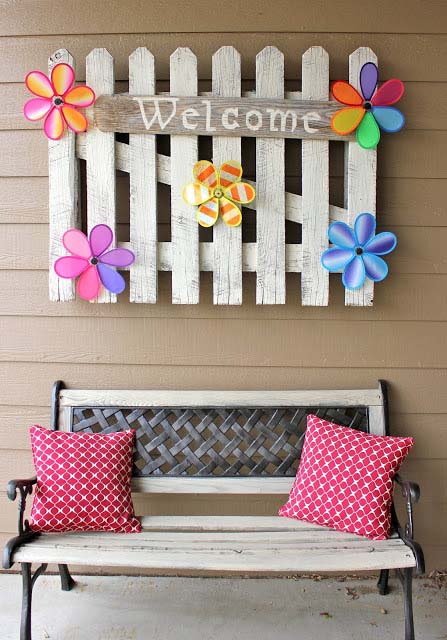 If you are a DIY-addict and you are looking for porch decoration that can stand out all year long, you would appreciate this idea. An element related to the outdoors is used as a decorative feature at the porch wall.
The picket fence piece becomes the canvas of a welcome sign. The attached pinwheels make the artistic piece brighter and joyful.
Repurposed Log Seats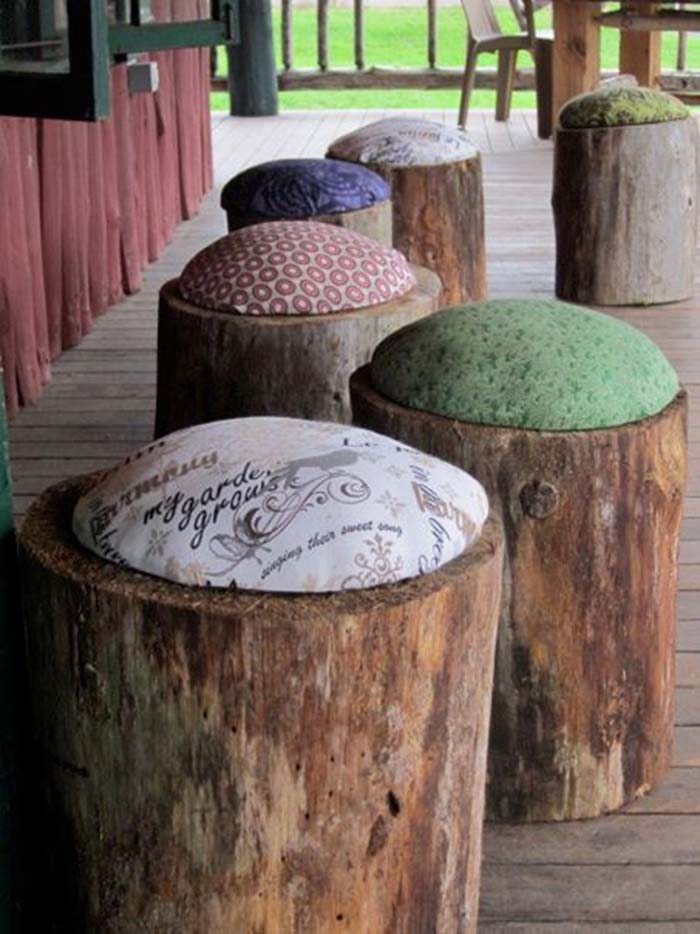 These adorable stools are the perfect solution for main or additional porch seats. If you happen to heat your home with wood, it would even be easier to make these.
Cut equal lengths of logs and place a domed cushion on. Choosing interesting and different fabric patterns will add color to the rustic type of furniture solution.
via Petit
Simple DIY Chedar Bench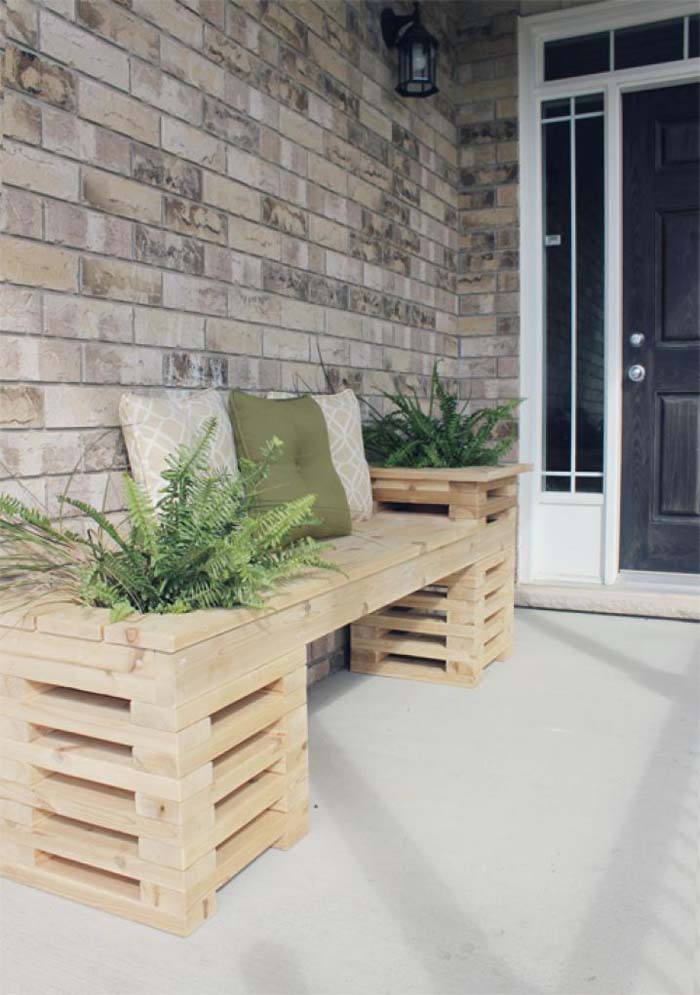 Along with extra sitting places, a bench at the porch will find many more applications. Placed next to the front door, it will provide a place to take down and put on shoes, wait for your company to get ready etc.
Luckily, this useful furniture is very easy to make. The 2×4 boards are stacked together in a blocky shape. To make the structure rigid, anchors are fixed at the corners. Add some pillows and seasonal plants to give the bench a welcoming look.
Stacked Colorful Signs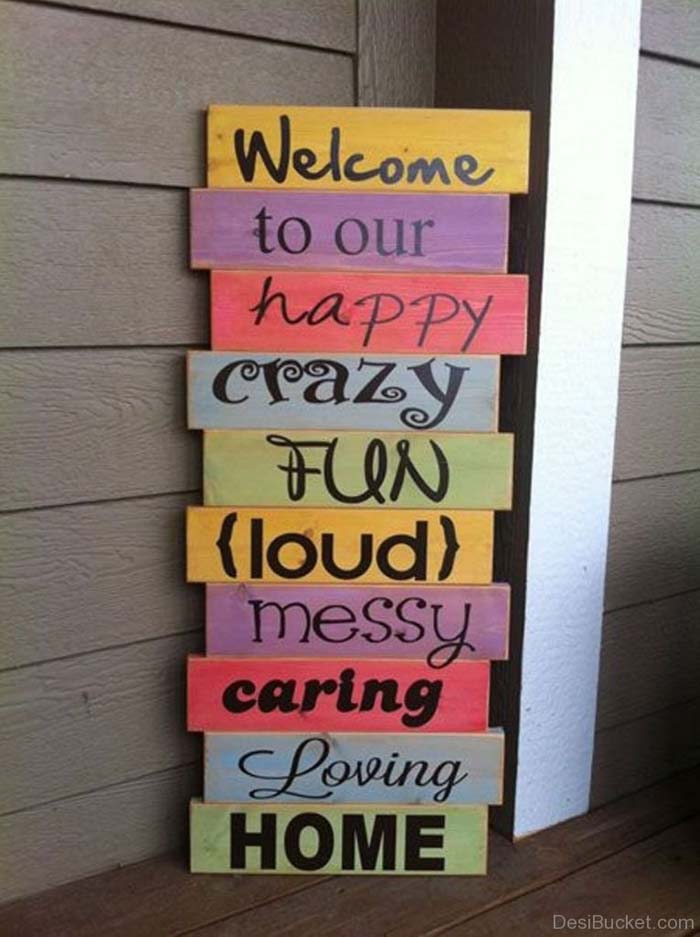 The combination of bright colors and different typing prints, makes this sign a unique and attractive art that deserves a special place at the porch.
Think of the values your family maintains and affirm the on your own wooden canvas.
Vertical Wood Plant Holders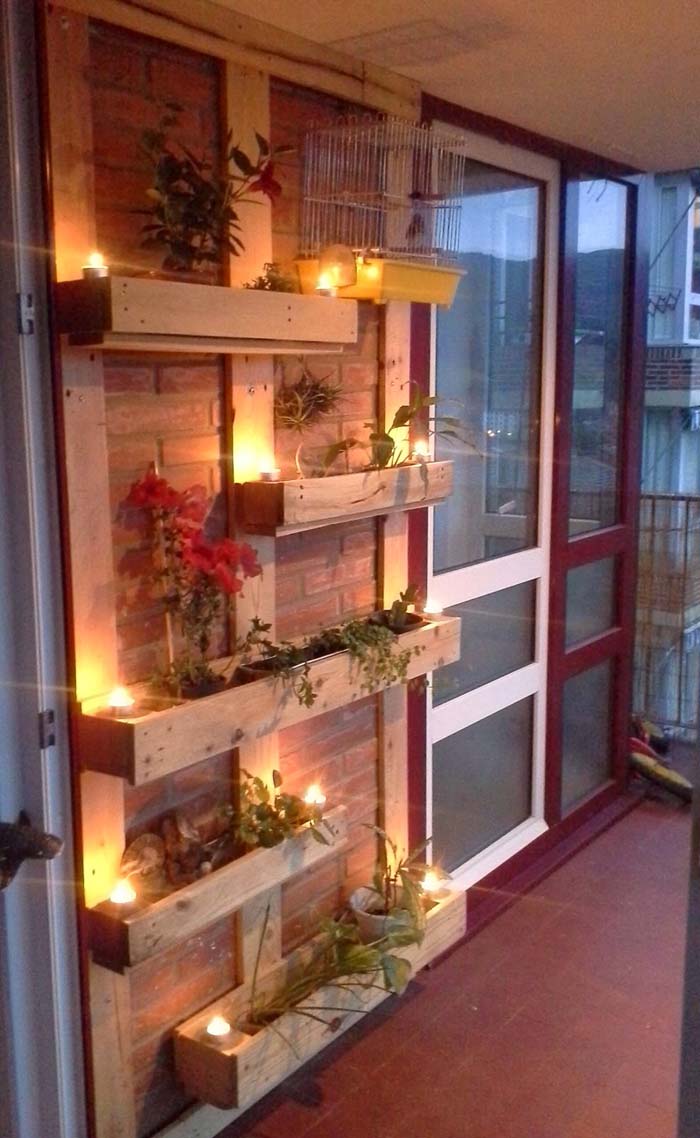 When the space of your porch is limited but you still want to enjoy the beauty of the flowers, choose a vertical one.
Making it in a boxed shape along the width of the wall will let you have enough space to practice your green thumb. If you want to also get a long-lasting solution, make it from wood. Add candles or LED lights as an elegant accent to your wall planter.
Vintage Potting Bench With Hat Rack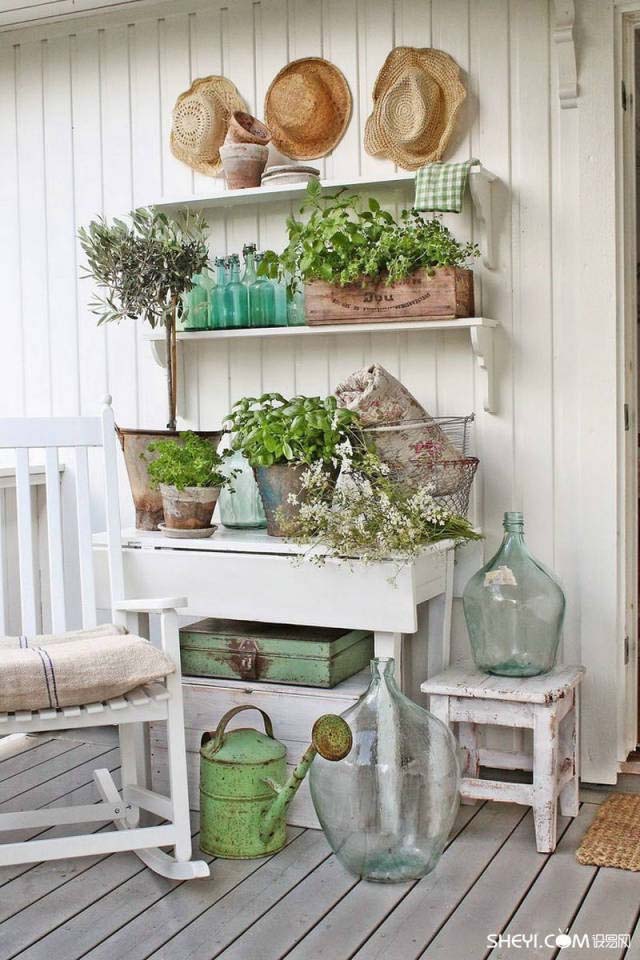 Potting benches are beautiful decor and a practical piece of furniture for those who do active gardening.
Choosing a bench that blends with the porch decor is a smart decision as it can be left standing all year long and used as a place for storage or displaying seasonal decoration.
An old table used as a potting bench becomes the focal point of a farmhouse porch nook that inspires with its antique look.
Vintage White Washed Side Table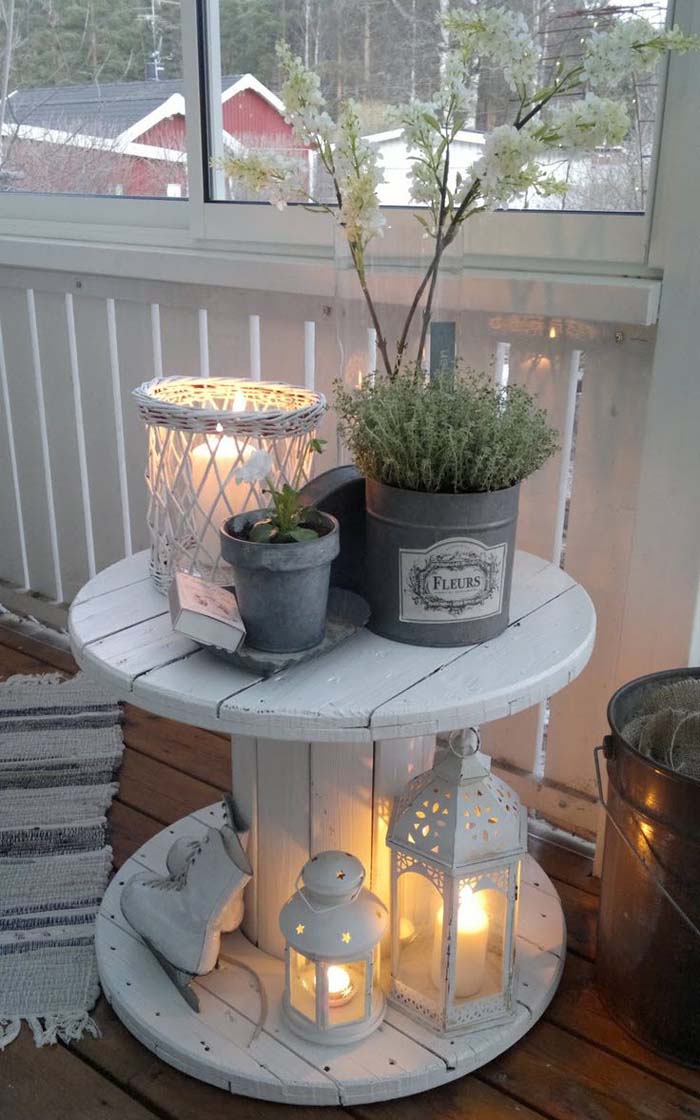 The cable spools can find their place in the domestic atmosphere. Their shape and compactness instantly tunrs them into piece of outdoor furniture.
Made of wood, they can be of a color you like and match any shabby chic, rustic, vintage or farmhouse decor. Among all possible uses, you will see how convenient it is e as a side table, as a decorative stand or as a flower pot.
Welcome Sign With Mason Jar Decoration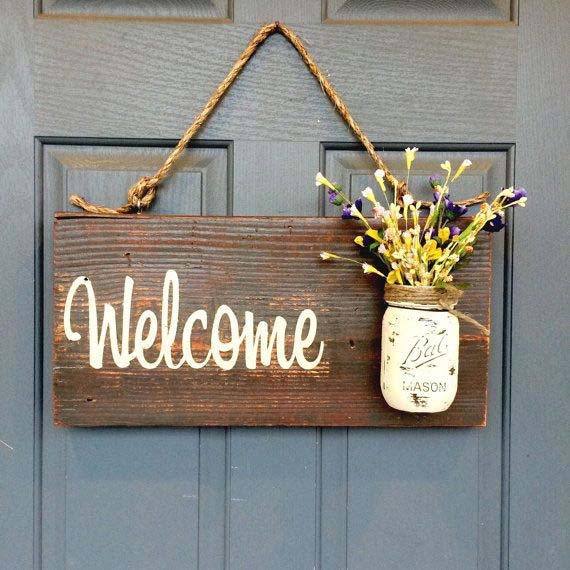 The rustic decoration is known for its ability to "spread" coziness and easiness. A welcome sign that embodies rustic symbols and materials will make a great impact on the porch atmosphere.
The flowers in the mason jar can be changed as need or faux flowers can be used instead.
Wooden Poles With Hanging Planters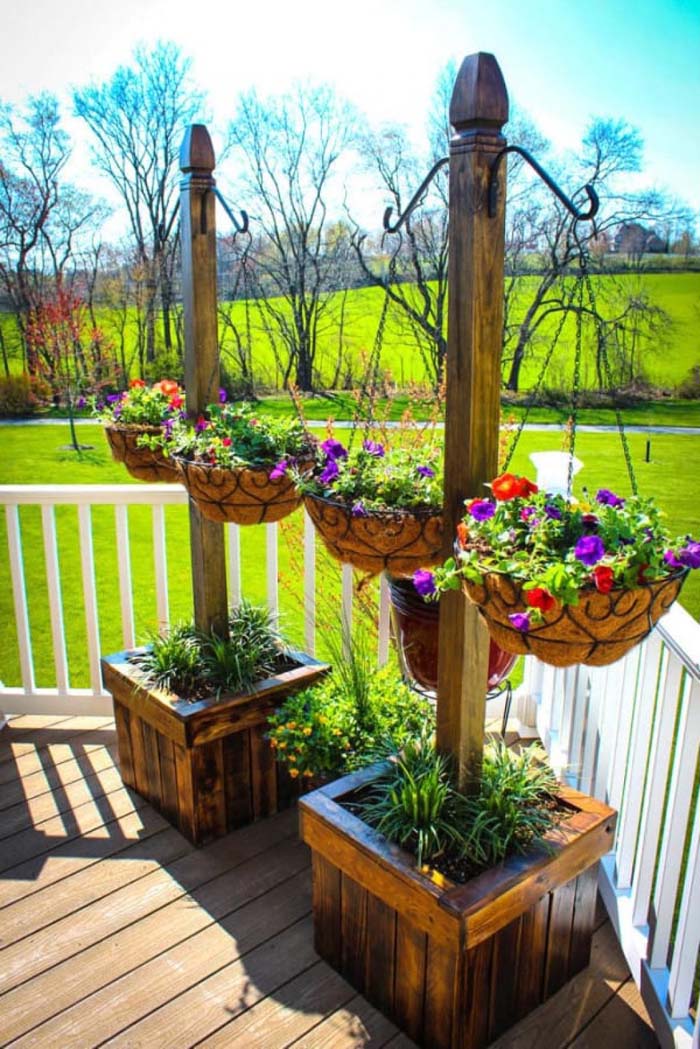 These planter boxes offer the perfect solution if you want a porch decoration that will not remain unnoticed. Their height ensures instant attraction, especially when hanging baskets with flowers are attached on.
They also offer space at the bottom with the square planter boxes. The walnut color adds warmth and texture and also gives further protection to the wood all year long.