Hello there, seeker of wonderful things! We have the inherited urge to marvel at something beautiful and appreciate it.
We also wish to create beautiful things in our daily lives.Hanging a tiered planter up on the wall in our home, garden or backyard is not a hard thing to do. Looks like a three levels of cake, but it's not.

Tip: Learn How To Build Your Own Budget Planter – HERE
I cannot think of a more ideal suggestion than adding a beautiful bouquet of living flowers.
1. Maximize Space with a Tiered Tower Garden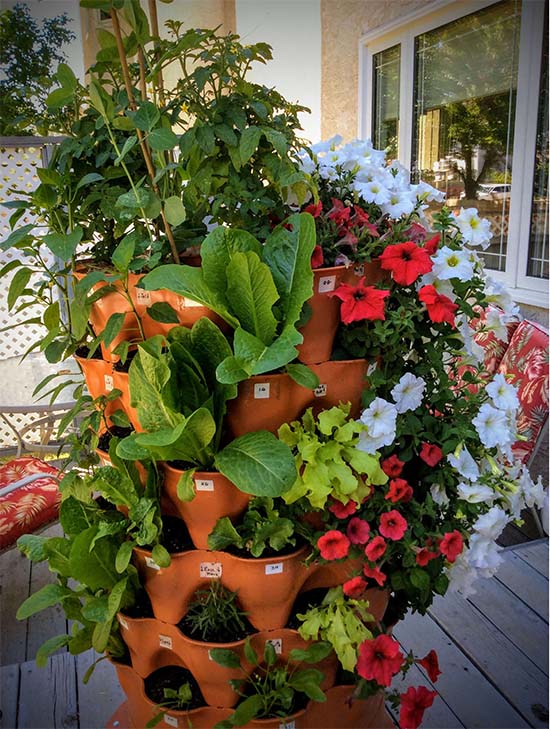 When you need to plant a lot of flowers, herbs, vegetables and you don't have a big backyard or garden then this one is your ultimate solution. Even though it might look pricey, you will easily save money when start to grow your own vegetables or herbs.
Check more details about it: Here
2. Impress Guests with a Pyramid Tiered Planter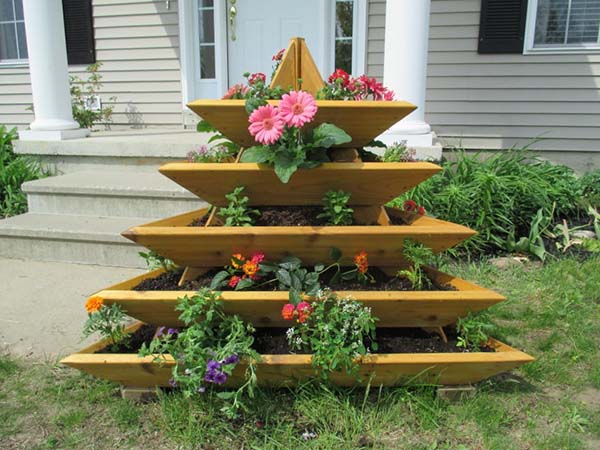 You can get this beautiful pyramid tiered planter delivered to your home or you can DIY it. It's great for small flowers and herbs.

3. Decorate Your Porch with a Tiered Pot Flower Garden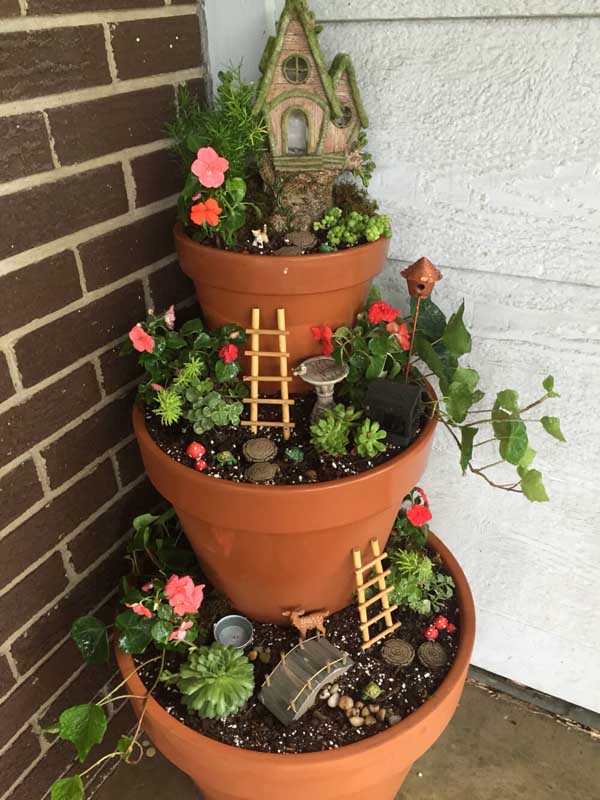 Photo: Credit
The first planter on my list has been decorated beautifully with tiny ladders and delicate flowers.
You can put some small flowers here as there is no space for some bigger plants.
Useful to put in a corner on the porch or terrace. If you don"t have them, you can also put it in a summer garden or anywhere you want to have some nice looking planter with some small flowers and plants.
Succulents are also a good idea to put them in this type of flower pots.
Even though they are small, they need to take care of them. You should pour them and put them in a place with enough sunlight. Not too much if you don't want to kill them.
Unless it's a cactus or some other plant that can live without water for a long time.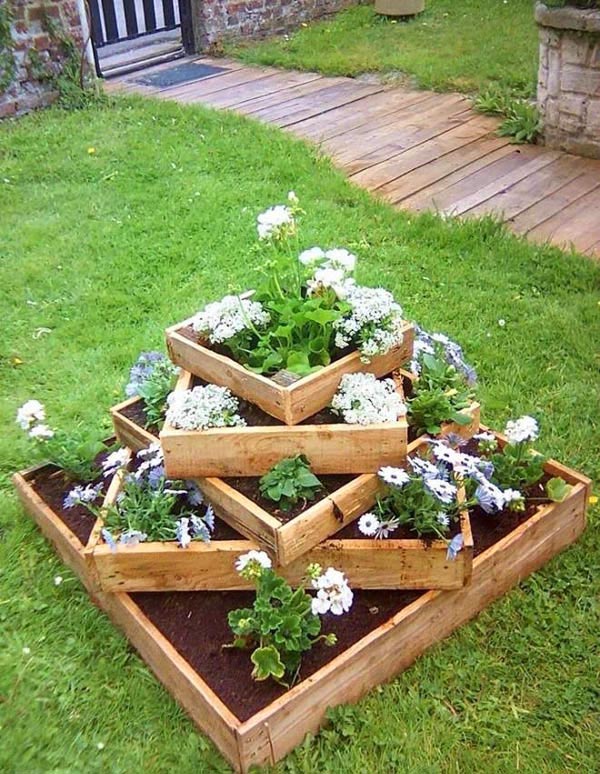 Photo: Credit
Tiered planters and planter on stands are amazing for summer houses, apartments, villas and more. In this particular case, however, I am adding a planter that has been placed on a five stories or so called 5 tier plant stand..
Each of them is filled with fresh new soil and the plants have been rooted well.It is an asymmetrical display and it can be done in any garden space.
Even if there is no fresh green grass around, you can still install it – even in a rocky garden or on a floor made entirely out of stones.
5. Adorn Your Yard with a Modern Rectangular Tiered Garden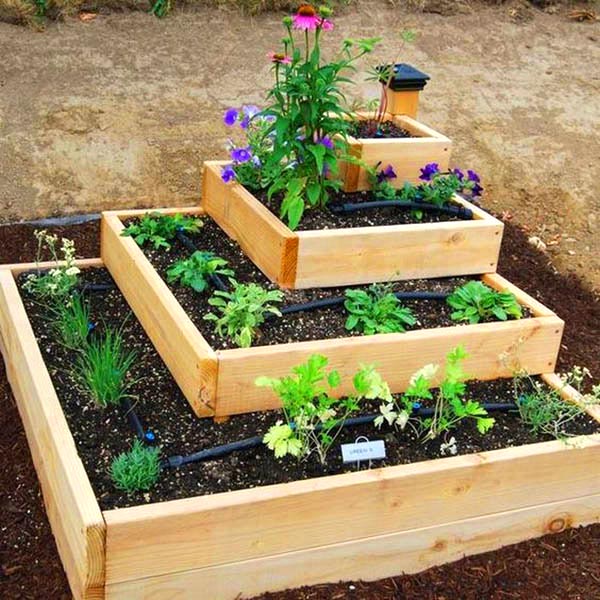 Photo: Credit
Here is a similar example to my previous suggestion.
The difference is that we have a more balanced structure.The planters have been layered so that there is plenty of space to use for exotic and traditional flowers.
With this type of planter in your home, you can even layer by the colors of the rainbow.It would be a great visual therapy for the eyes and a lovely backyard decoration.
So many bright, scented flower ideas here!
6. Utilize Corners for Your Rustic Tiered Garden Ideas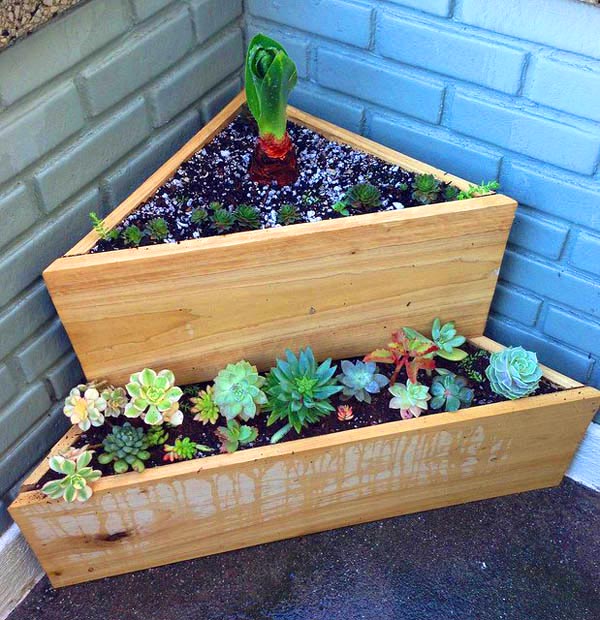 Photo: Credit
I am extending my list with this two-story planter shaped like a triangle.The shape makes it perfect for the free angles between the walls in your backyard or garden.
A boring corner is no longer missing a decorative piece, right?
Choose any other type of garden decoration to add and you will have a magnificent view!
7. Embrace Minimalism with Your Tiered Garden Design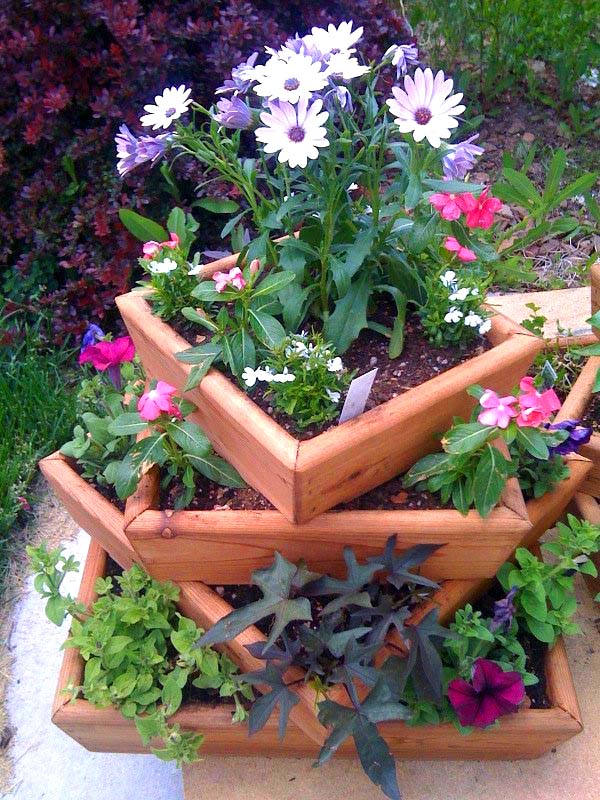 Photo: Credit
I have noticed a fun similarity between cakes and planters.They are structured quite similarly! This is also our case with number five on my list.
Growing your own brilliantly-colored flowers is made so much easier in a wooden planter.You don't have to worry about dirty soil and cleaning all the time.
8. Brighten Your Vintage Tiered Drawer Garden with Red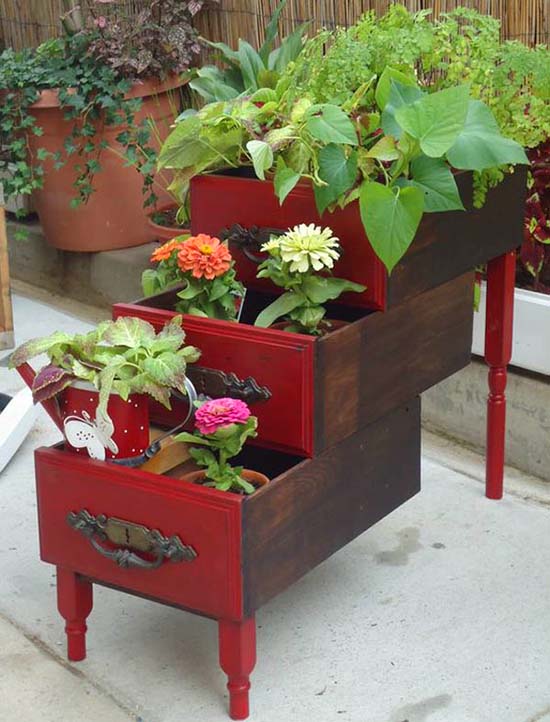 Photo: Credit
Time to see something fancier. The painted wood is remarkable!
If your wish is to create a truly stylish garden in your home, this is the way to go!
You can use a number of drawers with different dimensions.Pay special attention in the stores for a planter which resembles the drawers in your home.
9. Repurpose Wine Barrels into Elegant Tiered Gardens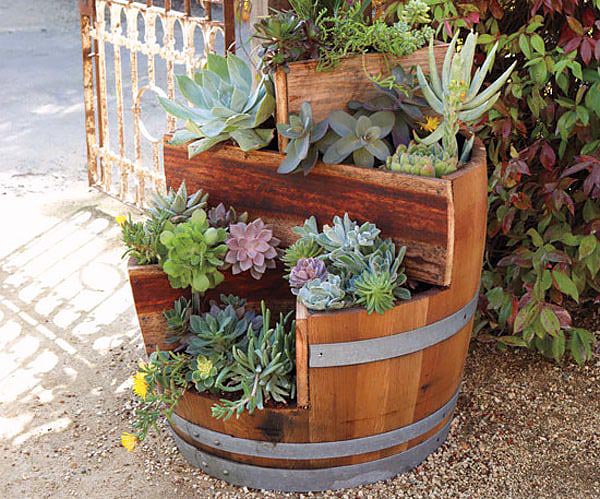 Photo: Credit
If you have a spare barrel or any sort of round vessel lying around, I have an idea for you.
Turn it into a planter! Wine barrels are ideal for patio planters and they make a great home for succulents.
Look for pot-friendly plants to root inside and enjoy the results!
10. Get Creative with Your Wine Barrel Tiered Garden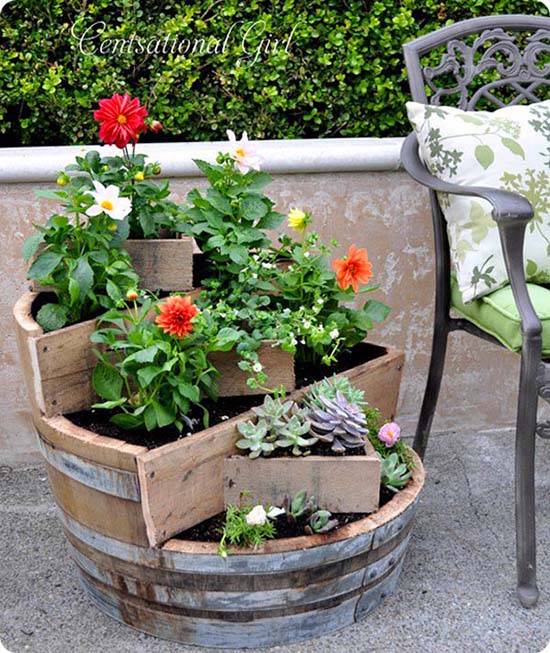 Photo: Credit
Flowers like succulents and perennials are the ideal choice for a recycled wine barrel.
However, you can even grow tasty fruits inside and green leafy vegetables.It does require some work to achieve on your own, but it can be a lovely homemade project for the males!
Prepare to plan and have this loveliness in your home.
11. Make a Statement with a Spiral Gabion Planter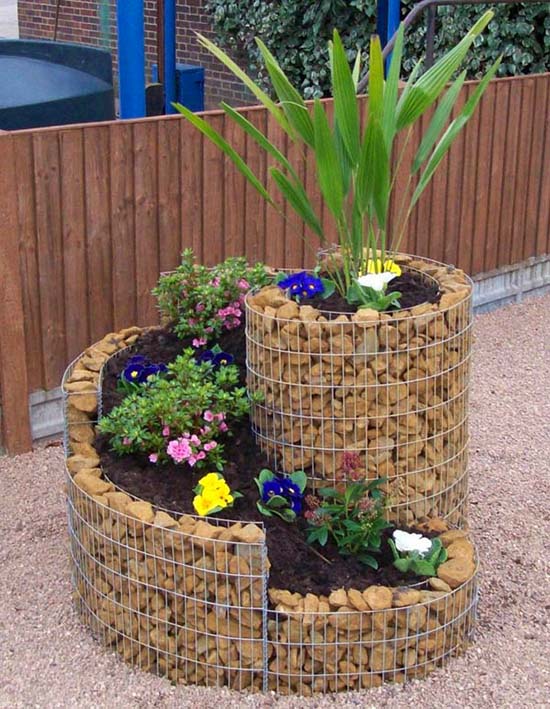 Photo: Credit
I have another unique vision for a home planter!
You can grow herbs like parsley, cilantro, dill, lemon grass, mint, oregano or basil.
The list is endless and there is nothing like having freshly cut herbs from your garden.
This structure has been filled with stones, so it is not just beautiful but very stable!
12. Add Splendour to Your Home with a Tilted Tiered Planter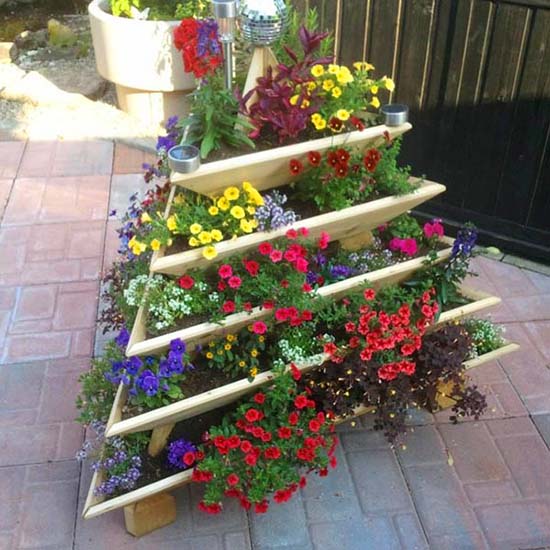 Photo: Credit
You have probably noticed this in the parks and gardens of many different cities.
It is easy to maintain in an urban environment.
You get easy access to the fragrant flowers from every side of the triangle structure and you get to plant as many flowers are you wish.
13. Turn Old Tires into a Colorful Tiered Flower Garden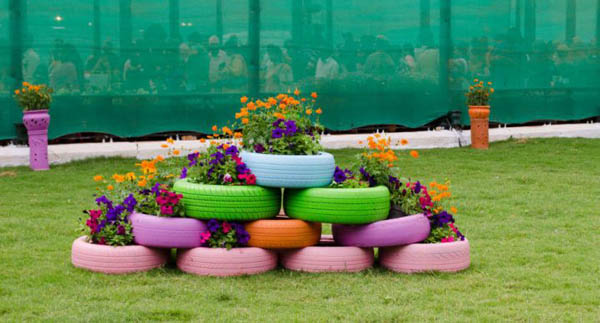 I have to admit – I've never enjoyed looking at car tires that much.
There is nothing inspiring about them.They are dark gray or black, they usually cause troubles and need changing every season.
I am here to suggest that they can become a wondrous piece of art as well. Paint the old tiers and build an awesome flower bed!
14. Be Charmed with Painted Cinder Block Tiered Garden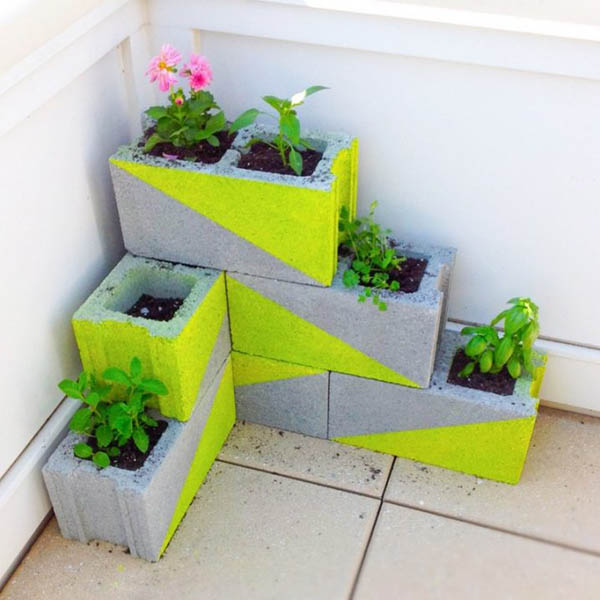 Photo: Credit
In garden design and in life, we love everything beautiful. Here is another source of inspiration for our senses.
These planters are inexpensive, eye-grabbing and pretty awesome.Use these boxes to create a lovely neon planter or a vessel with any color you have on your mind.
15. Get Smart with Gardening with a Patio Tiered Garden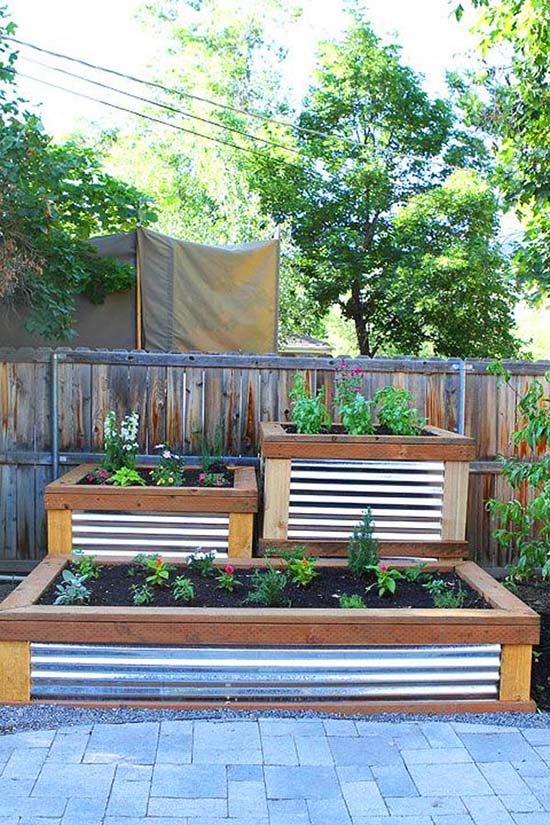 Feeling cozy and domestic is not a hard thing to do.
Usually, those who turn to living in a house rarely feel like going back to cramped apartments.
If you are living in a house, you simply can't go without a large planter or pot.Here we can see flowers and herbs growing together beautifully!
16. Make a DIY Wooden Tiered Planter for Your Yard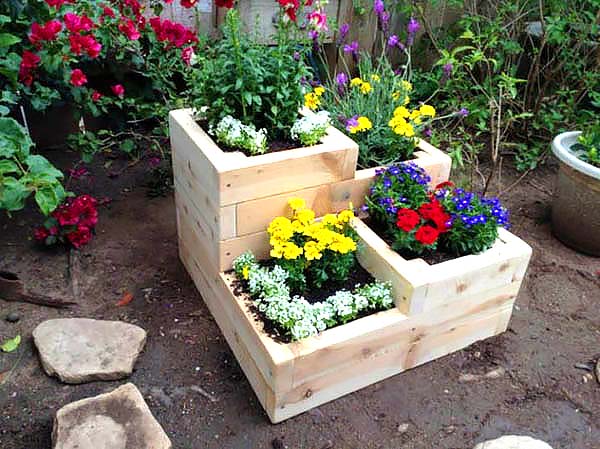 Photo: Credit
Another stellar piece! There is fresh wooden planter in a light color, a spacious backyard and a bunch of flowers!
Growing your crops – herbs, flowers, fruits and vegetables feels incredibly rewarding.
You can't ask for more even if you choose to only care for low maintenance plants. Everything you need is here, except for some lemon trees, I guess!
17. Give Your Tiered Garden an Elegant look with White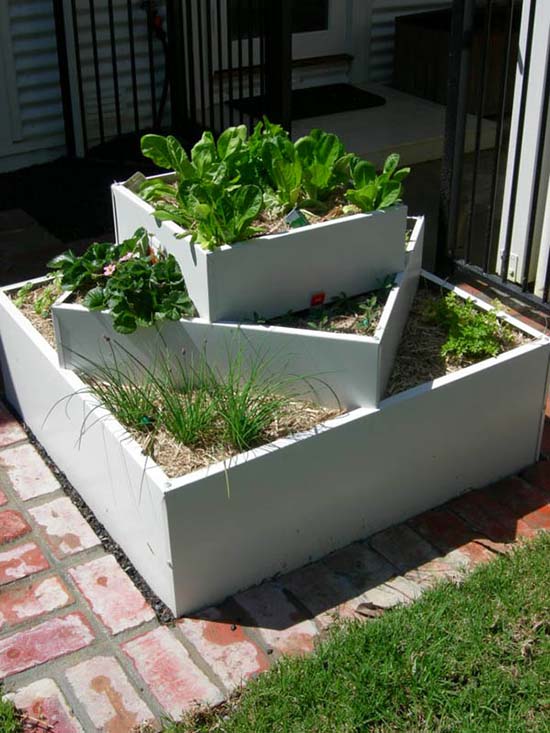 Photo: Credit
So, we have established the rule of thumb so far.
If we really need a rule for planters it is – just don't forget the soil and the water.
It is that easy, that simple and that fun to have. Many people have a special appreciation for green plants!
18. Upcycle Old Crates into a Rustic Tiered Garden Planter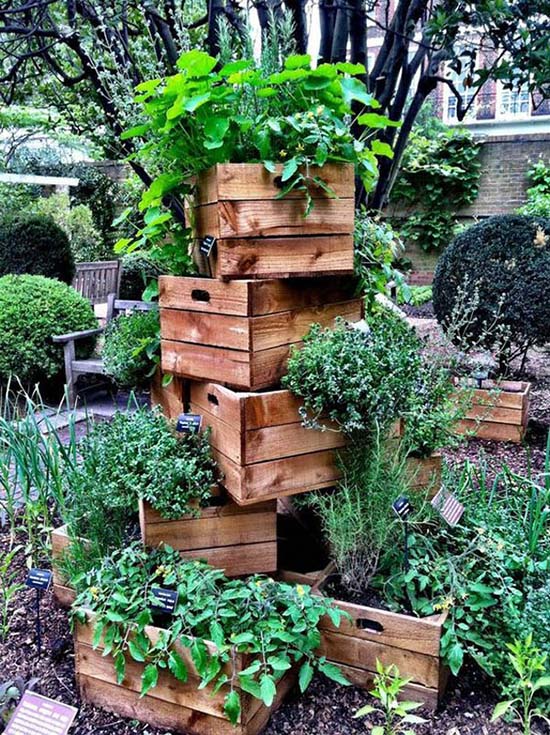 I am guessing that by now we are confident that even a child can make a planter with inspiration and assistance.
My last example is green, green, and green! You see, here we have achieved quite the height.
It is all about the love for nature, clean air and a cheer for heavenly gardens.
19. Tiered Planter to Grow Strawberries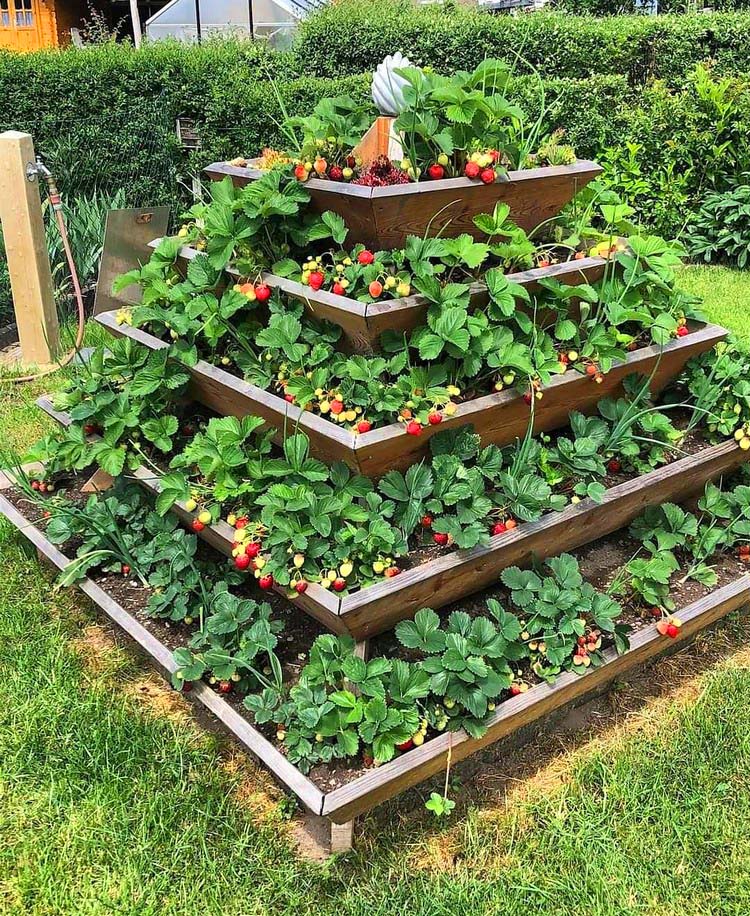 This amazing pyramid-shaped strawberry planter is made out of recycled pallet wood! It will allow you to grow a lot of strawberries in a limited space. Its height makes it easier to maintain and harvest.