49 DIY Pallet and Wood Planter Box Ideas To Spruce Up Your Garden
Are you sure you can't make your own planter box using some wooden boards or scraps? Believe me, it's not that hard!
By creating a beautiful planter box at home you will not only save money, but it will also give a personal touch to your yard or deck.
We have selected the best DIY pallet and wood planter box ideas with instructions and step by step tutorials so that it's easier for you to select your favorite and try it at home.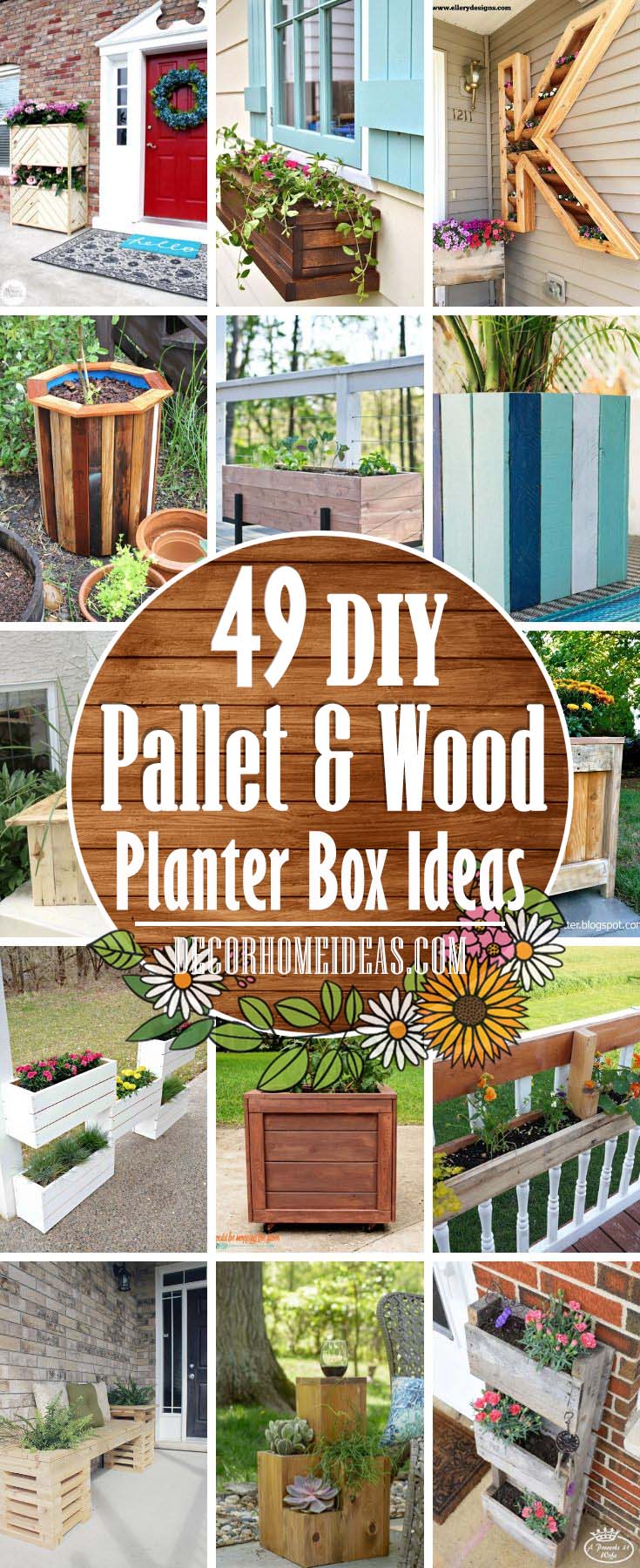 Don't forget to PIN this image for quick access to all these beautiful DIY planter box ideas.
How To Build a Planter Box From Pallets
What you need is some time on your hands, old pallets or scraps and passion to build things.
We have included all kinds of projects – small planters, tall planters, window planters, hanging planters, etc.
No matter if you have a small deck, big yard or an ordinary front porch – there is something here for everyone.
Cascading Flower Wood Pallet Planter Box

That is the perfect planter for cascading flowers so you should definitely give it a try. Made of pallets or pickets, that planter can hold an enormous bouquet of your favorite flowers.
You need to prepare the legs which will support the basket.  The sides are made of pallet slats that are nailed or screwed through. The holes from which the flowers will peek out are drilled with a hole saw.
This planter would definitely look stunning when your flowers are in their blooming phase.
via Her Tool Belt
Coastal Colors Painted Wood Planter Boxes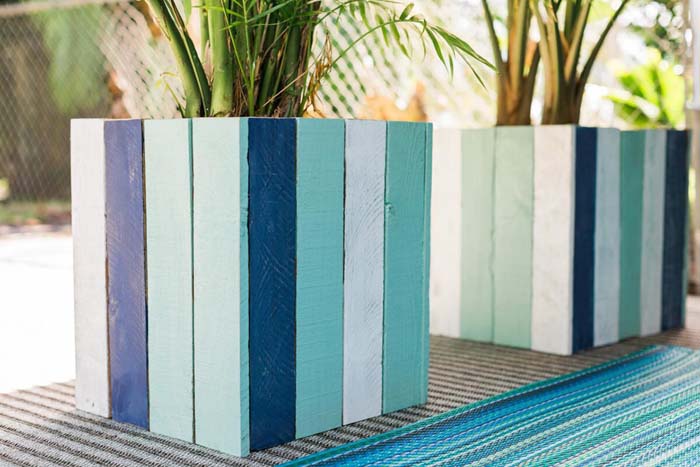 These DIY pallet planter boxes are perfect for edging of your patio or deck. Guess what? They are made of pallet slats painted in coastal colors and arranged to create an ombre effect.
Use the existing pots of the plants to glue the painted boards on. The size of the slats may vary depending on the pot you would be lining. Cut them all at a size, paint them in advance and arrange them in square shape.
You can experiment with other colors; why not add a favorite inscription to get inspired from every time you are standing at your patio? These pots can look well with blooming or green plants and even with a coniferous tree.
via HGTV
Dark Stained Wood DIY Planter Box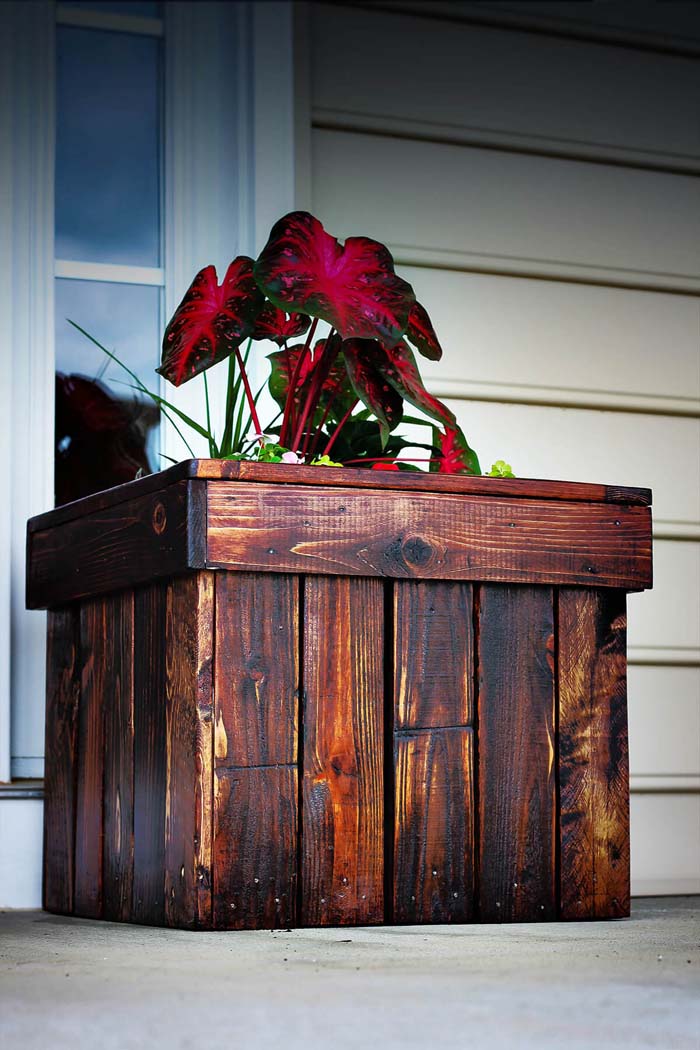 As the author has said, this wooden planter is meant to hold a large pot in a more attractive way and we totally agree with him.
The elegant finish is achieved through fine sanding of all pallet boards, staining in dark color and the embossed top frame. It does look like shop-made rather than home-made planters.
Plant two identical plants and everyone at your door will be well received.
via Instructables
DIY Chic Painted Wood Planter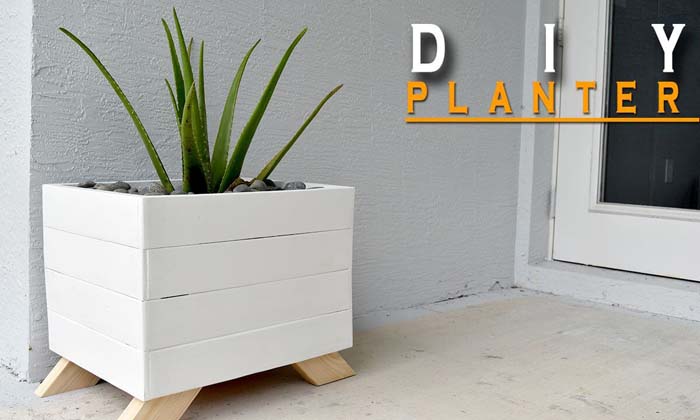 This stylish pallet flower planter is easy to be made!
Make a frame to which pallet slats are closely nailed. You can lift it up a bit with four legs cut at an angle – that gives a very nice touch to the simple planter. Prepare the surface for painting and apply 1 or 2 coats.
Your big wooden planter is ready for its flower. Add decorative stones or gems and there you go – a perfect DIY planter for your garden, porch or even home interior.
via Homedit
DIY Hose Hiding Outdoor Planter

This wood planter box idea is very clever and multifunctional –you can use it both to storage your hose and for a planter.
It is made of wooden boards which can be easily substituted with pallet slats. The hose is preliminary mounted to the water supply. You only need to take off the top basket where the flowers are planted into and water the flowers.
The yard can become a neater place if you follow the instructions and make this easy hiding-the-hose wooden planter.
via Jamie Costiglio
DIY Octagonal Garden Planter Project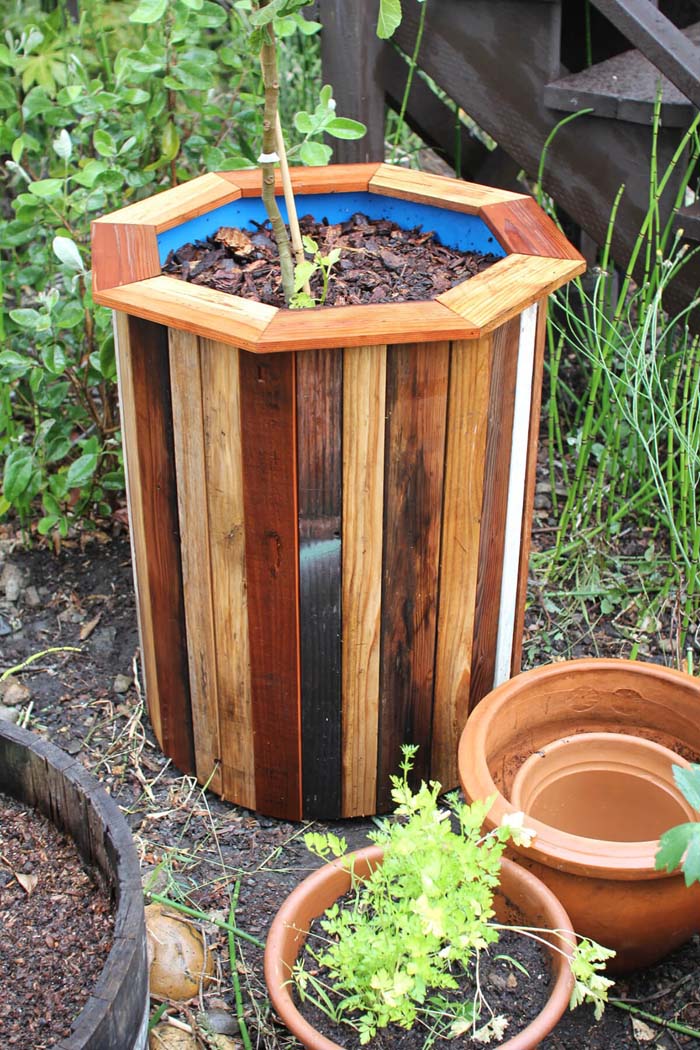 The octagonal planter is the perfect plant box project for fruit trees. As it is made of plastic barrel lined with wooden boards, the storage area is big enough to accommodate a tree.
All boards are fixed to the plastic material with nails. The top rim is made of short sections of scrap wood that create an interesting octagonal frame. That wooden planter can be very useful also for plants that cannot resist winter temperatures, palms for example.
via Instructables
DIY Painted Wood Tall Planter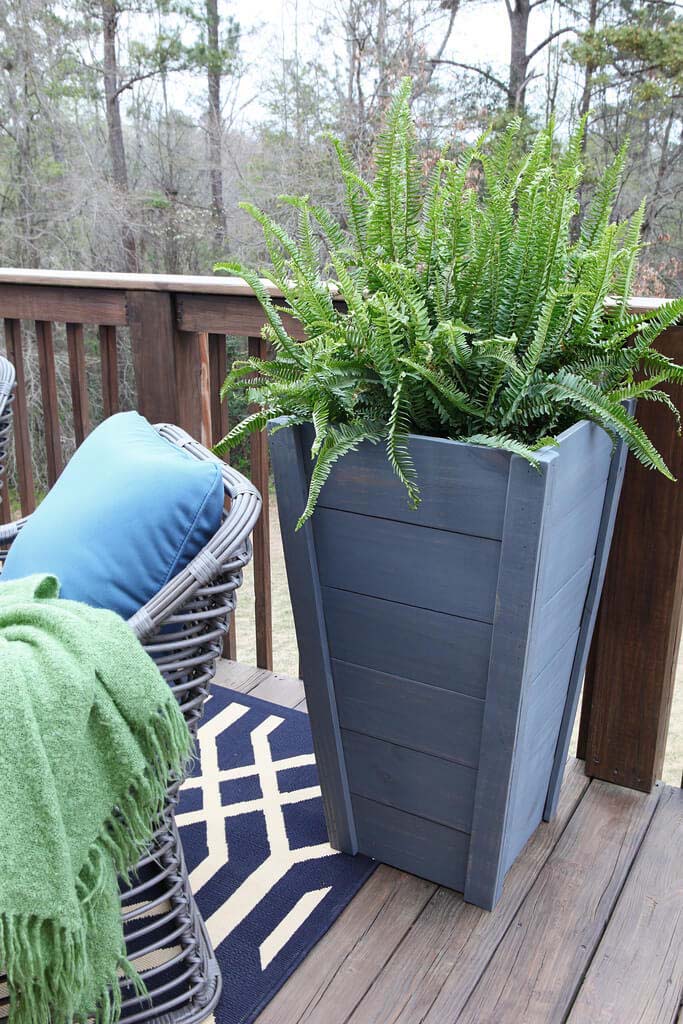 Made of six stackable squares of scrapped wood, these wooden planters are the perfect way to expose identical plants on your front porch. They are quite noticeable because of their height and gradually increasing square size.
You need to take advantage of the detailed instructions given in the link below as these would be the reason to eagerly expect spring.  
via Bower Power Blog
DIY Planter Box with Climbing Trellis

This is a DIY planter idea which may be taken to the master class concept. Not that it is difficult or expensive, it is the WOW project. If you decide to make it, you will gain a lot.
First, it is quite big and can hold many plants. The second advantage is that you can plant different types of flowers – including climbing flowers because of the vertical screen. Last but not least, it could be a great space divider or could be used as a privacy screen. It is made of wooden boards, even scrapped ones will do well.
Another great feature about it is that it is mobile! Have you already find the perfect place for your climbing flowers wood planter?
via This Old House
DIY Planter Box With Fence Boards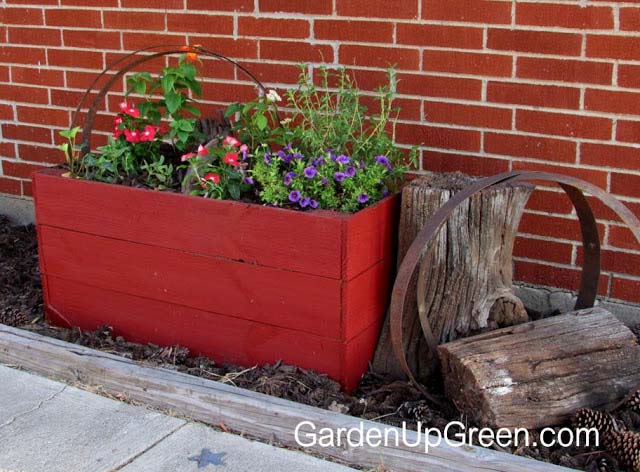 If you are a recycling maniac, this is your wooden planter box idea!
Made of 8 off pine fence boards attached together with screws, this planter box is very easy to make. Paint it in a color that would suit your exterior, plant seasonal flowers and enjoy the basket-like planter.
By the way, it can be used for other possibilities throughout the year, for example to hold pumpkins on Halloween.
via Garden Up Green
DIY Small Wooden Planter Box

For those of you who prefer smaller planters, here is a great and easy to make DIY wooden planter. It is cost and time-effective.
This planter box design uses some boards, screws and stain for wood. Assembling the boards at certain pattern and adding legs makes it distinguishable among other homemade planters.
via Two Feet First
DIY Tall Wooden Porch Planter

This tall wooden planter somehow reminds us of the beach exterior concept. We love it because of the rope accent and the natural wood color.
It is a great example of a bigger DIY planter box that can be a nice accent to your porch or deck.
via Cherished Bliss
DIY Tiered Hanging Planter Boxes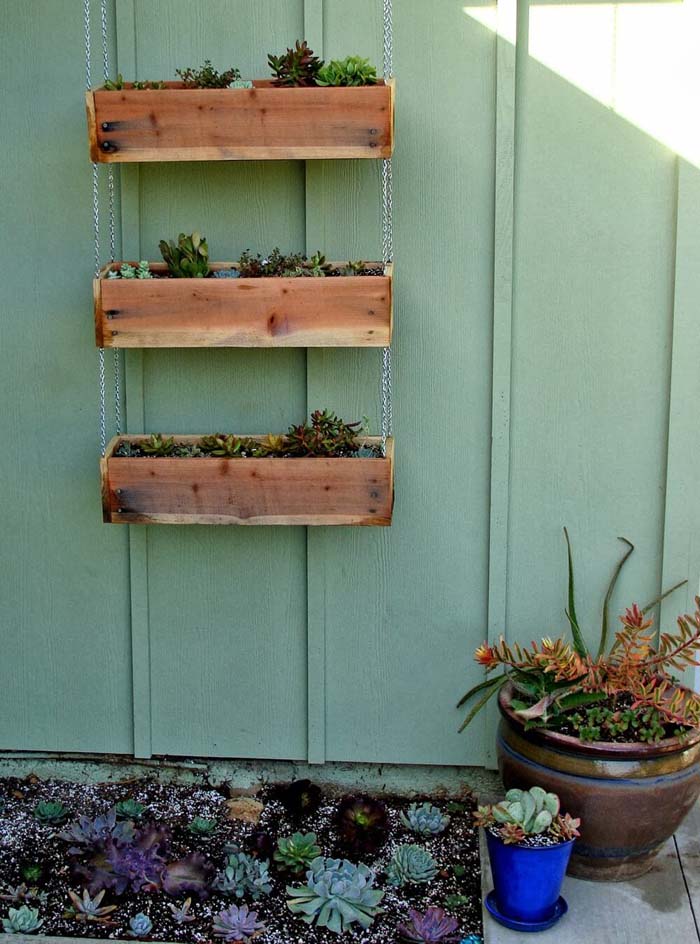 If you want to hang up your flowers in an interesting way, this is a suitable idea. The stable hanging is achieved with eyebolts drilled at every box corner.
You can add more of these planter boxes and thus trace the entire height of the wall. This is the perfect way to recreate a boring exterior wall.
DIY Tiered Wood Flower Boxes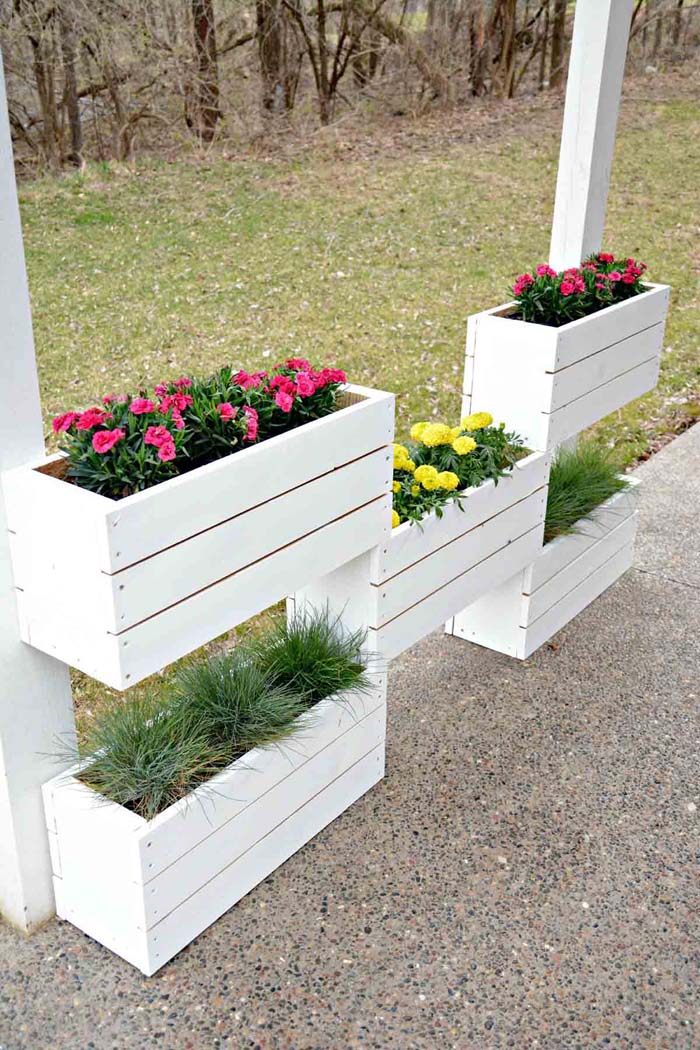 We love the way these pallet flowers pots have been arranged! If you have posts on your deck, it is time to use them properly.
The materials needed are easy to be found– wooden boards (you may use pallet slats), screws and paint. Make the separate wooden boxes and then arrange them vertically on your porch to create an amazing tiered planter.
The porch space has never been utilized in such a beautiful way!
DIY Tiered Wood Herb Garden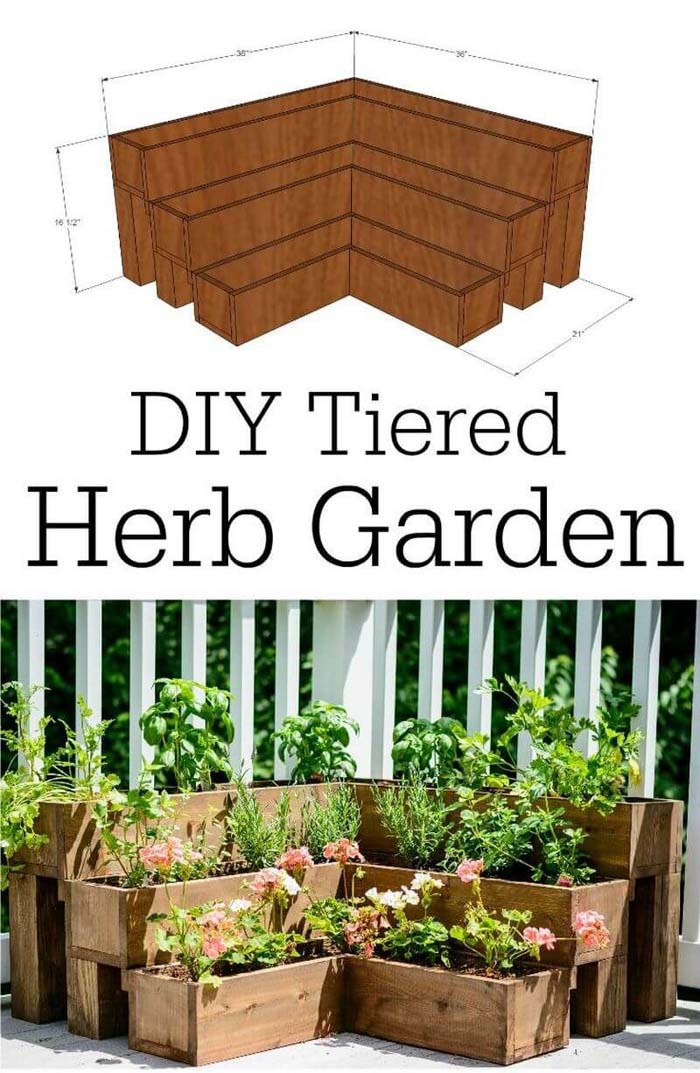 Herbs can be a great addition to your garden. They smell well, they are healthy and their taste would be much better if grown at home.
The tiered arrangement of the wooden boxes and their L-shape makes this wood planter an attractive way to grow your herbs and perfect for a corner garden.
Wooden boards, screws, glue, silicone sealant and outdoor stain are the main materials you need.
DIY Triangular Wood Porch DIY Planters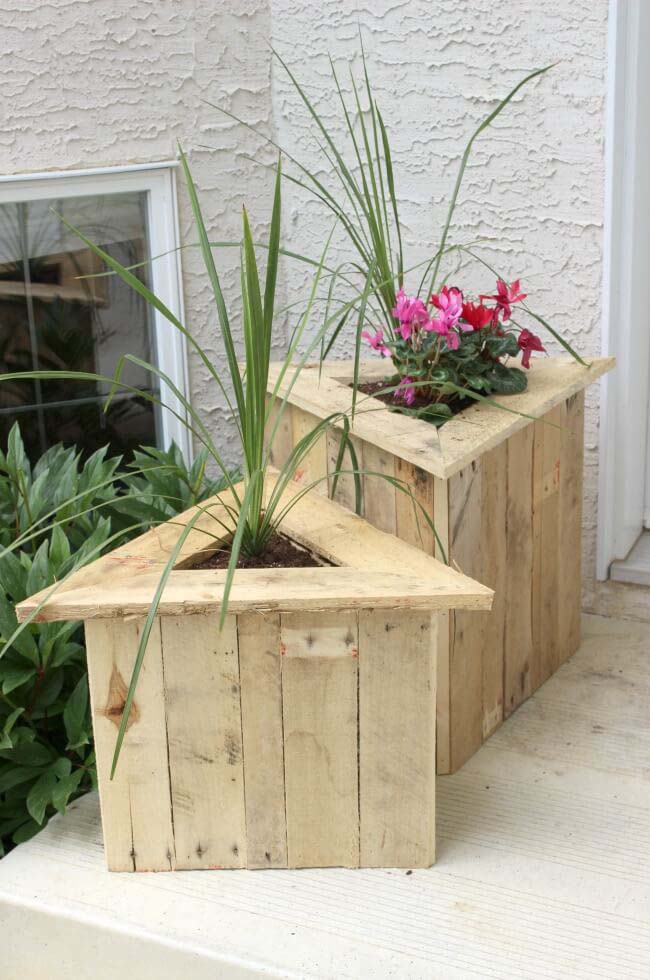 Among all possible geometric shapes of DIY wood planters, we have found a triangle pallet flower box for you.
The author assures that it is easy to be made and won't need more than old pallets, a plywood sheet and nails.
We advise you to make at least two of these but in different height and size as they stand very well together on the deck.
DIY Unique Hexagonal Planter Box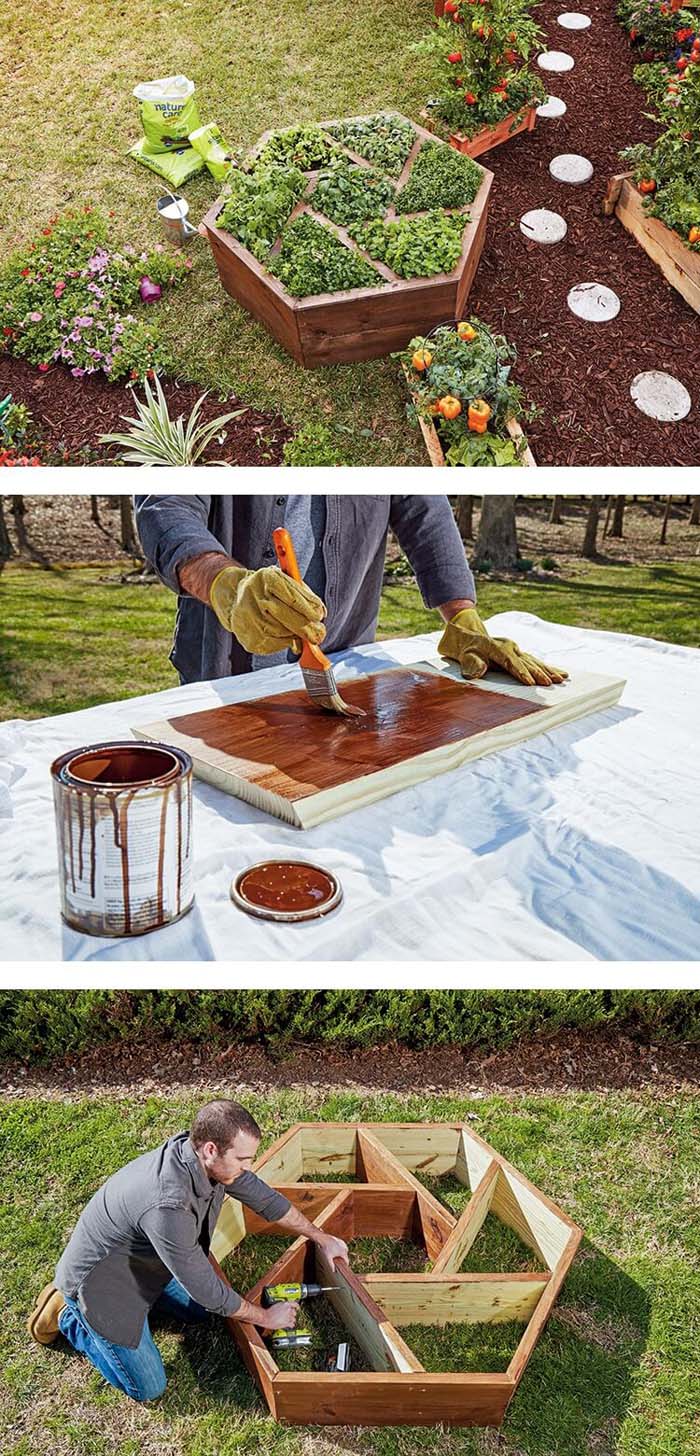 This is indeed a unique DIY planter box design. The asymmetrically arranged internal boards divide the plants boxes in an interesting way.
This wooden planter is perfect for herbs, flowers and leaf vegetables. Make sure to put it at the desired place before putting the soil and the respective plants as it is a heavy structure.
via Home Depot
DIY Wood Pallet Vegetable Garden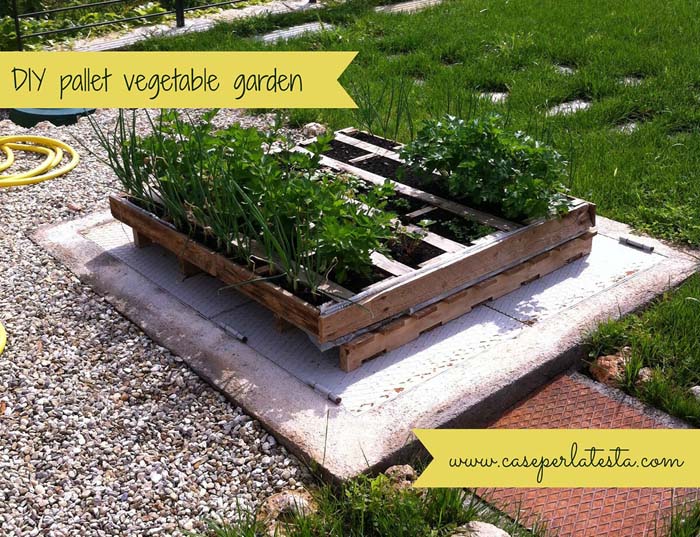 This is an easy project which requires connecting of two pallets together. This will provide enough height for the plants to make good roots.
This pallet planter design has been created to be used as a small vegetable garden so it is a solution to grow your own bio products in case of a small yard or apartment balcony.
via Caseper La Testa
Easy DIY Pallet Herb Garden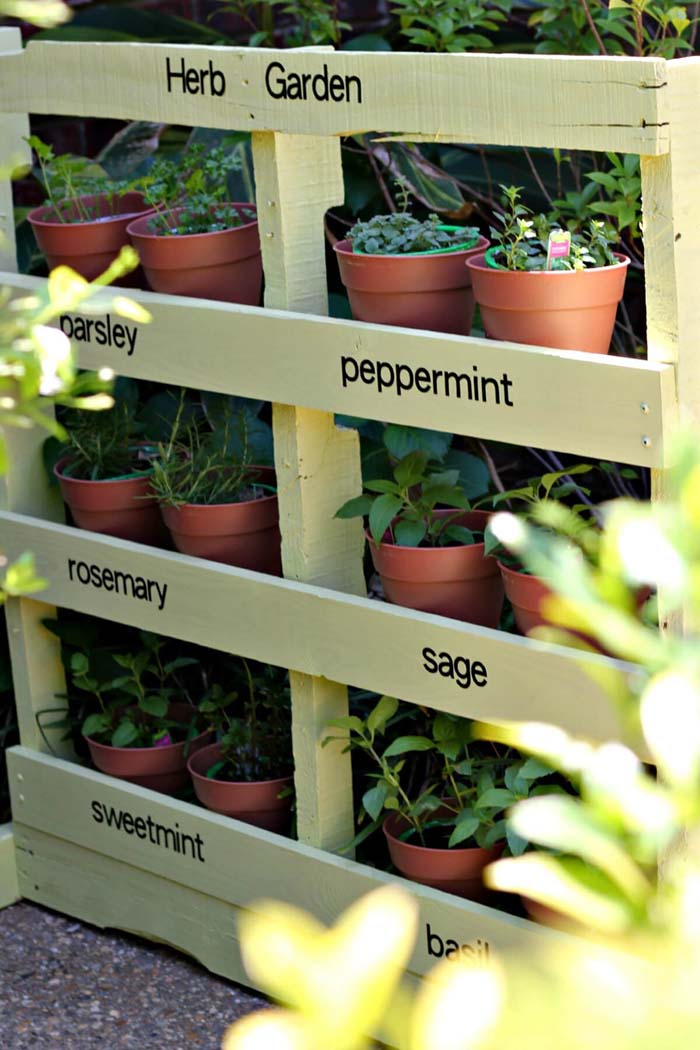 This is an easy DIY pallet planter idea as it uses the pallet in its original shape. This means that dismounting, taking off nails and sanding will be reduced to the minimum.
Vertical gardens are perfect for small balconies or decks as they have a small footprint but can accommodate a lot of flowers. They are suitable to grow not only herbs but also blooming and cascading flowers.
via Dea Vita
Home Pallet Flower Pot Holder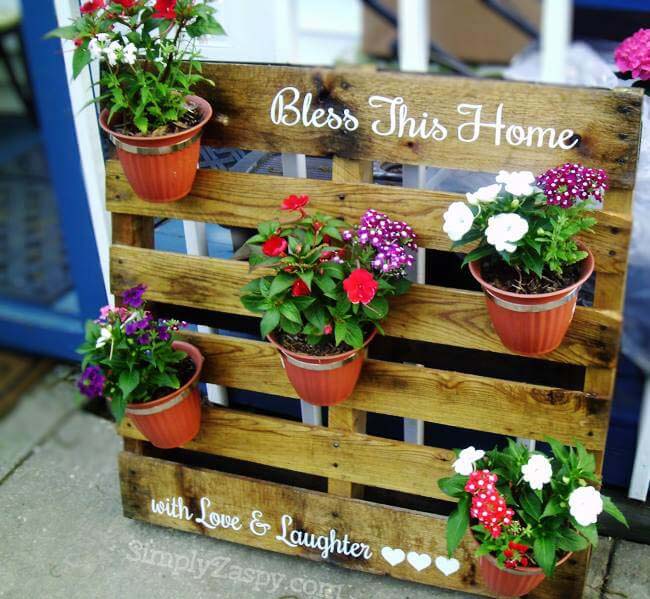 This DIY planter uses an old pallet, clamps and existing flower pots. It is a great and easy way to arrange your flowers vertically and thus save some space.
The clamps are preliminary adjusted to the exact pot diameter and then screwed to the pallet boards. You can lean the planter on any wall, even a balcony one.
via Simply Zaspy
How To Build Window Wooden Box Planters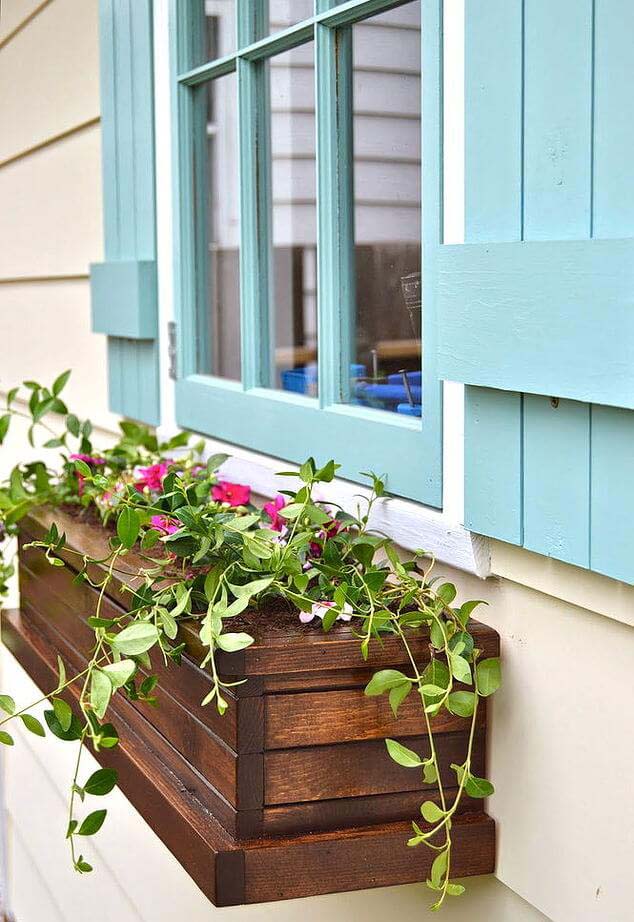 If you want something different than the standard white boxes you can see literally under every window, here is something for you. Made of thick lumber, these boxes are strong so you will enjoy them for many years.
Staining them in dark color is the right decision as they do not blend with the standard exterior of the houses. As simple as making of these boxes is, you will never regret investing time in them.
via Kruse's Workshop
How To Make A Rolling Planter Box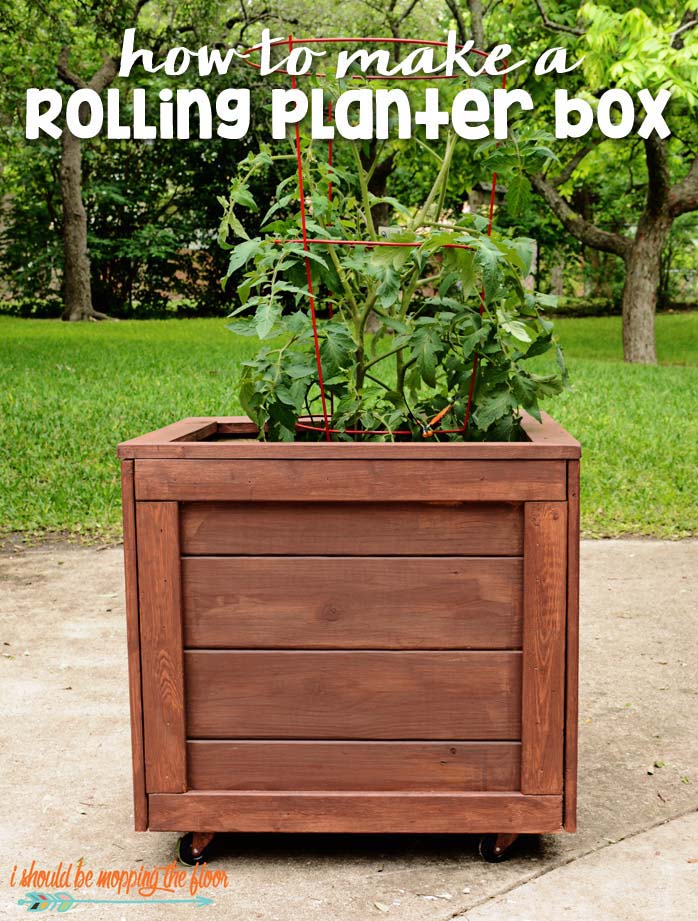 This wooden garden planter idea is perfect for any outer space– from your patio to your vegetable garden. It will work well with vegetables, herbs, flowers or even decorative trees.
Another feature which makes it so universal is its mobility! If you change your mind about the plant inside, just roll it to your porch and plant a coniferous tree.
via I Should Be Mopping The Floor
Mounted Flower Box for Deck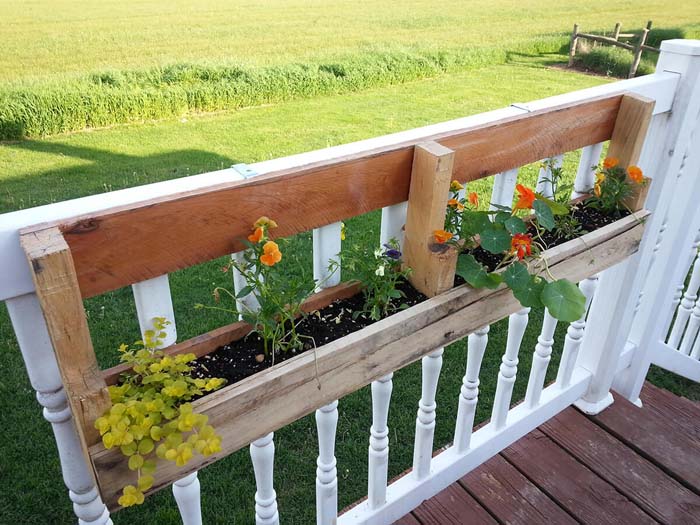 If your concept for DIY wood planters includes easy, inexpensive and functional result, this is your project! Using all parts from a pallet, you can create flower boxes that are hung on your deck railing.
You can leave the pallet planter box in its natural color or paint it in the color of your railing – both ways you would have a great for the eye flower wooden planters.
Painted Wood DIY Hanging Planter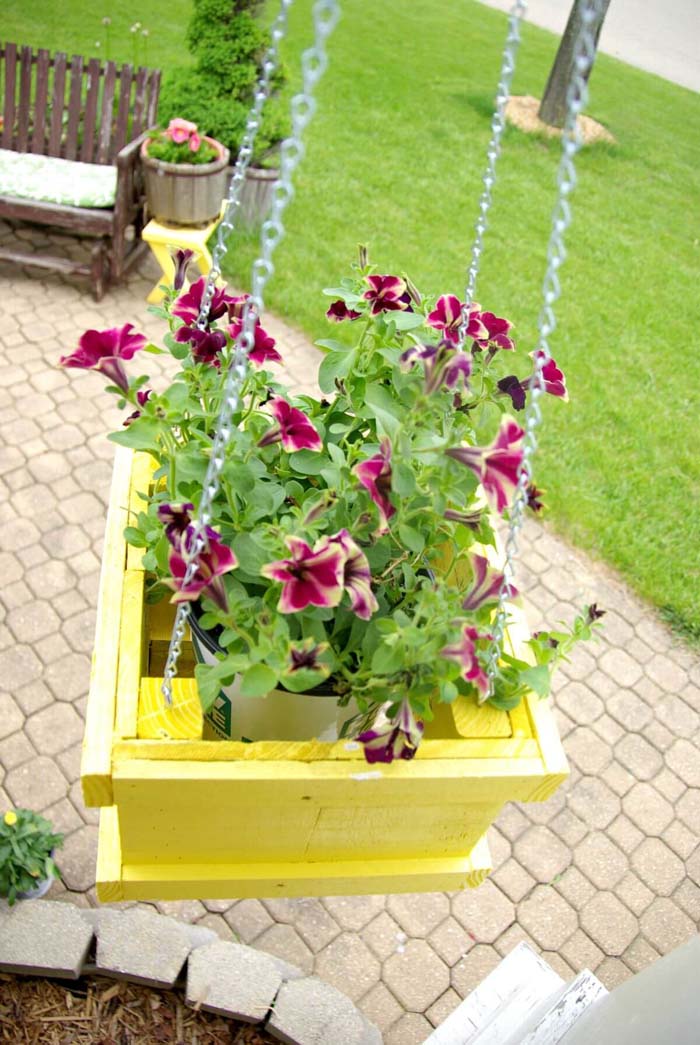 Living in a house gives variety of options when it comes to flower arrangement. A great way to use the space in front of your porch is to make this hanging wooden box.
This DIY project gives instructions for how to make a sunny planter, ideal to show off with your favorite blooming flowers.
via Homedit
Reclaimed Wood DIY Planter Boxes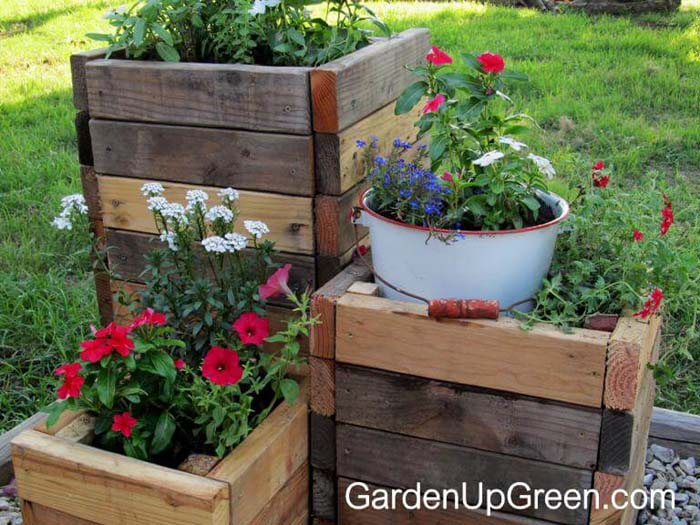 Creativeness and recycling are the keys for this DIY wood planter boxes.
They are of different height and the bottoms are opened! This has been the author's way to let the planters interact with the garden.
They are not protected with any varnish or stain, however they look very "vintagely" well. This wood planter idea will perfectly utilize the leftover pile of wooden boards from previous projects.
via Garden Up Green
Repurposed Drawer and Table Legs Planter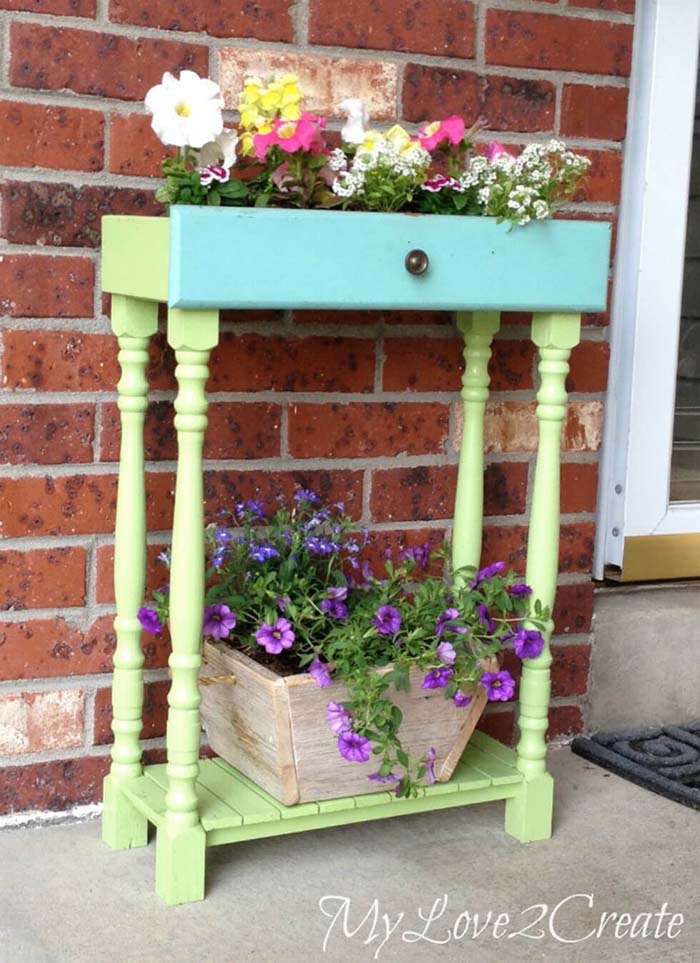 Old furniture can be upcycled for various applications. Here is an idea about how to turn useless drawers and table legs into artistic two-level wooden planters.
Fix the drawers to the legs, add a few scrap boards around the bottom of the legs to create the lower level which will also make the structure more stable and your planters are ready!
via My Love 2 Create
Rustic Large Wood Planter Box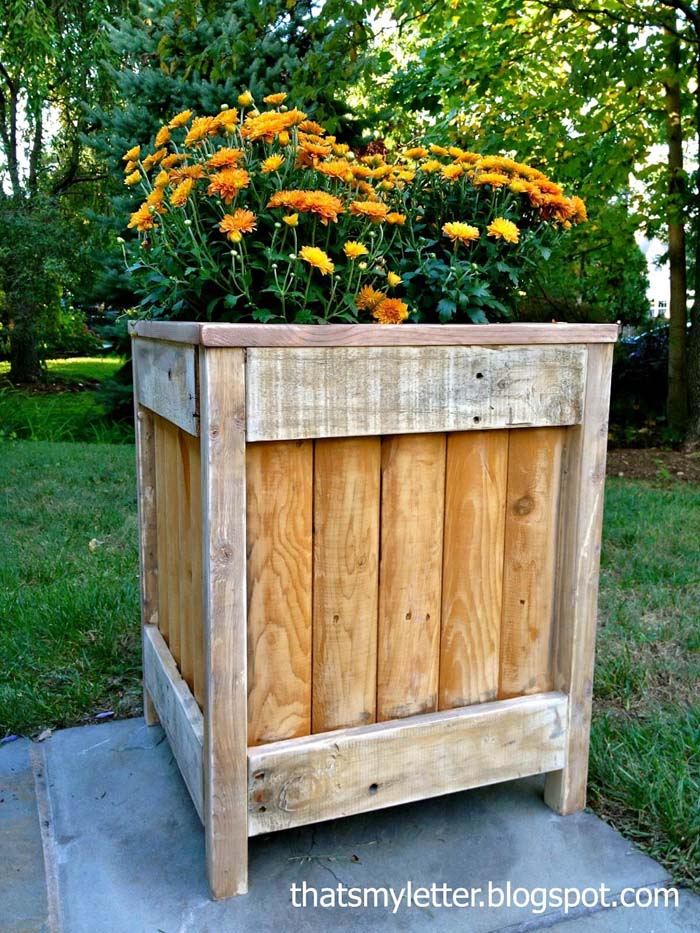 A large wood planter box for $3?
Yep, this is a very easy and "priceless" homemade flower box which can be painted in the color of your front door or left in its natural finish for a more rustic appearance.
This planter box design requires only scrap piece of stockade fencing, some pallet boards and two pine boards.
via Jamie Costiglio
Simple DIY Wood Planter Box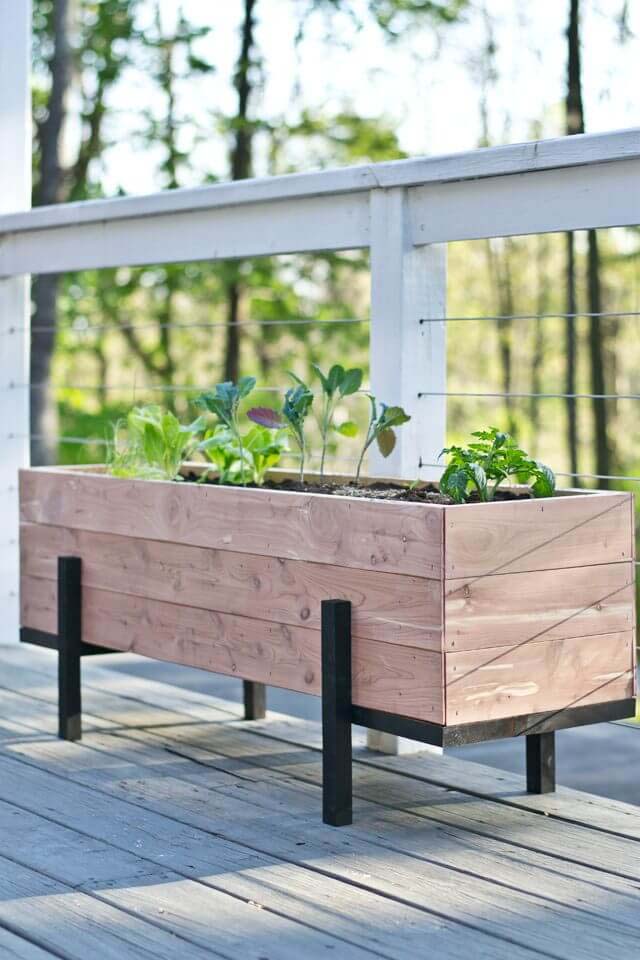 Simplicity doesn't mean boring and this DIY wood planter box proves it!
Making it requires only wooden boards. The legs are painted in black to create a modern contrast with the plant basket.
This planter box design will fit well on your balcony, porch, deck or yard. It is universal in another aspect as well – you can put any plants in it – from plain grass to vegetables.
via eHow
Tiered Planter and End Table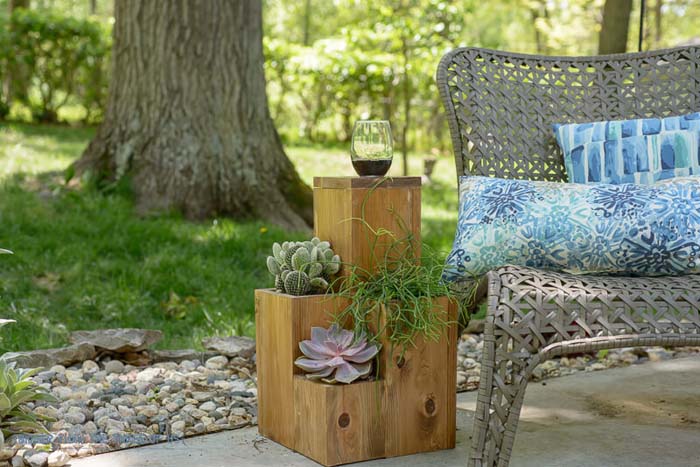 This stylish side table atop a small succulent garden combines functionality with greenery. It will fit well anywhere where there is a sitting area, even in your living room.
The geometric shape is achieved through L-shaped wooden board sections assembled together. The highest box is closed to serve as a table; the lower ones are open to use as planters for your favorite flowers.
Two Tier Large Wood Planter Box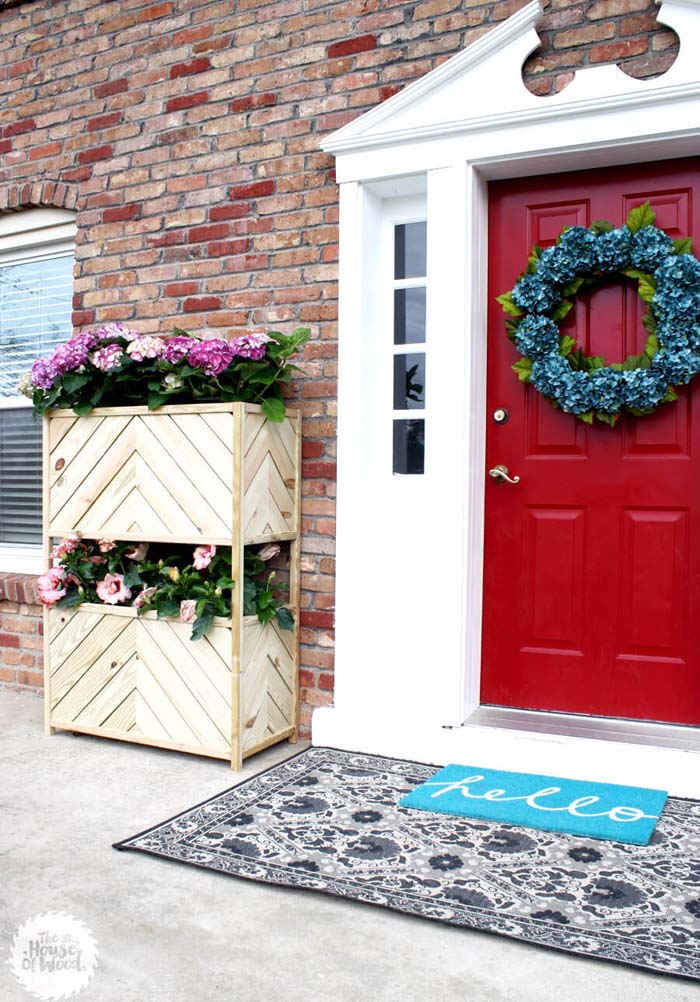 This awesome vertical planter is perfect for those of you who want to leave a straightforward impression.
It is huge, very precisely constructed, it is on two levels- everything about it is far away from plain.
If you are living in a house without a backyard or even a small deck to place flowers on, this planter design may be your way to invite the sunnier part of the year.
via Jen WoodHouse
Wood Monogram Mounted Flower Planter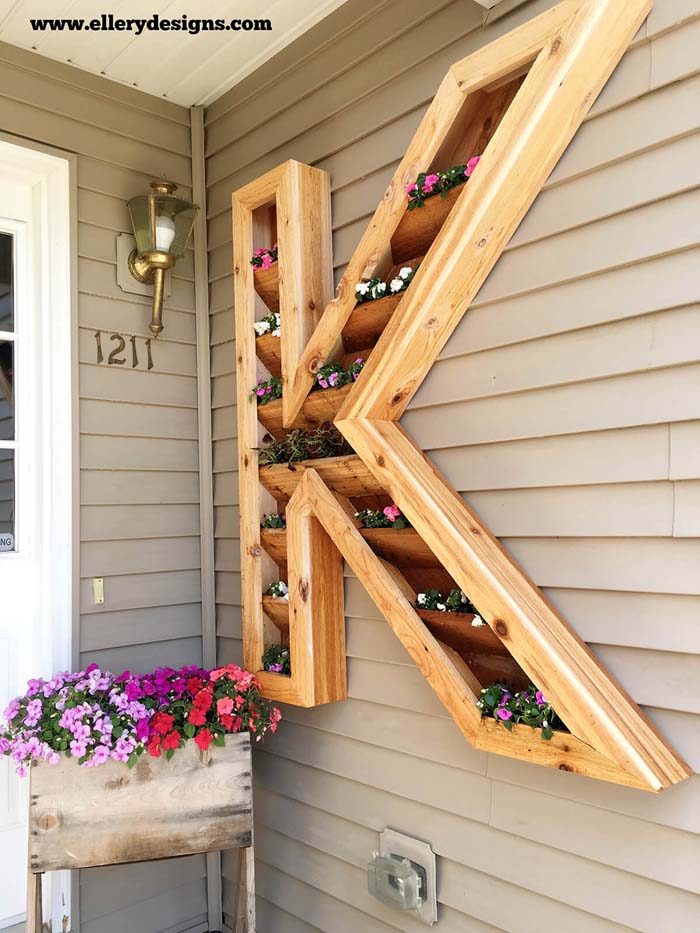 My home is my kingdom! This K-monogram wood planter idea is the most fantastic ever!
Made of cedar boards, this planter is huge that it can accommodate a lot of blooming flowers in summer. You will be able to use it during all other seasons as well – pumpkins, Christmas decoration etc.
via Ellery Designs
Wood Pallet Bench with Planters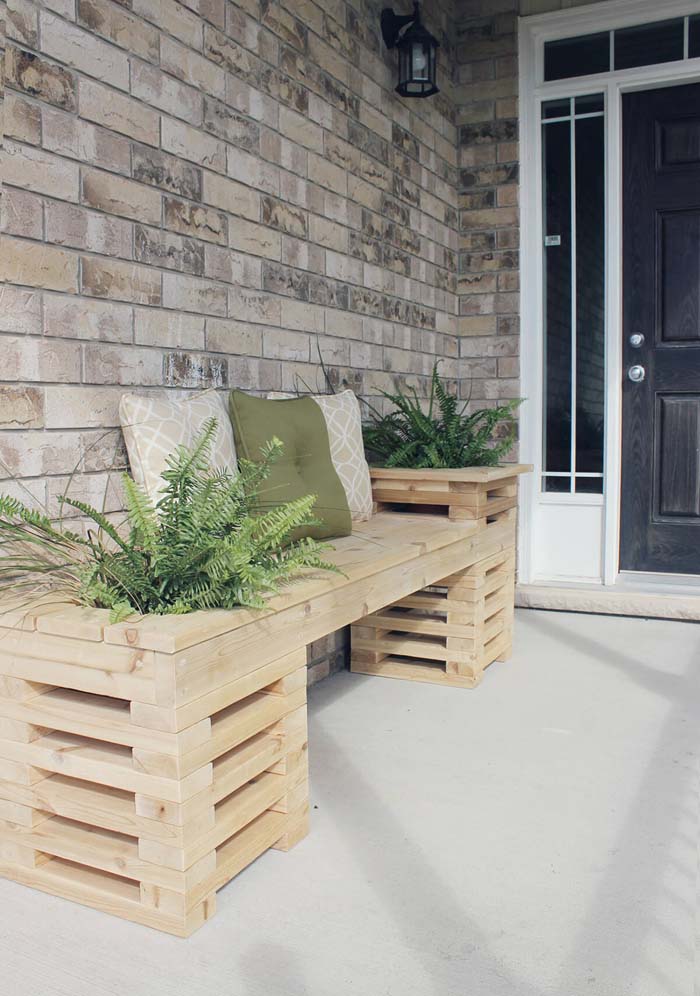 This DIY wood planter idea combines sitting area and greenery in 1. It is not a simple project but it is definitely worth doing it!
See also: How To Build The Perfect Raised Garden Bed With Bench
The entire structure is made of wooden boards, assembled according to a certain pattern available on the link below. It is no doubt that every neighbor would like to have one for themselves once they see how functional this homemade wooden planter is.
via Brittany Stager
Wood Pallet Mounted Planter Boxes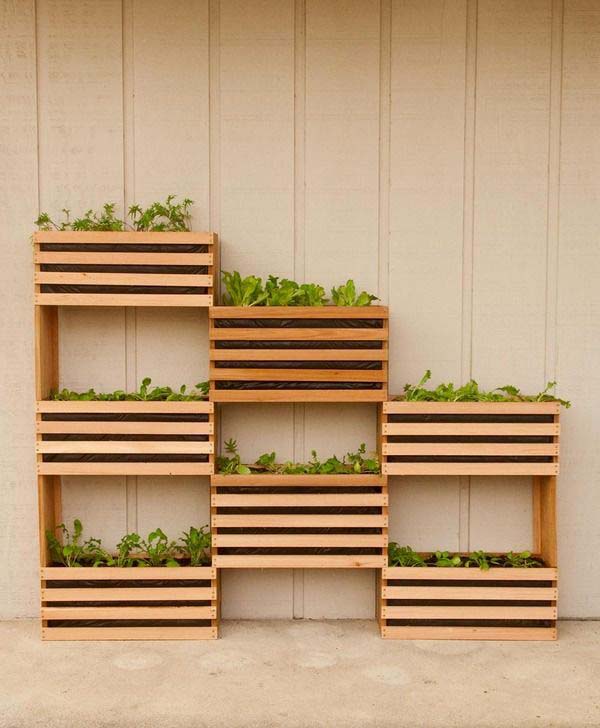 Another design of a vertical garden is this DIY asymmetrical wooden planter. It has a modern look and the modular sections can take up many plants.
It is perfect for vegetable garden or to expose various blooming flowers.
via Man Made DIY
Wood Pallet Tiered Planter Box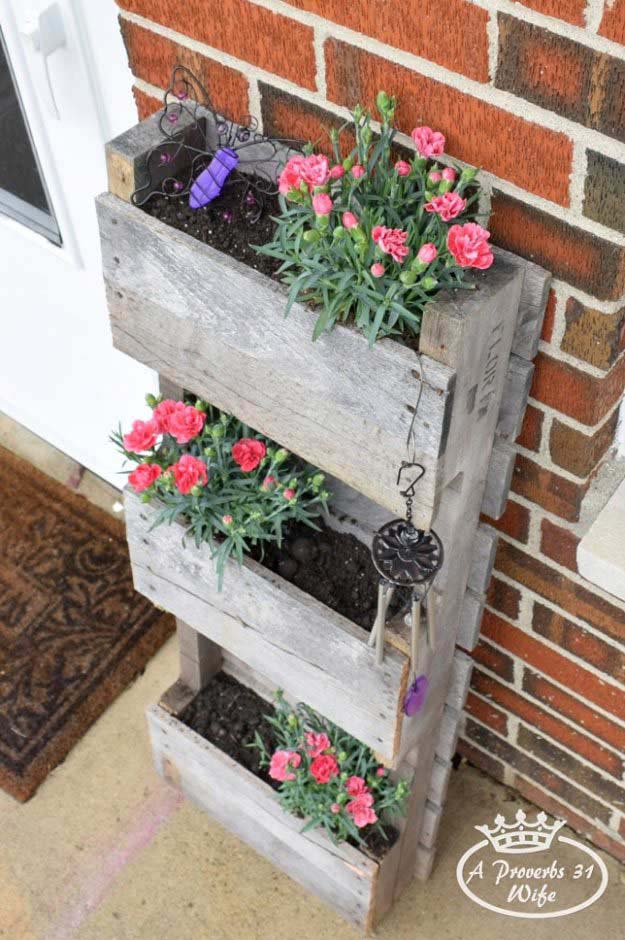 This pallet planter design uses section of an old pallet. The pockets for the flowers are made from detached boards from the remaining pallet.
The finish of the wood isn't changed to achieve a rustic design. Lean it on a wall on your house, fence or even on your balcony and enjoy the aromatic view while drinking your morning coffee.