When it's time to relax at home, an outdoor patio adds square feet of living space that's perfect for entertaining friends, relaxing with the family, or just spending quiet time alone, recharging.
And these elegant outdoor designs from Paradise Restored are the epitome of convenience. Natural stone, ornamental grasses, tons of seating and exquisite water features are only the beginning of what you can accomplish at home when you trust professionals with years of experience in the landscaping industry.

To recreate these designs in ways that fit your lifestyle, decide which features you most crave and make them focal points of your design. If you need seating, consider adding more than one conversation area complete with cozy chairs. If it's a gourmet, outdoor kitchen that moves you, make that a reality by opting for one that's nestled neatly in attractive stone to add both longevity and appeal.
Possibilities are nearly endless when you adopt one of these magnificent backyard arrangements and then customize it to suit your own needs. Using slate, cobblestone, fire and water features, plantings, seating, cooking and dining areas and more, you can have a patio that rivals any luxurious hotel for a price that's more affordable than you realize.
Relaxing at home takes on new meaning when the outdoors looks and feels this good. Stop missing out on the calming effects of nature, and talk with a landscaping expert today to begin building the backyard of your dreams.
1. Get Refined Elegance for Your Patio with Stone Wall Accent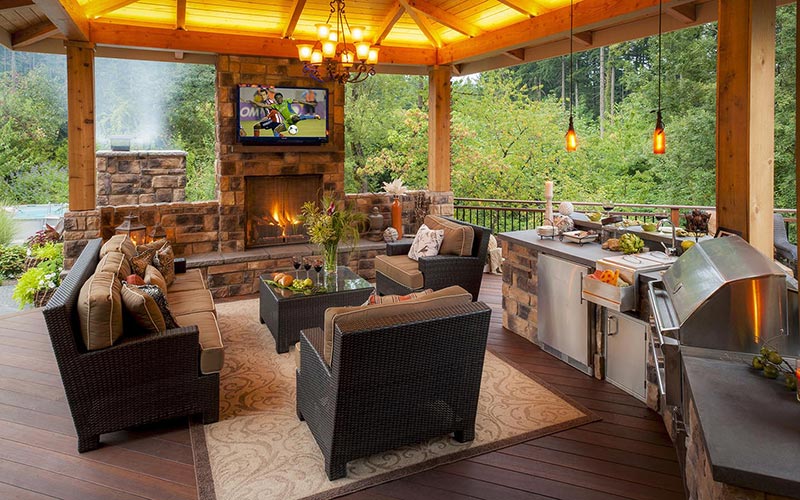 For a patio design that features everything including the kitchen sink, this elegant layout that includes an outdoor kitchen, big-screen television and comfortable seating for five is just the ticket.
A warm and inviting fireplace surrounded by genuine stone creates an atmosphere of unrivaled comfort to make the outdoors inviting on even the coolest of autumn evenings. And a wide hearth provides additional seating for guests as well as storage for collectibles.
A coordinating indoor/outdoor rug, rustic chandelier and wine-bottle pendant lights round out this patio that's a warm and alluring alternative to indoor entertaining.
2. Upgrade Your Patio with a Rustic Stone Fire Pit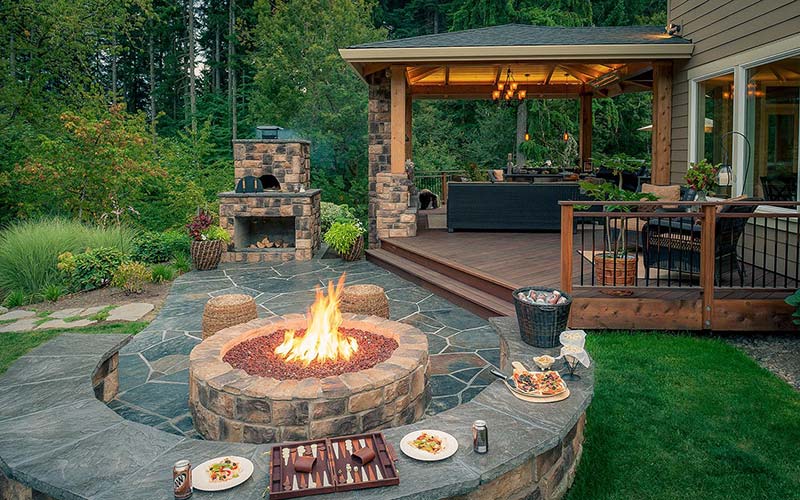 The elegance continues two steps down with an oversized outdoor fire pit that's the star of its own show.
If toasting marshmallows rates are high on your list of things to do, you'll love the continuation of this patio design that features stone-on-stone appeal. Wide, colorful pavers lay the foundation for seating for six around an attractive raised fire pit.
Add a massive pizza oven, and you have the making of the perfect outdoor entertainment nirvana. Friends will flock to this backyard patio design that's the epitome of comfort and modern convenience.
3. Enjoy Patio Time with Comfy Seating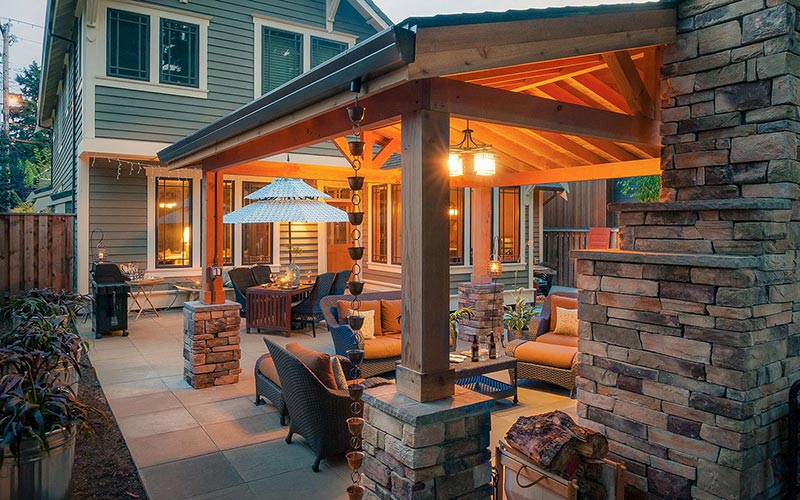 If space for guests is your biggest concern, this cozy collection of outdoor seating has all the room you need to seat eight people efficiently. Long on comfort but without all the added work and cost of a full outdoor kitchen, This design is just right for the family that's more interested in communication than it is in outdoor dining.
Two separate seating areas allow plenty of space for guests to mingle in relaxed comfort. While a small barbecue and a cozy fireplace add functionality and appeal.
Stay warm and dry on this classic patio that features room enough for everyone.
4. Enhance Your Patio with a Beautiful Modern Lawn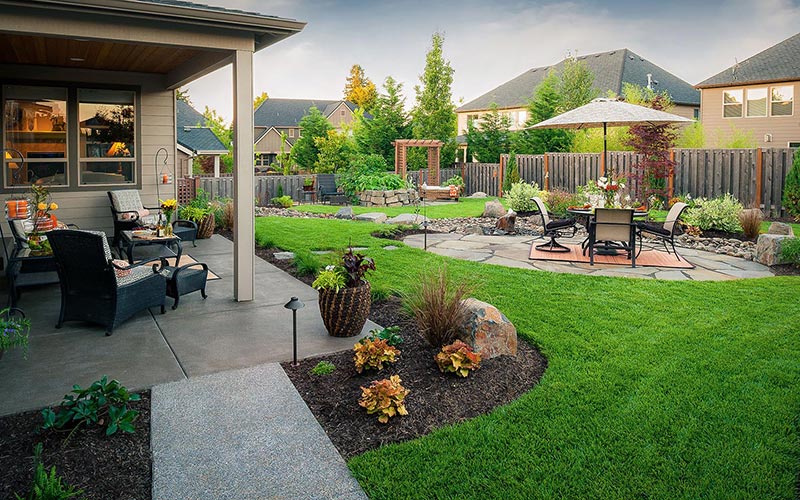 For those who love the feel of fresh-cut grass between their toes, there's this modern patio design that features less stone, more landscape.
Three separate patio areas broken up by grass and perennial plantings give this backyard a cottage appeal. Sink tired feet into soft grass at the end of a hard day, or recline on the outdoor chaise beneath an arbor filled with your favorite vines.
It's the perfect balance of botanical and architectural design when you opt for this backyard living space that actually lets you feel like you're outside.
5. Create a Glamorous Retreat with a Backyard Pool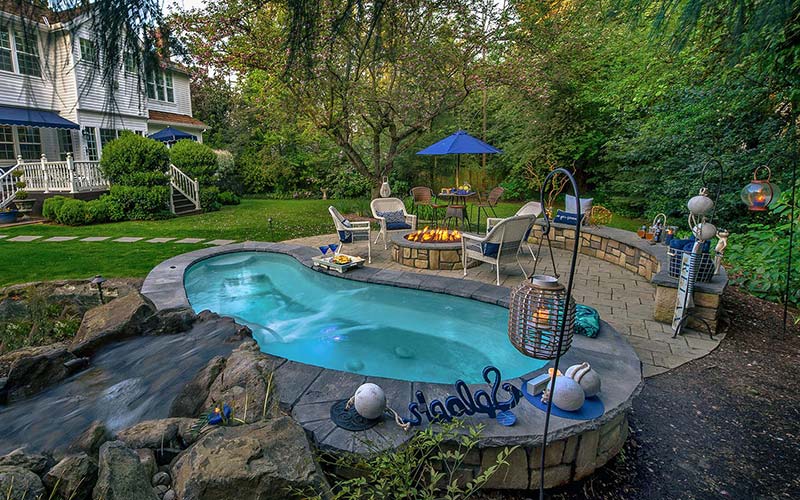 Splash to your heart's content in this backyard oasis that features a comfortable seating area surrounded on one side by a rock wall and on the other by the world's cutest pool.
Made to look as though it's being fed from a real stream, this compact pool is the ultimate in luxury. Two levels add space for sitting and swimming, while the smooth slate of the surrounding wall makes getting your feet wet easy.
A generous fire pit and seating for six or more round out this outdoor patio design that's both cool and inviting.
6. Elevate Your Patio Seating Area with a Pergola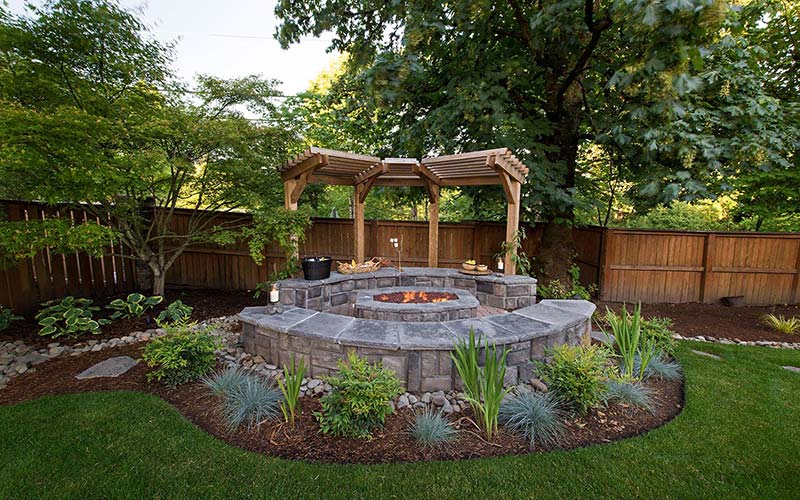 Big backyards are made cozier when they're divided into centers. This center has been designed with small family gatherings in mind. Seating is made of stone groupings around a central stone fire pit that's just made for marshmallows.
A trendy wooden trellis tops off this look to add a modicum of shade to an otherwise sweltering afternoon.
Hosta, shrubs and ornamental grasses surround this island of entertainment in a sea of grass, as well as several mature shade trees and a sleek privacy fence that keeps prying eyes out. You're going to love relaxing on this patio that owes it's all to the glory of stone.
7. Make a Statement with a Stunning Fire Pit and Chic Seats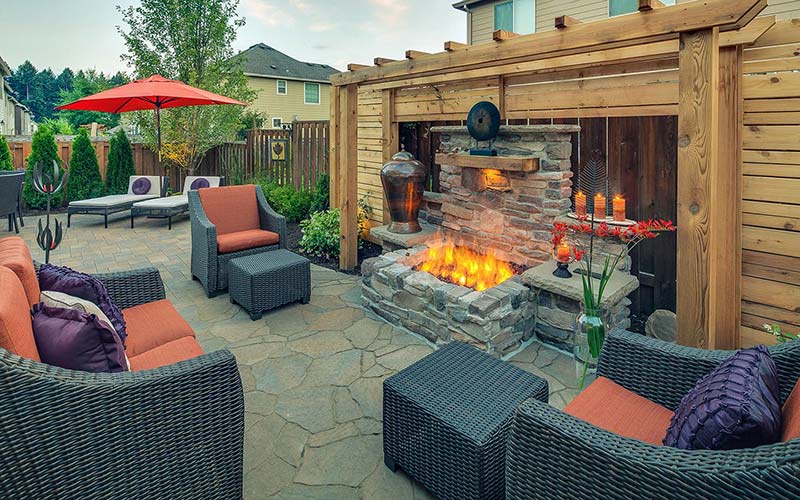 A massive open fire pit surrounded by wood walls and a trellis round out this patio design that's big on privacy and huge on impact. Impossible to overlook, this outdoor design offers seating enough for four around the fire, while two more friends lounge beneath a patio umbrella nearby.
If you're looking for a place to relax and unwind, this design that incorporates decorative stone, plantings, and a savvy display area for decor will put a smile on your face as you sink into these oversized wicker chairs featuring soft cushions for added comfort.
8. Step into Paradise with a Grand Backyard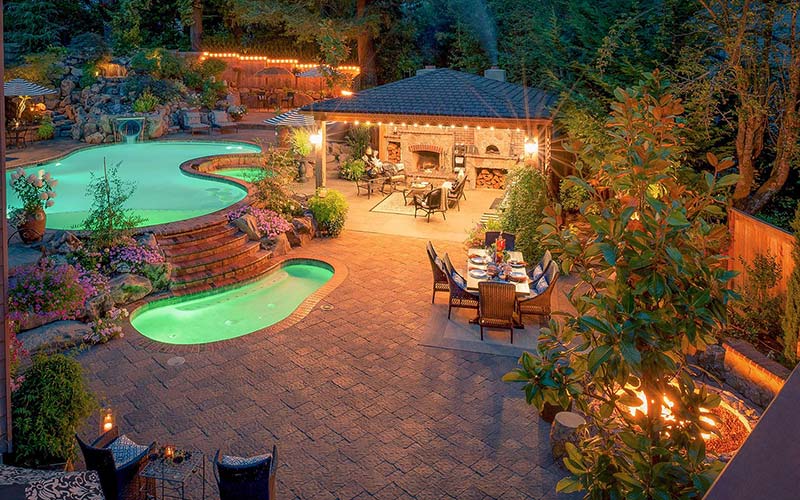 What's better than a villa by the sea? Coming home to this backyard sanctuary that rivals any resort.
Multiple pools grouped together act as centerpieces to ground this design that features amenities most homeowners only dream about: an imposing natural water feature, a grand stone fireplace, and four separate seating and dining areas capable of accommodating up to 18 people comfortably.
It's all conveniently arranged atop artfully arranged pavers and offers three-level outdoor living at its finest. Add in gorgeous perennial plantings as landscape, and you have a backyard fit for royalty.
9. Make a Lasting Impression with a Whimsical Water Feature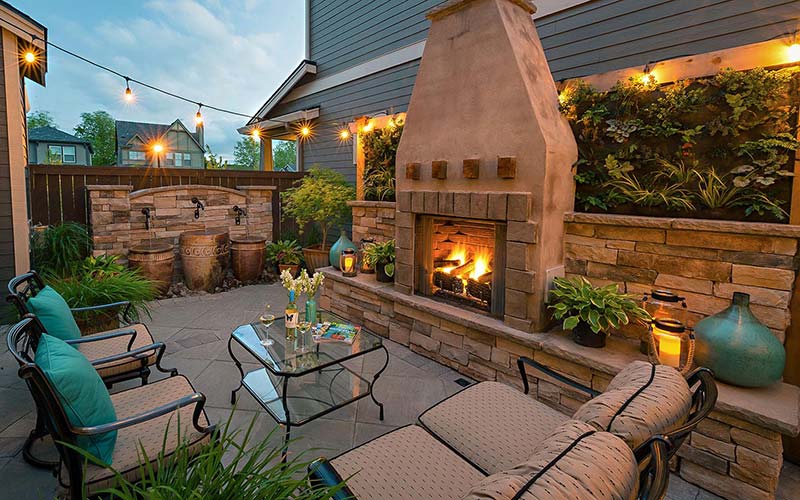 The relaxing sound of softly running water is a great way to smother the sounds of nearby traffic, and this design features multiple fountains surrounded by crushed stone and an array of attractive potted plants.
A gorgeous stone fireplace and seating for four provides a backyard haven when life gets too real.
Perfect for small spaces, this patio design makes the most of available square footage without appearing cluttered or smothering. You'll love to recline here over coffee or wine and watch the day wind down.
10. Unwind in Style with a Cozy Stone Patio Fireplace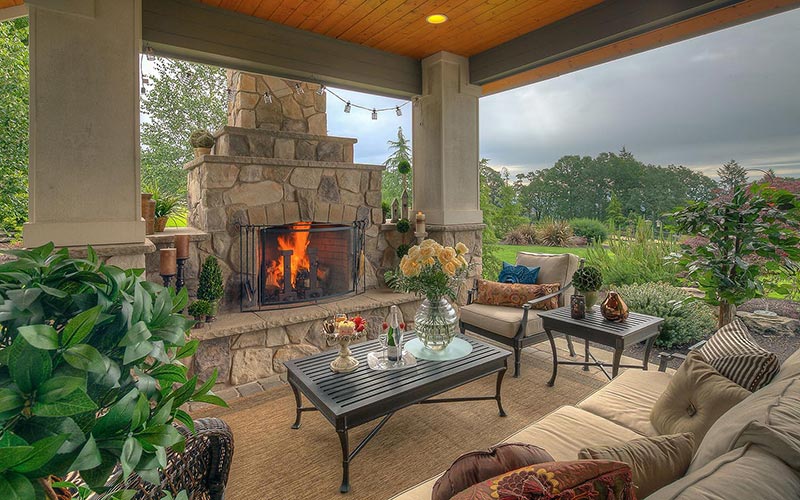 Outdoor comfort with an indoor feel is what you'll experience when you choose this patio design that provides a cozy sanctuary among wide-open spaces.
A stone fireplace, pot lights and candles lend this patio a feel of luxurious comfort that's as perfect for entertaining small groups as it is a romantic setting for two.  Tons of cushions and pillows, coupled with an attractive outdoor rug in a neutral shade set this patio apart from others, while potted plants and topiaries complete the look.
A surround of established plantings adds the final touch of calm to this elegant design that's workable for even the smallest backyards.
11. Create a Magical Atmosphere with a Raised Fire Pit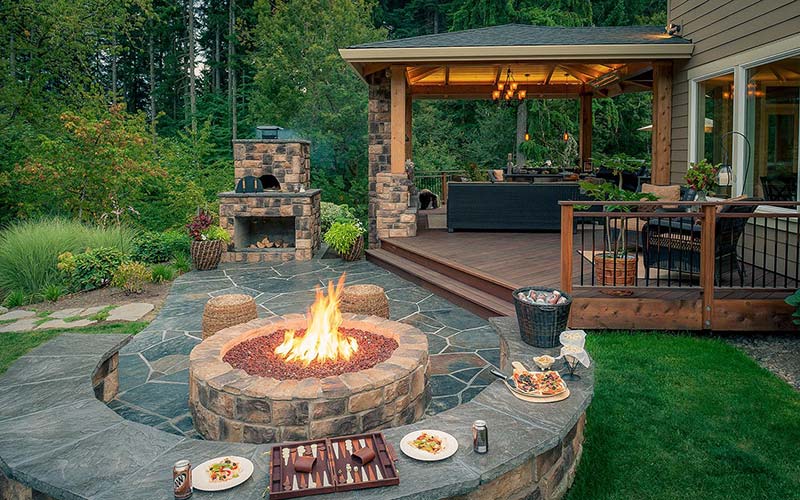 A backdrop of tall pines and established plantings provide the atmosphere, but it's the mixture of colorful stone, slate, and sisal that set the mood.
You're going to love bringing friends back to this lavish outdoor oasis that has everything needed to turn a bad day into the best day ever. A pronounced fire pit with seating for many, an outdoor pizza oven for that fresh-baked, brick-oven goodness, and plenty of room to mingle set this design above others.
If money isn't an object, this is one backyard design that offers all the creature comforts.
12. Bring an Airy Feel with a Rustic Patio Design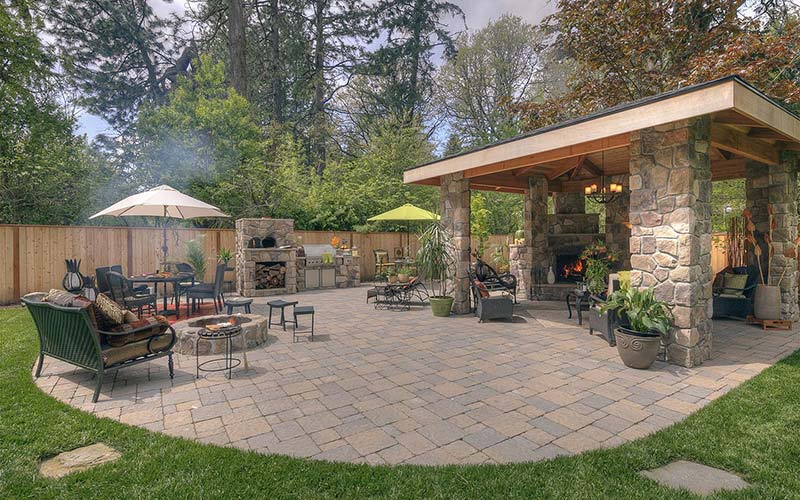 An outdoor kitchen sets the bar high on this patio design that also incorporates a fireplace and raised fire pit. Enjoying good food, great wine and best friends is easy when your backyard is arranged to provide all the comforts of home.
This wide-open design offers five separate seating areas and plenty of shade to go around. While cobblestone pavers provide relief for bare feet.
There's no need to go on vacation when you have any one of these elegant and extreme patios by Paradise Restored to come home to each night. Talk with a design specialist today about building your own backyard haven to bring you joy.