In recent years, we've come to recognize the importance of learning how to unwind in our own homes. We're learning how to create sanctuaries in our backyards for times when getting away isn't possible.
The reward is a weeknight retreat and higher equity in our home's value.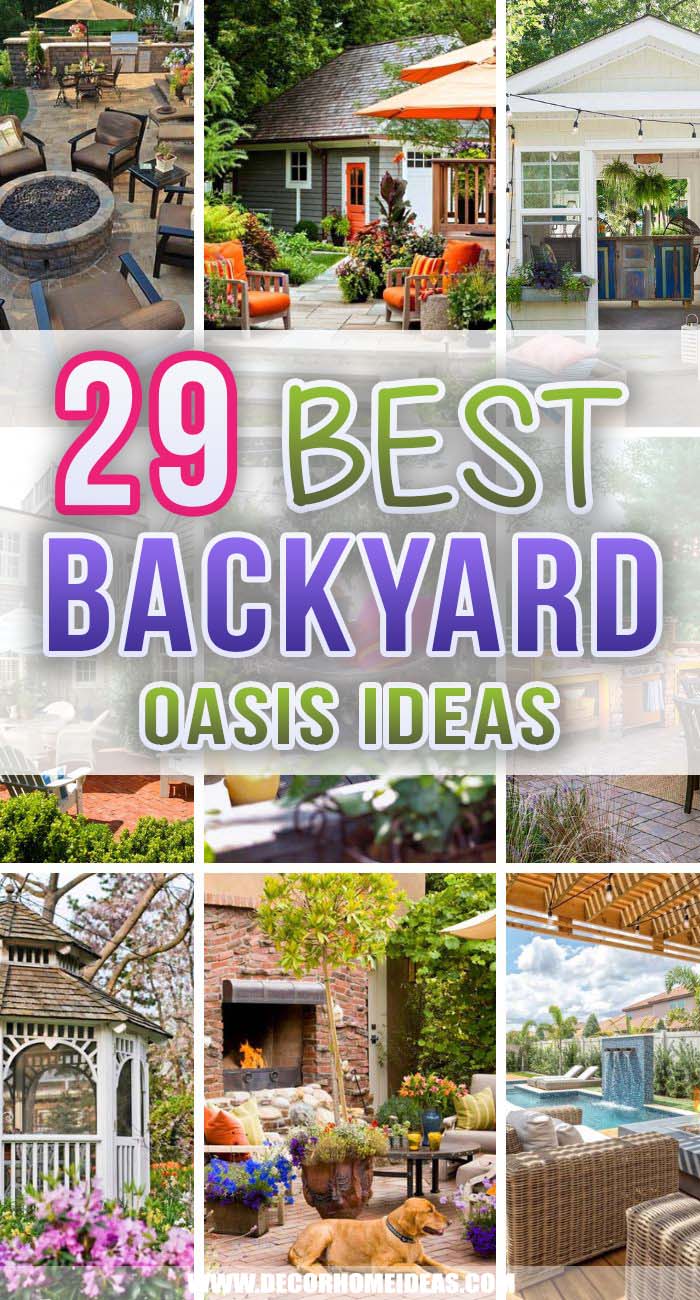 Stay-cations have us searching for new ideas and ways we can create beautiful getaways in our own backyard. We've curated twenty-nine of the best backyard oasis ideas for relaxation.
There are several things to consider when considering backyard ideas for your oasis. Think about the primary usage of the area. Are you looking for a simple lounge area, outdoor dining, or are you planning to be the hub for big parties?
You'll also have to decide if your goal includes more privacy, more shade, or outdoor lighting.
Whatever you decide, we have plenty of ideas here for every type of home sanctuary. Take notes and get ready to build the backyard of your dreams.
How can I turn my backyard into an oasis?
Ask yourself what is making you feel relaxed. Is it a swimming pool, a fire pit or greenery and plants? Then start from there. Whatever makes you calm and peaceful could find its place in your backyard oasis.
How can I make an outdoor area more inviting?
Add a pop of color and patio furniture. If you can afford it, a pergola or small pool would be even better.
How much does it cost to build a backyard oasis?
It can cost a lot if you are into luxury patio settings and furniture, but don't worry – you can easily spend a couple of hundred dollars on furniture and other decors to have the same effect.
1. Extend the Deck Area With a Spa or Hot Tub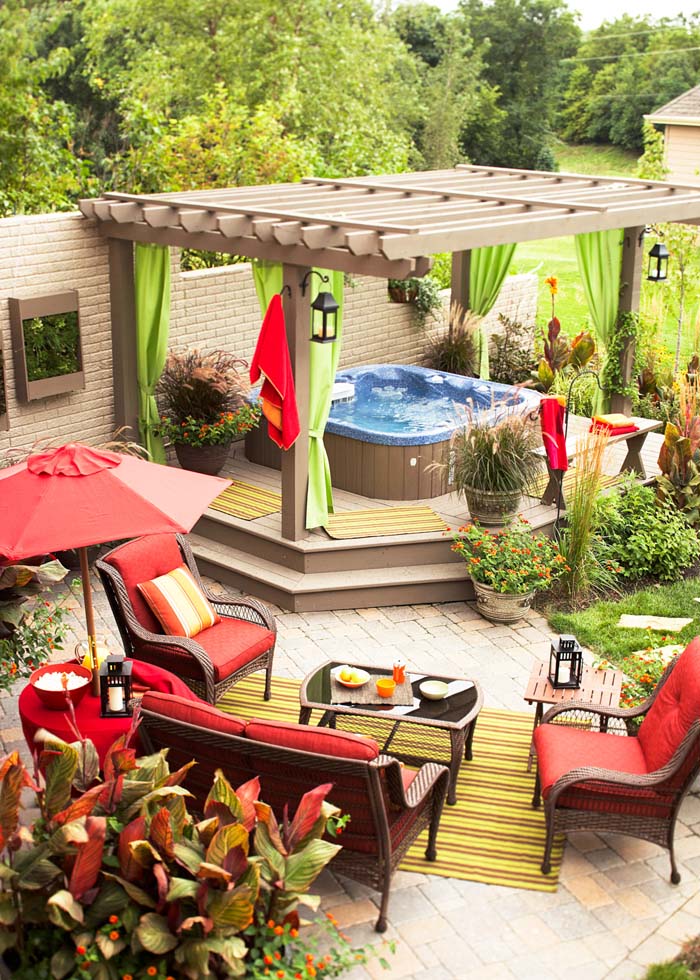 Nothing defines an oasis like a hot tub. A spa will even fit in small backyards. Be sure and add more seating because your hot tub will be the hit of the neighborhood.
This spa is built on a raised deck to keep the plumbing above ground. Adding a pergola allows walls of curtains to drop for extra privacy.
2. Remodel Grill Area With Outdoor Kitchen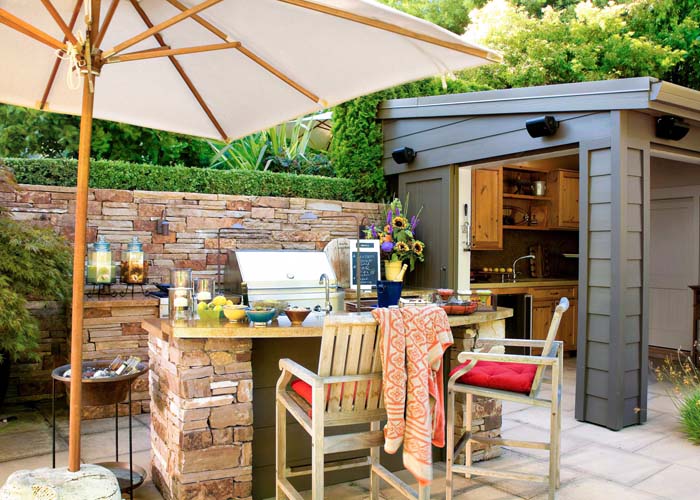 An outdoor kitchen can have all the elements needed to mimic your indoor kitchen.
This food prep area was well-planned as an extension of the indoor kitchen, making it easy to move supplies indoors when bad weather hits. It even has a breakfast bar.
via Jamie Hadley
3. Bring Garden Plants Onto Your Deck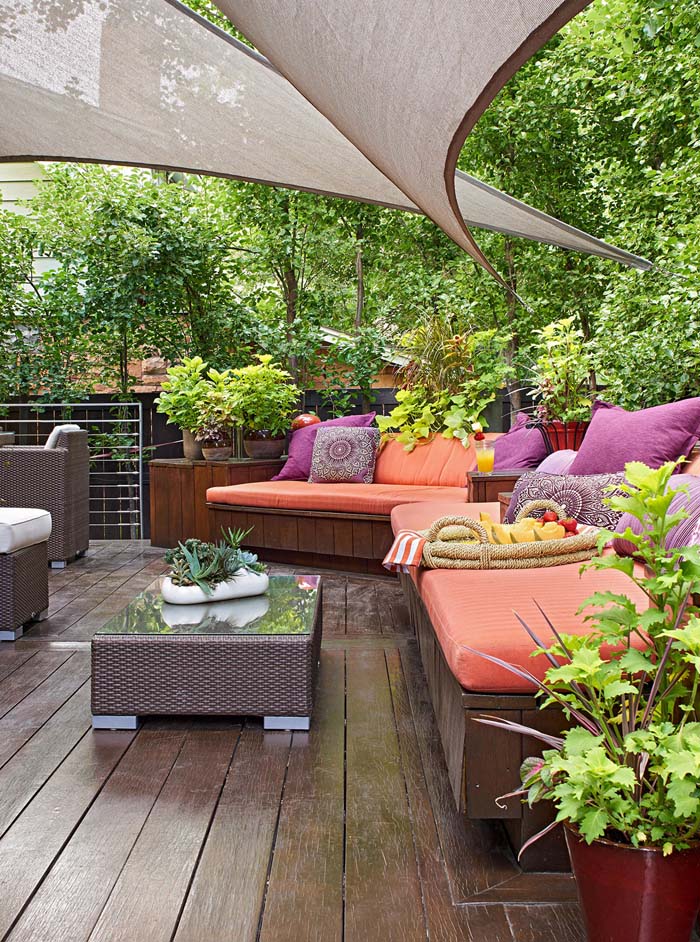 Plants are the cornerstone of every backyard space, but we seem to forget to add them back after the decks and patios are built.
Re-introduce them around the perimeter in planters of all shapes and sizes.
via David Patterson
4. Vertical Gardens Add Height and Privacy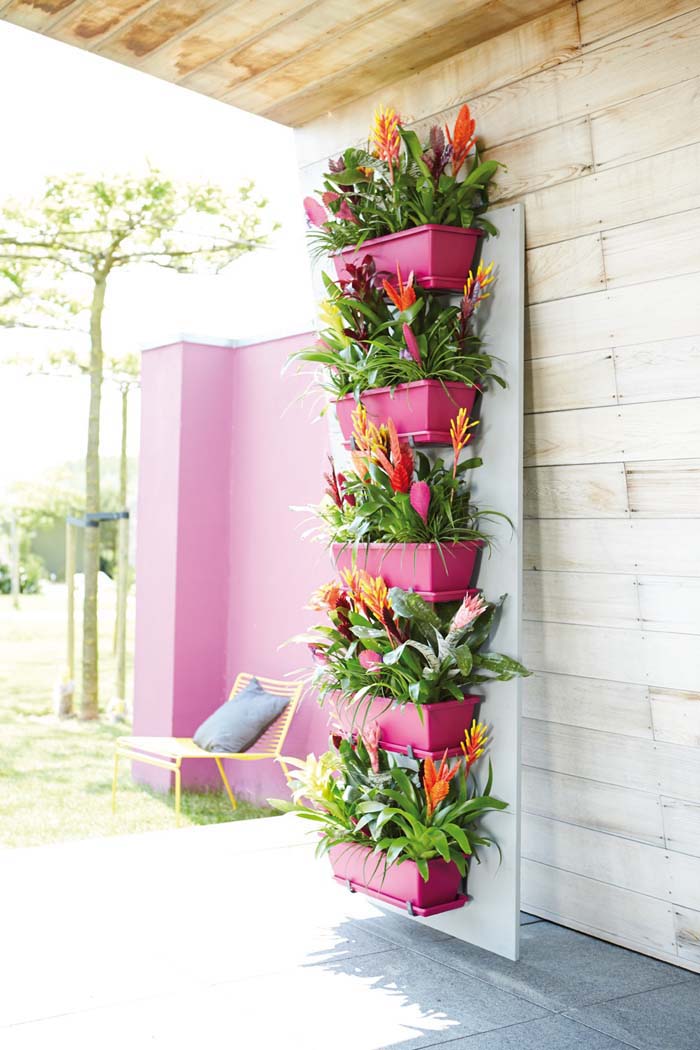 Vertical gardens are perfect for a small backyard.
They can be built using plastic flower boxes anchored to a wall. Set them up around your patio for instant privacy.
You can plant anything from flowers to vegetables in a vertical garden.
5. Portable Awning Adds Shade Where Needed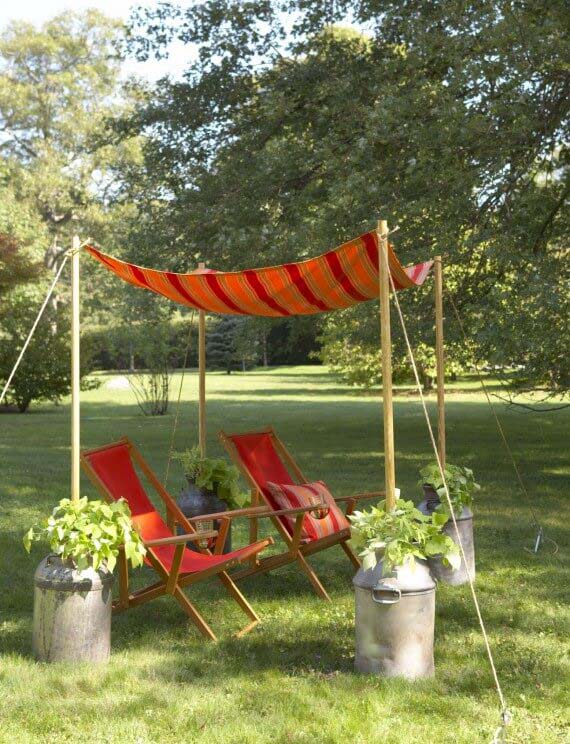 Awnings, sails, and canopies can be added as easily as setting a tarp over a tent.
Create your perfect oasis anywhere in your yard by anchoring four sturdy poles into heavy planters and staking them in place with ropes.
6. Climbing Ivy Adds Greenery to Your Walls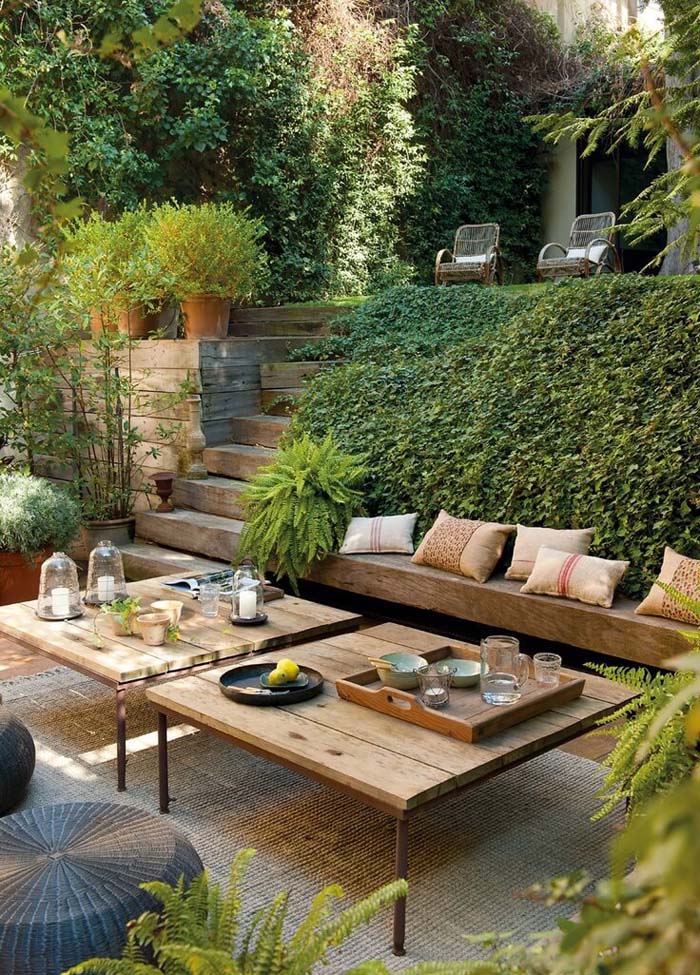 Ground cover creates a lush wall for this seating area.
29 Best Backyard Oasis Ideas For Ultimate Relaxation video:
If your yard has a drop off like this one, experiment with hanging plants or a trellis of ivy. Lush ferns add lots of greenery with minimal maintenance.
7. Water Feature Adds Soothing White Noise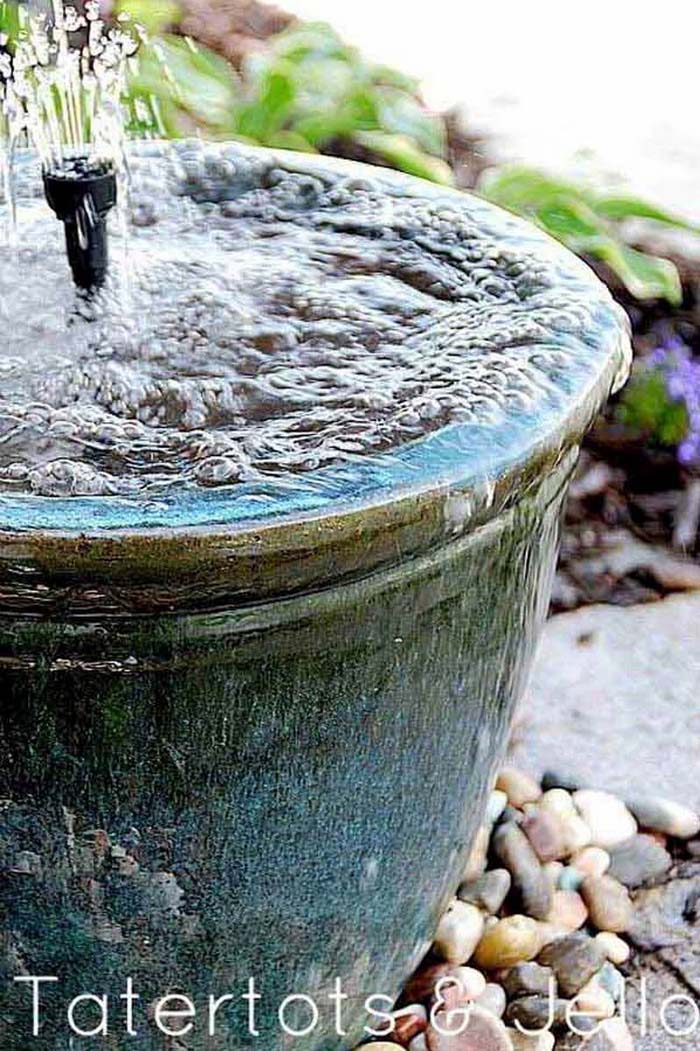 Adding a water feature to your outdoor oasis is easier than you think. The white noise it creates is soothing, and watching the water flow is mesmerizing.
There are plenty of ideas and projects you can do yourself using a vessel, river rocks, and an aquarium pump.
8. Add Rock Gardens Near Pool Area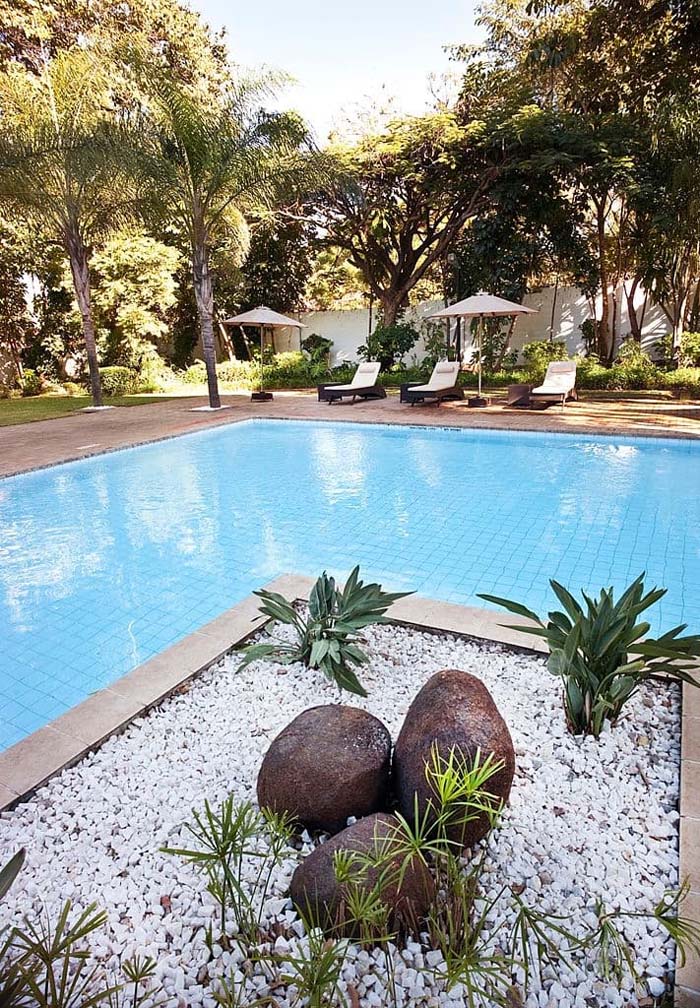 An area near the deck gets a minimalist treatment with small plants and three smooth brown rocks sitting in the middle of white marble chips.
This is a great idea if you need to shut down an old hot tub area.
9. Introduce Textured Fabrics to Your Deck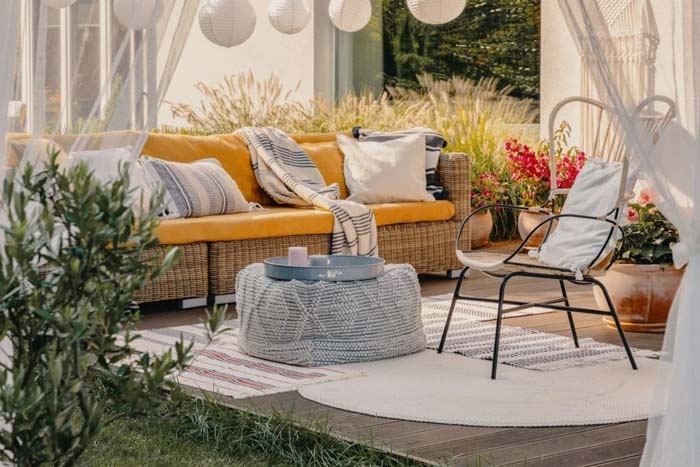 Transform your basic wooden deck using textured textiles. Potted plants and grass surround the outer section. A canopy and curtains further define the deck.
Throw rugs, pillows, and macramé items add soothing touches.
Round lanterns create soft lighting in the evening.
10. Add a Grill to Your Fire Pit Area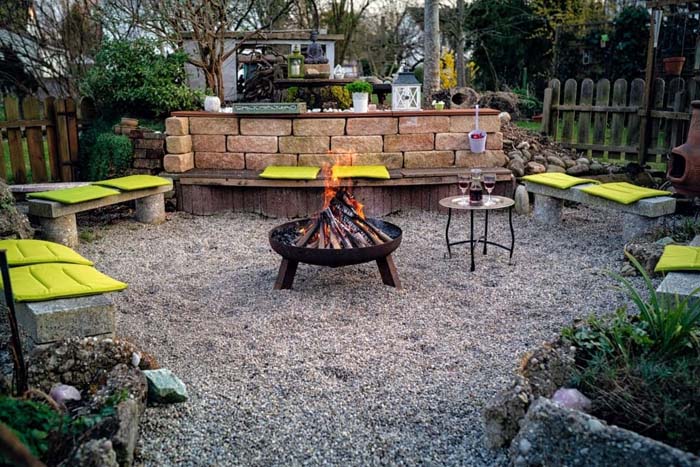 The grill area is connected to the fire pit area, so the cook never misses the conversation.
Adding rustic fencing around a fire pit area adds coziness. Colorful stadium seat cushions work in a pinch on granite slab benches.
11. Raised Deck and Pergolas Add Intimacy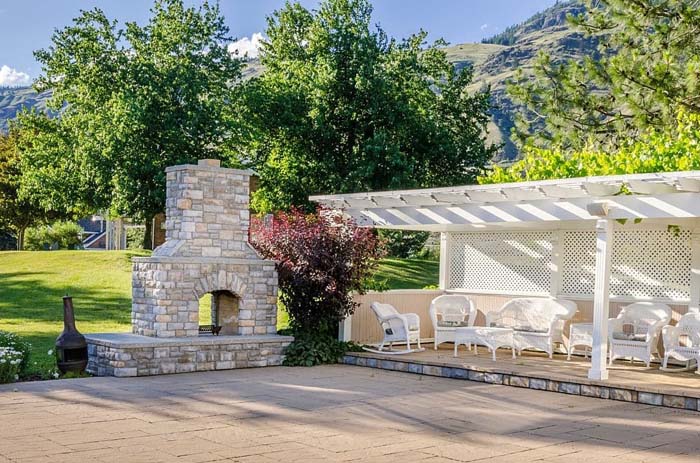 A large patio is enclosed by a large stone fireplace and a separate section for seating.
By adding a pergola and lattice screens, it becomes an intimate gathering area.
12. Keep View Serene With Less Patio Furniture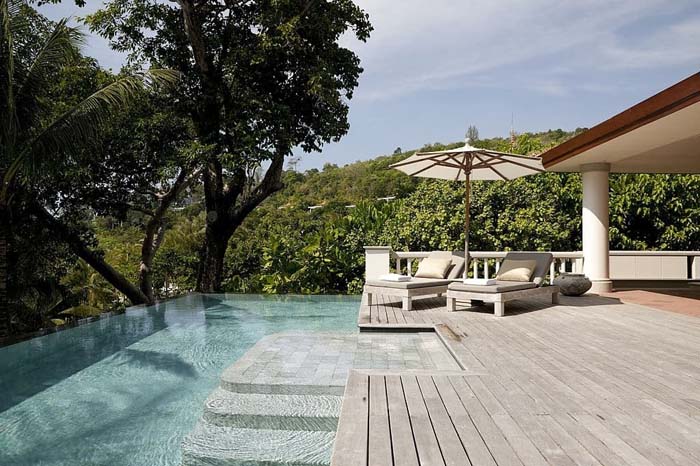 When you have great views and tall trees for shade, it doesn't take a lot of things to create your perfect backyard oasis.
This inviting area consists of an expansive deck and an infinity pool. A couple of patio chaise lounge chairs and patio umbrella complete this minimalist getaway.
13. Create Intimate Seating Areas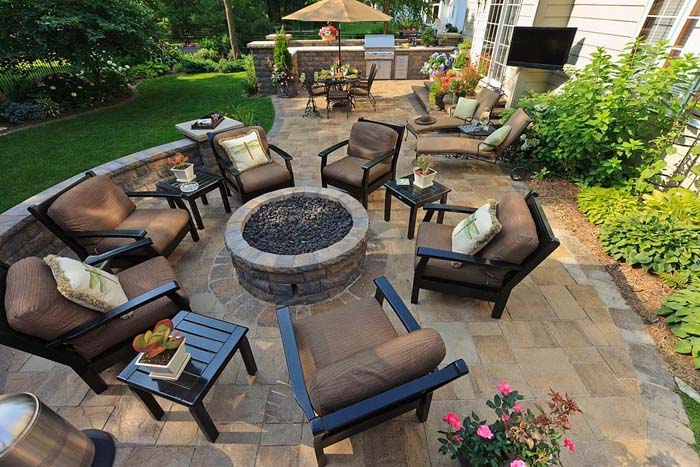 A fire pit is the center of attention on this paver patio, which is divided into three entertainment areas. A low block wall discourages wildlife from wandering into the party.
Light colored throw pillows break up the monotony of the brown chair cushions.
14. Stone Walls Bring Old World Feel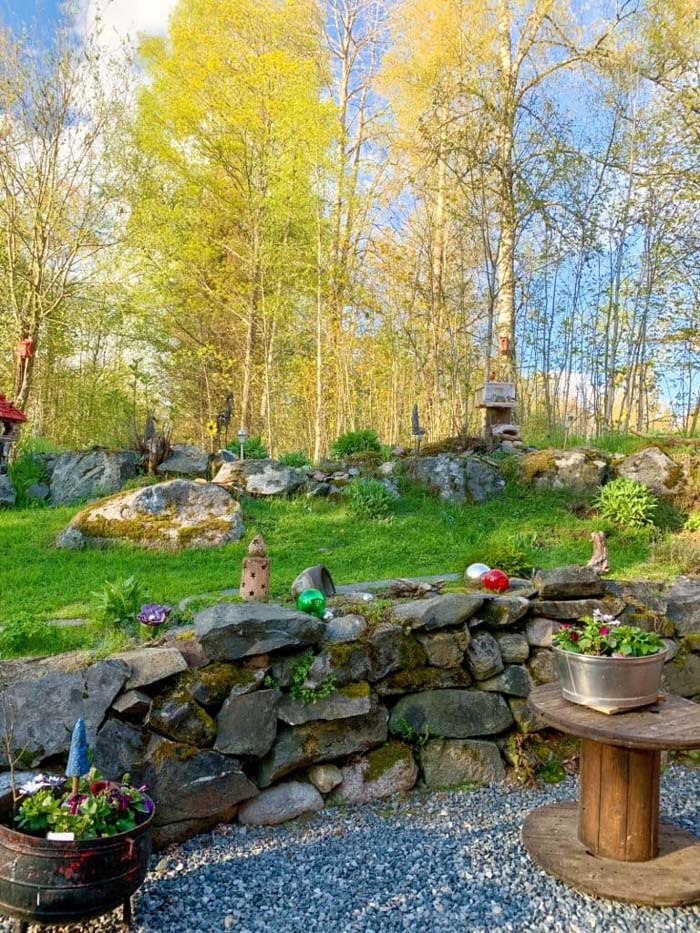 Building out sections of your yard using stone walls is a labor of love. It's a good solution for hilly yards with boulders that may be too heavy or expensive to remove.
The gravel section shown here can be a seating area around a fire pit. Stone walls can be decorated with garden decorations and plants.
15. Luxurious Waterfall and Firepit Upgrades Backyard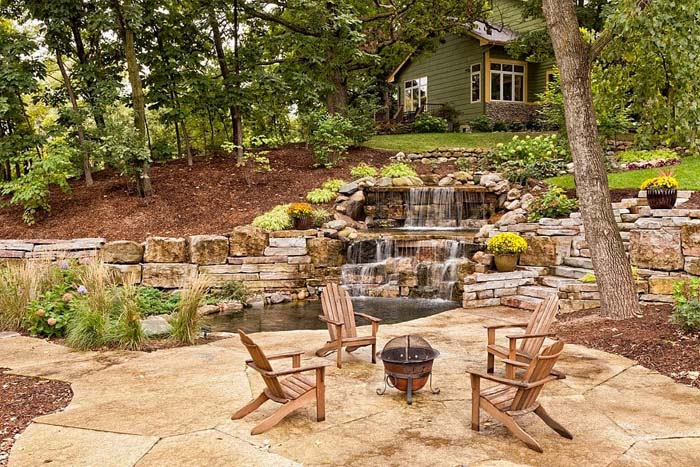 Embrace the hill in your backyard retreat by creating a patio hideaway complete with a waterfall.
The fire pit can be added under a tree as long as there is at least 12 feet of clearance to overhanging branches.
16.  Stone Waterfall Adds Eye Candy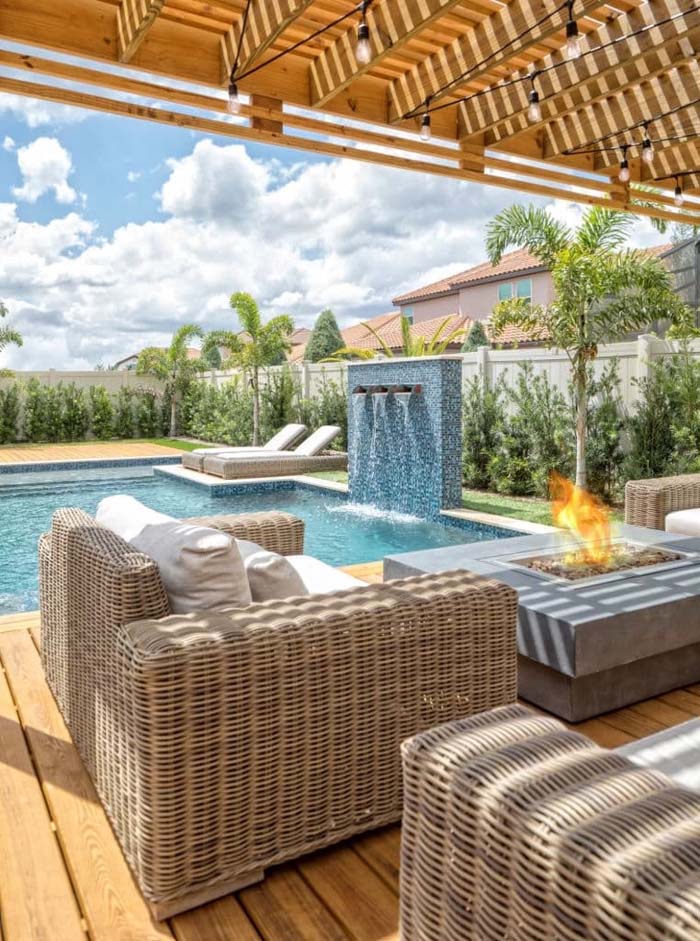 A superb deck and pool area showcase upscale elegance with a stone waterfall and propane fire table.
Greenery along the fence line gives a more tropical feel to the yard.
17. Introduce Artistry and Unique Pieces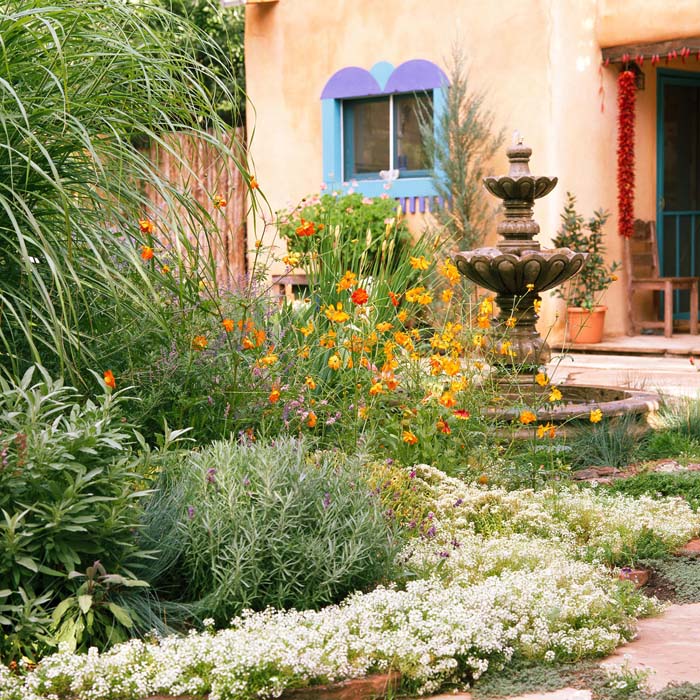 Painting a colorful frame around the window and hanging strands of chili peppers, or ristras, in the doorway are just two of the ideas that make this southwestern patio and garden unique.
Add garden decorations you've made yourself to personalize the patio.
via Peter Krumhardt
18. Expand Grill Area With Lampposts and Lumber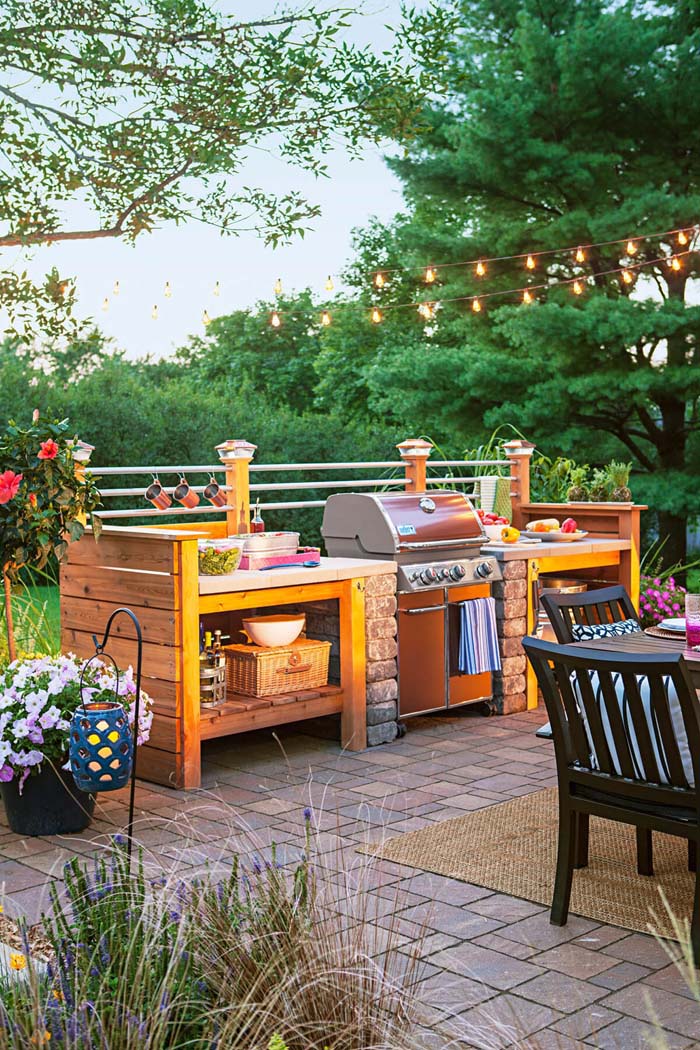 Take your outdoor living adventures to the next level by building a prep station around your grill.
This project includes posts with light caps so the grill master can continue cooking after dark.
via Lowe's
19. Classic Elements Create a Perfect Patio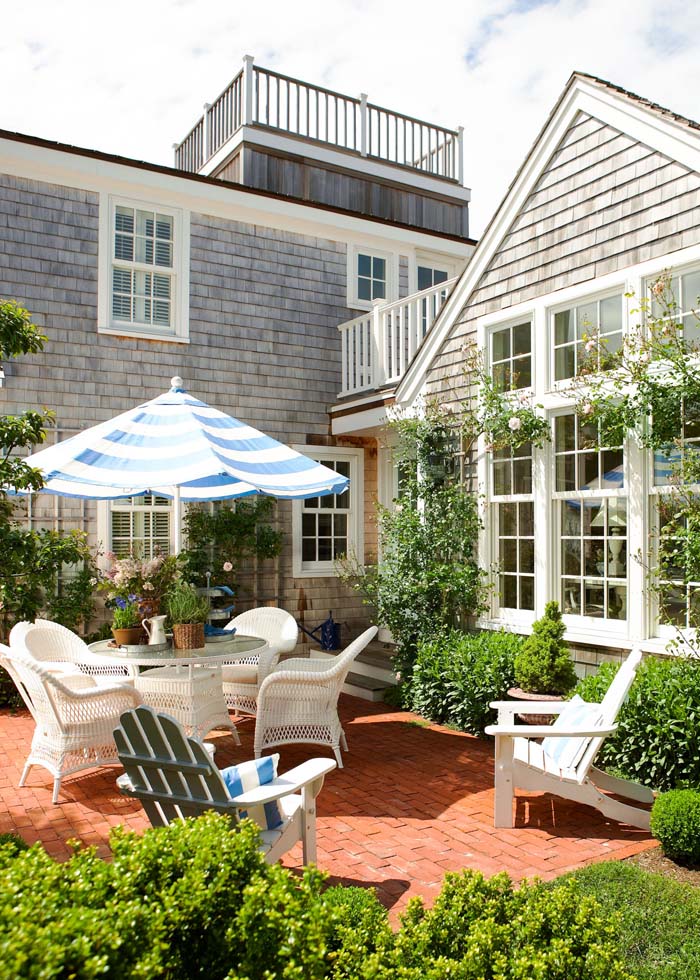 A red brick patio surrounded by juniper bushes sets the stage for this New England coastal patio.
White wicker outdoor furniture accented with stripes of nautical blue are all that's needed for a classic look.
via Michael Partenio
20. Oversized Fireplace Brings Home Lodge Feel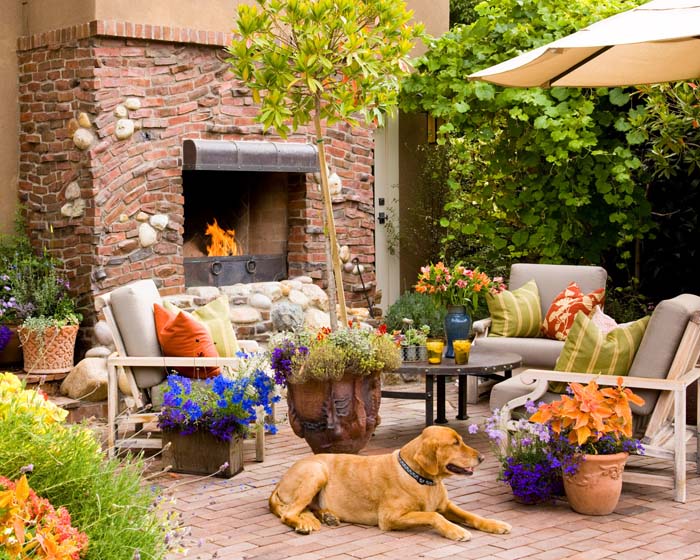 An oversized fireplace makes a dramatic statement in any outdoor area. It not only functions as a comforting focal point, it also protects the home from the elements.
via Ed Gohlich
21. Use Multiple Umbrellas for More Shade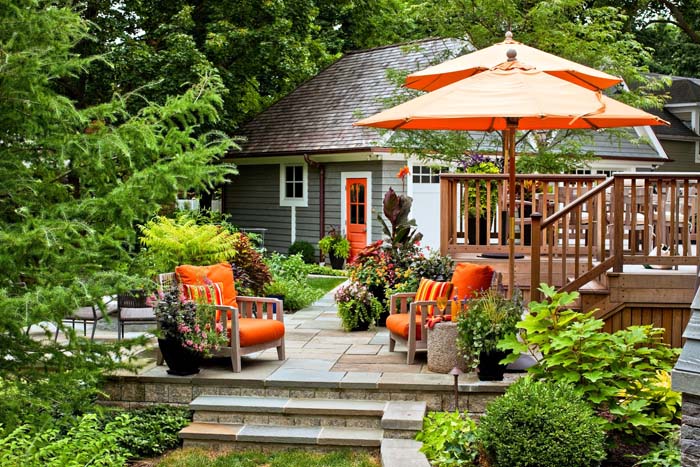 Large areas of a yard can become unusable if the hot sun is shining on it all afternoon.
Reclaim these spaces with patio umbrellas, awnings, and other coverings.
via Bob Stefko
22. Taller Structures Add Intimacy to Large Yard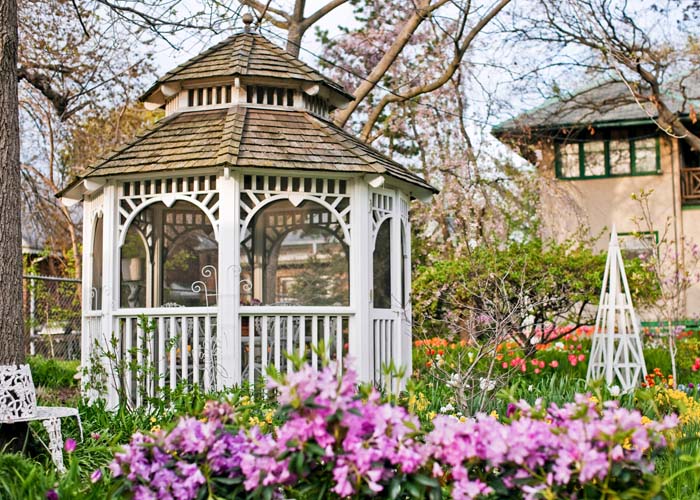 Gazebos are warm and inviting structures that look great in country cottage gardens.
They're available open or with screens to keep out insects.
via Bob Stefko
23. Divide Patio Into Smaller Entertainment Areas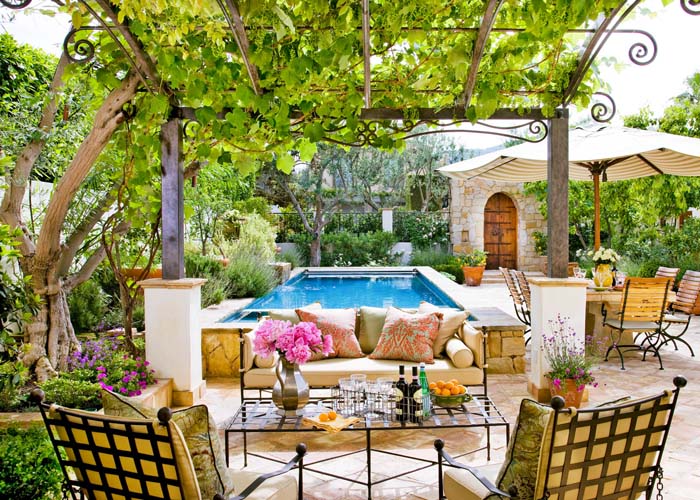 Intimate entertainment areas can be created using patio umbrellas and a pergola.
Creating separate seating sections makes a small backyard seem larger.
via Ed Gohlich
24. Gain Privacy With Pergolas and Fencing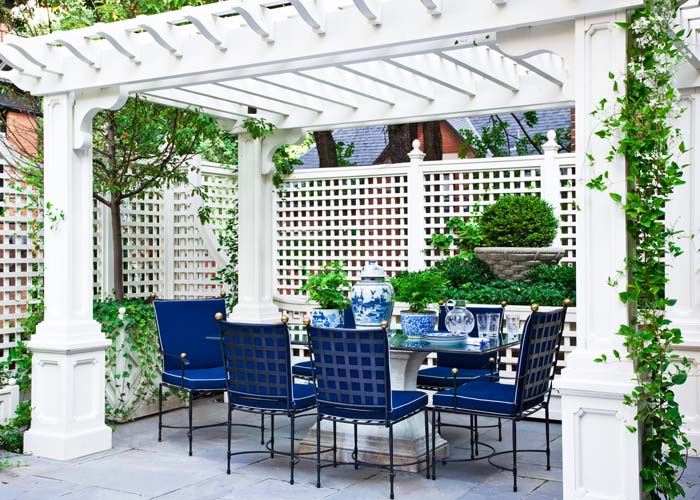 A trellis built inside a fenced in patio provides serene comfort.
The square openings in the surrounding fence provide more privacy.
via James Yochum
25. Plenty of Seating Raises the Comfort Level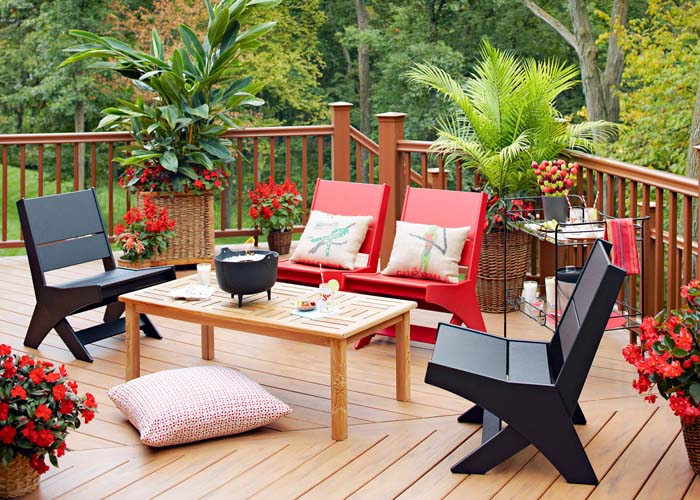 Patio furniture made from recycled composites is eco-friendly. You'll find a style suitable for your backyard.
via Marty Baldwin
26. Introduce Color With Cushions and Pillows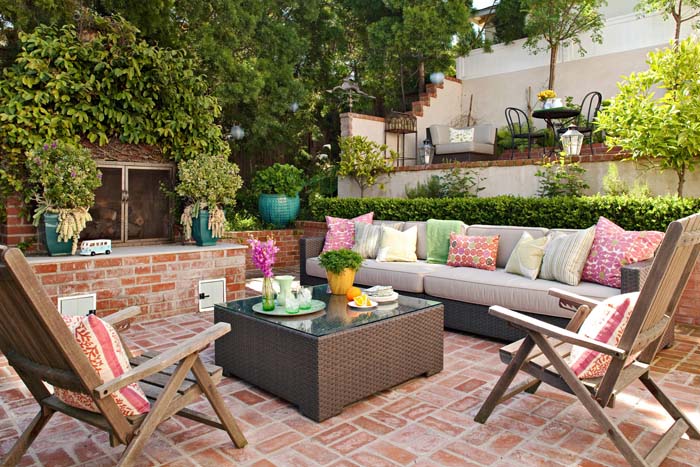 Add comfort with neutral colored cushions. Change out throw pillows as the seasons change.
via Edmund Barr
27. DIY Kid-Friendly Deck and Hideout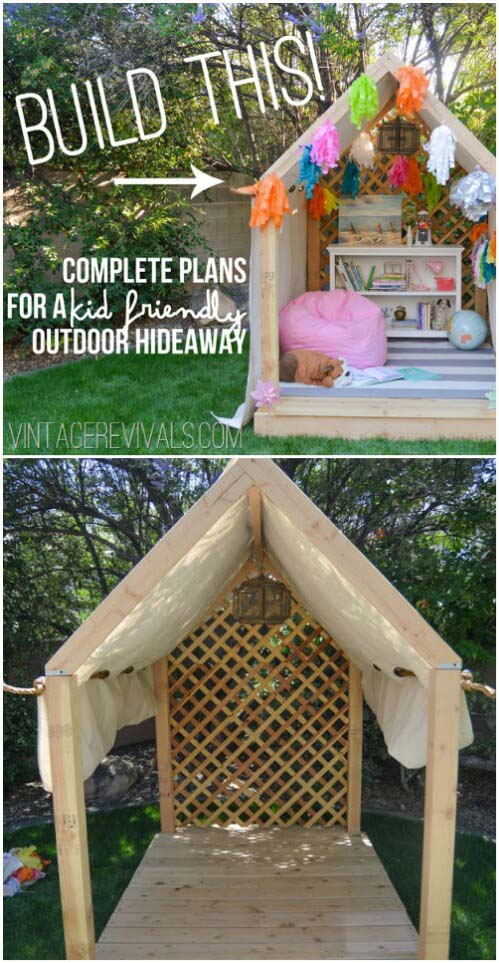 Simple framing on top of a small deck is the basis of a delightful play area.
It's open enough for parents to keep an eye on the kids, while still being private enough for them to plan their sweet tea empire.
via Vintage Revivals
28. Extend Evening Entertainment With Outdoor Lighting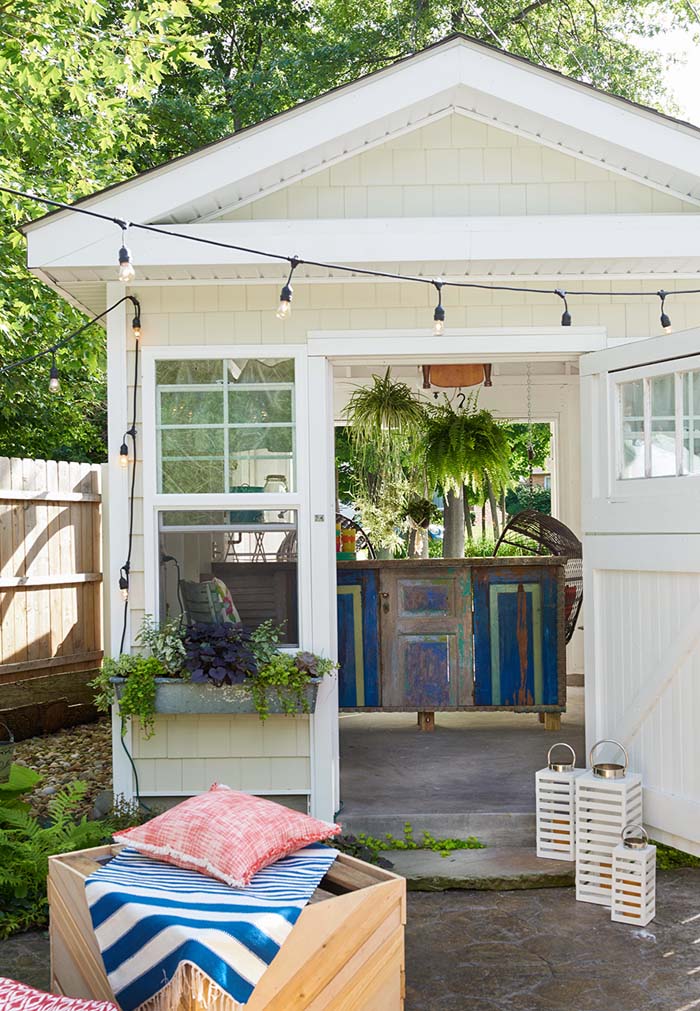 Install an electrical box outside to add any type of outdoor lighting.
Think about options from strands of bulbs hanging from a pergola to cap lights on fence posts.
29. Add Secluded Areas for Afternoon Naps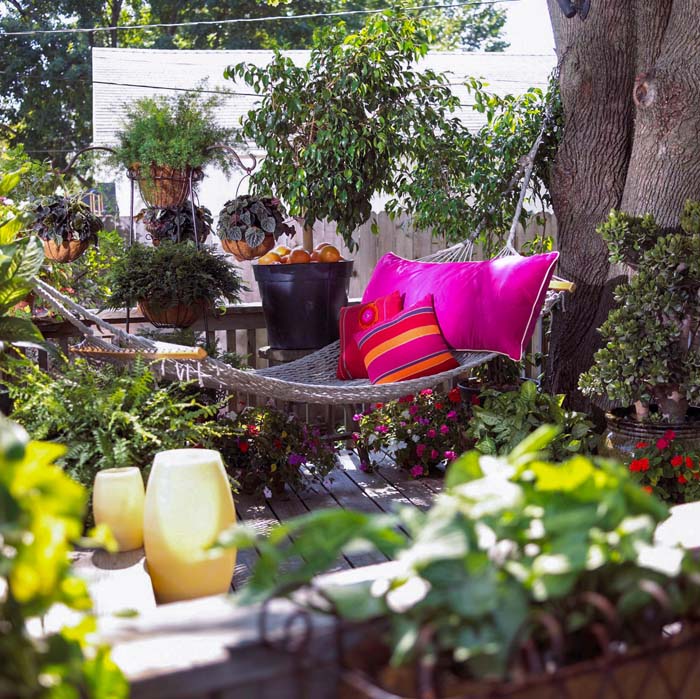 Hang a hammock between shade trees for the perfect summer nap.
If the trees in your backyard are positioned ideally, you can get a free-standing hammock and place it anywhere you'd like.
via Jay Wilde