If you are lucky to live in a house, don't skip the idea of having a kitchen outdoors. Cooking in covered spaces could be quite annoying during hot days. Unlike, cooking outdoors could provide unlimited possibilities for pleasant, organized, comfortable and fun meal preparation.
Nowadays it is absolutely doable to have a kitchen in an open space that is as functional as the one inside the house. The contemporary designs stipulate for all needed utilities, appliances and storage accessories so that cooking is a comfortable and enjoyable activity.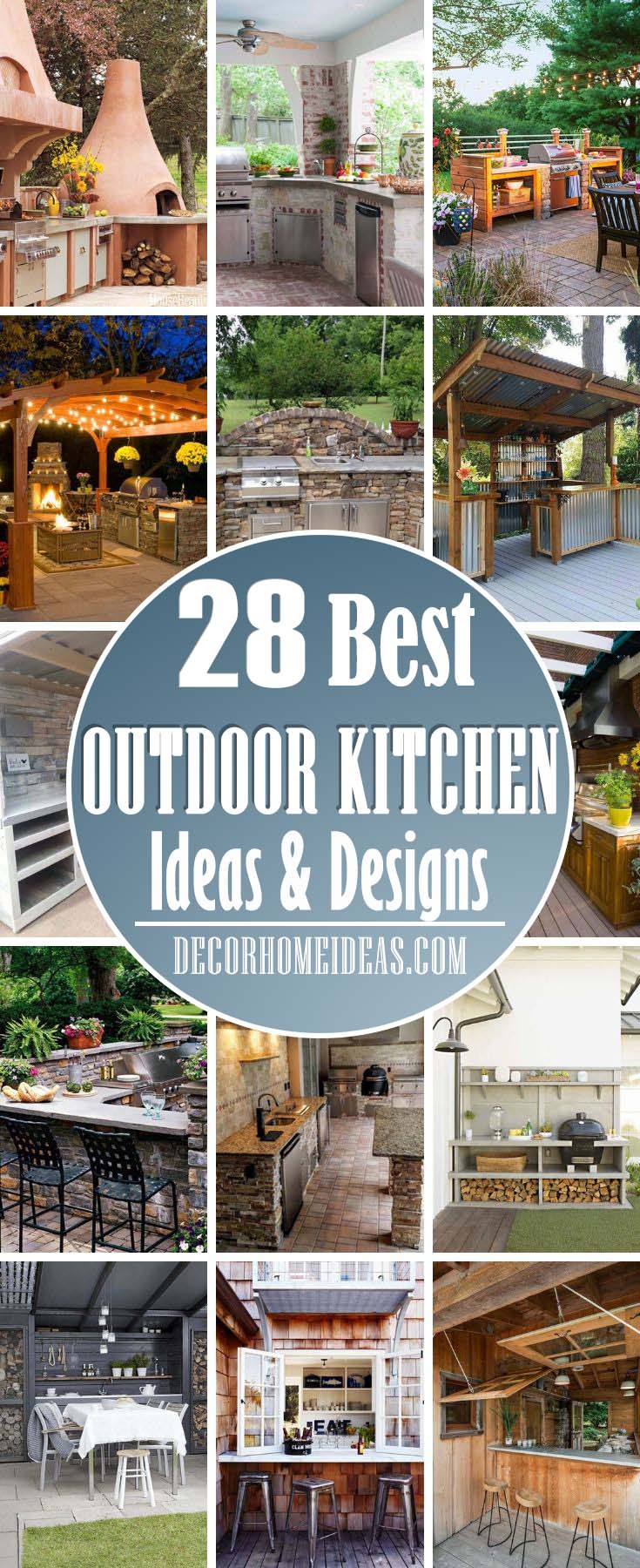 We offer to your attention the best outdoor kitchen ideas and designs that will contribute to more unforgettable emotional and culinary memories this summer!
1. Transform Your Outdoor Space with a DIY Stone Kitchen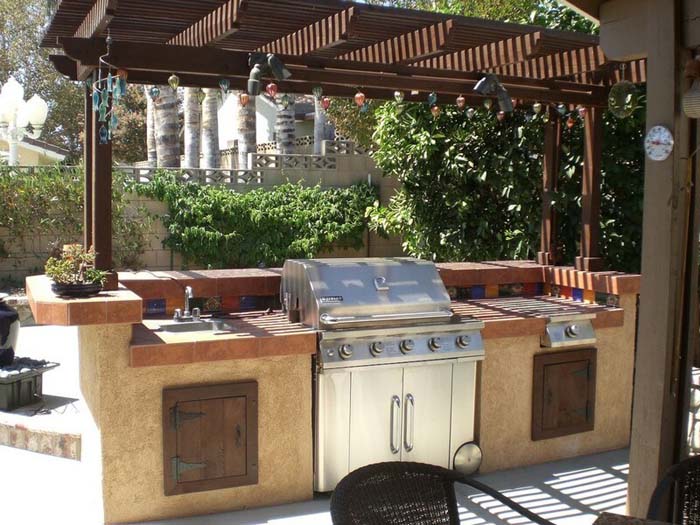 Outdoor kitchens have gone far away from the plain grill. This set has all a householder may require from an outdoor kitchen- a sink, a covered grill, a hot plate, cabinets and wide two-level countertops – for cooking and for drinks.
The pergola is specially made with the size of the stone kitchen to provide shade during the sunny days. What is even greater about this kitchen example is that there are a full list and instructions on how to build it yourself and save loads of money from labor.
2. Build a DIY Outdoor Bar with Corrugated Steel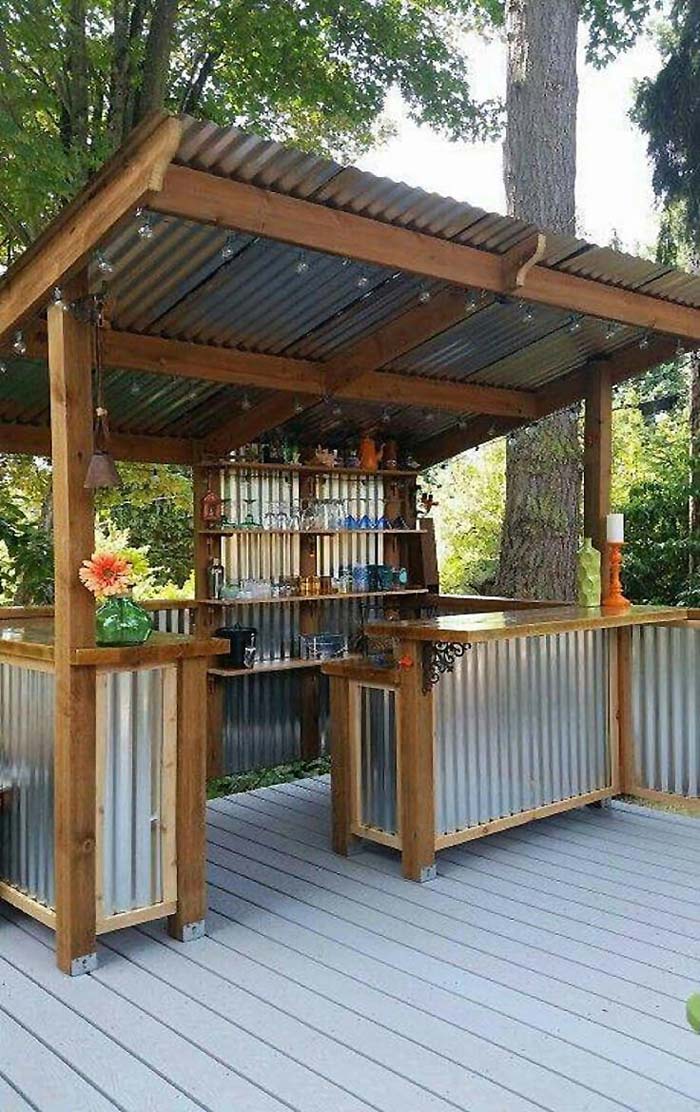 Corrugated steel is the perfect material for outdoor exposure. Apart from its weather resistance characteristics, its symmetrical waves make the structure it is used in very pleasant for the eye.
An outdoor kitchen made of corrugated tin provides wide varieties in regard to size and alignment. It also matches very well with wood, iron and stone so that makes it quite universal material.
via Yardsurfer
3. Incorporate Farmhouse Style into an Outdoor Kitchen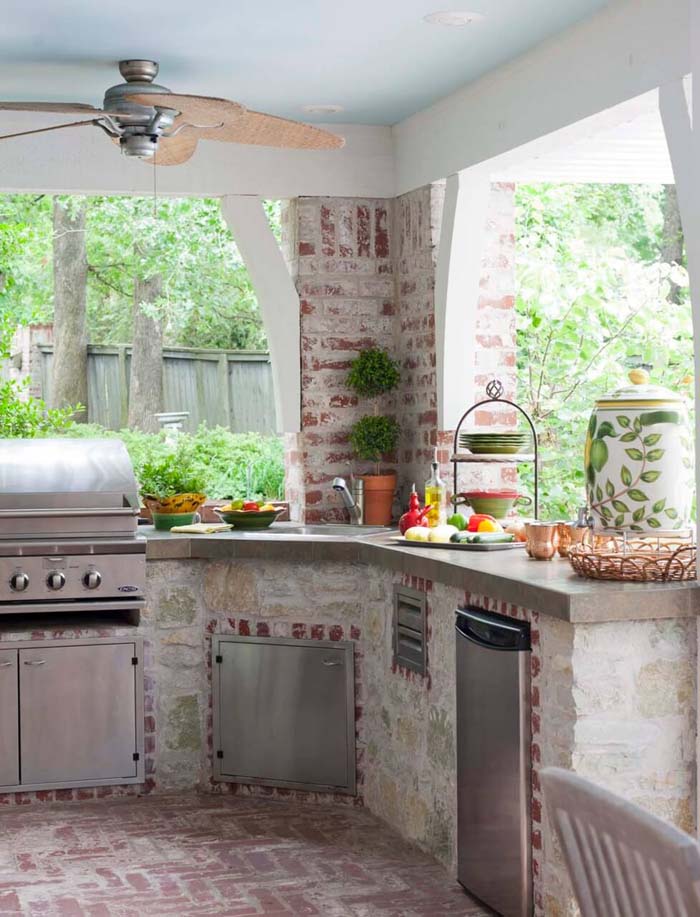 If you are in love with the farmhouse style, you can easily incorporate it into the design of your outdoor kitchen. Use stones or bricks for the structures and leave them with unfinished surface effects.
The countertops and the cabinets door could be stainless steel to match the cooking appliances.
via Yellow Home
4. Enjoy Luxury Outdoor Cooking in a Small Garden Space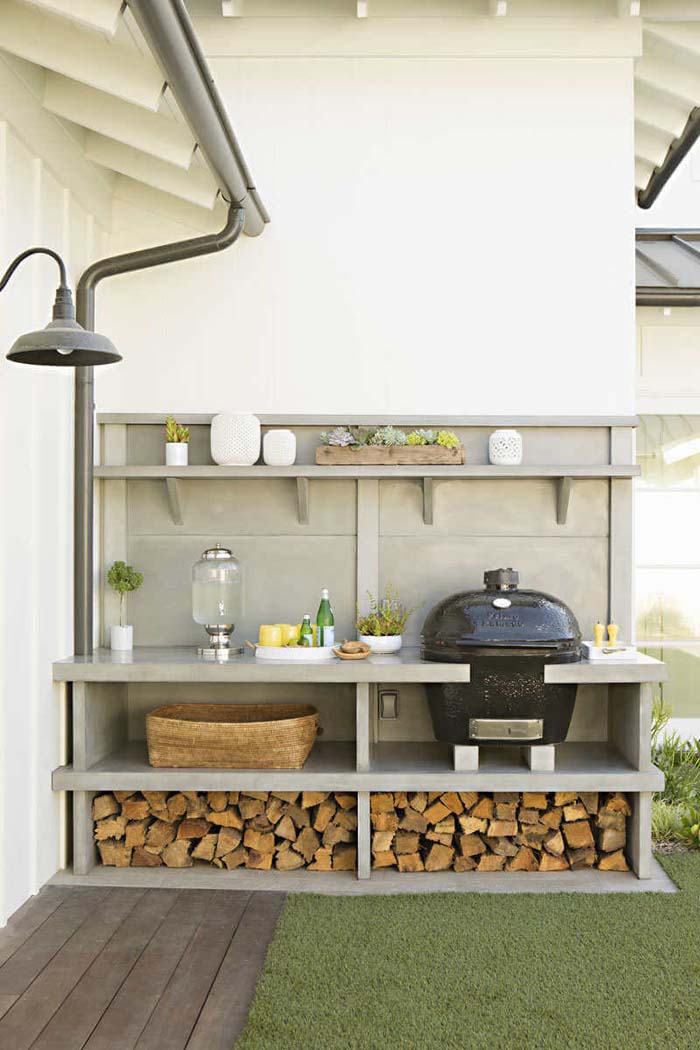 When your yard is not as big as to make a full set kitchen, you can make a compromise that will still provide the ultimate cooking experience outdoors.
The small kitchen you see is customized for a small area from the garden. It is made of concrete and accommodates a premium barbeque set.
via WWOO
5. A Complete Outdoor Pizza Kitchen Experience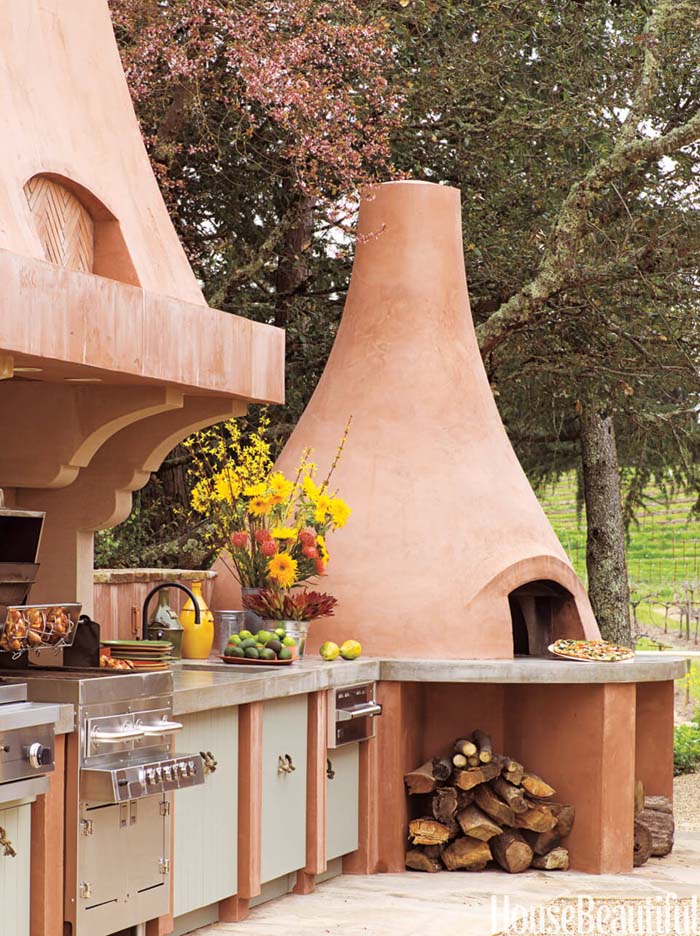 Outdoor kitchens can be customized according to your cuisine preferences. When Italian pizza is among your favorite meals, you need a special oven to achieve a unique taste.
The fire-powered oven is complemented by a full kitchen set that has all you need to do cooking without any need to visit the indoor kitchen.
via House Beautiful
6. Outdoor Steel Kitchen Solutions with Pergolas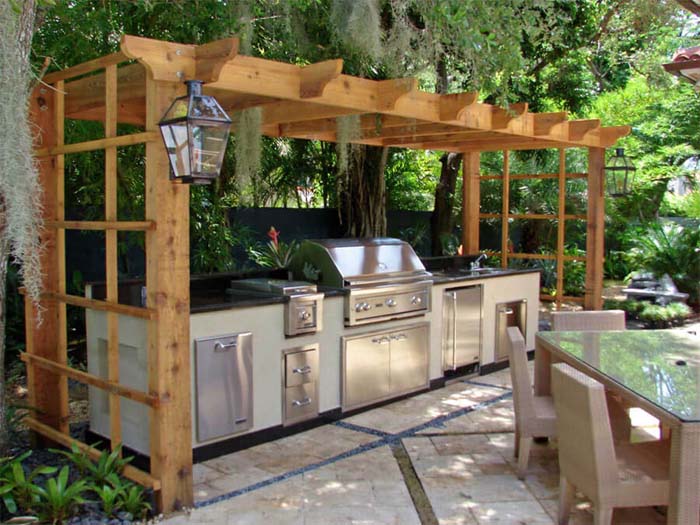 Steel kitchens are one of the most common outdoor solutions because of the long life span of stainless steel.
It looks great in its fabricated texture but if you are open to experiments, you can have part of the modules powder coated.
It is always a clever idea to build a pergola above the kitchen that will provide shade and will separate the cooking area from the dining area.
7. Utilize Reclaimed Wood for Your Outdoor Kitchen Ideas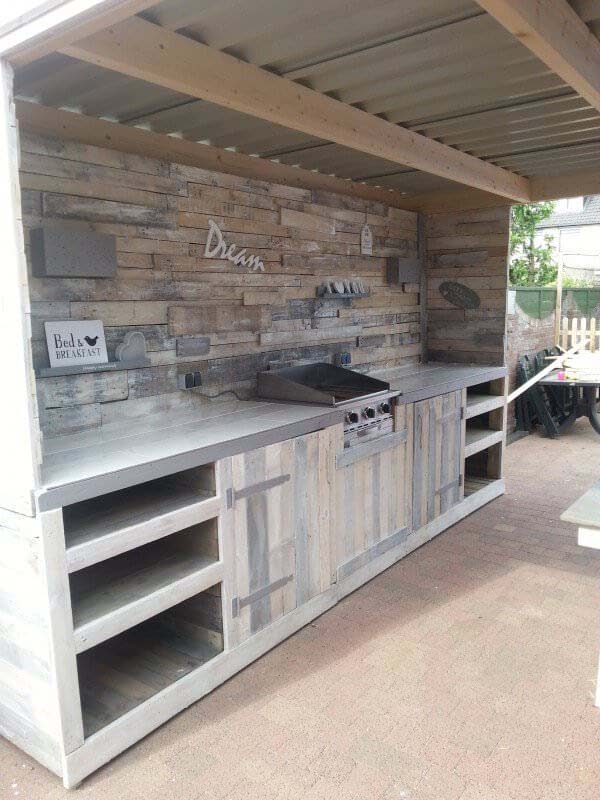 An outdoor kitchen made of wood would be a great addition to the backyard, however, you should first carefully chose its place.
Although the wood can be treated for greater resistance to the atmospheric conditions, it is more or less prone to deforming and rotting. It would be best if it is installed under a thick shelter.
If you are wondering what wood materials to use, don't miss this pallet-made kitchen.
via Recyclart
8. Build Your Outdoor Kitchen with Recycled Materials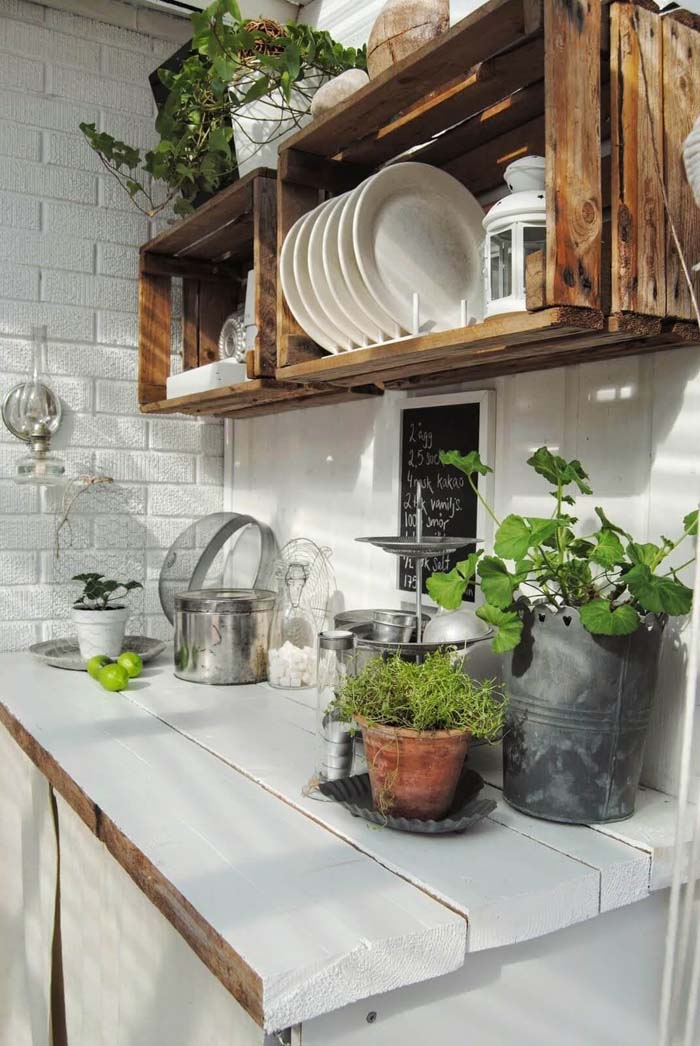 When the outdoor kitchen is a must but you cannot afford a ready kitchen set, there is a way.
Make yourself one as cozy and comfortable as if made by a designer but for far less money.
With the help of various recycled materials like pallets, old beams, posts, old furniture pieces, crates, you can piece together a chick outdoor cabinetry that will accommodate your plates, pots and your fresh herb garden.
via La Interiorista
9. Outdoor Kitchen Oasis with Natural Stone Modules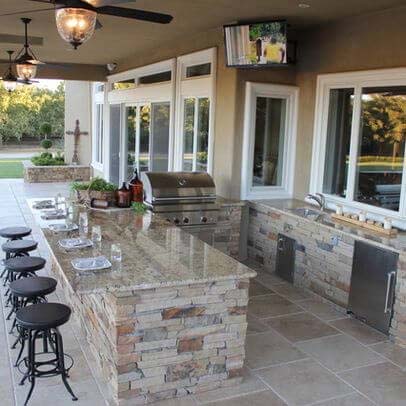 Natural stones in lovely earthy colors build functional kitchen modules in the shape of U.
This outdoor stylish kitchen oasis combines cooking, dining and entertainment time in one place.
The kitchen is situated at the patio and the material selection has been made to match the house exterior and thus easily blends with the existing textures and colors.
via Michael Glassman
10. Contemporary Concrete Kitchen with Built-In Sink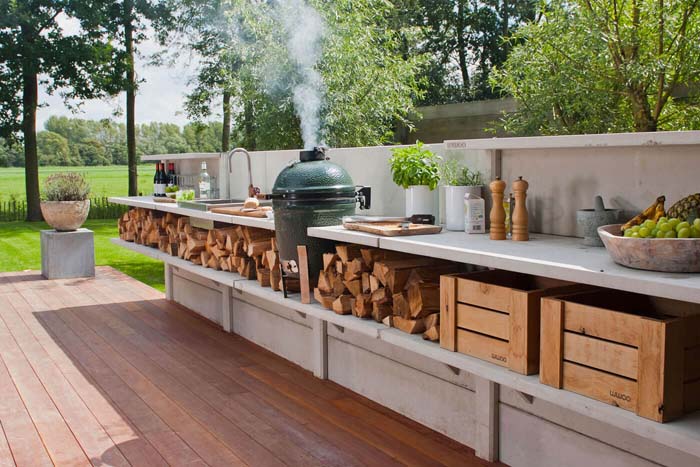 This is a longer version of the contemporary concrete kitchen. Because of the space allowance, it has a built-in sink and wide countertop to do the meal preparation prior to baking it at the barbeque.
The lower level can be used for storage of various stuff – from logs to dishes and glasses.
via WWOO
11. Extend Your Indoor Kitchen to the Patio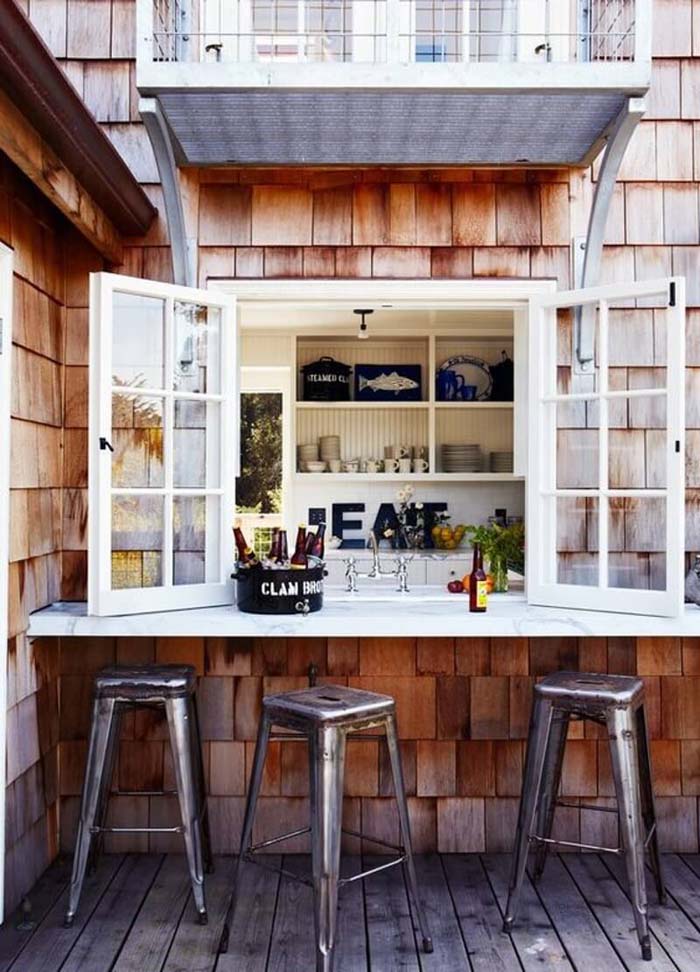 When the house allows it, you can always extend the indoor kitchen to the patio. It is a very easy and fun idea and it will make the patio the most wanted area during the summer.
Make a wide window, install a marble countertop to serve the drinks and the snacks.
via House Beautiful
12. Bring Farmhouse Charm with a Brick and Wood Kitchen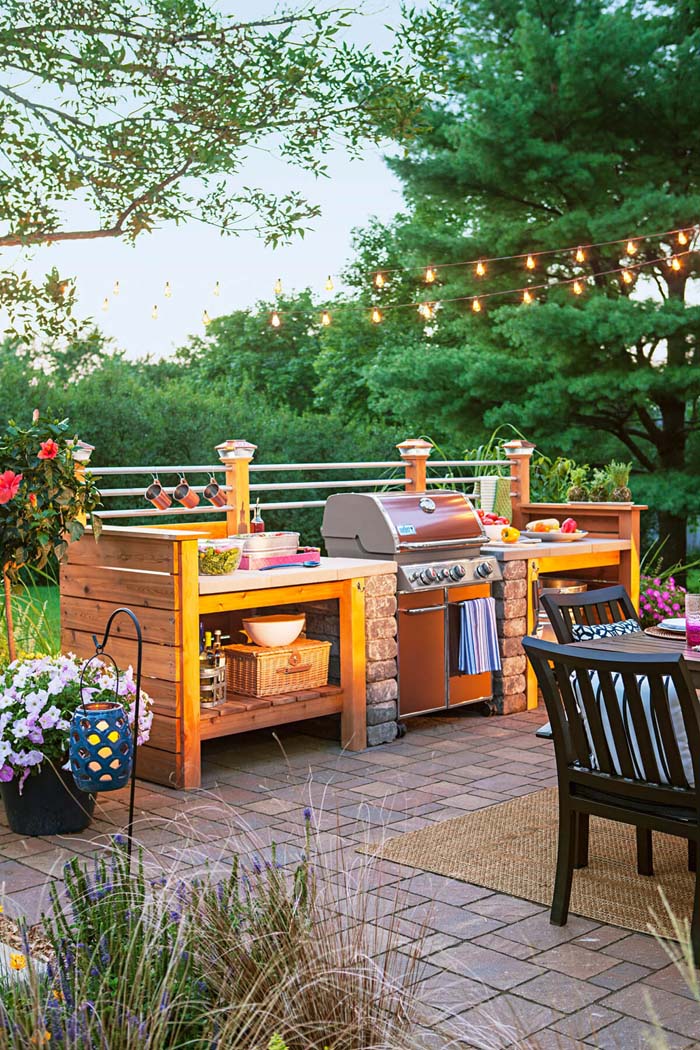 All of you that prefer the warm impact of the farmhouse memories will fall in love with this simple and functional outdoor kitchen.
It is made of bricks, wood and concrete. It has two large storage niches for the dishes and pots, that are closed by wide countertops. The two prep islands are divided by a grill station.
To increase the storage possibilities, there are three round bars for hanging of cups and utilities.
via Lowe's
13. Enjoy Outdoor Cooking with Natural Stone Kitchen Island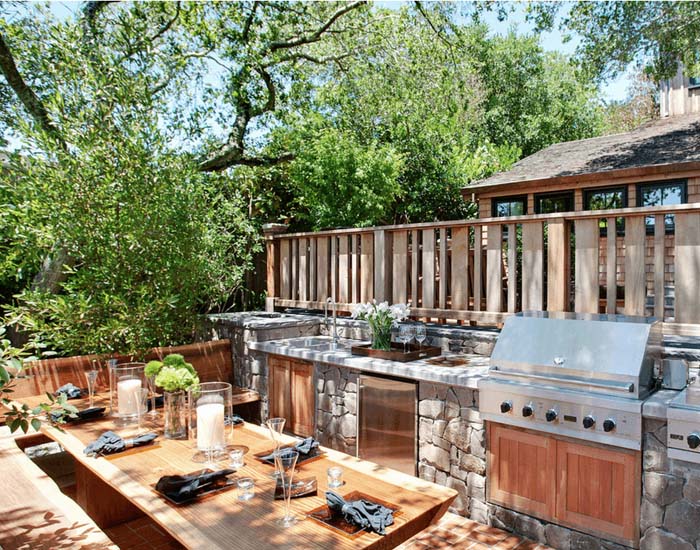 This outdoor kitchen is equipped for cooking and eating in the fresh air. The whole set is inspired by nature and beautifully blends with the surrounding greenery.
The large sitting area is made of wood, the cooking island – from natural stone. The doors of the cabinets are made of wood for flawless connection between the two areas.
via Casa Tres Chic
14. Modern Farmhouse Kitchen with Contrasting Colors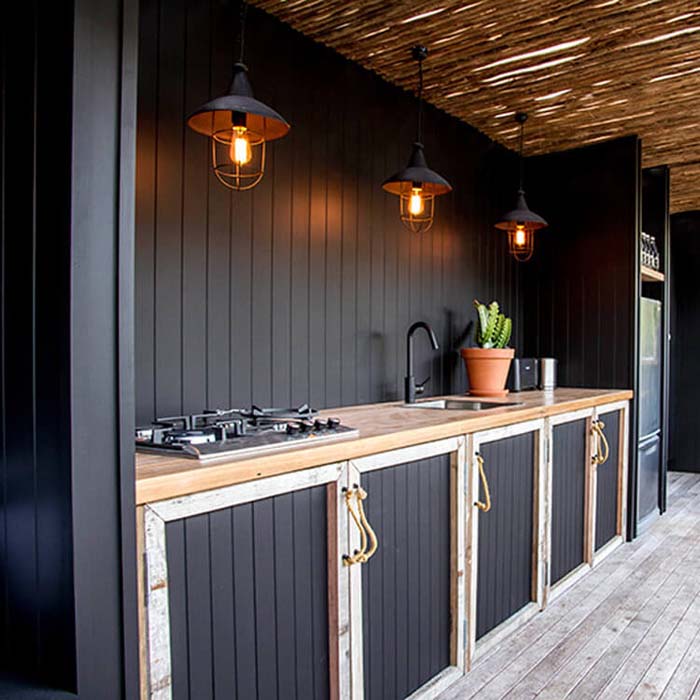 Farmhouse kitchens can be very modern. The dark color on the wood makes its texture industrial. Although placed outdoors, a kitchen painted in a dark color could visually narrow the space.
The countertop and the rope handles are chosen in a light color on purpose – to make a drastic contrast with the black and thus visually open the space.
15. Build Outdoor Kitchen Set with Reclaimed Pallet Wood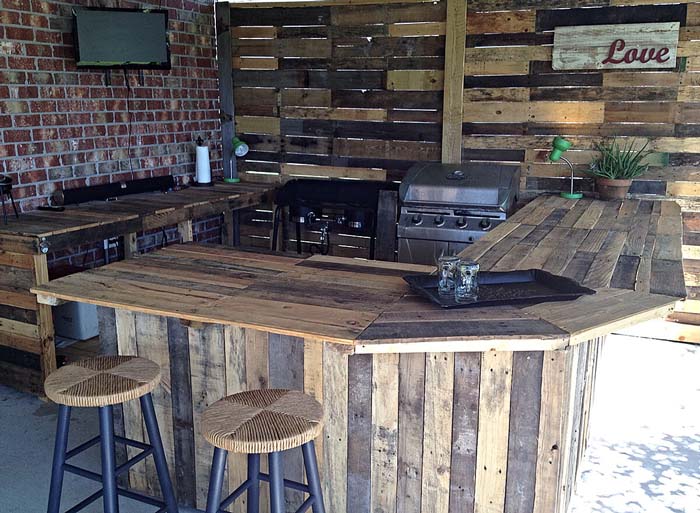 Pallets are a great material to built a full outdoor kitchen set – from the base, through the countertops and the dividing wall.
The worn colors of the reclaimed wood are not covered. Instead, they are used in an interesting arrangement that makes this outdoor bar very attractive.
16. Upgrade Your Outdoor Kitchen with a Pool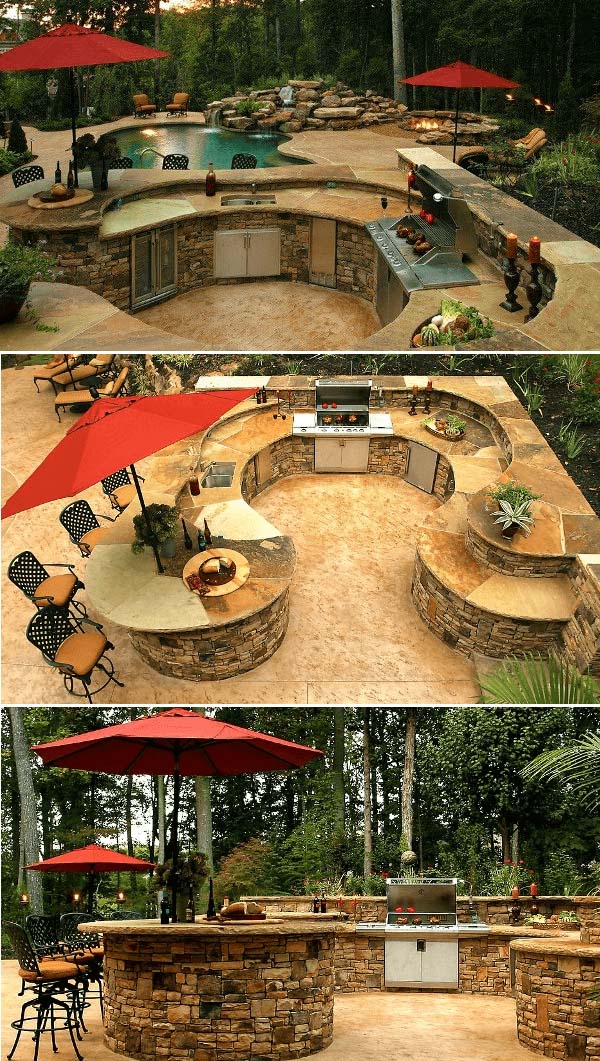 If your yard is big enough, why not consider a total overhaul? You won't be leaving your backyard if there is a summer oasis providing all you may need during the day- a pool, a fountain, sunbathing area, outdoor kitchen and bar.
All parts of this outdoor entertainment area are made of natural stone which softens the modern design and blends it with the environment.
17. Backyard Living Room with Stone Kitchen and Fireplace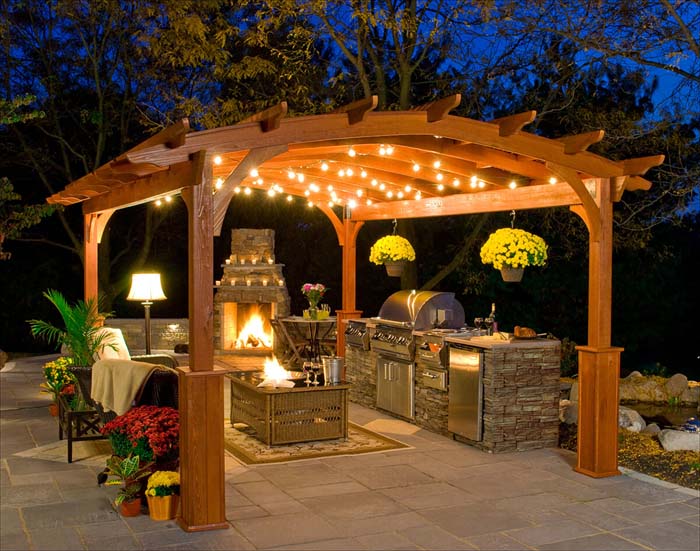 A living room in the backyard will assure the most calming time spent outside. The room under the start is furnished with a medium-sized stone kitchen, a stone fireplace, a table and a comfortable sofa.
The wooden pergola beautifully outlines the living space limits together with the flower pots. Some strings of light will contribute to a more romantic experience at night.
18. Outdoor Cooking Made Easier with Retractable Canopies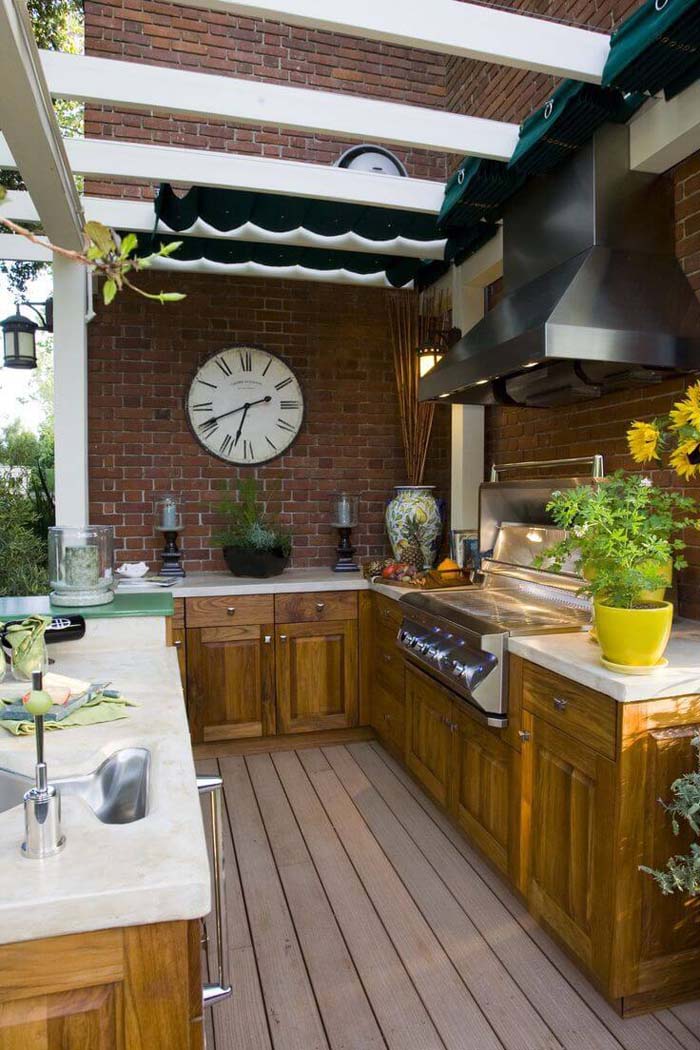 When there is an outdoor kitchen at the backyard, one thing is certain- you will prefer cooking outside than inside, especially in summer. Along with a comfortable kitchen set, you must consider its place.
If your property allows it, place it under a shelter. If that's not the case, there are other functional and beautiful ways to provide shade- a pergola or retractable canopy.
19. Build a Rustic Patio Kitchen and Bar in Your Backyard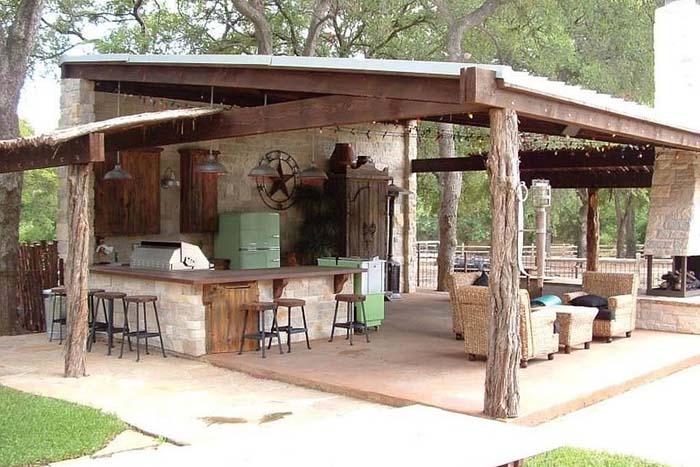 This is another idea for a whole living room in the backyard. This rustic area combines a kitchen set, a bar, a fireplace and a separate sitting area with comfortable armchairs.
The calming colors and the natural materials make the space even more welcoming.
20. Moveable Outdoor Kitchen Built with Pallets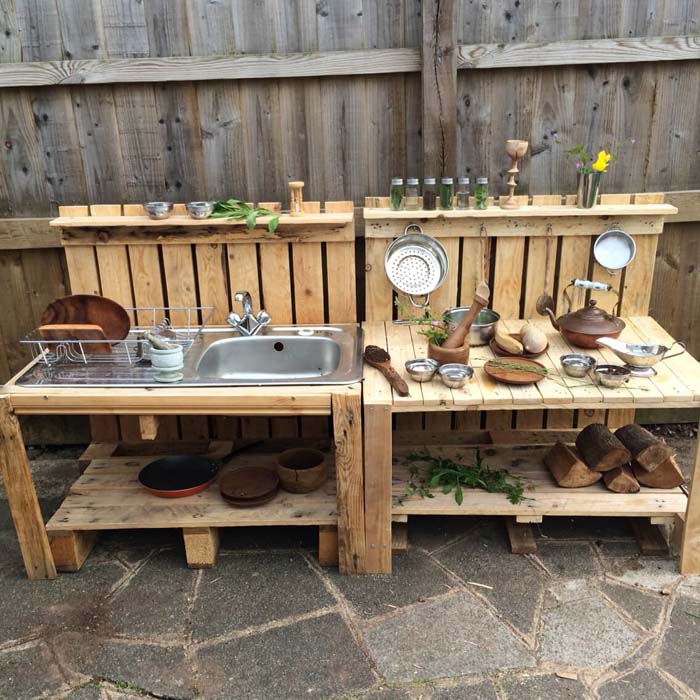 This is a simple and functional design of an outdoor kitchen that can easily be moved to the garage when the summer is over. The possibilities of using pallets to build furniture surprise us one more time.
This kitchen consists of two modules that provide enough space to prepare the meals, store seasonal herbs, some appliances and a sink to wash the used dishes and glasses.
21. Extend Your Indoor Kitchen with a Shutter-Window Bar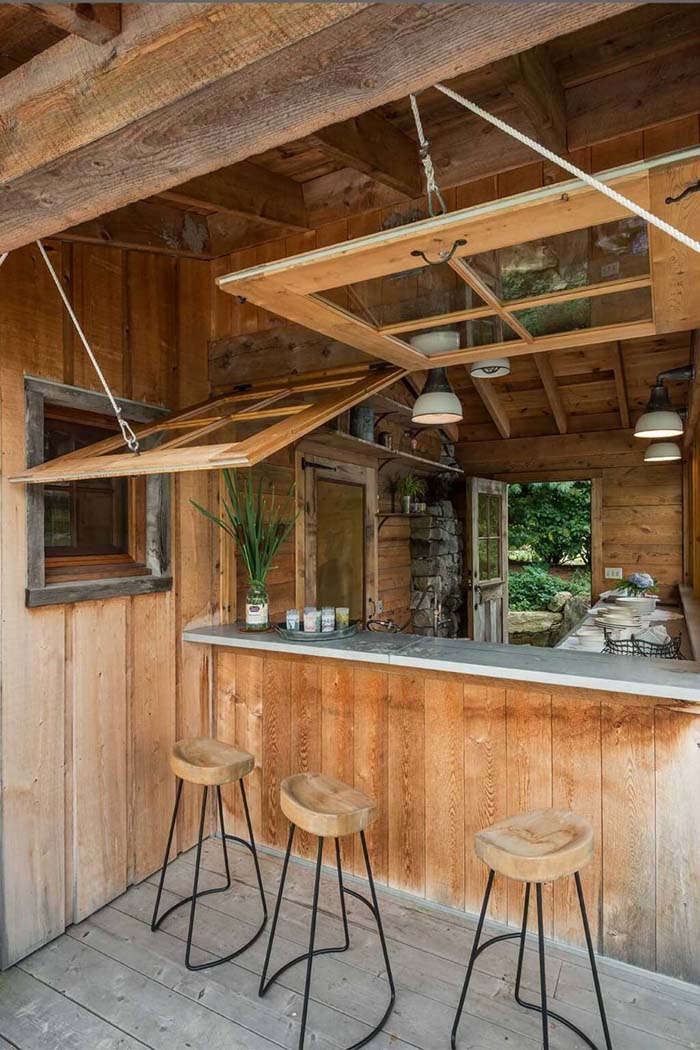 This bar is another inspiration of how to extend your indoor kitchen to the outside space. Instead of a solid wall, there are two windows functioning as shutters and a bar.
Once the weather gets worse, close the windows and continue the party at "covered mode".
22. Stone Outdoor Kitchen with Slate Countertops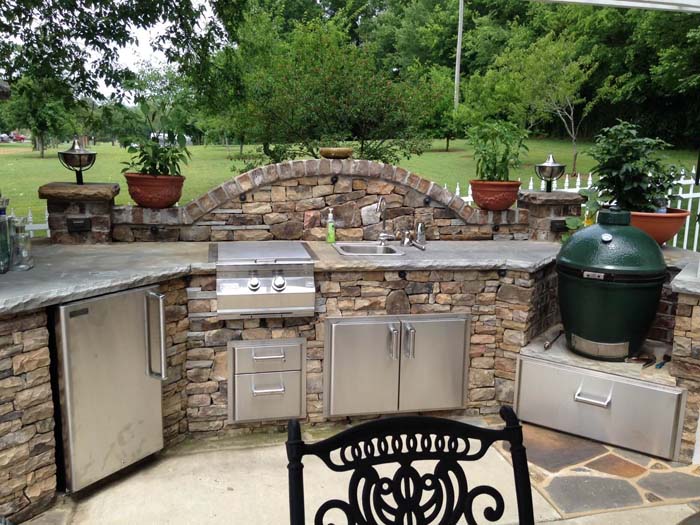 When the outdoor kitchen is made of stone with built-in stainless steel appliances, slate is the top choice for the countertops.
This is the choice for this considerable kitchen in the open. The countertops are wide enough to accommodate a grill, a sink, a prep corner and a smoker.
23. Add Flavor to Summer Fun with a Poolside Kitchen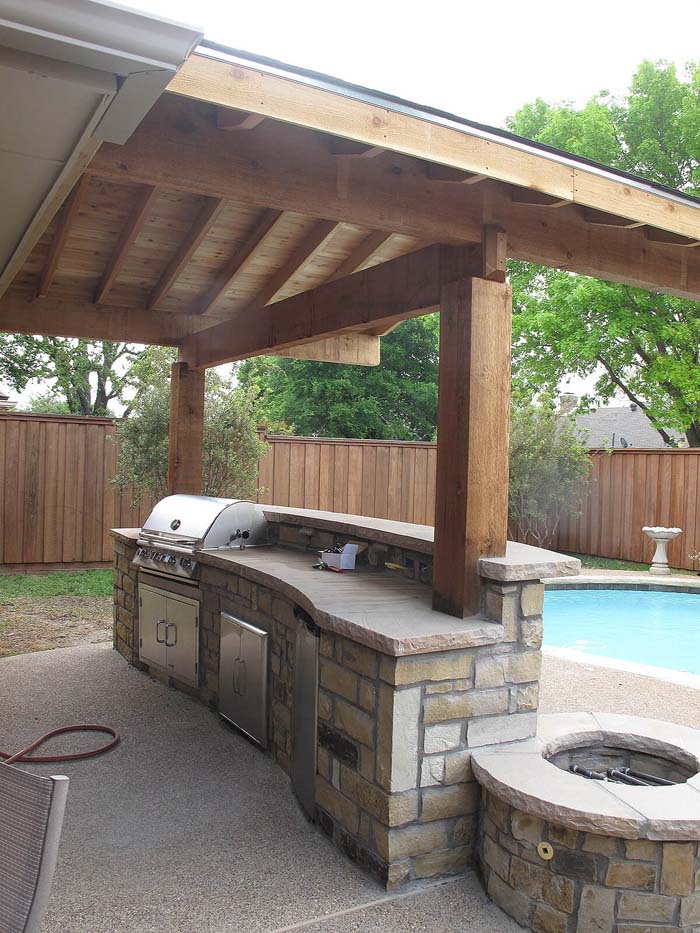 This bar has been made to improve the entertainment level of the pool time with freshly grilled meals and refreshing cold drinks. It is obvious that this bar has been built as an addition to the existing pool.
The creators have chosen stone as it matches the floor and the pool edging at most. The wooden tent is an extension of the house roof to provide just enough shade for cooking and eating.
24. Reclaimed Wood Kitchen with Vintage Accents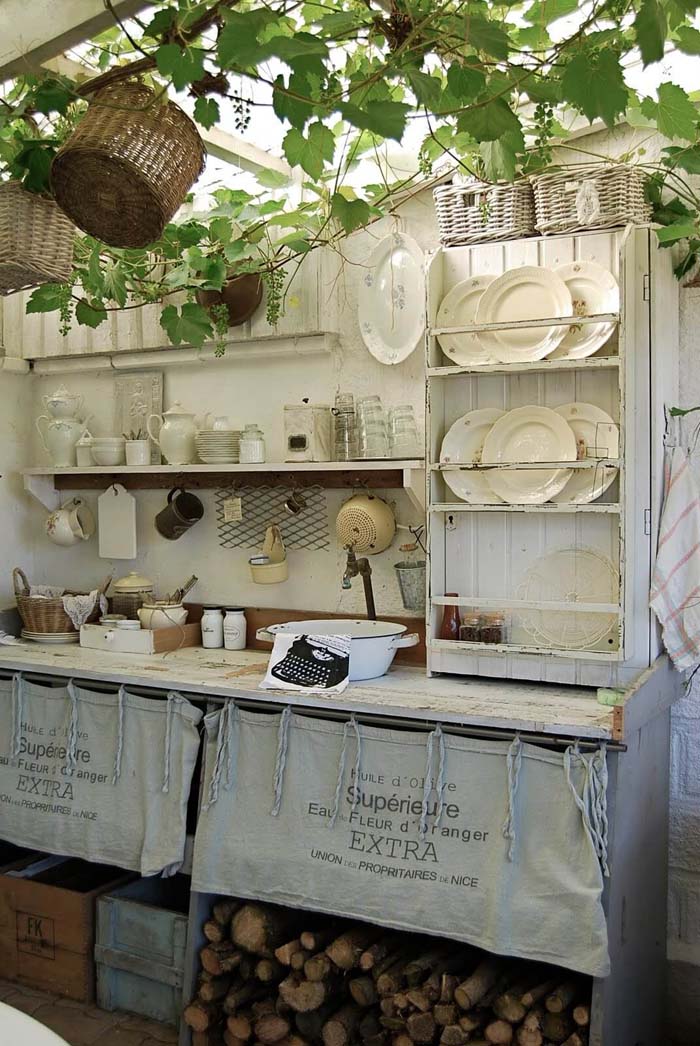 Whether inside or outside, the shabby chic kitchen is made of reclaimed wood and has a marvelous collection of vintage utensils.
The whitewash technique is perfect for this purpose as it makes the wood cleaner but doesn't ruin its aged look. Add old curtains at the bottom cabinets instead of doors to increase the charm of the outdoor cooking area.
via Urban Gardens
25. Contemporary Outdoor Kitchen Divider in the Backyard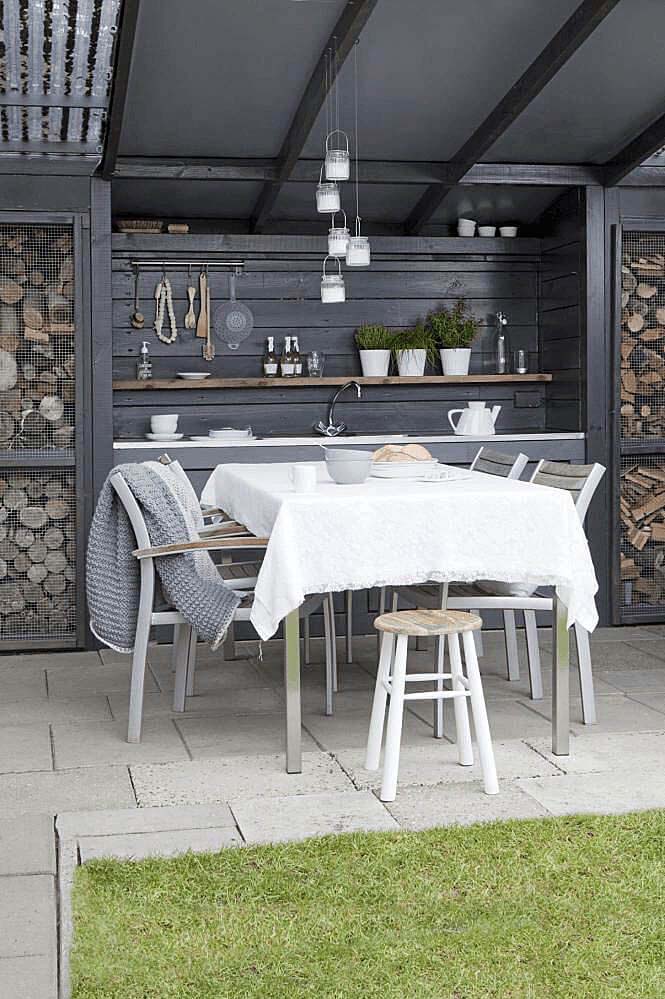 That outdoor kitchen is a beautiful divider of a log storage space in the backyard. To make the wood look more contemporary than usual, it is painted in the trendy dark grey.
The countertop and the shelf are left in brighter colors to confirm the depth of the space and match the adjacent dining area.
via Bungalow Classic
26. U-Shaped Outdoor Kitchen for Your Culinary Experiences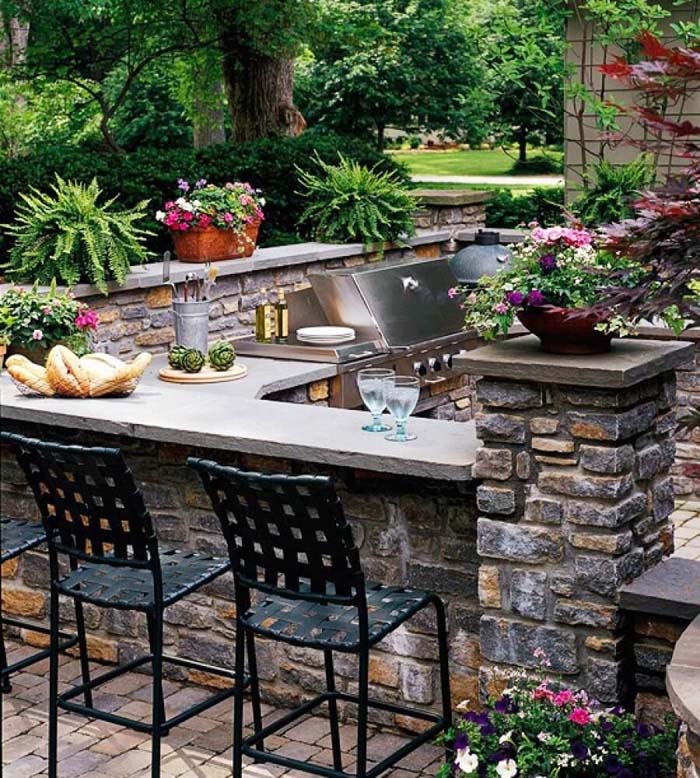 The taste for luxury can be felt even when it comes to outdoor spaces. A wide and functional outdoor kitchen consisting of a dining terrace, cooking terrace allows the easy handle of the meals from the kitchen to the table.
This alignment lets the housekeepers chat with their guests while preparing the food.
via BHG
27. Enjoy Your Favorite TV Show in Your Patio Kitchen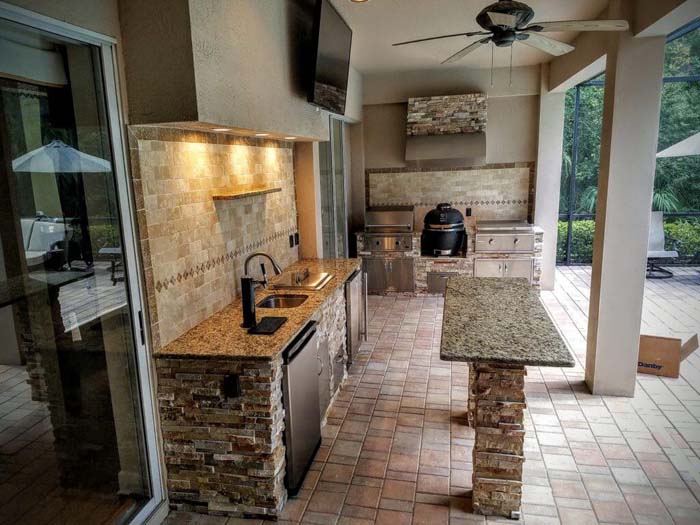 Don't be divided between the TV in the living room and the fresh air outside. You can easily watch your favorite game or show outdoors, sitting at the bar of your patio kitchen.
The space is fully equipped with utilities, appliances and furniture that will make the time spent out even more enjoyable and qualitative than usual.
28.