Living in a house that has an adjacent backyard where the kids can play and create unforgettable memories is a dream come true.
Regardless of how interesting the games can be, kids become bored and need fresh ideas, new games, and new curious activities.
And since it is summer and we will take maximum advantage of being outside in our own outdoor oasis, we have gathered the best 70 DIY backyard games that kids can play and you can even get involved in.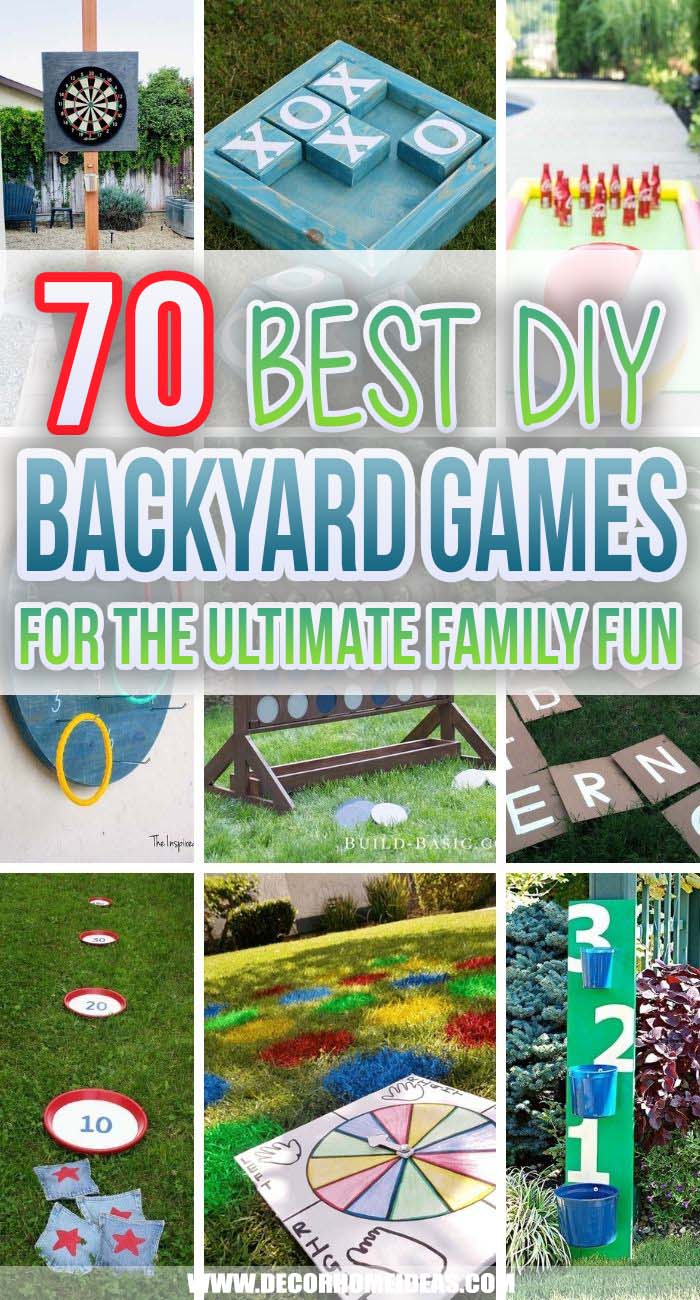 Doing quick math, you will be enjoying a new game every day!
1. Mud Pie Dream Kitchen
Make a dedicated zone where getting messy is allowed! A bucket with bud or sand, some toys, plastic containers or plates can come in help to make the entertainment long-lasting and fun!
via Small Potatoes
2. Build Your Own Miniature Golf Holes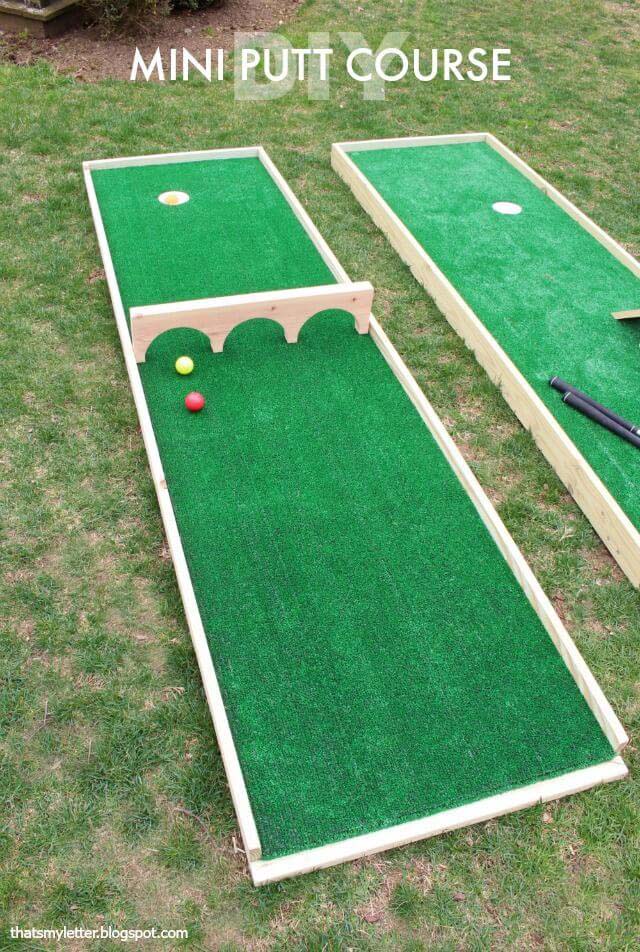 Combine the fun with learning a sport! Make small golf yards where kids can learn and practice their golfing skills.
via Jaime Costiglio
3. Make A Twister Board With Paint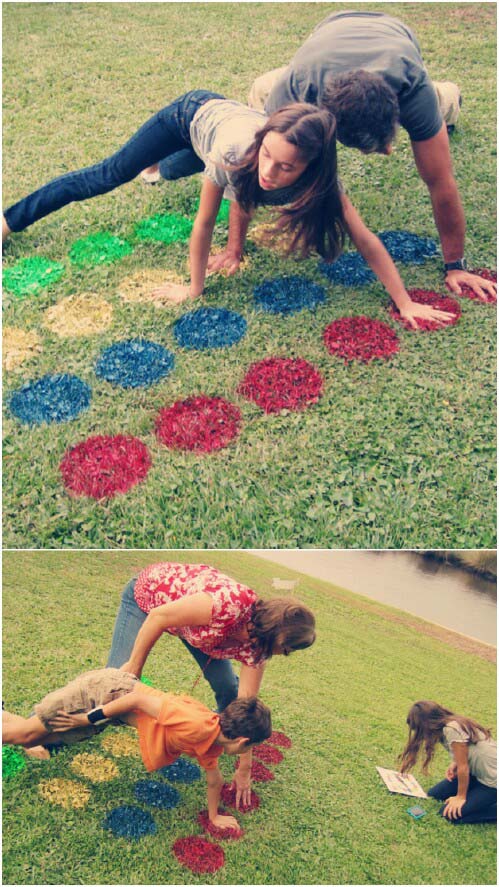 It is possible to take out the Twister set, however, it will be more fun and a bigger attraction to make an outdoor replication of this game.
via You Plus Me
4. Get Creative With Balloon Darts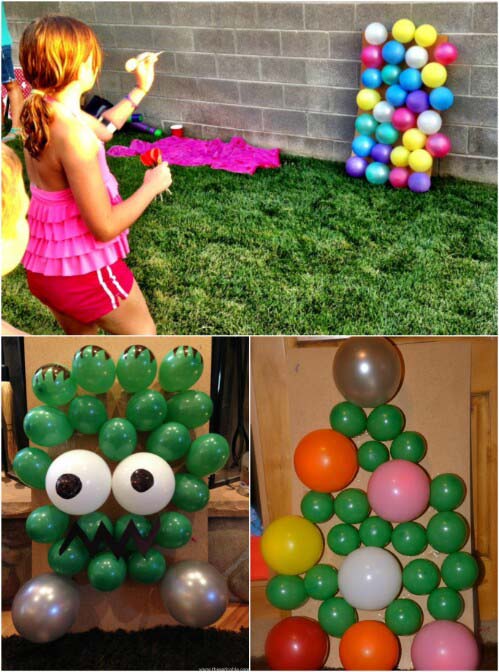 Kids like balloons! You can spread them around the yard and let them chase and throw them. If you want to upgrade this game, attach the balloons to a board and ask your kids to burst them with darts arrows.
Thus they will also learn to be more focused and accurate in throwing.
5. Backyard Bean Bag Toss With Ladder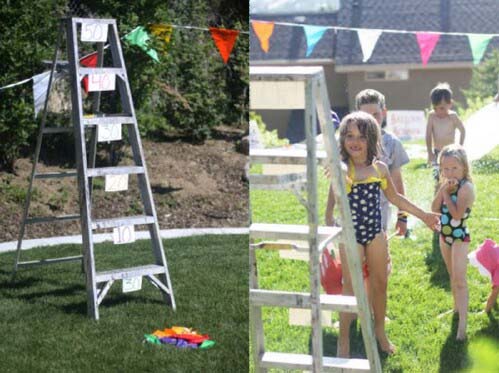 For this game, you need a ladder. Label each step with a number of points kids will earn from throwing bean bags between the step rungs. This game is suitable for kid's parties as well.
via Landeelu
6. DIY Bowling Set From Bottles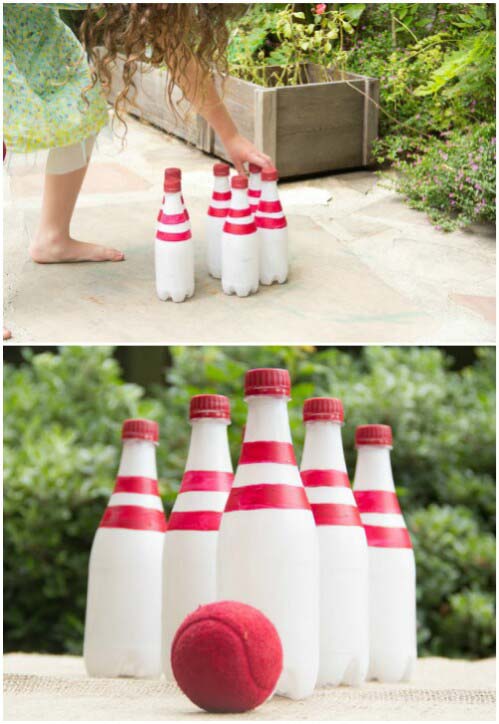 Involve your kids in a DIY bowling set make. Six identical bottles, some paint and a tennis ball and the competition can start!
7. Creative Connected Wall Of Water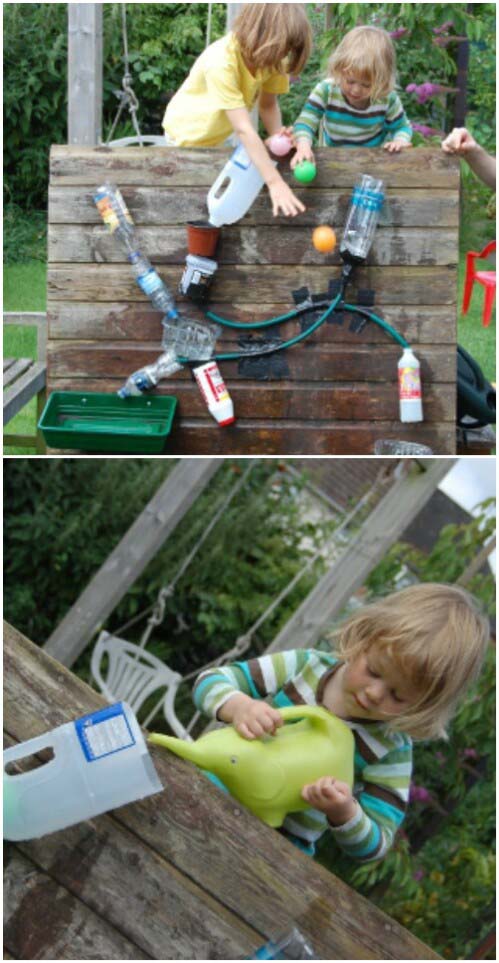 Let your kids develop their imagination, fine motoric and logic skills with this DIY water wall. Use items already on hand to create the cycle. By recycling these items, you will teach them to care about the environment.
8. Backyard Playhouse Hideaway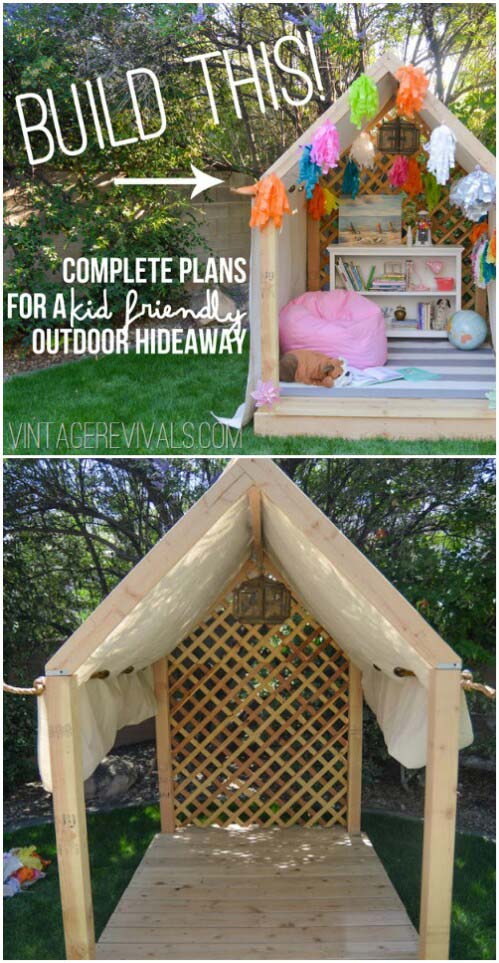 Make a special playhouse in the backyard where kids can feel like homeowners of their outdoor living room.
Following the instructions below, it will be a rigid and safe structure.
via Vintage Revivals
9. Sprayable Chalk Art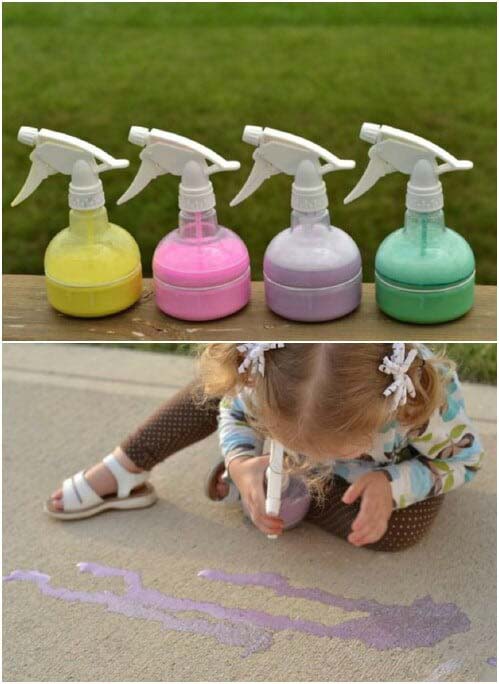 Painting with chalks can be messy, so here is a clean alternative that will be even more fun for the kids because of the spraying.
10. Easy To Make Tetherball Game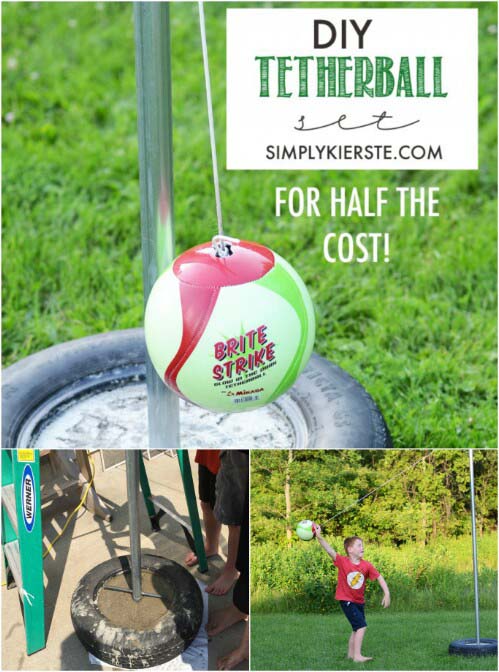 A tetherball set costs around $100…That's too much taking into account the high possibility that it quickly goes to the garage after your kids get bored with it. So, why not make your own DIY version?
via Old Salt Farm
11. Who Doesn't Love Cornhole?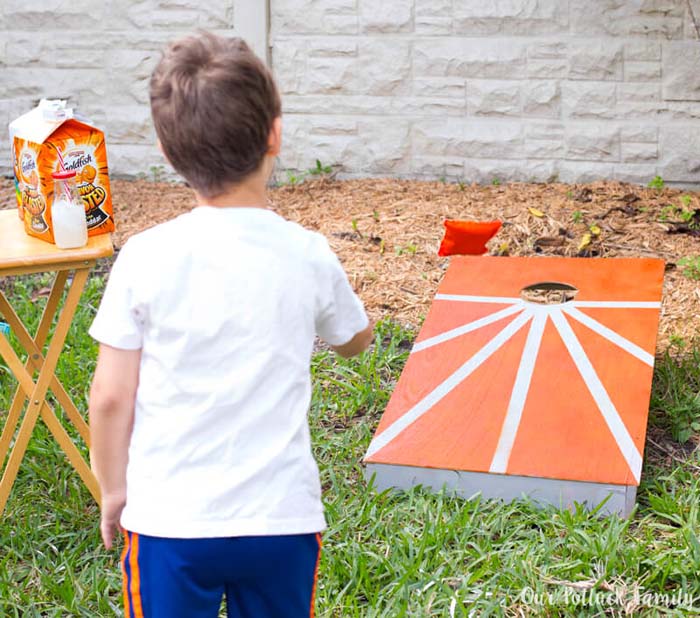 The cornhole game is a classic game that always rocks! Make the set yourself giving it a unique visual interest with orange painted top surface and white lines.
12. Kid-Favorite Repurposed Can Stilts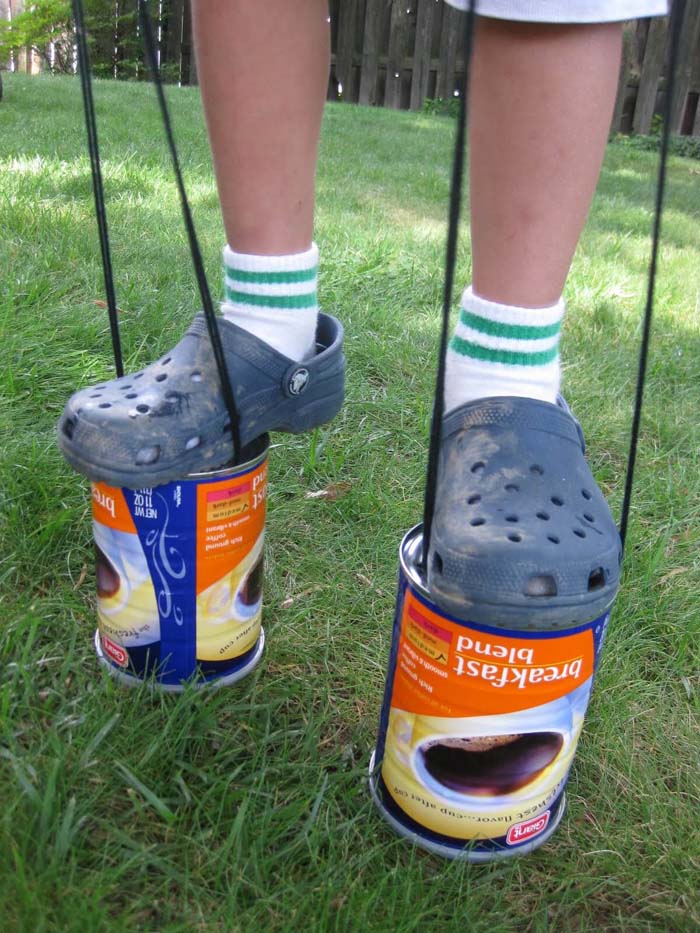 This game is perfect for developing coordination skills in a fun way. Made of recycled coffee cans and yarn, this DIY backyard game is easy and super fun.
via Teach Mama
13. Cool Off With Water Balloon Pinatas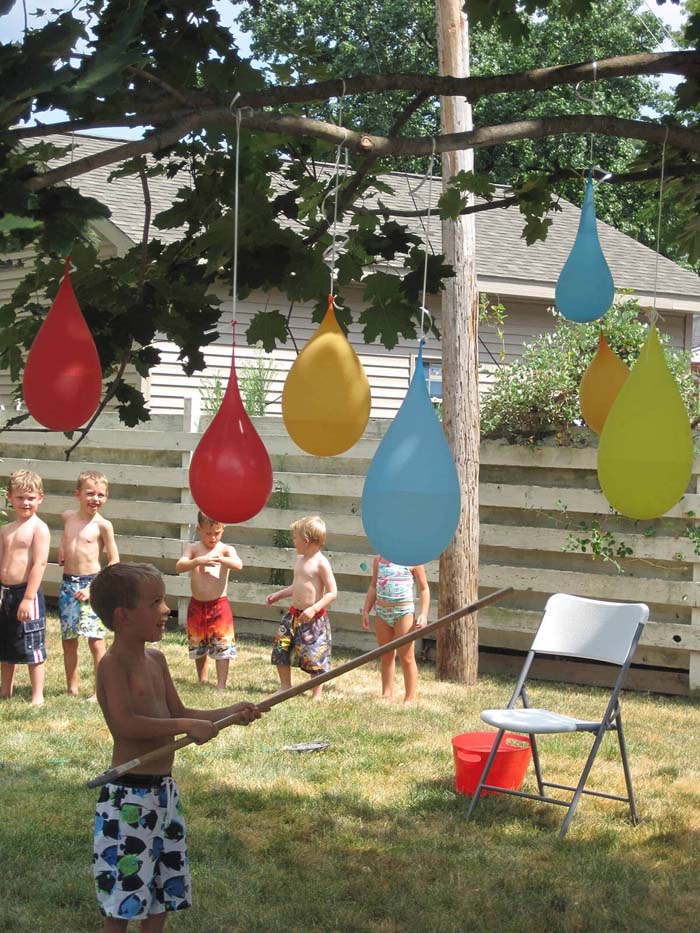 If it is too hot outside, this game comes in help- to keep the kids busy and cool! Fill balloons with water and hang them on tree branches.
Similar to the pinata game, the goal is to burst the balloon.
via Milk Allergy Mom
14. Tic Tac Toe Lawn Game Is Endless Fun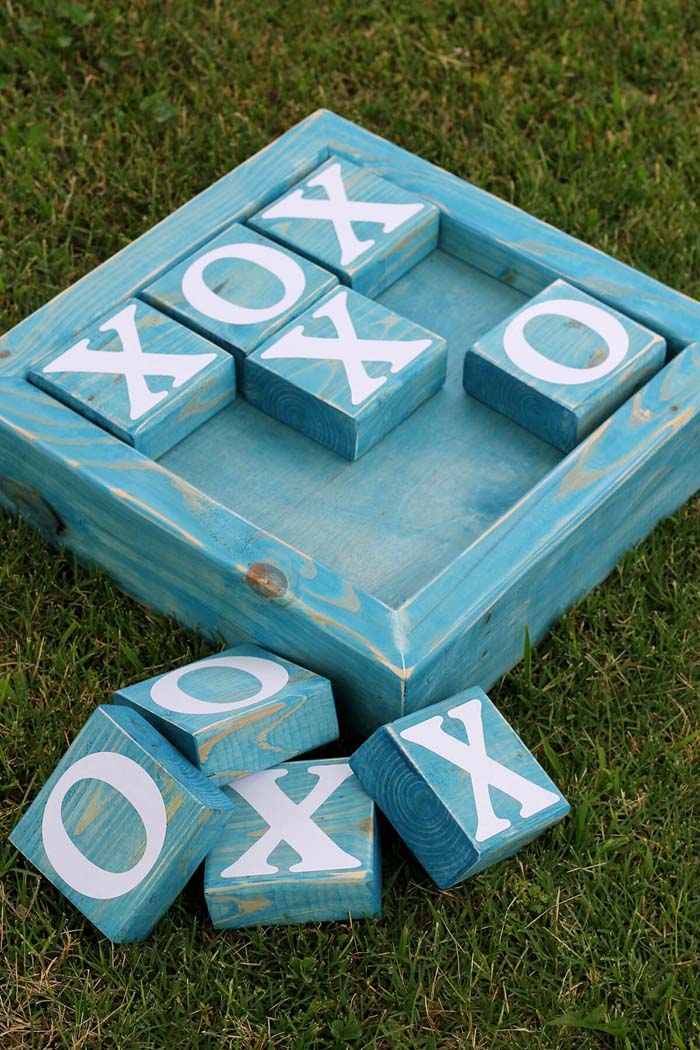 This jumbo Tic Tac Toe is a DIY outdoor play game made of lumber scraps. The surfaces are well sanded to be kid-friendly.
In addition to the logical development this game brings, it is also an appealing rustic contribution to the outdoor decor.
15. Life-Size Patio Chess Set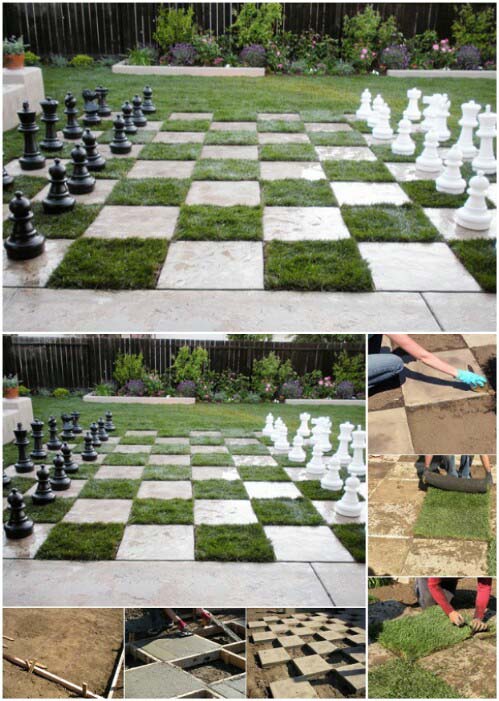 Making a chessboard patio is a multifunctional idea.
Adding a curb appeal to the backyard is combined with the permanent possibility for adults and kids to play chess.
via DIY Network
16. Thrilling DIY Backyard Zipline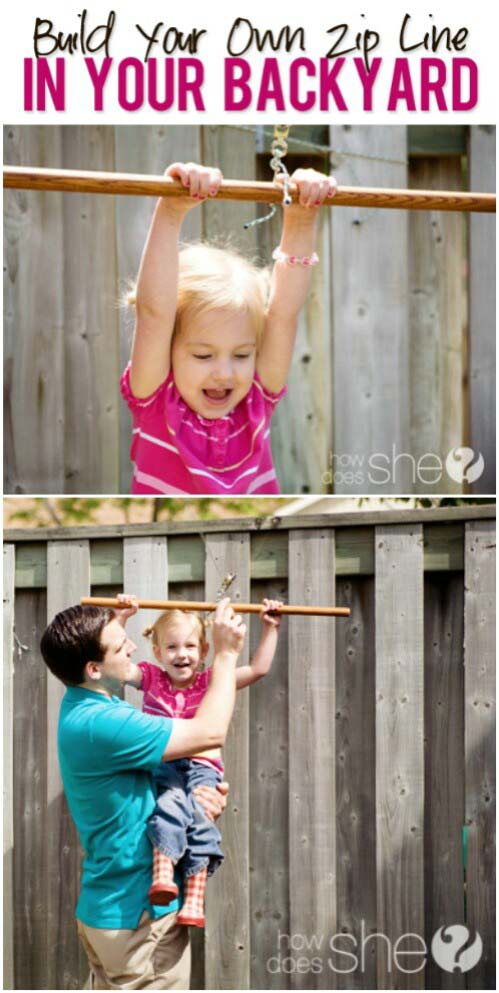 The best games are those that exhaust your kids in a fun and learning way. This DIY backyard game does all of these and building the set is easy and budget-friendly.
via How Does She
17. Upgrade Your Ring Toss With Flamingoes
The flamingo garden decoration is given another function by turning it into a ring toss game. Add labels on the buckets that support the figures to give the older kids a way to compete.
18. Fun To Make Backyard Carnival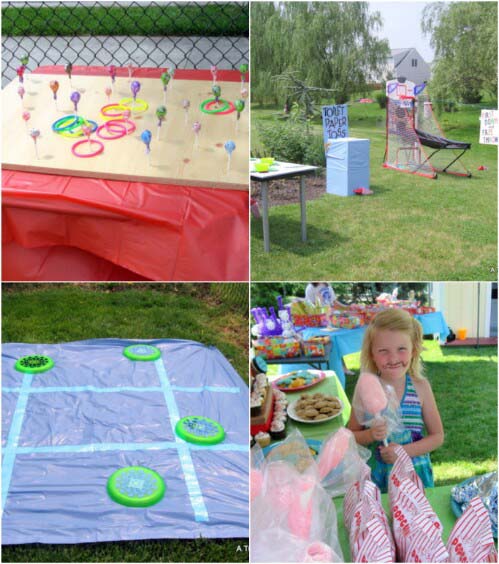 The story below describes how to turn a birthday celebration into a fun carnival party with affordable materials. There are plenty of backyard game ideas that will leave unforgettable memories in the children.
19. Jumbo-Sized Bucket Yahtzee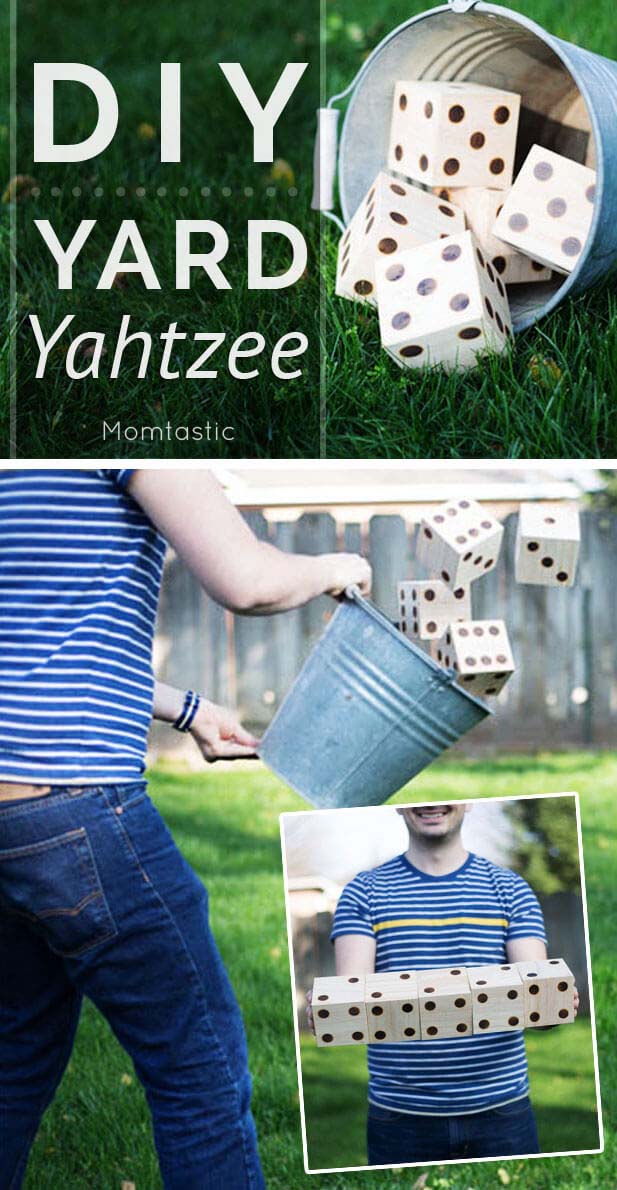 Standard rules of Yahtzee are followed in this outdoor game version but with bigger dice.
Finding these at the stores will be difficult so better make them yourself to make sure that they are easily seen when tossed on the lawn.
via Momtastic
20. Easy DIY Backyard Jenga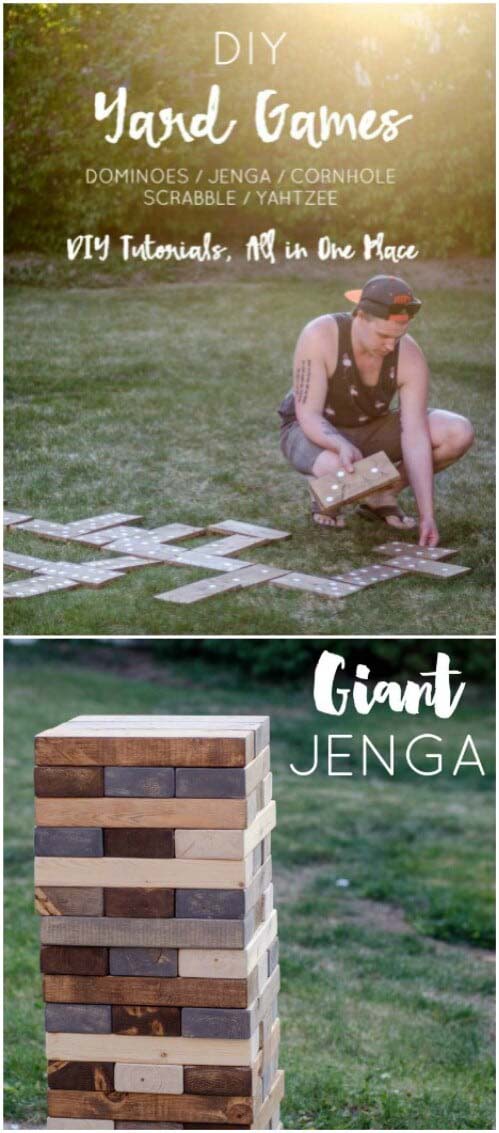 Jenga is very popular as it is easy to play and keeps the thrill of falling at any time all game long.
To make your own jumbo Jenga that can be stacked on the yard, you need 54 laths that are well sanded and even! Some different colors of stain and your Jenga outdoor entertainment is ready!
via Lemon Thistle
21. Fun For Everyone Koob Set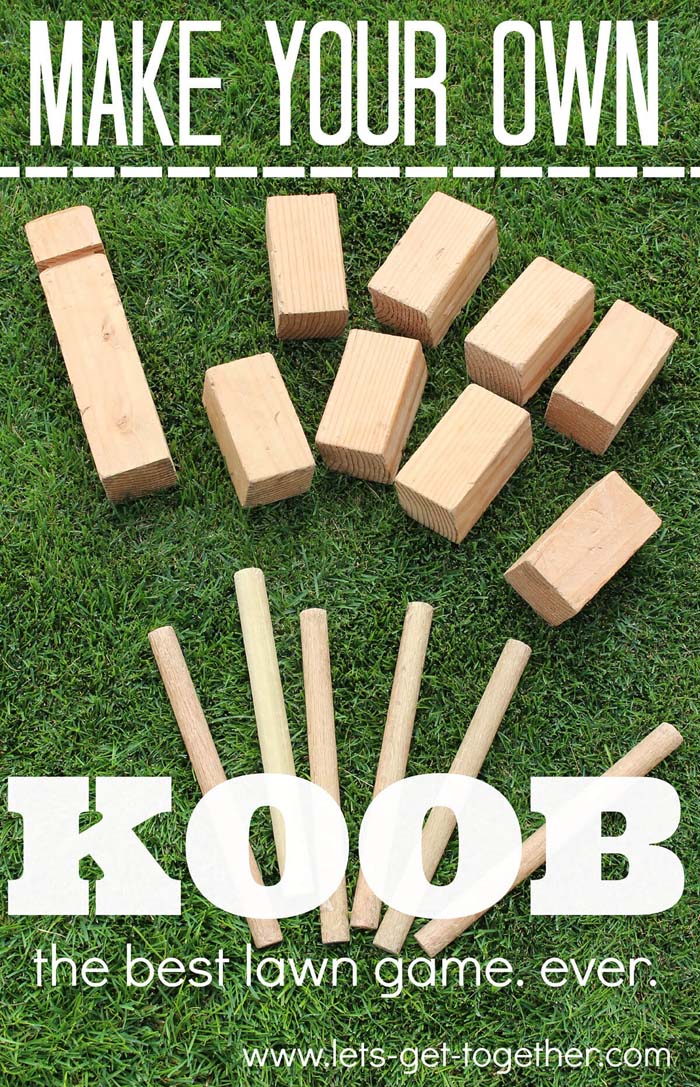 This game has been described by the DIY tutorial author that it is capable of changing the way you have fun and that it is sure to become the family's favorite. Surely, you are already convinced to give it a try!
22. Easy Ring Toss With Pool Noodles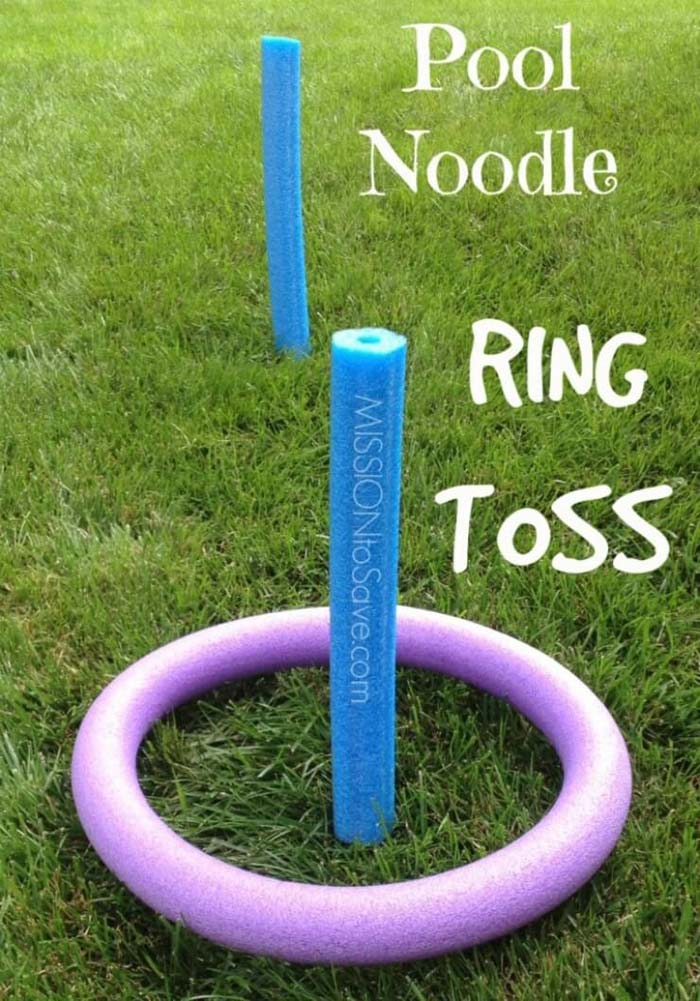 There are plenty of DIY yard games with cheap noodles. Go to the local Dollar Store and get straight and round ones. The straight ones should be inserted in the ground.
Use the round ones as rings tossed towards the upright ones. Easy, affordable and fun!
via Mission To Save
23. Make Your Own Racetrack With Obstacles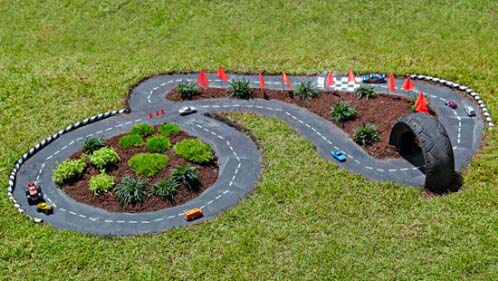 Make an outdoor racetrack with a plastic liner, a tire and a white paint pen!
Firstly, figure out the pattern of the track to remove the grass. Then cover it with the liner and draw the median strip.
Old pieces of tires, wood scraps, etc. can be used to give the race another dimension as a bridge or a tunnel.
24. Summer Fun Slip And Slide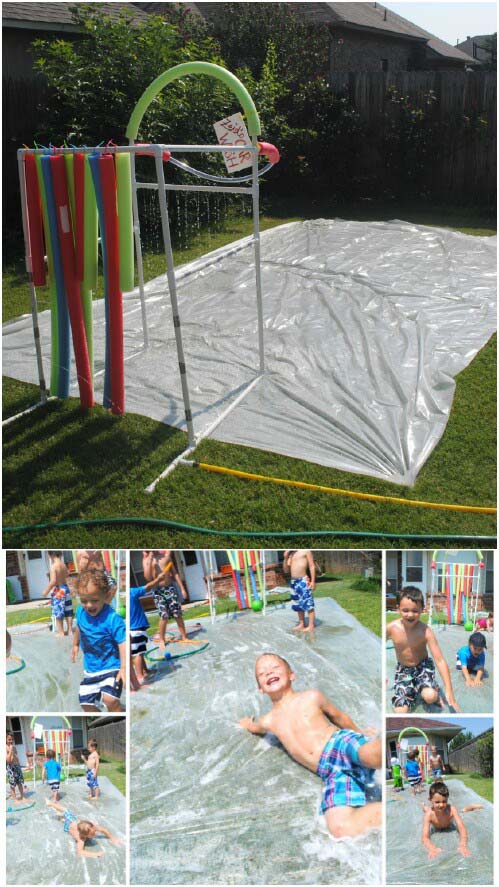 This water outdoor entertainment is perfect for birthday parties on the hottest summer days.
Lay a large nylon sheet on the lawn. Make sure that the surrounding ground is clear from items that can hurt the kids.
25. Keep Cool With Yard Water Blob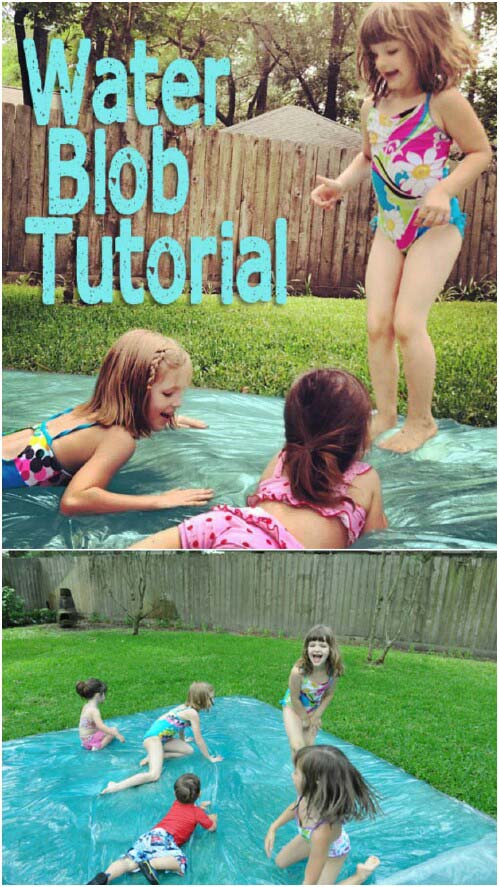 To start with this DIY yard game, you need to find a flat area.
Then, prep the materials- all you need is one big roll of plastic sheet folded in two and sealed with duct tape. Leave a small gap unsealed to put the water house and fill the blob.
via Clumsy Crafter
26. Clever Vertical Ball Toss
This game idea is a very interesting project because it can be repurposed into a garden planter when kids don't play or are already bored with it.
Use three descending in size metal buckets and a tall wooden beam to screw them to.
via Lowe's
27. Make Your Own Jumbo Bubble Wand

The larger the wand is, the bigger the balloon will be! The kids will be thrilled to see the amazing colors and shapes of the balloons they have made!
via Inner Child Fun
28. Exciting Cup Race With Water Guns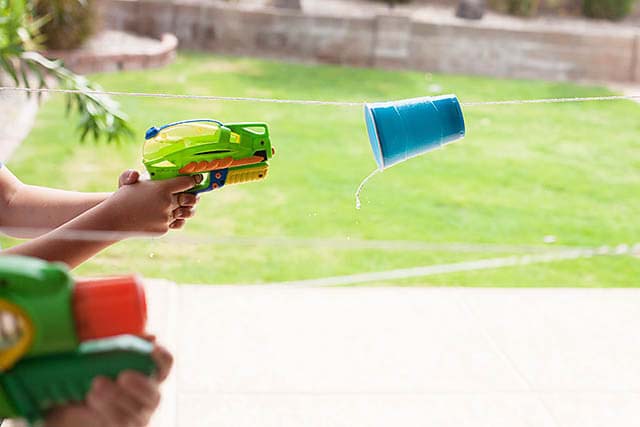 This is a fun way to use the water guns in a more focused way. A string is put through a hole in the center of the bottom of a plastic cup.
The string is tied on both sides to supports so it is well stretched. The aim is to move the cup with the water jet. In addition to being an easy DIY, it will keep your kids busy for quite a while.
via All For The Boys
29. Teamwork Water Balloon Volleyball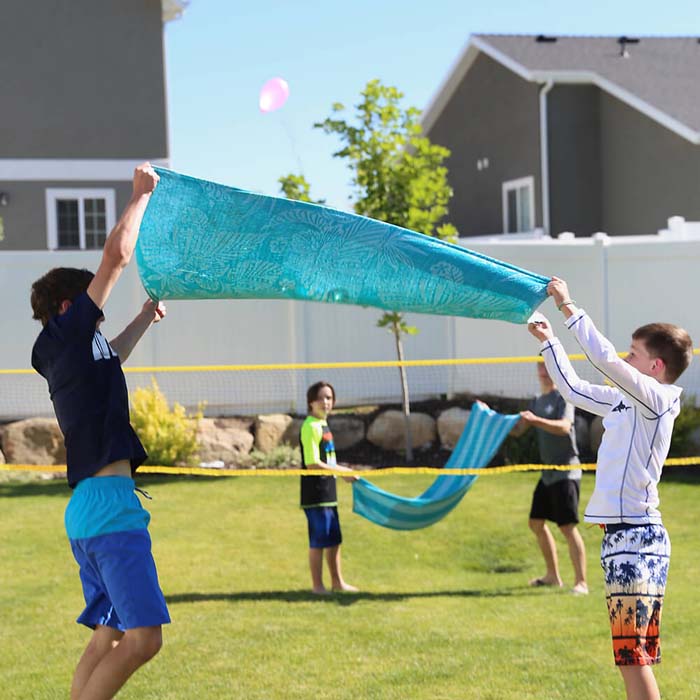 This game is great for family time or family reunions. It is played in teams of two players and each pair is holding a towel.
The badminton set will be helpful as it will divide the teams and will make the water balloon volleyball more intriguing.
30. Life-Size DIY Four In A Row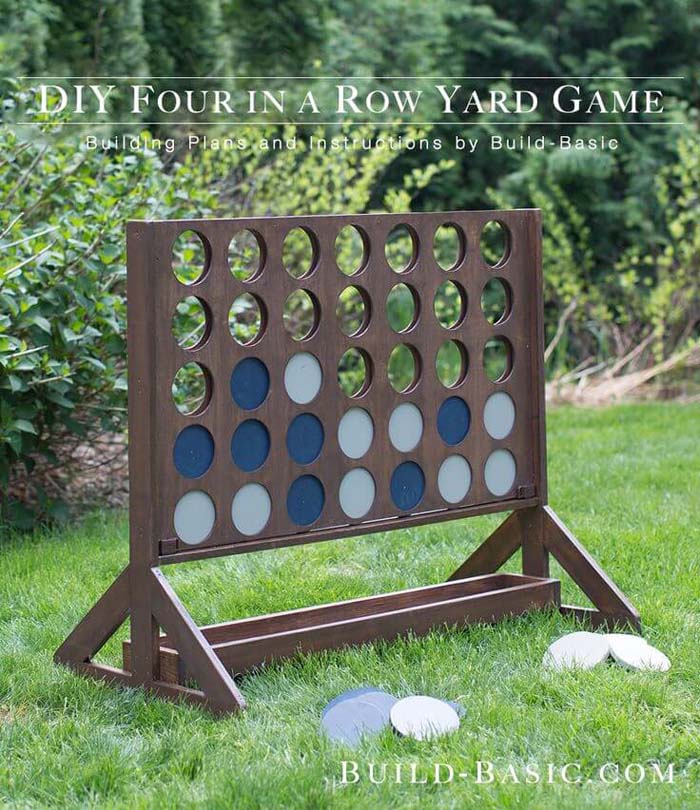 This evergreen game is transformed into a giant playset so that the whole family can enjoy and play together.
via Home Depot
31. Use Scrap Wood For DIY Lawn Dominoes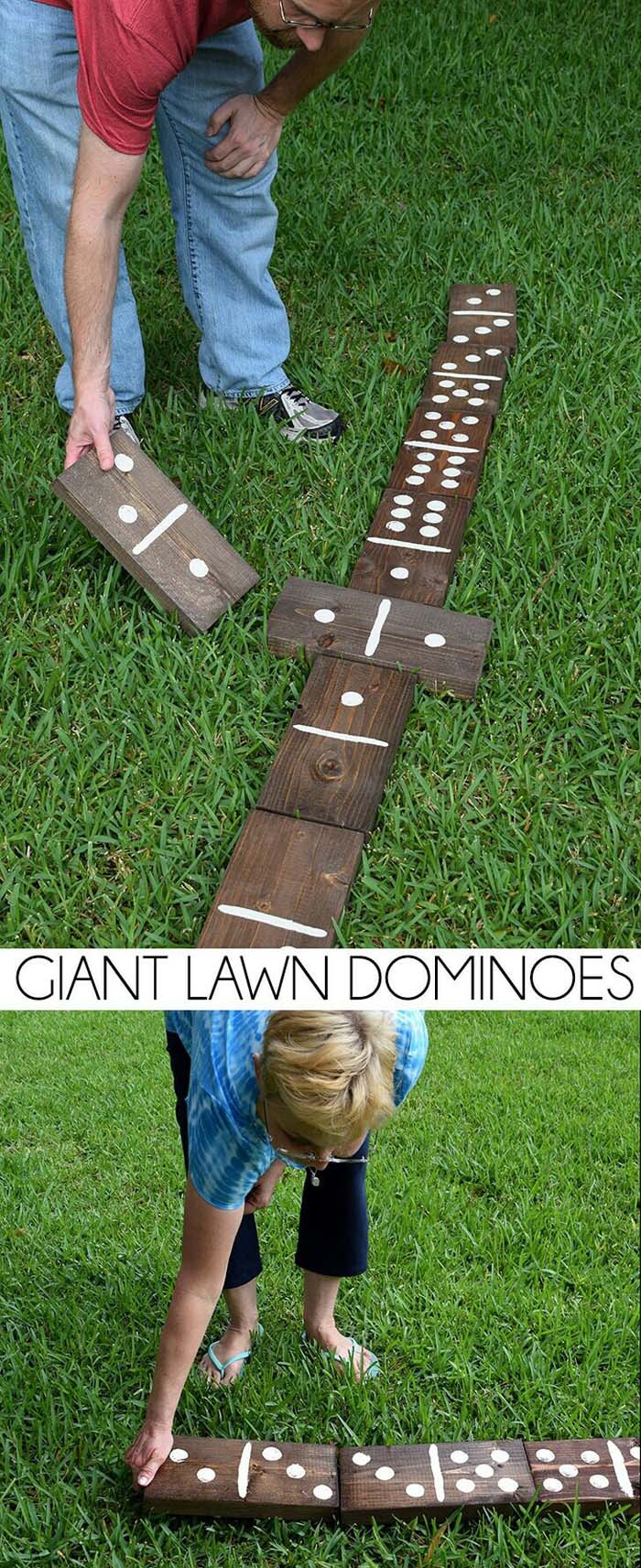 This is a great way to use lumber scrap. Make a number of identical wooden blocks. The more even they are, the better.
Sand the surface a little bit and stain or paint black if you are looking into achieving the authentic domino look. Then add the dots following the standard alignment pattern.
32. Lawn Game DIY Scrabble Set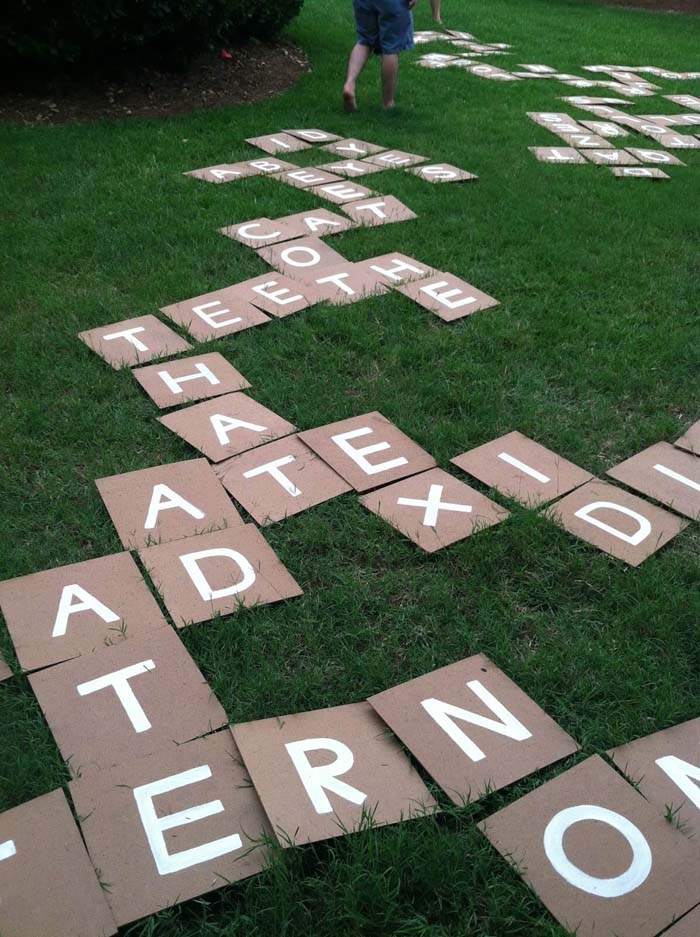 This giant Scrabble set consists of 144 tiles cut from a large masonite sheet.
The number of each letter is important to make sure that the mental game is exciting and challenging.
33. Fun DIY Backyard Kerplunk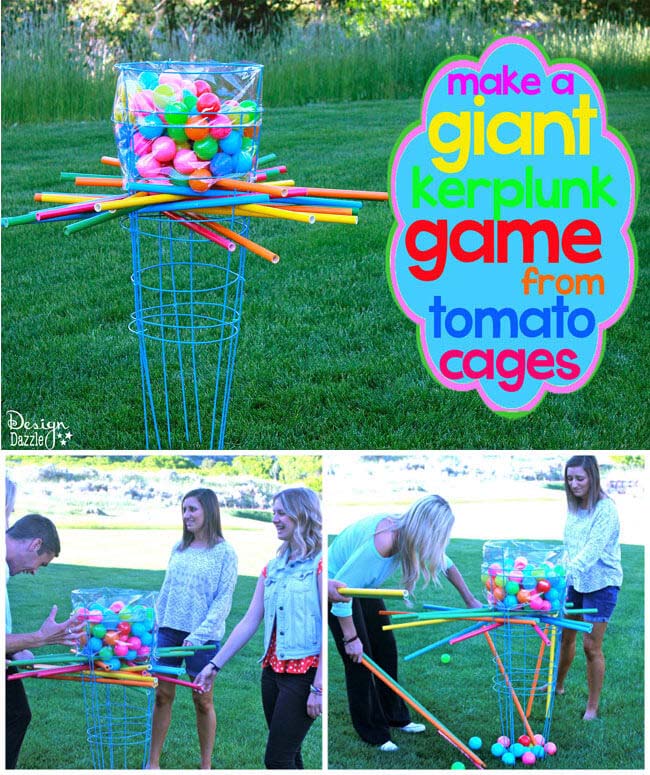 Looking for a family game for the hot summer days or nights outside? The DIY giant kerplunk game is what you need. No tools are needed, only a tomato cage, pool noodles and balls!
via Design Dazzle
34. Bean Bag Toss For Distance
This alternative bean bag toss game is an easy DIY backyard game for which you need materials already on hand. Four saucers labeled with the score they bring and bean bags.
Adapt the game to the age of the kids. The older they are, the further away the smallest saucer should be.
via Chica and Jo
35. Treasure Excavation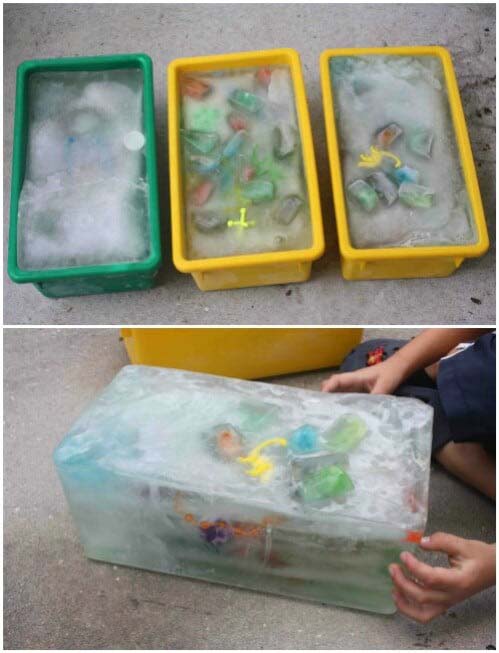 This is a game for the youngest explorers! The icebox with treasures will keep them occupied for hours! It is so exciting and fun! Give them a set of tools that will help them excavate the ice and find the frozen toys.
Let them experiment also with other means that can melt the ice like salt and warm water.
via Macaroni Kid
36. Impressive Backyard Bowling Setup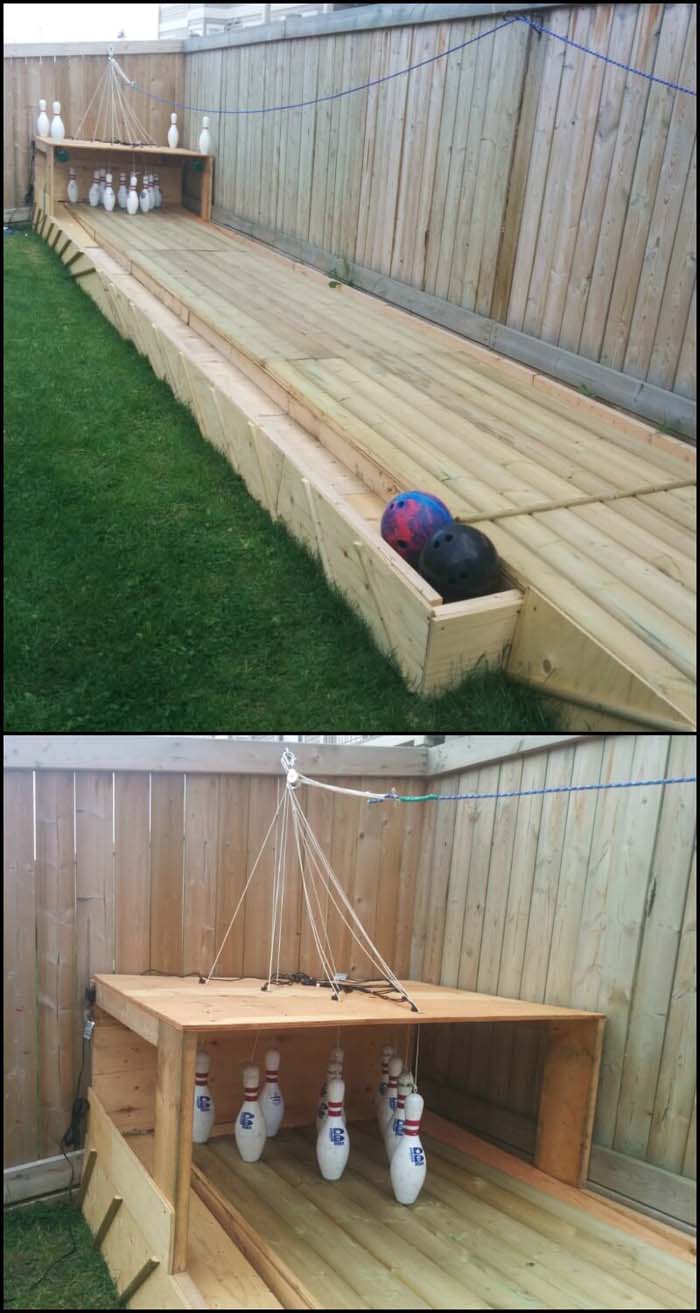 In case your backyard is big, you can build your own bowling lane.
Thinking of the environment and the investment, use scrap pieces of lumber.
via Ideas 2 Live 4
37. Challenging Squirt Gun Race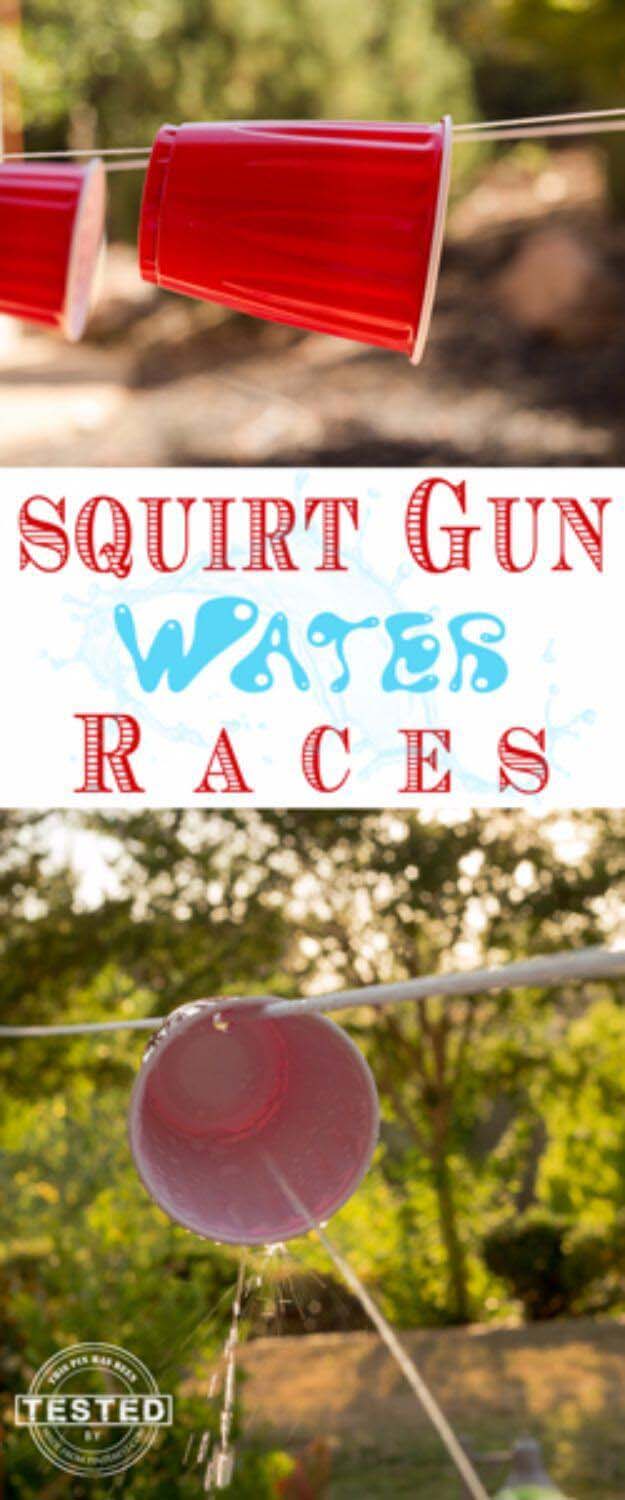 This water gun race is upgraded to a yard game for more than one. Strings with plastic cups inserted are stretched in different areas from the backyard.
Once the kids pass the first stage, they move to another area where the squirt gun game becomes more difficult.
via Design Dazzle
38. Easy DIY Velcro Tic Tac Toe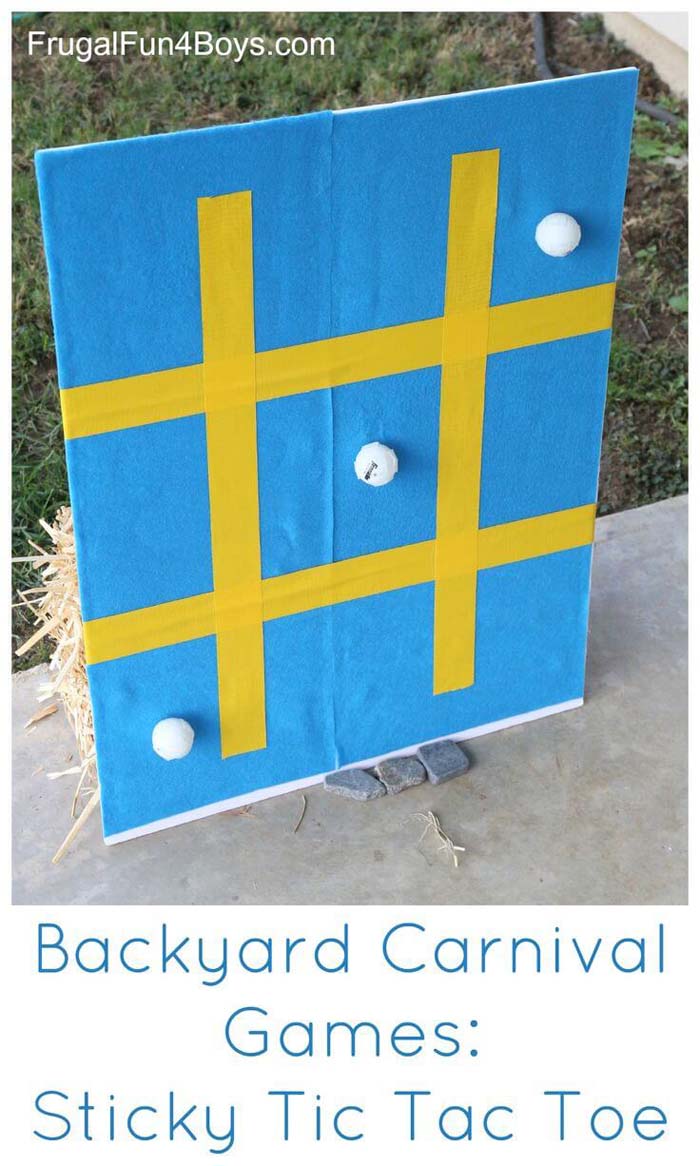 The Tic Tac Toe game is transformed into a toss ball game for the backyard. A foam board is covered with felt. Duct tape is used for the lines of the game sections.
Small pieces of cut and peel velcro are stuck to each side of ping pong balls so that they stay on the board if the player hits well.
via Frugal Fun 4 Boys and Girls
39. Giant Lawn Jenga

To make a jumbo Jenga game, you need lumber cut in 54 identical pieces. If you want to make the set more cheerful, paint the blocks in different colors.
40. Wood Slice Bug Tic Tac Toe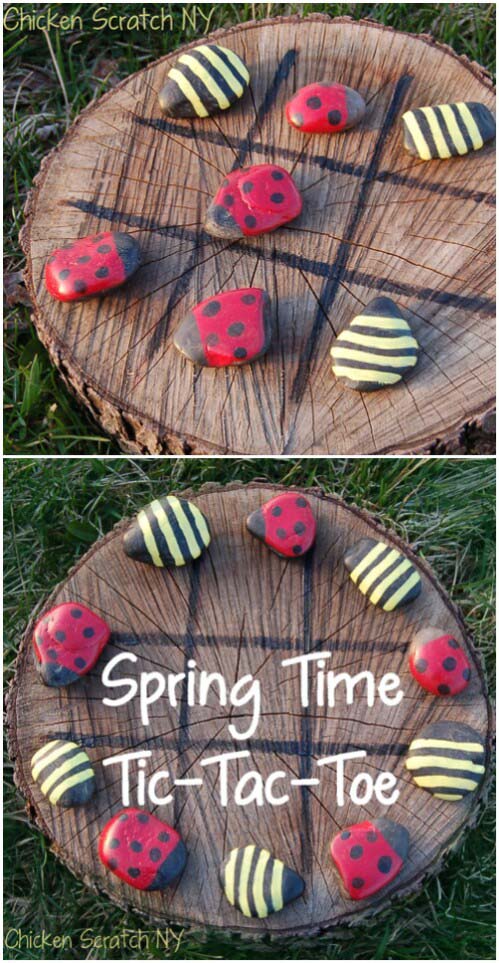 The Tic Tac Toe game is adapted to the spring theme with cheerfully painted rocks. The first pattern of the rocks is a ladybug, the second one- a bumblebee.
The play surface is a slice of wood with drawn lines.
41. Pretty Painted Jenga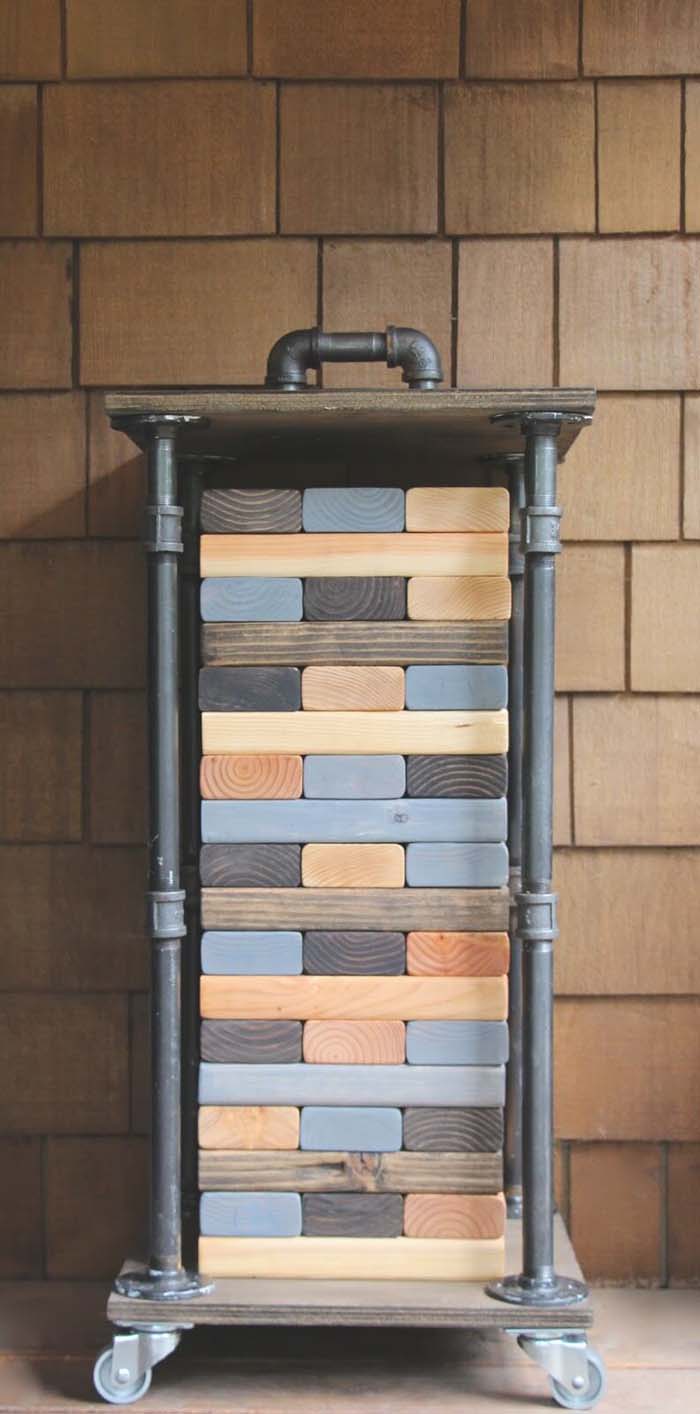 This giant Jenga game is of a modern rustic design- blue, grey, blonde brown and brown blocks are stacked in a tower. The DIY game is stored in a cart made of plumbing parts.
Supported on casters, the game can be moved to any spot from the backyard.
via My Sweet Savanna
42. DIY Viking Chess Kubb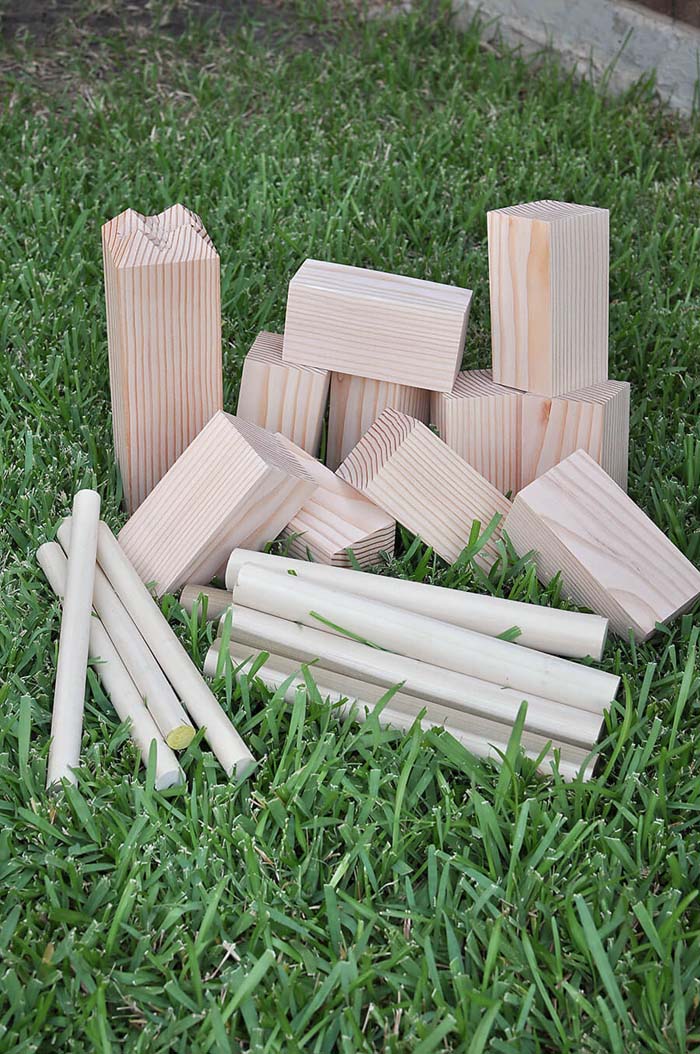 Known also by the name Viking chess, this game is simple and endlessly fun to play.
Want to know the rules? See below.
43. DIY Lawn Game Yahtzee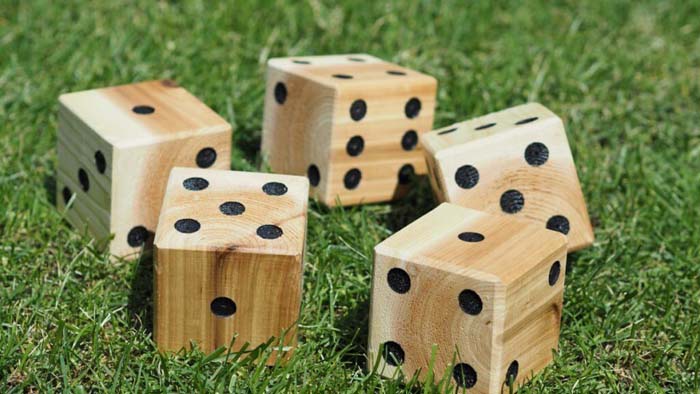 To make these massive dice, you need to cut 4×4 posts at 3-1/2 inches.
Five of these are just enough to play Yahtzee at the beach or on the lawn.
via DIY Montreal
44. Giant Memory Matching Cards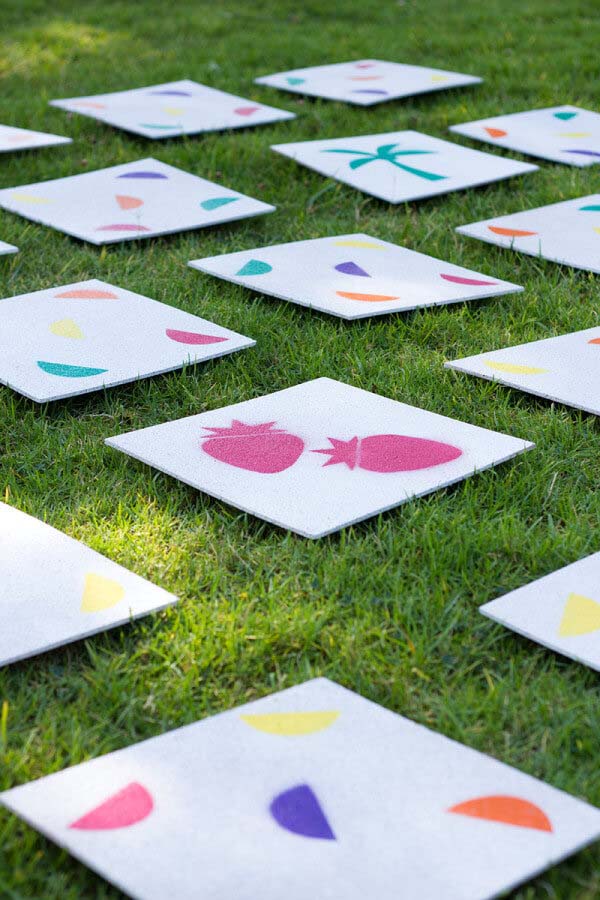 Although at first, you may think that this is a small kids' game, actually all ages can play it.
The tiles are cork, however cardboard, plywood may also do a great job. Choose the patterns and transfer them onto the tiles using stencils.
via Studio DIY
45. Challenging Outdoor Obstacles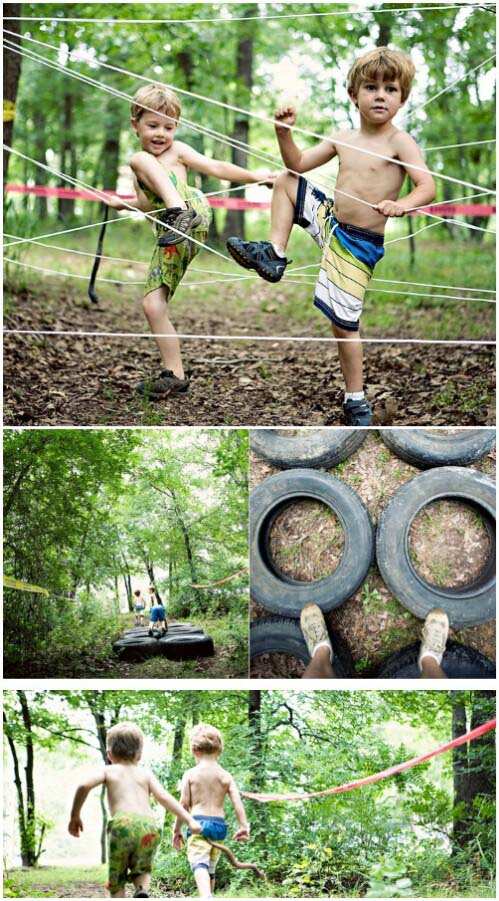 The games described in the post below are perfect for a birthday boy party! Boys like to get messy and this is a good opportunity to let them enjoy it.
The obstacle course created includes challenges with tires, strings, tunnels and heights.
46. DIY Life Sized Angry Birds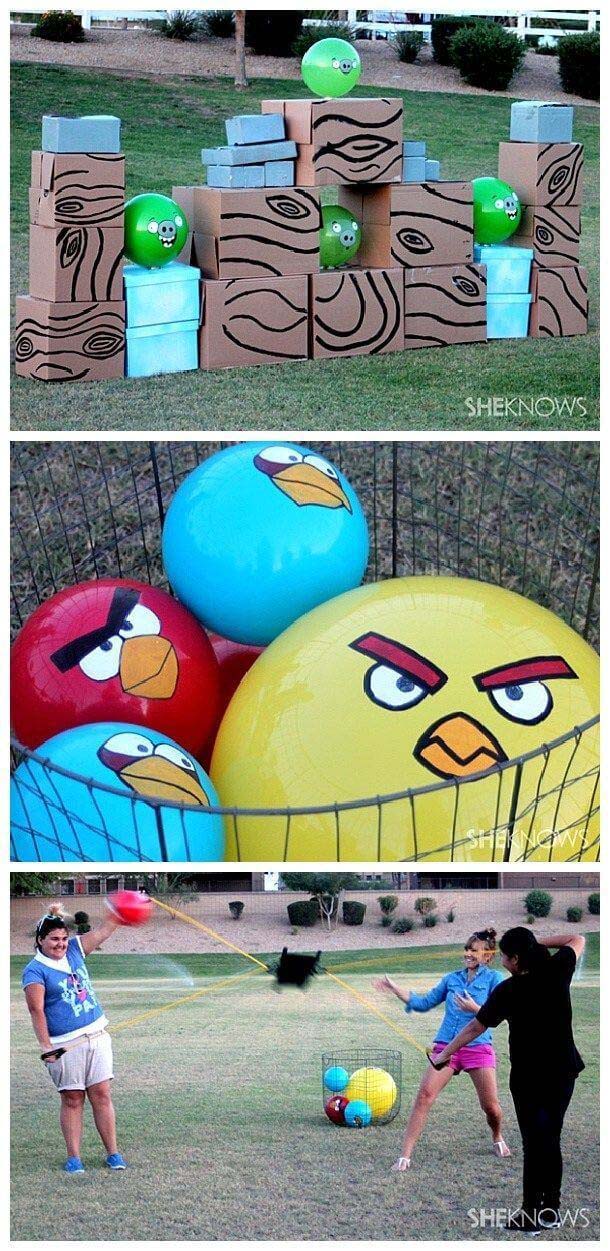 This life-size Angry Birds game is an inexpensive one that will be a lot of fun for the whole family! You need lots of boxes! The best is if you can find them for free from a local store.
Use a white and blue spray to turn some of the boxes into ice cubes and grey paint to transform the boxes into stones.
via She Knows
47. Jumbo Backyard Chalkboard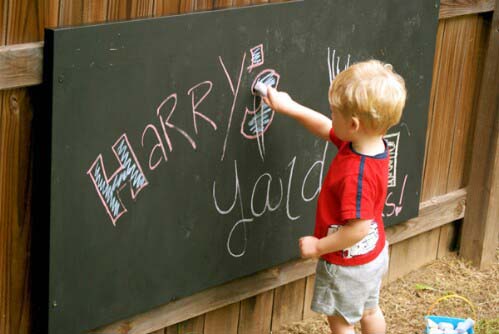 Painting with chalks is a favorite outdoor game for kids. While this can create a mess on the ground, there is a way to make this activity cleaner and tidier.
Attach a wide chalkboard to the fence at an accessible height. Use a basket for storage of the chalks.
via Parent Map
48. Squirt Gun Art Easel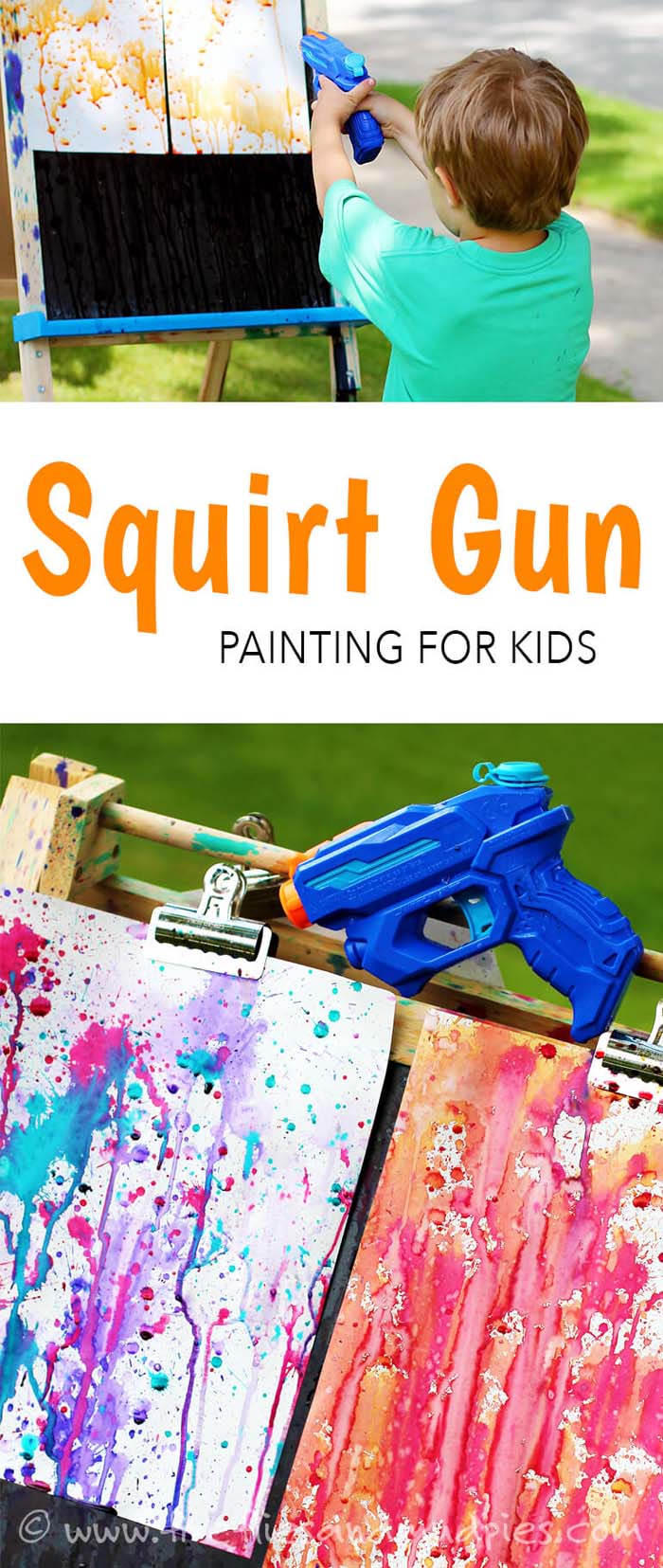 This is a great outdoor game idea that will ret your kids to practice their creativity and train their accuracy skills.
Provide them with sheets of white paper or why not canvases to leave these squirt gun paintings as memories.
49. Make Your Own Musical Xylophone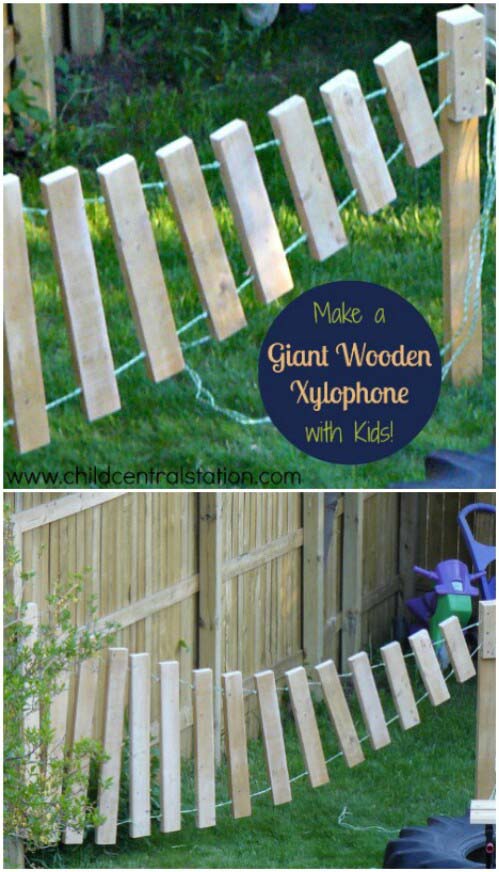 Make this giant xylophone together with your kids. A few laths, strings and two posts for supports and the game can start.
50. Box-Breaking Giant Slingshot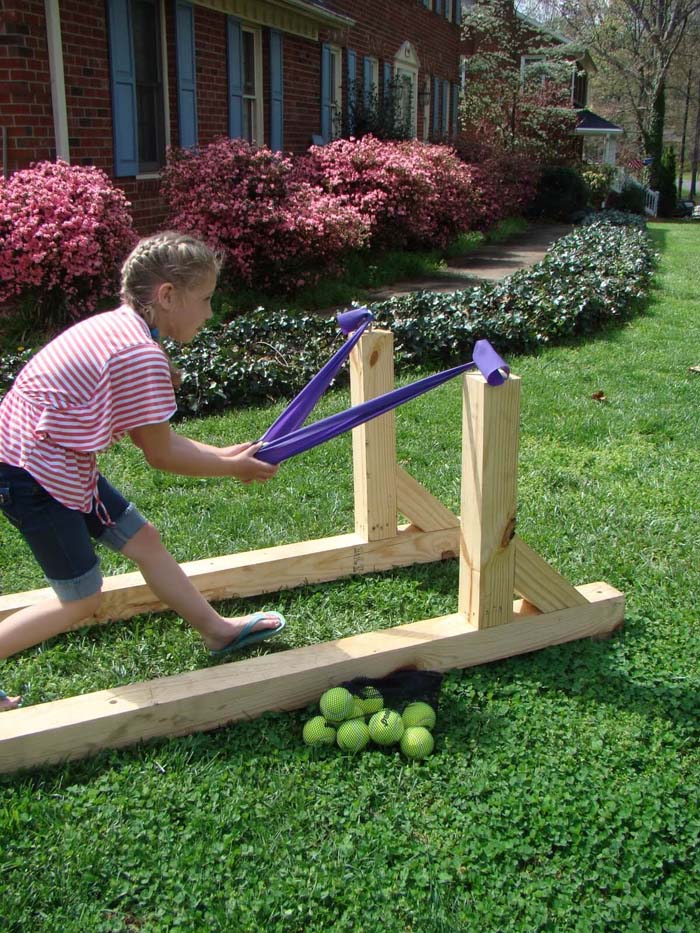 Stack boxes of different sizes to build a wall that should be destroyed with a slingshot.
And since this game is played outdoors, the size of the play components is big.
51. Fun Portable Tic Tac Toe

This version of the Tic Tac Toe game is movable which makes it a constant family outdoor "companion".
The parts go within one bag which is actually the game base so it won't take any space- perfect for family trips and picnics.
via eHow
52. Wood Pallet Carnival Basket Throw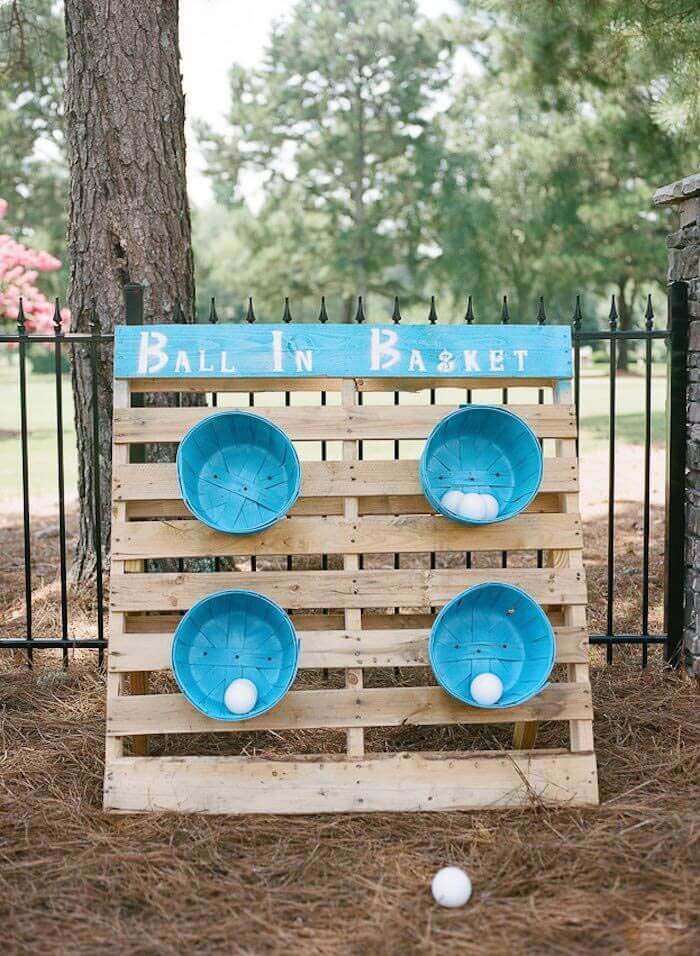 One pallet, some paint, four baskets and ping pong balls are needed for this easy and inexpensive backyard game. It is perfect for birthday parties and carnivals.
53. Inset Concrete Scrabble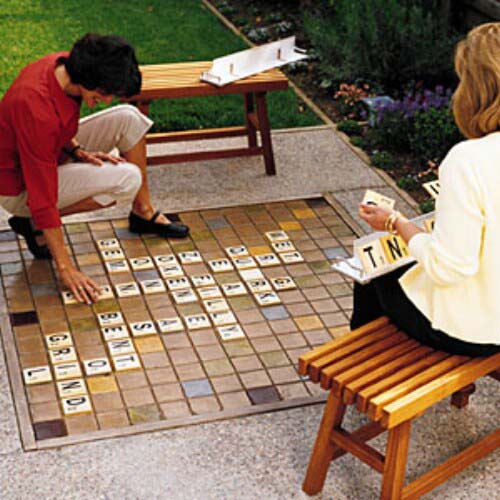 With this DIY backyard game project, the patio floor is upgraded with a new duty- as a surface for an outdoor Scrabble. This is a concrete square that has been scored to 3¾-inch squares separated by ¼-inch joints.
The tiles are made from baseboard trim. Vinyl letters and numbers are sealed on the tiles to make the outdoor Scrabble a fantastic entertainment!
via Sunset
54. Easy DIY Ball Jenga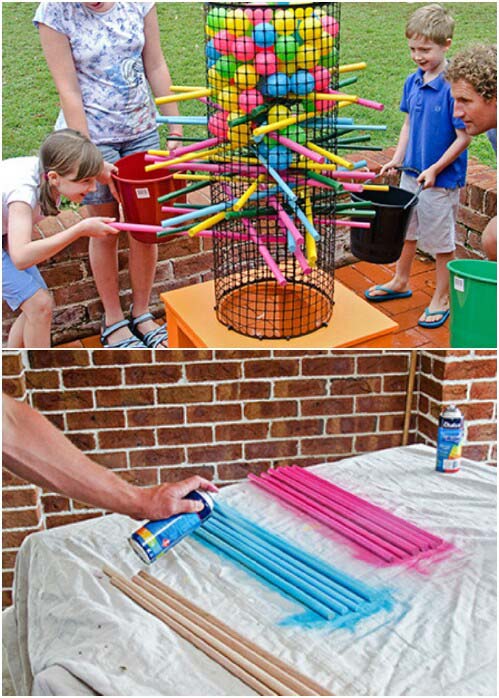 This tower is made with simple materials. But when combined together, they create a fun Jenga-like game that can be played by a group of kids.
55. DIY Treehouse Playset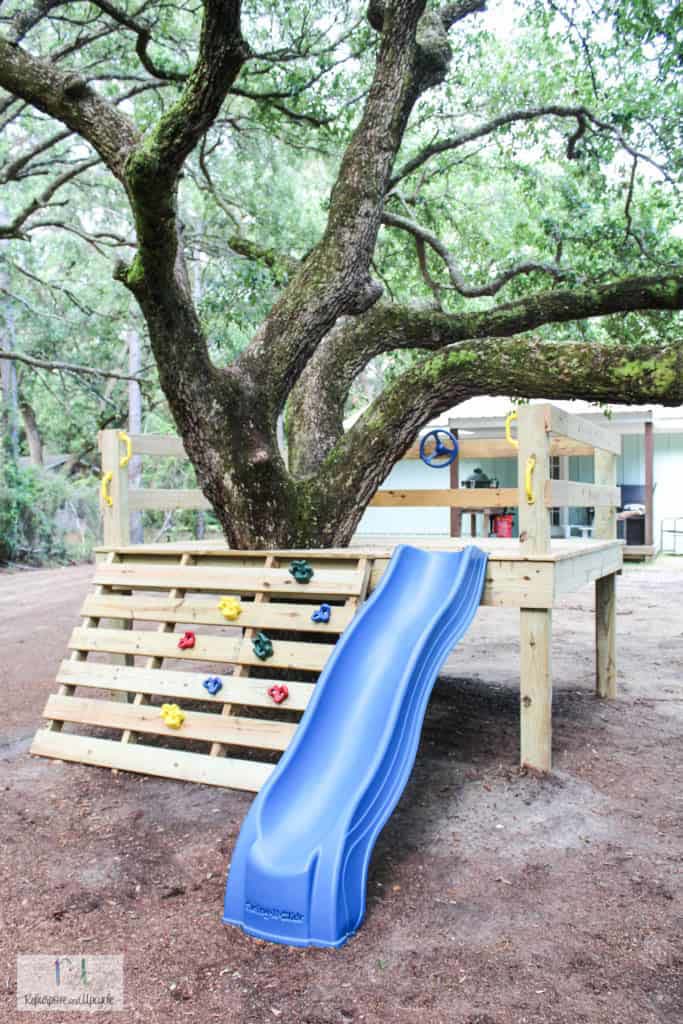 If you have heard about the busy boards then you will quickly understand what this outdoor structure is- a busy playhouse. It is built around a tree that gives shade and makes playing outside possible even in the hottest hours.
The other function it has is to support the elevated platform with attractions and games.
56. Simple Inexpensive Frisbee Toss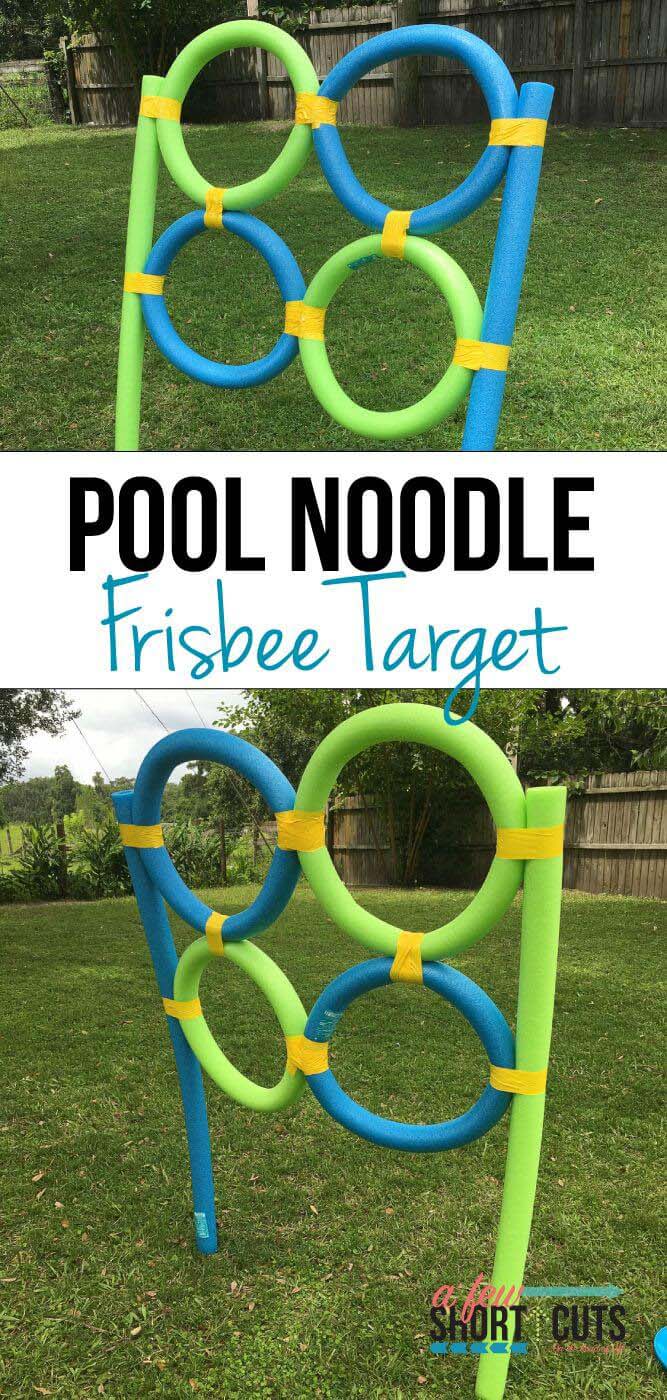 Only a pinch of creativity and the pool noodles can be transformed into a fun outdoor game.
Attach them together as the image shows with duct tape to use as a target for a frisbee game.
via A Few Shortcuts
57. Backyard Tic Tac Toe With Pool Noodles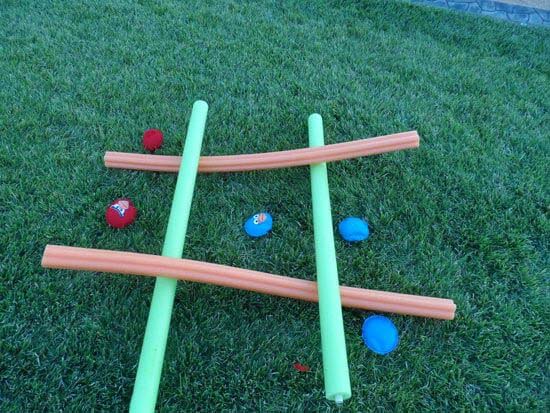 Another idea with pool noodles is to align them in a net pattern imitating the Tic Tac Toe base.
Stones, ping pong balls, felt balls and baseball balls can be used for the logic competition.
via The Joys of Boys
58. Pool Noodle Javelin Throw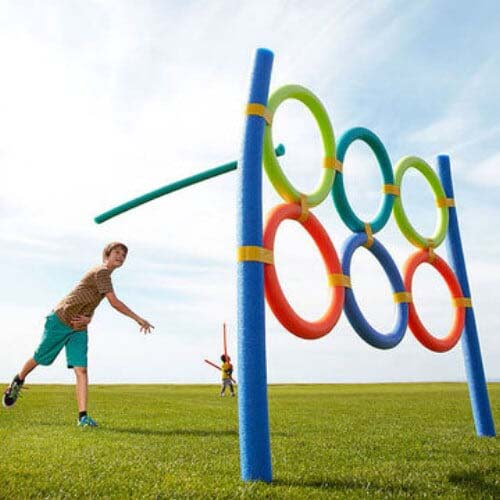 Similar to the Frisbee target game, the pool noodles are sealed to each other with duct tape to create six circles at which the player should aim to toss a free pool noodle.
via Parents
59. Colorful Upcycled Tin Can Bowling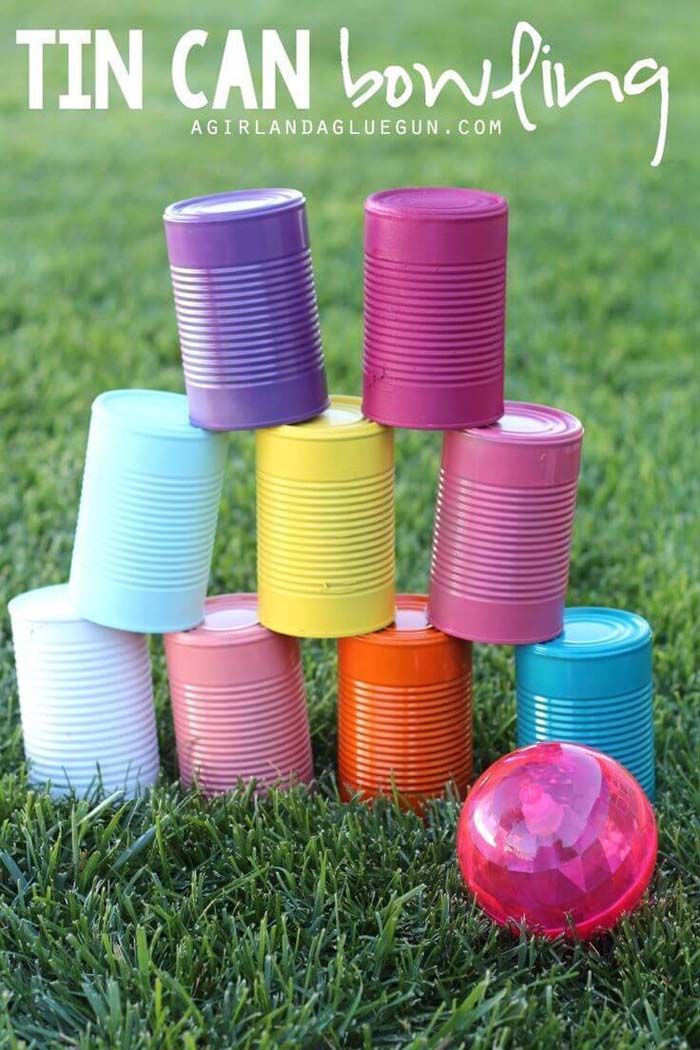 Use cans in the place of balls in this outdoor baseball game.
The preparation will be a lot of fun as it involves painting. Let your kids do this part of the DIY to make the excitement of playing the game greater.
60. Mason Jar Lid Jumbo Checkers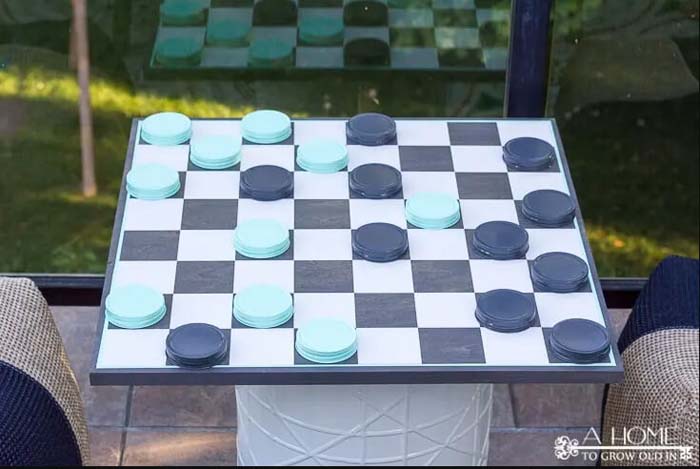 The result from this DIY project has a dual function- as a checkerboard game and as a modern outdoor table. The support can be a barrel or a wire bin.
The board is made from plywood which has been painted in a well-known pattern. Mason jar lids are used as figures.
61. Repurposed Bottle Ring Toss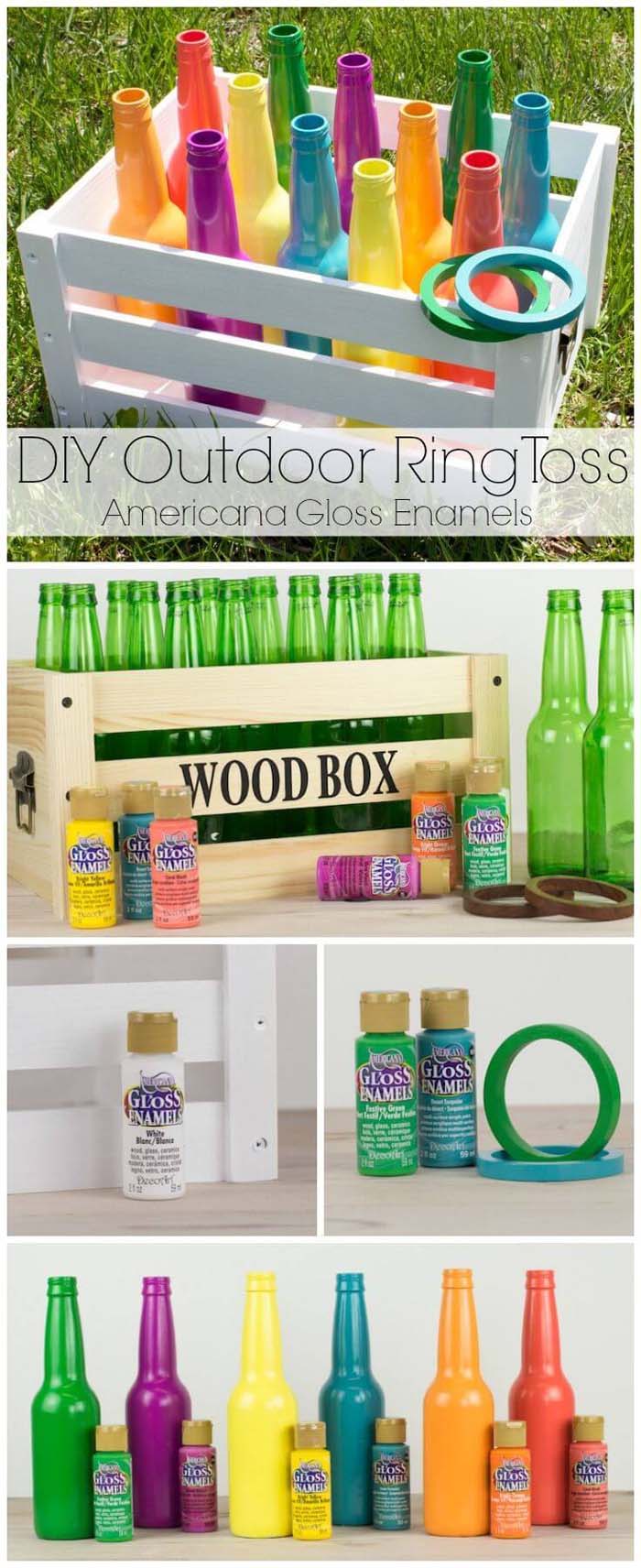 The ring toss is another evergreen game that can be played by the whole family.
Almost all items used in daily life can be repurposed into the components of the game set. This idea features glass bottles transformed into ring targets and wooden circles into rings.
via DecoArt
62. Movable Dartboard Planter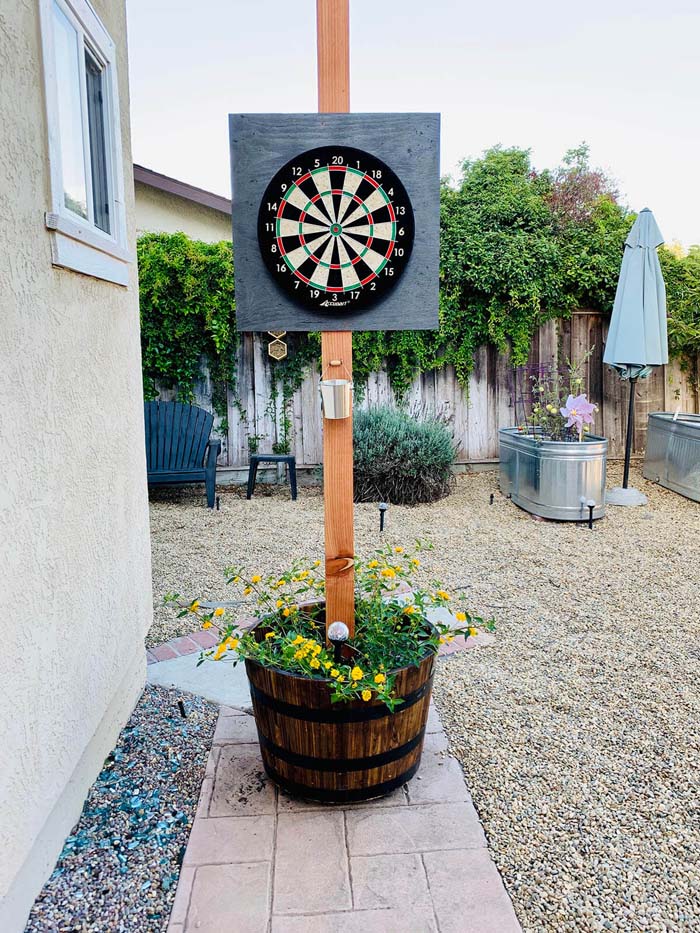 Use an existing flower pot as support for an outdoor dartboard.
For that you need a post inserted in the center of the pot and the dart circle. To make it more stable, you can screw the dart target on a plywood board.
63. Simple Rock Tic Tac Toe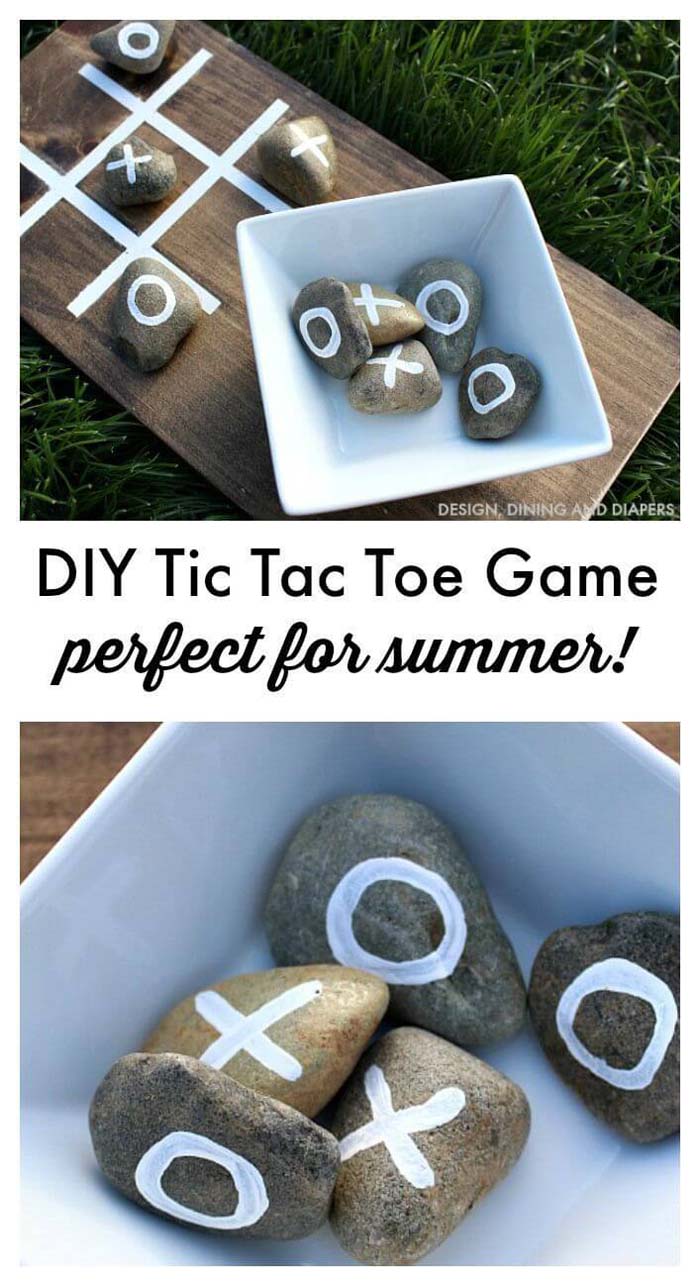 With simple materials like a piece of flat wood and stones, you can make an outdoor set for Tic Tac Toe game.
Use a stencil to spray paint the lines on the wood surface and a white pen to label the stones.
64. Backyard Grass Twister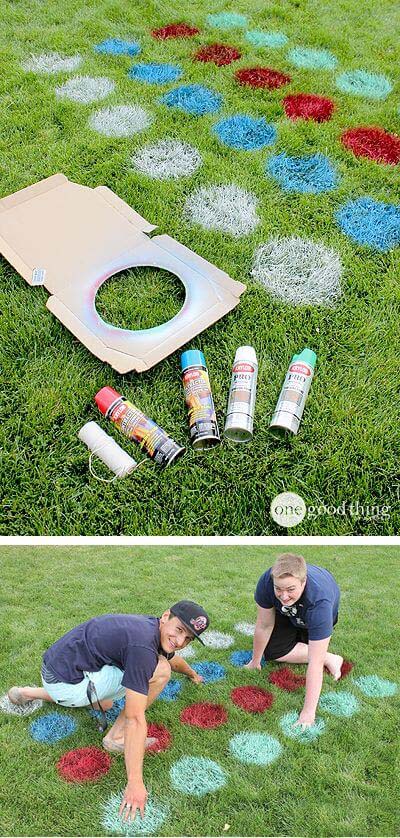 Only a stencil with a circle shape and a few spray paints are needed to make a backyard Twist board.
Sprayed directly on the grass, the circles are visible enough to enjoy the fun of this game.
via One Good Thing
65. Colorful Dowel Ring Toss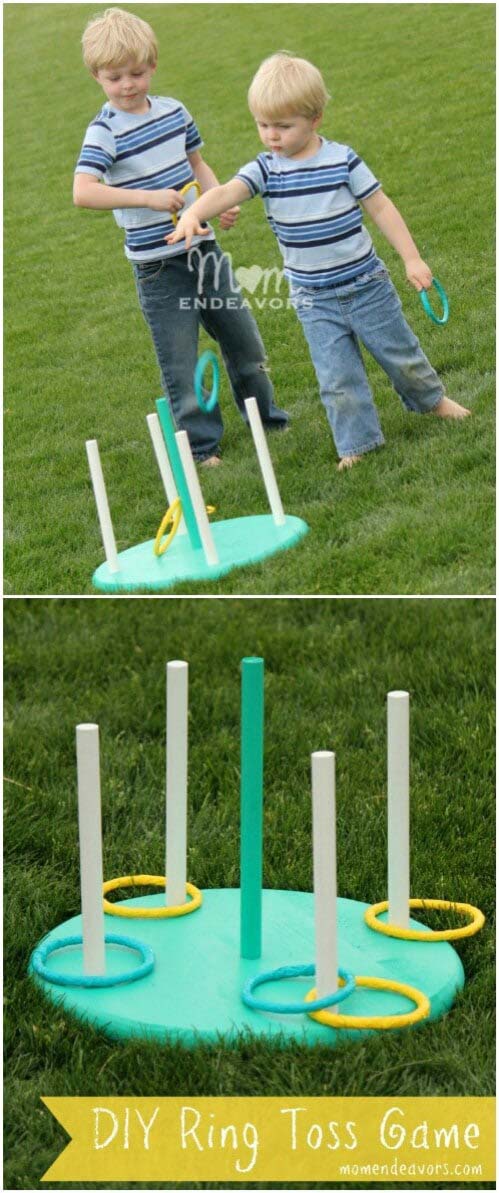 A round piece of wood becomes the support of wooden dowels.
The colorful dowels are the targets to toss rope rings covered in duct tape to make sure that each player knows their rings.
via Mom Endeavors
66. Summer Toys Bowling Set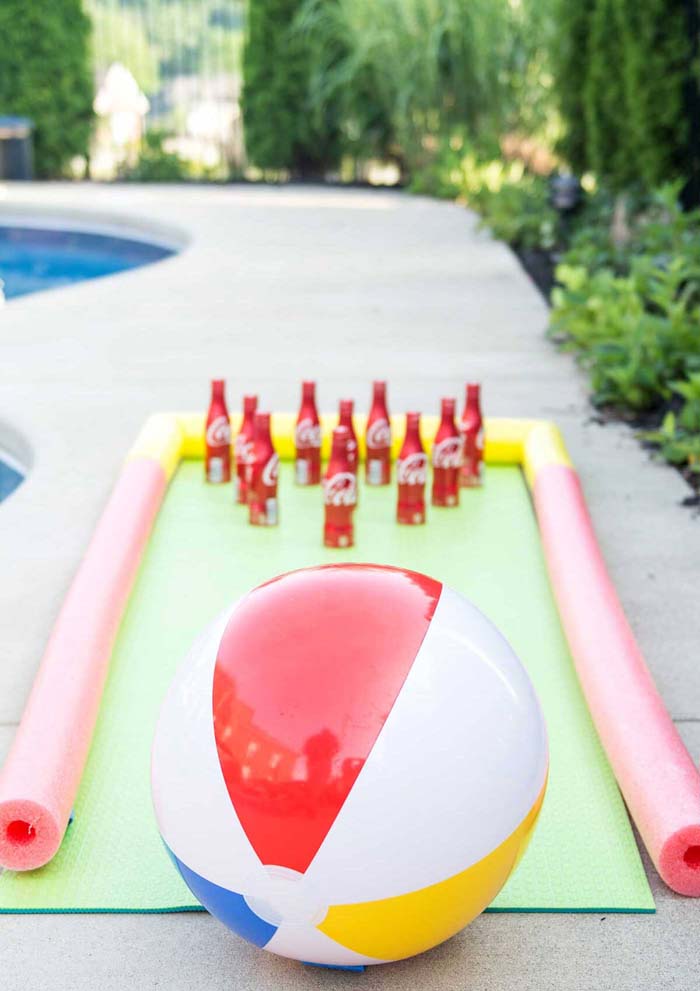 This bowling set uses typically summer items- pool noodles, a beach ball, a mat and Coca-Cola bottles.
Arrange them like a bowling lane and enjoy the quickly made game set.
via Polkadot Chair
67. DIY Twister Spinner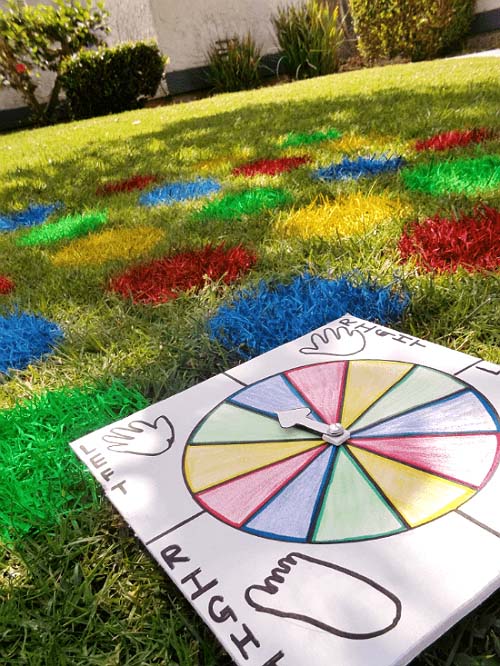 If you don't have a Twister game to use the color clock outside, you can make your own with cardboard and some paint.
via Momma Told Me
68. PVC Backyard Skee Ball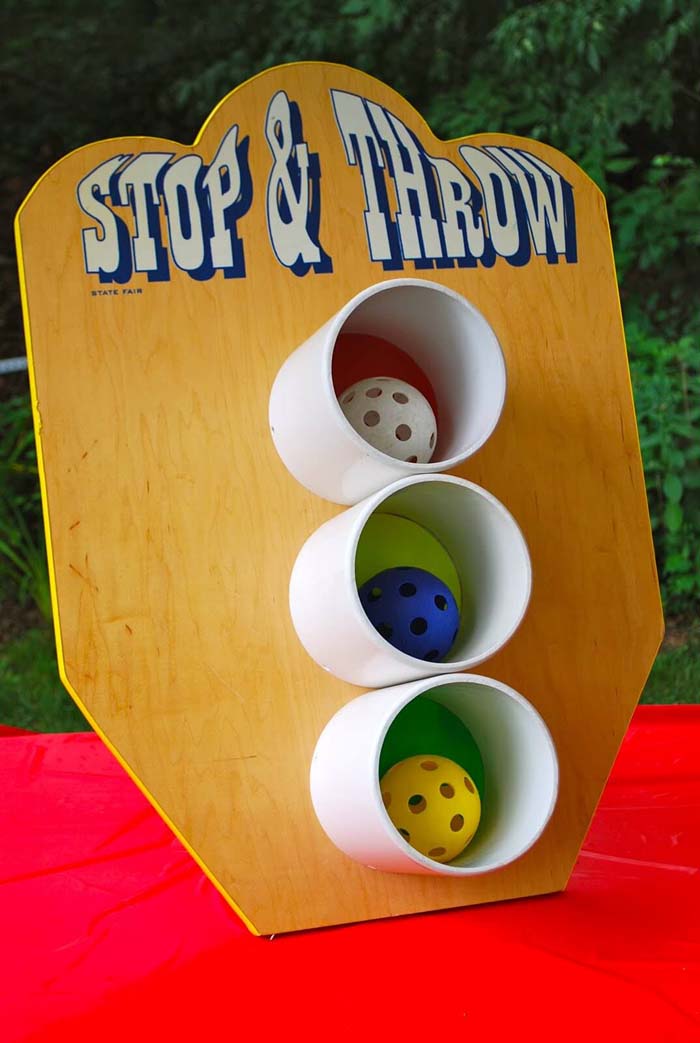 This ball game has been part of an outdoor vintage carnival. Vivid from the design and the gorgeous sign, this is an aged game that has its followers even today.
via Threadesque
69. Inventive Ring Toss Board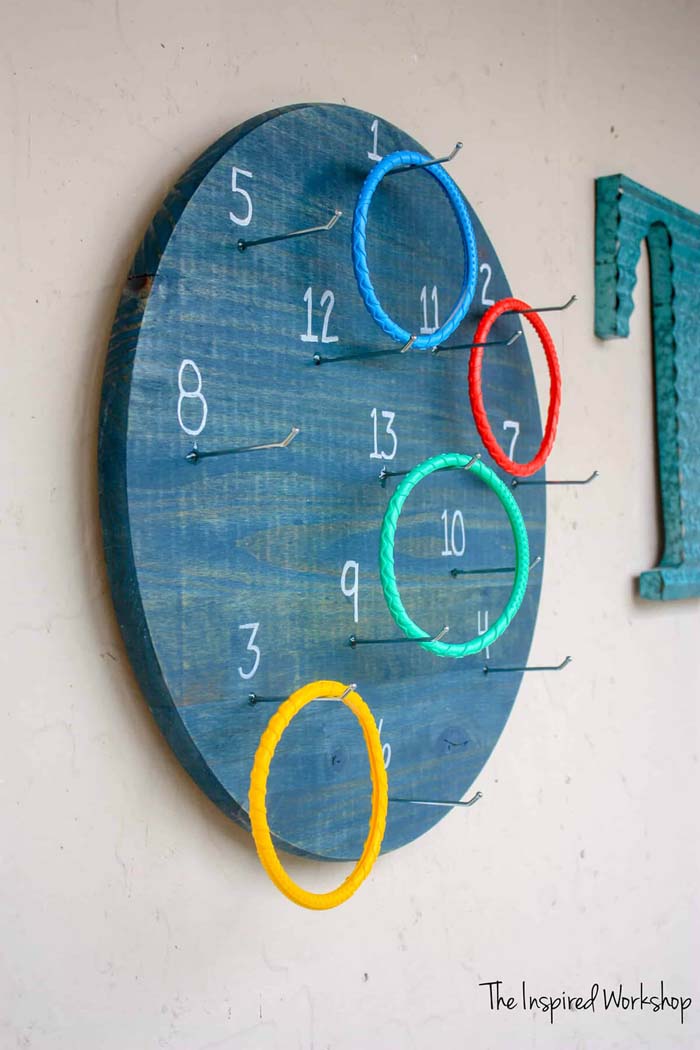 The ring toss game is transformed into a vertical version which is good for those times when kids should stay on the porch because of the sun or because of rain.
Each holder is labeled with a number which is the score the player will get if a successful toss is made.
70. Summer Baseball With Water Balloons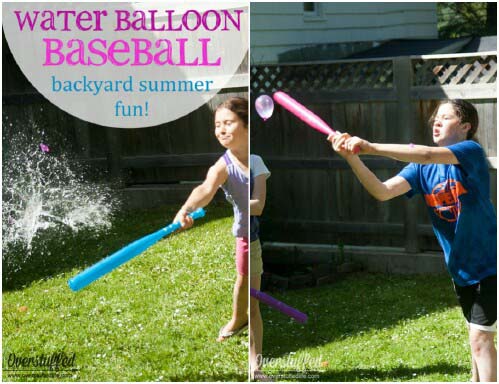 Remember the water balloon volleyball? This is its version of a baseball game!
The small water ballons should be hit with plastic bats. It is a fun and chilling way to spend the hottest hours of the day.
via Overstuffed Life
71. Giant DIY Yahtzee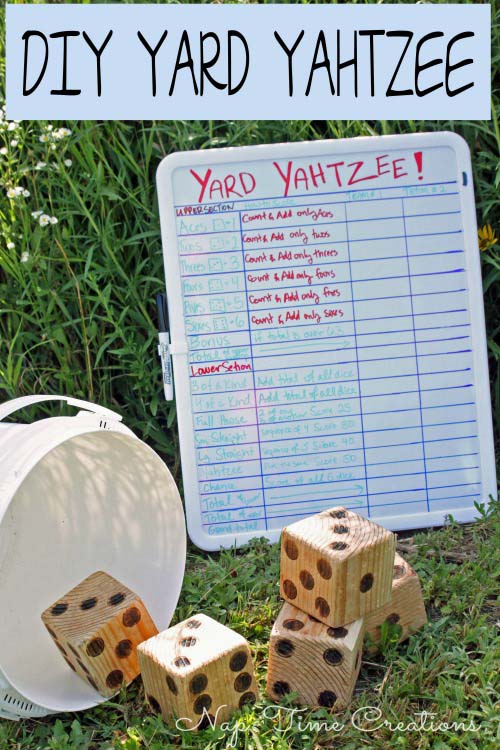 To make the outdoor Yahtzee game more interesting, track the results. A whiteboard, a chalkboard or even a sheet of paper will make the game more exciting.
via Life Sew Savory