A sandbox is a safe, contained play area for your kids — they can play in the sand and dig to their heart's content, all without creating holes in your lawn.
If you're ready to upgrade your backyard, there's no need to shell for an expensive structure.
These easy DIY sandbox ideas feature options for every space and skill level, so you can get ready for summer.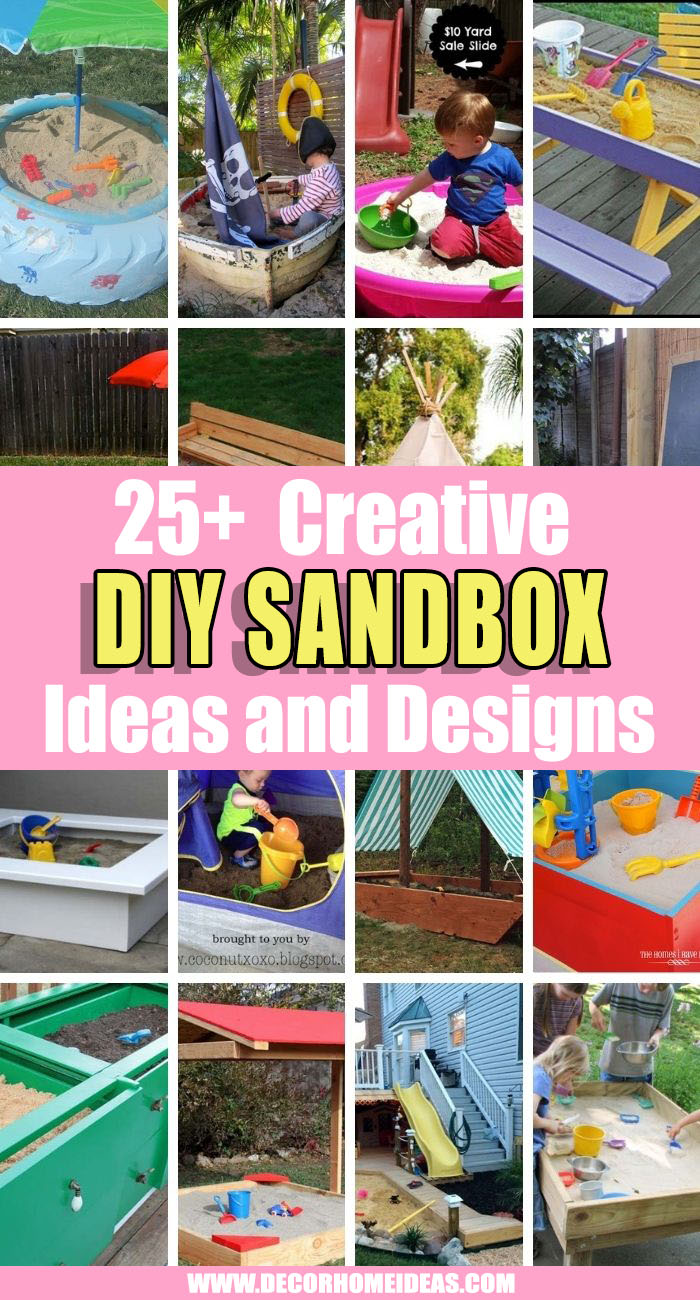 1. Covered Backyard Playground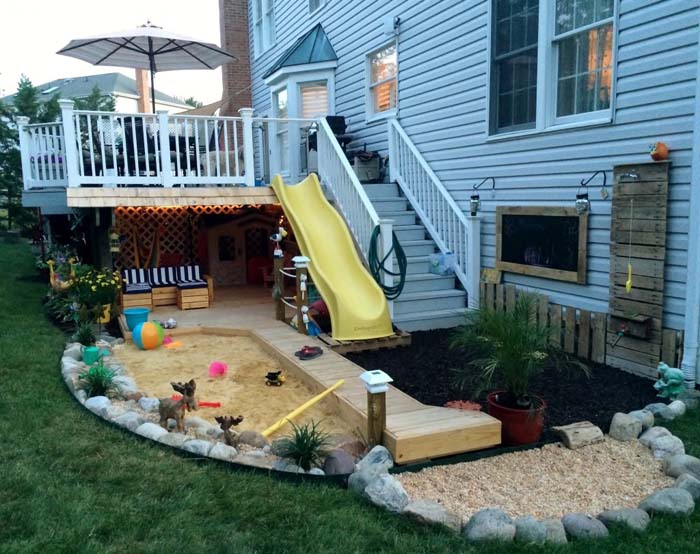 If you have an elevated deck, you know that the area underneath is often ignored.
This clever sandbox turns the space under the deck into a sweet playhouse, complete with a wooden walkway.
Instead of flower beds, surround the walkway with simple sandboxes. You can make them any size and shape you like — here, two half-circles give the yard a fun, fresh look.
via Ana White
2. Beach Sandbox Pool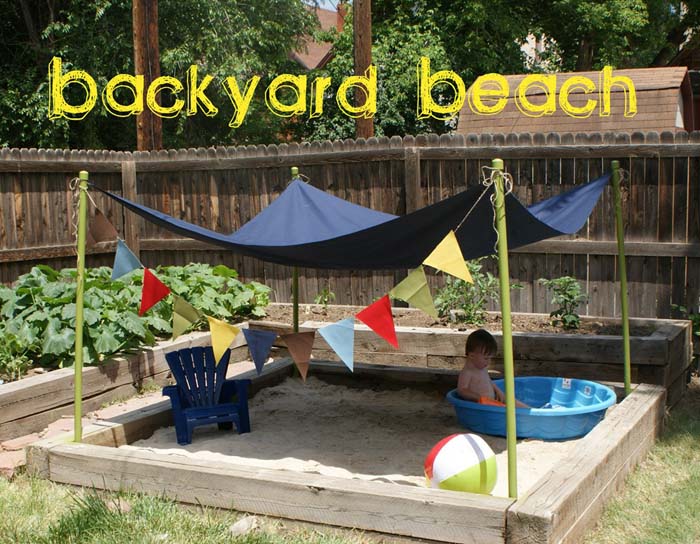 Do you live in an area with hot summers?
Turn your backyard into a beach by creating a sandbox using stacked 4×4 beams. Add a small splash pool and a beach chair, and your kids can have hours of outdoor fun.
For a bit of sun protection, cover all or part of the sandbox with a simple fabric canopy. Sandbox cover could be removed to wash and then reinstalled.
via Wraysist
3. Add Seating For Grown Ups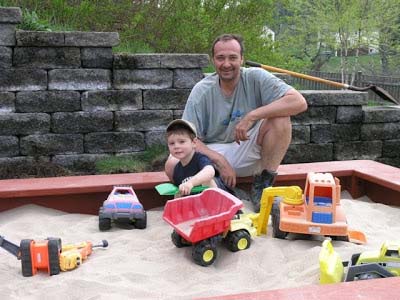 Little ones love to sit in the sand, but parents often need a place to sit.
Make it easier to hang out with your child by building a sandbox with seats.
This model features a simple bench-style seat that runs all the way around the edge, so you have a clean, sand-free place to rest while your child plays.
via Dover Projects
4. DIY Retractable Sandbox With Benches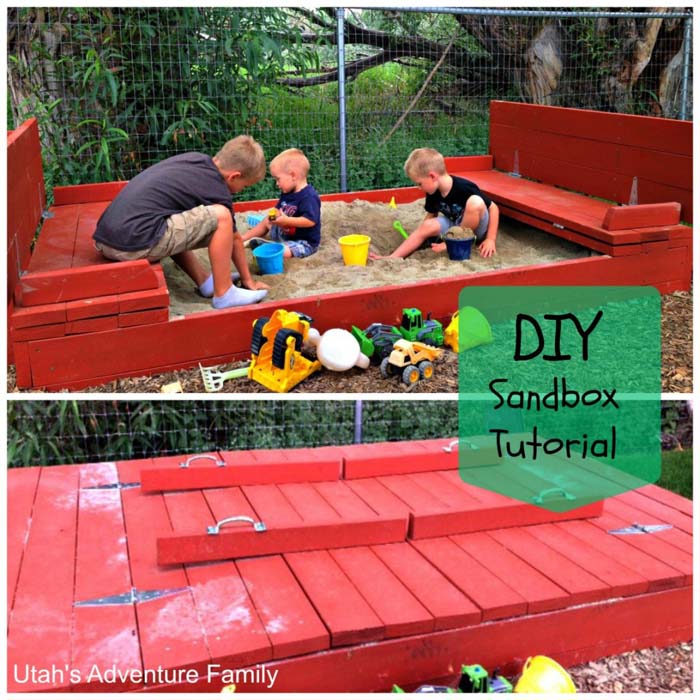 If you have basic woodworking skills and tools, you can build this clever convertible sandbox.
Between uses, the top folds down to keep out water and wind ( unless you want wet sand, which by the way is better for molding with sand toys ). When you're ready to play, fold back the lid to create two bench seats.
5. Repurpose An Old Bookcase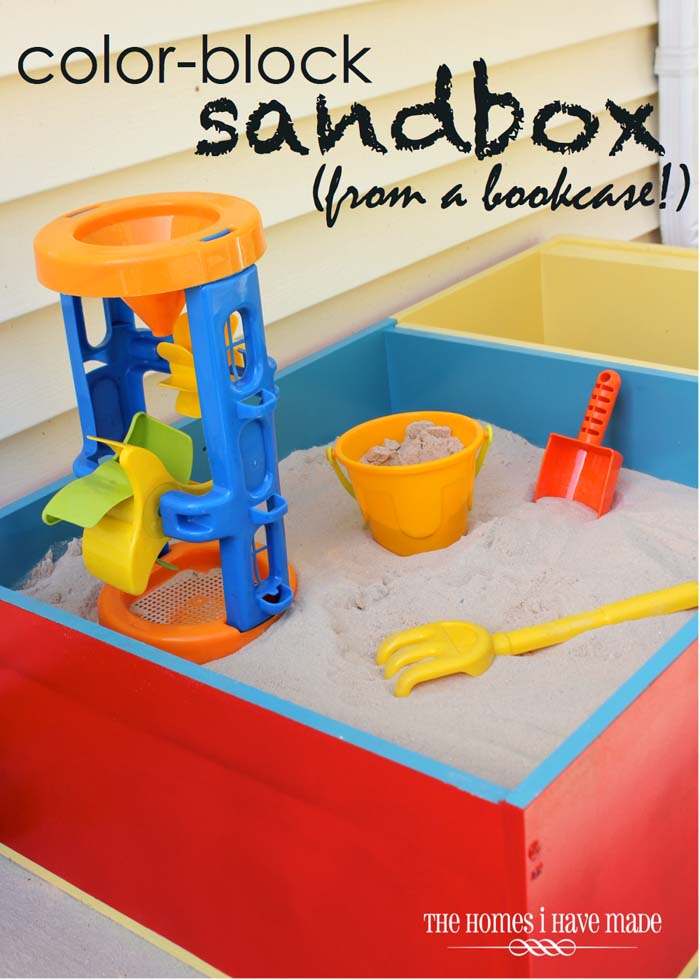 Don't worry if you're not a woodworker — you can build a sandbox using an old bookcase.
A coat of paint and some basic reinforcements turn an inexpensive piece of furniture into a compact sandbox.
This is a great option if you have limited outdoor space; it fits easily onto a patio.
6. Add A Sun Shade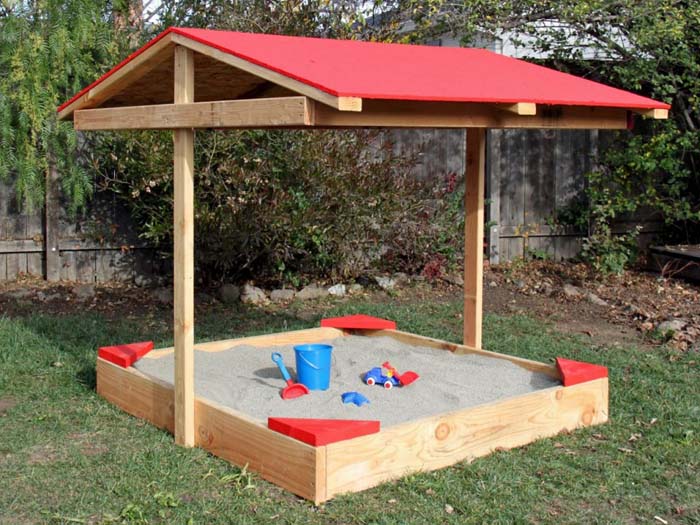 Keep the sun away from your kids' delicate skin with this clever DIY covered sandbox.
The plans are easy to follow, and the lumber ( or plywood ) is easy to get at any home store.
As long as you have a circular saw and a speed square, you can build this project in a weekend.
via DIY Network
7. Hinged DIY Sandbox With Cover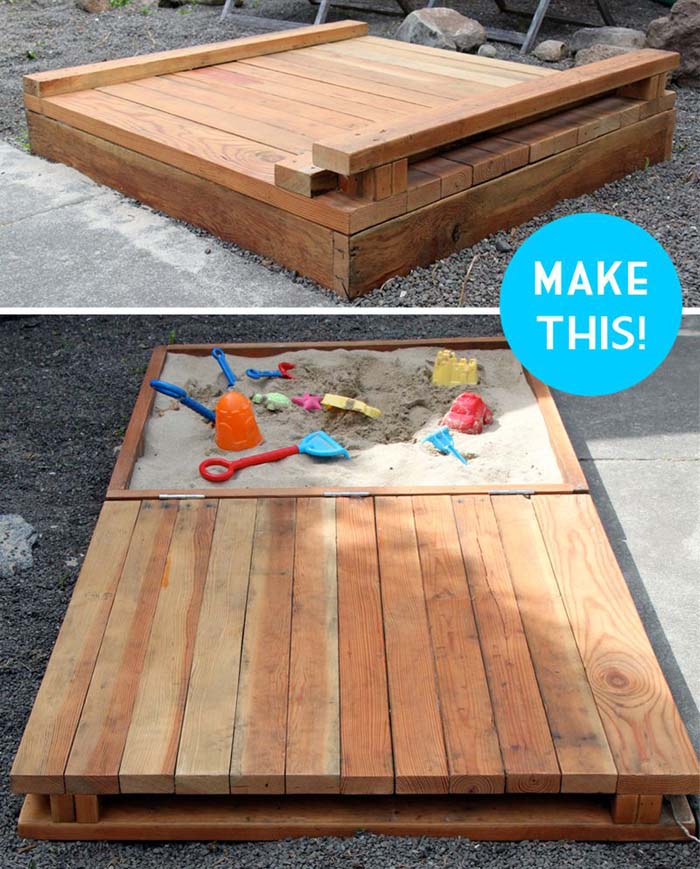 Are you a confident woodworker?
This beautiful deluxe sandbox looks great and stands the test of time.
Since it comes with a full-coverage top, your kids can use it as a sandbox or a fun elevated play area. It even features built-in benches for easy play.
via Small Friendly
8. Standing Sand Table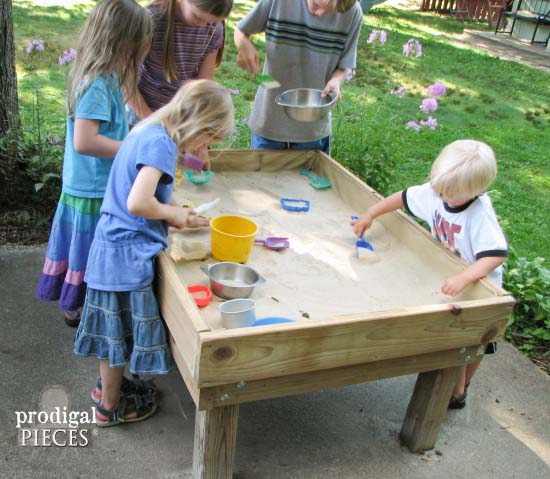 A stand table is a fun, low-mess alternative to a traditional sandbox; your kids get all the fun of playing in the sand, but their clothes stay cleaner.
This simple DIY table is easy to customize to suit your kids — you can simply adjust the height of the legs.
via Prodigal Pieces
9. Easy DIY Sand Tent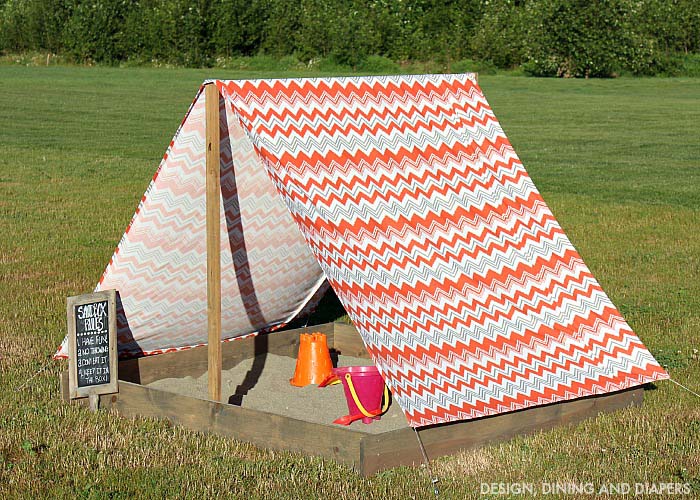 Give your little ones a fun, shaded hideaway with this sweet DIY sandbox.
It's a breeze to make using a few inexpensive boards.
Add a vertical post and a center beam, and you can add a tent-style cover to keep out the sun.
via Taryn Whiteaker
10. Standing Sand Or Water Table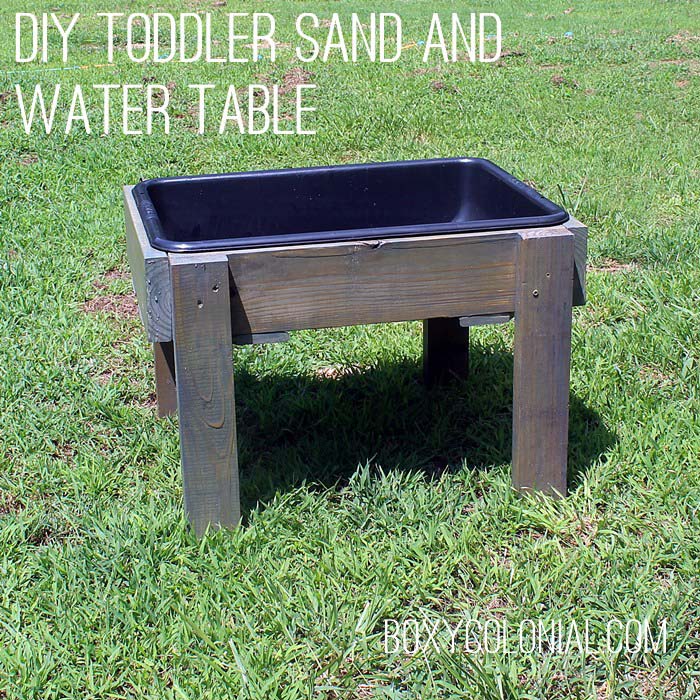 Switch from sand to water in minutes with this creative DIY table.
It holds a shallow plastic bin, so you can add sand or water to suit your children's whims.
Simply swap out the bins and let the fun begin. Since it's small and sturdy, you can use this versatile table in the yard or on the patio as space allows.
via Boxy Colonial
11. Easy Stacked Log Sandbox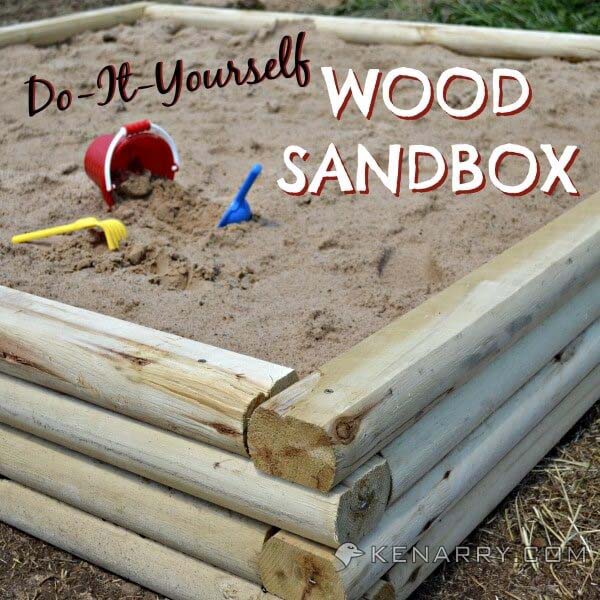 How cute is this DIY wooden sandbox?
With its log cabin-style sides, it looks gorgeous in your backyard.
The trick is to use landscape timbers — they have flat tops and bottoms, so they fit together easily to keep the sand inside.
via Kenarry
12. Repurposed Sandbox Play Area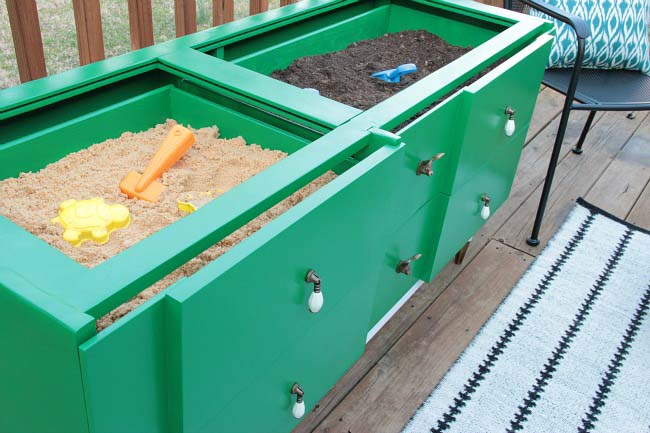 Looking for an aesthetically pleasing alternative to a typical sandbox?
This project is the perfect solution. It converts a beautiful dresser into a sand table; paint the exterior, and it will look stunning on your porch or patio.
You can even make a lid to cover the sand between play sessions.
13. Classic Wood Sided Sandbox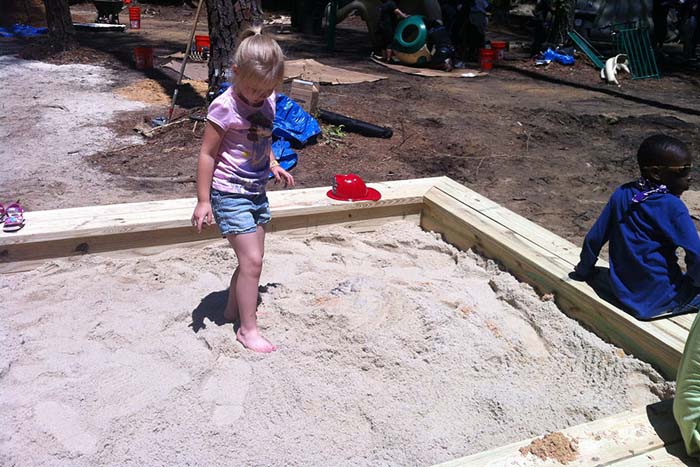 Simple and streamlined, this classic sandbox tutorial helps you build a super-strong, long-lasting structure.
Go with the 8 foot by 8 foot version, or customize it to fit your backyard.
You'll need basic woodworking tools and a bit of landscape fabric, but this is an easy project that can be completed in a single day.
via Kaboom
14. Wide Edged Box Keeps Sand In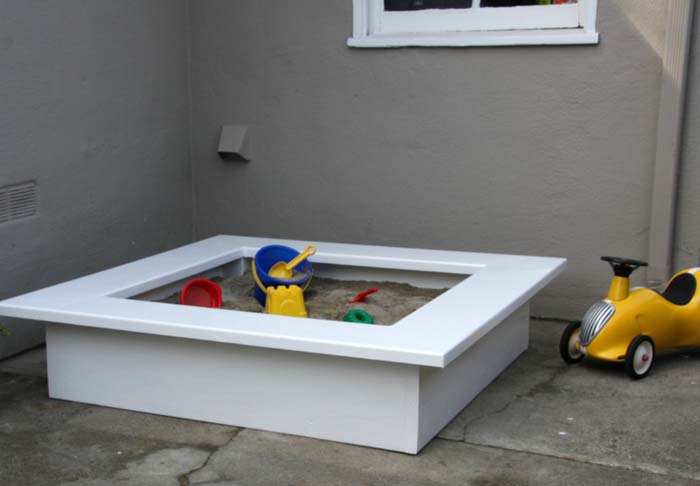 Another one of our finest selection of sandbox ideas is the one where size matters.
If you have a limited amount of outdoor space, this simple sandbox is a convenient solution.
It's small and self-contained, so the sand stays safely inside.
Overhanging rim doubles as a bench seat for your little ones, so they can sit on a clean surface with their toes in the sand.
15. Add A Sandbox Top To Picnic Table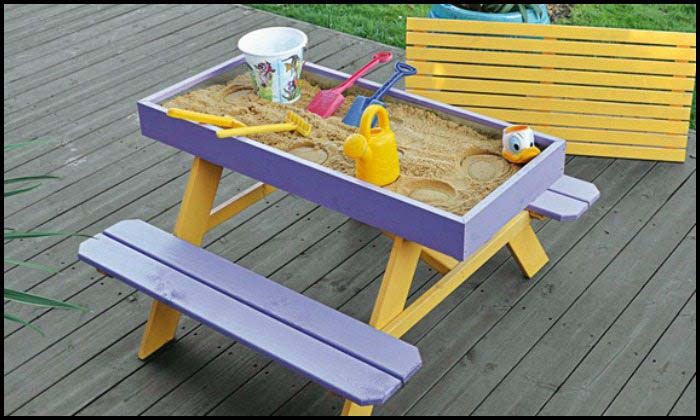 Are you ready for a big project?
Grab the plans for this DIY picnic table sandbox. The adorable table base features built-in seats — just lift off the top to reveal the sand table inside.
During parties and barbecues, the table serves as a regular picnic table. Best DIY sandbox idea, right?
via Ideas 2 Live 4
16. New Use For An Old Tent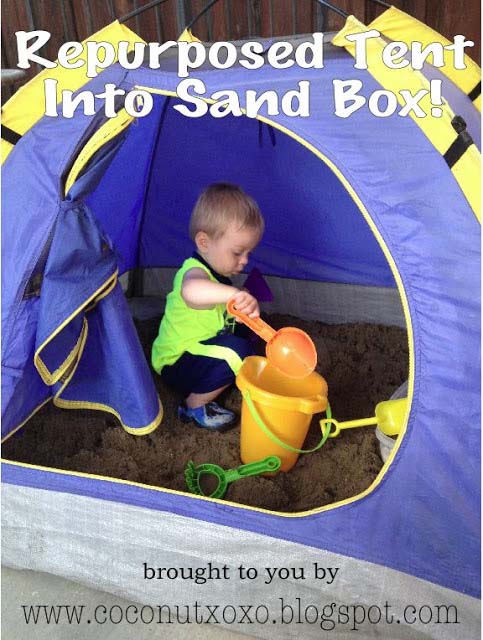 Give new life to an old tent with this creative sandbox solution.
There's no need for a hammer or nails — just fill the base of the tent with sand. Your kids can play safely inside while the walls protect them from the sun.
When it's raining or windy, simply zip the tent door closed to keep the sand inside.
via Coconut Love
17. Add Fun Ship Details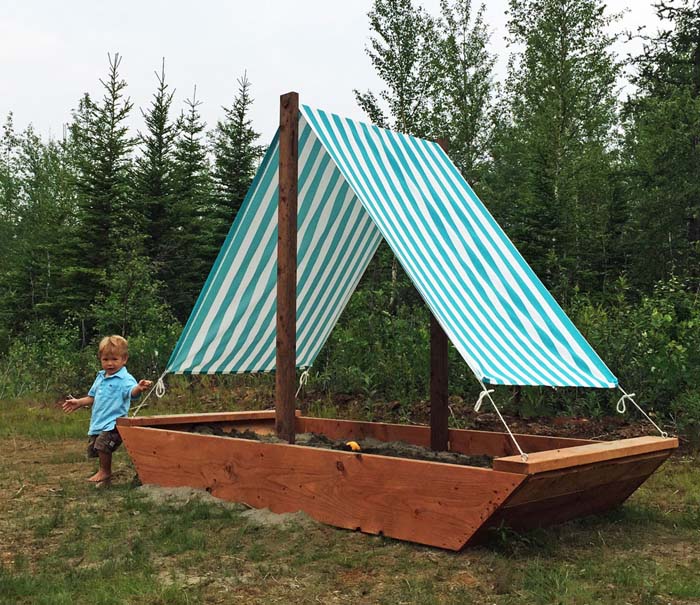 There's no reason your sandbox has to detract from the curb appeal of your home.
This DIY project uses angled sides and a sail-shaped roof to create an adorable ship.
As a bonus, the roof creates shade for a cooler, more comfortable play area.
via Ana White
18. Top Open Sandbox With Seating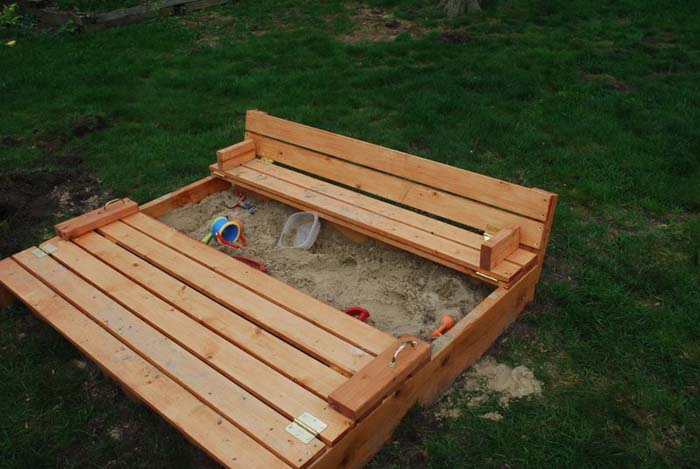 A few carefully placed hinges transform this sandbox into a full-service play area.
It's all about the construction; lift and fold the lid along the hinges, and it turns into two small bench seats that are perfect for small children.
When your kids are done, the lid keeps out debris.
via Ana White
19. Combination Sandbox Chalkboard Area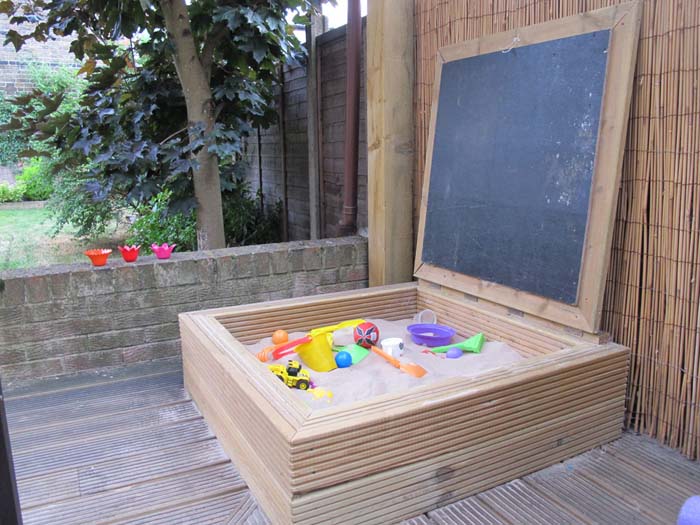 A sandbox is fun, but it's nice to have a way to conceal the sand and toys.
This model features a simple solution: a wooden lid that flips up and down.
For extra outdoor fun, paint the interior of the lid with chalkboard paint for an instant art studio.
20. Corner Seated Colorful Sandbox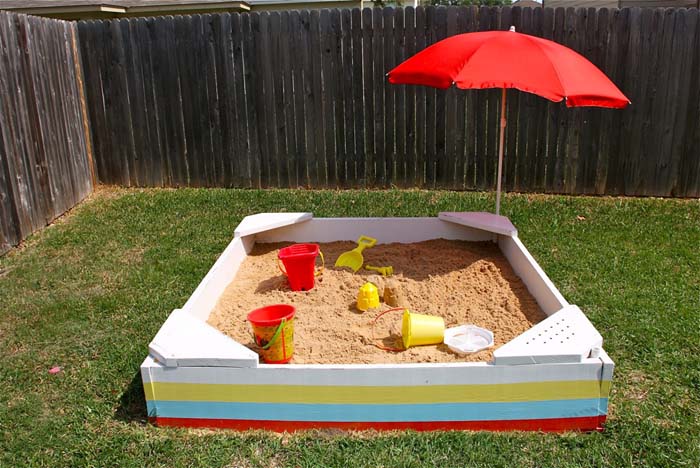 Jazz up your outdoor space by building a simple sandbox with standard wooden planks.
Don't stop there — turn it into a place that brightens your yard by adding colorful stripes.
We love how a small corner umbrella creates a cool, shady resting place to make the best outdoor play area for your little ones.
via Made Everyday
21. Budget Friendly Play Pool Sandbox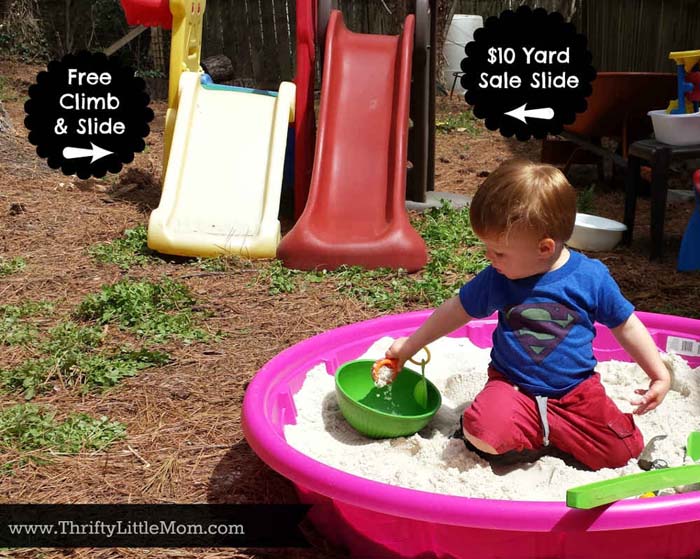 When you're on a budget, a fancy sandbox can be out of the question.
No problem: all you need is a cheap plastic kiddie pool.
Choose a model with thick, sturdy sides and fill it with sand to create a sandbox in minutes.
If you have an old pool with cracks or holes, just add a simple patch before you pour in the sand.
22. Shaded Teepee Sandbox Play Area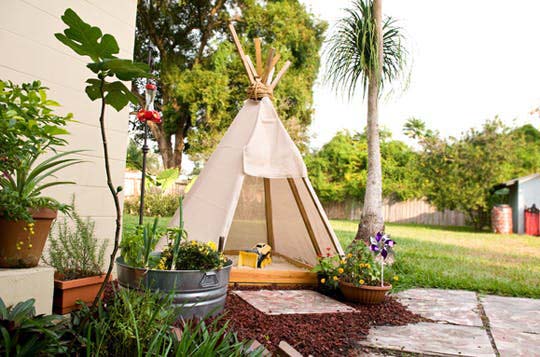 This adorable project takes a basic wooden sandbox and turns it into a magical retreat.
A bed of wood chips and potted plants makes the spot look like an extension of your landscaping.
For shade and extra style, build a teepee-style tent on top of the sandbox; use open-weave fabric for ample airflow.
23. Upcycle A Sandbox Pirate Ship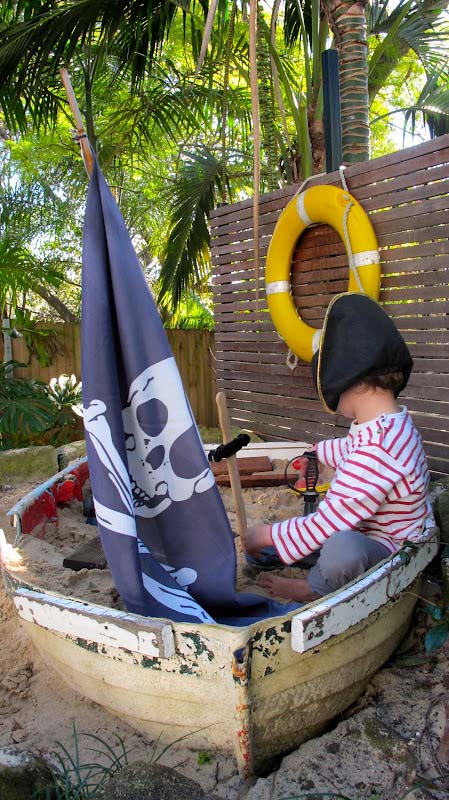 Do you have an old boat lying around your garage?
Don't get rid of it — "moor" it in your backyard and turn it into a sandbox.
Dig a shallow trench to prevent the hull from rocking back and forth, add sand, and you're ready to go.
The boat's seats act as built-in benches for convenience.
24. Repurpose A Jumbo Tire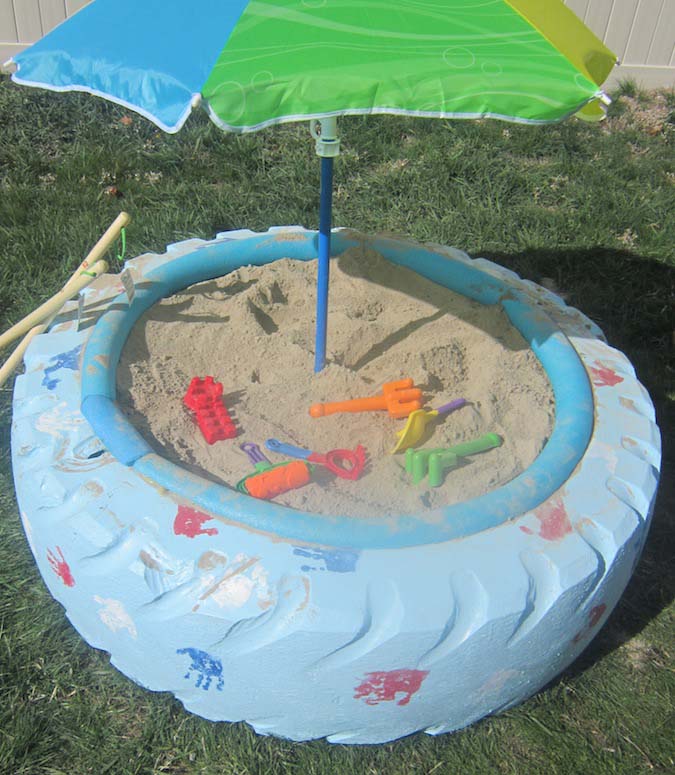 Here's another clever DIY sandbox — this time, using a giant old tire.
Note how the creator has added pool noodles around the inside rim for protection and painted the exterior for a fun, colorful look.
You can even sink a small beach umbrella in the sand for a tropical touch. Makes the perfect sandpit for your kids.
via I Heart Naptime
25. Use Tree Stumps For Easy Framing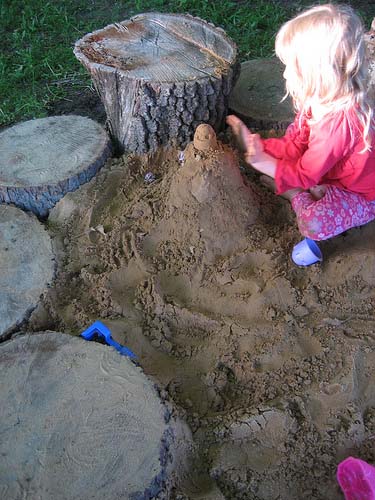 Give your child's play area a natural vibe by using wooden stumps to create a sandbox.
The stumps look gorgeous; you can also use them as seats. For stability, dig a trench and sink the stumps into the earth before you add sand.
These amazing DIY sandbox ideas could be your inspiration to create your own sandpit and surprise your little ones with summer days full of joy.
They are fantastic outdoor sensory play areas that will motivate them to build sand castles and fairy tales that will improve their sensory skills.