Wouldn't it be awesome to have your own swimming pool in your backyard? What about making one really quick and easy?
This DIY stock tank pool painted in turquoise is your best summer project and you can build it today, no kidding! While it's not as big as a traditional pool it's quite spacious and would be a perfect place to relax and soak in for hours.
Jenn and her husband are a couple from Texas that has decided to make a place for themselves where they can cool down the hot temperatures. You know how is summer like down there in Texas, right?
They have installed a pool in a corner of their backyard and have surrounded it with lovely summer decorations and just enough furniture to make the place as more comfortable as possible. A backyard oasis where they can welcome their friends or guests.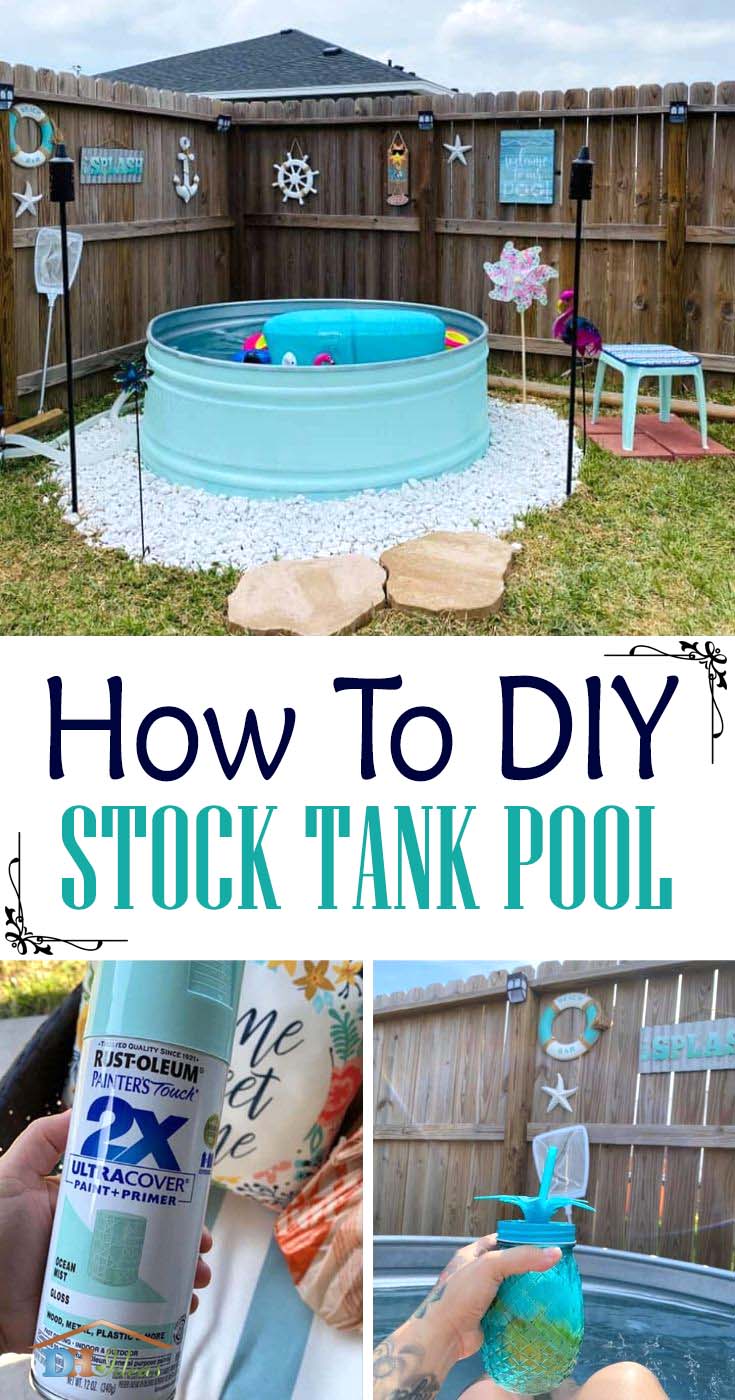 Don't forget to PIN this image for quick access to this idea!
The materials and tools you need to build your private pool area are not difficult to find at all.
Related: How To Make A Hot Tub Surround With Deck
Make sure you follow the instructions of how to build this get-at-able pool because this will be the summer hot spot you won't be willing to leave for a second!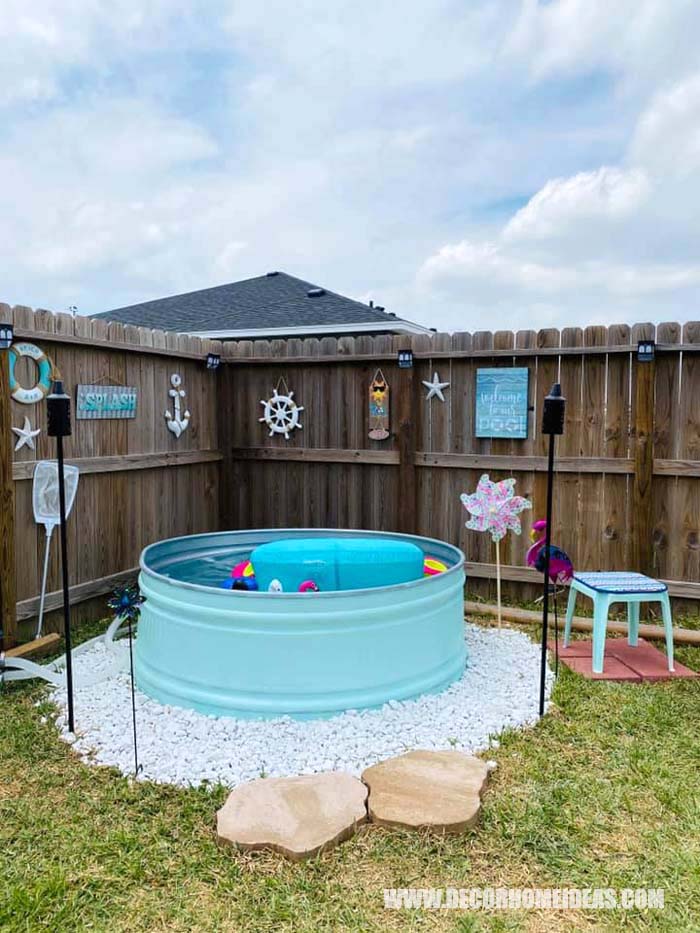 Materials and Tools:
A galvanized stock tank pool (from the tractor supply )
A suitable filter pump system – See prices HERE
Clear silicon
3 cans of spray paint – Rustoleum will do nice – See prices HERE
Decorative river stones (optional)
Decorative steps (optional)
Pool noodles (optional) – Check price HERE
Hole saw with an arbor
Water level (optional)
A shovel and a rank (optional)
Beach-themed decorations – See them HERE
Palm Tree – optional – find it HERE
How To DIY Stock Tank Pool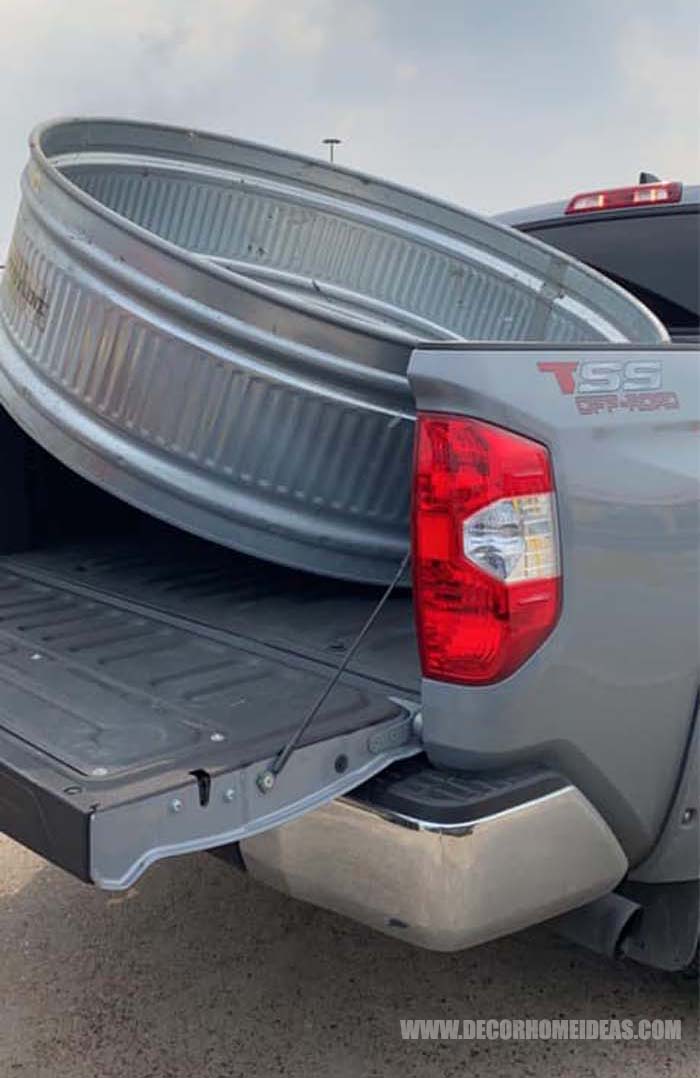 The most important step from this DIY stock tank pool project is to find a stock tank of the desired diameter. As they are quite big, you need to find a proper way to transport it to your home so that it doesn't get damaged.
The couple has bought a 6 ft stock tank from the local tractor supply store as it can freely accommodate 2 adults.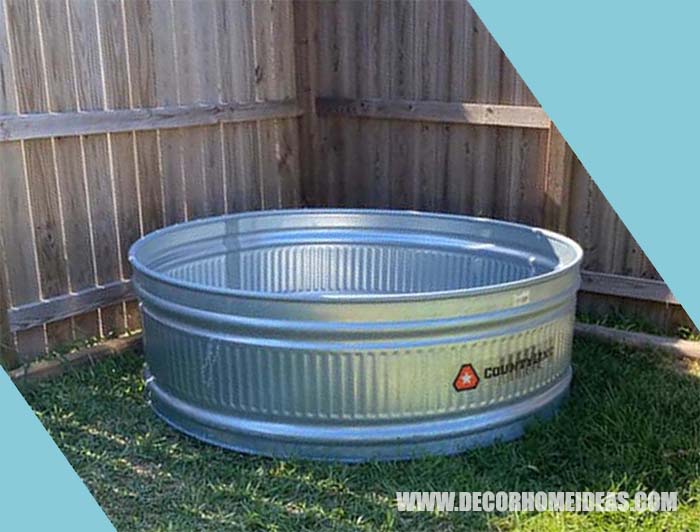 The tank's surface is galvanized ( galvanized metal is coated with a protective layer to stop corrosion ) so it can store water without any risk of corrosion. If you are happy with the metallic finish, leave it as it is.
If you would like to make it look more like an actual pool, we'd recommend that you paint it in a summer color that also matches your yard furniture and decoration.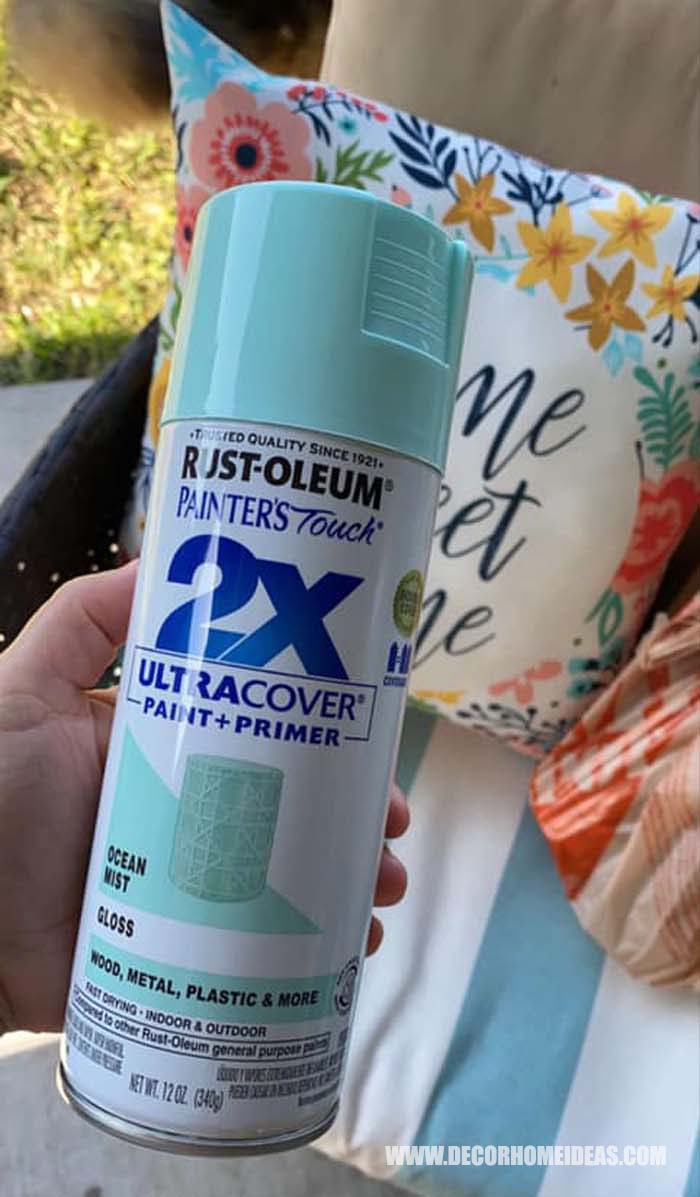 The couple has decided to paint their stock tank in a cheerful turquoise color. They have bought 4 cans of spray paint suitable for metal surfaces and outdoor usage.
I think the painted stock tank pool looks much better than the original galvanized color.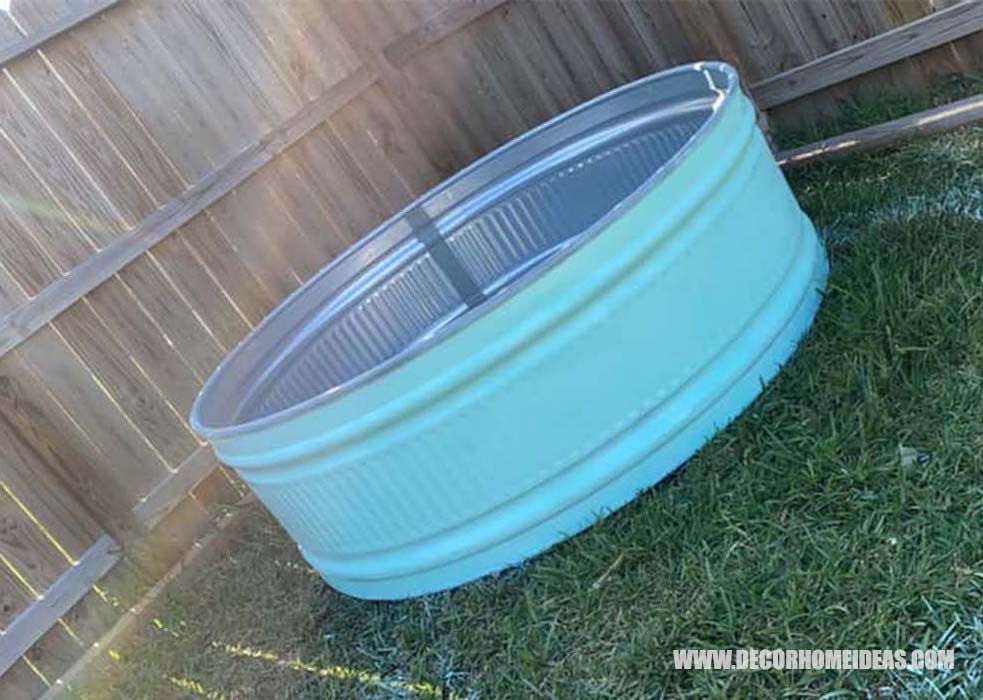 This great and thick coat has been achieved with 3 cans only. You need to let the paint dry before going to the next stage of the project.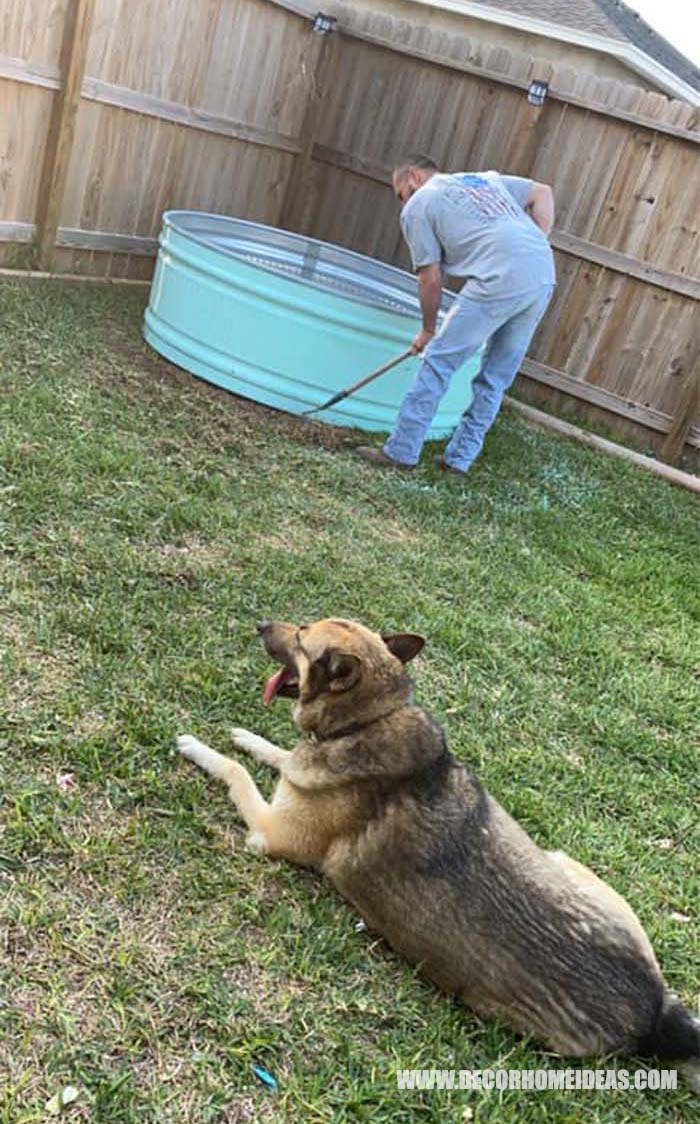 If you have already chosen the best spot for your pool, make sure you check if the ground is leveled.
In case it needs some flattening, use a rank and a shovel to flatten the ground beneath the tank. For best results use sand ( also called leveling sand ) to make a perfect base for your DIY stock tank swimming pool.
Related: DIY Above Ground Swimming Pool With Deck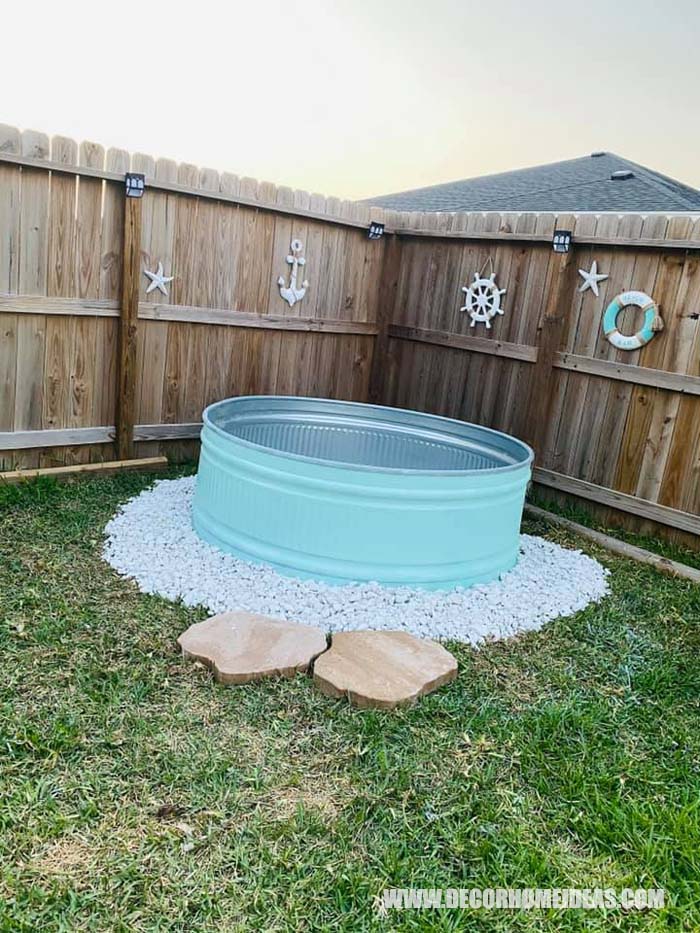 The couple is giving us a very good tip about the type of decorative material to be laid around the stock tank pool.
They have surrounded it with river stones. They are the perfect solution to hide the ground area that has been flattened with the rake in advance.
The sand and stones will also stop the weed grow underneath the pool and will quickly drain the water splashes.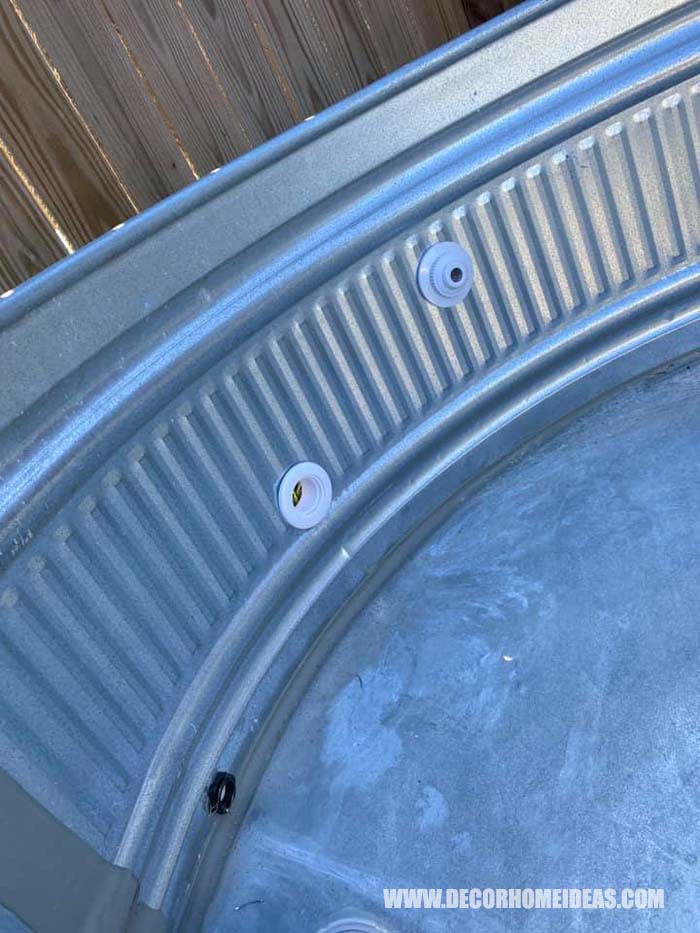 When happy with the pool alignment, it is time to prepare the connections to the filter pump system. A high-quality pool pump will maintain clean water and will lower your electricity bill as they are more energy efficient.
Drill 2 holes for an inlet and an outlet with a 2 3/4 hole saw with an arbor. If you are not sure what fittings to use, consult with a pool supply store to help you find the parts that suit.
Insert the fittings and then caulk them well with clear silicone sealant. Let it dry so that the sealing is good.
You can now connect the hoses and the rest parts of the pump system.
The filter pump system the couple has connected is a small 1000 gph filter pump.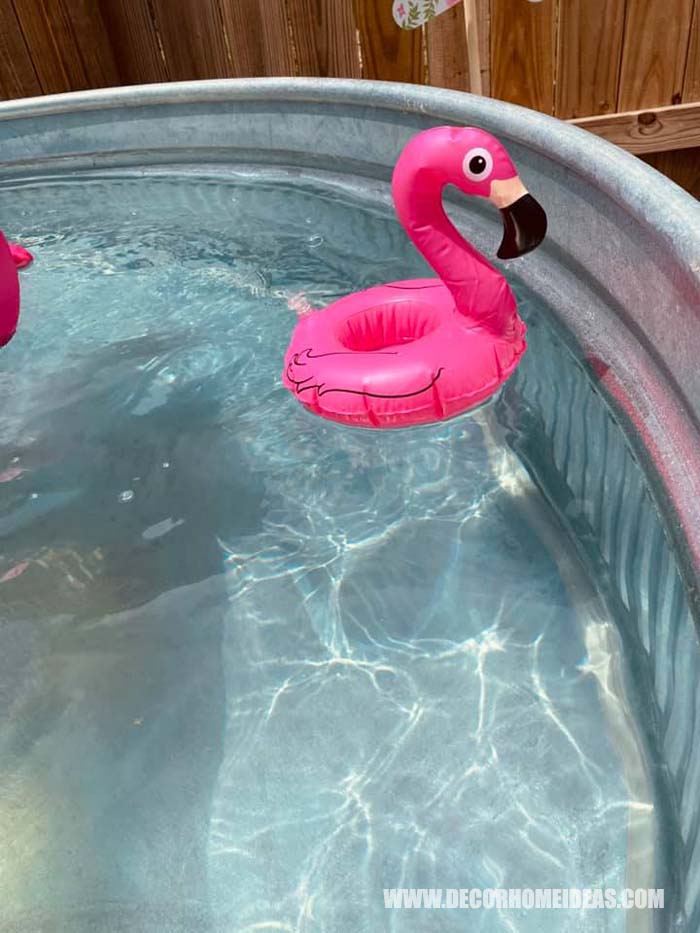 Fill in the pool with water. It is clear that it will be difficult to change the water frequently so you need to consider a way to disinfect the pool frequently.
The couple has put a floating chlorine dispenser in the pool to clean the water.
Half of a 3-inch tablet once a week is enough to keep the water of that pool size clear and clean. However, if your pool area has trees around, you may need a better cleaning arrangement. The Pentair's Kreepy Krauly great white suction cleaner, for example, does the scrubbing and suction to make the pool cleaning job really easy.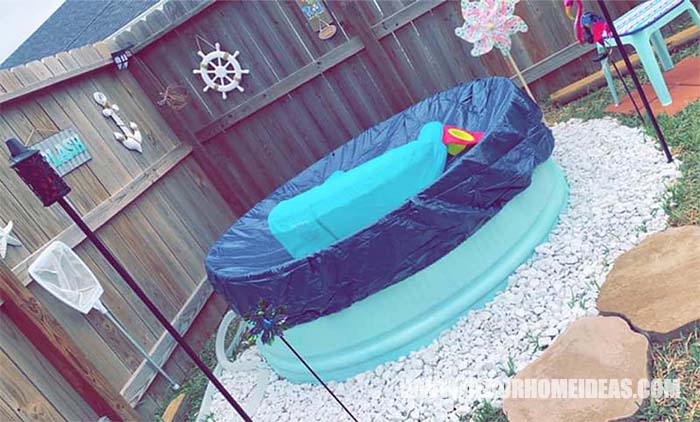 All so far was easy, wasn't it? Well, that was the hardest part of the project. It is now time for the pleasant part- the decoration! Hang on summer signs, some starfishes or shells on the fence. The options you have got are endless!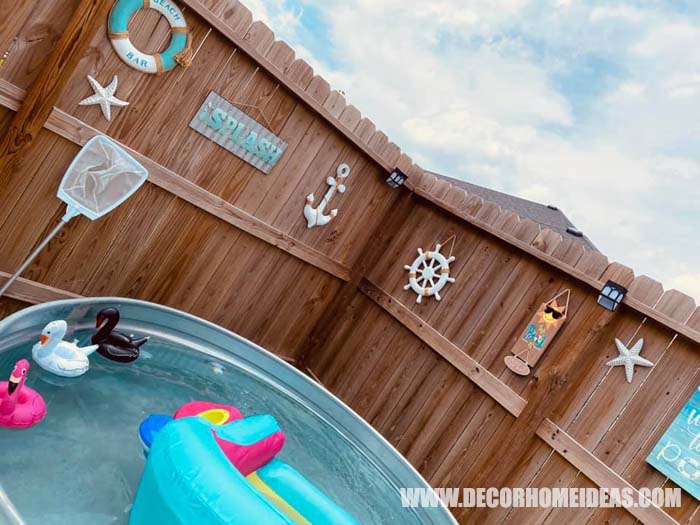 The pool can be beautifully decorated with inflatable toys when left unused. The couple has put a few swans to floating around the rim.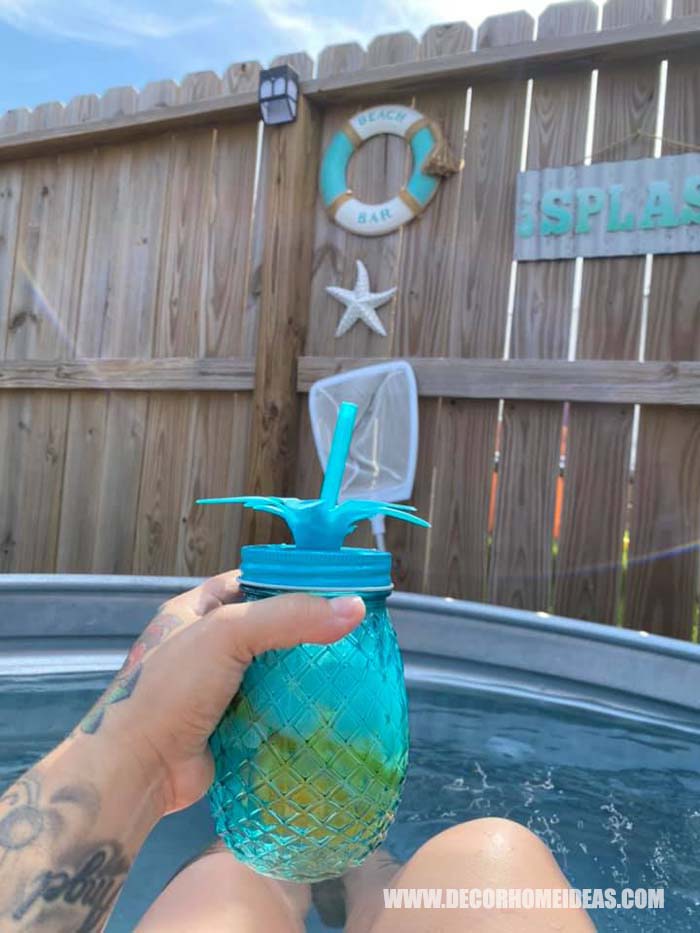 This pool is the best place to have a cold and relaxing drink. If you are worried about the metal getting too hot, you can add pool noodles around the rim. Each pool noodle is about 60″ so you'll need 4 of them.
Jenn says that so far she hasn't felt the need for putting noodles around although they live in Texas.
They have decided to put a big umbrella instead to prevent the metal surface from getting too hot and also keep them safe from the sun when it gets too scorching.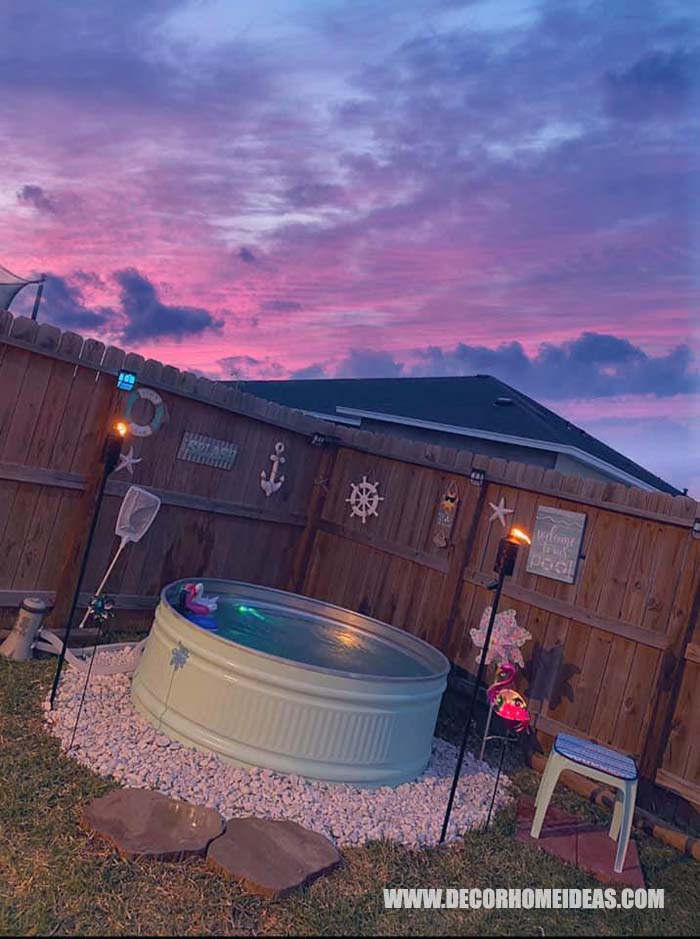 This summer oasis looks very nice during nights as well. The torches are lit and the mist light they spread makes the pool area very romantic.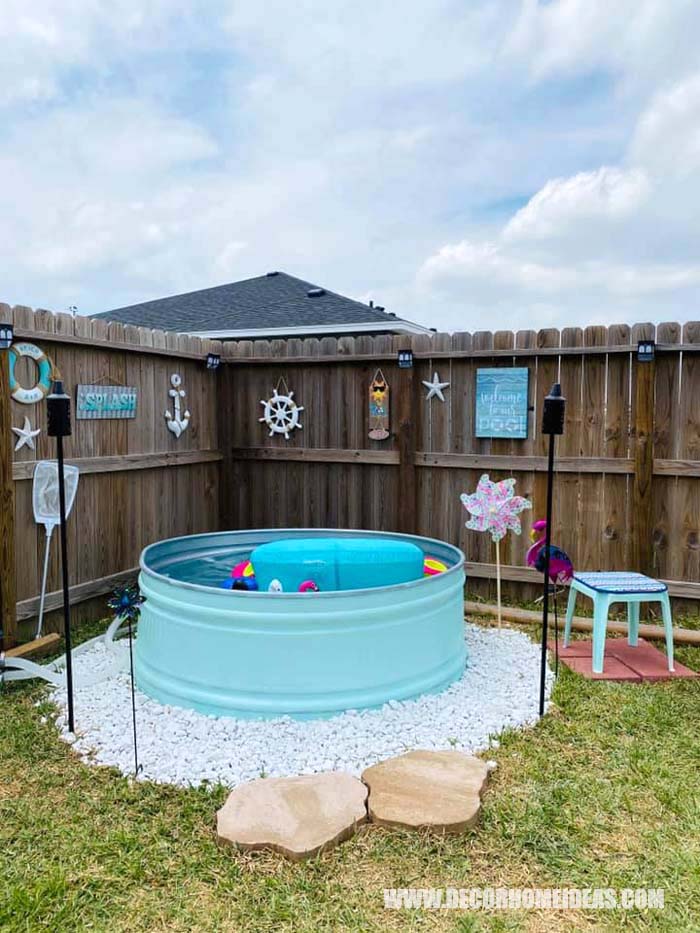 This is how the finished pool area looks during daytime.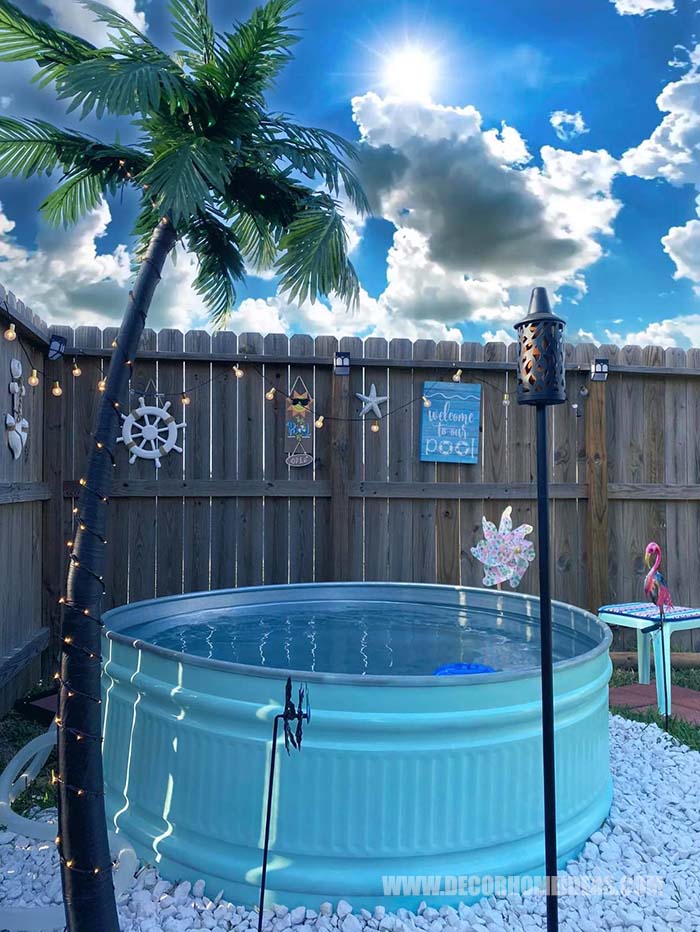 This DIY project is time and cost-efficient. The stock pool can match any backyard as long as you have some free space.
Jenn added a fake palm tree with string lights around it for even prettier layout.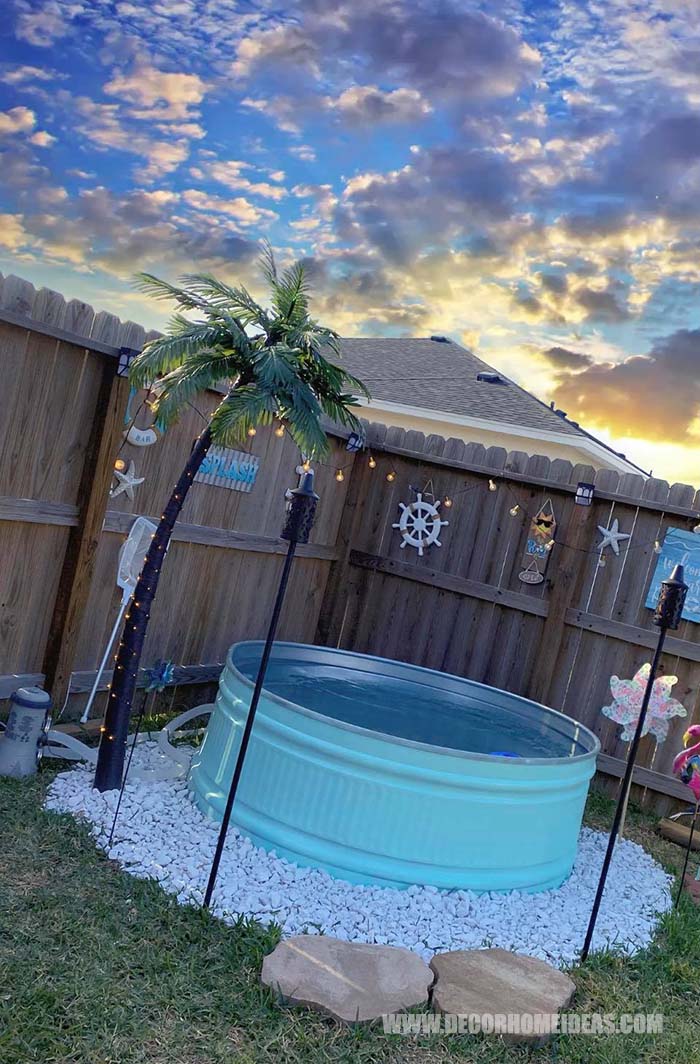 Jenn added an umbrella so that it's officially the best place to relax in Texas!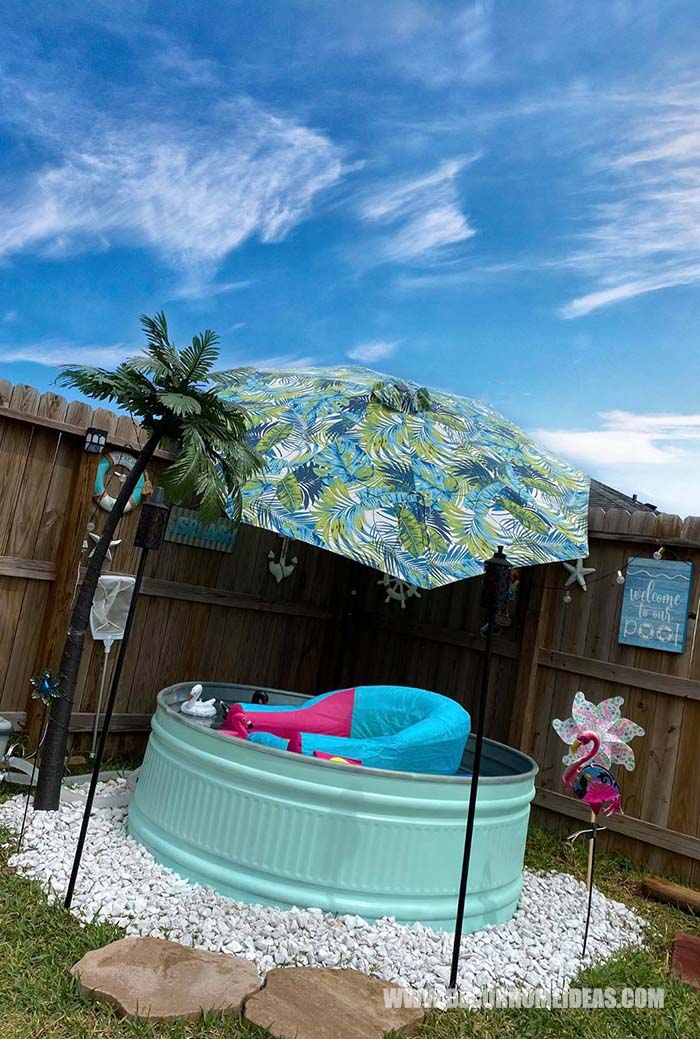 It looks amazing at night too.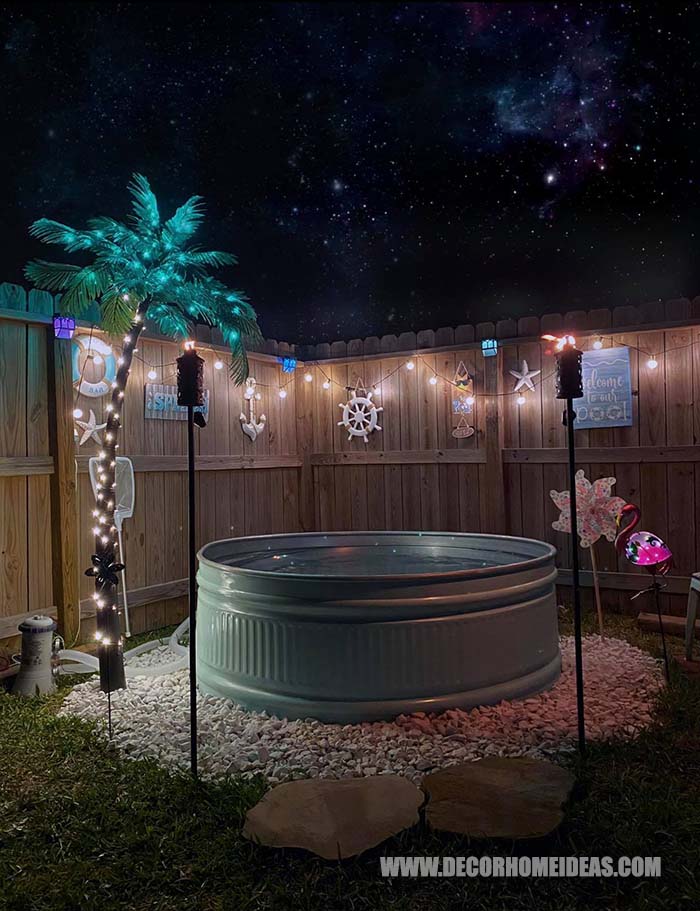 Not bad for a DIY swimming pool, right?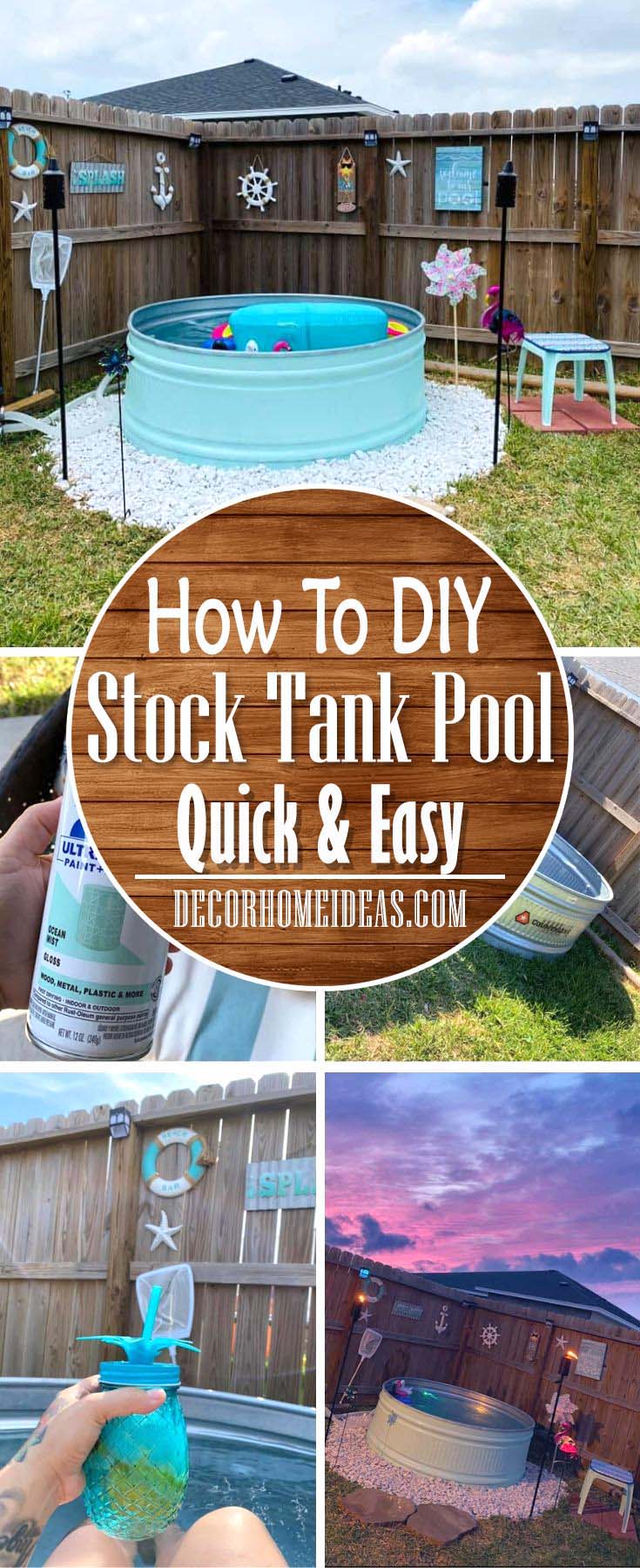 The best from it all is that once you make it, you will have a long-lasting pool!