Many homeowners dream of having a pool in their outdoor space or backyard.
Owning a pool in your backyard enables you and your family to relax in the cool water, especially in the long hot summers, with the privacy of your backyard.
Having a deck around your above-ground or in-ground pool provides space for you to relax around your pool.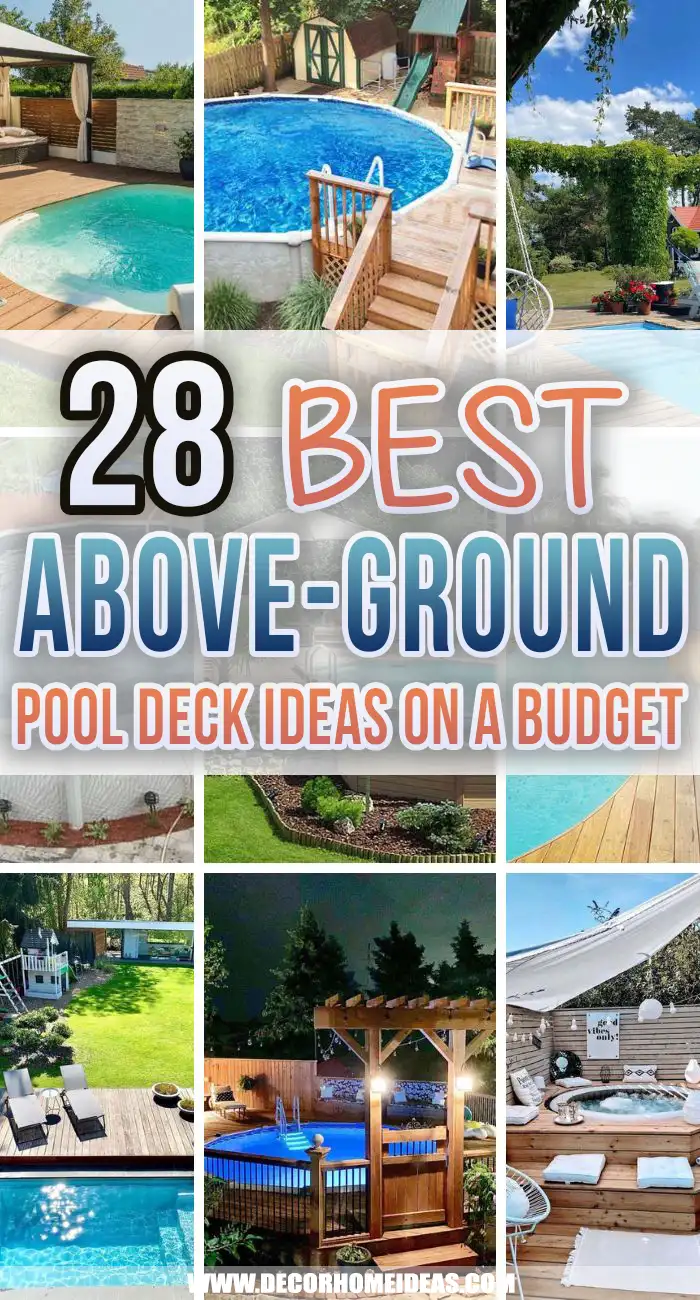 Pool decking can be done using PVC decking, wood decking, aluminum decking, which is very expensive, and composite, a combination of wood and plastic.
What is the cheapest decking for a pool?
With the increase in the price of wood, it is not a surprise that wood decking becomes quite expensive, so the cheapest option would be stamped concrete or stone pavers.
How much does it cost to build a deck around an above-ground pool?
Well, having a pool these days is not very cheap and when you add the decking it could get really ugly. Price can vary a lot because of the materials and design, so exact numbers could mislead you. $30 per square foot would be a good price, but check locals first to get a better price.
How can I make a cheap above-ground pool look nice?
Add some lounge chairs, cushions, and planters with colorful flowers. An umbrella, string lights, or privacy fence could also make it a beautiful outdoor space.
In this post, we will look at 28 different above-ground deck pool ideas for you on a budget:
1. Platform Deck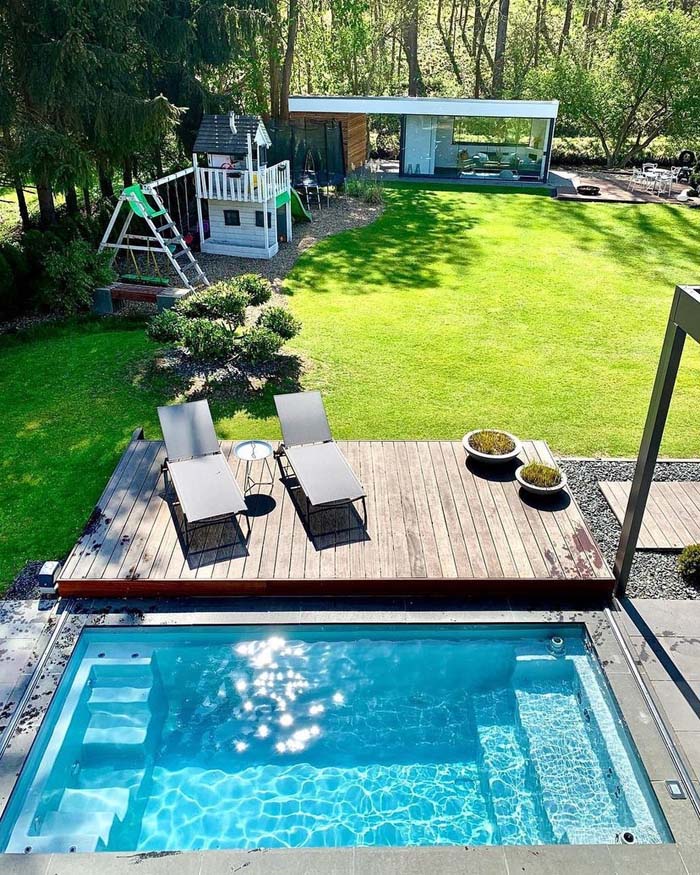 No need for a platform to encircle your entire pool. Choose a deck platform on one side of the pool, a partial or side deck.
The side deck is built along the length of one side of the pool and works best for a rectangular pool.
This provides a deck area where people may relax by the pool while still being near others swimming. It is one of the simplest deck ideas to construct. You can decorate it with lounge chairs and flower pots.
via FAT Studios
2. Add Lounge Chairs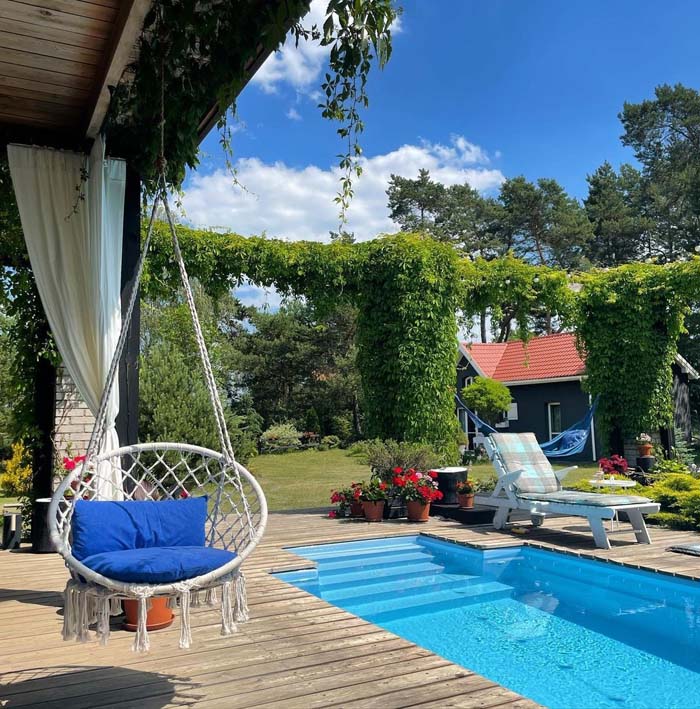 A backyard pool is transformed into something spectacular with a sizable deck attached.
The extended patio provides shade for those gathered there in the sweltering summertime. The room looks quite inviting, with lounge chairs.
This stunning deck feels more like an addition to the house than a distinct outside area because it was created around an above-ground pool.
3. DIY Above Ground Pool With Deck

One of the simplest and least expensive ways to obtain a backyard pool is with a pool set. They're perfect for relaxing than swimming.
A pool set with a full surround deck means the deck is wrapped around the pool, giving it a flush appearance.
The size of full-surround decks makes it possible to include entertaining elements like lounge chairs if you choose to.
via Decor Home Ideas
4. Above Ground Pool Steps Made Out Of Pallets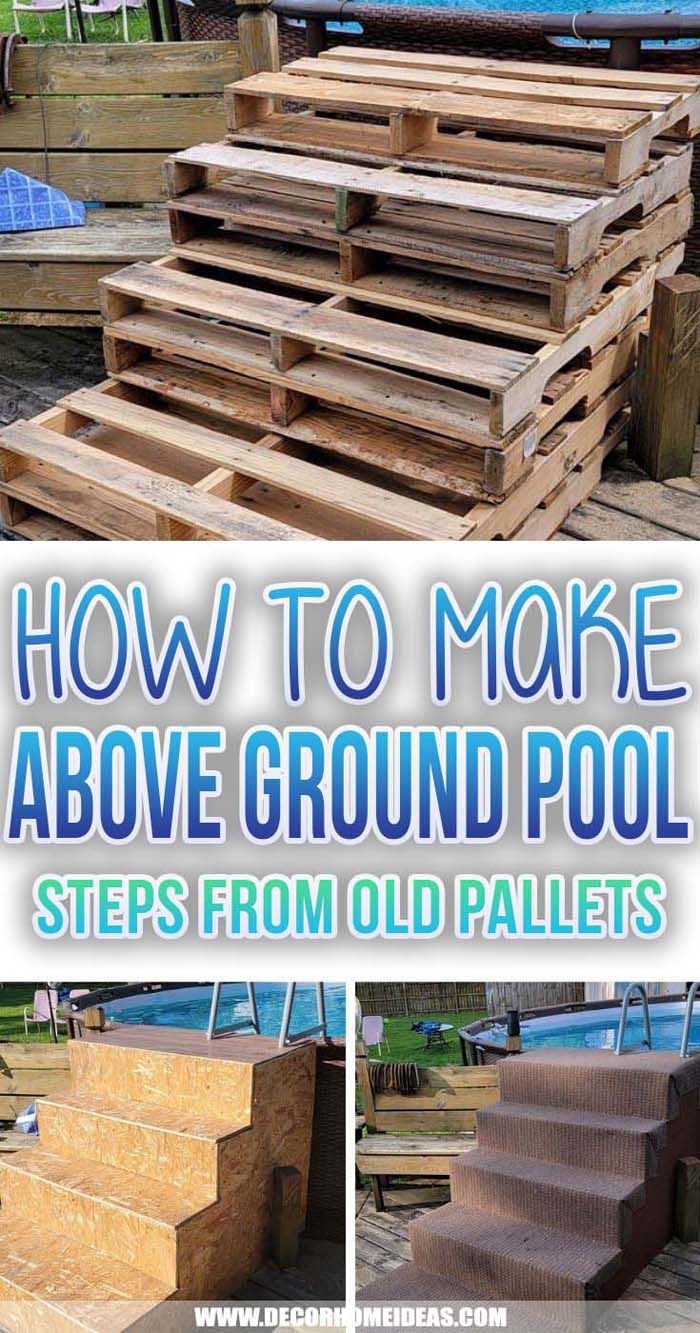 Making sure that everyone who accesses the pool is safe is very important.
One way to achieve that is to have steps and a deck to help access your above-ground pool.
Using pallets to build your deck and steps is one way to go. Pallets are cheaper and easier to use for construction compared to other options.
via Decor Home Ideas
5. Elevated Deck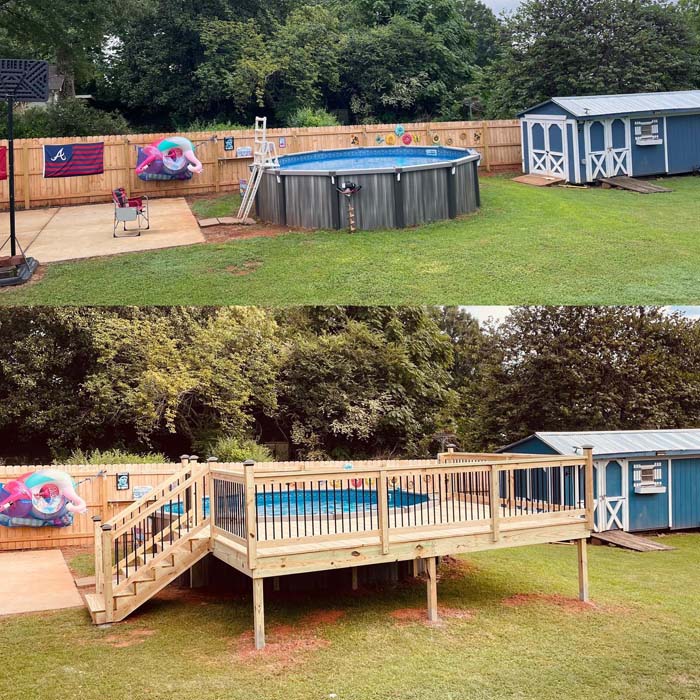 If the above-ground pool is small, a little side deck is sufficient, with steps leading up to it.
A polished backyard deck can be achieved by wrapping your deck around your above-ground pool. An above-ground pool feels more in-ground when a pool deck entirely encloses it.
It figuratively raises the bar for your backyard swimming experience. Although there could be steps to climb to the deck area, it eliminates the need to use a ladder to get into the above-ground pool.
via Bobby Wilkinson
6. Curved Deck Around Pool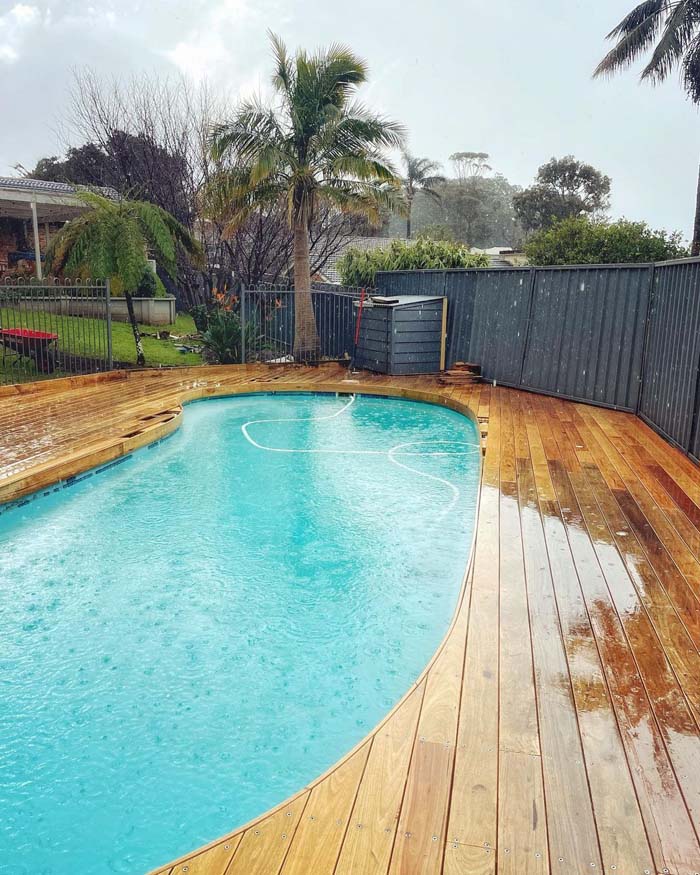 This is one of the options you might try out if you want to completely modify the appearance of your above-ground pool. To alter the pool's appearance, you can submerge it inside a wooden deck.
Most residential pool owners like a bit of extra isolation, which the high walls offer. The oval above-ground pool that is sunken has a permanent appearance. The curved deck around the pool offers ample room for lounging and decorations.
7. Simple Pool Decking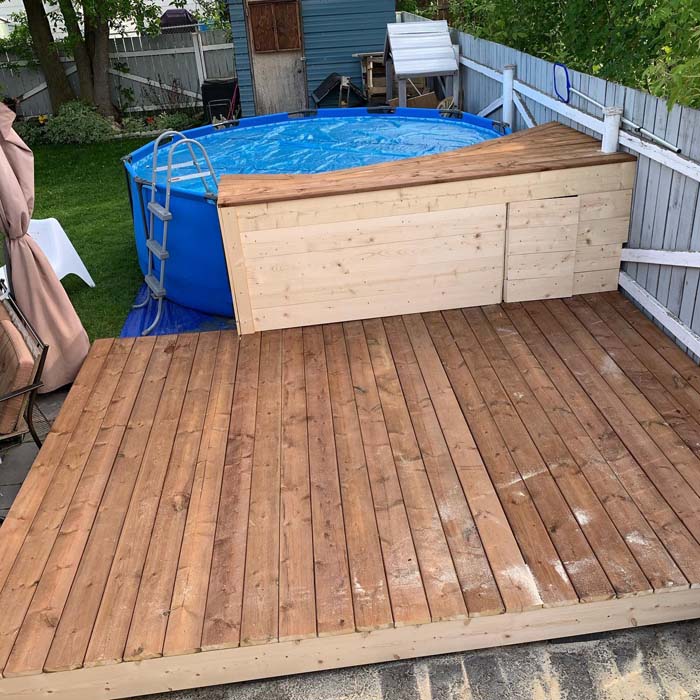 Looking for a simple deck to cover your stock tank pool?
Using real wood or composite decking, you can install the deck on one side of the pool. A stock tank pool is best for backyards with limited space.
The decking protects the pool and provides enough room around the pool, which can be used for lounging or chilling around the pool with your family.
8. Add Lights To Your Pool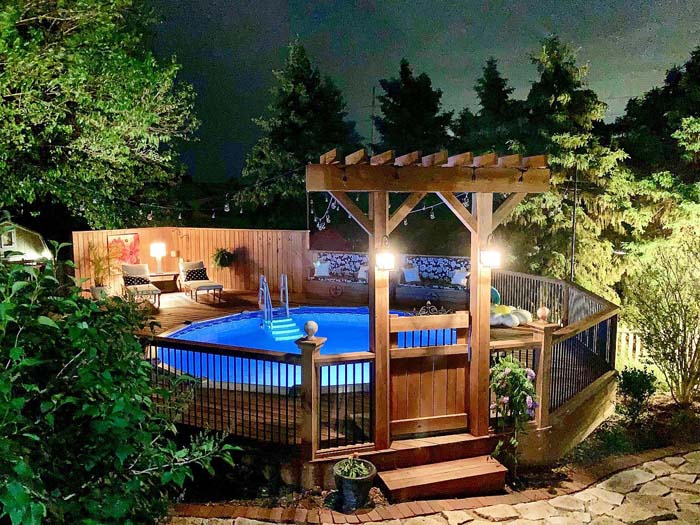 Spending time in your pool should not be limited to only daytime. Installing lights around the deck lets you spend your evenings in the pool while providing an exquisite romantic ambiance.
The fence around the pool provides privacy that you may need while relaxing in your pool.
It incorporates a patio where you can have your lounge chairs and a coffee table decorated with flowers which offer you enough room to relax, have a drink and enjoy the glow of the water under the lights at night.
via Carol Beckman
9. Use Potted Plants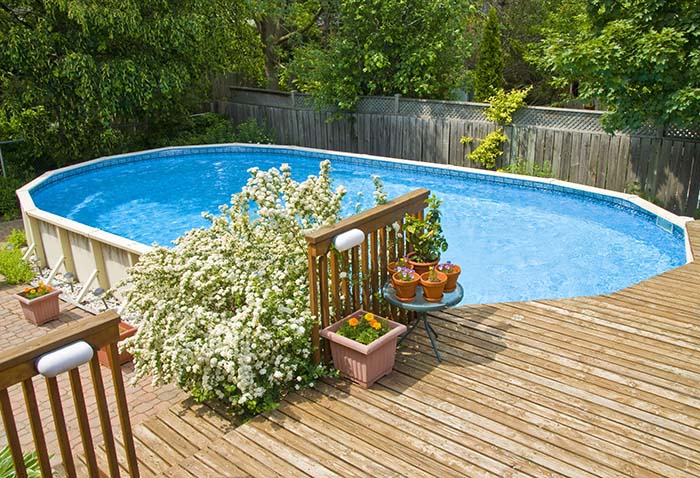 This above-ground pool demonstrates that you may achieve a classic pool aesthetic without the effort and expense of one.
There is a lot of room deck for relaxing and decorating with potted plants on the curved wooden terrace.
The deck offers the pool a distinctive appeal and seamless appearance. Because it is built on the ground, dirt is kept out of the pool.
10. Partial Deck Around Above Ground Pool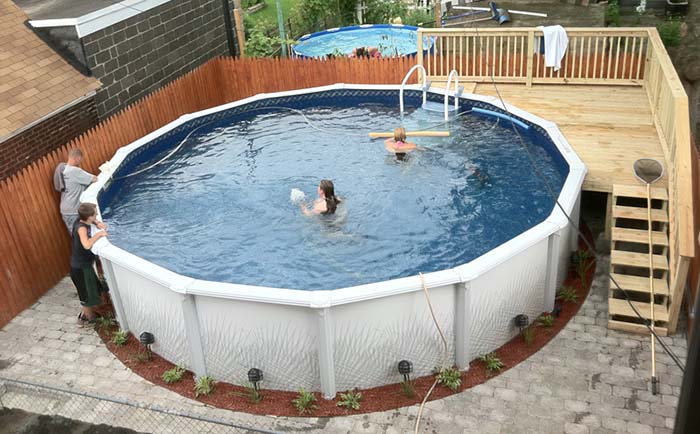 The time you had to climb into an above-ground pool is long gone. To make the most of your backyard, you may now select the style of deck you desire.
You can see from this project that a full wrap-around deck is not necessary.
With a half deck, you still have a space to relax, enter and exit the pool, and store things. It works well with limited backyards.
11. Create Lounging Zone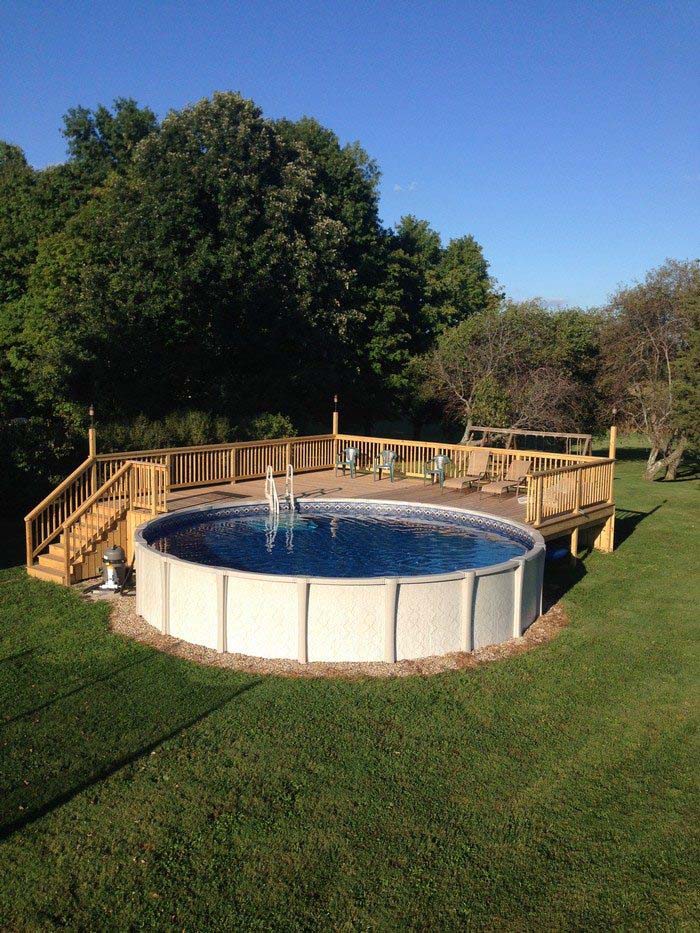 If you have enough outdoor space, check out this gorgeous pool deck.
You have enough room on this broad deck for sunbathing and setting up lounge chairs. The deck is understated yet elegant and also pocket friendly.
The natural components in the terrain that surrounds the pool area contribute to its peaceful atmosphere.
12. Budget Friendly Tiny Deck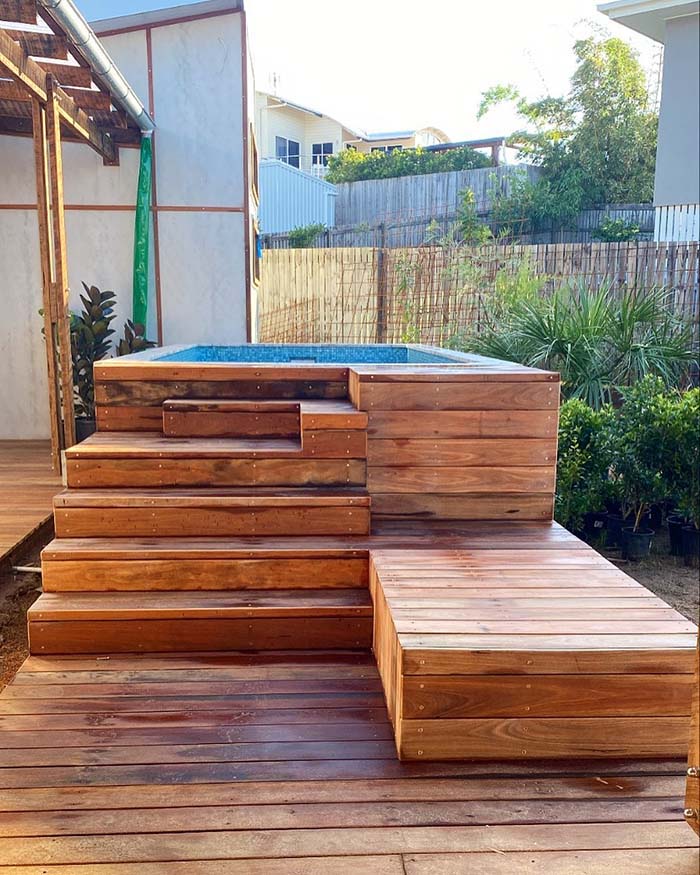 Due to space restrictions, the designer of this deck around a pool above the earth had to get quite inventive.
A little deck with an intriguing design has been created from wood slats in place of a big deck. The wood is polished and finished in a rectangular design, making it look amazing. The steps ease access to the pool.
13. Use Natural Surroundings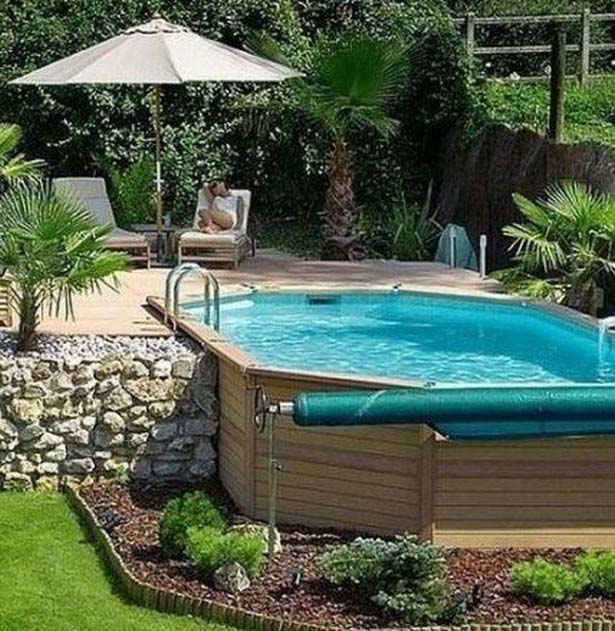 This unique pool deck is created to fulfill requirements and provide a space for entertainment and leisure.
Flowers surround the pool to help it fit into its natural surroundings. The shade on the deck offers protection from direct sunlight and enough space to relax around your pool.
The pool has a retractable protection cover to protect it from contamination.
14. Tiny Deck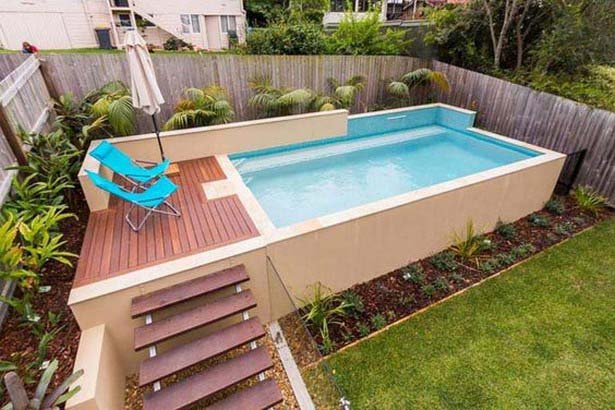 This type of design works if you have limited space in your backyard.
The simple deck is finished with stylish wood on one side of the concrete pool giving it an exquisite look. The space on the deck is enough for lounge beds and a lovely shade for you to relax while using your pool.
The steps are simple and offer easy access to the pool. The flowers around the pool provide a cool natural element to the pool and surrounding environment.
15. Deck With Pool Slide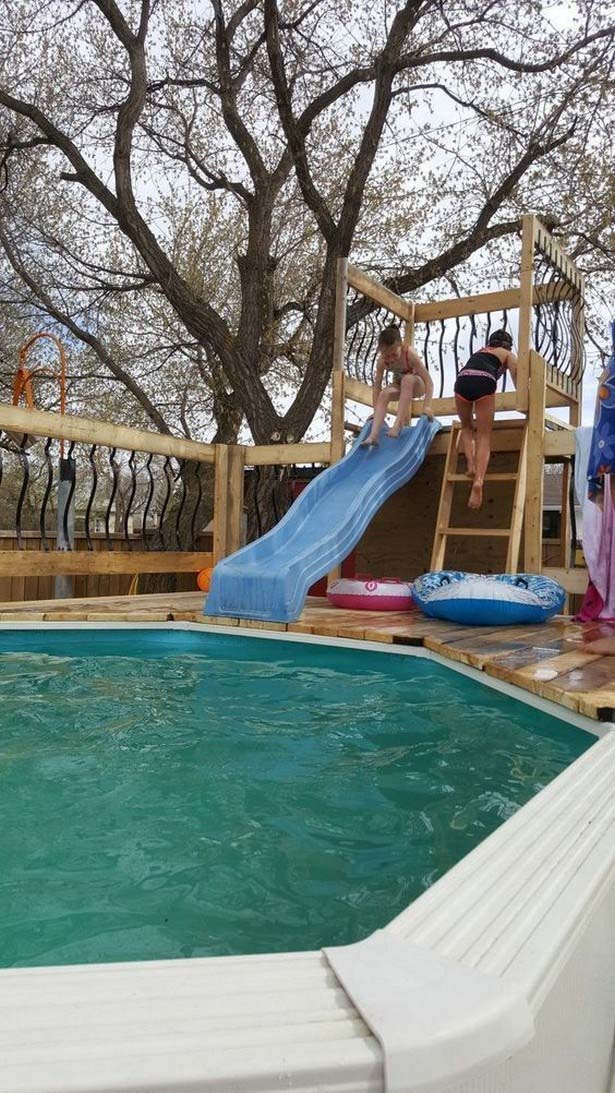 If you are sick of your above-ground pool, you can add a pool slide to the area to make it more entertaining.
Kids love playing on slides, especially if they end up in the water.
This design is perfect for a family setup, especially during the summer holidays when the children can play in the pool all day. The railings protect you from falling off the deck or sliding.
16. Split-Level Deck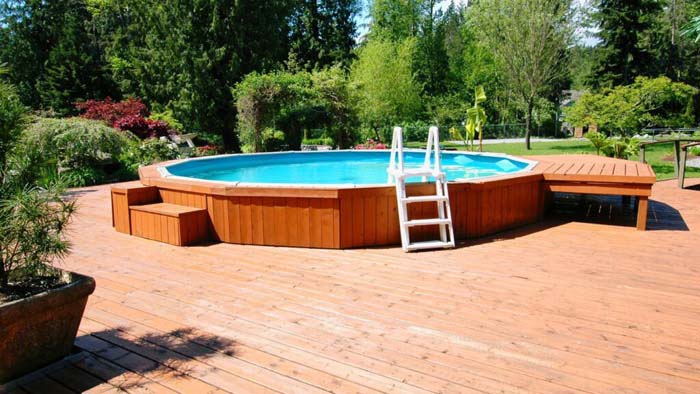 The upper level of this split-level deck provides convenient access to the above-ground pool, while the bottom level may accommodate patio furniture, an outdoor grill, or outdoor games.
The above-ground pool has a distinctive, integrated appearance thanks to this pool deck style. Again, the elevation offers little protection for young children and animals.
17. Fenced Deck For Above Ground Pool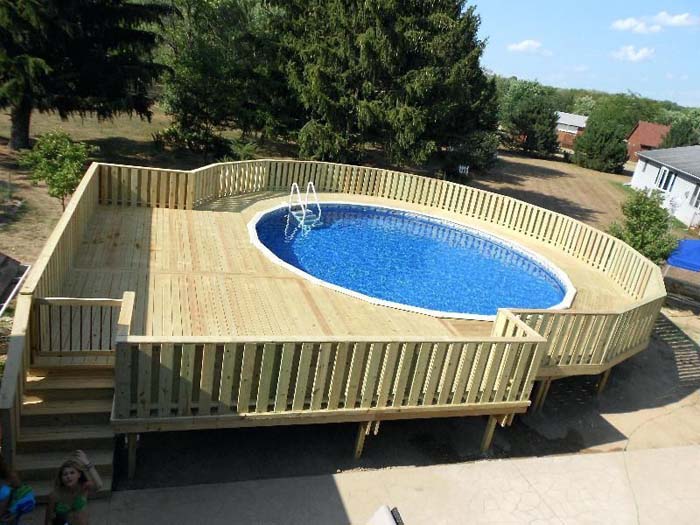 This pool area is constructed on a platform with a deck and fence.
The fence provides privacy and protection from falling off the deck. The space on the deck is big enough to place lounge chairs, relax, and sunbathe around the pool.
This design offers a walk area around the pool. The sturdy fence and gate prevent kids or pets from accessing the pool area unsupervised.
18. Encircle Pool With Wooden Deck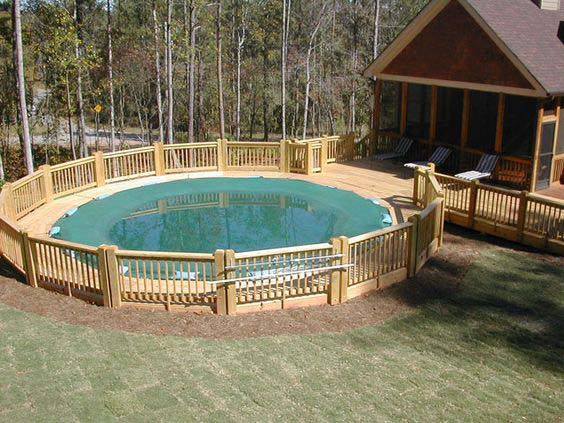 This stunning deck feels more like an addition to the house than a distinct outside area because it is created around an above-ground pool.
There is enough room to have your lounge seats where you can relax and unwind. The extended shade protects you from direct sunlight or strong winds.
19. Build Your Own Deck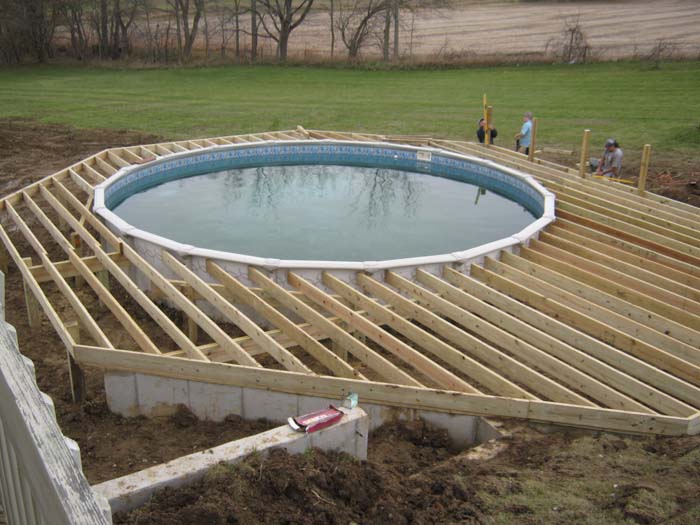 This type of design works well for stock tank pools. Wood is used to construct a raised deck level with the above-ground pool, which protects the pool and offers space to relax around the deck.
Frames are set around the pool above the ground. It is a simple and budget-friendly deck idea. Measure how many square feet of deck you require around the pool before you start construction.
via Archadeck
20. Create Relaxing Corner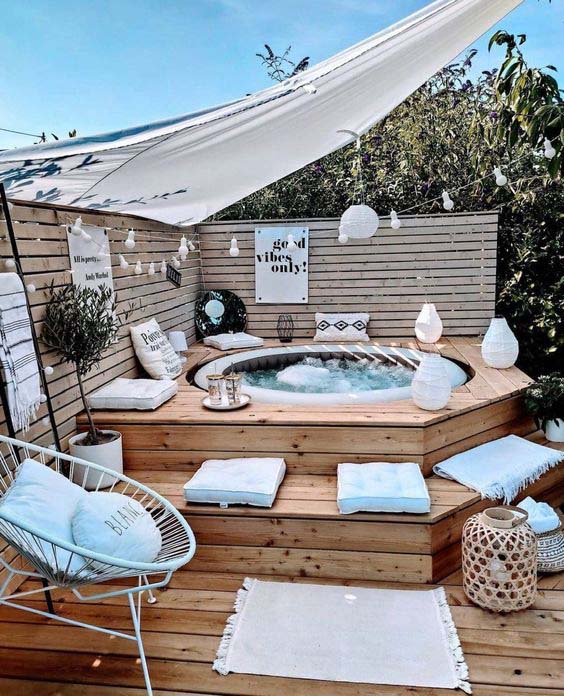 This design is elegant and mostly used for relaxation rather than swimming. The well-finished multiple decks around the above-ground pool offer a stylish, unique look.
The multiple decks can be used to dry towels while relaxing in the pool. The high fence provides privacy from unwanted interference.
The shade above protects against direct sunlight, meaning you can spend hot summers comfortably relaxing. It allows you to be able to decorate to your satisfaction.
21. Use Deck For Stock Tank Pool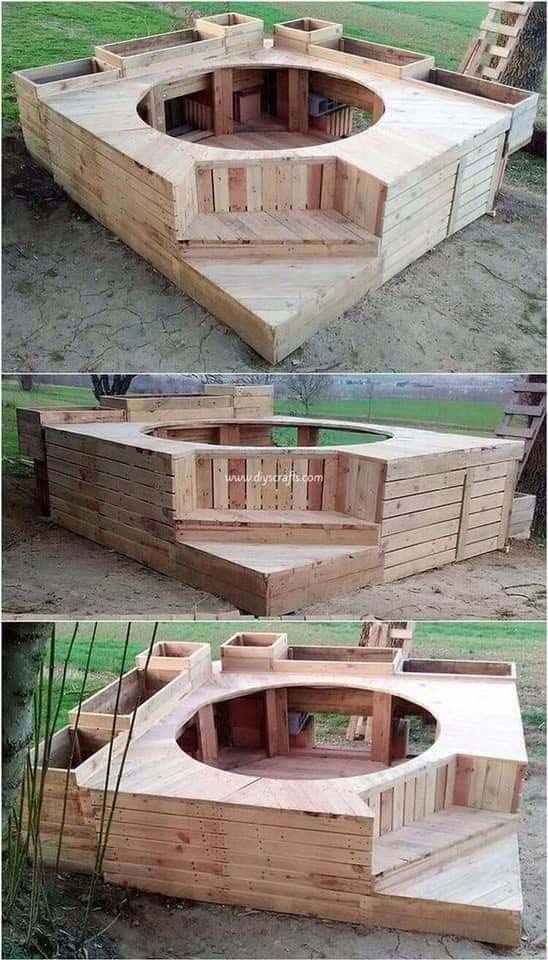 Your type of already built deck allows you to install your above-ground pool, i.e., stock tank pool.
It's easy to use and doesn't require a lot of energy and time to install because you only need to decide where to place it in your backyard and install your pool in the middle. The rectangular sides are used for decoration purposes.
22. Spend Some More To Create a Real Retreat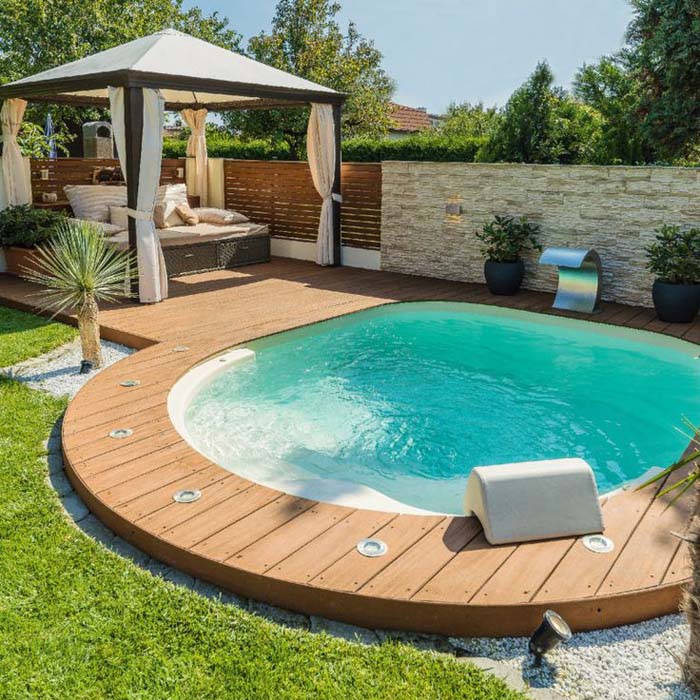 Here is an avant-garde in-ground pool design. The tall fence offers privacy from intruders.
The exquisite pergola design shade provides shelter from direct sunlight and a lovely ambiance with amazing lounge beds to relax on. The lights around the pool illuminate it at night, making it accessible day or night.
The well-finished stylish wooden deck around the pool protects the pool while offering a unique look. The grass and flowers provide a natural element to the environment.
23. Use Wood Alternatives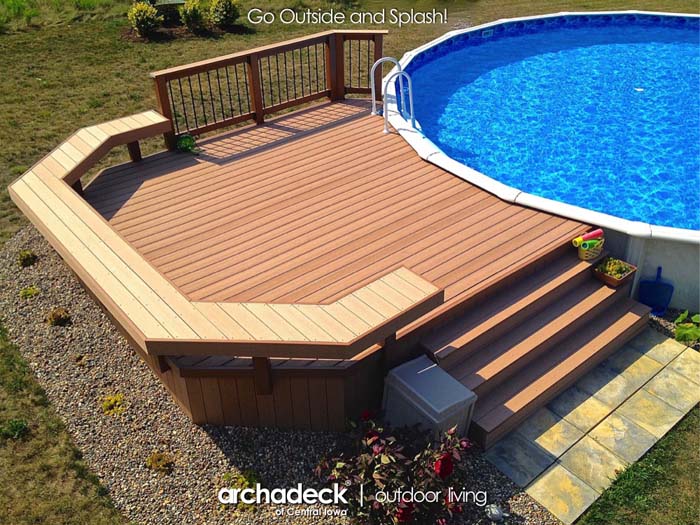 This unique and stylish design leaves you speechless. The deck is built on one side with railings and steps to ease access to the pool.
It is finished with well-designed, polished, and arranged wooden planks that make the deck look amazing. It is simple to construct and has enough space for relaxing when using the pool.
The step's sides can be decorated with flowers or artifacts. The rails protect from falling off the raised deck.
via Archadeck
24. Under Deck Lattice Idea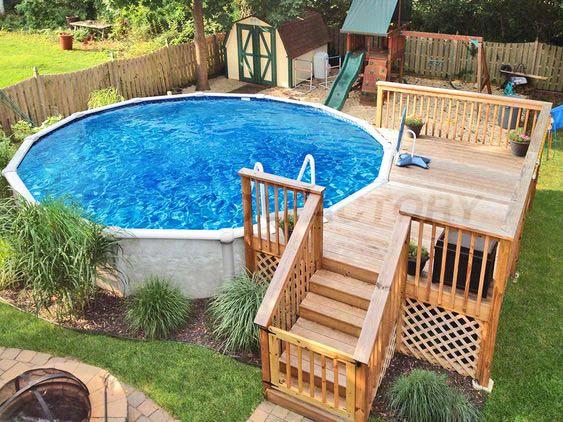 This backyard has a large outdoor space, allowing this design to install an above-ground pool. The columns around the pool give it a unique look.
The deck is elevated to allow ease of access into the pool. The deck is constructed and finished with exquisite wood designs giving a stylish, expensive look.
The gate and railings prevent unsupervised access to the pool, especially for children and pets.
25. Make Room For More Guests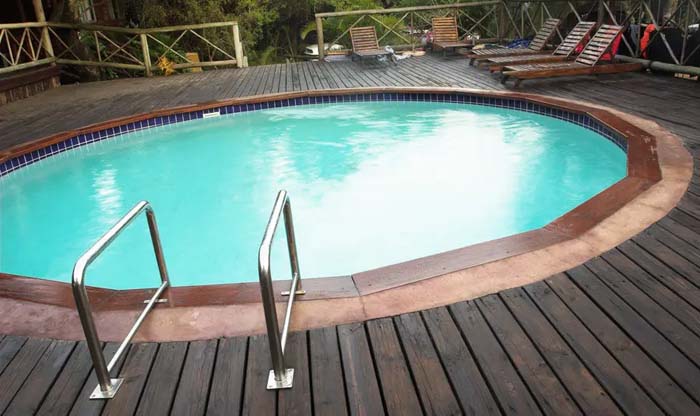 This deck's size is fairly large, which provides countless alternatives for space utilization.
Place some flower pots and a sitting table in one of the corners and some lounge chairs in the other.
It is stylishly finished with a particular style of a stained wooden deck that offers the pool a distinctive appeal and seamless appearance. Because it is built on the ground, dirt is kept out of the pool.
26. Add White Fence For More Color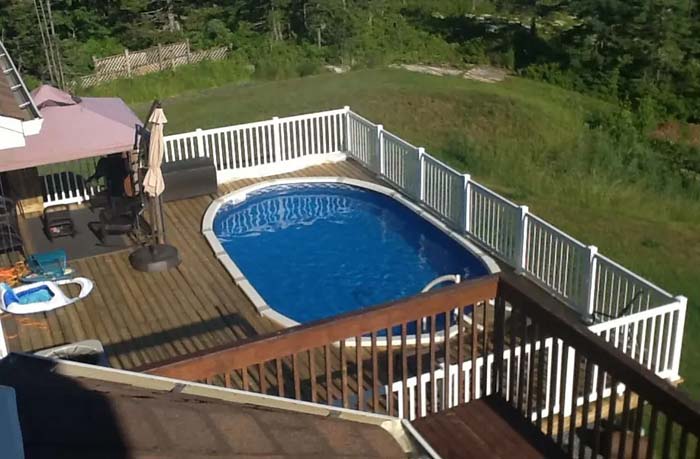 This above-ground pool deck is well made. The fence is simple to erect and offers privacy and security around the pool.
The deck complements the house beautifully and is neat and contemporary. There is enough room on the terrace to spread out and relax. The stylish shade offers enough room to relax and protects against sunlight.
27. Go Simple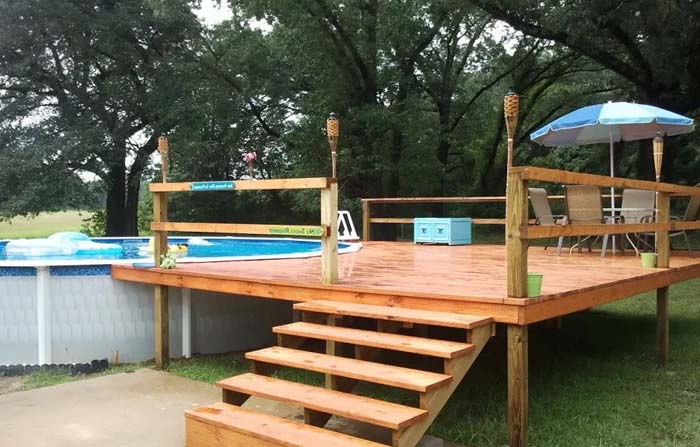 This is one of the simplest deck designs to construct, and it is raised on frames to allow access to the pool.
Simple elevated steps are constructed to allow access to the deck. The spacious deck provides enough space to put up a shade and lounge seats or beds to relax.
This type of deck is pocket friendly and is not time-consuming. The railings prevent you from falling off the deck.