A backyard is a wonderful addition to a home or an apartment — but what do you do when your yard is anything but appealing?
In many cases, a few small tweaks are all you need to create a welcoming, comfortable place to relax.
Whether you have a sprawling, grassy lawn or a tiny, paved patio, find inspiration in these ideas to turn backyards into inviting outdoor spaces.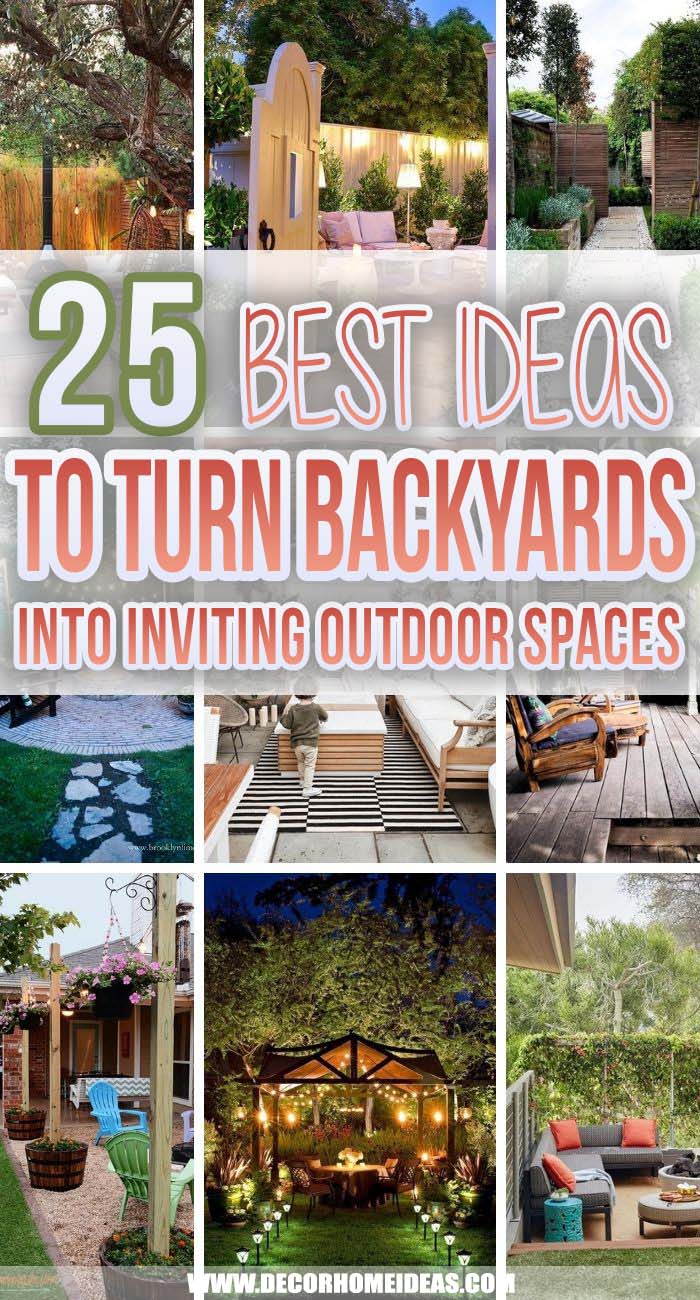 1. Eclectic Chairs And Fairy Lights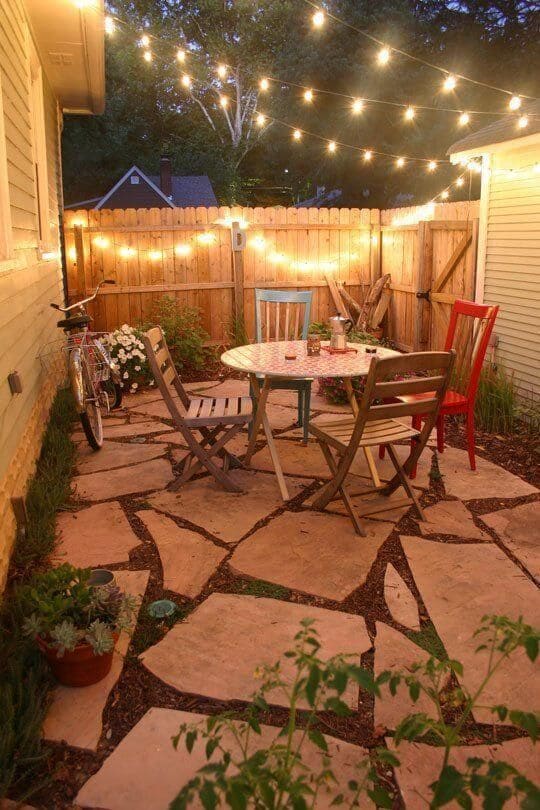 This adorable backyard proves that you don't need grass or lots of space to create a cozy retreat.
It's all about the mood lighting — a few strands of classic cafe lights make all the difference! Put out a table and some comfortable chairs, and you're ready for summer gatherings al fresco.
2. Tropical Bench Space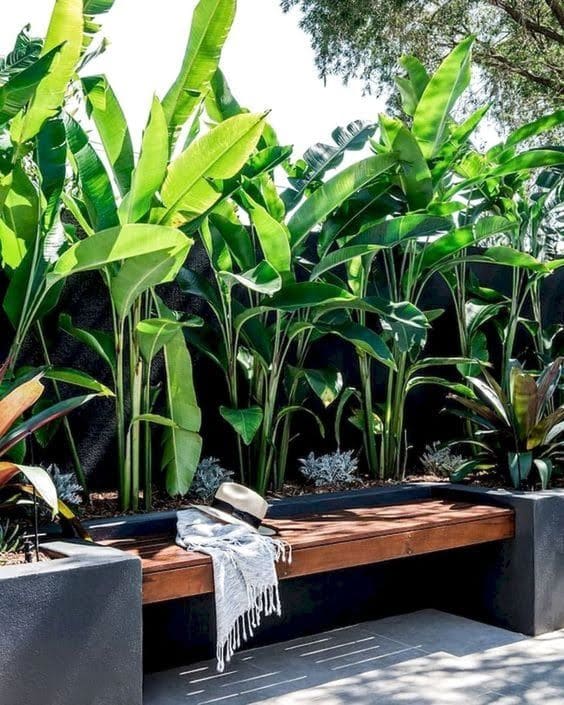 Feel like you're living in a tropical paradise with this spectacular yard makeover.
The space is tiny but welcoming, thanks to a wall of lush green plants. A wide bench is a perfect spot to relax with a book or sip cocktails with a close friend.
3. Relaxing Swing Bench Pergola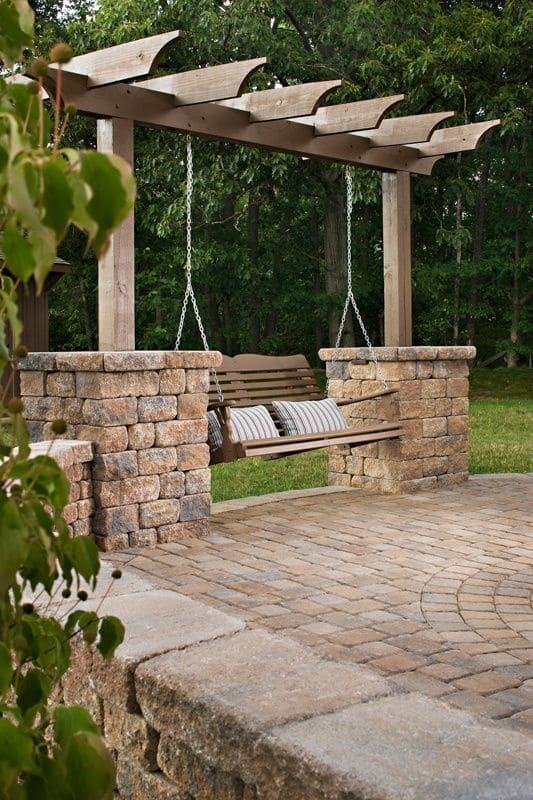 Is there anything more relaxing than swinging outdoors?
We don't think so; that's why we love this stunning pergola-turned-swing.
The dramatically curved cross beams and the substantial stone supports add visual interest, making the large yard feel more accessible and welcoming.
4. Follow The Light Path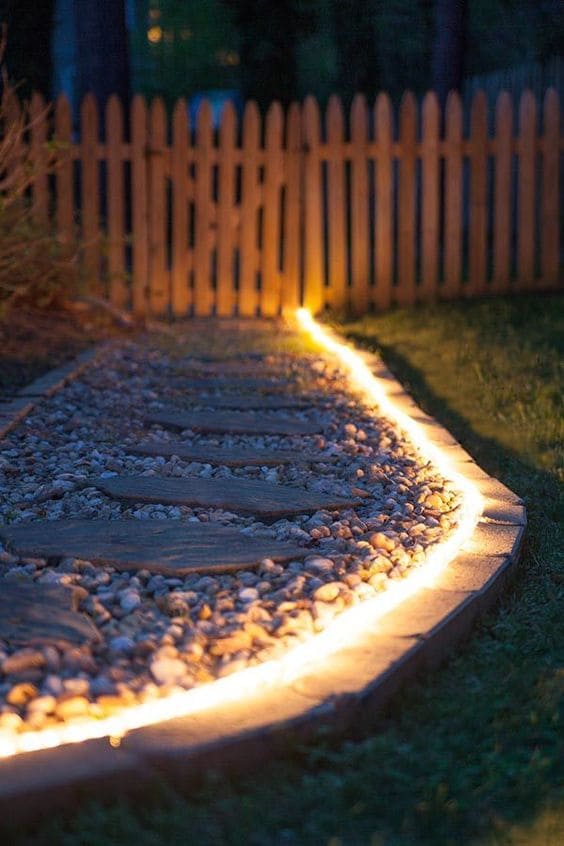 Great lighting makes all the difference in a backyard. Here, LED strip lights illuminate a stone walkway, guiding guests to the fun.
The soft glow bounces off the fence and fills the yard, so your friends and family can navigate safely.
via Christmas Lights
5. Enchanting Lighting Design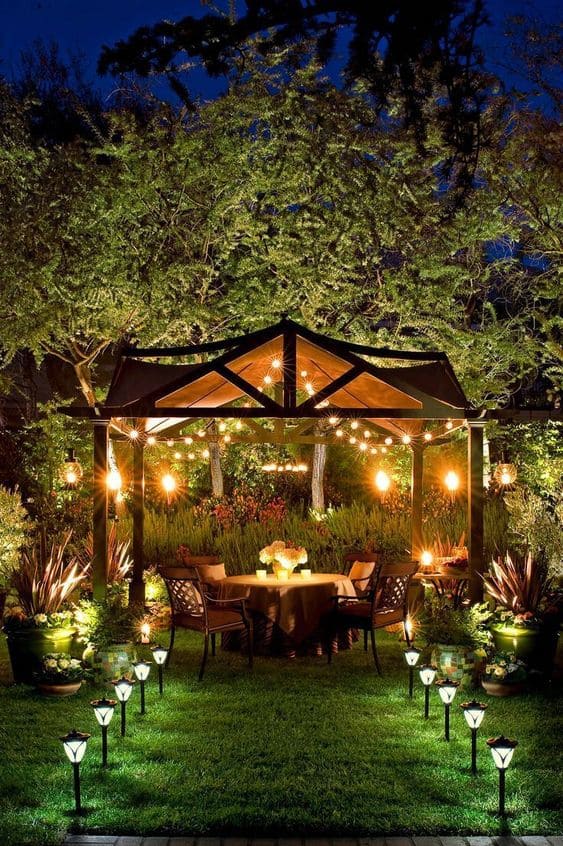 As you're planning a backyard oasis, you can't go wrong with string lights — there's something timeless and cozy about these simple white globes.
Suspend them from the ceiling of a pergola or gazebo to create a lovely outdoor dining area. A row of solar lights and a few well-placed candles complete the magical effect.
via Lowes
6. Retreat To This Tranquil Hammock Space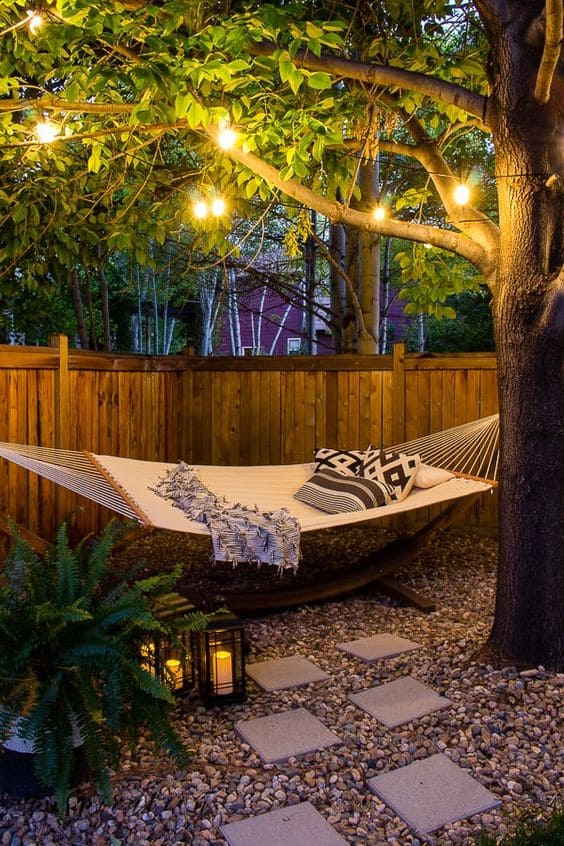 Do you have trouble getting grass to grow in your yard?
Cover it with small rocks and add simple cement pavers for maintenance-free hardscaping.
Tuck a hammock into the space and add a strand of string lights to create a fantastic nook for reading and relaxing.
7. Colorful Floral Fire Pit Area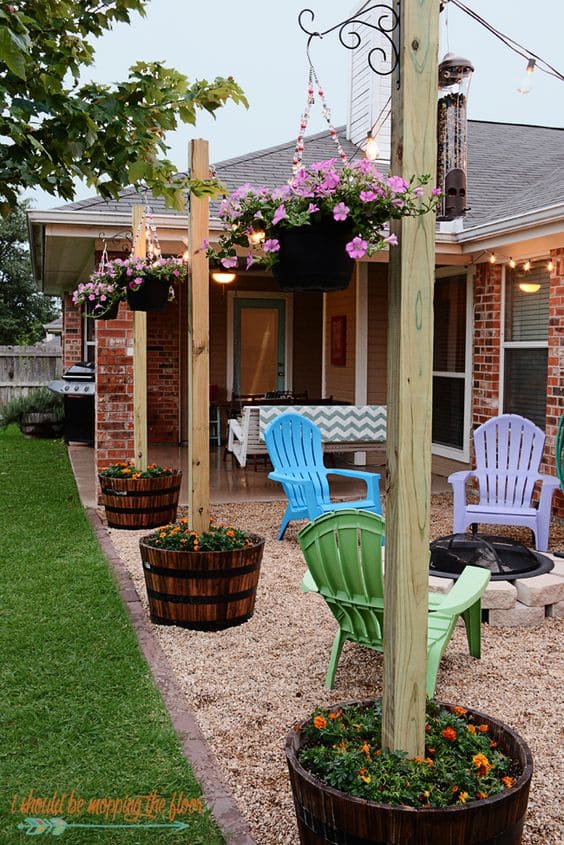 Encourage guests to linger for long, leisurely summer gatherings by defining your entertaining area.
Here, the homeowner uses pea gravel to create a safe base for a fire pit. Plastic Adirondack chairs are comfortable and easy to clean, and string lights offer just the right touch of light.
Gorgeous, flower-laden posts look stunning during the day and night.
via I Should be Mopping The Floor
8. Secluded Tropical Oasis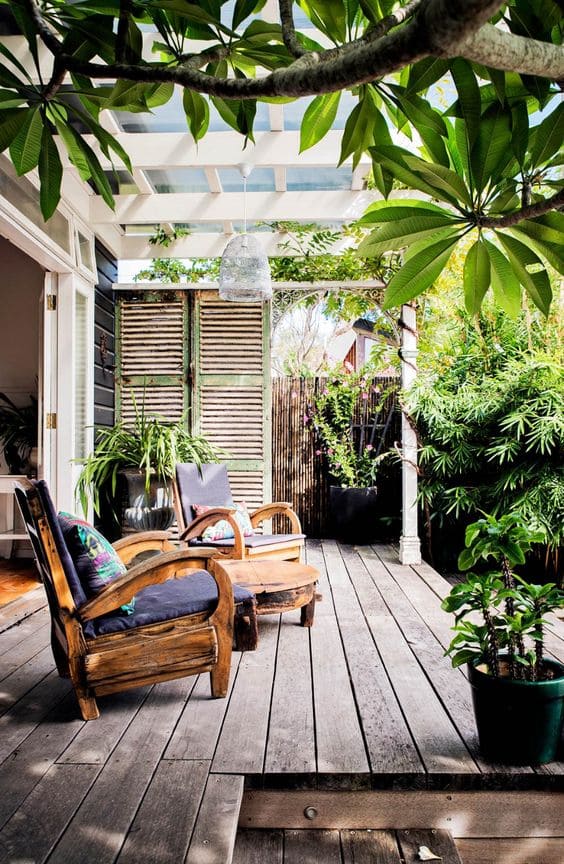 When you don't have room for grass, a backyard can feel stark and sterile.
This clever homeowner came up with a wonderful solution — placing tall, potted plants around the patio turns the space into a green, jungle-inspired wonderland.
Plush chairs take the cozy vibe to the next level.
via Homes To Love
9. Rustic Outdoor Dining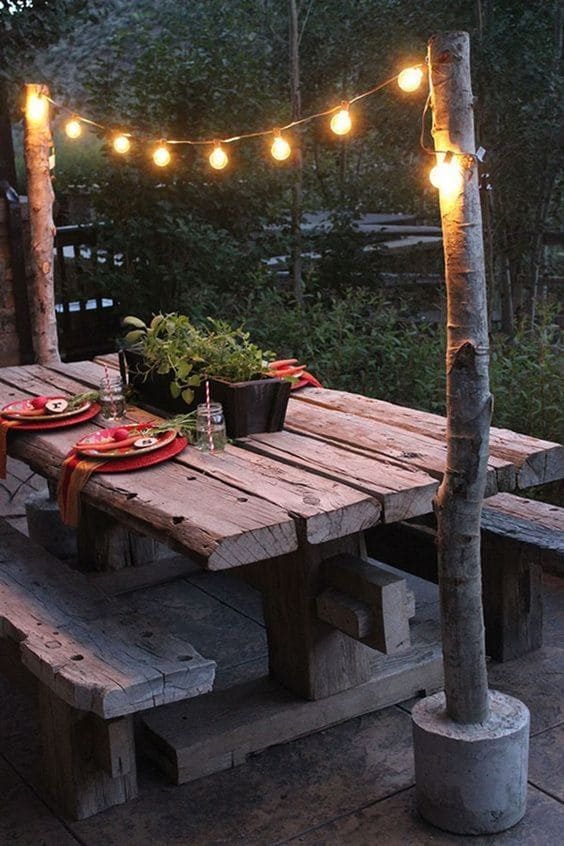 How do you make a stone or cement patio feel more relaxed and welcoming?
Add a rustic wooden picnic table! The texture of the wood softens the stone, adding a rustic touch.
Here, clever wooden side posts support a single strand of cafe lights for an inviting twist.
via Home Depot
10. Charming Lit Fire Pit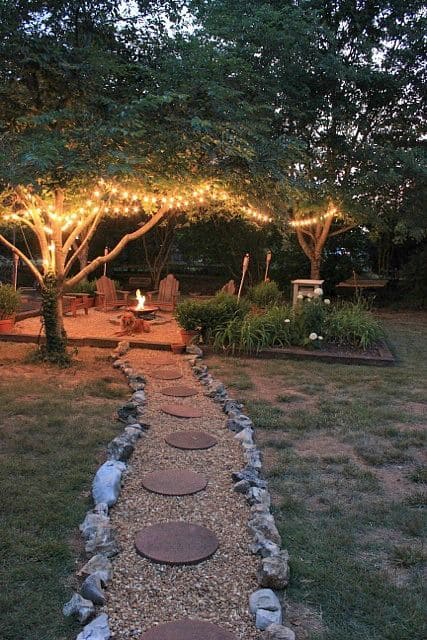 A large backyard gives you plenty of opportunities for entertaining.
Don't get rid of the trees — instead, use them as the foundation for a relaxing retreat. We love how the wooden posts and hanging lights frame the seating area, isolating it from the rest of the yard.
An adorable stone pathway shows guests the way.
via Daisy Mae Belle
11. All Inclusive Entertaining Space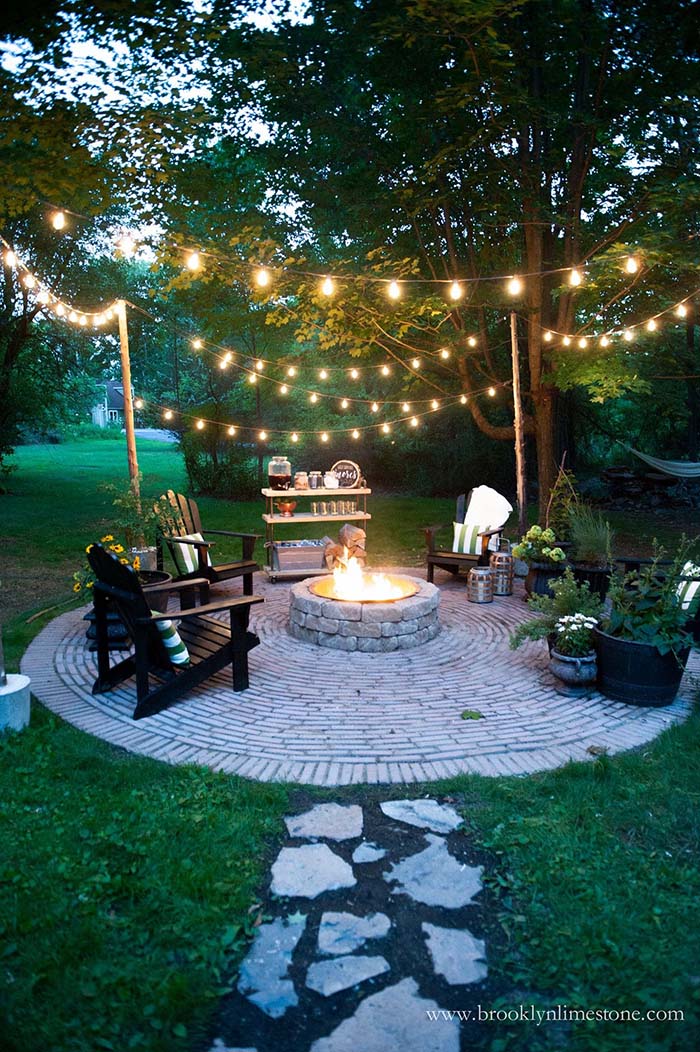 On a cool summer night, it's wonderful to relax around the campfire.
Protect your grass from foot traffic and sparks by creating a stone floor around the fire pit.
That way, you can move furniture without tearing up the yard. Finish up the design with string lights, and you're all set for entertaining.
12. Chic Outdoor Living Room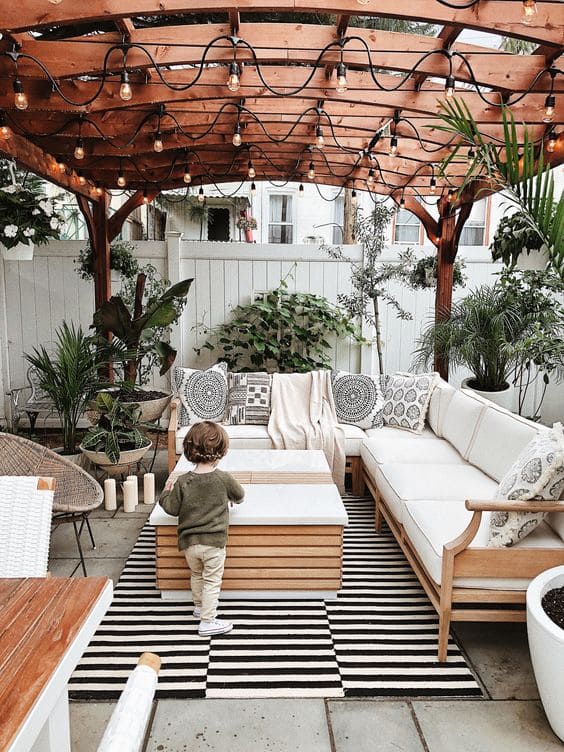 This stunning design transforms a boring patio, turning it into a true indoor-outdoor living area.
Start with a rug, an outdoor furniture set, and a pergola lined with string lights.
Then, go wild with potted plants; they add softness and organic color, drawing the focus away from the hard floor and fence.
via Brooklyn Blonde
13. Distinctive Spaces In A Small Yard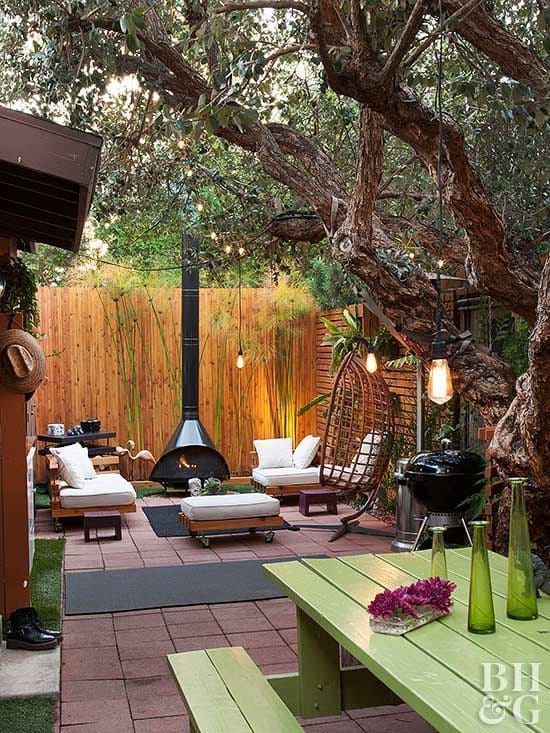 A small backyard doesn't have to be an obstacle — in fact, it's the perfect place for a cozy outdoor living area.
Use this yard as an example; it's packed with outdoor furniture, a dining table, and a chimenea, so you can stay outside all summer long.
We love the outdoor rugs, which break up the space and set a welcoming tone.
via BHG
14. Utilize Built Ins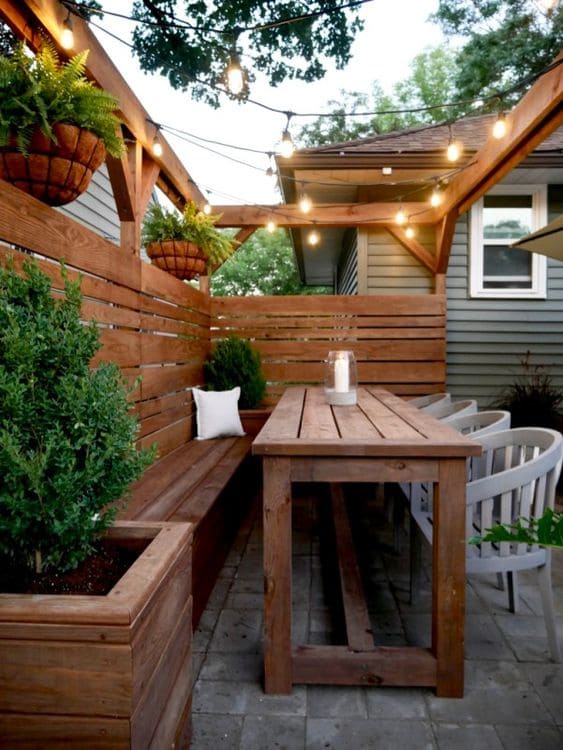 Is your backyard the size of a postage stamp? Built-in furniture is a great way to maximize the space.
This design uses a bench, planters, and pergola that are built right into the fence.
All you need to add is a table and a few side chairs, and you have room for a large dinner party.
via Sima Spaces
15. Colorful Bohemian Canopy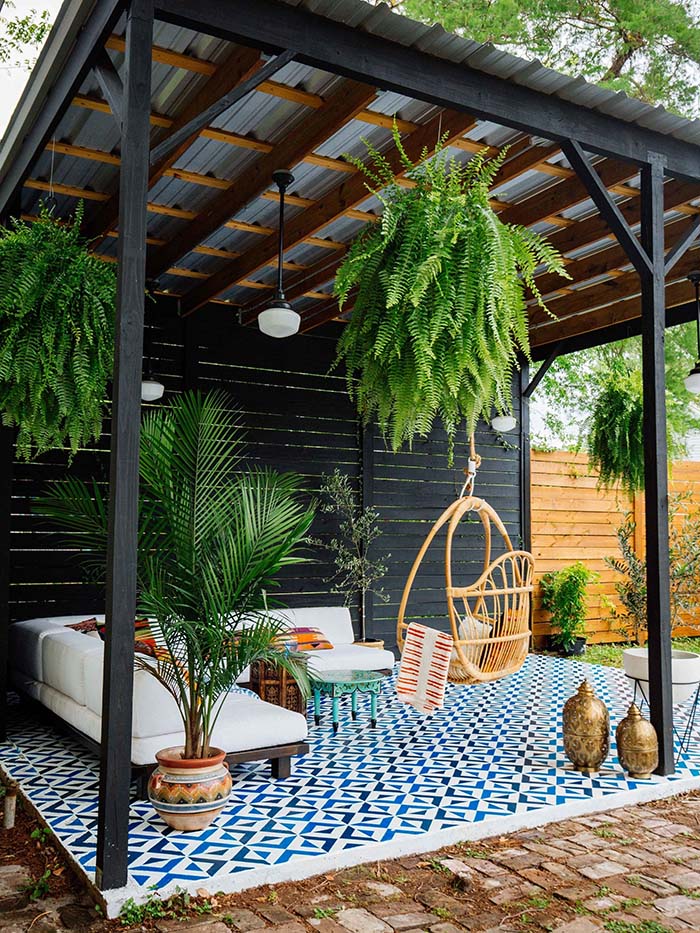 If you're ready to invest in your yard, start by building a vaulted canopy roof.
This remarkable design defines the space and keeps out precipitation, so you can enjoy it in the rain or shine.
Since the structure is so strong, you can add hanging lights, plants, and swings to create a fantastic outdoor living room.
via Old Brand New
16. Brick Built Ins And Concrete Pavers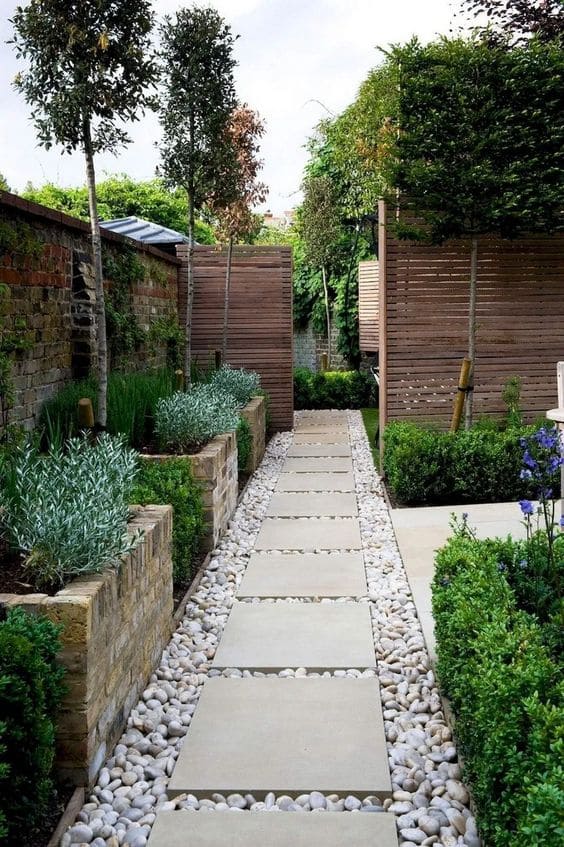 A narrow side yard is a challenging landscaping project, especially if it doesn't get enough sun for lush grass growth. The secret? Hardscaping!
A cement walkway, gorgeous filler stone, and tall brick planters have a transformative effect that's straight out of a magazine.
17. Pebbles Make A Stunning Flooring Solution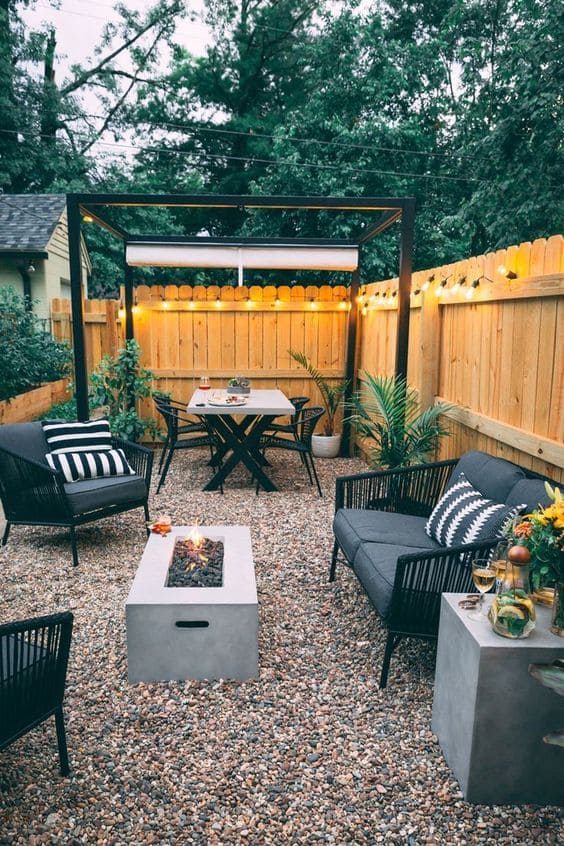 Here's another way to deal with hostile soil and patchy grass — cover it with pebbles.
They're ideal for drainage, and they make a great base for furniture and a fire pit. Our favorite element is the retractable canopy over the outdoor dining table.
18. Sleek And Modern Decking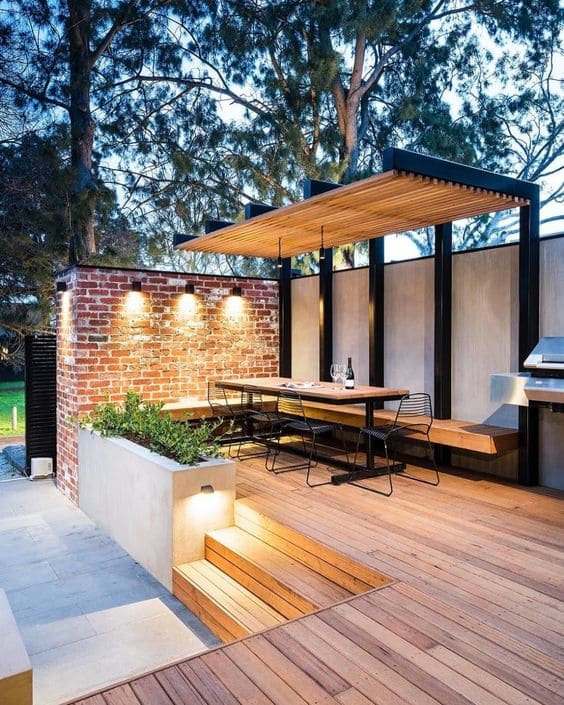 Create a backyard that matches your modern home by getting rid of grass entirely.
Here, the wooden deck is an extension of the indoor living space, giving you the freedom to dine and grill outdoors.
As a bonus, you'll never need to worry about yard work.
via COS Design
19. Fairy Lights Add Charm To Backyard Retreat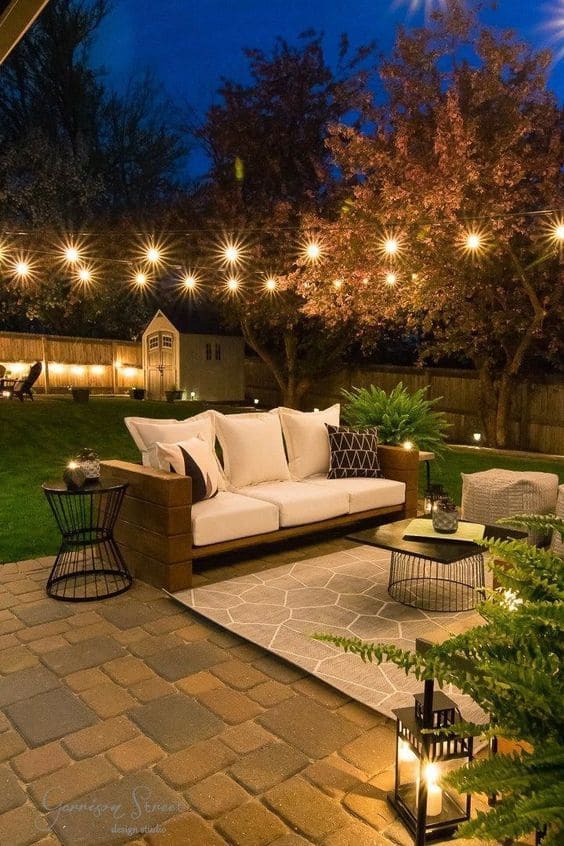 When you have a large yard and a patio, the space can seem to stretch on forever.
To make it feel cozier, place furniture and potted plants around the edges of the patio; it fills the area and creates a comfortable sitting area.
via Garrison Street Design Studio
20. Fire Pit And Tiki Torches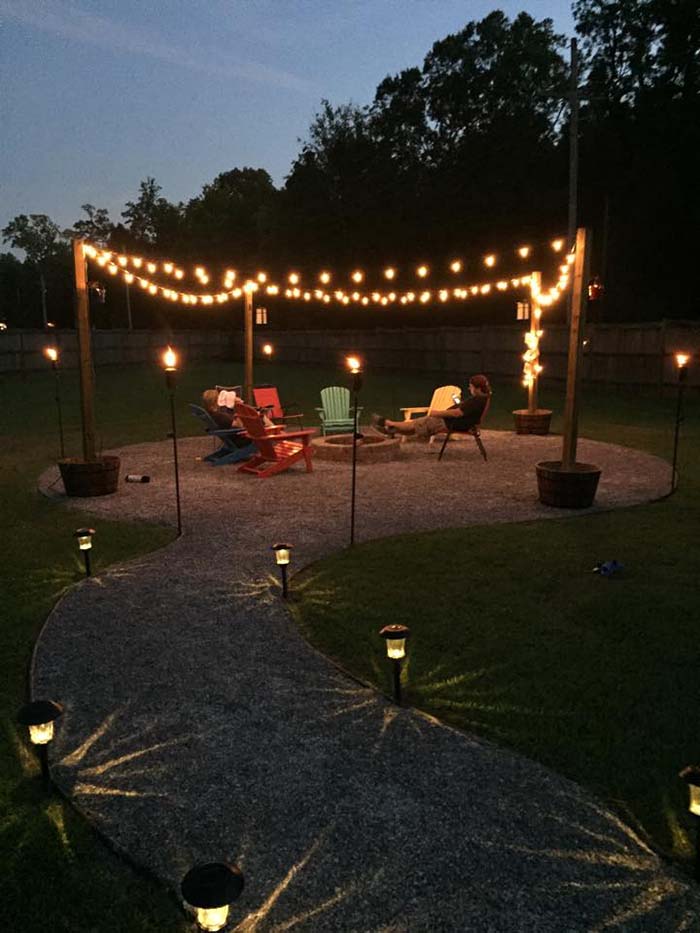 Outdoor furniture and grass don't always work well together, but this simple design offers a genius solution.
Use pea gravel and garden edging to create a defined seating area; the rocks won't catch on fire when sparks fall on them.
Anchor 4-inch x 4-inch posts in attractive wooden buckets using cement, and string lights between the posts for fun nighttime gatherings.
via Instructables
21. Make A Statement With Cozy Furniture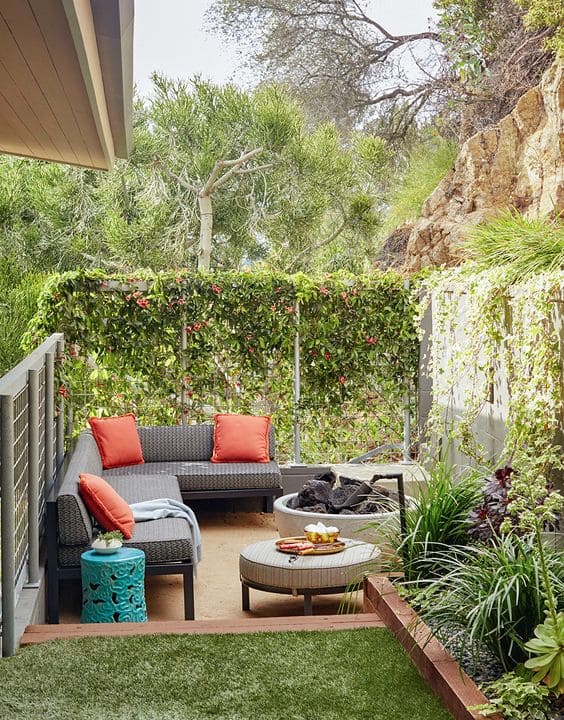 DIY backyard makeovers don't have to break the bank — sometimes, all you need is a new furniture set.
Make the yard feel cozier by choosing pieces that fill the space. Dealing with an ugly chain-link fence? Cover it with vines for beauty and privacy.
via David Tsay
22. Excellent Use Of A Small Footprint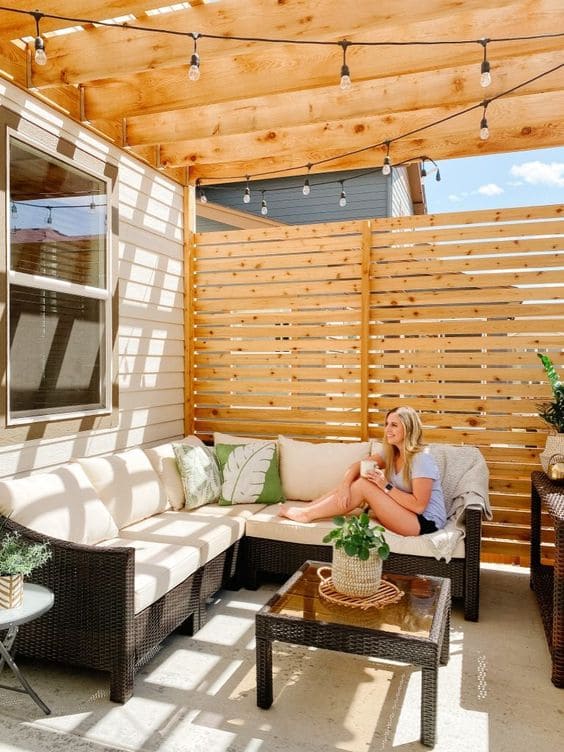 Do you have a tiny concrete-slab backyard?
Turn it into the perfect outdoor space by constructing a simple wooden-slat wall. The unfinished wood adds a trendy vibe — plus, it blocks the view and creates a convenient spot for a sectional sofa and coffee table.
Add a rug for an extra cozy feeling.
23. Integrate Natural Elements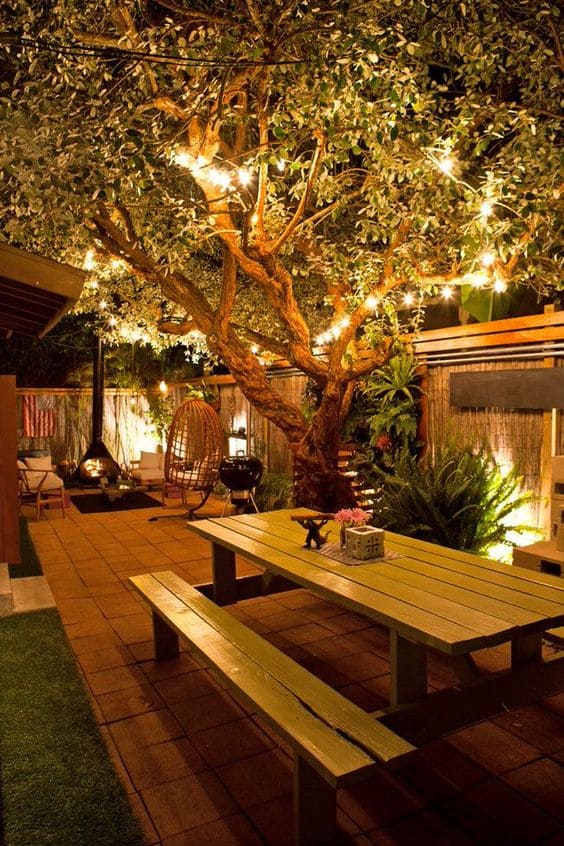 Whether you have a huge lawn or a tiny, cement-covered yard, lighting makes all the difference.
For the most beautiful effect, try using different types of lights: string lights in the trees, uplighting along the fence, and solar lights along pathways.
Add a picnic table and a seating area to create the perfect spot for entertaining or dining with family.
24. Outdoor Living Space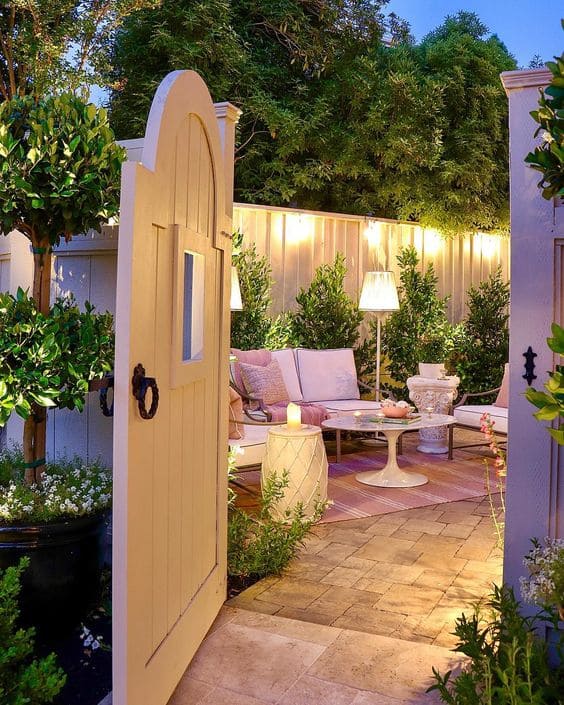 Look beyond the furniture and trees, and you'll see that this backyard is nothing more than stone pavers and a fence.
The homeowner worked a miracle on a budget — potted trees create a lush feeling, and a rug makes the space feel inviting.
We love the floor lamps and cozy throw, which give the seating area a homey, welcoming vibe.
25. Simple Deck Entertaining Space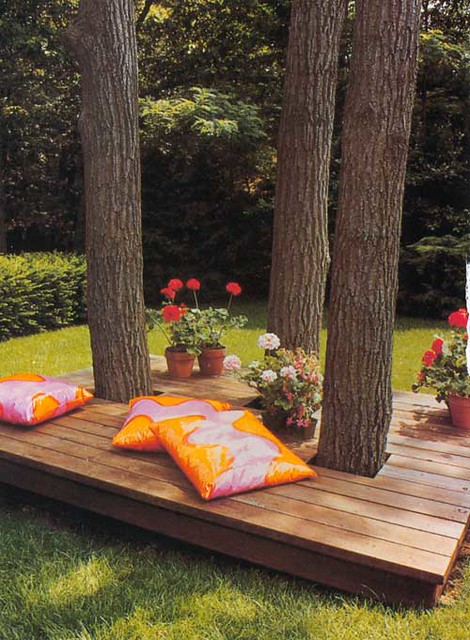 You don't need to spend much money to makeover a backyard. This lovely retreat is nothing more than a raised wooden platform — cozy pillows and pretty potted plants make all the difference.
It's a lovely spot to nap or read a favorite book.
via Poppy Talk