The side yard is often an afterthought in the garden-design process — since it's small and hidden from view, it's easy to overlook.
With a bit of effort and imagination, you can transform this little patch of land into an attractive and useful space.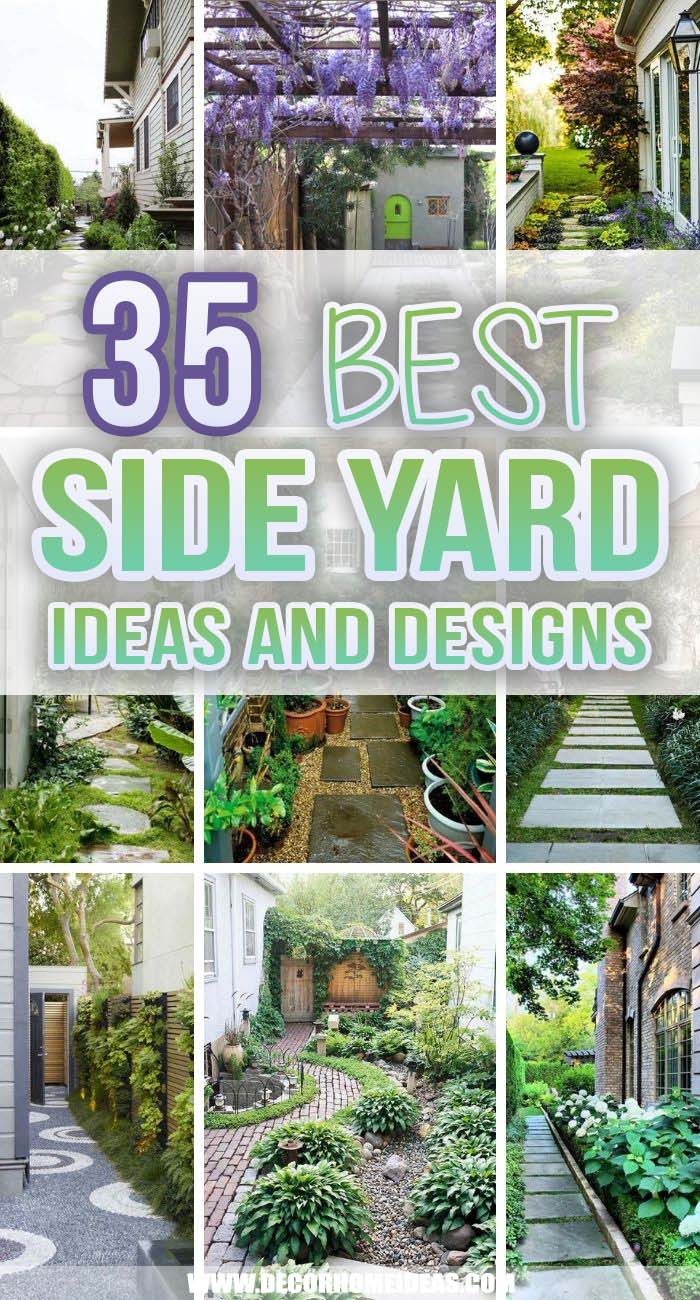 Boost the curb appeal of your home with the help of these beautiful side yard ideas.
1. A Ceiling of Hanging Flowers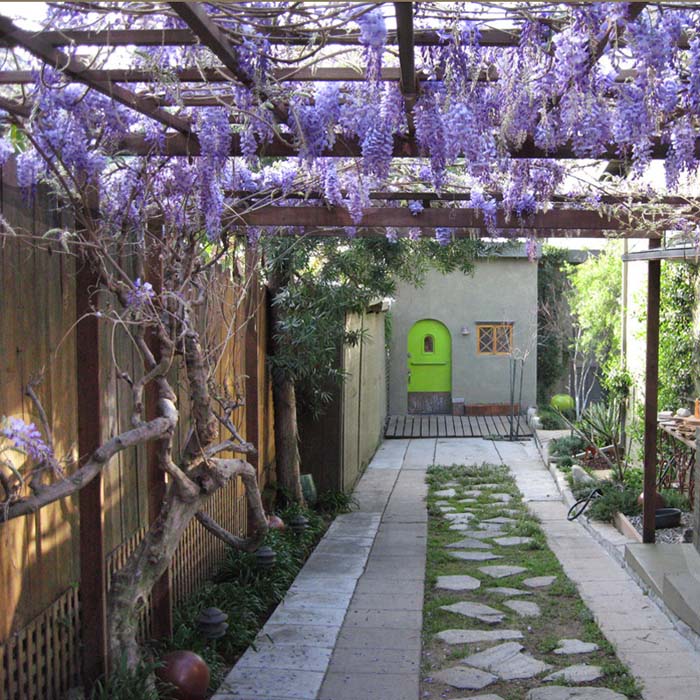 A pergola can turn an exposed side yard into a cool, breezy walkway.
Cover the ceiling with flowers or vines, and you'll have a shady, private space for dining or relaxing.
2. Architectural Modern Side Yard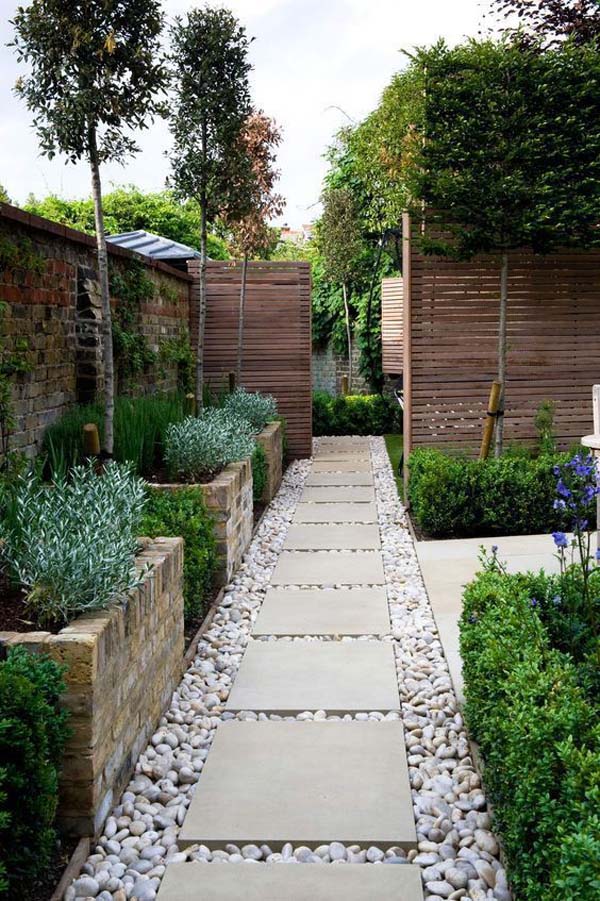 This side yard is all about hardscaping — from the crisp stone planters to the square stepping stones, it's full of crisp angles and cool surfaces.
Perfectly manicured hedges and bushes balance the stones while maintaining the geometric vibe.
3. Buddhist-Inspired Water Garden Path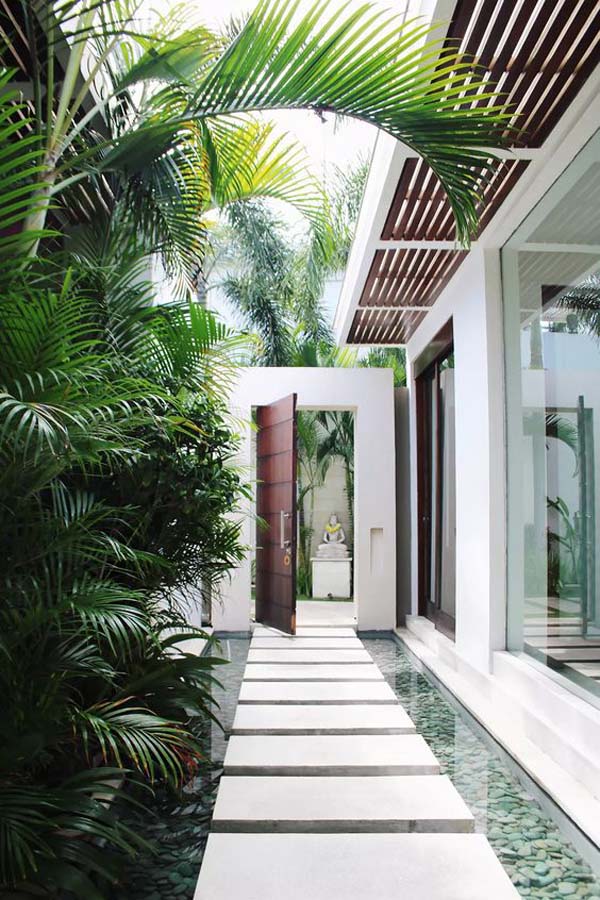 Feel yourself relax every time you walk through this Buddhist-inspired pathway.
The pavers rise out of a shallow pool of water, creating an instant feeling of calm. Thick, tropical greenery enhances the quiet, secluded vibe. While this landscaping idea could be too much for someone's taste it's really sophisticated and trendy.
4. Carefully Controlled Nature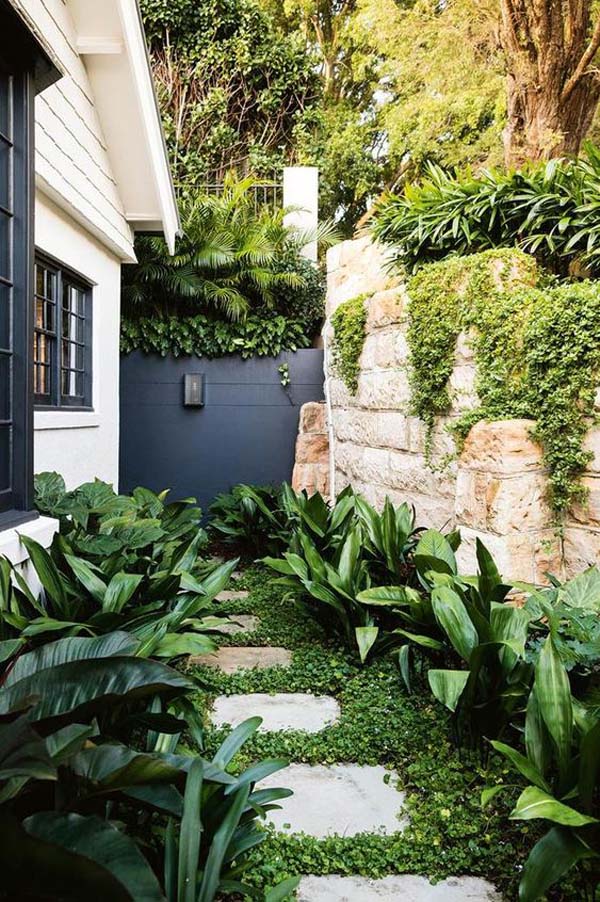 At first glance, it seems that the forest is taking over this side yard. Upon closer inspection, you'll see that the stones, fence, and retaining wall are perfectly maintained.
This clever combination creates a sense of discovery and delight.
5. Charming Rainforest-Inspired Walkway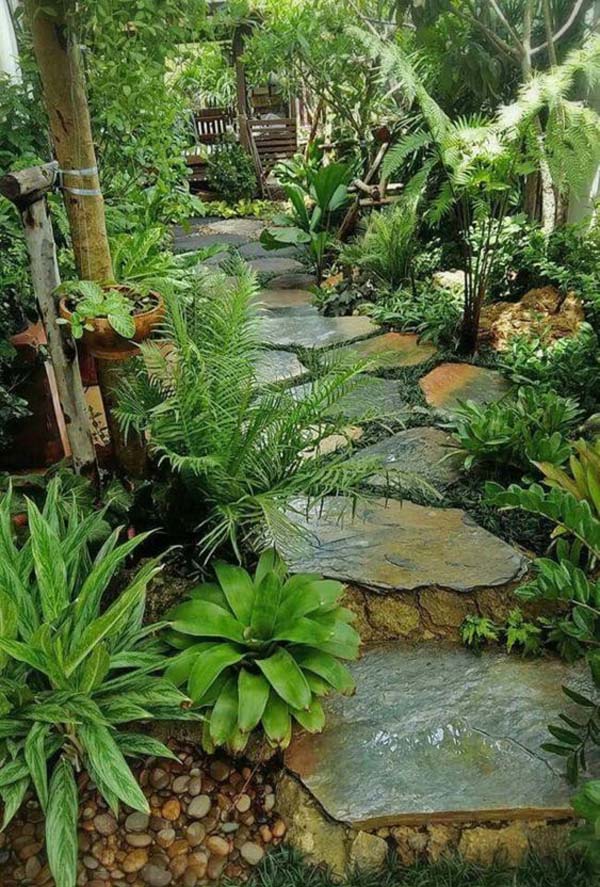 You'll feel like a jungle explorer when you walk through the ferns and palms in this delightful side yard.
Large, easy-to-navigate stepping stones make the space feel manageable and welcoming.
6. Country Garden Side Yard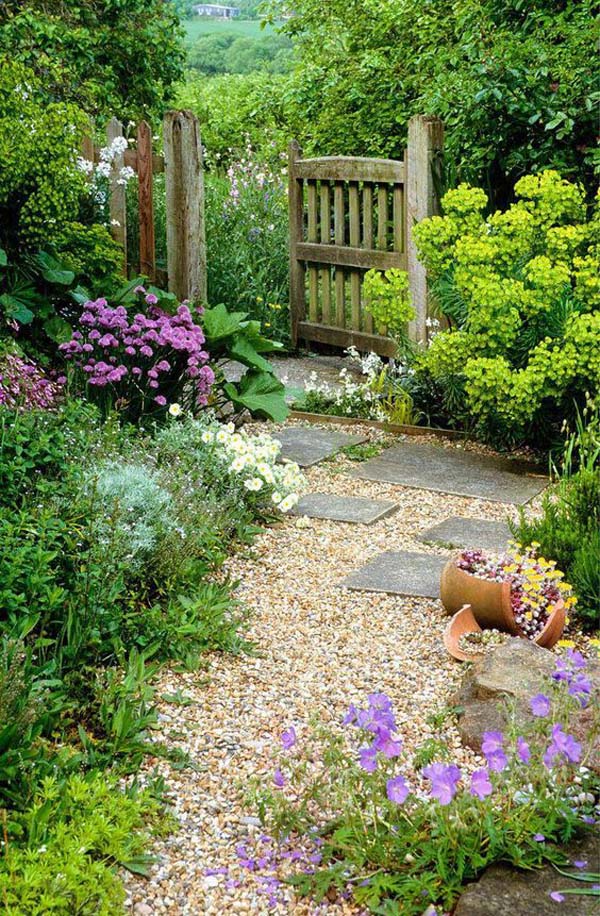 Having a small yard or tiny narrow space doesn't mean it should be boring.
This sweet garden is a masterpiece of gardening — the plants encroach on the walkway, giving it a natural look, and the broken-pot planter enhances the vibe.
To achieve a similar wild look, select a wide variety of plant types and avoid neat rows.
7. Dense Greenery and Manicured Paths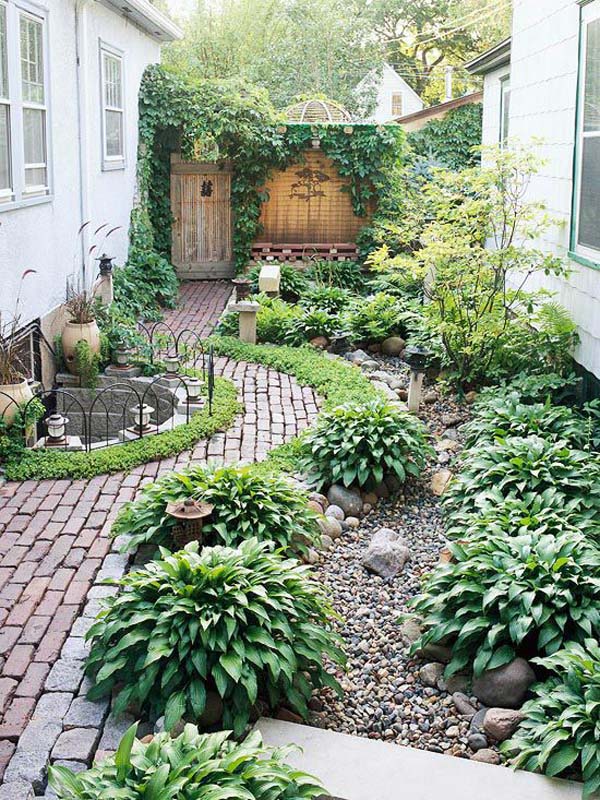 Enjoy the organic look of lush plants and the comforting feeling of neat, orderly walkways by imitating this side yard.
A crisp brick walkway, wooden door, and bed of pebbles balance the joyful greenery for a cohesive, refreshing style.
8. Fairytale Garden Path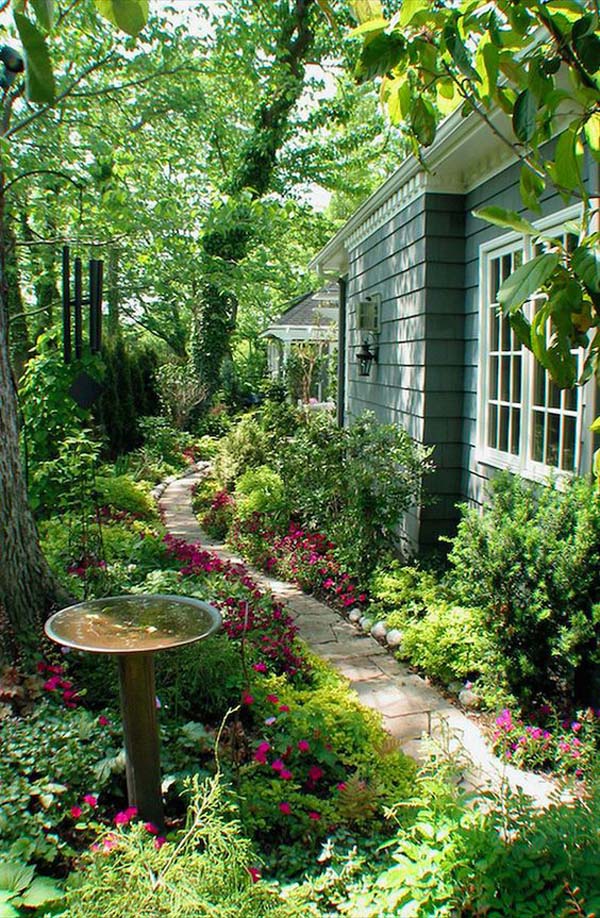 If you love to garden, this magical side yard is right up your alley.
The tiny path meanders through a lush wonderland of plants and flowers, while dappled sunlight peeks through the leaves above.
9. Grand Hedge-Lined Garden Walkway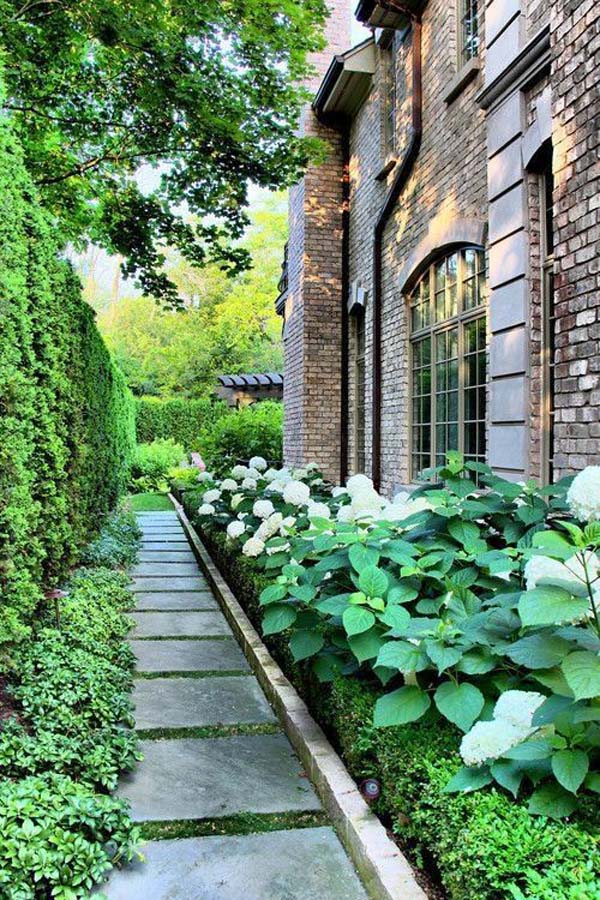 Elegant and imposing, this gorgeous side yard uses manicured hedges, symmetrical stones, and retaining walls to echo the architecture of the house.
A row of flowering plants keeps the space from feeling too formal.
10. Green and Glorious Tiny Side Yard Idea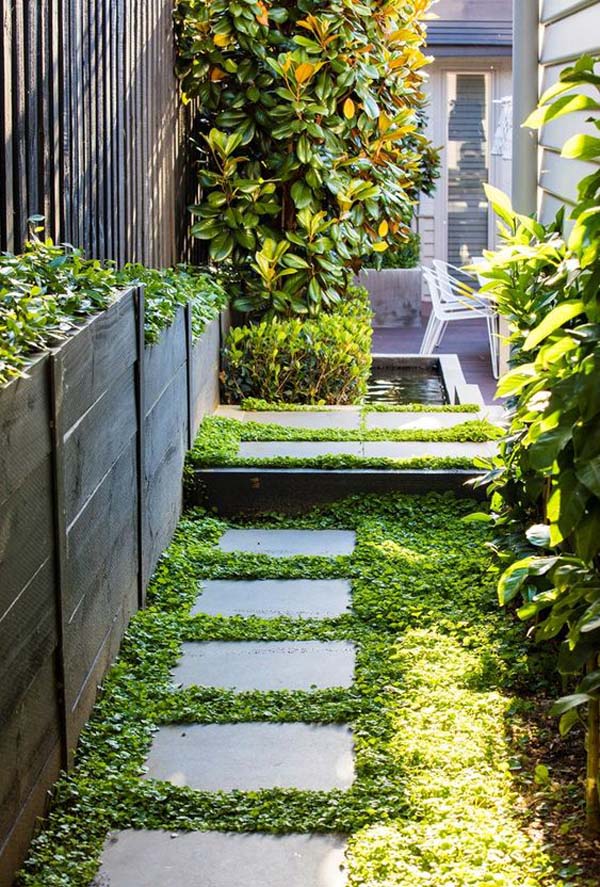 When you're decorating a tiny side yard, a simple design is best. Here, it's all about the greenery — a carpet of clovers, tall hedges, and elevated vines surround you with life.
Stepping stones, wooden planters, and a tall fence bring order and structure to the space.
11. Green Jungle Walkway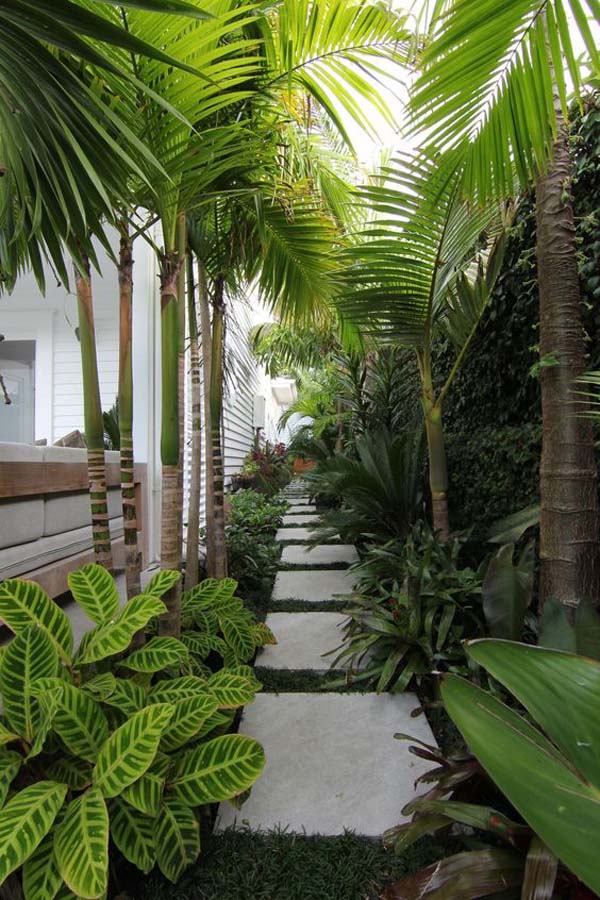 Do you live in a warm climate? Make the most of the weather by filling your side yard with tropical plants.
The vibrant shades of green turn a slim, sun-starved yard into a thrilling jungle pathway your visitors will love to explore.
12. Hidden Garden Paradise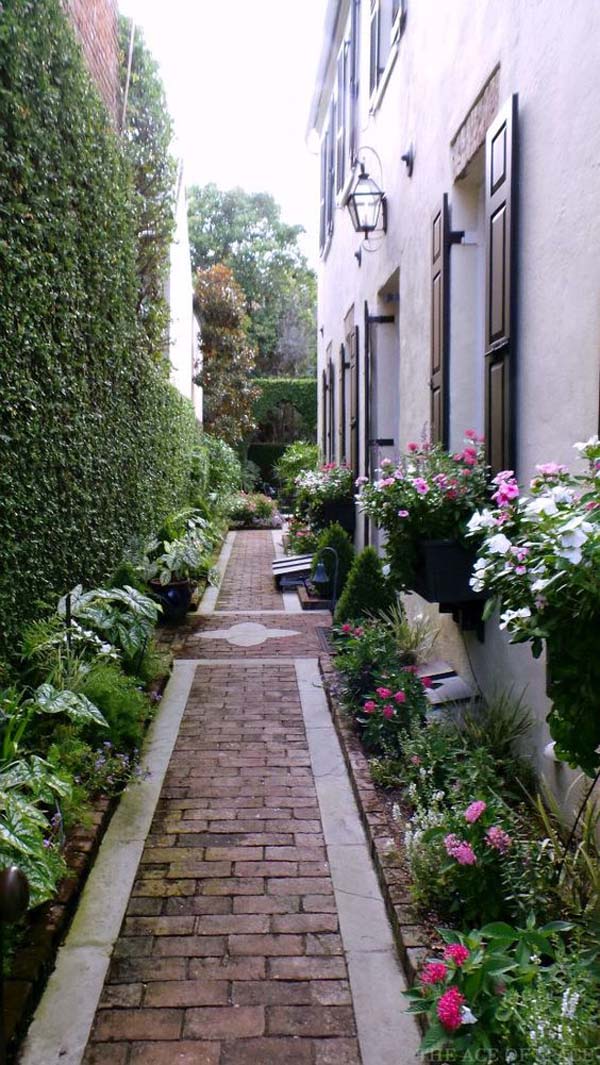 Is your side yard sandwiched between two tall buildings?
A wealth of plants can make the space feel magical rather than confining.
Fill every inch of space with shade-loving flowers and greenery; a simple stone path eliminates the need for mowing.
13. Hidden Side-Yard Seating Area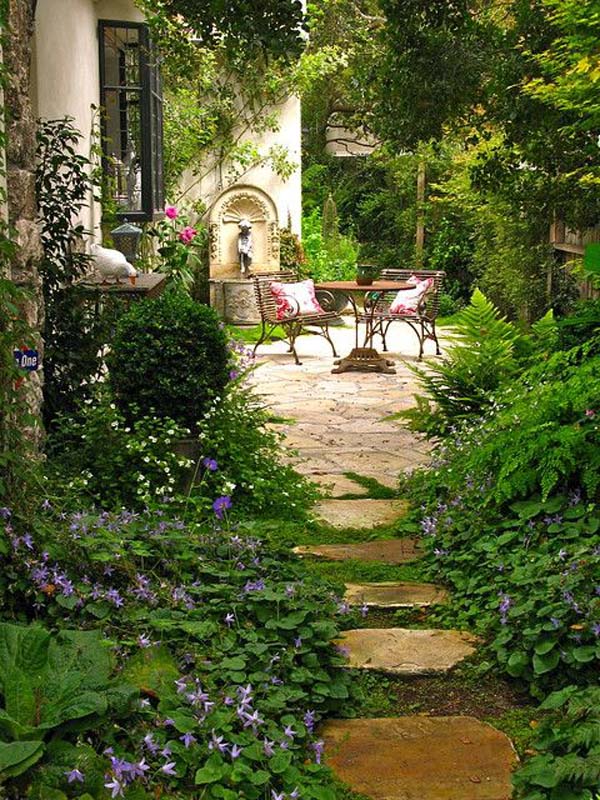 Make the most of your side yard by hiding a small seating area at one end.
To make it feel like a hidden surprise, fill the space with plants and a fountain — your guests will feel like they're discovering a secret garden oasis.
14. Japanese-Inspired Bamboo Side Yard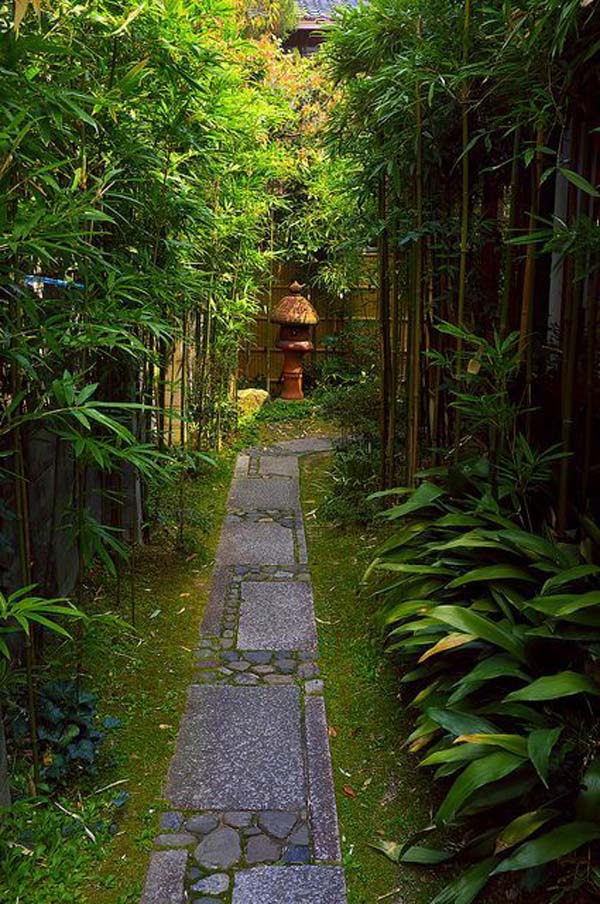 Is your side yard dark and narrow?
Don't fight it — instead, use it to your advantage by planting bamboo.
The tall trees make the shade feel magical, turning the narrow walkway into a hidden forest path leading to a secret fountain.
15. Low-Maintenance Jungle Side Yard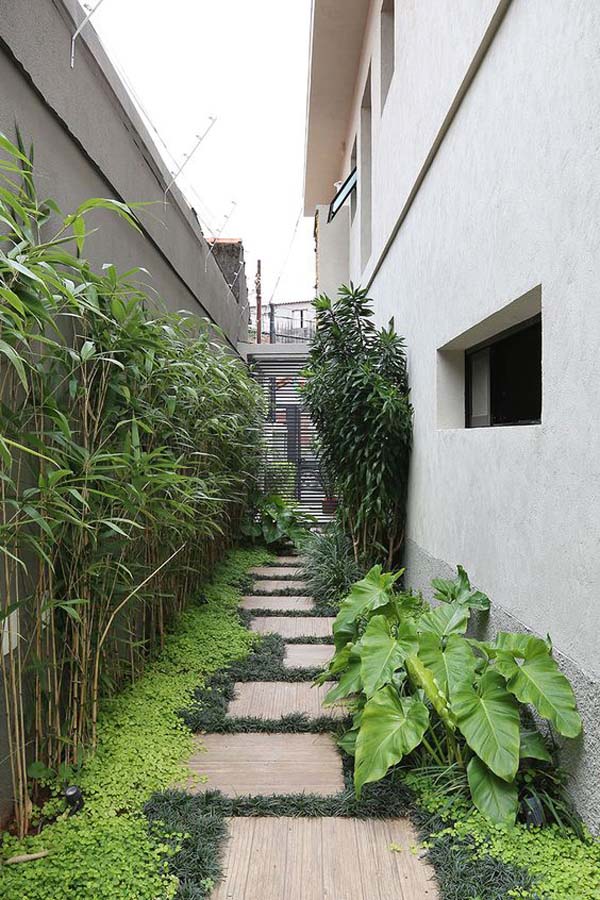 Are you looking to hide a utilitarian cement side yard? Plants are the perfect solution.
The trick is to choose species that grow vertically; that way, you can cover the walls without obstructing the walkway. Here, wood-look pavers add a natural texture and color.
16. Lush Coastal Mini-Garden with Chairs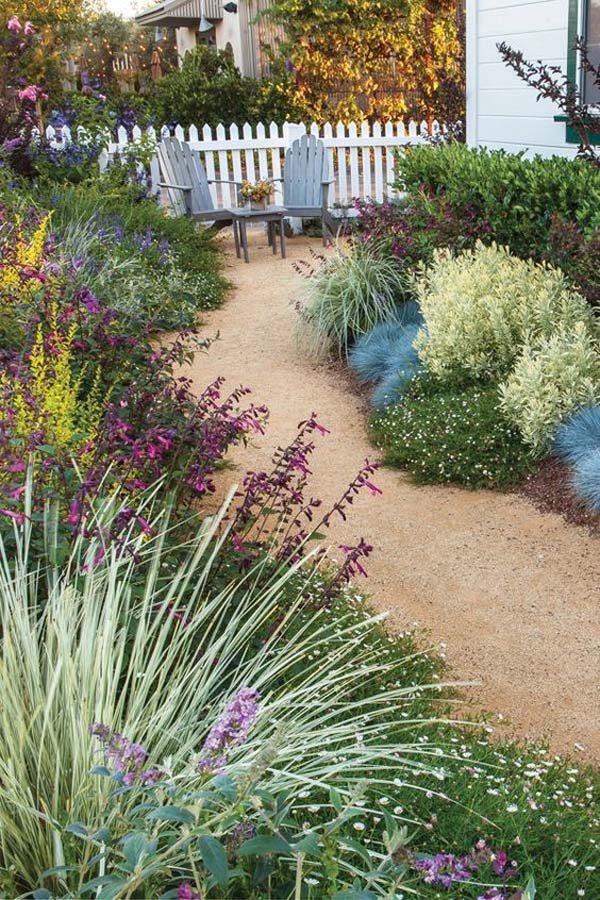 Kick back with a book or a cup of coffee in this gorgeous side yard. Multiple levels of multi-colored plants line the simple gravel walkway, so every stroll feels downright magical.
Adirondack chairs and a small table fit beautifully into the small space.
17. Lush Tropical Walkway with a Fence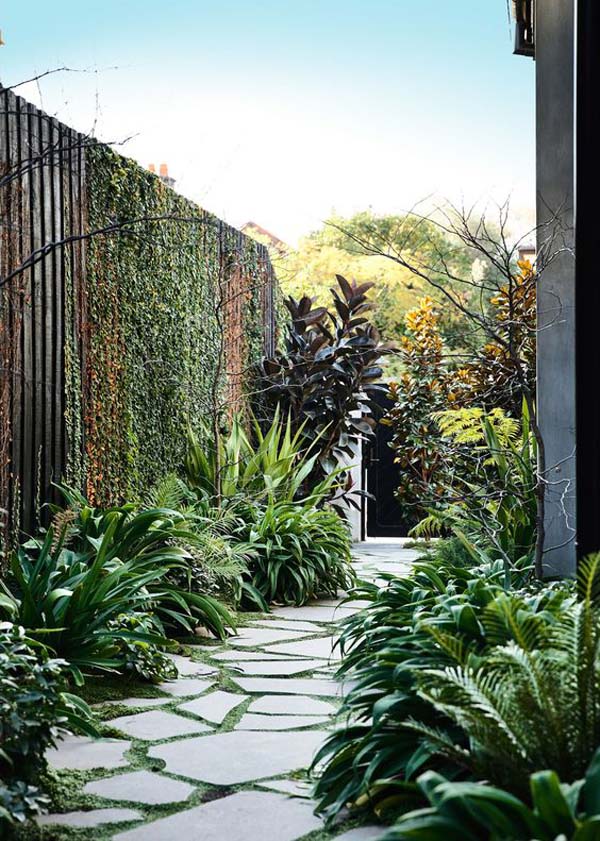 A tall fence closes in your side yard; lush tropical plants are the perfect solution. Line both sides of the yard with thick green plants, and disguise the fence with climbing vines.
Pave the ground with irregular stepping stones to create a magical walkway.
18. Modern Japanese Garden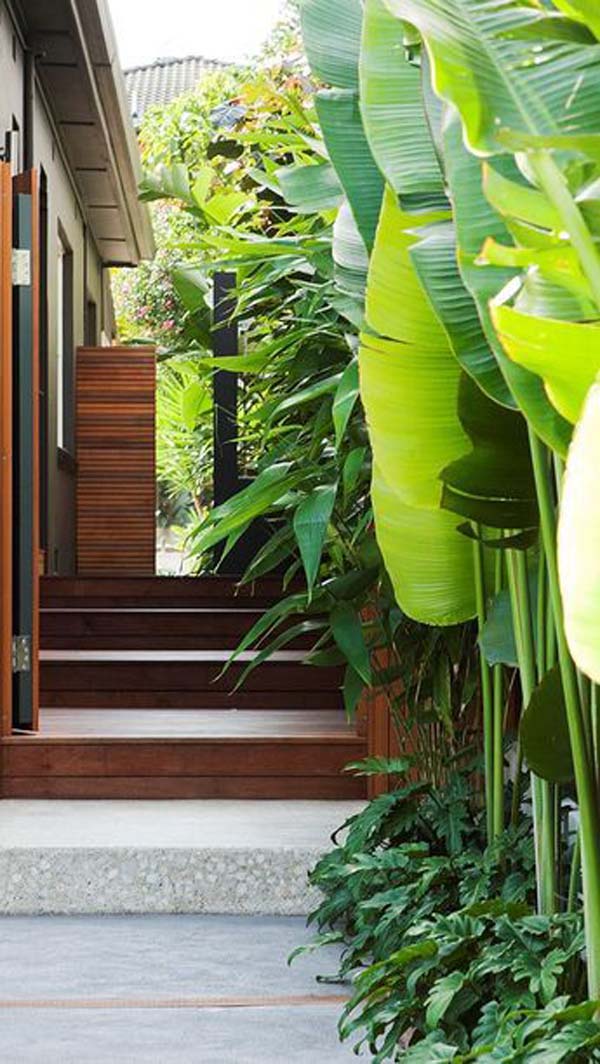 Bring the peaceful feeling of a Japanese garden to your home with this elegant side yard idea.
A row of tall plants creates a wall of living greenery; it plays beautifully off of the wooden steps and elevates the concrete walkway.
19. Modern Side Yard with Living Walls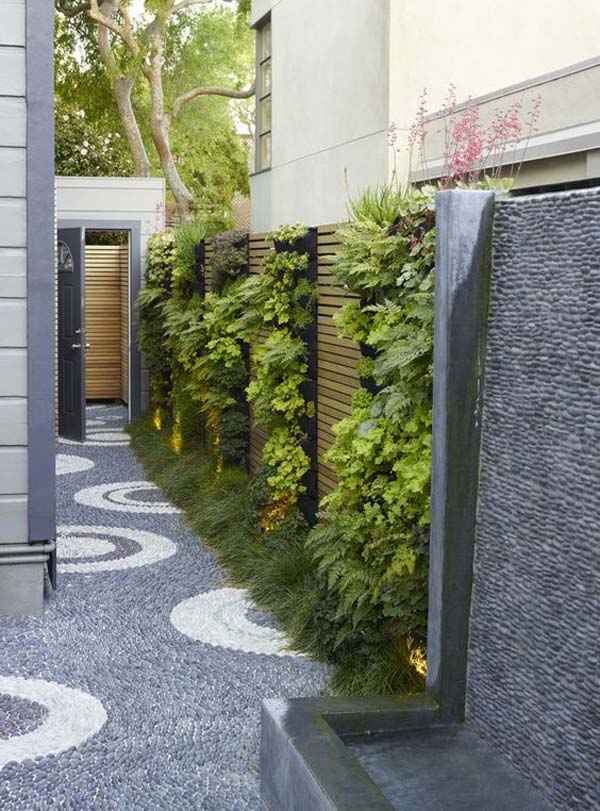 Complement your ultra-modern home with this design, which features hardscape stone paths with geometric accents.
To soften the stones, the homeowner uses vertical planters to create living walls. A simple stone waterfall adds the soothing sound of running water.
20. Narrow Urban Container Garden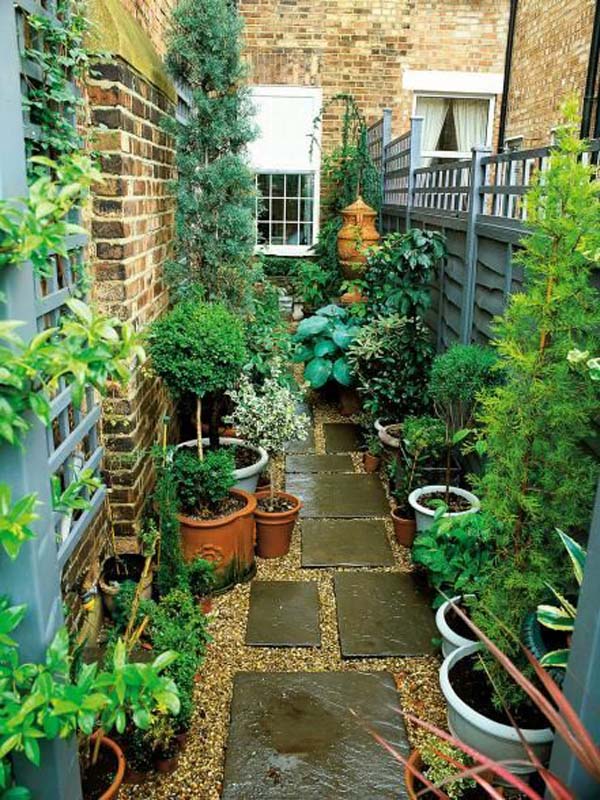 In the city, side yards don't always come with soil.
Container gardens are a great solution — line your space with potted plants and trees, and it'll feel like a country escape. Add stone pavers or concrete pavers and pea gravel for improved drainage.
21. Narrow Zen Garden Side Yard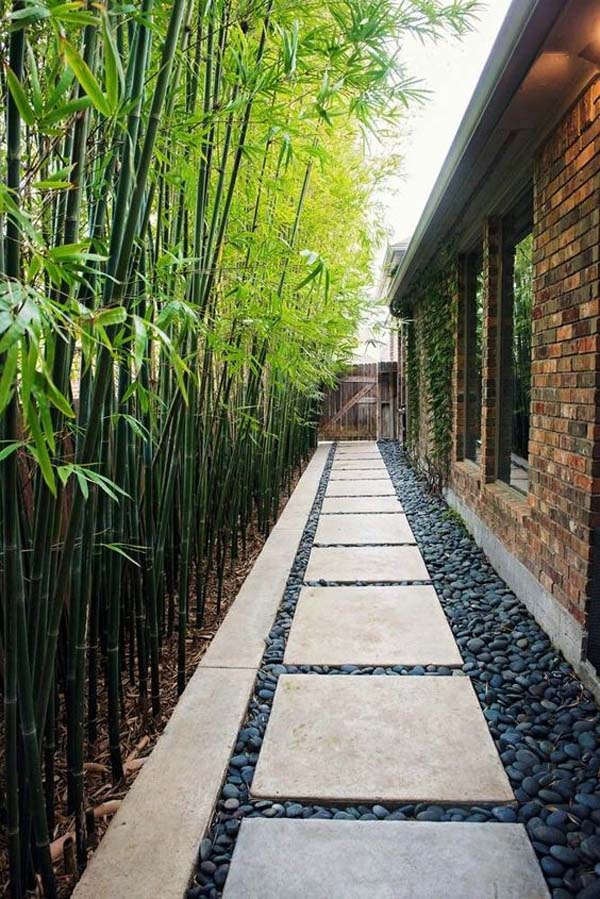 This side yard is narrow, but it feels deceptively large.
Tall bamboo trees draw the eye upward, and a long row of large pavers maximizes the space. The best part?
You don't need to worry about weeding or mowing.
22. Organic, Overgrown Jungle Path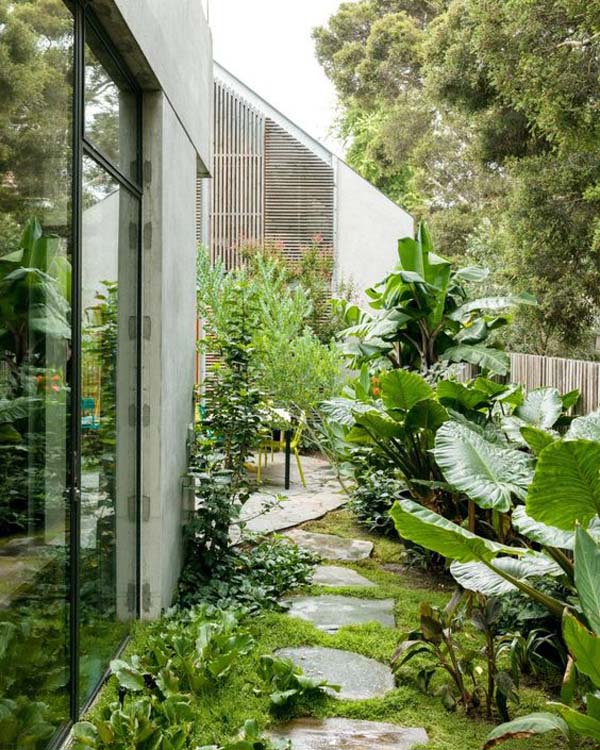 Tone down the effect of a stark, contemporary home with a wild, slightly overgrown side yard.
Here, a joyful collection of plants balances and softens angular cement walls. To avoid a manicured look, allow grass to grow around the edges of your pavers.
23. Palm-Lined Coastal Path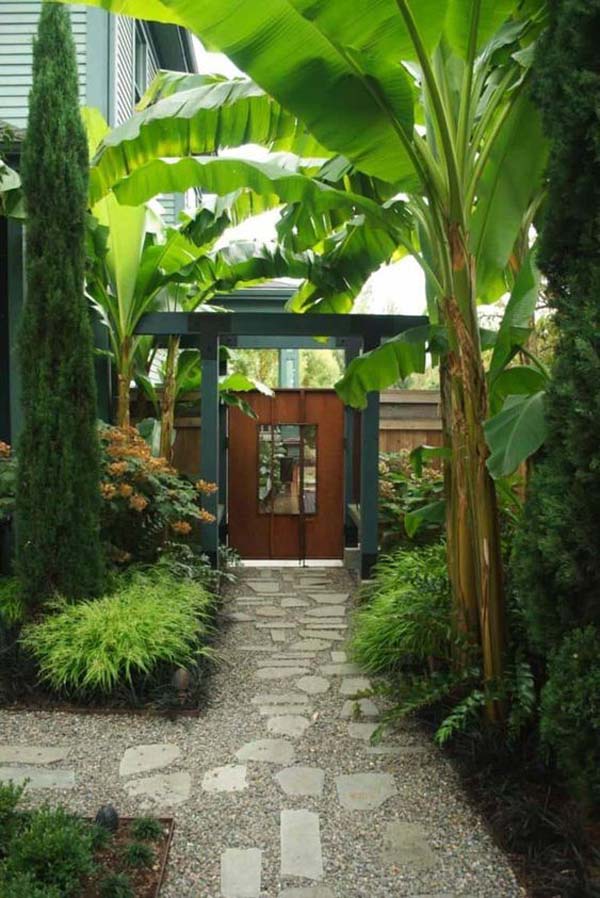 Do your guests walk through the side yard to access the backyard?
Create a grand entrance with enormous palm trees — the leaves form a stunning green canopy, and the low-slung tropical plants enhance the vibrant color.
24. Red Bricks and Vibrant Greenery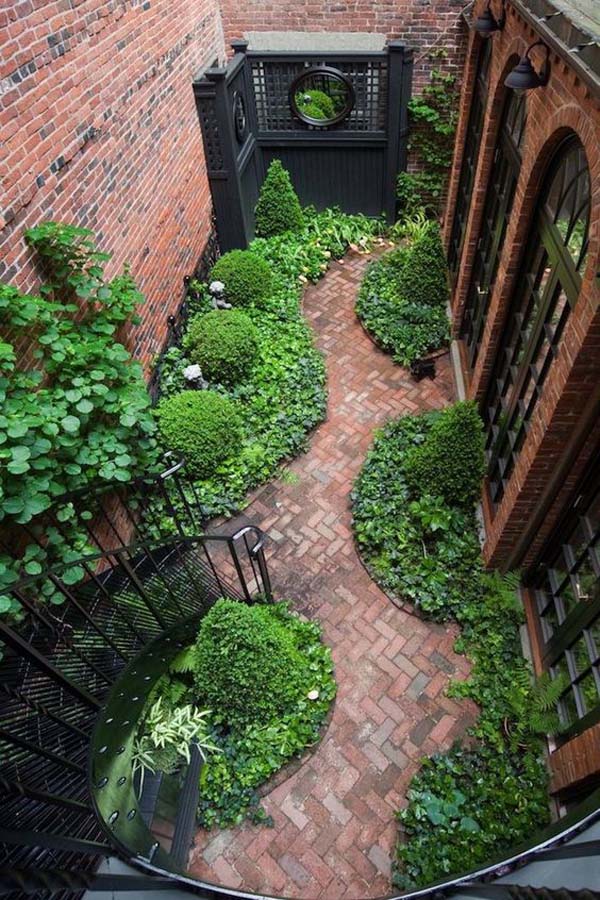 This spectacular side yard transforms a simple brick-covered area into a magical, magazine-worthy space.
The rich colors of the plants pop next to the red brick and black accents — it's like descending into a hidden oasis.
25. Relaxing Rainforest Walk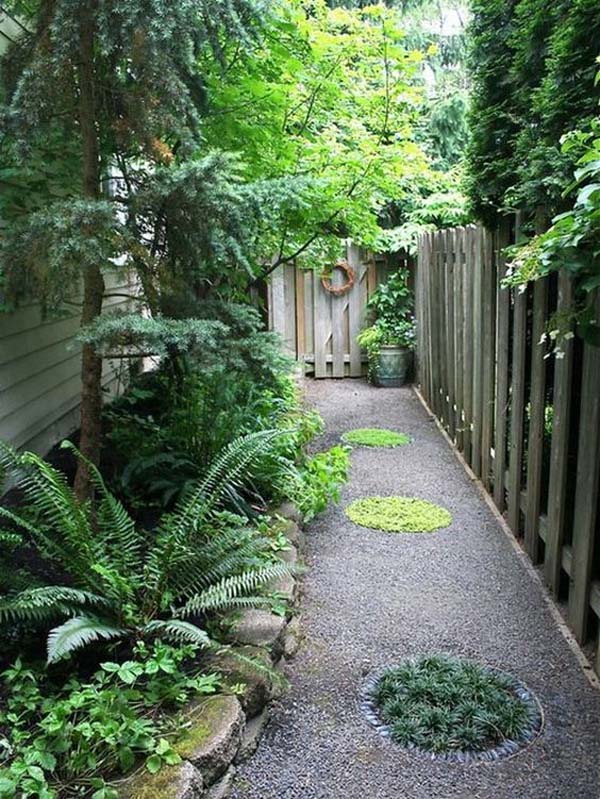 You'll feel like you're walking through a rainforest with this side yard, thanks to the overflowing ferns and tall trees.
The greenery is the star of the show, so everything else can be simple — a low-maintenance pea-gravel walkway is a perfect touch.
We love the green medallions, which add a special twist.
26. Simple White, Black, and Green Side Yard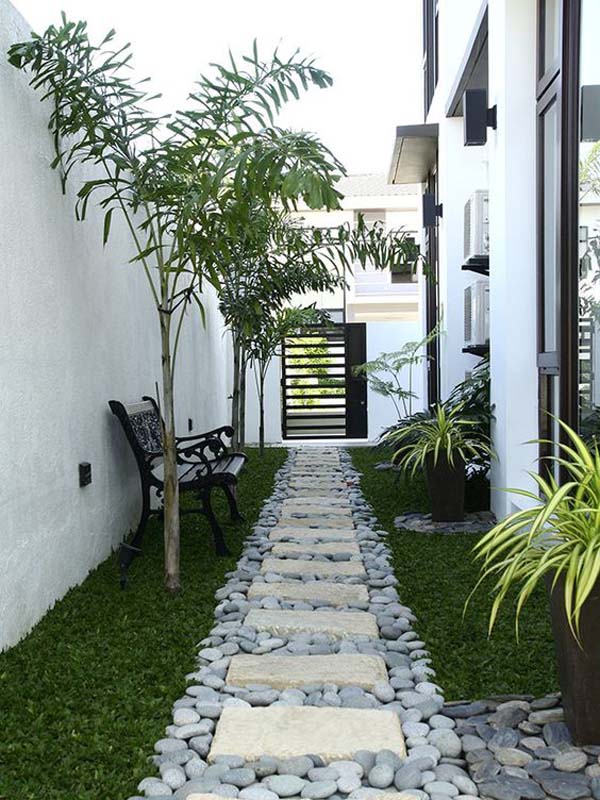 For a side-yard update that's both chic and budget-friendly, stick to a simple color palette.
Here, the green plants and grass work beautifully with the white walls and light stones. Black accents highlight matching elements on the home, creating a look that's crisp and contemporary.
27. Simple Zen Side Yard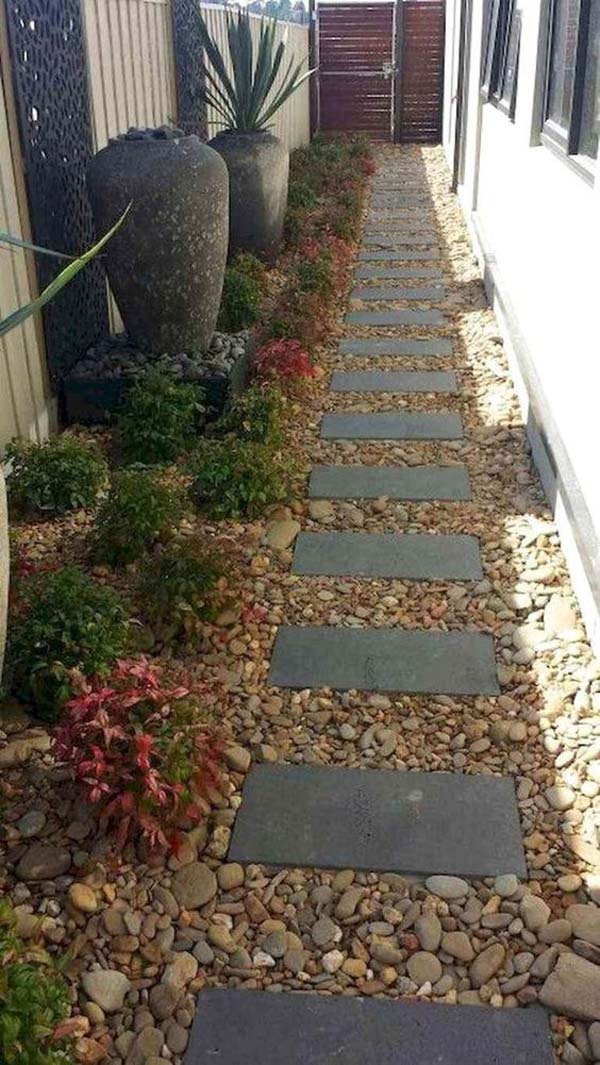 Do your guests walk through the side yard to get to the backyard?
Turn the walk into a relaxing stroll with this Zen-inspired design. Symmetrical stepping stones, exotic plants, and enormous planters set a soothing tone.
For a finishing touch, intricate mirrored panels bring life to the simple fence.
28. Small and Beautiful City Side yard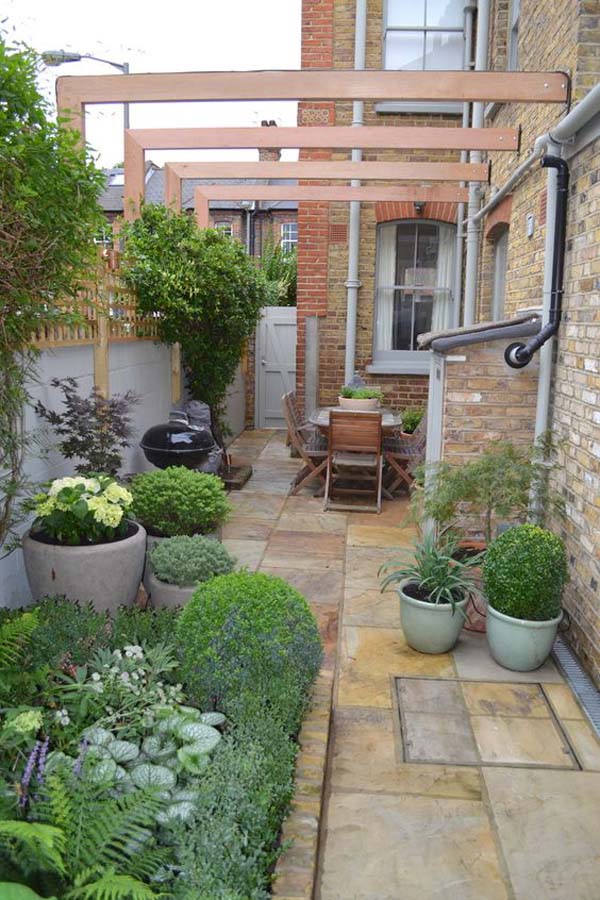 Don't have a backyard? Your city side yard can serve the same purpose. Forget grass — fill the space with potted plants to soften the look of stone walls and floor.
The effect is surprisingly cozy and welcoming; add a dining table to make the most of your beautiful outdoor area.
29. Symmetrical Side Yard Sitting Area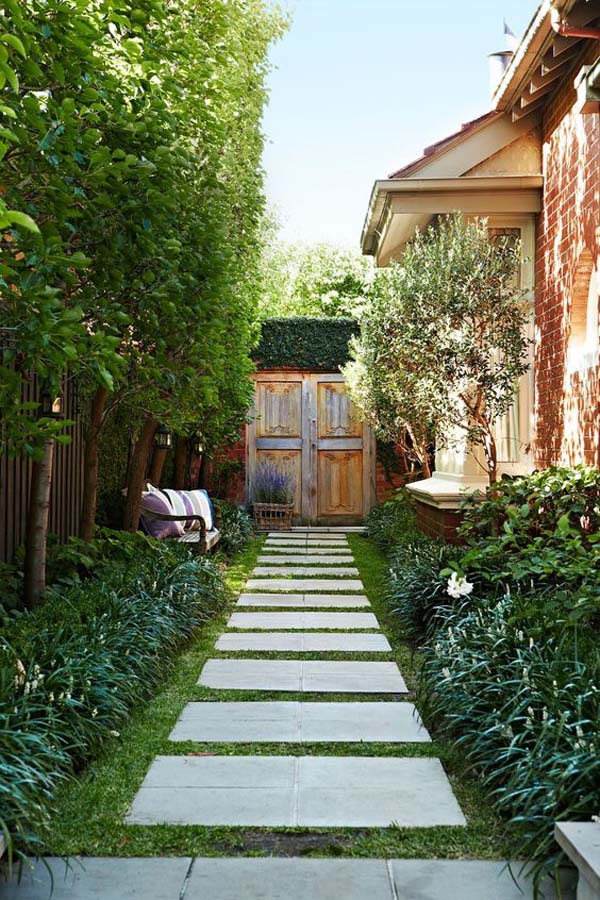 Embrace symmetry in your side yard with a design that's balanced but not boring. Here, the sweet sitting area reflects the bay window, and the tall trees match the height of the house.
We love the path, which draws your eye to the gorgeous wooden doors.
30. Tiny Magical Flower Garden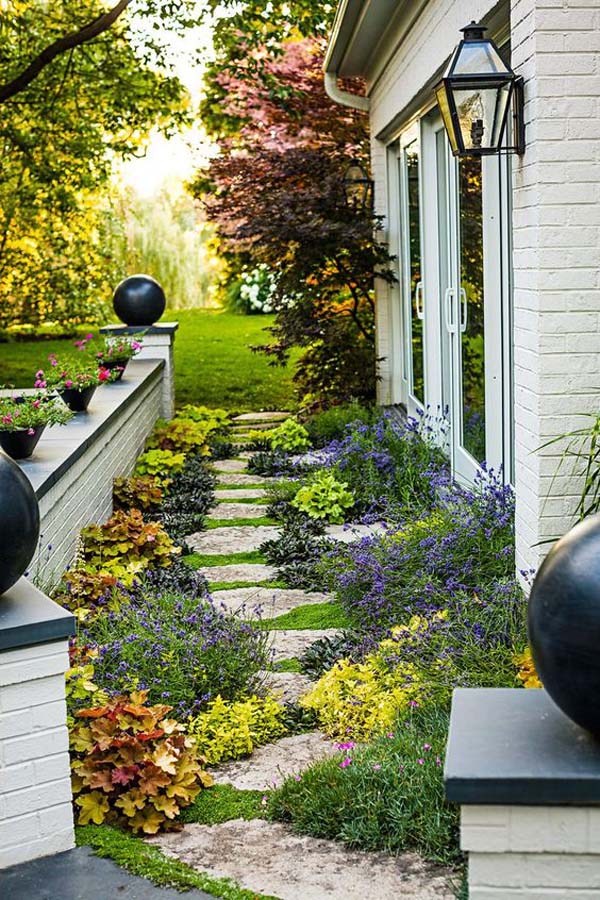 This side yard might be tiny, but it's certainly not short on style!
By filling the space with overlapping plants in varying colors, the homeowner transformed the small stretch of land into a fairytale-style walkway.
Sunken natural stones provide the perfect path from the side doors to the patio.
via Midwest Living
31. Tropical Side Yard with a Coastal Cottage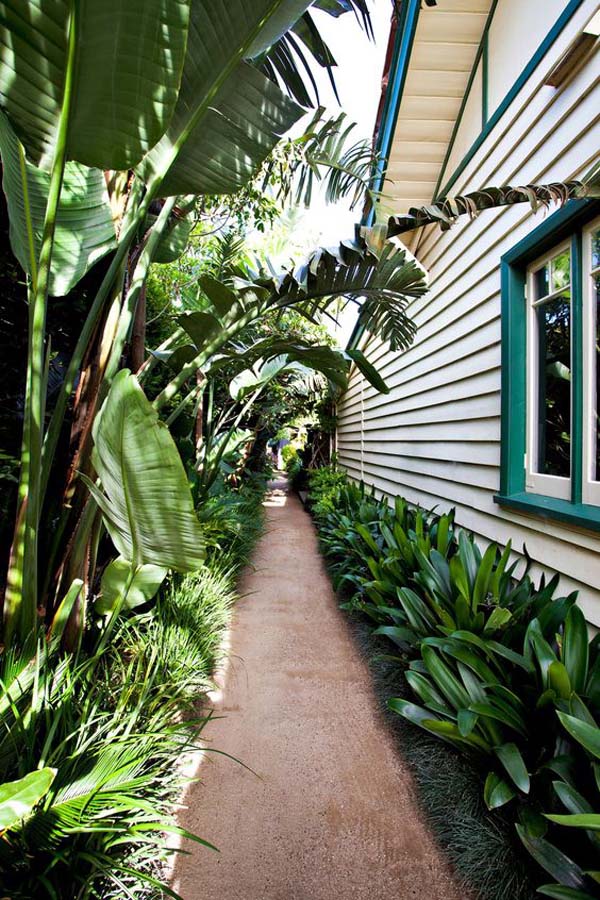 Plants are a wonderful way to enhance the style of your home — this sea-themed cottage pairs perfectly with palm trees and vibrant tropical plants.
The path is made from sand, evoking the feeling of a breezy beach.
32. Welcoming Oasis of Greenery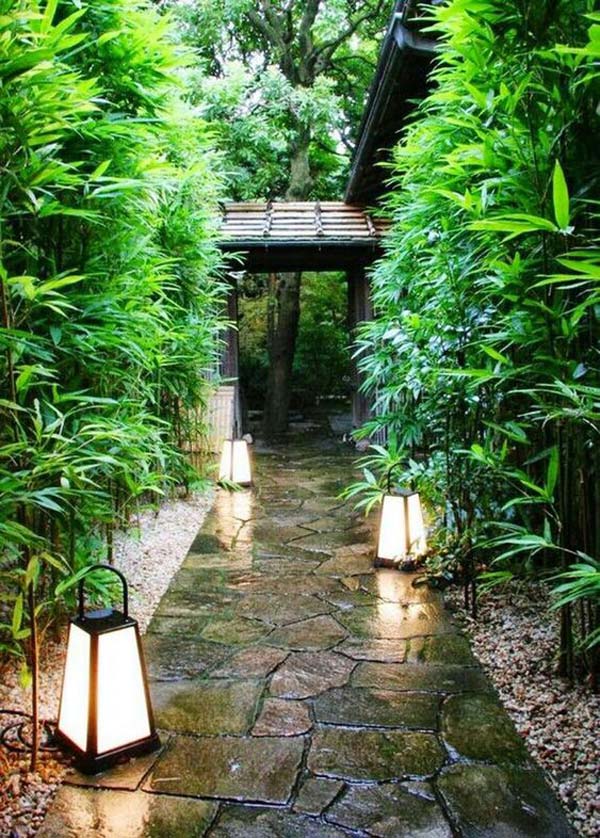 Welcome guests with this spectacularly simple side yard idea. It's all about the tall plants that line the stone path; they make your visitors feel like they're entering another world.
Oversized lanterns add the perfect glow.
33. Wild and Wonderful Garden Walkway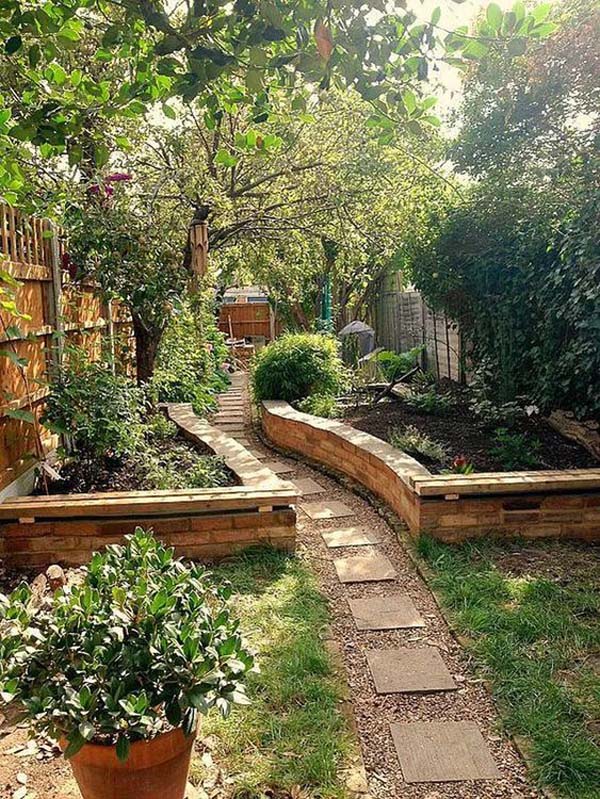 Bring the feeling of an English garden or a forest walkway to your side yard with this design.
The only structure is the path and the retaining wall; everything else is placed randomly to create a wild, organic look.
34. Wild Greenery and Simple Stones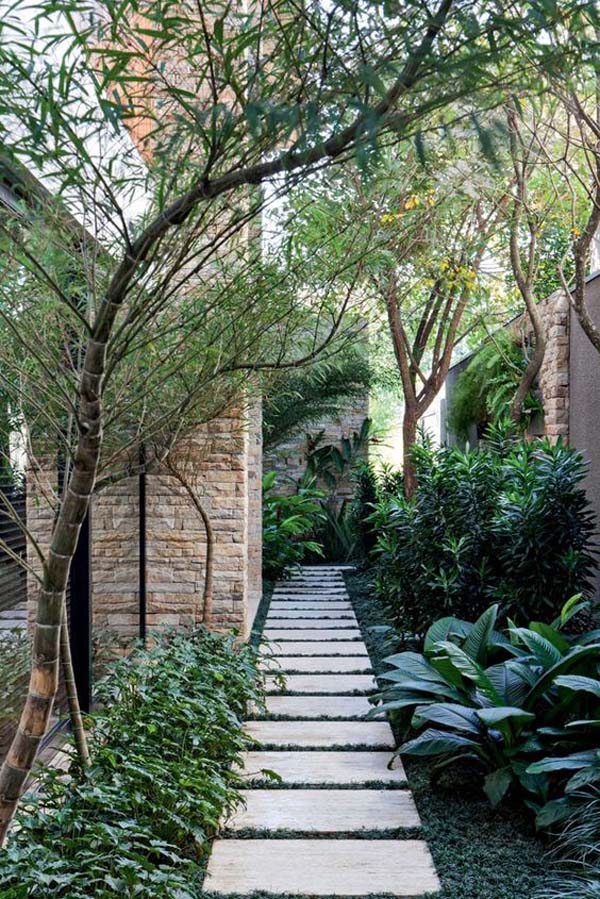 Satisfy your need for harmony with this stunning side-yard design.
The simple rectangular stones balance the wild, jungle-style bushes and trees, creating a delightful space that feels both orderly and organic.
35. Winding Garden Path with Green Plants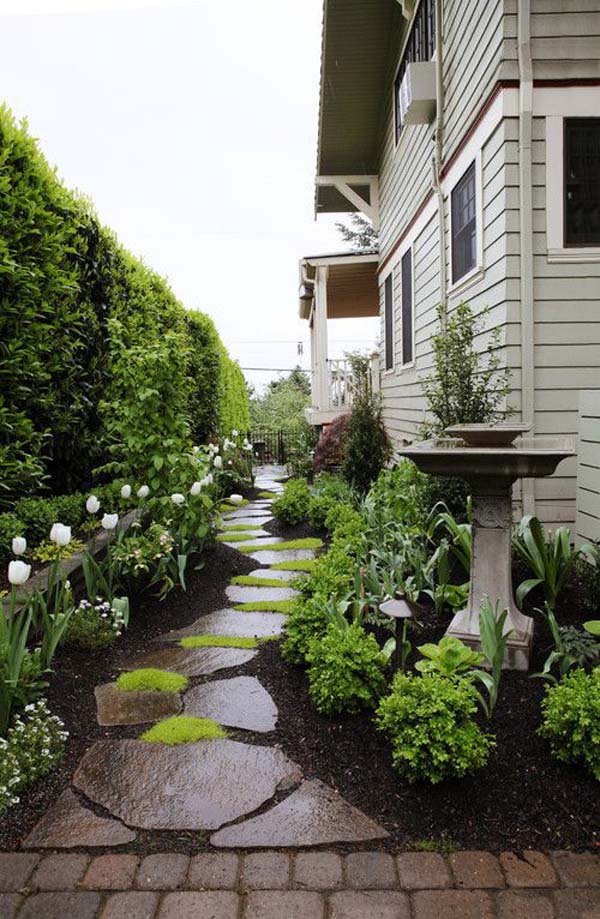 A curving stone path makes this strip of land feel bigger than it is; lush bushes and plants enhance the illusion. As you're choosing plants, choose options in different heights to create a sense of fullness.
Tiny patches of moss make the walkway look like a natural part of the garden.