If you are looking for some fresh new landscaping ideas for your front yard or backyard you've come to the right place as we've made the best selection of gorgeous garden layouts.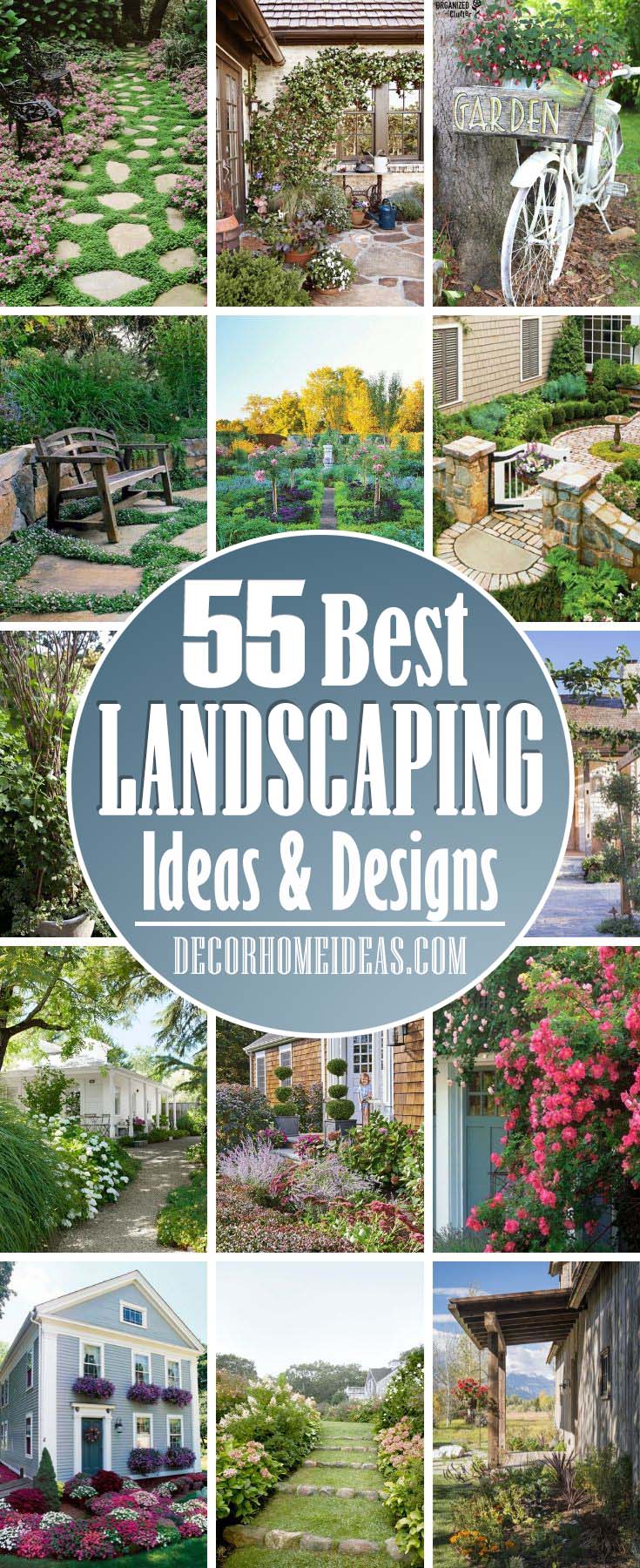 1. Fascination and Functionality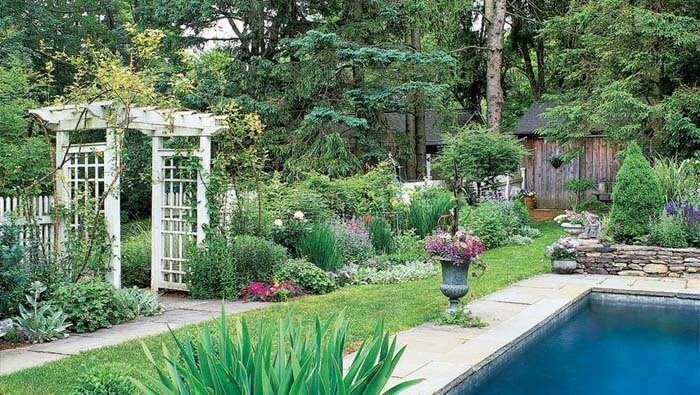 A white-painted arbor complimented by hanging vegetation grabs the eye.
The arbor breaks the monotony of the fence and creates a sense of dynamics.
A plethora of greenery adds height, color, texture, and fragrance.
A garden urn positioned next to the swimming pool additionally beautifies the space.
2. Artistic Touches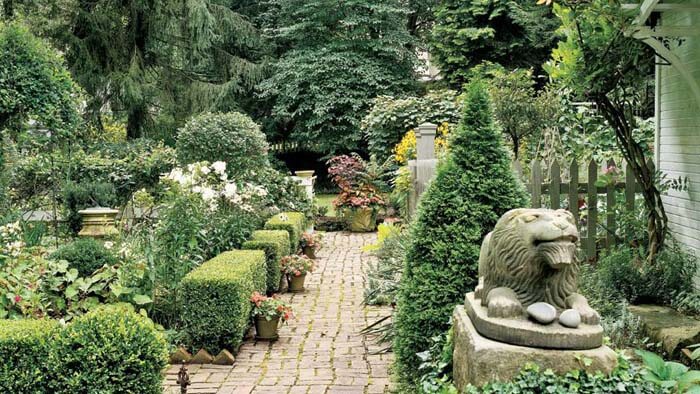 Trimmed boxwood and blooming greenery in different shades of green create an inviting exterior.
A lion statue positioned on a large piece of stone adds artistic touches to the space and turns into its natural focal point.
3. Soothing Exterior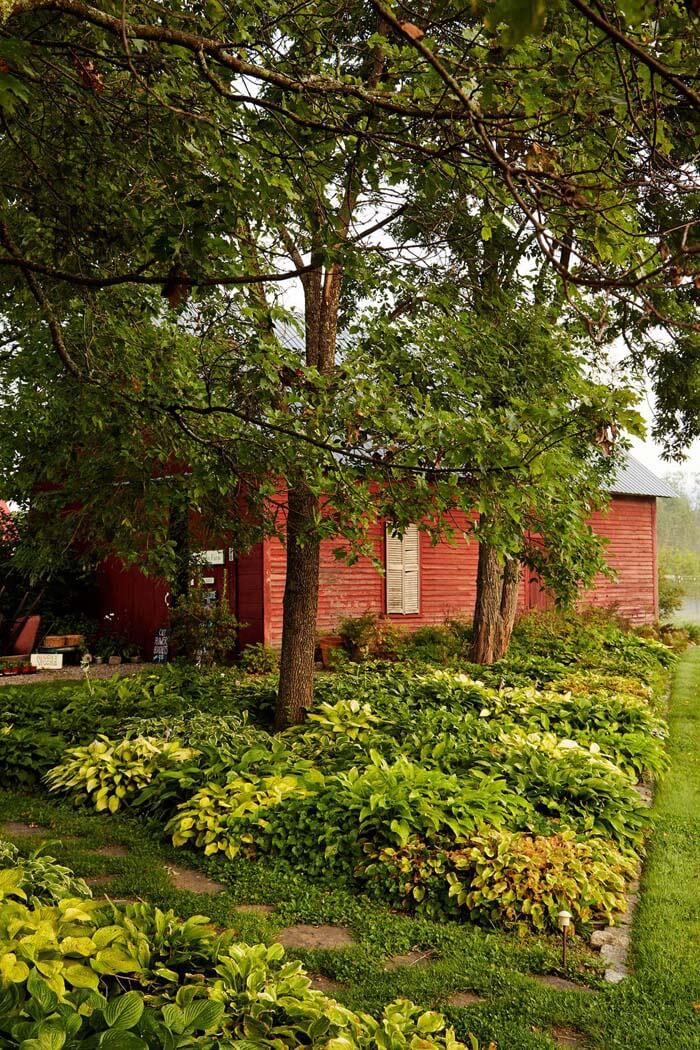 The combo of an adorable river-front house, trees, small-sized flowers, and a stone-and grass pathway creates a soothing yet fascinating exterior.
4. Boxes of Flowers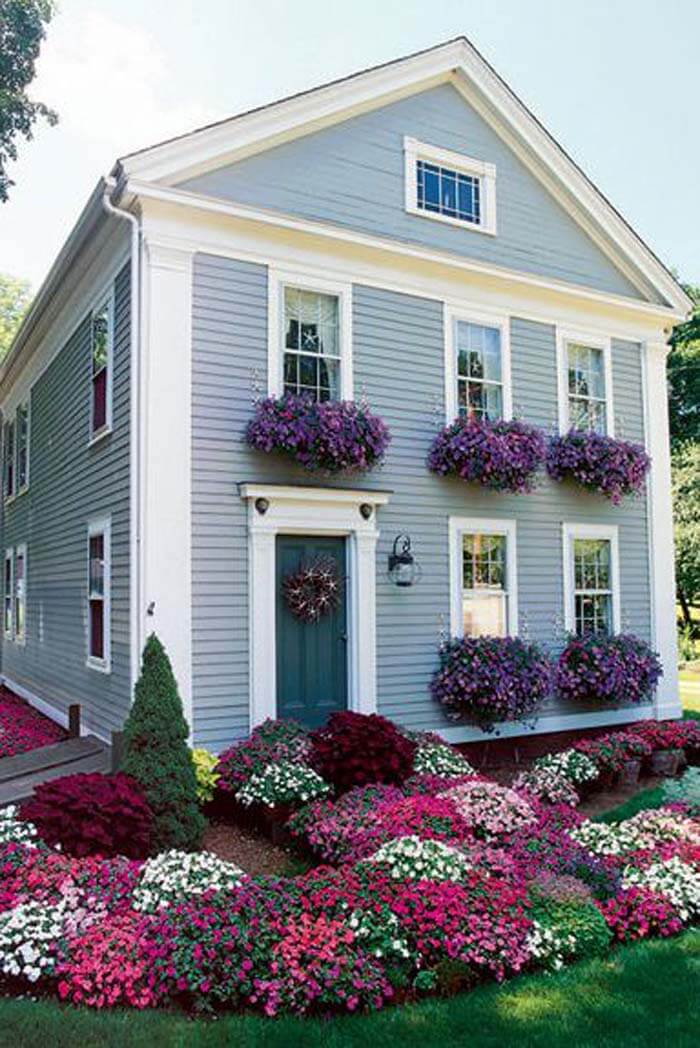 Boxes of flowers positioned on the windows are a feast for the senses.
A lighting fixture next to the front door adds interest and safety. The front yard garden is a burst of color and aroma.
5. Private Hideaway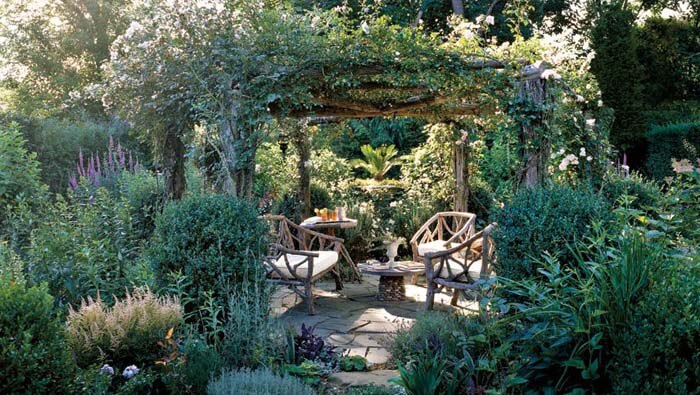 A simple seating arrangement positioned under hanging roses and encircled by multiple flowers is a budget- friendly way to add functionality and extra doses of charm to this garden.
6. Cottage-style Garden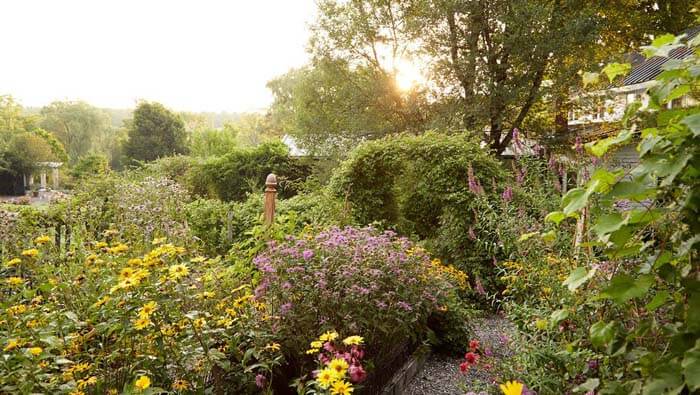 A gravel pathway is running through an enchanting cottage-style garden, which is a feast for the senses.
Garden décor elements add personality and architectural and vertical interest.
7. A place to Get Away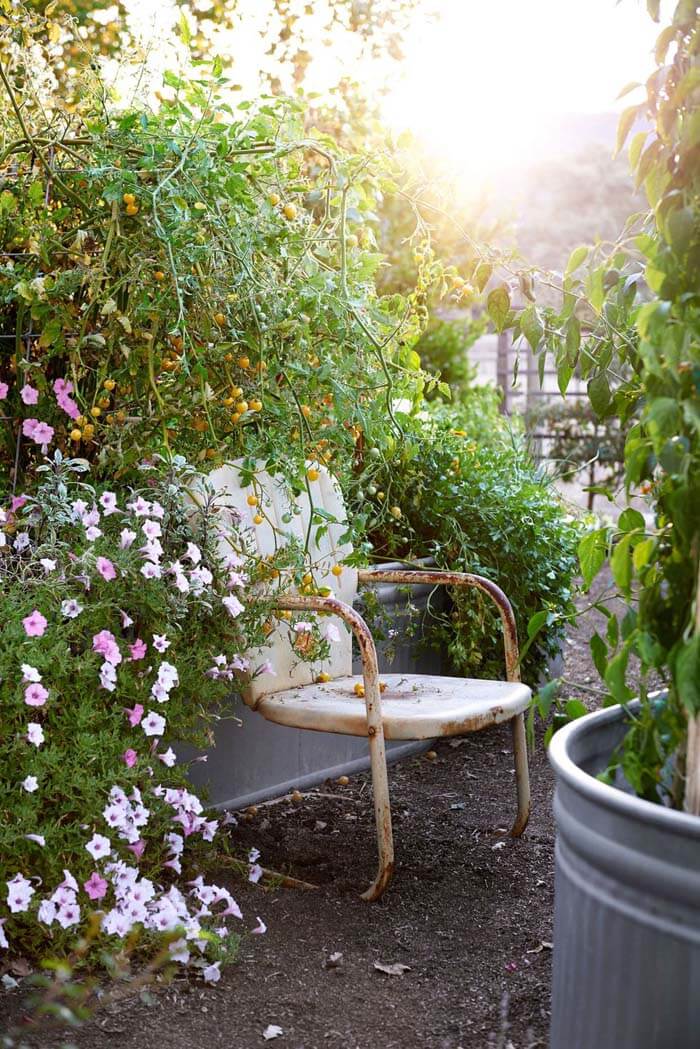 Different types of greenery create a beautiful and colorful display.
A vintage chair placed under hanging blossoming vegetation provides a comfortable spot where to relax in privacy.
8. Contrast and Appeal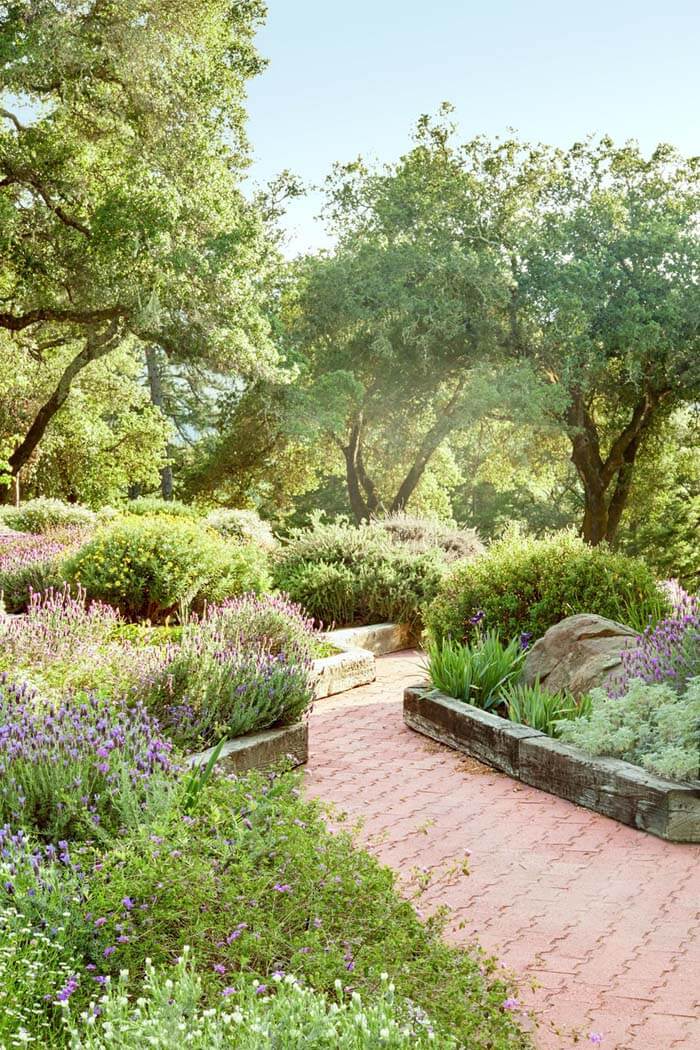 A pathway of clear lines contrasts the untamed garden and helps create a striking exterior.
Stone and wood add to the natural look of the space. Trees and bushes offer shade and privacy.
9. Beauty and Charm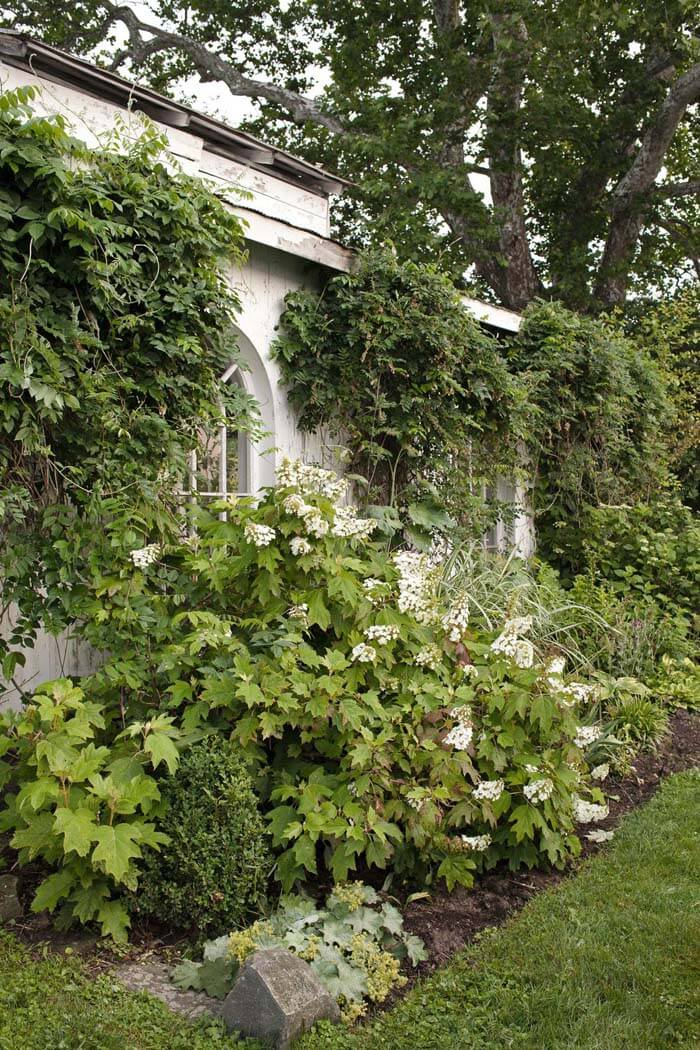 An impressive all-white house is almost completely covered by vegetation of different size, color, and texture. This space is pure beauty and charm.
10. White Pergola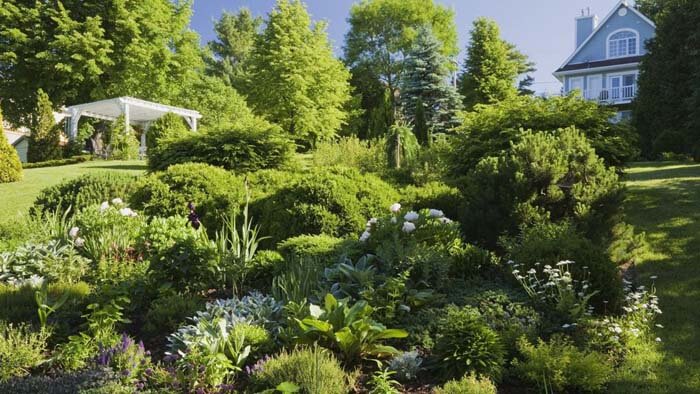 An island of a myriad of flowers breaks the monotony of a well-maintained lawn.
Trees offer shade, texture, and privacy. A white pergola adds architectural interest and functionality.
11. Architectural Interest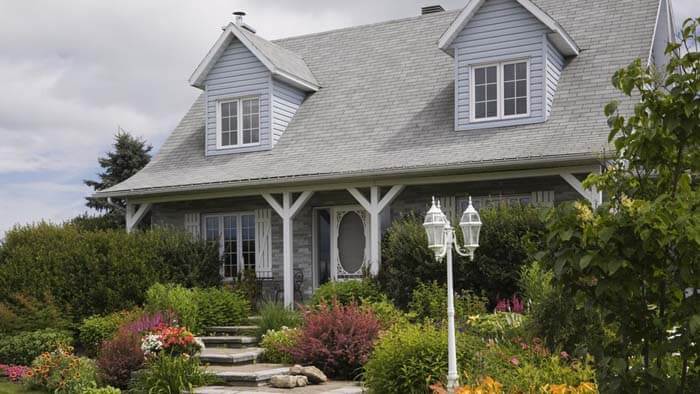 A front yard garden offers a plethora of colors and textures.
It stands out against the background of an adorable house in neutral grays and whites.
Fascinating beams, windows, and lighting provide architectural and visual interest.
12. Arbors and Roses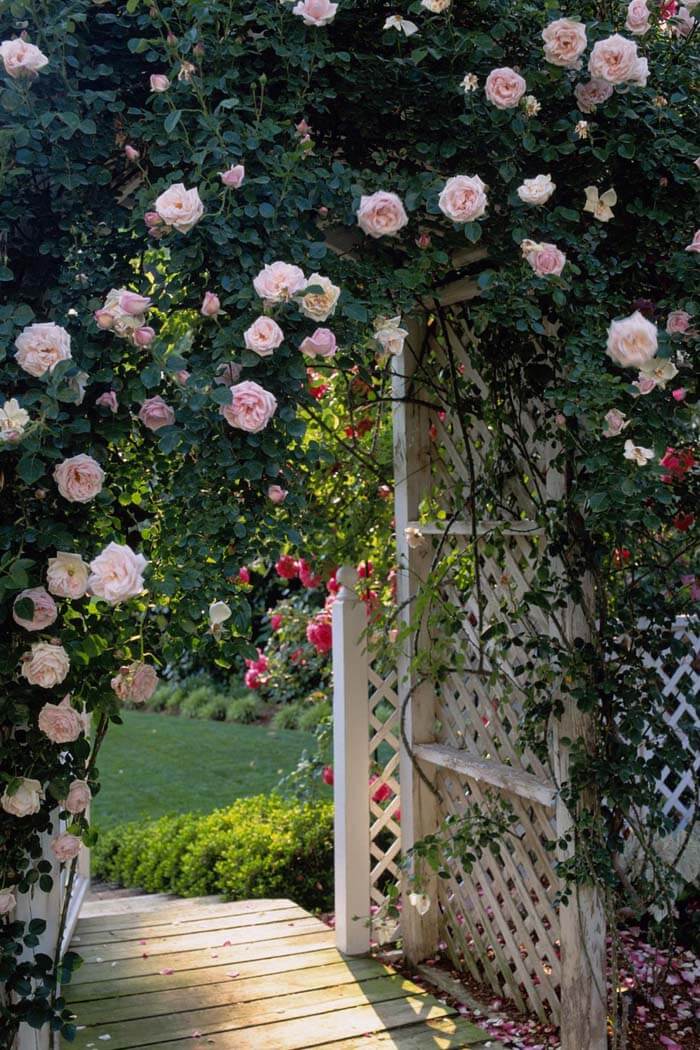 Arbors are a sweet accent to any garden. When combined with roses, they make the space delicate, beautiful, inviting, and romantic.
Not to mention that roses are always a feast for the senses.
13. Gorgeous View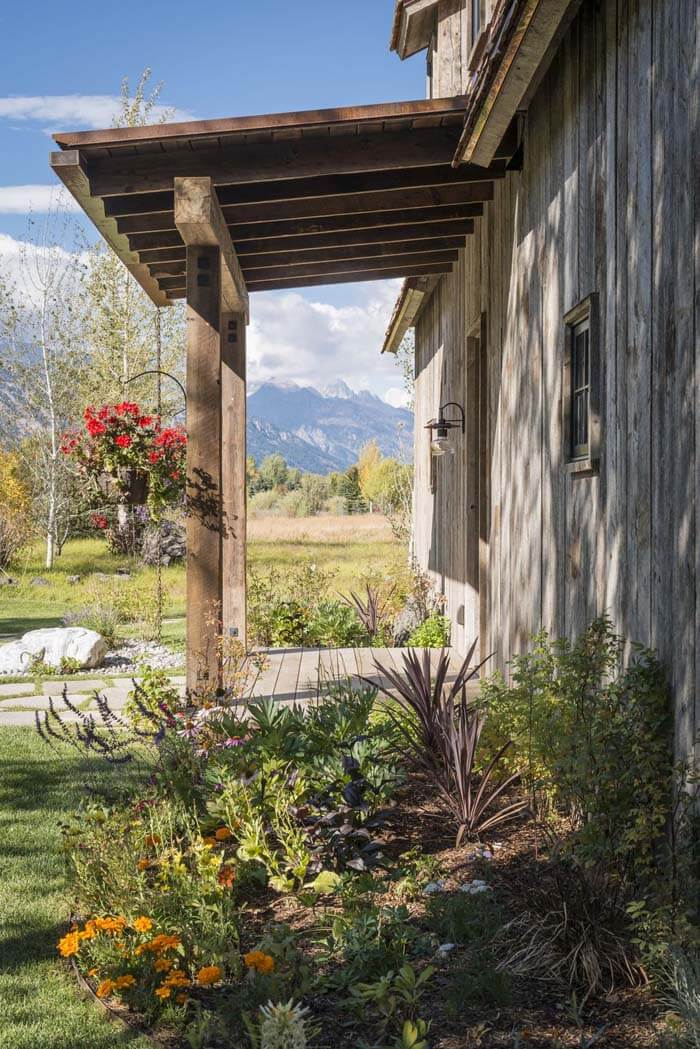 A captivating view, stone, grass, plenty of wood, greenery of different size, color, scent, and texture combine to create a dream-come-true retreat.
Hanging pots with blossoming flowers and lighting add extra touches of interest.
14. Soothing Waterfall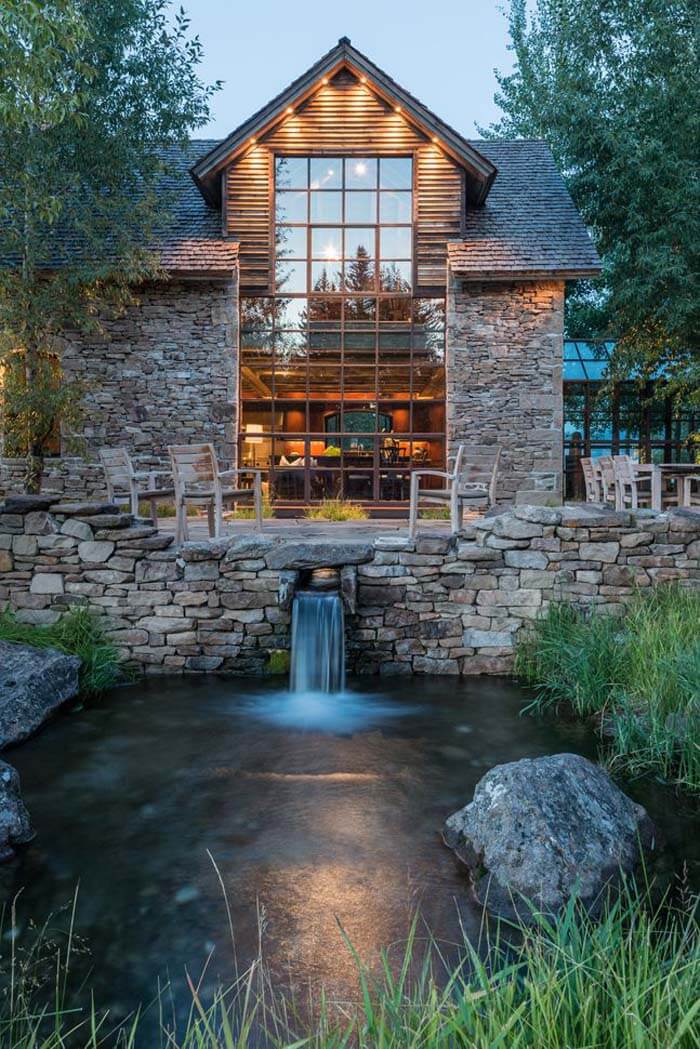 A house with stone walls is the perfect background for this simple waterfall. 
Falling water makes this space calming and romantic. Chairs positioned near the waterfall create a spot to relax and offer extra functionality. 
A floor-to-roof glass wall contrasts the stone and provides adequate natural light.
15. Striking Sunroom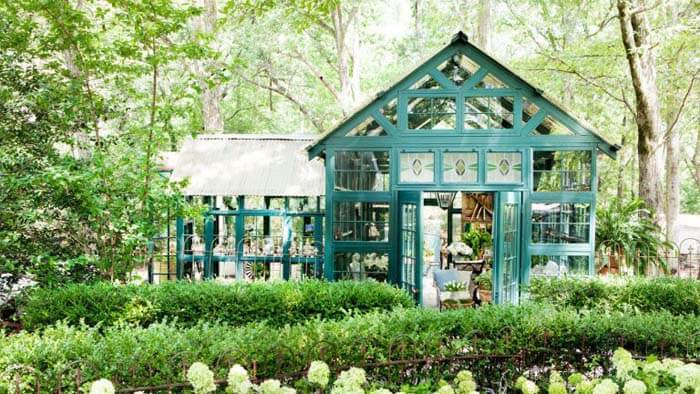 With attractive architectural elements, an impressive sunroom grabs and keeps attention in this exterior.
Varying vegetation adds on color, scent, and texture. What's not to like in this space!
16. Drama and Personality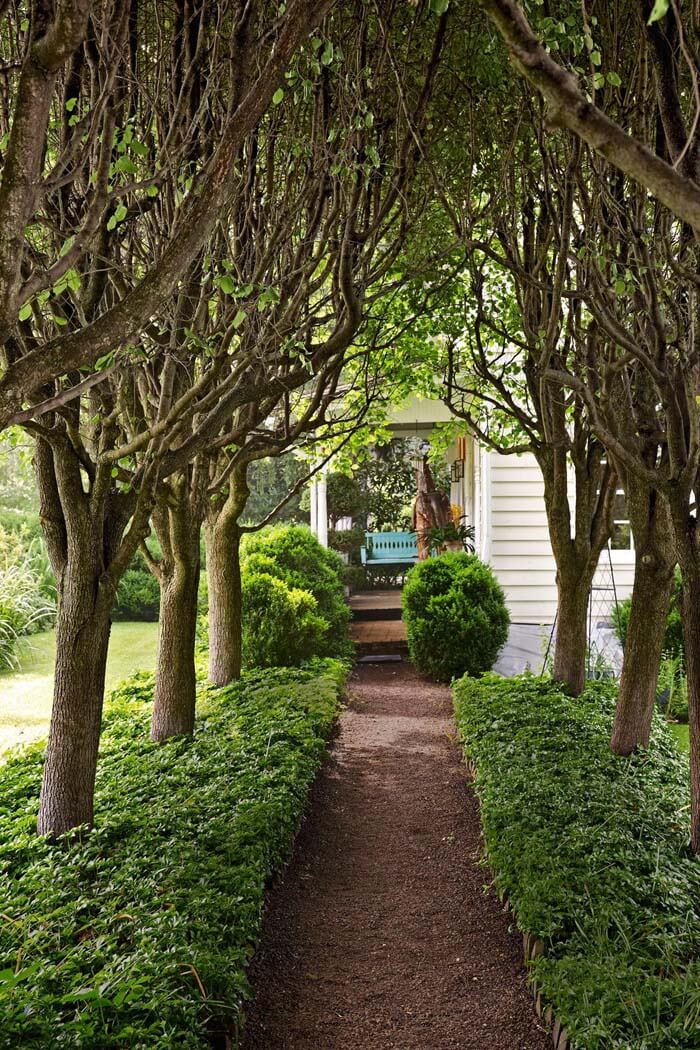 A pathway leads to a shaded bench positioned on the deck of an all-white house. Uniform trees provide shade and add feels of motion and drama.
A myriad of greenery offers privacy and texture. Definitely a space with tons of personality!
17. Enchanting Look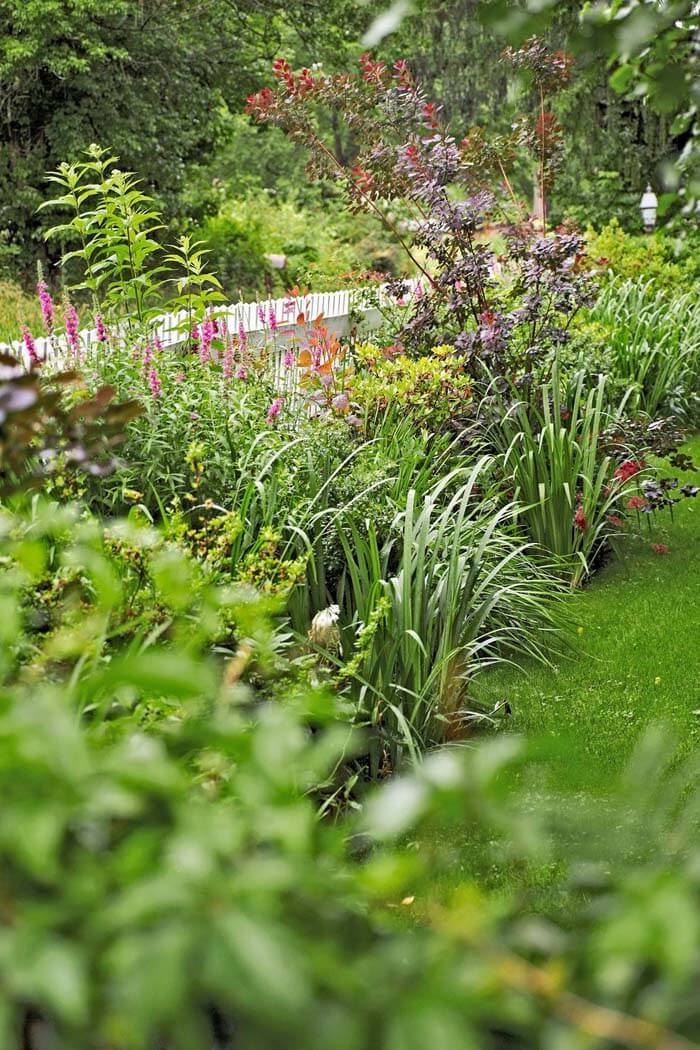 A garden with a picturesque look offers vibrancy, fragrance, and charm.
Rich in texture, with flowers in the whole spectrum of colors, this exterior is so idyllic!
18. Visual Appeal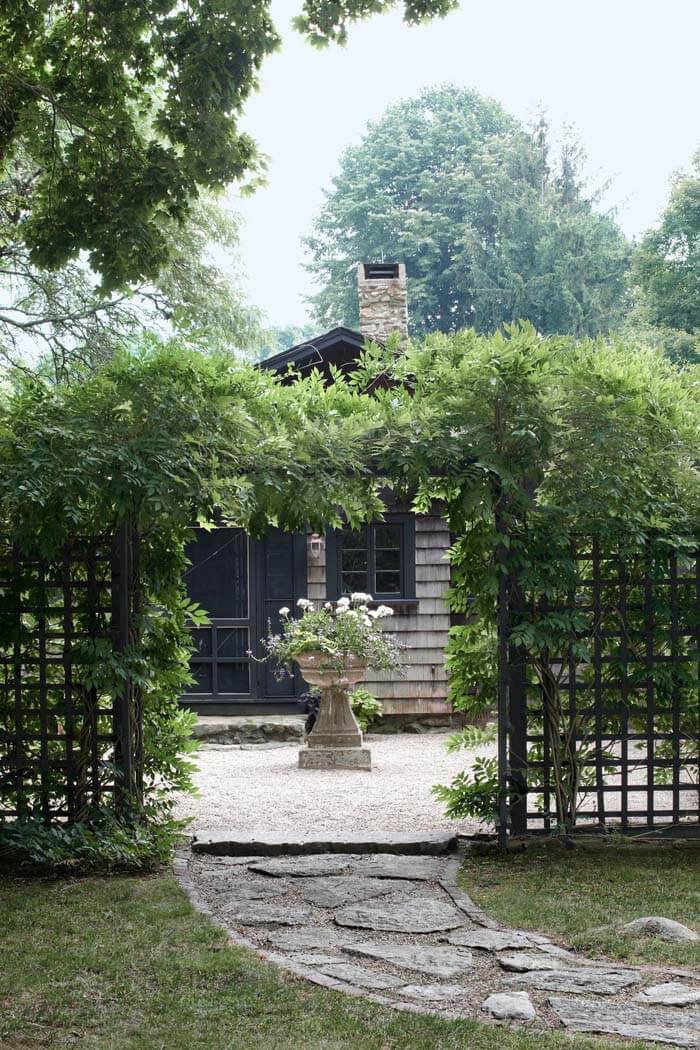 A gravel-and-stone pathway leads to an oversized urn repurposed as a planter…Vegetation climbing up trellises…
An attractive house surrounded by trees…This exterior offers privacy, calmness, visual interest, and appeal!
19. Unique Pathway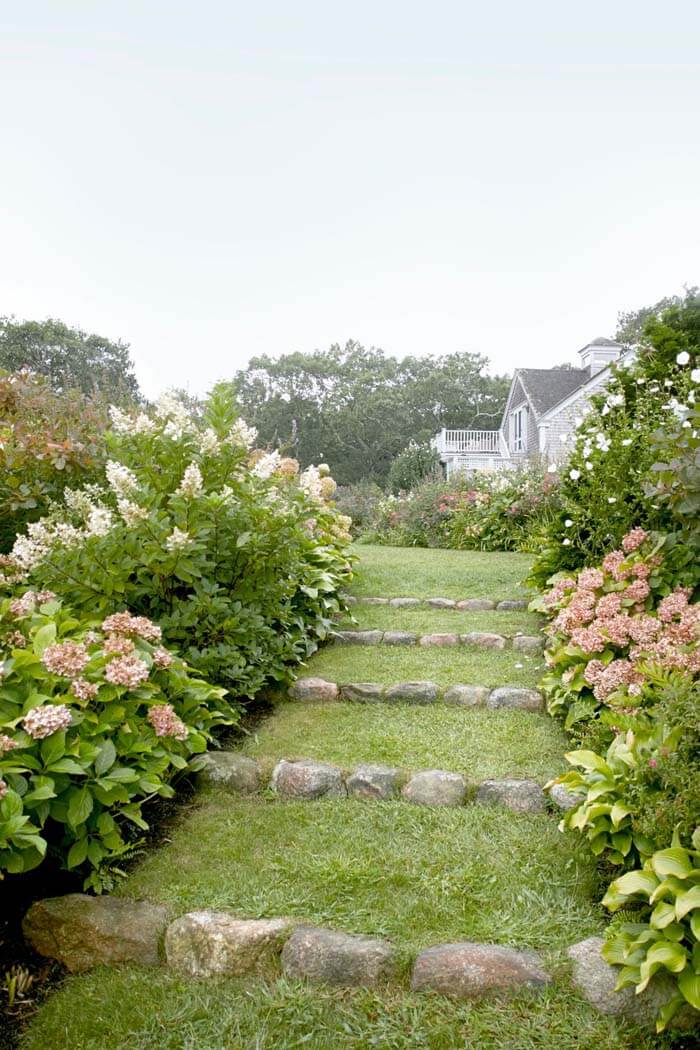 A unique curving grass-and-stone pathway running to an appealing house creates a sense of functionality, character, and motion and enhances the landscape.
Varying blossoming vegetation complements the pathway and adds texture, color, and fragrance.
20. Functionality and Charm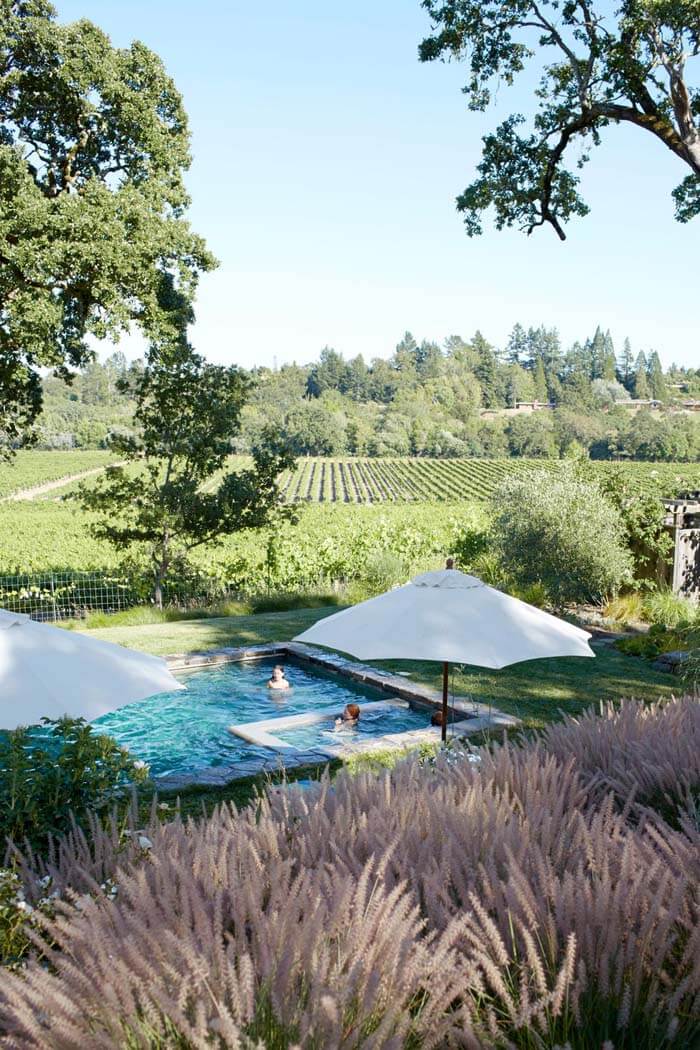 This pool surrounded only by greenery has a relaxed, natural look. Ornamental grasses are a great choice and create striking forms, day or night.
Garden umbrellas offer shade and add functionality and extra visual interest.
21. Untamed Look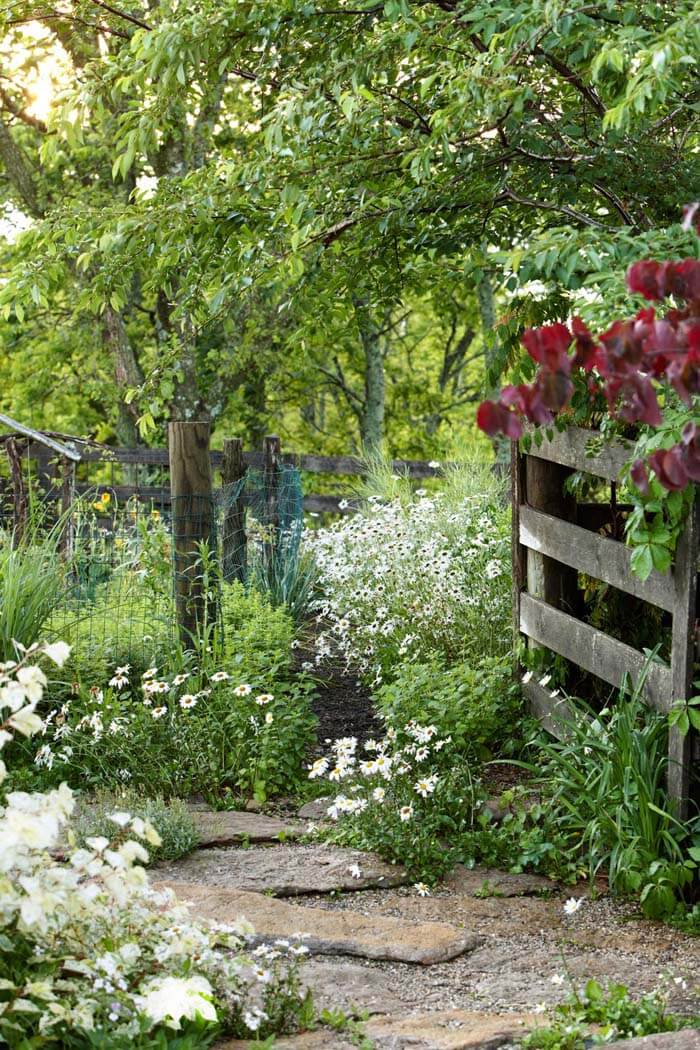 This garden spot offers a myriad of colors, scents, and textures.
Trees provide privacy and shade, while stone and wood lend a timeless look. Definitely a dream-come-true exterior!
22. Vintage Décor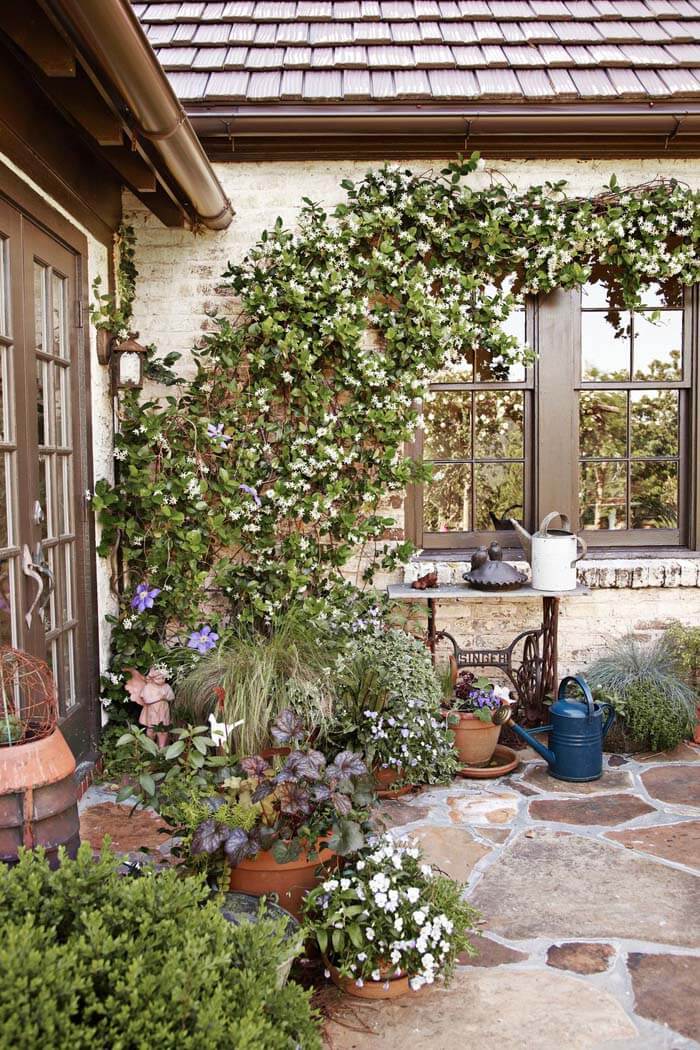 This garden spot with vintage décor is all about charm, atmosphere, and personality.
Potted and climbing plants stand out and add touches of color and scent.
23. Focal Point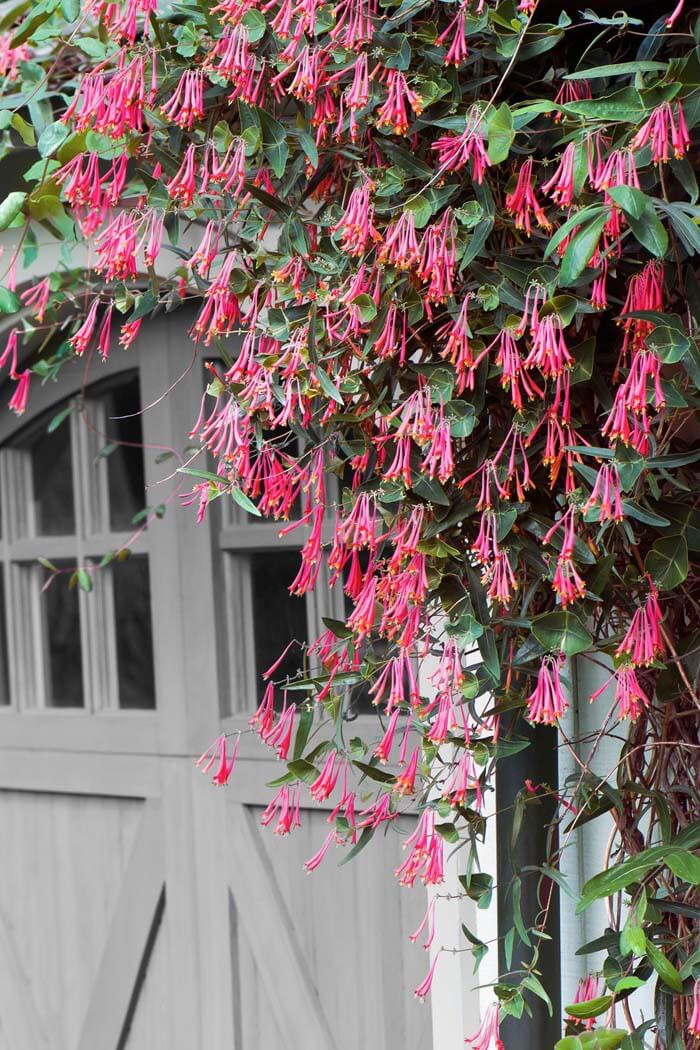 A simple and budget-friendly yet creative way to turn a single piece of climbing plant into a statement exterior décor!
24. Ornamental Grasses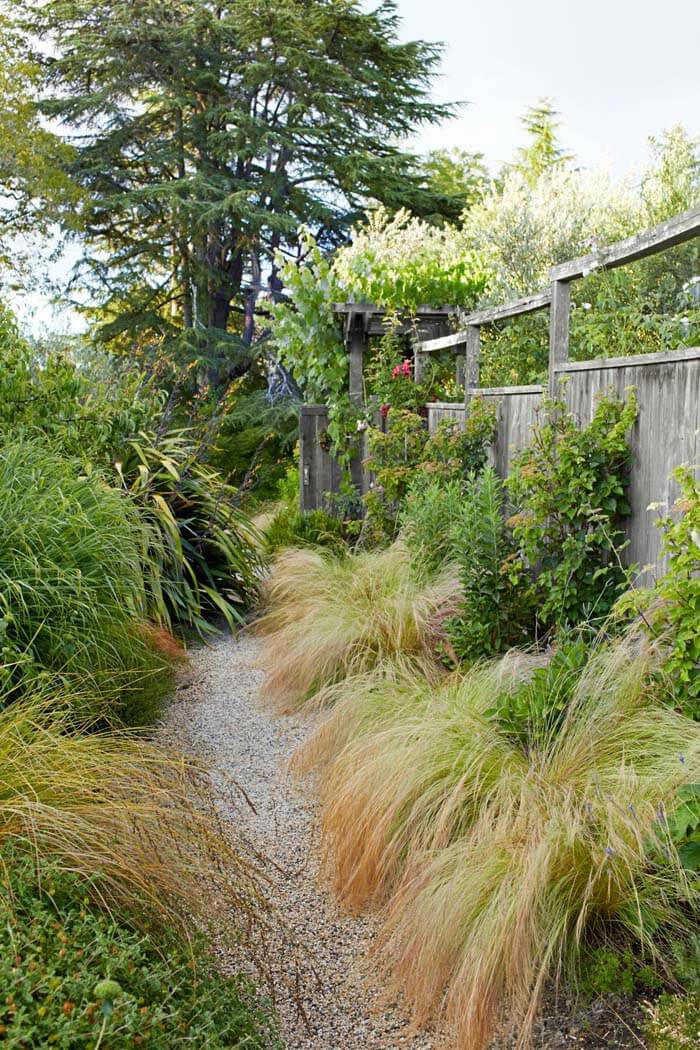 A gravel pathway runs through this garden and enhances its look.
Ornamental grasses which are also drought-tolerant, which border the pathway, offer a way to add texture and personality. A tall tree grabs the eye and turns into the focal point of the space.
25. Charm and Calmness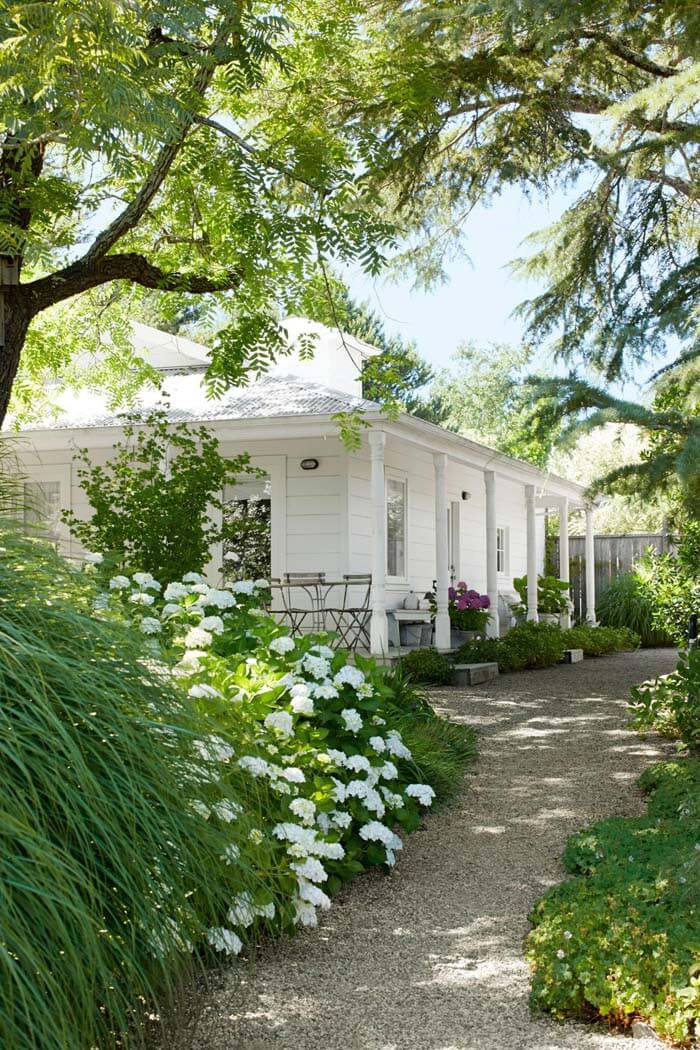 A charming all-white house surrounded by a gorgeous yard offers privacy, color, scent, seating, serenity, and charm.
A gravel pathway adds on to the functionality of the space.
26. Dreamy Hideaway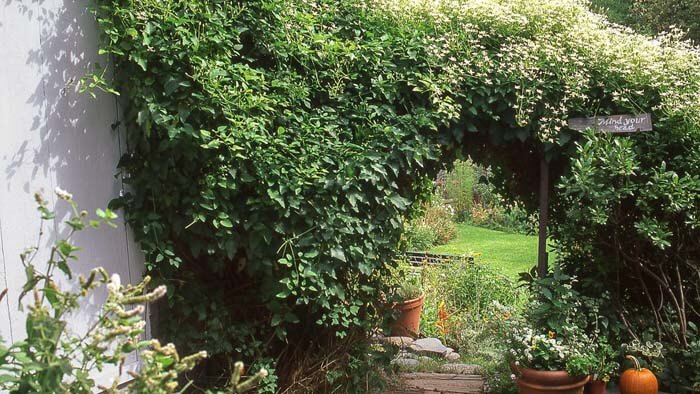 Lush potted, planted, and hanging greenery, benches, a lawn, and creatively chosen garden design elements turn this partly-shaded exterior into a dreamy retreat.
27. Simplicity is Beautiful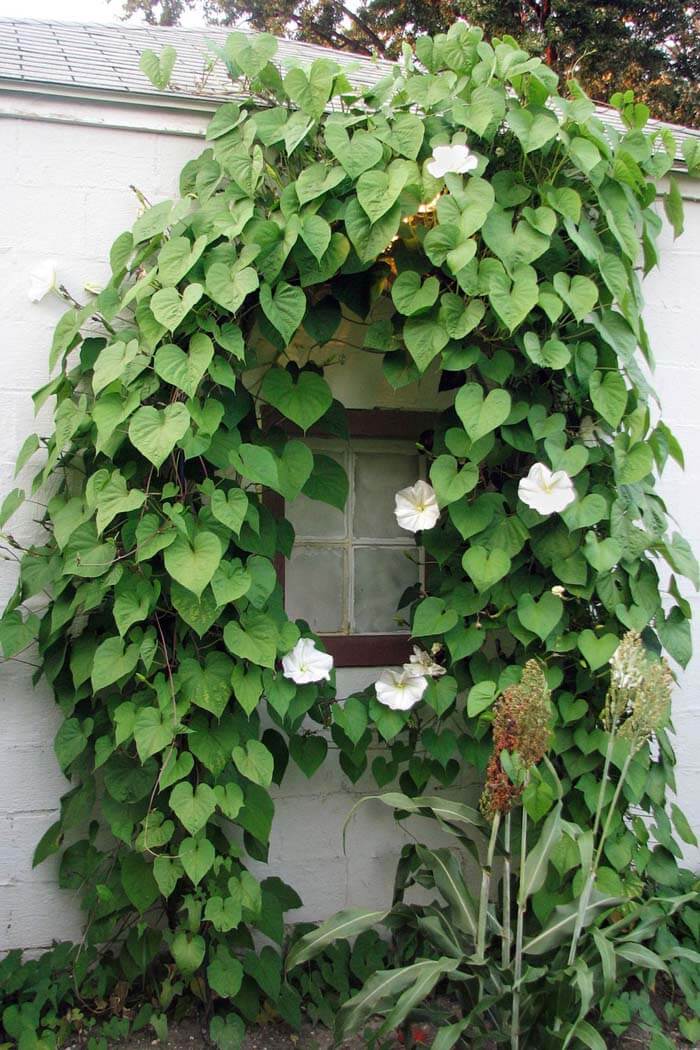 Creeping greenery against the background of a white façade… Sometimes, simplicity can be so beautiful….
28. Fairy-tale Look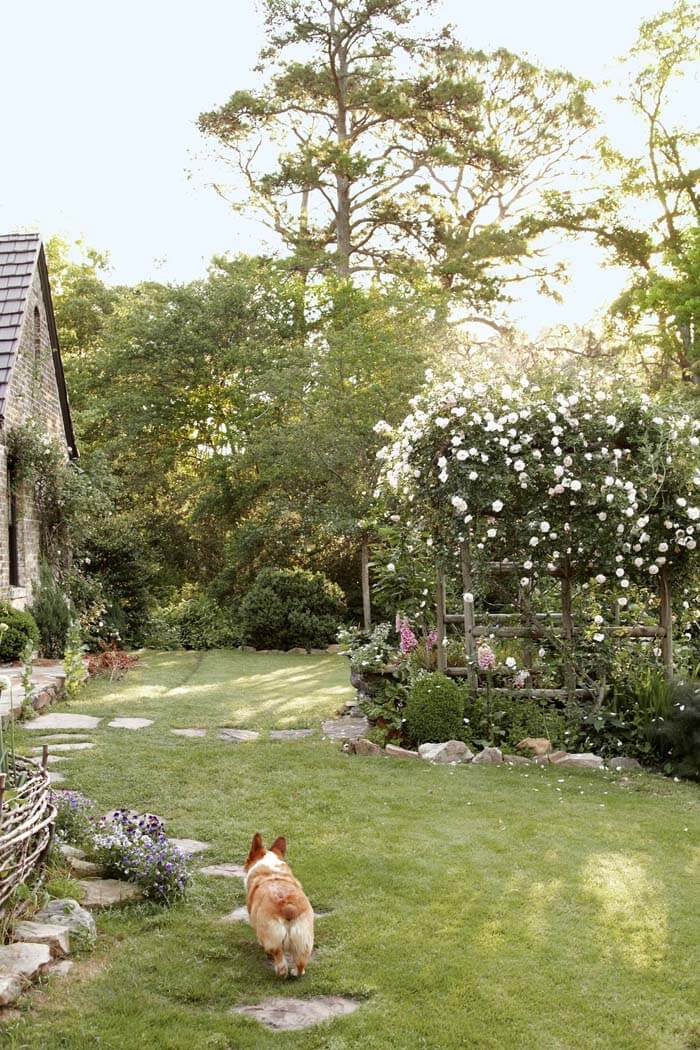 A gorgeous house complemented by a country-style garden…
Trees and bushes of varying kind and height provide privacy, interest, and texture.
Stepping stones of irregular shape positioned on the lawn lead to spots, which offer color, scent, and charm. So delightful!
29. Multi-level Exterior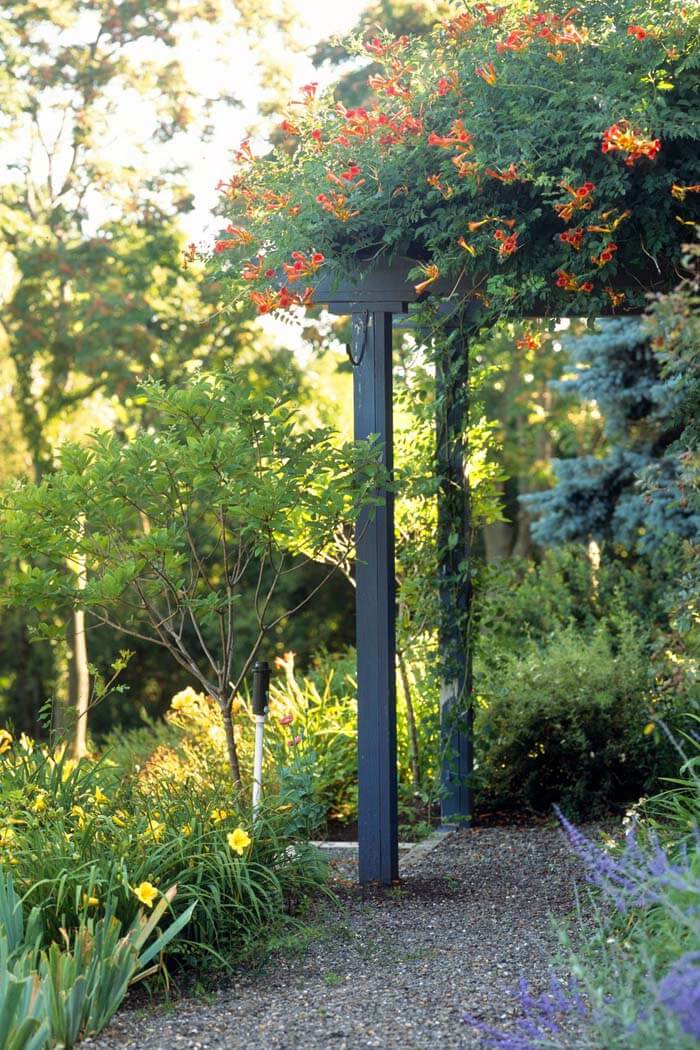 This multi-level exterior is all about color, scent, texture, and privacy.
A pergola covered with hanging blossoming greenery personalizes the space and adds to its functionality, charm, and appeal.
30. Enchanting Space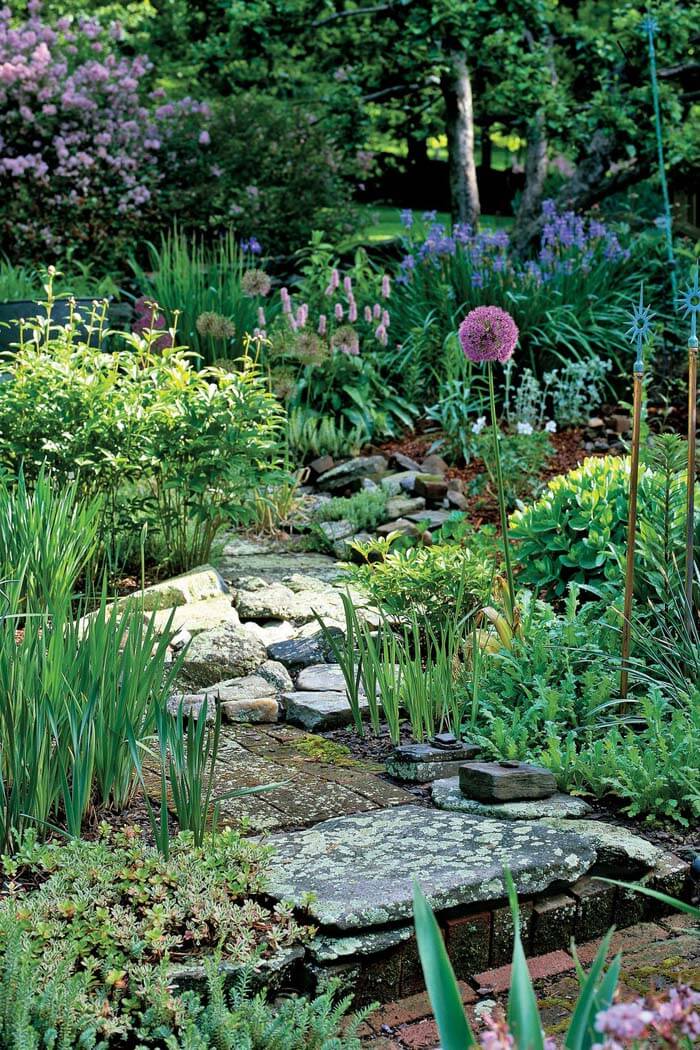 Vegetation of varying kind, height, and texture makes this spot a piece of paradise.
Mismatching stone pieces and old bricks add extra visual interest and character, while simple garden art creates a sense of dynamics and become a focal point.
31. Seating Arrangement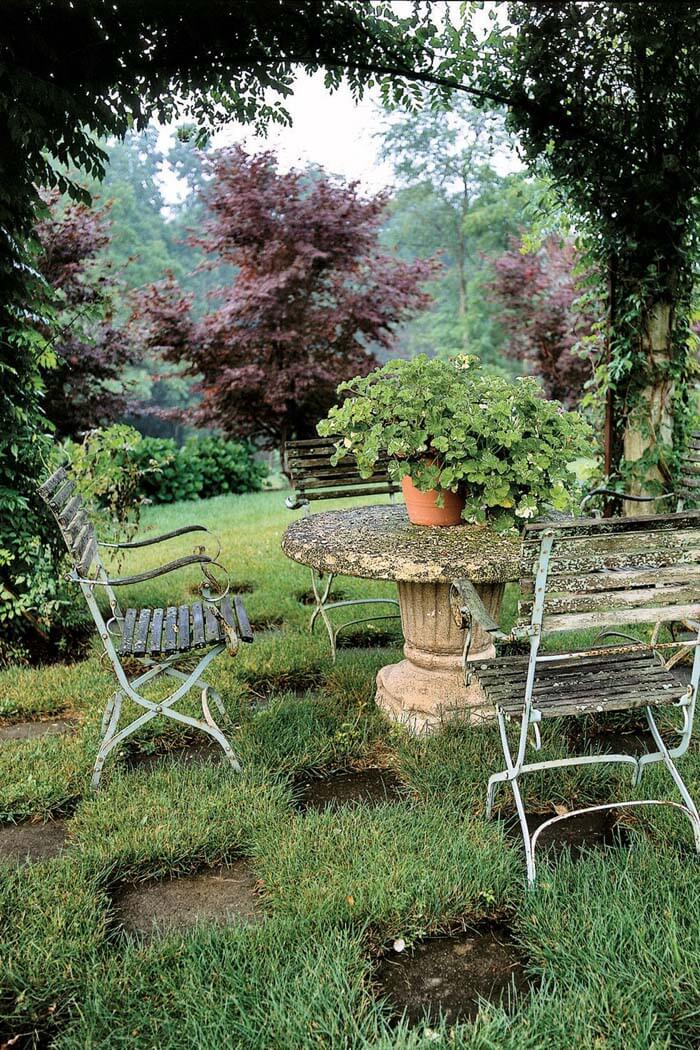 A massive stone table and vintage- looking chairs create this inviting space.
A lot of greenery adds privacy, height, color, and calmness. A potted flower positioned on the table offers extra touches of interest.
32. Gorgeous Front Door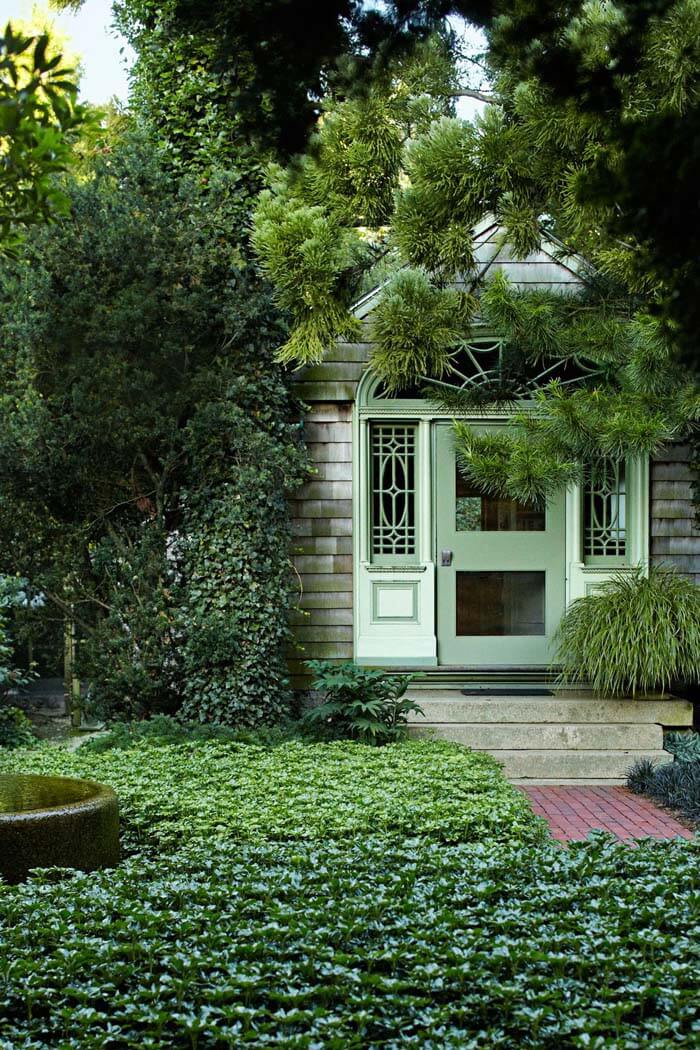 Greenery complemented by a water feature provides privacy, calmness, shade, and texture and helps create an awesome exterior.
A striking front door adds extra interest and artistic touches.
33. Garden Art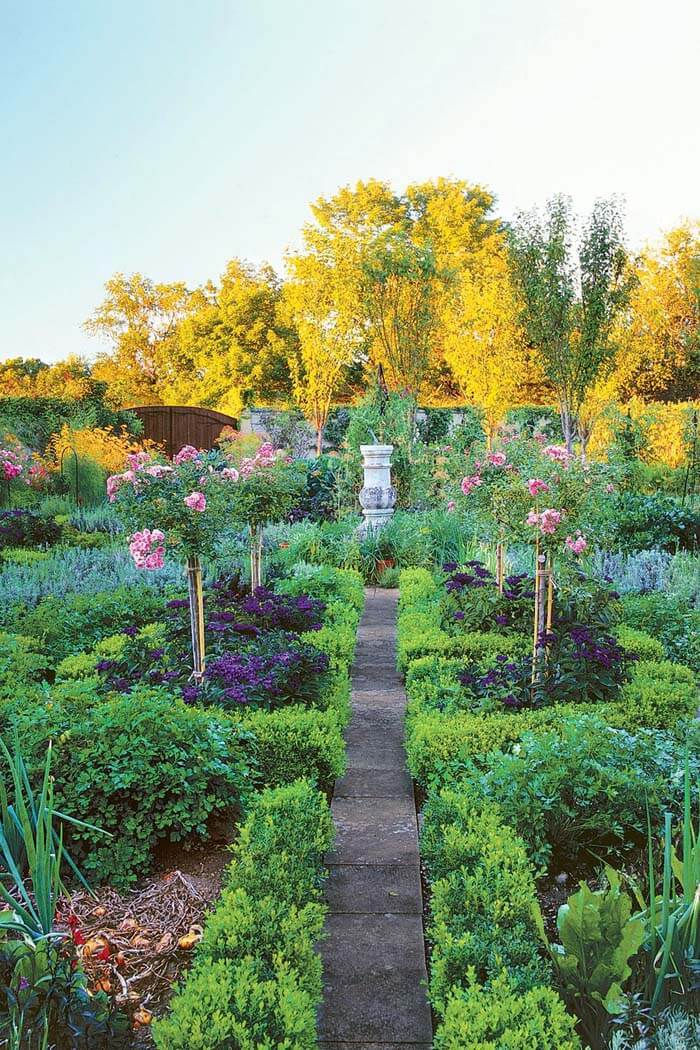 This garden offers so much colors, shapes, and textures that is truly a feast for the senses.
A simple pathway leads to a piece of garden art, which adds architectural interest and becomes the focal point of the space.
34. Natural Look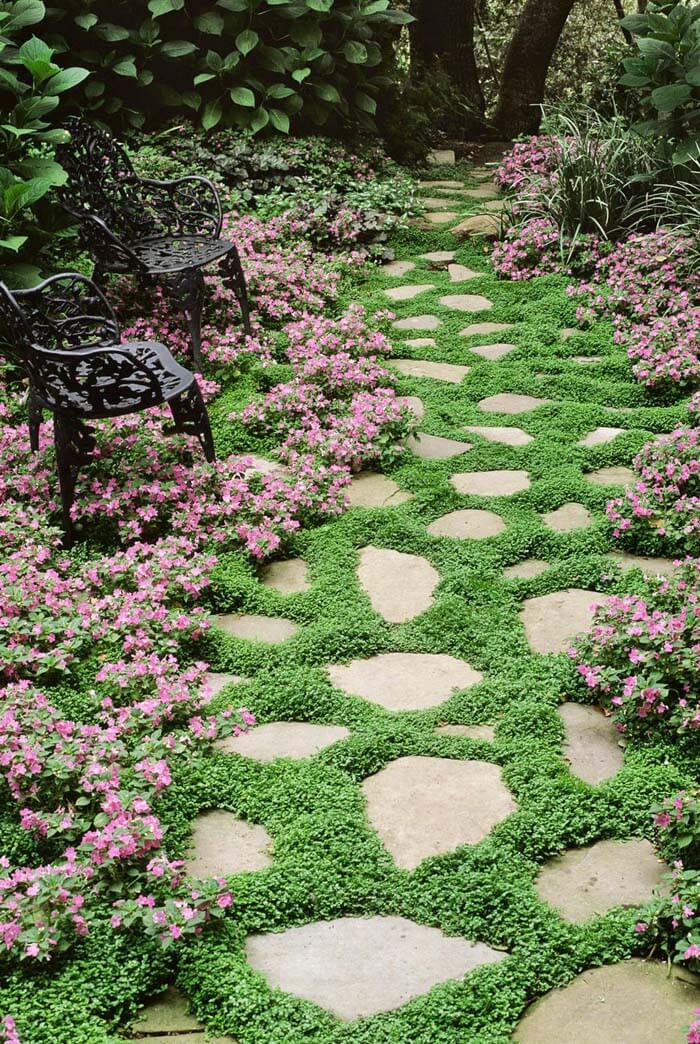 Stone pieces of different shape and size complemented by grass create a pathway, which runs through a captivating garden.
A pair of matching chairs creates a spot where to relax in privacy.
35. Shades of Green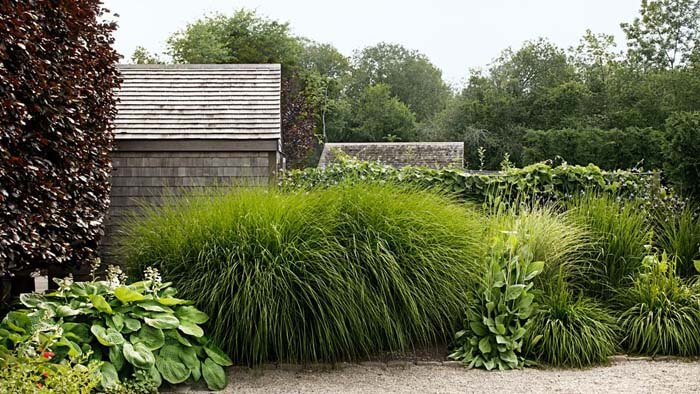 Vegetation of different kind – from trees to ornamental grasses, creates an exterior rich in texture, which offers privacy and visual appeal.
36. Swinging Grass Pathway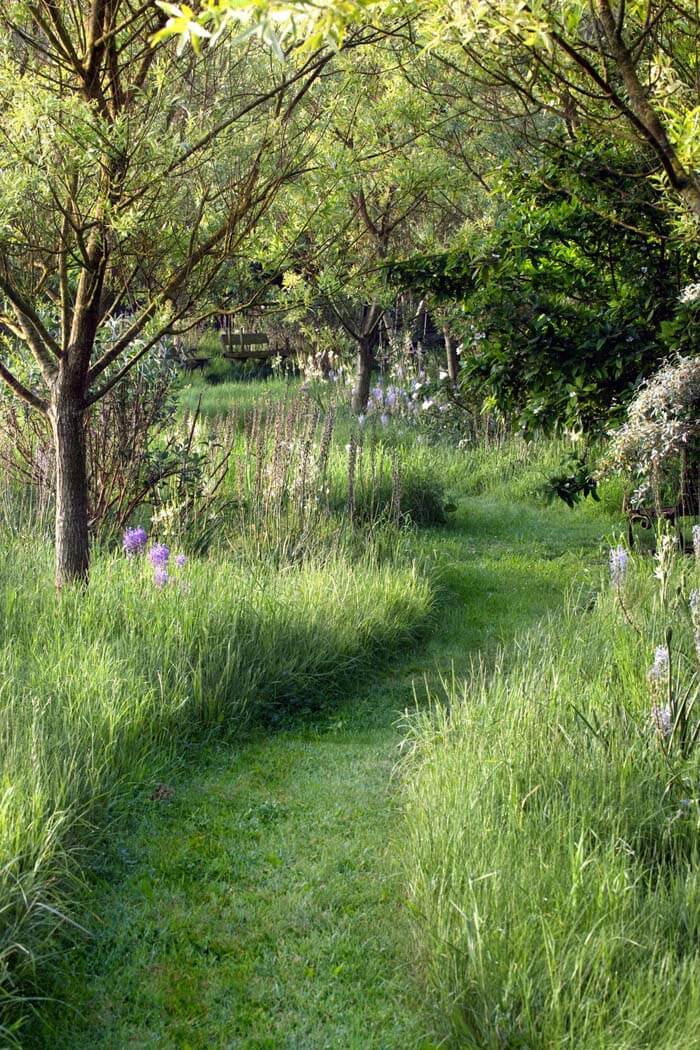 A grass pathway meanders through a garden in which the combo of tress, bushes, and blossoming flowers create an atmosphere of tranquility and charm.
Benches positioned along the pathway add functionality and create a spot where to enjoy privacy and calmness.
37. Restful Space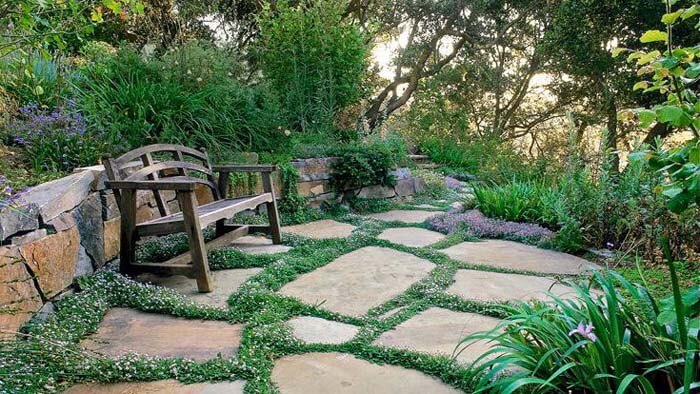 A wooden bench placed against a stone wall along a pathway offers a relaxing spot.
Greenery of different shape, color, and height makes the whole space truly inviting.
38. White-on-white Exterior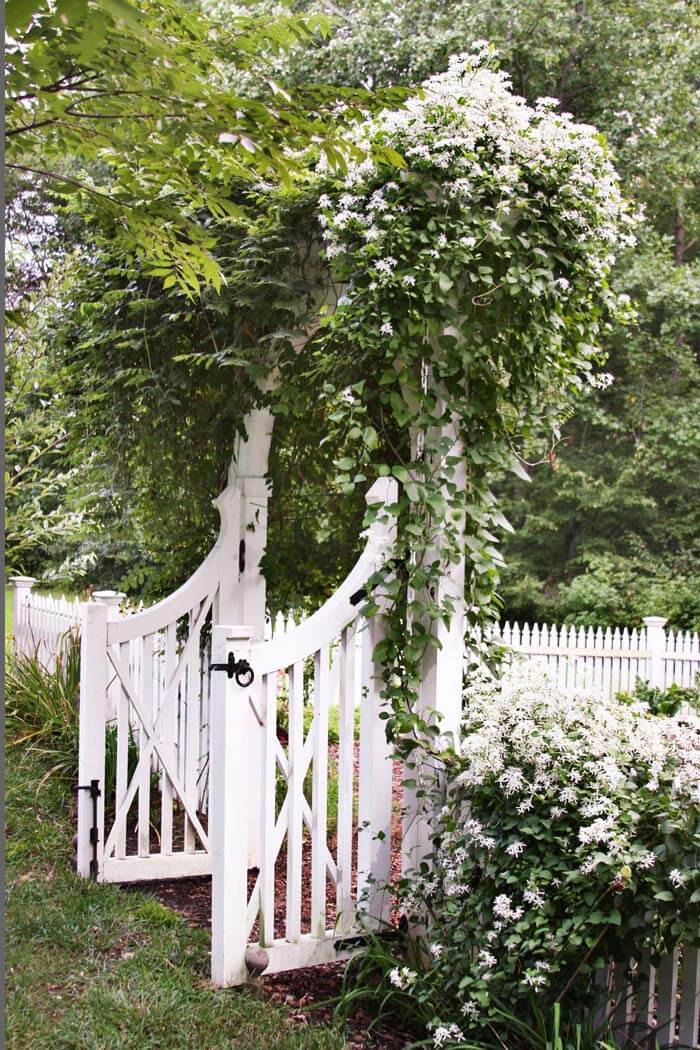 A simple arbor complemented by a gate breaks the monotony of a picket fencing.
Blossoming flowers hanging from the arbor create a sense of motion and offer architectural interest, taste, and charm. 
This exterior in green and white is so delightful!
39. Charm and Functionality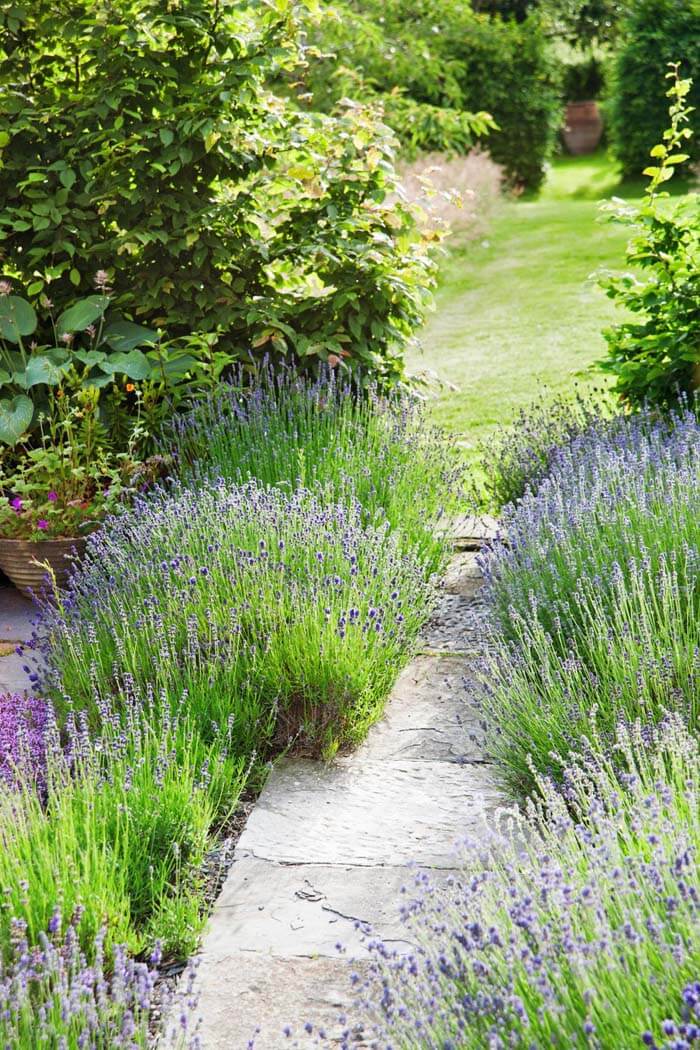 A stone pathway lends this space a natural look.
Blooming vegetation of varying color, height, and texture adds a burst of color and helps create a charming and inviting space.
40. Functional Seating Spot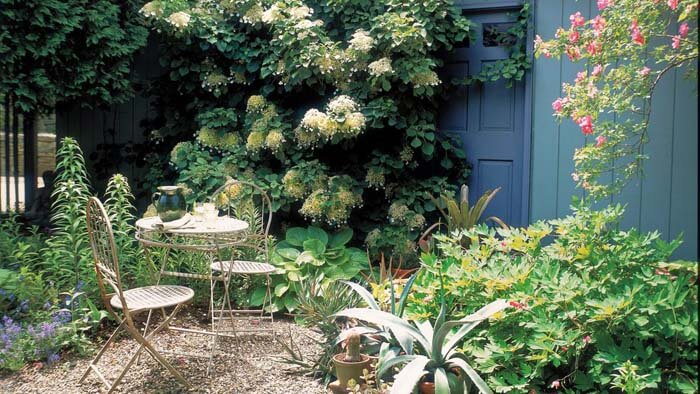 A small garden with a fairy-tale look stands out against the background of a house façade in different shades of blue.
A simple yet inviting seating arrangement with a vintage look positioned amidst this exterior offers a spot where to spend some time in privacy.
41. Privacy and Appeal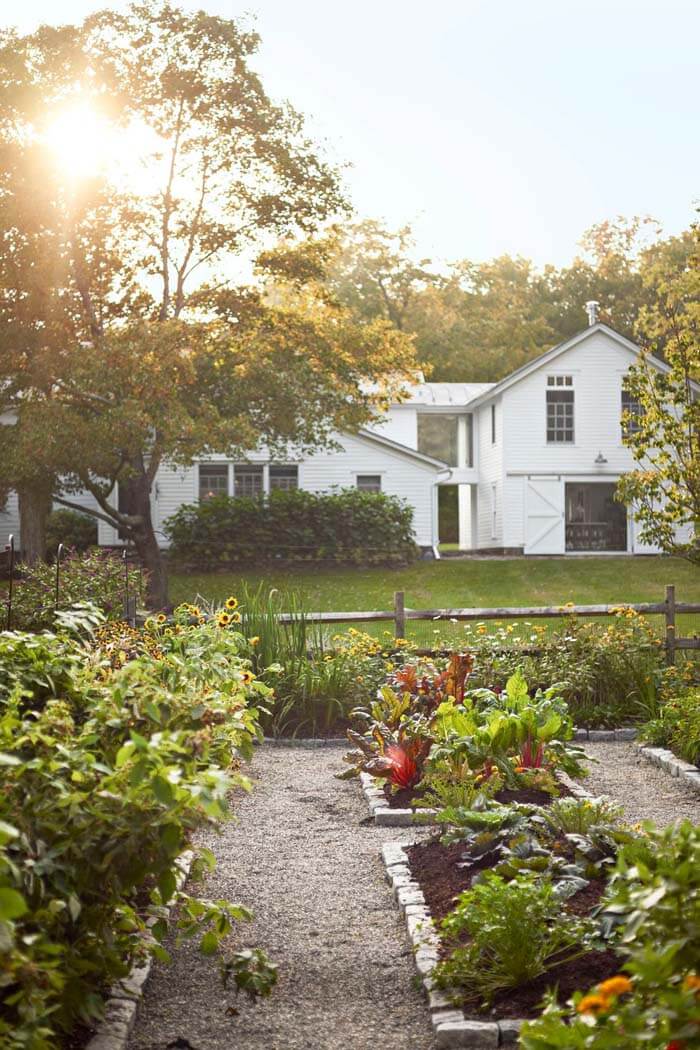 Trees and bushes of different height surround an attractive white house and create a sense of privacy and visual interest.
A vegetable garden offers a way to grow fresh vegetables and herbs and add to the functionality of the exterior.
42. Piece of Paradise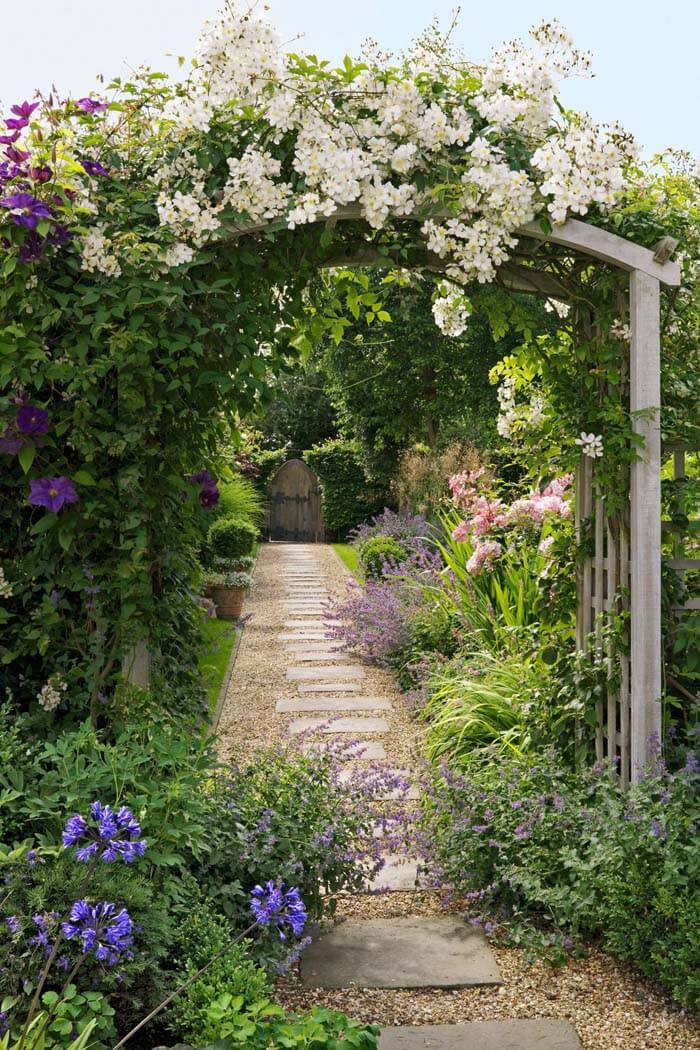 A stone-and-gravel pathway running through an enchanting cottage-style garden leads to a captivating door.
Flowers in exuberant colors, potted, planted, or hanging from a simple white arbor help create a spectacular exterior.
43. Go Vertical!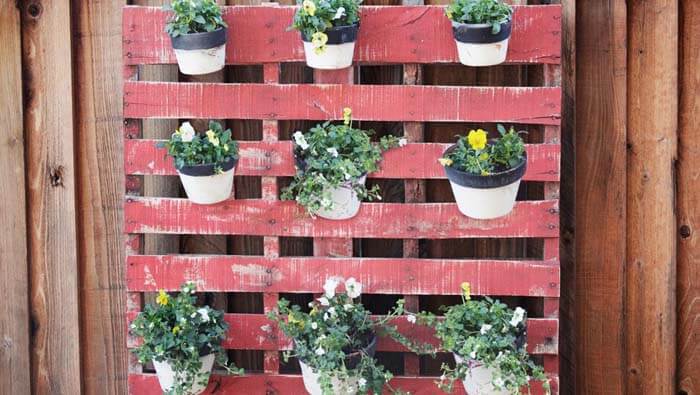 Uniform flower pots positioned on an old pallet offer an easy, space-saving, and budget-friendly solution to use even a tiny space and turn it into an eye-catching vertical garden.
44. Curving Pathway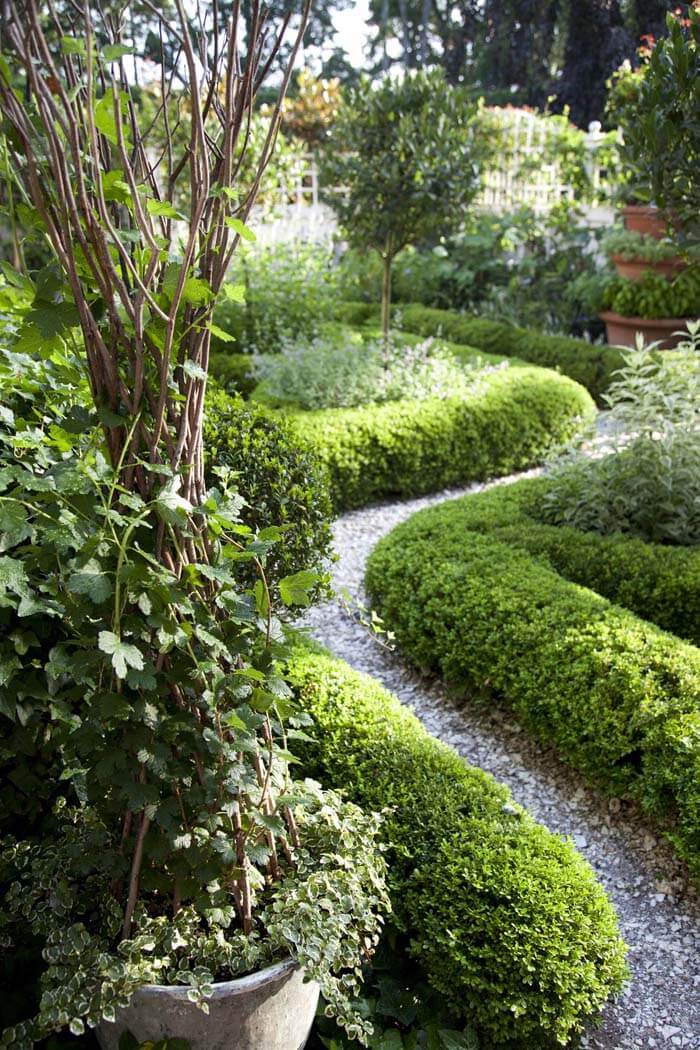 A curving gravel pathway bordered by beautifully trimmed boxwood runs through an appealing garden.
Large plant containers add vertical interest and texture.
45. Organic Shapes and Materials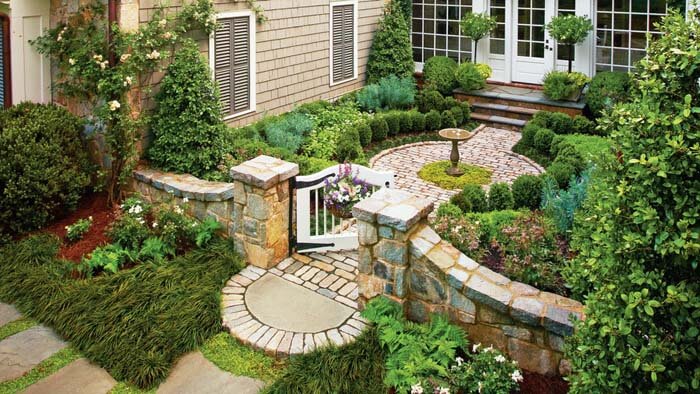 Trimmed plants of different height, color, and texture lend this front yard a balanced look.
Natural shapes and materials add harmony and interest. A simple yet eye-pleasing fountain is the focal point of the space.
46. Burst of Color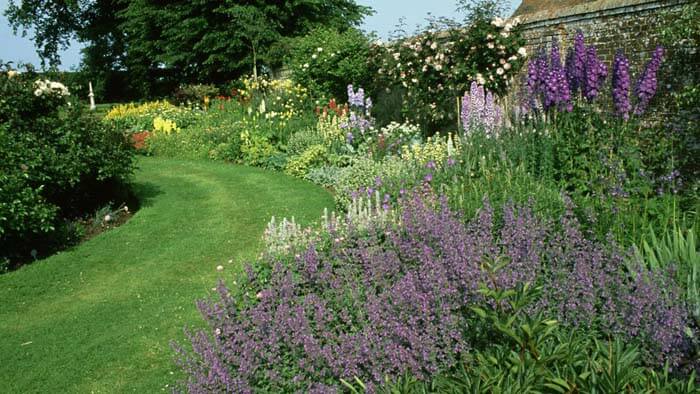 A curving grass pathway runs along a delightful cottage garden.
A stone house is just the perfect background for this inviting, peaceful exterior where to spend some time in privacy.
47. Attractive Front Yard Garden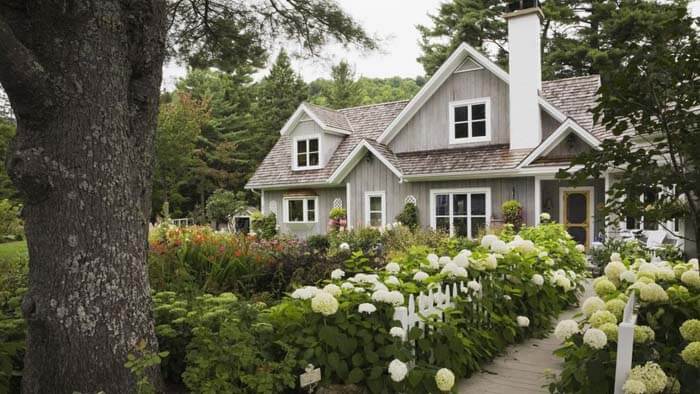 A picture-perfect house serves as a background for a charming front yard garden.
Trees of different kind and height add vertical interest and add privacy. This exterior is all about color, serenity, and charm.
48. Multi-functional Space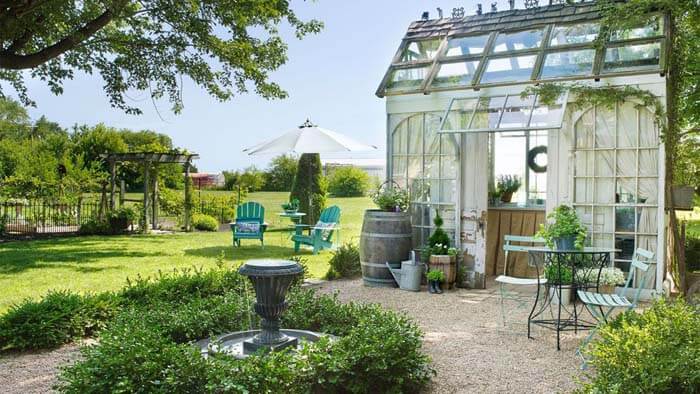 А sunroom grabs and keeps attention giving the space an appealing look.
Seating arrangements create a multi-functional, inviting space. A wine barrel repurposed as a flower stand adds visual interest.
A fountain provides calmness.
49. Organic Look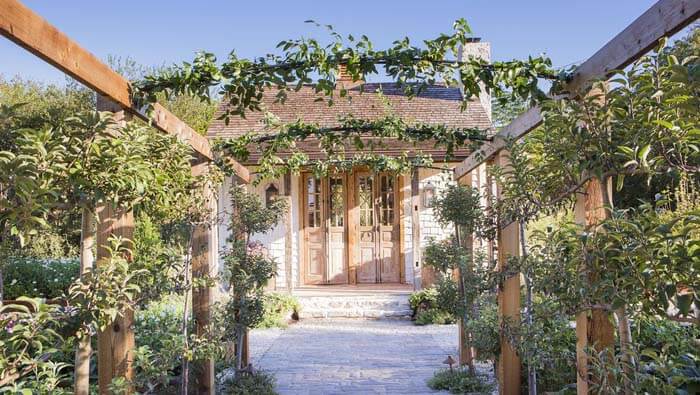 Lots of stone, bricks, and wood lend this inviting exterior an organic look.
Trees and shrubs in different shades of green help create a sense of harmony, calmness, and balance.
50. Flower Stand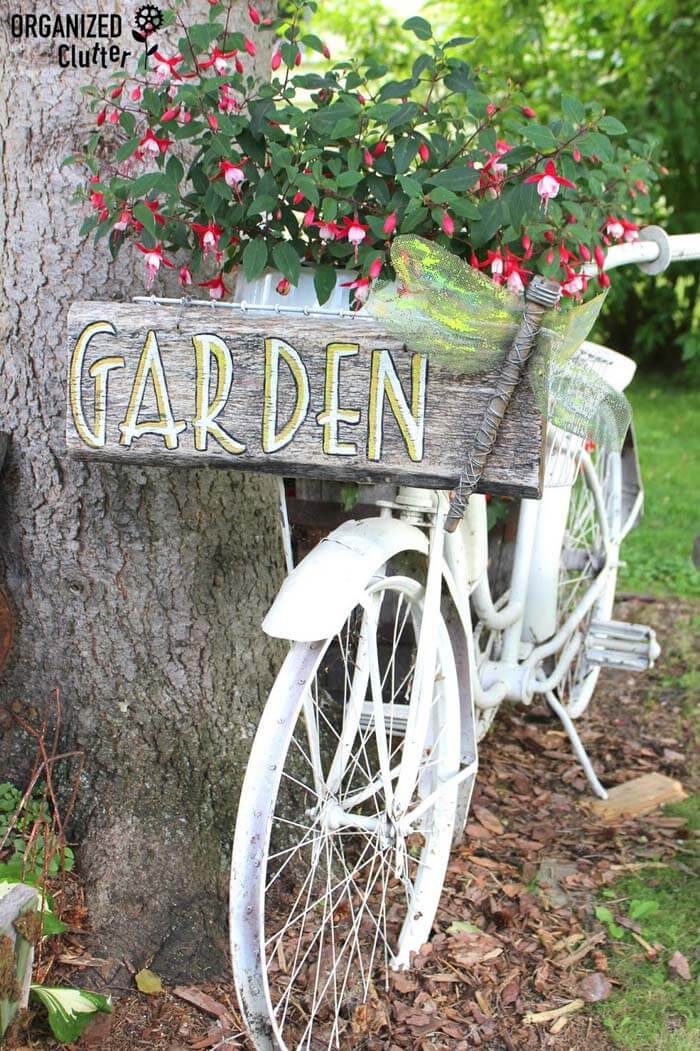 An old bike is repurposed as a flower stand. A wooden sign saying "Garden" welcomes everyone to this charming spot.
A potted blossoming flower contrasts the bike and adds touches of color and fragrance.
51. Weird House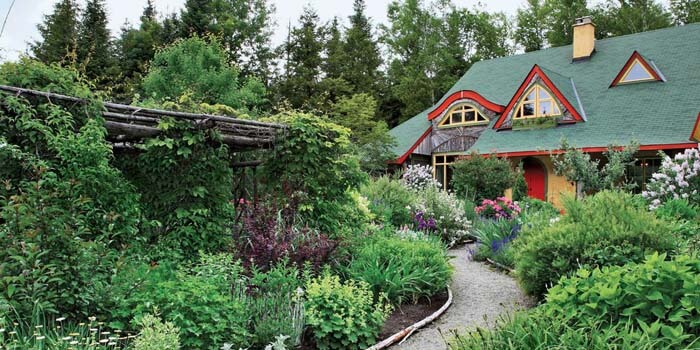 A curving gravel pathway leads to a weird yet attractive house.
A plethora of vegetation of different kind, height, shape, and color helps create a space which offers privacy, comfort, and charm.
A simple wooden structure adds functionality and visual interest.
52. Harmony and Chaos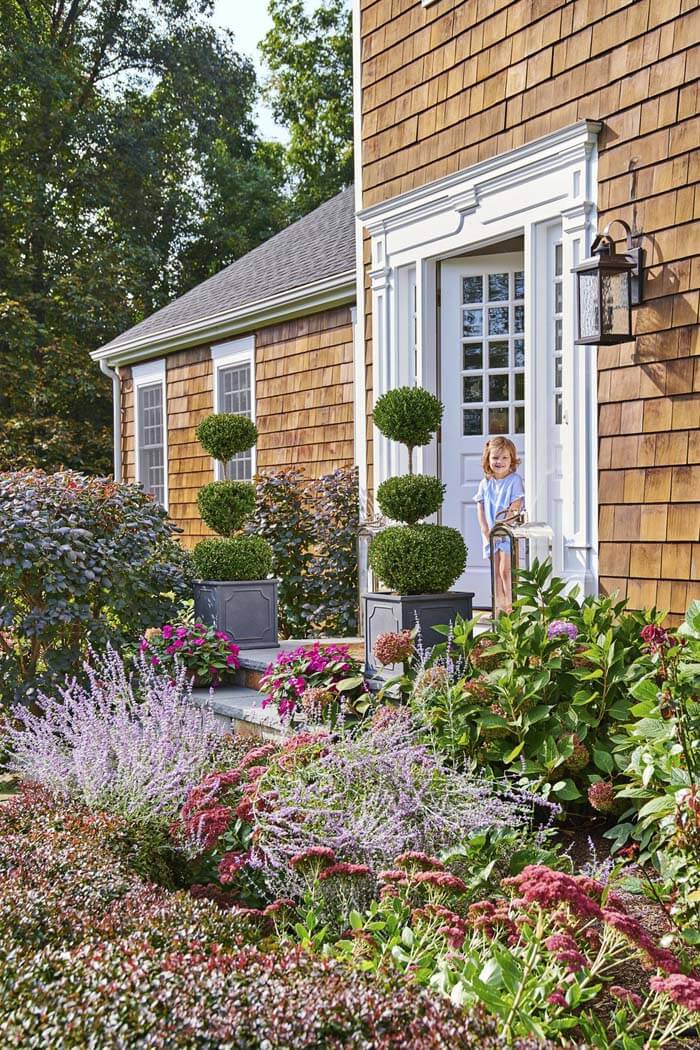 A pair of uniform topiaries flanks the front door of this house, creates harmony, and balances the untamed look of the front yard garden.
The garden itself is all about color and fragrance and stands out against the background of the façade of the house.
53. Scent and Delicacy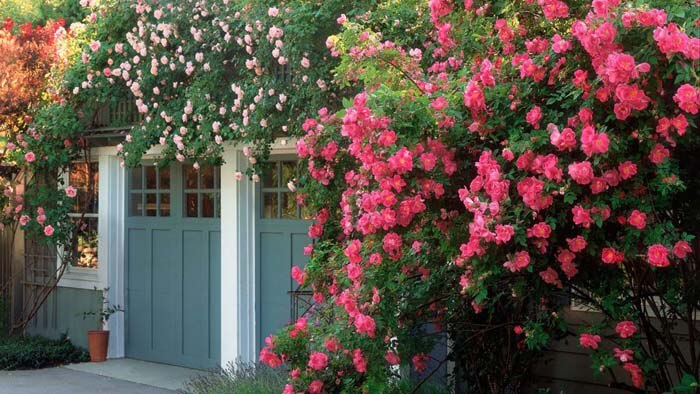 When it comes to beautifying a garden, roses are always an option to consider.
In this picture, rose bushes stand out and offer color, scent, and delicacy. Flowers in the background make the space even more inviting.