In case you are living in a house, you are blessed to have a backyard, even when it is a small one. Roses have always been a traditional member of the gardens and that won't change ever because the scent and beauty of the blooming rose add some romance and charm to the yard.
The rose is the queen of flowers and it deserves its special place in the yard. Creating a rose garden will reward your senses with delight and your yard will be transformed into a bright and elegant outdoor space.
Creating a rose garden is not difficult but there are certain rules and specifics that have to be considered before planting them.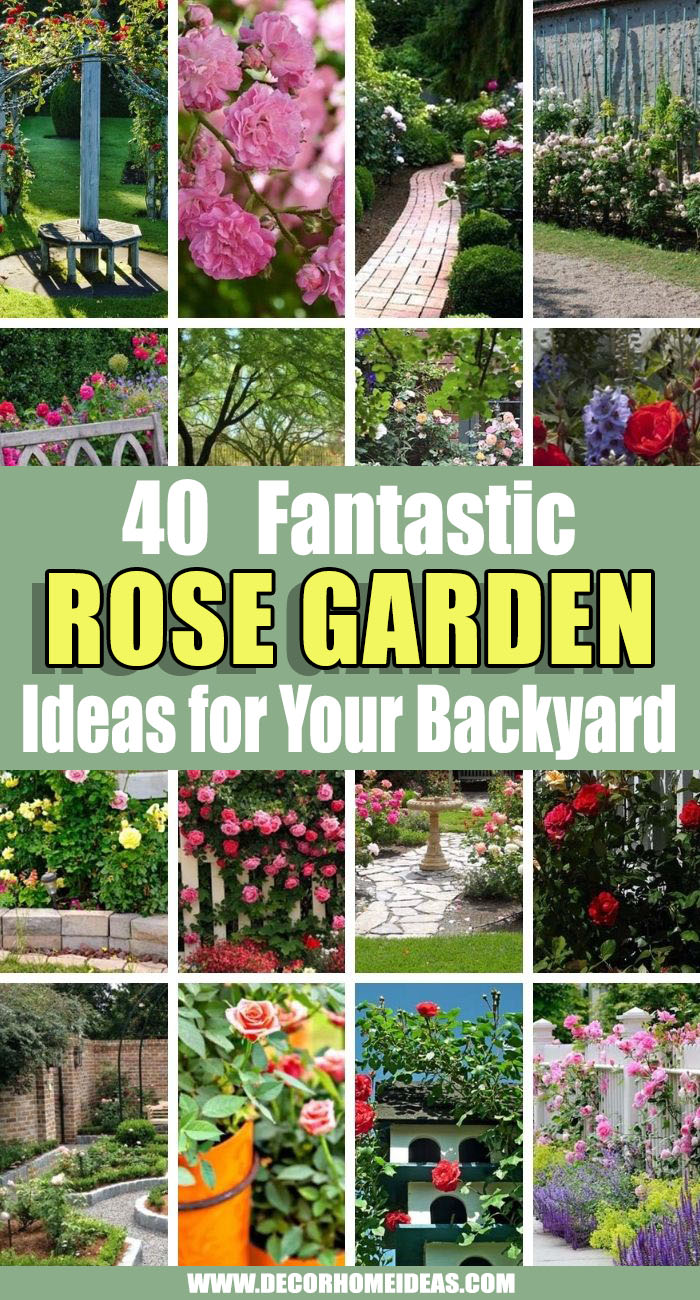 Factors like sunlight, aeration, soil fertility, humidity are of the greatest importance and so are the planting pattern coordinated with the chosen variety in order to get the optimum visual effect of your rose garden.
Need an idea of a landscape design for your rose garden? Check out the rose garden ideas below.
You can find a lot of Rose seeds HERE
1. Pretty And Pink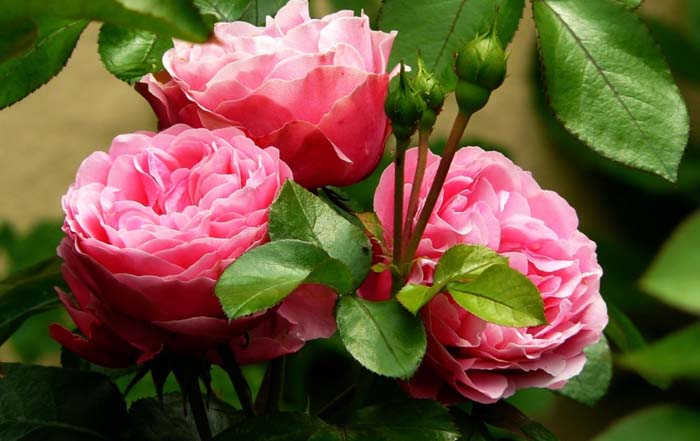 The rose bush with light colors is very beautiful. Especially, if planted at a big difference, their entire loveliness can be seen.
Plant them at the end of the backyard or use them to create accents across the fence.
Even though growing roses is relatively easy, don't forget to take into consideration their location and size.
Similar roses could be found HERE
2. Choose Complementary Tones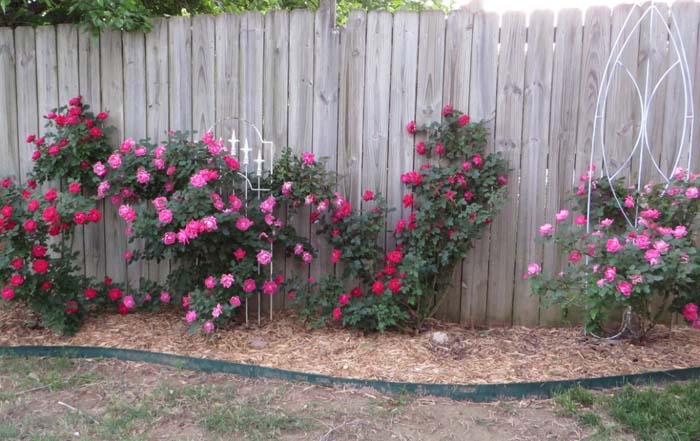 Add a pop of color to your fence with alive roses. Use the shown pattern to plant your roses and support them with trellises or stands to let them get the desired shape.
For an elegant look, plant one kind and color rose. If you are looking for a way to create more interest, combine two colors of the same kind.
3. Small Space Garden Rose Bush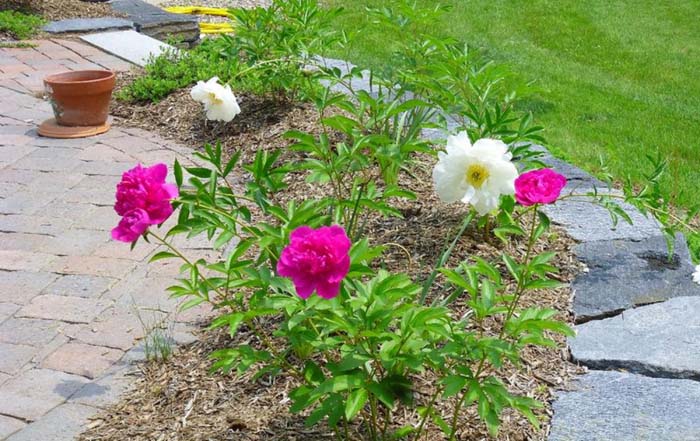 This rose variety and its place hints for a minimalist gardener who enjoys simplicity and moderation. These roses are the accent of a backyard edging in earthy neutral colors.
They don't grow tall but their blooms are tufty and aromatic.
4. Enchanting Climbing Roses With Birdhouse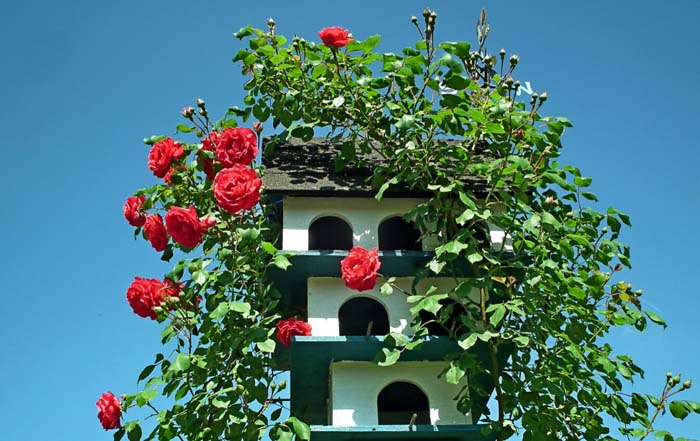 If you admire the effect of the arch of climbing roses but are looking for another way to support them, you can use decoration for them to climb on.
This column of birdhouses welcomes a motif from the wild nature in the backyard. The combination with climbing roses enhances its farmhouse beauty and creates a scene from a magical fairytale.
5. Natural Growth English Garden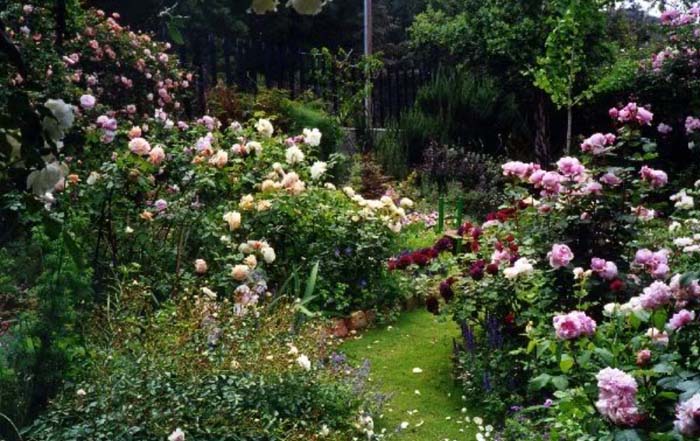 This image showcases a rosarium. It follows the rules of nature- no strict patterns, no planting order. Every kind of rose can be used for this random pattern.
It can be created in every backyard spot – to outline a path, to edge the backyard, around a pond.
6. Add Roses To A Corner Garden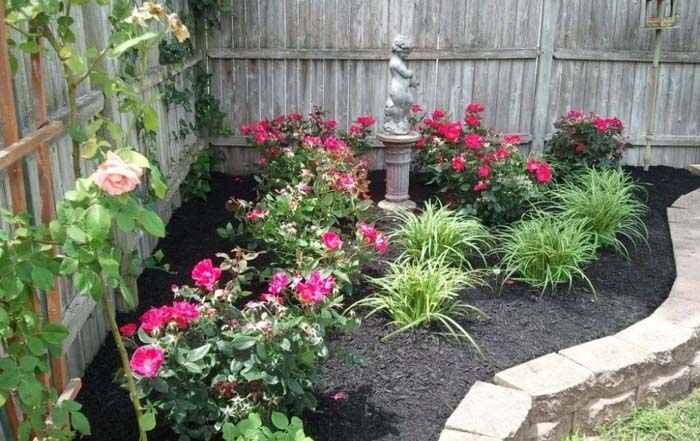 The soil of this small garden has been covered with dark mulch to ensure drastic contrast with the plants.
Blooming short roses are planted in an L-pattern, leaving enough space between them to let the blossoms reveal their maximum beauty.
7. More Than Just A Pretty Flower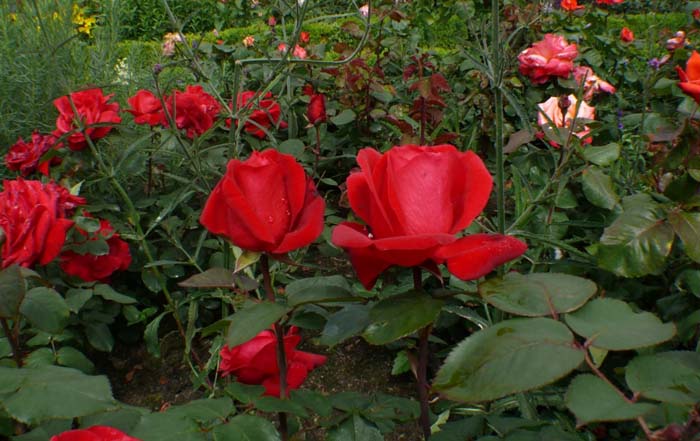 Roses are not only famous for their beauty. They are also known as a source of natural oils that are used in cosmetic products.
To ensure that your rose garden is lush, water it regularly, remove the weed around the stems, let air get in the soil by turning it over.
8. Cottage Charm Pink Picket Fence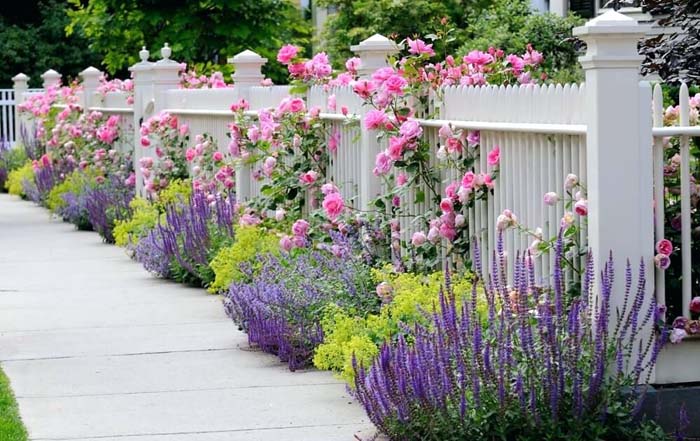 Growing climbing roses next to the fence will create a natural and aromatic embellishment for your backyard that will last all summer long.
Help the roses climb by tying them with twine to the fence or by supporting them with dowels.
Make sure that you prune the dry blossoms and branches regularly in order to let the new blossoms feed and avoid overweighing the rose.
9. Mini Rose Flower Pots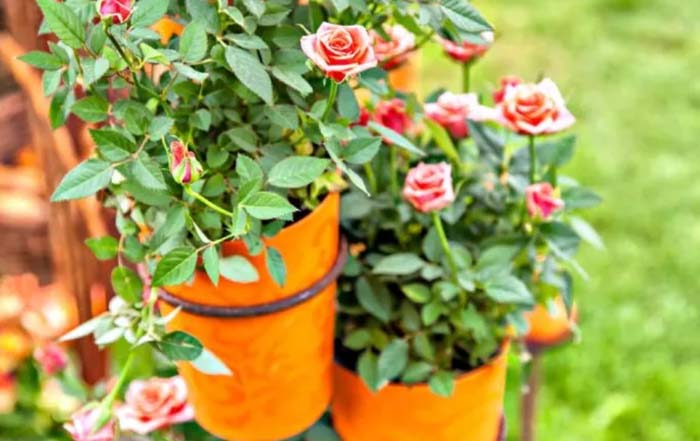 There are certain kinds of roses that can grow easily in containers. Choose the size of the pot according to the size of the root net. It has to be entirely accommodated in the pot and spacious enough to let it feed with air and water.
Tip: Create a potting mix consisting of one-third quality commercial potting soil, one-third garden compost, and one-third composted manure.
Such kinds of pot roses can be used to decorate a porch or backyard fence. They can be attached to them with pipe brackets. Another simpler way to arrange them is to place them on a stand.
10. Highlight A Birdbath With Rose Bushes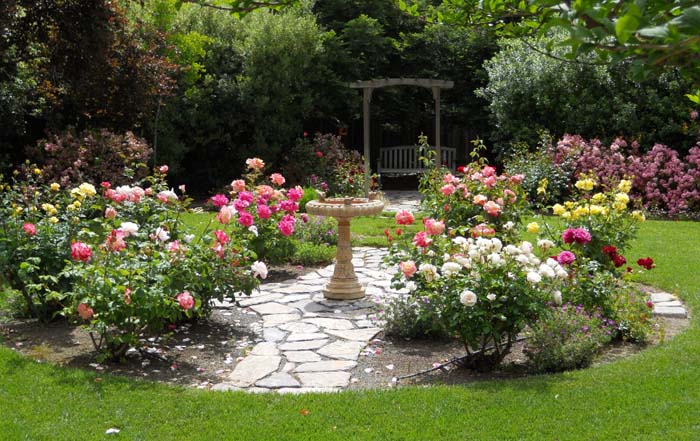 If you have a pond or a fountain in your backyard, use roses to make it stand out.
Depending on the place, you can plant them around the water feature or create a path with them to lead to it. Such a flower garden is always a pleasure for your eyes and could be your perfect retreat where you can relax all day long.
11. Pergola Climber Roses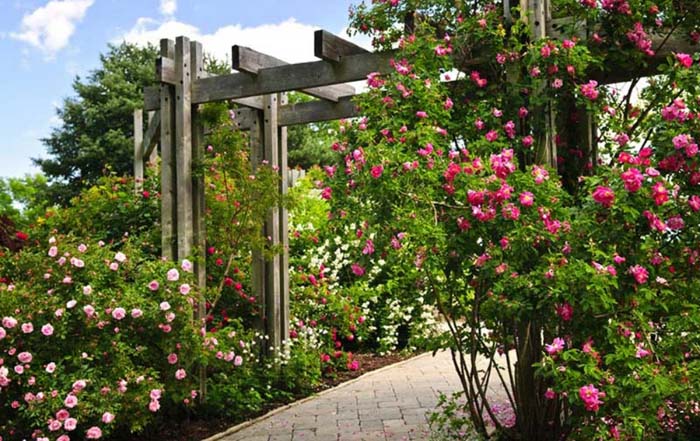 The best kind of rose to grow when there is a pergola or an arch is the climbing rose.
It is known for its longer blooming phase, amazing fragrance and rich bouquet formations.
12. Add Roses To An Existing Garden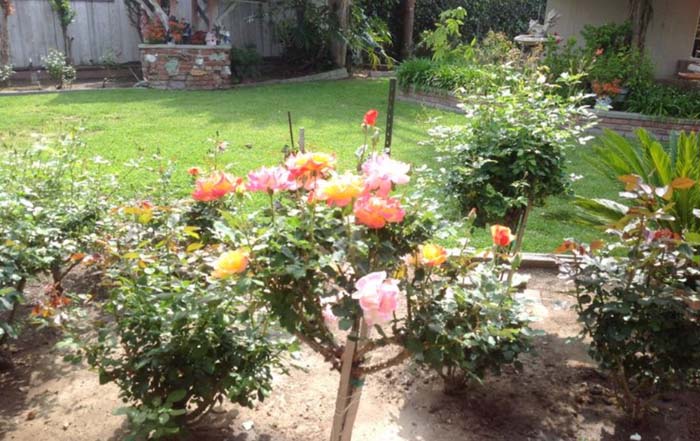 In case there is no free space in the garden to create a rose garden, you shouldn't give up on that idea. Instead, plant it in an empty spot next to the existing flowers and plants.
The ordinary rose is a variety that is easy to be grown and doesn't require much care. Make sure to water it properly and support it with a beam or a dowel to make sure that the stem withstands the weight of the blossoms.
13. Flowering Rose Retreat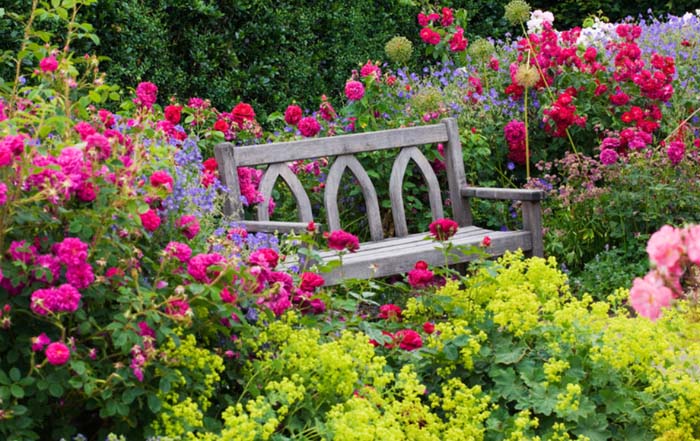 This is an example of a backyard that is covered with blooming flowers. A rustic bench is placed in the middle of this magical environment to create a place where worries get away and body and mind relax.
14. Edge A Walkway In Vibrant Color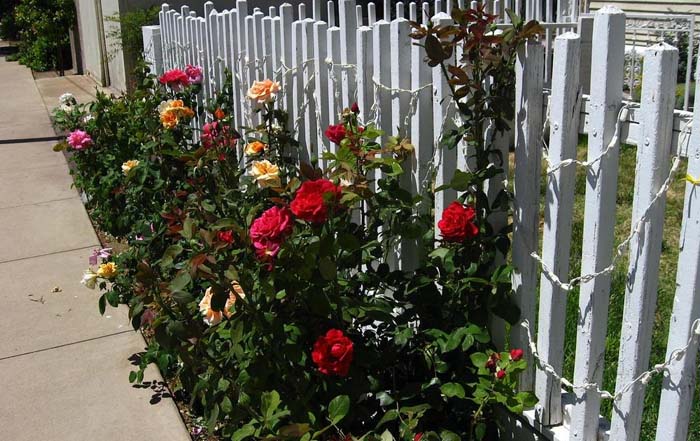 Create a path to your front door with roses. The flower bed is right next to the fence letting them cover the wood and create a natural screen.
To let the roses grow well and bloom with rich flowers, leave space enough between the roots, water them often and train the rose canes to the fence.
15. Blossoming Fence Bush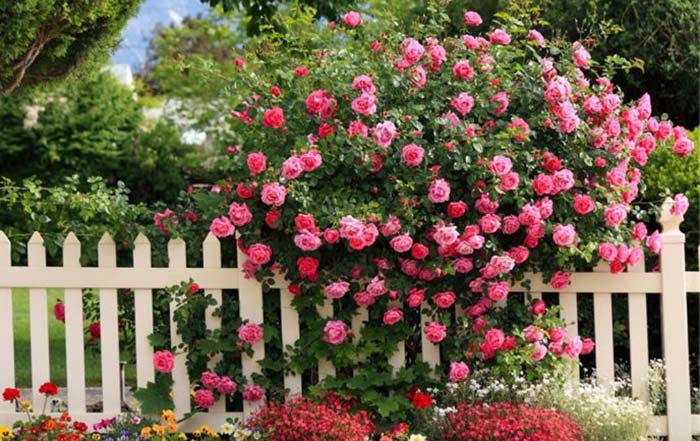 The climbing roses create a beautiful effect even when they do not grow over an arch or pergola. You can use them as a fence embellishment that will lay over it when matured.
The rich tufts are heavy so make sure that your fence is strong and well supported to bear them.
16. Rose Bush Focal Point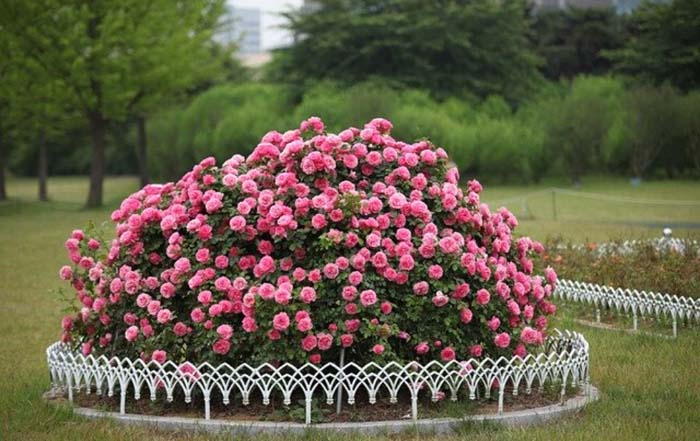 The classic bush-like roses can be the focal point of your backyard.
For an outstanding visual result, it is recommended that they aren't any other blooming flowers next to them. In case there are, they must be plainer to let the rose stand out.
17. Blended Colors In A Raised Bed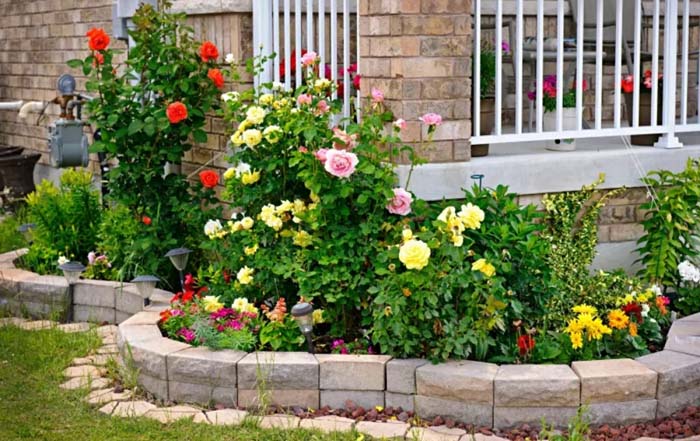 Raised garden beds give an elegant and sophisticated look to the house. You don't have to be a landscape designer to build them.
Planting roses in them is a great way to enhance the framing effect. The shrub kinds or the plain ones are perfect for that purpose because they will not cover the built structure, on the contrary- they will let it stand out.
18. Shaded Rose Arbor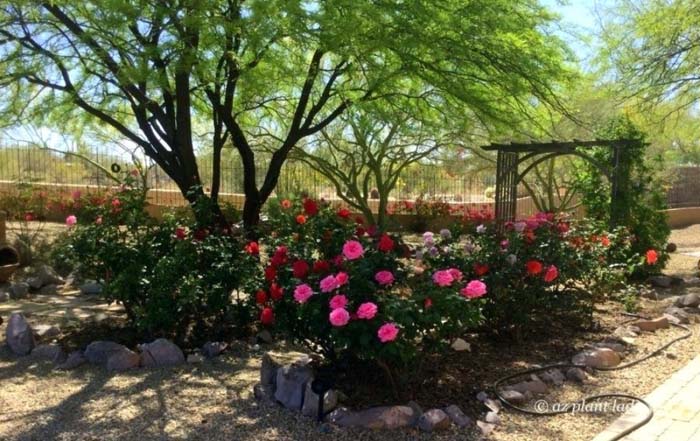 You don't have to dedicate a large parcel from your backyard to create a rose garden serving as a focal point.
Instead, you can change the pattern by dividing the island into three and surrounding each group of roses with stones.
19. Sit And Smell The Roses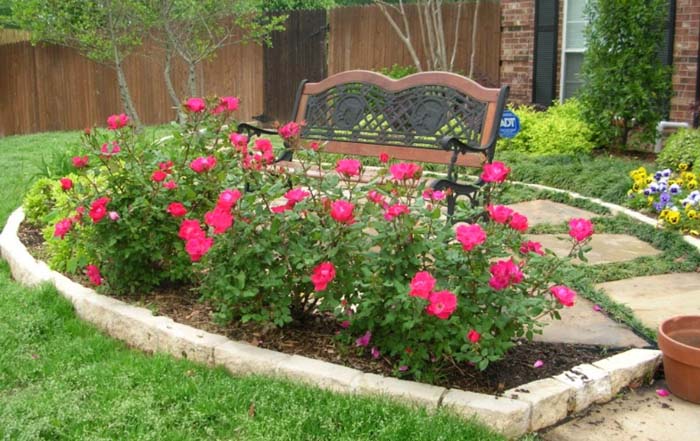 If you have a sitting area in your backyard, make the ambiance more relaxing by planting roses next to it.
Depending on the place, you can build a band of roses or create a ledge that will enjoy the sight.
20. Romantic Red Roses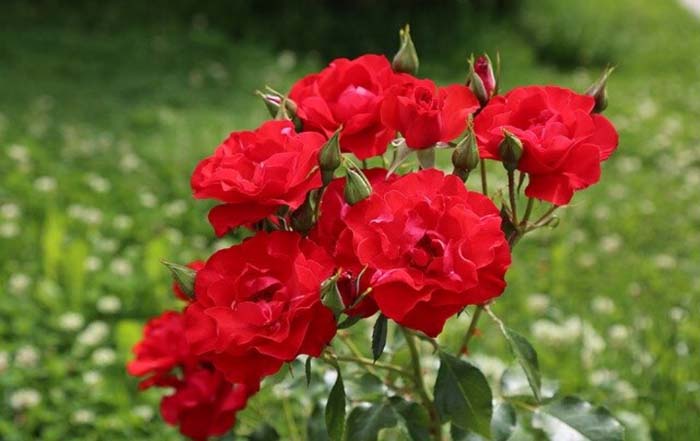 What is your first association when you hear the word "romance"? It is a red rose.
The red rose will never go out of style- it is a symbol of love, its velvet petals look perfect and its fragrance is irreplaceable.
21. Allow Natural Growth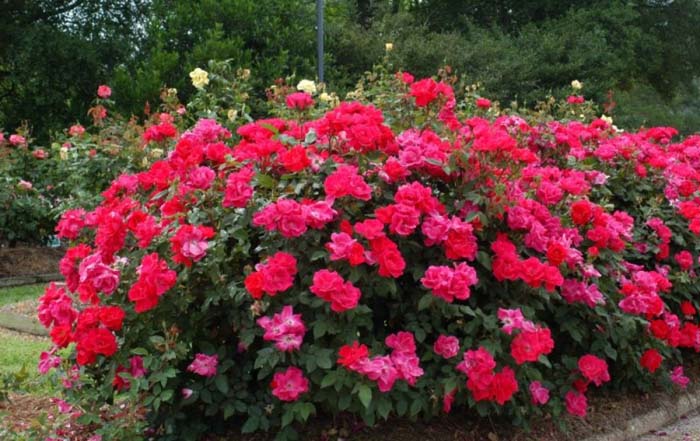 The shrub rose kind with attractive blooms as the English rose look amazingly well in sunny places. They are the perfect way to embellish the end of a pathway or surround a bench with.
They also smell very well so to make sure that you enjoy this fragrance, plant them closer to a sitting area of your backyard.
22. Pair With Stunning Blue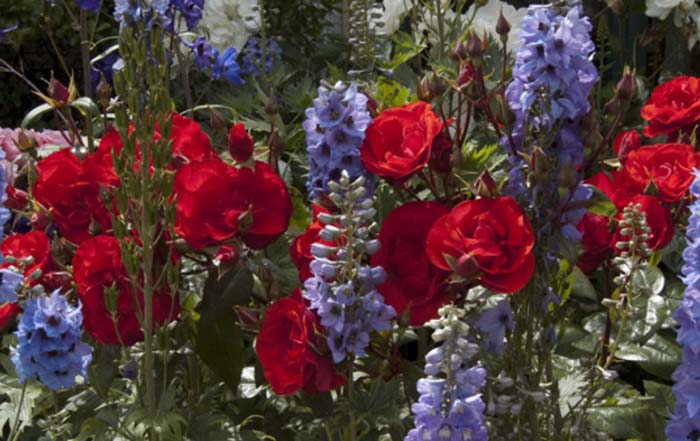 Because of the traditional understanding of the rose as a symbol of love and affection, having it in your garden will hint these. The combination of flowers with lilac blossoms is extremely good.
Of course, make sure that they are not hidden because you will miss the extraordinary beauty of the rich blooms.
23. Tranquil Flowering Retreat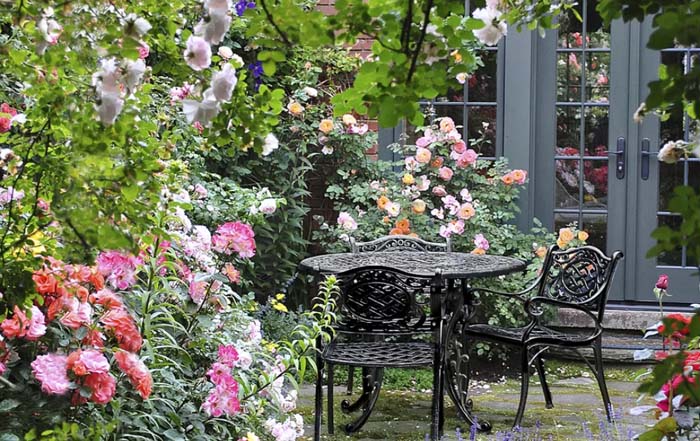 Use shrub and climbing roses to zone the sitting area of your backyard. Planting the right kinds and at an appropriate distance will make sure that a living fence is created when they mature.
Sitting surrounded by these roses promises to forget all troubles and to experience a relaxation that cannot be compared.
via This Old House
24. Climbing Trellis Rose Arches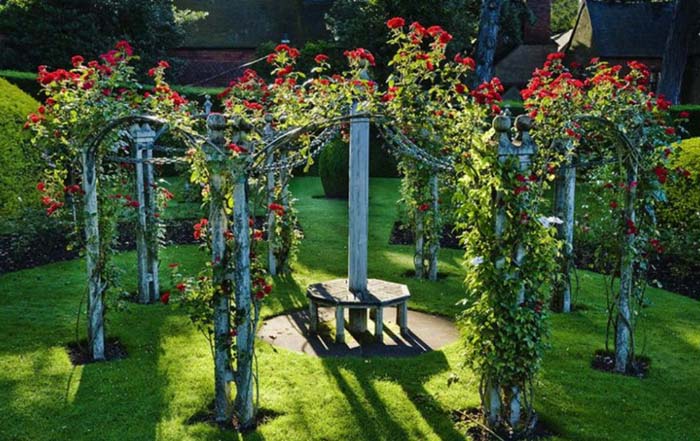 The arcs serve as a vertical means to build a garden. Plant climbing roses next to the supports to create an oasis.
Pruning is an important part of growing the climbing roses not only to give them an aesthetic look but also to stimulate their growth and forming of new buds.
25. Wild And Natural Blooms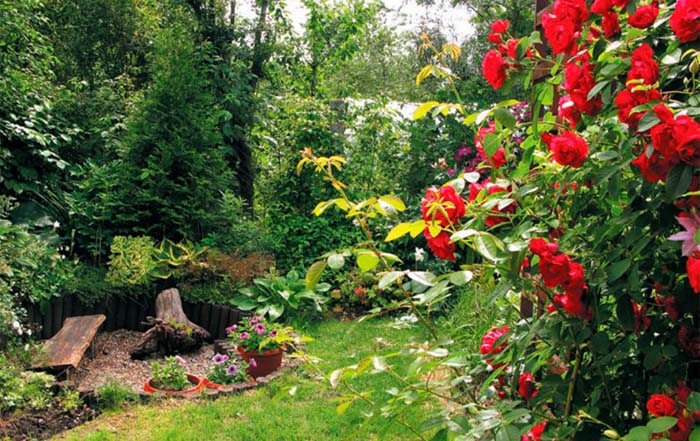 Leave the roses to grow naturally to achieve a backyard environment that is so magical as if you are taken to the wild nature.
26. Roses Make A Pretty Garden Path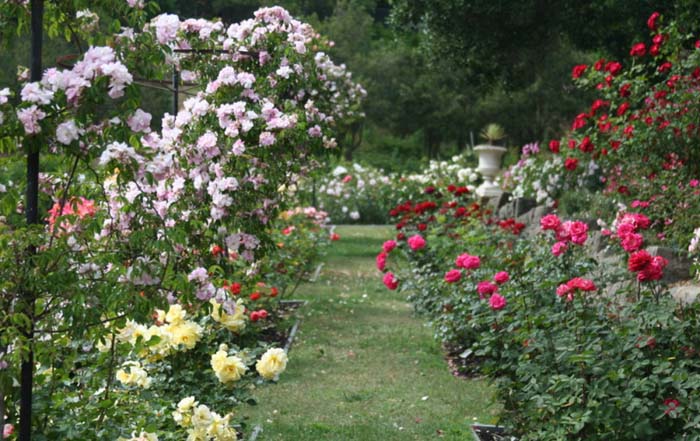 Make your walkway more exciting by surrounding it with roses. They will stand out with their blossoms creating a figurative way to something important.
27. Exquisite Manicured Rose Lined Walk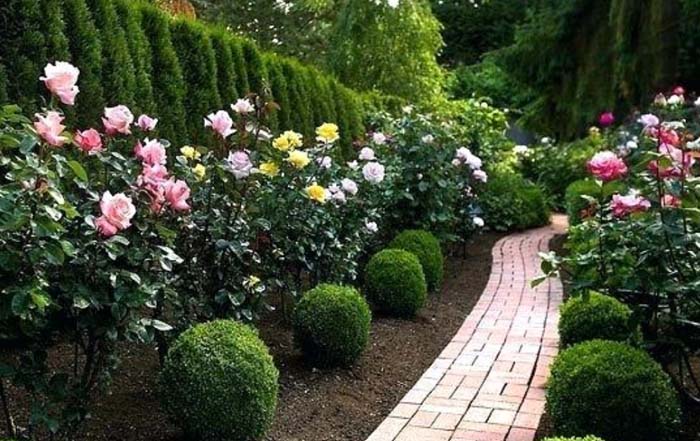 A good partner of the roses are the evergreen plants. Boxwood trees are the perfect choice because they don't mind the shade roses make and ensure a gorgeous green contrast for the roses to pop out.
Herbs and lavender also look very good in combination with roses.
28. Add Flowers To A Traditional Garden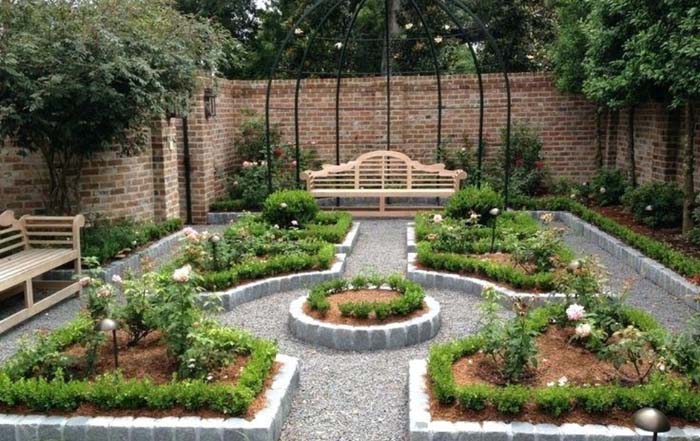 This is an example of a standard rosarium implemented in a traditional garden design.
It is characterized by strict rules for outlining the garden and the planting pattern.
In such cases, you need to follow one color scheme for the roses.
29. Create An Aromatic Haven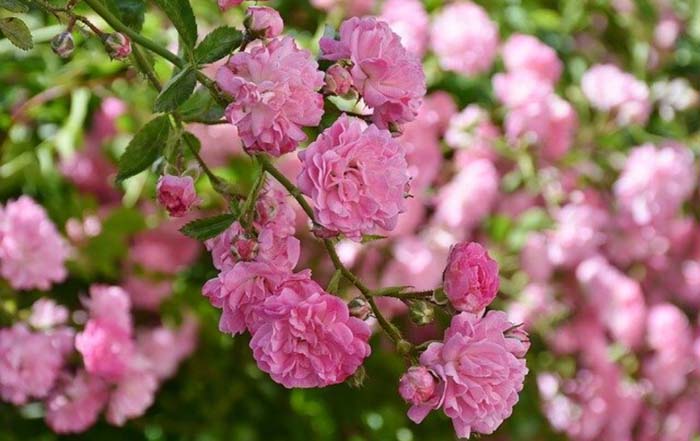 Plant the most aromatic roses next to the places which you visit most- the relaxing zone, the outdoor dining set, the pergola.
30. The Most Romantic Bloom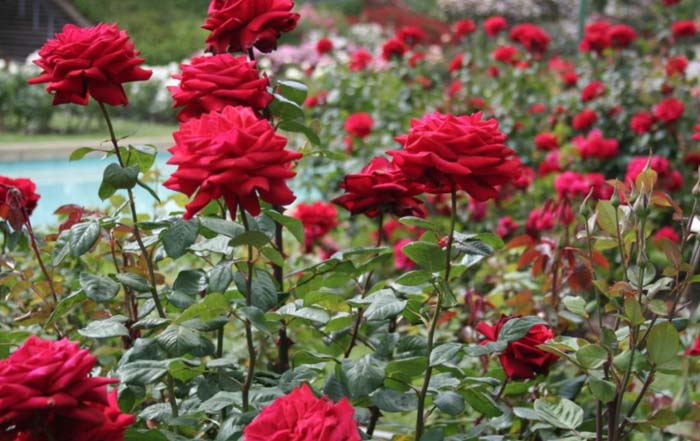 Rose is the most admired flower all around the world. Although they are amazingly perfect and elegant, they can be grown in any type of outdoor decor.
They look well planted in pots, they enhance the beauty of the farmhouse style, they make the wrought iron shapes even more sophisticated.
31. Create A Climbing Rose Wall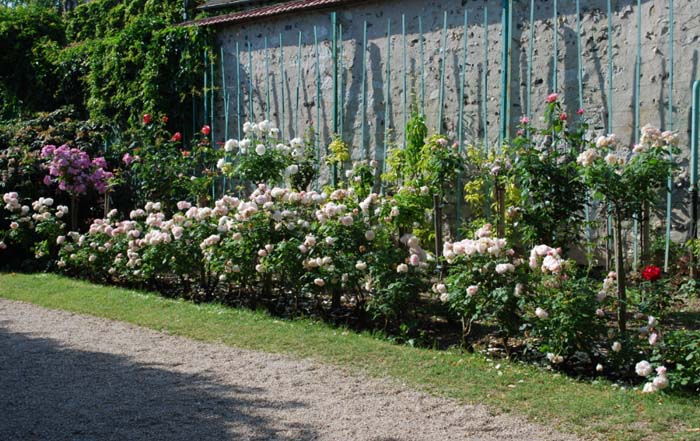 Being so versatile, roses can be grown in any backyard environment. Using them as a fence embellishment, to create a rose island, to surround a rest area, will give them a romantic vibe.
When the entire look is considered, your backyard will be given an elegant feature.
32. Brilliant Rose Topiary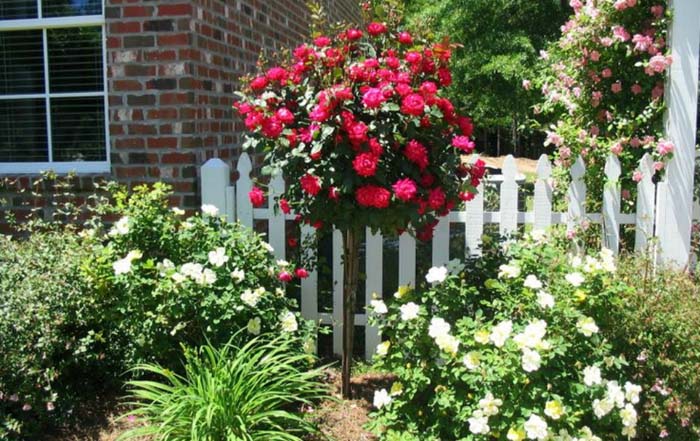 Make the entrance of your home more welcoming by planting roses before or at the entrance of your backyard.
33. The Versatile Beautiful Rose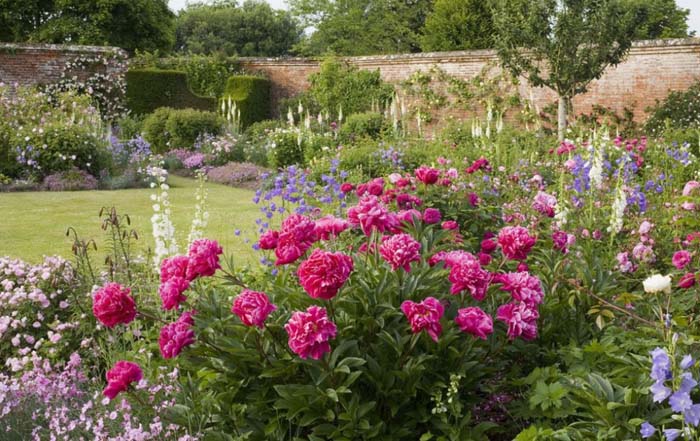 Why rose is the queen among flowers?
You may not be aware but it is a preferred kind of flower because of the wide variety, because of the durability of the blossoms, because of its fragrance, taking care of it does not require any special supplies.
Choose some perennials as a companion plant to make the most of the flower garden.
via Countryliving
34. Upgrade Your Living Wall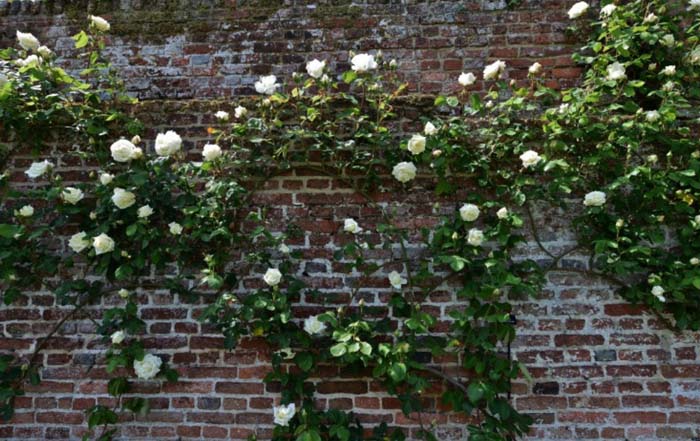 We are used to seeing living walls made of green vines but you can make it with roses. This is a far better option as you will be able to enjoy the blossoms in summer.
The most important part of the creation of the living wall is to decide its shape. It can be any type – from plain line to interesting form. White rose creates contrast with the brick wall.
via Mike Garlick
35. Romantic Rose Pergola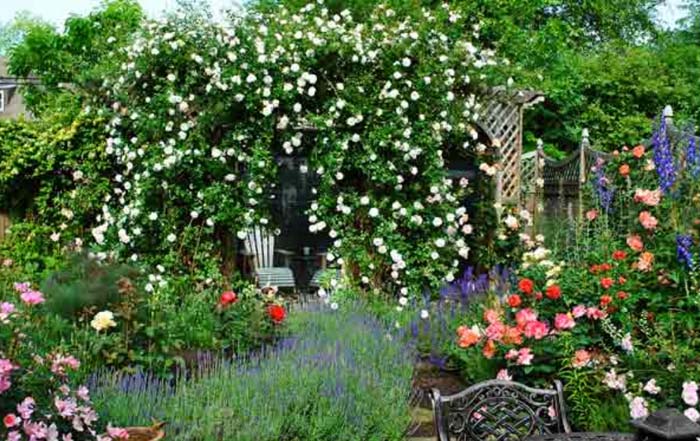 This rose kind is one of the greatest ones when it comes to the visual effect. The wild rose grows very quickly and forms rich tufts. Even though the branches are not very heavy and this is why it is used for embellishing pergolas and arches.
The effect they create when in the blooming effect is waves of leaves and roses as if a flower waterfall is going down the structure.
Each one of these rose garden ideas will make your backyard look beautiful and charming.