You know that there are some tricky areas in your garden that need special attention, right? Like landscaping along a fence, around trees and driveways. But what about the different corners of your garden?
Unless you have a perfectly shaped circle backyard (I haven't seen one, yet ) you will have to find a way to make your garden corners more appealing, that's why we will show you some creative corner garden ideas to make it easier.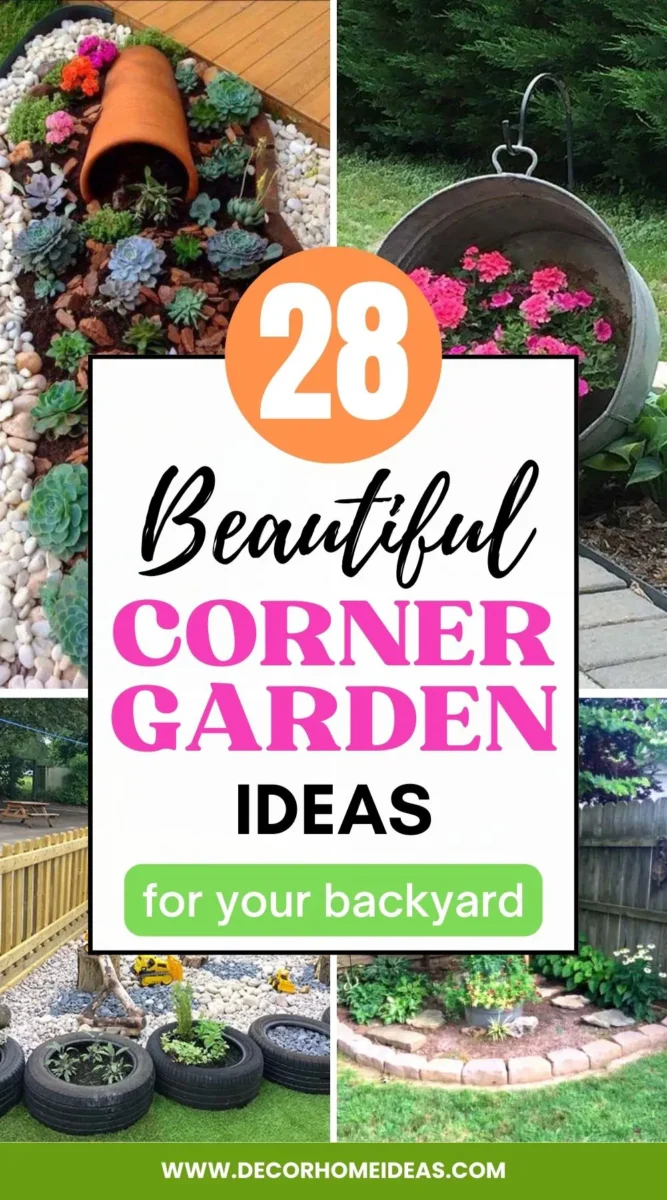 Whether it's a flower garden, raised bed, simple landscaping or just a corner to relax we have some unique designs and layouts with photos.
You can turn each one of the corners in your garden into a beautiful space by decorating it with small flowers or furniture.
Here are a few ideas to turn your garden from a forgotten corner to a shining focal point.
1. Corner Picket Fence Garden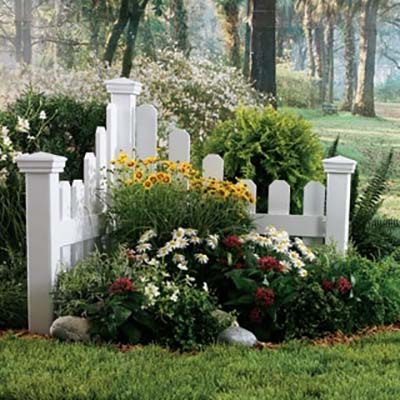 Fences aren't just barriers, you know. If you're looking for a cute and whimsical corner, consider using a small section of a recycled picket fence as a backdrop.
2. Hanging Flower Lantern Corner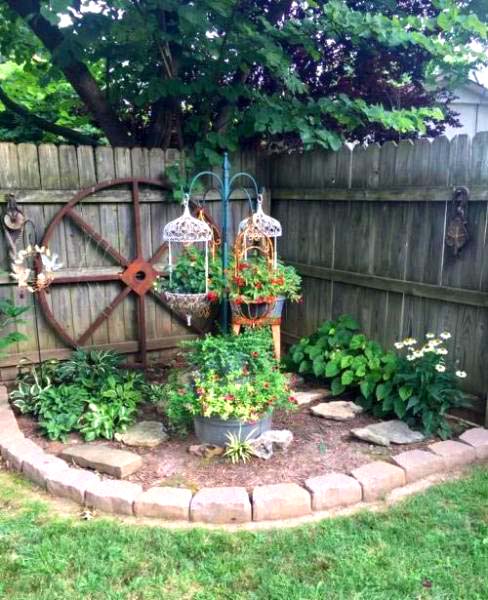 Photo: Credit
Antiques that are too old or rusty to be featured in your home can become a great source of inspiration for those in need of garden design ideas for a corner. We have a great selection of recycled garden art here.
3. Staggered Raised Flower Beds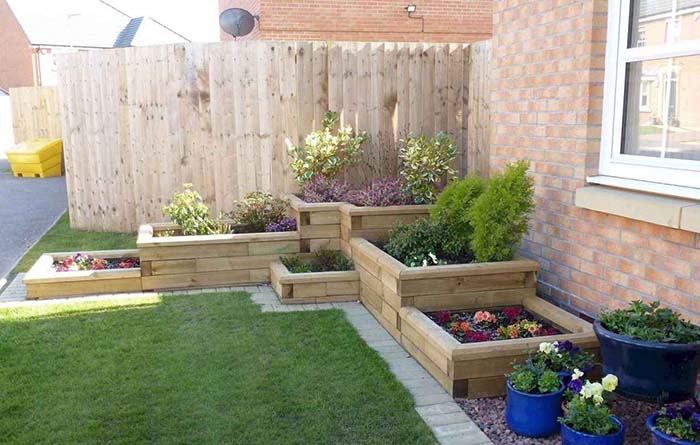 via WoodBlocX
If you've been searching for some garden ideas to fill a smaller area, consider using raised planters to create more useful space than you'd otherwise have access to.
4. Stunning Tiered Stone Planter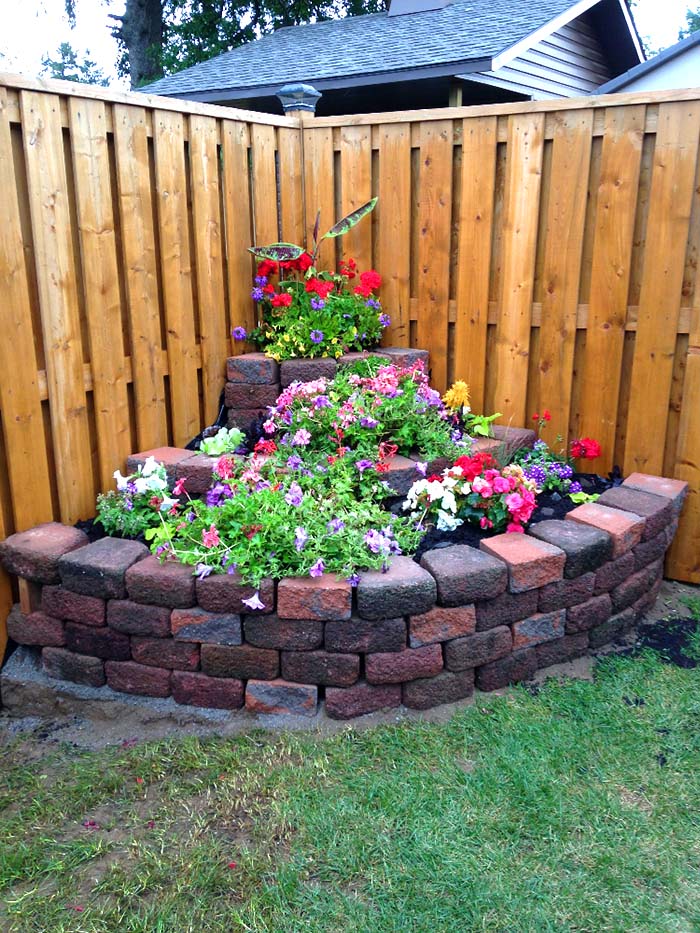 Photo: Credit
For those in need of garden bed ideas, remember that the bed itself can serve as a beautiful source of texture and style.
5. Easy Cinder Block Planter Stack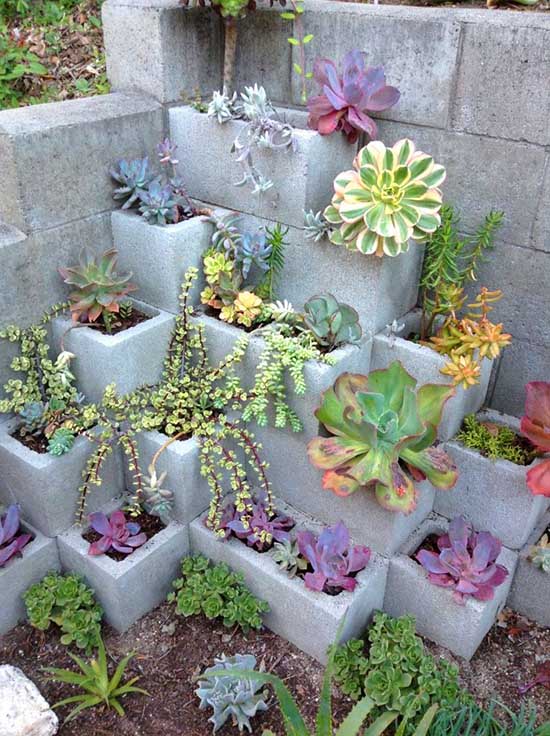 If you need corner yard garden ideas but are on a budget, consider using simple cinder blocks.
Not only are they readily available and cheap, but when stacked they can create whimsical nooks for planting.
6. Hanging Crate Design Elements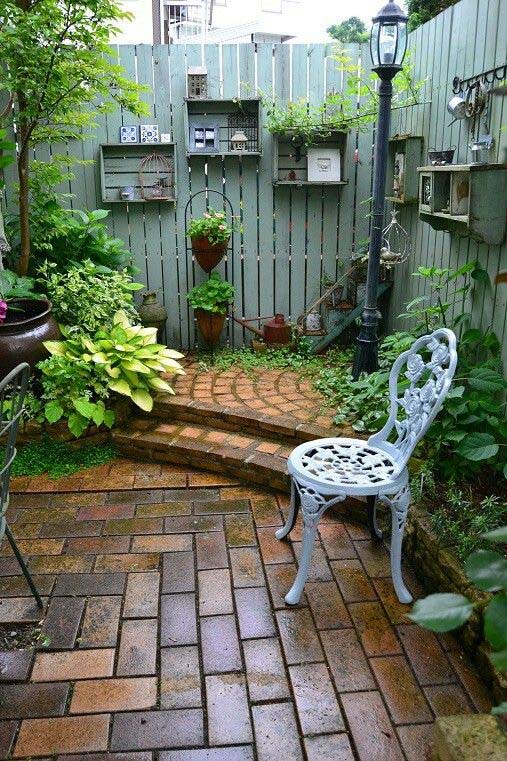 For a fun garden corner fence idea, consider reusing old shipping crates and boxes as retro shelving on your fence.
7. Decorative Ladder Container Garden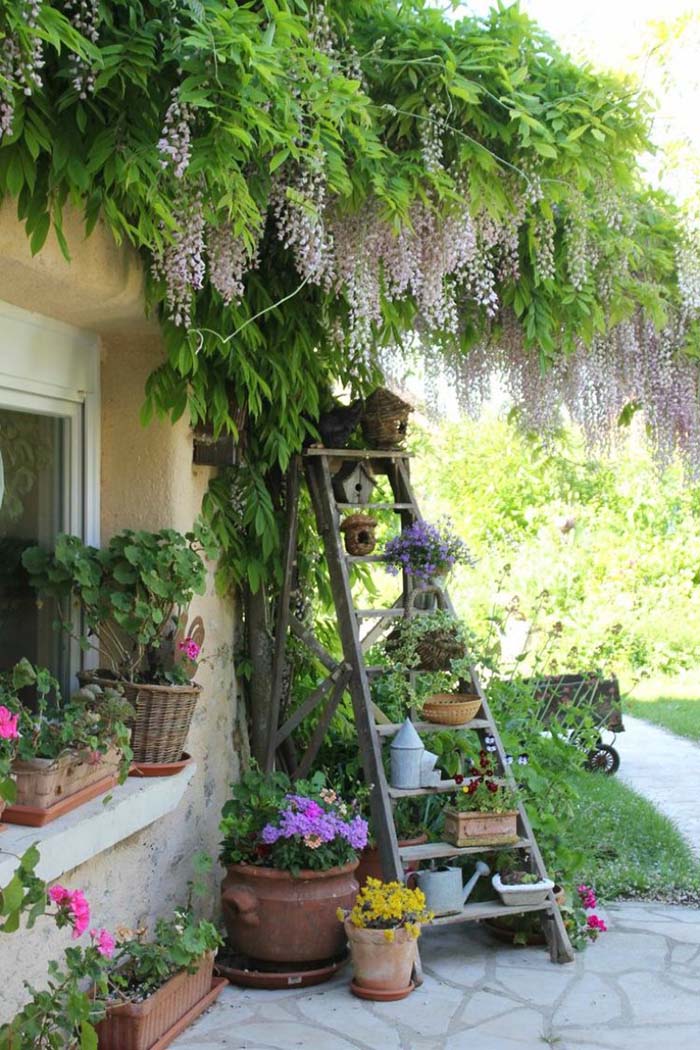 Photo: Credit
A unique corner flower garden idea is to use an old wooden ladder as a plant stand. It's not only cute – it's recycling too!
8. Edged Planter Spaces Add Color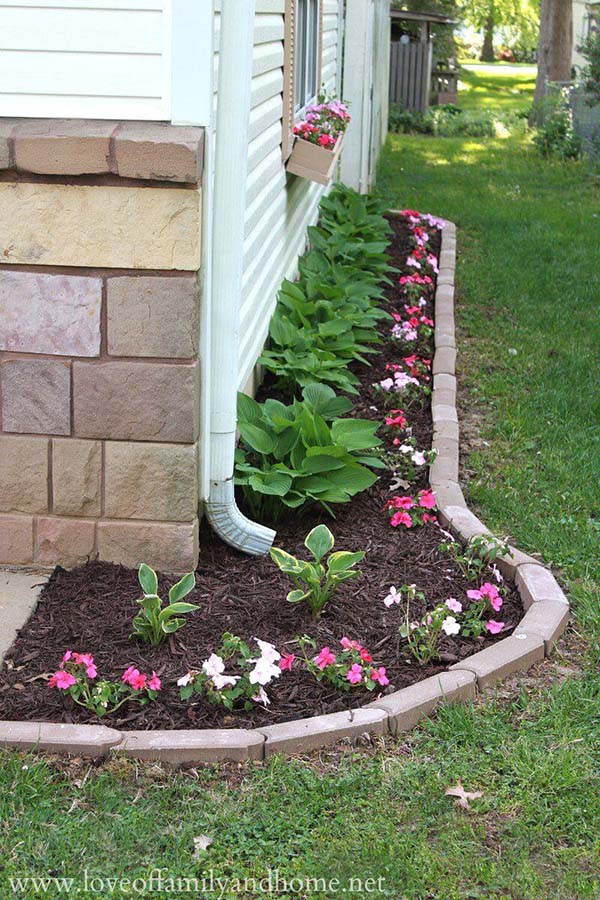 If you want a simple corner that lends a more finished look to your space, consider using interlocking edger blocks or build a flower bed out of bricks.
They're affordable, easy, and make space look complete.
9. Backyard Corner Bursting With Color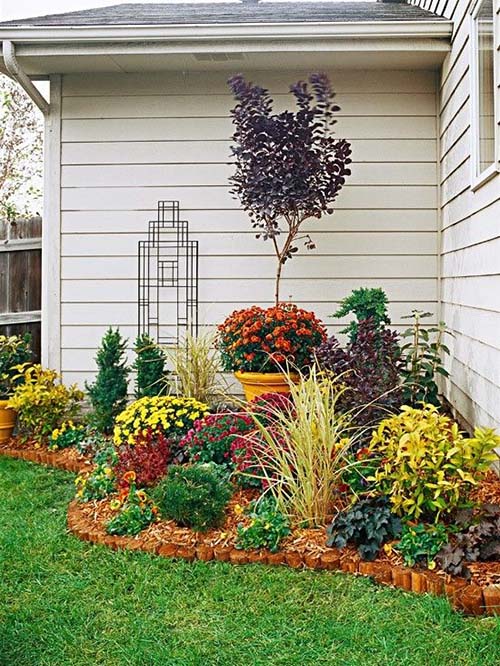 If you need shady corner garden ideas to bring light to a less sun-bathed area, considering switching up your color pallet.
A few well-placed colorful plants ( they could be drought-tolerant plants ) can draw the eye to an otherwise dim area.
10. Eclectic Collection Of Vintage Planters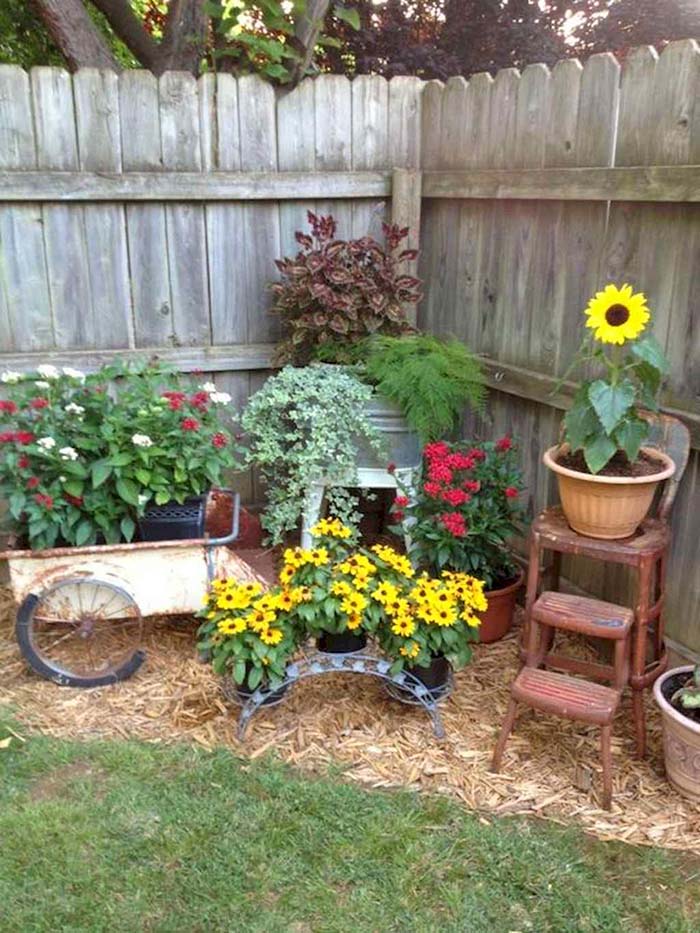 A fun source of garden corner fence ideas is to reuse old gardening equipment – like that rusty wheelbarrow next to the shed – as additional planting space.
It keeps the plants out of harm's way and adds a vintage charm to your yard.
11. Small But Sunny Welcoming Corner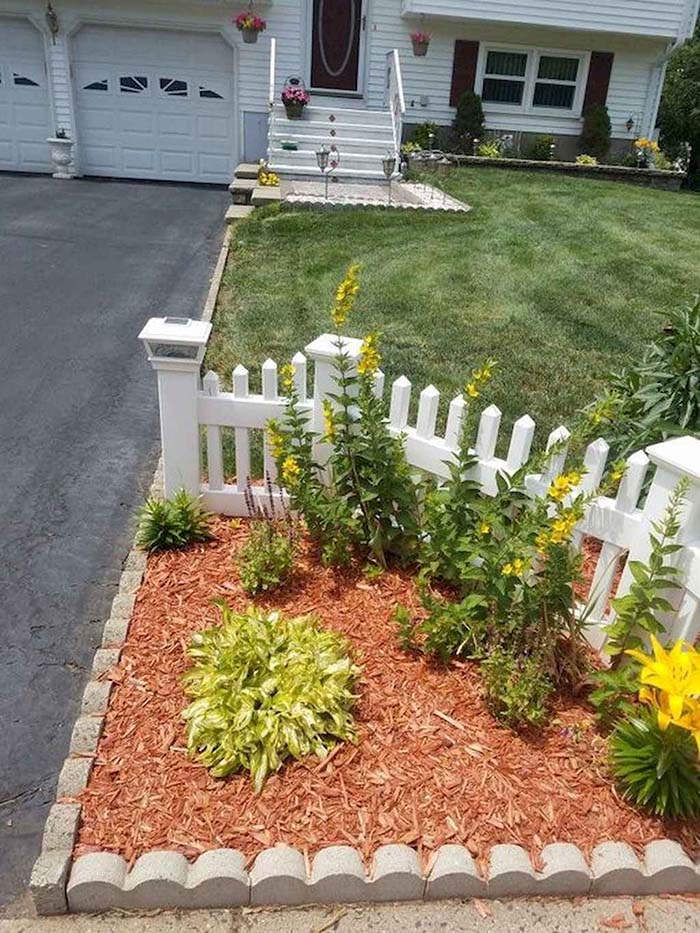 People in search of corner tree garden ideas often think that planting trees requires sourcing a massive oak or pine.
However, smaller sapling trees can add woodsy charm to even the smallest space. Ficus trees are particularly good for this application.
12. Fire Pit And String Lights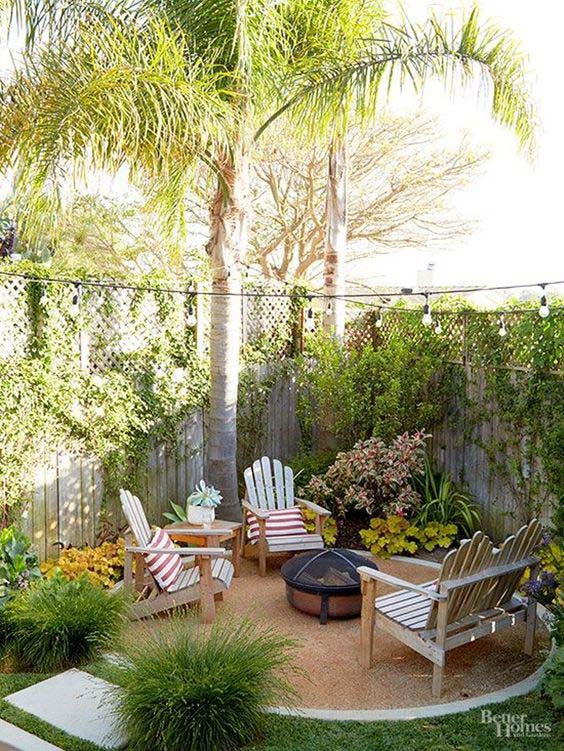 Photo: Credit
Garden corner seating ideas don't have to be complicated or break the bank.
A corner of your yard can be transformed into a relaxing oasis with just a few inexpensive chairs, a string of patio lights, and a fire pit if you feel like splurging.
13. Grouping Of Varied Greens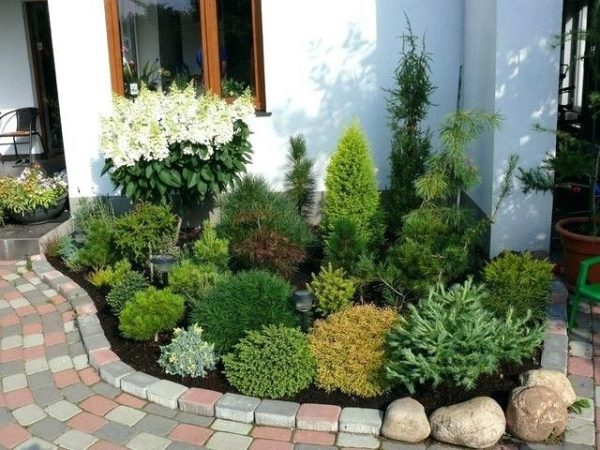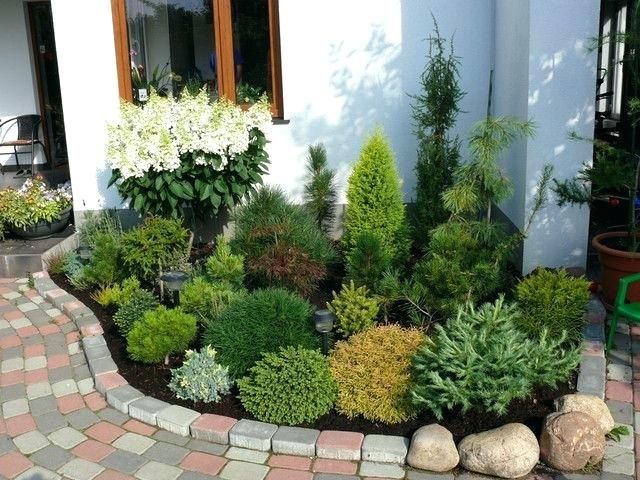 One of the most important things to consider when designing your garden corner is to ensure that you include enough variety.
Too much of the same plant can make space look dull and unfinished, whereas a mixture draws in attention.
14. Use Tire Planters For Boundaries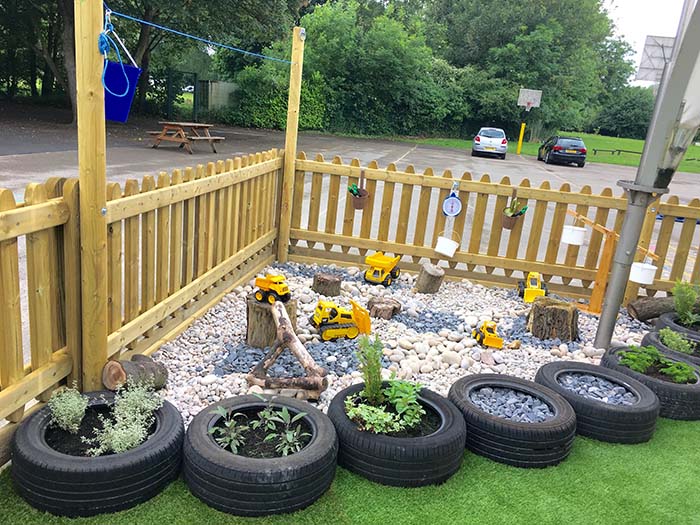 Not everyone has the time – or the climate – to have a massive and lush garden.
For a unique look of this corner, you need some rocks and pebbles and use old tires as fun and environmentally friendly way to edge a gravel installation.
15. Climbing Vine Corner Trellis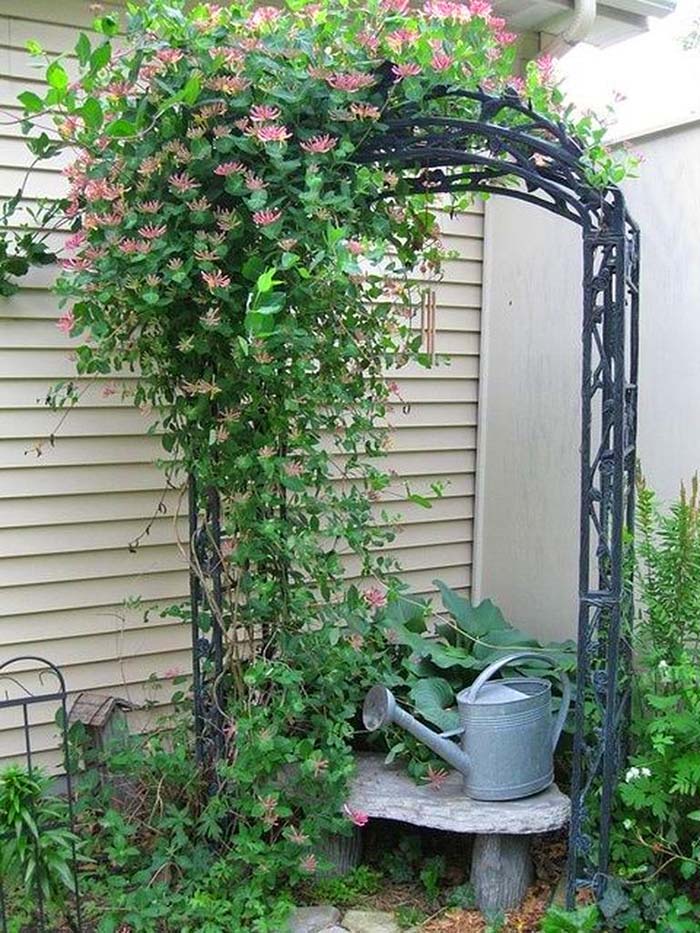 One of the most overlooked corner flower garden ideas is the use of vines.
A small garden trellis and a climbing plant will provide huge visual interest with minimal effort.
16. Dense Tree Shady Seating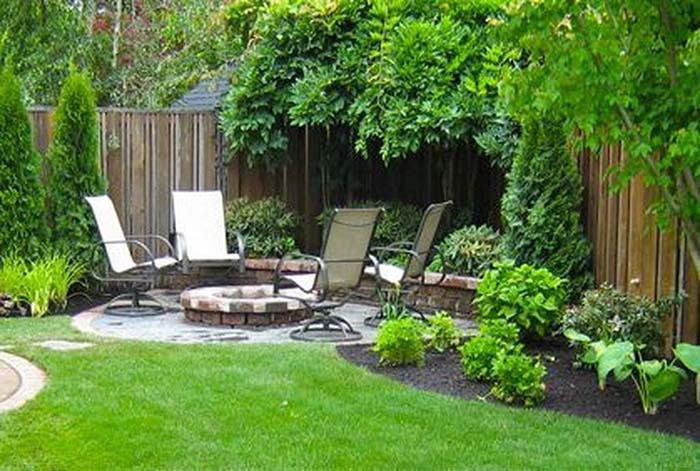 Those looking for ideas for a dark corner of garden space often think that the lack of light is a drawback.
Consider instead turning the area into a seating area, thereby making the shade an asset.
17. Natural Look Stone Edging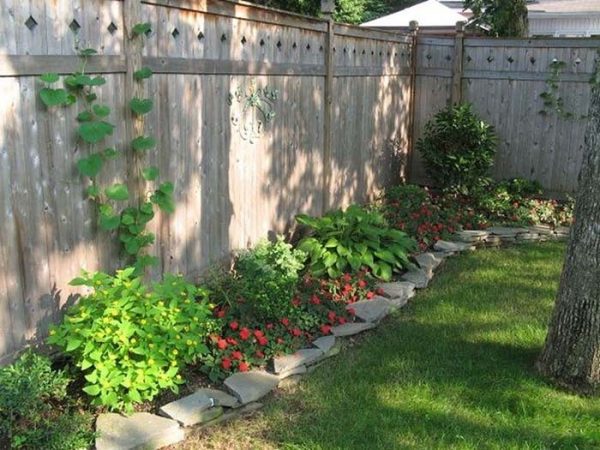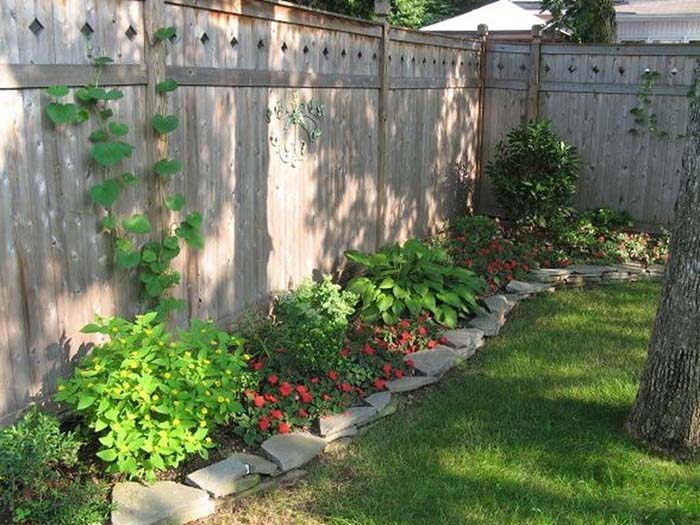 Perhaps you can't afford pre-made garden edgers or prefer a more natural look.
A great idea is to use old stones as a natural and free barrier, an idea which could also be used along a driveway.
18. Traditional Neatly Trimmed Shrubs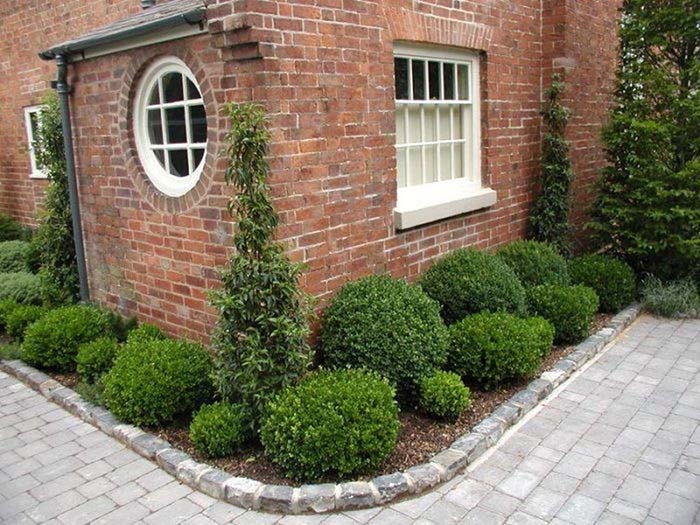 Anyone looking for shady garden corner ideas for their older home may benefit from considering dialing back the design some.
Often, a simple landscaping treatment is the most elegant way to accent your vintage home.
19. Add Flowers To Brighten A Neutral House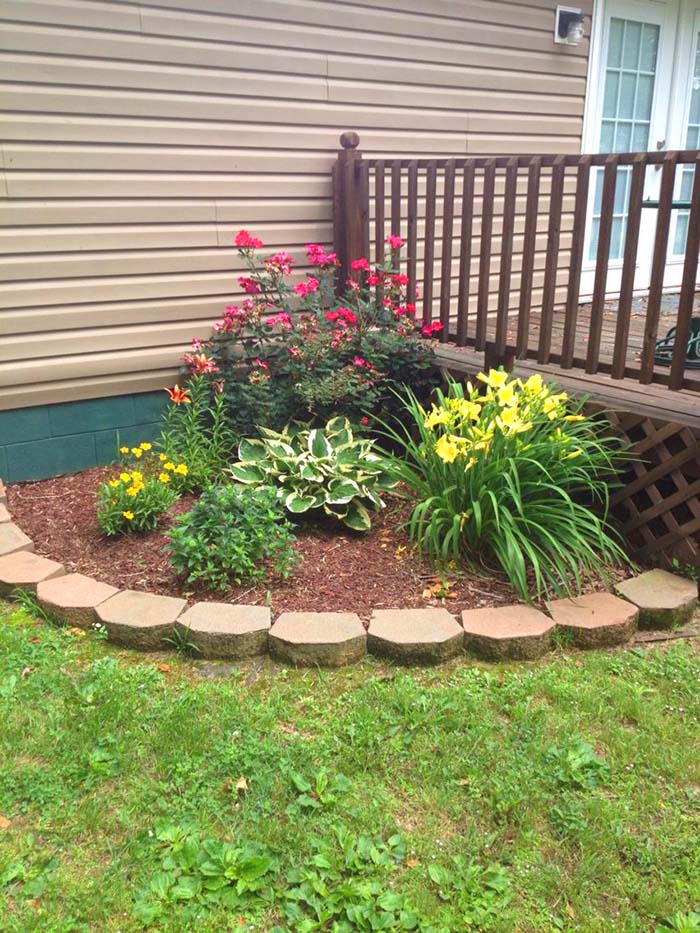 Sometimes all you need to do is simply look at the space and accent with the opposite.
Using a bright color on a basic background will lead to the most impact.
20. Embellish Often Overlooked Spaces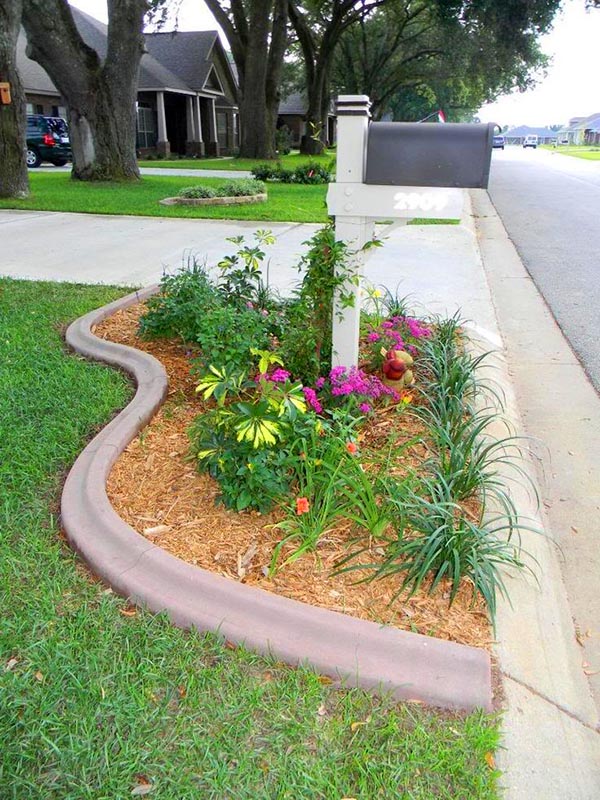 Flower bed around a mailbox could be in a corner shape, while not a traditional corner of their yard.
Look to your mailbox – accenting it can provide a fresh space to plant and beautify your home.
21. Lush Flowering Tree For Shade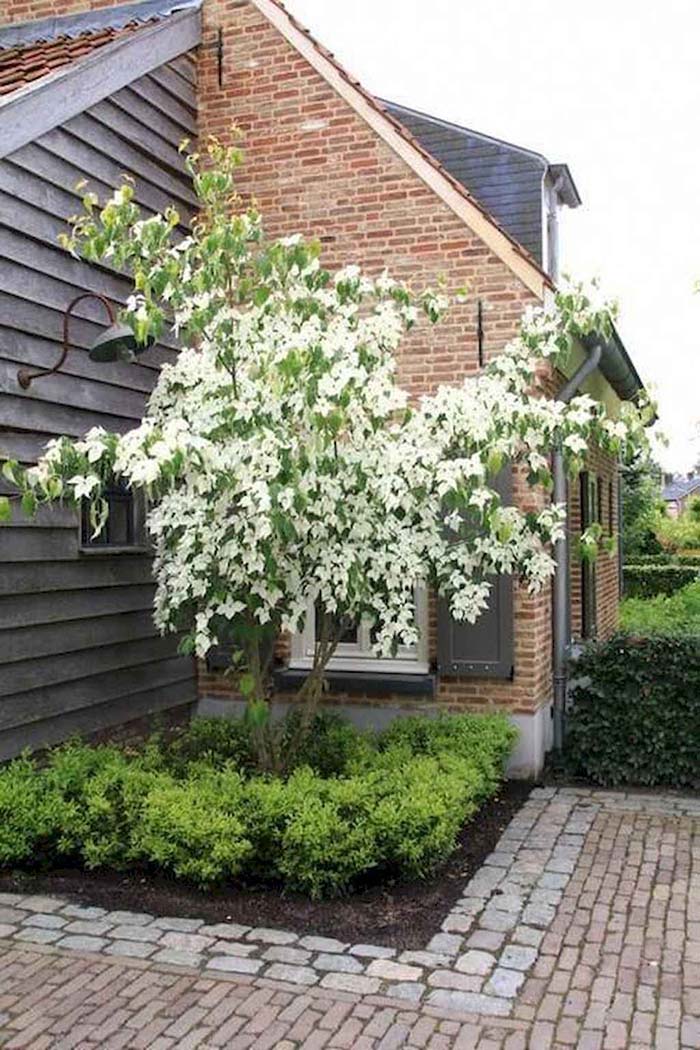 Those having trouble finding full sun corner garden ideas may consider adding a tree ( or beautiful spring tree ) or other foliage to provide shade for lower less sun-intensive species.
22. Double Seating Area Trellis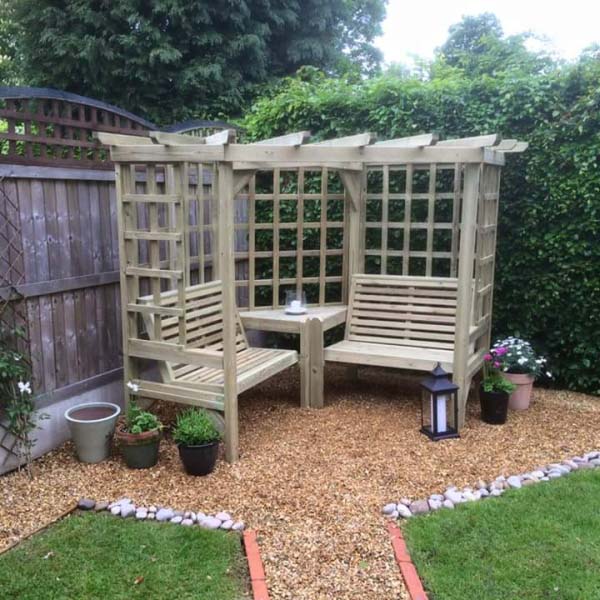 Photo: Credit
One of the most fun ideas for corner rock garden is to find a bench that doubles as a trellis, allowing plants to climb on an otherwise non-green area.
23. "Spilled" Flowers Decorative Space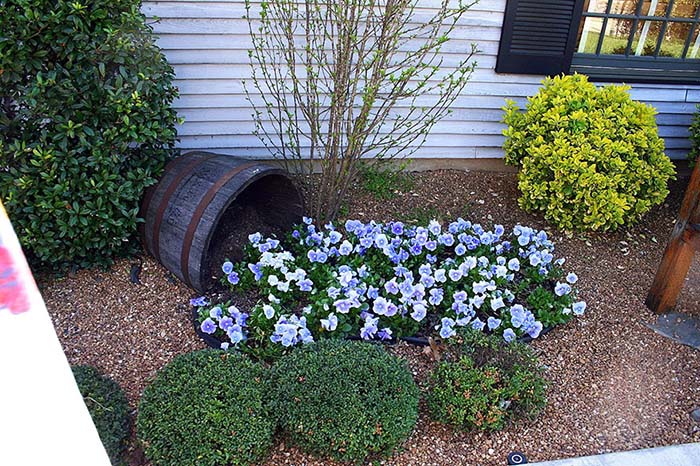 Don't forget to have fun.
A fun way to implement corner garden designs is to have a few subtle jokes like a barrel that "fell over" and spilled out flowers.
24. Add Interest With Varied Species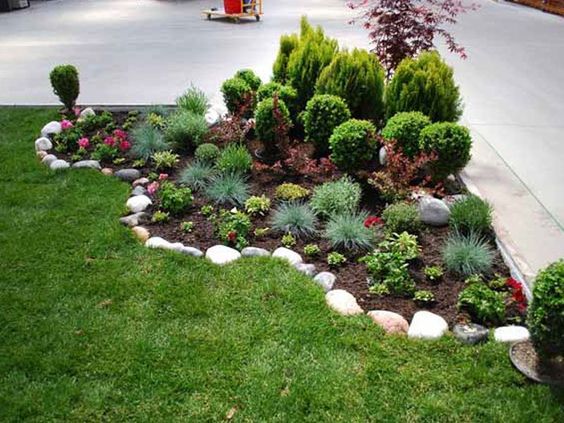 Many people forget about the cactus family and succulents when searching for garden designs ideas, but they are a hardy and interesting group of plants.
25. Matching Edging Creates Uniformity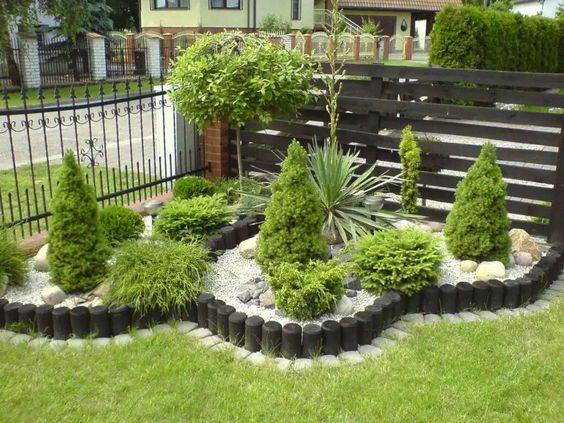 Anyone looking for a modern twist on corner fence garden ideas should consider matching the garden edging to the fence color.
It makes a garden look sleek, modern, and integrated.
26. Grow Your Own Herbs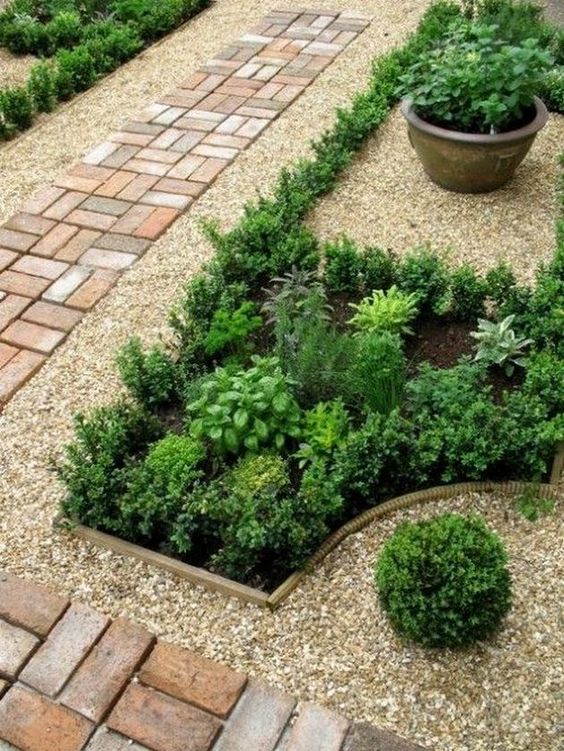 Herbs can be a wonderful addition to your corner garden. They add beauty and are a wonderful source of flavor to your cooking.
27. Include Rocks For Visual Interest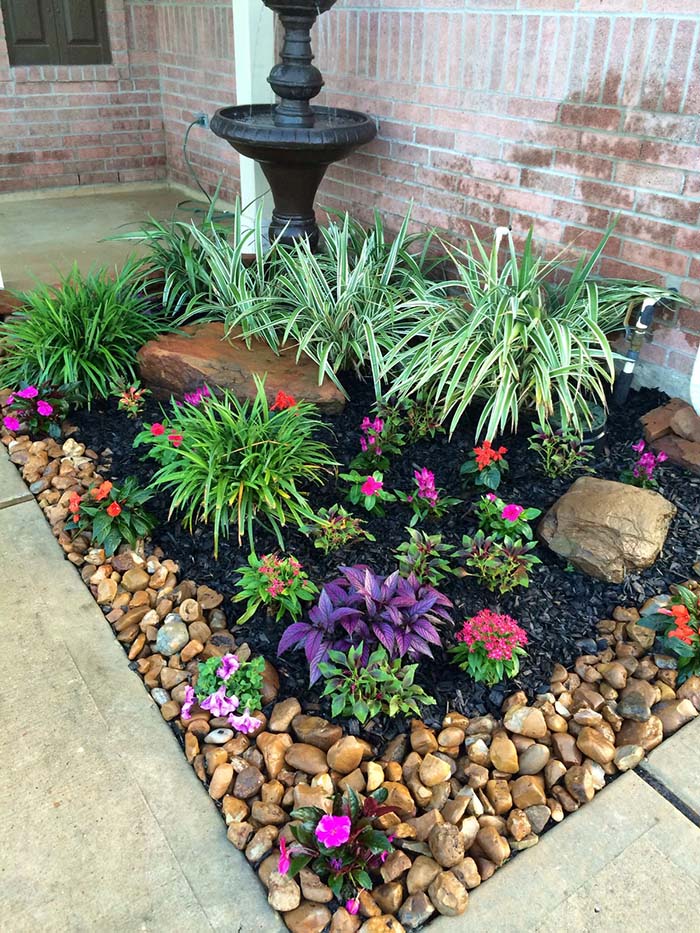 If you need ideas for a dark corner of the garden, consider forgoing some plant life and looking into rockier options.
Rock gardens add beauty without needing maintenance or sun.
28. Create A Vignette With Framing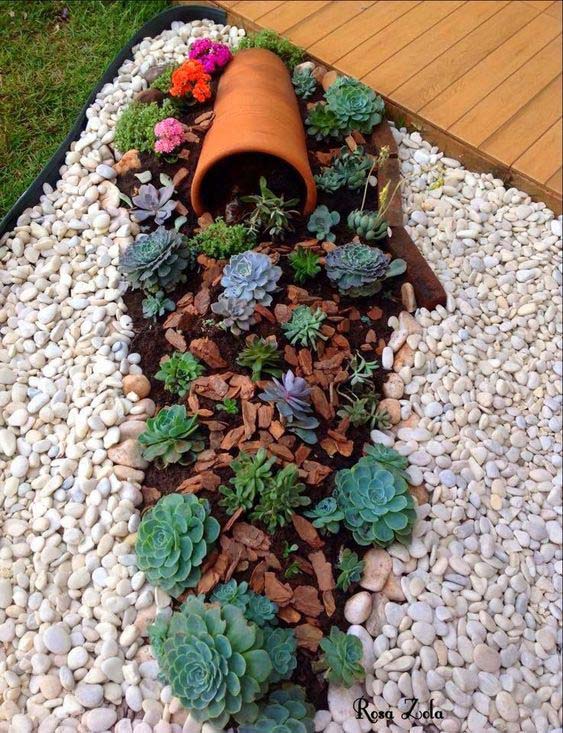 Even if you only have the budget for a few plants, if they are framed a displayed creatively, they can provide a wonderful amount of beauty to your space.
29. Add Bold Color To A Green Planter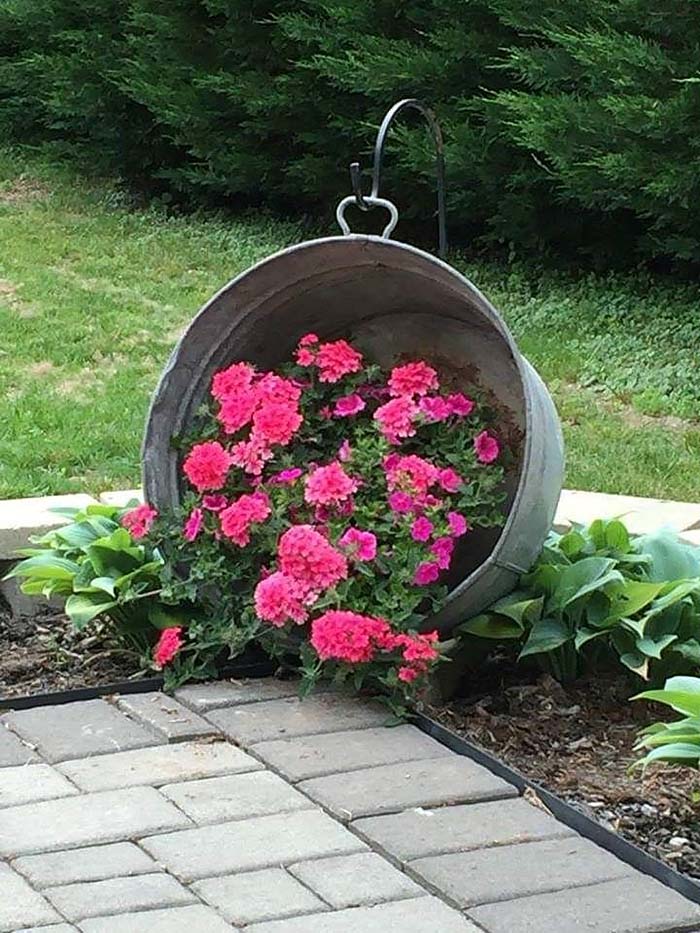 You can put an old metal bucket with small flowers at each corner of your garden pathway to make it more appealing.
The best part is that you can change the flowers each season so that they are in full blossom throughout the year.
30. Tiered Flower Box Garden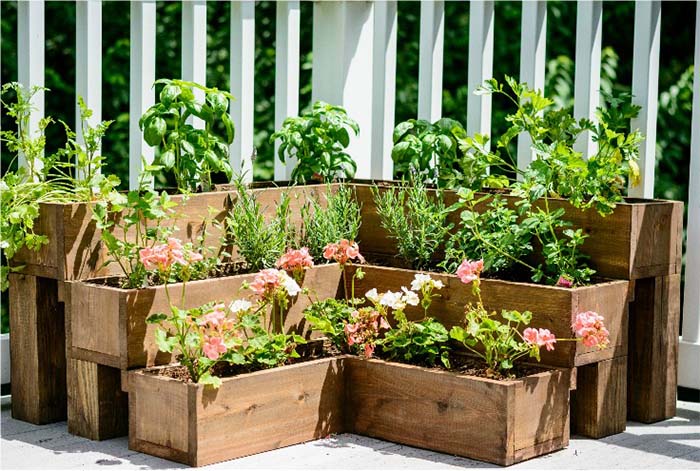 If you have a small garden, but still want to grow a tiny herb garden, you can build a corner planter and add it to your patio.
It's really cute and will boost your curb appeal as it's the perfect spot for flowering plants. You can complement it with flower pots, but avoid tall plants as they will hide the patio railings.