Transforming your front yard into an eye-catching space can be a fulfilling project that not only enhances your home's curb appeal but also boosts its value…and I mean by a lot!
However, landscaping can become quite pricey if you dive in without a well-thought-out plan or a focus on budget-friendly options. It's easy to go after some lavish landscaping designs that will cost a fortune, so please, stay with us to find out how to avoid that.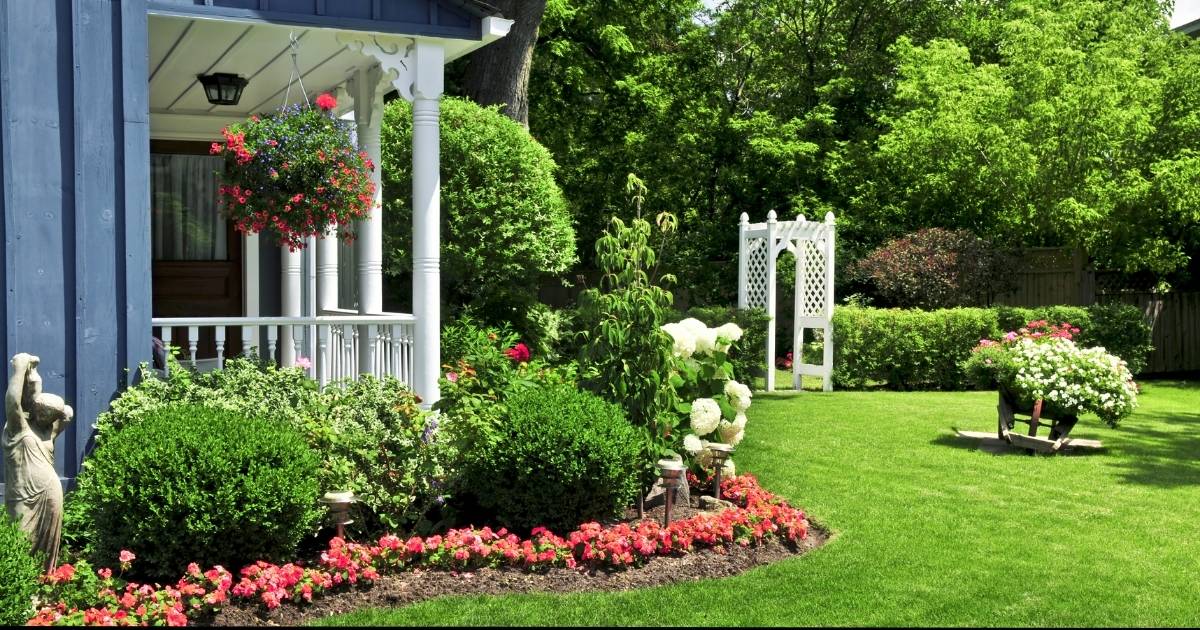 …and before you grab a shovel or reach for your credit card at the local garden center, take a moment to consider these 65 cost-effective landscaping ideas for your front yard.
With these tips in mind, you'll be on your way to achieving a stunning outdoor space without breaking the bank.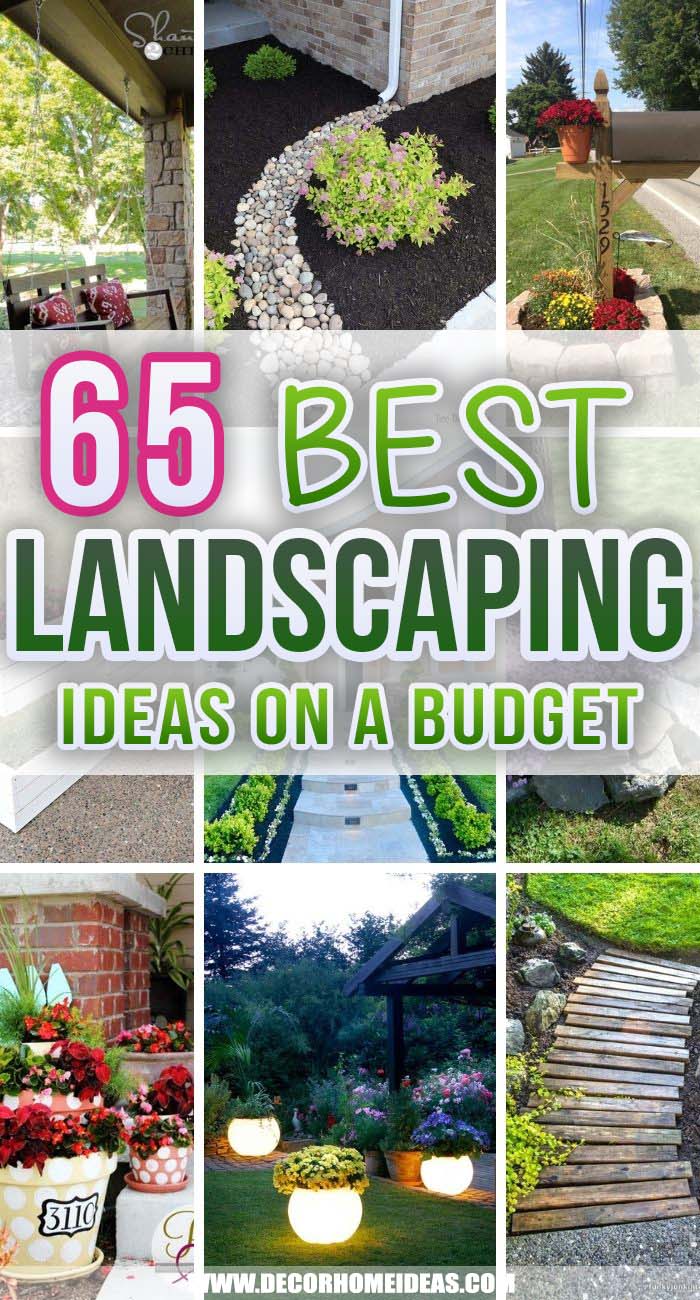 Some ideas that will help you boost your curb appeal include planters, outdoor furniture, garden pathway and flower beds. There are even some projects that would cost you less than $10 and do you know the best part?
Most inexpensive front yard landscaping ideas are described in how-to and step-by-step tutorials below each photo.
How can I landscape my front yard for cheap?
Use flowers, planters, gravel or mulch, recycle items or make your own stepping stones, invest time in simple DIY projects.
What is the cheapest type of landscaping?
Use pebbles, river rocks and stones. You can create many easy landscaping ideas just by laying them around or creating a beautiful pattern. They can be used for flower beds, garden pathways or garden edgings.
Cheap and Simple Front Yard Landscaping Ideas
1. Address Number Post Planter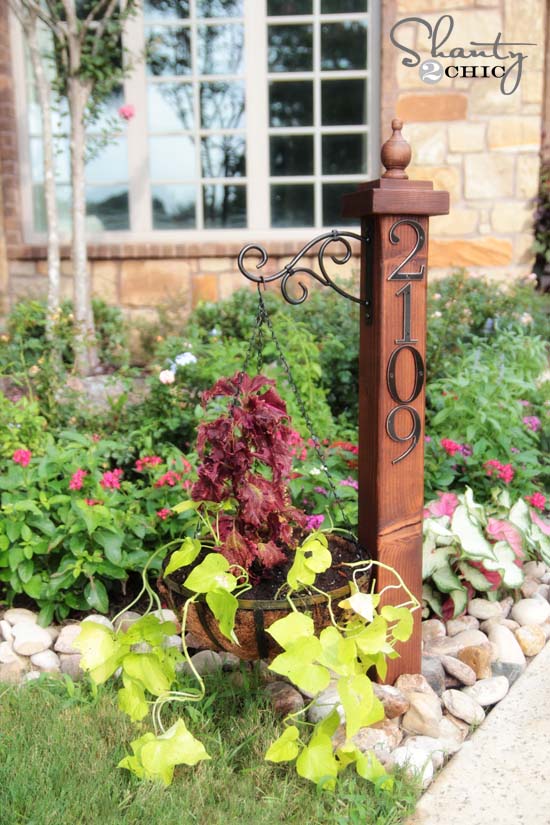 Decorate your front yard with a multifunctional decor feature that will improve the curb appeal in a personalized and nature-inspired way.
The wooden post acts as a display of the house number and as a holder for a hanging basket with cascading flowers.
As the seasons go, you can change the plants inside the planter and enjoy the beauty of nature all year long.
via Shanty 2 Chic
2. Brick Edging for Flower Beds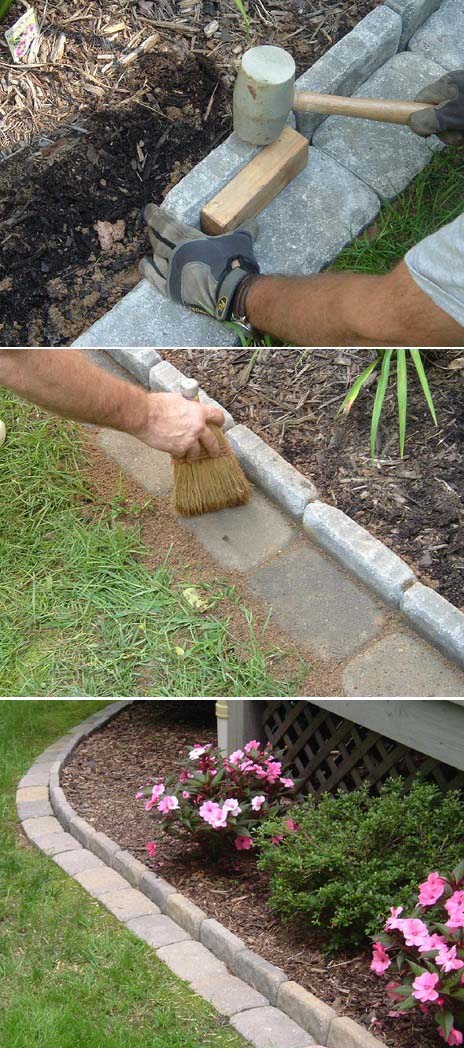 The garden bed looks and feels finished when an edging is made. It not only differentiates the planted area but also keeps the flowers safe from entering the area unintentionally.
This garden bed edging aims to keep things simple and affordable with a DIY idea with stone bricks or pavers. They come in identical sizes and shape so it is very easy to form the edge.
Use a hammer and a wooden straight piece that will facilitate building the bricks in the ground rigidly. It is one of the easiest to achieve front yard landscaping designs.
via Gardeen World
3. $20 DIY Garage Door Makeover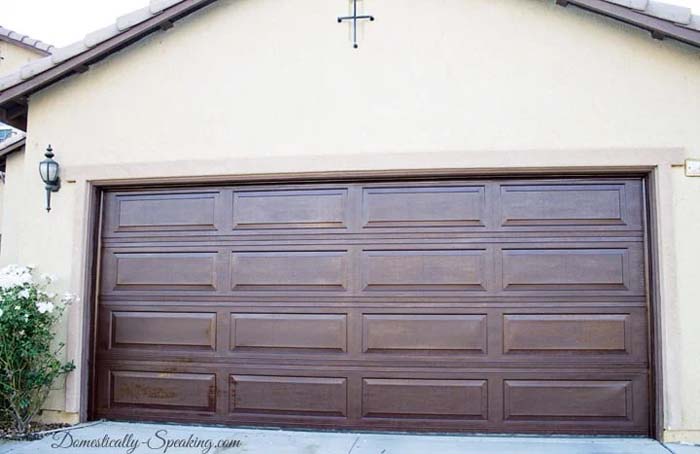 If your garage door faces the street, it must look representative all year long since it affects the general curb appeal of your property.
The surface is usually damaged quickly from the sun's rays making the paint fade away or the plastic gets yellowish color.
That can be quickly overcome with this DIY garage door makeover with gel stain. You can choose among a variety of colors that match your exterior.
To apply this type of paint, you need to prepare the surface in advance by cleaning it with a power washer.
4. Chandelier Planter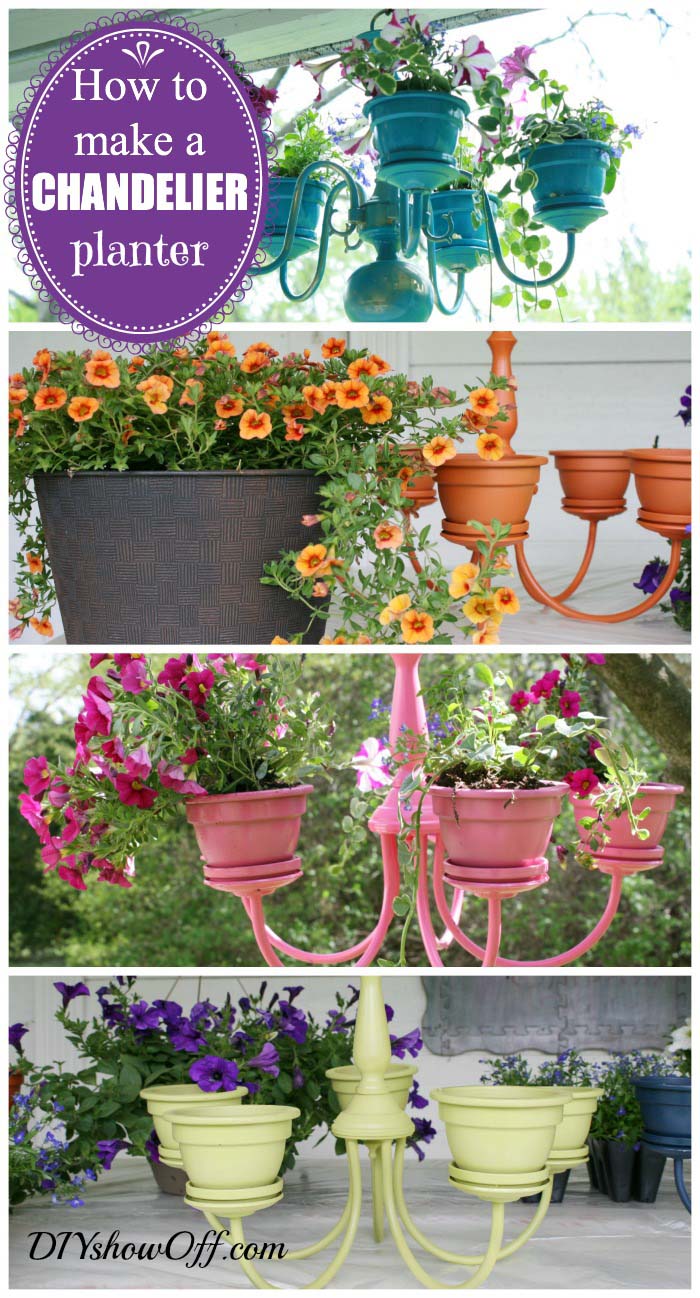 This DIY planter takes the patio decoration to a high level. A vintage chandelier that may not come in use, becomes an accent for the ceiling.
The tiniest terra cotta pots replace the bulb holders to accommodate seasonal flowers that add color and scent to the air.
The color of this chandelier planter could be easily modified to your taste and interior- the quickest way to modify it is to apply spray paint.
via DIY Show Off
5. Craftsman Style Outdoor Shutters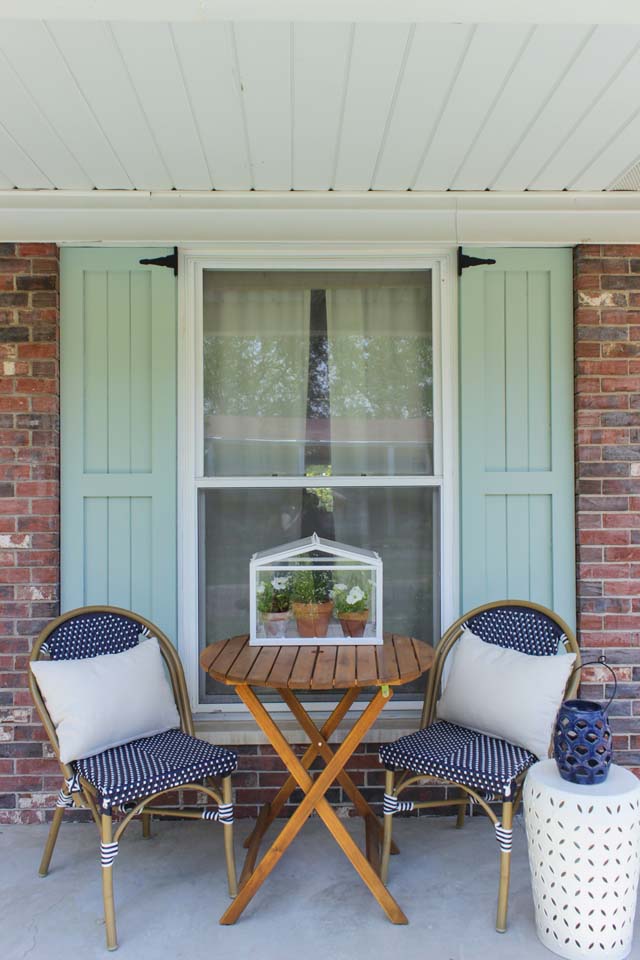 Amp the curb appeal of your house with handmade outdoor shutters. These beautiful wrought iron hinges stand out against the coastal pale green color of the shutters.
They are made from beams that form a two-section frame filled with shiplap. Of course, the front door color needs to be improved with the same color to achieve a continuous and aesthetic outdoor makeover.
6. Create Boxwood Borders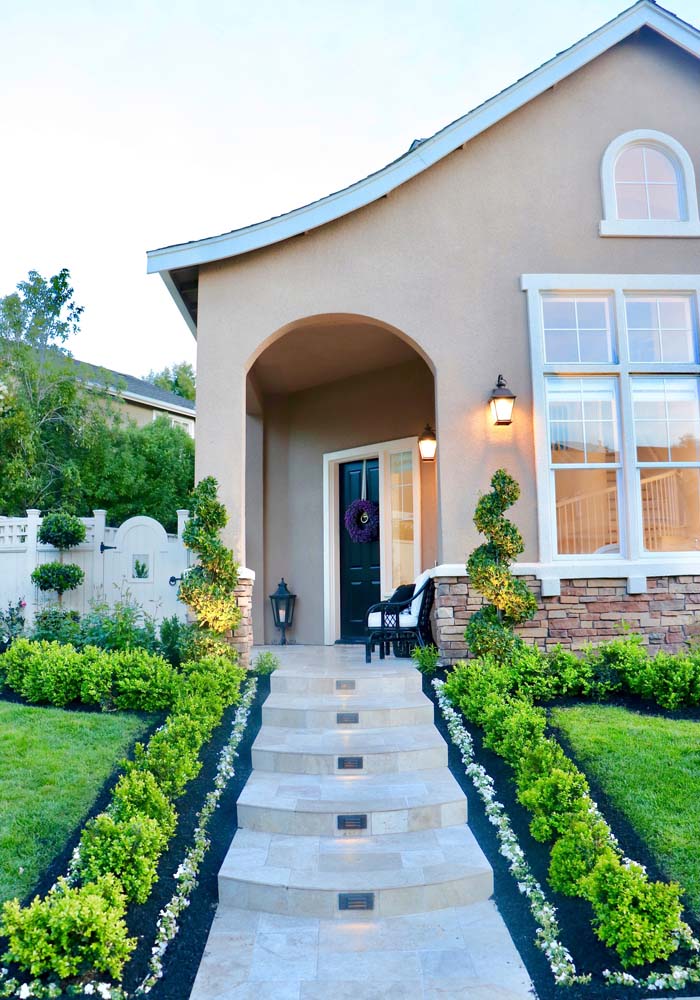 The boxwood is an evergreen shrub that grows fairly quickly and requires low maintenance. From old times people used it in their backyard landscaping ideas and projects to outline a ground area and give the outdoors a royal look.
This idea gives inspiration for a boxwood edging of outdoor stairs leading to the front door.
The green color of the boxwood pops out against the black mulch. It also acts as a way to make the stone stairs differ from the backyard.
via Kristy Wicks
7. DIY $8 Front Porch Planter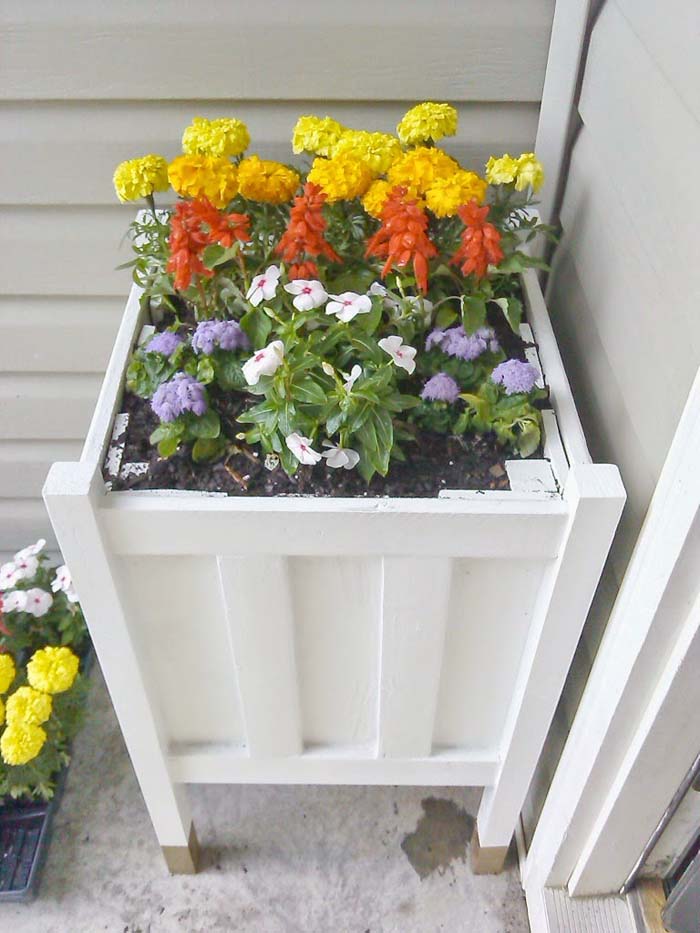 Nothing could make the ambiance friendly and welcoming like the flowers. If you want to create this impression for your home and yourself from the first moment, then you need a planter to greet your guests at the front door.
This handmade box requires only wood material that costs less than 8$ and a few hours from your free time on the weekend.
The interesting alignment of the wood pieces gives it dimension and texture that amp the curb appeal.
8. DIY $15 Hose Holder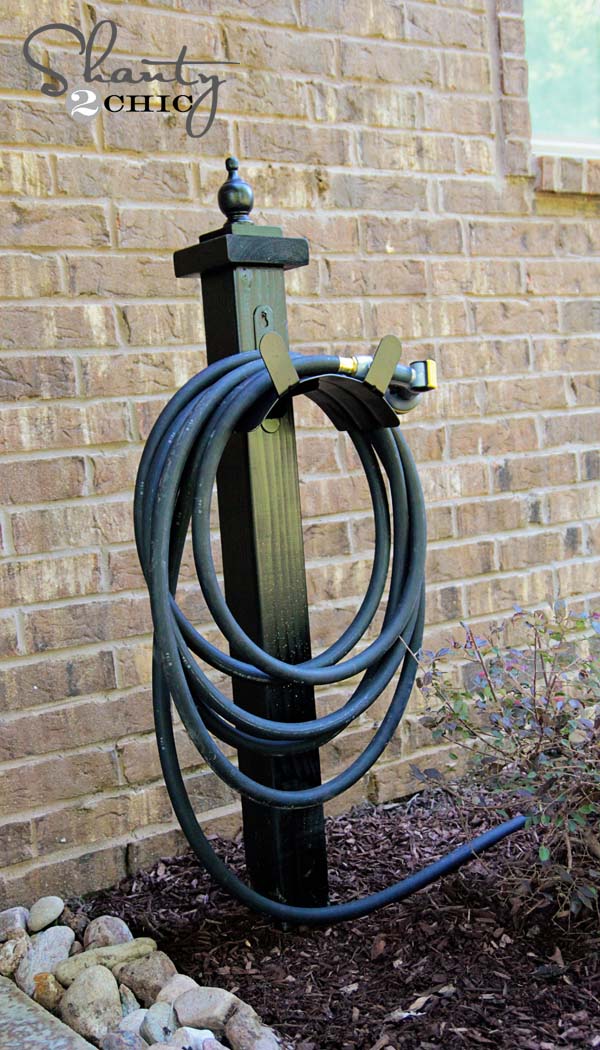 Organization is the first thing to start with when you are looking to improve the curb appeal of your home. This applies not only to the inside of your home but also to the outdoors.
Neatly storage and thoughtful locating of the outdoor items don't cost any money- only time. In summer, we tend to use the hose for watering every day so it is understandable that it is always and available.
Instead of weaving it on the ground that creates a messy spot in your backyard, give the hose a special place.
This DIY backyard project is a space-saving idea for a hose holder that will keep your "garden friend" well stored and on hand in summer.
via Shanty 2 Chic
9. DIY Address Post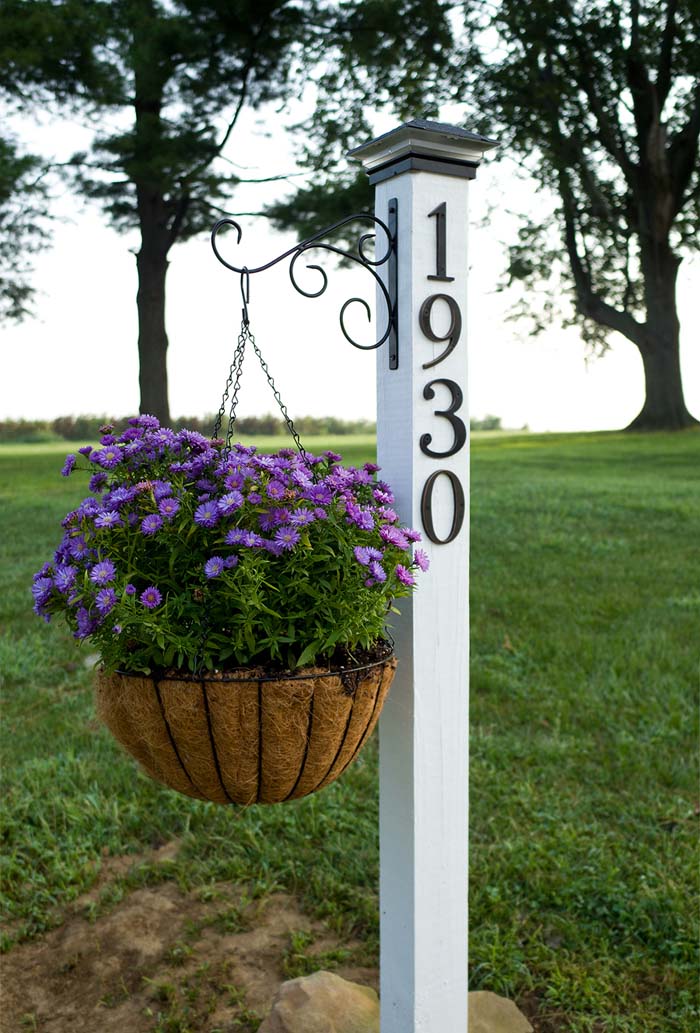 This is another charming design of a dual-function post for your front yard landscape.
The materials it is made from create a farmhouse piece of decor that displays the number of your house and greets the guests with colorful blooms and fresh scents.
via Hello Farmhouse
10. DIY Board and Batten Shutters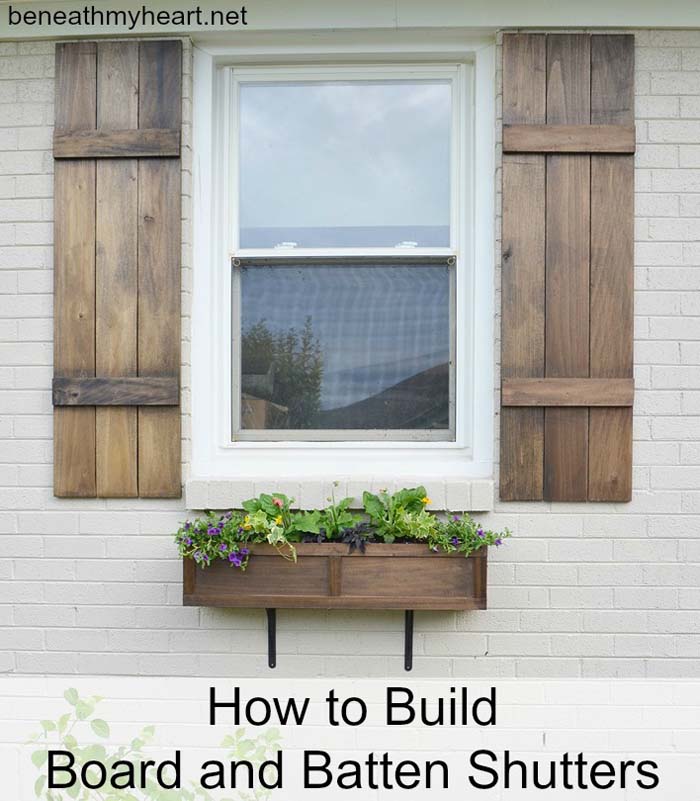 Do you like the homely look the shutters give to a house? You can add them to your outdoors in a farmhouse version that gives the windows an appealing look and charm.
The alignment, the texture and the stain of the beams recreate a barnwood look. Add a wooden boxed planter below the sill to complement the added ornaments to the window.
11. DIY Cedar Cube Landscape Lights for Outdoor Lighting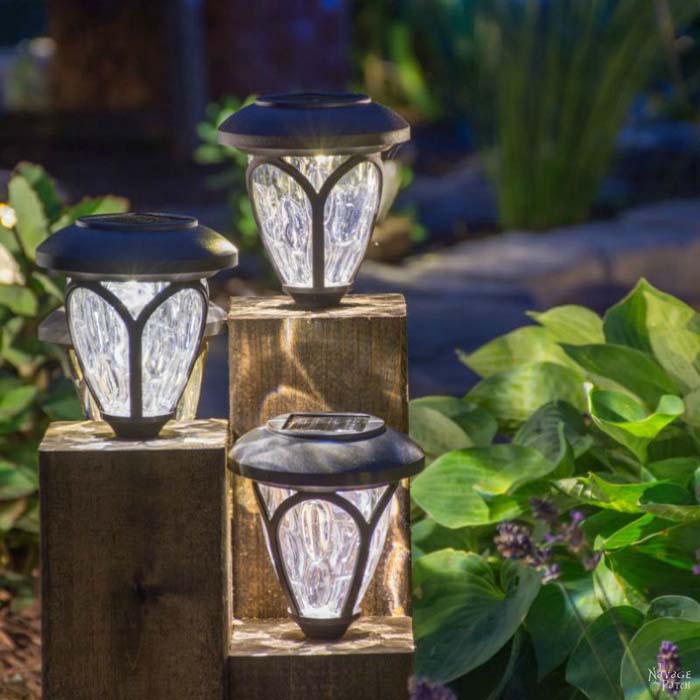 Whether you have a big or a small backyard, outdoor lighting is always needed. It gives comfort in the night and manages to add a whimsy decor effect.
This cascading outdoor light feature is inexpensive, eco-friendly and most of all unique.
The cheap solar lights could be only inserted in the ground but when upgraded with the cedar blocks, their outer look quickly transforms.
via The Navage Patch
12. DIY Corner Bench with Built-in Table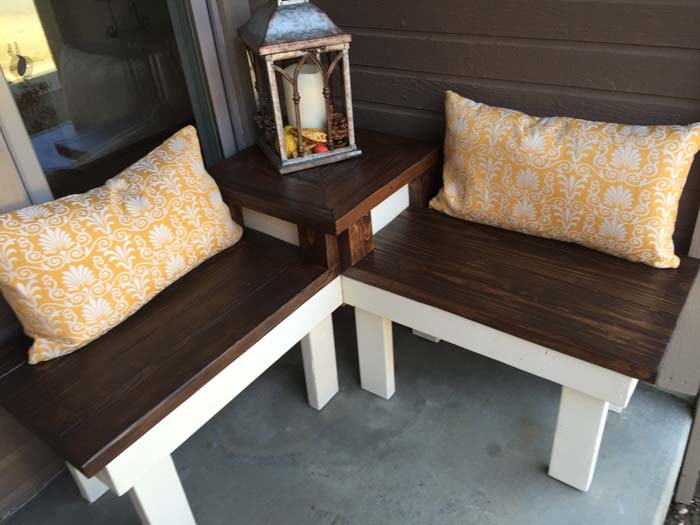 Even the smallest porch could be turned into a comfortable outdoor oasis. This DIY porch furniture idea is of a space-saving design that lets two people comfortably sit and have a coffee or a glass of wine together.
Instead of placing two chairs and a table, the project suggests making yourself a three-component porch piece of furniture. You can customize the size according to the space of your own porch.
It covers a corner of it and that ensures a smaller footprint.
via Remodelaholic
13. DIY Downspout Path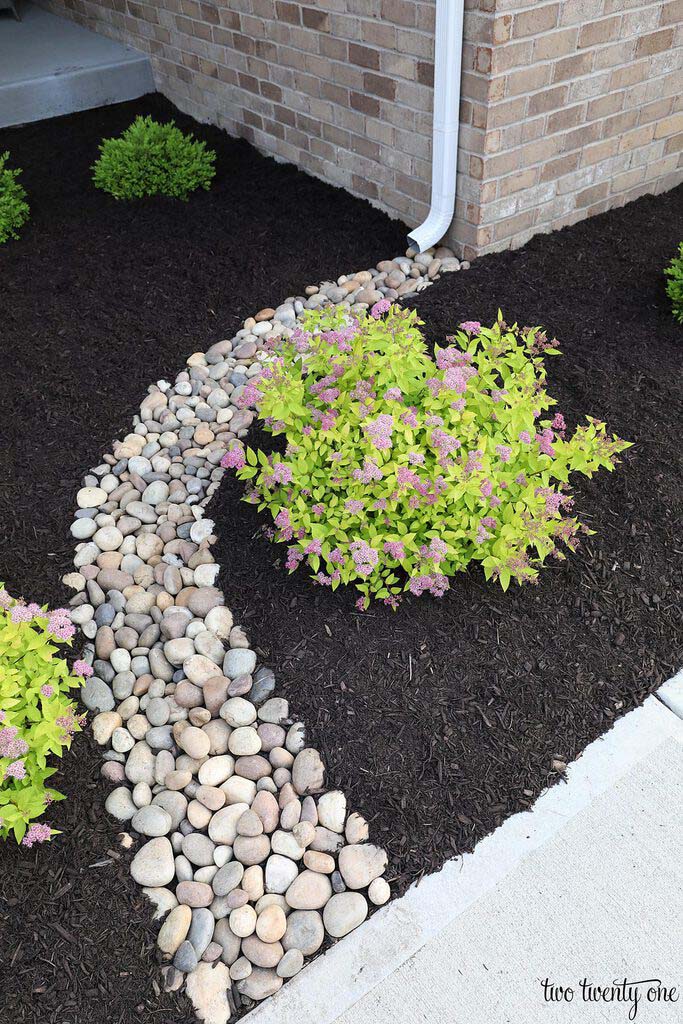 This landscaping idea is very interesting and functional. A lane of river stones mimics the traces of a water flow coming from the downspout.
The bright colors of the natural stones instantly create visual interest against the dark mulch. They also succeed in draining the water quicker in case of rain which will protect the garden bed from flooding.
This idea can be also recreated with pea gravel.
via Two Twenty One
14. DIY Flower Boxes for the Windows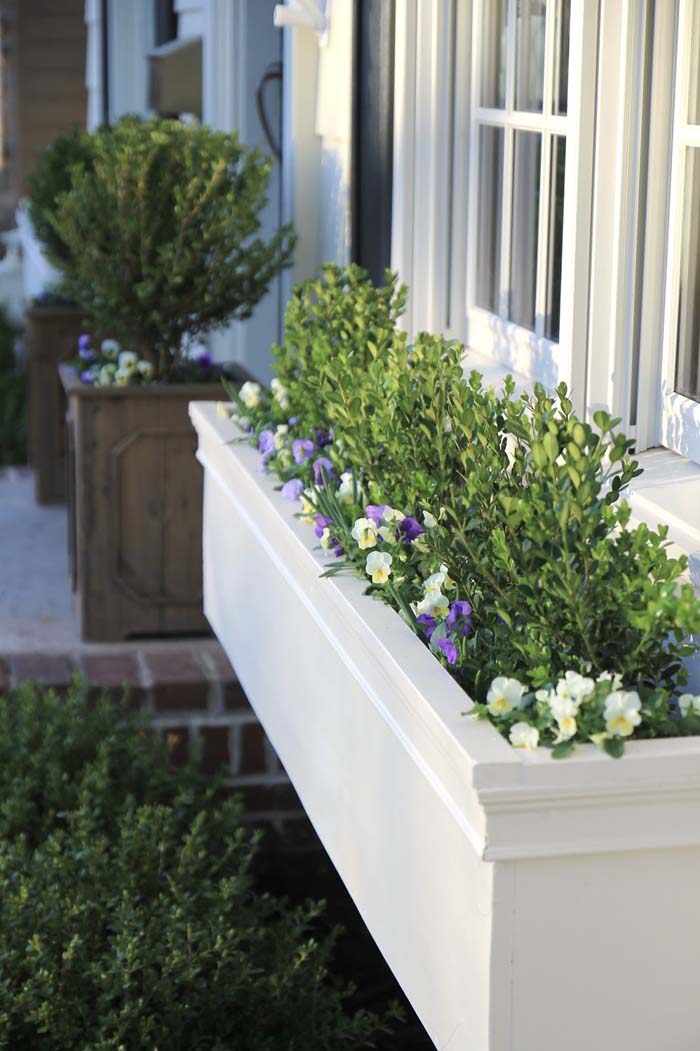 The best decorations for windows are boxes of flowers. You can get them from the stores but if you want to ensure the perfect fit and design, better make them yourself.
At JSH Home Essentials making the window boxes looks like a game. Good wood materials like pine or cedar boards, slats and paint and they are ready to give your outdoors charm, character and texture.
via Jenny Steffens
15. DIY Inexpensive Trellis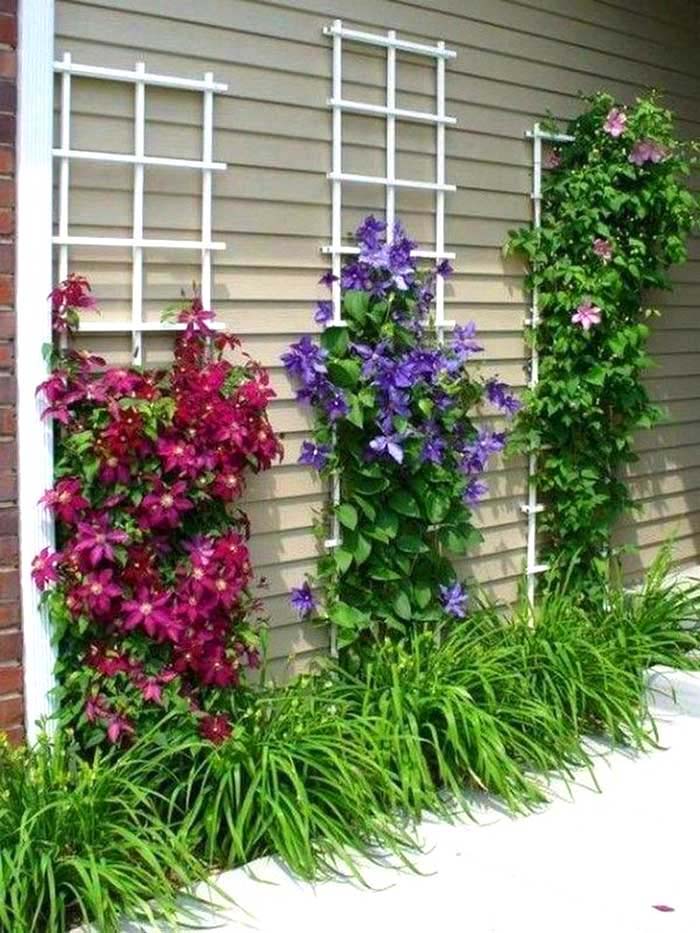 Climbing plants are appealing! But have you ever thought that they can be functional? Instead of painting the siding this year, you can cover the defects with plants.
To ensure good and desired growth and spread of the vines, you need trellises. Check the DIY trellis ideas below to get inspired for your budget-friendly vine stand.
via Decor Home Ideas
16. DIY Louvered Screen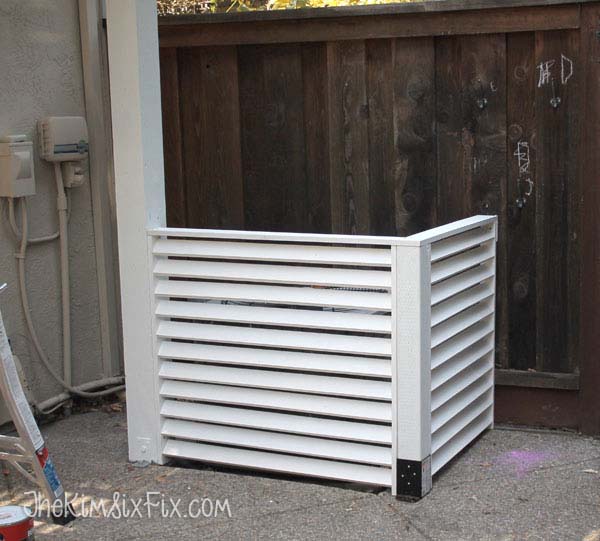 This idea could be used for hiding any outdoor piece that feels like not belonging there- the A/C, the garbage bin, the garden tools, the hose, etc.
The louver design of the structure is not only beautiful but also comprehensive with the A/C's manufacturer requirements.
In order to ensure proper work of the outer body of the conditioner, there must be a certain clearance between the A/C and the structure.
via Kim Six Fix
17. DIY Monogrammed Planter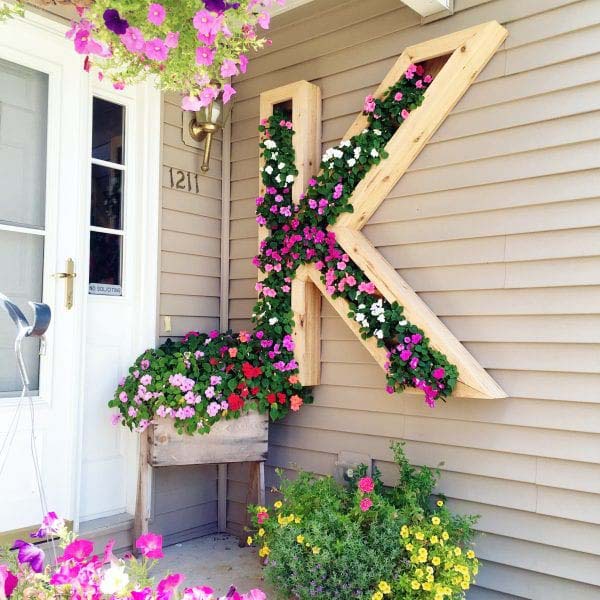 This is a cute idea for small porches. Instead of covering the essential porch floor with flower stands, you can decorate vertically.
This idea is more than that- it also gives the outdoors of this home character and charm.
The planter is shaped in the letter K which could be K for the family name or K for the kingdom. You can customize the design to match the monogram of your family.
via Remodelaholic
18. DIY Pallet Wood Hose Holder with Flowers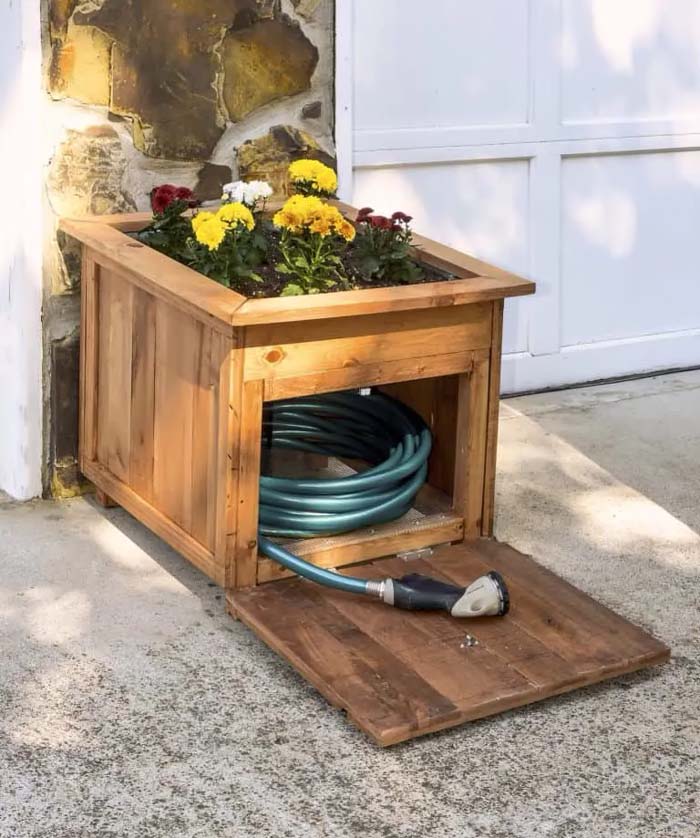 This is an interesting way to keep the garden hose hidden and well-stored. Each time you finish watering, drain the remaining water well, weave it and place it in the secret storage section of a planter.
The multifunctional application of this wooden piece is possible thanks to a double bottom. The first one holds the small garden on top, the second one holds the hose at the bottom.
The design of the door is another key element of this DIY pallet wood piece. It looks exactly the same way as all other sides so people would never recognize that it is movable.
via DIY Candy
19. DIY Paver Walkway Makeover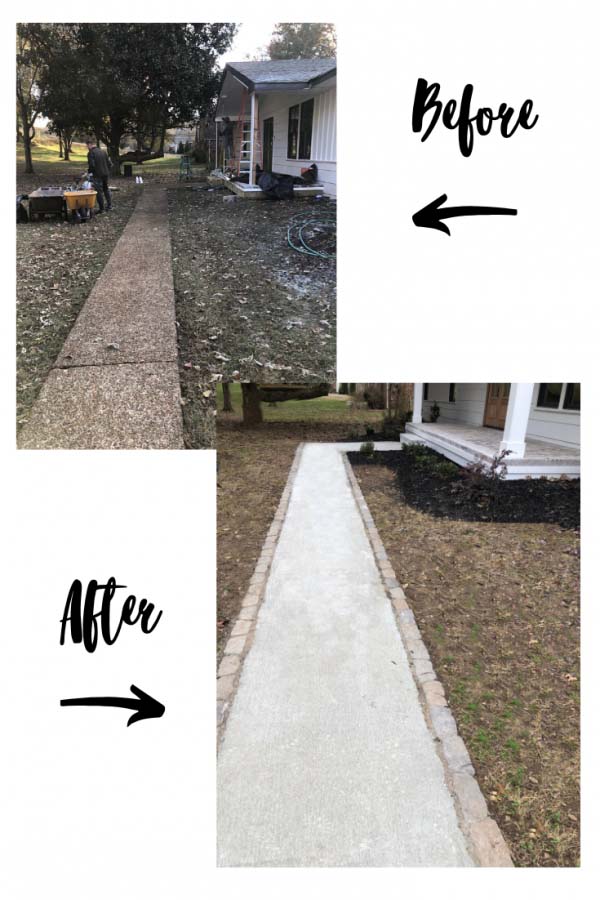 This walkway makeover idea could be used to give the old front yard lane a new look or to create walkways in the garden.
Whether you upgrade an old walkway or make a new one, you need to add a layer of concrete. Once it has dried, you can start with the edging.
The author prefers pavers- they are more affordable, last for longer and inserting them in the ground happens easier than any other structural material.
via Beneath My Heart
20. DIY Recycled Barrel Landscaping Idea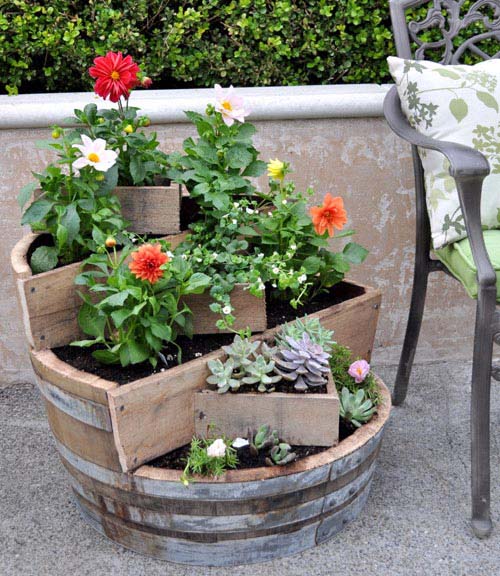 A barrel has inspired this vertical garden. Its diameter and height are perfect to build six elevated sections for plants. Reclaimed pallet beams help close the plant sections. Some of them close a semicircle, others form a triangle.
This upcycling idea could be used also for creating an elevated fairy garden, a succulent garden or as a planter for cascading colorful flowers.
via Design Sponge
21. DIY Spray Painted Concrete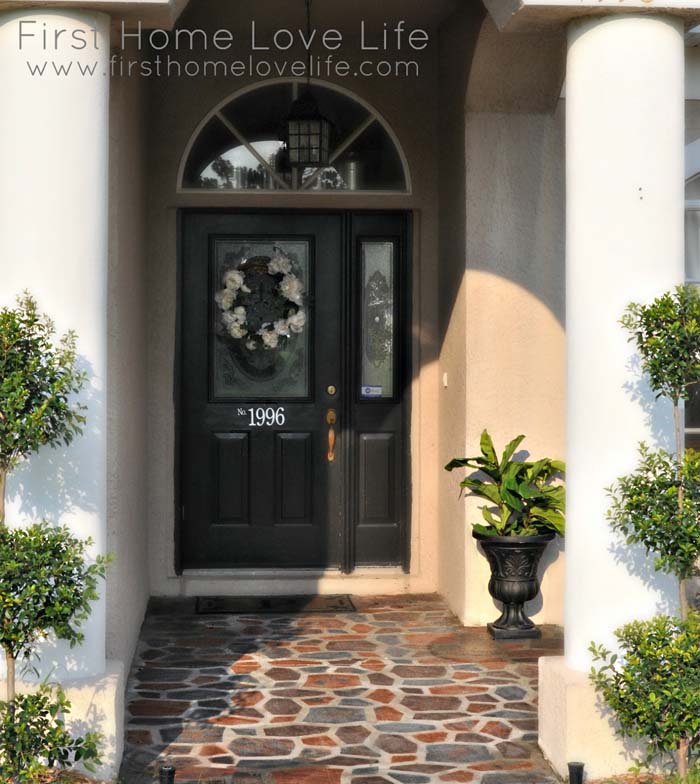 If the concrete layer before your front door looks too weathered and unwelcoming, you can give it a natural look with spray paints.
You can limit your makeover to two colors or use all three colors as shown.
The interesting stone-line shapes are achieved with a concrete mold that costs under $20. Don't forget to seal the painted concrete in order to enjoy its bright texture longer.
22. DIY Window Box Tutorial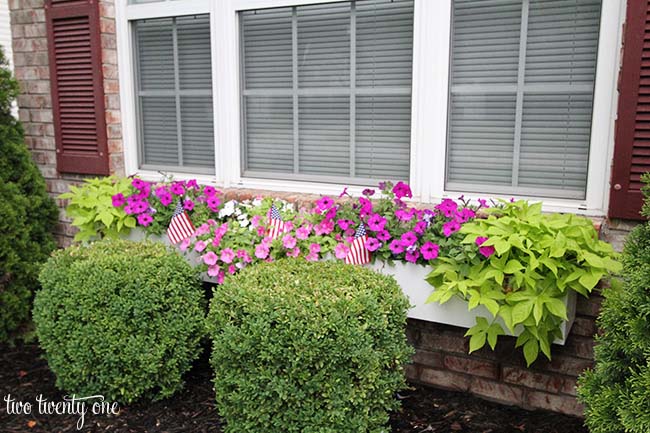 Decorating the windows with flower boxes promises a great visual impact and improves the general curb appeal of your home.
The tutorial below has considered the easiest way to build a flower box yourself with affordable materials. Make it as big as your window is and enjoy the elaborate natural decor added to the cold structural materials.
via Two Twenty One
23. Faux Stone Upgrade for Exterior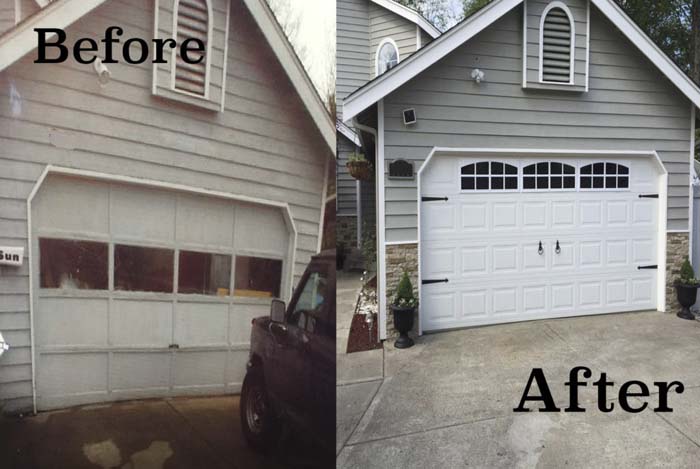 Have you ever heard of AirStone? Well, this is that type of faux stone that can be applied with simple instruments and with no knowledge of city building.
That makes it the perfect material for DIY quick makeovers. It is lightweight, in colors of real stone and made of concrete.
You can use it to make a statement wall inside your living room, to outline the garage door, to line a fire pit.
24. Floating Watering Cans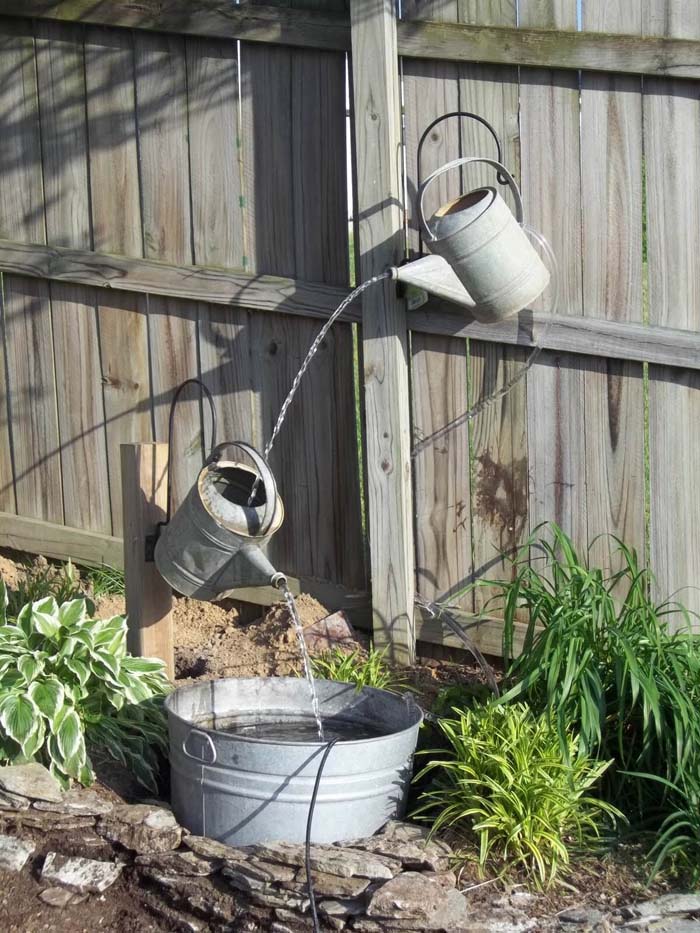 Are you always inspired by ideas that repurpose useless and weathered pieces into unique landscape additions? Then you will be fascinated by this DIY water fountain.
The way the watering cans are positioned makes sure that the water spurt flows descendingly in the containers with no spillage at all. For more easy landscaping and DIY fountain ideas, check the inspirations below.
via Decor Home Ideas
25. Flower Bed Around Tree For Instant Curb Appeal Boost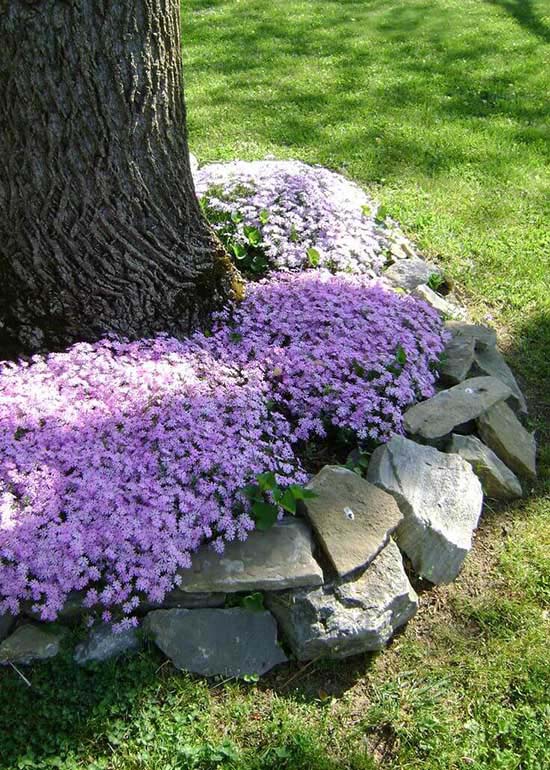 If you want to minimize garden maintenance and enjoy the splash of colorful flowers, you can make garden beds only around trees and leave the rest of the backyard as a lawn.
To limit the growth of the flowers and give the small garden a finished and attractive look, use stones to edge it. Broken stones, flagstones, river rocks could act as a fence for the flower bed.
The best kinds of garden beds under shade are the ground covers species.
via Decor Home Ideas
26. Front Yard On a Budget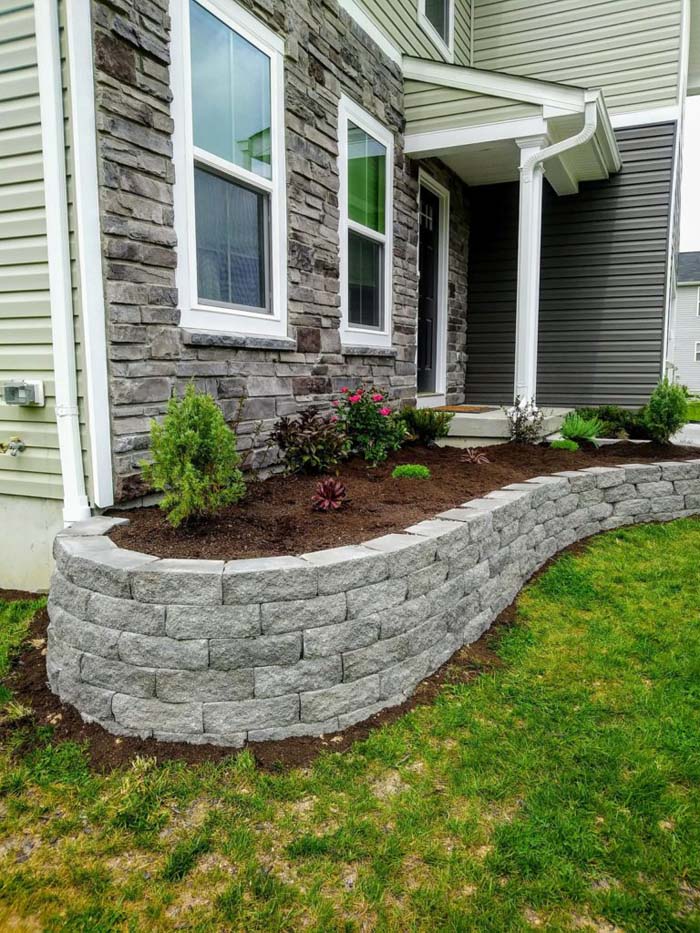 Need an idea for an interesting flower bed landscaping? Check this raised paver garden bed! It elevates the flower bed to the porch level and adds to the curb appeal.
The raised garden beds are appropriate for sloped yards. They are also a preferred garden option for people not having time to keep and maintain a big ground garden.
You can experiment with the shape of the garden bed to increase visual interest and the filling material between the plants. Mulch is good for fertilizing, keeping the weed growth down, and providing a contrast.
Pea gravel or small river stones will help drainage and will give the garden bed a zen vibe.
via How Sweet Roman
27. Garden Edging With Pebbles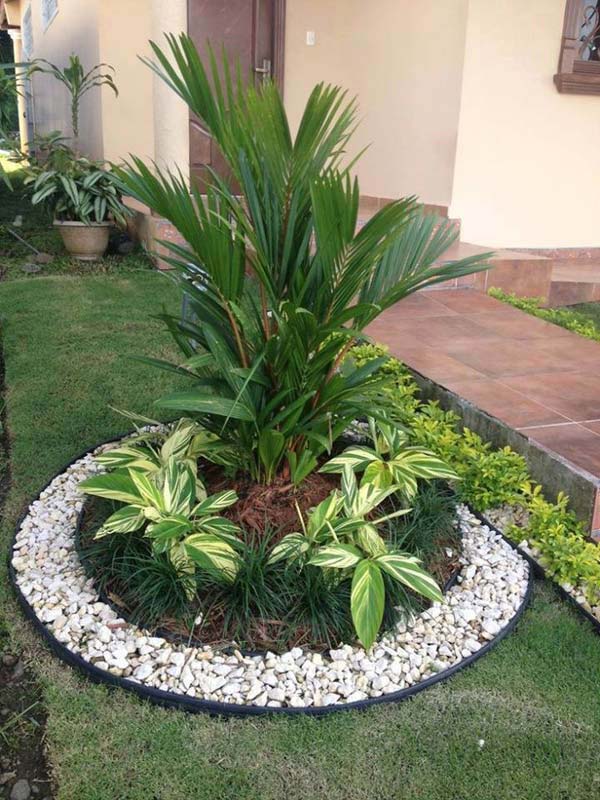 Speaking about a zen vibe to the garden, this is one of the ideas of how to achieve that with pea gravel. You can use it to cover the entire soil surface or limit it to an attractive shape.
Combining ornamental plants, plants and pea gravel creates a relaxing natural zone and spreads a relaxing feeling in the air.
via Decor Home Ideas
28. Glowing Flower Garden Planters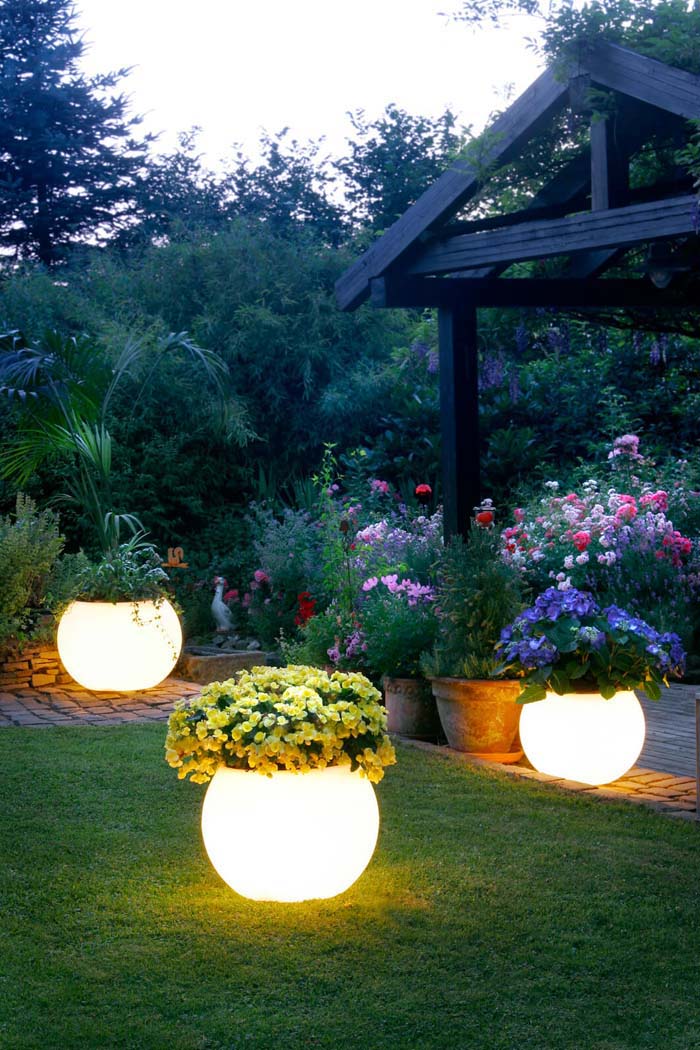 If you prefer to keep things simple and universal in the landscape of your backyard, you can add some visual interest with glowing flower pots without going out of this concept.
The glowing flower pots let you change the planted flowers as the season changes. They can be moved to any place from your yard.
The added value they give you is the appealing light source they become at night. Despite their solar-powered nature, they spread quite intense and strong light.
via Decor Home Ideas
29. Hanging Galvanized Tub For Flowers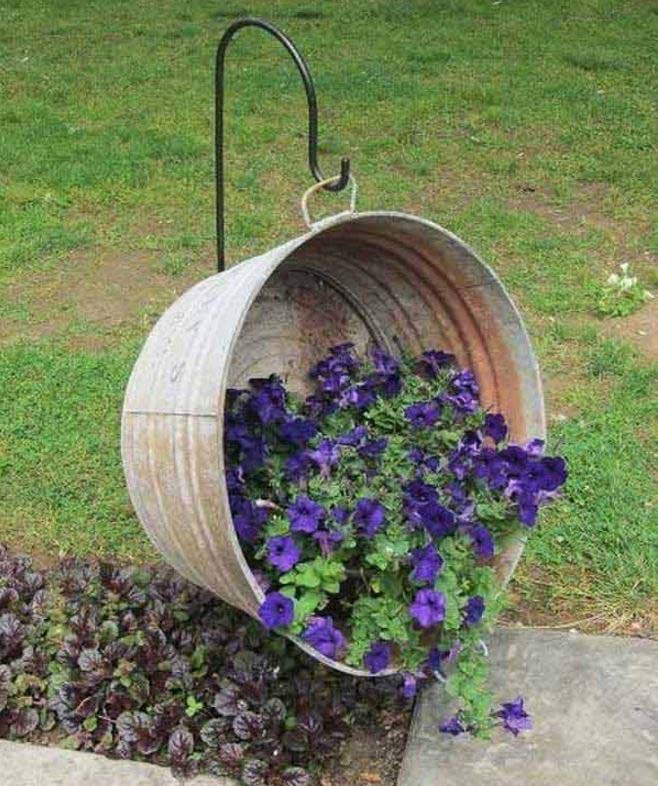 Looking for cheap simple front yard landscaping ideas? Then look in your garage or at the thrift store to find old galvanized tubs.
They could be used as a versatile flower beds. Place the tub directly on the ground to add a small flower garden to your lawn.
If you have a post with your house number, you can suspend the tub vertically and let cascading petunia show out the metal inside. Weave string lights around the holder to make this feature attractive during the night.
30. Hello Front Porch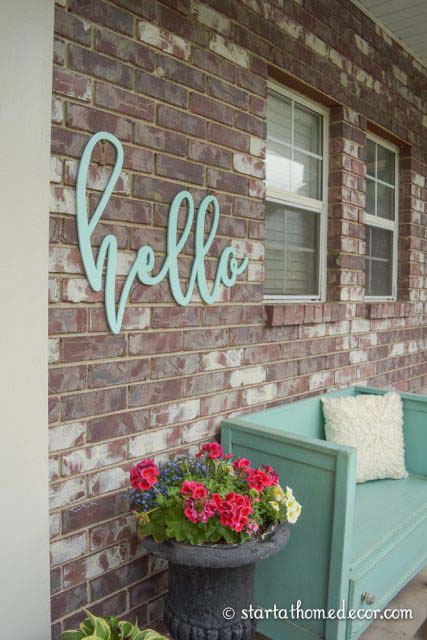 You will be surprised to see what a great impact adding a bit of color has on the curb appeal. This "hello" sign is among the low-budget ideas to transform your outdoors and give it character.
Choose a color to accentuate the front porch and spray paint the laser cut word. This is a great idea also for a sign to enhance the festiveness of a holiday.
31. Hexagon Cedar Bench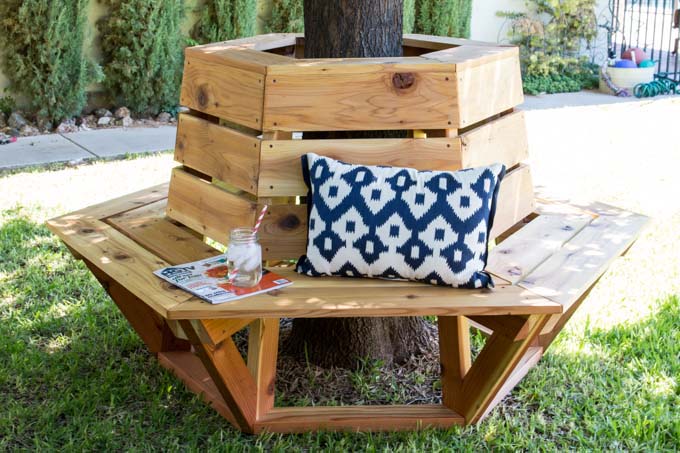 Relaxing under the thick shade of a tree is a priceless experience, especially when it happens in your own backyard. This cedar board bench surrounds the periphery of the tree, forming a hexagon with six sitting places.
Add cushions and pillows to improve comfort.
via Addicted 2 DIY
32. House Numbers on Flower Pots For Super Cheap Landscaping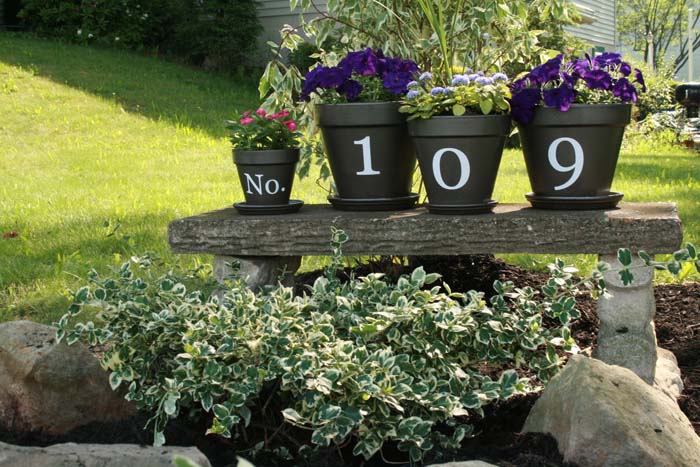 Want to display the number of your house in a nature-inspired way? Do it flower pots! They are inexpensive, offered in various textures, designs and sizes.
If you don't have enough space to place four or more flower pots, you can paint the number on one large pot.
via DIY Showoff
33. How To Build Fire Pit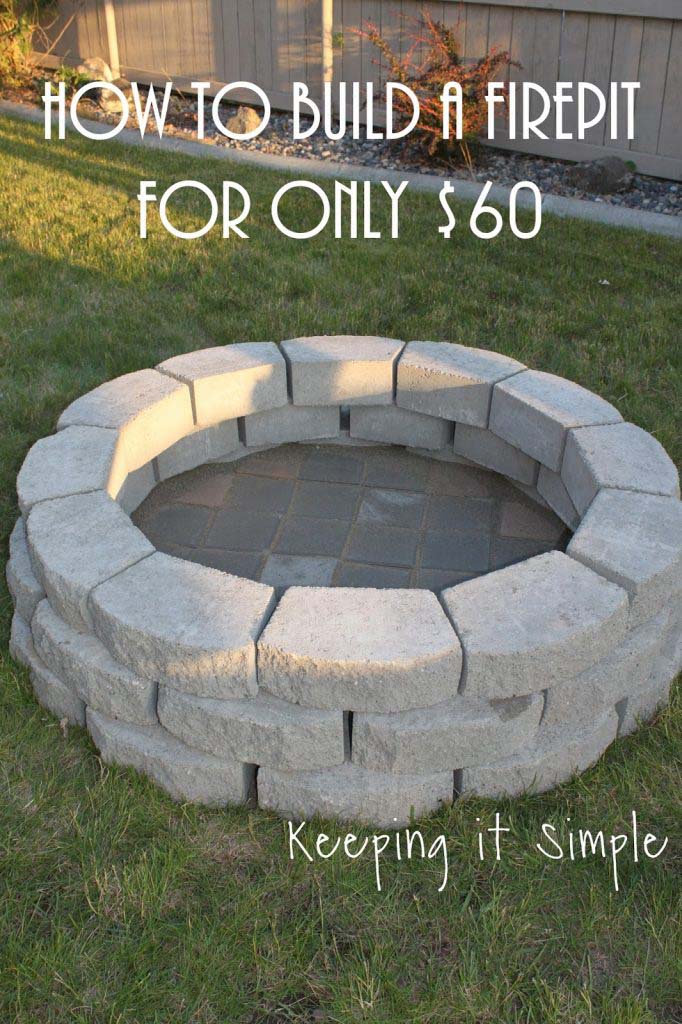 Firepits- a must in the backyard if you want to extend the nights spent outside! There are affordable store-sold items but sometimes it is better to make it yourself to make sure that it is of the size and design you project.
This fire pit idea keeps the design simple so building it will surely be easy. The building reminds a puzzle game- three shapes of pavers create a long-lasting and rigid outdoor structure that will gather family and friends for delicious homemade marshmallows.
34. Inexpensive Pergola Design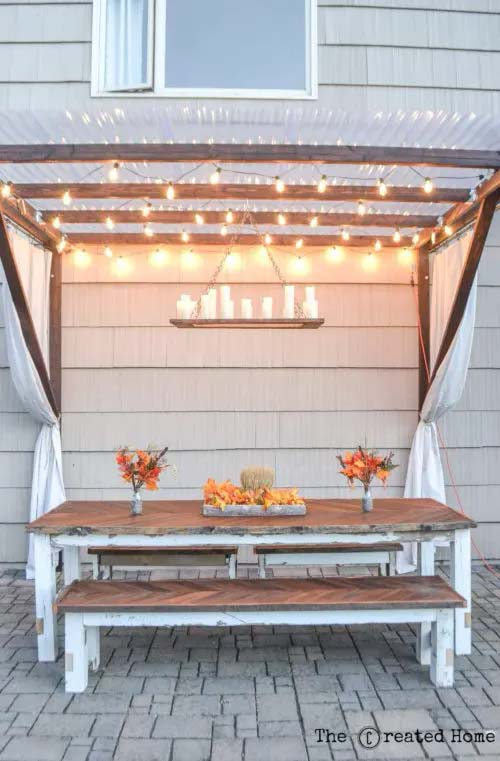 The pergola is a way to give a sitting area in your backyard privacy and shade. No matter how small this zone is, you can always find a pergola design to suit it. This project proves this saying with its compact design, good look and affordable supply list.
The roof of the pergola is directly attached to the siding of the house wall. It is covered with a perspex sheet that lets you see the night sky and keeps you safe from rain.
For more designs and ideas, check the inspirations below.
via Decor Home Ideas
35. Lattice Privacy Screen on a Budget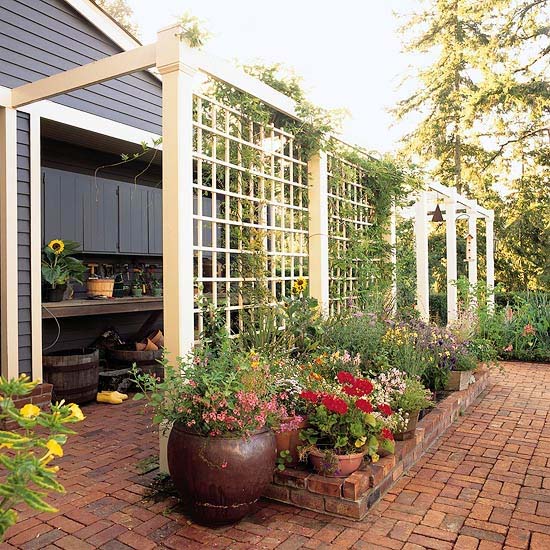 If you want to make a zone from your backyard more private without completely closing it for the sunlight, use lattice privacy screens.
They are made from wood material, painted white to enhance the brightness and airiness of the space. A formed garden bed next to the screens makes the additional elements feel visually right.
Planted vines will use the web-like pattern of the screens to climb and cover the gaps with green foliage and blooms.
36. Lava Rock Pavers For Low Maintenance Walkway

Are you fed up cutting the grass growing between the stepping stones of your front yard walkway? Then it is time to do a makeover. Don't worry, you won't be changing the path material. You will simply upgrade it by filling the gaps between the stones with lava rocks.
The color of the lava rocks will emphasize the walkway pavers and will add to the curb appeal by enhancing the texture of the brick lining of the porch.
37. Mailbox Makeover To Spruce Up Grass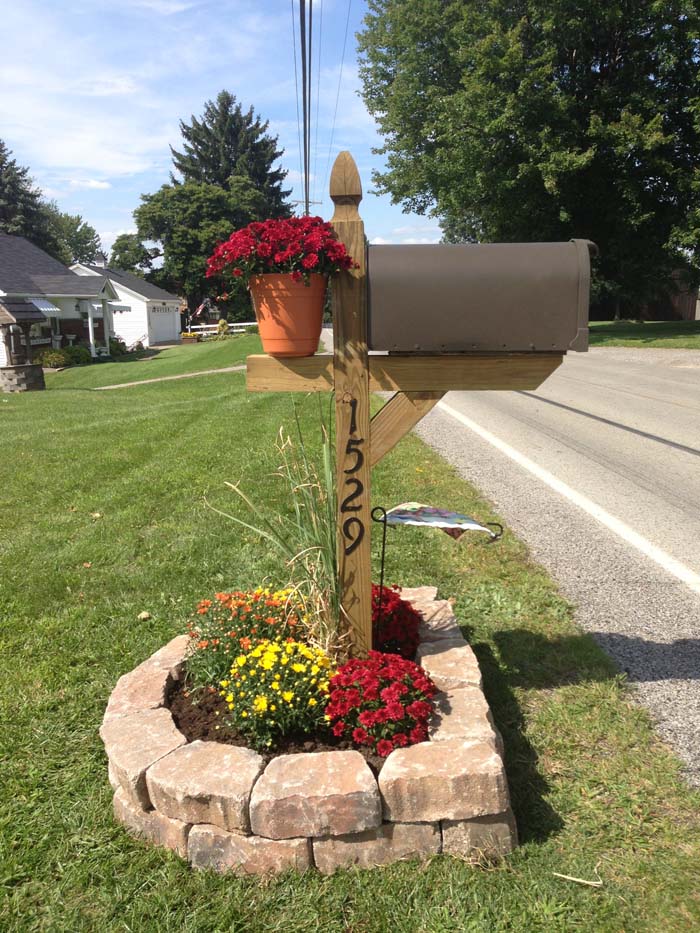 Upgrade the mailbox post by adding a garden bed around it. To match the mailbox with the adjacent nature, use pavers or stones to edge it.
If you want to understand what kind of flowers are usually used for the garden beds around the mailbox posts, check the link below.
38. Modern House Numbers DIY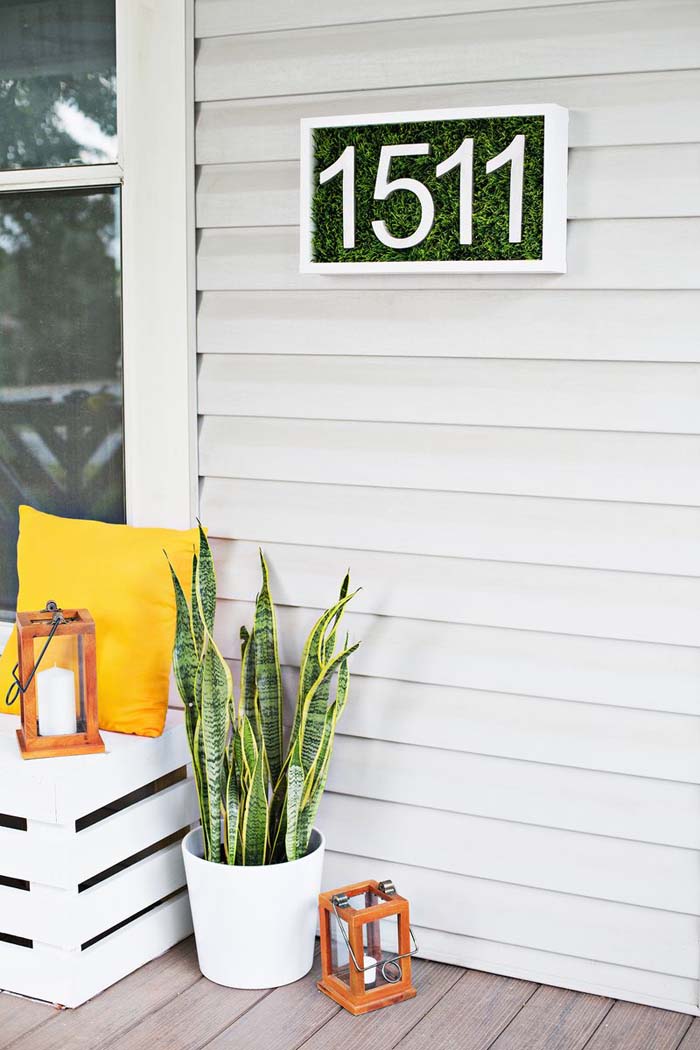 This balanced personalized house number sign will make your Scandinavian home feel just right.
A wooden board painted white, nickel numbers and faux grass combine to create this modern handmade sign that will provoke your neighbors to come and ask for the store you have bought it.
via A Beautiful Mess
39. Outdoor Armoire for Wires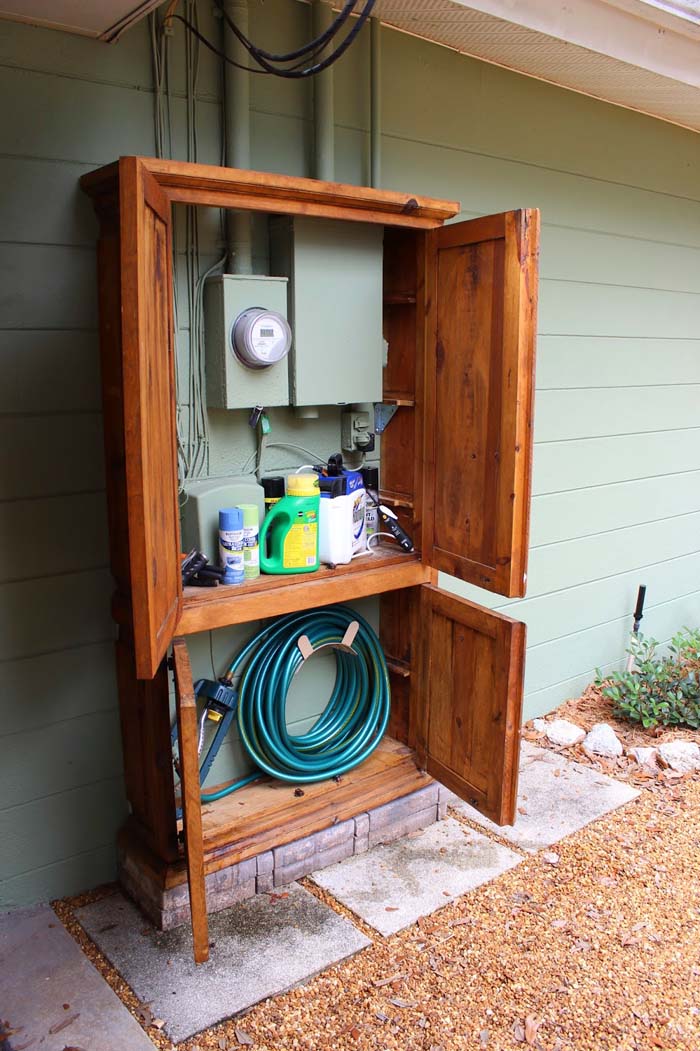 The view of wires and cables, a cable box, a water faucet and a garden hose could create an impression of an untidy backyard.
You can quickly change that by hiding them with a custom-built cabinet. You can use furniture leftovers or reclaimed materials to assemble the structure.
Added shelves will ensure storage places for gadgets you frequently use in the garden.
via Shabby Glam
40. Overflowing Wine Barrel Planter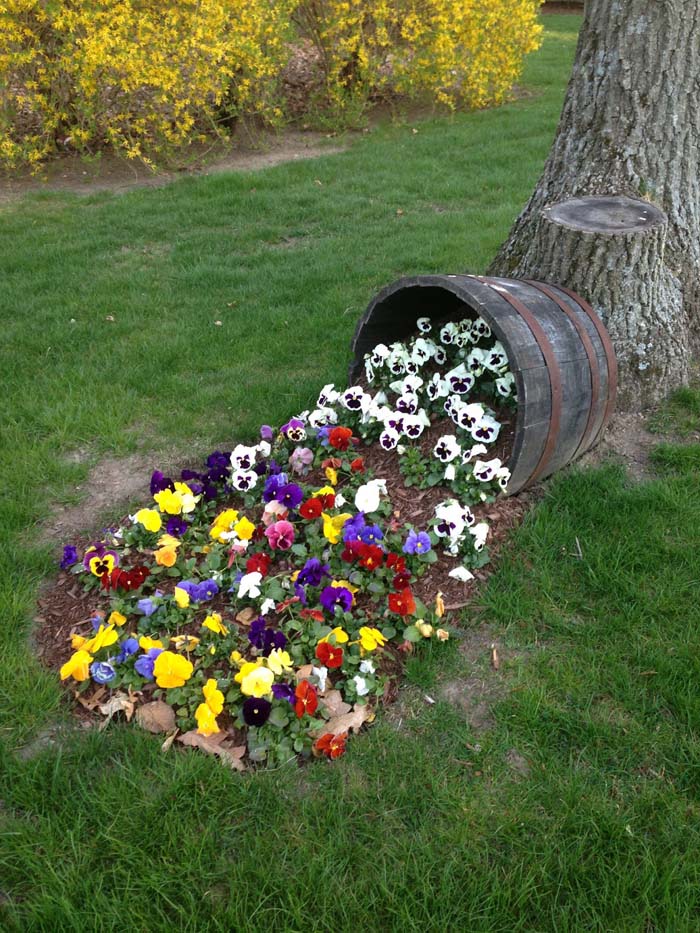 Add a stream of blooming flowers to your green lawn to add a colorful point of interest! The whiskey barrel is the perfect container to start this landscaping idea.
Placed horizontally on the ground, the flowers seem to be spilled out from the inside of this farmhouse antique.
41. Painted Rocks Flower Garden Idea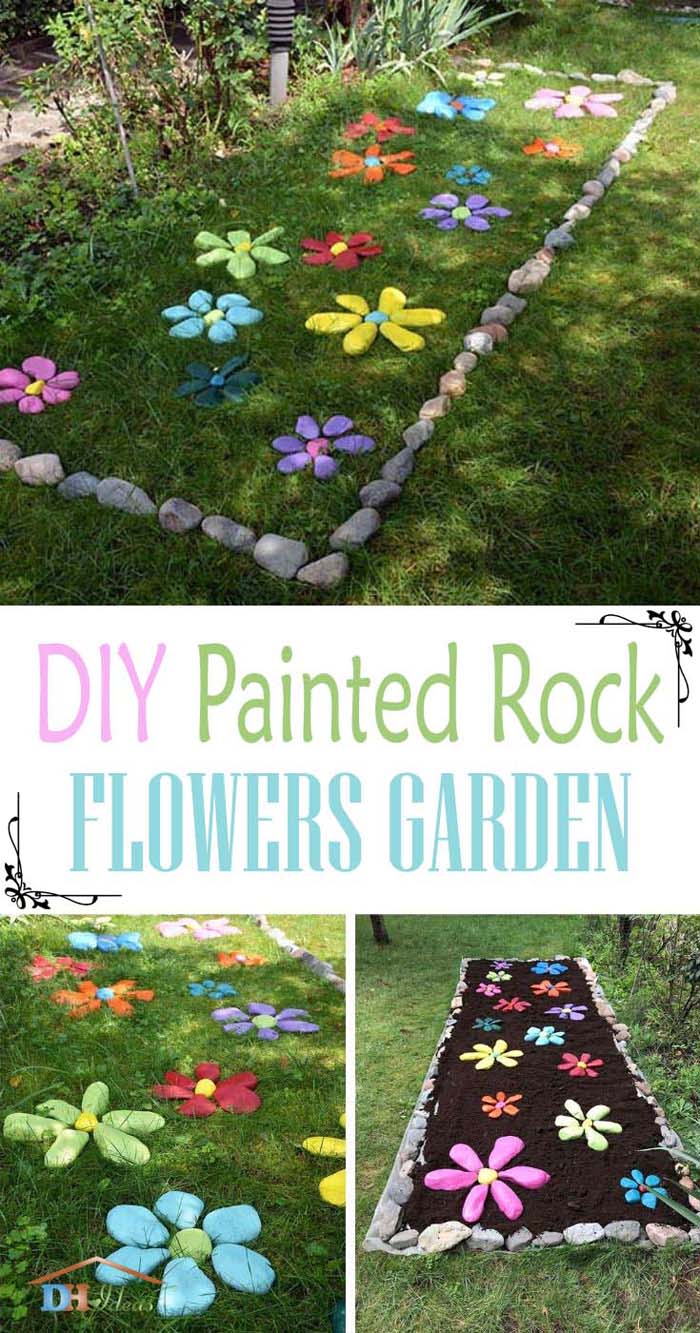 Looking for an ever-blooming garden idea? Do it with painted rocks arranged in the shape of flowers. The colors are bright and cheerful, adding color to the backyard and creating unique visual interest.
You can place the rocks directly on the grass lawn or form a garden bed covered with mulch to minimize the maintenance and let the stones pop out.
The full tutorial below makes creating it a pleasant weekend project for the whole family.
via Decor Home Ideas
42. Pallet Wood Porch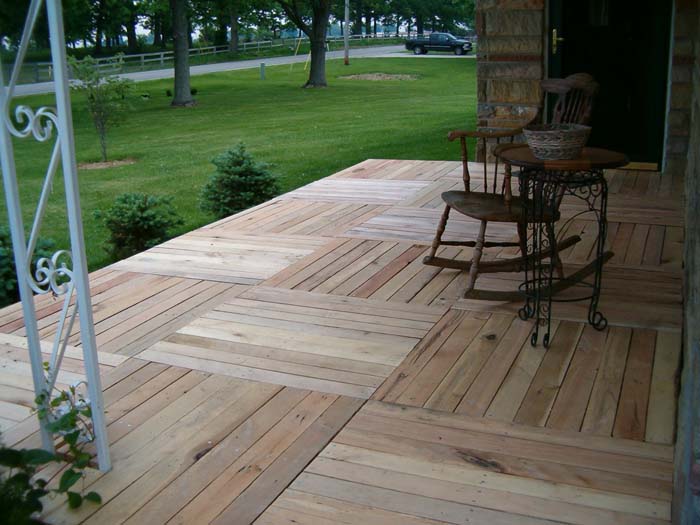 This is an excellent idea of how to utilize old pallets to give your porch a revamped look. The added pallet decking can cover an existing surface that is damaged or weathered or can be used in the house plan when a porch or patio has to be built from scratch.
After adding the wooden slats to the frames, stain the wood the color you like to protect it for a longer time and to give it a nice uniform look.
via Redo Redux
43. Pallet Wood Walkway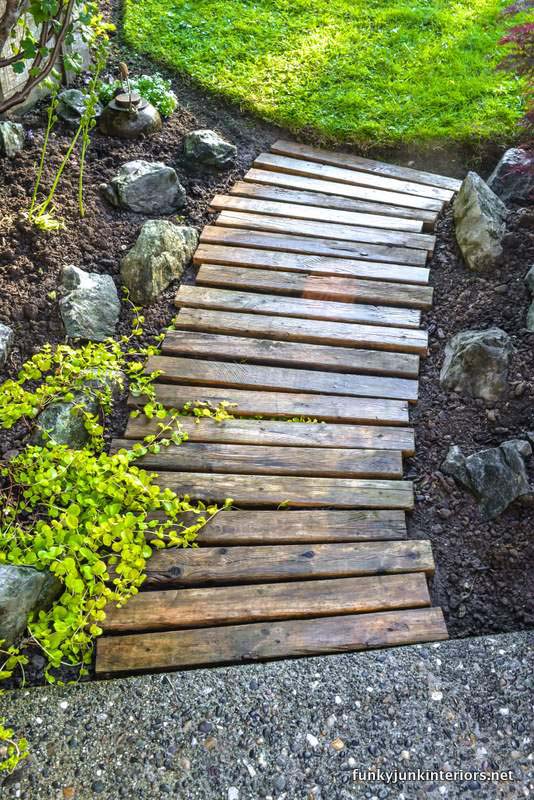 Another cheap landscaping idea features a walkway made of pallet slats. This comes to help people who have pallet leftovers add to the curb appeal.
What do you need to do? Almost nothing, prepare the surface where the slats will go so that you enable them to sink into the ground a little bit. You can apply a coat of stain to protect the wood and give the walkway pieces a uniform look.
44. Polka Dotted Tiered Planters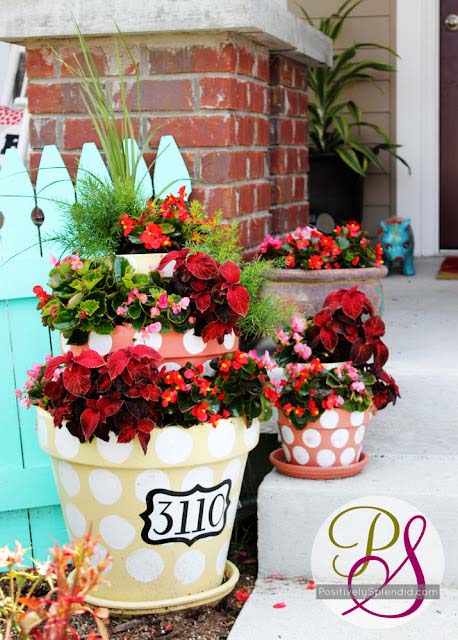 Adding flower pots is the easiest way to make your outdoors more welcoming. You can experiment with the alignment but you can always experiment with the outer look of the pots.
The most unadorned terra cotta pots are most significant for modification. Acrylic or spray paints quickly seal to the clay surface and let you become creative.
This polka dot pot landscaping design is cheerful and makes the plain ambiance welcoming. The largest one is stenciled with the house number, giving the flower accents a personal touch.
45. Porch Swing DIY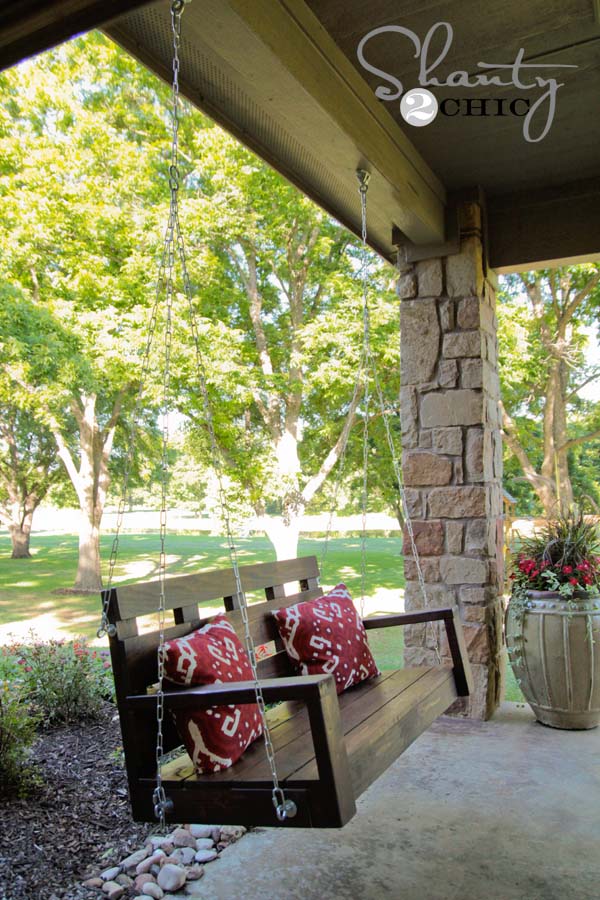 Have you always wanted a swing? Stop postponing it and get ready to build it yourself. There is a free cut list and a tutorial on how to assemble a bench-like porch swing that can take up to three adults.
The hardware for the suspension of the swing is critical so make sure to get the best fixtures to enjoy your swinging oasis longer.
via Shanty 2 Chic
46. River Rock Landscaping Around House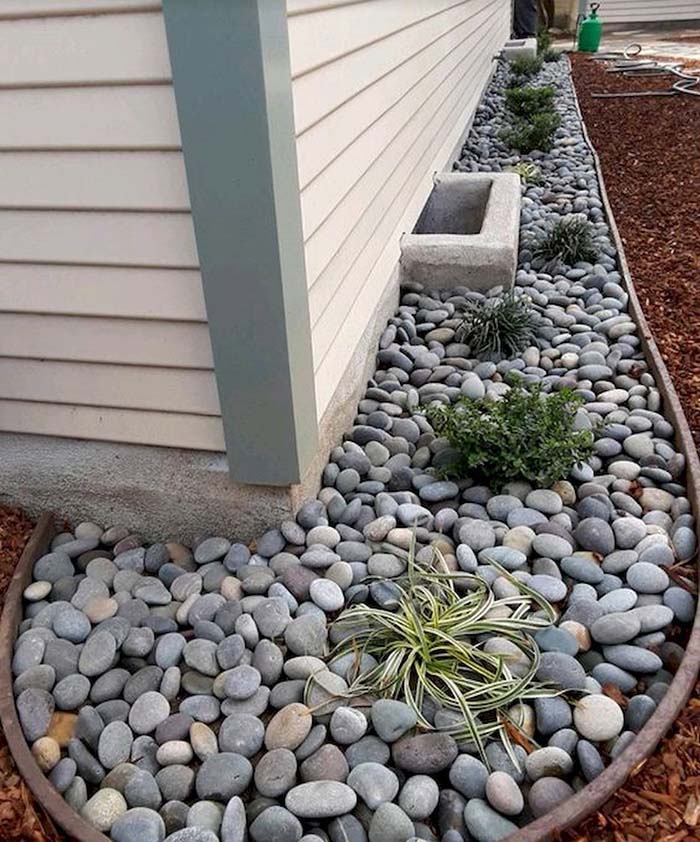 Natural materials make the greatest impact on the landscape. So it is proved by this river rock landscaping idea.
The rock garden is defined by plastic basins inserted into the ground.
The oval river rocks fill the top of the garden and let planted kinds grow in optimum conditions- good drainage and minimized weed or parasitic fungus existing.
via Decor Home Ideas
47. Round Flower Bed Idea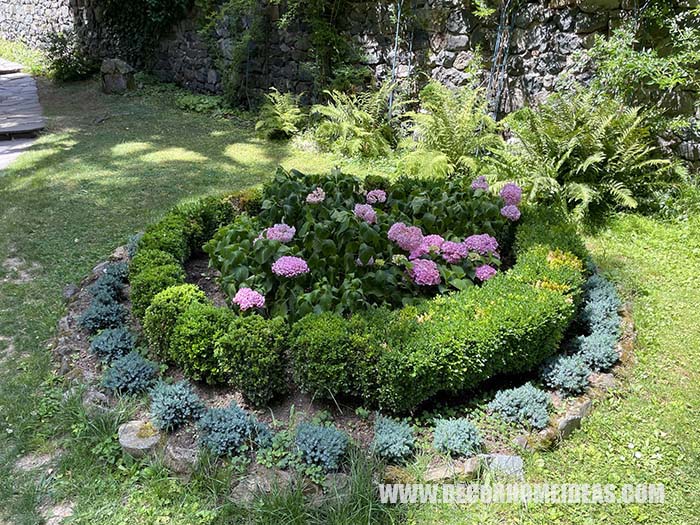 You don't have to be a landscape designer to give your backyard a well-organized and elegant look. The keys to a beautiful yard are good maintenance of the lawn and garden beds.
This round-shaped flower garden showcases two kinds of shrubs combined with the vivid lilac color of the hydrangea blooms.
The round shape is firstly defined by pavers hammered in the ground. Then each kind of plant continues the geometry forming a descending circle.
48. Thrifty Exterior Light Makeover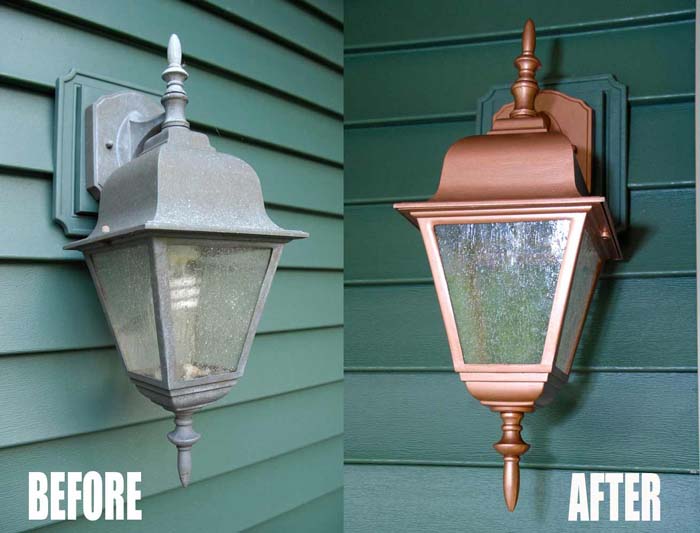 You can add a pop of color to your porch by changing the color of the light fixtures. The lanterns are a usual outdoor light source but tend to weather over the years.
The paint may get damaged or the metal may start rusting. With two coats of copper penny metallic paint, you can transform the lantern's look and add visual interest to the porch.
49. Tiered Wooden Crate Built-In Planters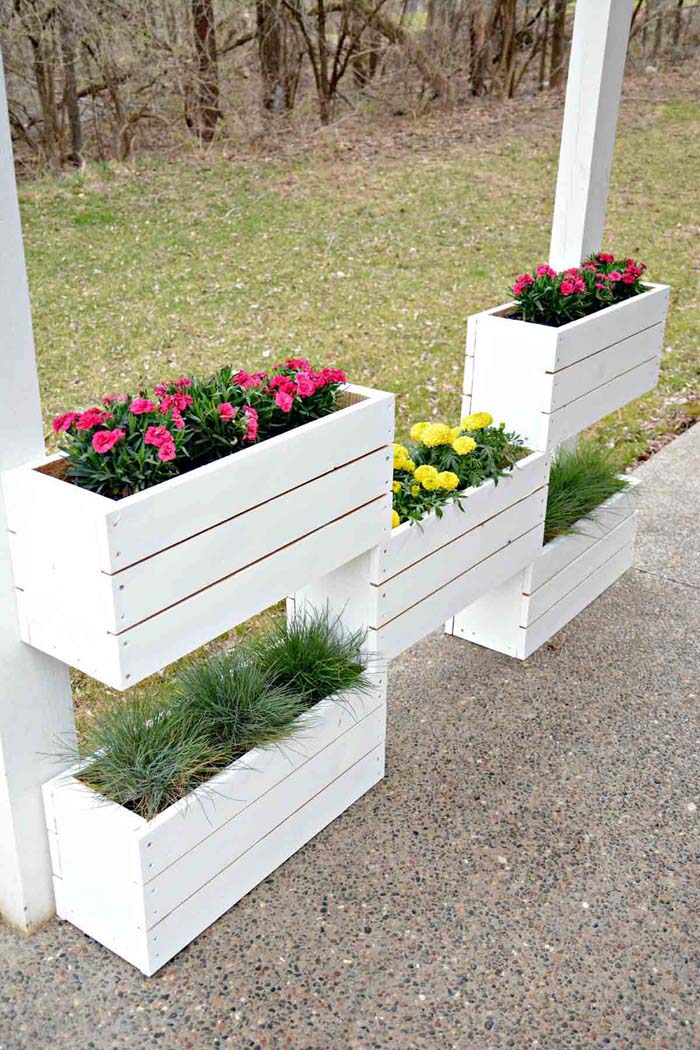 These planters are stacked interestingly to act as a porch fence and to welcome nature closer. The most affordable material to make these box-shaped planters is to use pallet slats.
You can fill the soil directly in the planter or place flower pots inside the box. They are painted white to match the porch posts and to give the space airiness.
via Decor Home Ideas
50. Topsy Turvy Flower Planter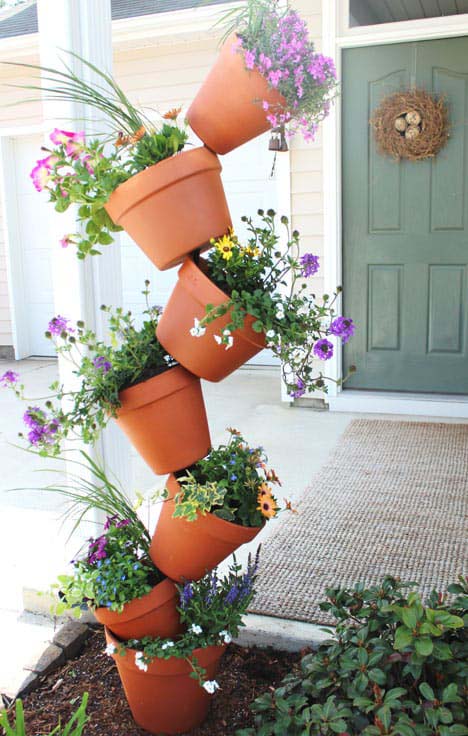 This stacked planter could be used for growing herbs and flowers. It is very appropriate for small garden beds and as a means to accentuate a vertical architecture piece of your outdoors like the porch posts.
Prepare terra cotta pots, rebar and your favorite plants or herbs.
via We Heart This
51. Tree Stump Gardening Idea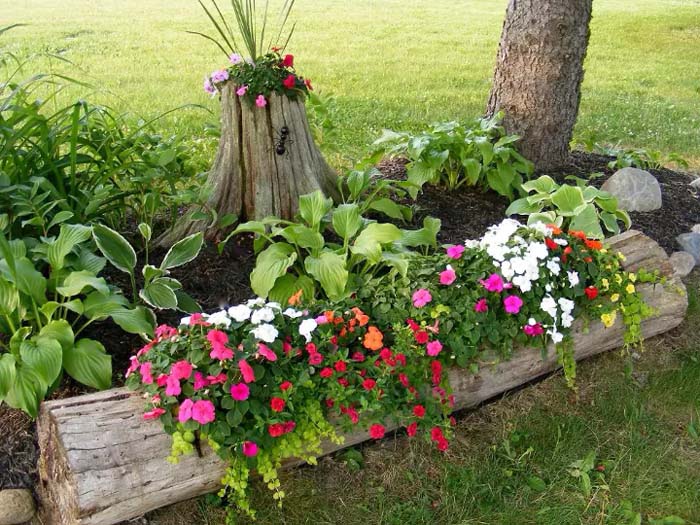 This tree stump flower planter is so charming! It can be used alone as a garden bed or added to an existing garden to edge it.
To get the most out of the visual impact it creates, plant cascading flowers. This is the perfect decoration for a small front yard.
via Hometalk
52. Update Garage Door for UNDER $40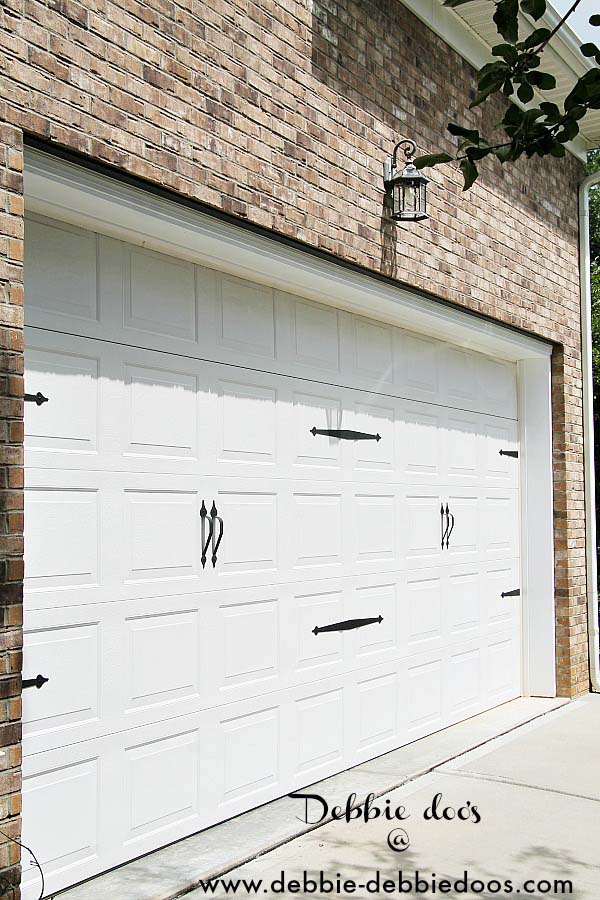 Carriage-style garage doors are quite expensive. If you admire their look, you can mimic it with cheap accents added to the existing door.
The secret is in a set of wrought iron hardware positioned on the right spots.
via Debbie Doos
53. Wood Plank and Gravel Walkway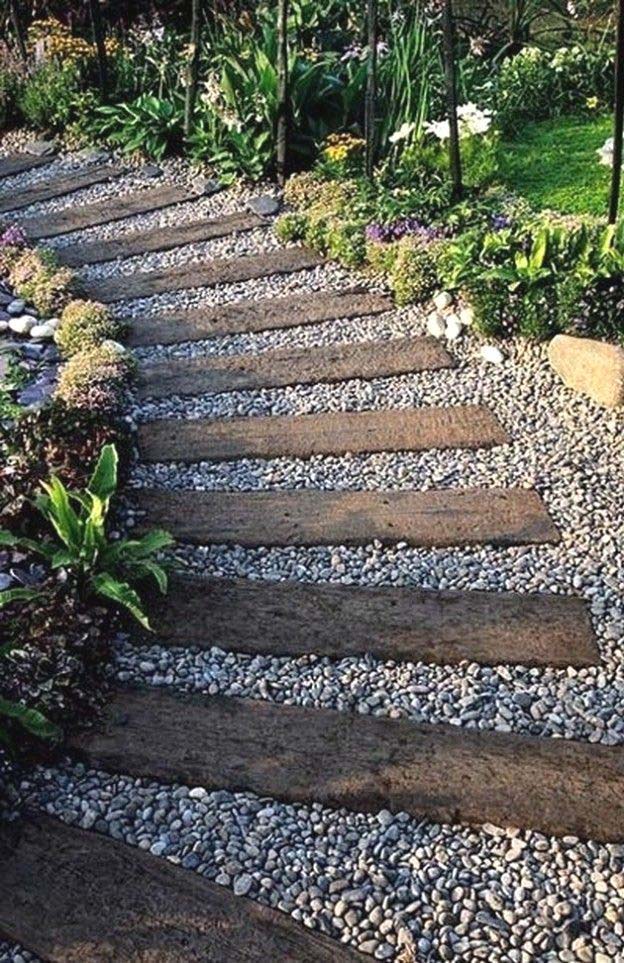 Want a clean way to go along your vegetable garden or admire the variety of blooming flowers without getting your shoes dirty?
A walkway tracing your way through the backyard will ensure this safe tour of your property. And when that feature must be combined with a low budget, then take advantage of this DIY project.
Reclaimed wooden beams divided by pea gravel create a piano-like pattern. Before building this walkway, prepare the soil by digging a bed in the ground with clear limits.
Place the beams as you wish and then fill the gaps with the gravel.
54. X Leg Bench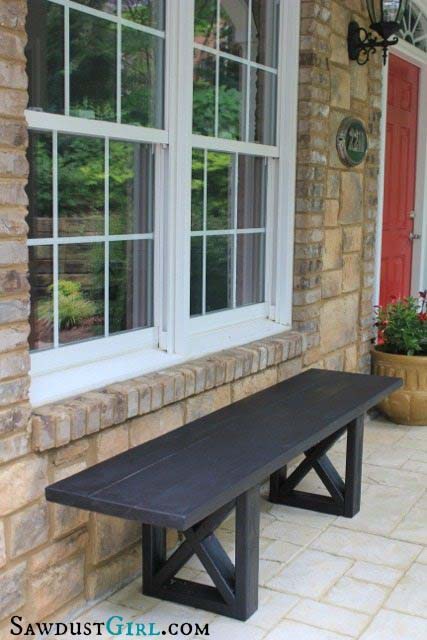 The X-legged furniture succeeds in giving the farmhouse design a contemporary look. This is the reason this pattern has become so popular in DIY projects.
This bench idea goes in the list of X-leg outdoor furniture and takes less than $40 to be made. The dark stain gives it an appealing curb appeal impact when placed next to brick or stone surfaces.
via Saw Dust Girl
55. Create Inexpensive Edging Around Trees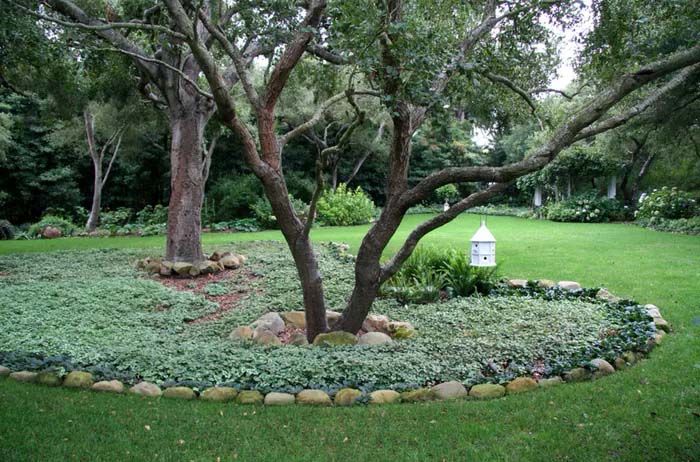 This yard landscaping idea couldn't be any easier and cheaper. Gather some big rocks and create a zone around some trees.
You can plant some small flowers, ornamental grass, or potted plants in this area. You can use this idea even in a small yard.
Frequently Asked Questions:
Is it Possible To Do DIY Front Yard Landscaping on a Budget?
As an experienced landscaping expert, I can assure you that it is entirely possible to do DIY front yard landscaping on a budget. With careful planning, creativity, and a willingness to put in a little elbow grease, you can achieve a beautiful and welcoming front yard without spending a fortune.
To make the most of your budget, consider the following tips:
Plan ahead: Sketch your design ideas, research plant options, and create a list of needed materials. This will help you avoid unnecessary purchases and costly mistakes.
Shop smart: Look for sales, discounts, and bulk deals at your local garden center, or explore online resources and local nurseries for affordable plants.
Reuse and repurpose: Use existing materials, such as rocks or bricks, in your design. Repurpose items like old containers or furniture to create unique features or planters.
Choose low-maintenance plants: Opt for native plants, which usually require less water, fertilizer, and overall maintenance, saving you time and money in the long run.
Do the work yourself: Tackle the project in phases to make it more manageable, and enlist the help of friends or family to save on labor costs.
Is there any particular element to your yard's landscaping (or design, or decor) that seems out of place, in poor condition, or just plain ugly?
Look around and remove anything that feels out of place or is outdated.
So, how you can landscape your front yard for cheap… but make it look like a million bucks?
To make your front yard look luxurious on a budget, focus on incorporating strategic design elements and high-impact features.
Combine eye-catching focal points, like a statement pathway or a water feature made from repurposed materials, with layered plantings for depth and texture, ensuring color and varied plant heights are used to create a visually dynamic space that exudes curb appeal.
Thinking about improving your front and backyard, but don't know where to start?
When considering improvements for your front and backyard, starting by assessing your needs and goals for each space is essential.
For the front yard, focus on enhancing curb appeal with a well-maintained lawn, inviting pathways, and attractive plantings. In the backyard, think about functionality, such as creating areas for relaxation, play, and outdoor entertainment.
Once you have a clear vision for each space, sketch out a design, choose appropriate plants and materials, and prioritize projects based on your budget and time constraints. Remember, you can tackle landscaping improvements in stages to make the process more manageable.