It's impossible to imagine a home without a lawn as it's the life of a residence's exterior.
These days, artificial grass has become a staple for most lawn designs, and homeowners are collaborating with professionals to create the most astounding paving designs.
This type of grass is not only affordable but also easy to maintain.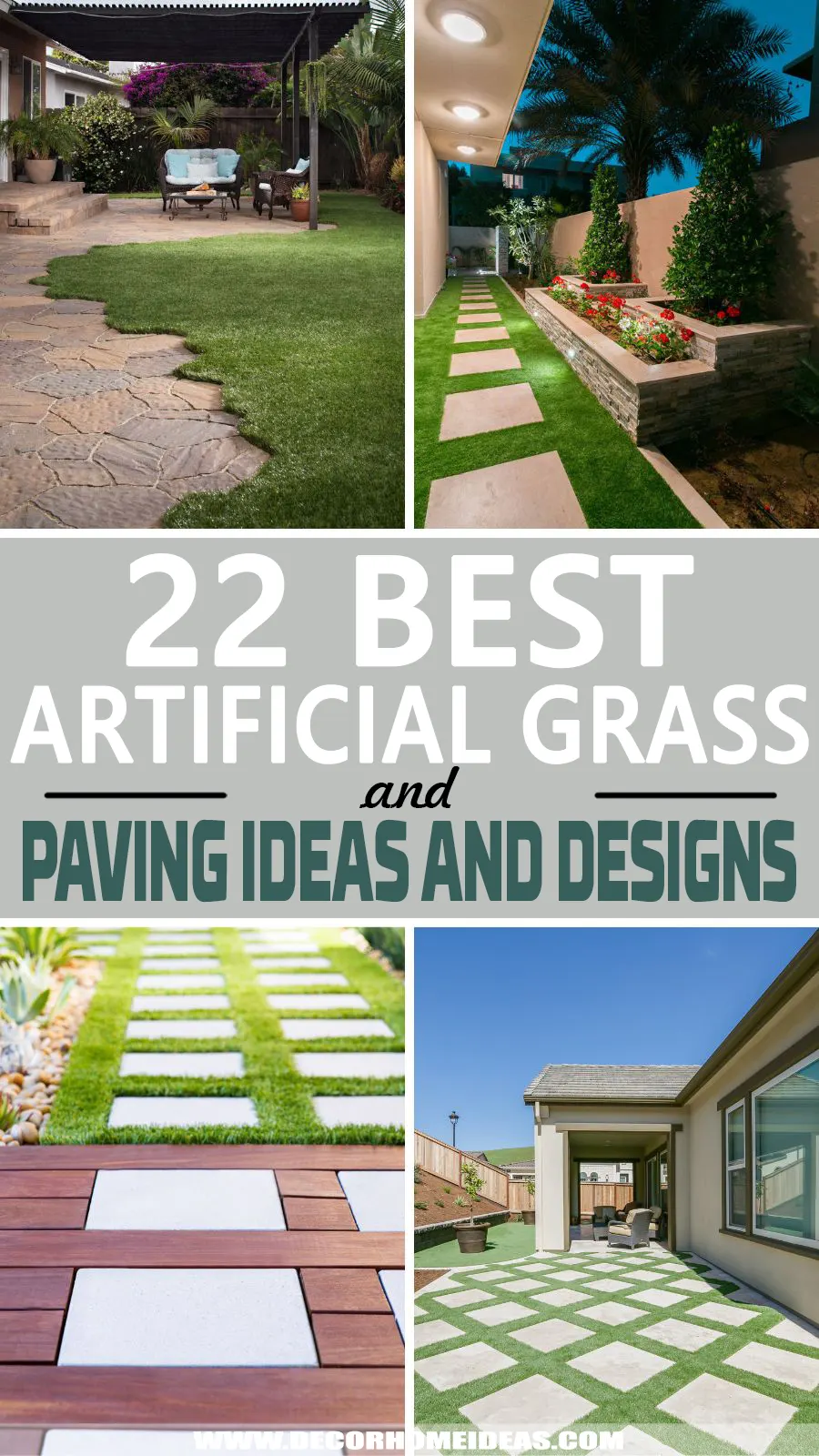 Deciding what lawn design is suitable for your exterior can be challenging, so we have prepared a list of the 22 most exciting and workable paving ideas and designs you can try.
1. Go Modern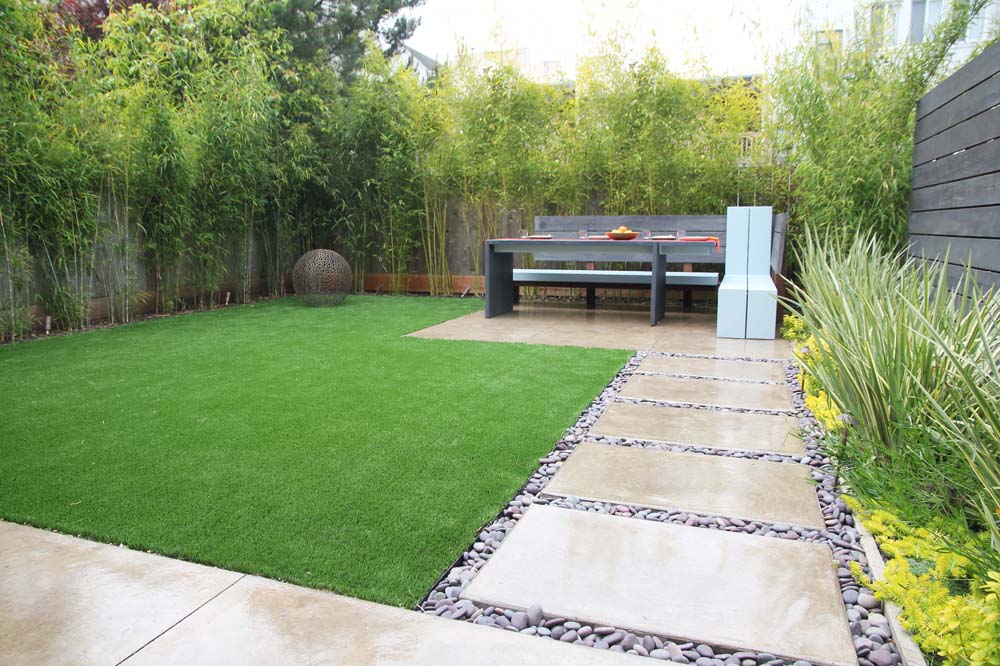 via Boxleaf Design
Transforming your backyard into a modern space is easy, thanks to artificial grass. Artificial turf can create a focal point that serves as the base of a modern design.
In this yard, artificial turf creates a creative landscape and contrasts other textures and colors. The tall evergreen shrubs, stone patio, and concrete pavers create a unique and sleek outline, with the green lawn being the center of the design. 
2. Use it to Highlight Natural Stone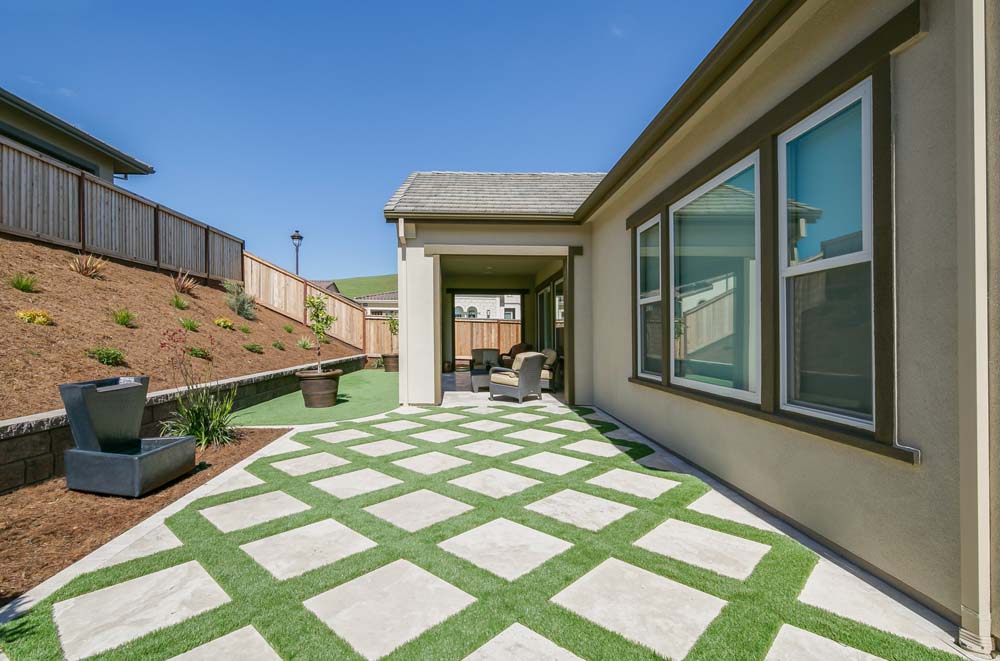 Artificial turf can be the perfect material to pair with natural stone. Since neither of the materials requires constant maintenance, you can get a beautiful, low-maintenance lawn or patio instantly. 
In this design, slate squares of natural stone are placed between strips of natural grass to give the space a rustic look. AstroTurf is a good grass choice if you are considering this design. 
3. Spruce Up Your Walkway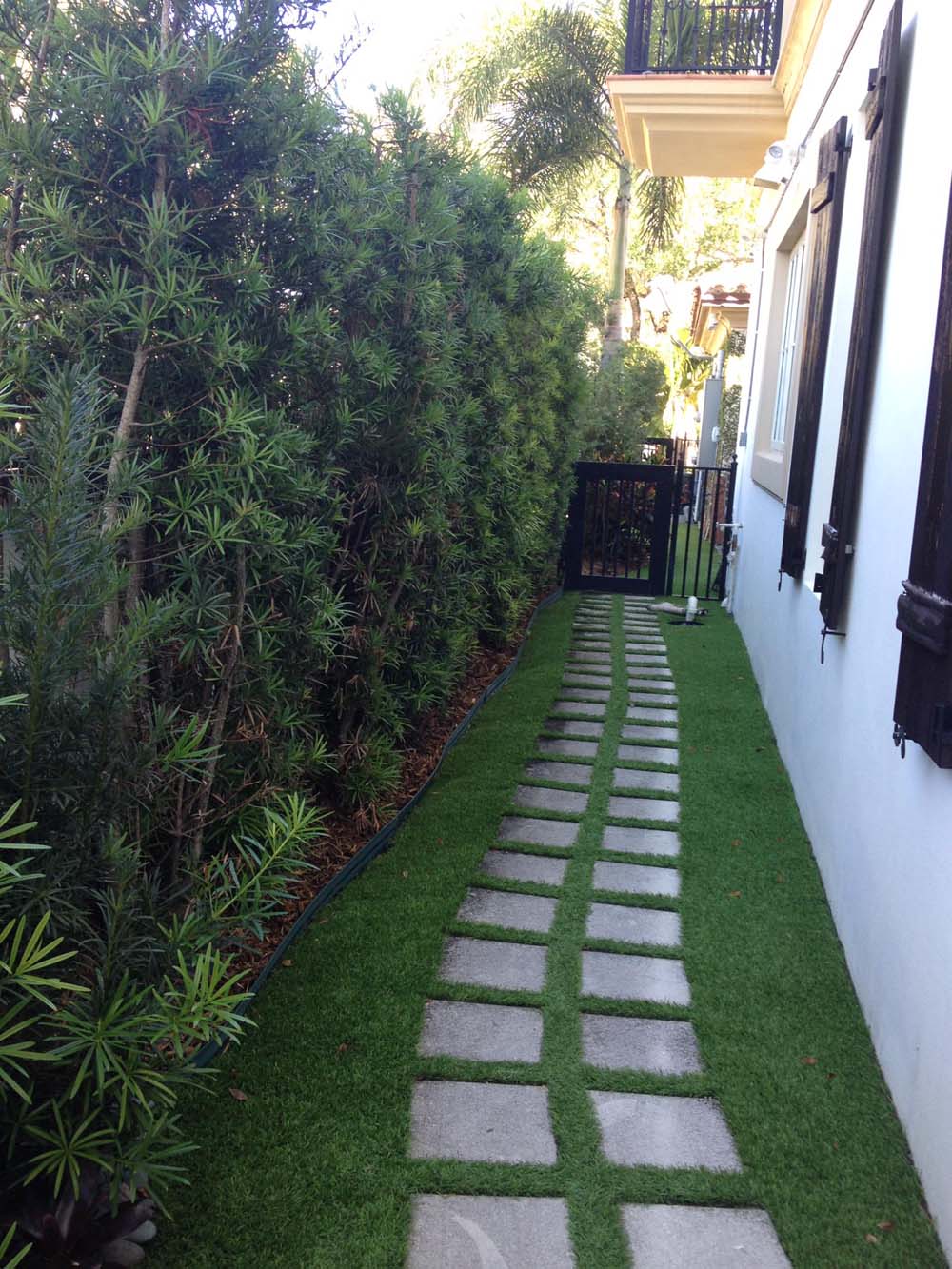 via Landscaping by Steve Blaum
Imagine this walkway without the grass! Quite plain and boring, right? Artificial grass can add character to your walkway and make your home even more attractive, as in this design.
Artificial turf is used between the rectangular slabs, complementing other natural features along the walkway. 
4. Pair it With the Patio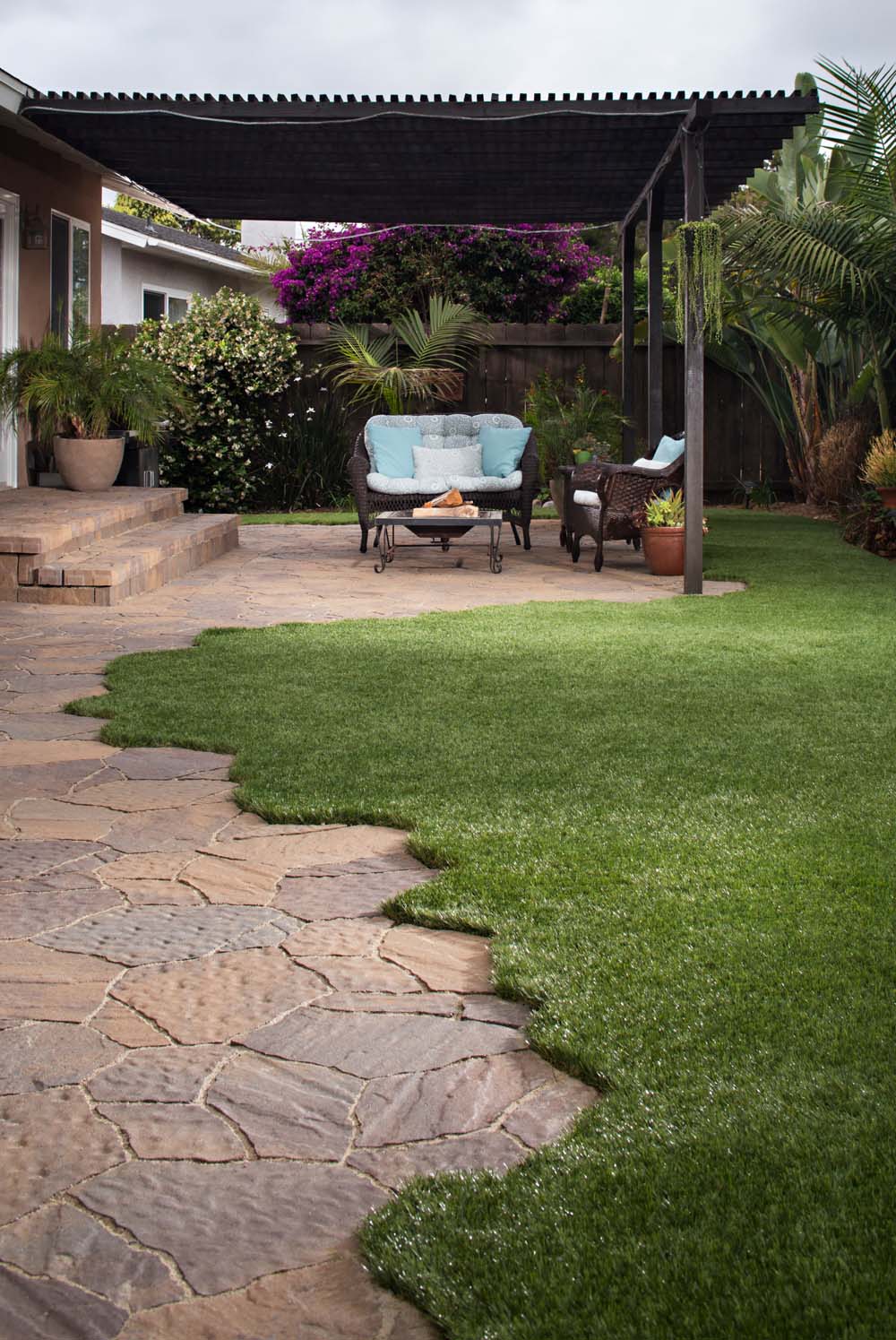 A backyard is the perfect chill spot to enjoy, whether it's family time or having friends over. Complementing your patio with artificial grass is the perfect way to create a balanced vibe for your space. 
The grass around this patio helps create an inviting space for the hardscape of the stone patio.
5. Use Multiple Materials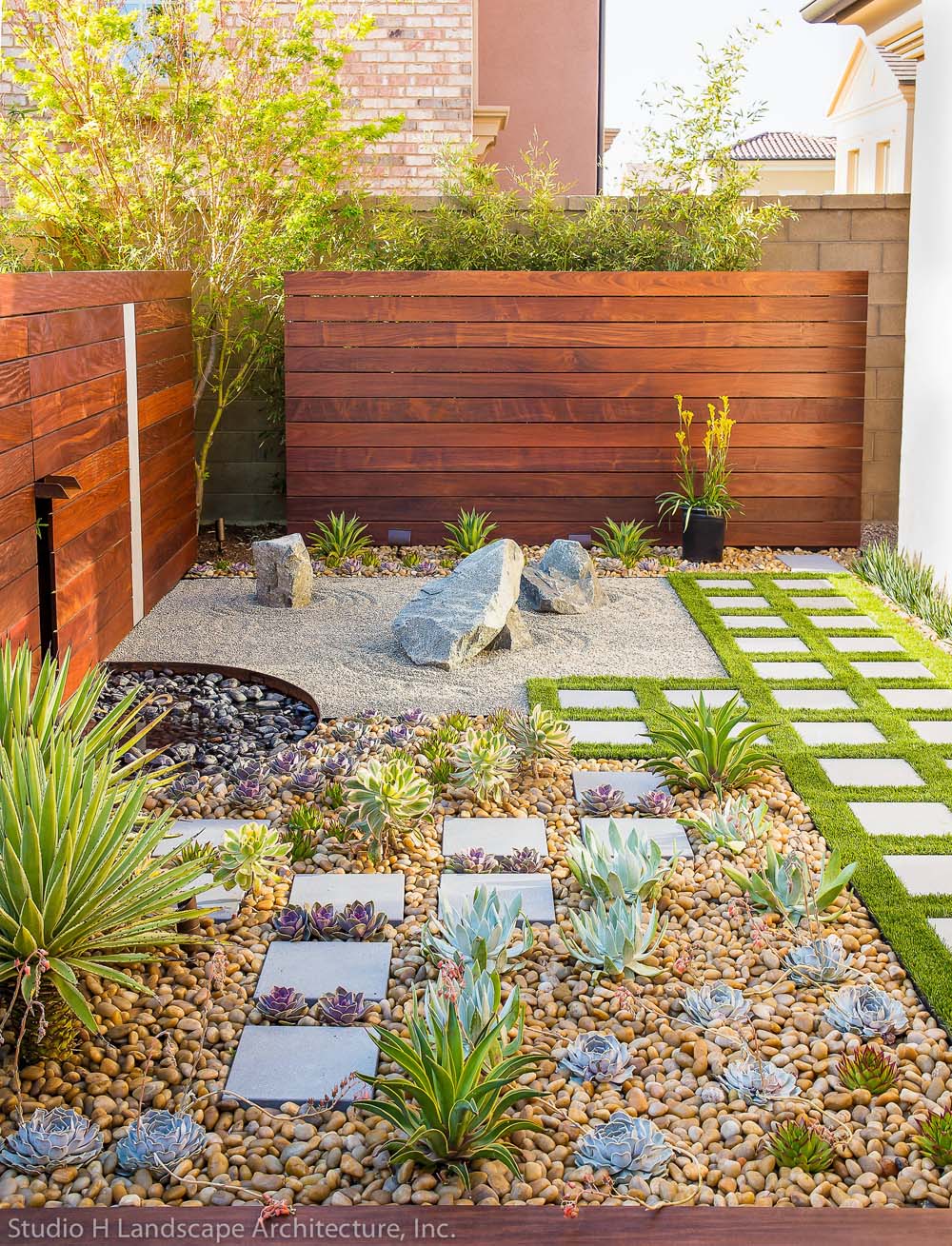 via Studio H Landscape Architecture
Most designs use a few materials to create a coherent look, but multiple elements can also achieve the same effect. In this design, river stones, concrete slabs, succulents, and artificial grass combine to give the space a modern look and plenty of focal points. 
The use of gravel and stone also gives the yard a natural look. 
6. Along the Backyard Fence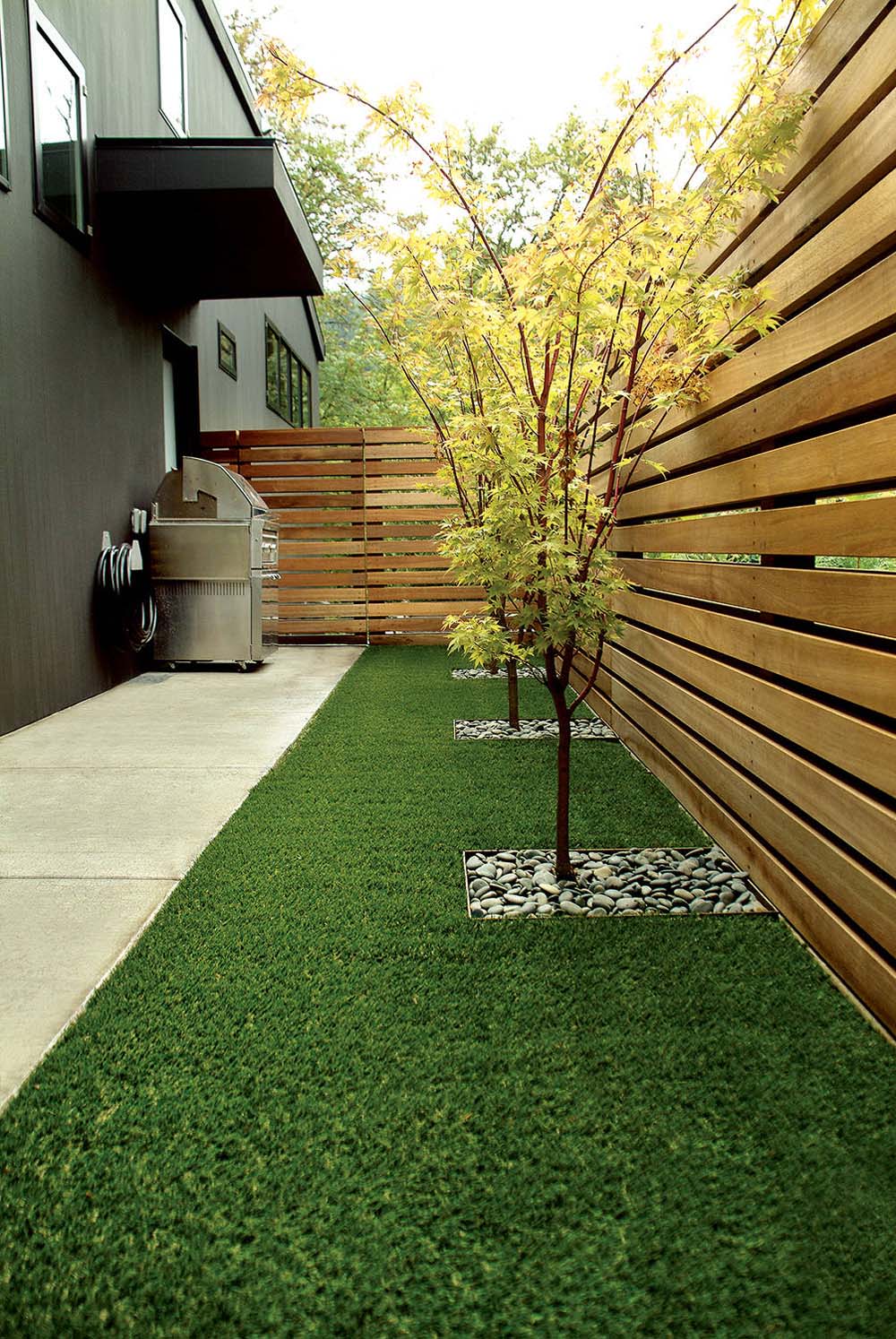 via Giulietti Schouten Weber Architects
Many designers forget about the fence when landscaping, and it's not uncommon to find empty spaces near fences.
To make this place of your home more lively, you can add some artificial grass and plot some bushes in between to create an even finer touch. 
7. Add some Tropical feature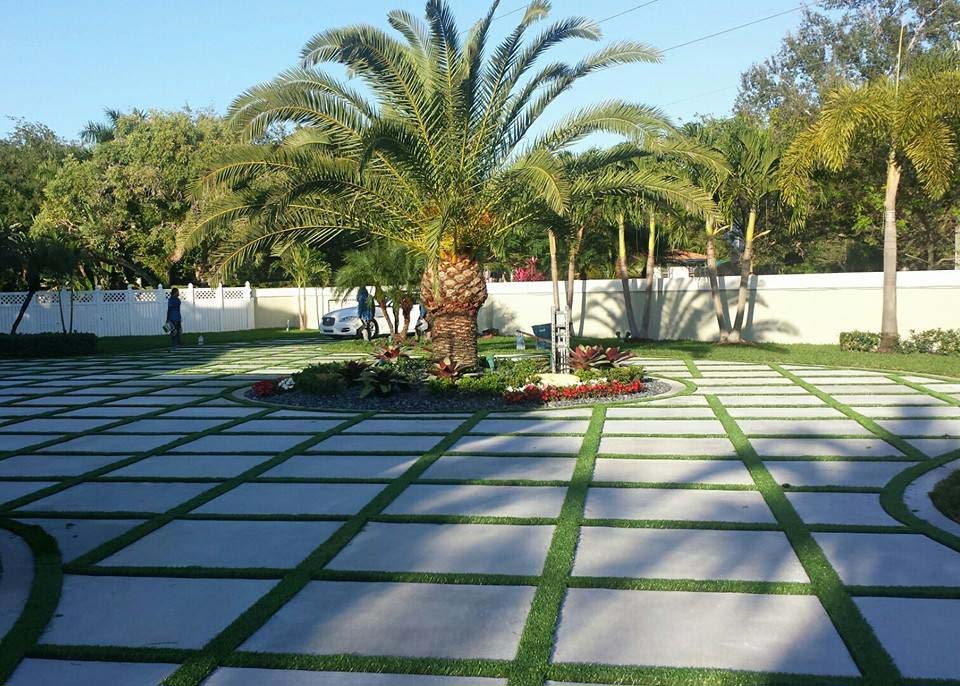 For people living in dry climates, you can design artificial grass by adding tropical features such as palm trees and flagstones. Palm trees don't need frequent watering and would be ideal for these climates. 
8. Wood and Stone Contrast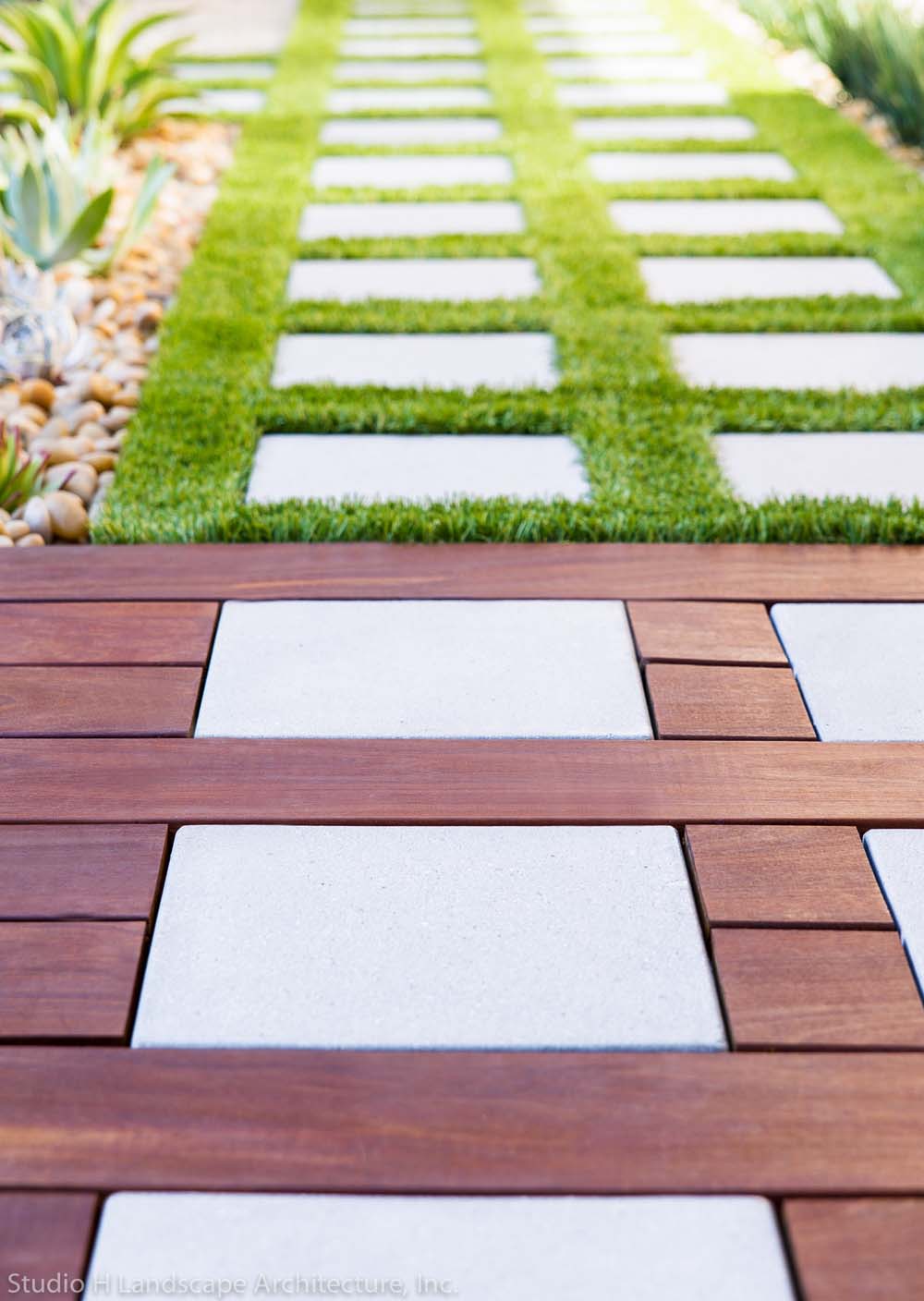 You can elevate your background space by adding some greenery that acts as a focal point and will contrast different materials.
In this space, the combination of stone, wood, and turf creates the perfect contrast that highlights each of the materials used. 
9. Get Creative with the Concrete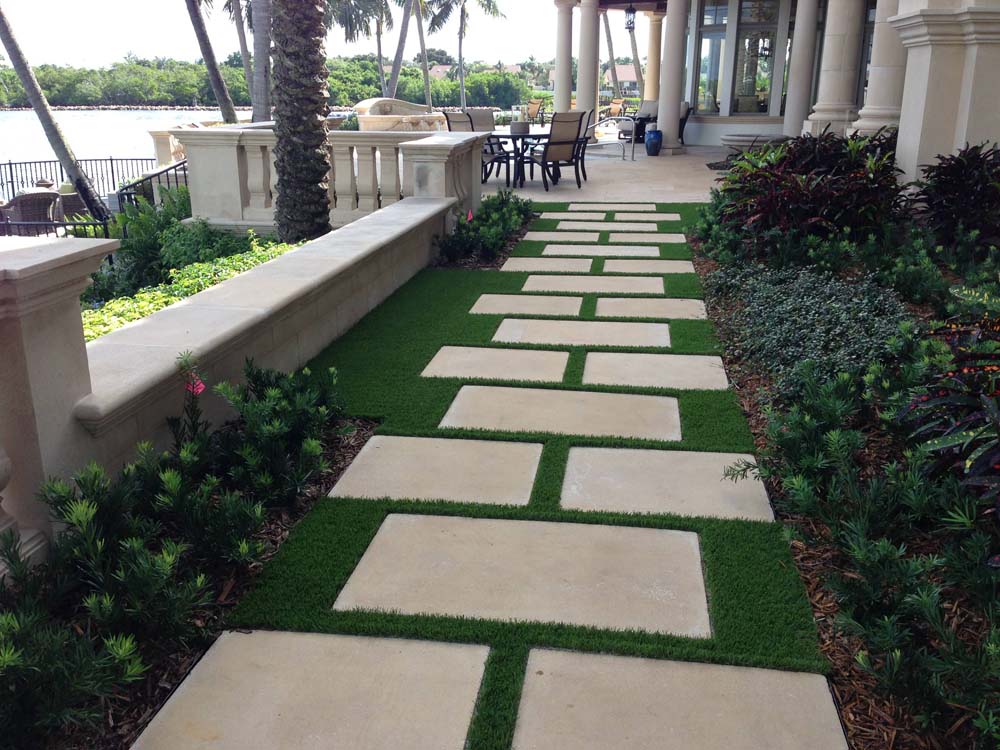 via Southwest Greens of Florida
The long-lasting properties of concrete slabs make them perfect for landscaping, and artificial grass could make them look even better.
In this design, the alternating concrete design leading to the patio is highlighted by a synthetic lawn. 
10. Embrace the Curves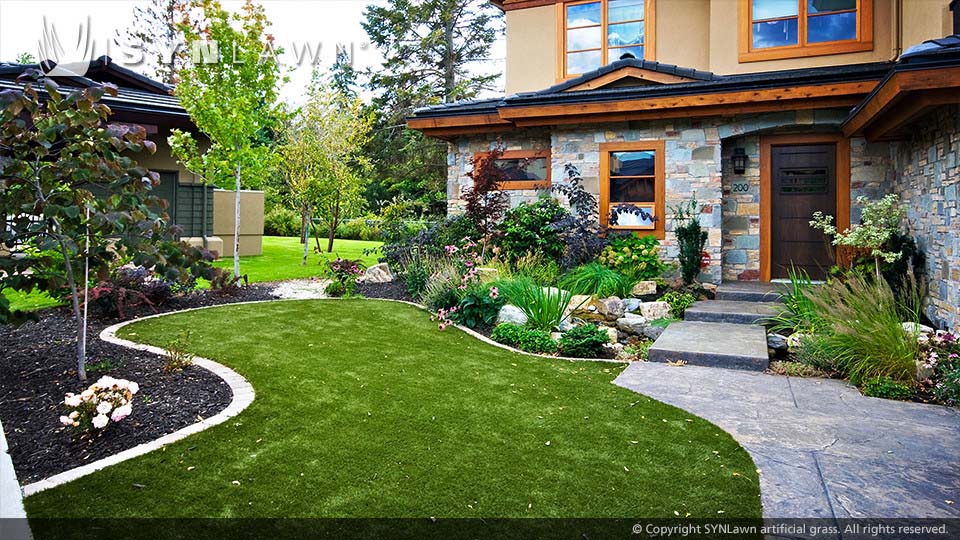 via SYNLawn
You can never go wrong with a curvy design for your yard, and using fake grass is one way to accentuate these curves.
The rocky patio, rock garden, and black mulch add some visual contrast to the well-trimmed artificial yard. 
11. Highlight the Flagstones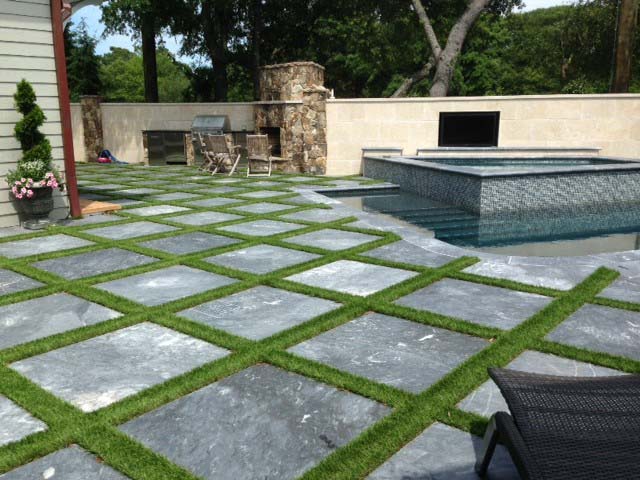 via ForeverLawn of the Carolinas
Flagstone patios are typical in many homes, but plain stones may sometimes look dull and make your exterior gloomy. 
Using fake grass on this natural stone patio has added some visual interest to the space and made it more lively. 
12. Organized Chaos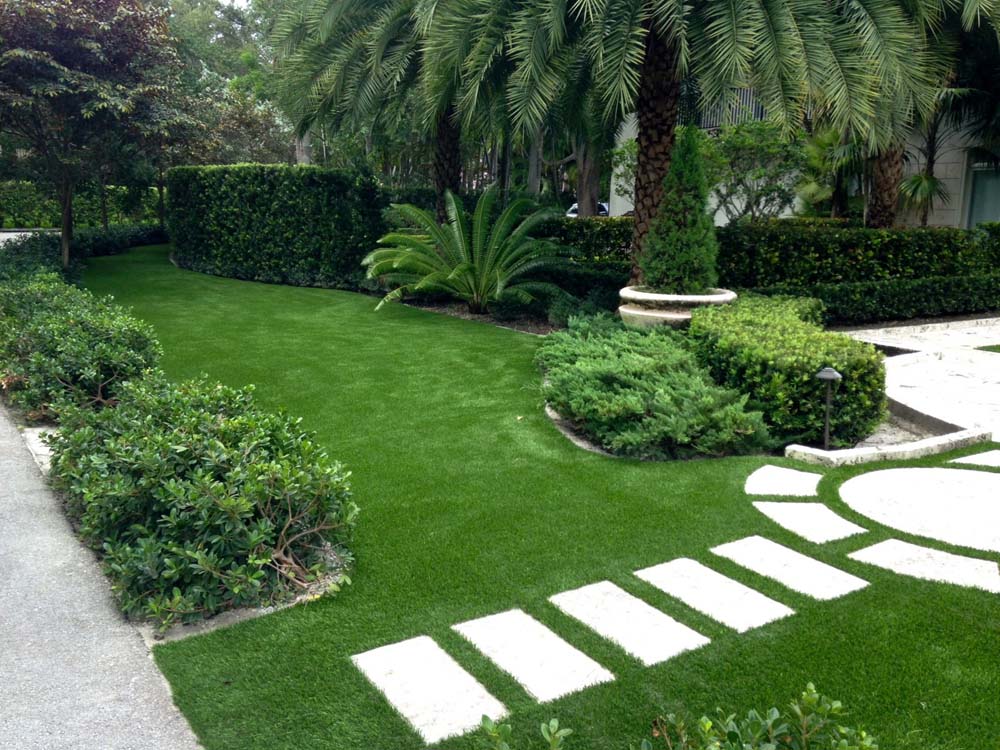 Well-trimmed plants on one side and overgrown vines on the other may add an unusual balance to your backyard. You can neutralize this by adding artificial turf that doesn't need regular mowing. 
Use stones to create a footpath and fake grass in between to create a striking visual interest. 
You can try an artistic pattern like this design with a unique stone arrangement on the footpath.
13. Backyard Pool Turf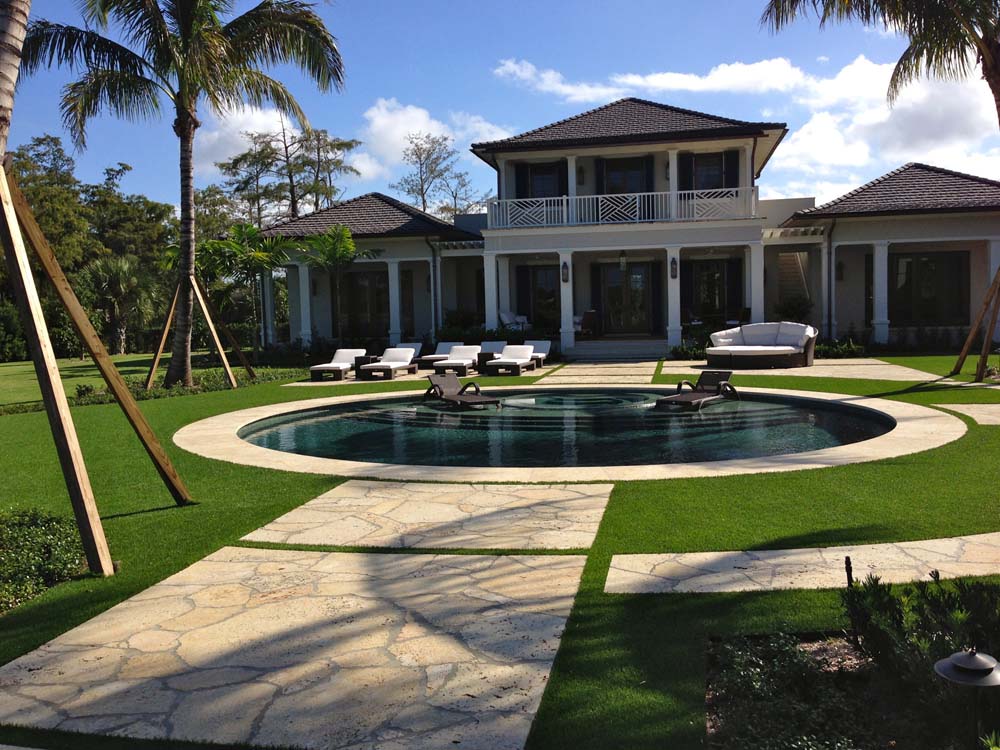 The grass may be the perfect material to pair with your backyard swimming pool since it provides fewer chances of slipping up than wood stone flooring. Artificial turf is practical and evokes the feel of a modern suburb.
The realistic look of the grass also ensures you can enjoy the scenery. You also won't have to deal with pool slips or muddy tracks. 
14. Create a Seamless Blend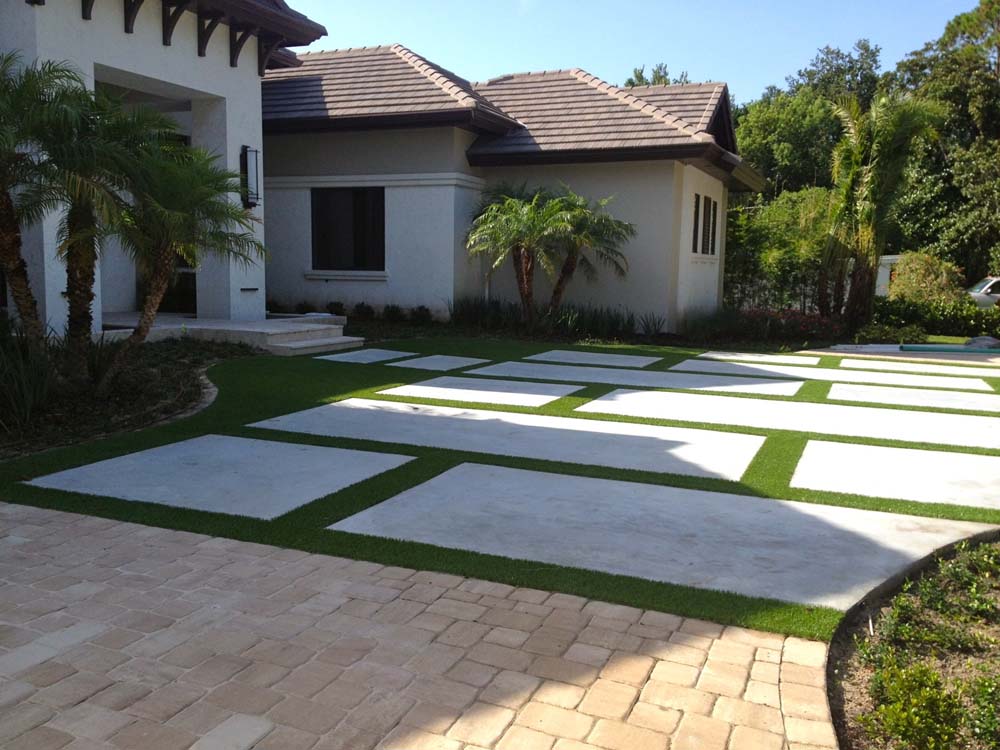 You can seamlessly blend your garage or driveway by adding artificial turf between the concrete slabs.
This gives the yard the illusion of width and creates a clean design that is perfect for a deck or a backyard.
15. Contemporary Backyard Turf Seating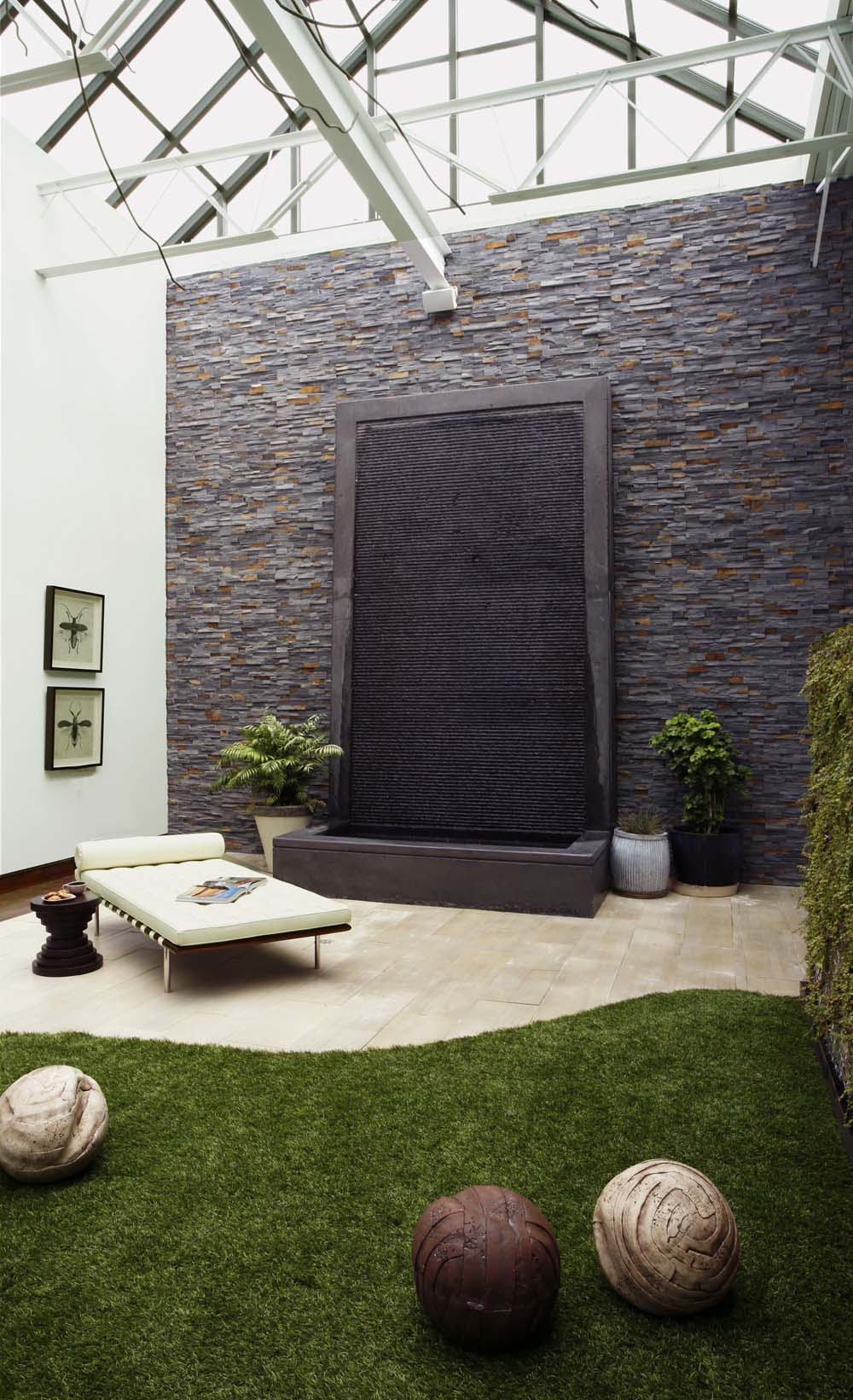 via Studios 1019
If you want to design a small yard, using an open backyard turf may add a touch of finesse to your space. 
You can pair the design with furniture such as lounge chairs to enjoy the warm afternoon sun. To complete the design, add some benches that will offer ample seating space in the backyard. 
16. Try Funky AstroTurf Design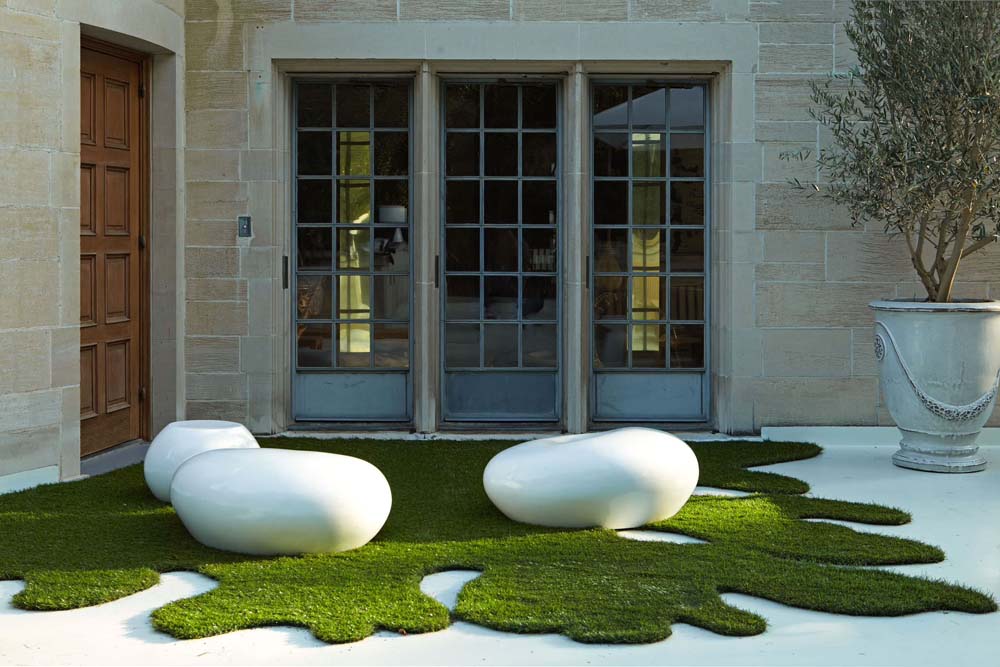 Funky and modern designs have made the use of AstroTurf even more prominent. You can use this material to add personality to your backyard and make a bold statement by cutting off the turf in unique designs like this. 
Pairing it with a modern seating area will make the design even more contemporary. 
17. Try a Clean Look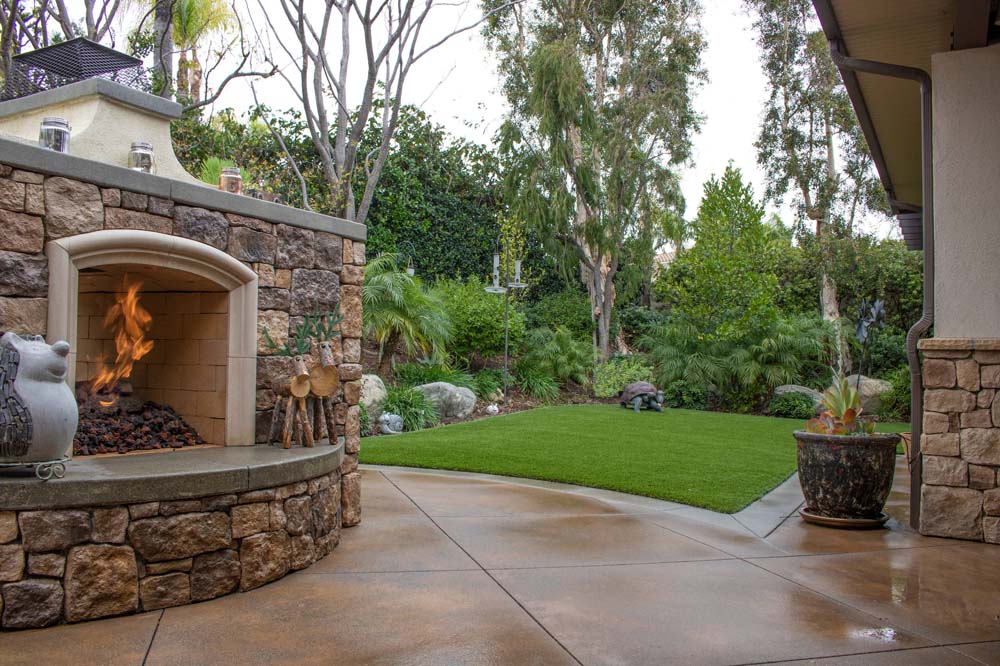 You can use a symmetrical shape to design your synthetic turf. The combination of grass edging with clear-cut lines adds color to the backyard. You can add some natural shrubs and bushes to make the grass more vibrant.
This design uses synthetic turf for the backyard with a clearly defined border to compliment the stone patio.
18. Complement a Water Feature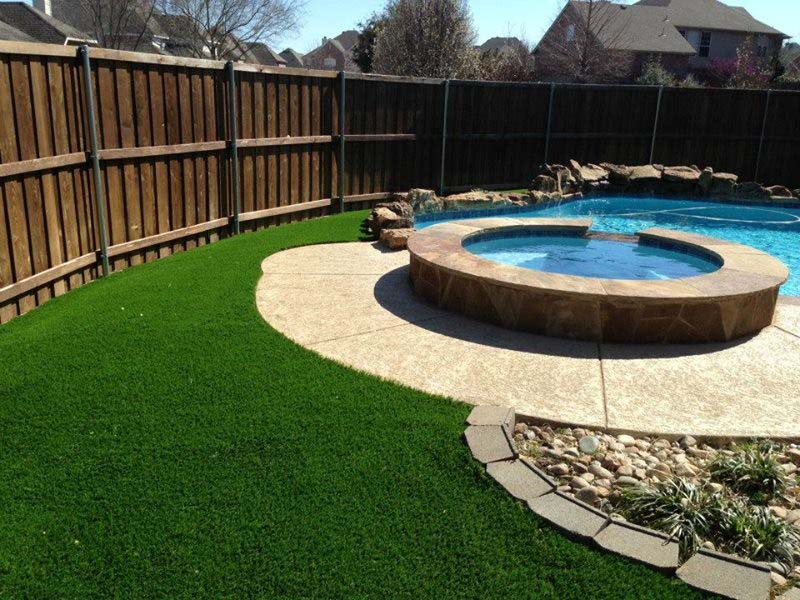 A water feature in your compound lightens the environment and makes your yard look more relaxing.
In this design, a synthetic lawn is used to complement the water features in the backyard. The fake grass highlights the other materials used in the design, such as the wooden face and the stone patio.
19. Create an Unmatched Curb Appeal for Your Front Yard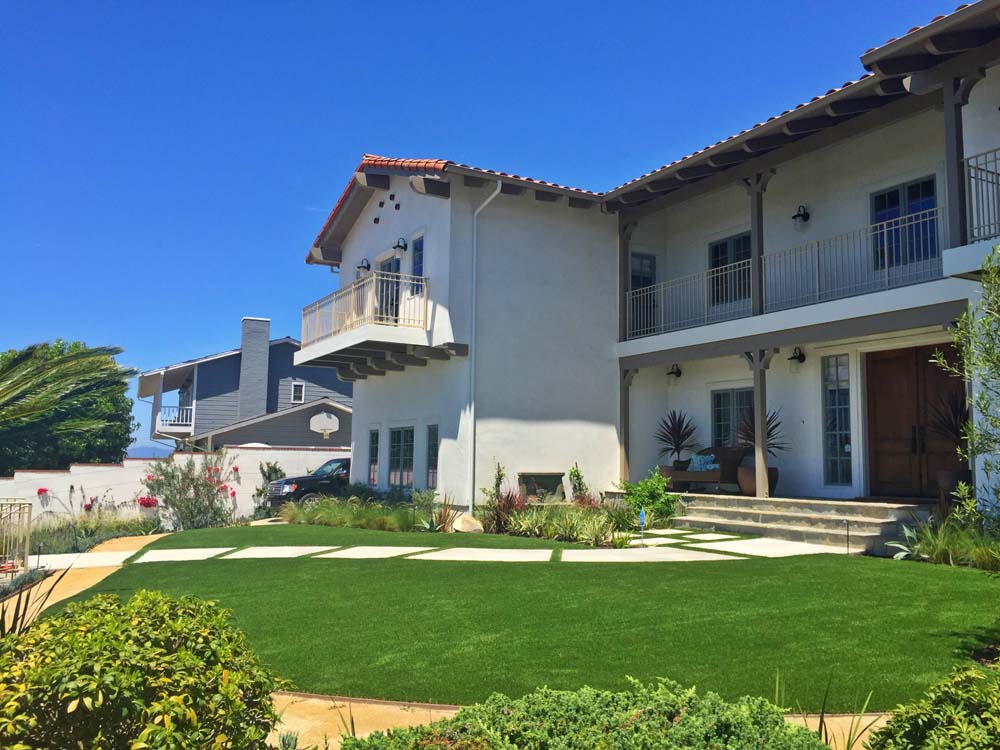 Creating an artificial lawn may be the right way to add curb appeal. It's an eco-friendly upgrade that doesn't have to be watered and will save you money on your water bill.
Like in this design, you can have well-defined edges and create a stone road base leading to the house.
20. Patch it Up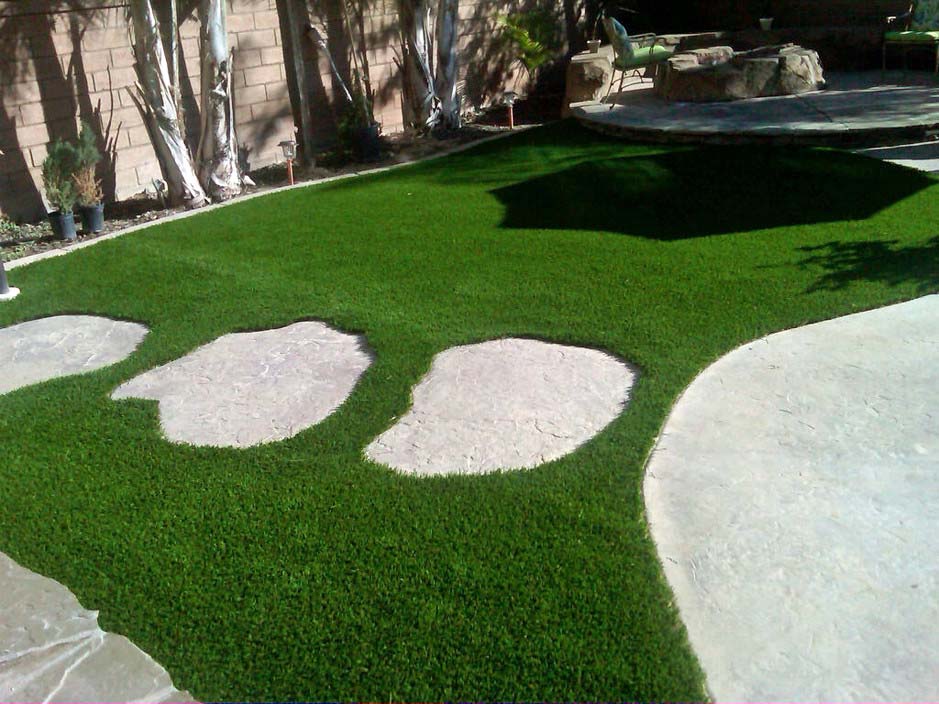 Using pet turf doesn't always have to be boring, but you can create visually inspiring designs with artificial grass, like in this patched design.
Parts of the grass are removed to reveal the stone underlay that covers most of the ground. This is a way to liven up the space while maintaining its original design.
21. Create More Interest With a Unique Look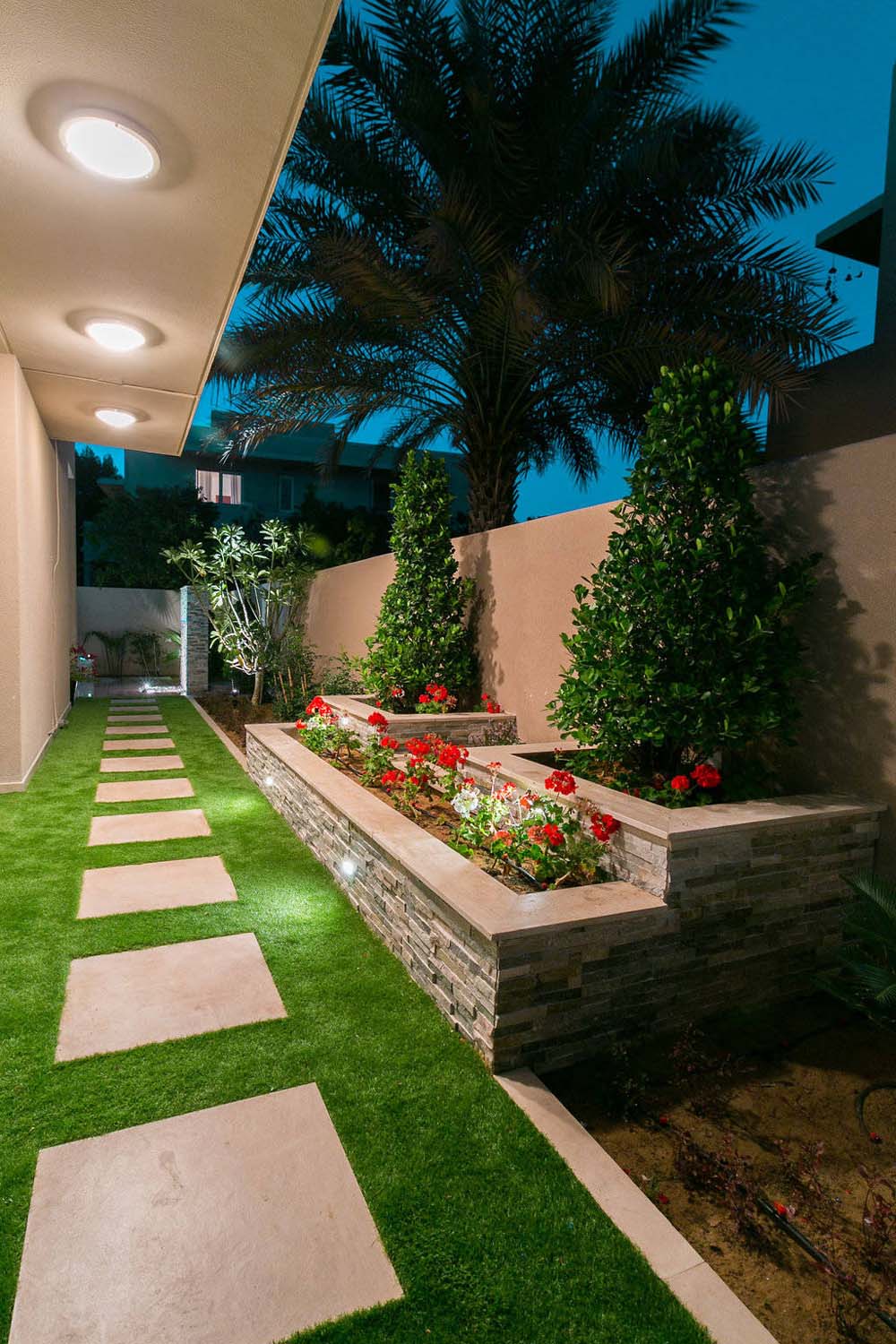 Artificial turf is perfect for an area that experiences a lot of traffic since it won't quickly fade.
This style will be perfect for you if you have a small backyard. Try pairing the turf with natural plants, as in this multi-level backyard.
The turf forms the base, while natural plants adorn the raised garden with lights illuminating the space, making it the perfect place to unwind, either day or night.
22. Outdoor Sitting Area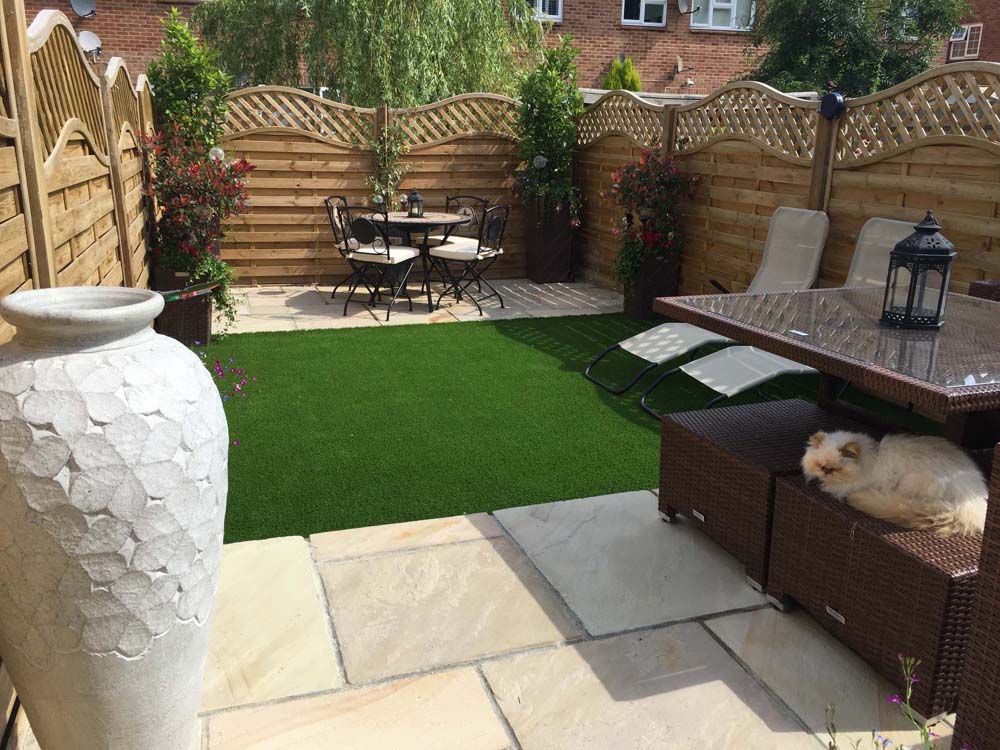 via Ayegardening
When working in a small space, an open backyard turf is like a breath of fresh air. This material not only makes the space look larger than it is but also makes it feel more open and inviting. 
This functional backyard uses synthetic grass to liven up the outdoor chill spot.
More about artificial grass and paving
What are the benefits of artificial grass and paving?
There are several benefits of using artificial turf and paving. For one, you get reduced maintenance costs as the grass can withstand harsh conditions. 
Secondly, a reduced water bill since you don't need to water the turf. Thirdly, mowing is unnecessary, and the grass stays green all year round. 
Can you lay artificial grass on the paving?
Yes! If you already have paving installed, you can lay your artificial grass on it. You need to lay a layer of sand to fill the gaps between the paving before laying the grass. 
Better still, you can lay artificial turf on the gaps to create an artistic design.
How is artificial grass and paving installed?
You must first install the paving or concrete slabs when installing artificial grass and paving. Next, lay a sub-base between the pavers at about 2-4 inches so the synthetic turf will appear lush over the pavers. Next, compact the sub-base and lay the grass.
How do you clean and maintain artificial grass and paving?
First, remove any items on the grass, such as stones, toys, or pets. Next, use a pressure hose to clean your artificial grass and paving. 
Leave the grass to dry, then use a lawn brush or a garden rake to remove any residue debris on the grass. 
If you notice any odor on the grass, use a suitable gardening chemical to remove it, you can get some from online stores such as Amazon.
What is the lifespan of artificial grass and paving?
If you choose a good paving material such as flagstone or concrete, it'll likely last a lifetime since the average lifespan of artificial grass is usually 15 years.