Are you tired of mowing the grass in your small backyard? Trying to avoid all the obstacles while keeping the lawn in perfect condition?
Well, thanks to modern technology, fake lawns look more real than ever. They are cheap and maintenance-free.
We've collected twenty-eight small backyard turf ideas to get you thinking about a water-wise landscape.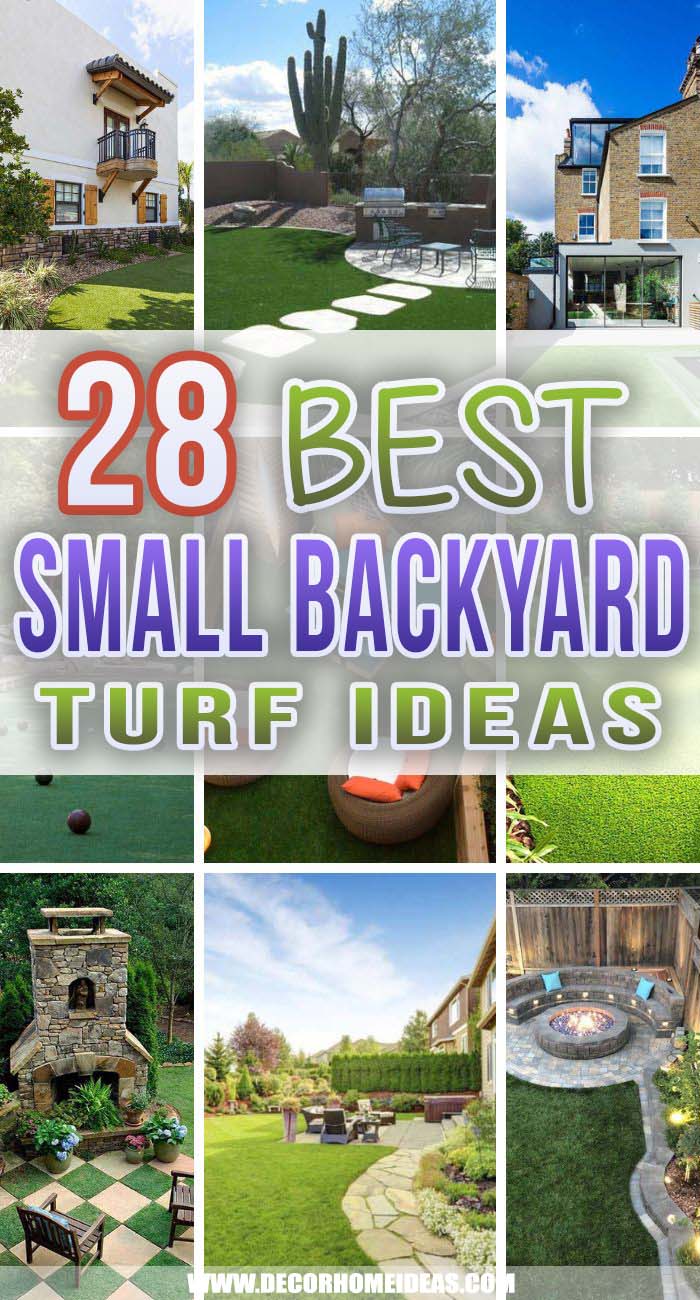 Astroturf or artificial grass may not be something you've ever considered adding to your landscape. Rolls of artificial grass cost less than dropping real sod and it requires much less maintenance. 
If you'd like to see a green lawn through droughts, now is a great time to take a look at what's possible.
What is the cheapest way to install artificial grass?
The easiest and cheapest way to secure your artificial grass to the ground is by using nails. Yes, simple nails! However, you will need a lot of them to keep the turf in place.
How do you lay a small area of artificial grass?
Just prepare the ground by removing any dirt, applying a layer of sand and aligning the grass. Simple as that! The best result will be achieved by leveling the ground and using a shock-absorbent material beneath the artificial grass.
What is the cheapest type of turf?
Polypropylene is the cheapest and lowest quality, ranging from $2 to $6 per square foot. If you can afford it go with nylon as it is the most durable.
1. Use Turf Around the Pool Area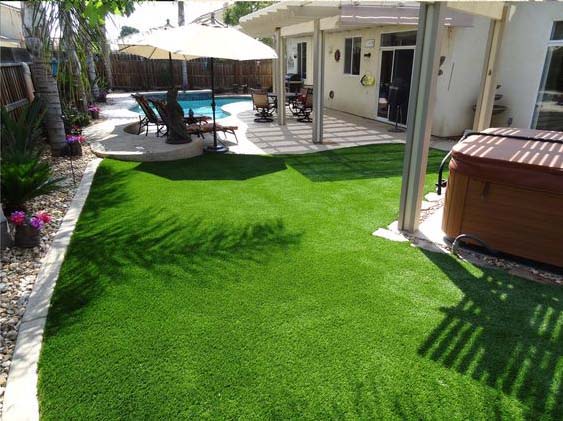 By using a rock garden with turf, this beautiful backyard is a low-maintenance oasis. You can take it a step further by using fake plants instead of succulents.
This is an ideal solution for a retiree who is living in their forever home.
via Synlawn
2. Add a Walkway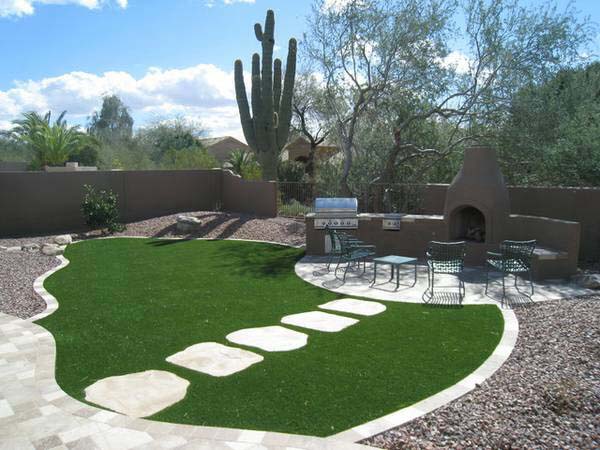 Rock gardens are beautiful, but they're no fun to walk on. The designers created an entertainment area at the far end of the yard.
Pavers were added for easy access and greenery helps define the transitional area.
via Desert Outdoor Landscaping
3. Conceal Flaws in Your Yard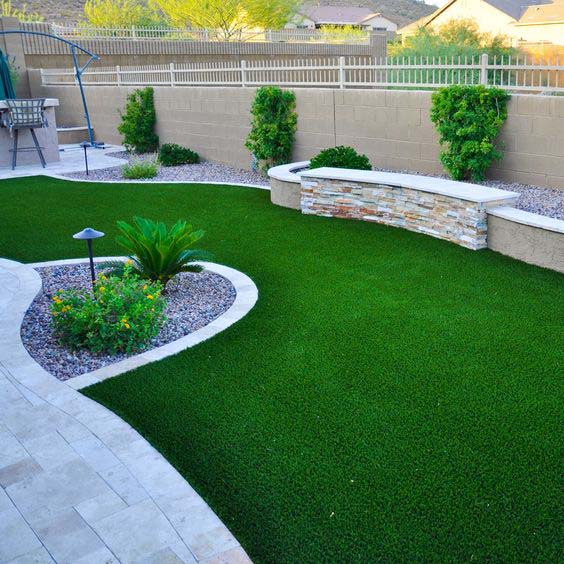 Fake turf can conceal a lot of landscaping flaws.
This area could either be a section where the grass doesn't grow well, or it could be an area that was part of a large fountain that had been filled in.
4. Use for Irregularly Edged Landscapes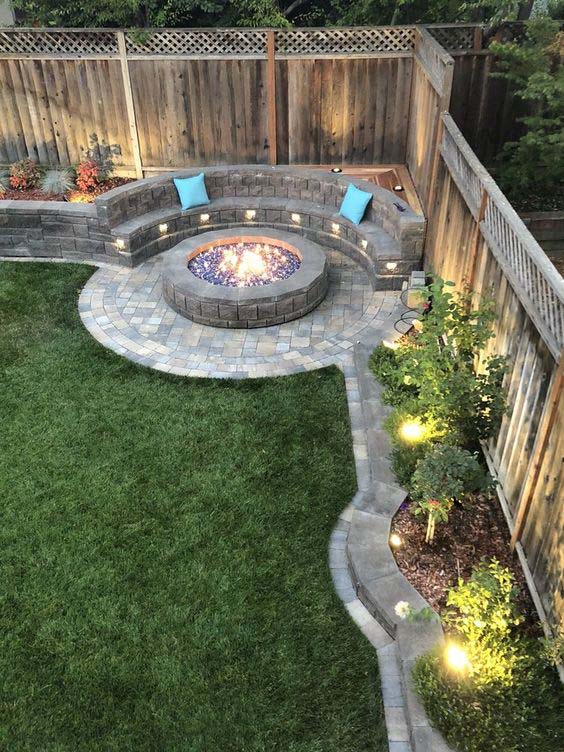 Artificial turf is installed around a fire pit. The curves around the fire pit and the garden would make edging a labor-intensive task.
Here, it's installed once, and it's cut precisely to fit every nook and cranny.
via Yelp
5. Avoid Brown Patches in a Small Yard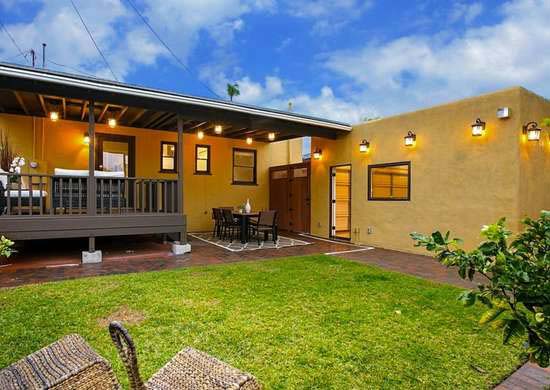 Discoloration and bare patches are more noticeable in a small yard. Because of the amount of seed and fertilizer you have to buy, reseeding is wasteful.
28 Best Small Backyard Turf Ideas To Enhance Your Outdoor Space video:
If your yard has brown spots because of pets, take heart. There are rolls of artificial turf available on the market that are pet friendly.
6. Pack Away the Lawn Mower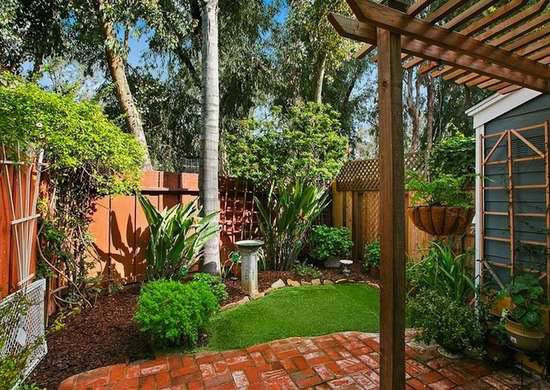 Can you imagine how annoying it would be to have to drag a lawn mower around to trim this small area?
Put in fake grass and just enjoy the view.
7. Use Turf on a Hill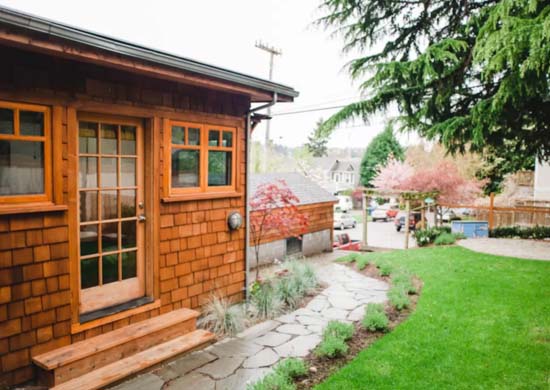 Lawns on hills are always a challenge to mow.
With artificial grass, the lawn is always trimmed evenly, no matter how steep the hill gets.
8. Add Turf to a Balcony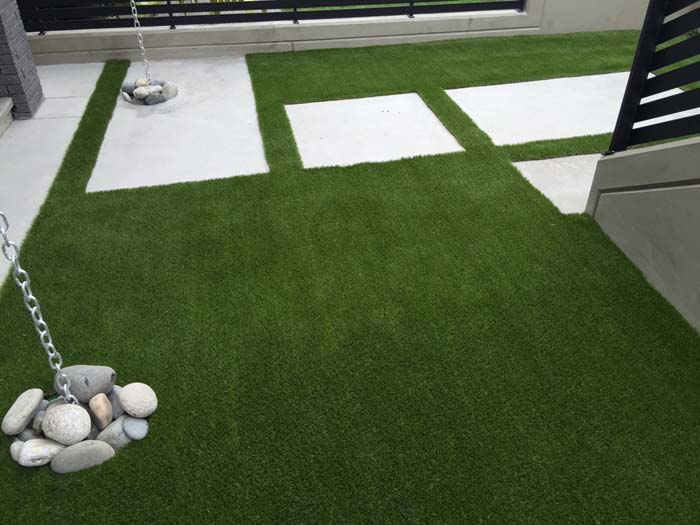 People are paying more attention to their balconies than ever before.
An artificial lawn can add color and serenity to the area.
via FG Lawns
9. Use Artificial Grass With Pavers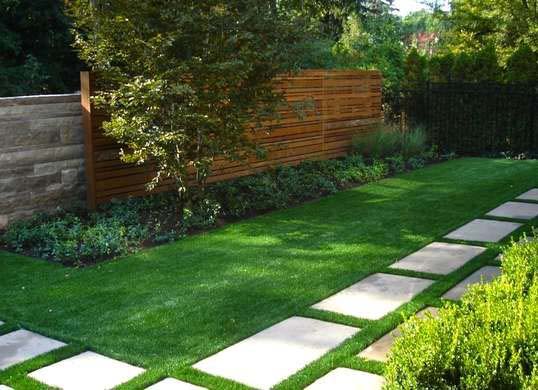 Artificial turf installation is a pretty straightforward process.
Drop the pavers first, then add the roll of turf over the top. Cut around the grass to create the strips and then join them together.
10. Add a Putting Green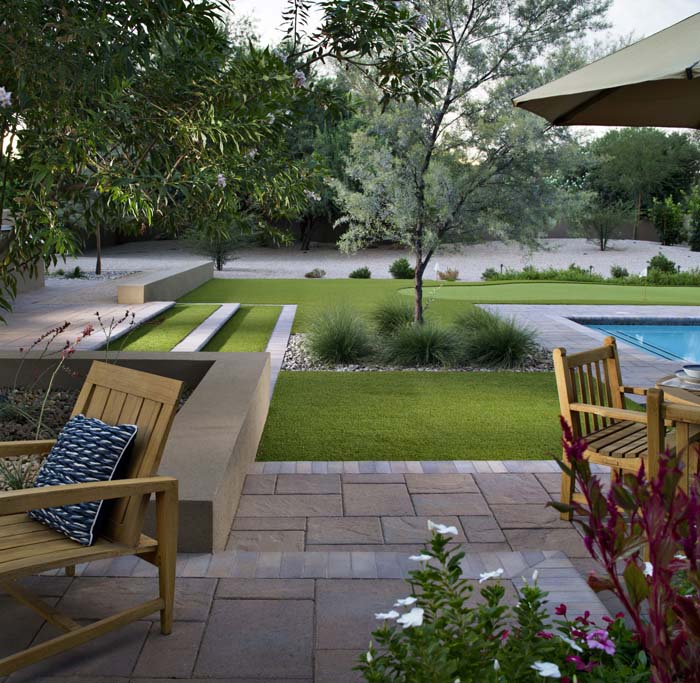 A backyard putting green is a relaxing addition to any backyard oasis.
Use shorter turf for the playing field than what you would in the surrounding areas.
11. Take Back Your Weekends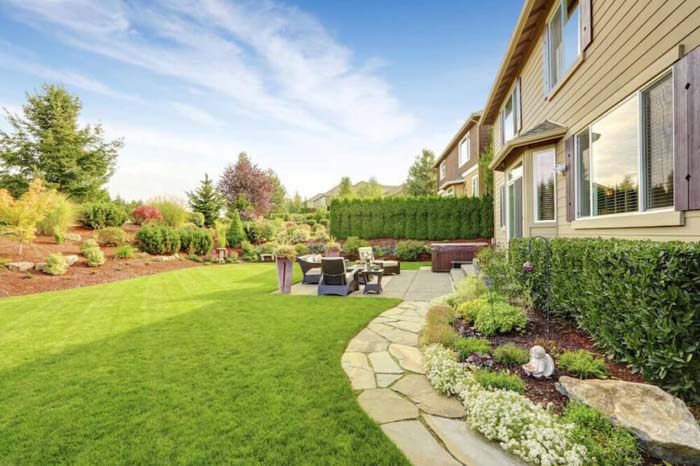 A large natural lawn calls for more maintenance and more time mowing.
Artificial grass landscaping helps keep your lawn looking great while adding free time back into your weekends.
12. Cover an Old Pool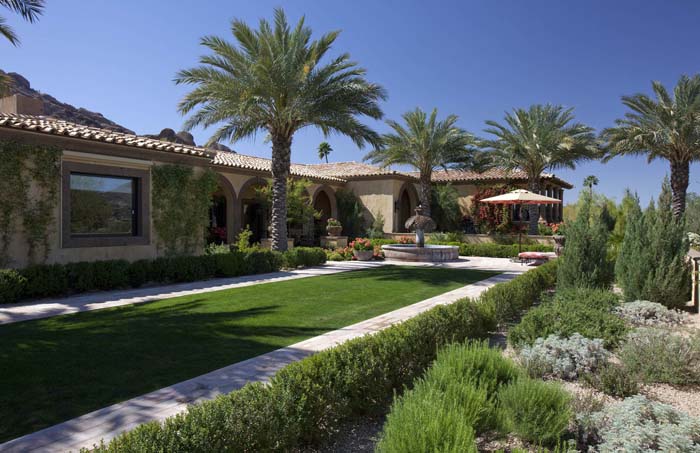 This Mediterranean-style home gets a shot of color with the help of artificial turf. A lap pool with decking could easily be covered without turning it into a rocky mess.
This usually isn't possible in the desert. Artificial grass gives you more options for landscaping.
13. Create the Perfect Pond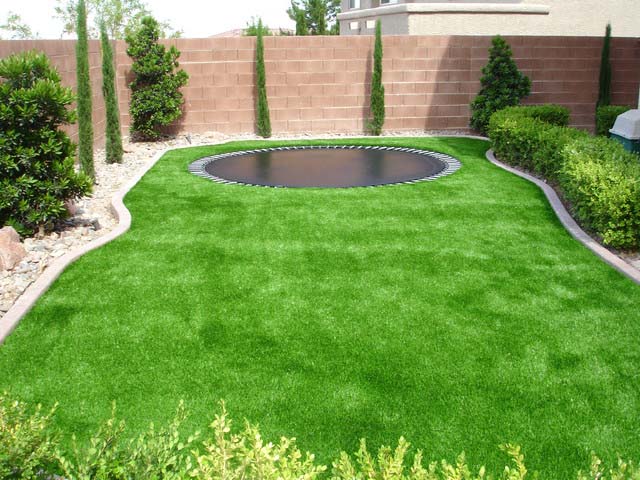 Because synthetic turf is easily cut, you can create a perfectly round pond with beautiful edging.
You won't have to wait for the grass to grow around it and you won't have to kill weeds in between the bricks.
14. Greenery Brings the Resort to the Backyard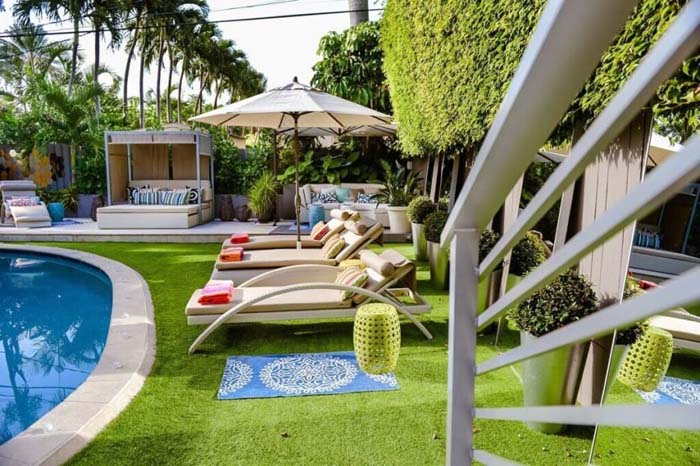 While you may have a lot on your wish list of backyard ideas, it isn't always practical to add a patio near a pool.
A synthetic lawn brings a lot of color. If you opted for real grass, you'd have to move patio furniture every time you needed to mow.
via Zillow
15. Easily Add Right Angles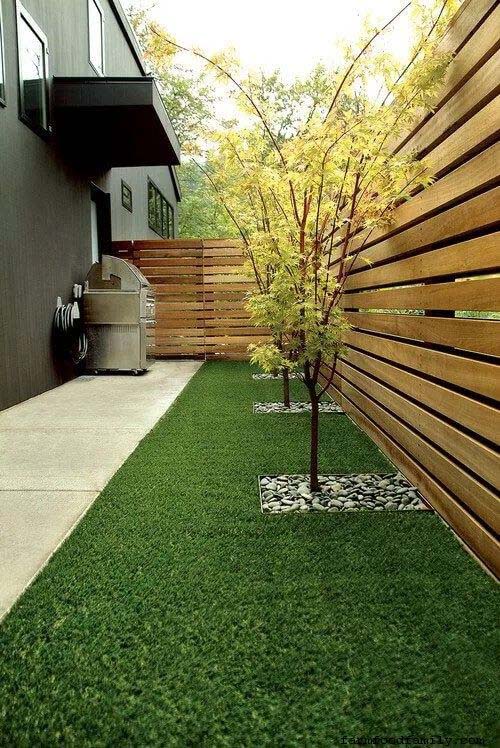 Modern and contemporary-looking homes often use horizontal lines and clean edges in their designs. Synthetic grass allows you to make cuts so that it can be dropped into place.
The clean lines and corners around the trees next to the wood slat fencing would be difficult to maintain with natural grass.
via GSW Architects
16. Bring Paradise to a Terrace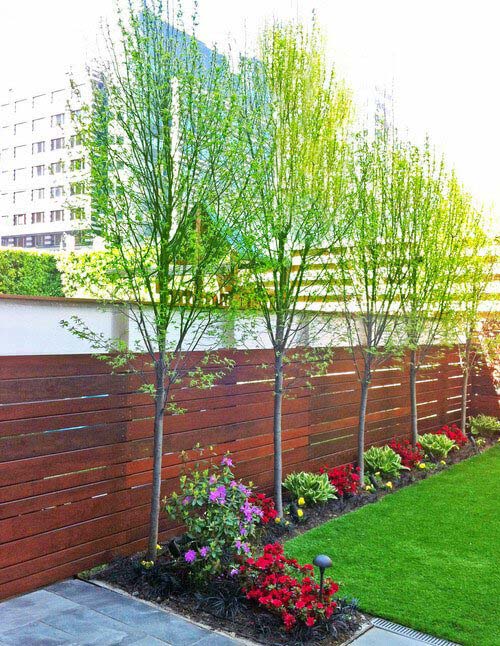 A rooftop terrace holds opportunities for plants and a beautiful entertainment area.
Synthetic turf brings greenery where it would otherwise be impossible to grow grass underfoot.
via Amber Freda
17. Maintenance-Free Classic Courtyard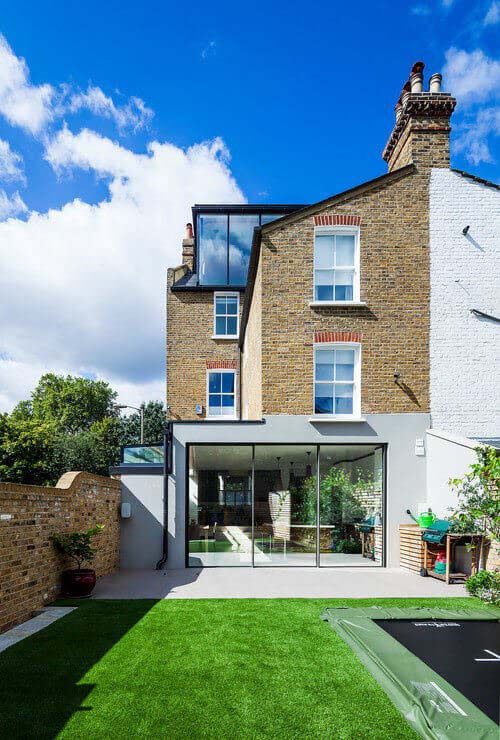 Urban courtyards are another place where the grass is desired but impractical to maintain.
Artificial turf works really well. Tiles and rolls of turf allow customized changes whenever necessary.
18. Use as Simple Transitional Areas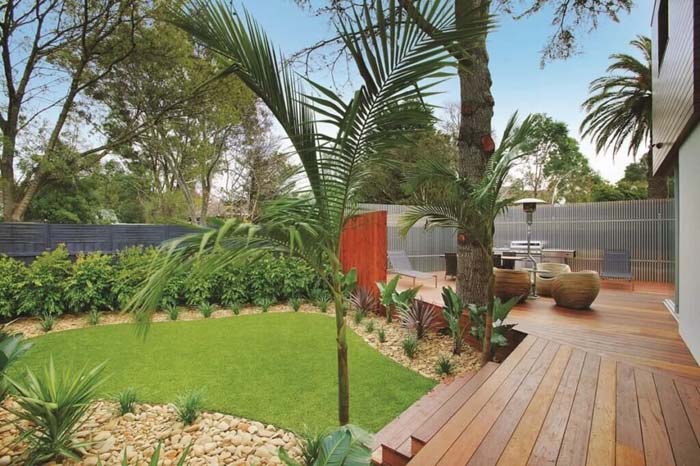 A path along this tropical garden would be difficult to maintain as grass or pavers.
Weeds are not a problem when you install artificial grass. it's also less labor-intensive than adding cement, brick or stone pathways.
19. Use Turf Around Stepping Stones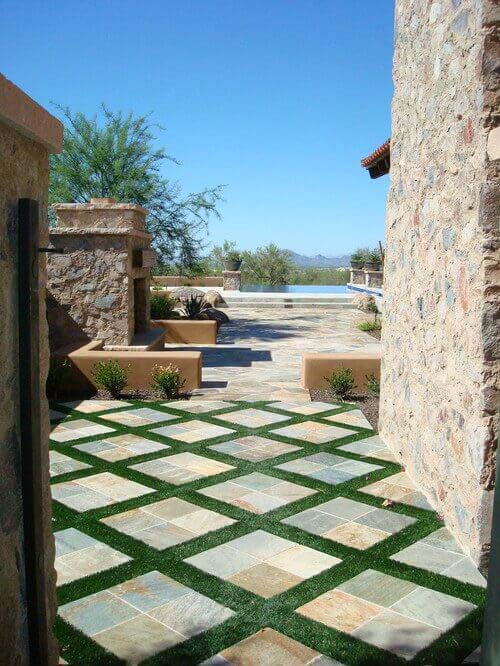 The same slate tiles are used throughout the entire patio.
One area is broken up by adding strips of artificial grass around squares of the same tiles.
20. A Rock Garden Without Edging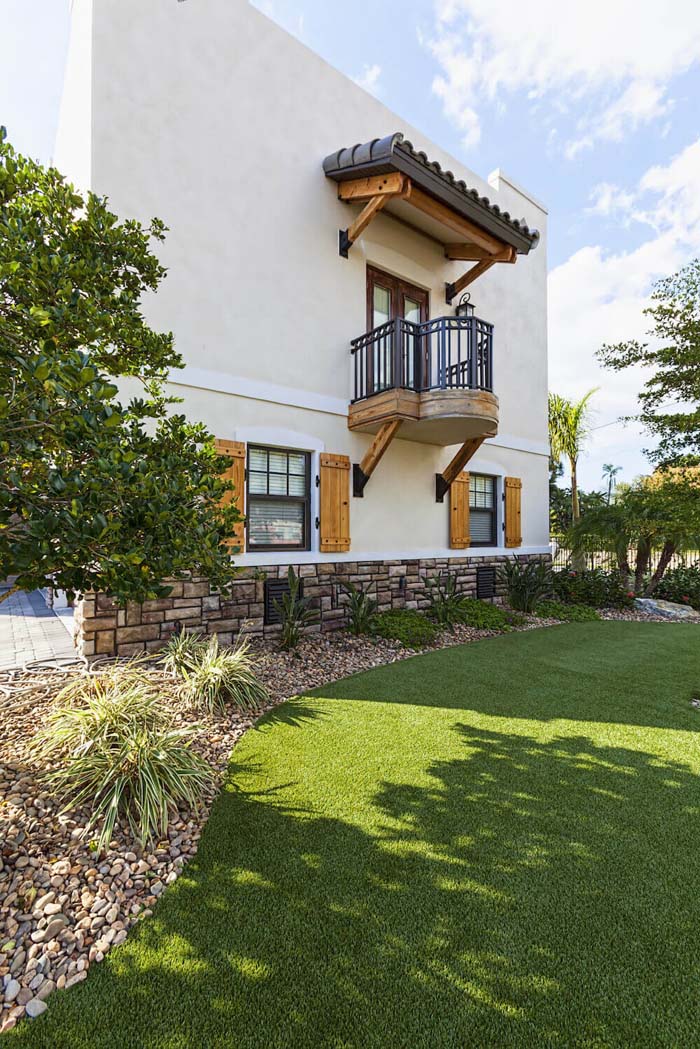 Edging around rock gardens can be challenging. By using artificial grass, you eliminate the problem of rocks dropping into the lawn and getting kicked up by a lawn mower.
The line of garden edging is clean and maintenance-free.
21. Add a Secondary Seating Area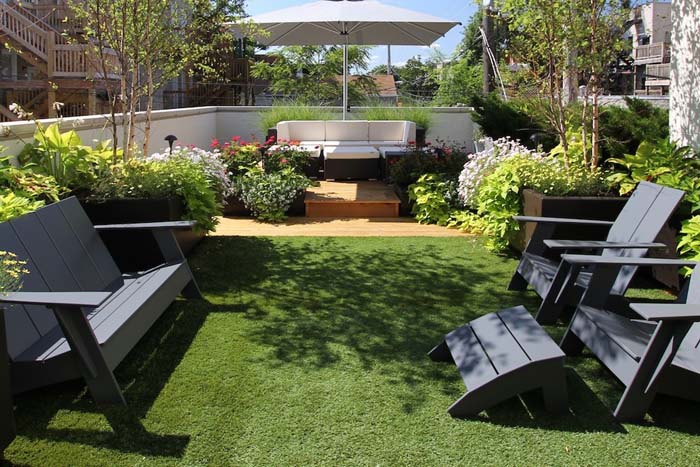 This very small yard is divided into separate seating areas for intimate conversations. There's no need to move the patio furniture any more often than you would in the patio area.
This is another nice example of the kind of outdoor space you can create on a terrace or rooftop.
22. Add Recreational Areas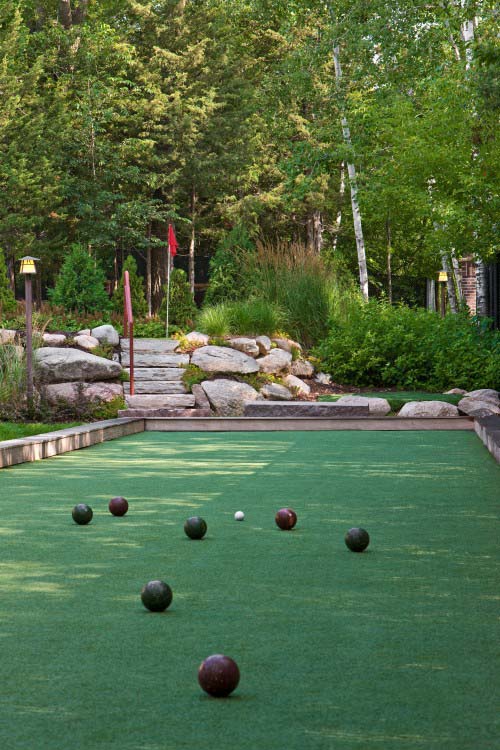 While synthetic golf greens are an obvious choice, you can also set up areas for bocce ball or other lawn games like Giant Jenga or Corn hole.
By creating an area specifically for games, other people can watch the fun without interfering in the action.
23. Introduce Bright Colors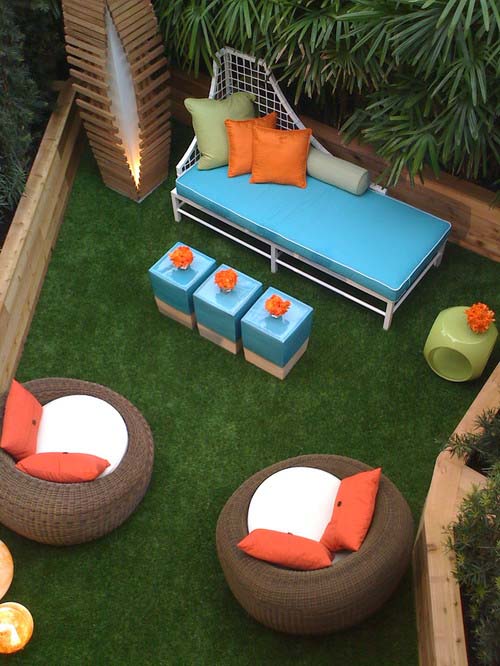 Artificial grass serves as a backdrop for a metal patio chaise lounge and other furniture.
Decorated with comfortable bright accents, this is an area that feels comfortable underfoot and brings feelings of warmth through the evening.
24. Add Comfort to a Rooftop Cookout
Rooftops have long been known as urban entertainment areas.
Make yours more comfortable and less sticky by covering the asphalt or gravel with artificial grass.
25. A More Challenging Putting Green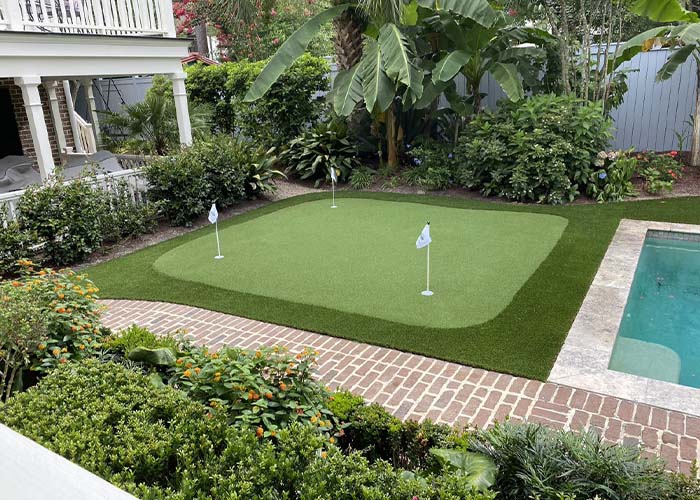 Putting is a challenge that is more than just pushing a ball in a straight line.
Artificial turf doesn't have to be installed on a flat surface. Increase the difficulty of the game by adding more than one cup and changing the grade on each hole.
via Pro Green
26. Recreate a Great Looking Kitchen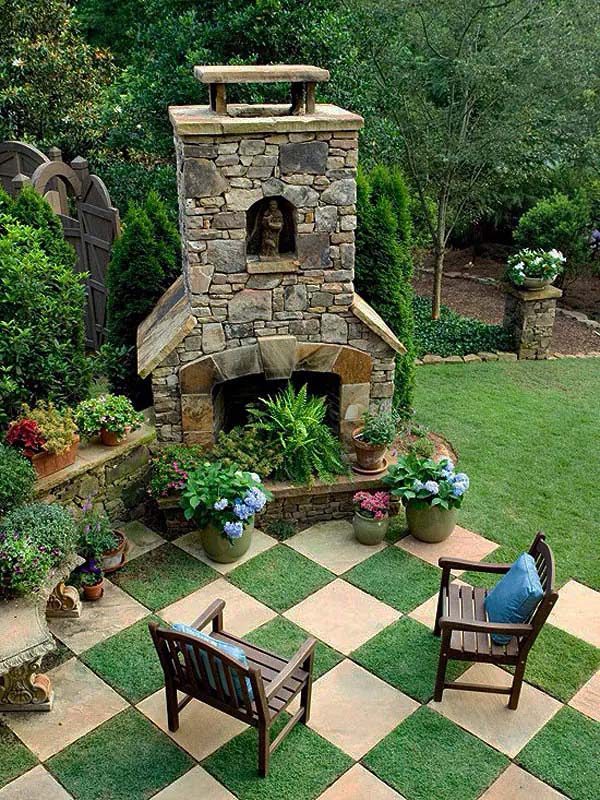 Artificial grass gives you the opportunity to create neat edges not possible with real grass.
 Look how this outdoor living area mimics a kitchen with a natural stone fireplace and checkerboard floor.
27. Effortless Lawn Striping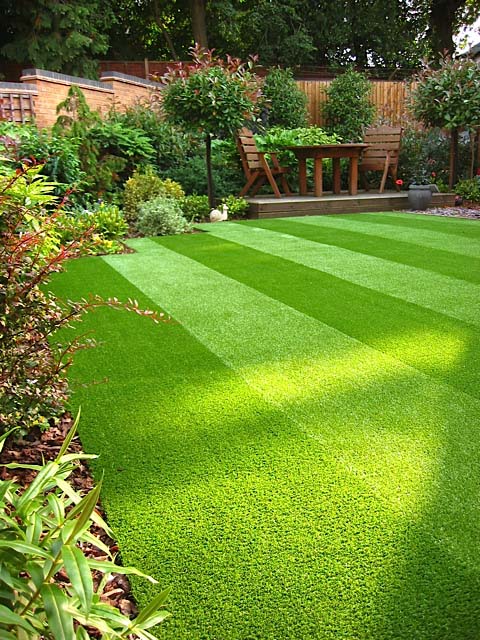 Artificial turf allows you to add grass in the color and texture as you see fit.
You enjoy the perfect stripes of a professionally cut lawn, that look can be achieved with turf.
via As Good As Grass
28. A Beautiful Lawn in Any Weather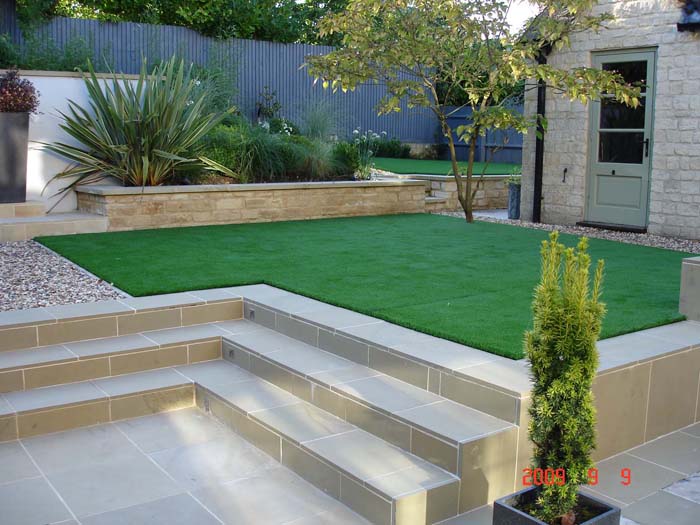 The neat edges work with the contemporary style of the tiered porch and rock gardens.
This will give your water-wise garden green grass through any drought.
via As Good As Grass