Have you seen those nicely arranged and decorated gardens in which every detail is polished and well designed?
Not sure if you noticed this little detail, but garden edging makes a huge difference!
These awesome garden edging ideas and designs will help your garden stand out. Edging puts the finishing touch on your garden, giving it a professional and polished look.
As you're choosing between different edging materials, consider options that complement both your outdoor space and the exterior of your home.
If you like to create the perfect garden you need to think about all the small details and arrangements that you need to do to make it look gorgeous.
These attractive borders of the garden are installed for a beautiful reason. 
Whether you have an intricate plot or a simple floral border, these garden edging ideas can help you pick the perfect style.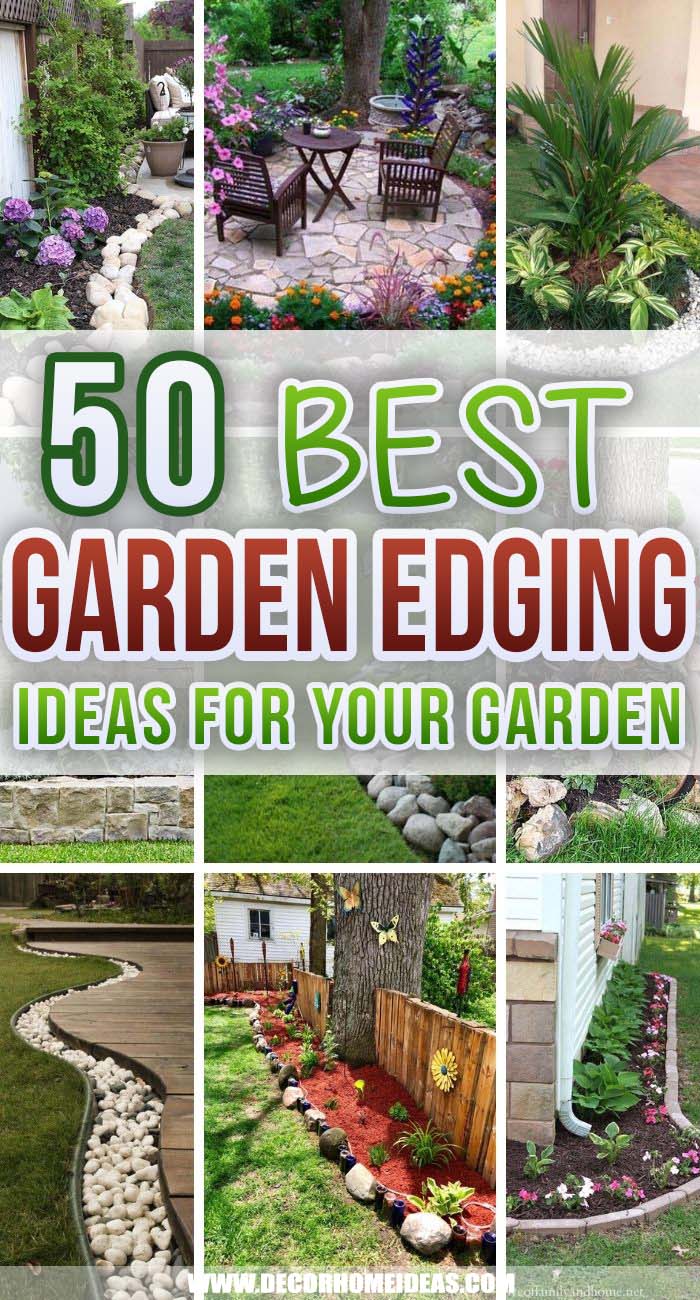 Once you circle your garden with lovely wooden or metal materials, it will never be the same. A garden is a place for a sweet, loving presence, for kindness and gentleness. All of that needs to be formed, circled and lined so that the flowers have the freedom to grow.
Don't be afraid to create your own design with whatever materials you have.
You will see that some of the garden edging ideas are created out of nothing. You just need some motivation to start building your own pieces of art, that's why we selected these gorgeous garden ideas to give you some inspiration.
What can I use for garden edging? What edging material is best for garden border?
Wood
Bricks
Stones
Cement
Bottles
Branches
Terracotta
Gabion
Cinder Blocks
Logs
How can I edge my garden cheaply?
Use materials that you already have in your garden or could be found nearby – like river beds, in the woods or even at garage sales. Sticks, rocks, bottles and reclaimed materials.
How can I make my garden borders look good?
Use a simple straight or sweeping curve to make a contrast between the zones.
Now let's see how these cheap materials are used to create beautiful garden edging designs.
1.Natural Wood Beams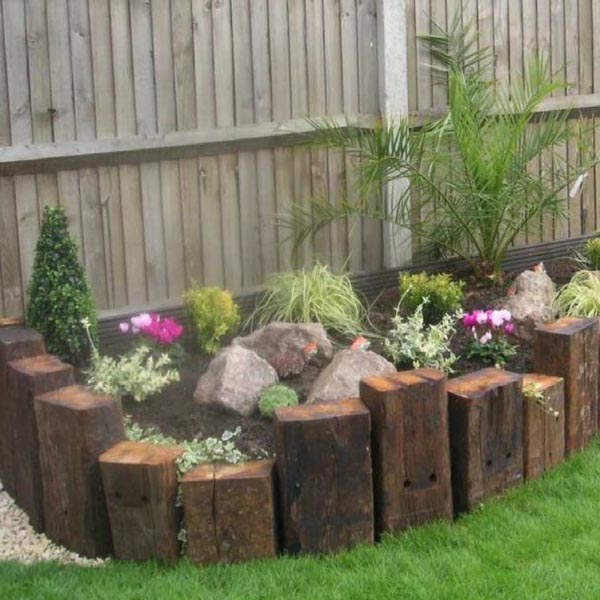 In this endeavor, you can see there are used stones and flowers in an optimal ratio. This wonderful garden would be a beaming light inside any house or living are. A small corner where you can admire the miracles of life!
You can arrange some pebbles and rocks together with the plants and flowers to make it look more natural. Succulents and small flowers are the best for such small areas.
You can also use some bush or low trees inside. The soil should be enough to support all the flowers and plants.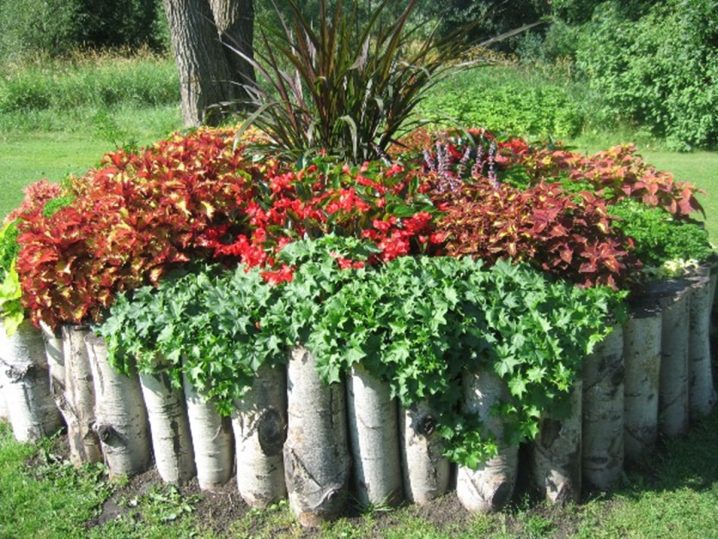 Another idea I have for you is to use wooden sticks of any kind of tree that you fancy. You can simply gather them around the garden spot and they would look lovely. Beech is my favorite tree.
You can pick sticks of the same height or their height can vary.
3. Big Rocks And River Pebbles Lawn Edging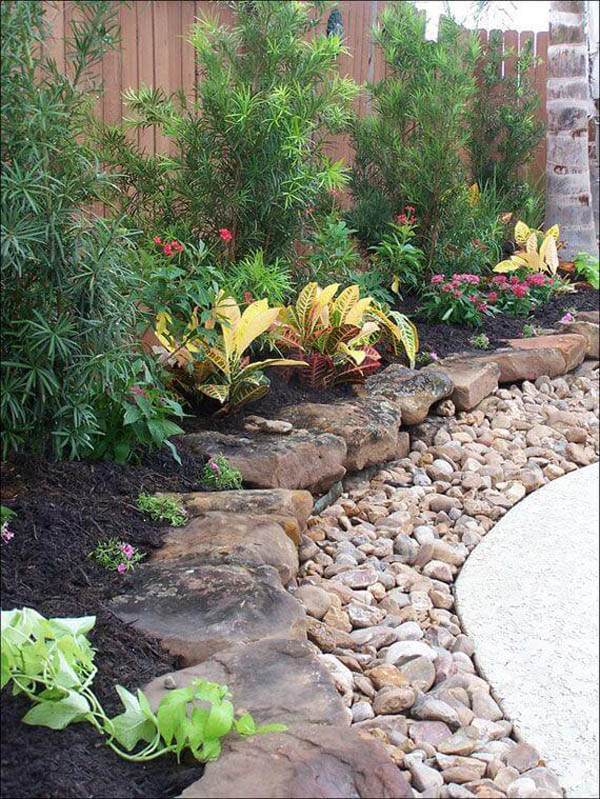 Pebbles and rocks, plants of all corners of this round world – there is so much to see. Take a second, a minute or two and envision a wonderful garden. It will surely be the home of grace, charm, and delicacy.
Look at these stones, these darling yellow flowers. They are all surprisingly awesome.
Adding cheer to our day is not a hard thing to do when you have a blissful garden.
4. Old Bicycle Flower Bed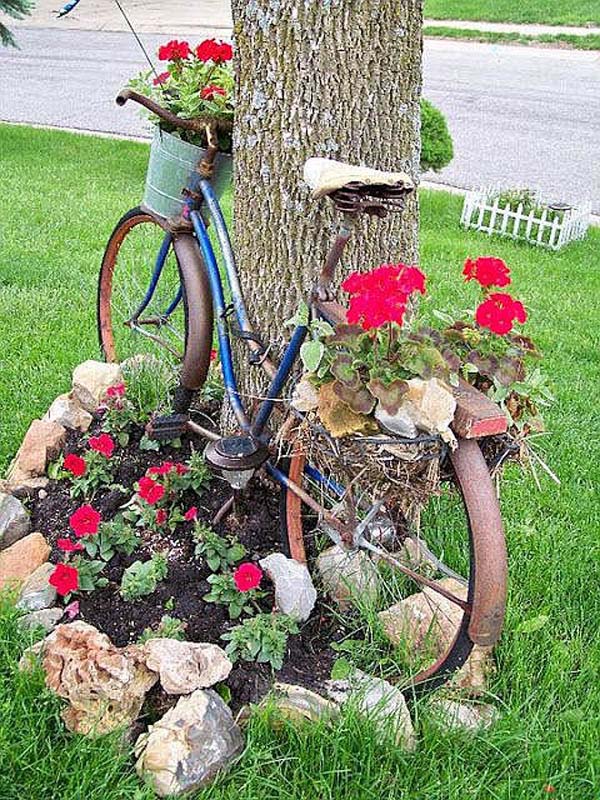 Creativity combined with unused items.
5. Random Shaped Rock and Pebbles Edging Idea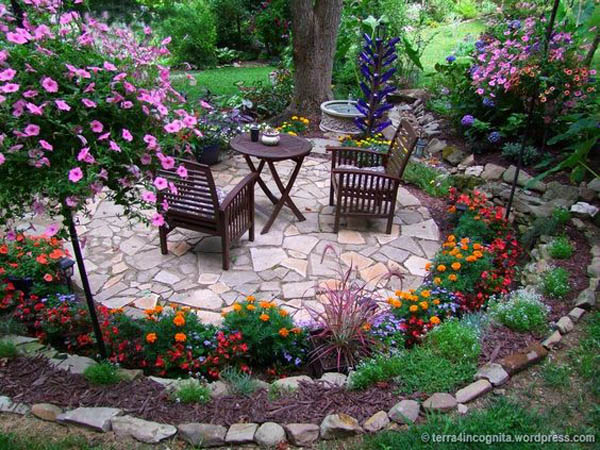 What could possibly be said about a place that is that beautiful?
Could you really miss anything here! Spring flowers bursting with colors, it is all about the fragrant joy of life! Consider rooting plants like Tulips, Magnolia trees, Hyacinths, Trilliums, Primroses. They are all worth it!
You can also make a central area with a coffee table and some chairs.
6. Create a Centerpiece With Pebbles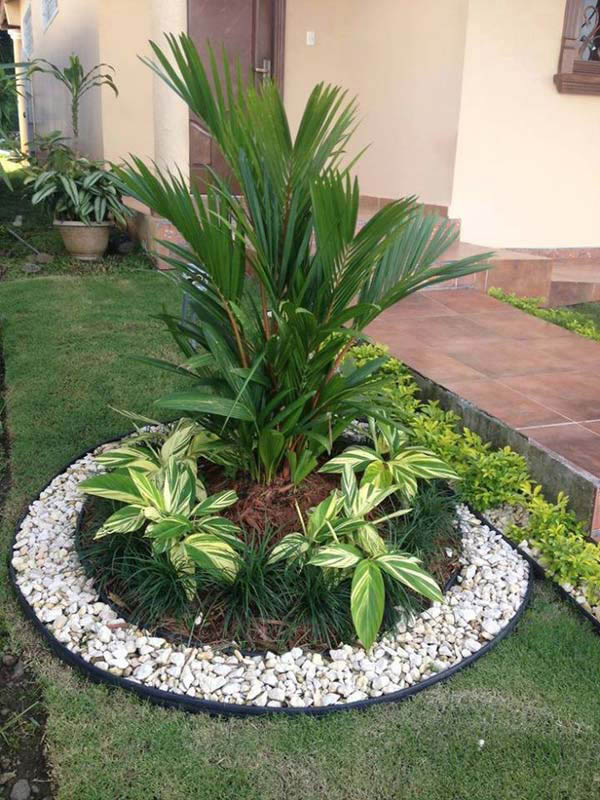 Palm trees have been said to clear off negative energies and keep positivity in. It is no coincidence they are so widely spread.
Farms that sell palm trees know there are so many specifics when it comes to keeping them, nurturing them and having the perfect balance between light, water, and soil.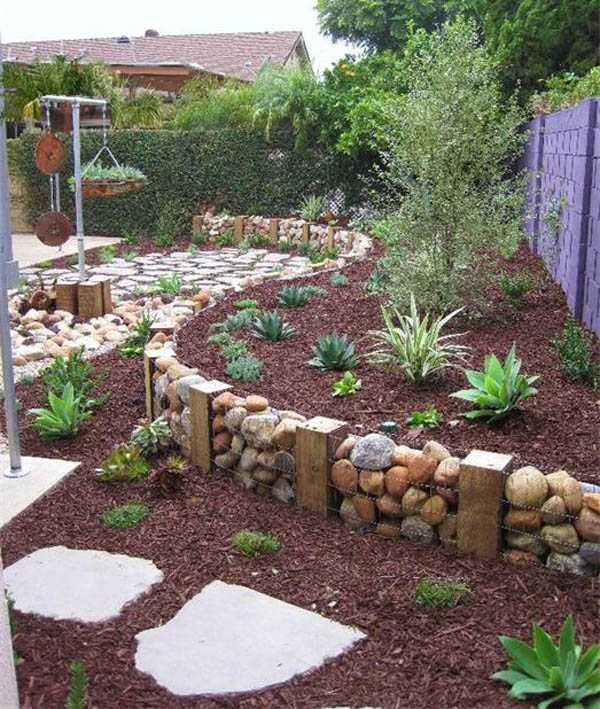 Photo: Credit
Seek knowledge and you will have the best decorative power for your home. The outside space is not to be overlooked.
You can be sure of that by looking at this garden. They have been taking pretty good care of it and the result is wonderful!
8. Separate Bush and Grass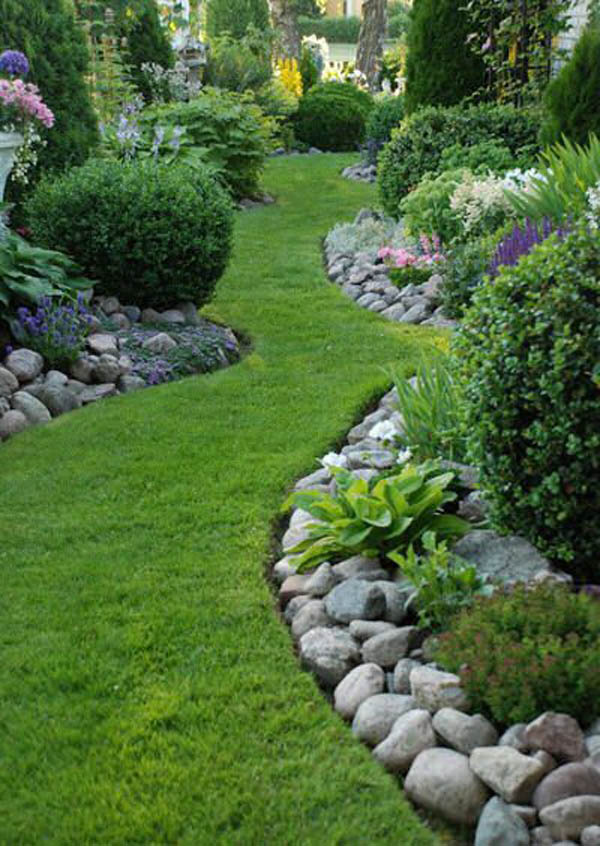 The Earth is green and blue, and our yards and gardens have the perfect green shades as well! What I adore about this space is that is so gentle, so wonderful and lovely.
You could write a novel here, it is that inspiring and precious. Go, go green!
9. Bushes and Flowers with Natural Rock Edges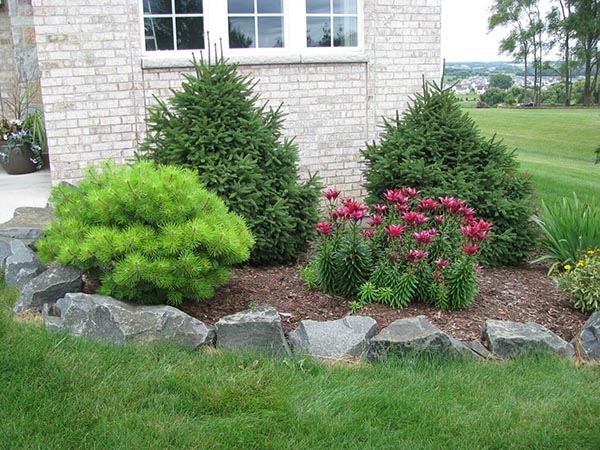 You could use big rocks like these,
only if you can lift them and arrange them nicely.
10. Carved and Curved Flower Garden Edge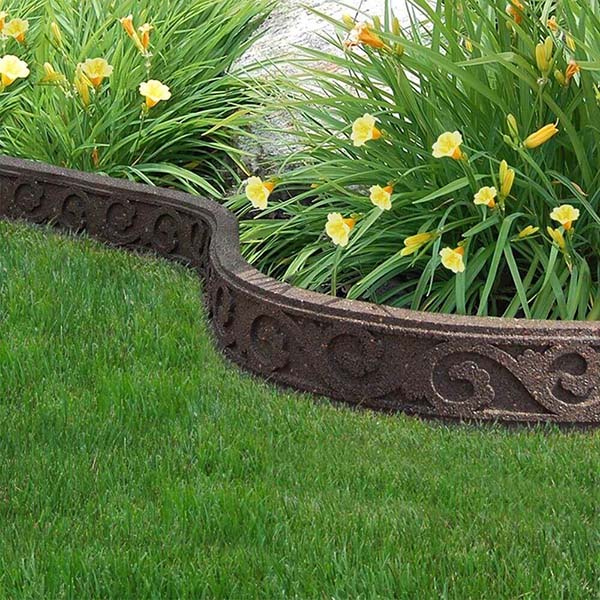 Well, this one is much more complex and hard to create. You need to have the cement formed with these ornaments. If you can buy cheap mold from the hardware store you can try it.
If you really like it and you are not sure if you can do it, better hire a professional. Buy from Amazon -> Here
11. Clever Paver Stone Flower Bed Edge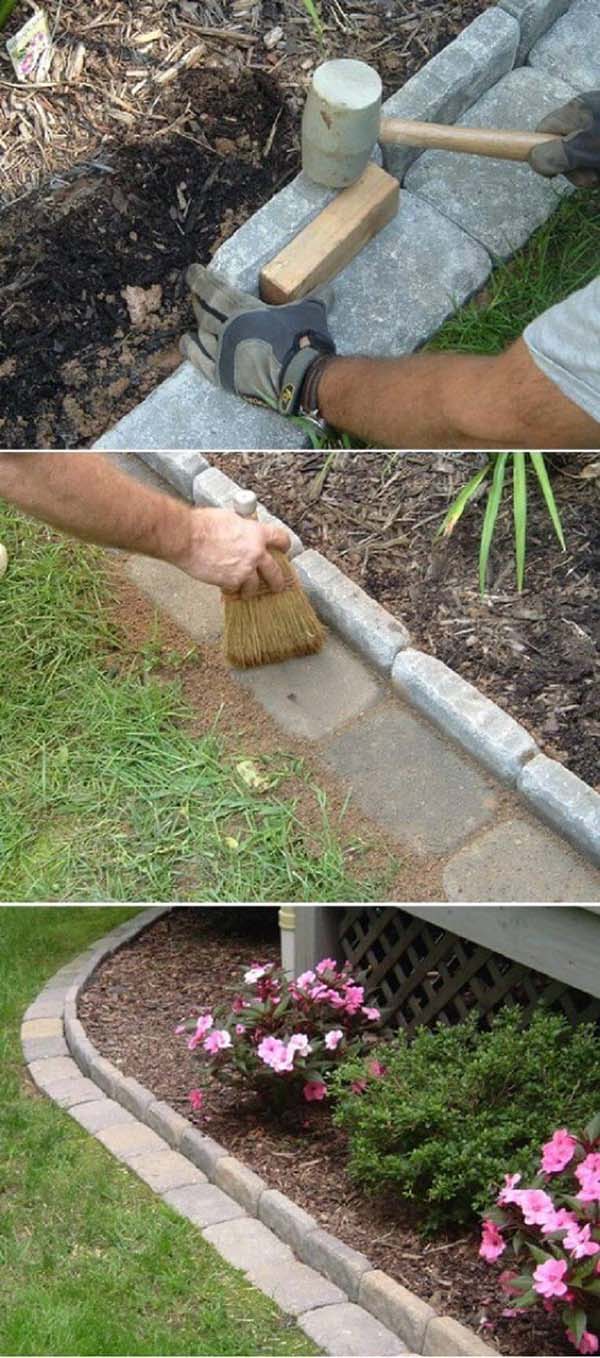 Photo: Credit
This one looks nice and very tidy. Unfortunately, you need to have the same blocks and place them to recreate this garden corner idea.
It is very important to align them properly in order to achieve beautiful lawn edging.
12. Creative Upside down Colorful Wine Bottle Edge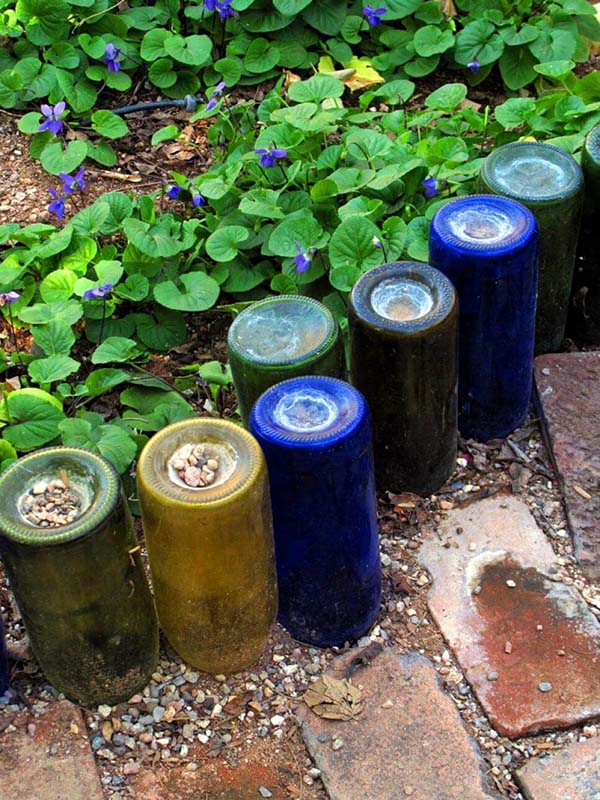 Before running for empty bottles and starting your lawn edging, please consider that bottles are made of glass and could be easily broken.
You can choose bottles of the same color or like in the picture, a variety of colors for a more colorful experience.
13. Garden Edge with Large and Small River Stones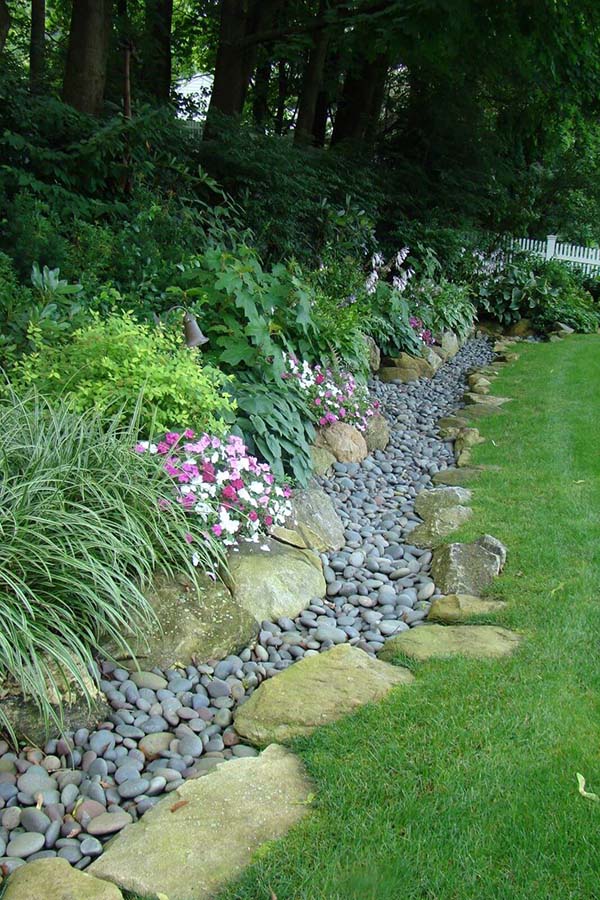 I really like this one – looks to me like a river flowing through the garden. Even though the "river" is made of gray pebbles.
It creates a nice border between the flower and plants and the rest of the garden which is mainly grass.
14. Modern Deck Edge With River Stones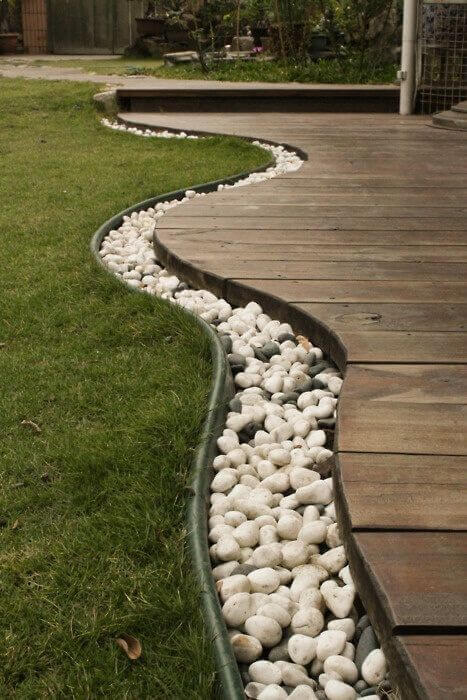 This one looks modern and very beautiful. The curves are not symmetrical and look natural. What I think is a downside to this project is the problem with cleaning all those pebbles.
Especially when in fall there are some leaves which will get stuck between the small pebbles.
15. Outdoor Garden Edged with White Rocks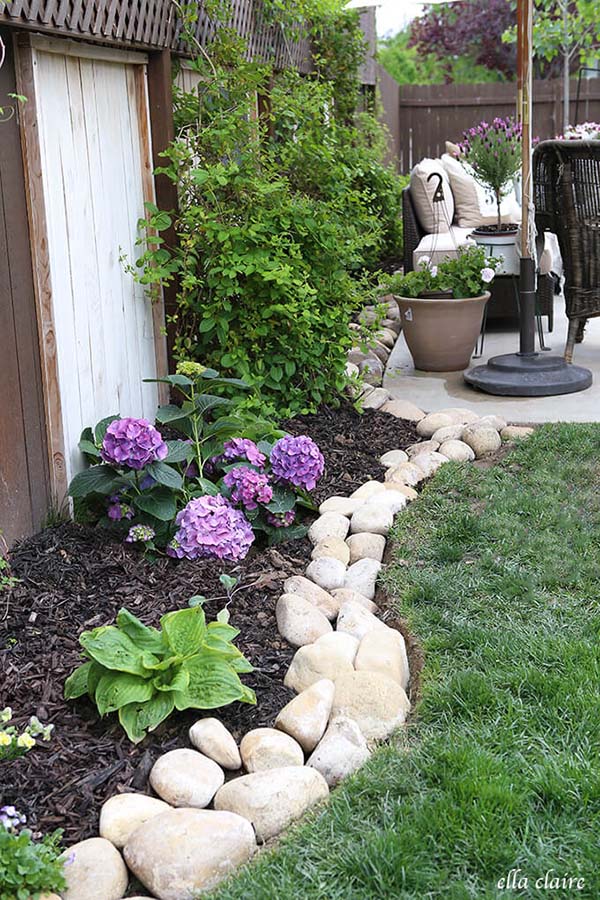 Photo: Credit
Simple, but nice.
Just get some large stones and create a curve around the flowers.
16. Painted PVC Stakes Around Flower Garden
This one can't be done without buying these stakes. I guess you can use some PVC pipes, paint them and cover them on the top side.
17. Pretty Polished Multicolored Stone Edge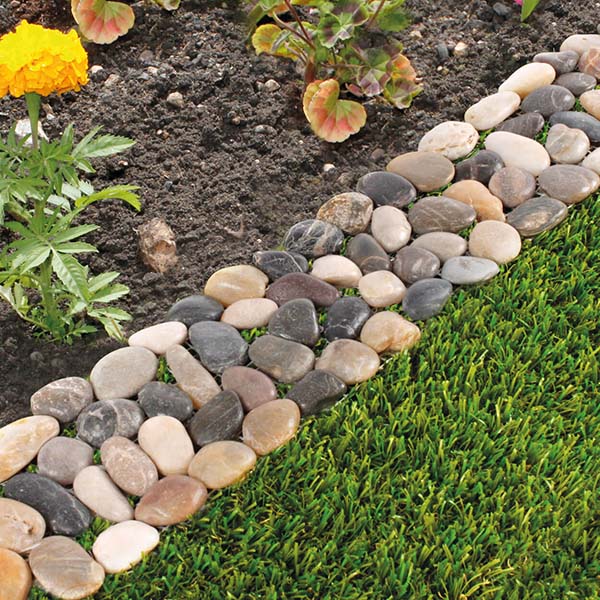 Photo: Credit
I think these pebbles are special and could be very expensive because they are glossy and polished.
This lawn edging idea does look very pretty, but maybe the budget will be a problem.
18. Railroad Tie Raised Garden Edge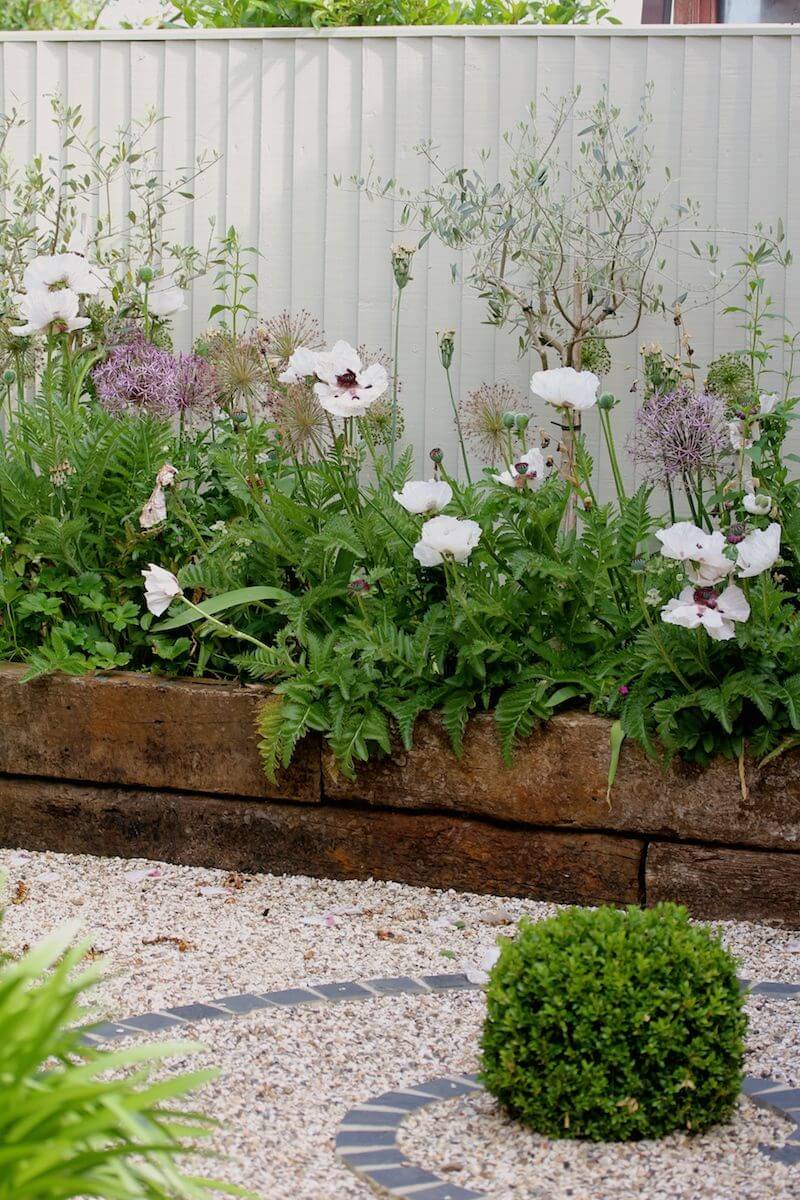 This one could be very easy if you have some railroad beams and nail them to each other so they create a nice natural raised bed garden edging.
19. Raised Flower Beds with Stone Walls ( Gabion Wall )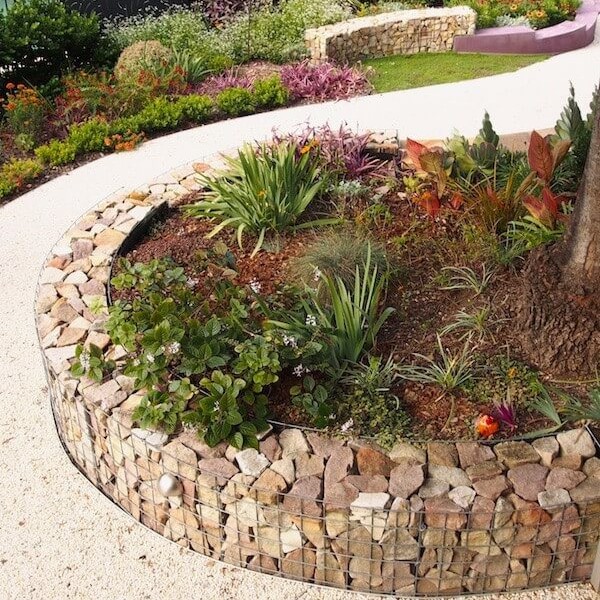 Looking for an affordable DIY garden edging idea?
This clever project helps you build raised beds with ease. Simply create two vertical walls from wire mesh, and fill them with small rocks.
The result is a strong, beautiful retaining wall that holds soil and promotes effortless drainage.
20. Rough Stone Tetris Style Garden Wall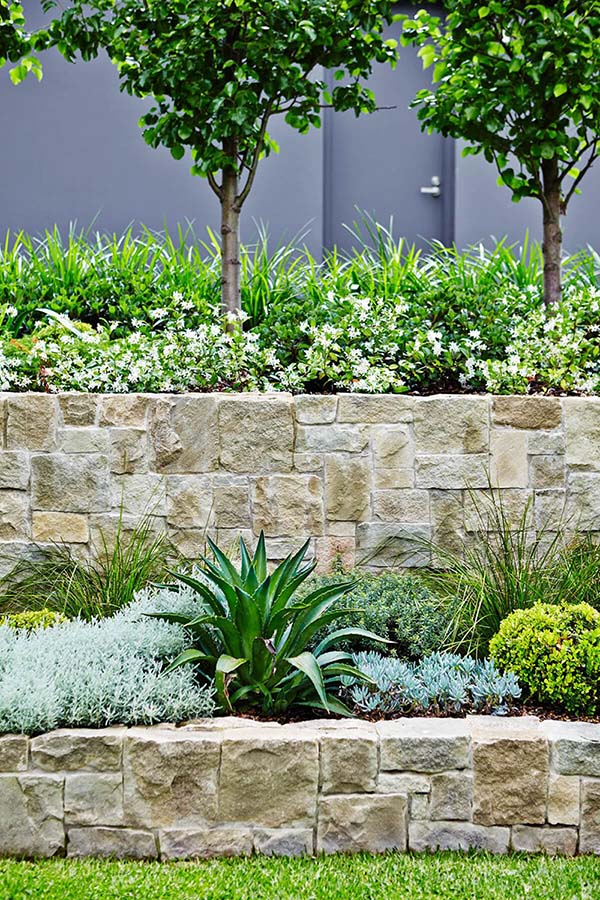 Photo: Credit
Multi-level raised garden bed using cemented stones. On the lower level, there are succulents and small flowers and on the second level, you can put some bushes and trees.
21. Short Scalloped Copper Edge Along Brick Path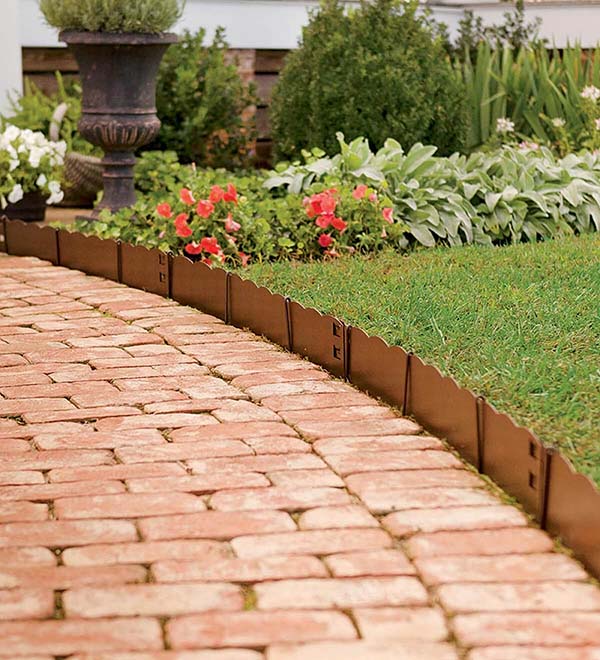 Great pathway with copper rail.
The hard part is to make it nicely aligned.
22. Simple flower bed with brick border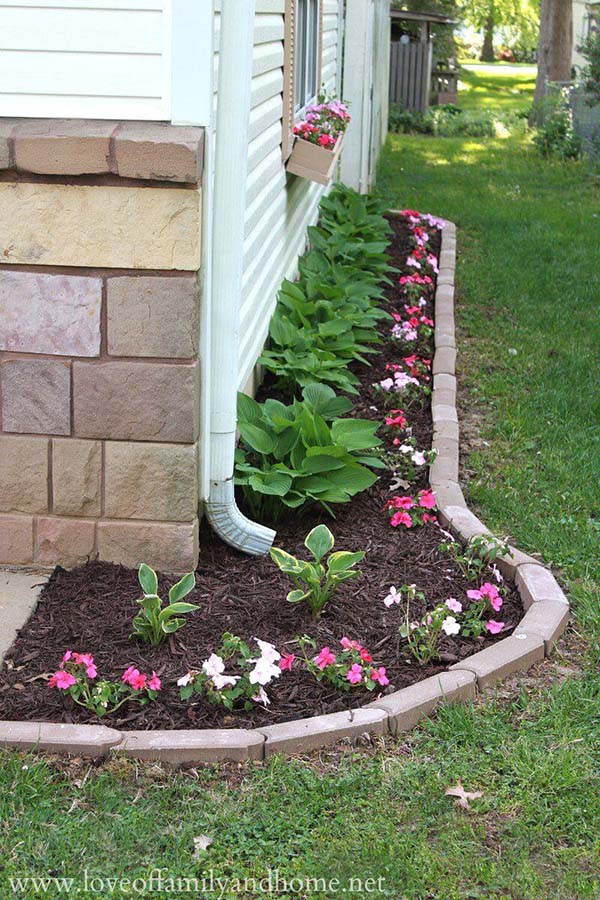 Photo: Credit
You can buy these cement blocks in any Home & Garden store and create an edging in a day.
Nothing complex here, just put them in whatever line you want.
23. Simple Square Brick Corner Edge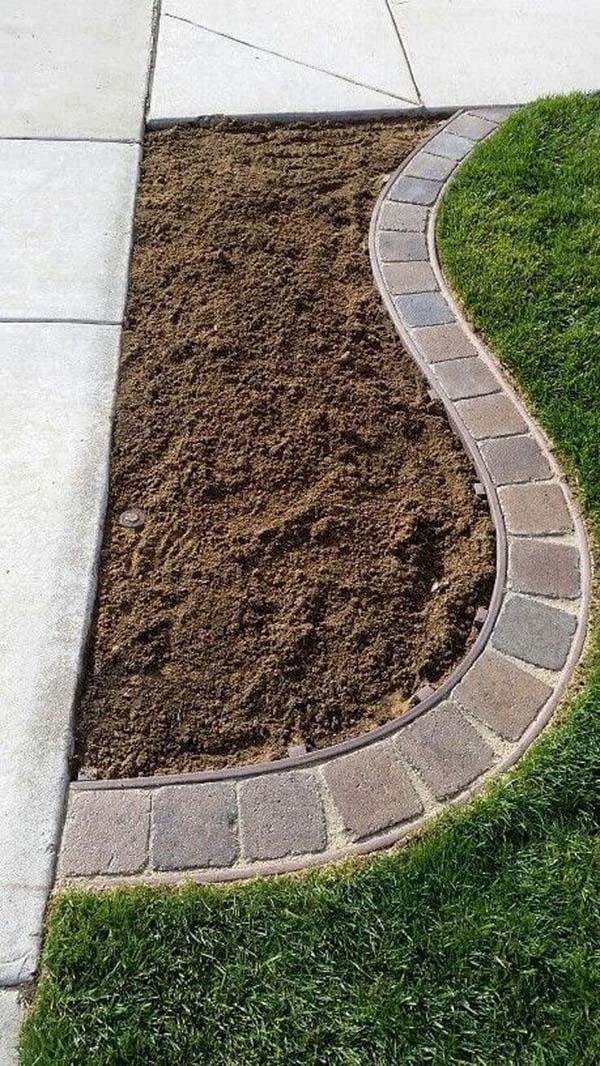 Another great idea.
Align and curve the paves.
24. Triple edged Garden with Stones Pebbles and Brick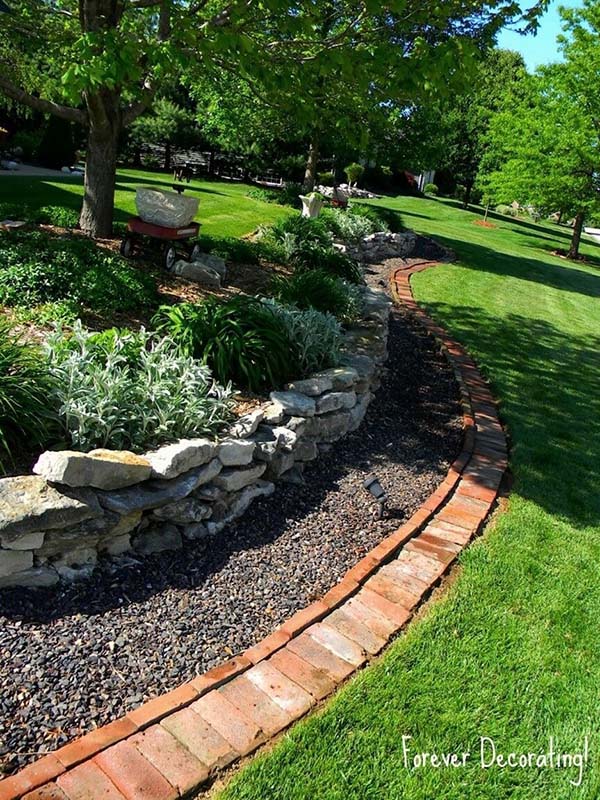 Photo: Credit
Countryside project.
25. Unique Edge with Nested Flower Pots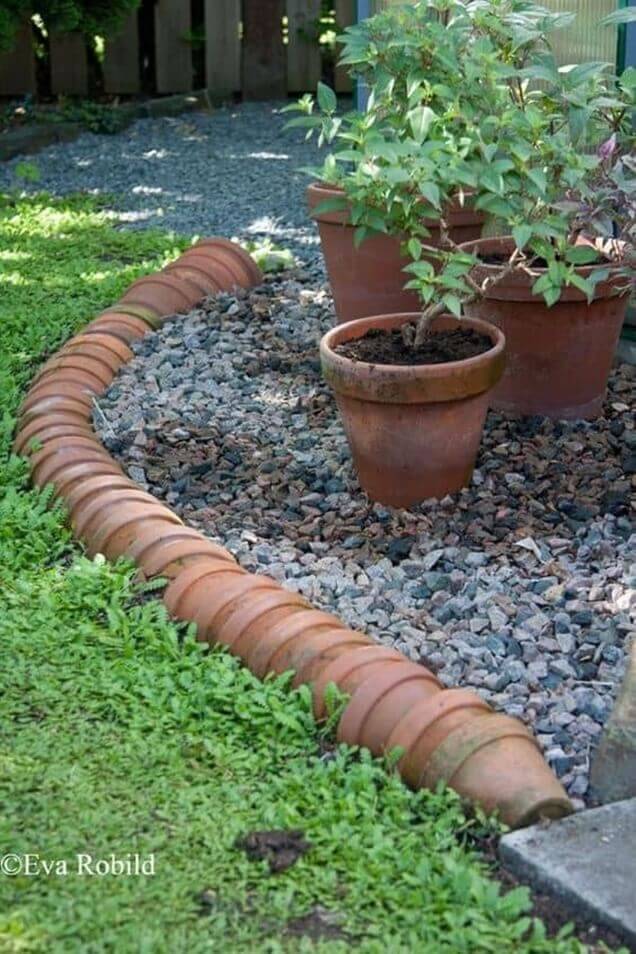 Get some old pots and nest them in one another.
Create a trail of pots.
26. Wooden Garden Bed Edging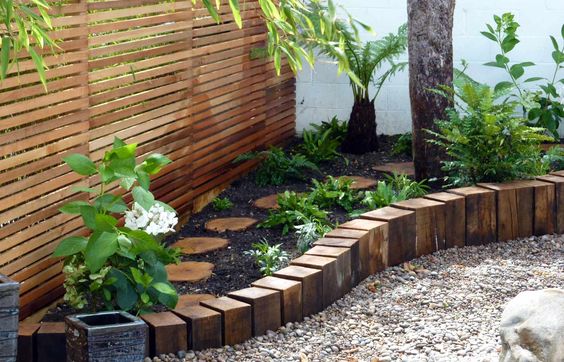 Photo: Credit
The edging has been made out of wood and it has a special rustic feeling to it.
It's natural, the wood blends in with the rest of the garden design and combines really well with any type of plant.
27. Wood Framed Low Water Garden in Stone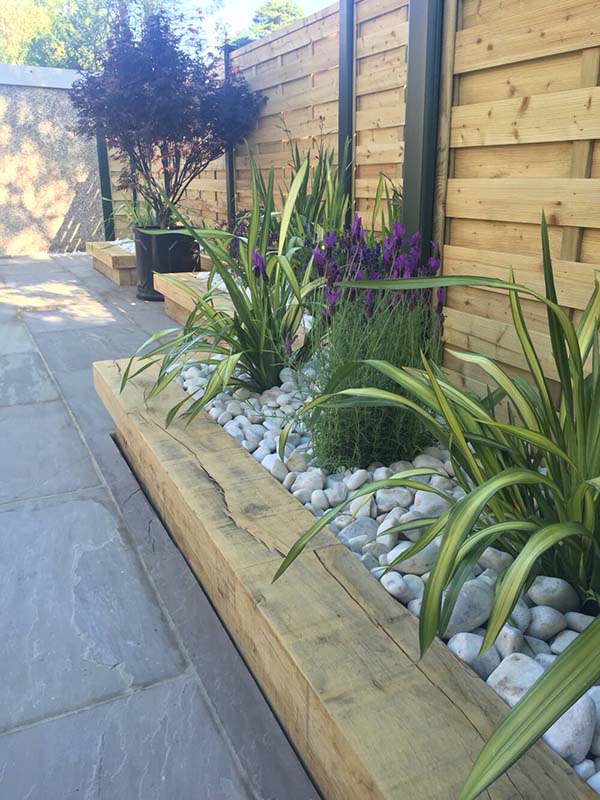 Massive wood could be used as a garden bed edging.
28. Mulch Along The Garden Fence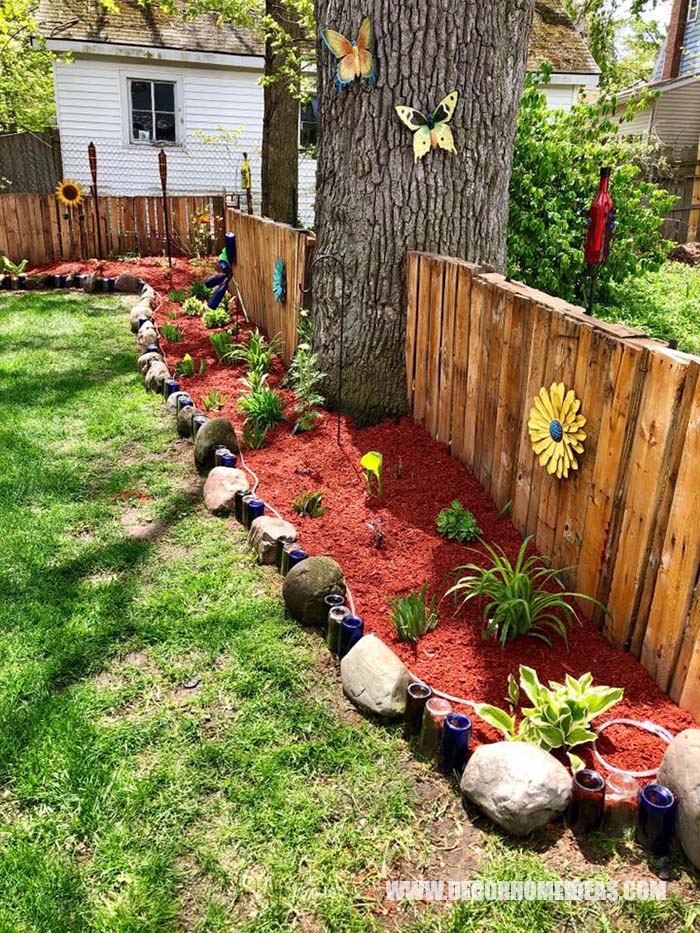 Small garden bed edging made of large rocks and bottles. Nicely running along a wooden fence decorated with sunflowers and butterflies.
If you liked our selection of lawn edging ideas for your garden, check out some more ideas on our site Decor Home Ideas
29. Clay Garden Edging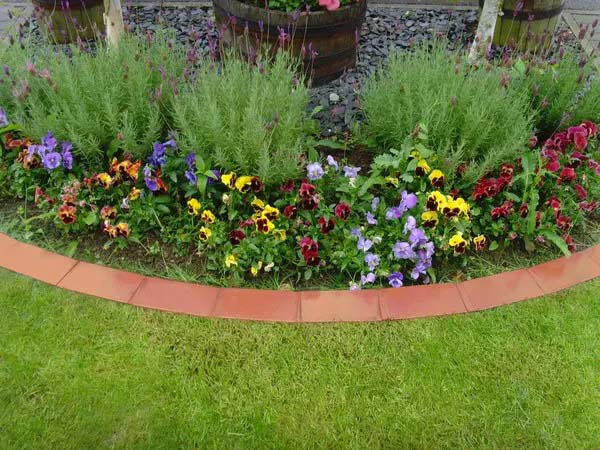 Clay pavers bring clean, simple styling and a rich pop of color to your garden.
The smaller the paver, the more freedom you have to create curved lines and clever shapes.
All you need to do is sink the pavers into the earth — the rich tone pops next to the green grass and colorful flowers.
30. Contrasting Stone Garden Edging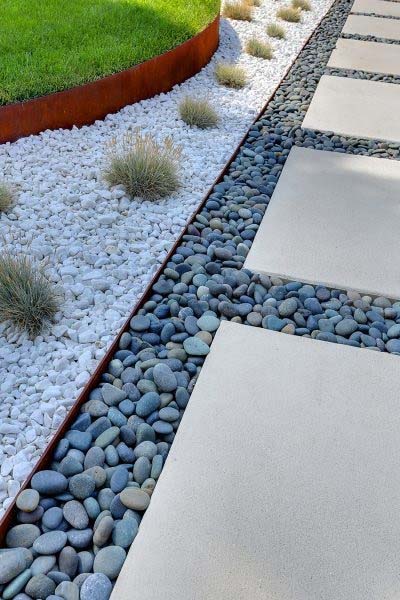 Do you have a large area of bare dirt between your lawn, garden, or walkway?
Pebbles are an affordable and beautiful way to fill the space. For maximum effect, use multiple colors to create a striking contrast.
31. Corrugated Metal and Wood Raised Garden Edging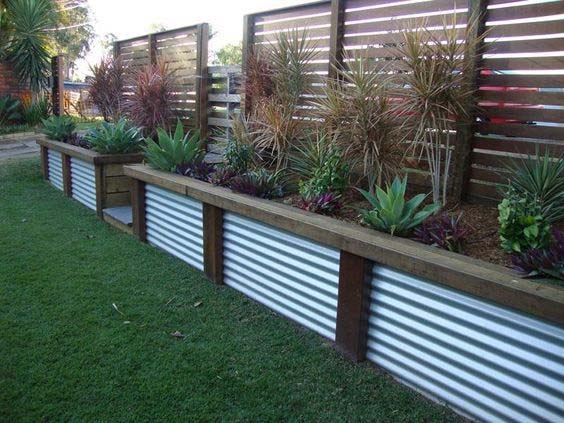 If your lawn is large and empty, add architectural interest with raised garden beds.
Here, a wooden frame and corrugated metal walls create a look that's simultaneously industrial and rustic.
32. Curved Red Cement Garden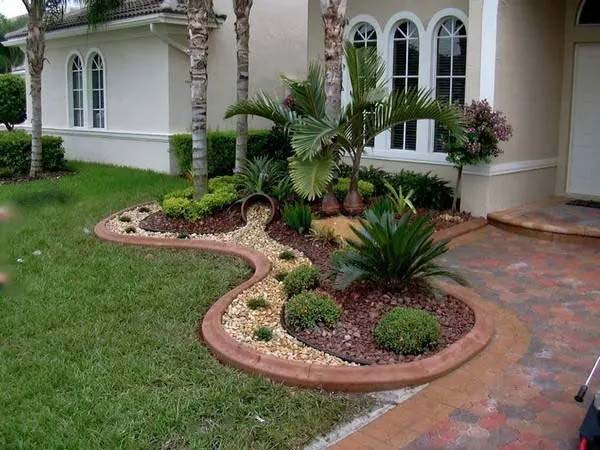 Curved garden plots bring a special flair to your front yard.
They also present a challenge in terms of edging — you need a material that highlights the shape without leaving gaps.
That's where this beautiful red cement edging comes in. It's custom-made to ensure the perfect fit.
33. Durable Faux Stone Pavers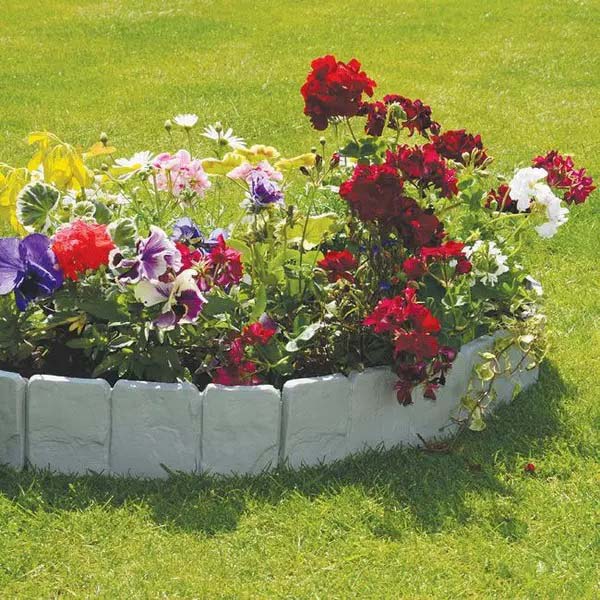 When you have a small, floating garden plot, vertical pavers are a great way to define the space.
This faux-stone version offers the natural texture of real rocks and the low-maintenance upkeep of plastic.
34. Elegant Red Brick Garden Edging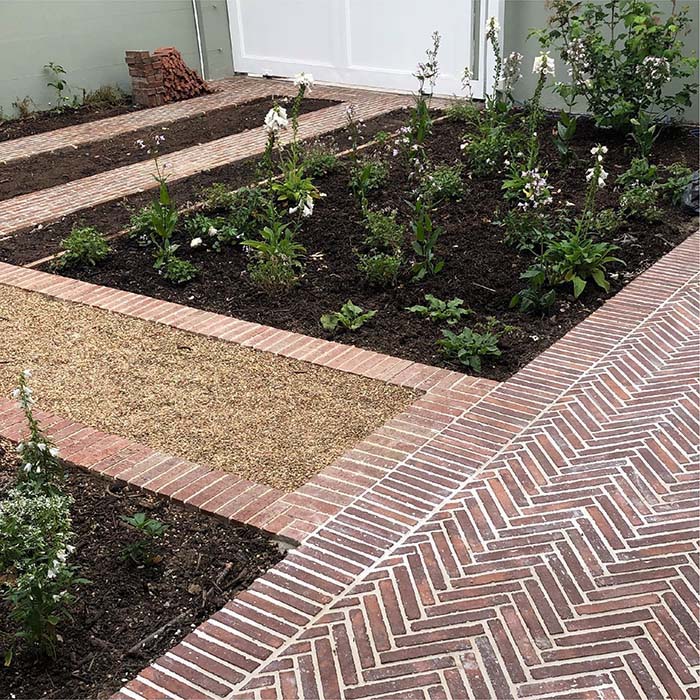 If you use dark mulch in your garden, red brick offers a stunning contrast.
The deep red tones of the brick pop next to the deep brown of the soil, creating the perfect canvas for green plants or flowering bushes.
Brick offers plenty of flexibility in terms of installation pattern, so you can let your creativity fly.
35. Faux Wood Landscape Edging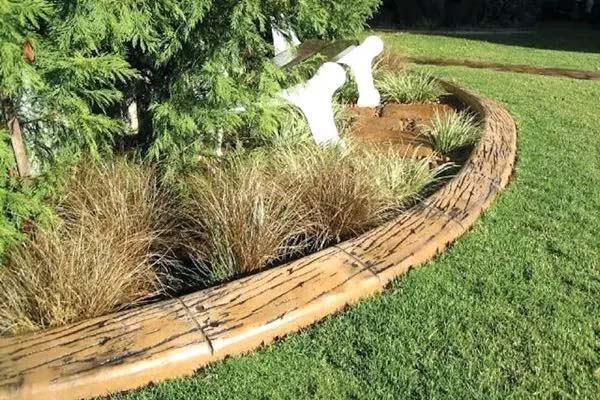 Achieve the look of wood without the upkeep using faux wood edging.
Since it's synthetic, this material comes in a range of shapes — use it to line rounded garden plots or highlight a beautiful scalloped border garden.
Don't worry about maintenance; the durable material stands up to any type of weather.
36. Garden Edged with Natural Seashells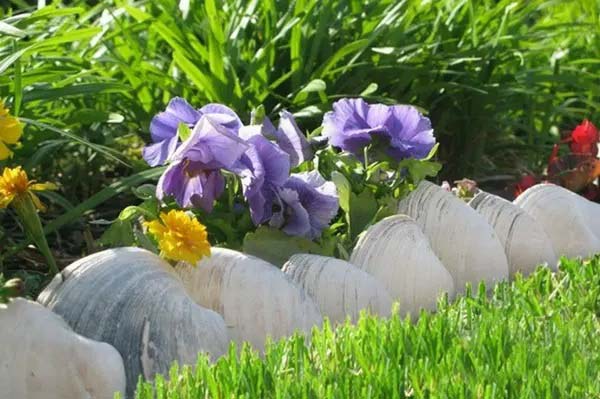 Bring out the coastal style of your home with this creative garden edging idea.
Buy or find seashells; choose options that are roughly the same size. Bury the bottom edge of each shell into the earth to create a stunning garden wall.
37. Garden Edging with Gravel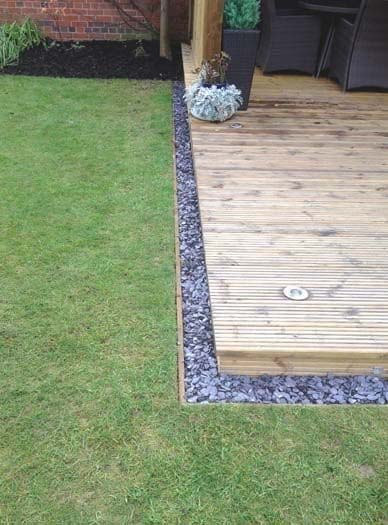 Take standard slim garden edging to the next level with a few bags of gravel.
Dig a shallow trench, and line it with the edging. Then, pour in the gravel for a pop of texture and color.
This is an easy, high-impact way to line a patio, a garden, or a border.
38. Garden Lined with Repurposed Trees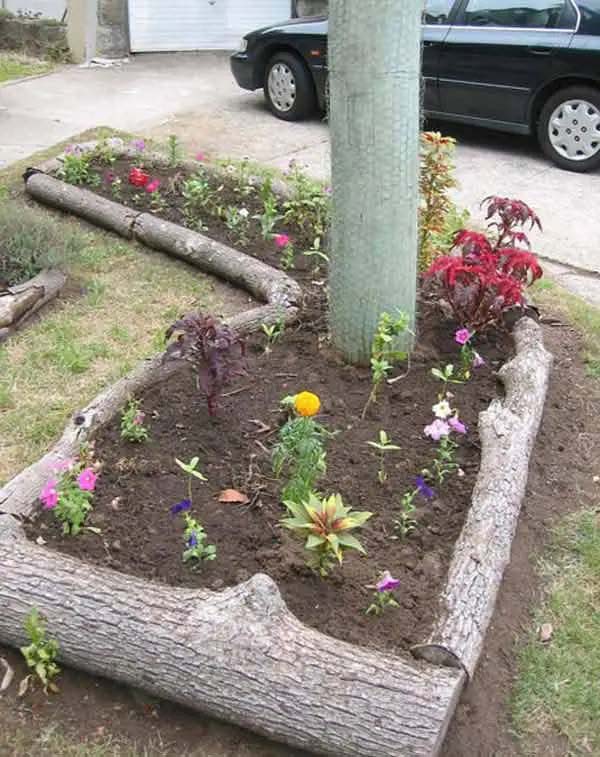 Do you have a few old or dead trees on your property?
Don't throw away the wood — turn the trees into garden edging.
All you need to do is cut them to size and push the ends tightly together; the weight of the logs holds the soil firmly in place.
39. Prefabricated Wood-Look Edges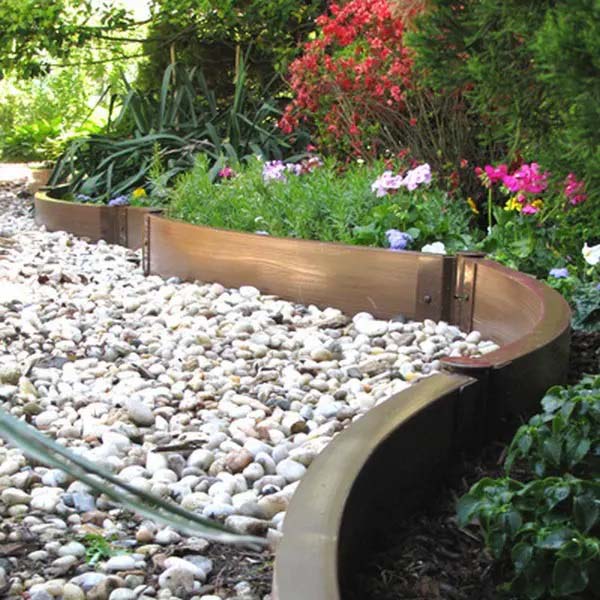 If your garden is begging for definition, check out this vertical wood-look edging.
It's manufactured in segments that connect at the ends, giving you the freedom to edge gardens of any size.
Choose from curved and straight pieces to accommodate your lawn.
40. Reclaimed Wooden Posts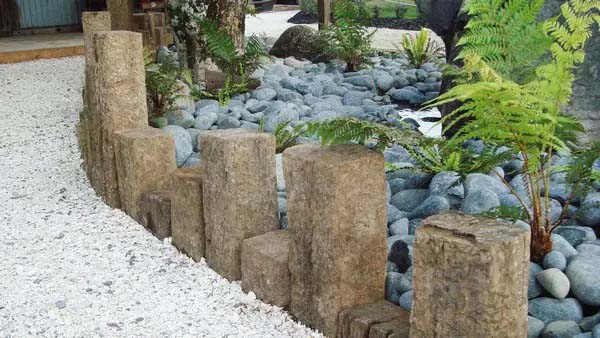 When you need garden lawn edging ideas that suit a rustic home, reclaimed wood is a wonderful option.
The natural color and texture suit a cabin or a mountain lodge. Here, vertical posts stand at different heights, keeping the landscaping rocks in place and creating visual interest at the same time.
41. Scalloped Cement Border Garden Edge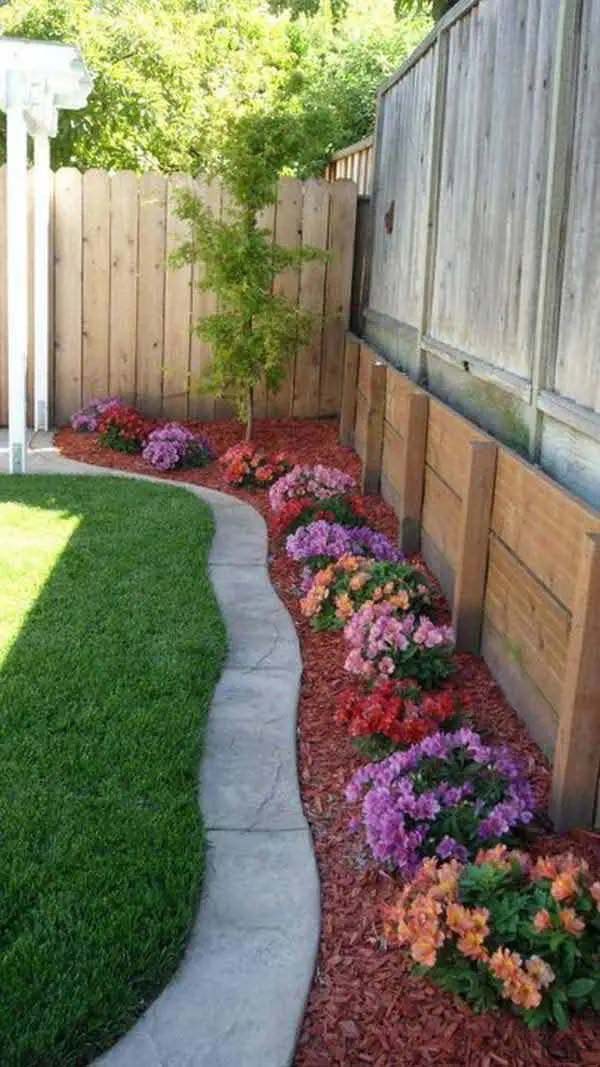 Scalloped garden edging adds an organic feeling to a yard that's filled with straight lines and flat surfaces.
This cement version offers subtle curves, highlighting the boundary between the wood chips and the rest of the lawn.
If you're comfortable pouring cement, this is an easy weekend DIY project.
42. Scalloped Red Rock Edging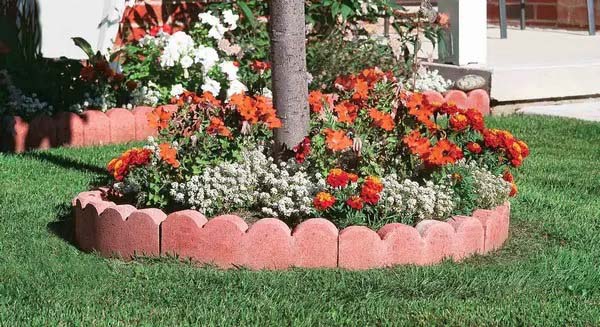 With its rounded tops and sturdy cement construction, this scalloped edging is both elegant and substantial.
Each piece is heavy, so it won't topple over under the weight of your soil.
Just place the sections end to end to upgrade a border garden or a plot around a tree.
43. Scalloped Vertical Garden Edging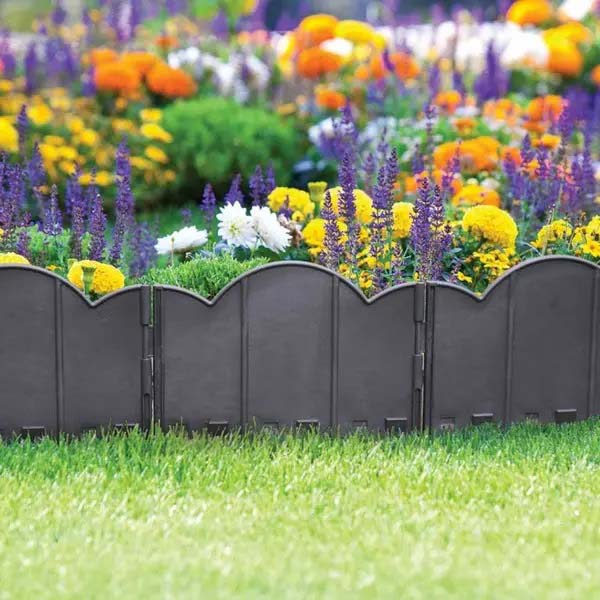 Accent the beauty of your small flowers or foliage with this delicate scalloped edging.
It's vertical, so it conceals the stems and creates a neat, tidy aesthetic.
This type of edging comes in small, snap-together sections, so it adapts easily to small and large plots.
44. Simple Garden Walkway Pavers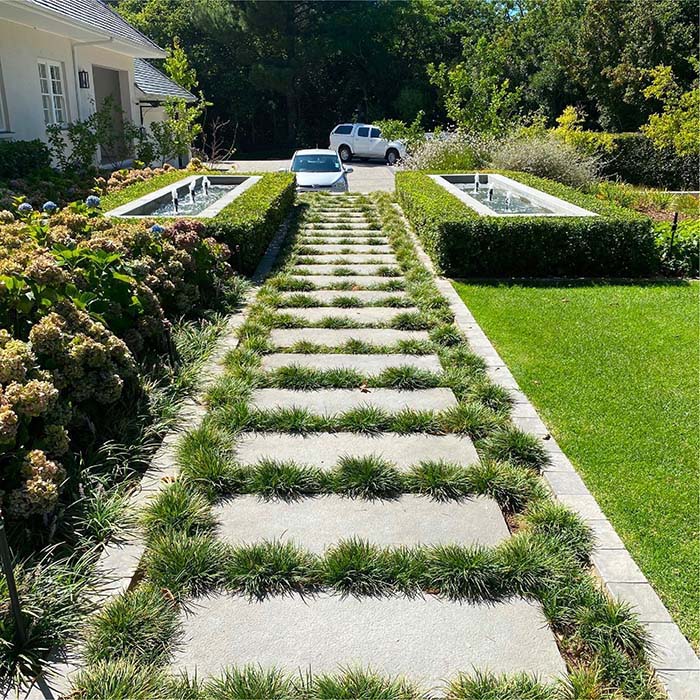 Do you have a walkway that passes through your garden? Keep it simple by edging the garden with simple stone pavers.
Here, the homeowner chooses stones in the same shade as the walkway itself for a cohesive, contemporary look.
45. Square Pavers in a Curved Channel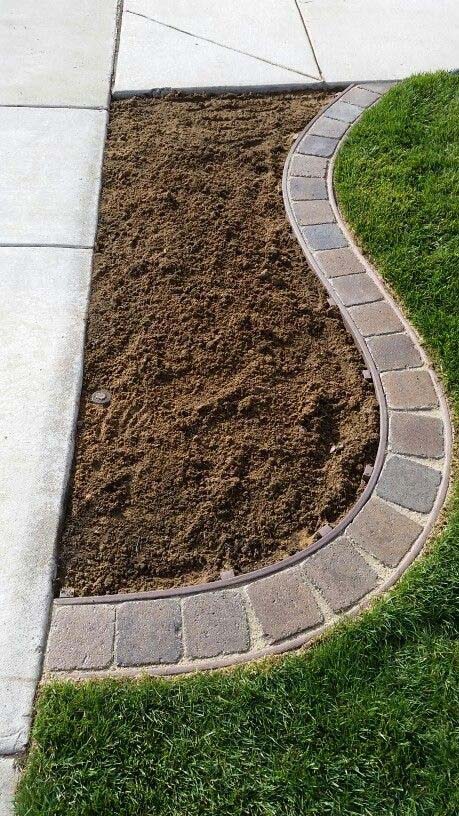 Here's another great way to create a curved garden edge without custom landscaping — make a channel using standard edging, and line it with square pavers.
Fill the remaining space with cement or tightly-packed sand for a lovely, geometric result.
46. Stone Puzzle Garden Edging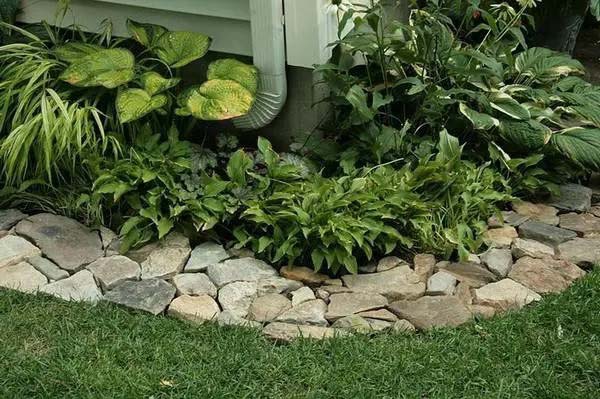 Do you have access to a supply of small stones? If so, you can build this lovely edge around your garden.
Try different configurations until you find rocks that fit; the result is eye-catching yet natural, so it works well with a low-key home.
47. Upcycled Wheel Hubs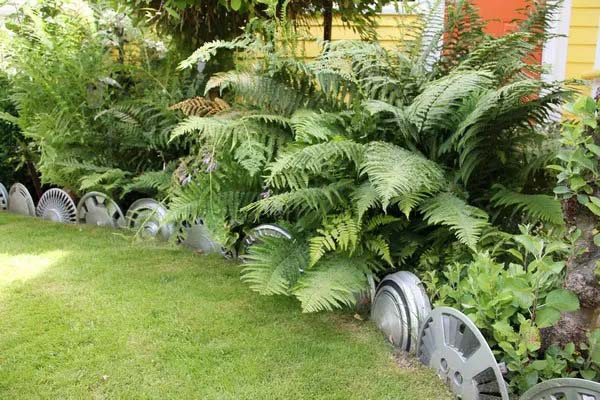 If you're committed to a green home, this beautiful garden edging is an easy way to reduce waste.
It's made entirely of recycled wheel hubs. There's no need to find matching options — the variety of textures and patterns adds interest to a large border garden.
48. Vertical Metal Garden Bed Edging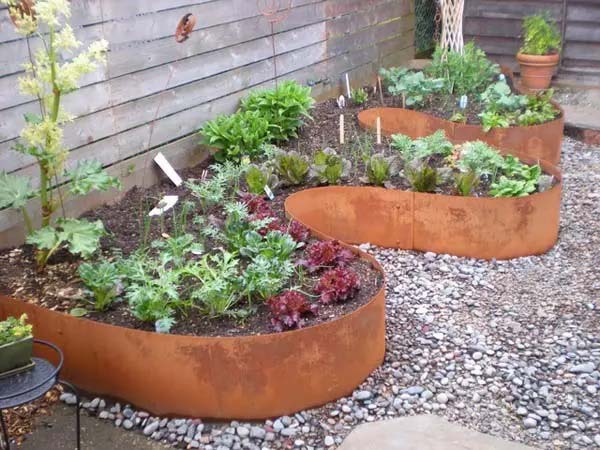 Add a hint of industrial style to your garden with vertical metal edging.
Installing it is a breeze — simply bend it into the shape you like, and sink the bottom edge a few inches into the ground.
Fill the edging with soil to create an eye-catching raised bed.
49. Wood and Stone Footprints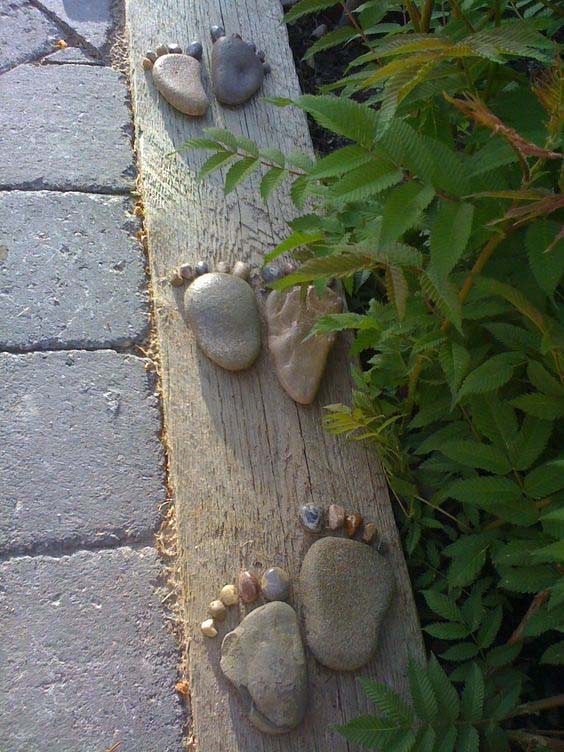 Dare to be different with this garden edging idea. It starts with classic wooden beams, which establish a clear boundary between the garden and the rest of the yard.
For a whimsical touch, top the wood with footprints made from rocks and pebbles. Make sure to glue down the rocks to prevent them from rolling away.
50. Woven Garden Hose Edging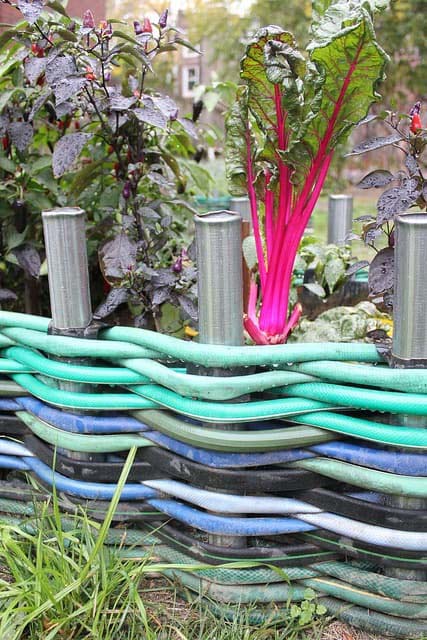 Don't throw out your old garden hoses — use them to create a colorful garden edge. To start, sink a line of pols or posts into the ground around the garden.
Then, weave the hoses in and out of the poles, alternating directions with every row. Continue building up the wall until it reaches the desired height.
Garden edging ideas is what you need to make the difference and take your garden from ordinary to appealing.