When you have a small garden, a great layout is essential.
Limited space means that every detail counts — from plant selection to hardscaping, each element has a big visual impact.
As you're planning a tiny outdoor space, these creative small garden design ideas can help you bring out its unique characteristics.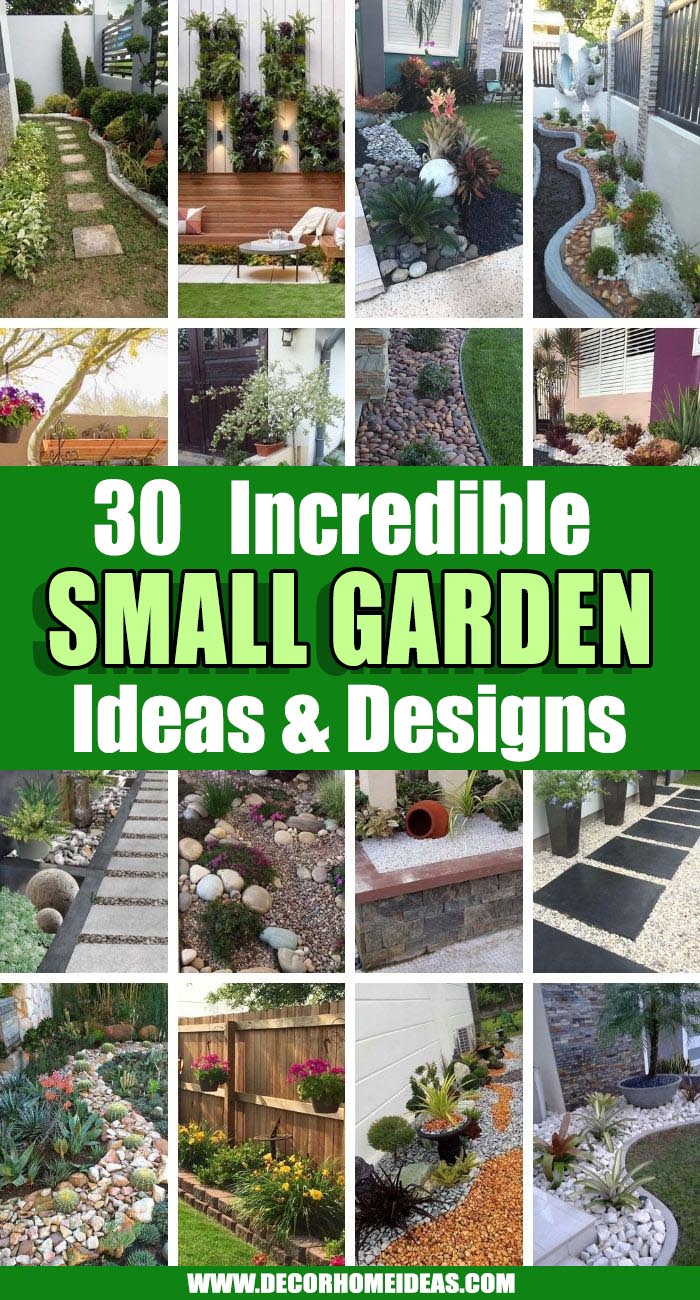 1. Use A Corner For Visual Interest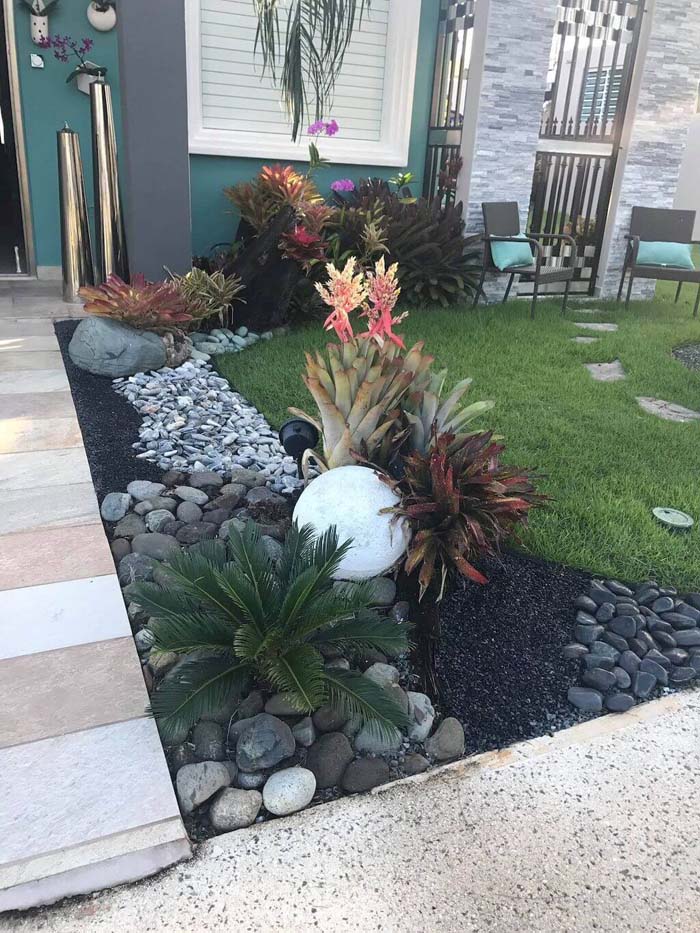 This small garden looks surprisingly lush and full, thanks to the tall plants.
By using species with thick greenery and large leaves, you can ensure that your miniature space makes a bold impact.
A variety of stones add to the over-the-top style, filling the gaps with color and texture.
2. Corner Bench And Vertical Garden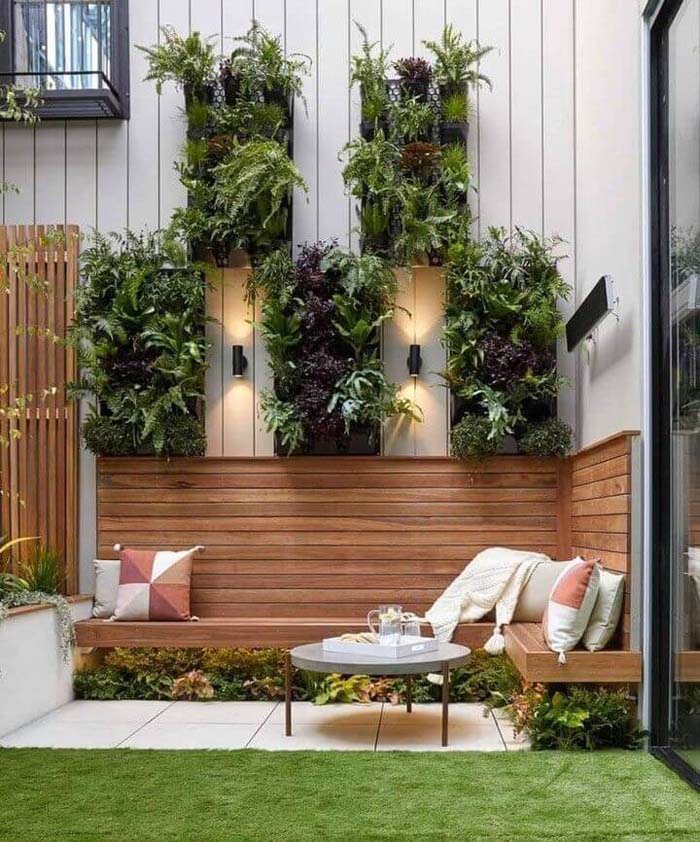 This clever garden is a fantastic use of space.
Instead of sacrificing seating, the designer built an elevated bench and placed shade-loving plants underneath.
On the exterior of the home, two rows of wall-mounted planters catch the sunlight, adding a lush feeling to the outdoor area.
3. Non-Linear Shapes Create Flow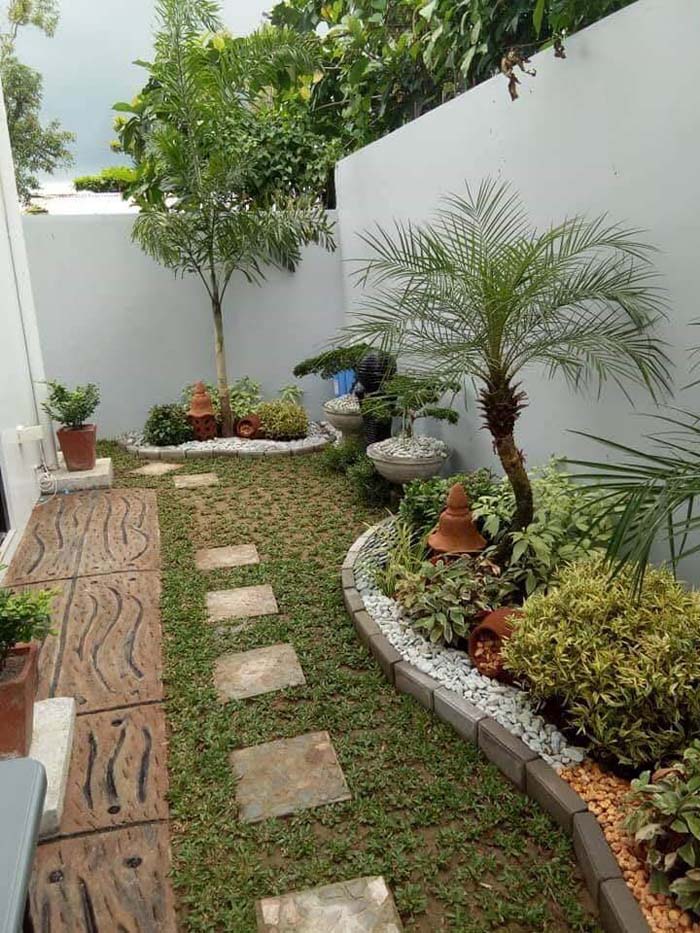 Geometric accents make a big splash in a small garden.
Don't worry about sticking to straight lines — with a row of bricks, you can create a curved retaining wall that adds a soft, organic feeling to the space.
After you add a selection of plants, fill in the gaps with small rocks for a neat finishing touch.
4. Offset Plants With Dark Mulch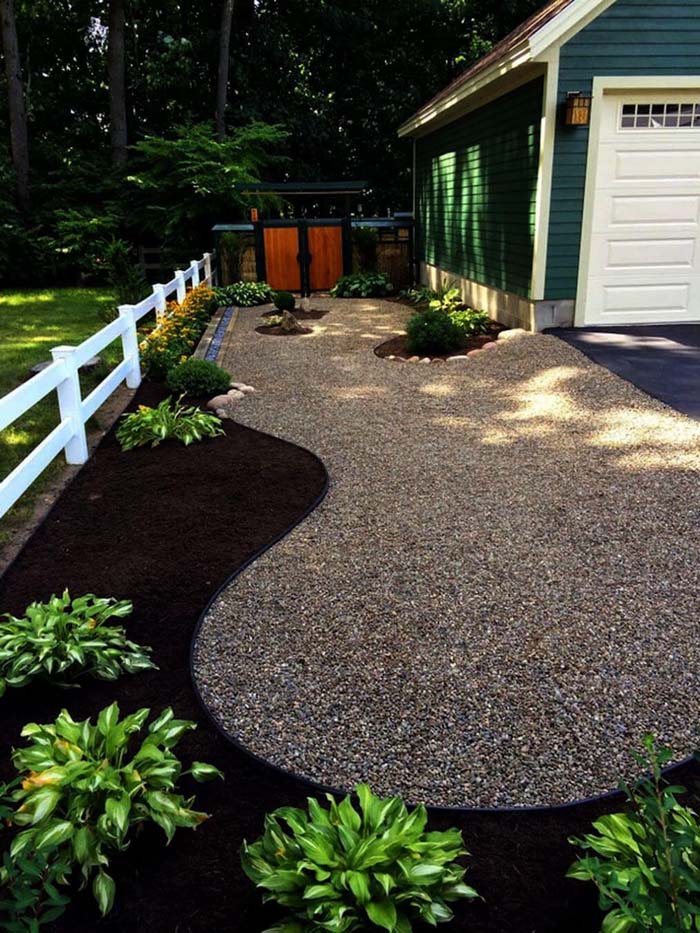 When your garden space does double-duty as a walkway or a parking area, design is critical.
This yard features a striking curving border; it's eye-catching, but still manages to leave the central area open for bikes and lawn equipment.
We love the rich, dark mulch, which makes the green plants look even more beautiful.
5. Incorporate Different Elements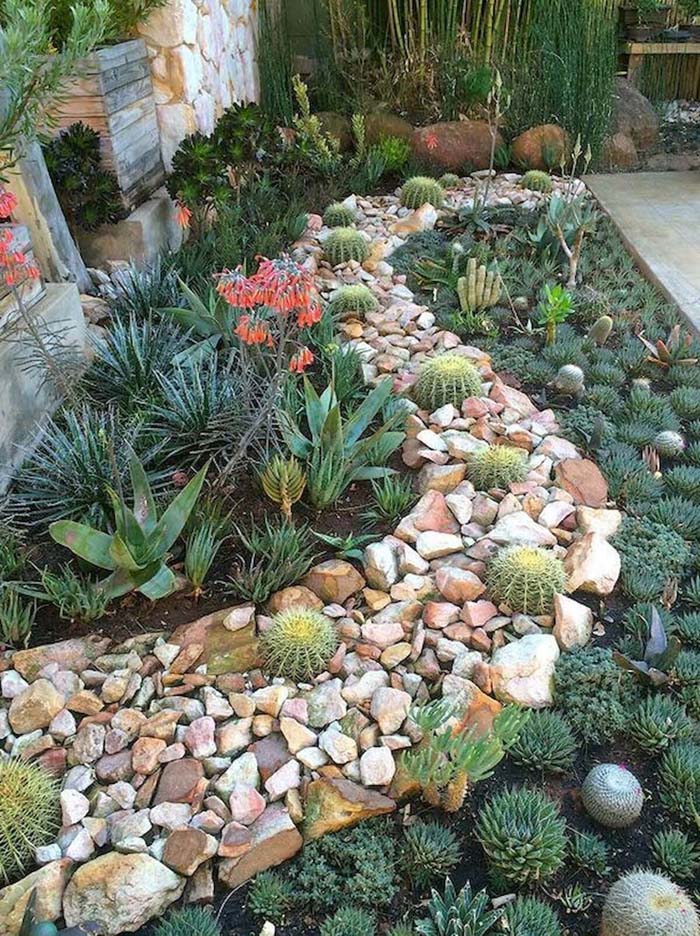 Recreate a desert landscape with a collection of succulents, cacti, and stones.
We love how the curving line of warm-toned rocks hints at desert sands; it also protects the tiny cacti.
The surrounding areas are filled with lush green succulents in a variety of shapes and colors.
6. Low Maintenance Driftwood Rock River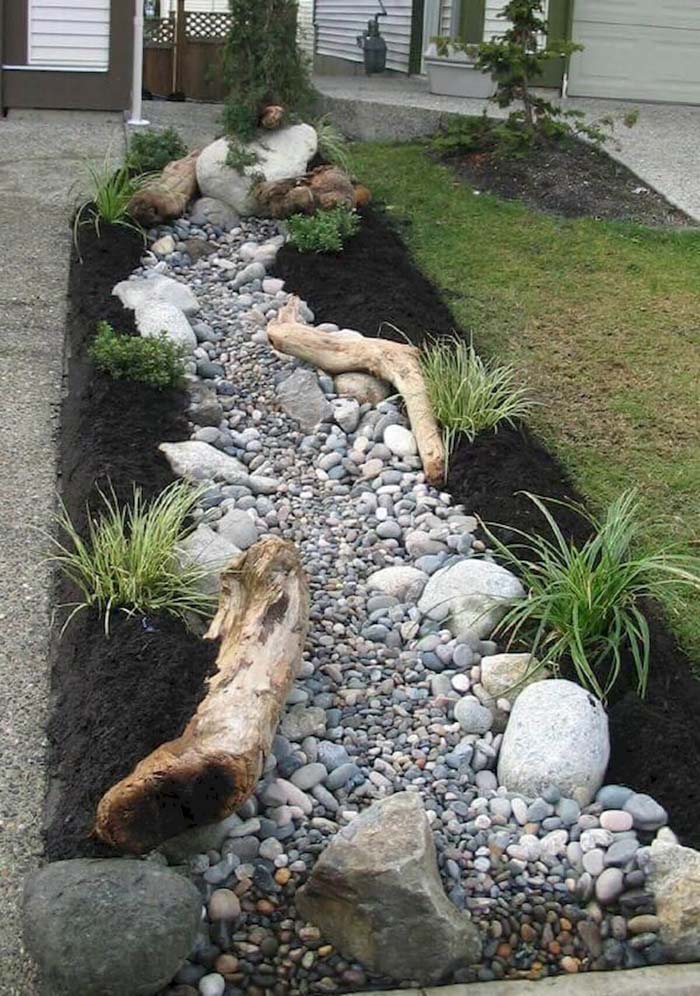 With its large driftwood decorations and smooth river rocks, this garden resembles a stream bed or a rocky beach.
The plants play a supporting role, decorating the edges and enhancing the natural vibe.
7. Hang Flower Baskets For More Color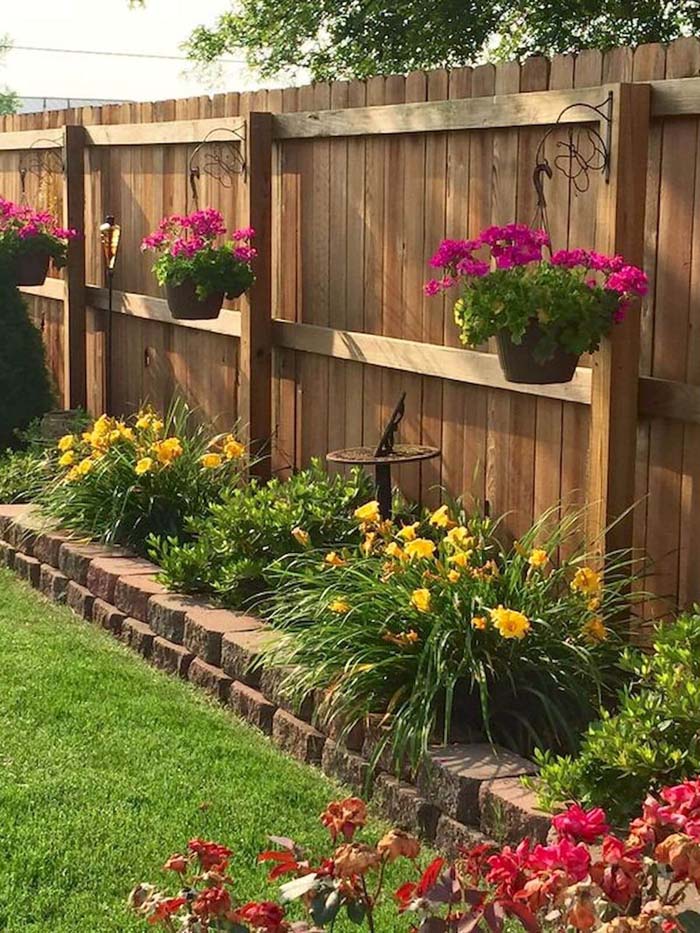 Make the most of your lawn by restricting your garden to a thin, linear strip along the fence.
This adorable garden uses stacked bricks for definition; lush, overhanging plants balance out the crisp lines.
For an extra pop of color, install hanging hooks to support brilliant potted flowers.
8. Bring Your Garden Upwards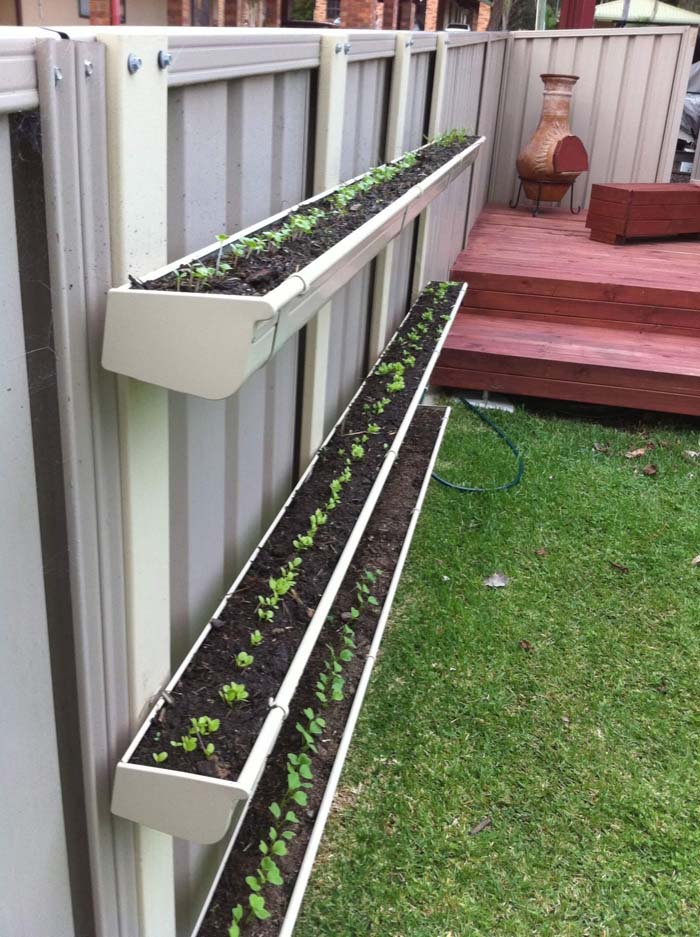 Are you trying to hold on to every inch of backyard space?
You can still have a garden — all you need to do is use the vertical space. Mount two or three long, narrow garden boxes in a stack on your fence.
As the plants grow, they create the illusion of a living wall; choose climbing vines or creepers for maximum lushness.
9. Rocks Add Texture To Your Planters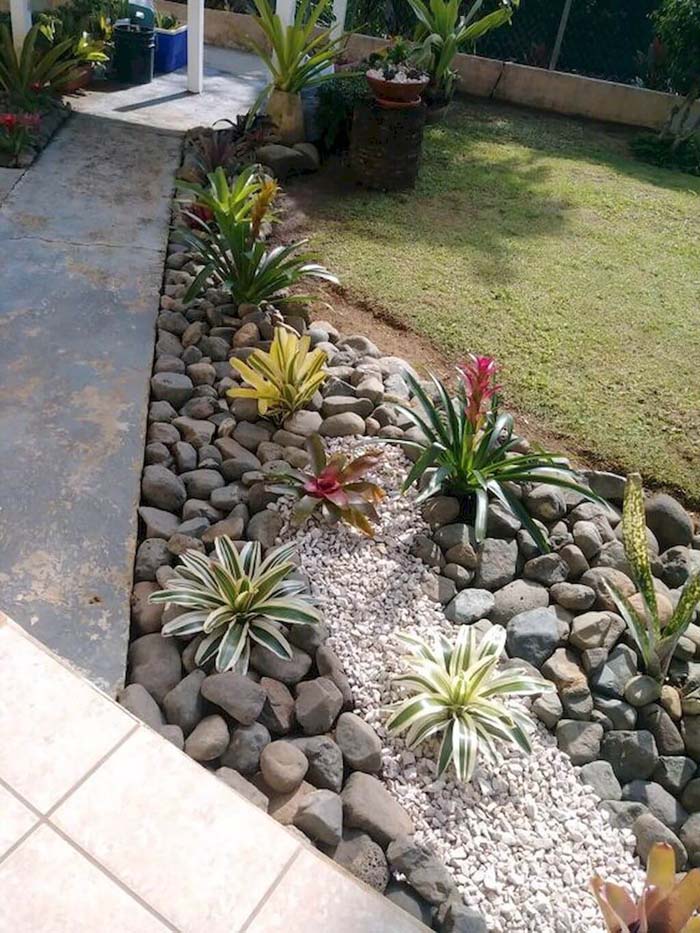 When your garden area has an unusual shape, it can be challenging to fill it in with plants.
Here, rocks showcase the unique diamond-shaped space. This creates the perfect setting for hardy plants and allows efficient water drainage off of the walkway.
For extra contrast, use stones in different colors and sizes.
10. Add Streamlined Planter Boxes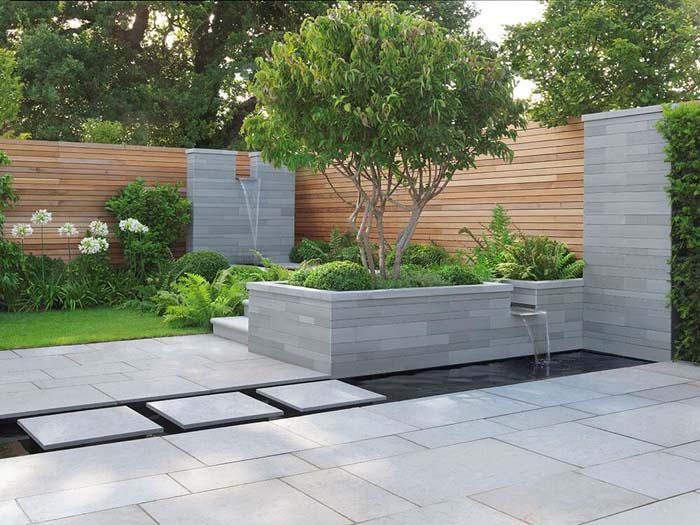 Maintain the clean, contemporary feeling of your modern yard by choosing your plants carefully.
In this yard, all of the ferns and foliage are a similar shade of bright green.
Next to the stark cement patio and warm natural-wood fence, the effect is gorgeous and calming.
11. Define A Garden With White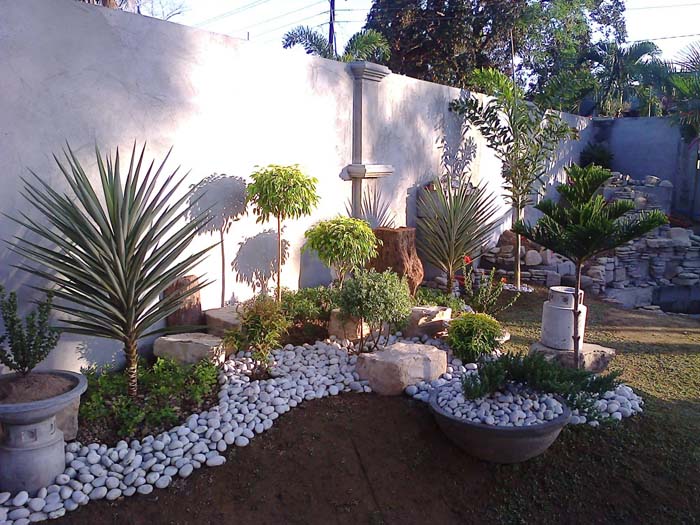 Hide an unsightly wall or fence by planting a small forest garden.
Small trees and tall shrubs create a little piece of paradise — plant them in pots or in the ground.
Don't worry about filling in the ground around the bases of the trees; just add white rocks for a fresh, clean aesthetic.
12. Keep Lines Clean In A Small Space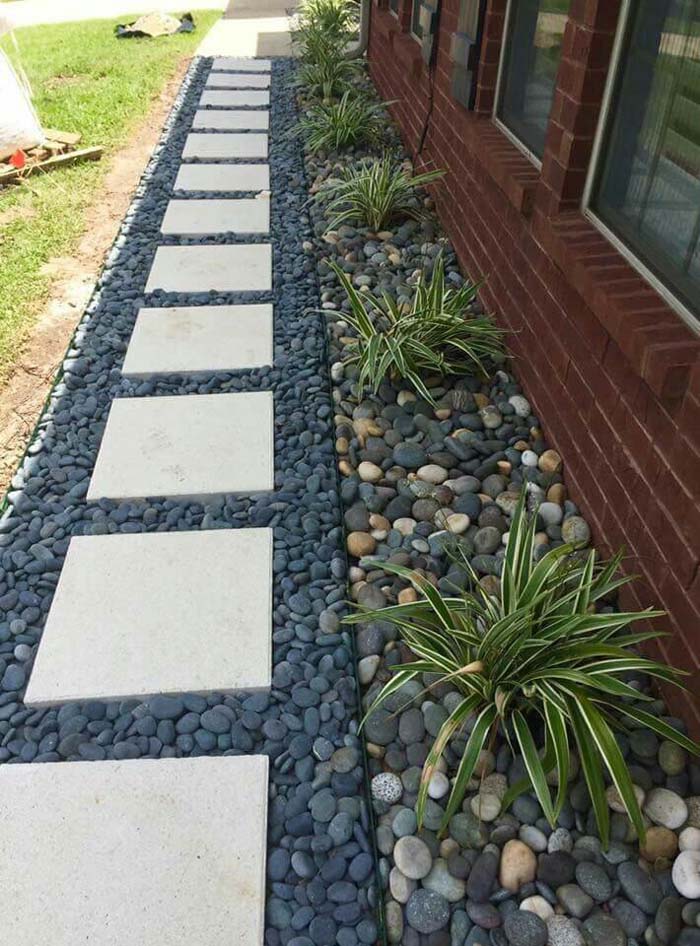 This garden is all about symmetry and sharp lines — from the neat rows to the square stepping stones, everything is in its place.
A row of identical green plants adds just the right touch of color and wild, organic greenery.
13. Varying Layers Fill Height Without Depth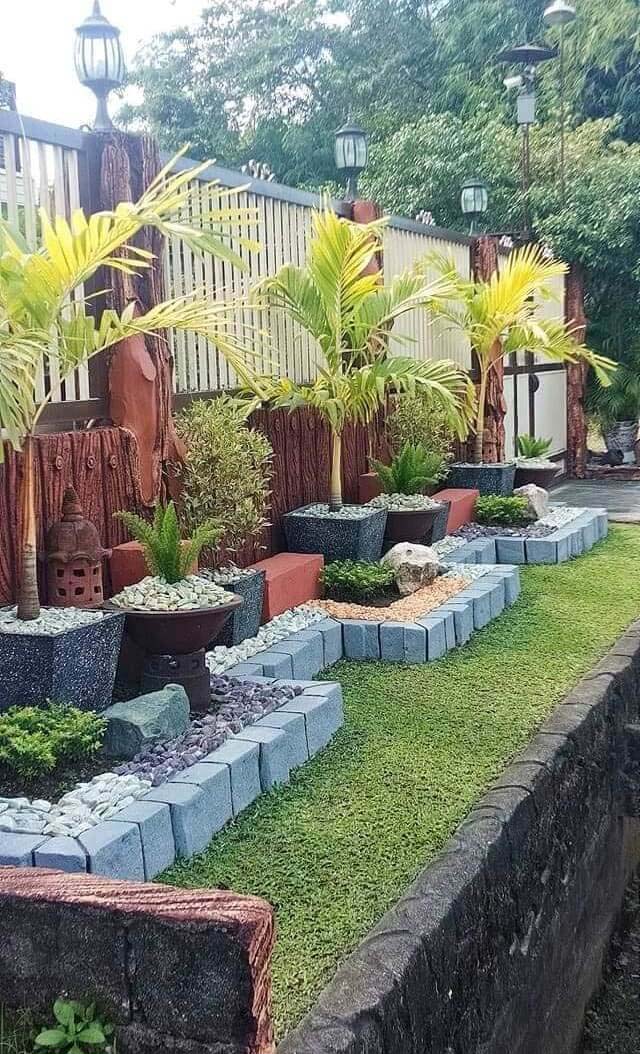 Make a big statement in a small garden with multiple levels.
Using pavers, rocks, pots, and cinder blocks, this tiny patch of grass becomes a dramatic tropical garden.
Note how the different levels tie together the short green plants and the tall palm trees.
14. Utilize The Space Next To A Walkway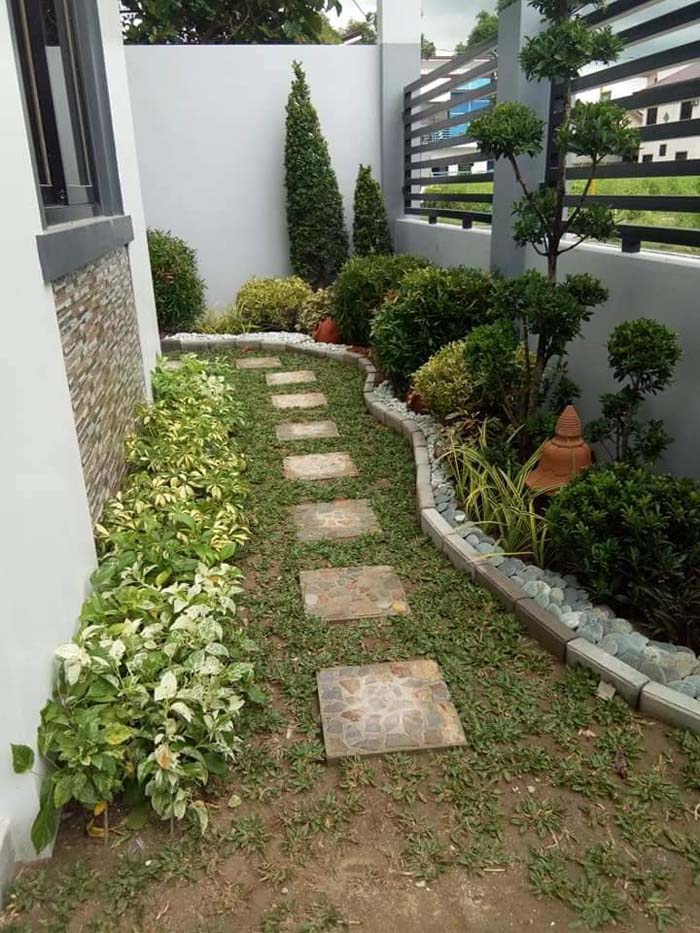 If your garden doubles as a walkway, your planting space is limited.
To create the feeling of a magical garden path, run a set of stepping stones down the center of the area.
By splitting the space, you essentially create two separate gardens; here, we love how the brick edging adds gentle, organic curves.
15. Create A Tranquil Zen Space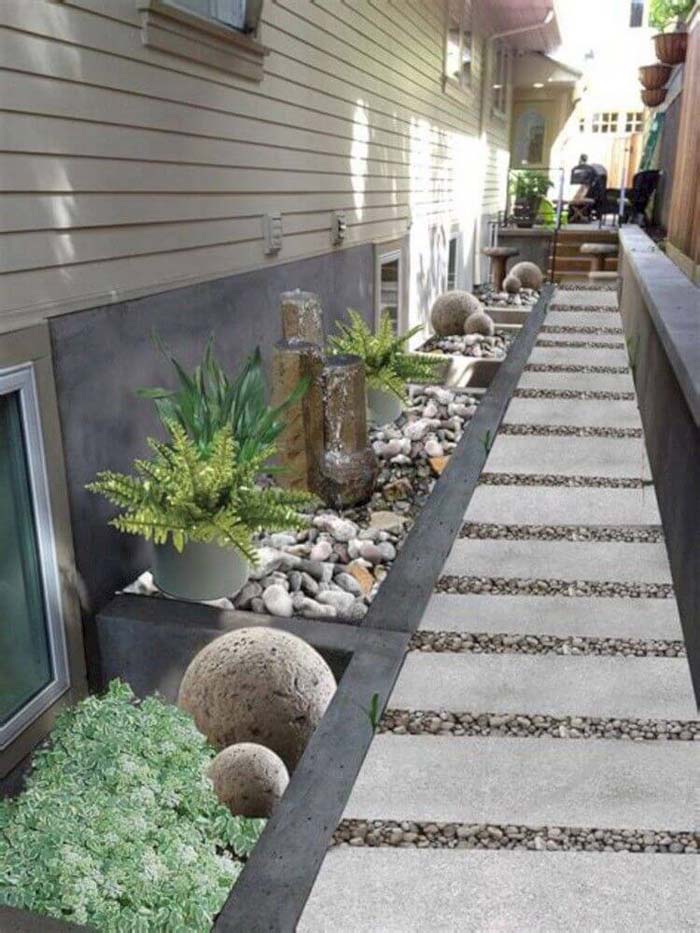 Is your garden area limited to a narrow strip of land between the house and sidewalk?
Make the most of it by creating a Zen garden.
Large rocks and concrete accents add a fascinating blend of natural colors and textures, and a few tall plants keep things feeling fresh and lively.
16. Bright Blooms Highlight A Rock Garden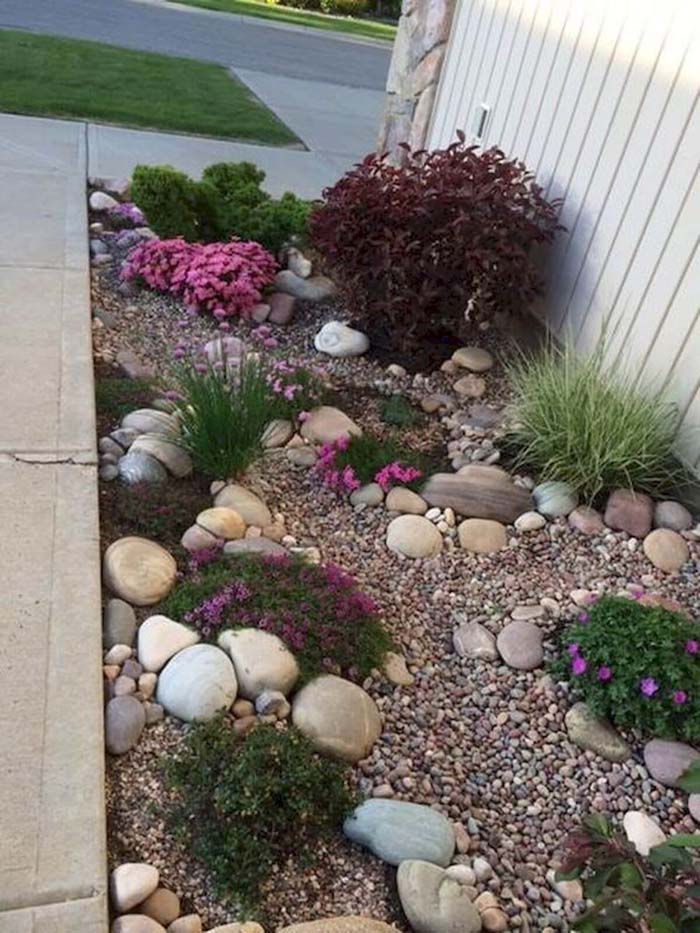 Enjoy all the benefits of hardscaping with a more organic vibe using this design. The trick?
Avoid straight lines. Here, the homeowner places rocks and plants in different sizes in a random arrangement.
The result looks natural and charming — the perfect fit for a small bungalow or cottage.
17. Vertical Containers Maximize Space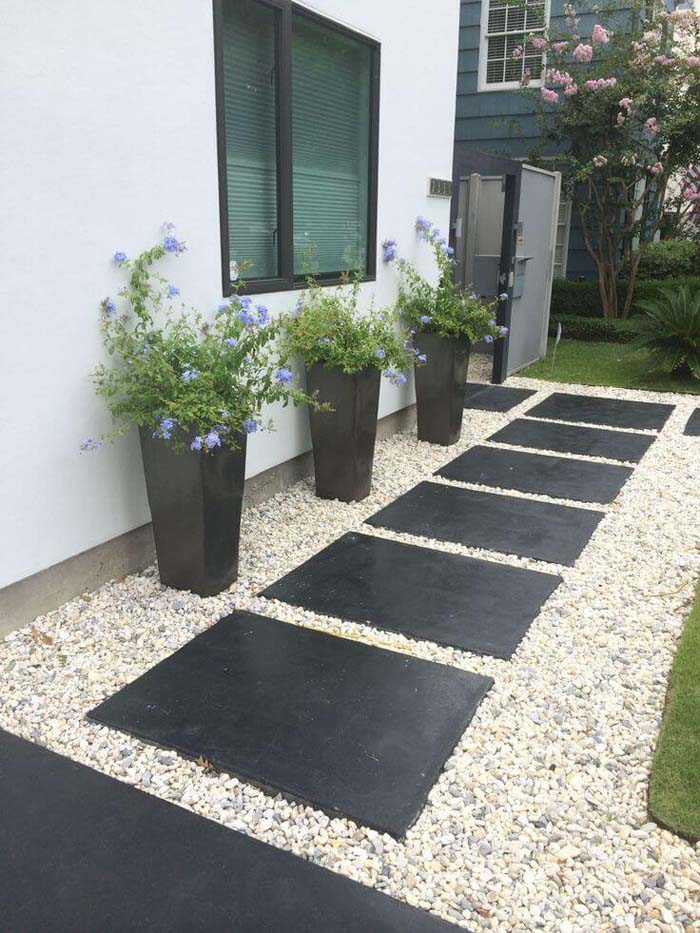 With its symmetrical concrete pavers and geometric vertical planters, this garden gives your home a crisp, contemporary look.
The stark black pavers and white pebbles make the stunning green plants and purple flowers look even more vibrant.
18. Vary Rock Colors For A Low Water Garden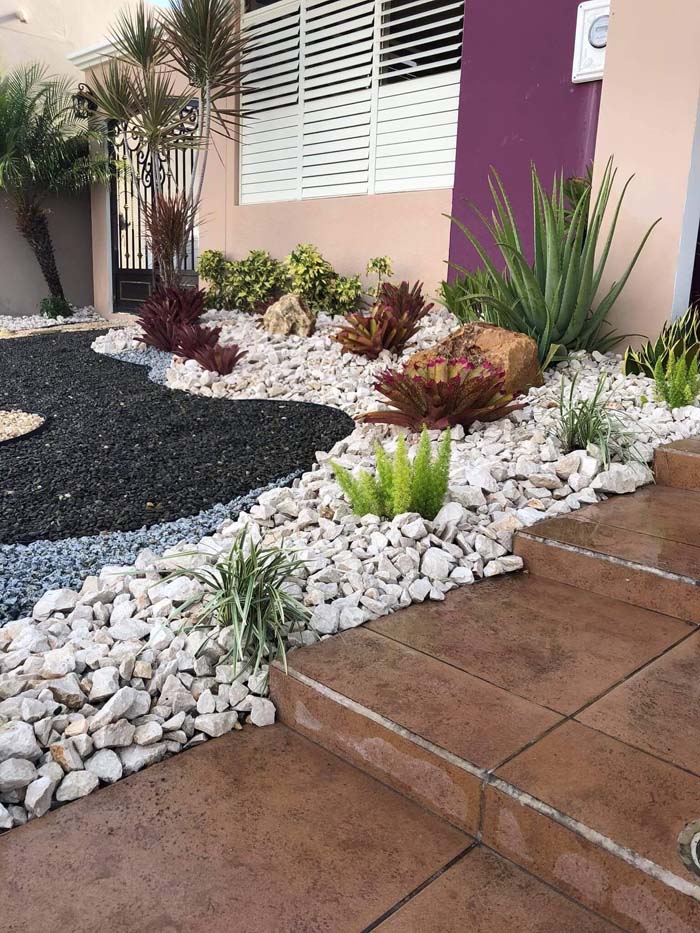 When you're looking for low-maintenance gardening, rocks make a great ground cover.
Here, three different stone colors turn an unsightly yard into a beautiful garden.
The rocks also prevent weeds from growing around the beautiful and unique plants.
The result requires minimal watering and pruning — an ideal option for dry climates.
19. Grow Your Plants On The Wall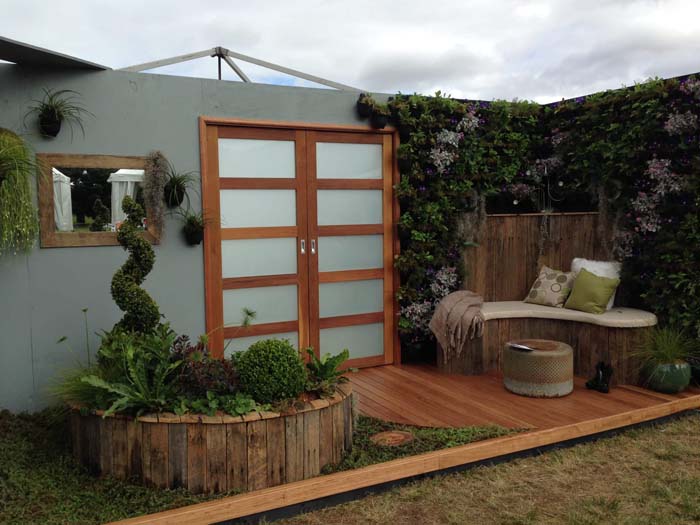 Maximize a small yard by going vertical — with climbing plants, you can turn the exterior of a building or a fence into a brilliant wall of greenery.
Tuck a bench into the setting to make a picturesque spot for reading and relaxing.
A round raised bed adds extra planting space in an unusually shaped section of the yard.
20. Choose River Rocks For Planter Interest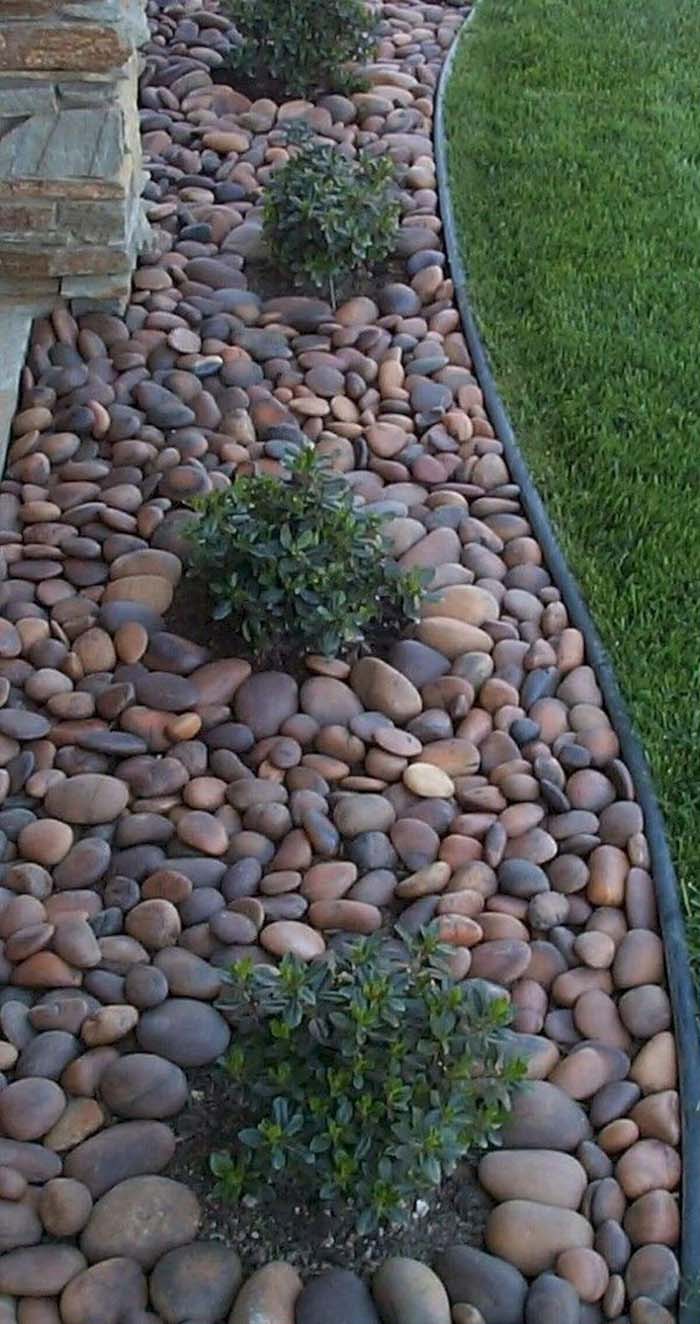 Are you looking to minimize maintenance?
Instead of covering your small garden with greenery, consider filling it in with river rocks.
The varying colors and rounded lines contrast beautifully with the surrounding grass, and the warm tones make your chosen plants stand out.
21. Garden Boxes Provide Planting Options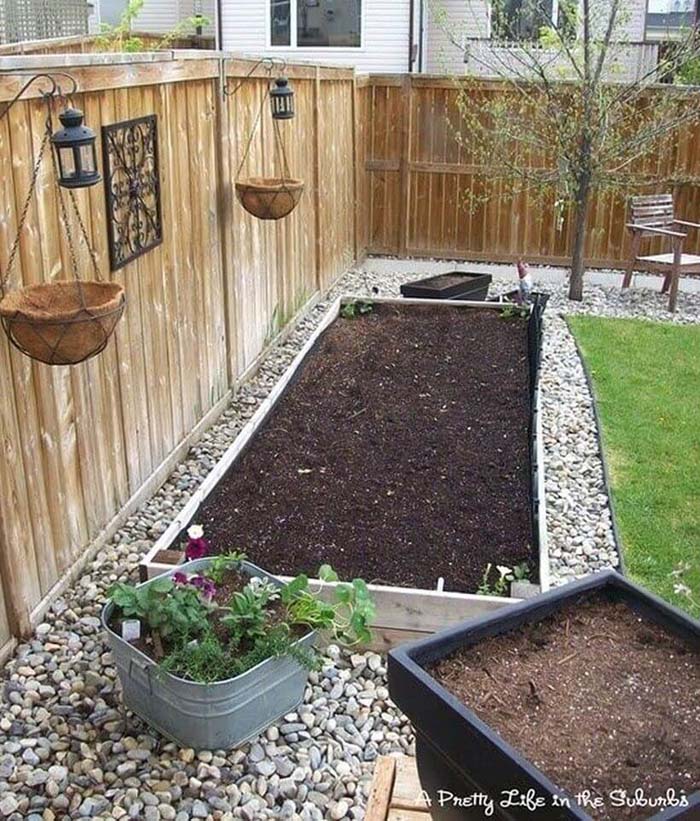 In a small garden, a little bit of contrast goes a long way.
One option is to choose planters and garden beds with strong shapes.
When you add plants, the organic and unpredictable shapes of the leaves look lovely against the clean lines of the boxes.
22. Utilize All Planter Spaces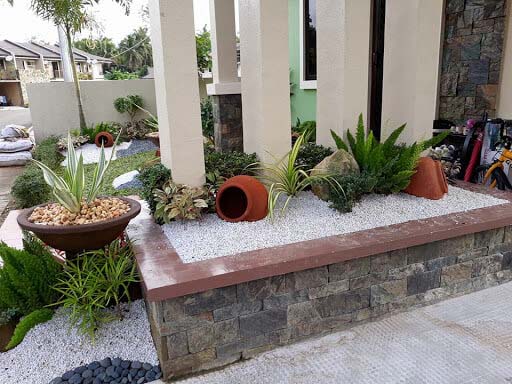 Turn an elevated planter into a gorgeous garden to boost your home's curb appeal.
Here, the homeowner covered the soil with small white pebbles, setting the stage for a collection of lush green plants.
To add extra color, a few clay pots are tucked into the greenery.
23. Create Your Design With Rock Placement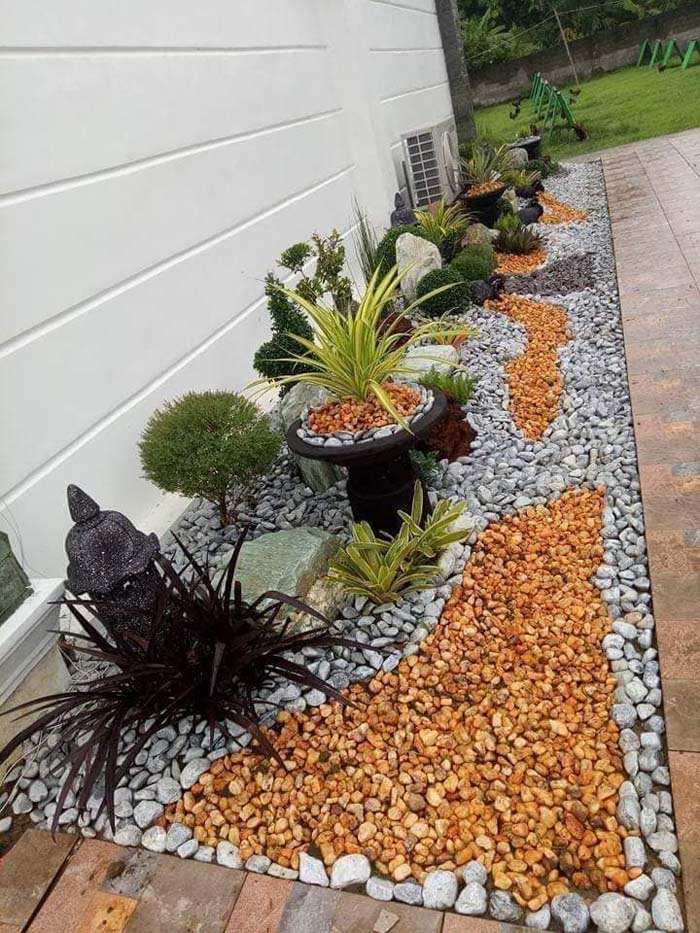 Sometimes, a small garden is slightly too big to fill with plants. Instead of filling the small open space with grass, use it as a canvas for rock art.
Using pebbles in different colors, create patterns or geometric shapes. Paired with an eclectic selection of exotic plants, the result is a showstopper.
24. Use Small Scale Plants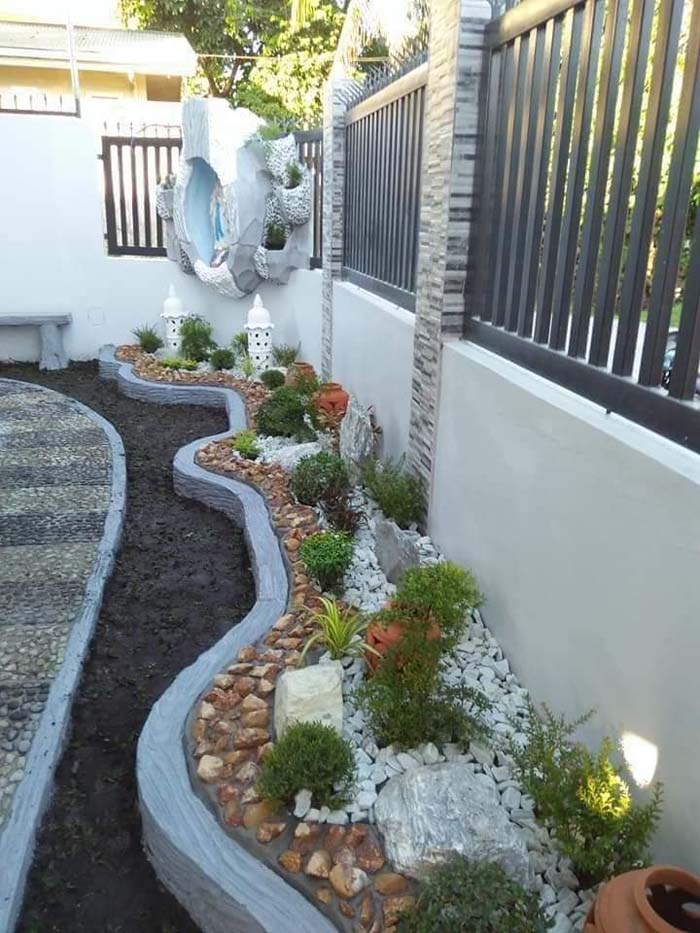 A shady garden doesn't have to be a deal-breaker; all you need to do is choose plants that thrive in indirect light.
This creative little garden uses hardy plants and a bed of stones, with a few decorative sculptures tossed in for good measure.
25. Border A Small Planter Space With Stones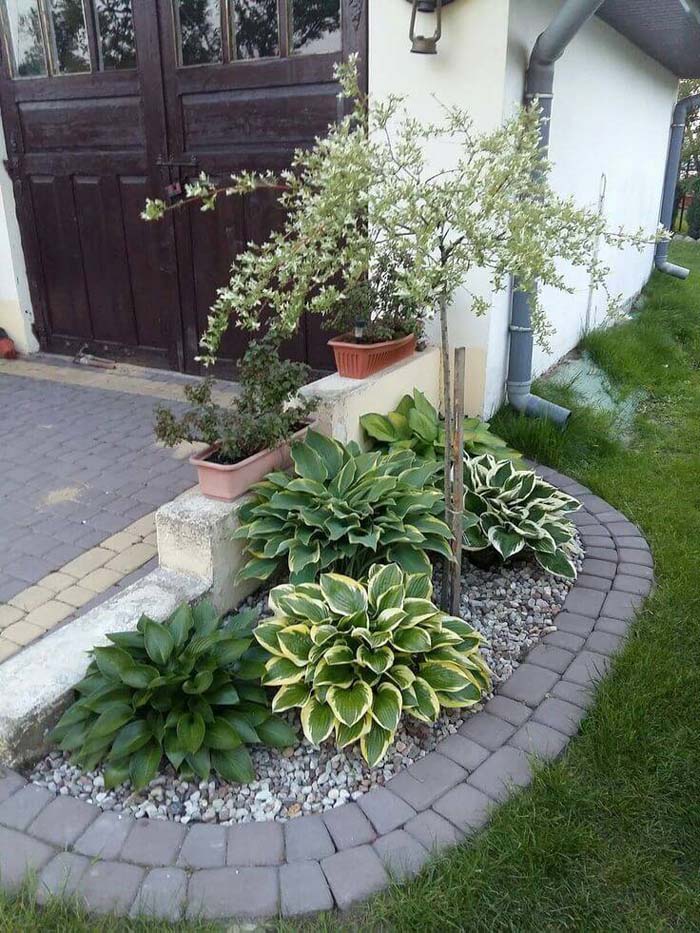 Is your garden space less than 10 square feet in size?
Give it a striking look by defining the border with stones.
This creates a strong geometric shape and draws attention inward to the plants.
26. Utilize Planters In A Dry Climate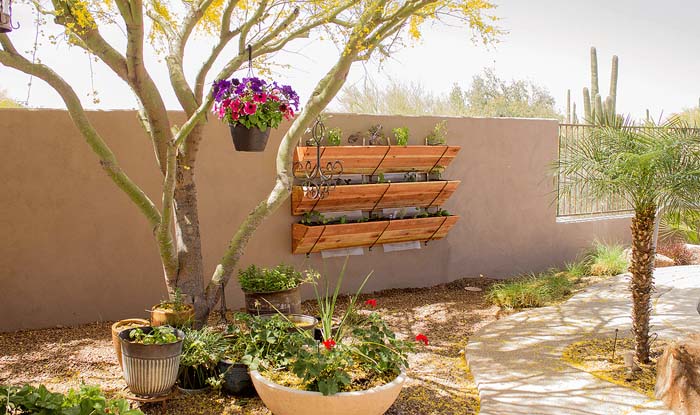 Dry climates mean that certain plants struggle to get enough water.
For greater control over soil moisture, stick to planters; they help contain the water, so your plants stay greener.
This little garden uses large ground planters, a vertical stack of wall planters, and a hanging potted plant to make a lush desert oasis.
27. White Rocks Highlight Green Plants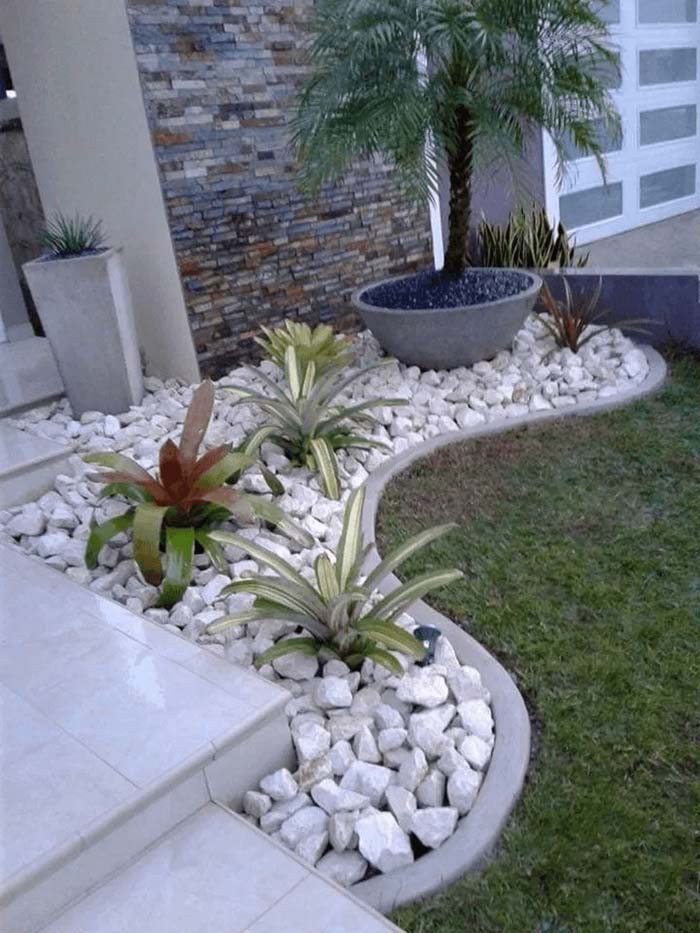 How cute is this little garden?
Here, it's all about setting the space apart with white stones and a neat cement border.
The distinct curves attract attention, and the leafy green plants establish a tropical vibe.
As a finishing touch, a small potted palm anchors one corner of the space.
28. Red Mulch and White Pebbles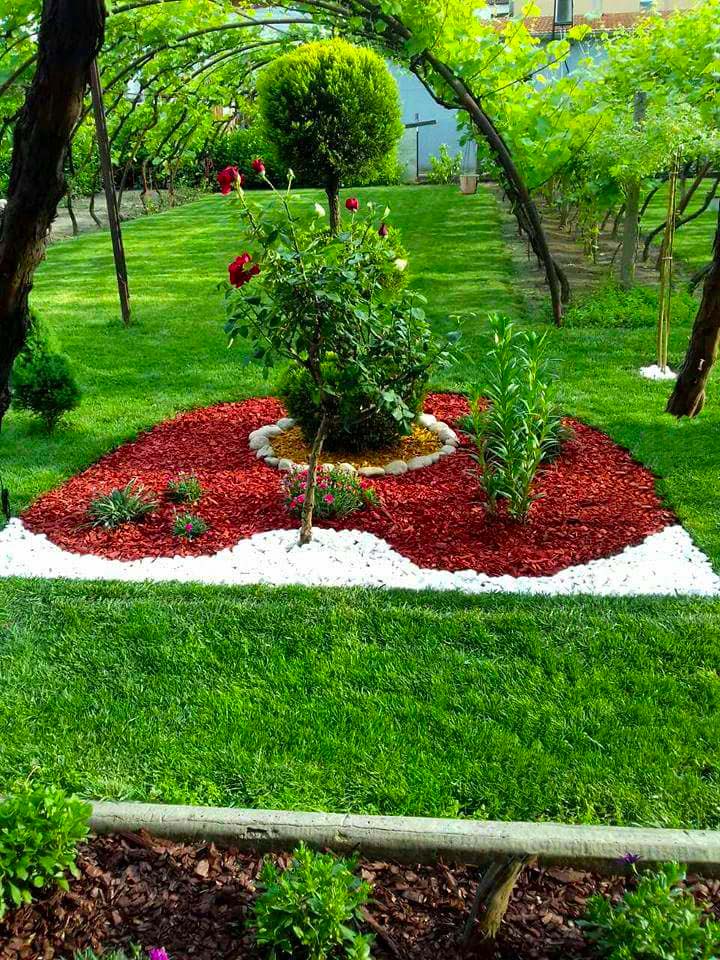 Red mulch and white pebbles can create beautiful garden design.
29. Small Rocks Around Tree