An outdoor storage shed is an easy way to boost the value of your home.
It frees up space in the house and garage, all while adding extra room for garden tools, bikes, or seasonal decor.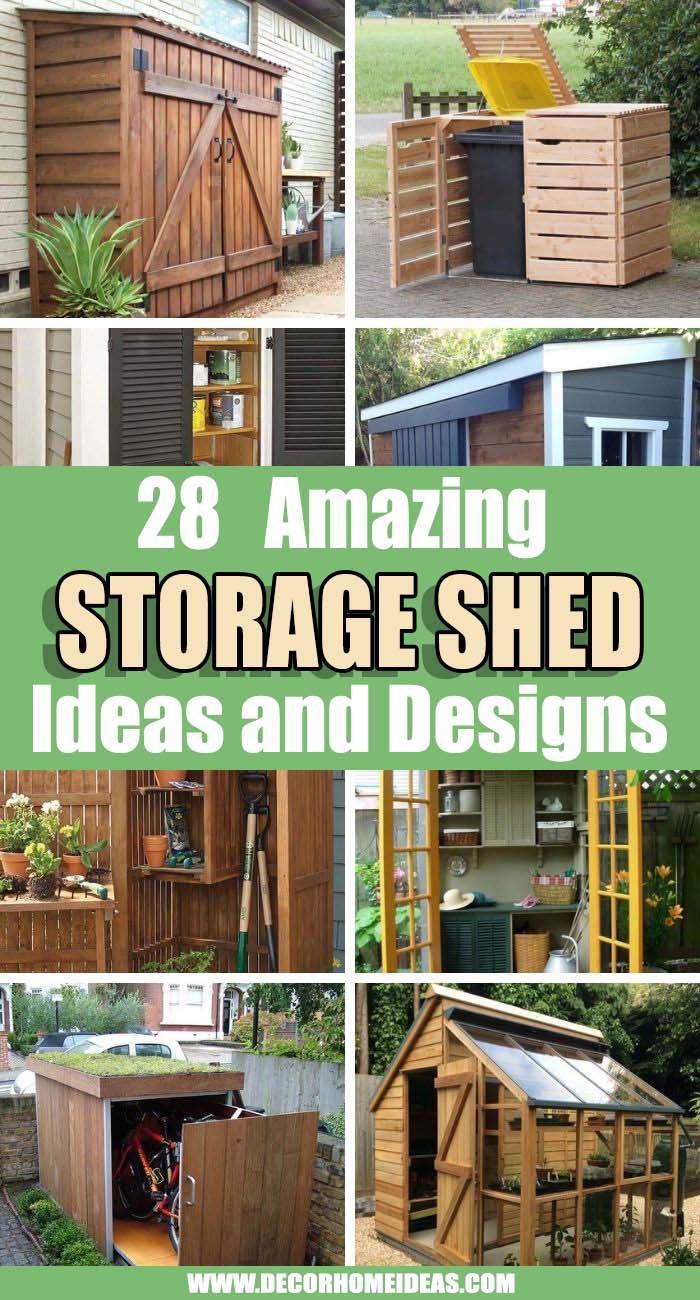 This unique storage shed ideas prove that outdoor structures can be functional and attractive.
1. A Convenient Patio Shed with Large Doors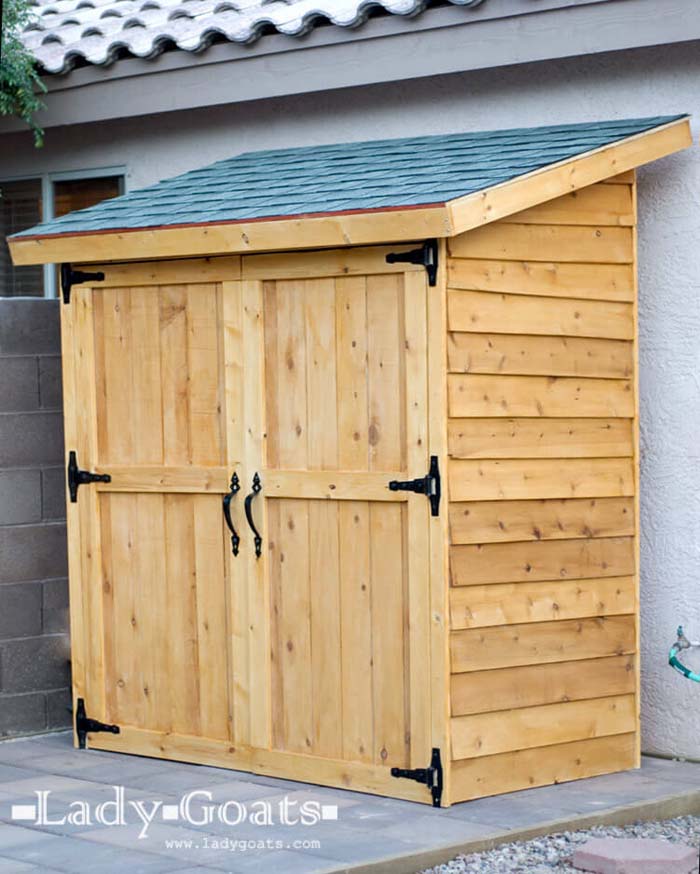 When you have a small yard, every foot of outdoor space matters.
A shed that sits flush with an exterior wall or fence is the ideal solution — it adds storage without getting in the way of seating arrangements or play areas.
via Lady Goats
2. A Dainty Little Storage Space with Cabinets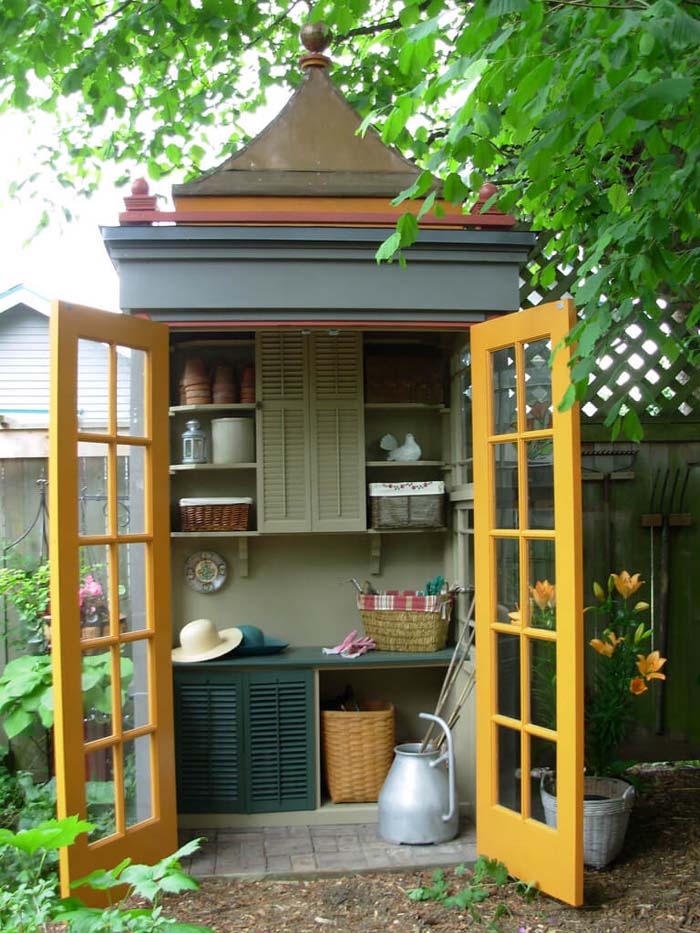 Who says storage sheds have to be utilitarian?
This beautiful little shed features colorful paint, artisan accents, and a convenient set of shelves and cabinets for organized storage.
There's even a small work area that you can use as a potting table.
3. A Greenhouse Storage Shed for your Garden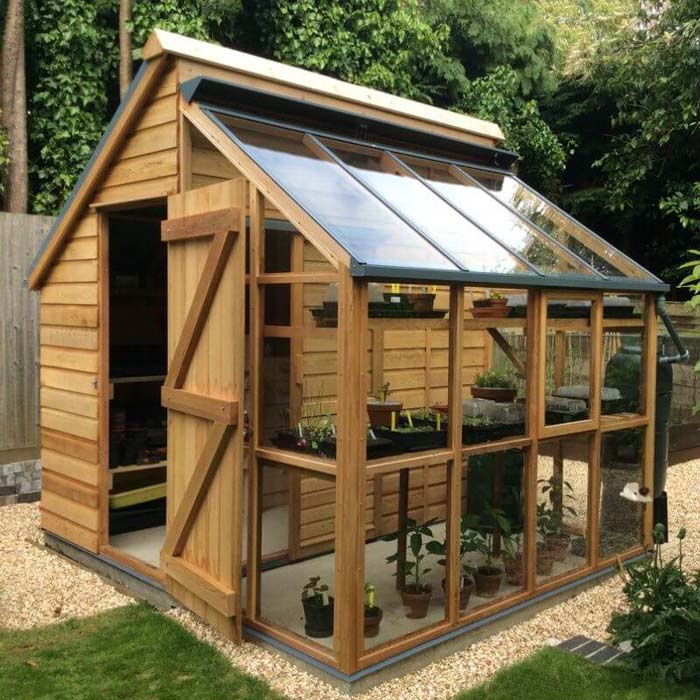 If you're looking to exercise your green thumb year-round, a garden shed with a built-in greenhouse is a space-efficient option.
The enclosed side holds all of your supplies, and the glass-walled side provides plenty of sunlight for your growing plants.
via Fresh Patio
4. A Hideaway Storage Space for Smaller Objects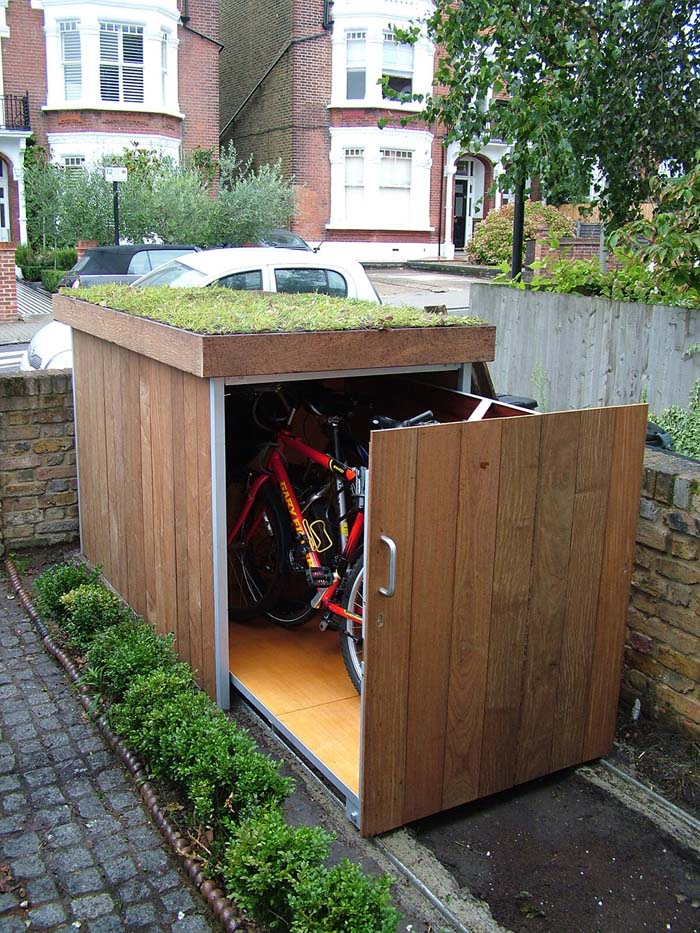 Do your kids' bikes ever clutter up your yard?
A small hideaway shed keeps them out of the way. To access a bike, just pull the slide-out tray.
Many models come with locks for extra protection between rides.
via Today's Gardens
5. A Large, Barn-Like Storage Shed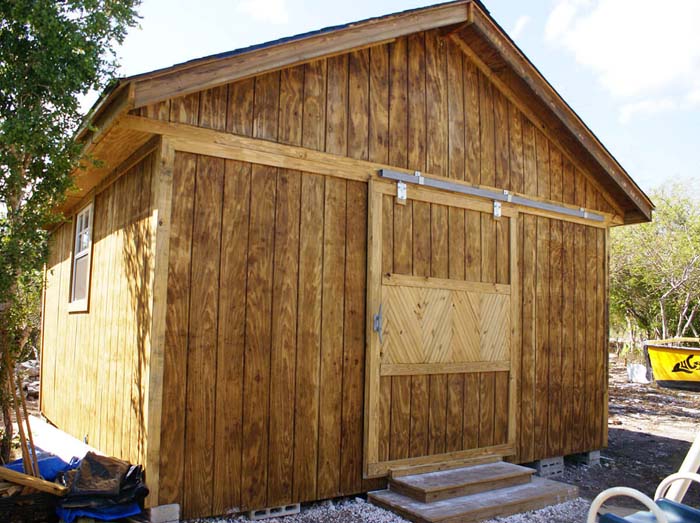 If you have a large outdoor space, a supersized shed offers ample storage.
Opt for a sliding door and steps, or use a roll-in door for easy use with riding lawn mowers, snow blowers, bikes, ATVs, and other large items.
Customize the interior with shelves, cabinets, lofts, or wall hooks to organize your gear.
via Ana White
6. A Multi-Purpose Space For Your Backyard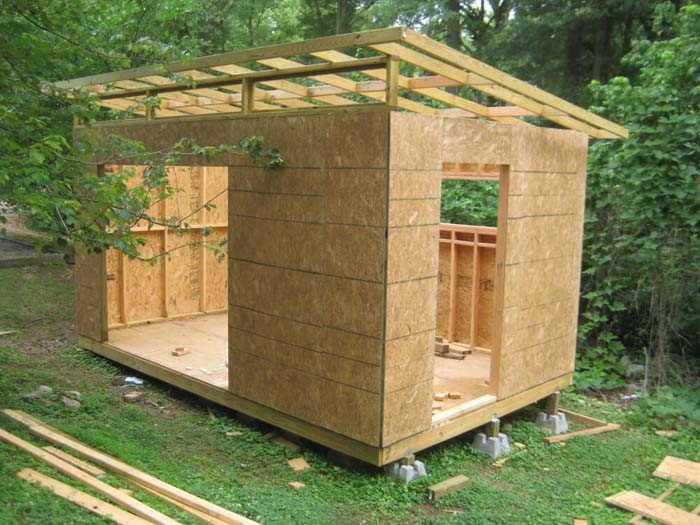 Tiny backyard cabins are a fun, multi-purpose way to make your backyard more useful.
The options are endless — use your shed for storage, add a desk to create a quiet office, or transform it into a small extra bedroom for guests.
If you have kids, you might use half of the shed for storage and turn the other half into a safe outdoor playhouse.
7. An Add-On Storage Space with Shudder-Style Doors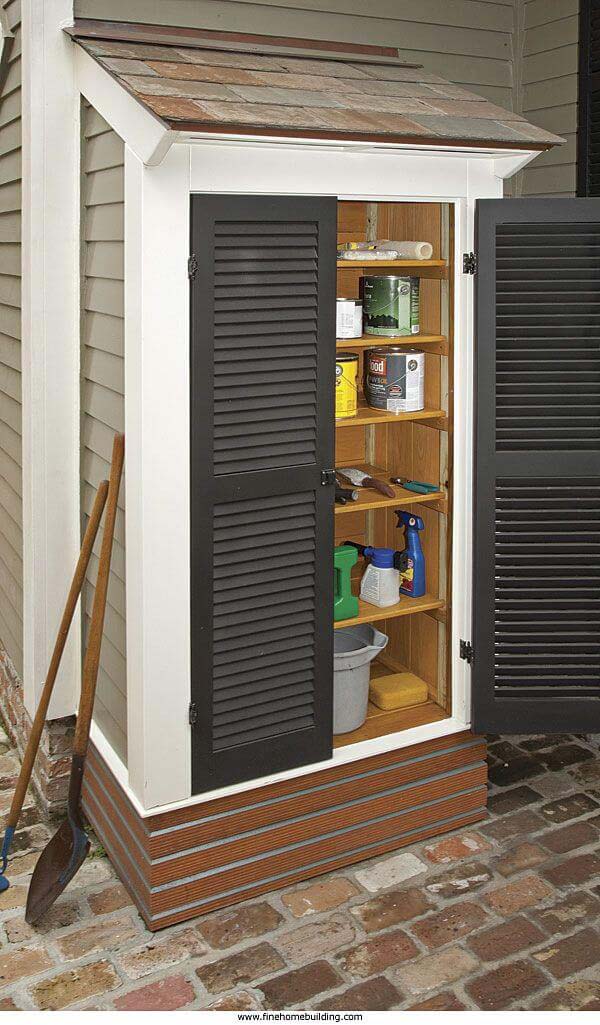 This clever outdoor storage shed looks like it's part of the house; the trick is to use matching siding and roofing materials. Instead of traditional doors, this model features beautiful shutters for protection and ventilation.
Add a lock, and you have a convenient spot for tools, cleaning supplies, and more.
8. An Add-on Storage Unit for Your Home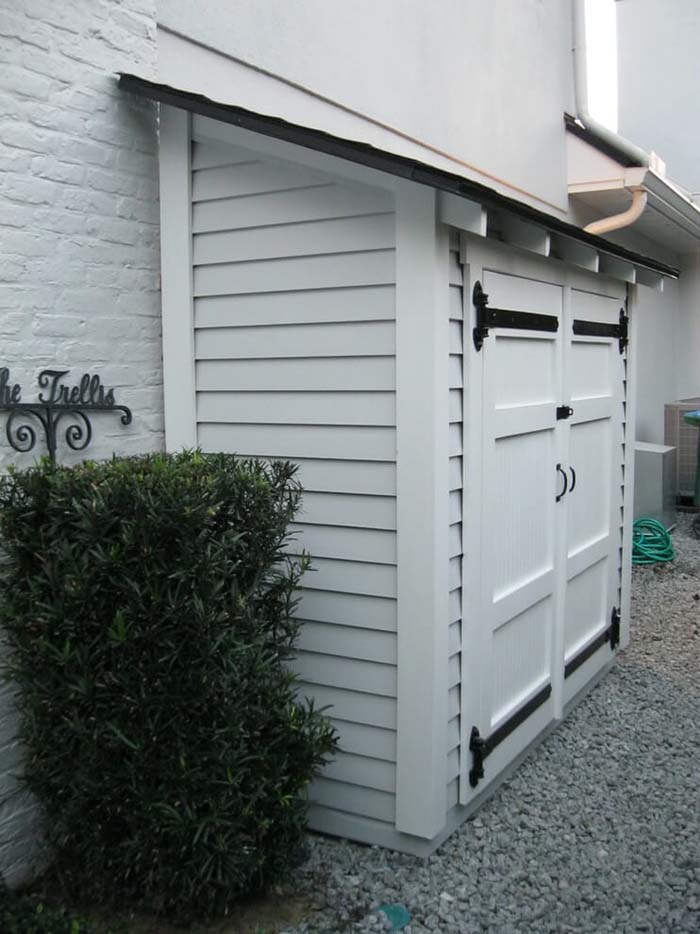 If you have an older home, it's not always possible to find matching siding for an add-on shed.
This creative shed solves that problem by choosing siding and paint in the same color as the house.
As a result, it blends it perfectly for an elegant look.
via Hometalk
9. A Raised Planter with Hidden Storage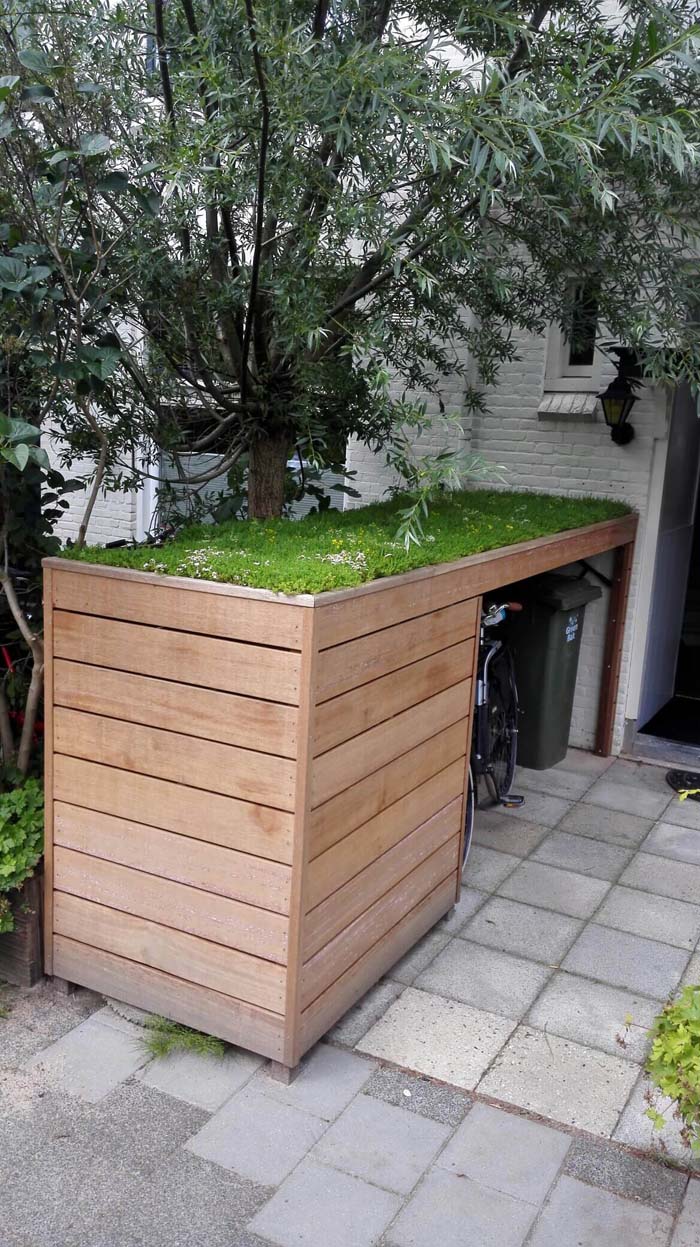 Do you have a tiny outdoor area?
Instead of a traditional shed, try a low-slung model that doubles as a planter.
Slip bikes and garbage cans underneath, and use the top bed to grow flowers or greenery.
It's neat and attractive, so it boosts your home's curb appeal.
10. A Raised Storage Space in the Yard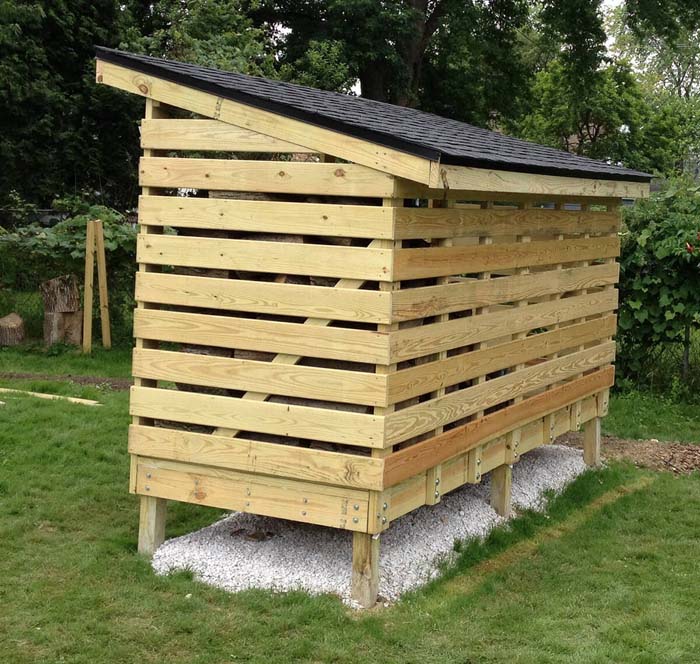 When you live in a climate with significant precipitation, a raised storage shed is a must.
This model sits a few inches off of the ground, so moisture can't reach the floor.
We love the slatted sides, which allow condensation to dry quickly.
11. A Small Black and Tan Storage Unit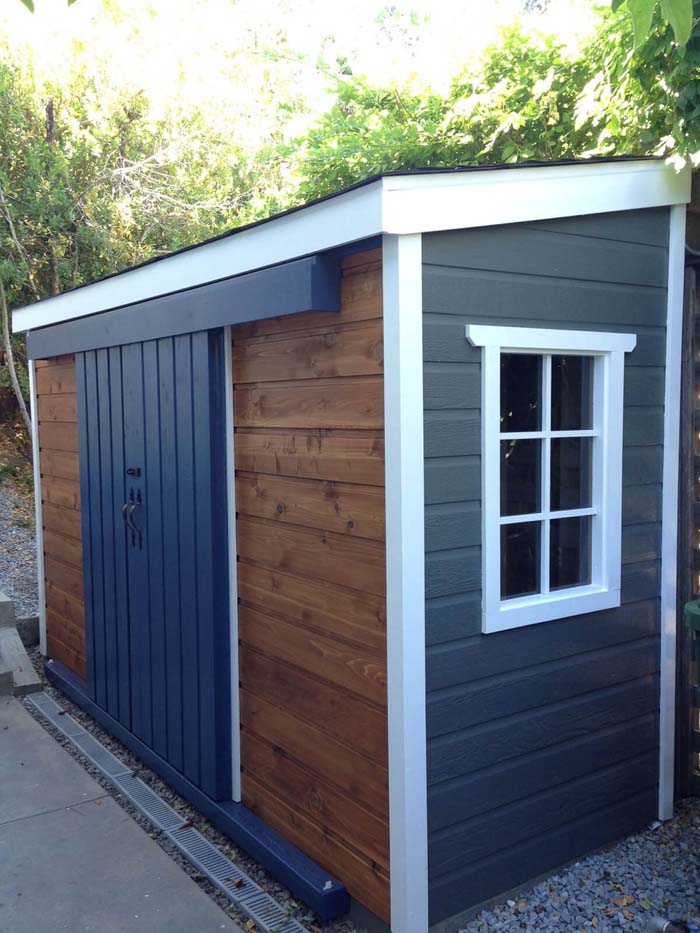 Mixed materials are a fun way to combine Old-World and contemporary styles.
This shed uses a variety of colors and elements, including hardwood siding, plastic planks, and vertically-paneled doors; the bold color contrast brings an upscale-modern look to your backyard.
via Summer Style
12. A Small Wooden Cabinet for Garden Essentials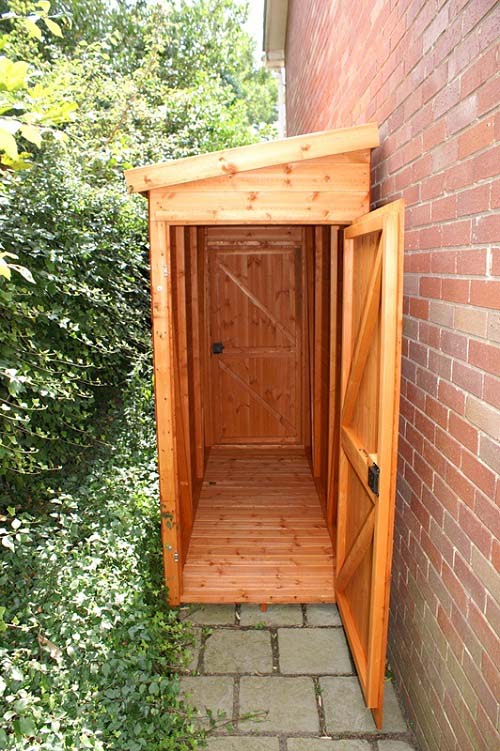 Make the most of a narrow strip of unused ground with a long, thin storage shed. It's the perfect size to roll in your bike — with doors on two sides, you can simply walk right through.
13. A Storage Shed Made from Recycled Doors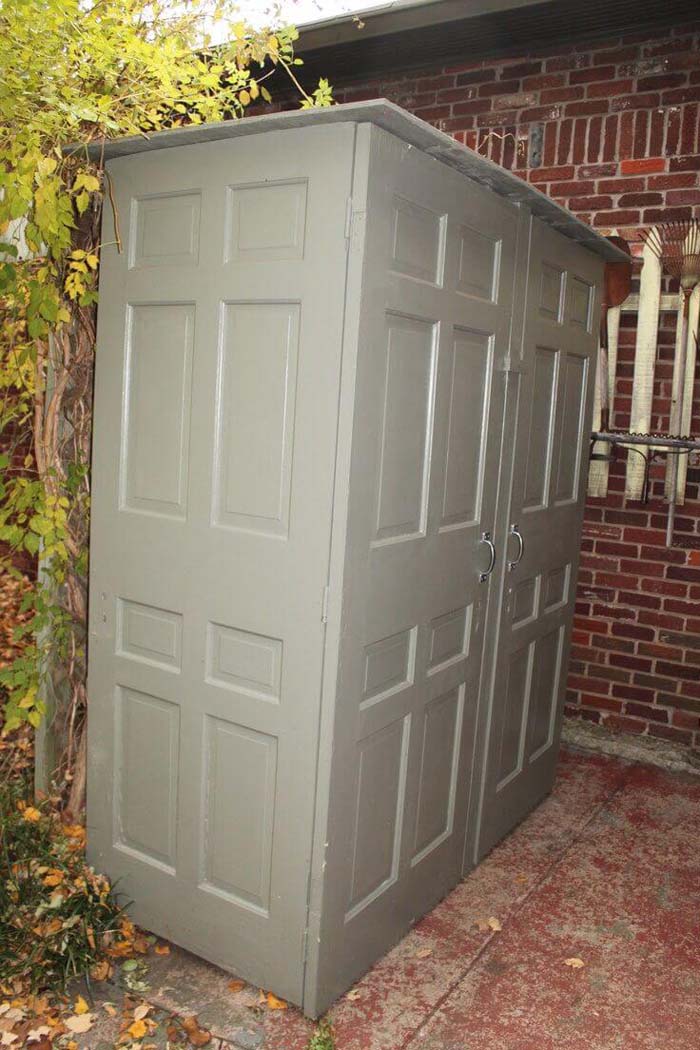 Cut costs and reduce waste by transforming old doors into a beautiful shed. For a pulled-together look, choose identical doors painted the same color.
If you prefer a boho-chic vibe, use mismatched doors.
A simple board roof keeps precipitation off of your tools and supplies.
14. A Storage Space Designed Under the Patio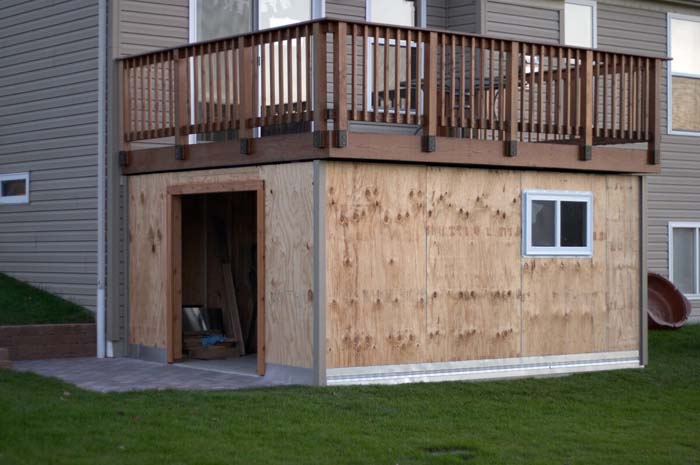 The space under a raised deck or patio often goes unused.
By adding walls, you can turn this often-ignored area into large storage shed.
Cover it with matching siding or paint it to match your home's exterior.
via Panofish
15. A Tiny House for Your Garden Tools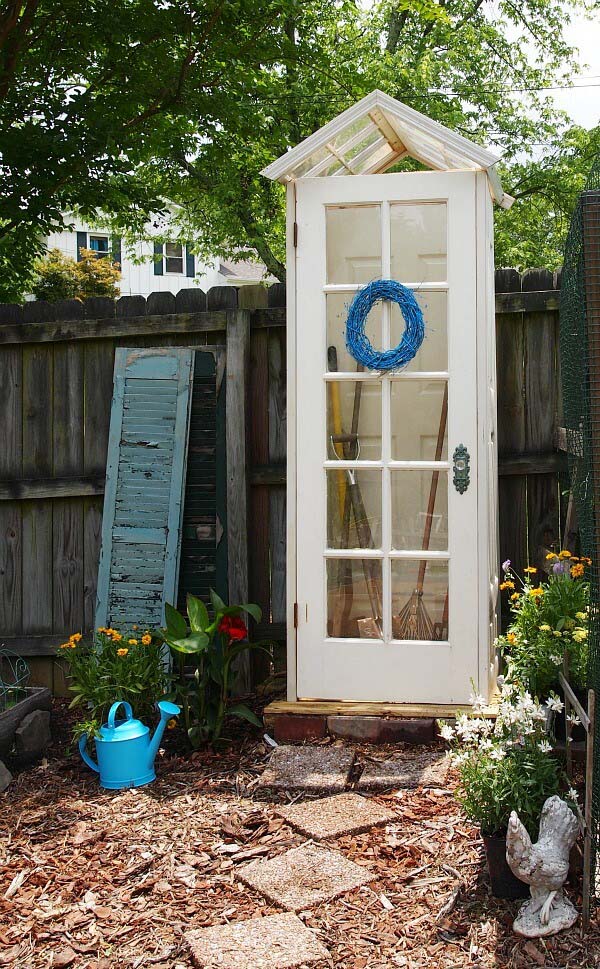 If you love to repurpose old items, this beautiful tiny shed is a fun project. It's made from four old doors and a set of hinged windows for a roof.
By using a glass-paneled door for the front, you can identify the tools inside at a glance.
16. A Whimsical, Booth-Like, Glass Door Storage Shed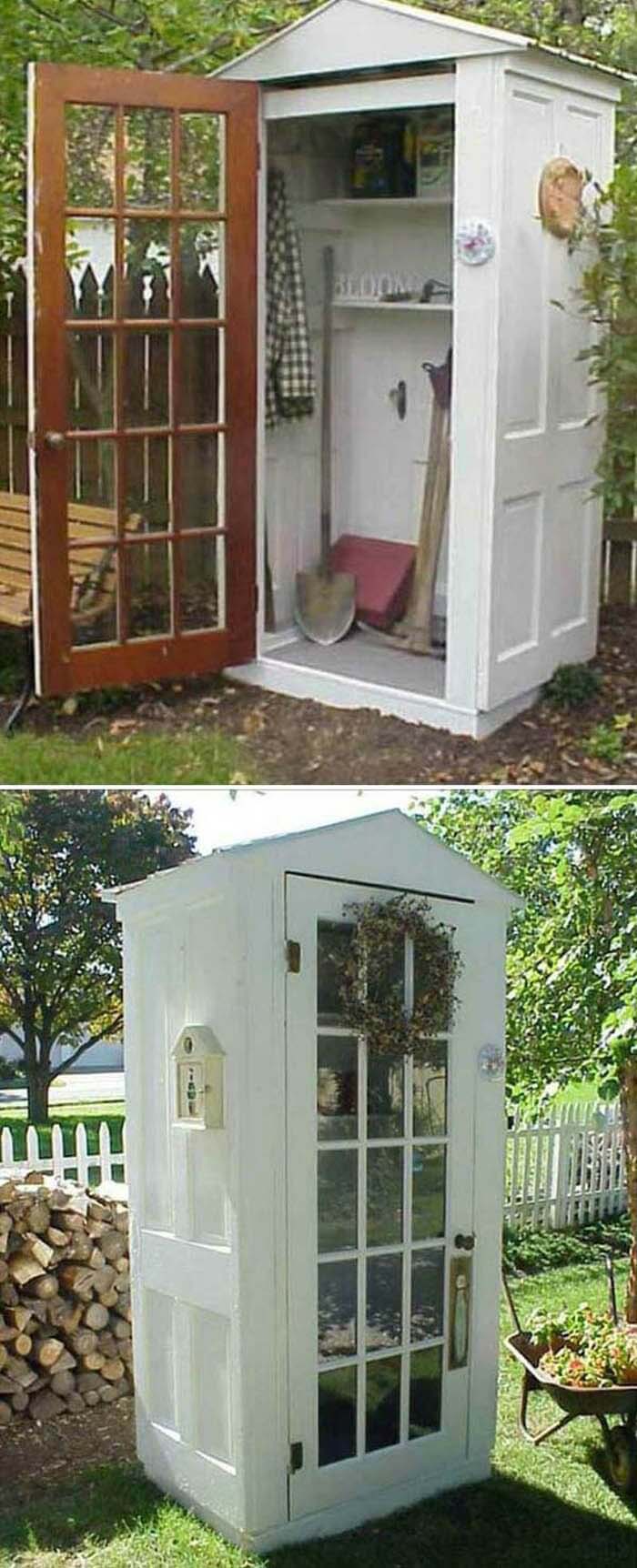 This whimsical shed uses large doors to create extra storage space.
Add wood braces to the interior sides; they support shelves and all of your gardening supplies.
If you're a serious gardener, add a potting table for good measure.
17. A Wooden Shed with Plenty of Space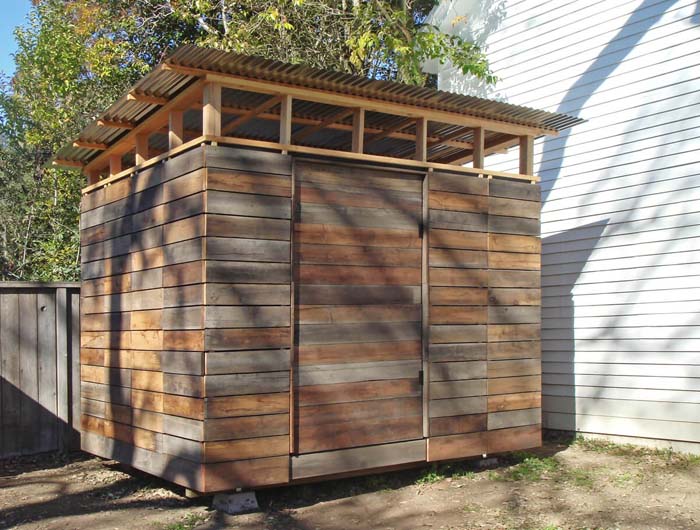 The rustic-modern shed is gorgeous and functional — with its mixed-wood tones and corrugated-metal roof, it looks spectacular in your backyard.
The open vents under the roof create constant airflow, so you don't need to worry about mold or mildew.
via Houzz
18. A Wooden Small Storage Shed Ideas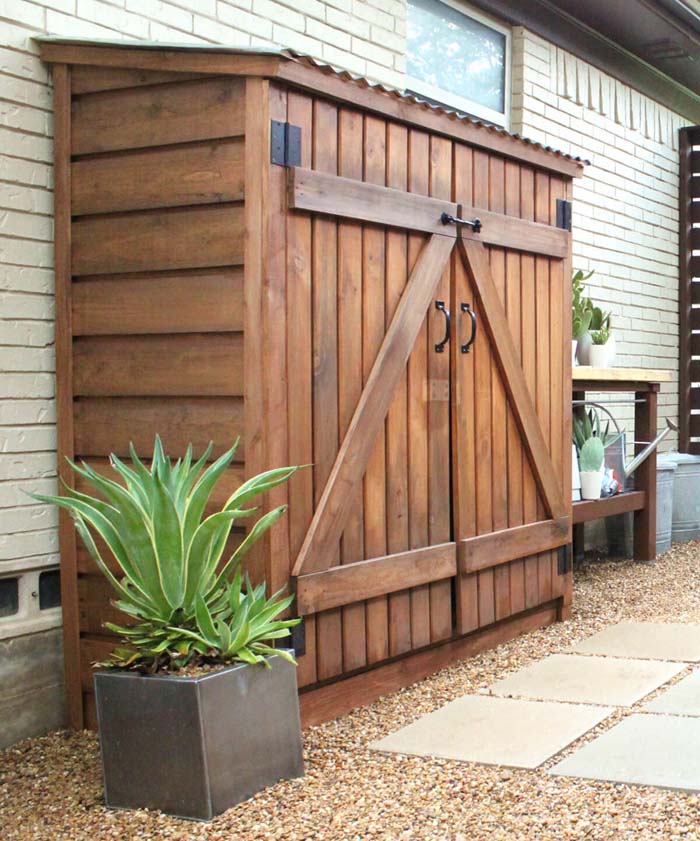 This little shed adds lots of storage without taking up much space in your yard.
The trick is to use a base that's shallow and wide.
Since the shed isn't very deep, it's a breeze to reach the items at the back of each shelf.
19. A Wooden Storage Cabinet with Shelves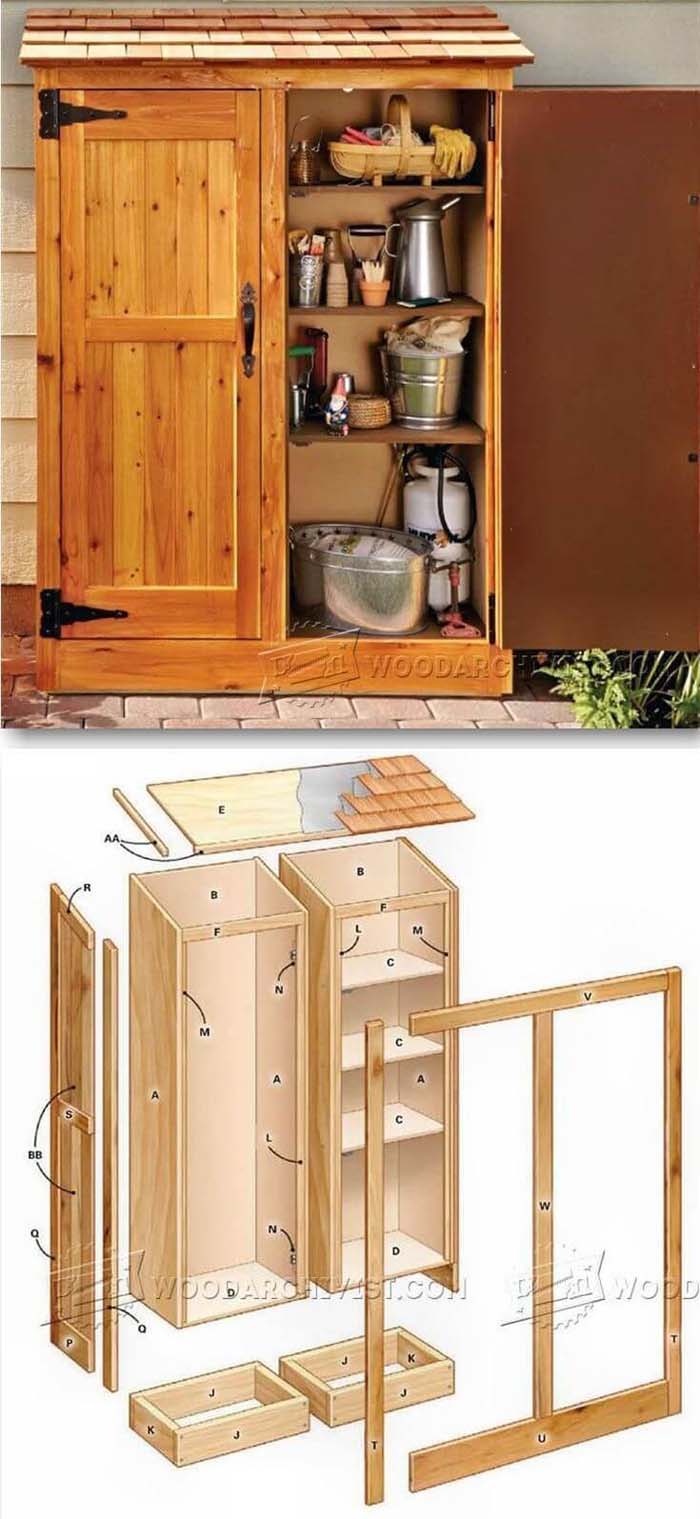 Keep your gardening supplies or extra household goods in order with a storage shed that comes with a variety of shelves.
Adjustable models are ideal; they enable you to configure the interior to fit your belongings.
via Wood Archivist
20. Covered, Two-Door Bike and Trash-Friendly Storage Unit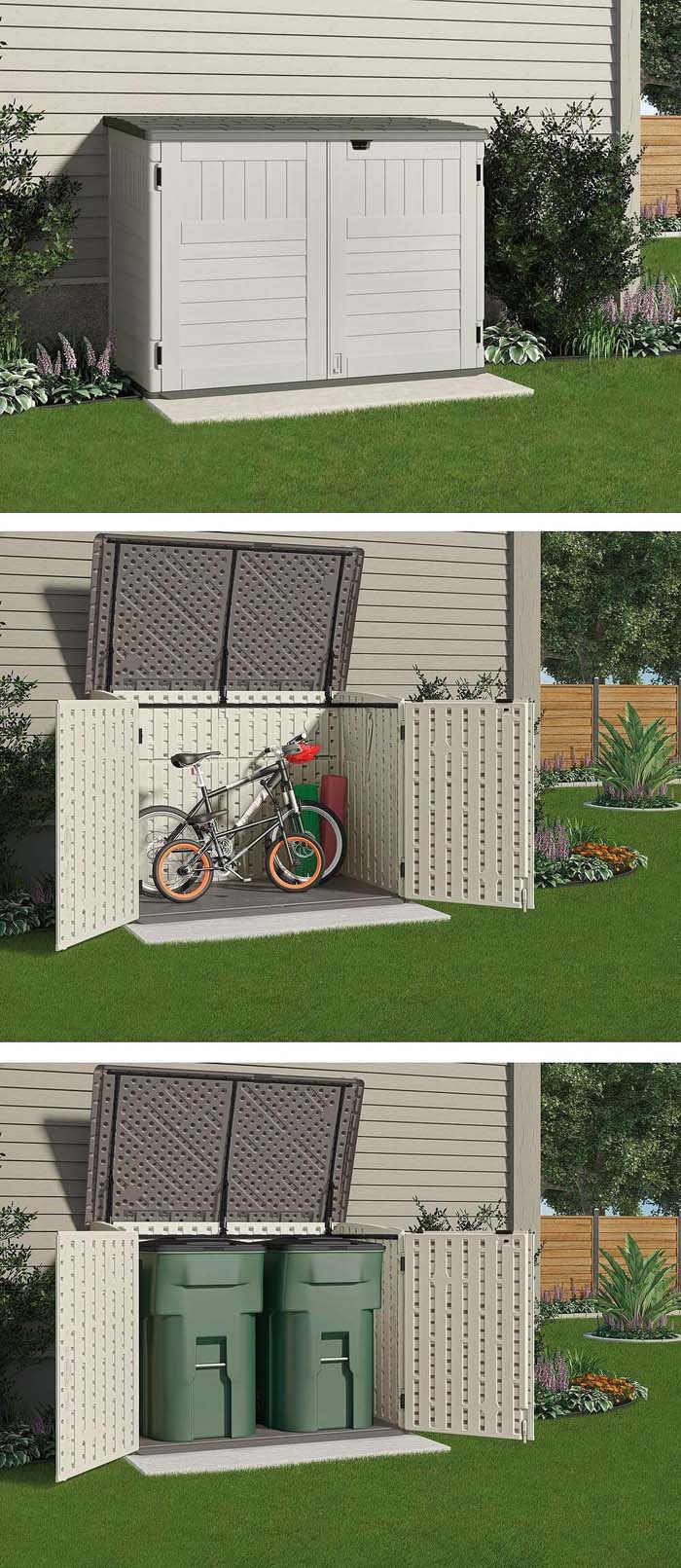 For many homeowners, bikes and trash cans act as an eyesore.
Protect your gear and reduce clutter with a covered storage unit. The lid lifts up, so you can access the trash cans.
On garbage day or any time you want a bike ride, swing open the front panels.
via Home Depot
21. Shelf Storage with an Open Air Design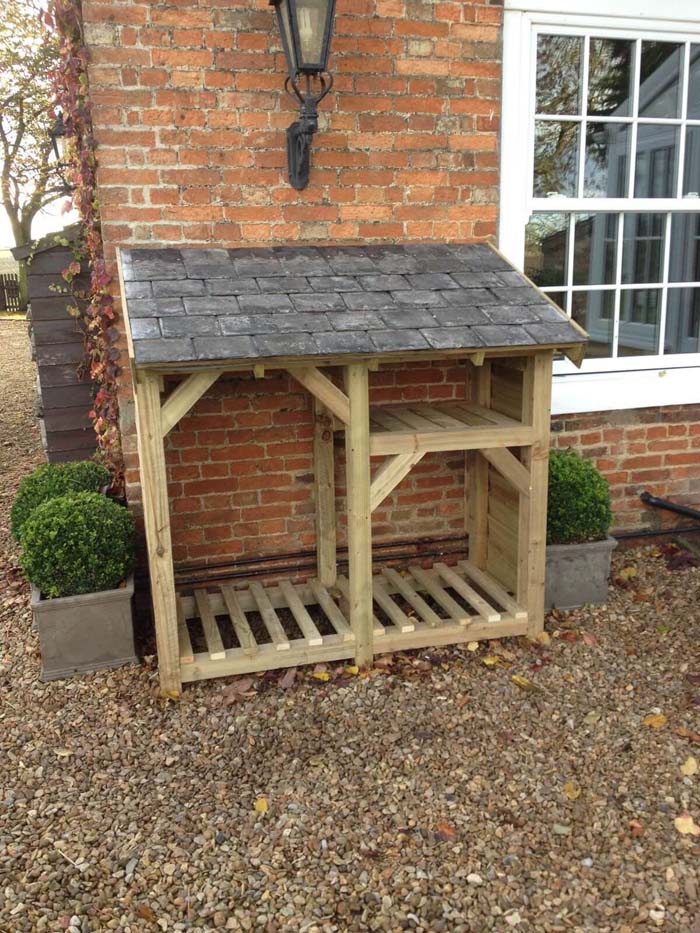 When you live in a damp climate, moisture can build up on your items, causing corrosion and mildew.
This sweet little shed eliminates that problem with an open-air design.
Even the floor is slatted, ensuring that everything stays clean and dry at all times.
22. Simple Half-Sized Storage Shed for Your Yard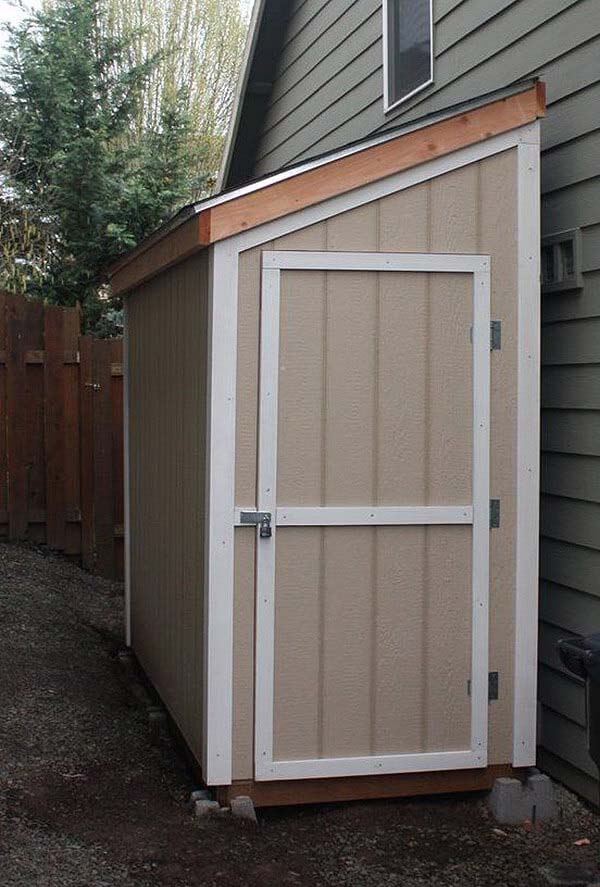 Do you have a narrow patch of space for a shed?
A half-sized model could be the perfect fit.
This shed features a slanted roof and a flat side, so it can sit close to the side of your house. We love the tall height, which creates lots of storage space.
via Super Shed Plans
23. Small White Shed with a Red Door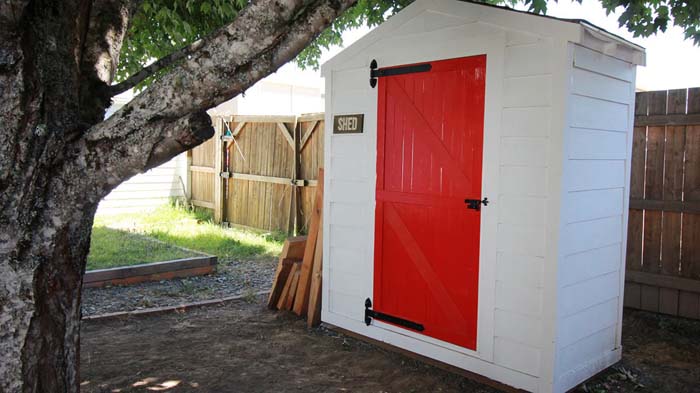 This cute little shed brightens up any dark corner in your yard.
It's all about the color combo — the bright white looks fresh, and the cheerful red door adds a bold finishing touch.
It's so cute, it will even make a dirt yard look lovely.
24. Storage Cabinet for All Your Gardening Needs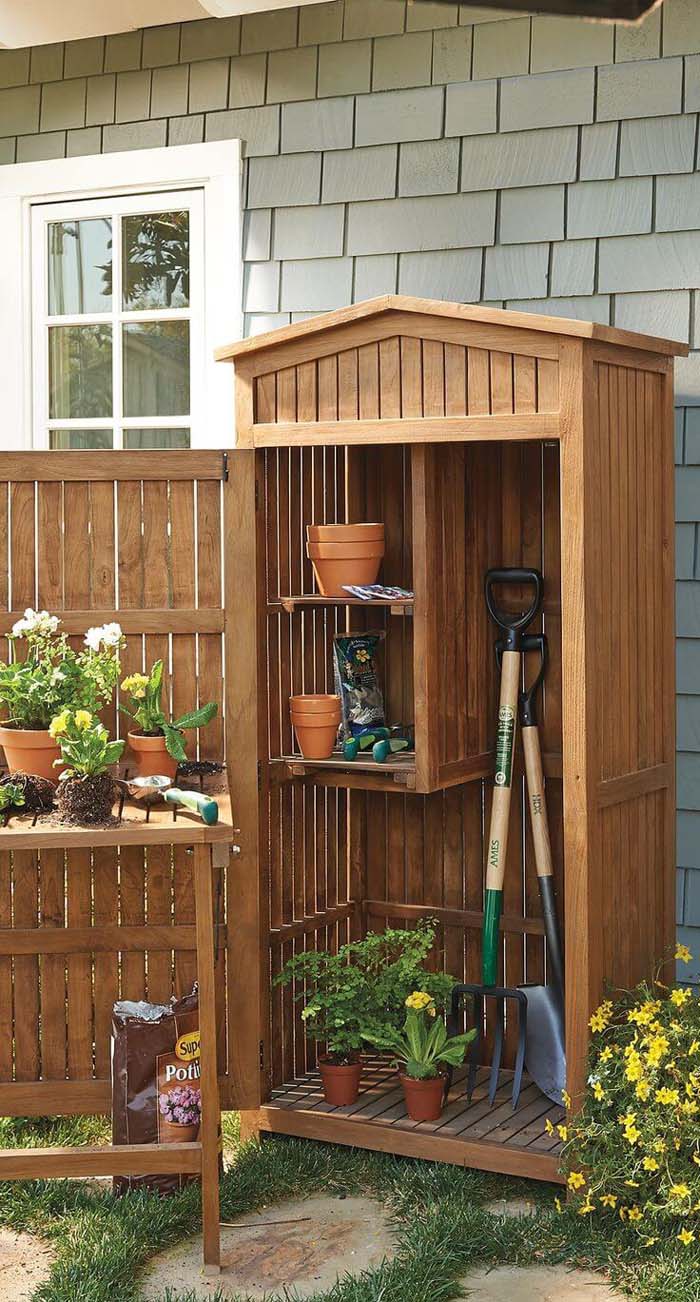 As you get into gardening, you might be surprised at the number of supplies you accrue.
This little storage cabinet features multiple shelves and a tall compartment, so you can keep everything organized.
There's even a handy flip-up work table on the inside of the door.
via Frontgate
25. Storage to Keep Your Garbage Undercover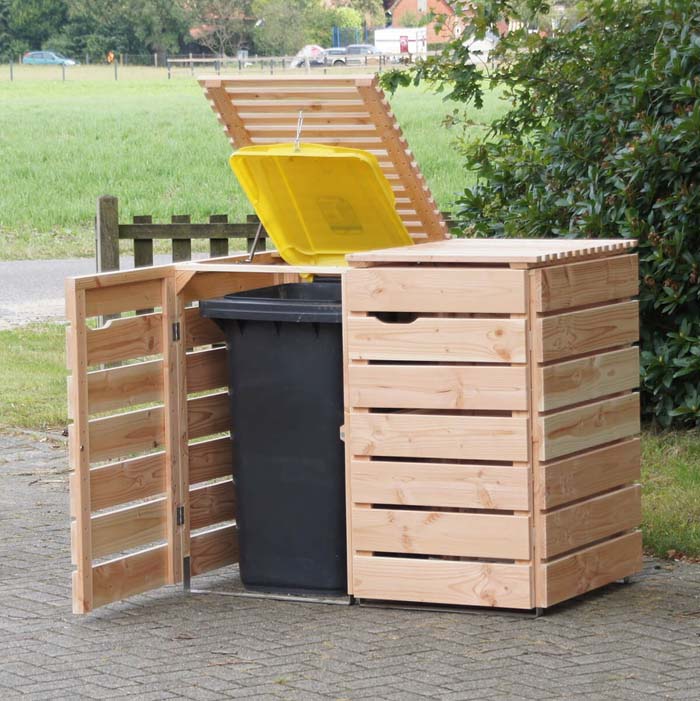 Garbage cans are never attractive — that's where this can-storage bin comes in.
Just slip your bins in through the front doors, and use the lift-up lids when you need to dispose of a trash bag.
The sturdy sides keep away critters and prevent the cans from blowing over in the wind.
via Binne Markt
26. Unique 10×10 Small Storage Shed Projects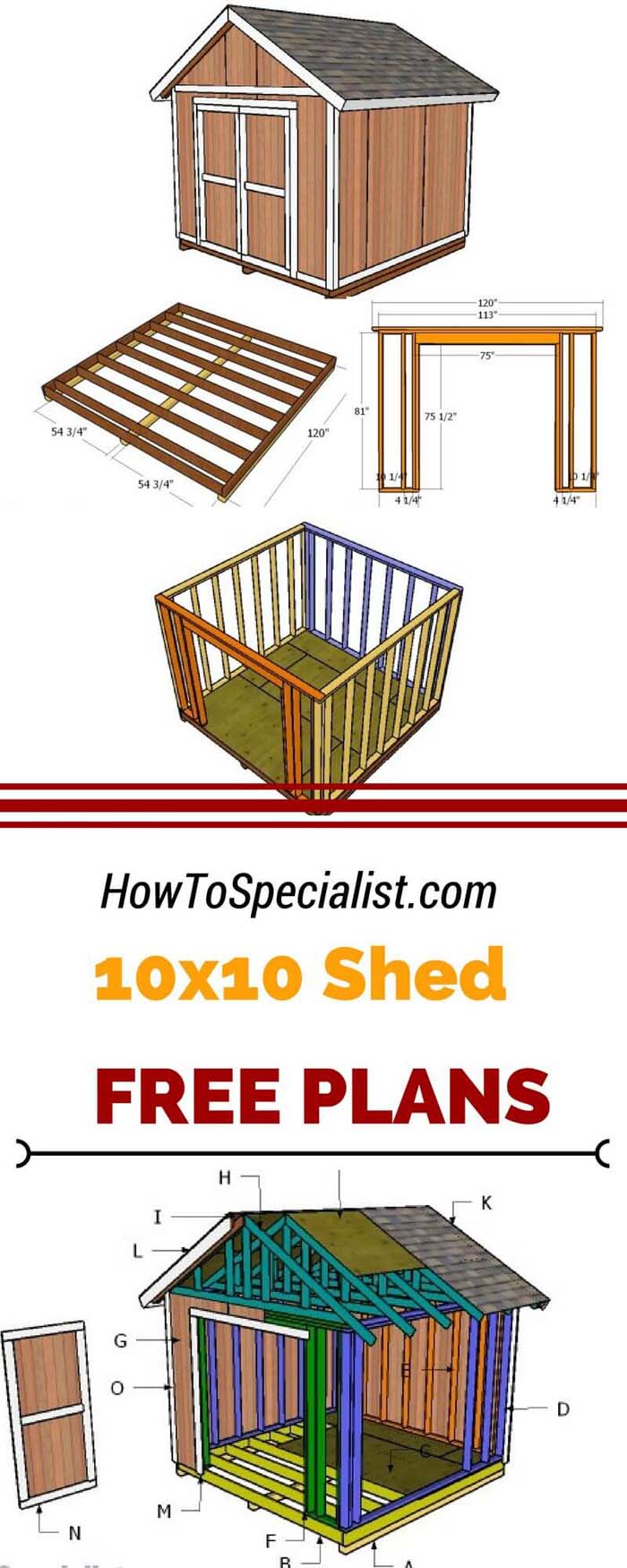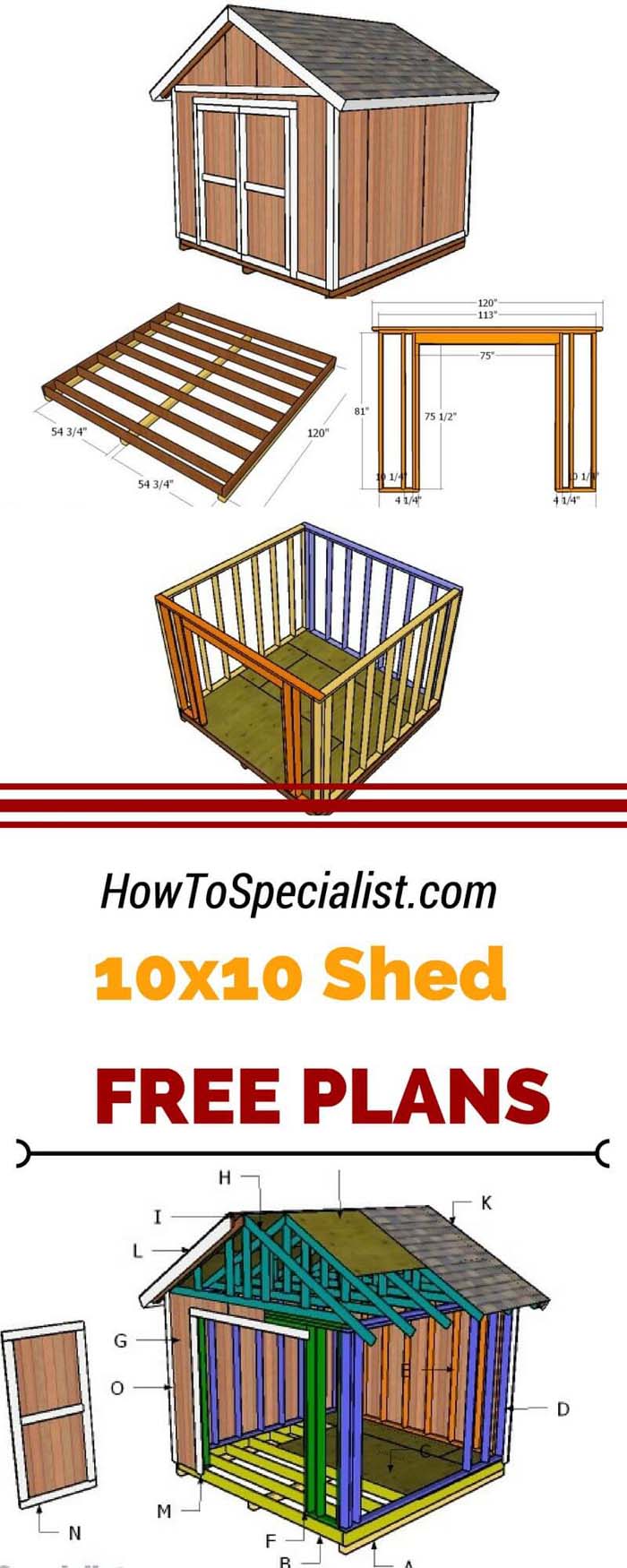 At 10 feet square, this DIY shed offers room for bikes, gardening supplies, or anything that doesn't fit in your house.
The plans are easy, so you can finish the project in a weekend.
27. Unique Wood Storing Ideas for the Winter

Keep your wood fire burning all winter long with a unique wood-storage shed.
A raised floor and slanted roof keep the wood dry, and the open sides help you remove pieces quickly.
via Wood Workerz