Tiny houses are all the rage — adorable and compact, they create a functional living space on a small piece of land.
You don't need to downsize your life to enjoy these fun dwellings; just put one up in your backyard to serve as a playhouse, guest bedroom, or studio for relaxing and working.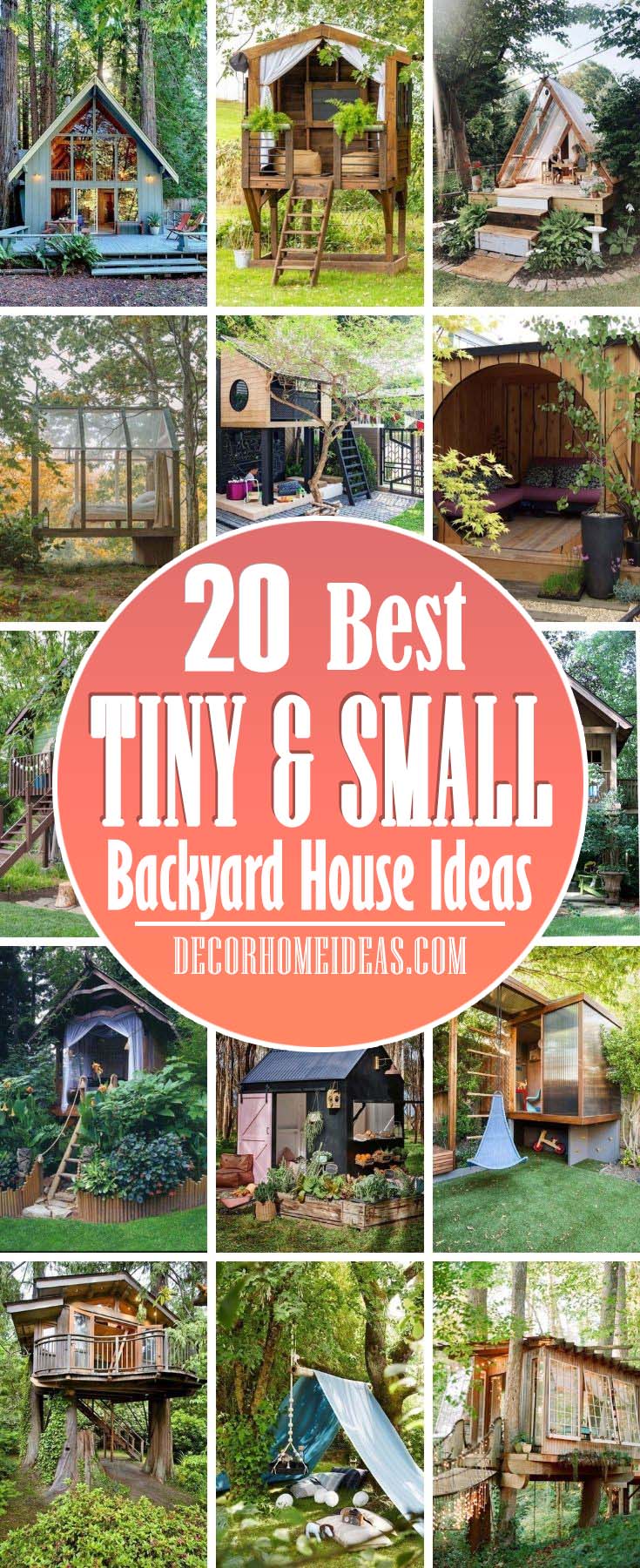 Scroll through these 20+ small backyard houses to find a design that works for your outdoor space.
1. Elevated Backyard Tent For Kids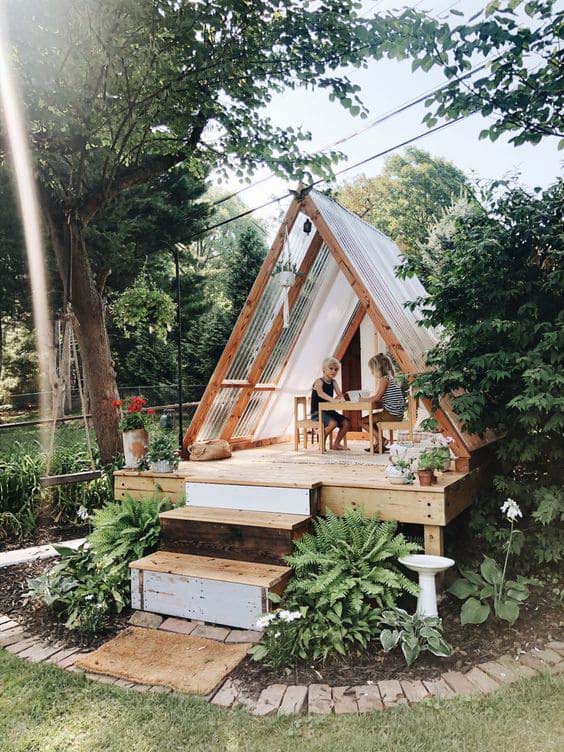 Nestled on a sturdy wooden platform, this A-frame playhouse makes it easy for your kids to play outside regardless of the weather.
The roof is made from transparent plastic, creating plenty of light and a low price tag.
2. Sleep Under The Stars In Your Own Yard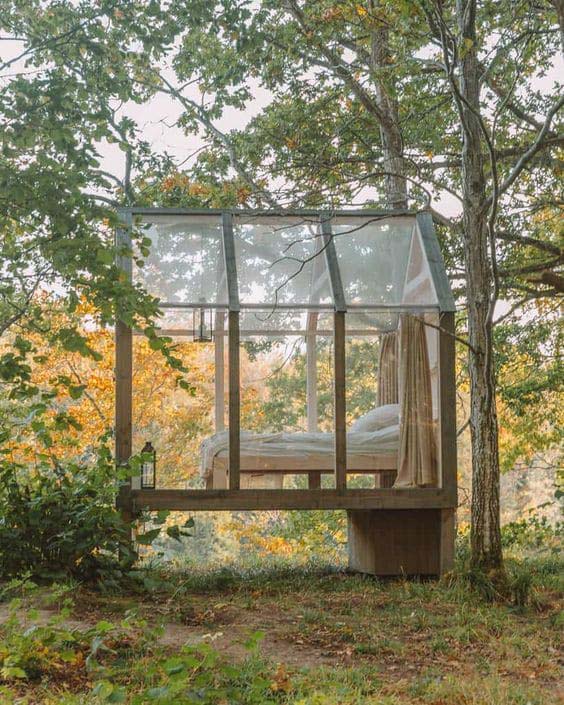 Do you have lots of land?
Embrace your private location with a cabin made with glass walls and a roof.
Fall asleep looking up at the stars, and enjoy the view of the trees as the sun comes up in the morning.
For extra privacy, add a simple curtain to block the view from outside.
3. Tiny Cottage Storage House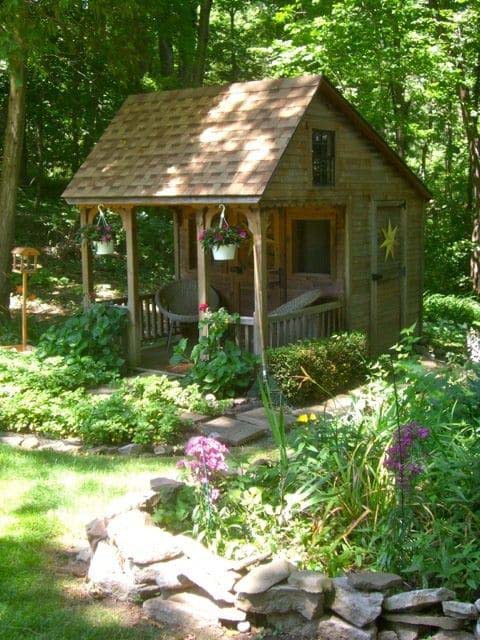 There's no reason garden storage needs to look utilitarian — replace an unsightly shed with a tiny cottage that comes complete with a front porch.
It looks adorable and creates plenty of space for your tools and supplies.
4. Whimsical Vintage Window Backyard Lounge Space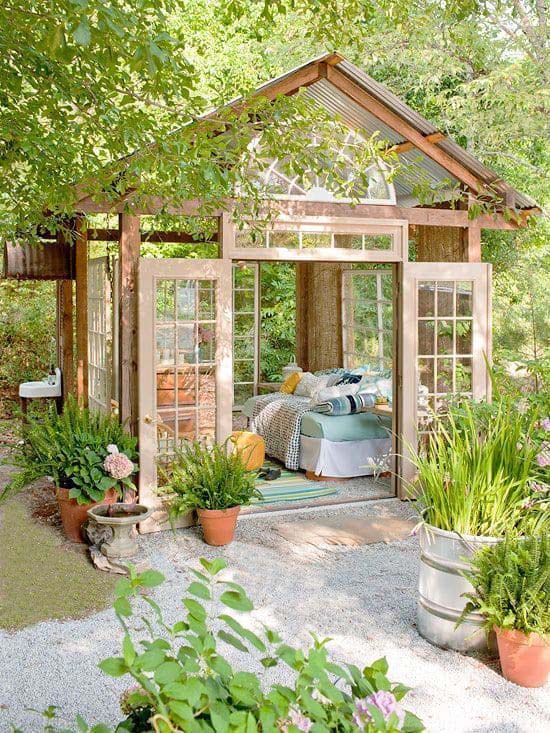 Who needs walls when you have windows?
This clever house is made from repurposed windows hung from a sturdy wooden frame.
The open-frame sides and elevated roof ensure that you'll always have a steady breeze.
5. Multipurpose Contemporary Kids Retreat
Make the most of a small backyard with a raised playhouse made from corrugated plastic sheets.
A wooden frame keeps the house looking crisp and contemporary, and the transparent sides let in plenty of light.
The raised frame creates storage for bikes, toys, and more.
6. Sturdy Treehouse On Stilts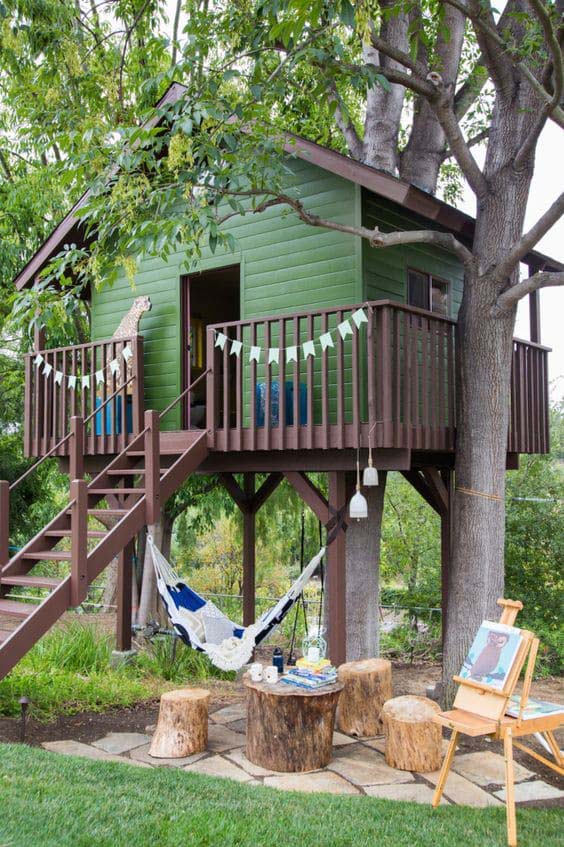 Encourage your little ones to explore and play by creating a tiny treehouse in the backyard.
With its sturdy staircase and safety railing, this small house is suitable for kids of all ages.
7. Easy Draped Fabric Outdoor Tent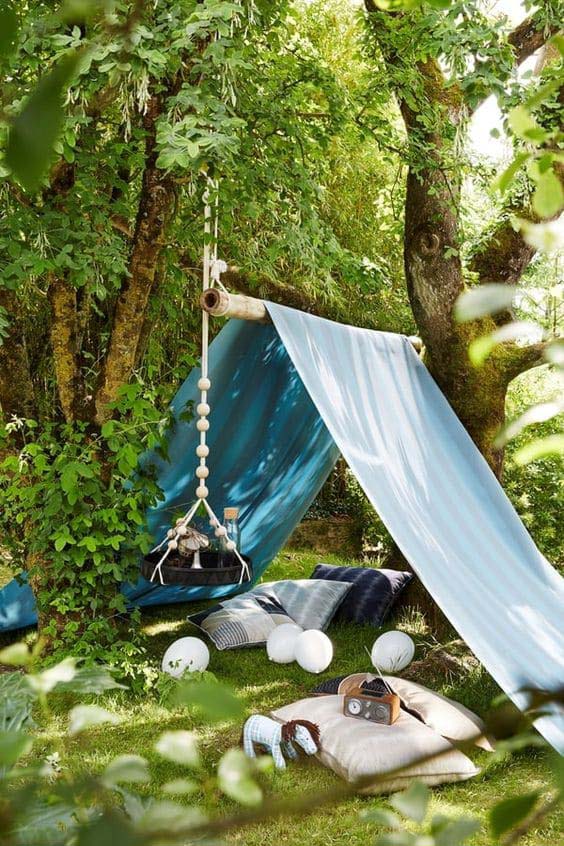 Looking for a backyard house that's cheap and easy to set up?
Make this adorable tent. It's a breeze to make — just drape a long piece of fabric over a hanging center support beam.
Add floor pillows to create a shady, breeze resting place.
8. Elevated Guesthouse In The Trees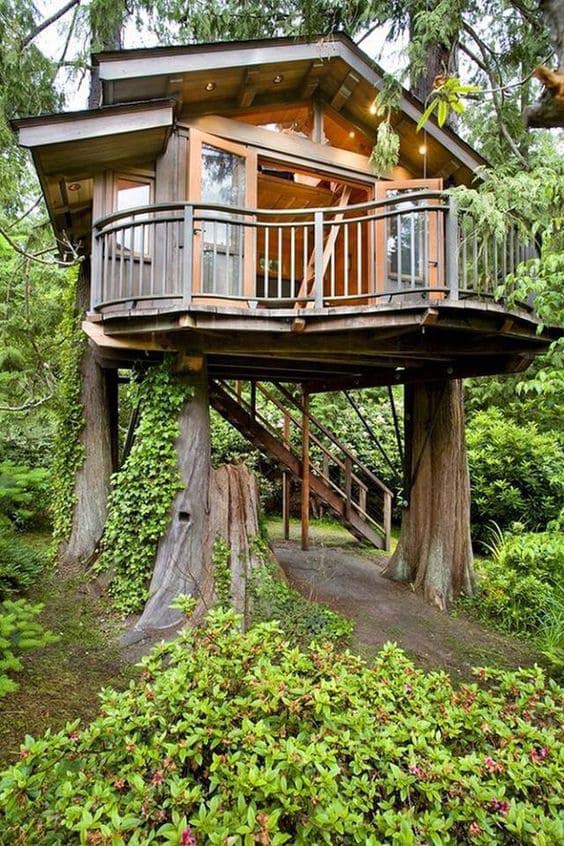 If you entertain overnight visitors on a regular basis, provide extra privacy with a separate treehouse guest suite.
As your friends climb the stairs, they're rewarded with beautiful views from the large windows and private balcony.
9. Shaded Pergola With Upstairs Dream Playhouse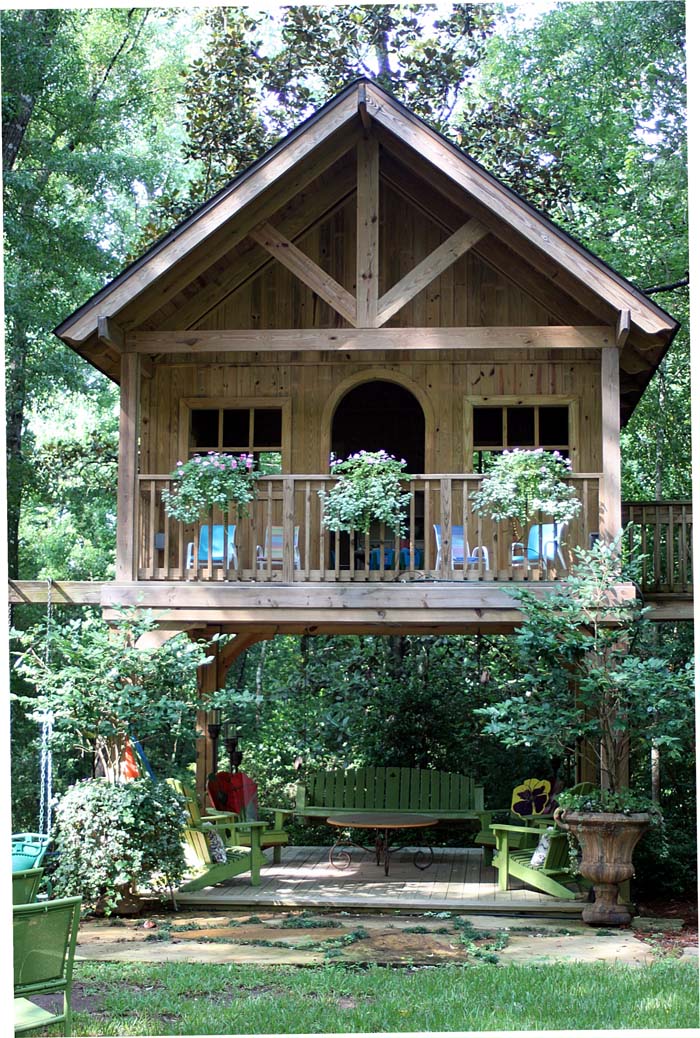 Your kids will love this spectacular playhouse, which features doors, windows, and its own staircase.
While the little ones play upstairs, you can enjoy a relaxing afternoon in the lower sitting area; the playhouse floor creates plenty of shade.
10. Small Space Elevated Hideout
Accent a gorgeous garden with a small raised house.
Peeking out above a thick growth of greenery, this cottage is a natural fit for a wooded lot.
Add a couch or a bed, and you're all set for outdoor fun.
11. Simple Square Hobbit-Door Lounge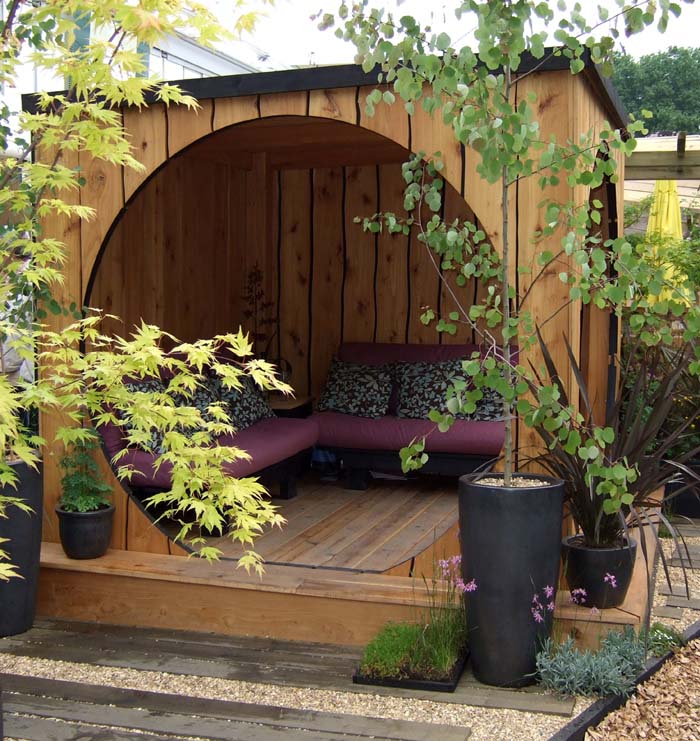 Designed with round doors, this hobbit-style gazebo is a sweet spot to relax out of the sun and rain.
Add a few outdoor couches to create a spot for reading, relaxing, and entertaining.
12. Whimsical Wonder Imaginative Playhouse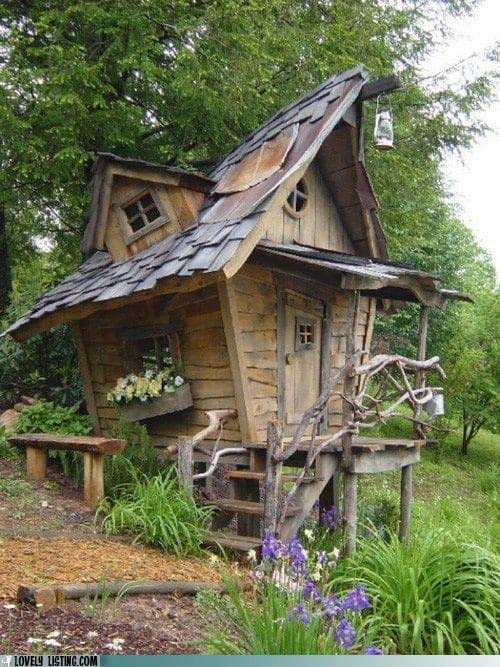 Your home is sure to be the favorite of the neighborhood kids with this stunning playhouse.
From the unexpected angles of the roof to the twisted branch railing, every detail is straight out of a fantasy story.
13. Quaint Cottage Produce Stand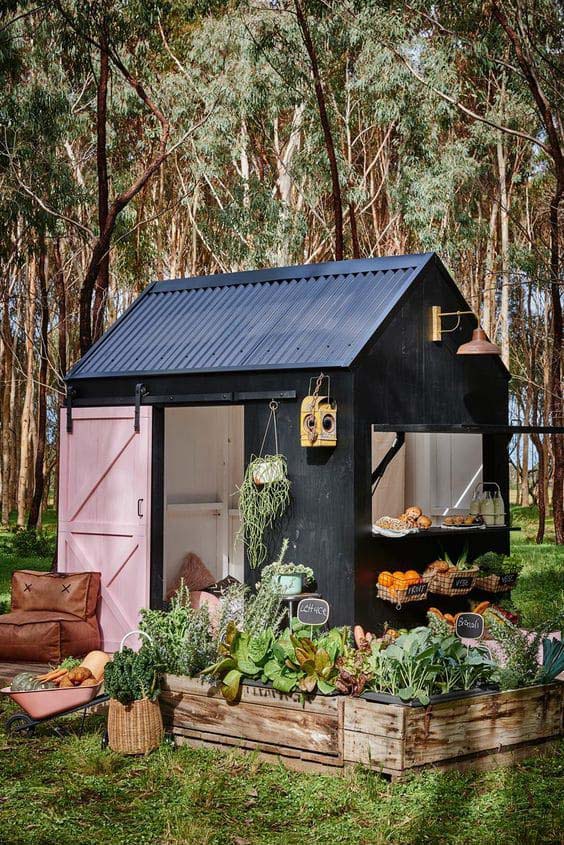 Amp up your entertaining style with this super-chic outdoor house.
With its black exterior, white interior, and sliding barn doors, it elevates your backyard.
The flip-up window and exterior baskets are the perfect spot for snacks and drinks.
14. Double The Play Area With A Raised House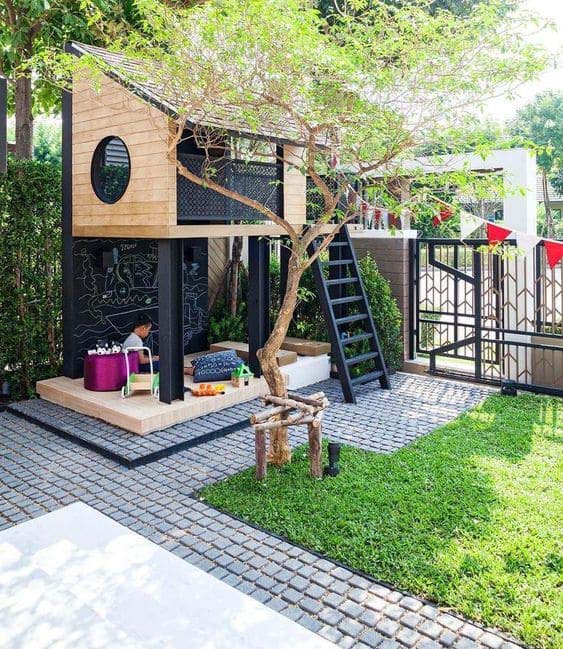 Don't like the look of a traditional play structure?
This sophisticated version is a stylish option for a slick home. The black iron and natural wood look great and stand up to the elements.
We love the integrated chalkboard and built-in play platform.
You can even add a sandbox for extra fun.
15. Shabby Chic Backyard Oasis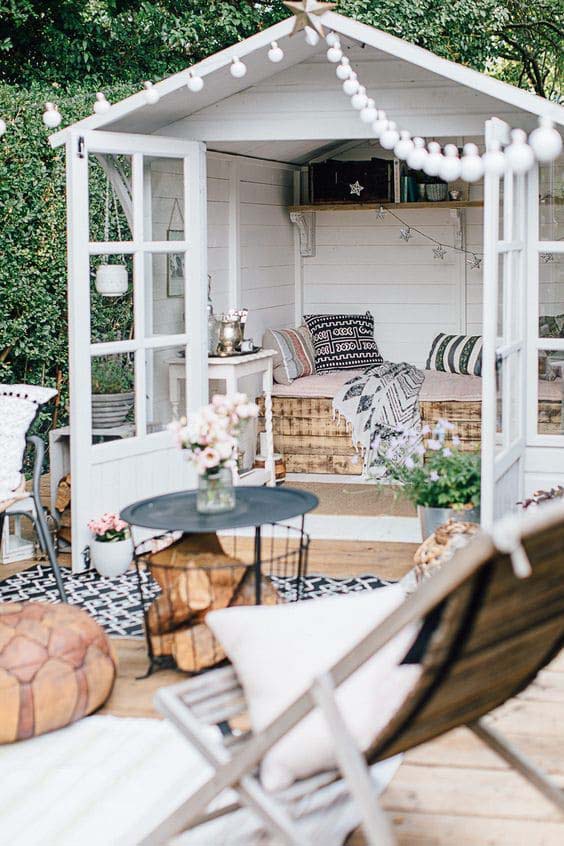 Have you ever wished for a quiet place to read or write?
Turn a small shed into a charming escape with a daybed and a few cozy pillows. A strand of star lights completes the romantic vibe.
16. Tiny A-Frame Cabin In The Woods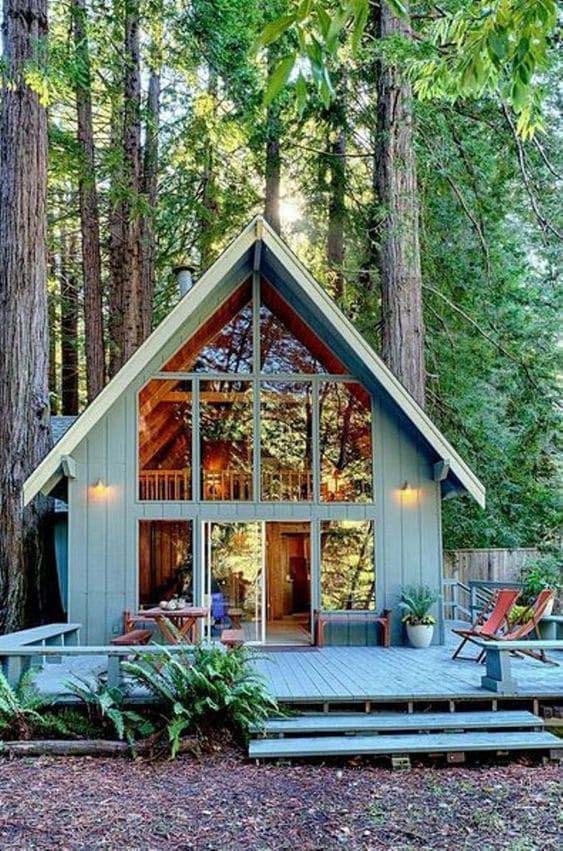 Turn a small piece of land into a vacation spot with a tiny house.
Here, large windows make a tiny cabin feel bigger, and a spacious deck is perfect for outdoor dining and relaxing.
17. Mini Wood Framed Hideaway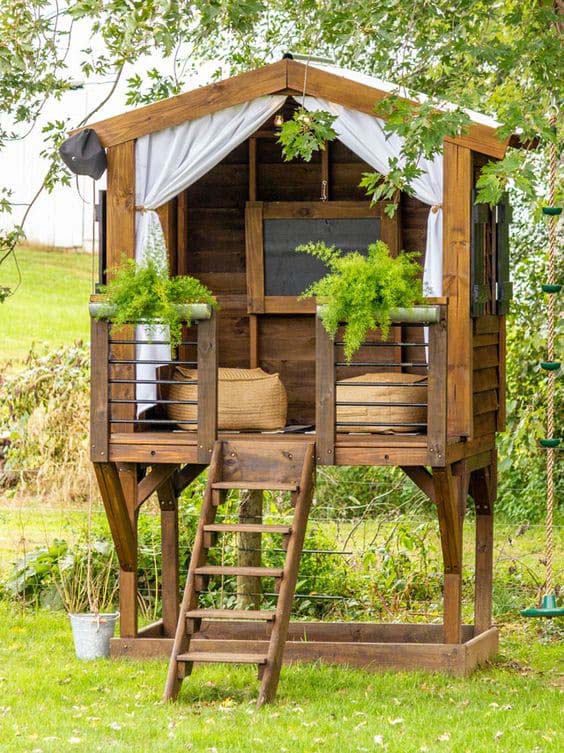 Perfect for kids and adults, this tiny wooden house rises above the ground on a simple wooden frame.
The compact size is perfect for relaxing, reading, or imaginative play; just pull the curtains closed for a quiet escape.
18. Moveable Reclaimed Wood Cabin On Wheels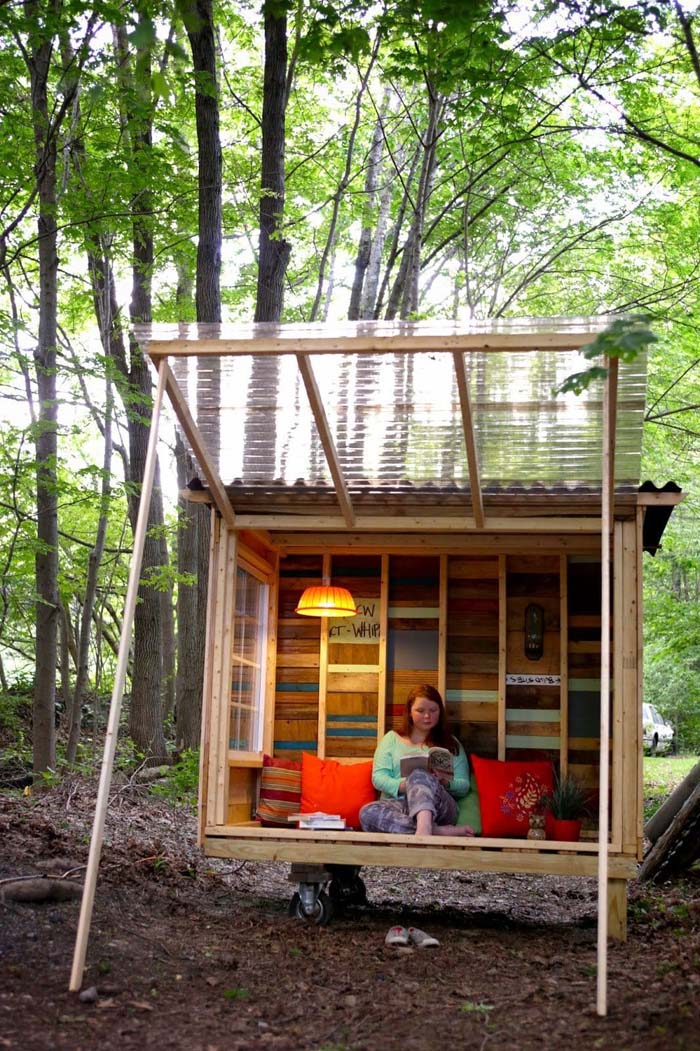 Do you have a bunch of wood scraps and spare building supplies?
Clear them out of your garage by turning them into a tiny backyard cabin. The lift-up front panel can be lifted for fresh air or lowered for rain protection.
On the bottom, sturdy wheels enable easy movement.
19. Fairytale Forest Cabin With Lighted Bridge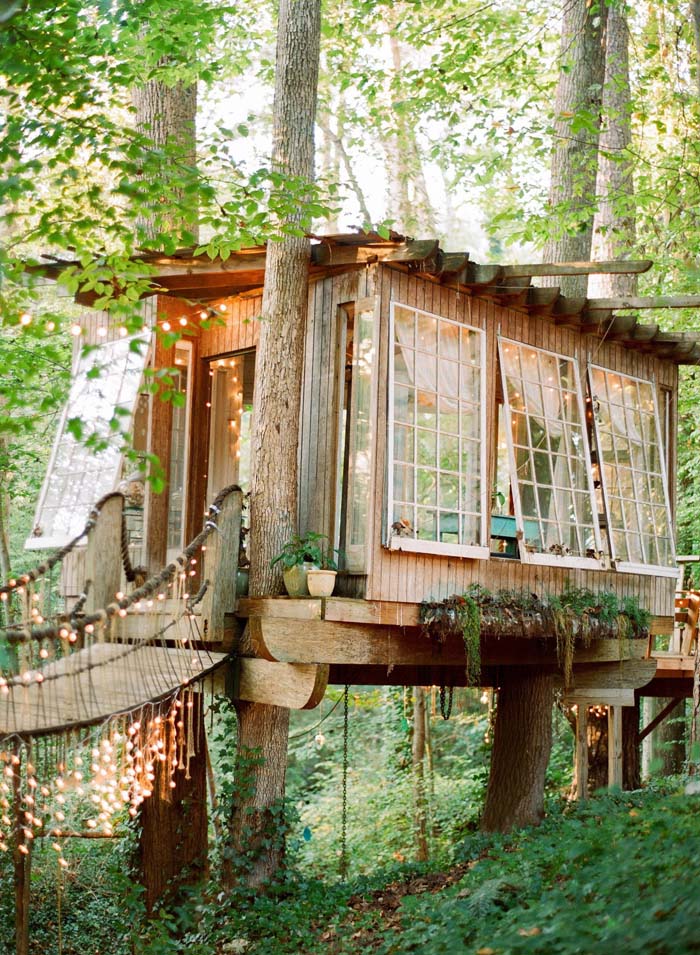 Treehouses aren't just for kids — this gorgeous version features enormous windows, so you can enjoy the view.
For a truly magical touch, a hanging bridge leads to the treehouse door.
Add a few strings of fairy lights to complete the vibe.
20. Peaceful Hammocks Hang From Treehouse Frame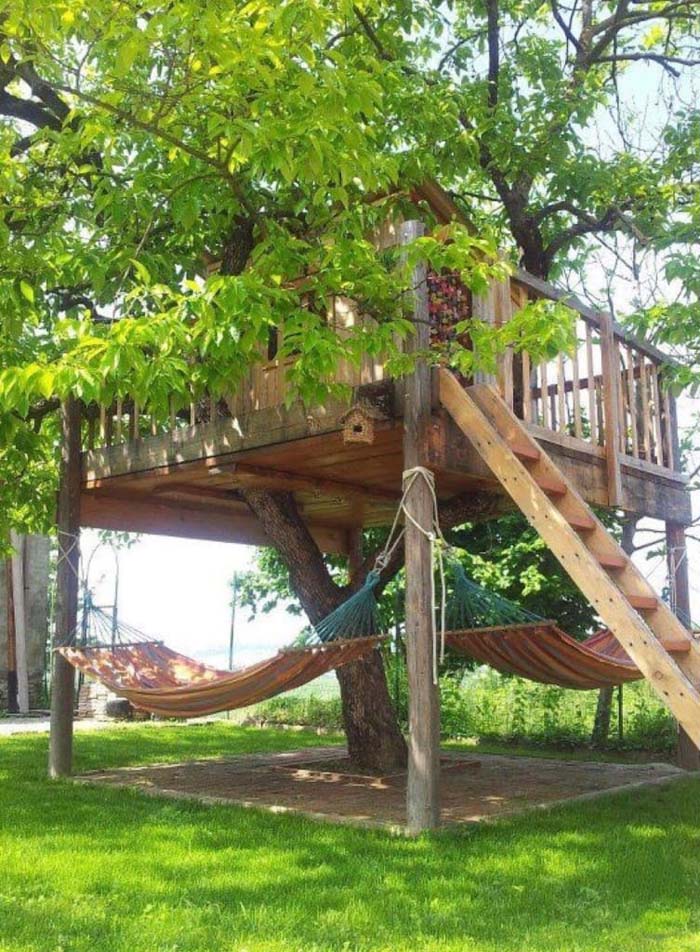 A treehouse with a large deck is fun for everyone in the family.
To make it even more relaxing, install a few hammocks under the platform.
That way, you can hang out in the shade while your kids play above.
21. Create An Idyllic Outdoor Guest House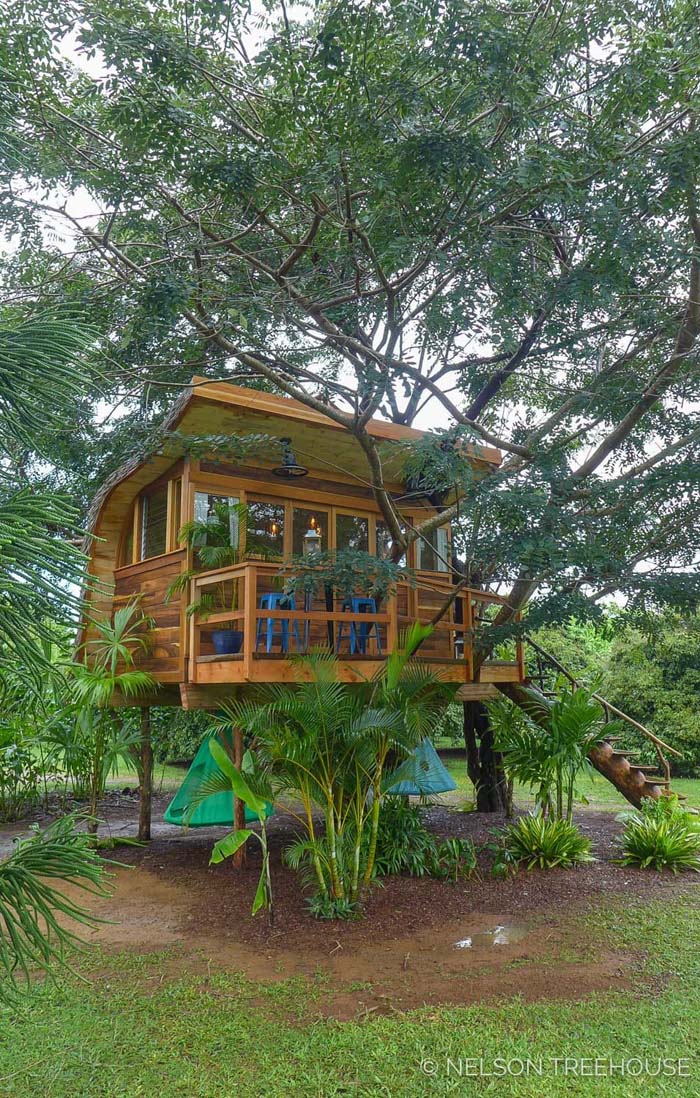 Delight your overnight visitors when you escort them to this fairytale backyard guest suite.
Tucked into the trees and designed with a live-edge wood roof and unique log staircase, this tiny cabin is the perfect spot to relax.