Do you want to make quick, affordable and unique uplift of your home? You are at the right place! We have gathered the best DIY projects that can be done within a weekend!
We will keep you occupied for a long time because after seeing them you will be eager to make more than one of the ideas!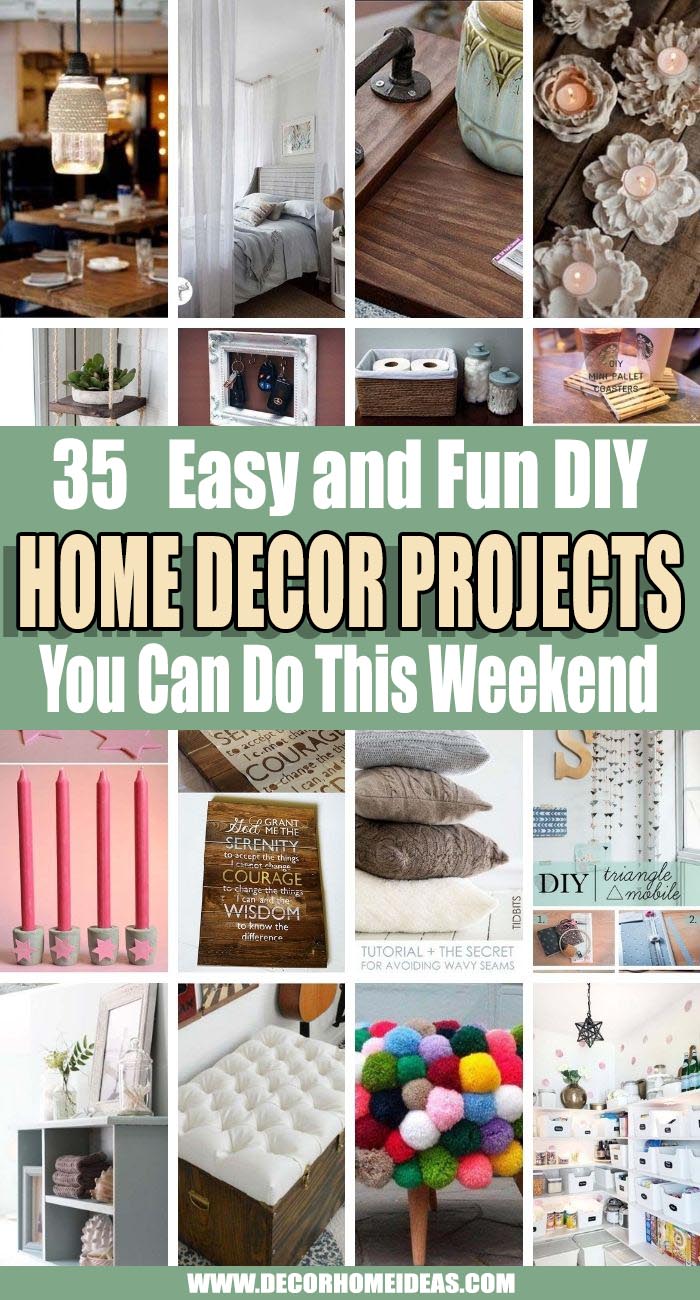 Let's not waste more time and go straight to the inspirations for fun and easy improvement of every inch of your home!
1. Create Your Own Boho Shag Rug

Rugs are an important part of the home decor being a means to anchor a zone or give more personalized interest to a nook.
This DIY shows how to make a trendy shag rug out of yarn you already have on hand. Combining colors and textures, the rug can be of a pattern you wish. Making it will be quite easier if you have a latch hook tool that weaves and then pull out the strings of yarn into the grit.
via eHow
2. Easy DIY Live Edge Coffee Table

Making such a unique coffee table isn't hard at all as long as you have a wooden slab suitable for that purpose.
With a little bit of sanding and staining, the slab becomes a gorgeous rustic surface where the morning coffee will taste better than ever.
To give it a contemporary look, screw hairpin legs on each corner.
via I Spy DIY
3. Paper Craft Trailing Mobile

Whether you prepare your nursery room or you are thinking of the best gift for a newly born, this handmade mobile is a great choice.
Made of an embroidery hoop and scrapbook paper triangles glued to a string, the fairy pieces of this mobile will gently tremble above the baby's head creating magical moves.
via Bless'er House
4. Chalk Painted Mason Jar Flower Vases

A set of Mason jars have never looked so authentic and inviting. Each jar has been transformed into a vintage vase thanks to chalk paint in a pastel color.
Sanding the protruding edges has given the vases an aged look that will instantly attract the sight.
via It All Started With a Paint
5. Plaster Covered Flower Candleholders

Want to create your set of dreamlike votives? A few minutes only take to dip the faux flowers into the preliminarily prepared plaster mixture. Then leave them overnight to fully dry.
It is an interesting hint given by the author that the plaster can be dyed and turned into an abstract flower sculpture using fabric dye.
via Design Mom
6. Rope Covered Mason Jar Lights

Looking for a quick and affordable uplift of your dining room? These Mason jar luminaries are all you need- quickly made, gorgeously looking and inspirationally welcoming!
Prepare the light sources first- plug-in light fixtures are the best for hanging chandeliers. Then, start wrapping your Mason jars with a rope about two-thirds of the way down. Cover this part of the glass with clear dry glue first.
via Collective Gen
7. Tufted Cushion Topped Ottoman

Tufted cushions are very trendy. They make any furniture look more luxurious and comfortable.
The great tutorial below will reveal all the subtleties about how to make it yourself and uplift the design of any piece of furniture.
The tufted cushion is a great decision for multi-functional storage ottoman for the entryway that will transform into an ottoman simply by adding the cushion on top.
via Sarah's Big Idea
8. DIY Boho Fringe Chandelier

Want to give your dining room a bit of glam? This easy-to-make fringe chandelier will add loads of luxury and elegance to the room.
The design features three tiers created with embroidery hoops attached to each other with twine. A length of fringe is glued to every hoop and then trimmed to the desired length.
Paint the visible wooden parts of the hoops in the color of the chosen fringe to give the chandelier a finished look. You can additionally decorate this area by gluing a trim on ribbon with sparkling gems.
via Living to DIY
9. Dollar Store Frame Candle Cube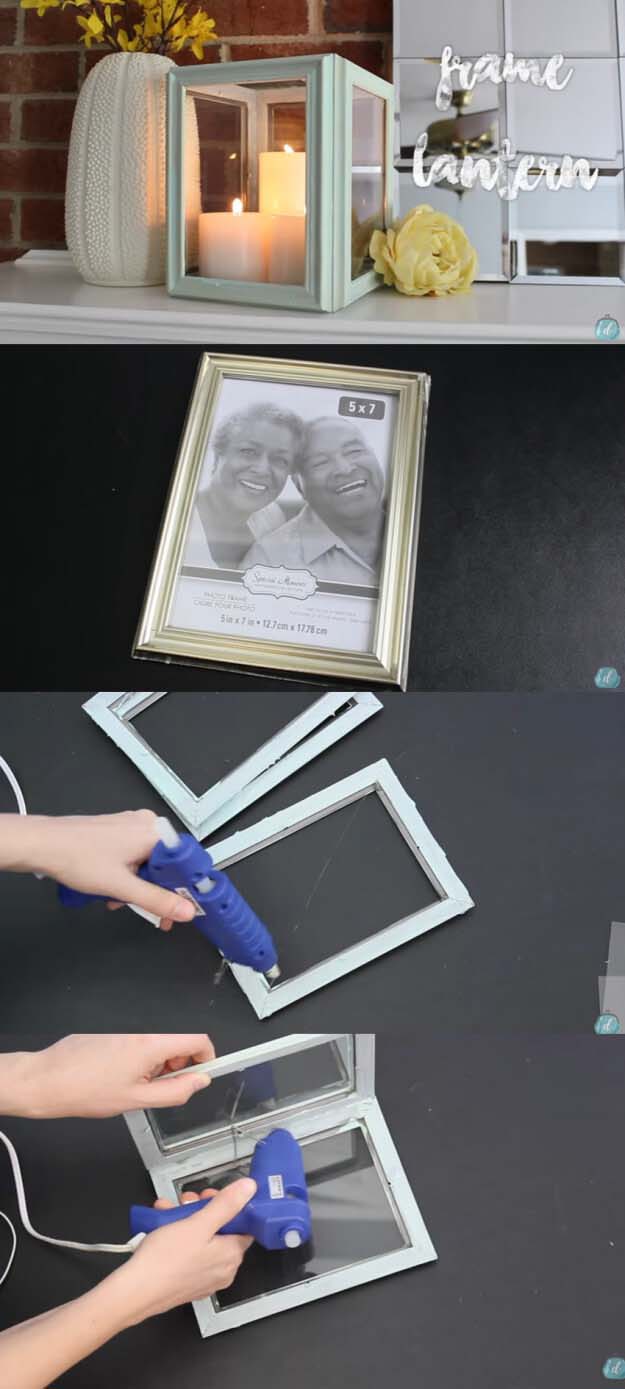 This weekend project shows how to make a unique cube candle holder out of cheap picture frames from the Dollar store.
Before arranging and gluing the frames, consider changing the color of the plastic/wooden part to create a point of interest or match with the remaining interior.
via Do It on a Dime
10. Wood Slice Easy DIY Side Table

Do you live next to a forest? Your next walk must be focused on finding the best wood slice! If it is not in the perfect shape, give it some sanding to achieve a smooth surface and then treat it with varnish to seal it.
The next step is to drill holes on the bottom side of it where hairpin legs will be screwed.
Only within a day, you have made a gorgeous mid century side table with an industrial charm.
via Tattered Style
11. Luxe DIY Tufted Headboard Project

If you like the cozy luxury effect of the tufted headboard in the bedroom but you can't afford to get one, add it to your weekend's to-do list.
The base of the project is the existing headboard which is totally transformed into a trendy tufted piece in a diamond pattern.
12. Photo Frame DIY Moulding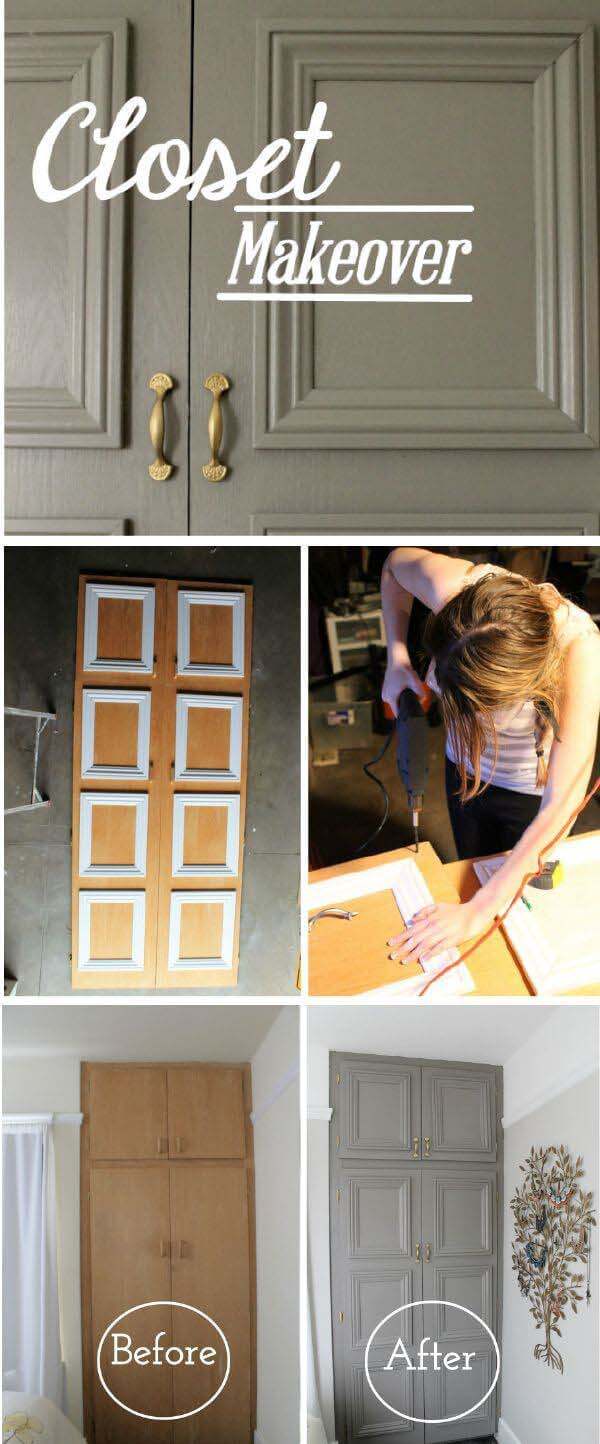 Whether you need a brand new cheap closet makeover or you are looking for an upcycling project for that old piece that looks so odd, this idea will transform it into a contemporary piece of furniture as if made by a specialist.
For that, you need profiles, paint and glue. This idea could be applied to any wooden surface that needs a drastic and impressive improvement.
13. Repurposed Cozy Sweater Pillows

Instead of buying pillows, you can make your own by upcycling old clothes. The old sweaters transformed into cushion covers not only look fantastic added to the winter decor but also warm-up the ambiance.
If you have already tried to sew knitted sweaters you know that the seam doesn't look even. The secrets of how to avoid that are revealed below.
via Tidbits Cami
14. Build A Bookcase Workspace

Working from home? If you haven't created a work nook so far, this idea could come right on time.
Made of three cubic storage units, lathes and boards, the materials are configured in an L-shaped desk of the perfect height and organization capabilities.
15. End Of Bed Seating Bench

This bench is the perfect end of a bed or sitting place in the entryway. The free text and video tutorial will show you exactly how to build it focusing on every detail.
Its design and color can suit any interior style as it features rustic, contemporary and luxury in one piece.
16. String Light Project With Ping Pong Balls

This DIY project will show you how to update the Christmas lights and use them not only on the holiday but throughout the whole year.
Cover each bulb with a ping-pong ball with a preliminary made hole to size. The string will become far more attractive- the perfect illumination for the patio.
via Sarah and Nick
17. Milk Container Vase Molds

We have already shown you how to make modern minimalist planters from concrete.
The idea here reveals what molds from everyday life can be used to make vases.
via Hallo Piepmatz
18. Vintage Door Photo Collage

This functional wall art will accommodate the memories of a big family. The upcycled door has 15 glass sections which are covered with a large photograph.
The wooden surface has been distressed to give the framed art a vintage-aged effect that enhances the value of the displayed memories.
Give the wall art functionality by screwing hooks or knobs to the bottom part of the frame.
via Photo G Mommie
19. Repurposed Drawer Storage Shelf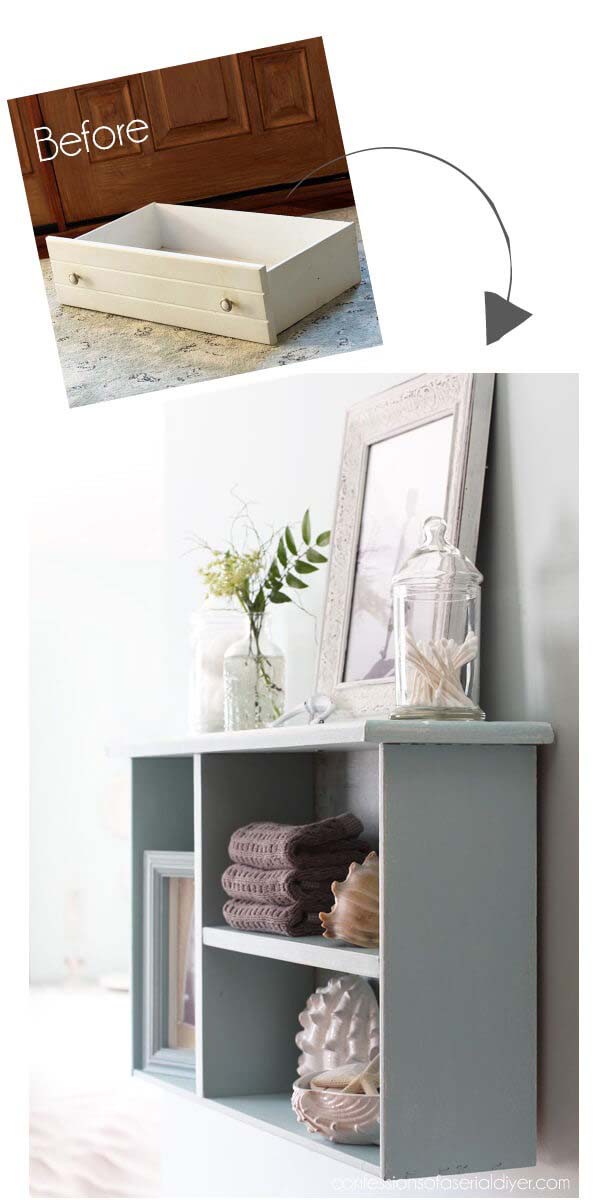 This is a DIY that requires no investment at all. Just take an old drawer, repaint it in a nice color and add dividers. They can be any leftovers cut to the right size.
This shelf can be attached to a wall to display beautiful accents and treasures or can be leaned against the wall.
via Confession of a Serial DIY-er
20. Colorful Pistachio Painted Bid Trees

You don't need to have any special painting skills to make this cute wall art- perfect to add interest or to hide damages or dirt on the wall around the light switch.
21. Easy Impactful Decorative Headboard

Adding a headboard with an attractive design will make a sensible bedroom interior redo. Luckily, we found an idea which won't cost you much, neither will need the carpenter's services.
Start by picking an attractive and matching interior fabric. Then, get wooden lathes to form the frame of the headboard.
To secure the fabric to the wood, use a staple gun. Easy, isn't it?
22. Build Mini Pallet Coasters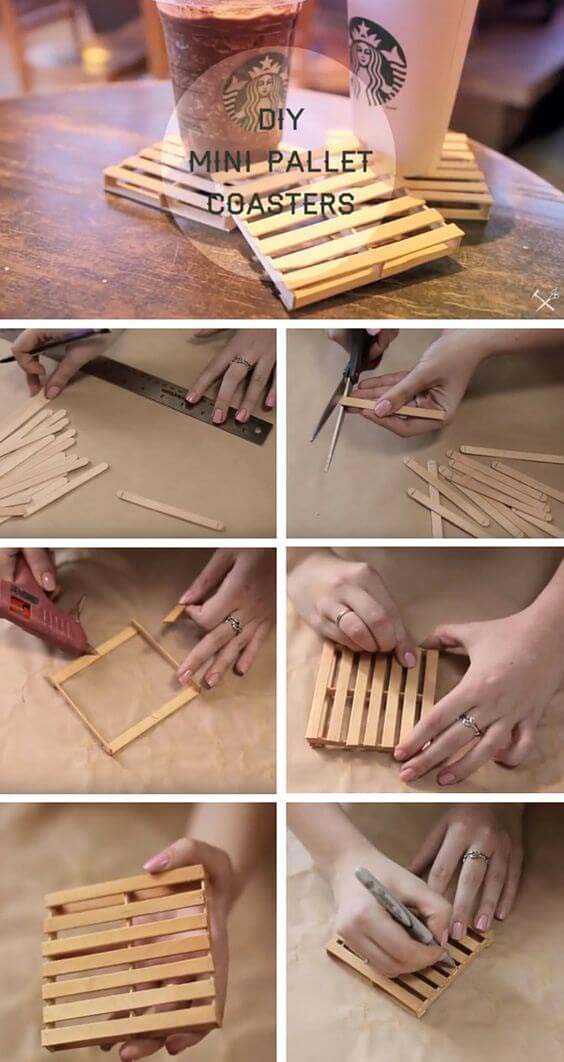 If you are into the small details and believe that they are the key to a more homely atmosphere, you would love the idea of these tiny wood pallets.
If you think that their application is the only thing relating them to coffee, you would be wrong. The popsicles have actually be organically stained with a glass of fresh hot coffee 🙂
via The Sorry Girls
23. Recycled Pallet Wood Stencil Sign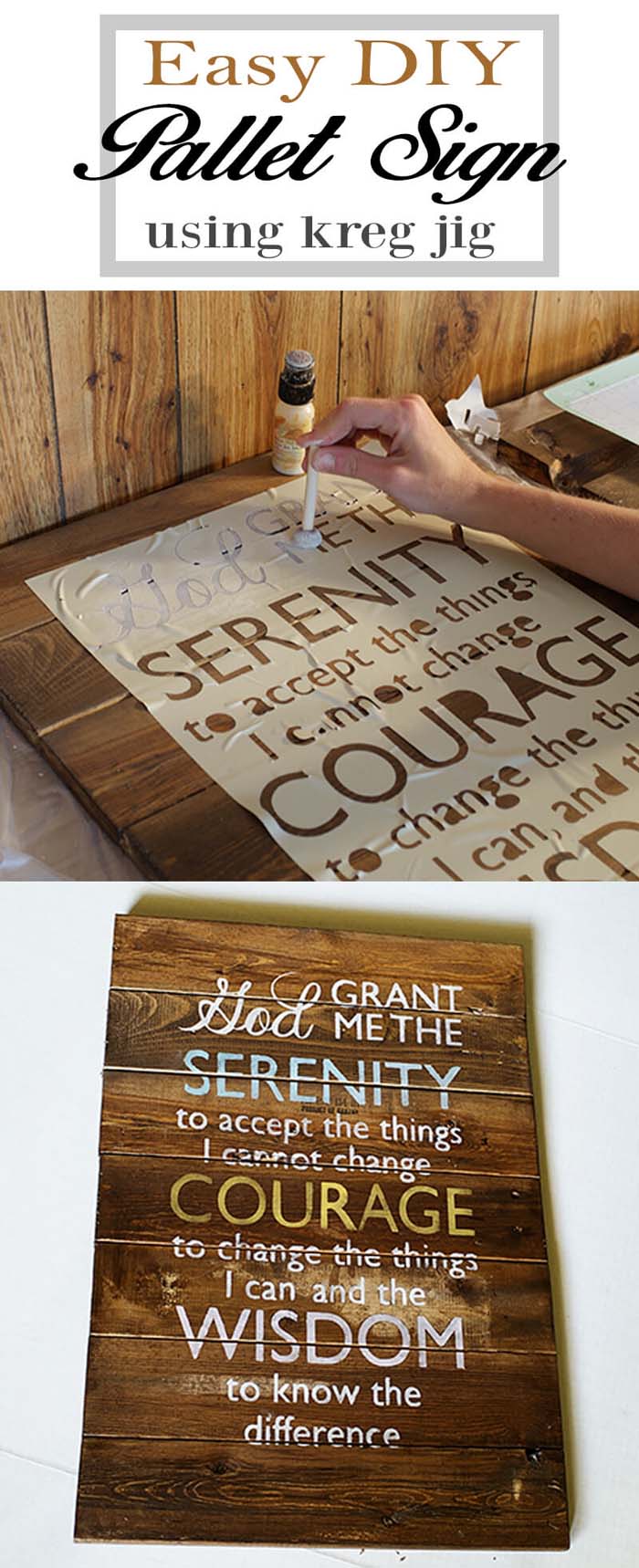 If you don't like the clearance between the pallet slats and prefer a more neat and tight arrangement, the author has found a way how to make it.
You need a Kreg jig to screw the slats together and get a flat and even wide surface that can be the perfect background for a sign, picture or painting.
24. Rustic Industrial Decorative Wood Tray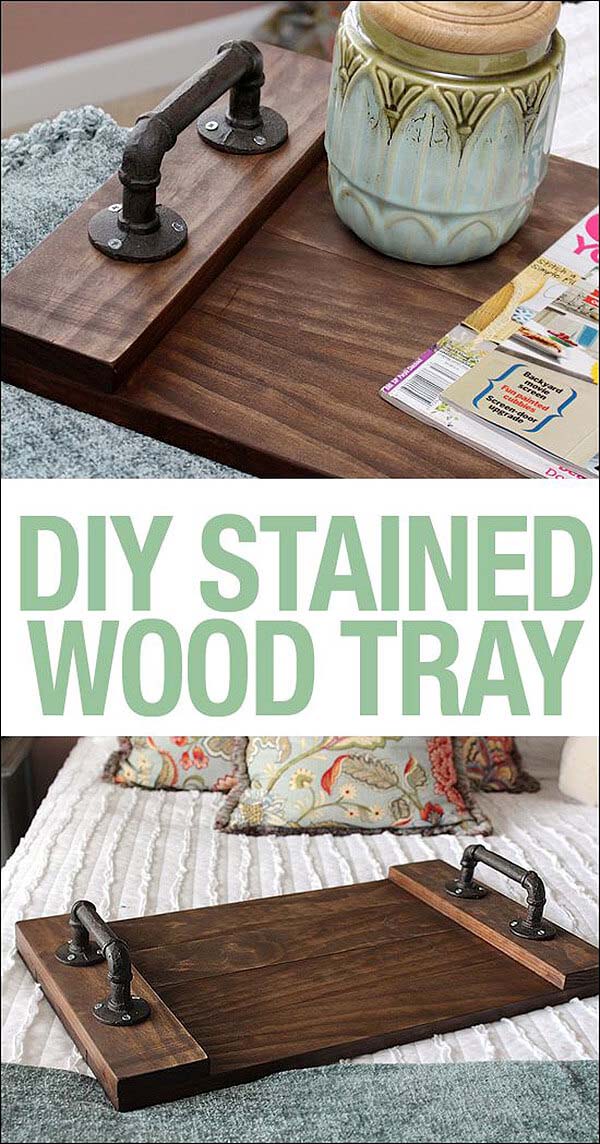 Make the weekend morning more welcoming and cozy with a rustic serving tray. You can use pallet slats or any beams left from other projects as long as they are well sanded and smoothened for future application.
The tray can be as big as you desire, its color as well. At the end screw the hardware on both ends to comfortably move the tray.
25. Pudding Cup Candleholder Mold

Ever wondered whether the pudding plastic cups could be any useful? Obviously, they can be as molds for concrete candle holders. Crafters do impress with their originality and creativity.
Fill the molds with the concrete mixture, insert pieces of candles in them that will form the hole in the middle and wait until it has dried.
via Rheintopf
26. Multilevel Hanging Planter Shelves

Vertical planters are a preferred flower display because they don't take any floor space and because they create an interesting differentiation of the space.
The design of this DIY planter adds a lot of rustic beauty and casual charm exposing the collection of succulents on tiers.
via I Heart Nap Time
27. Easy Key Holder From Upcycled Frame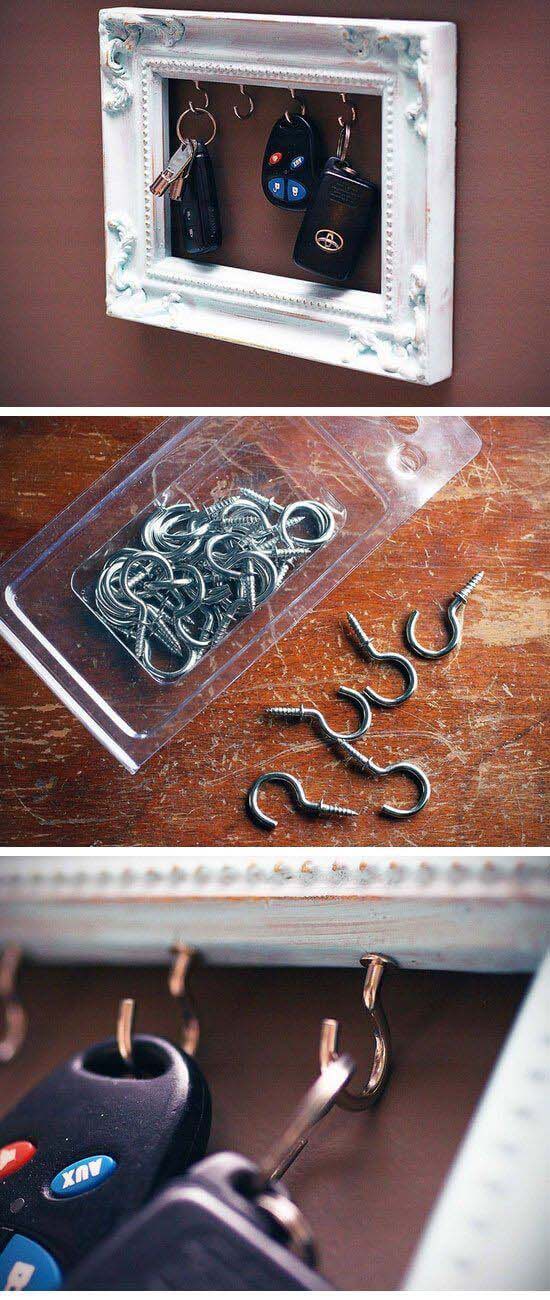 The key holders are a practical accessory that is usually very underestimated. You can reduce the time spent wondering where the keys are by making a dedicated place for the key chains for every family member.
That idea will cost you not more than $2 if you source the materials from the Dollar store.
via MRG Apartments
28. Add Simple Luxe With DIY Mirrored Tray

De-clutter the bathroom sink countertop with this weekend glam project.
The cardboard tray is uplifted to looking like a mirror container only the boutique shops could sell.
Put it somewhere where water doesn't have access and use for storage of essentials and decorative accents.
29. Fabric Covered DIY Pinboard

Pinboards have proven to be very useful in busy daily life.
If you are looking for one that looks both attractive and personalized, you won't be able to find it at the stores. Better make it yourself easily and only within a weekend-time.
30. DIY Sheer Canopy Curtains

Want to increase the privacy level of the master bedroom? This canopy may look transparent but it will give you just the right amount of intimacy and privacy that you need.
Wooden dowels are secured to the ceiling with suitable hardware to suspend white fairy drapes that touch the floor.
via One Kings Lane
31. Whimsical Bright Pom Pom Ottoman Cover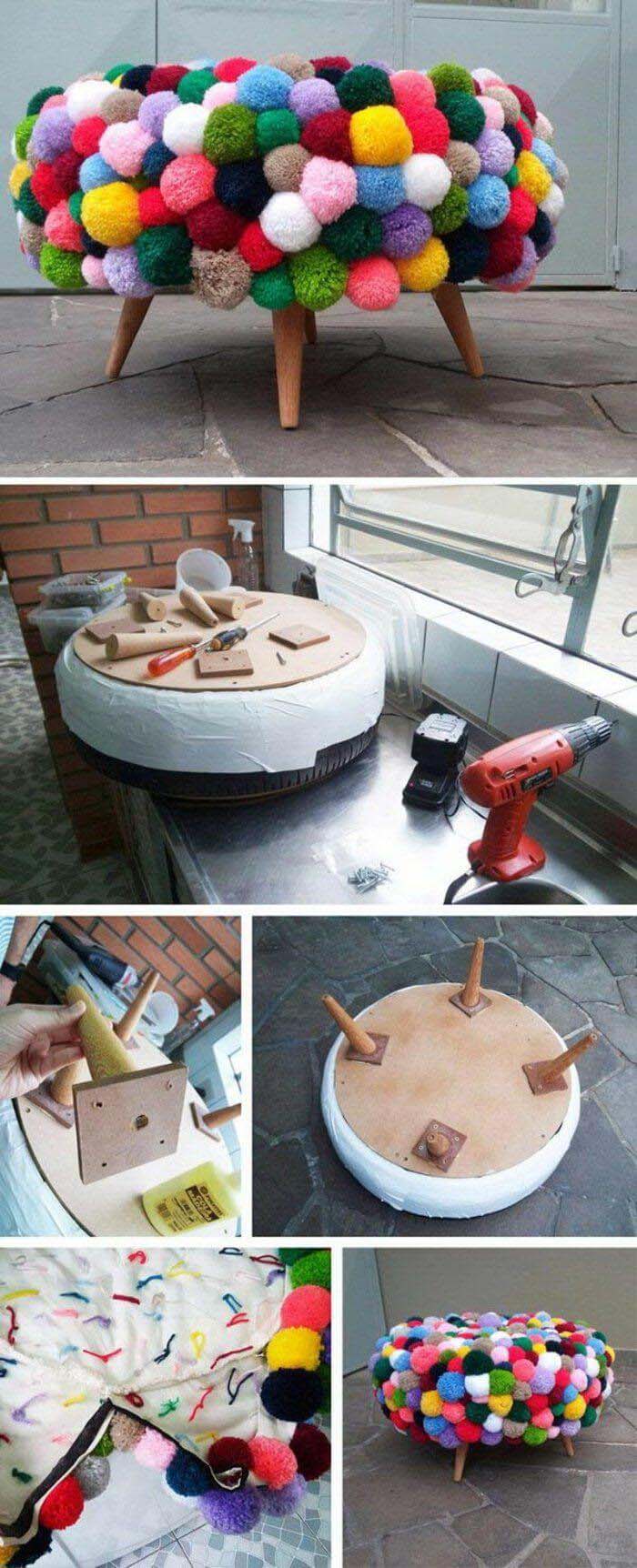 Missing a pop of color? This weekend project for a DIY ottoman will charge you with a lot of smiles.
Making it is also a lot of fun as even the youngest members can get involved in the process.
via Blog Remobilia
32. Easy Popsicle Stick Hexagonal Shelf

Make a shelf that looks like a work of art out of popsicles. The perfect display for a succulent garden or a favorite photo.
To create the 3-dimensional hexagon shape you need to glue about 100 popsicles following stacking pattern. Before gluing them, decide what the color of the shelf will be and paint as necessary.
via Make and Do Crew
33. Upcycled Cardboard Box Bathroom Holder

If you don't have a shelf over the toilet but you want to make your bathroom look more organized and neat, try this easy DIY storage basket.
The next cardboard box you see can be transformed into a toilet paper box simply by covering the inside with cheap liner and wrapping the outside with layers of twine.
34. Easy Hanging Shelf DIY Project

When floor space is limited and you don't want to get rid of the plant collection, there is a simple-to-do idea for wall shelves that can accommodate part of the smaller pots.
Their simple design is very unobtrusive so overwhelming the room with plant stands will certainly be avoided.
35. Repurpose An Old Leather Belt

Have you ever wanted to try crocheting? This tutorial will prove that you have waited too long.
The twine has been taken from the Dollar store and woven into loops to create a basket base, perfect for storage or why not for a bag?
Old leather belts have been sewed to both sides of it to enhance the farmhouse look and give the basket shape and means to easily move it.
via Make and Do Crew