Style and comfort are obligatory when it comes to the entryway. Every person, entering your home, will judge about it from the look of the entryway.
Making your entryway cozy and welcoming is not difficult at all. By the way, that can be easily achieved only with a bench- it will declutter the mess from the piled-up shoes and coats and will mark the homely feeling with its sitting feature.
And what can make a piece of furniture more personalized and appealing?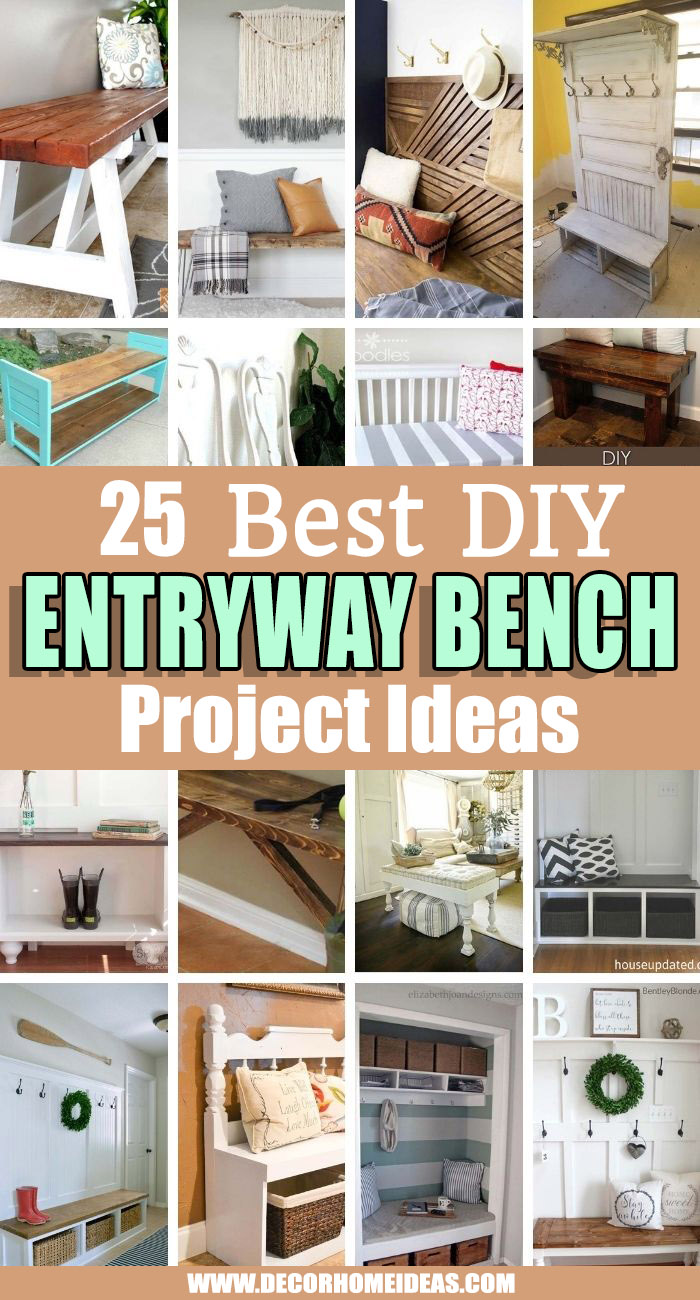 To make it yourself. The collection of DIY entryway benches that follows will reveal various designs of benches that will use the potential of the space in a charming way.
Each of them is easy to be made so get ready to find your piece and start it in the forthcoming weekend.
1. Upcycle Materials For A Vintage Hall Tree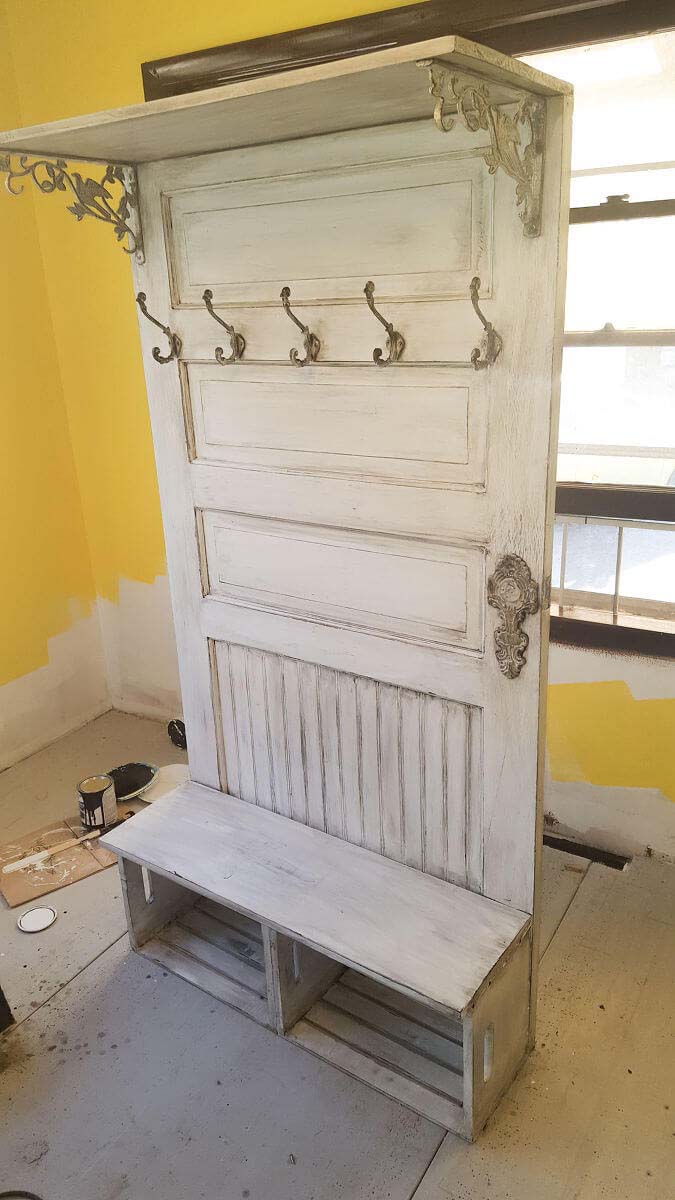 Small entryways require creativeness in the interior and the furnishing. This DIY bench thinks about one more thing- how to be made in a budget-friendly way and yet bring a unique result.
An antique wooden door creates the back of a coat rack and a sitting area formed by attaching two crates. To make the seat more stable an additional beam is laid.
The vintage look is enhanced by corbels and old-fashioned hooks. The distressed paint refreshes the wood but leaves the marks from age revealed.
via Honeybear Lane
2. Repurpose An Entryway Coat Closet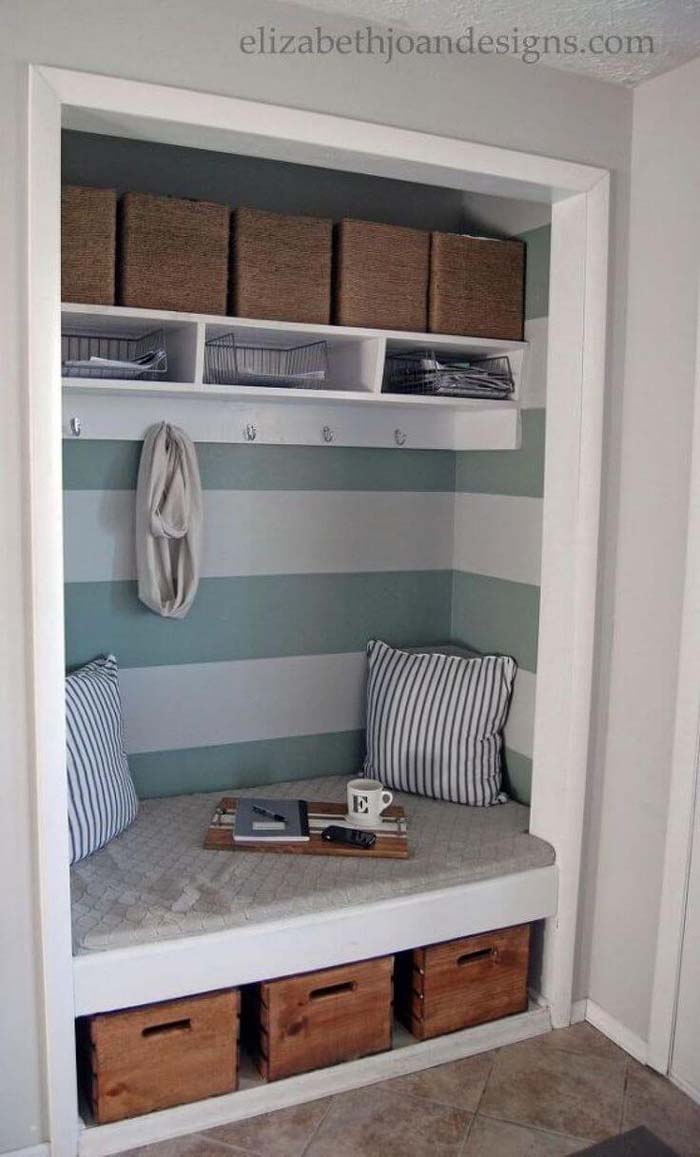 A niche is turned into a multifunctional entryway nook. Its architectural peculiarity ensures privacy and space enough to fit a bench, three levels for storage and a coat rack.
The coziness of the entryway nook is guaranteed by the rustic textures and the provancal fabric patterns.
3. Fake A Built-In Bench With Cubbies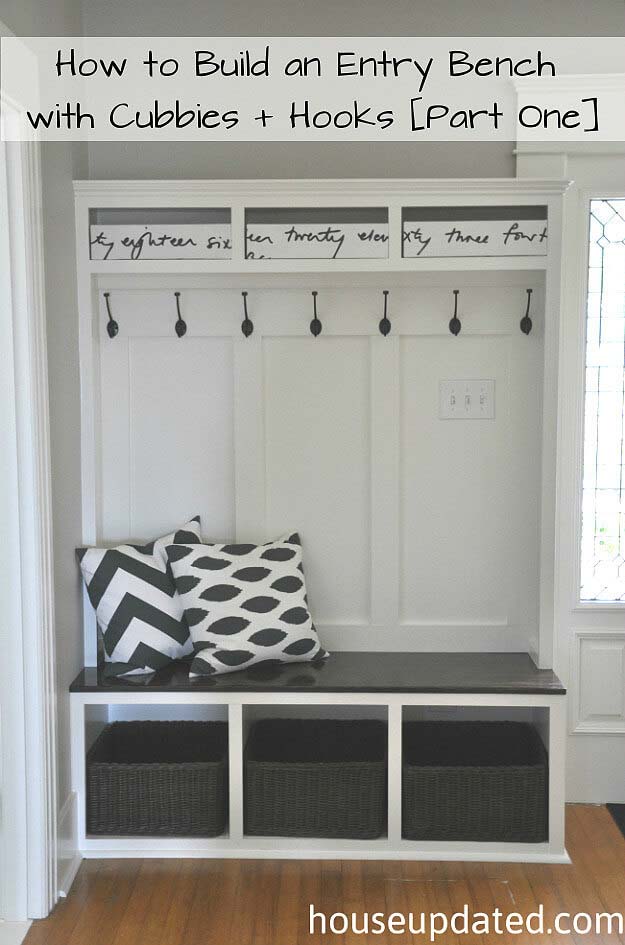 If you don't have a niche to make your entryway bench in, you can imitate the built-in design thanks to the instructions below.
To make the entire unit, prepare wood in different shapes, crown molding. Finish it in colors and with decoration that suits your interior and taste.
via House Updated
4. Rethink A Tall Bookshelf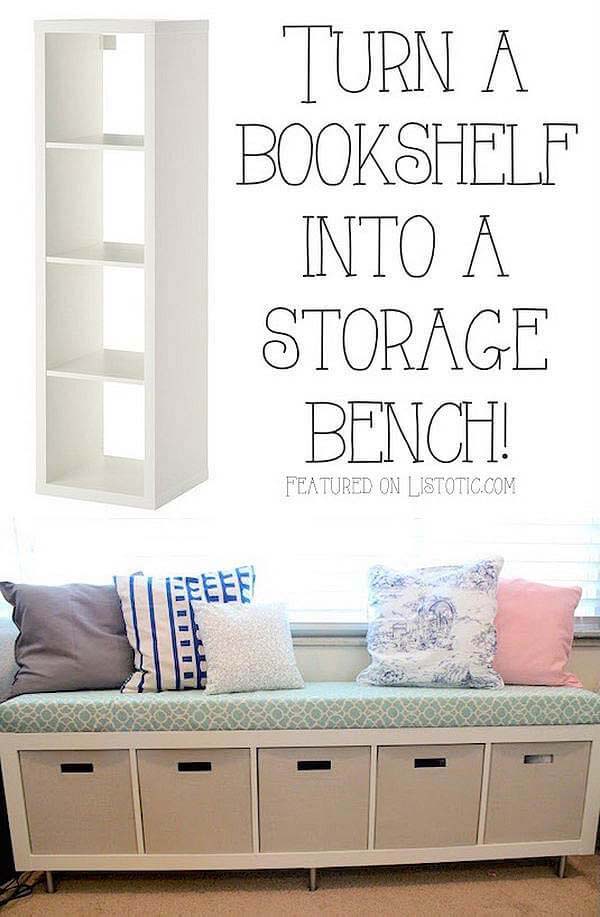 This clever idea shows you how to repurpose a bookshelf and make it a wide and comfortable bench.
The cozy cushion on top of it doesn't require sewing so this DIY promises to be an easy and fun project.
via Mommy Vignettes
5. Build Your Own Storage Bench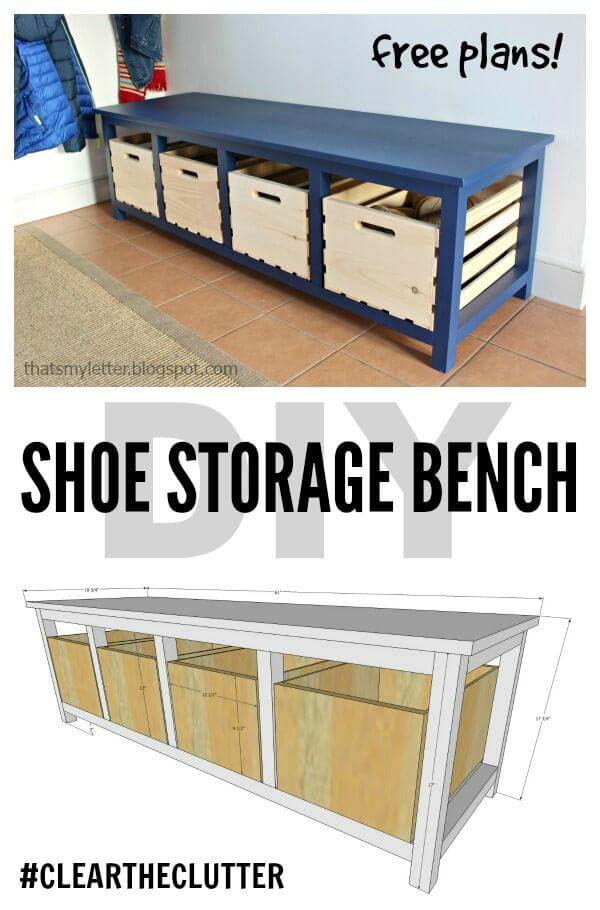 The design of this bench will mark your home as a farmhouse oasis from its beginning. Looking like a massive build, the bench is actually made of plywood.
The deep blue color succeeds in making the bench look more authentic. The slots for shoe storage are designed to fit standard crates.
via Jaime Costiglio
6. Combo Bench And Shoe Rack

This shoe rack could be a great solution for making a tiny entryway more organized.
Its footprint is relatively small but the functional beam below the sitting area can accommodate the shoes that are worn most often.
7. Farmhouse Cushioned Bench With Spindle Legs

A gorgeous cushion has been the reason to build this bench. The wooden structure has been made out of upcycled supplies taken from old furniture.
The creamy color of the cushion gently contrasts with the bright white color of the frame, to make this bench a piece of furniture inspired by the farmhouse style that every contemporary home must have.
via Liz Marie Blog
8. New Use For An Old Dresser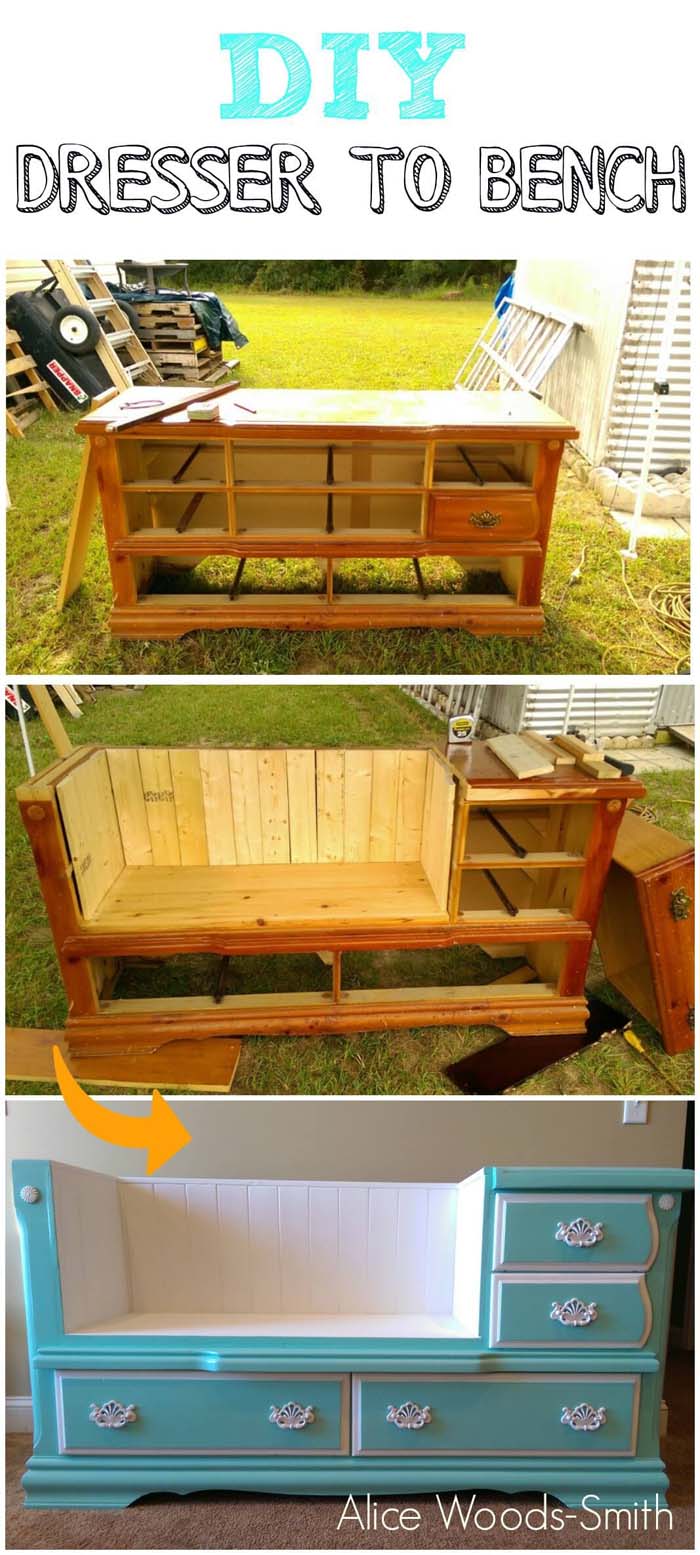 This vintage dresser is another proof of the endless creativity of DIY addicts. The look of it has been drastically changed by the removal of sections and drawers that form the sitting area for its new application.
The final look of the dresser is totally different but it doesn't hide its antique curves and accessories.
via Grillo Designs
9. Cushioned Bench With Storage Drawer Project

A useless and bad-looking dresser has been turned into an attractive rustic entryway bench.
The top section is torn to leave only the outer part of the construction. It will serve as a back and a sitting area for the new application. The gaps are filled with well-sanded laths.
The bottom section hasn't been changed to ensure storage places for shoes or accessories.
10. Easy DIY Shoe Storage Bench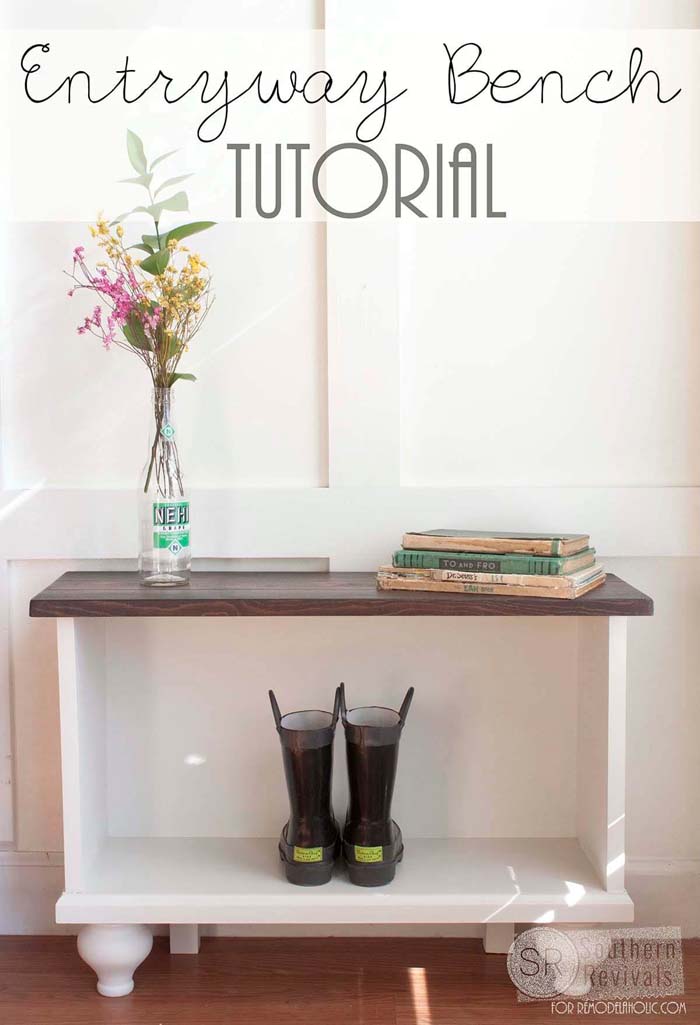 This gorgeous rustic bench looks like a fantastic tailor-made carpentry.
It is big enough to take up three pairs of shoes, even boots and to fill the entryway with beauty from the displayed accents.
via Remodelaholic
11. Upholstered Entryway Bench DIY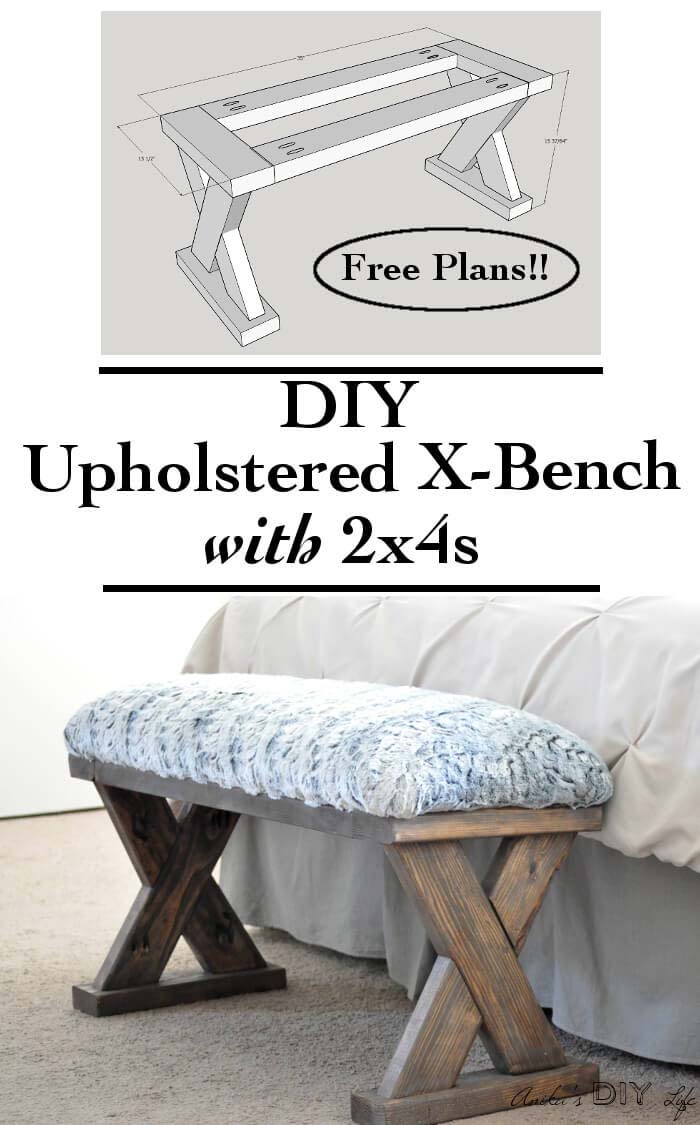 This bench has been designed as a side bedroom bench. Its X-shaped supports and the comfy cushion are the features that make it a suitable addition to the entryway as well.
It doesn't take up too much space so if you are living in a tiny apartment or house, this idea could be your solution for making the entryway cozier.
via Anika's DIY Life
12. High-Backed Upholstered Bookshelf Bench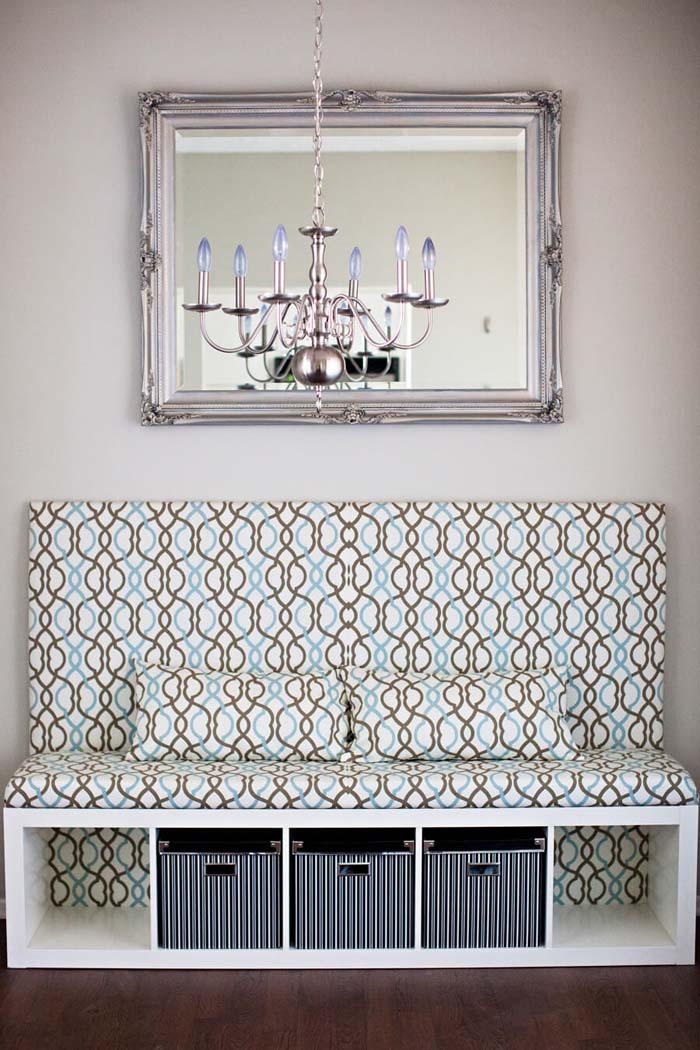 A bookshelf is turned into an entryway with character thanks to uplifting it with upholstered cushions.
The pattern of the fabric plays a big role in making the design unforgettable.
The cubic sections at the bottom ensure five places for open or hidden storage.
13. Farmhouse Style Wood Paneled Coat Rack And Bench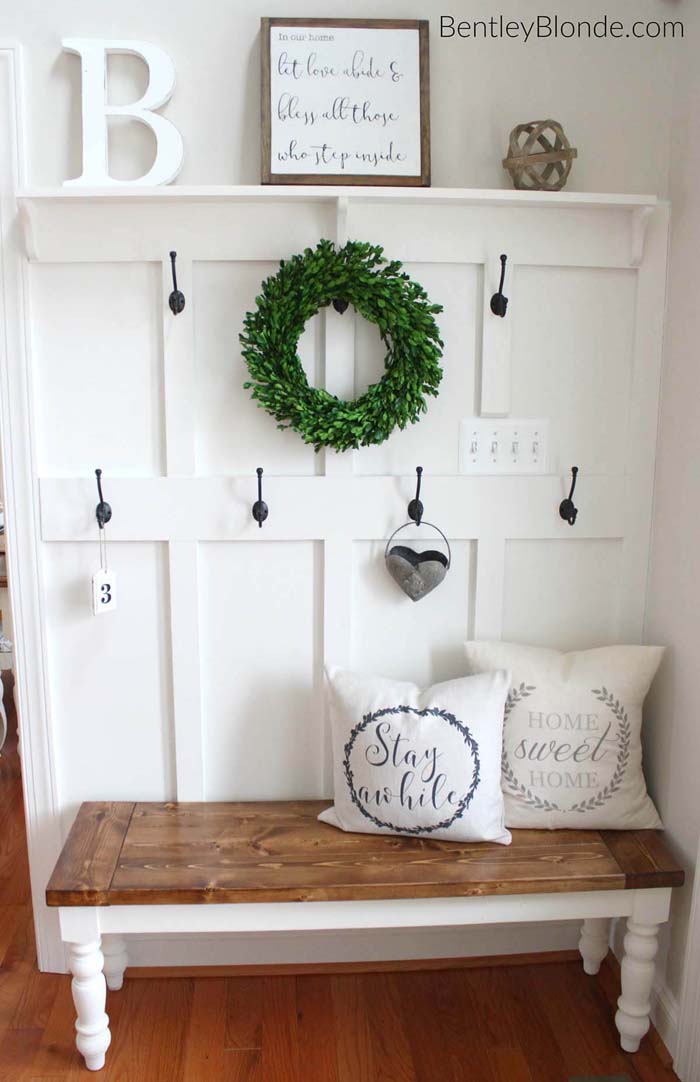 This is an idea of how to zone an entryway even in the tiniest home. You need an empty wall to attach beams that form a coat rack and a small bench in front of it for sitting.
via Bentley Blonde
14. Budget Friendly Rustic Bench Build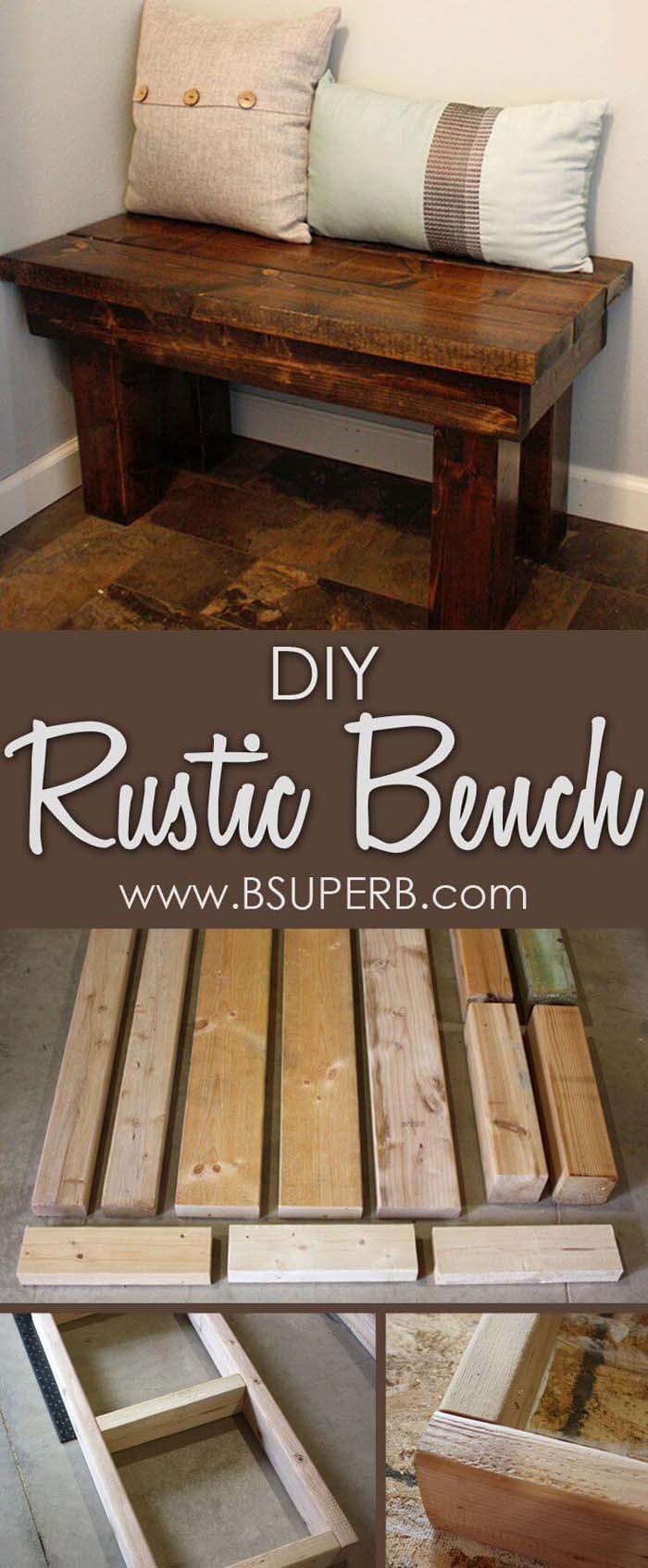 This is one of the most affordable DIY bench ideas. You need reclaimed wood or inexpensive pieces of wood to create the structure.
The work on the surface makes the final piece looking rustic and finished. More sanding and a gentle layer of stain and polyurethane have created the shiny solid-wood effect.
via B Superb
15. Built-In Wall Panel Bench With Storage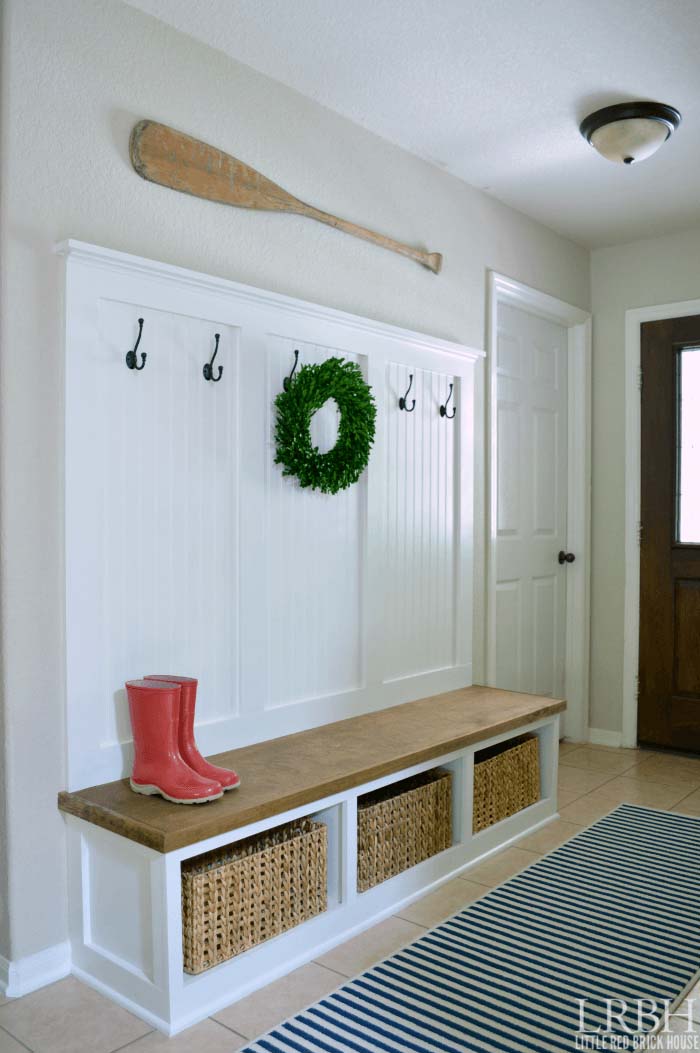 This bench is of design suitable for large or narrow entryways. Its functionality is ensured by three large compartments for storage with wicker baskets.
Above it, the wall is planked with wood to continue the texture of the bench. Vintage hooks are attached to it for hanging coats and purses.
16. Add Unique Woodwork For Stunning Effect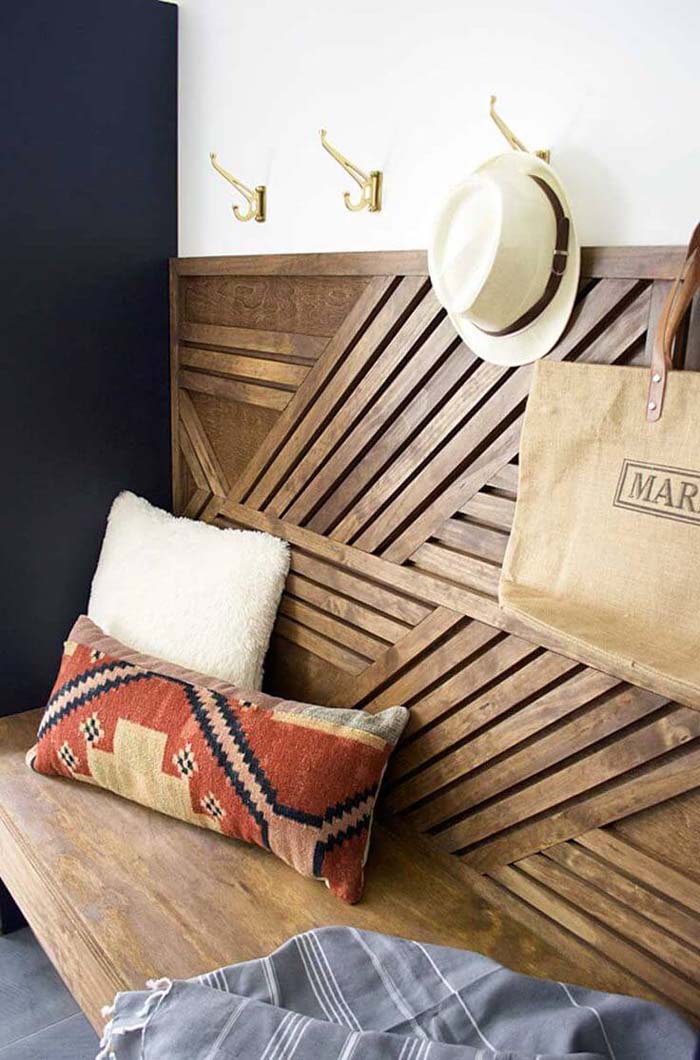 Want to add character to your home from the entryway? This DIY entryway bench will surely do so with the eye-catching geometric design of its back.
In order not to ruin the pattern, the coat hooks are nailed to the wall above the bench.
via Brepurposed
17. Sawhorse Farmhouse Bench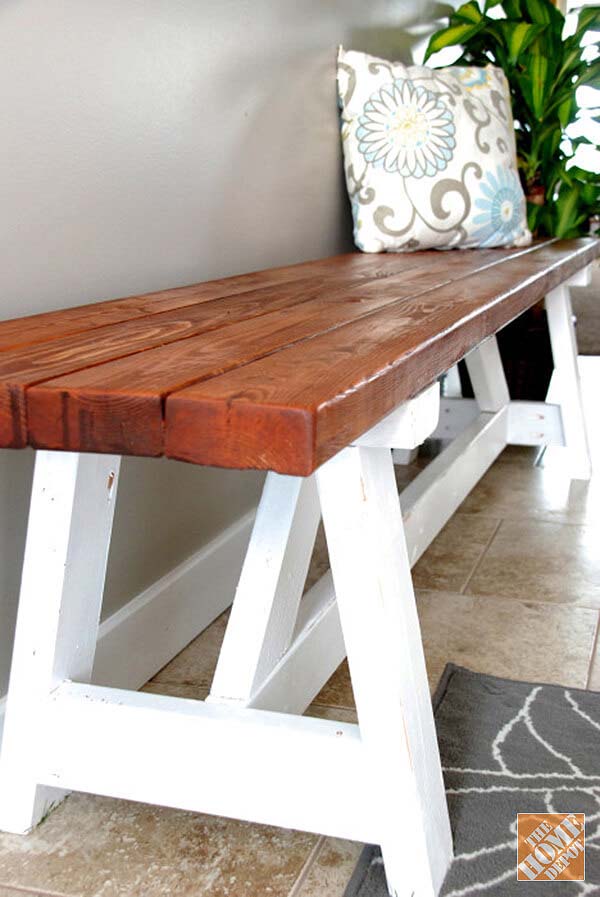 Simple of design and supplies, this bench is an easy DIY project.
The colors and the texture of the wood will add farmhouse charm to space and will make the last minutes before going out of home comfort.
via Home Depot
18. Boho Chic Natural Wood Bench Top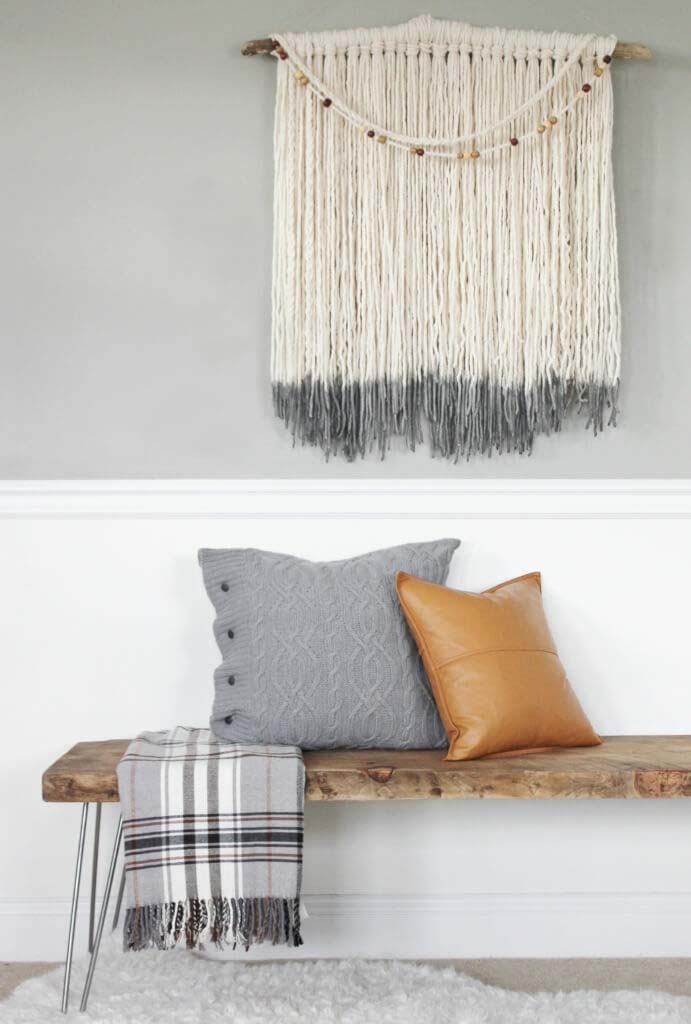 This bench is an example of the trend combining industrial and farmhouse style.
Making it as easy as you need a solid piece of wood for the sitting board and hairpin legs for support.
via City Farmhouse
19. Repurposed Headboard As Bench Back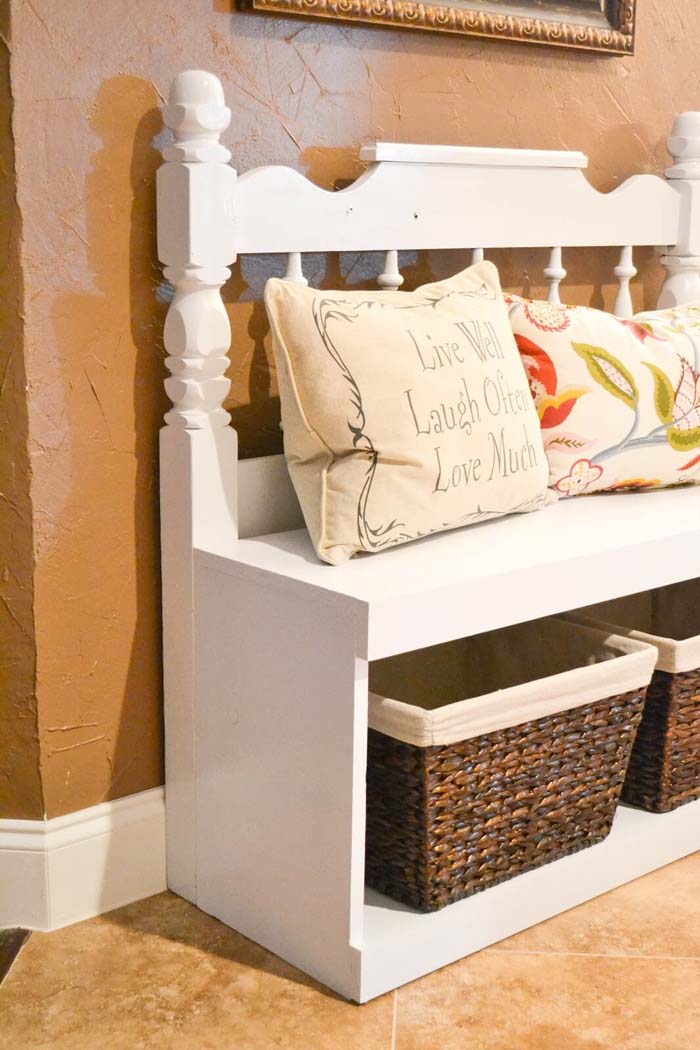 The vintage headboards are adorable. Their design cannot be repeated by the newly made beds so saving it for your next inspiration is totally understandable.
This idea shows how to bring it to new life by using it as a back for an entryway bench.
20. Upcycled Dining Chair Cottage Bench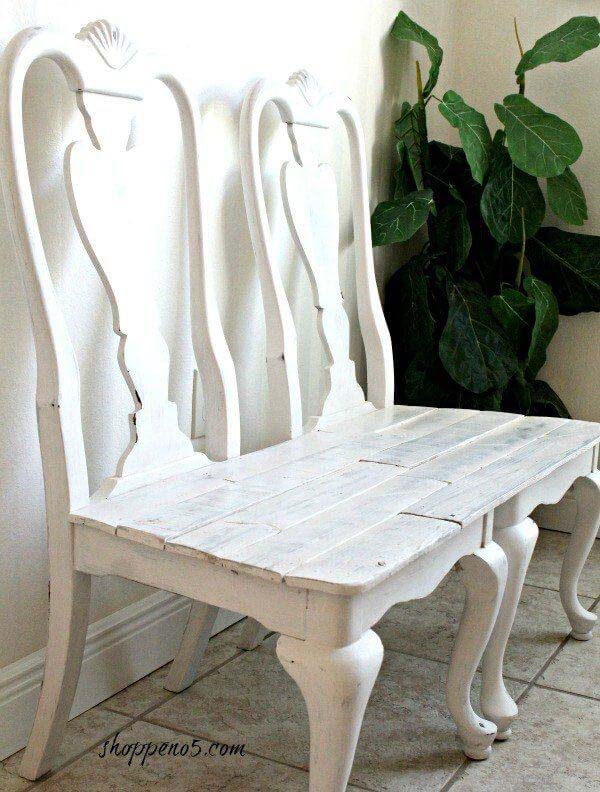 Two antique wooden chairs are assembled together to make a comfortable bench.
To connect their sitting area and make it continuous, replace the board or laths with longer ones.
via Shoppe No 5
21. Primitive Style Farmhouse Wood Bench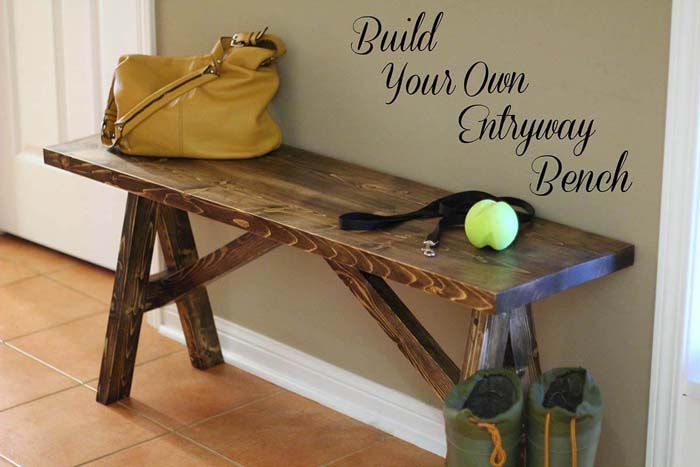 Inspired by countryside living, this bench brings a farmhouse design indoors.
The supports remind me of a sawhorse. Together with the siting board, they form a small bench that can fit any entryway.
22. Reclaimed Wood Scraps Kids Bench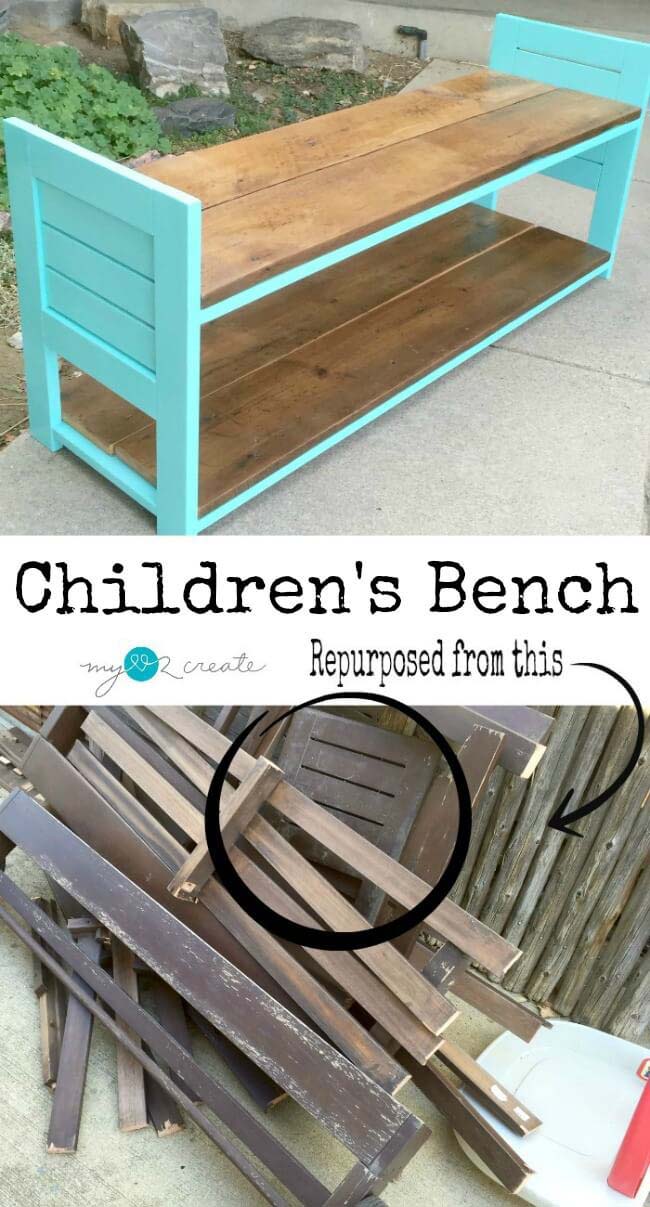 Dig into the lumber leftovers in your garage and find pieces of identical size.
A bit of cutting, sanding and painting will result in creating a customized entryway bench.
via My Love 2 Create
23. Easy To Build Stylish Storage Bench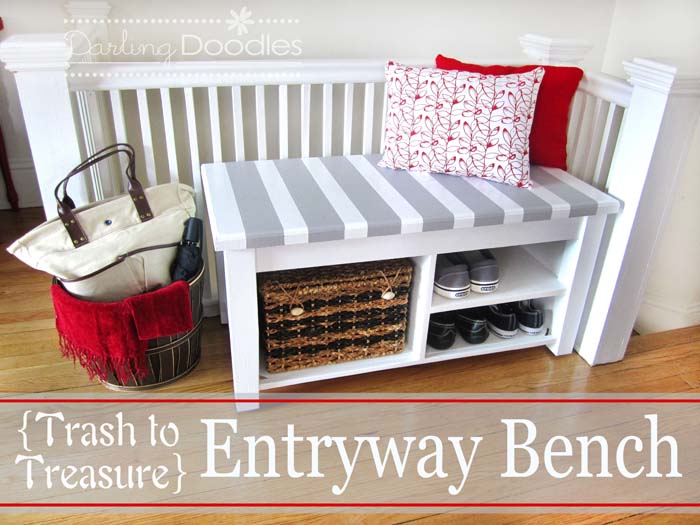 This bench is big enough to accommodate a big wicker basket for hidden storage of stuff and two shelves for shoes arrangement.
The top of it is painted in a striped pattern to imitate the cushion.
via Darling Doodles
24. Dark Stained Minimalist Bench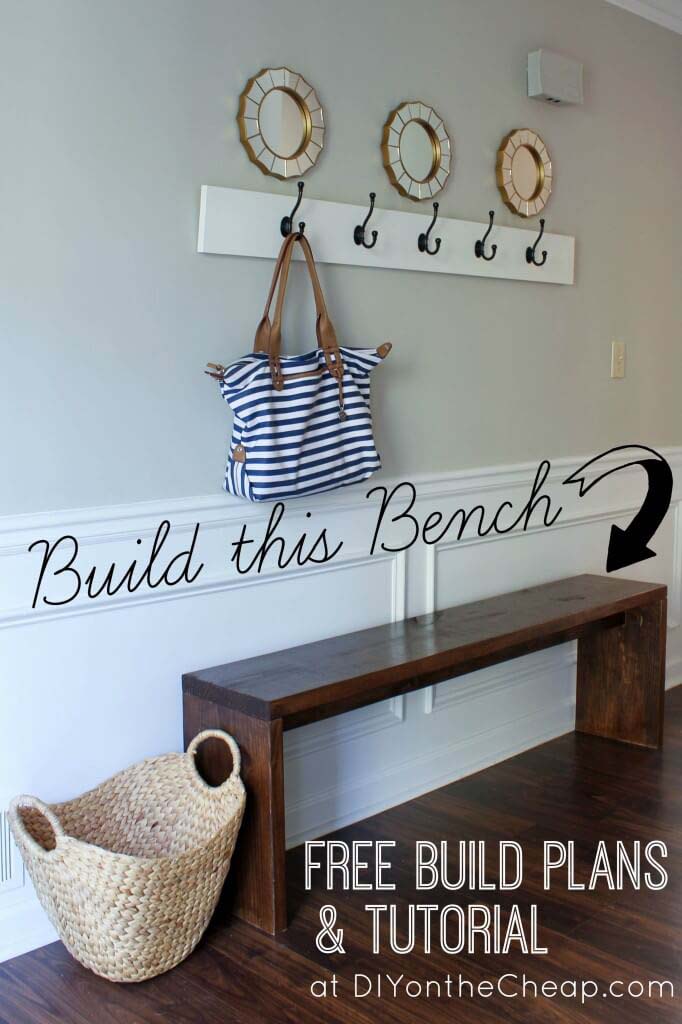 The design of this bench is slim to fit any type of entryway.
Its finish reminds of a bench in front of a cottage cabin and placing it inside a contemporary designed home will surely make the atmosphere more casual and welcoming.
via Erin Spain
25. Entry Area For Kids Coats And Shoes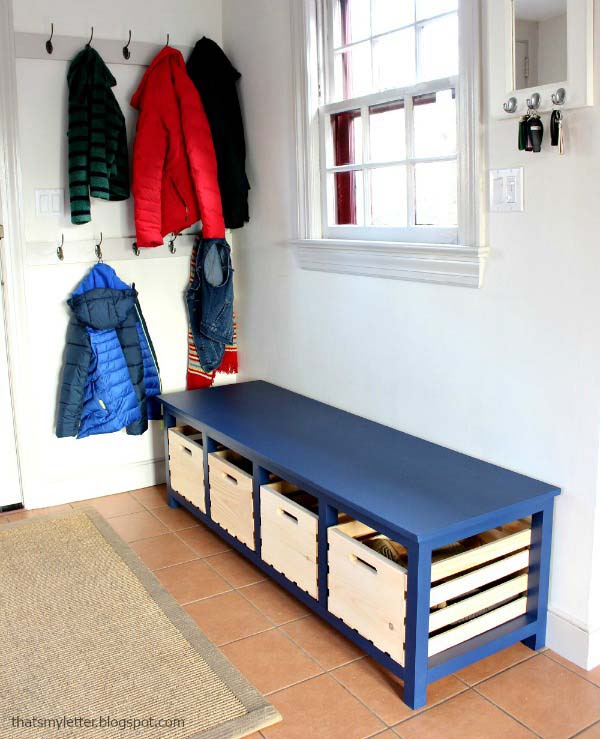 This bench has been designed to solve the issues with the mess at the entryway of a big family. There are large crate compartments that can accommodate a few pairs of shoes.
The decision of using crates instead of closing the compartments with doors makes this bench famrhouse-adorable and succeeds in hiding the things contained.
via Jaime Costiglio
26. Recycled Cabinetry Entry Bench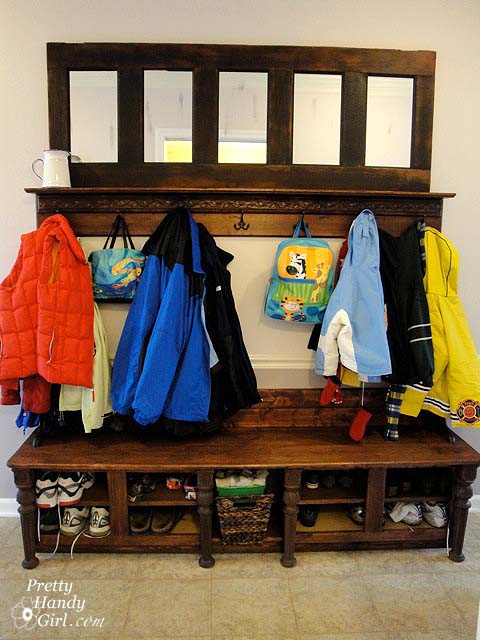 Different parts from old kitchen cabinets have been assembled together to create a unique entryway unit.
It is also very functional as it ensures big compartments for shoe storage, a coat rack, a sitting area and a shelf for accessories or decorative accents.
27. Add Bright Color To Your Bench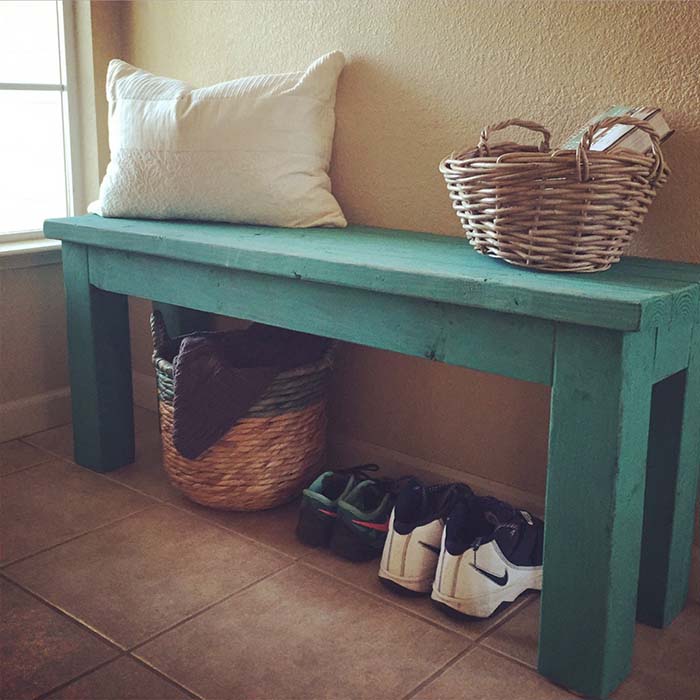 You don't have to make a special bench for the entryway. You can take the outdoor one and repurpose it for indoor usage.
Use the space beneath it for shoe arrangement and the top of it for sitting. It may be a good idea to refresh its look by painting it in a nice color that will make the entryway more attractive.
28. Upcycle A Cheap Bookcase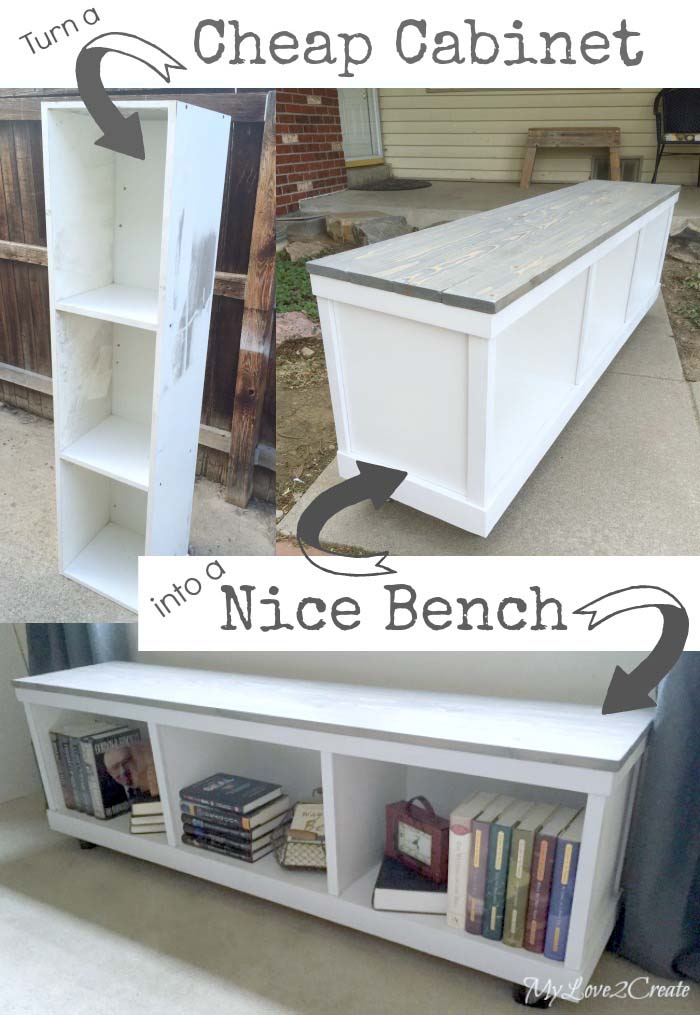 Feet, molding and a new board are the supplies to give a cheap cabinet a new custom look and application.
This bench can be the needed addition to any room as it provides spaces for storage and a wide top board- for sitting or display for accents and flowers.
29. Distressed Dresser Gets A New Life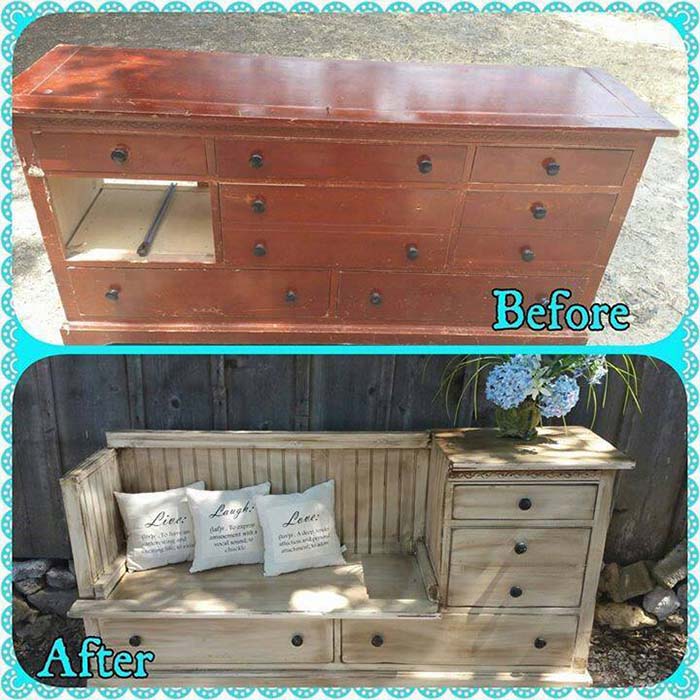 This is another idea of how to upcycle the old dresser and turn it into a piece of furniture that will be useful in contemporary living.
Take part of the top drawers and supports out. Plank the peripheral boards with nicely sanded lathes.
If you are not happy with its original color, refresh it with acrylic paint. Then, just add cushions to make the new bench more comfortable and appealing.
30. Colorful Crate Bench Project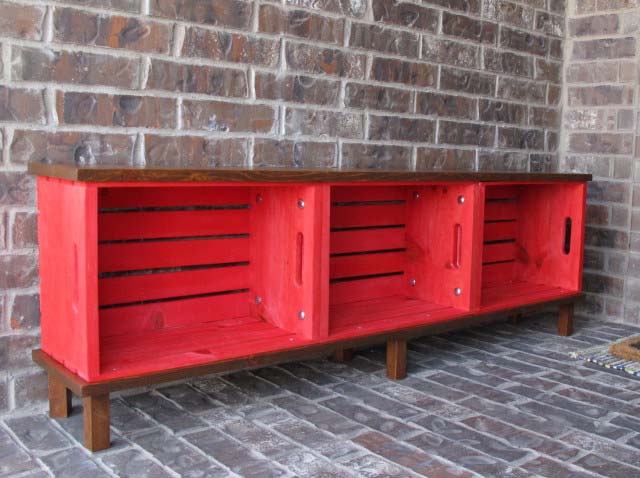 A great DIY project shows us how to make an entryway bench in a budget-friendly way. Three crates are assembled tightly together. A long beam measuring the length of all three together is attached on top of the assembly.
Three pairs of legs ensure the stability of the structure. You can use the compartments as open shelves or insert wire or wicker baskets.
31. Pallet Slats Hall Tree With Shoe Storage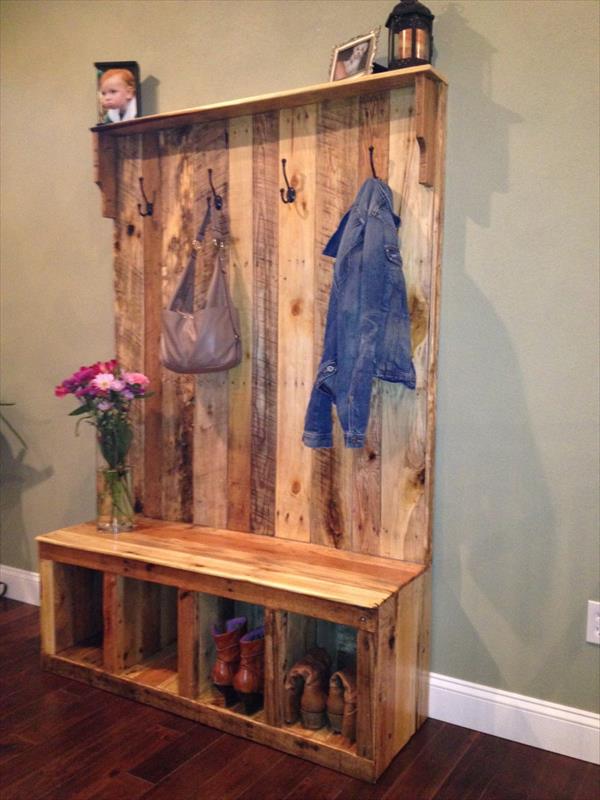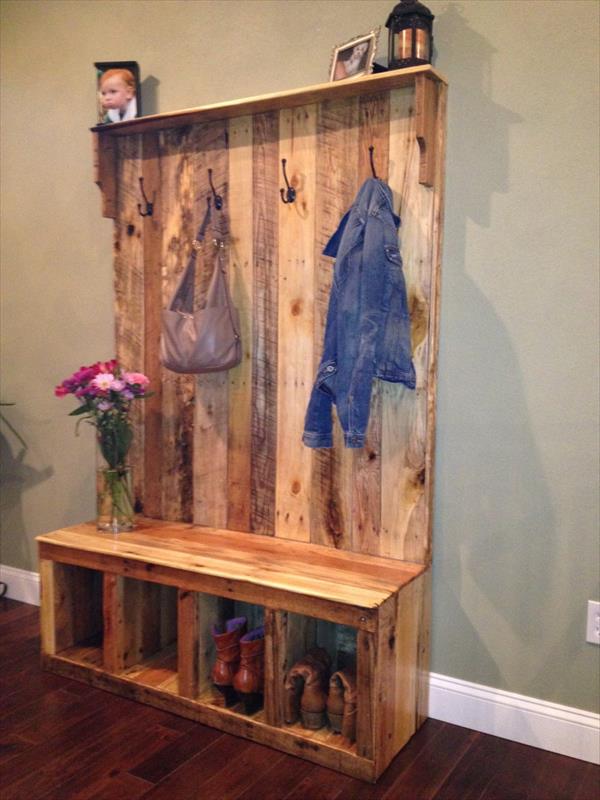 From pallet slats, a complete entryway unit is created to ensure multifunctionality for this space. The back of it is not only support but also one of the coat racks and a display for cute family memories.
The bench is supported by vertical beams that divide four cubes for shoe storage- an elegant and very original design for a DIY entryway bench.
via 101 Pallets
32. Add Décor To A Simple Bench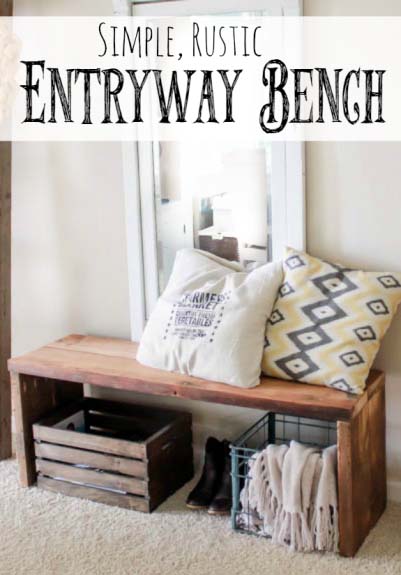 Making this bench is very easy. Achieving the appealing look is down to the decorative elements the author has chosen. Two large pillows will back up the people when sitting on the bench.
The storage of shoes beneath the bench is solved with two types of crates, adding farmhouse simple charm.
33. Halved Tabletop Bench Seats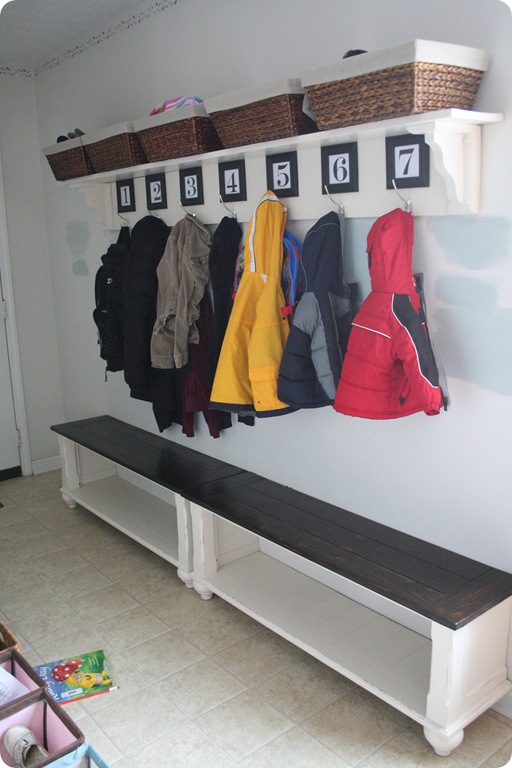 An old farmhouse table has been literally cut in two halves to form this large entryway bench.
Its authentic color has been changed to give the structure a look that fits easily into the interior.
34. Wire Baskets And Scrap Wood Bench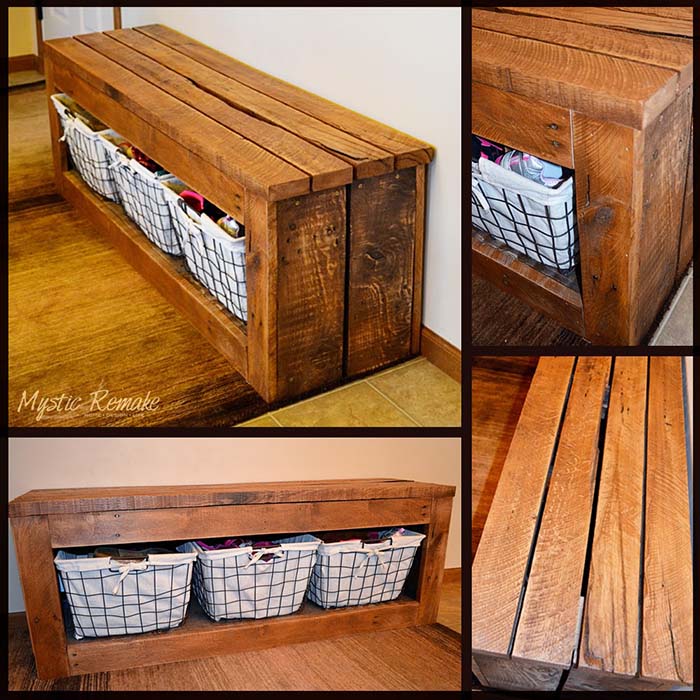 This bench has been made from reclaimed wood- leftover beams that are cleverly assembled together to form a structure that can fit any entryway.
The empty section below the sitting area accommodates three wire baskets for shoe storage.
35. Repurposed Door Hall Bench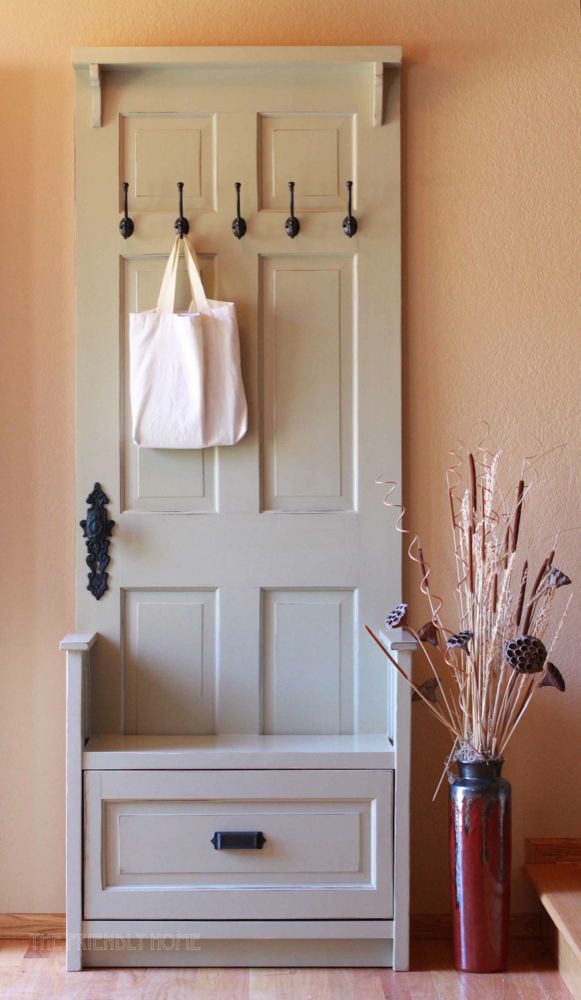 This bench will give your small entryway character. Its molded pattern gives the clear lines interes and ensures that it will be a focal point.
So make sure that it is surrounded by accents that will enhance its beauty. Want to know how this piece has been made? See below how a door becomes this unique bench.
36. Cushioned DIY Storage Bench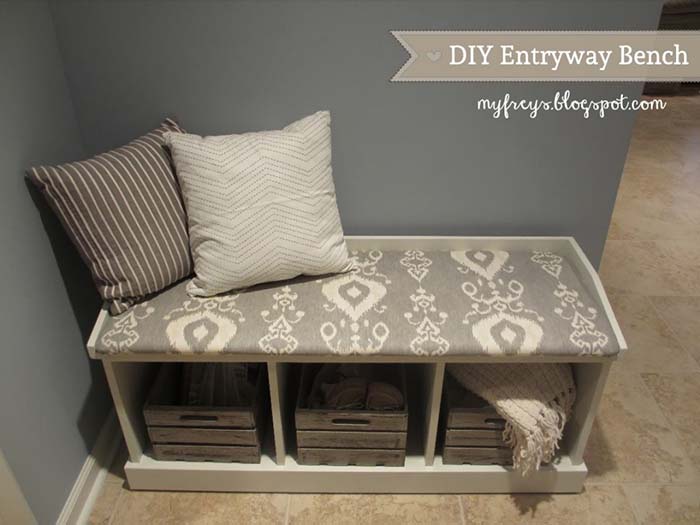 This elegant bench has been designed to fit the small corner area of an entryway.
Lumber is cut in the desired dimension and assembled together. Its color is white to match the accents of the space.
The crates and the predominant color of the fabric for the cushions and the pillows is grey to create a continuous relation between the spaces.
via My Freys
37. Pallet Bench With High Back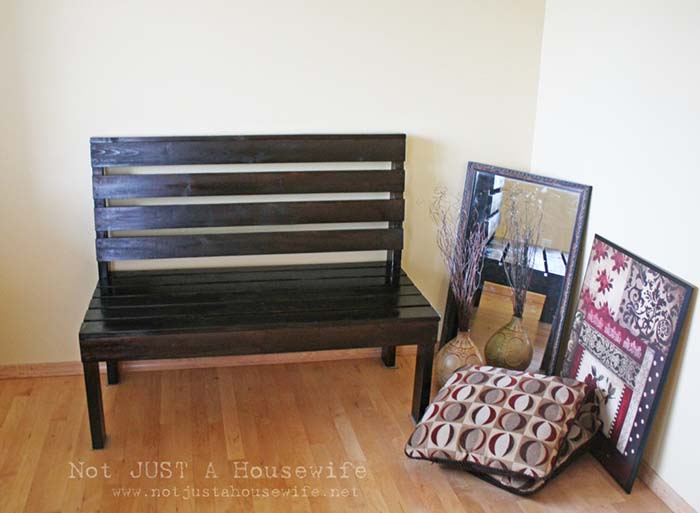 The design of this bench is the typical one for porch benches. The interest comes from its new purpose. Brought indoors, it instantly attracts attention to make the entryway a place with character.
This type of bench can be successfully made out of pallet slats, reclaimed wood and of course new pieces of lumber.
38. Simple Bench With Storage Bins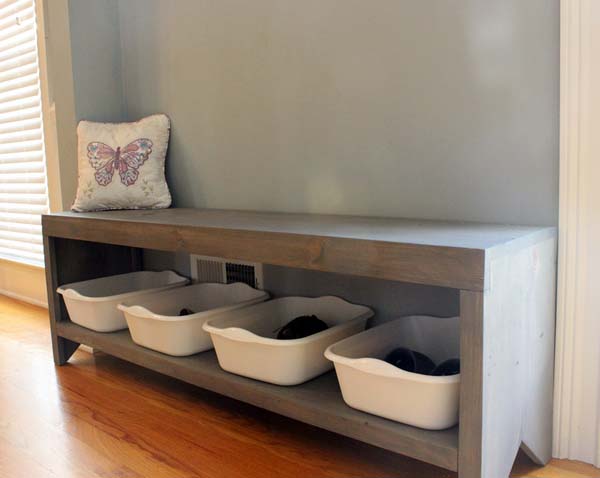 This bench design combines the mass look of the IKEA storage containers with the farmhouse authentic charm brought by the wood structure.
This is a great idea of how to combine commonly used materials to end up with a unique piece.
via Boxy Colonial
39. Create A Piece Of Art With Scrap Wood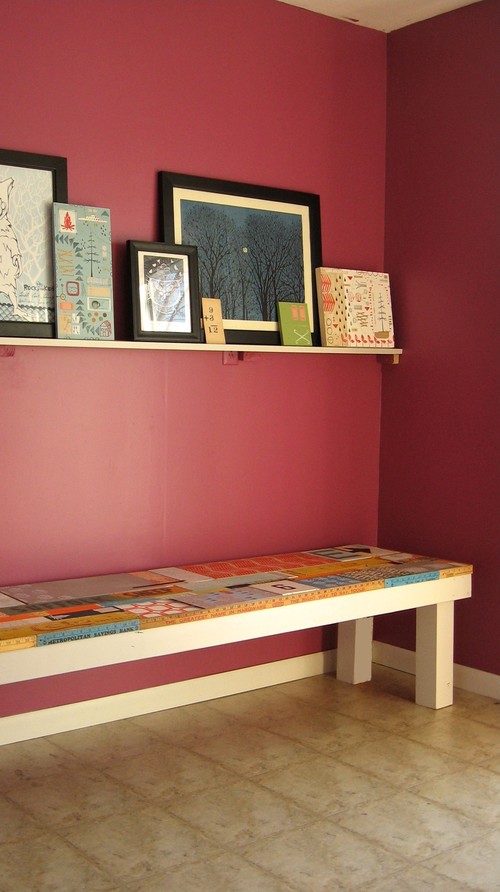 The artistic look of this entryway bench has been achieved by nailing various wooden signs onto its top board.
They have created an original piece of art that will not remain unnoticed.
via Erin Lang Norris
40. Ample Shoe Storage Farmhouse Bench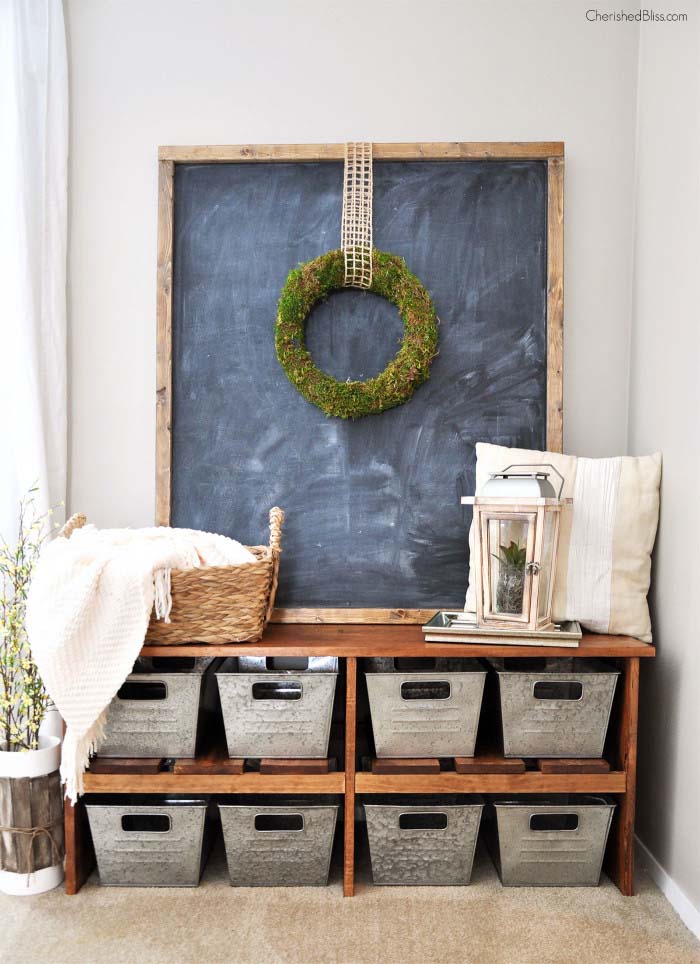 Is your family a big one? Then you must be thinking of how to declutter the entryway. The design of this bench takes care of that and makes sure that every pair of shoes is hidden and even sorted.
The top of the bench is not used in its intended application. Instead, it possesses a few farmhouse items like a wicker basket, a large chalkboard sign ad a lantern to make the space feel more homely.
via Cherished Bliss
41. Make A Mudroom Anywhere With This Bench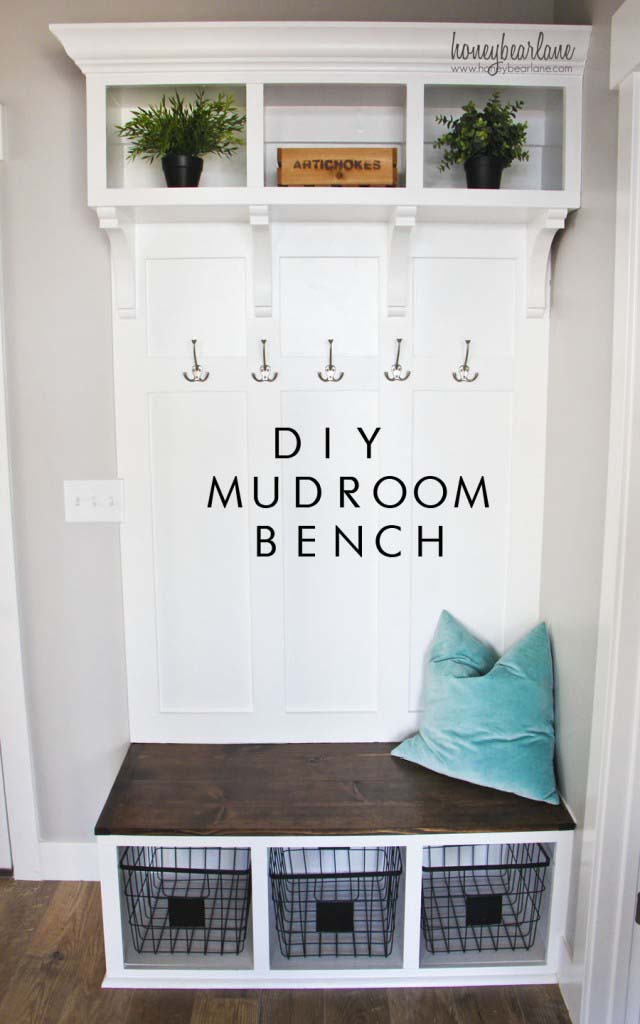 This mudroom bench has been designed to fit the empty space of a dead corner in the entryway.
Instead of leaving it unfunctional, it is well utilized providing space for coats, a sitting area and three large baskets that should accommodate the shoes.
via Honeybear Lane
42. Basic Bench With Hanging Rack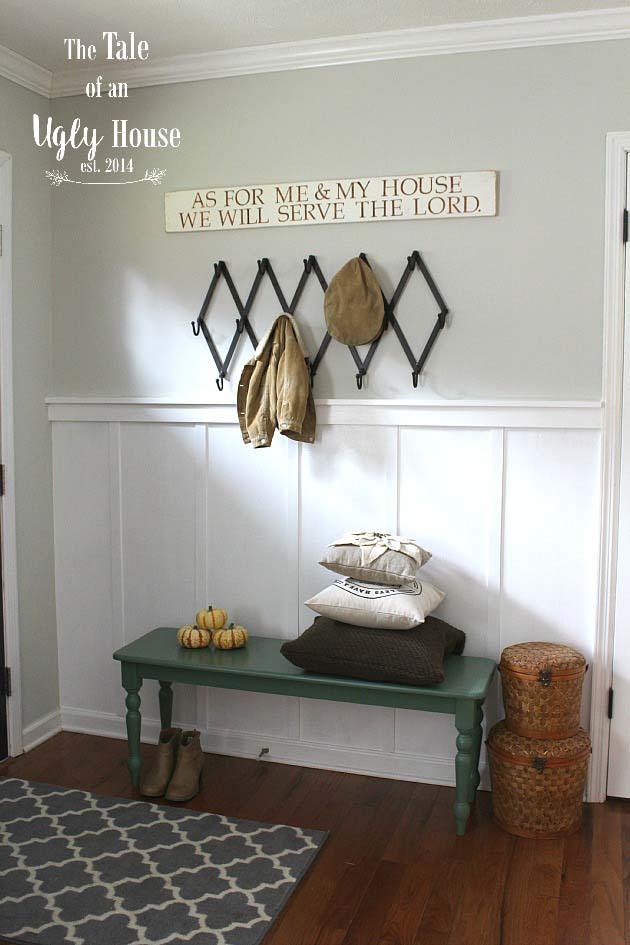 Want a quick makeover of the entryway? You can achieve it by simply changing the color of your bench.
Choosing olive green will add depth to the space even when applied on a small bench.
Enhance the rustic look with wicker baskets, lanterns, wreaths and similar items that are related to the farmhouse style.
43. Add Industrial To Farmhouse With Piping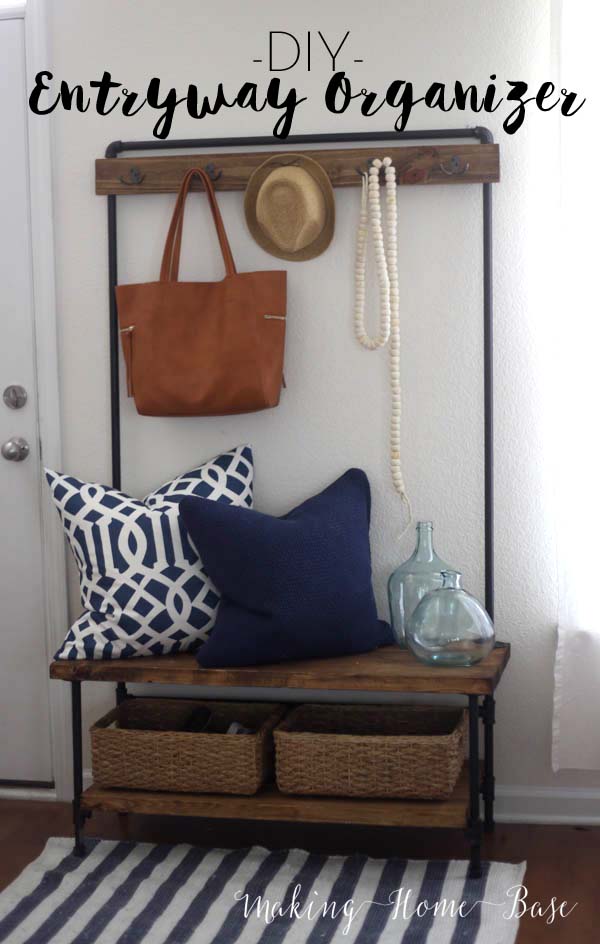 An extravagant decision for the design of an entryway bench features a pipe structure shaping sections for storage, sitting and hanging.
It can be customized to fit the size of your entryway. The colors and the accents can also be modified to suit your interior.
Use this idea as an inspiration of how to achieve a great result between the twist of industrial with farmhouse style.
via Making Home Base