Updating old furniture is a great way to enjoy a new piece in your home without having to go shopping.
These 25 great furniture makeovers are sure to inspire you to update your home.

1. Updated Fresh Farmhouse Table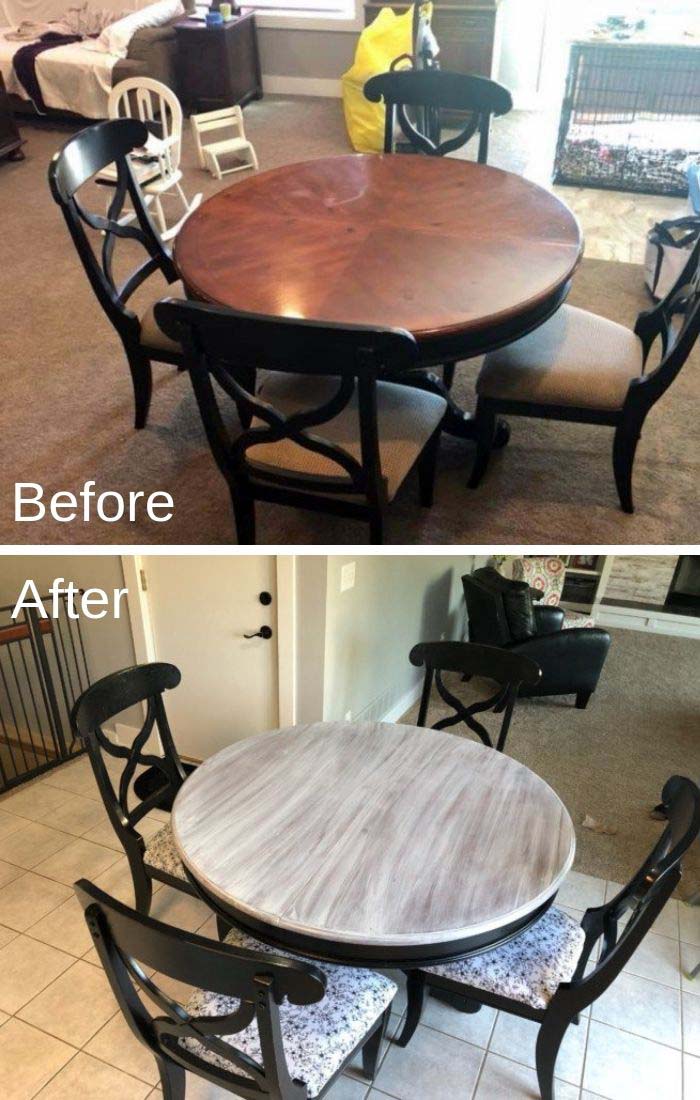 Bring an old farmhouse table back to life with dark paint on the base and legs and a much lighter finish on the top.
This can help to easily remove any scratches or damage that may have occurred to the table.
2. Turn a Dresser Into a Bar

An old dresser can make a wonderful bar in your home as long as you know what steps to take.
Instead of ditching the old dresser, make it into the perfect place to hold your drinks when you have friends over.
3. Create a Farmhouse Coffee Table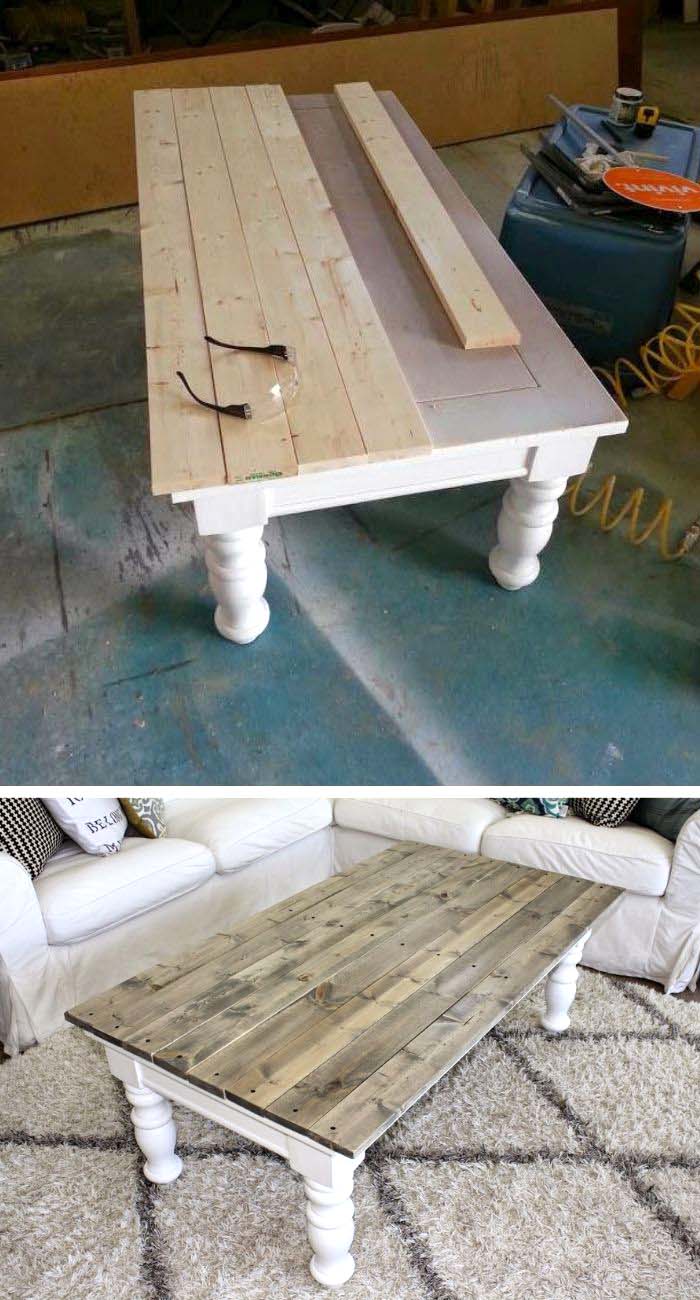 Every home needs a coffee table and now you can make one that perfectly matches the vintage farmhouse feel of the rest of your home.
It's a fun, refreshing look.
via niftythriftymomma.blogspot.com
4. DIY Beverage Station

Thrifted doors get new life when they're made into fun, funky beverage stations.
These are great for setting out when you have a party and need a place to stash drinks and even snacks.
5. Give a File Cabinet New Life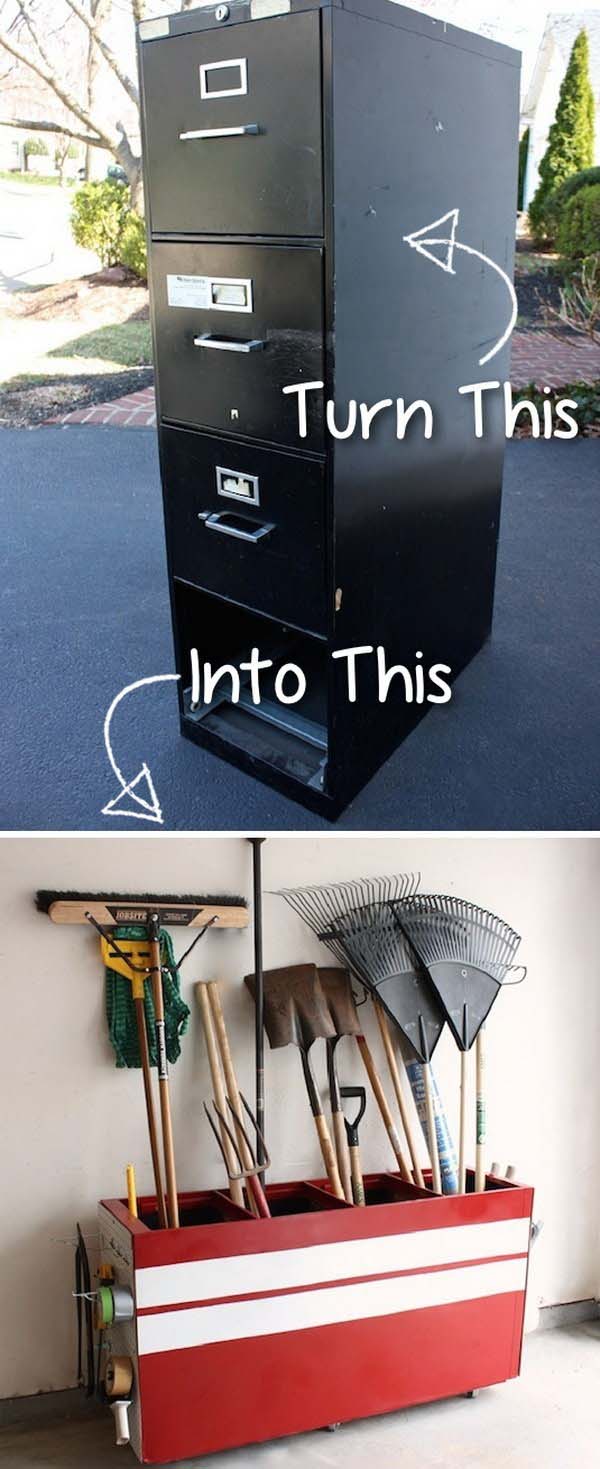 Old file cabinets are everywhere and if you have one in your home, then you are probably at a loss as to what you can do with it.
Instead of taking it to the dump, you can make it a piece that you're proud to show off.
6. Create a Bench with Storage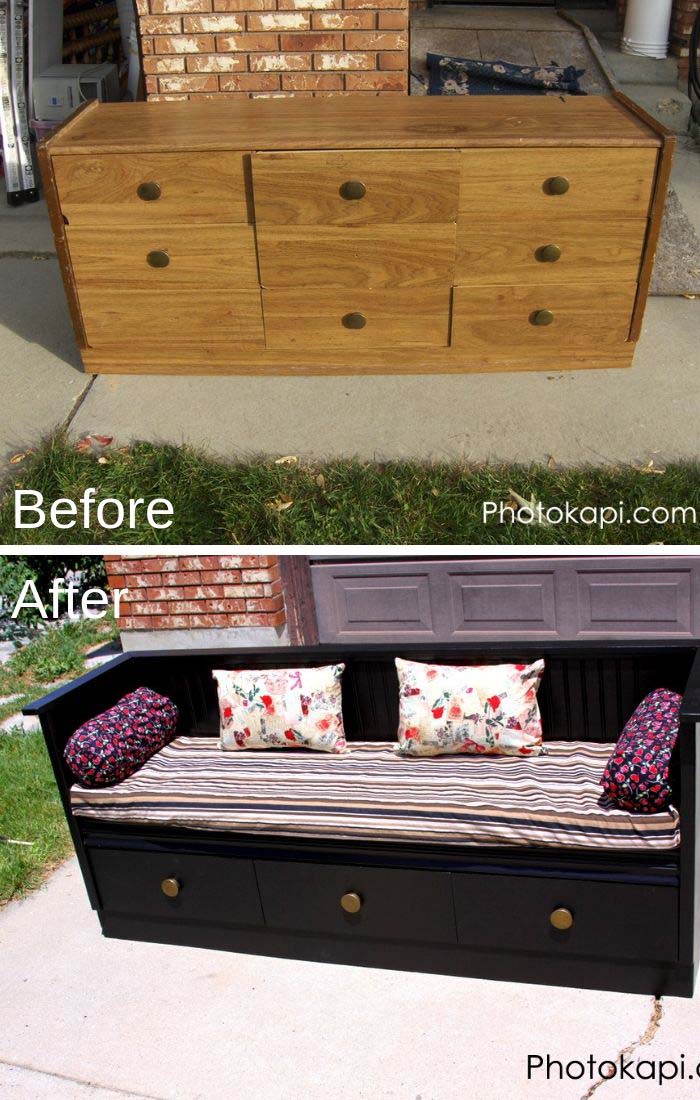 Benches with hidden storage are a great help around the house.
Turn an old dresser into a new bench and enjoy plenty of space for all of your belongings as well as a comfortable place to sit.
via photokapi.com
7. Bright White TV Stand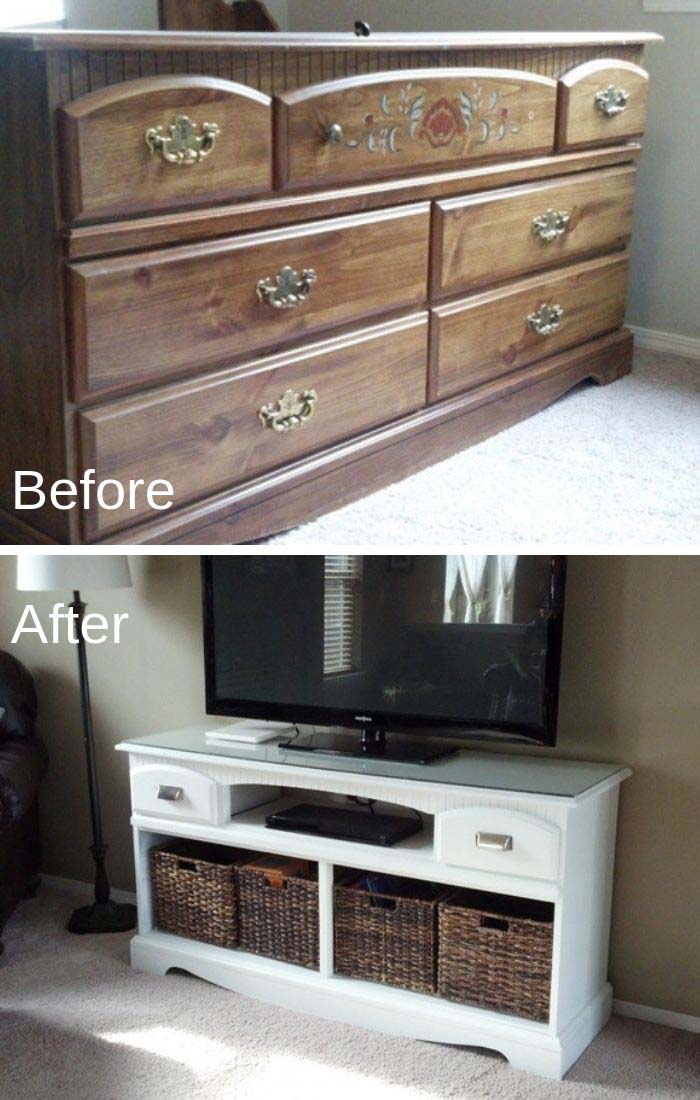 TV stands can be huge and dark but with a little paint and creative thinking, you can turn an old dresser into a TV stand that will look great in your home.
Enjoy the bright appearance of your new stand.
via handimania.com
8. Updated Spool Table

Old spools are great architectural pieces for any home but look boring unpainted.
With some work, it's easy to turn your spool into a side table that you love.
via pinkxstitches.blogspot.com
9. Old Buffet Makeover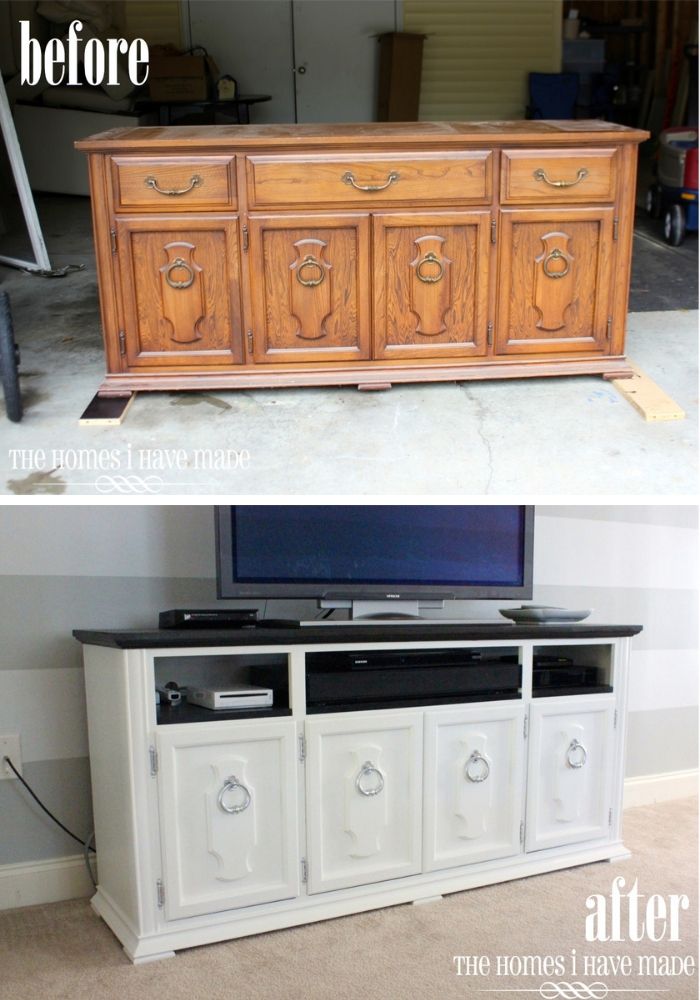 Turning an old buffet into a piece that you love has never been easier, thanks to bright white paint and the ability to easily remove drawers.
Here you see how to turn one into a TV stand.
10. Funky Suitcase Dresser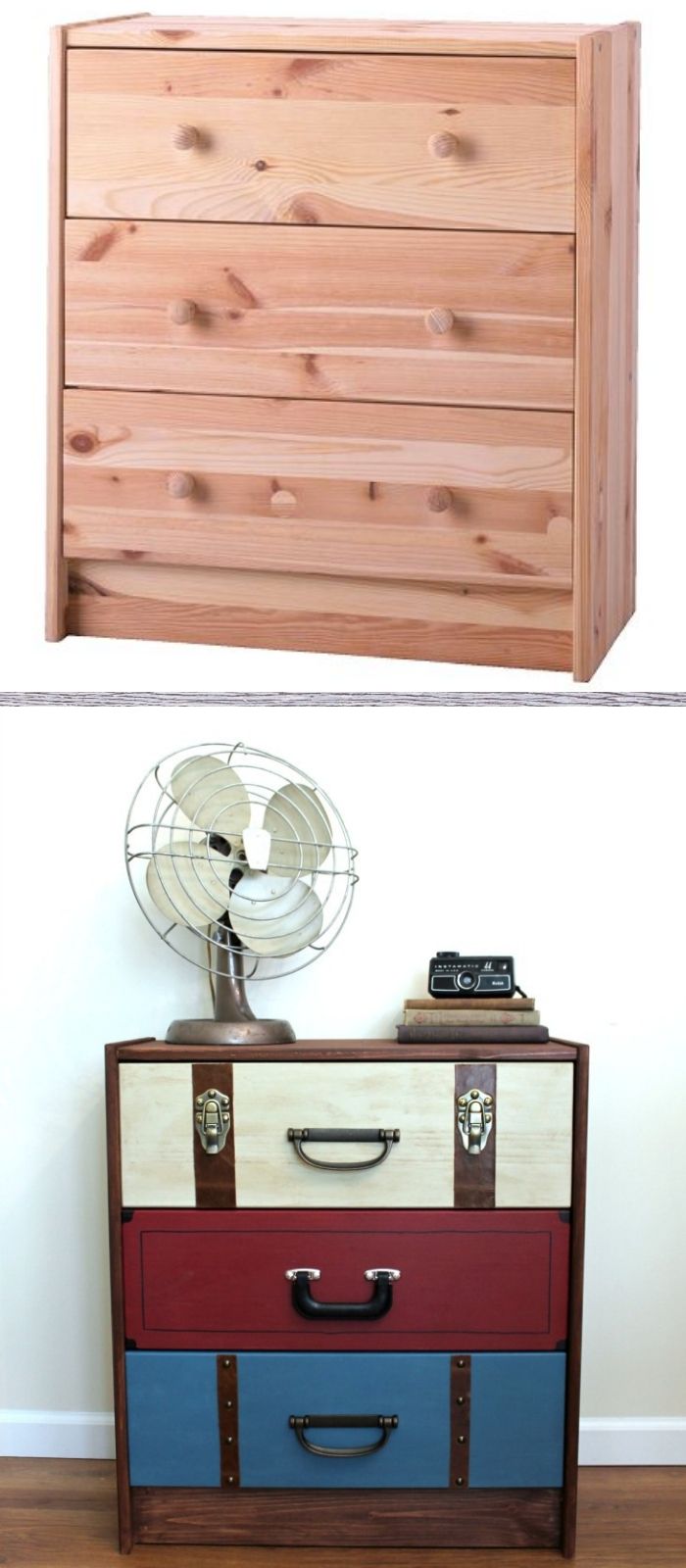 Everyone loves stacked suitcases but using them for storage isn't always convenient.
With paint and the right dresser, you can enjoy the look of suitcases without the hassle.
11. Hanging Chair Closet Organizer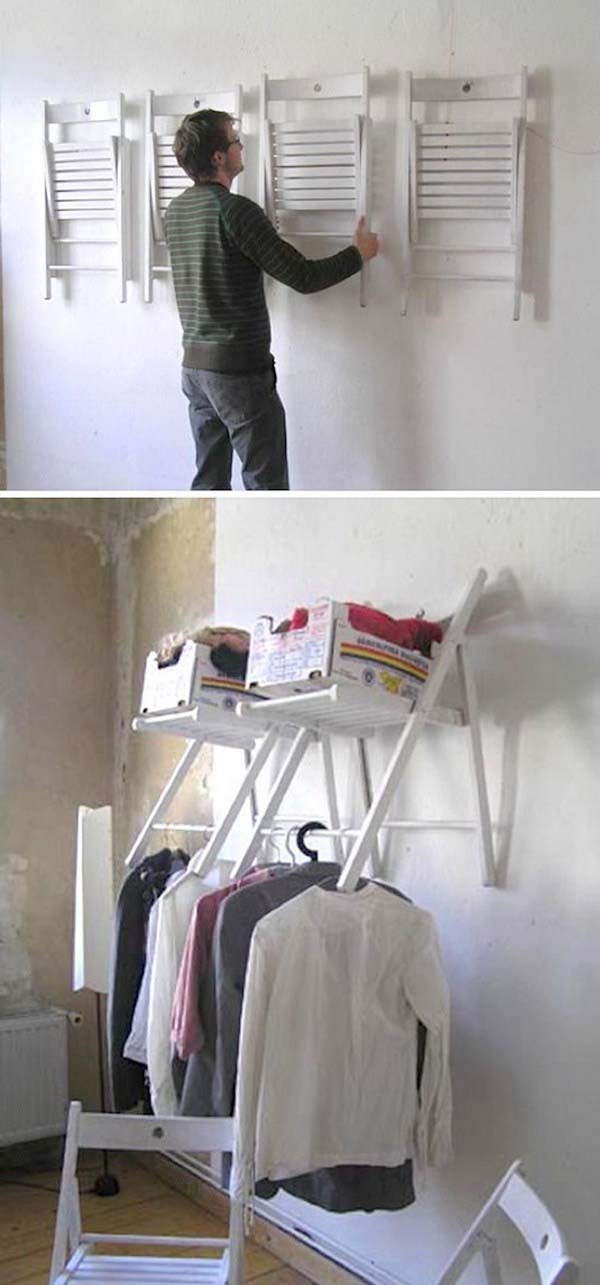 Hanging folding chairs on the wall is a great way to make an impromptu closet that can easily be taken down when it's no longer in use.
via yiconglu.com
12. Towel Rack Ladder

Old ladders shouldn't be thrown away when they can be turned into towel racks.
This is a great option for use in the bathroom and will make it easy for towels to dry quickly.
13. Spray Paint Chairs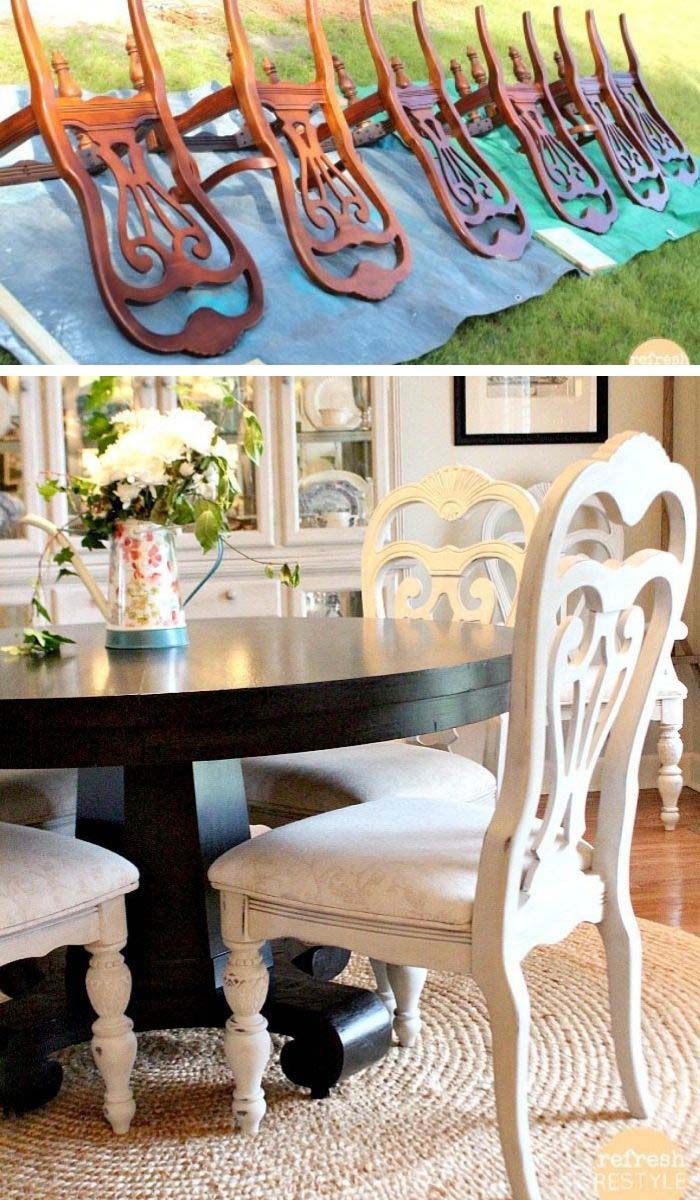 Old chairs really shine when painted with fresh paint.
This is a great look on any chair but especially on ones that are a little more ornate and feature some interesting details.
14. Rustic Bench From Old Shutters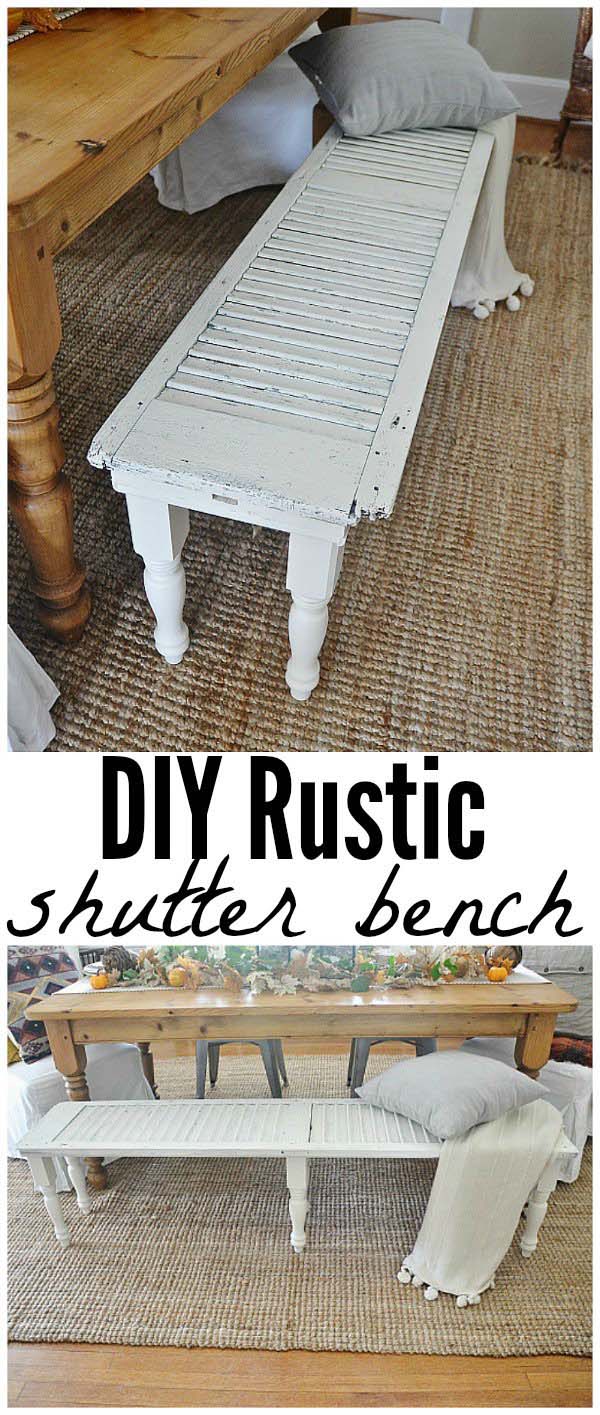 Old shutters have a lot of history and glamour and you can enjoy the way that they look inside your home.
Turning old shutters into benches is a great way to show them off and make seating.
via lizmarieblog.com
15. Blue Side Table Makeover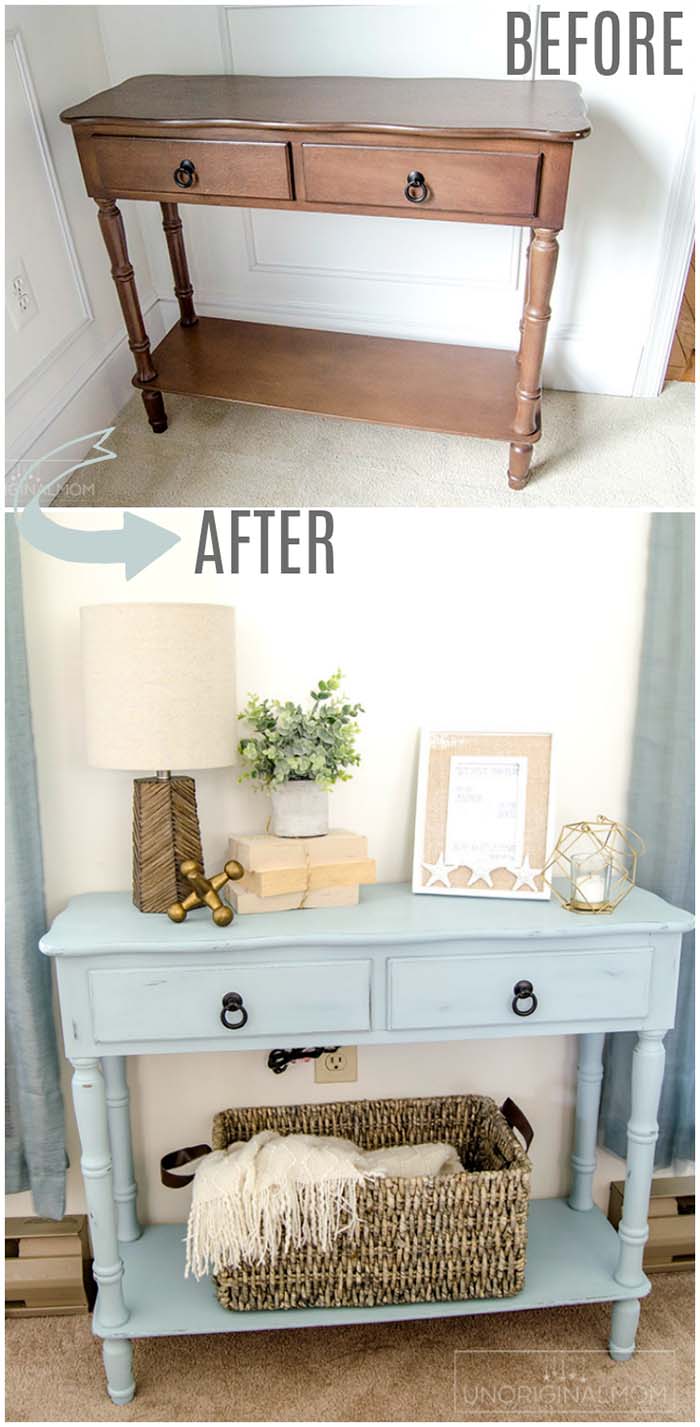 Entryway tables tend to fade into the background unless you are intentional about making them really stand out.
The right shade of light blue is often enough to make this happen.
16. Bench with Side Storage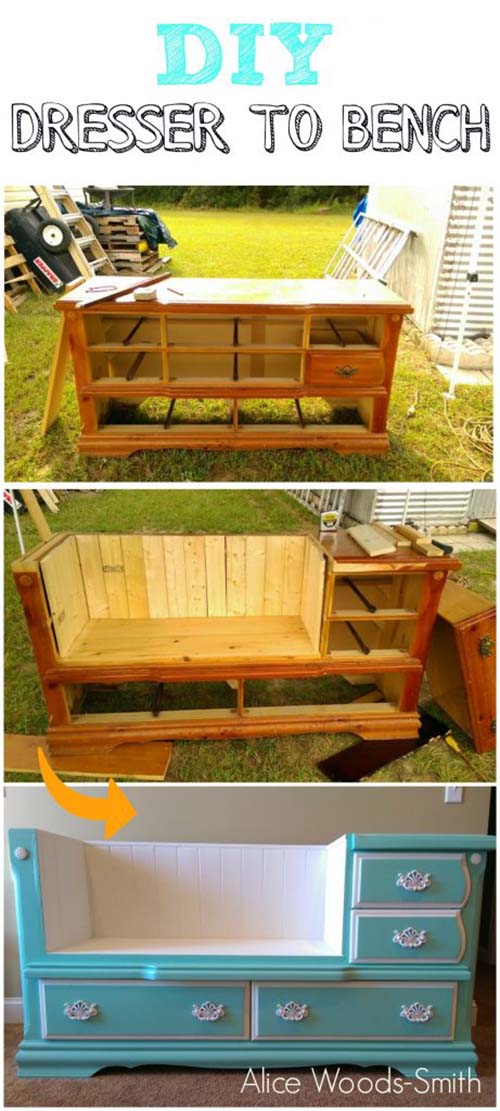 Enjoy a cozy bench with plenty of storage along the side for clothing, purses, books, and more.
This is an easy upgrade when you have an old dresser that you can part with.
17. Vintage Desk Makeover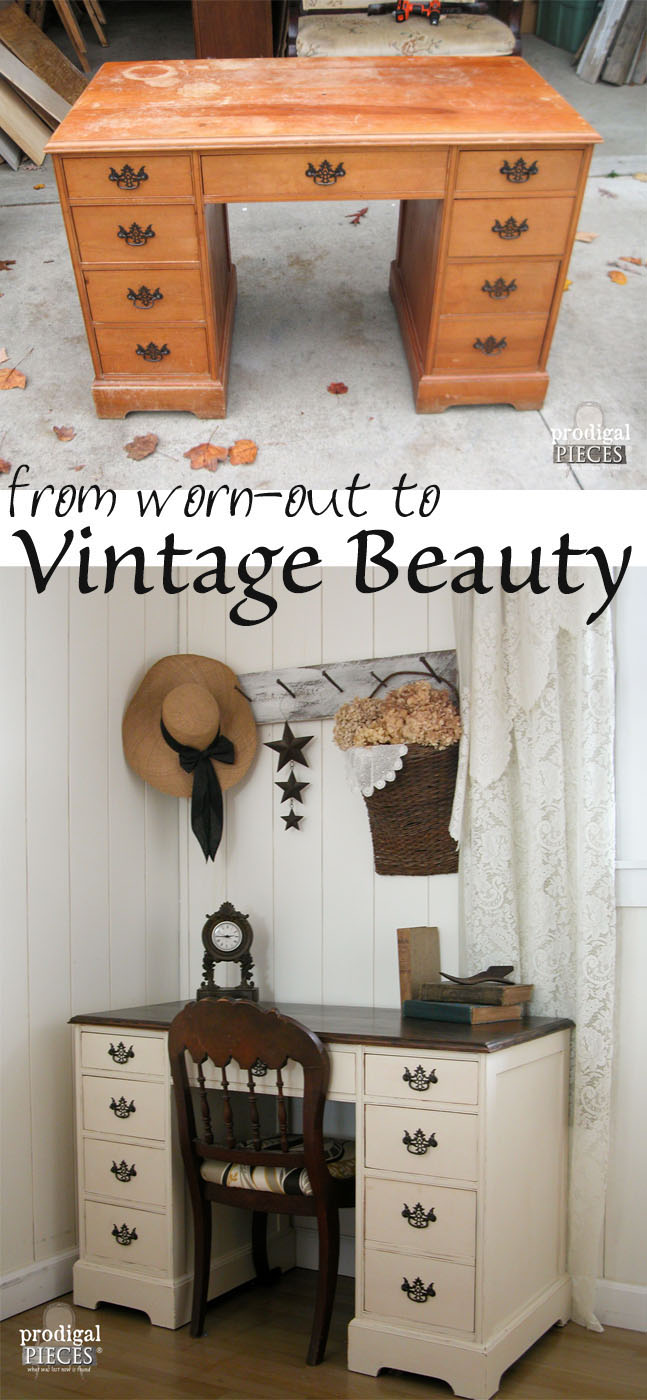 Keep the gorgeous old hardware and rely on fresh paint to update a desk into a piece that is fit for a chic office.
This is an easy project with a huge payoff.
18. Dresser To Double Vanity

Bathroom vanities can be really boring but yours can now be the star of the bathroom when you use an old dresser and make a double vanity.
This is a great way to make an otherwise boring space shine.
19. Old Desk To Night Stands

If you have an old desk that you're willing to part with, then you can easily make a pair of fun and leggy bedside tables.
They look great flanking the bed and add interest to any bedroom.
20. Two-Tone Dresser

Using one color of paint to update a dresser is a great start but for something that is a little more eye-catching, consider using contrasting colors to make the drawers pop.
Updated knobs tie the look together.
via fynesdesigns.com
21. Recycled Cupboard Doors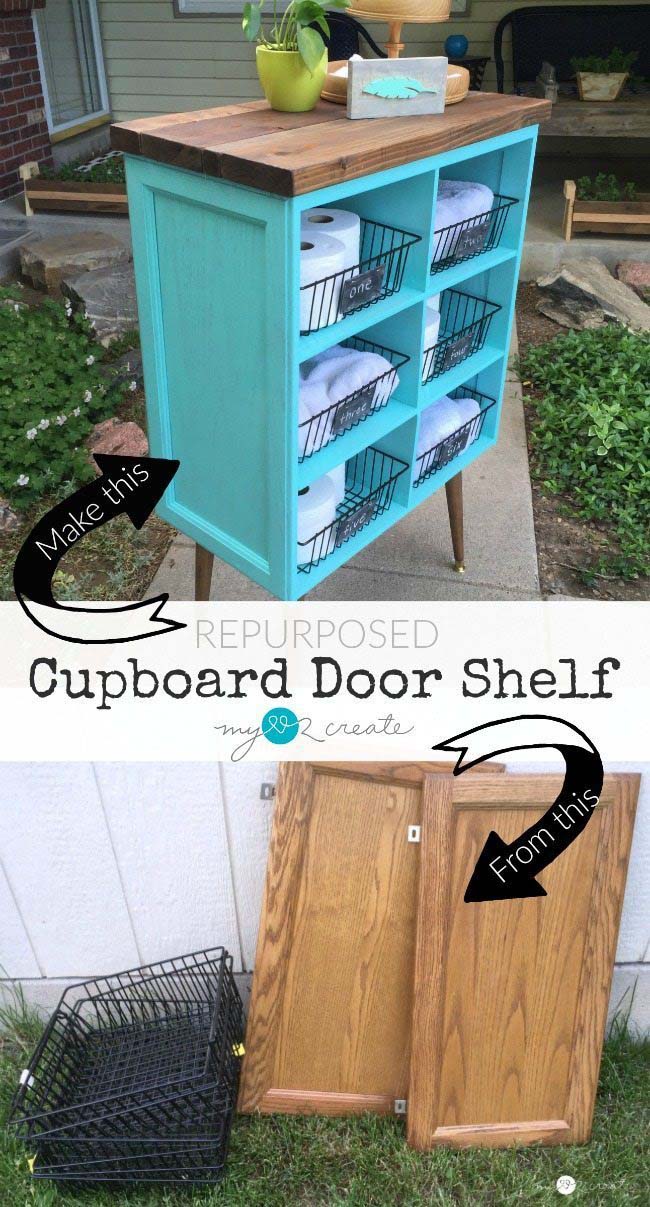 Old cupboard doors can easily be repurposed as a fun shelving unit.
Leaving the front of the unit open allows you to use your favorite baskets for corralling items.
22. High-Contrast Farmhouse Table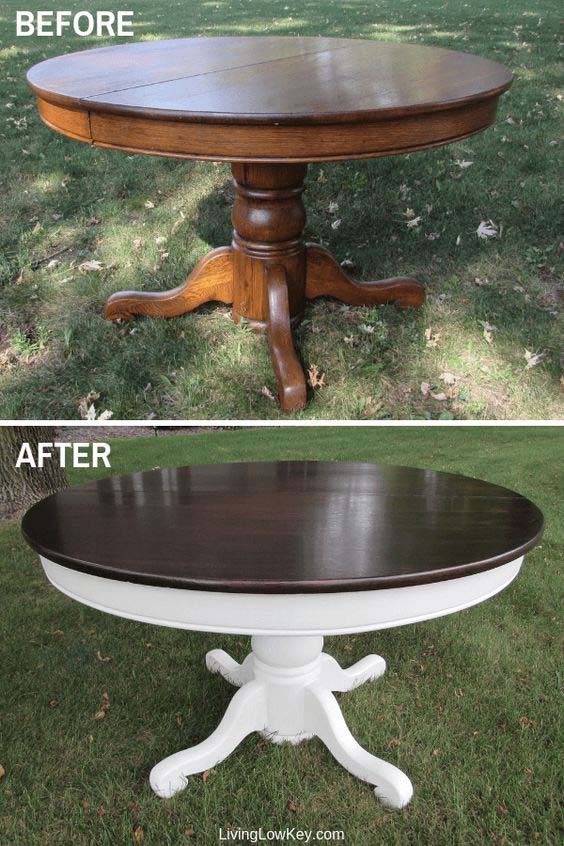 Add shine and sheen to the top of your farmhouse table and enjoy bright white legs with this fun update.
It's a great way to bring new life to your old table and have it looking its best.
via livinglowkey.com
23. Turn a Hutch Top Into a Shelf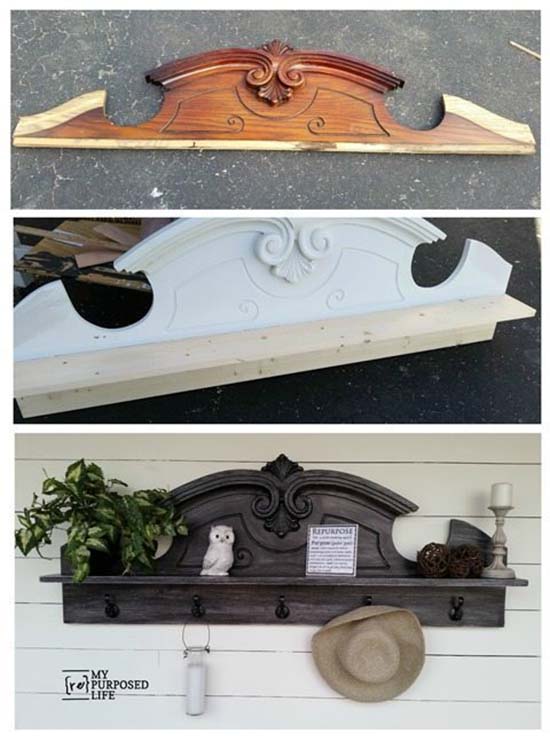 An old hutch top makes a gorgeous, ornate shelf no matter where you hang it.
Add hooks so that you can easily hang coats, hats, and purses.
24. Lacy Drawers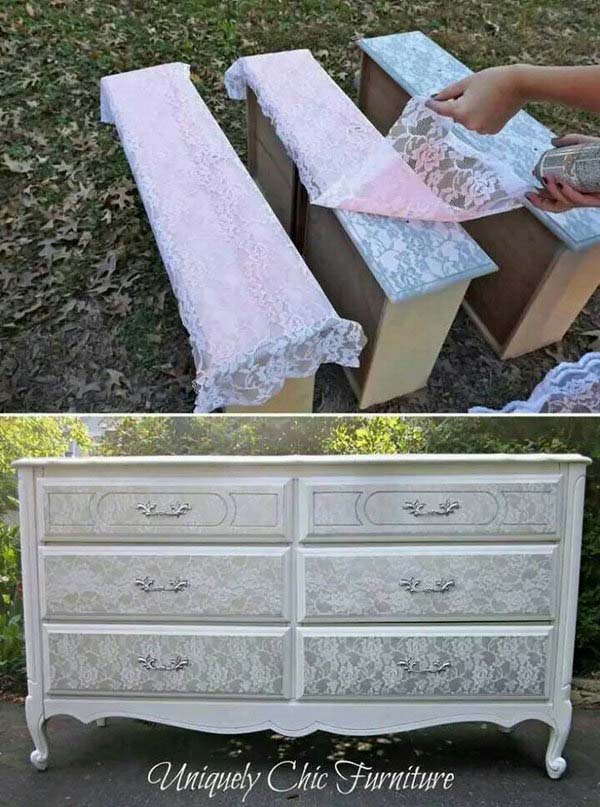 Using old lace and some paint allows you to easily add texture and visual interest to the front of old drawers.
This is a great way to quickly update furniture.
via uniquelychicmosaics.blogspot.com
25. French Chic Cloth Stool

An old stool enjoys a chic French upgrade with a drop cloth. The roses around the edge add a lot of interest to the piece.
via confessionsofaserialdiyer.com
26. Dresser Makeover With Wallpaper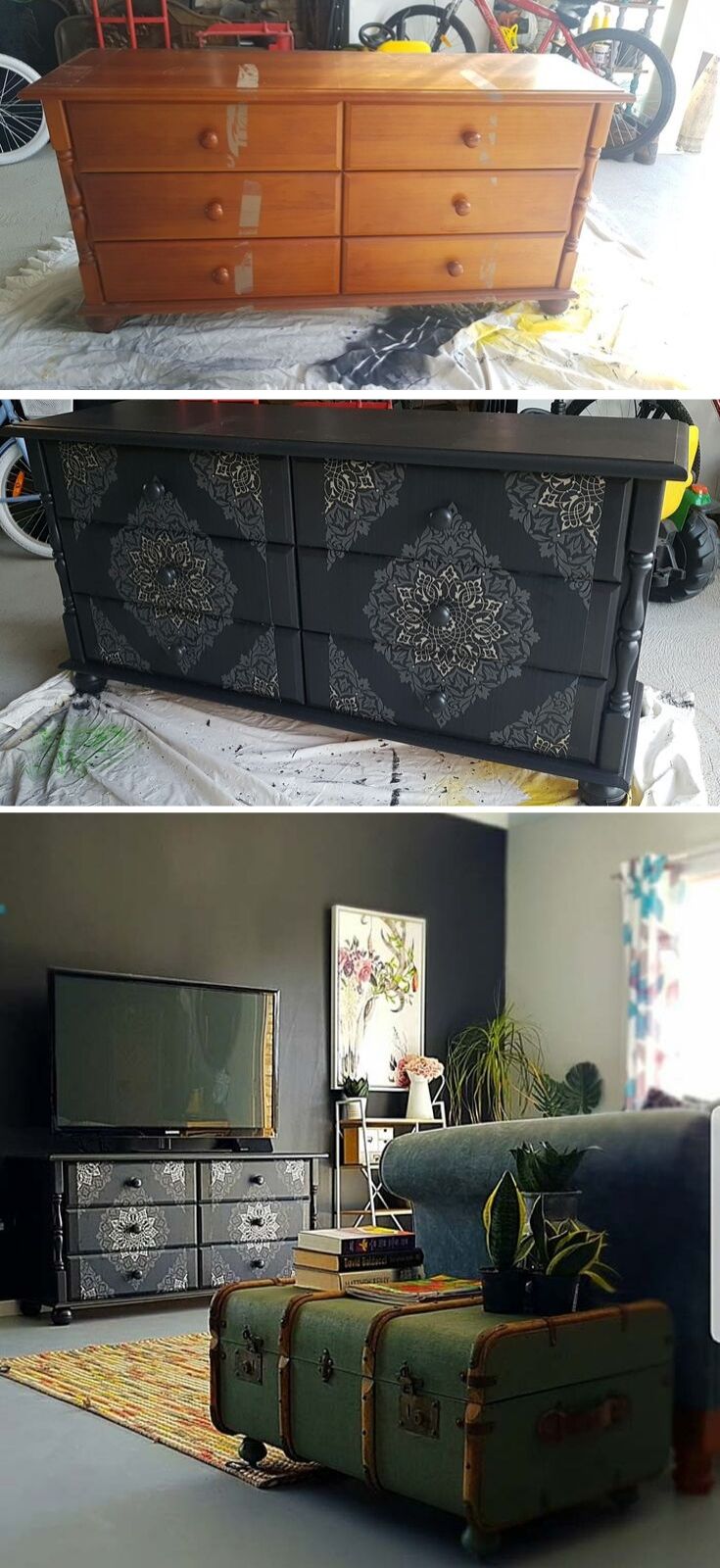 I haven't seen anything like this before – using paint and wallpaper to create this stunning old dresser makeover.
27. Headboard to Swing Bed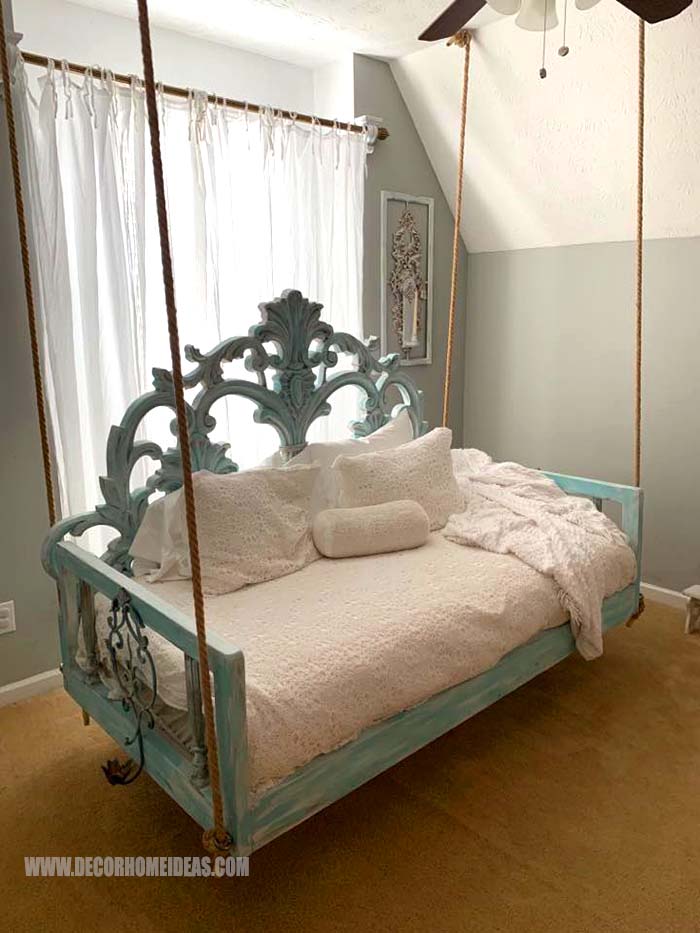 If you already have a nice headboard why don't you make a swing bed? It's the ultimate relaxation place to read a book or take a nap.
When you want to update your space and reuse old furniture or items in your house, then consider one of these 30+ great options!
28. Old Hutch Into Coffee Bar

Are you considering throwing to garbage your old hutch? Well, take a look at this fabulous makeover and think again.
You can sand it and then paint it in pastel turquoise, add some vintage pendants and farmhouse decoration and create a stunning coffee station to enjoy your morning coffee.
You can see a video of how it's made here: Building a Coffee Bar
29. Coffee Station Makeover

Another great example of what you can do with an old dresser!
30. Side Table Transformation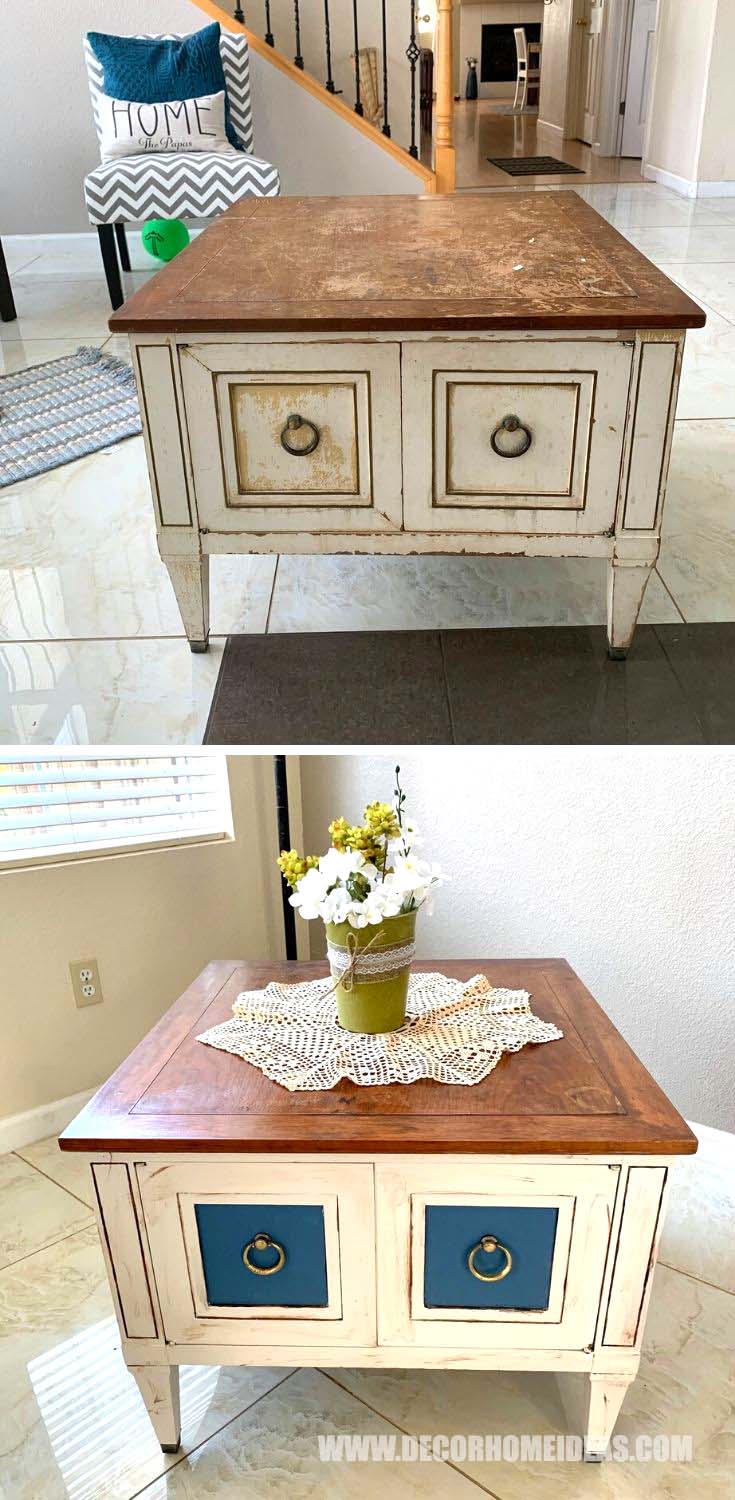 Mandy's neighbors had this beautiful table out on the curb for trash pickup! So she gave it new life and it's now one of her favorite pieces of furniture and that is honestly the simplest, cutest update I've ever seen and I'm absolutely in love with it.
I love the color she put on, it just made the piece pop. It is such a cute piece.
I always wonder how people feel when they throw something out and then see it re-purposed and way better! 
Well, I bet they would want it back now!!!
31. Old Cabinet Painted in Navy Blue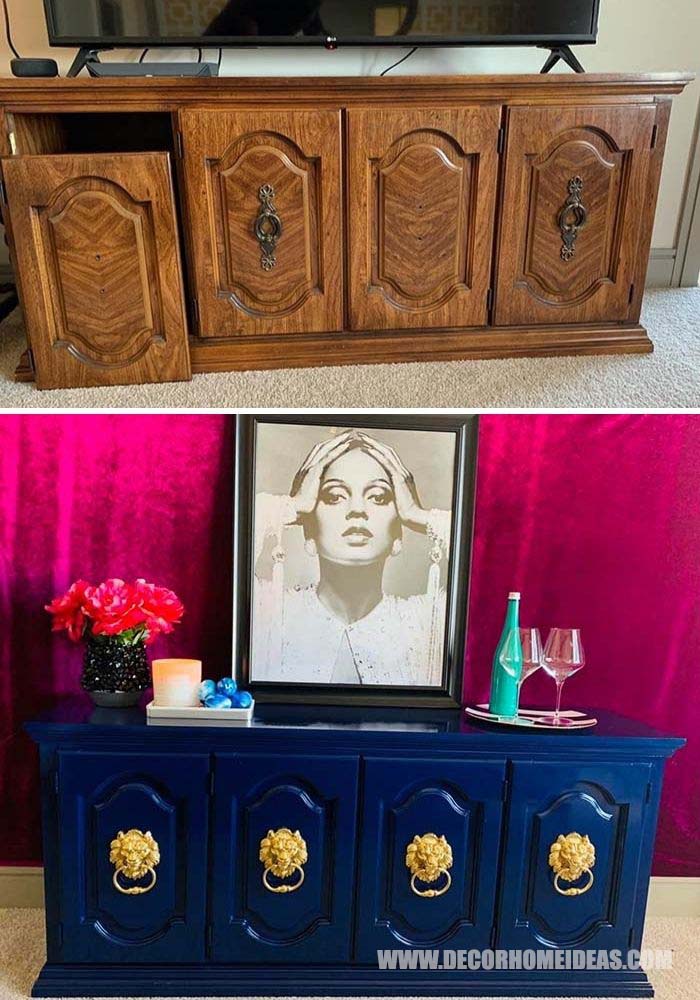 Meyetta used Rustoleum Gloss Navy Blue Spray paint and purchased the lion head knockers from Amazon.
She would also like to find funky decorative paper to put on the inside.