Firewood storage is important. Whether to keep the logs well stacked and dry to use during the winter season or to fire the BBQ or the firepit in one instant, you need a dedicated place for your firewood.
Gone are the times when firewood racks were only a PVC sheet covering the pile. We have collected the best Easy DIY Outdoor Firewood Rack Ideas and Designs to make not only a functional but also a decorative rack.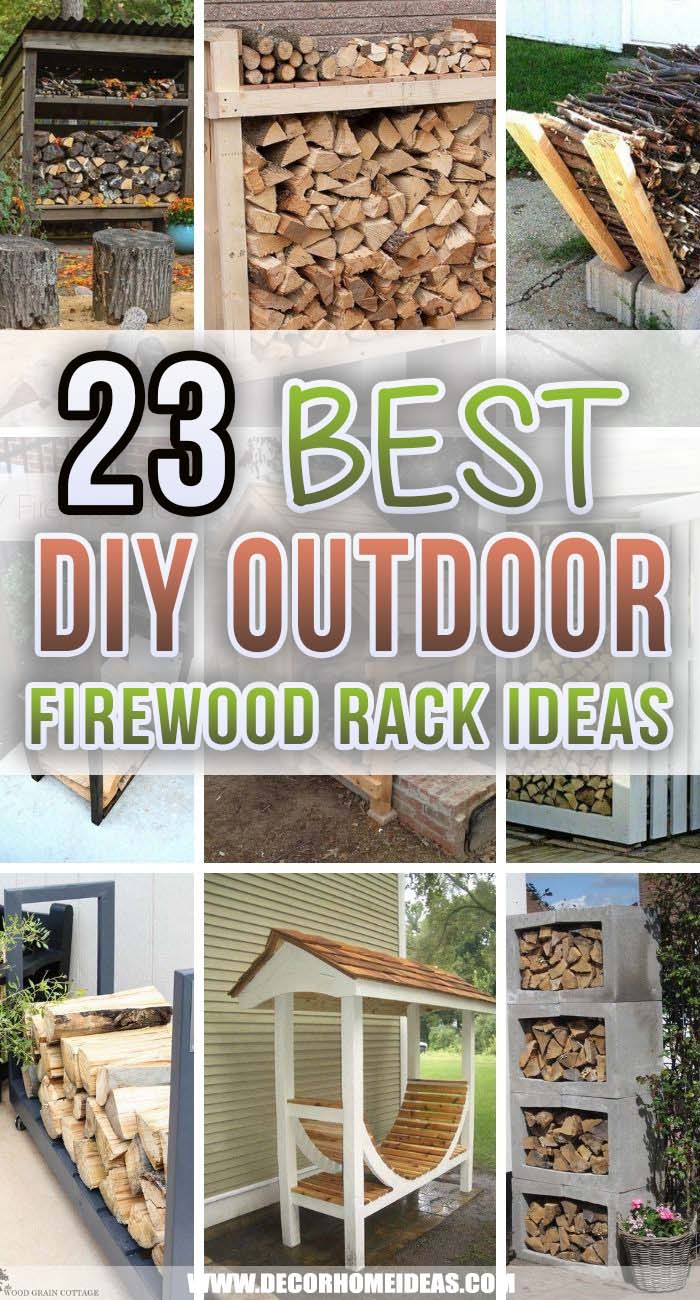 The good news is that all of the ideas are easy, fun and inexpensive. Ready to spruce up the outer part of your home?
1. Fire Pit Bench Does Double Duty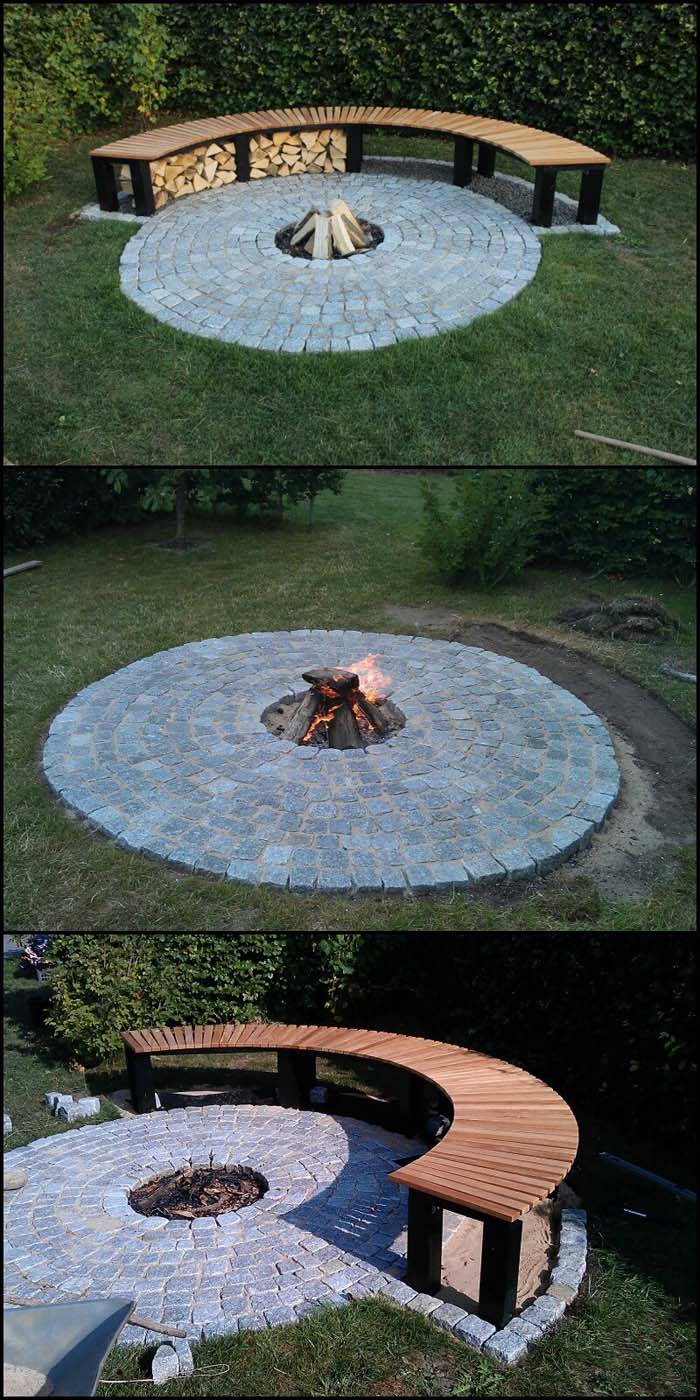 The space beneath the seats is framed into sections and used as a firewood rack- working, safe and very appealing!
Related: 30 Best Round Fire Pit Ideas For Memorable Summer Nights
An amazing disguise of the firewood rack is featured in this DIY project! The outdoor fireplace is designed with a functional bench which does dual function!
via Instructables
2. Smart Rack With Roof Protects Firewood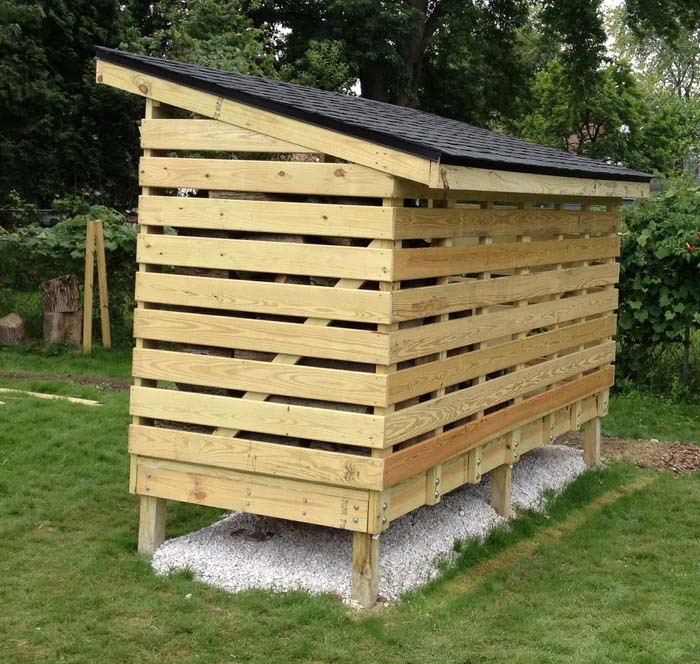 Depending on what you need the logs for and how often you use them, you may need a compact rack. This idea is great for fireplace or BBQ needs.
The rack can sit outside in the backyard and the logs will be protected from water soaking thanks to the added roof insulation.

The mini shed is compact, provides a possibility for good organization and stacking of plenty of logs.
via Mugs132
3. There's Room for Kindling With Rack Plan

If the log rack should accommodate a larger number of logs because you and your family enjoy spending time outside around the firepit, check this functional firewood rack.
It can store up to half rick of wood thanks to its height ensured in two levels. It is also very rigid and stunning because of the combination of cinder blocks and cedar fence pickets.
via Fresh Patio
4. Add Wheels for Stylish Firewood Cart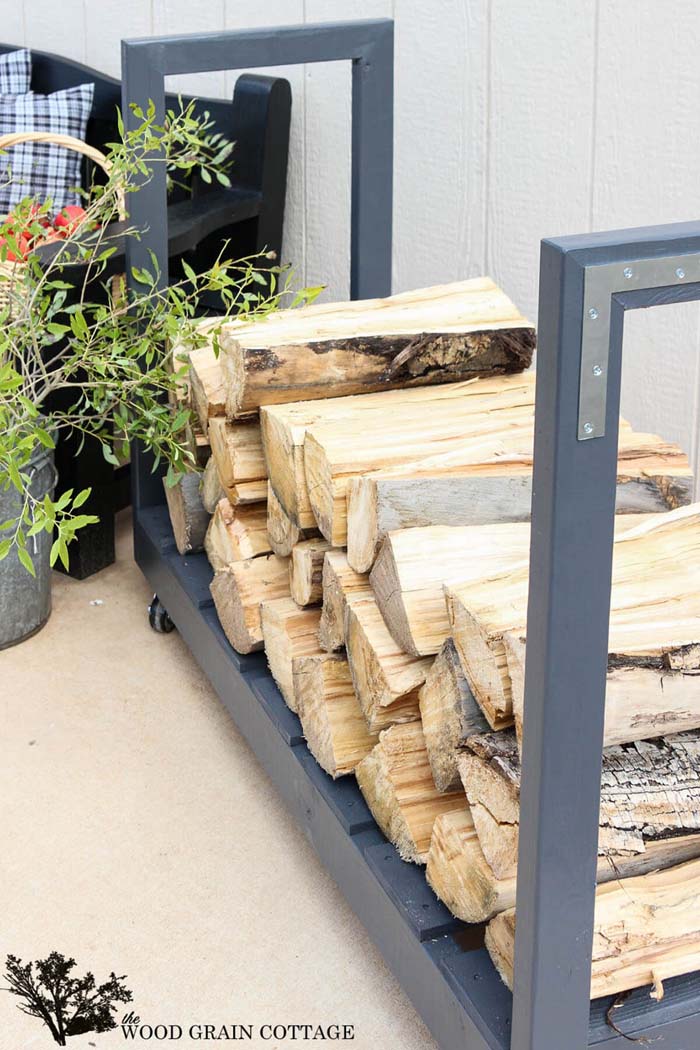 This easy DIY firewood rack idea is affordable, functional and will spruce up your backyard look.
It can be made from left pallet slats or from cedar planks. Its U-shape lets you stack the logs easily.
An additional comfort is provided by the installed casters which help the rack be relocated effortlessly and also cleaned around it.
The outer look of the rolling firewood cart is also very impressive as it also considers easy blending with the patio decor.
5. Tall Storage Uses Less Space on Patio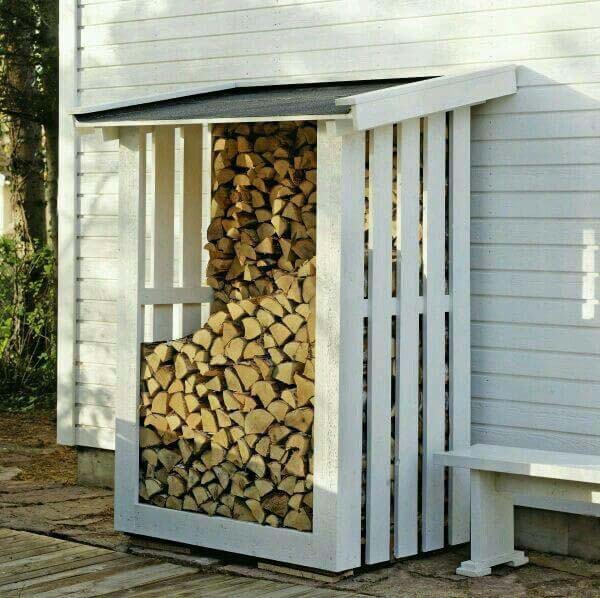 Due to its height, this firewood shed takes up a good number of logs without covering too much of the surface.
Its design considers also an appealing look that will match the surroundings.
An insulated inclined roof will prevent rain drops from wetting the logs and also gives the rack a finished vision.
via Suomela
6. Cinder Blocks and Beams Organize Wood Quickly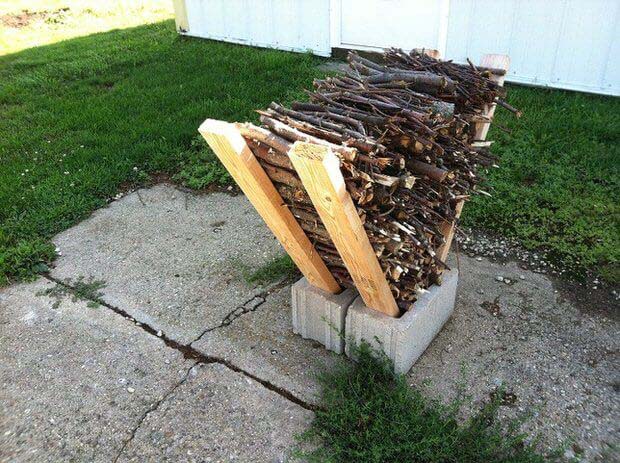 Are you looking for an instant firewood storage solution? This idea is doable because the supplies can be found in any home. Two cinder blocks and four beams- this is it!
Insert the beams in the holes of the blocks so that they form a V-shaped wood rack.
7. Log Store Holds Enough Wood for Season

This firewood rack is quite big and can store all the wood a standard family consumes for the winter. It is constructed from tanalised sawn lumber known to be good for outdoor usage and inexpensive.
The whole project costs around $115 and this is quite a good price for its size compared to a log store offered in the stores.
via Little House On The Corner
8. Turn Cedar Smokehouse Plans Into Storage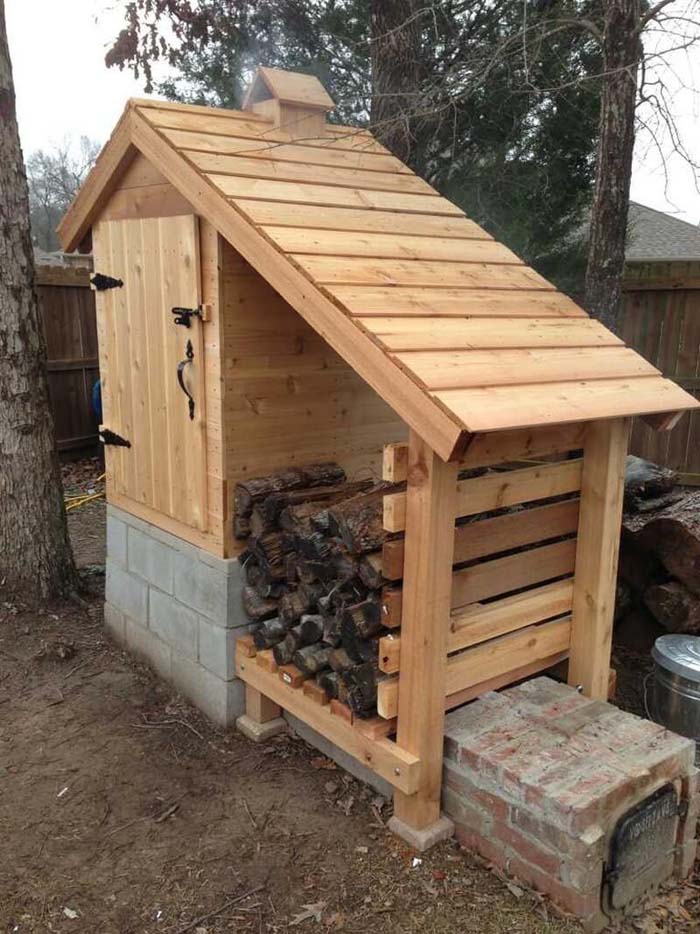 If you are looking for a log storage place which is more than a functional structure, you can take advantage of this attractive design of a firewood rack. It reminds a small cabin with its door, roof and chimney.
There is an open section where you can easily stack the logs and a closed compartment for tools and accessories that must be well protected from the outdoor environment.
9. Add Countertop to Firewood Storage Rack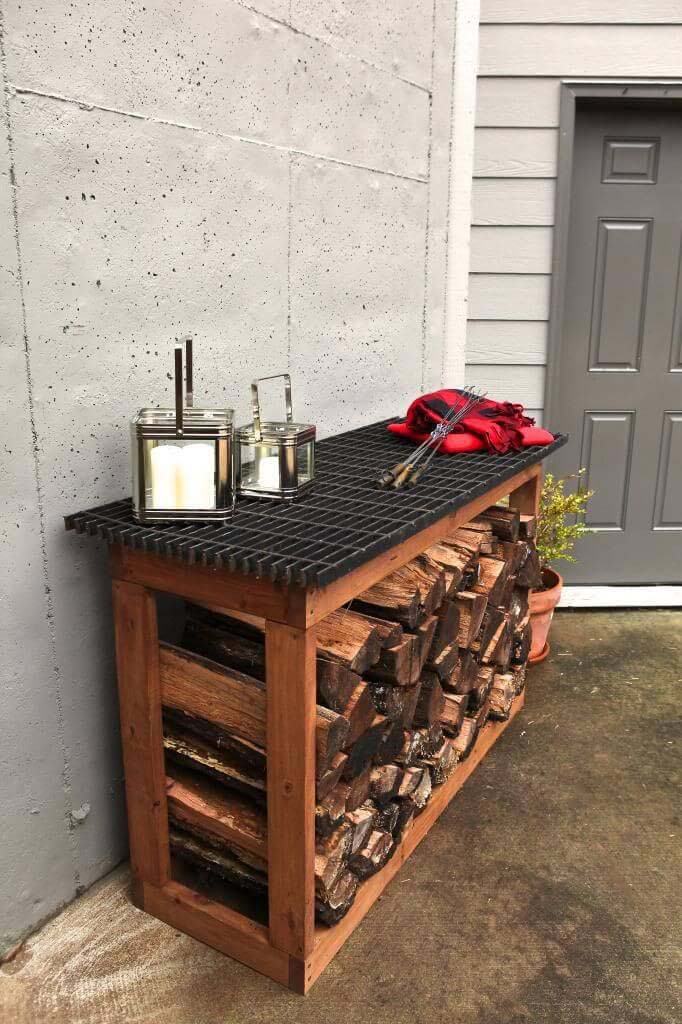 If you have upgraded your backyard with outdoor entertainment nooks such as a BBQ or a firepit, then the firewood rack will be needed in all seasons.
The plain structure of a wooden rack can be adapted to the activities in the summer season with a counter that stores all the items you may need for the outdoor fire feature.
via Bower Power
10. Quick Storage With Flipped Metal Garden Bed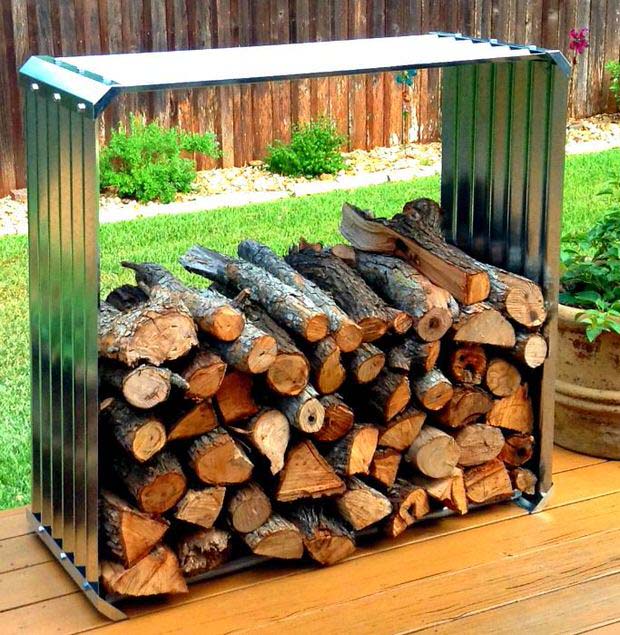 This is an interesting and budget-friendly firewood rack idea that will last for many seasons. Made from corrugated sheet metal the structure can keep the logs neatly stacked.
This rack has actually once been built for a frame raised bed hence there are two openings.
For this new application, the lack of a side could be called a disadvantage since it will let rain go on the logs. You can place the metal rack tightly against a wall to solve this issue.
11. Rugged Firewood Rack Separates Logs & Kindling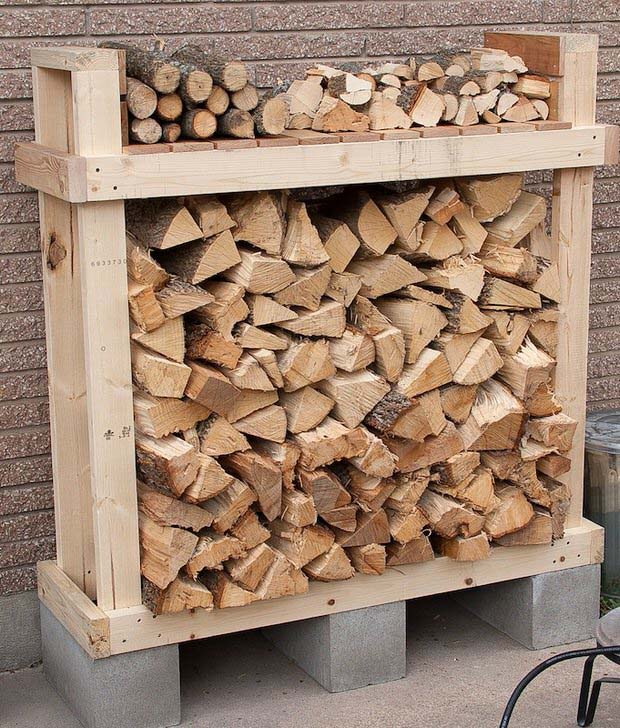 This outdoor firewood rack provides sufficient space for tightly stacked logs and a top smaller section for kindling.
Raw firewood can be placed on the bottom tier and the dry one next to the kindling on the top shelf. To keep the forewood dry, place under shelter.
12. Small Firewood Rack From Two-by-Fours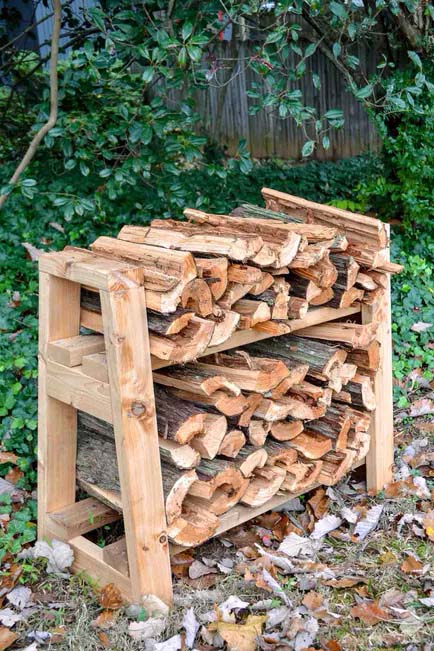 When in need of a smaller log rack, this is one of the best inspirations we want to offer you- simple, compact but with good load capacity.
Thanks to the ladder-like side supports, you can move it from place to place as needed. The whole project costs not more than $50 and can inspire the log organization indoors and outdoors.
13. Skip the Power Tools With Cinderblocks & Posts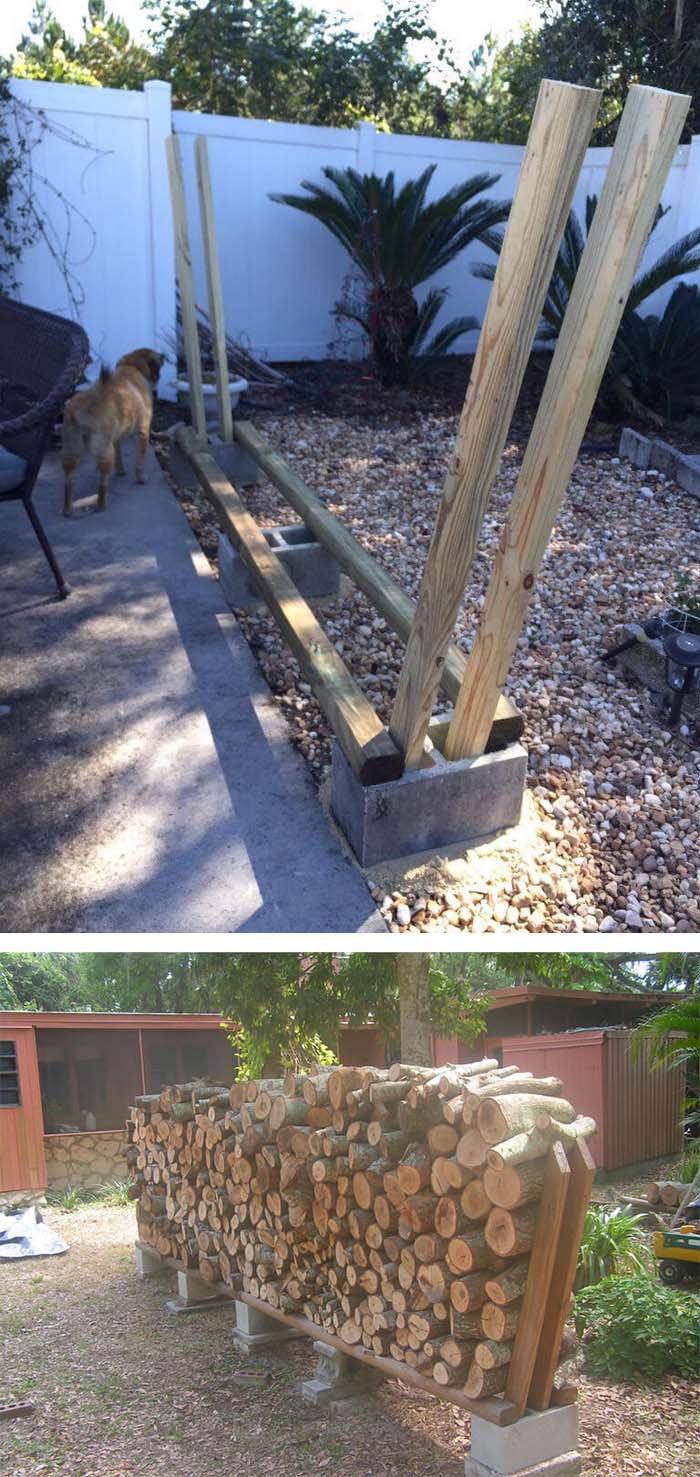 Your backyard upgrade idea related to the log storage can be performed with no tools. You probably don't believe it but you will be convinced once you see the instructions below.
Grab cinder blocks for the base, landscape timbers and some 2×4 that stands upright for bottom and side supports. Since there is no roof allowed, you can cover the logs with a PVC sheet.
via Instructables
14. Build Quick Firewood Rack With Pallet Wood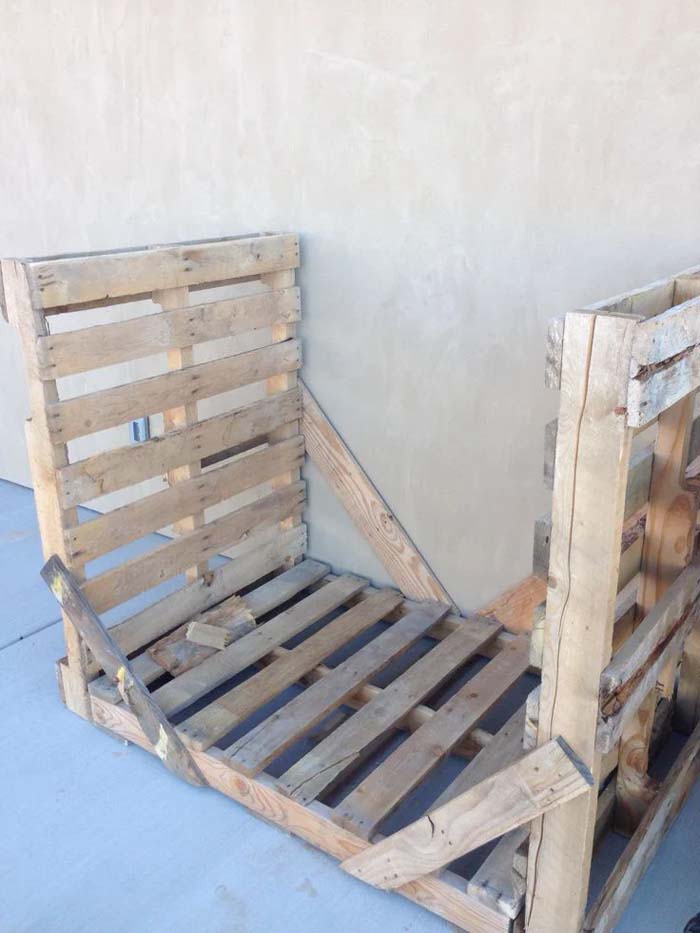 A great and very easy to build this is a firewood rack that needs only 3 pallets and some screws or nails.
Assemble the pallets in a U-shape and screw the hardware where the pallets meet. This inspiring upcycling project will let you neatly store the logs for quite a long time at outdoor environment.
15. DIY Post and Plank Log Holder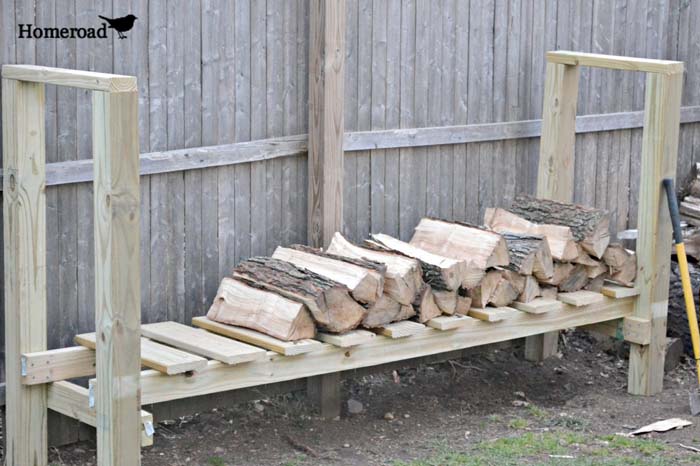 This could be called a beginner-friendly DIY firewood rack as it is built according to very basic instructions and assembly methods. Some wood posts and slats are assembled in a bench-like shape for storage of logs outdoors.
There is no protection from rain so you can preliminary plan where to place the rack so that it is under shelter.
via Homeroad
16. Simple Firewood Rack With Brackets and Beams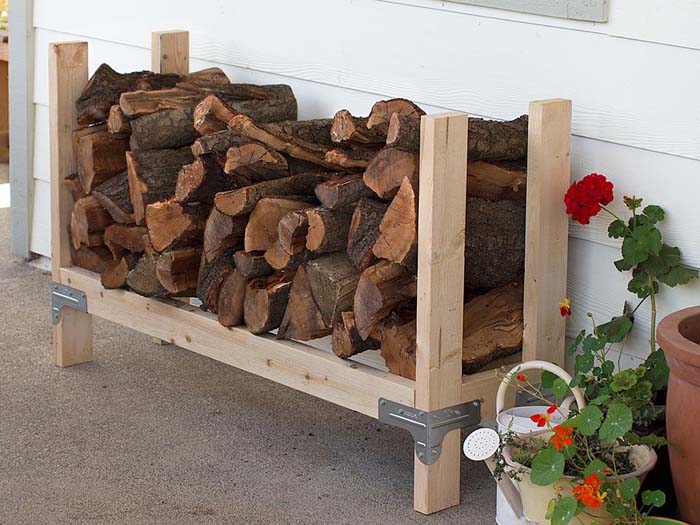 This outdoor log storage idea can be built in a couple of hours only. Are you already keen on making it? Prepare wood beams, and hardware plates for assembling the open rack.
The inexpensive idea doesn't offer a roof so make sure that the rack stays under a covered patio to ensure dryness of stacked logs.
via Ana White
17. DIY Spindle Firewood Rack Project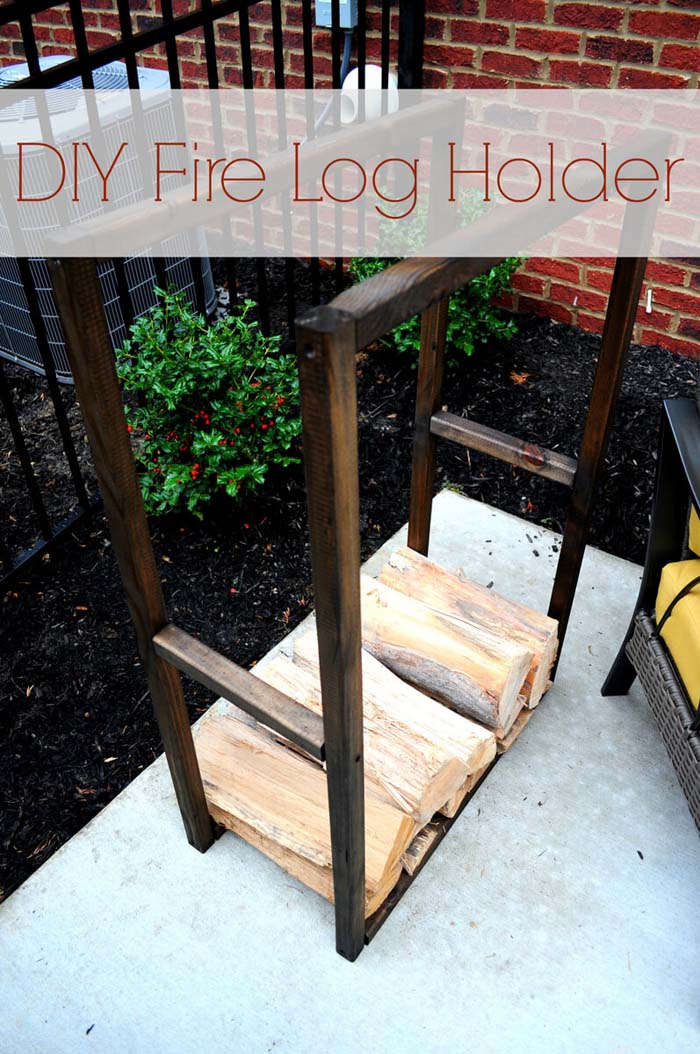 This is a sleek and relatively easy to build log holder. Its size makes it suitable for storage of logs next to a firepit or the BBQ.
You need spindle parts to make it and some stain if you want a modern look of the storage piece.
via True Value
18. DIY Firewood Storage Rack From Window Well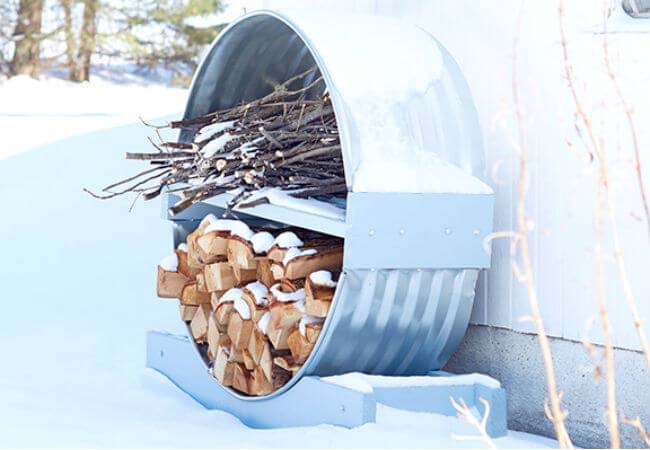 This metal rack features a two-tiered design to split logs from kindling.
The sheet metal can be flat or corrugated. Bending it in a semi-round is not easy, so if you are a beginner, better have it prepared before assembling it.
Connection of the two semi-spheres happens with a solid metal shelf ending in brackets that screw the pieces together. The best feature of this rack is that it can be placed against a wall to ensure small ground coverage.
via Lowe's
19. Curved Firewood Rack With Shingled Metal Roof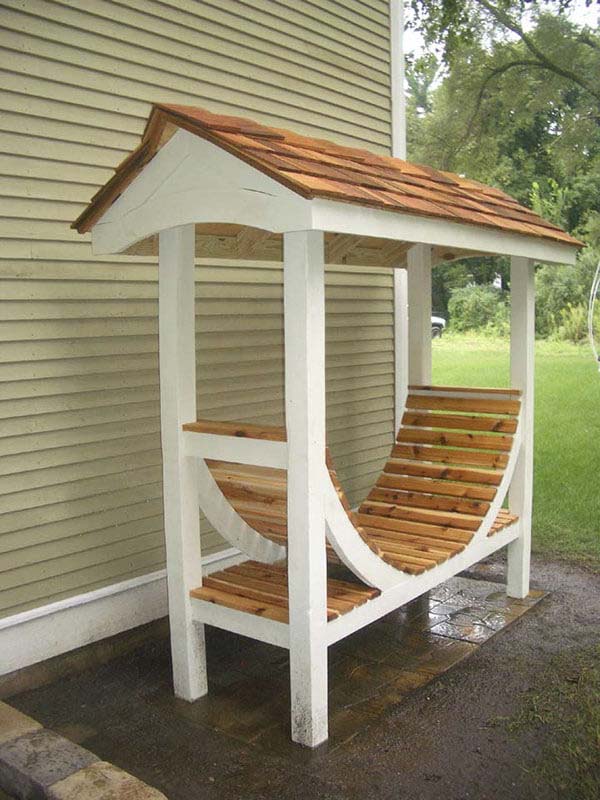 This beautiful and compact rustic firewood rack features a round seat for the log pile, two side sections for kindling and a roof to protect them from rain.
The storage structure is made from lumber mainly which is painted two contrasting colors that give it an appealing rustic touch.
20. Build DIY Firewood Rack With Concrete Footings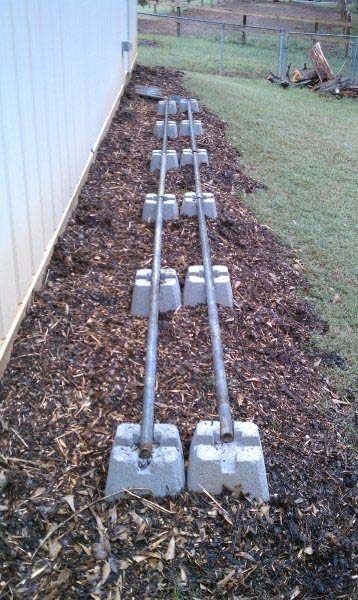 Looking for affordable home outdoor improvements? Check this simple and functional DIY firewood. Place pairs of concrete footings on the ground. Make as many as you wish to define the length of the rack.
Insert pipes on top of the blocks so that they coincide with the hollow section in the middle. Then simply stack the wood. If you build this easy rack next to the house wall, you would take advantage of the generous space to pile the logs.
via Indulgy
21. Adjustable Steel Log Rack Bracket Kit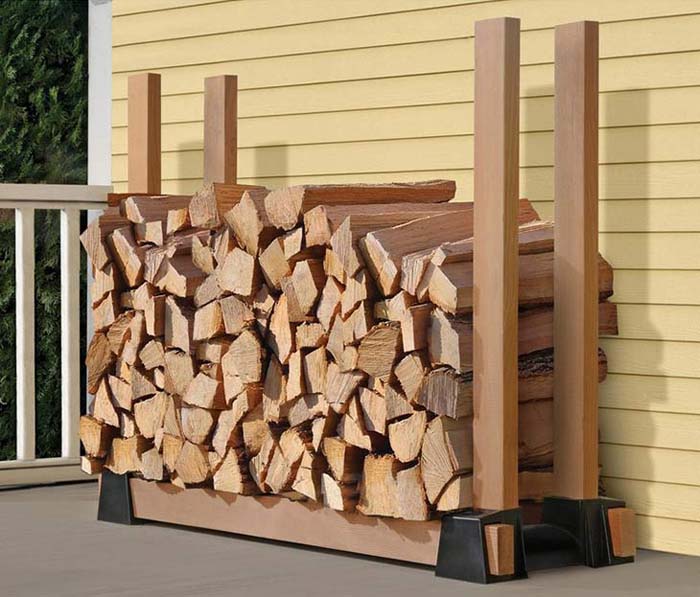 This outdoor firewood holder is made for DIY beginners that lack tools. You can get the brackets that keep the parts together from a hardware store and then insert the posts in rectangle shape.
This design also requires shelter so better build it on the patio under the roof.
via Wayfair
22. Stack Concrete Blocks for Firewood as Needed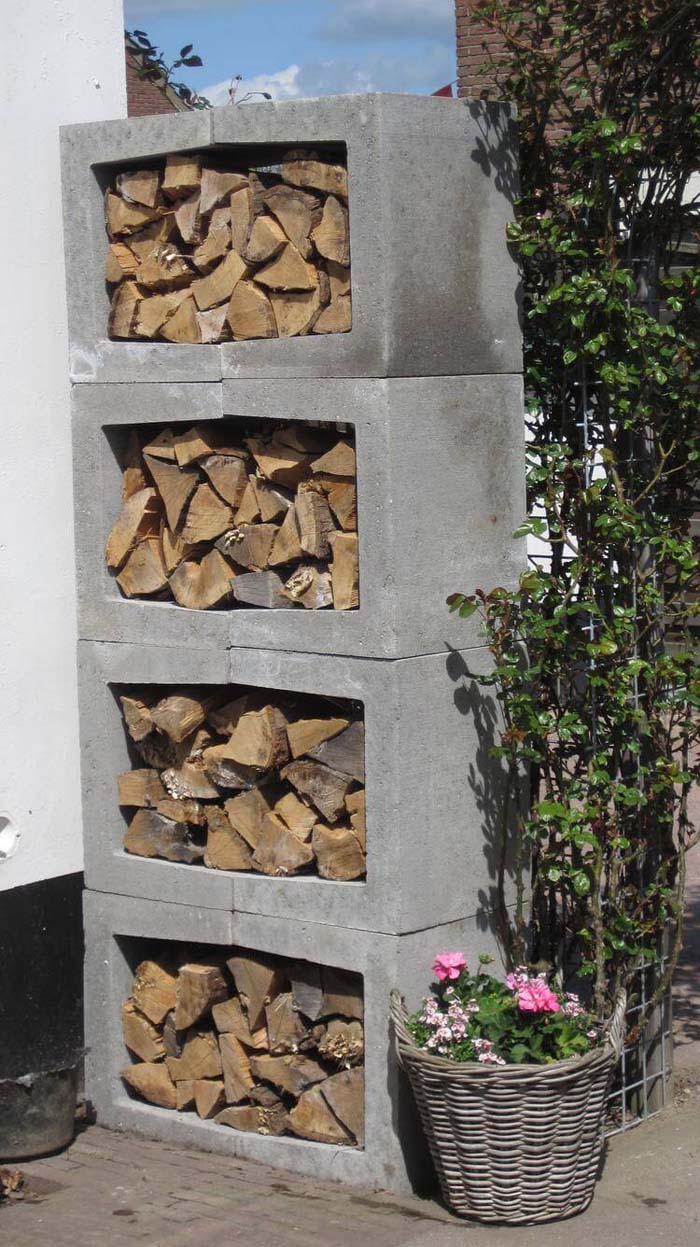 This firewood rack is inspired by the genuine shape of the big concrete blocks. They are stacked as shown creating tiered openings for storage of logs.
You can build this rack as tall as you want. You can even modify the alignment pattern by creating rows of two storage sections.
via Welke NL
23. Two Tier Firewood Rack With Raised Platform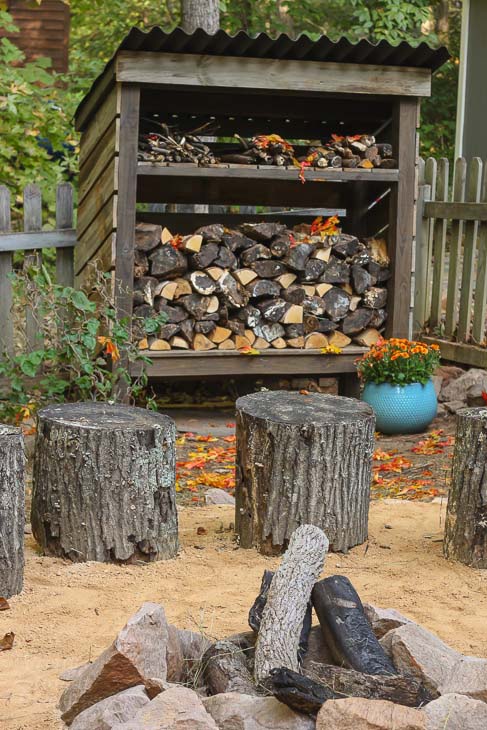 This is the most traditional wooden storage shed. It is stable, with roof and two tiers for sorted storage of logs and kindling.
What could make your rack more interesting is changing its look. Use stains to protect the wood from rotting and that will give it a finished look. Add a sheet of corrugated steel to further protect the wood structure and the contained firewood.