The home decor hacks are probably the best option when someone is looking for an update on the budget, whether it comes to furniture or interior design in general.
And since we aim to help you figure out the best ones instead of spending hours scrolling the tons of hack ideas, we have compiled the best DIY Ikea hacks.
All of them end in an unexpected attractive design, keep their practical function and even maybe a better version of the original piece when it comes to functionality.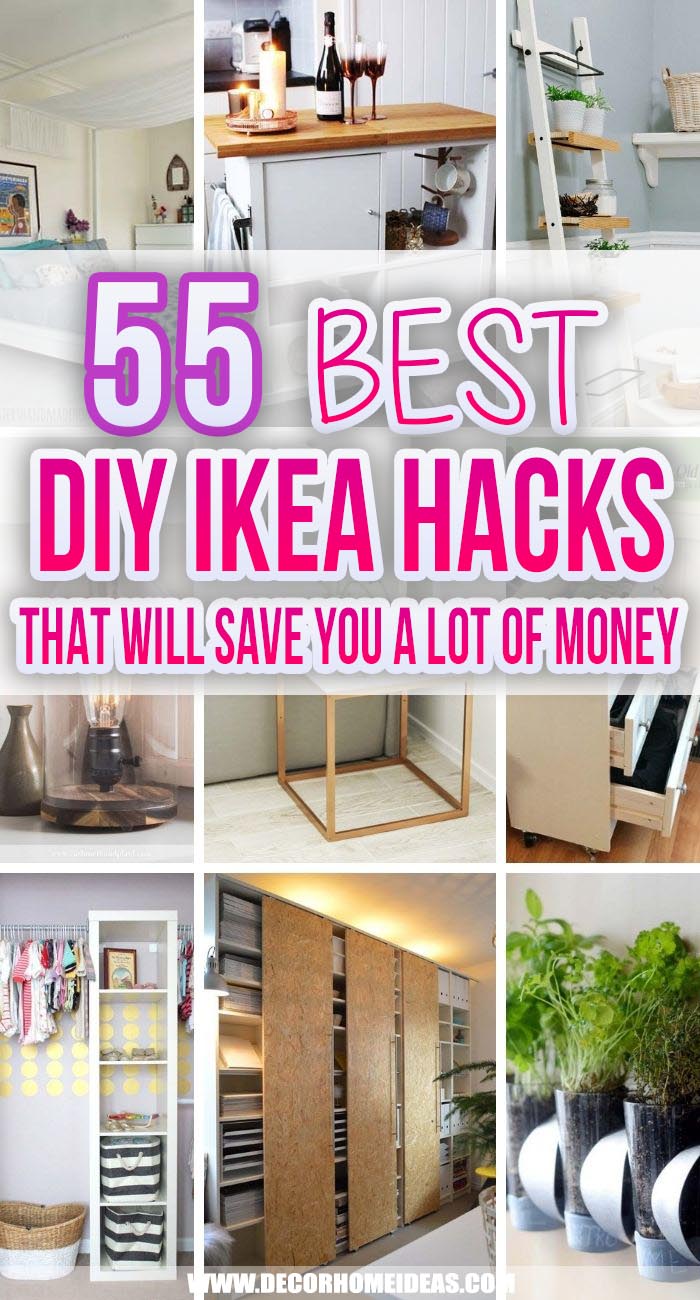 You will easily be convinced that these ideas come with the tag "hack" for a reason. They will change your lifestyle for the better!
1. Upcycled Coaster Jewelry Holders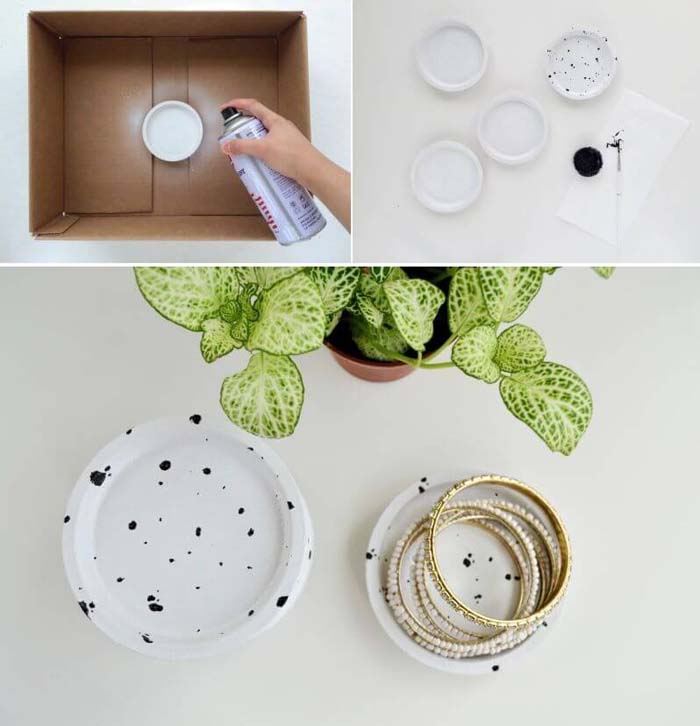 The cheap coasters from Ikea are repurposed into fancy jewelry holders with good acrylic paint.
The white spray paint gives them a faux ceramic finish which authentic texture is additionally backed up by the small black dots applied randomly with a paintbrush.
via DIYs
2. Exquisite Sideboard Hack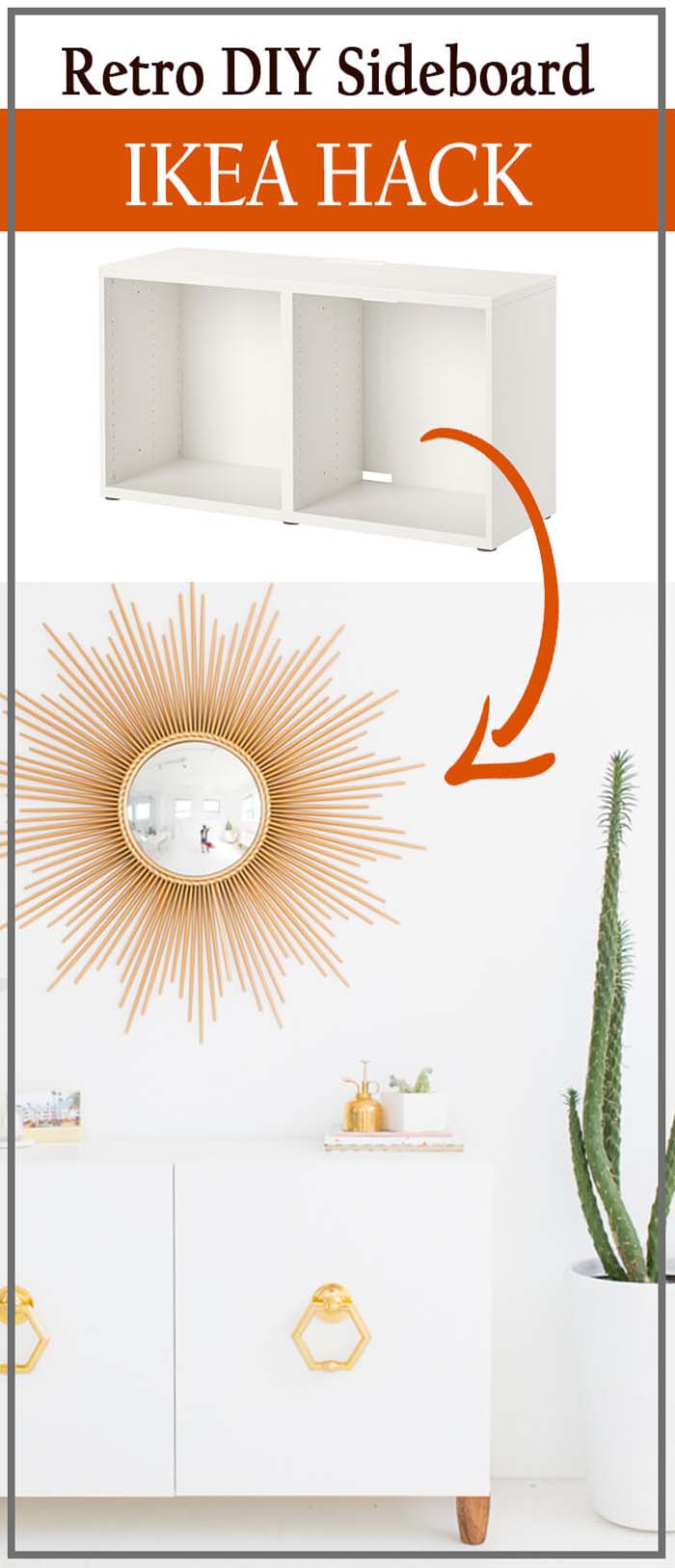 This hack reveals how to make the affordable Ikea's cubical shelf a unique sideboard. Adding white doors from the same store quickly transforms the open storage unit into a closed one.
Then feet are added and interesting hardware that matches the interior concept.
via Sugar and Cloth
3. Play Area Bed Project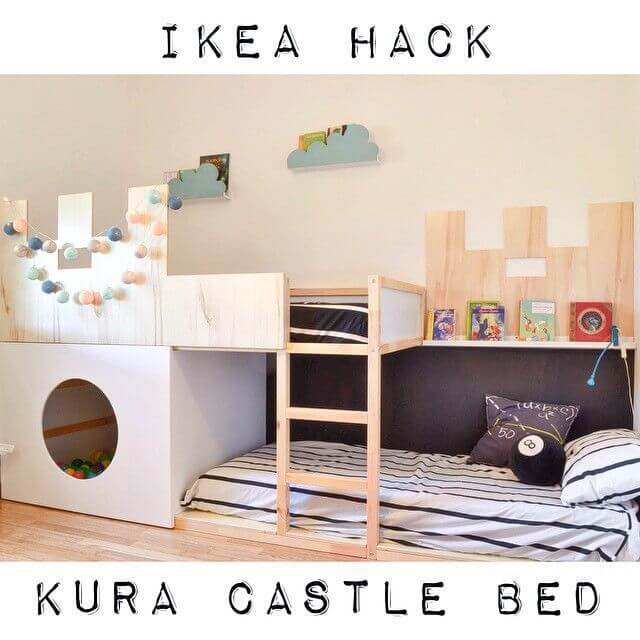 The Kura bed is transformed into a magical kids' room nook for sleep, play and dreaming with adding of plywood boards. Part of them creates the fortress sides, for the tunnel-looking cube and the other ones- to make the platform for the second bed.
This castle bed even has a secret ball pit and that makes this idea the most gorgeous Ikea's hack for kids' rooms.
4. Wall Mounted Makeup Holders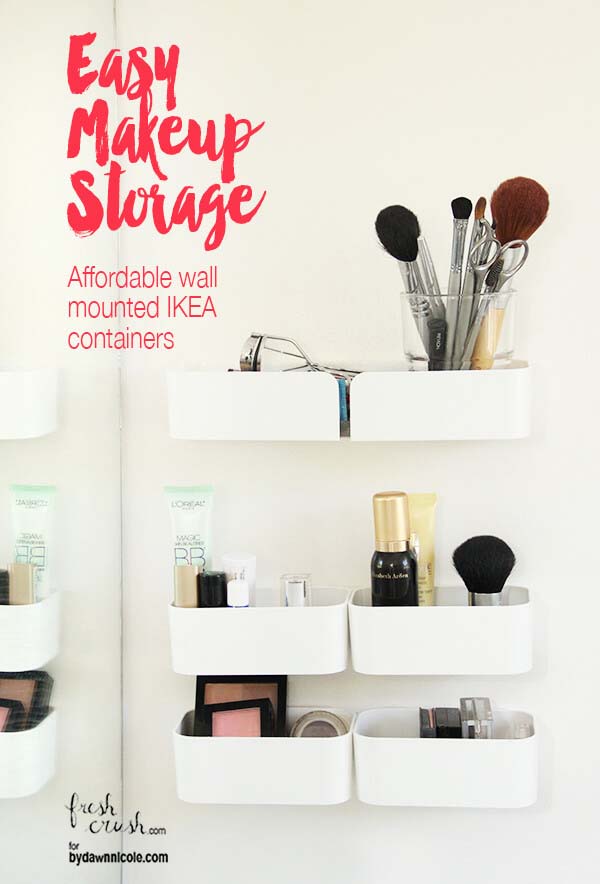 If you are missing space for a vanity in the bathroom but you want to have all your make-ups well organized in a space-saving way, you can use the plastic containers of Ikea.
Align them on the wall in an interesting pattern to totally change their original look and never let your guests recognize their source.
via By Dawn Nicole
5. Upgrade A Basic Shelf With Paper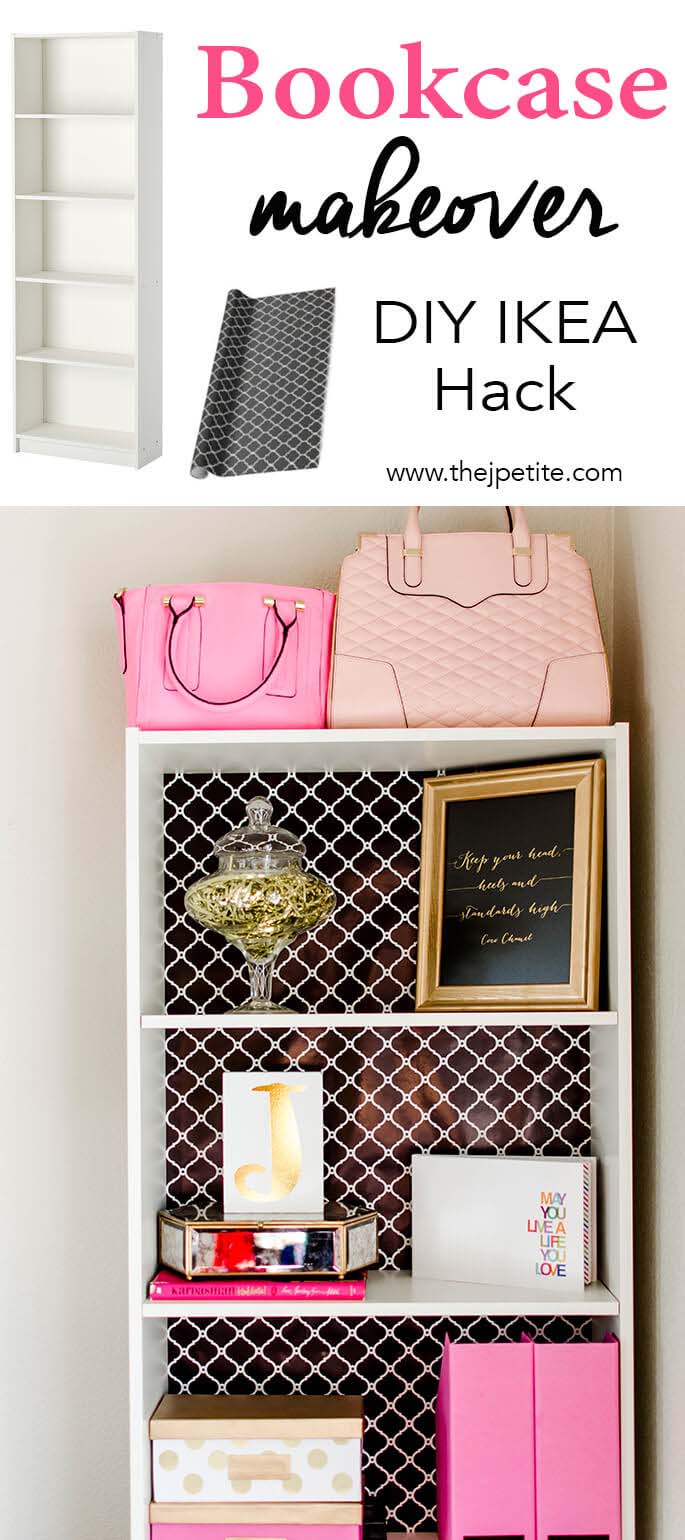 An affordable project for a bookshelf that can become the focal point of your living room incorporates an Ikea GERSBY shelf and wrapping paper.
Choose the pattern of the paper to be playful and in contrast with the white color of the shelf.
That will create a backsplash for your decor accents displayed there.
via J Petite
6. Just Add Paint And Knobs

This piece of furniture has taken the outer look of a vintage-aged nightstand by adding extra framing to the front side of the drawers and replacing the wooden knobs with metal hardware.
The original color of the Rast has been changed with chalk paint to hide the signs of a brand-new mass-made piece. The bottom board that is usually there to prevent dirt has been additionally re-worked to have curves that are typical for vintage wooden furniture.
via Hymns and Verses
7. Lampshade Mold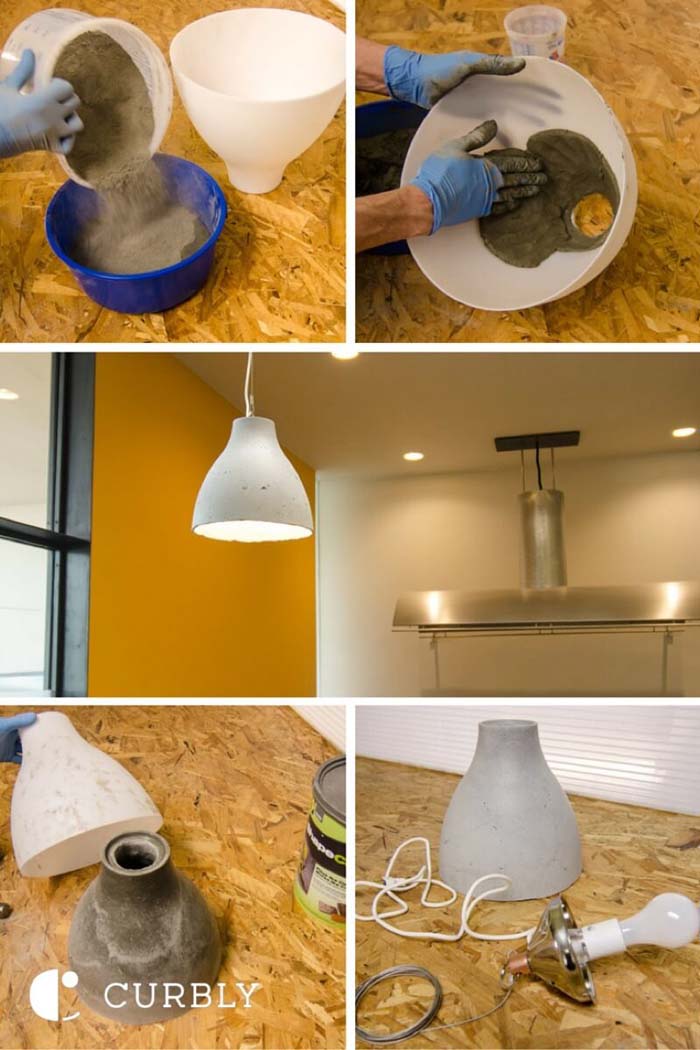 One of the most inexpensive pendant lamps at Ikea, Melodi Pendant Lamp, becomes the source of a modern chandelier! Do you want to know how? Use the plastic lampshade as a mold to pour concrete.
ShapeCrete has been recommended for this project as it eliminates the need for additional supplies and hard-to-do knockouts.
via Curbly
8. Kid's Dream Bed With Climbing Wall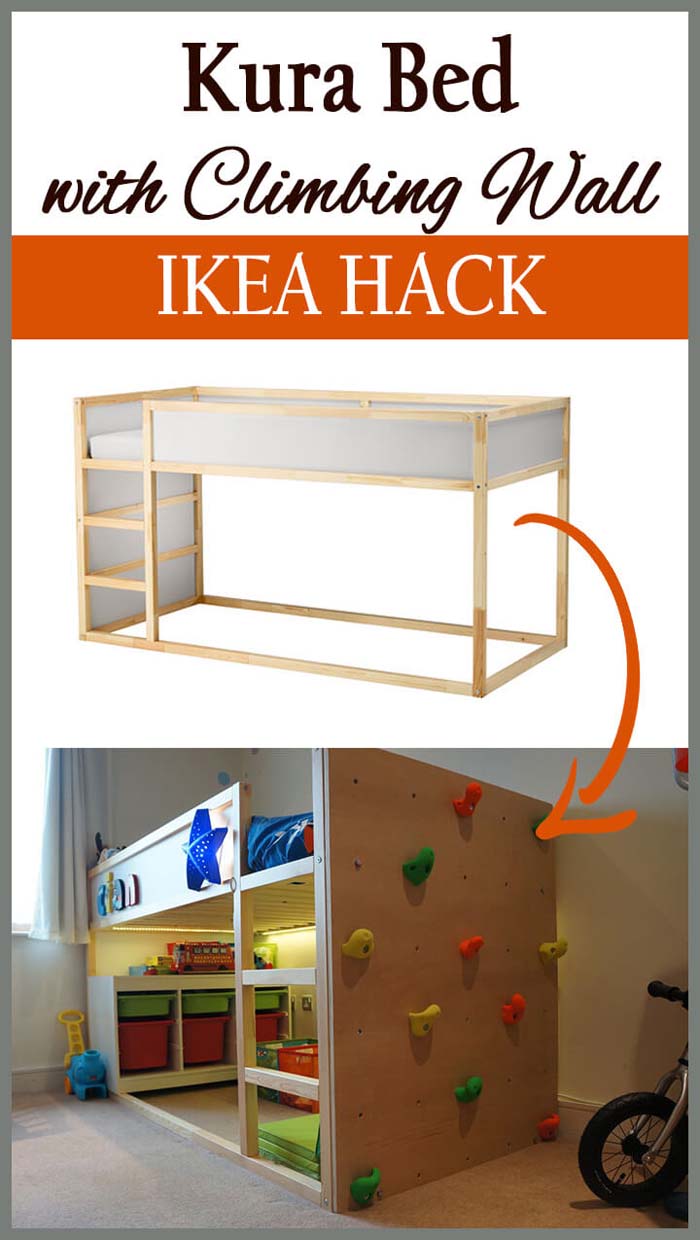 This is another inspiration on how to make the Kura bed more interesting for your kids.
Part of it is transformed into a climbing wall to keep the kids' interest during the day and let them spend more time in their own room.
via IKEA Hackers
9. Upscale Bar From Basic Shelving Unit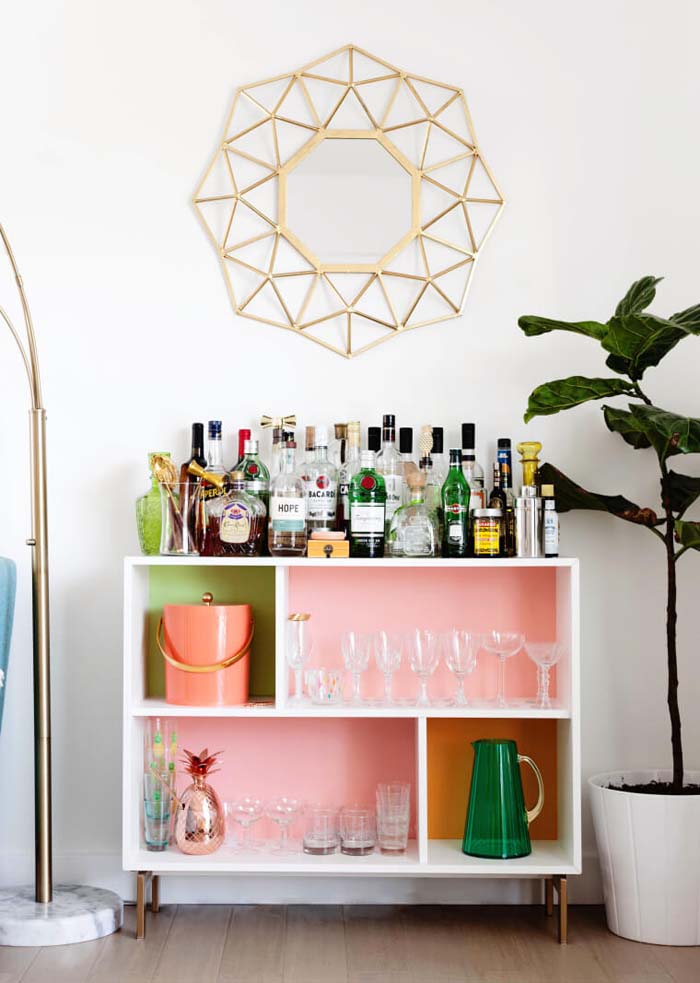 The Valje shelf of Ikea becomes a modern drink station in two quick steps! Before assembling it, mark where the vertical shelves will go and start painting the board- the colors can be customized, of course!
You will also note that there is a sleek part of this shelf and that is the leg pieces. They have been sprayed with gold paint to match the existing metal accents.
via Melo Drama
10. Upgrade A Basic Daybed With A Headboard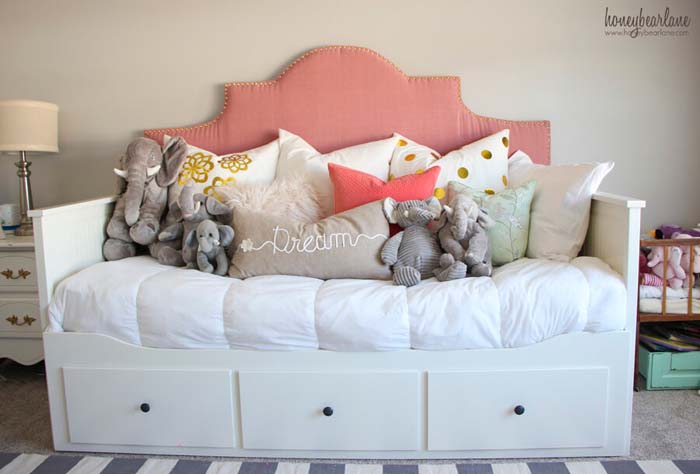 The kids' room is usually used only for sleeping. If you want to make your kids more interested in spending time there, then you need to make sure that they feel comfortable in there for games, learning etc.
When space is a limit, you may think that this is not an option.
This Ikea hack lets you think out of the box and make the bed a more functional piece of furniture.
via Honeybear Lane
11. Hidden Storage Reading Nook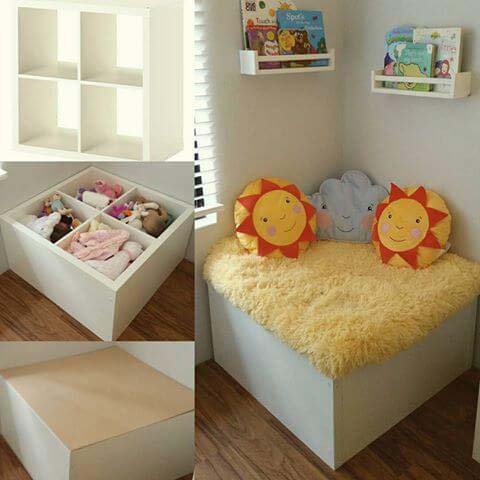 The Kalax cube is laid flat instead of its standard vertical position when used as a shelf. An additional board from MDF is then cut to the size of the cube to close it and become an additional sitting area.
This hack is a great storage solution not only for kids' rooms. It can accommodate books, magazines inside and become a relaxing reading nook in the living room.
via IKEA Hackers
12. Whimsical Drawer Fronts Add Eclectic Storage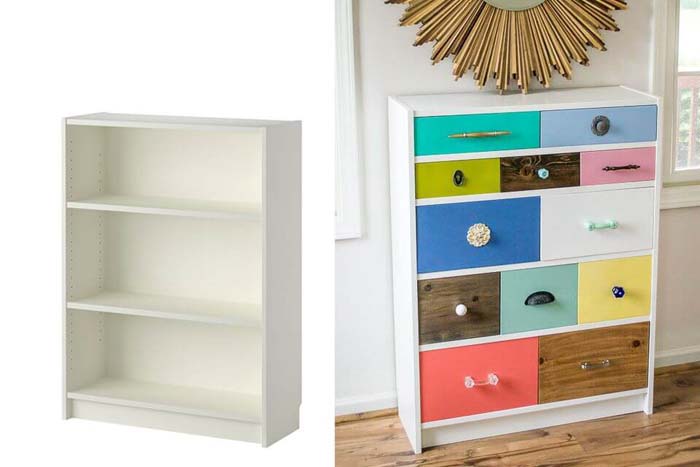 The basic IKEA Billy Bookcase is equipped with drawers to become a fabulous chest! This unique finish is achieved by assembling different in size drawers from scrap plywood that are given a fresh look with paint and stain.
The unique colorful design continues with the hardware- every handle or knob is different from the other which gives this chest a boutique value.
13. Simple Paint Project Nightstand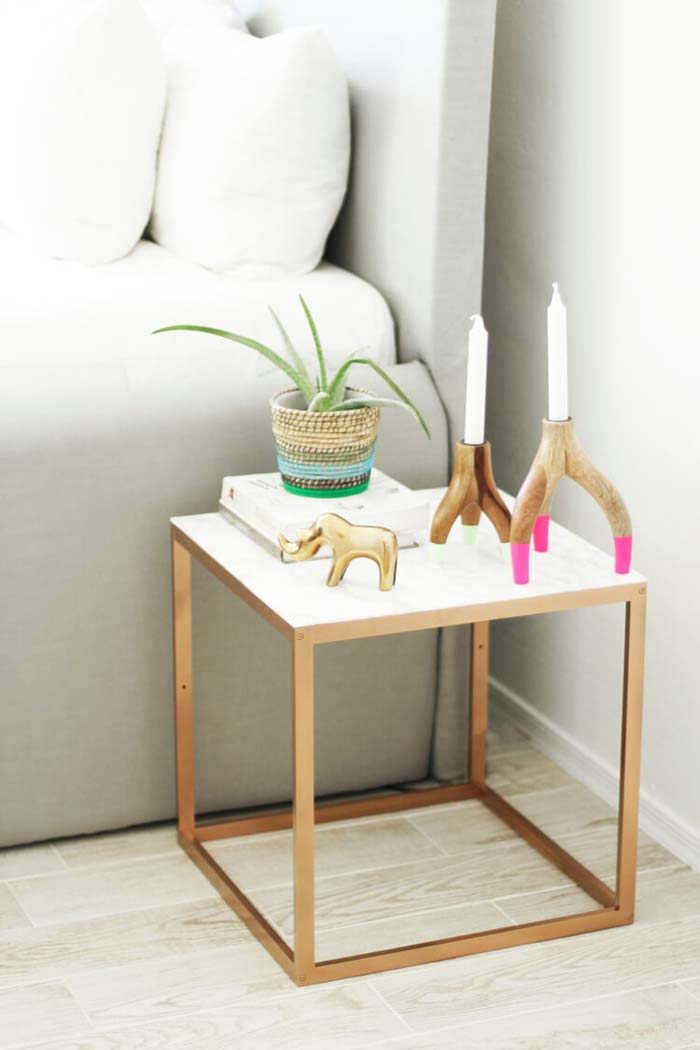 This IKEA PS 2012 side table becomes a nightstand for about 40$!
This quite affordable project requires some spray paint and contact paper and almost no time invested.
via Kristi Murphy
14. Add Legs To Make Standing Storage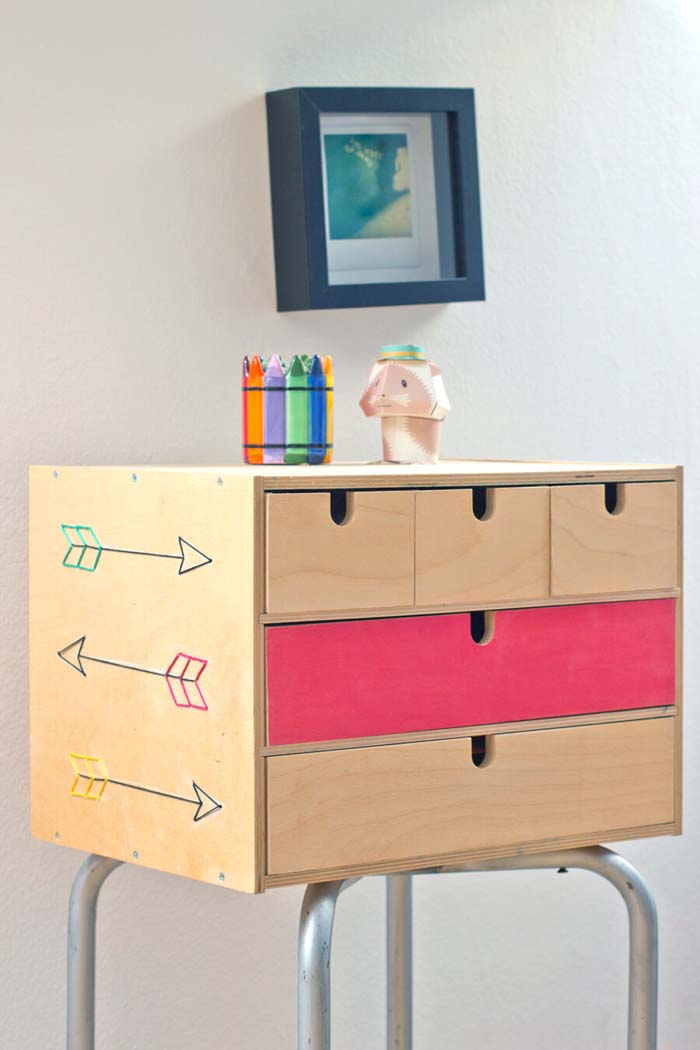 This is a mini drawer chest from Ikea that is supported on stool legs to come in new use as an accessible storage standing box. Depending on the room it will be placed, you can give the wood a new look with paints or paper.
The legs can also be uplifted by spraying them in another color.
via Look What I Made
15. Upcycled Tray Key Rack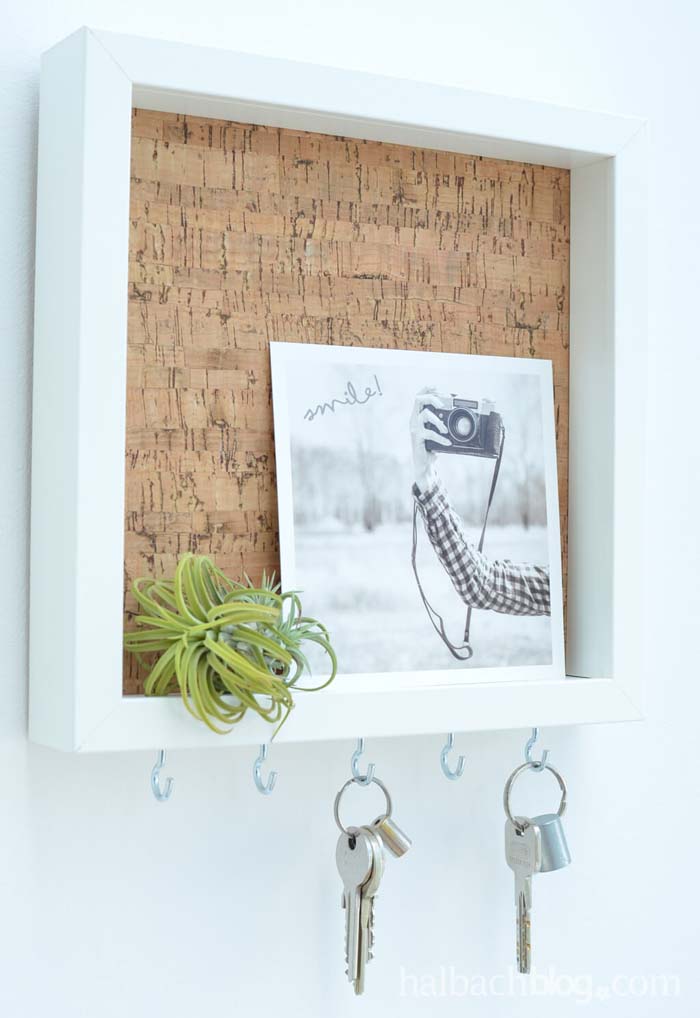 Add screw hooks to one of the sides of this Ikea tray to ensure a place for your keys. Then simply hang on the wall.
The corkboard can be used as space for cute notes, inspiring messages and also for photographs display.
16. Spice Rack Turned Bathroom Helper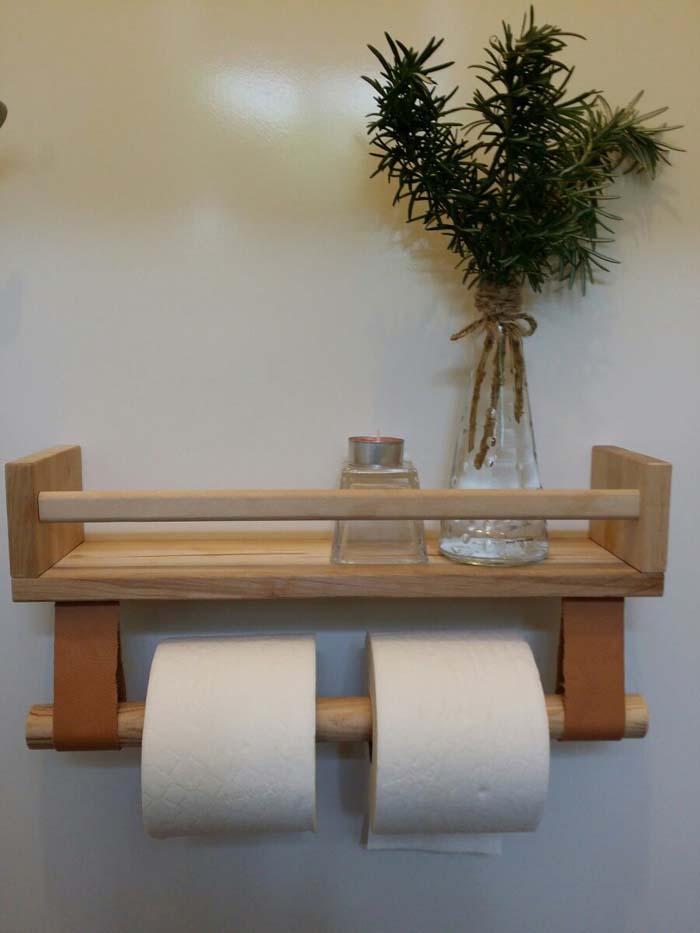 Looking for a way to make your bathroom more organized in a space-saving way?
Assemble the BEKVAM Spice rack with a stick using two leather stripes. This will ensure ending with a rolling dowel for toilet paper rolls and a shelf for decoration or dedicated space for towels.
via IKEA Hackers
17. DIY Industrial Dome Lamp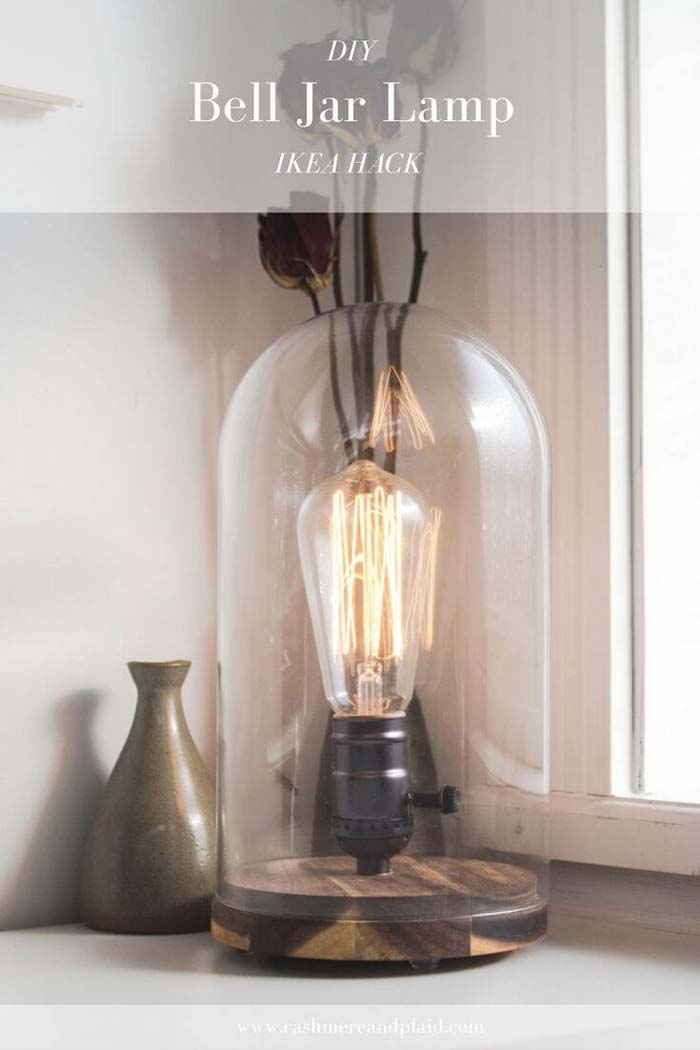 Need a modern nightstand lamp for your bedroom? Take one HÄRLIGA glass dome with a wood base for the structure and some electrical materials to assemble it yourself.
18. Wood Paneled Headboard Project

When you need a change in your bedroom but don't want to spend a lot or clean the mess from a complete makeover, you may get satisfied by changing the headboard of the bed. You will be surprised how this change can affect the general look and style of your room.
This Ikea hack uses a Malm headboard and Stikwood pieces. As a result, the bed transforms into a rustic piece with a unique look thanks to the wood pieces made of real reclaimed wood.
via Sugar and Cloth
19. WFH With This Dresser Desk Hack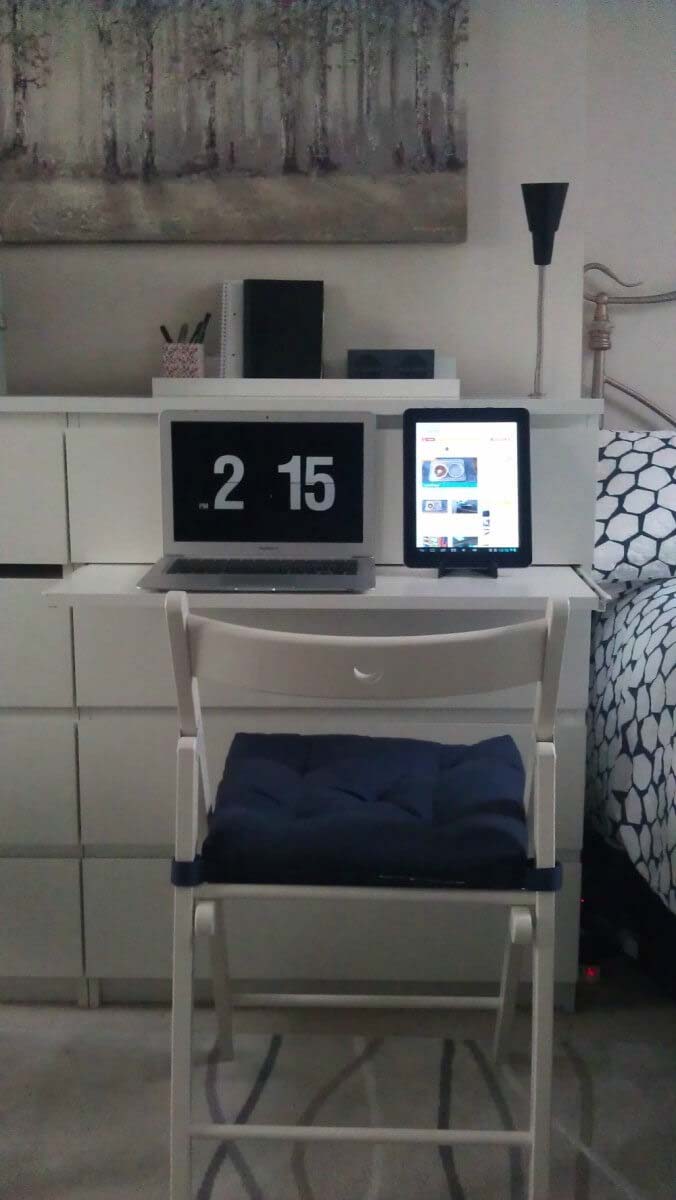 This hack reveals the idea of turning a MALM chest of drawers into a work desk. This DIY project will find followers that don't have space but want to live in maximum comfort because of the improvement of this chest.
The tutorial shows how to include one kitchen cabinet shelf UTRUSTA in the structure so that it becomes a table when pulled out.
via IKEA Hackers
20. Craft Island From IKEA Bookshelf

This hack comes from a creative person that has needed more than just another storage place. She also needed a dedicated zone that is comfortable and close enough to the supplies to craft her ideas.
Eventually, she assembles an island that has a shelf unit, a countertop for craft activities and two stools for comfortable resting.
via Landeelu
21. Freshen A Night Table With Paint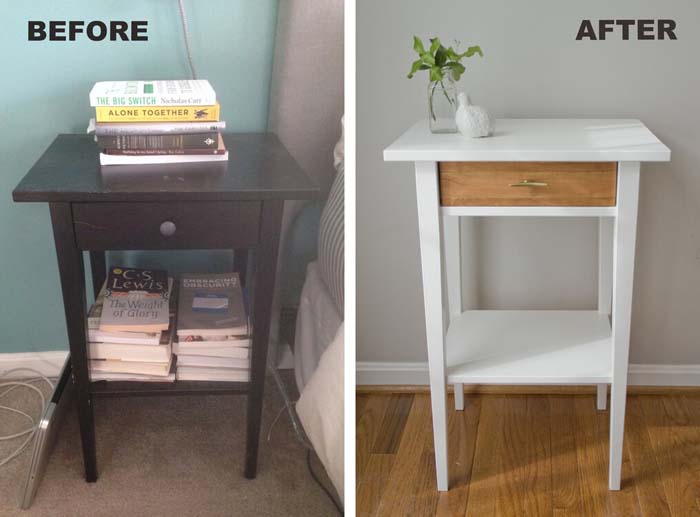 Judging by the photos, the oldest Ikea piece of furniture can become one of a contemporary design by giving it a coat of fresh paint and stain.
The author has chosen white for the structure and dark stain for the drawer. These two colors are seen in the existing interior and using them has ensured that the nightstand will easily fit.
22. Create The Look Of Built Ins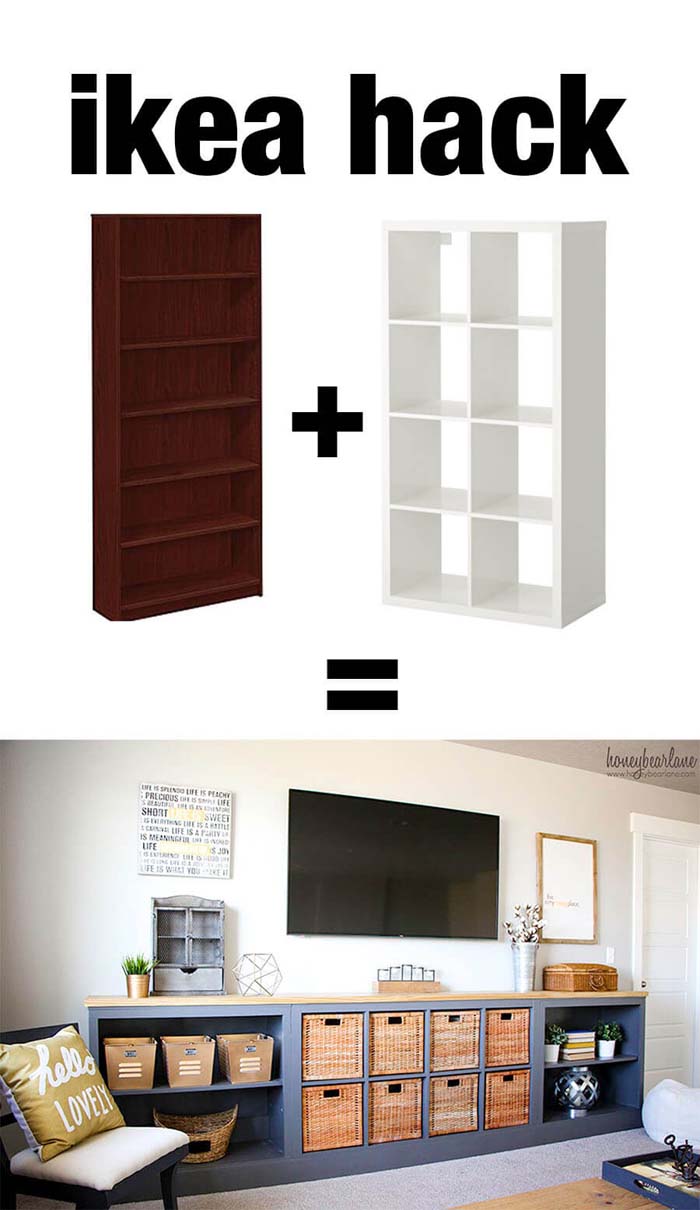 To initially get started with this awesome project, you need to get one Tall bookcase or two short bookcases about 30″ high. The other piece of furniture incorporated into the living room cabinet is Ikea Expedit or Kallax cube storage unit.

These compartments are assembled together to create a continuous cabinet that also looks like a built-in unit thanks to an additional base in the same size, color and style as the floor edging. The rest can be customized according to your taste and existing interior using paints and storage containers.
via Honeybear Lane
23. Playroom Table With Toy Storage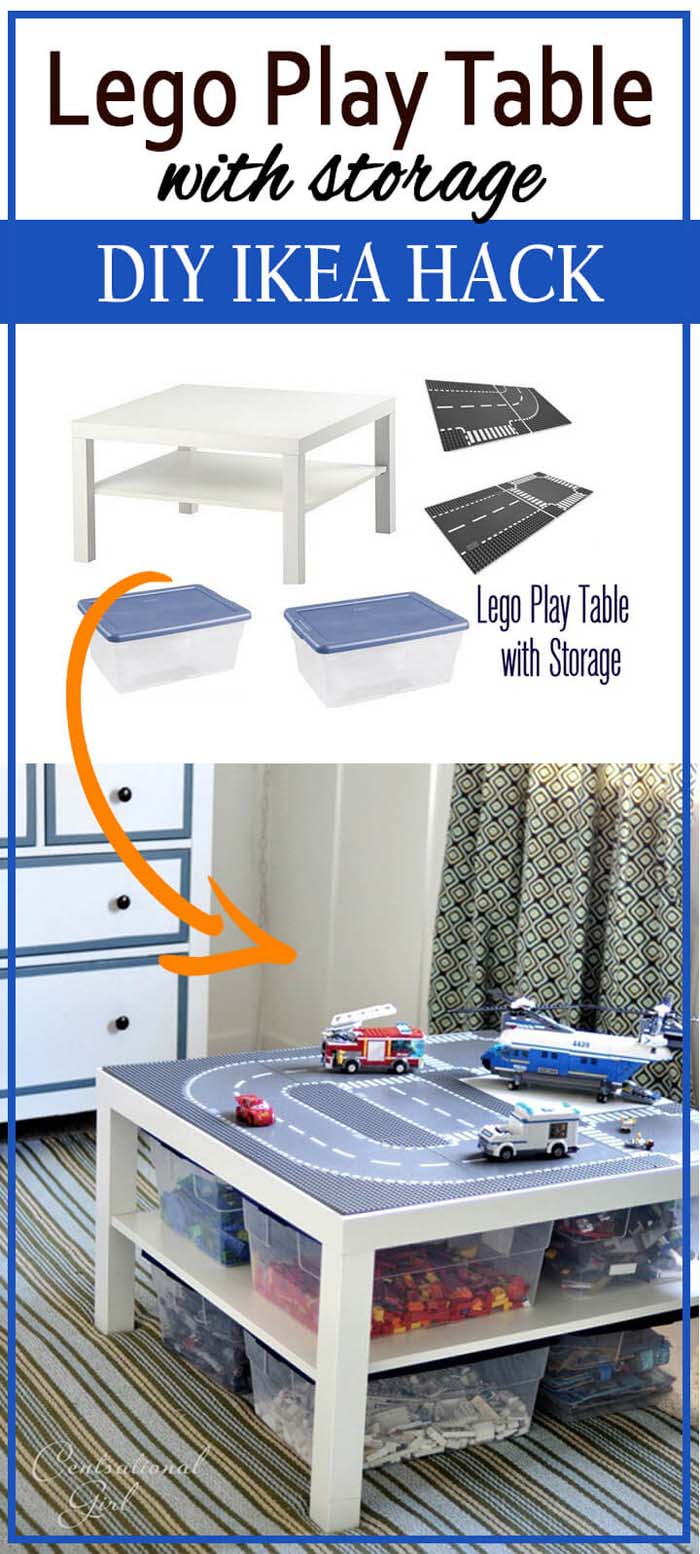 The Lack table of Ikea is usually used in its initial application- as a coffee table. Its sizes though are so good that it can be easily adapted to any other room as an auxiliary table or storage place.
Bringing this idea to the kids' room, it becomes the Lego play nook. It is supplied with Lego pads on the top and many plastic transparent boxes that keep the Lego set pieces sorted on the shelf and on the floor.
24. Elegant Nightstand Project With Studs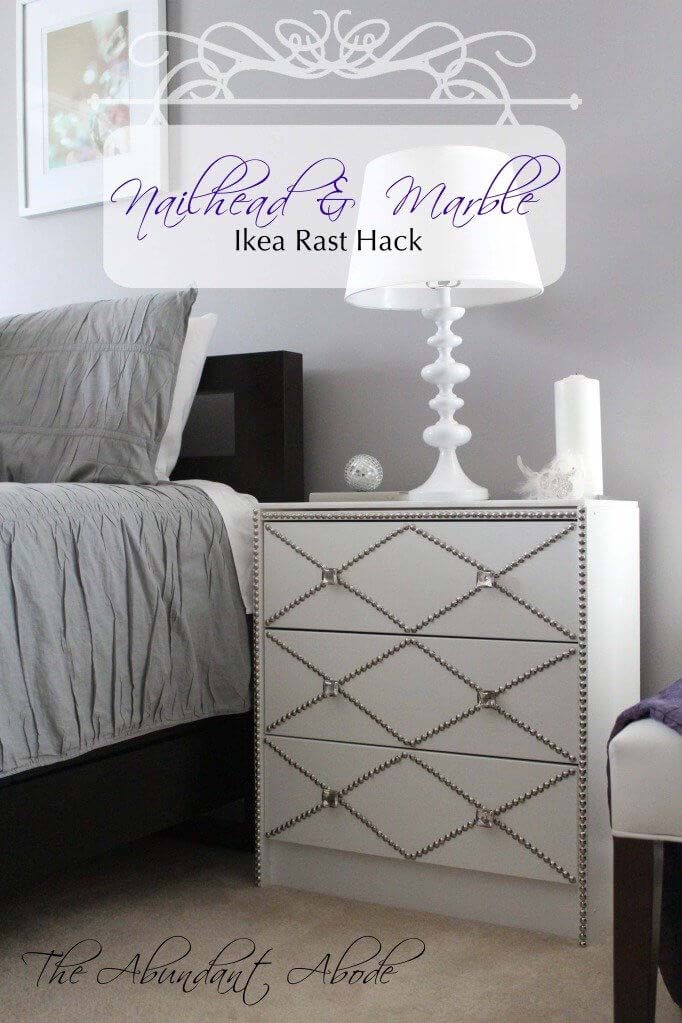 IF you like the lux looking bedroom furniture but you can't afford such at the moment, you can turn an Ikea Rast Dresser into an elegant nightstand with a unique finish.
This will require two coats of white paint that will let the nails hammered into a diamond pattern stand out. Finish the transformation project by replacing the pulls with glass ones that will enhance the stylish design. A piece of a tile can be placed on the top permanently with clear silicone or just be left loose if you are not looking for a permanent cover of the top.
25. Office Wall Storage Solution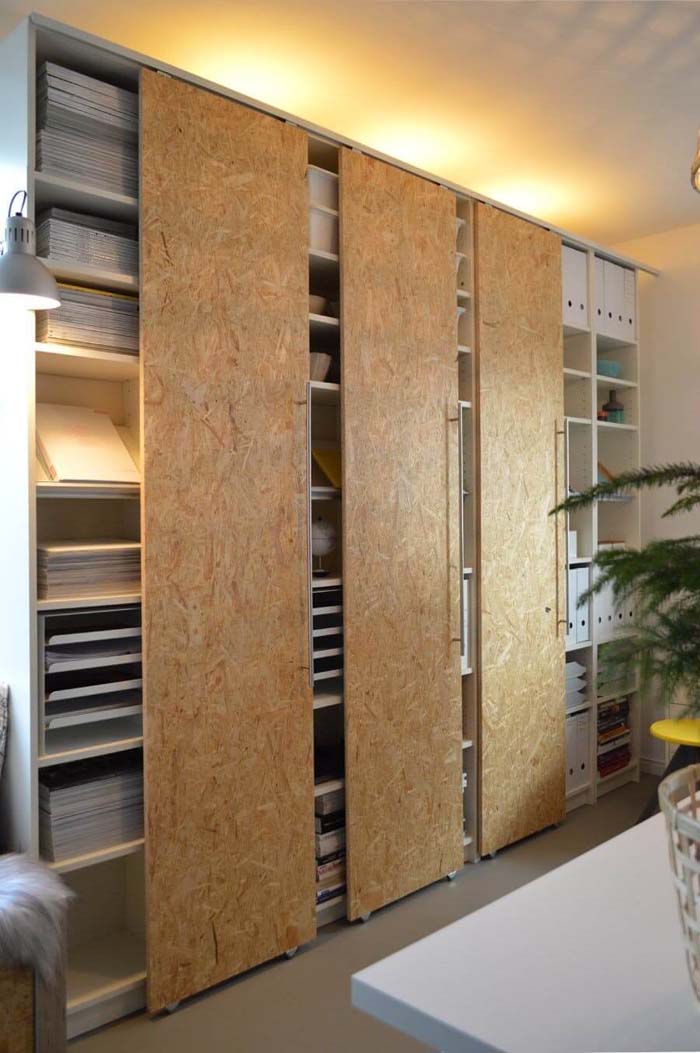 Can you recognize which Ikea's bookshelves have been transformed? These are the ones called Billy.
The extra interest is created by the newly added sliding doors which can be made of any material- OSB, plywood, barn wood, even old shutters! Just release your creativeness and get started!
via Ich Designer
26. Dramatic Four Post Bed Frame Hack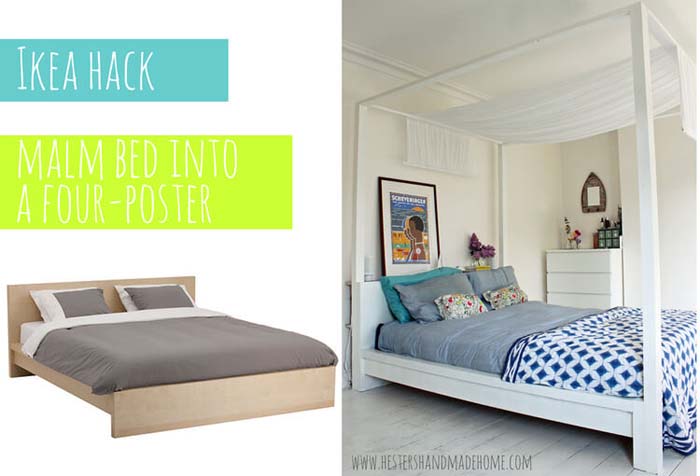 This is another Ikea bedroom hack that aims to achieve the look of a total makeover without actually making such. For that a Malm bed is given a new paint color and then supplied with a four-poster.
This turns the bed into a far more private space and gives it a unique look.
27. Add A Cozy Rug To A Plain Chair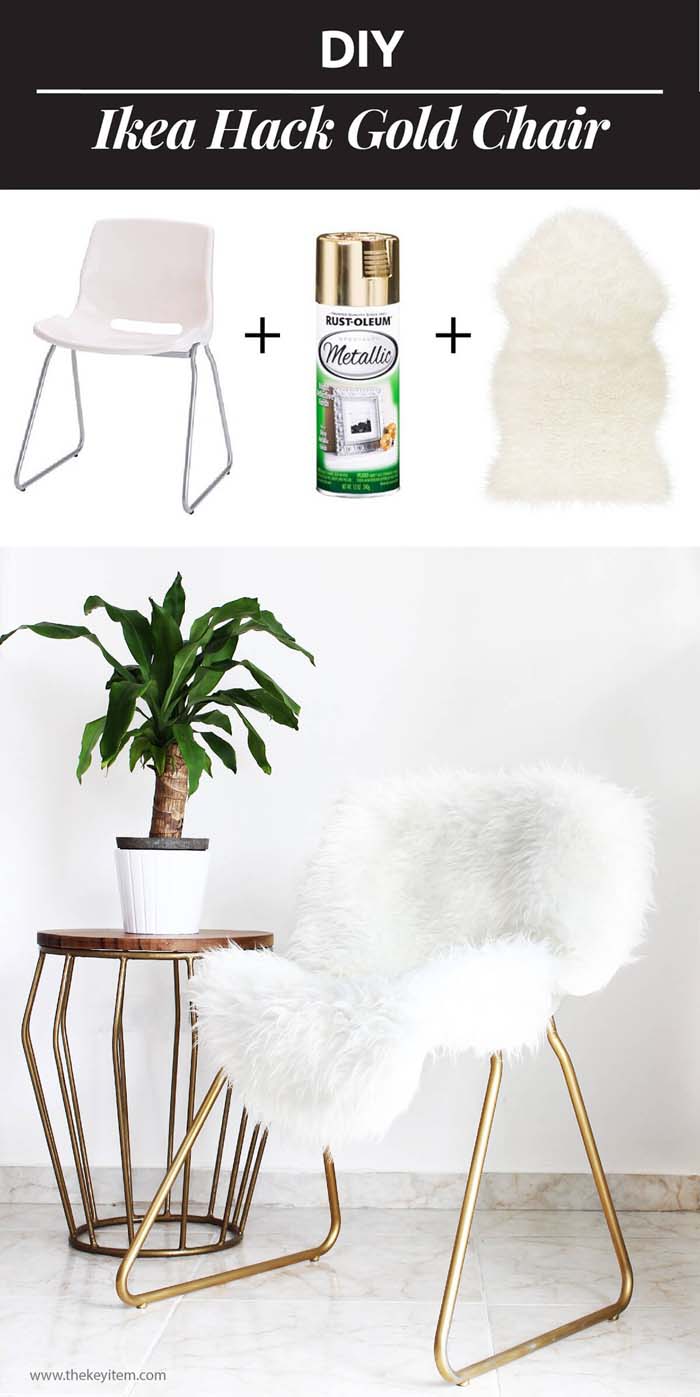 This plain plastic chair becomes a modern resting place by spraying the legs with gold paint and laying a furry rug onto the seat that hides the unattractive plastic.
28. Wine Bottle Holder Turned Garden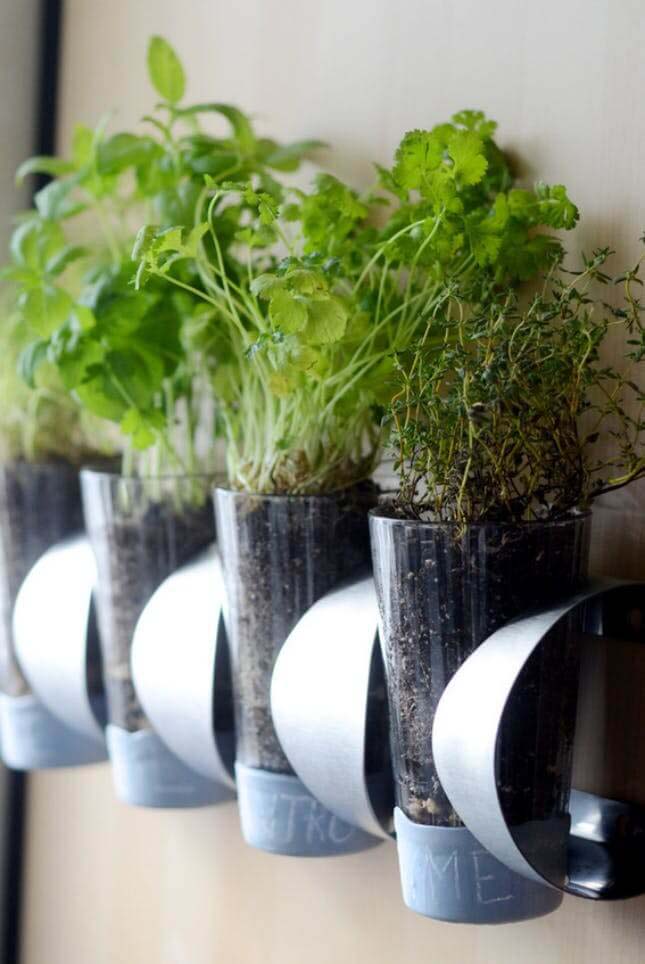 Indoor gardens are amazing not only for providing fresh herbs for tastier meals but because they add a point of interest to the kitchen in a nature-inspired way.
Well, this idea came from a totally unexpected reason 🙂 Because the author tried to think of a way to keep her plants at a distance from her dog!
via Curbly
29. Add Boards For Farmhouse Style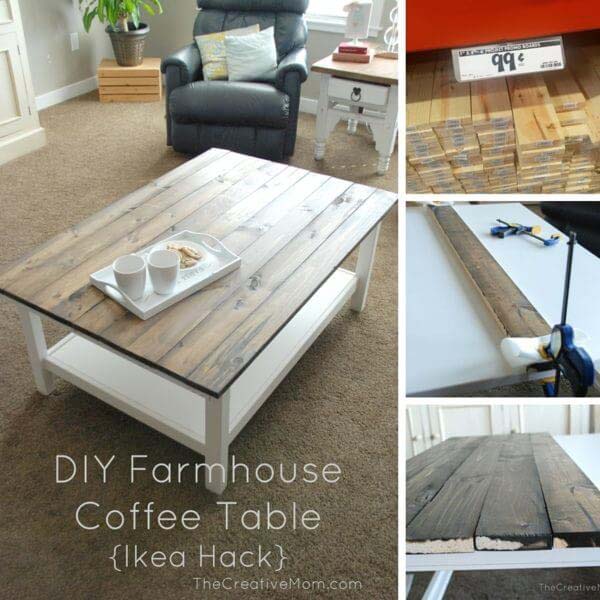 The Ikea Hemnes coffee table becomes a farmhouse beauty for under $10! Planks are added to the top with glue. Staining of lumber is preferred to be done in advance.
Clamp the boards down to the table to let them stick well and then do touch-ups of the edges as needed.
via The Creative Mom
30. Create Consistency With Matching Cubes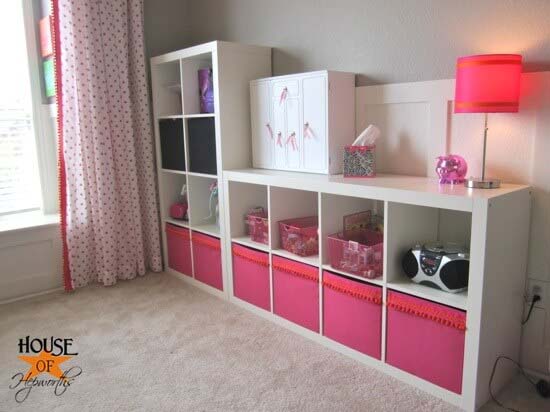 This hack gives an idea of how to make the standard Ikea shelf units more customized for a girl's room.
Plain boxes in pink have been embellished with a ribbon trim to give them a unique look and cute finish that is suitable for their place for application.
31. Rustic Table With Wood Slice Top

The handmade wood slice tables are very expensive but there is a way to make one of these in a budget-friendly way. Use the legs of an Ikea stool for your project.
If needed, spray-paint them in a color you like- metallic finishes will give the stand a modern look, while standard colors will let the slice stand out.
Take off the seating base and attach a thick slice of wood in its place with screws.
via Muy Ingenioso
32. Movable Storage Solution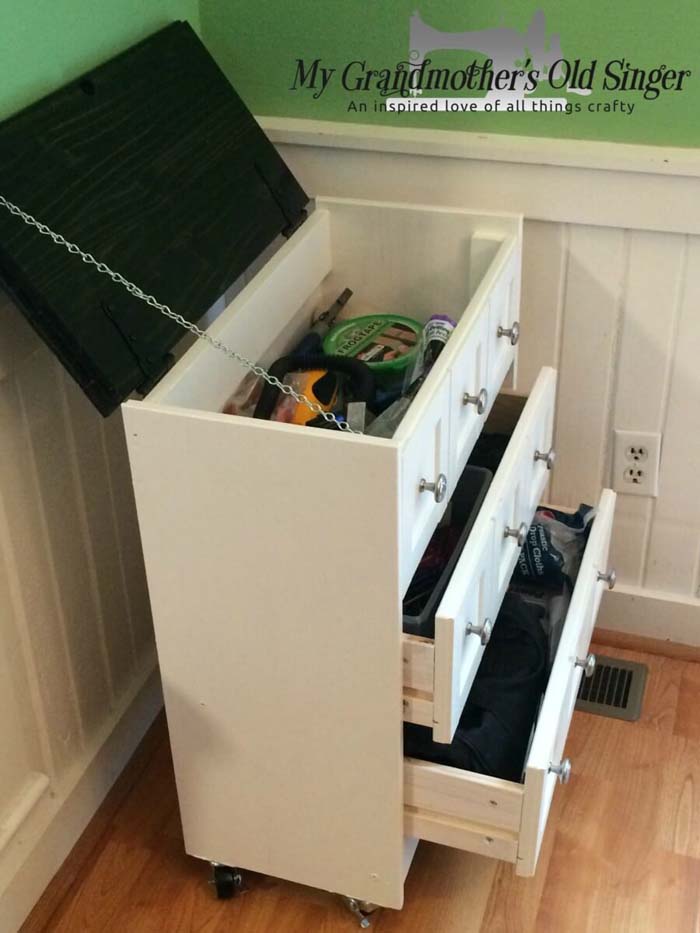 To make this vintage dresser, get a RAST dresser from Ikea. Start by assembling the frame following the instructions but skip the step where the top and the set of top drawer rails get attached.
Inspired by the faux apothecary chests, the authors come to the idea to upgrade the hack. In addition to the trimmed out drawers, they make the top of the chest movable with an authentic vintage look by a hinged dark-stained thick board. They have also loved the idea of the chest being portable so they have set it on casters.
via IKEA Hackers
33. Repurposed Towel Holder For Plants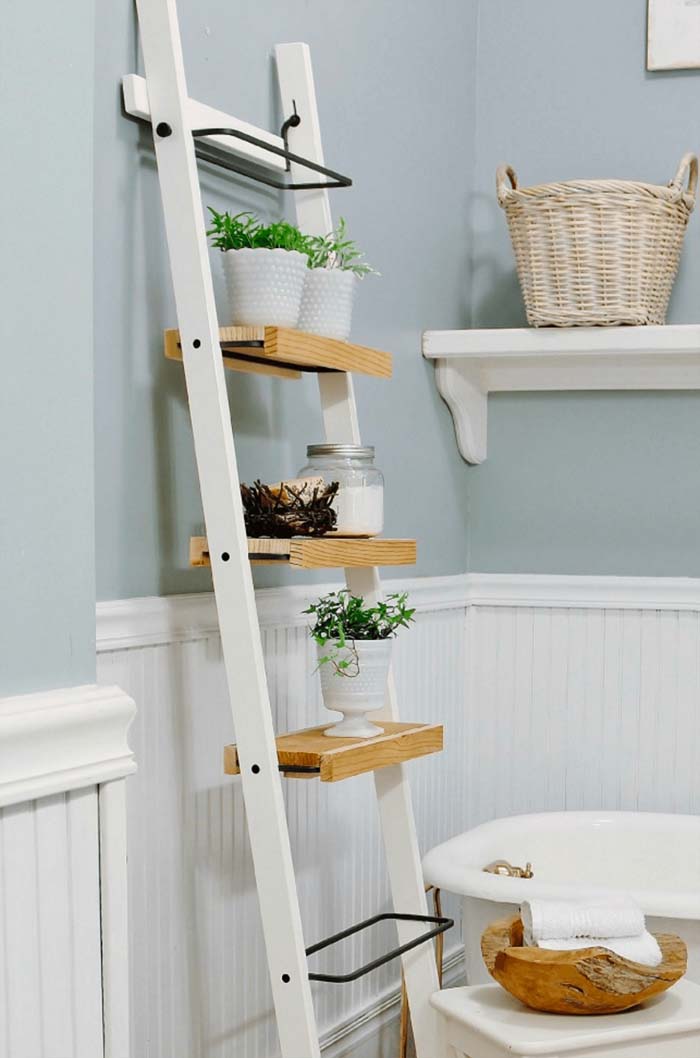 Make rustic shelves for your vertical towel organizer in the bathroom in a cheap and quick way!
Modify the Ikea towel holders by cutting them in size that suits the step supports of the ladder storage unit. Voila! Store soaps, shampoos, conditioners, towels, of course and why not some fancy succulent pots?
34. Vertical Bed Frame Storage Hanger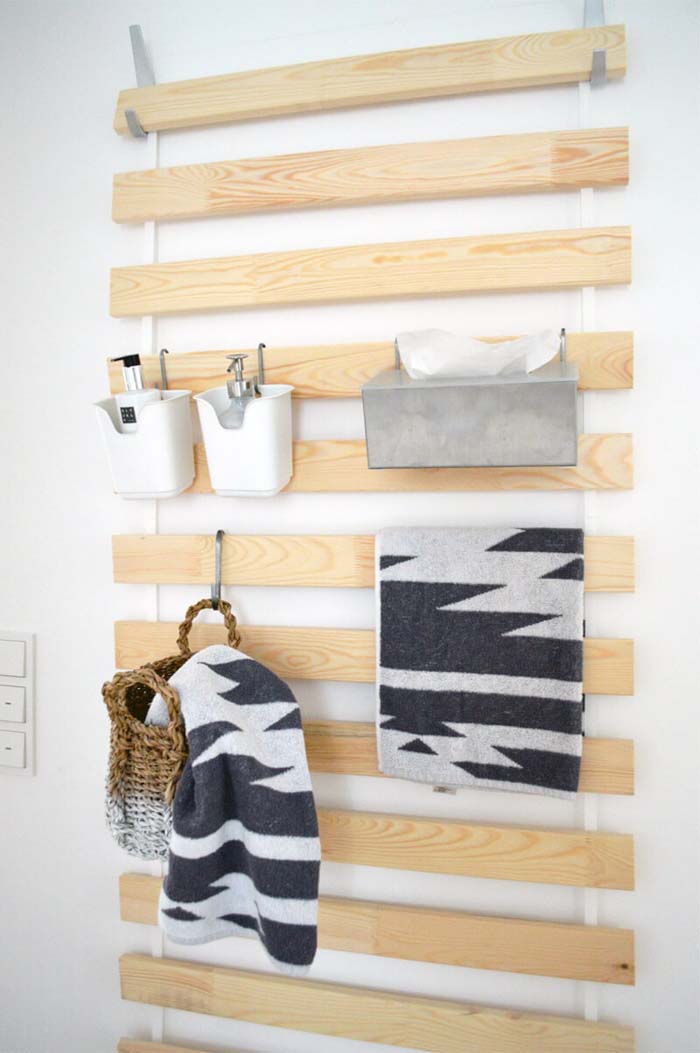 Do you recognize the Luröy slatted bed base from Ikea? Instead of laying this item under the bed, it is suspended vertically on a wall to become an adorable Scandinavian-inspired bathroom organizer.
Use the gaps between the slats for towels. And for the rest of the items you would like to hang, attach S-hooks.
via Ich Designer
35. Repurposed Utensil Holder For Hot Tools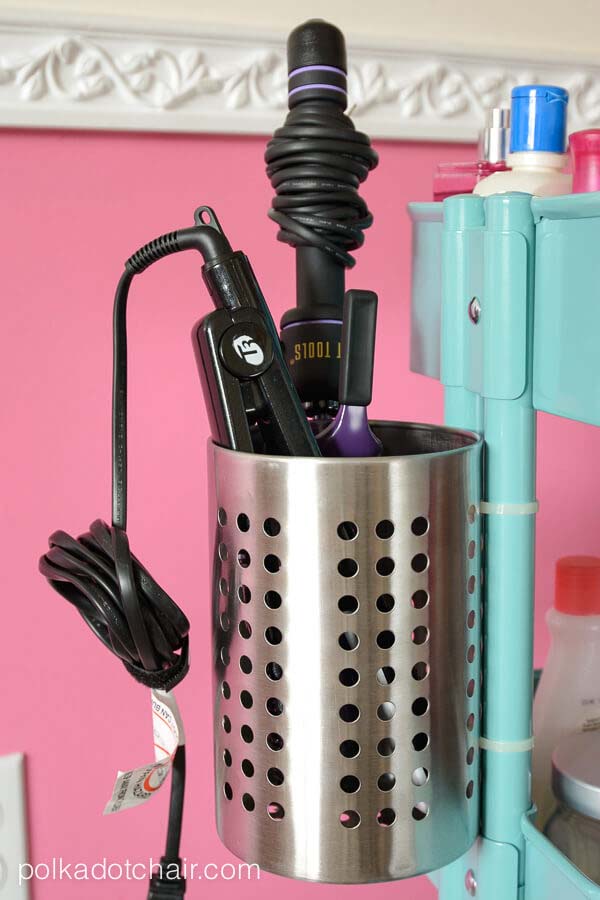 This vanity is super great! It has three compartments for storage and each is clearly indicating what the content should be, it is portable and of great appealing color!
All that has been done with simple Ikea items combined to create a unique make-up organizer. These are KEA Raksog Cart, Metal Utensil Holder from IKEA and IKEA Godmorgon clear plastic dividers.
via Polkadot Chair
36. Hardware Makes A Difference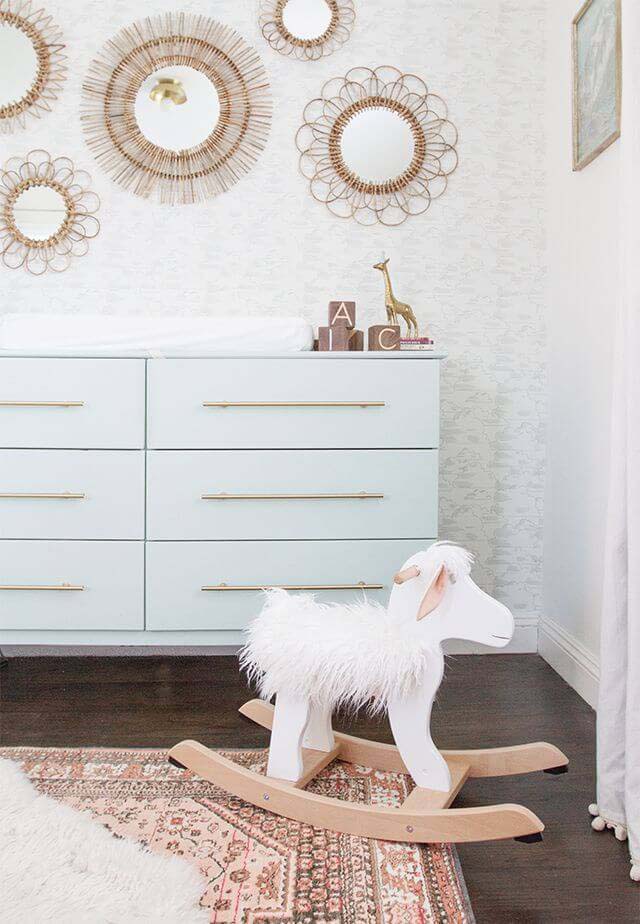 Looking at this photo, you will never recognize that the dresser has been the Tarva dresser of Ikea. Its original design has nothing to do with the sleek and elegant vision with modern accents.
The new design is achieved in three steps- the legs are cut shorter and at an angle, the wood is painted white and the round pulls are replaced with sleek metal hardware.
via The SSS Edit
37. Murphy Table From Hanging Mirror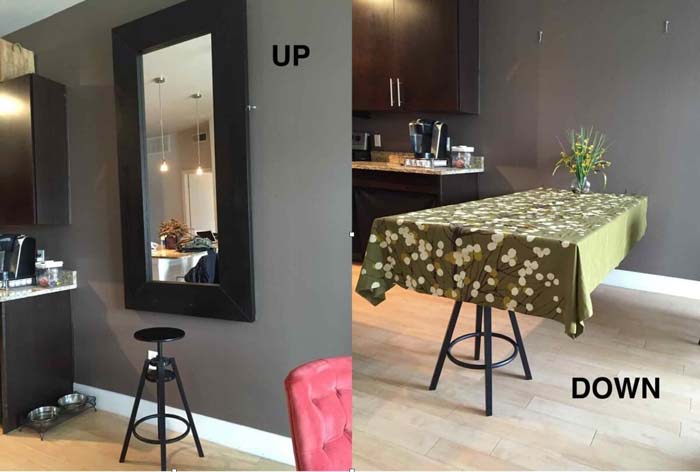 This hack is inspired by the efforts of crafty people to make their place comfortable and pleasant for gathering.
A mirror during the day goes down to be supported on a stool and becomes a table for four!
via IKEA Hackers
38. Lack Ottoman Hack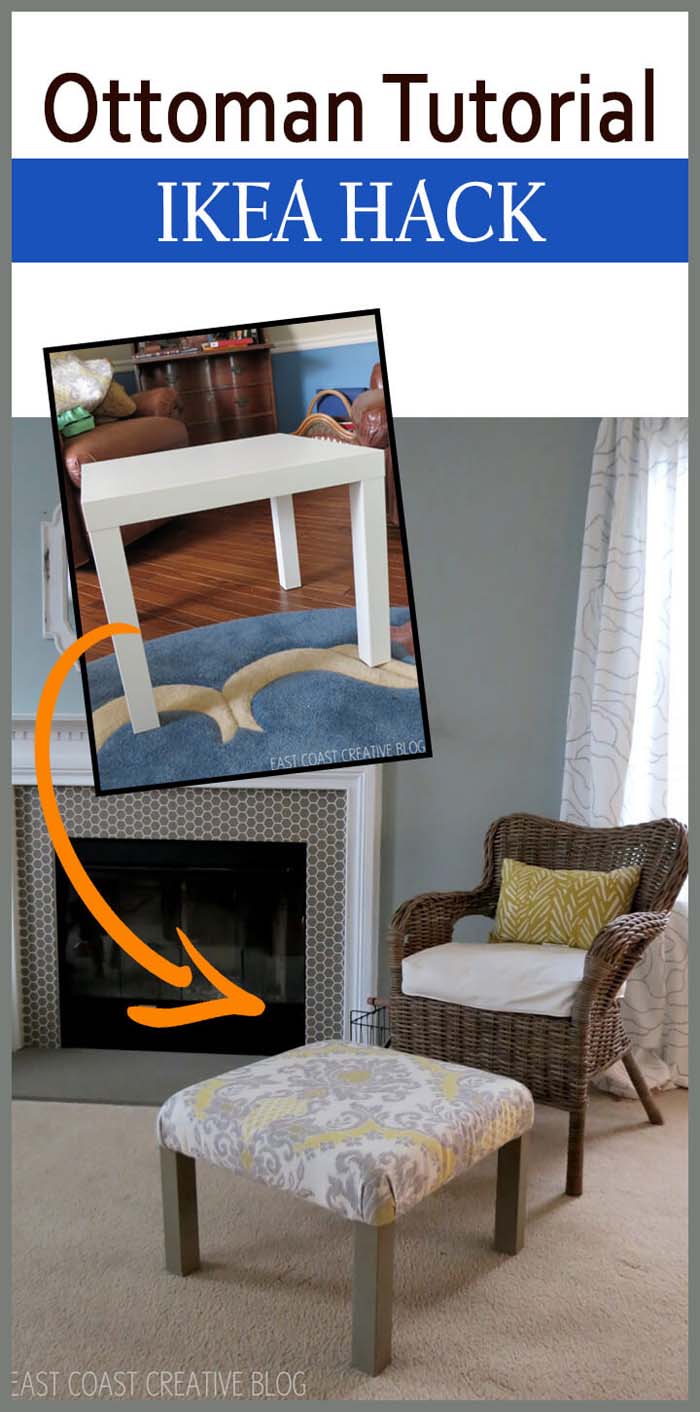 The Lack table is of small sizes and very cheap and therefore has become the source of numerous Ikea hacks. This one turns it into an ottoman by adding a foam cushion on its top with staples.
The wood color has been painted with chalk paint to match the rustic environment of the room.
39. Kids' Play Table With Storage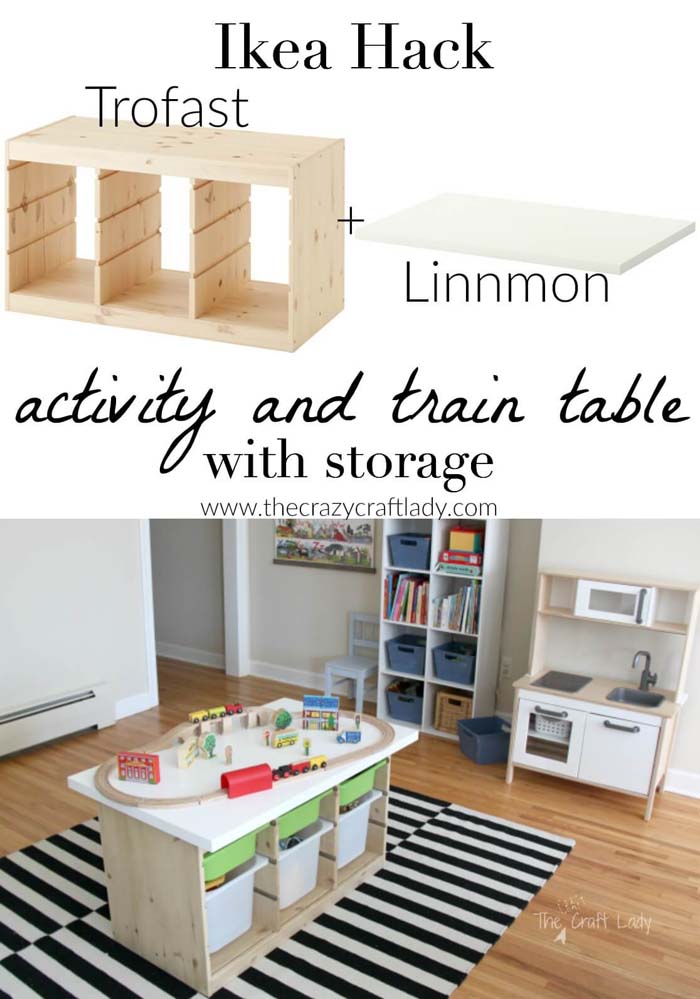 The Trofast storage unit and a Linnmon board combine together to create the most attractive activity center in a kid's room!
All toys are neatly stored under the top in sliding boxes keeping them away from the play zone and from the sight.
40. Paint Stools For Vintage Charm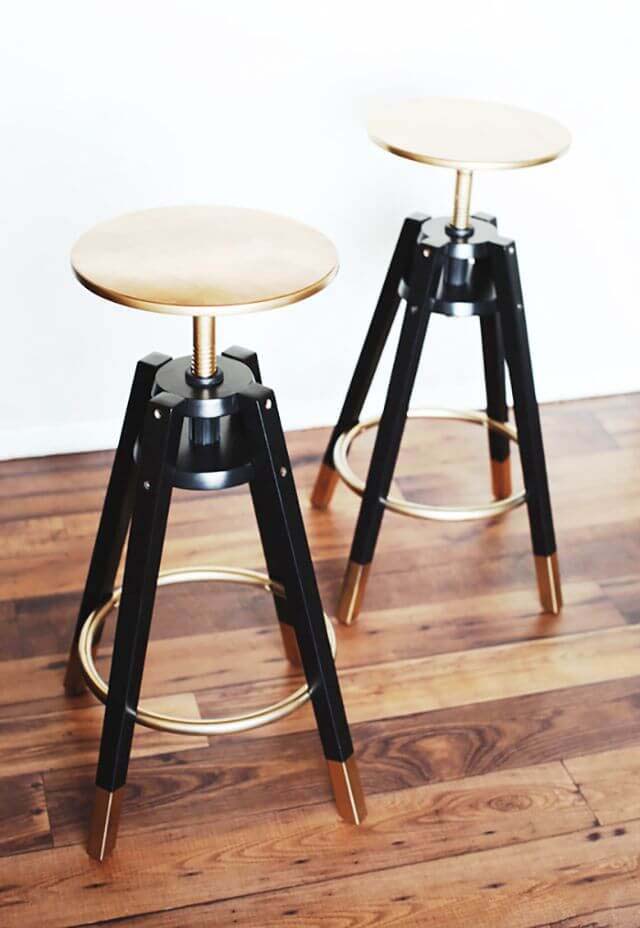 Give Ikea's stools an interesting paint pattern to change their universal design and turn them into a point of interest.
via My Domaine
41. Bar Cart On Casters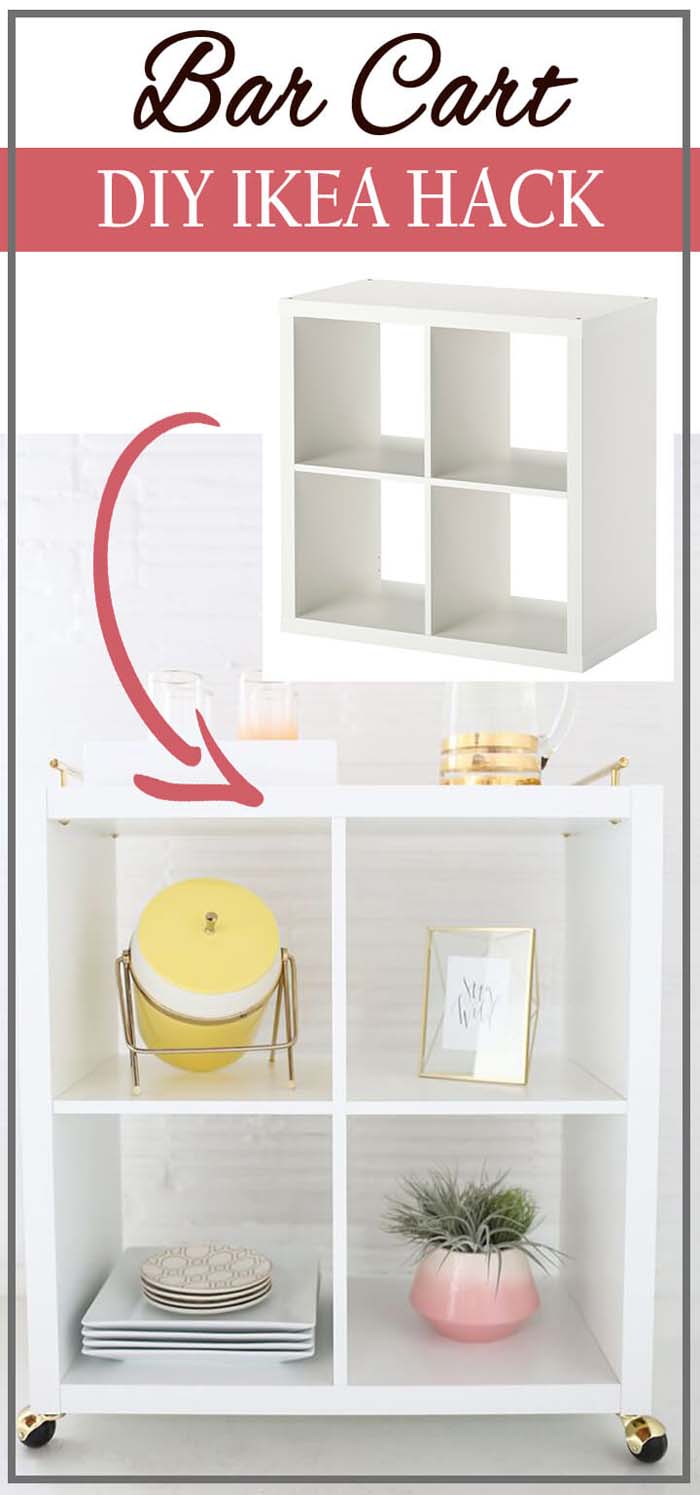 Add casters to the bottom of the Kallax bookshelf to turn the inexpensive storage unit into a multifunctional bar cart.
Add metallic handles on both sides of the top board to imitate the typical design of the carts and facilitate rolling it to another place.
via Sugar and Cloth
42. Wood Topped Kallax Island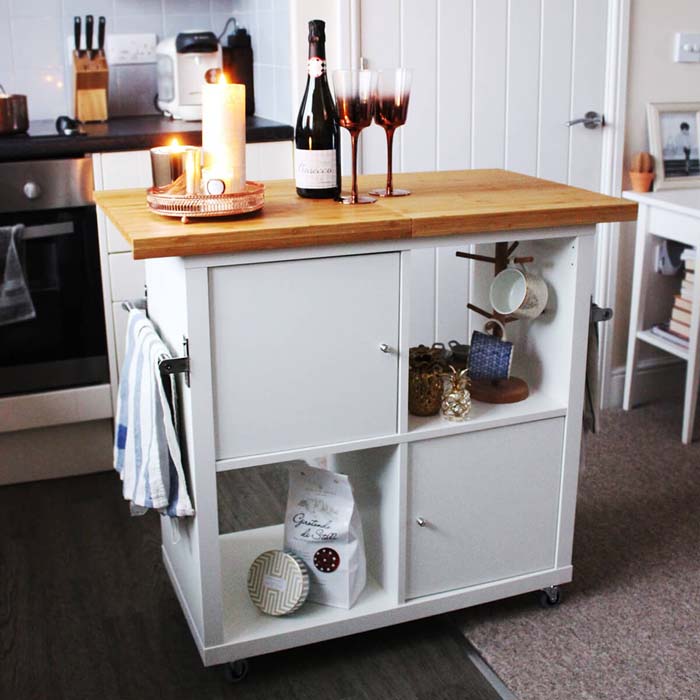 The multifunctional storage and table units from Ikea furniture go to the kitchen to give it comfort and functionality in a space-saving way.
Probably, you recognize the Kallax storage unit. Inserts from the same line are put inside to form the sections. After that casters are screwed to their bottom to make the island movable when needed.
Two chopping boards are attached to the top to provide a solid surface for cooking and detail that totally changes the initial look of the unit.
via Jen Lou Meredith
43. Barn Style Coffee Table With Whitewashed Boards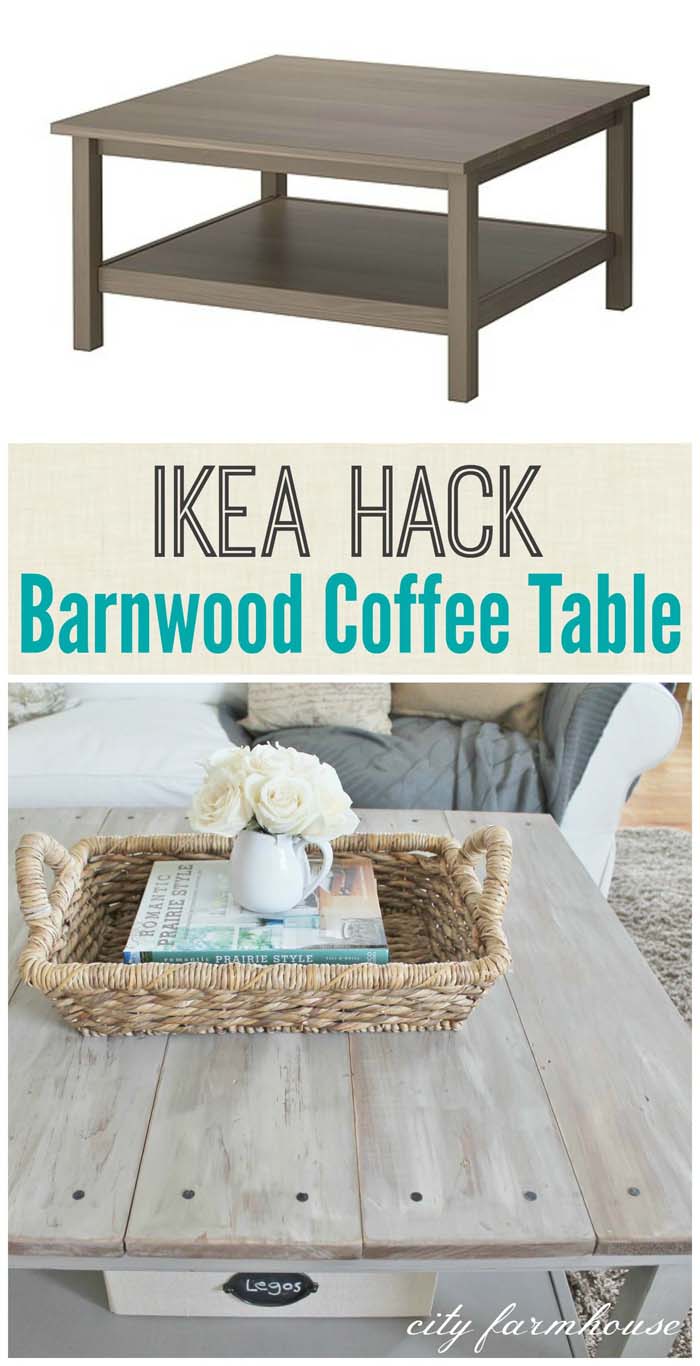 The scenario of this project is predictable. The cheap Hemnes coffee table from Ikea needed an uplift that will suit the farmhouse taste of the creator.
She has repainted it and then she has added wooden boards to the top. Not hiding the screws gives the table additional charm, especially when combined with the small tag on the leg support!
via City Farmhouse
44. Dramatic Hinges Add Flair To Basic Storage Unit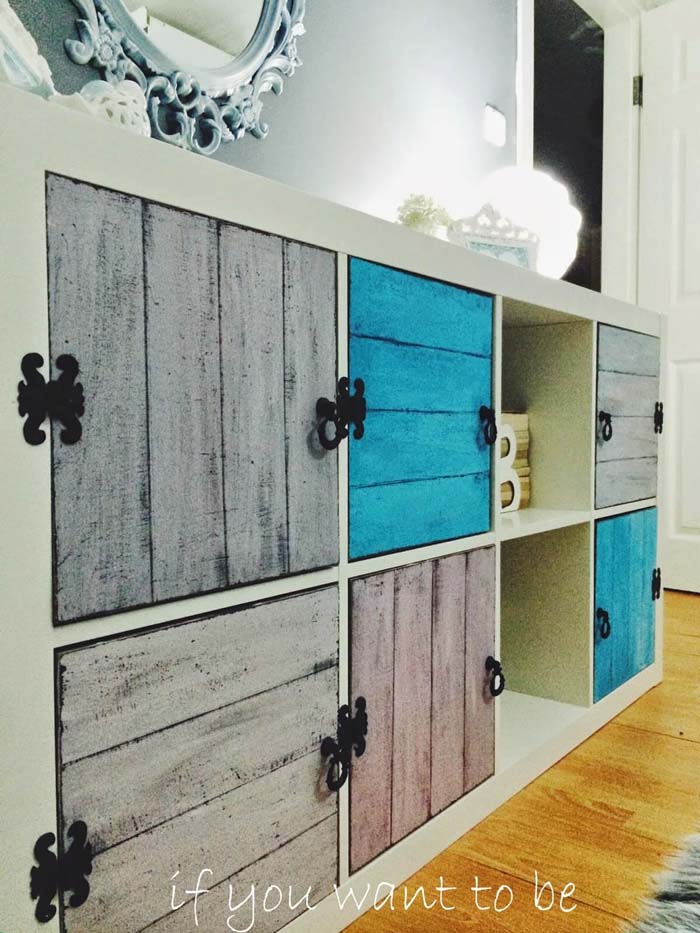 Acrylic paints are layered over black wooden square boards to create a textured distressed finish. Each square board is then equipped with hinges to be attached to the Kallax storage unit and with a vintage black pull to easily open it.
The addition of painted doors and the amazing aged hardware turns this storage unit into a fantastic rustic cabinet.
45. Repurposed Pallet Board Buffet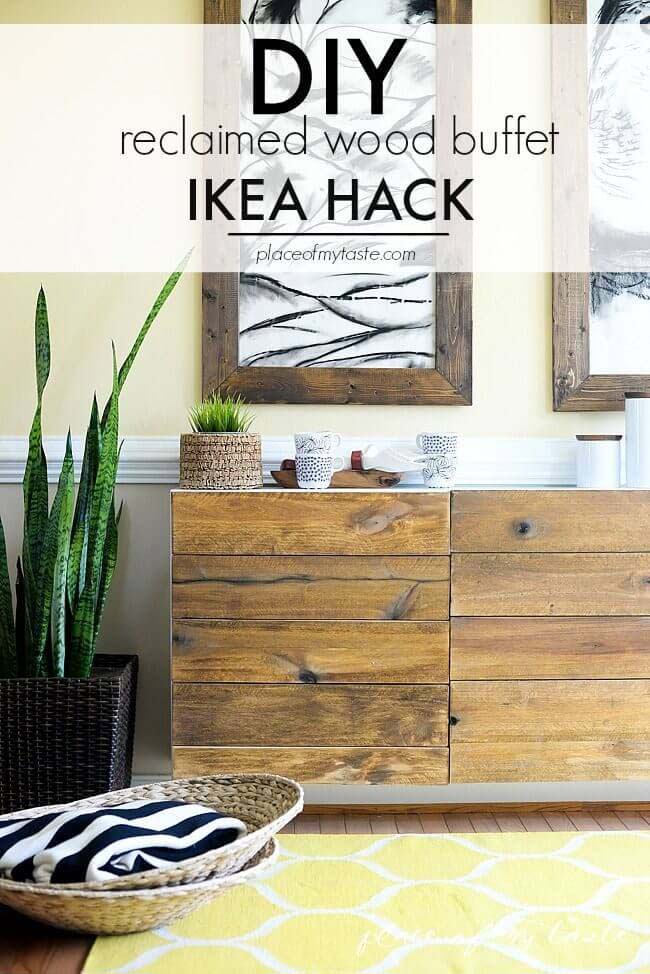 Will you believe that this wood buffet is actually an Ikea storage unit? The makeover has been done thinking of a budget-friendly solution that can give the white wood a unique reclaimed texture.
Scrap pallet slats have been assembled together to form the closings of the cubes. Their dark stain perfectly matches the giant frames of the wall art turning and turns this buffet into a custom piece!
46. Coffee Table With Storage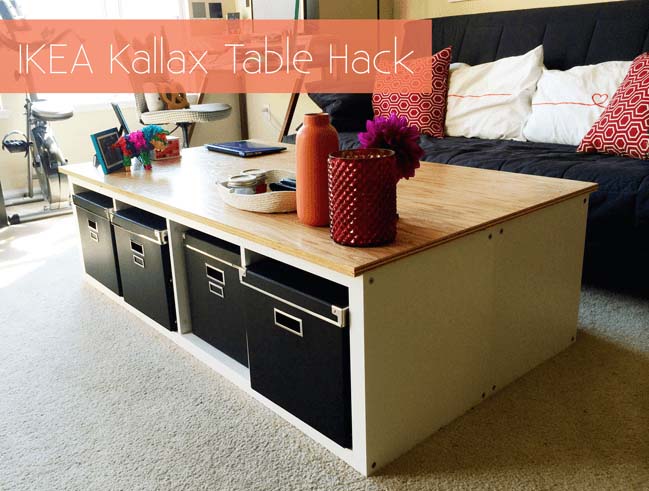 The Kallax shelving units become a functional living room table by adding a plywood board of matching size to their top.
The idea upgrades also the storage places by equipping them with boxes in black to keep things hidden and to give the new table a feature to match the existing decor.
via Make Scout
47. Apothecary Style Dresser Makeover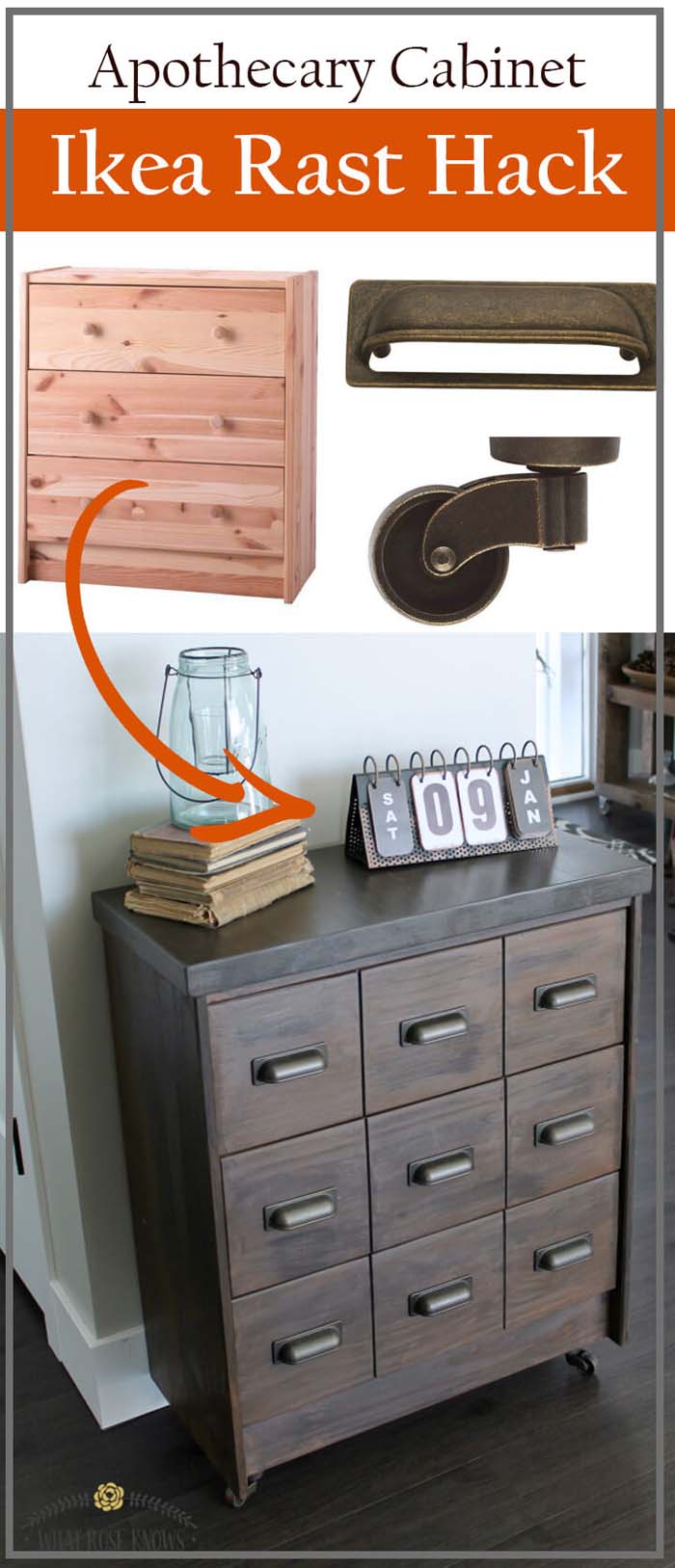 The Rast chest of drawers becomes an antique apothecary cabinet with new pulls, dark stain and casters.
When doing a makeover that aims to age a piece of furniture, it is very important that the visible hardware matches the designs and textures of the old times.
48. Lego Storage Play Table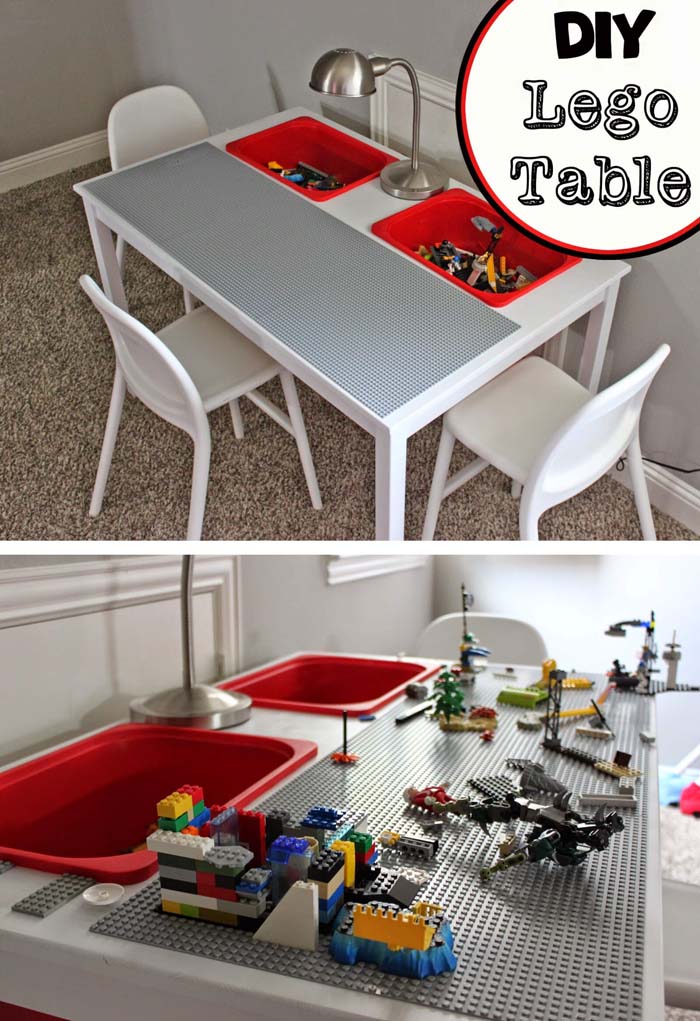 If your kids are addicted to Lego, then you must have been wondering how to keep all parts stored and accessible at the same time. These Ikea hacks give the opportunity for optimized storage of all small pieces and also for a wide surface for placing the mats for building.
Two holes of the size of Trofast buckets are cut in the top of an Igo Dining Table. There the bins will keep the pieces stored. The rest of the surface accommodates the mats where kids can freely release their imagination.
via A Little of This, a Little of That
49. File Holder Shelf Hack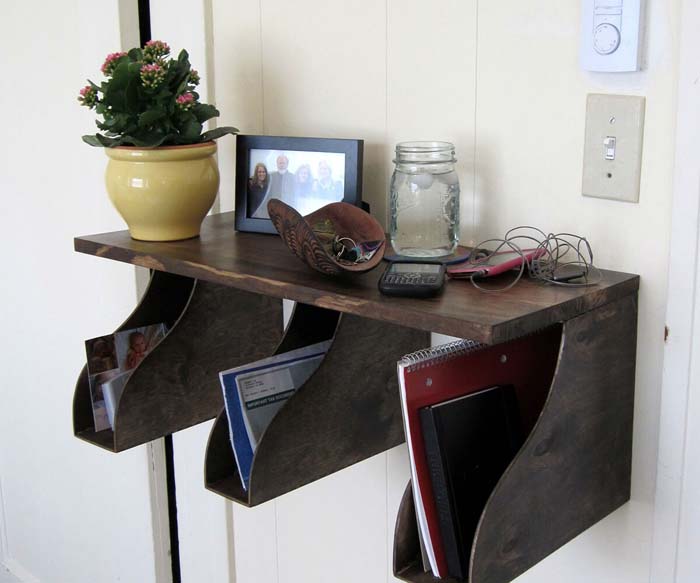 Want to make your entryway more organized? Although this mail sorter looks like an antique, it has actually been made by new files from Ikea.
They are stained dark and then screwed to a wooden beam with the same finish with brackets.
via Instructables
50. Closet Storage Solution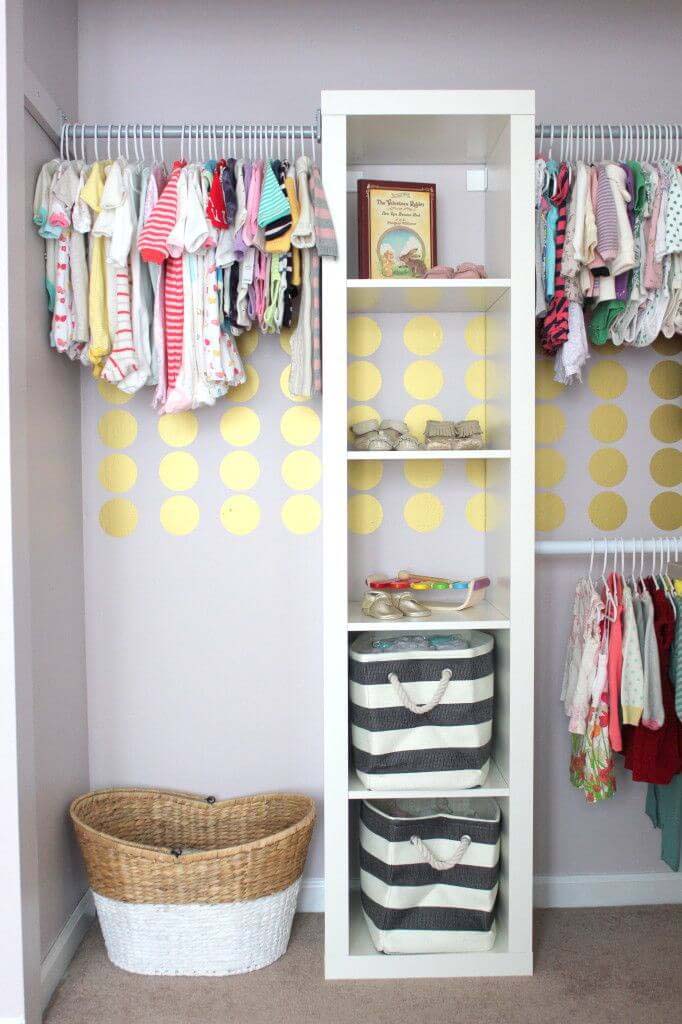 This Ikea hack simply reveals the numerous places the storage units can get in helpful function.
Add an open shelf unit in the closet to store shoes, for example.
via Project Nursery
51. Wooden Shelf Bathroom Upgrade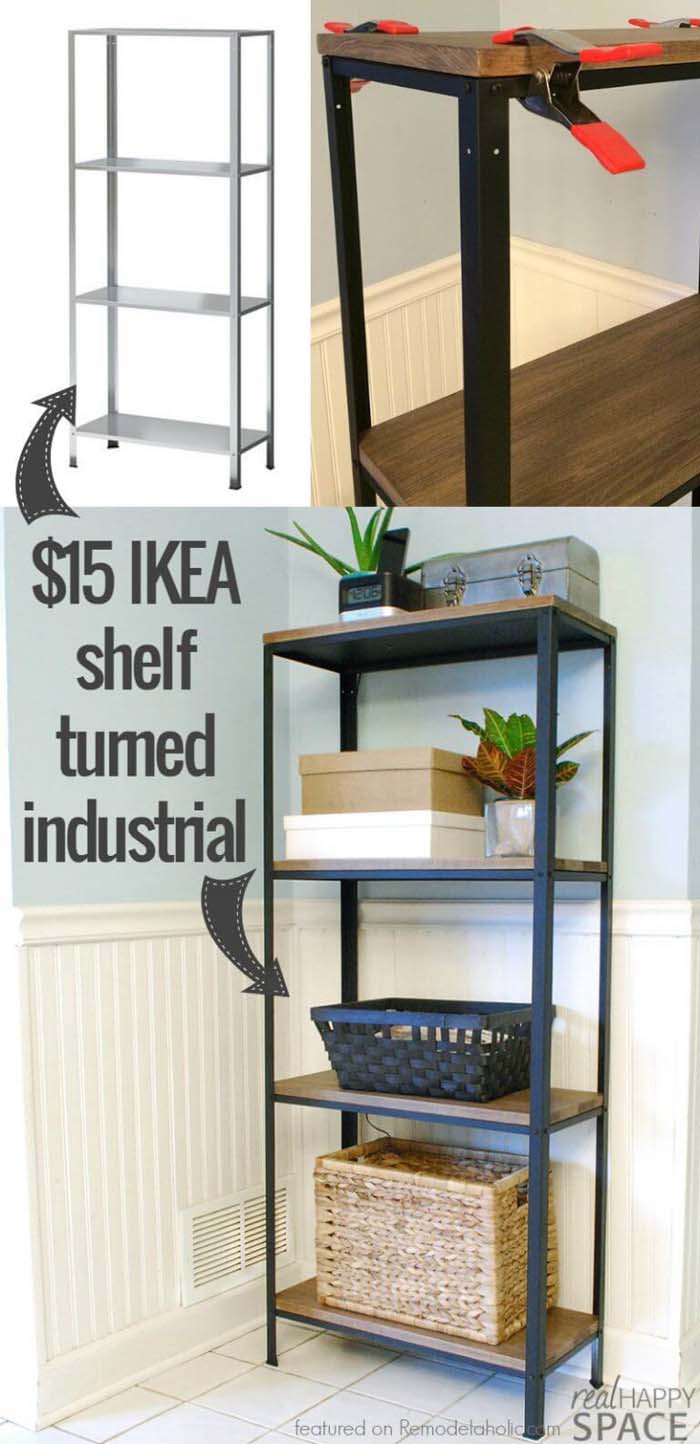 Ikea furniture is one of the most preferred brands because it is affordable and also very customizable. And by that we don't mean that you can purchase a piece in dimensions you like but that you can add pieces and bits to give it a custom look.
This plain metal stand proves this statement. Purchased for $15, its plain metal look gets an industrial design with a farmhouse accent.
via Remodelaholic
52. DIY Desk From IKEA Bookshelves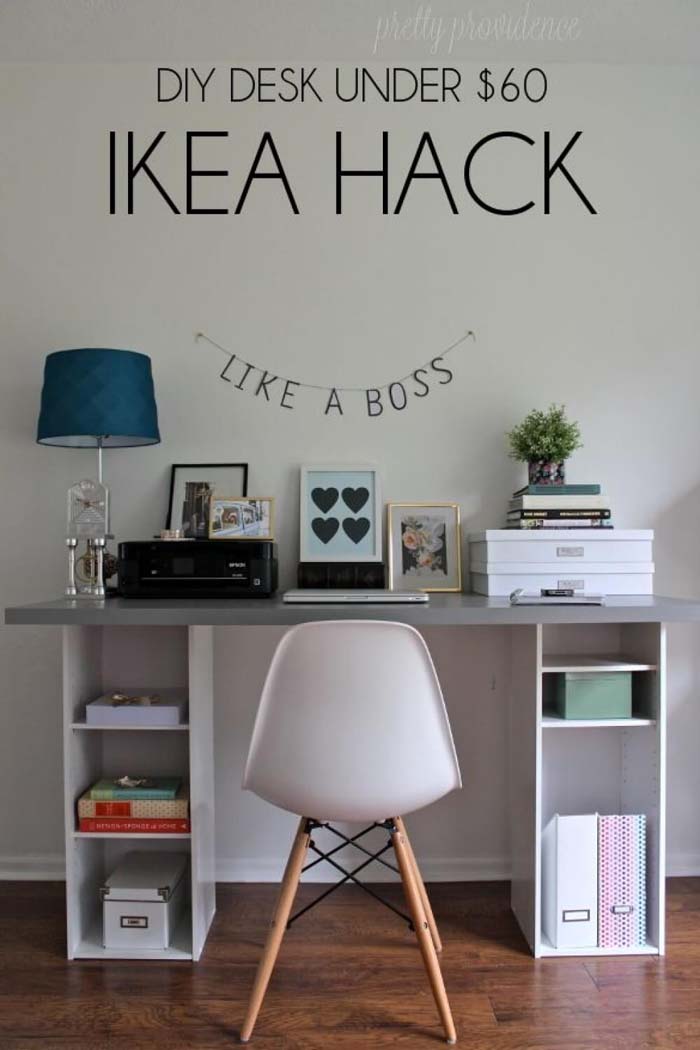 Two cube storage shelves and one Ikea desktop create a functional desk, perfect for a home office. Moving the slats inside, you can play with the size of the compartments.
Another customizable aspect is the color. Usually the cube shelves are white but if you need a pop of color, be bold and give them a fresh bright coat.
53. Underbed Storage Platform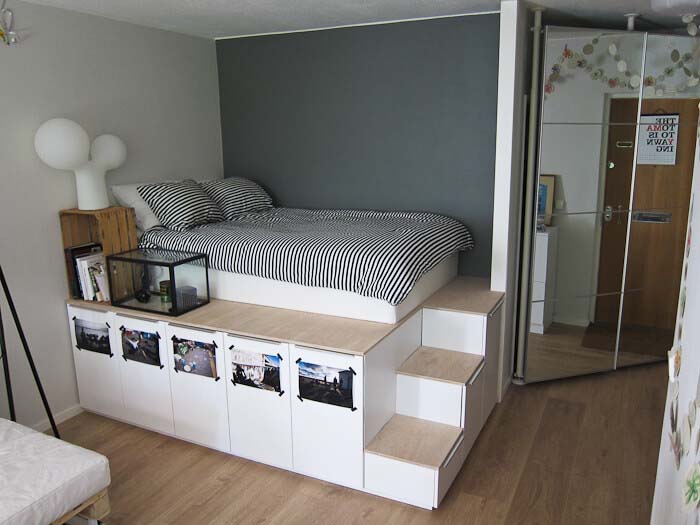 Need more storage in a small apartment?
The raised beds are a popular Ikea hack that puts the storage shelves in such a pattern that forms a platform with storage options.
via Oh Yes Blog
54. Built Ins Lookalike IKEA Hack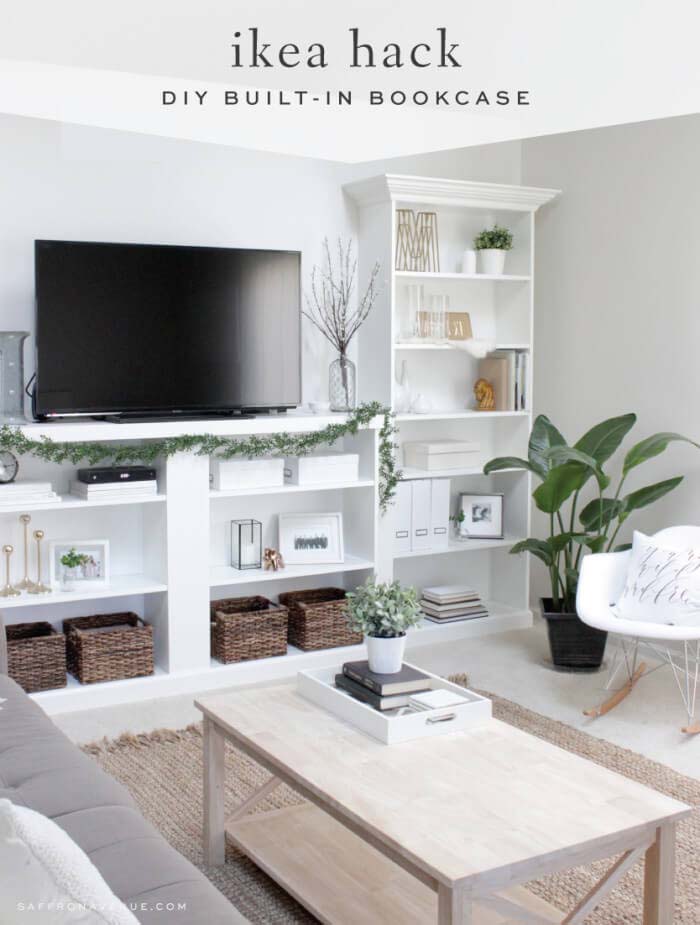 Two Billy bookcases are the basis to start this amazing DIY built-in bookcase.
The mismatching heights of the units create a visual interest that is enhanced by the molding pieces.
via Saffron Avenue
55. Faux Apothecary Cabinet Sideboard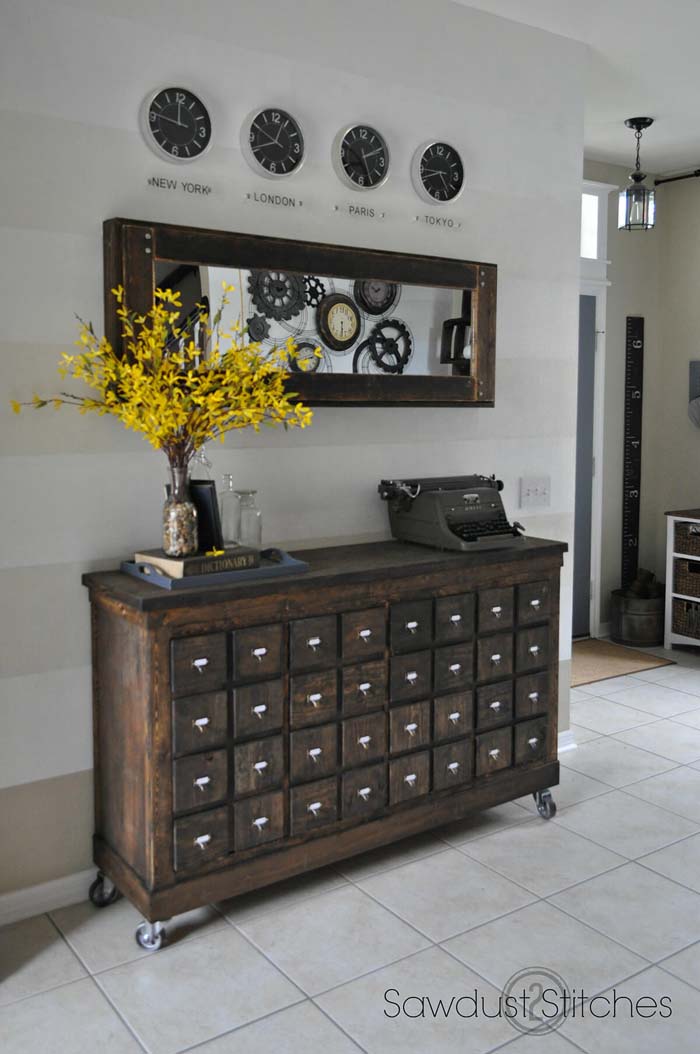 The cubbie shelf unit of Ikea again becomes the preferred basis of a DIY vintage apothecary cabinet. A clever idea of the author about the design of the additional doors gives the faux look of small drawers inserts.
Knowing that the original apothecary cabinets are made of solid wood, she has put additional framing and a dark stain coat to imitate this texture. The casters to the bottom and the vintage metal pulls succeed in giving the mass used piece of furniture unique design of a rustic storage unit.