Setting your own DIY Coffee Station or Coffee bar at home is easy and won't take much of your time.
And while most coffee lovers have a small setup in their home, there are some that want to create their own stations.
With so many options, there are so many DIY coffee station ideas that you can come up with.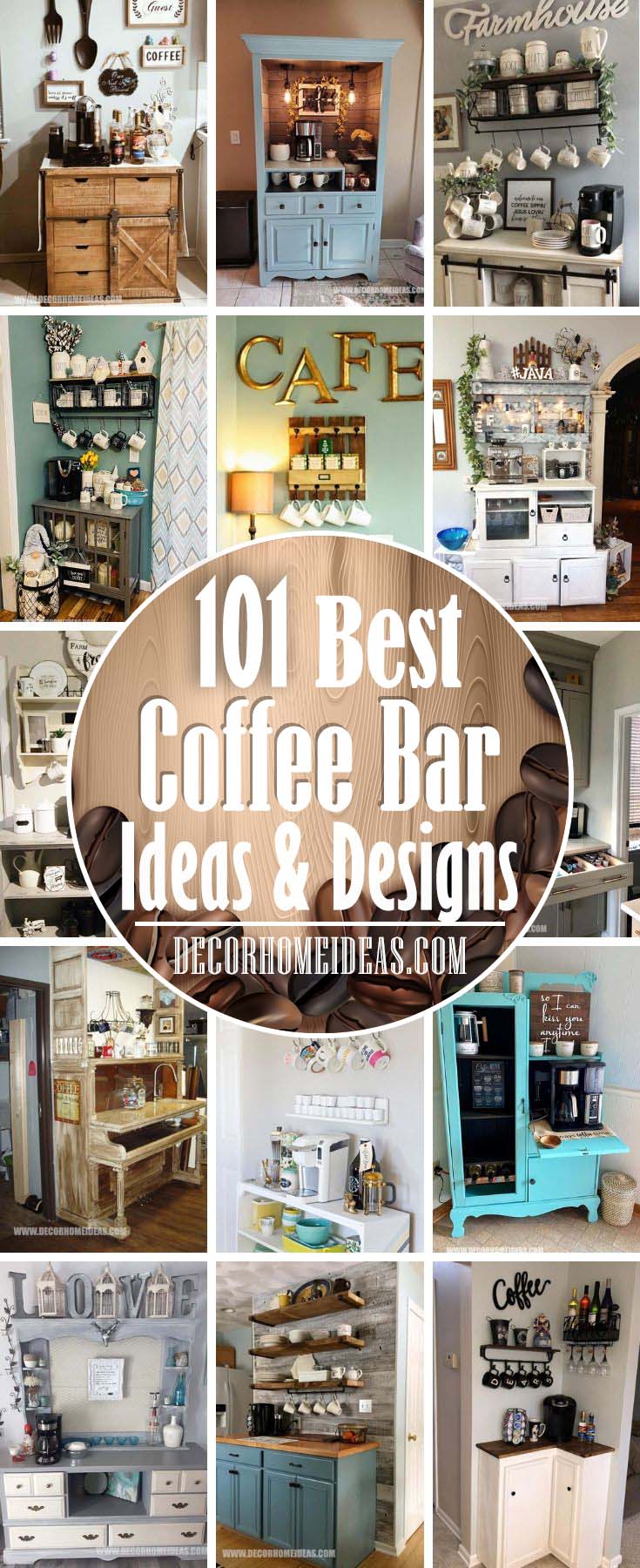 What is the Difference Between Coffee Station and Coffee Bar?
A coffee station puts all of your coffee-making supplies in one convenient area. A coffee bar is generally a coffee station but with more storage, decorations and accessories.
What Should Be Included In a Coffee Station?
Coffee maker
Coffee
Carafe
Creamer
Napkins
Mugs
Decorations
How Do You Make a Small Coffee Station?
The easiest way to do it is to free up some space on the kitchen counter where to place the coffee maker, coffee supplies and mugs or you can use a small tray or cart to put all the essentials for the coffee bar.
How Do You Make a Coffee Station at Home?
Just browse the photos below and get inspired by all these beautiful coffee bar ideas. Once you choose your favorite, just copy it.
How Can I Decorate My Coffee Bar Like a Pro?
Before we start with this awesome collection – here is where you can get some cool coffee signs and menus as well as some great coffee bar decorations ( you can see most of them featured in the photos below ):
1. The Perfect Coffee Station for Smaller Homes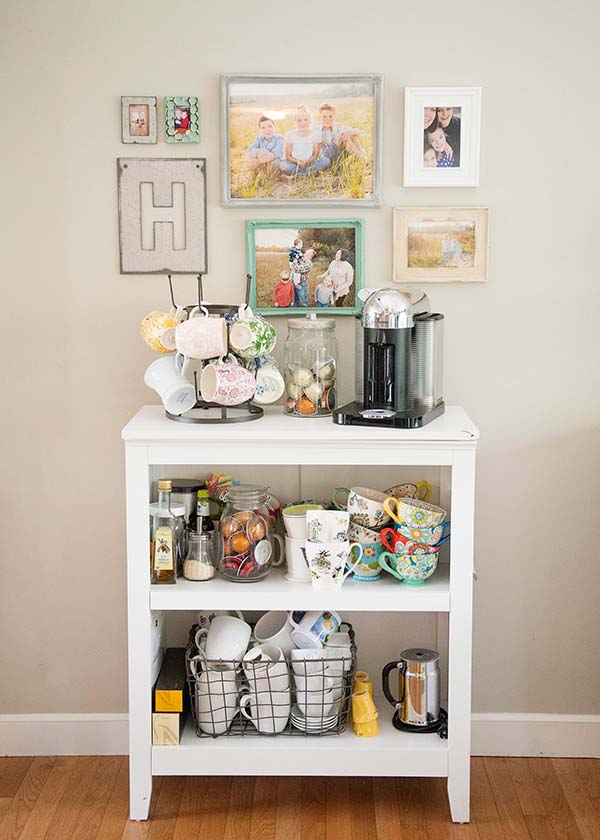 Having your own little stand in an area of your kitchen is the perfect coffee station for smaller homes.
You'll be able to have everything you need in one place, like the coffee pot, your mugs and non-refrigerated creamers.
via Baked Bree
2. Make a Multi-Purpose Coffee Station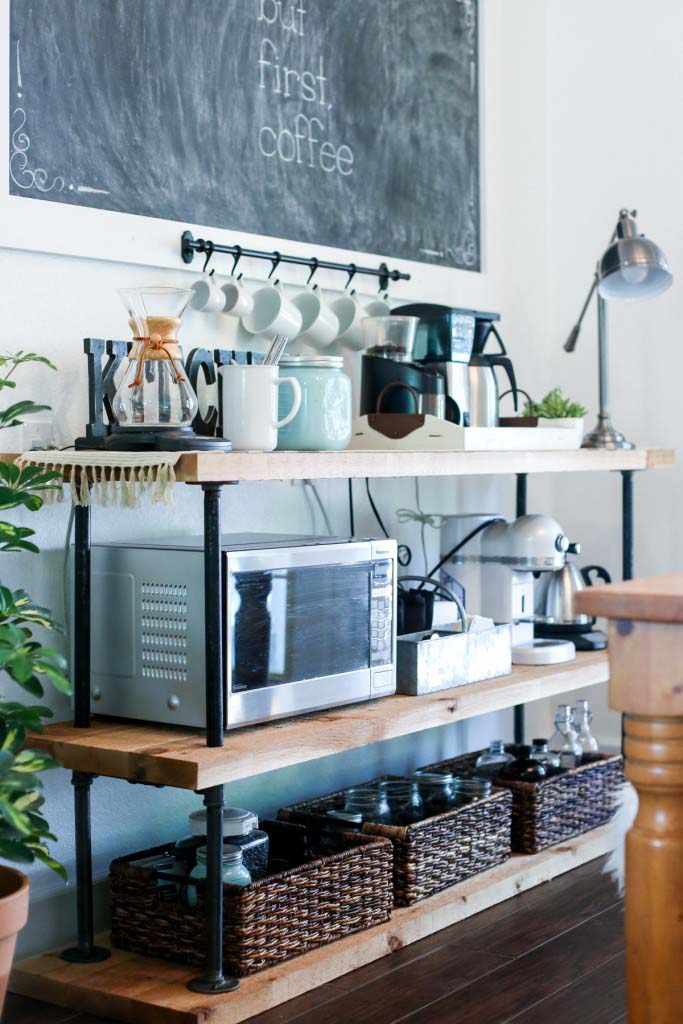 Another coffee station idea is to combine your coffee materials with other types of kitchen equipment.
For example, you can have a shelf where the entire top is coffee materials, while other areas are things like small appliances or dishware.
via LiveSimplyMe
3. Build a Vintage Coffee Station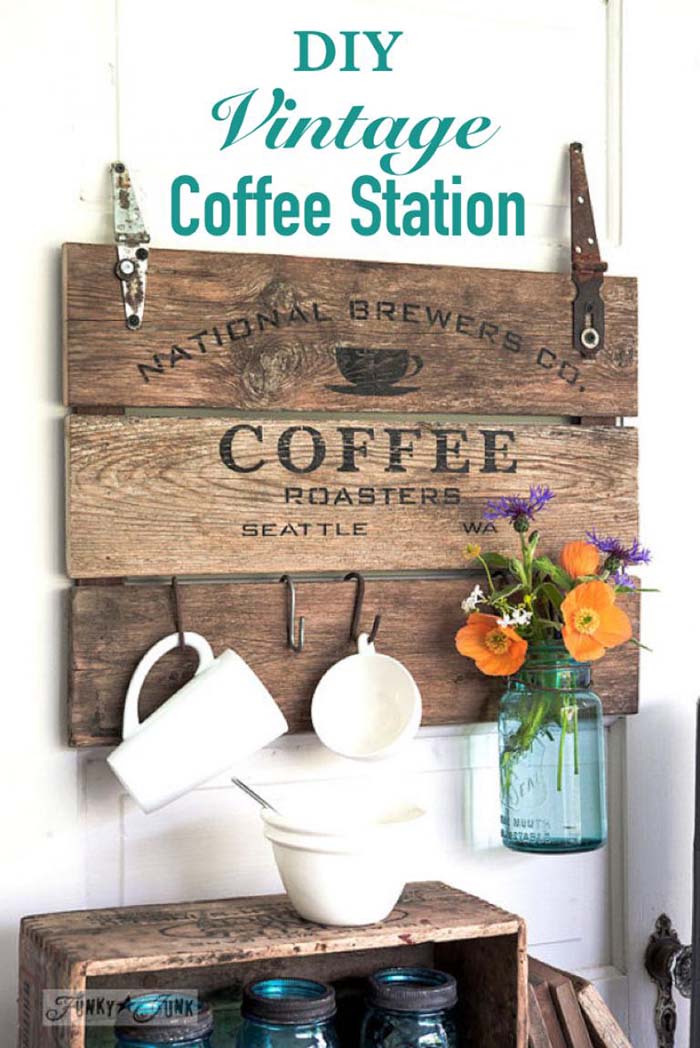 If vintage is your passion, then you could use this theme for your DIY coffee station.
Not only can you make a coffee bar sign that looks vintage, but you can also use things like mason jars or old-looking accessories to really bring everything together.
4. Coffee Station Setup for Overnight Guests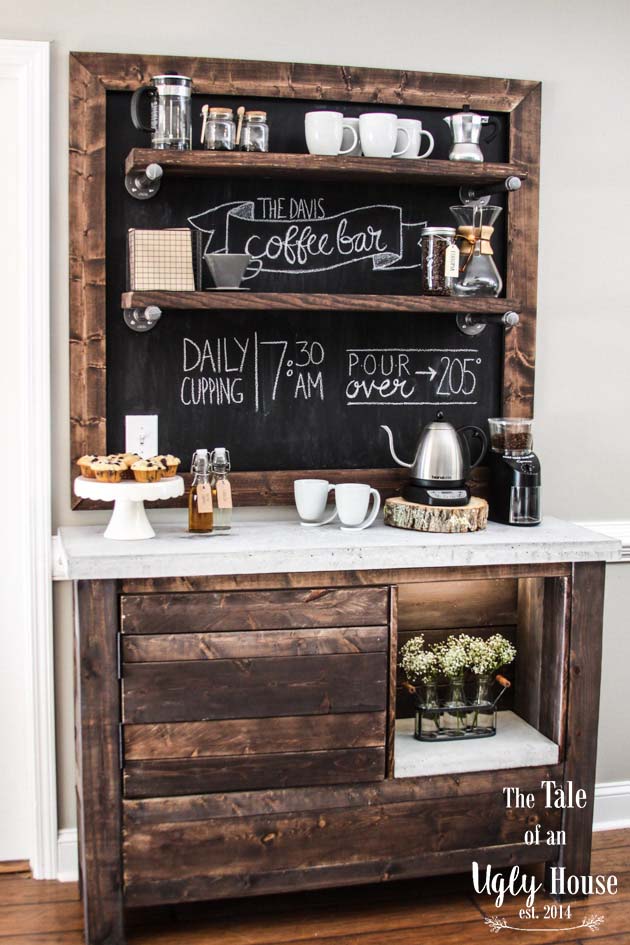 If you have guests stay over quite a bit, then you can create a coffee station that lets them serve themselves.
You can have different coffee types, creamers, mugs and pastry treats.
You could also get a chalkboard to write things like what time coffee is available or how to make certain types.
via Sincerely, Marie
5. Create a Coffee Station with Recycled Pallets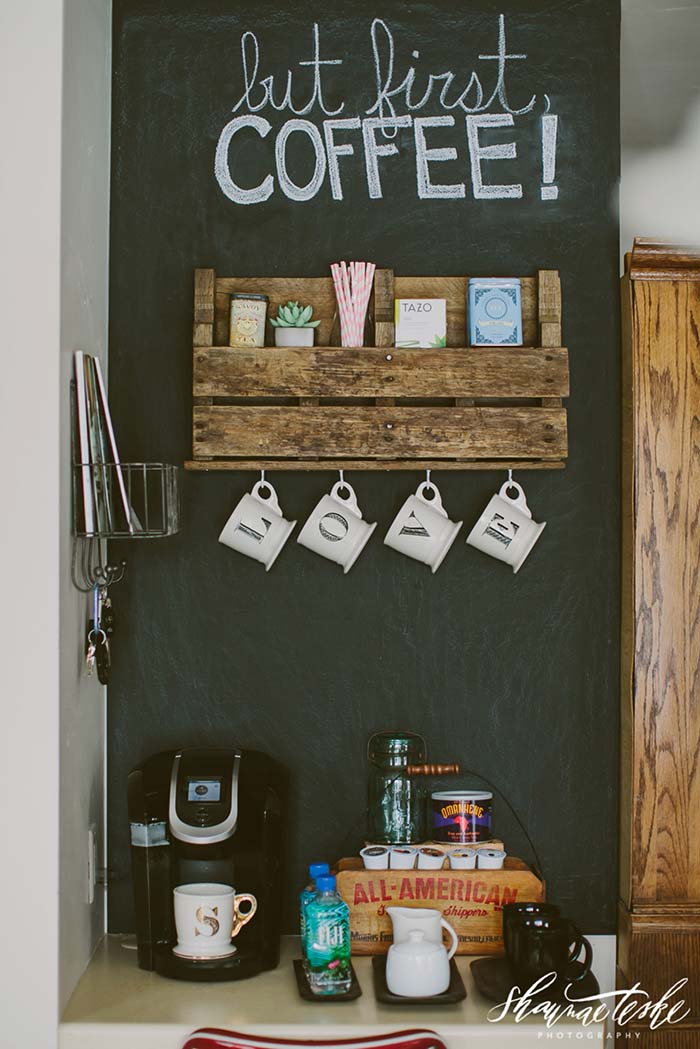 If you have a lot of old wood lying around, you could use some old pallets to make your own coffee station.
You can cut it down to make a little shelf where you can hang your mugs and put things like stirrers or creamers on top. Just add this to the area where you keep your coffee pot!
via Shaunae
6. Make a Space-Saving Coffee Station with a Movable Cart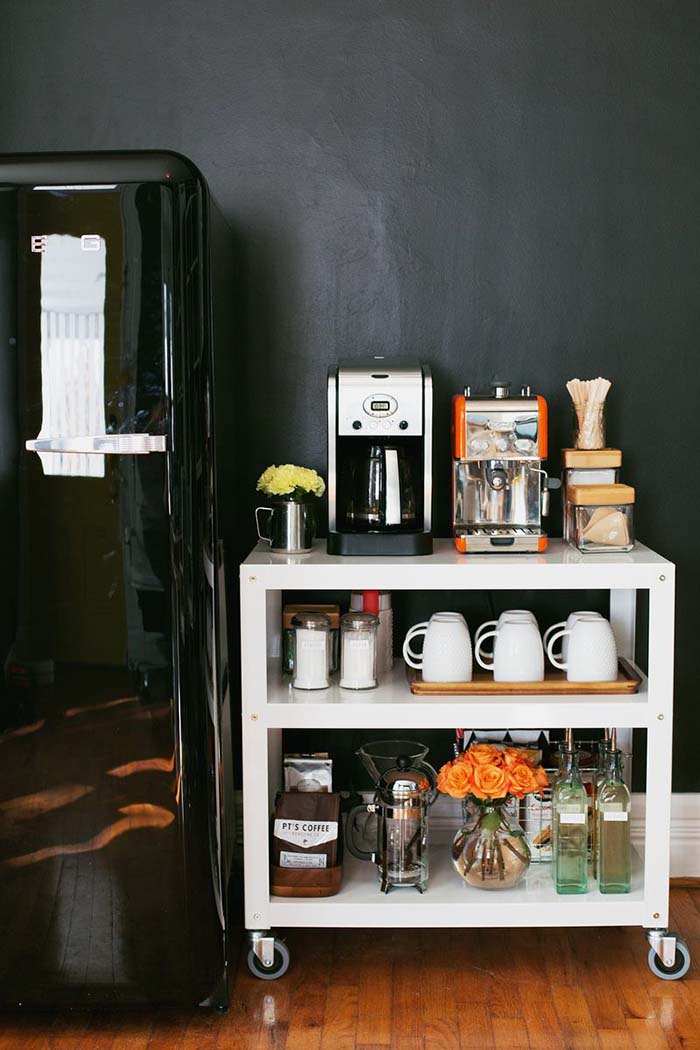 If you don't really have a lot of room in your kitchen, you can make a coffee station out of a movable cart.
You can move it to the exact place you need while having everything stay on the cart, like mugs, stirrers and sugar.
via A Beautiful Mess
7. Add Character to a Coffee Station with a Chalkboard Sign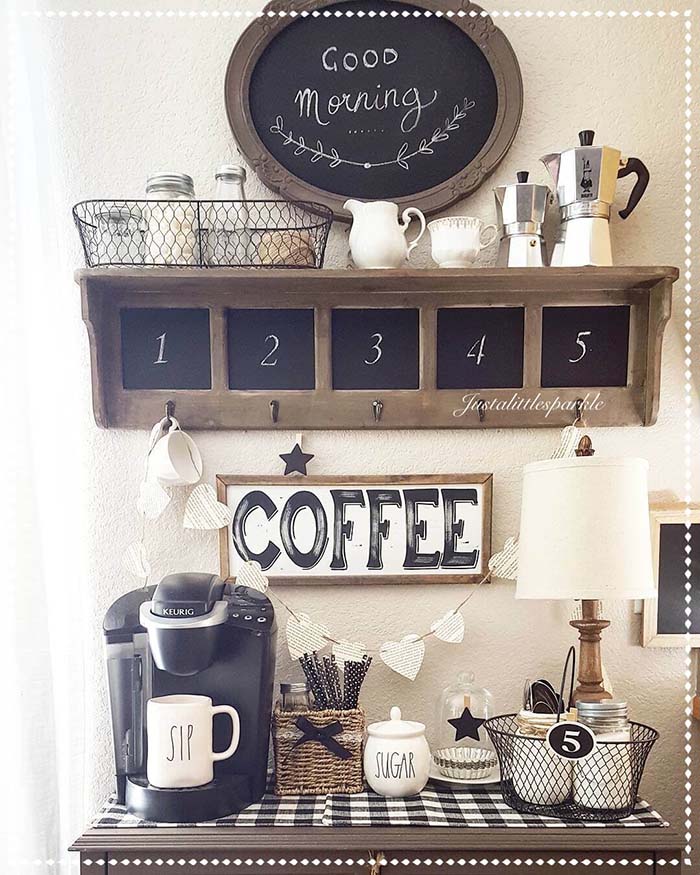 If you already have an area for all your coffee supplies but want something to add a little pop, you can incorporate a chalkboard sign.
You can put anything on there from cute coffee quotes to just having a nice little message!
8. Enhance Your Coffee Station with Inspirational Quotes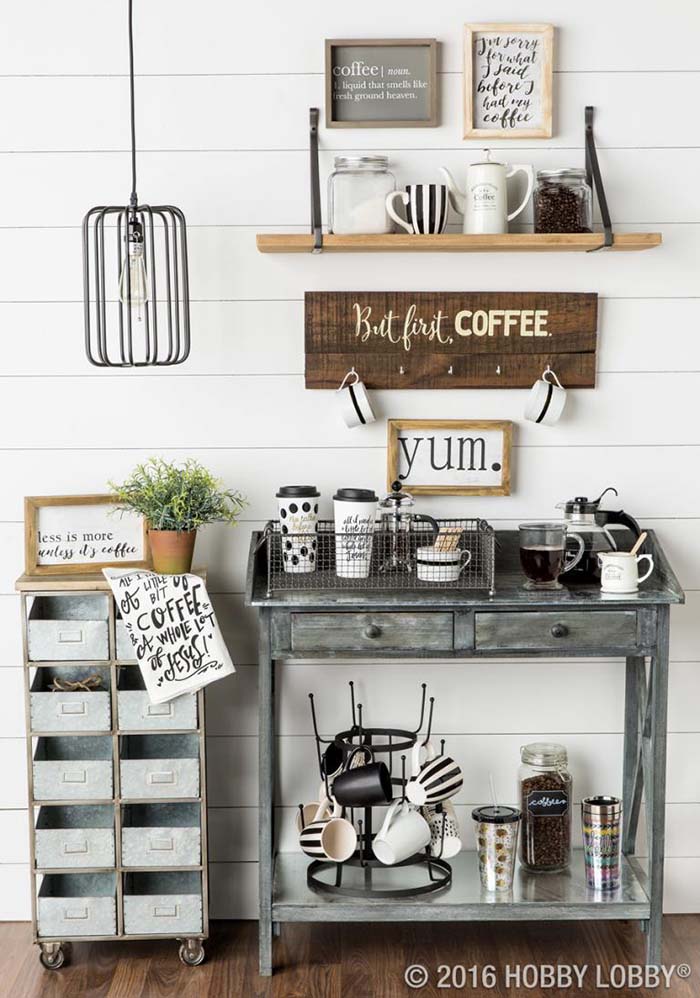 A great addition to any coffee station are cute quotes that have to go with coffee.
The best thing is you can use something like a chalkboard or print out the quote and put it in a nice frame to hang at your station!
via Hobby Lobby
9. Add a Country Feel to Your Coffee Station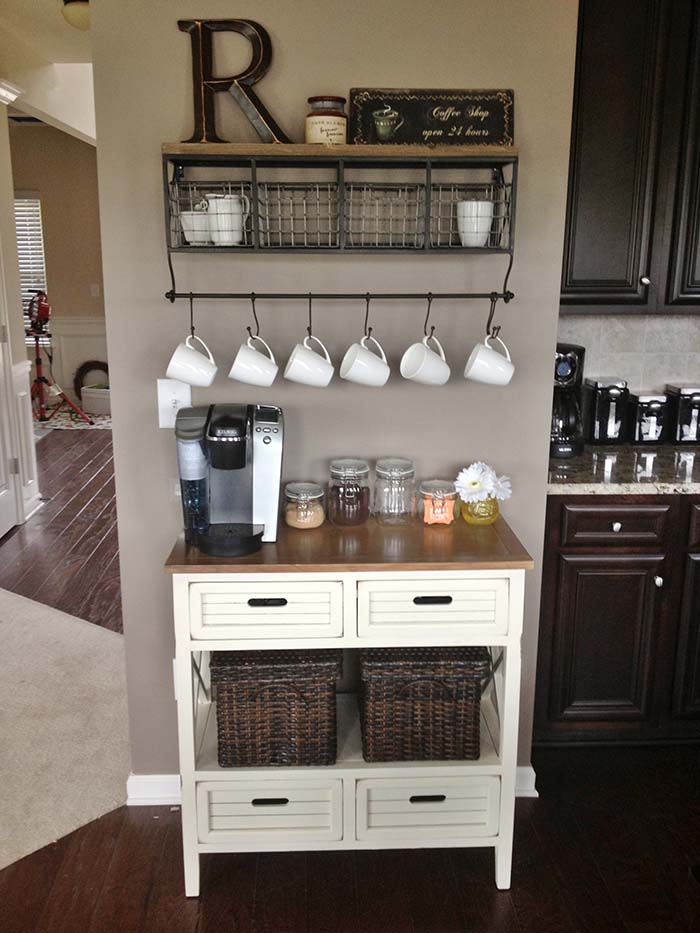 For those that have a country feel to their entire house, a great coffee station option is one that also has a country feel.
You can use things like wooden letters, signs, flowers and mason jars!
10. Set Up a Coffee Bar with an Old Dresser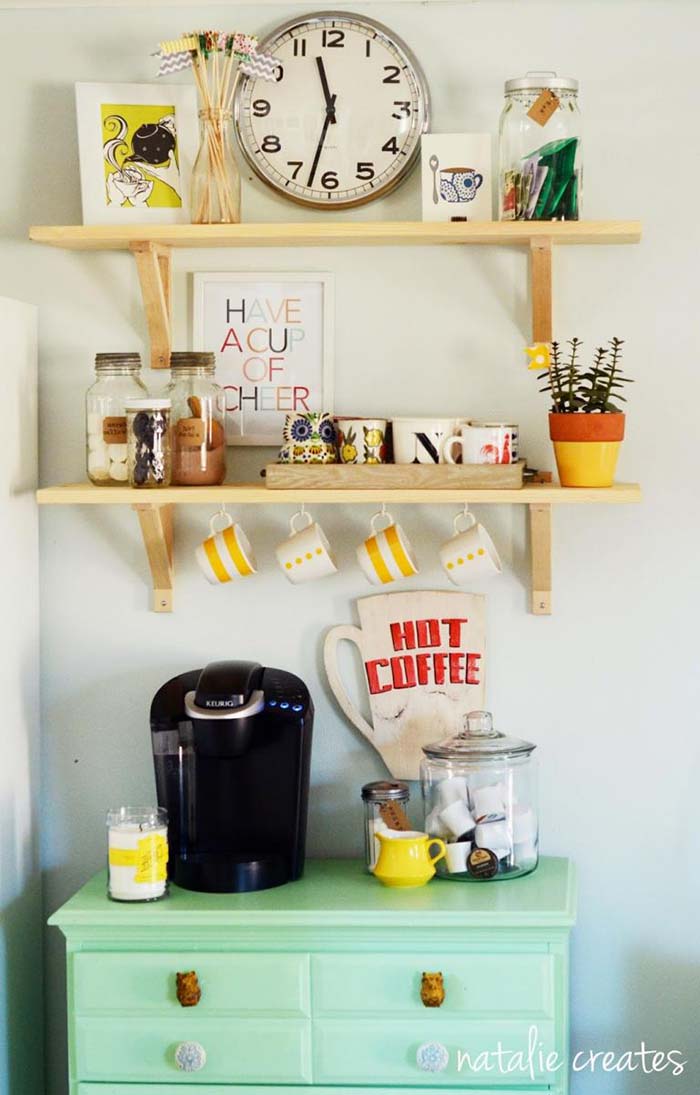 Another great option for a coffee bar is to use an old dresser.
You can keep your coffee pot on top and put things like the actual coffee or mugs in one of the bottom drawers.
Depending on the size of the dresser, you should have an area for everything!
via Natalie Creates
11. Upcycle an Old Desk into a Coffee Station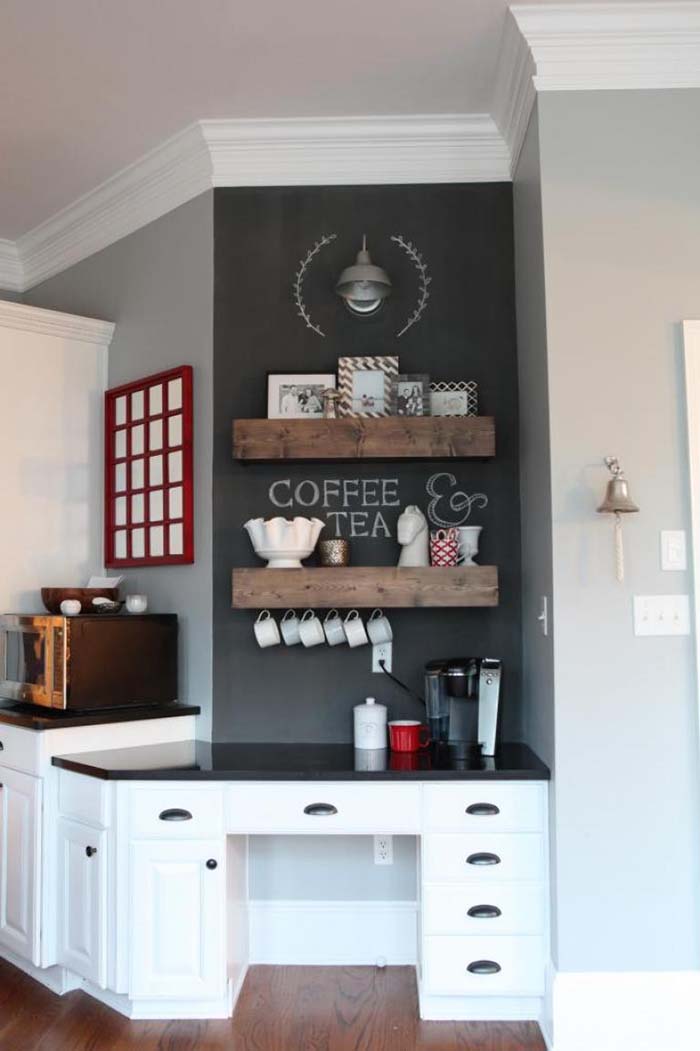 Using an old desk can also make a pretty nice coffee station.
Just like the dresser, you can put the coffee pot on top and put the rest of your coffee materials in the various drawers.
via Bower Power
12. Create an Authentic Farmhouse Coffee Bar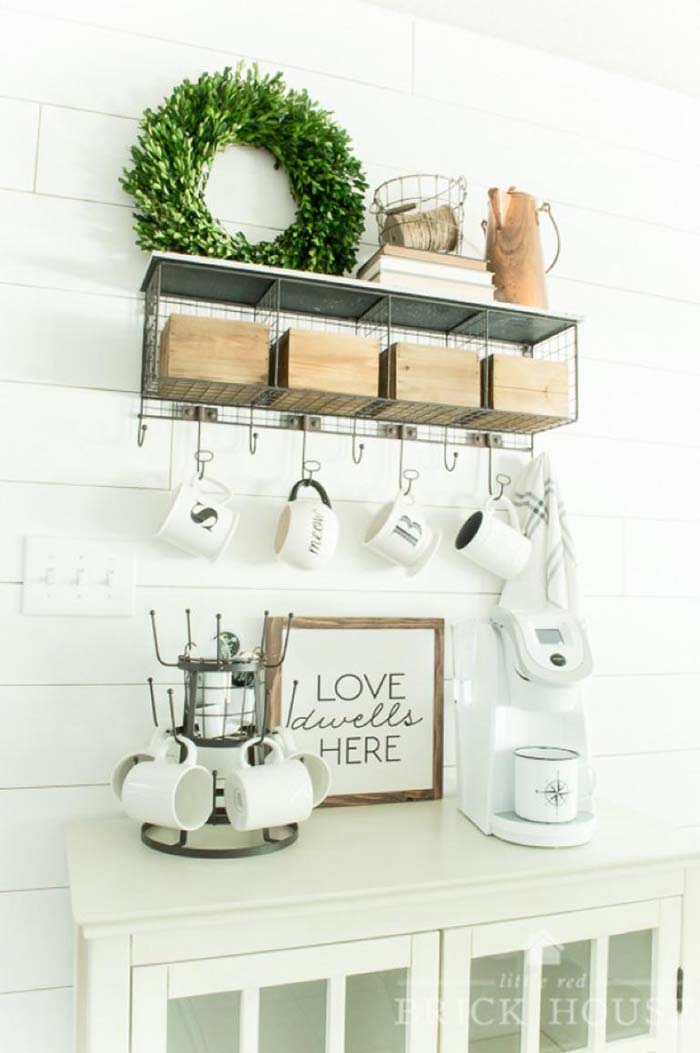 A farmhouse coffee bar is a perfect addition to an authentic farmhouse.
You can use things like old wood and cabinets that are usually seen in these types of homes! Add a few farm-related accessories and it's perfect.
13. Add a Big Chalkboard to Your Coffee Station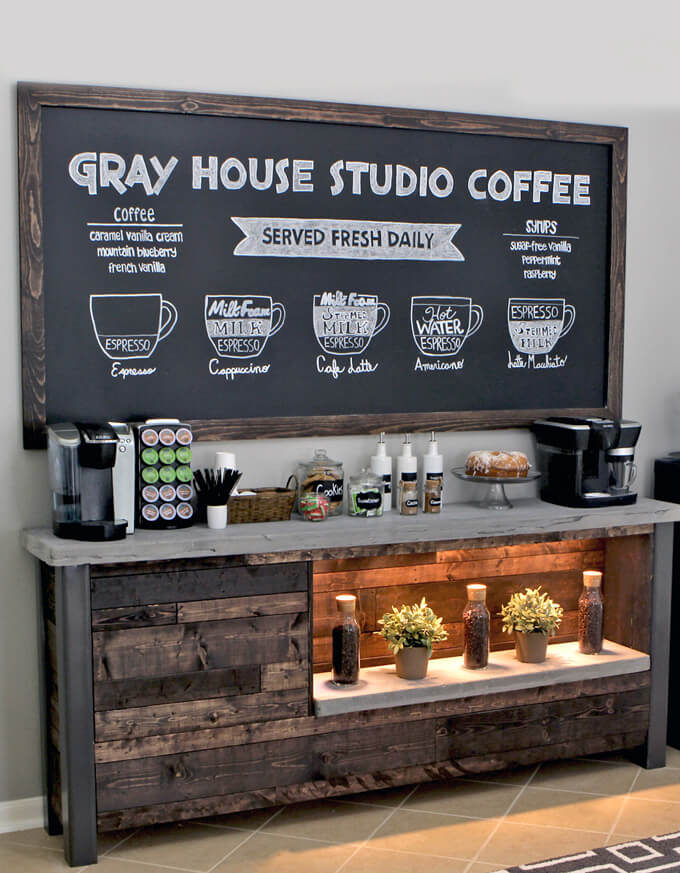 For those that have a lot of guests, you can make an awesome coffee bar by adding a large chalkboard above it.
You can add things like the types of coffee you have and the types of creamers available!
14. Enjoy Breakfast with a 2-in-1 Buffet and Coffee Bar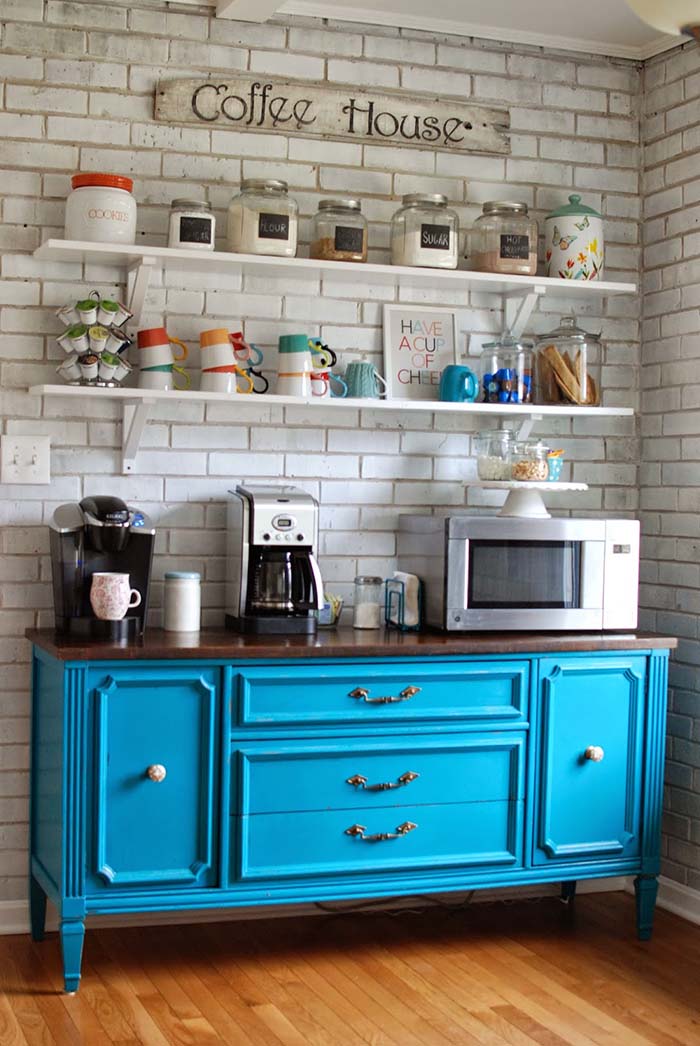 If you and your family love eating with your coffee, then doing a 2-in-1 buffet and coffee bar is an awesome choice.
You can use a stand that has drawers and you'll have space for everything.
You can have things like fresh pastries and multiple kinds of coffee creamer to make the best breakfast!
via James Scott
15. Welcome Guests with a Coffee Bar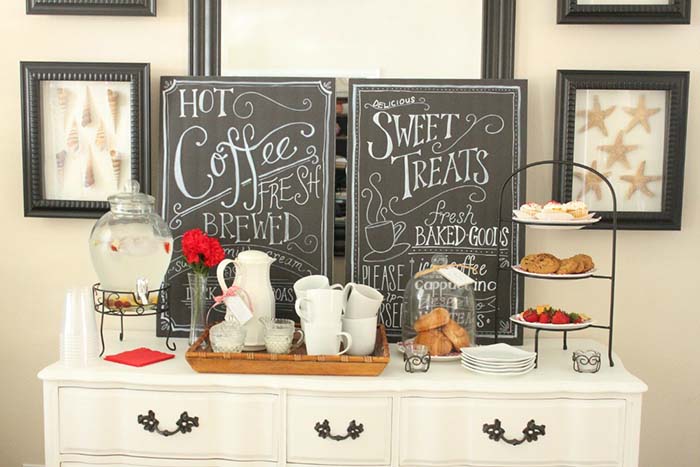 If you want to make your guests feel welcome, you can create a coffee bar that has the coffee and various types of pastries and sweets.
Add a couple of signs with inviting messages and you're ready to go!
via Klik
16. Build a Rustic DIY Coffee Bar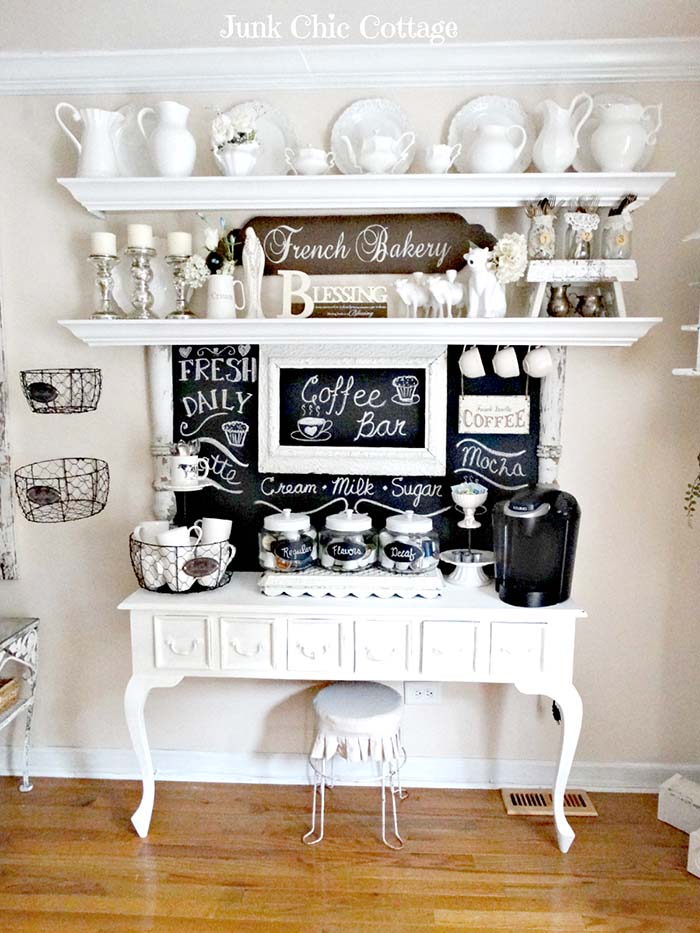 Another idea for a DIY coffee bar is a fresh country.
You can have a little area where you put your stand and add things like mason jars with labels and country-related decor like farm animal creamer holders!
17. French-Inspired Hot Cocoa Station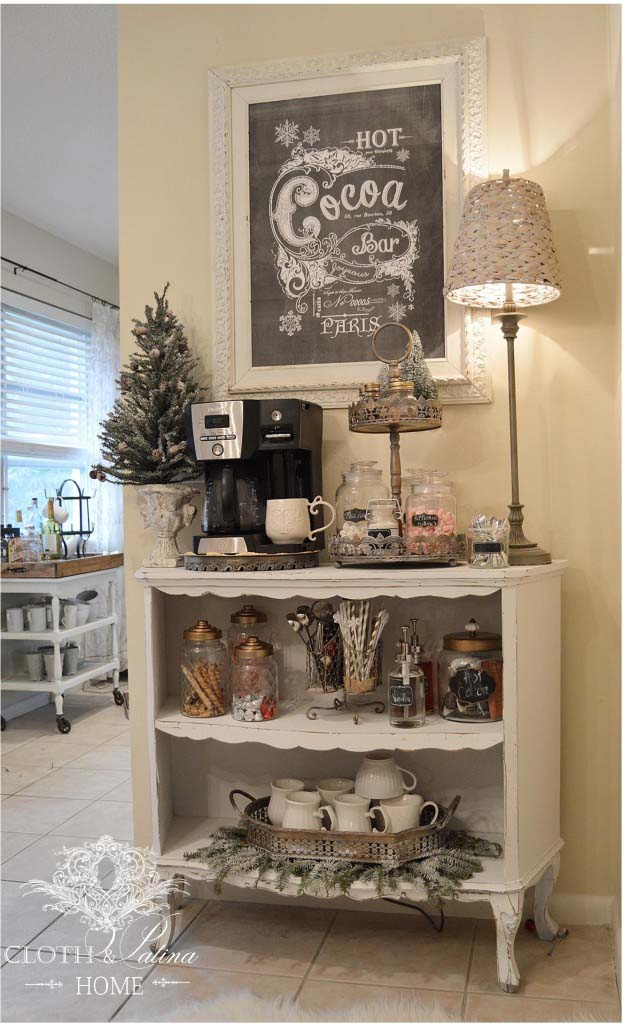 A great option for those that love France and hot cocoa is a station that combines the 2.
You can add different types of hot cocoa and you can add decor that has a French feel!
via Cloth and Patina
18. Enjoy a Simple Coffee Bar Setup at Home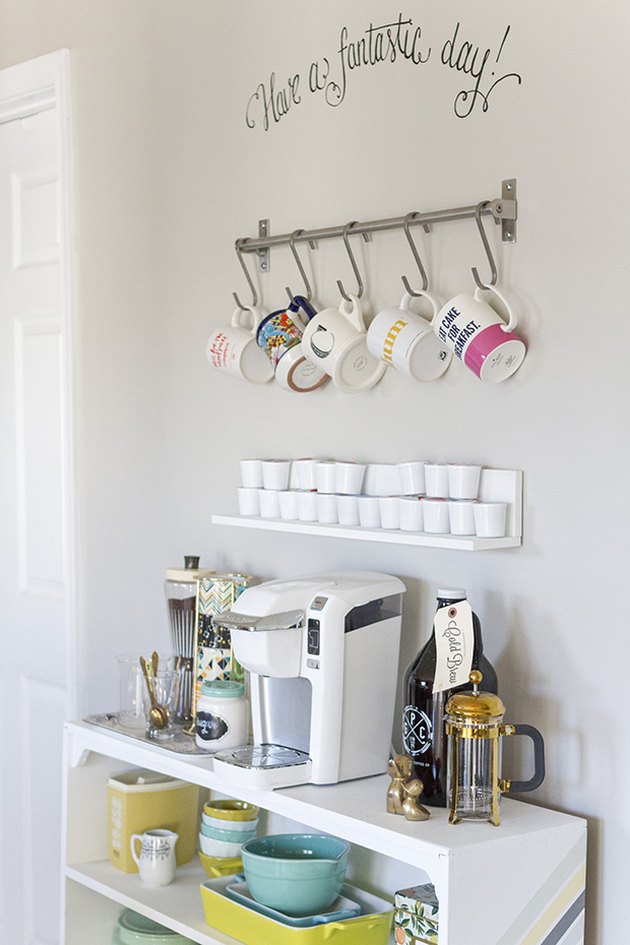 Want something simple? Then this is the coffee bar for you!
Use a stand to hold your coffee materials, while adding hooks above to hang up your mugs! You can go as simple as you want!
via Ehow
19. Create an Espresso Bar in Limited Space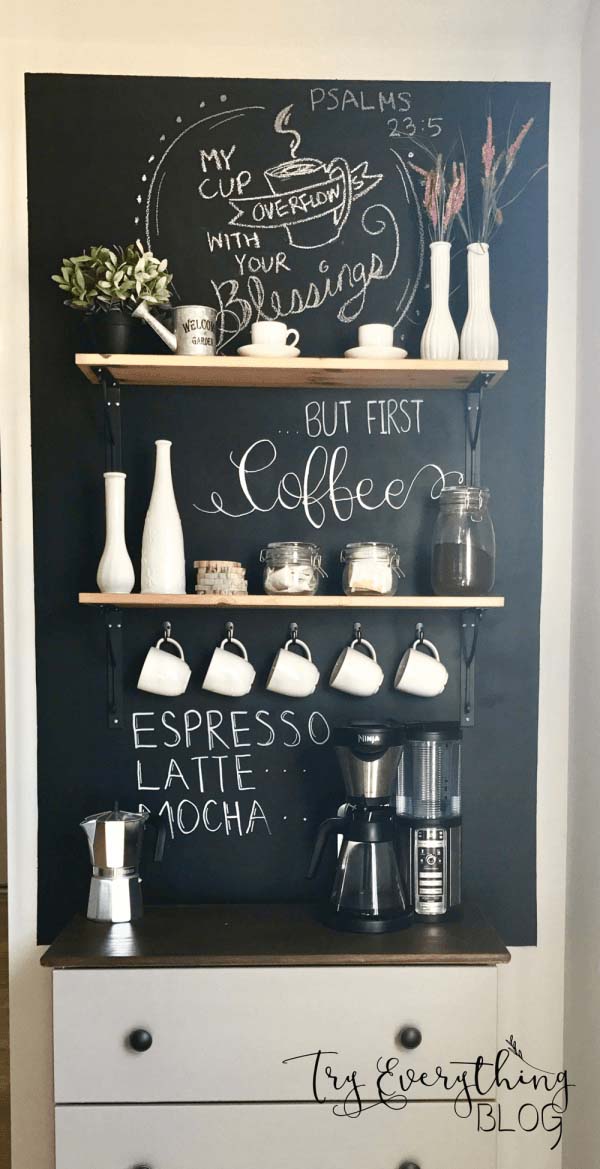 Some people only have a small corner where they can set up their coffee bar.
If that's the case with you, you can use a small stand to hold the coffee pot and coffee.
Then, you can add some shelves and hooks on the wall above to hold things like the mugs and creamer.
20. Utilize IKEA Furniture to Make a Coffee Station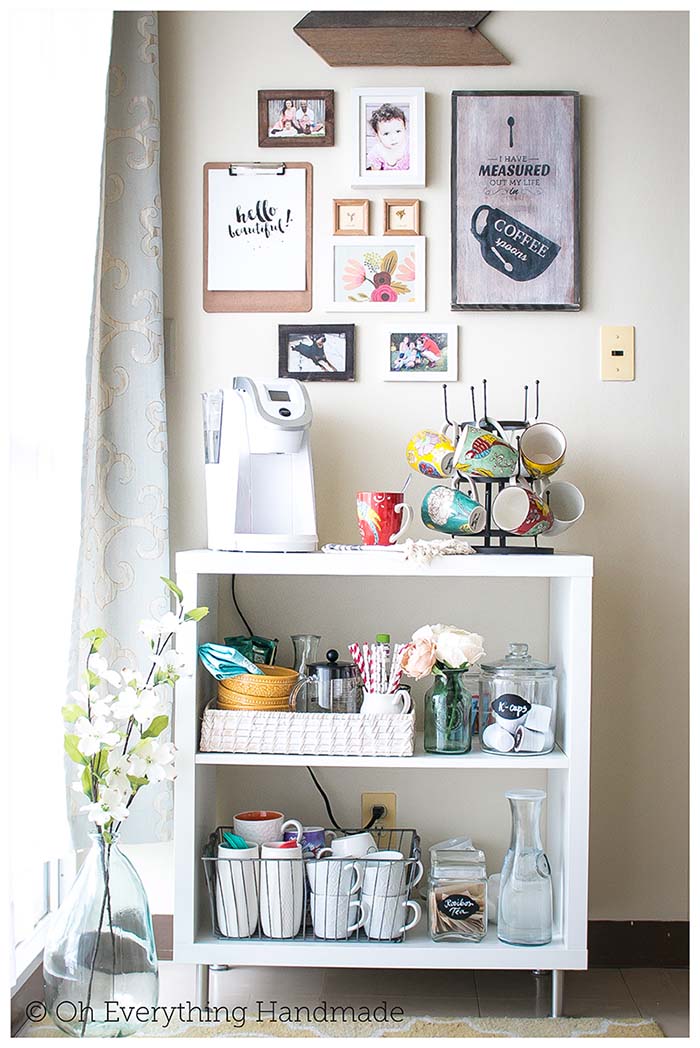 IKEA has some pretty affordable furniture and decor.
If it's one of your favorite stores, all you need to pick up is a cabinet and some picture frames.
Put your materials in the cabinet and frame some cute quotes and sayings about coffee to go above!
21. Quick Coffee Station Setup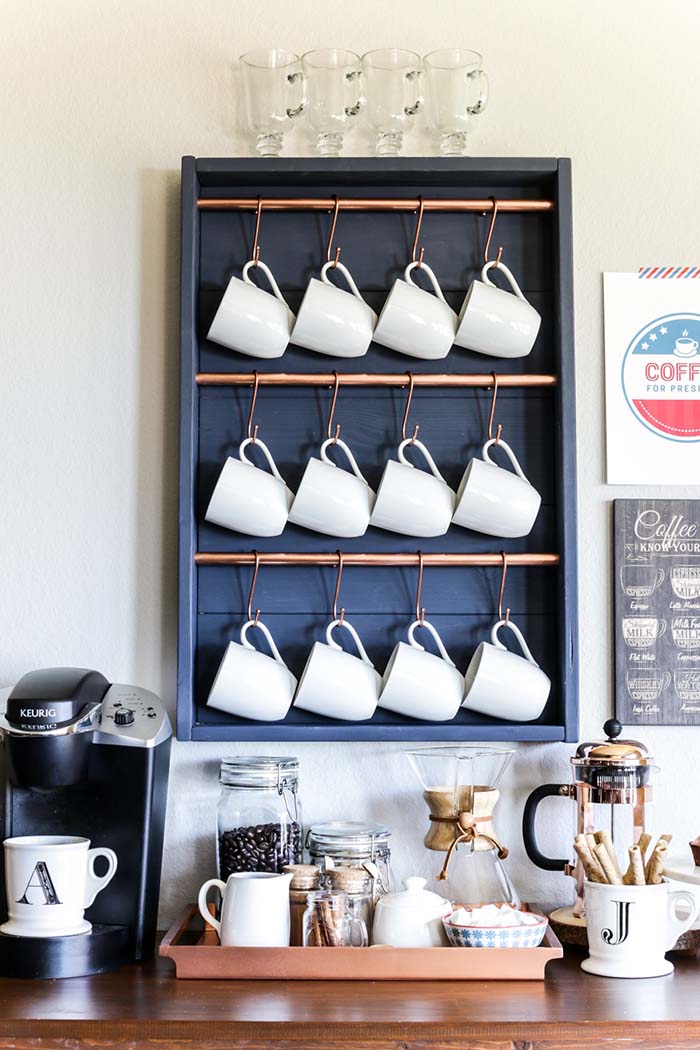 If you want to throw something together quickly, then you could use some things you already have.
For example, you can use an old stand to hold your coffee supplies and some kind of cabinet with bars to hold your mugs!
via Jen Woodhouse
22. Make a Multifunctional Coffee Station with a Cart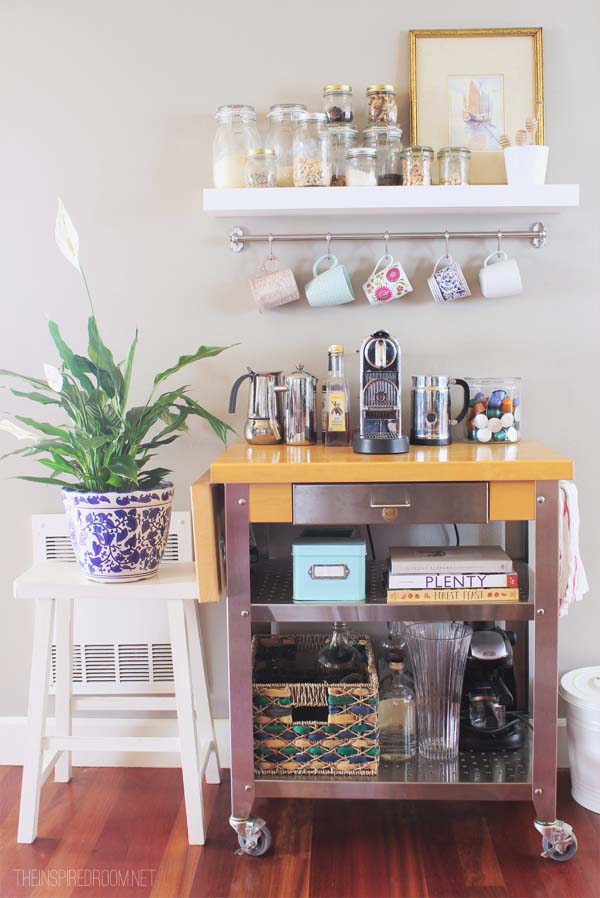 One of the easiest ways to make a DIY coffee station is by using a cart and some shelves.
Put your coffee pot and coffee on the cart, while putting things like your mugs, creamers and sugars on the shelves!
23. Create a Rustic Coffee Station with Wood Accents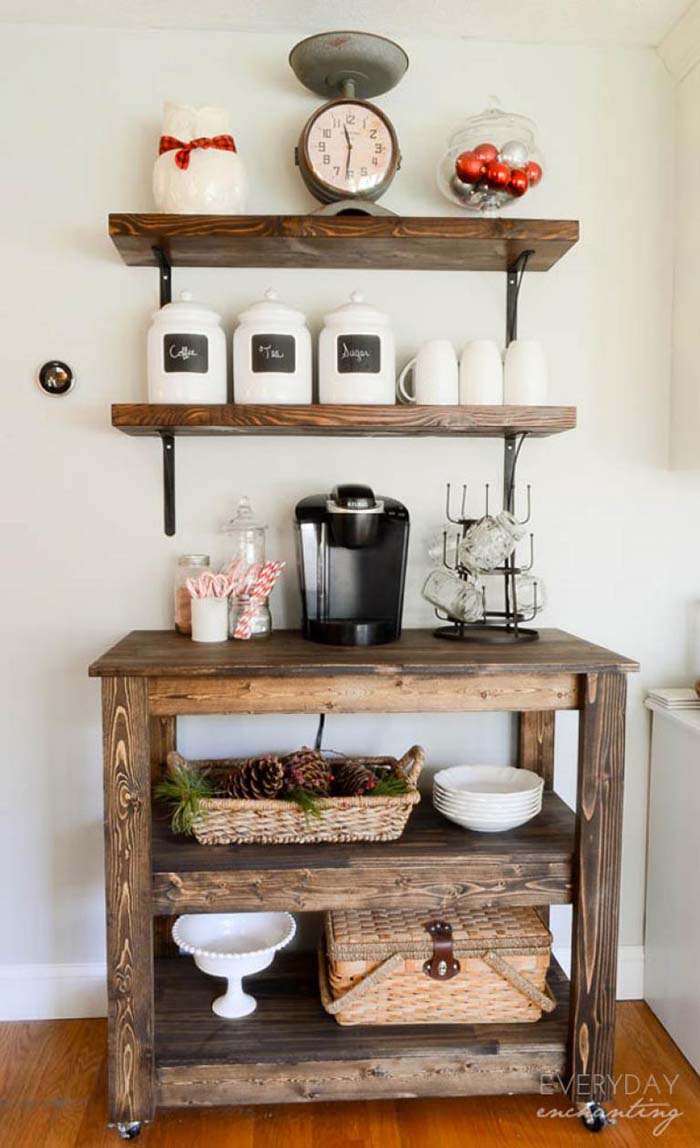 Using a wooden stand and some wooden shelves will help you get a great wooden and country-looking coffee station!
via Nina Hendrick
24. Repurpose Your Kitchen Stand for a Coffee Bar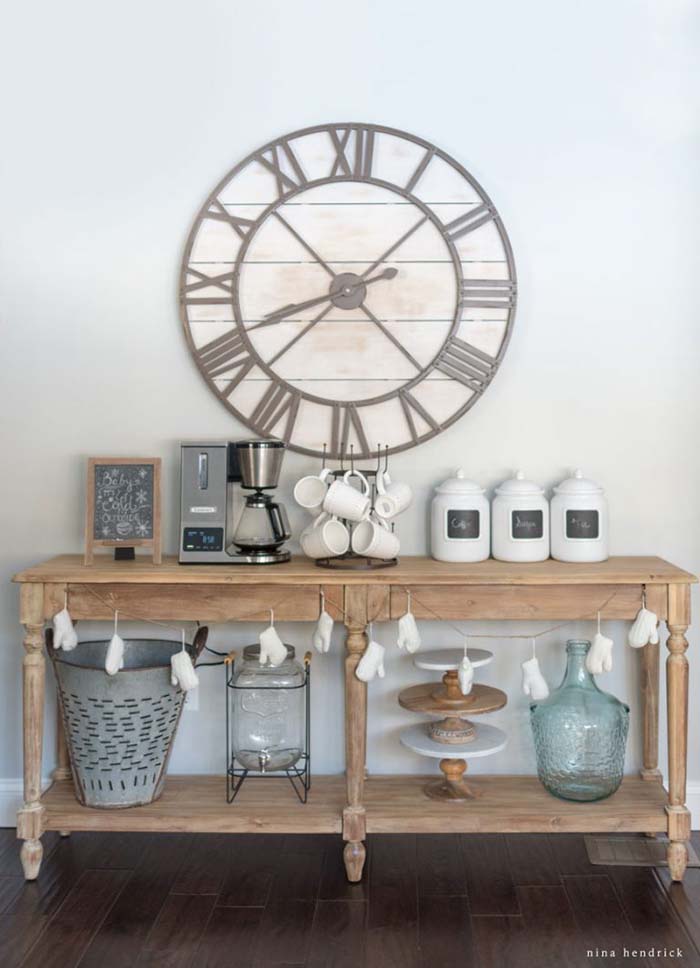 Using a nice stand that you already have in your kitchen can help you save on your coffee bar.
If you can rearrange things, you can use a stand you already have!
via Nina Hendrick
25. Decorate Your Coffee Station with Quotes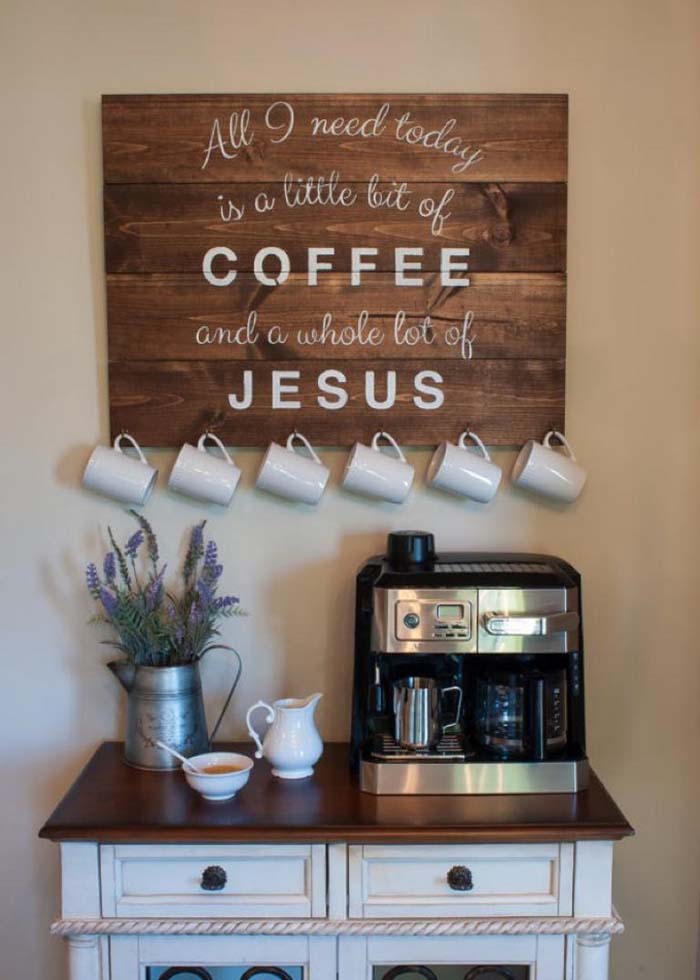 Once you know where you're going to put your coffee station, you can create art that has inspirational quotes!
Hang them above your coffee station and you'll see it every time you get a cup.
via Etsy
26. Achieve a Rustic Look with Wooden Shelves and Stands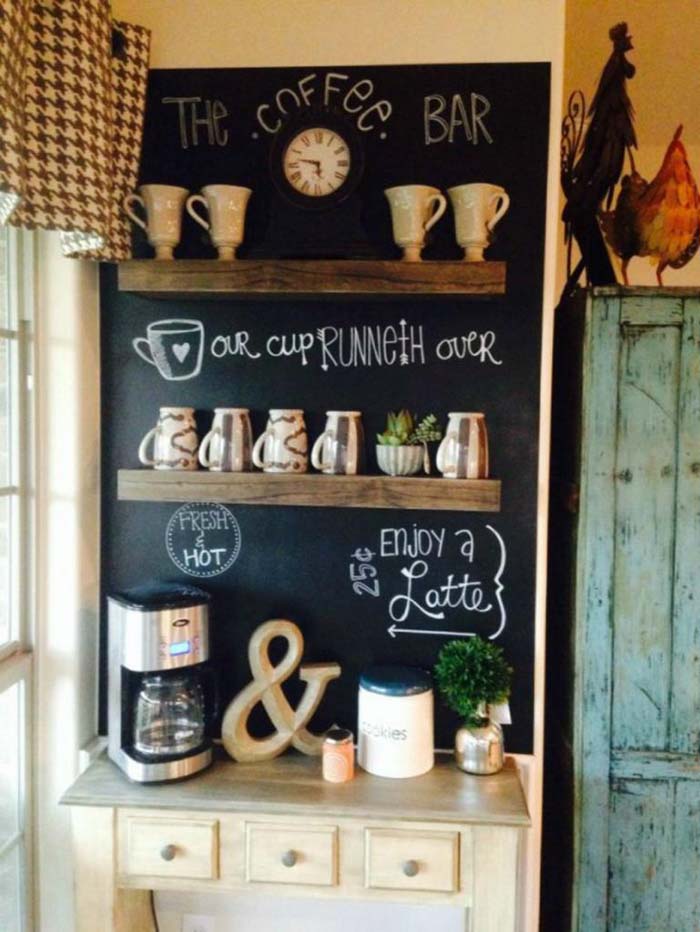 If you want something more rustic, using wooden shelves and a wooden stand can help you achieve this look.
If need be, you can distress the wood to get it to look even more rustic.
27. Get Creative with Your Coffee Station Decor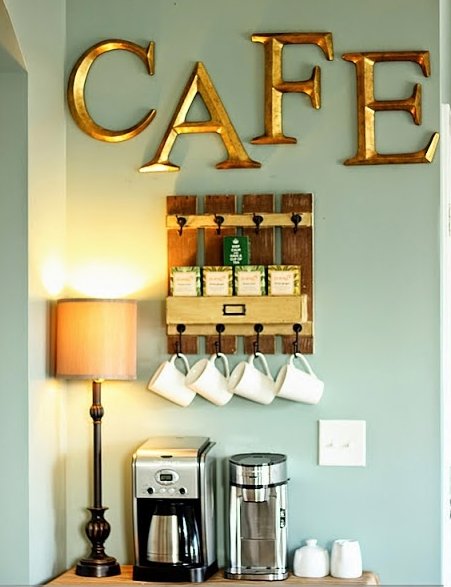 After getting your coffee station figured out, you can go to hobby stores and buy some nice copper letters to put above it!
You can choose any phrase you want.
28. Create an Optimal Coffee Station in a Corner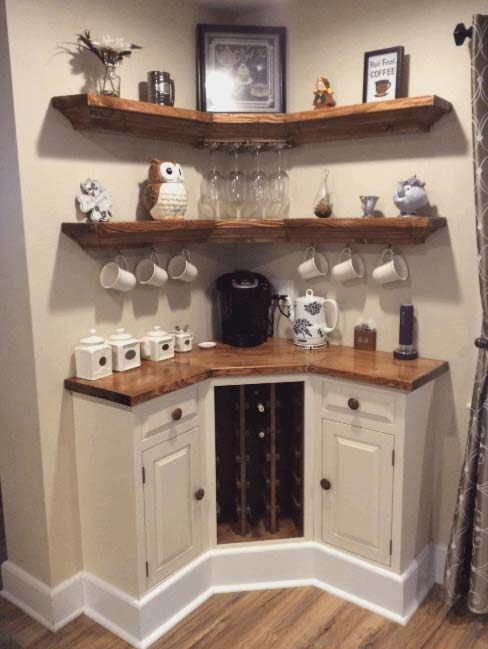 If you know the perfect corner for your coffee station, you can get a stand and some shelves that are specifically made to go in corners!
It'll fit very nicely.
29. DIY Coffee Bar Creation with Wooden Pallets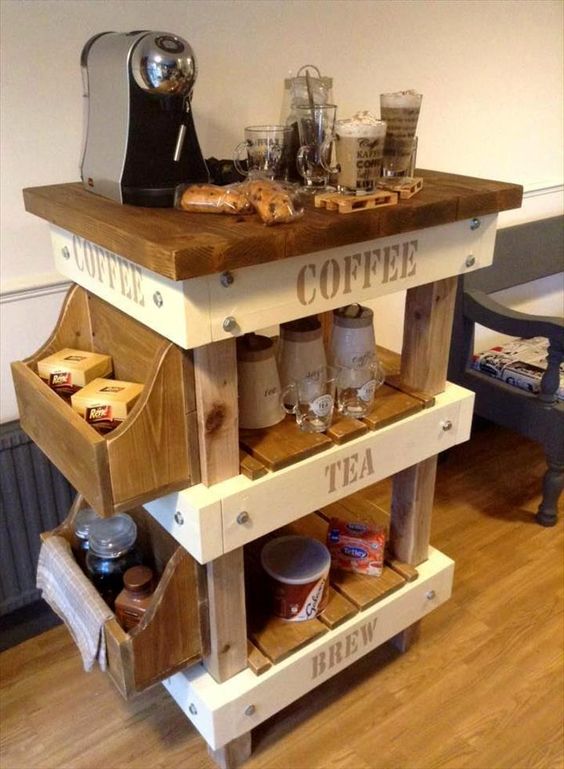 Using old wooden pallets will make it possible to easily make your own coffee bar.
You can paint it the color you want and use stencils to put any words you want.
via Wood Junki
30. Place Your Coffee Station in a Tall Kitchen Cabinet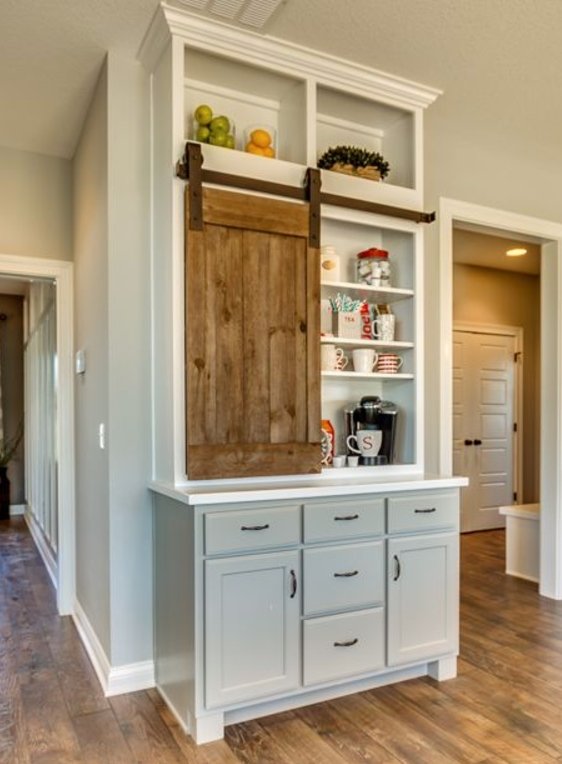 If you have a tall kitchen cabinet, you can use it to make the perfect coffee station.
You'll have plenty of room for everything and it'll look fantastic against your walls!
31. Organize Your Coffee Supplies with a Stand and Rack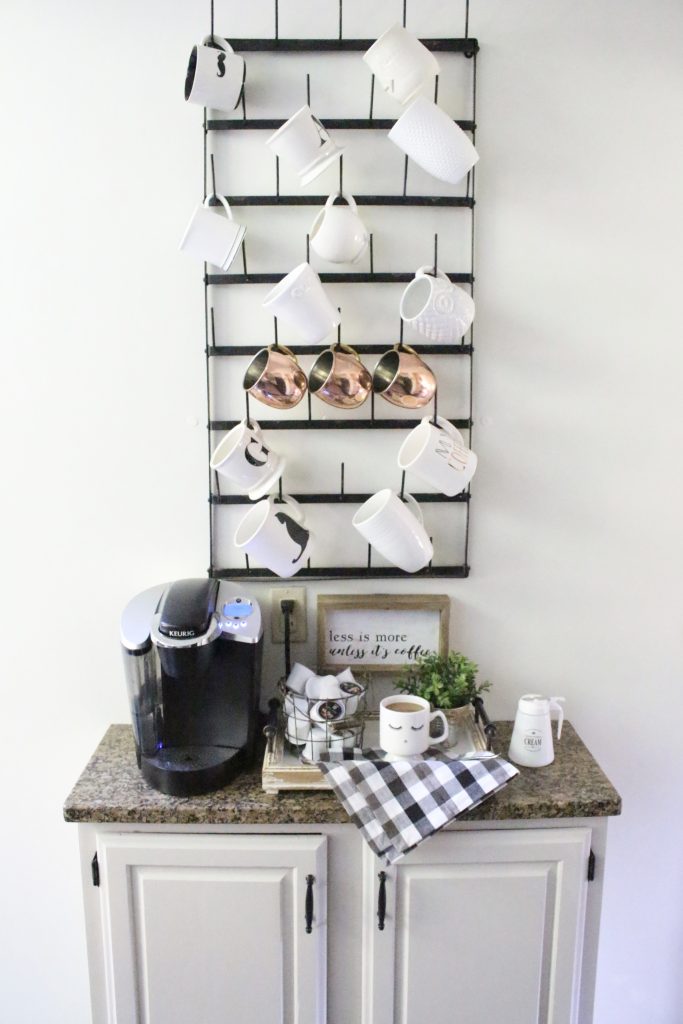 If you use a stand and a rack that has hooks, you'll be able to store everything.
Put your materials in the cart and hang your mugs on the hooks!
via White Cottage Home and Living
32. Transform an Old Dresser into a Coffee Station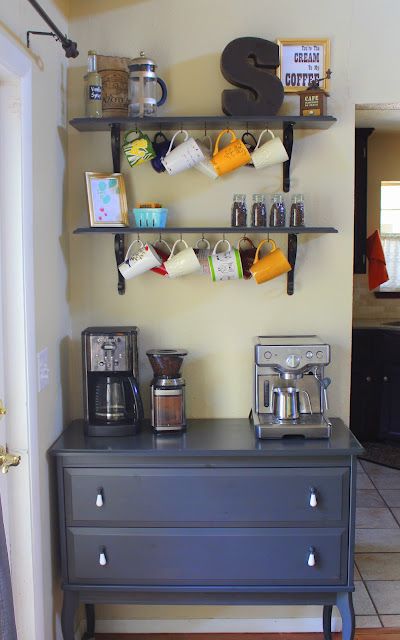 Use a small older dresser to store your coffee supplies and a shelf or 2 to store your mugs.
Paint it to match your kitchen or a little brighter to make it pop!
33. Organize Your Coffee Station with a Stand and Shelf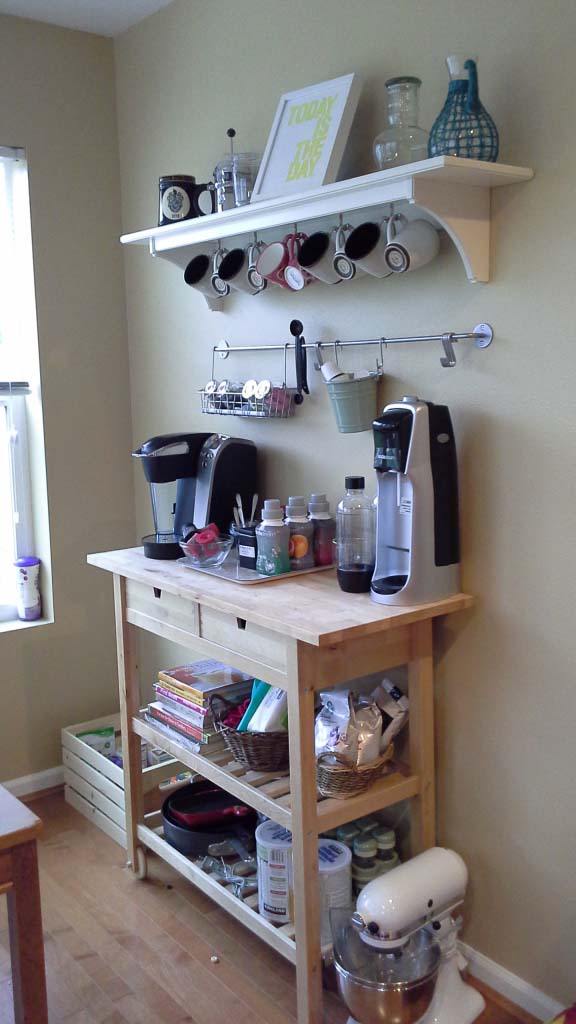 You can make your coffee station super organized if you use things like a neutral-colored stand, some shelving and some hooks.
This will make it so there is a place for everything.
34. Make a Simple Corner Kitchen Coffee Station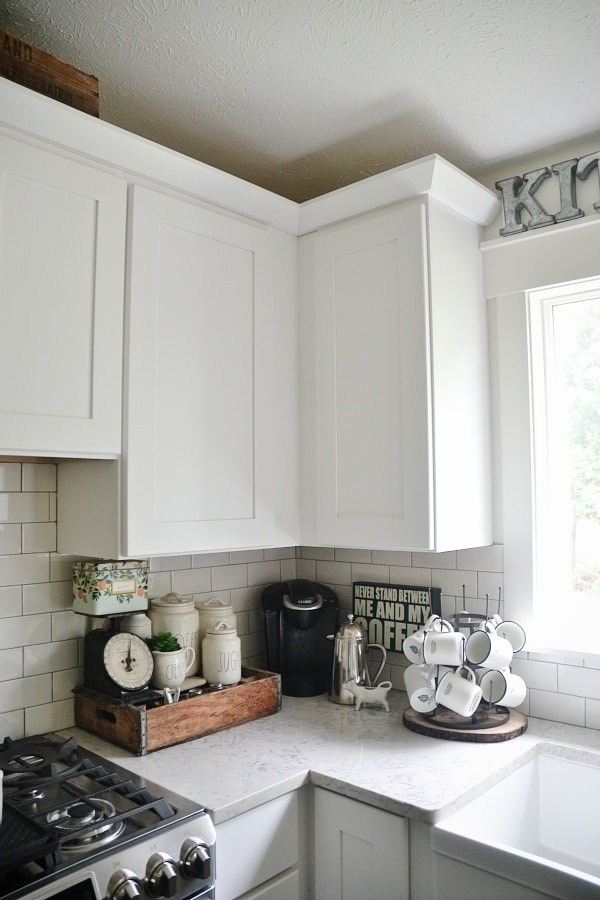 If you have a nice corner area on your counter, you can put everything there.
You can push it back so it's nice and snug and looks like it just belongs.
via Liz Marie Blog
35. Create a Chic Coffee Station with Black Cabinetry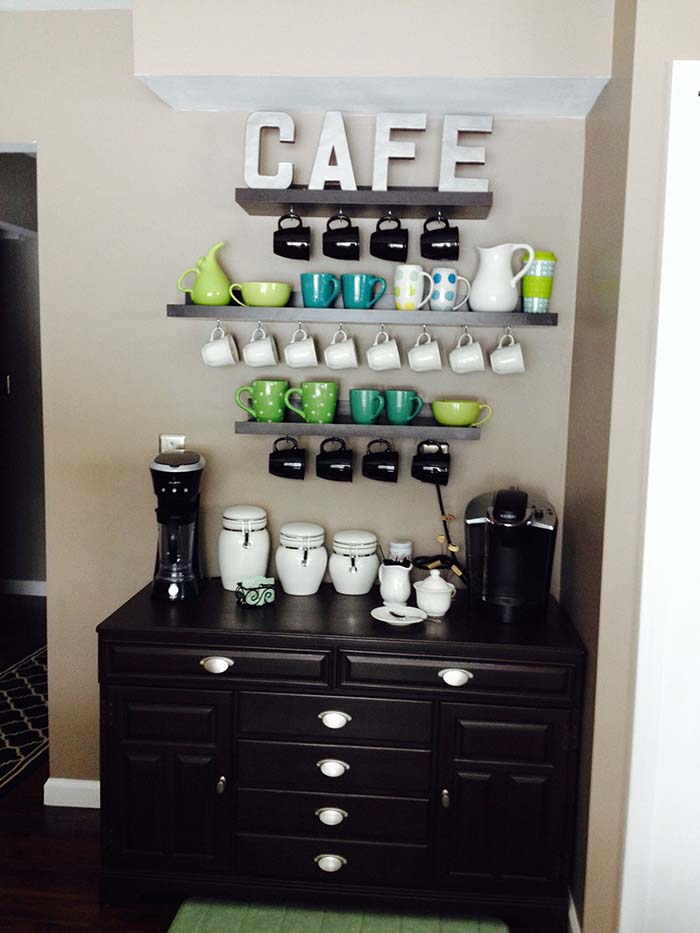 Using a black cabinet with black accessories will give you a coffee station that is chic yet elegant!
36. Revamp Your Coffee Bar with an Old Cart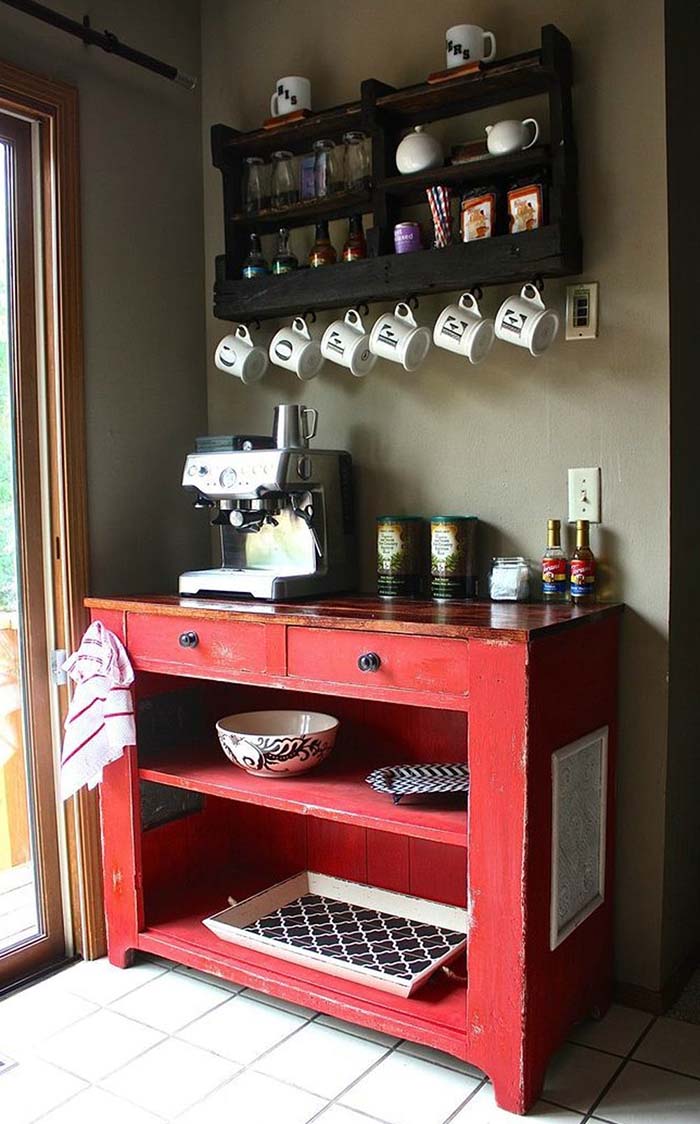 If you have an old cart, you can do some repairs and put a coat of paint on to make a brand new coffee bar!
via Brit
37. Organize Your Coffee Station with an Iron Rack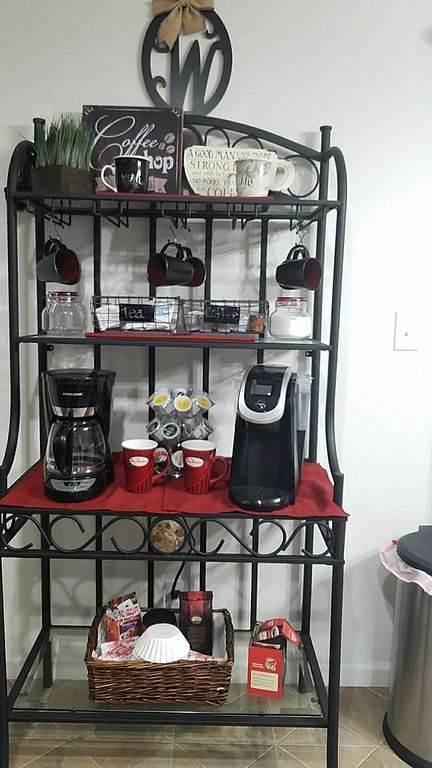 If you want something simple yet elegant, try using an old iron rack! It has lots of hooks and shelves for all your needs!
38. Maximize Space with Coffee Bar Shelves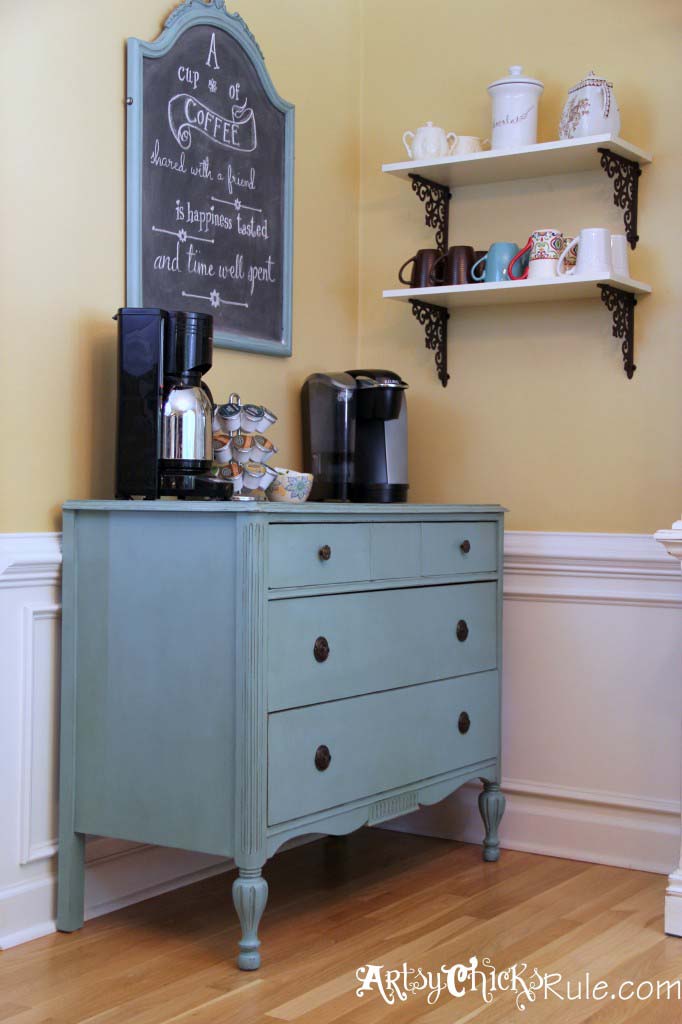 Putting some shelves above your coffee bar will make everything look more organized and it'll give you a little extra space.
39. Add Storage to Your Coffee Bar Setup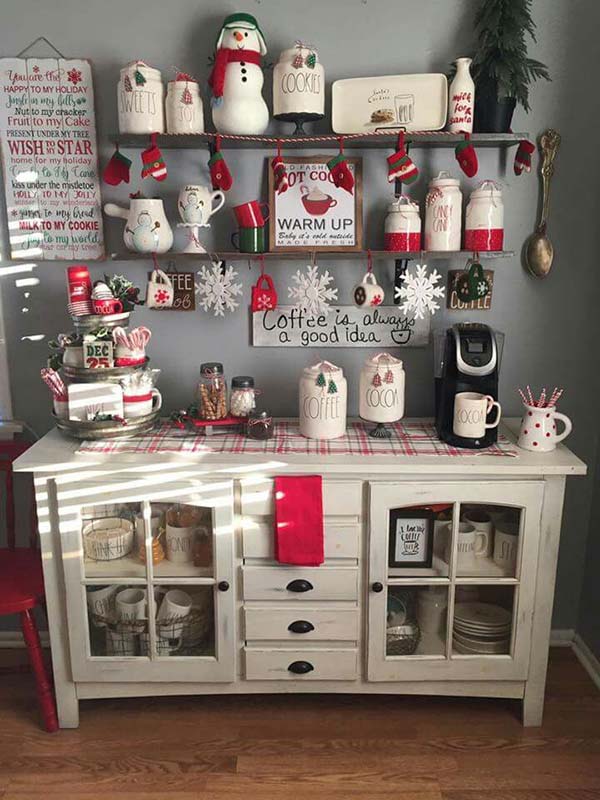 Decorating an existing coffee bar with Christmas decor will give you a practical decoration that looks amazing and festive!
40. Upcycle a Stand with Creative Style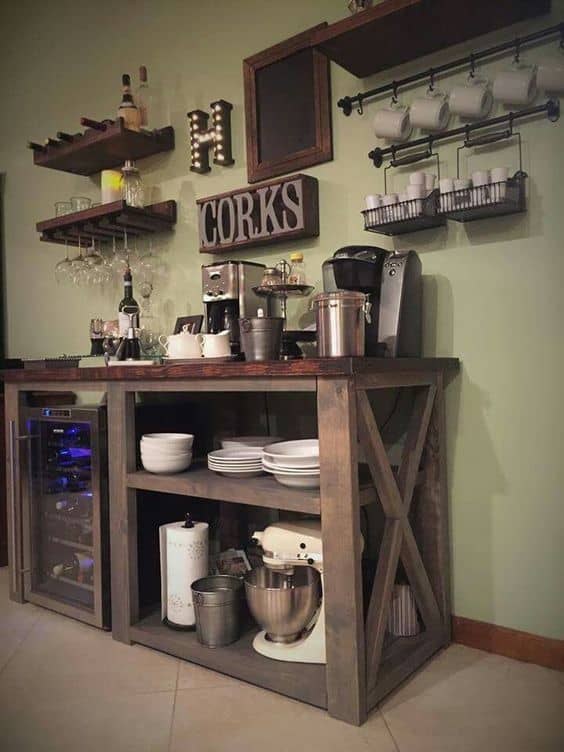 If you happen to have an old wooden stand or cart, you can re-purpose it make it look like it fits perfectly!
41. Add Brightness with a Navy Blue Coffee Bar Stand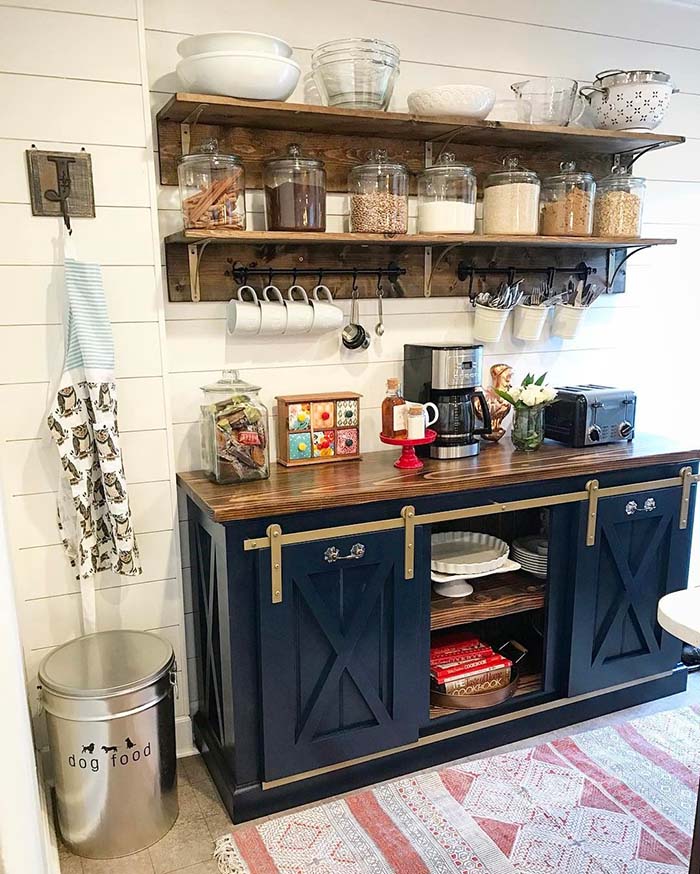 Painting your coffee bar stand navy blue will really make it pop. This is especially true if your walls are a neutral color!
42. Create a Farmhouse Coffee Bar with an Old Stand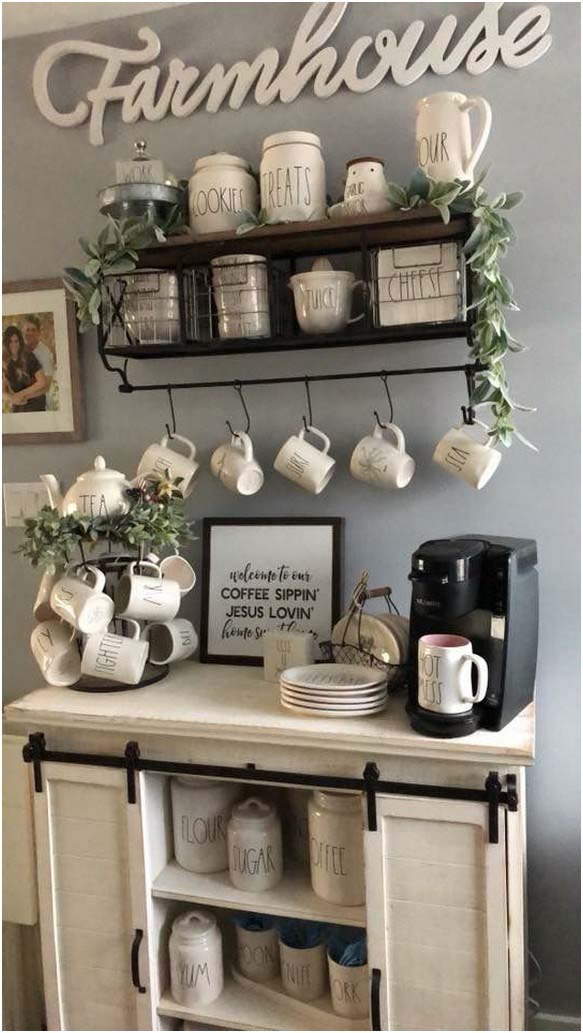 Use an old stand and some wood to get the best farmhouse-related coffee bar!
43. Make a Neat Coffee Station with a Wall Rack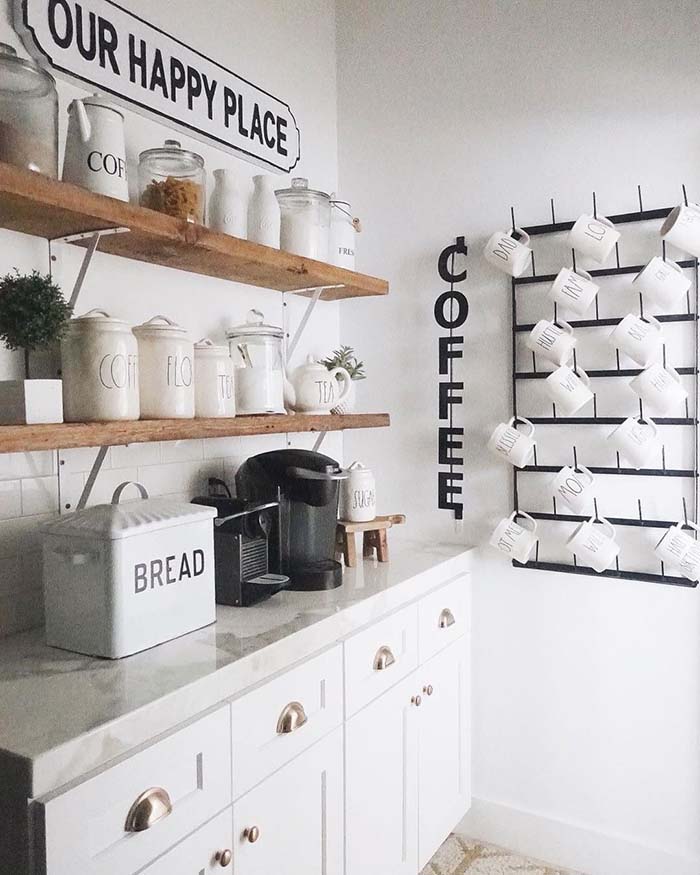 If you add a wall rack above your coffee station, you'll have a separate little area to hang all of your coffee mugs.
via Etsy
44. Install a Wall-Mounted Stand for Your Coffee Bar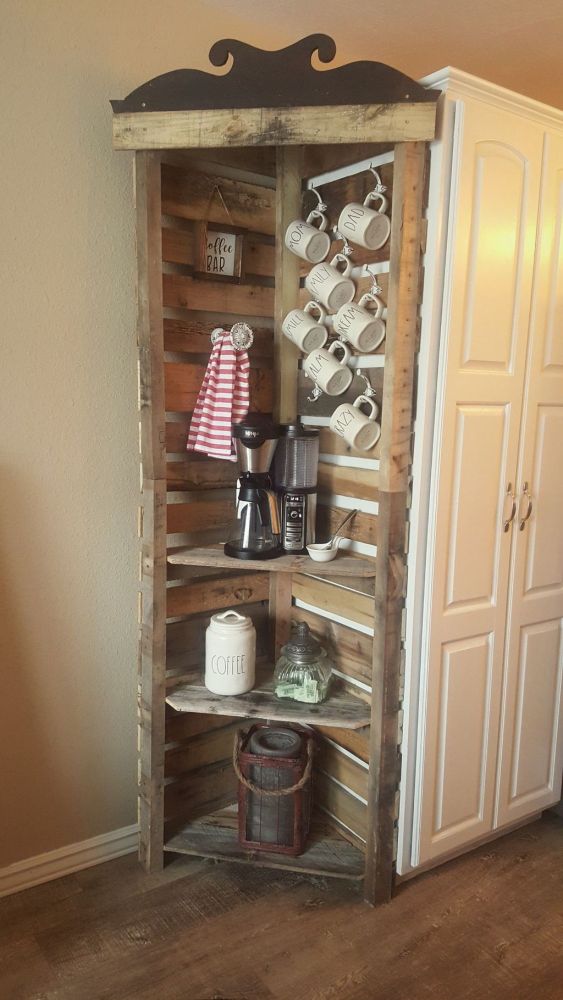 You can use a stand and attach it to the wall or an existing piece of furniture to give the impression that it's built right in.
45. Use a Tiny Stand to Maximize Corner Space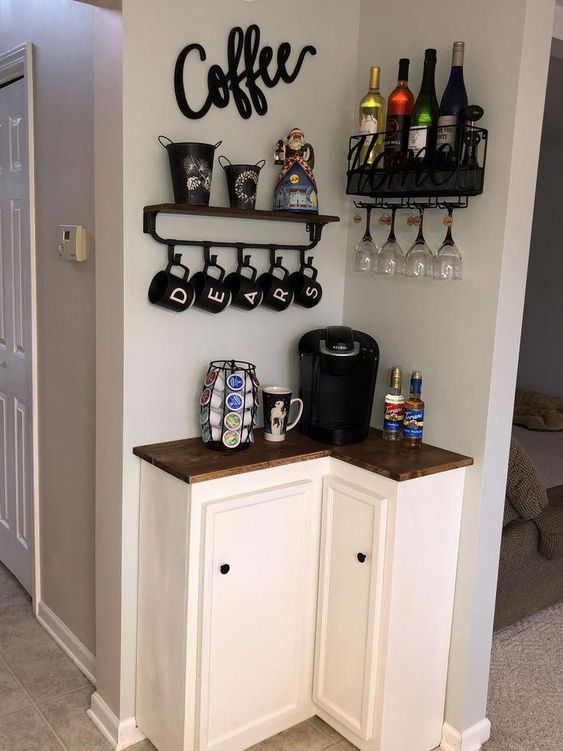 Using a tiny stand and some wall shelves with hooks will let you make a decent coffee bar with minimal space available!
46. Set Up a Small Coffee Bar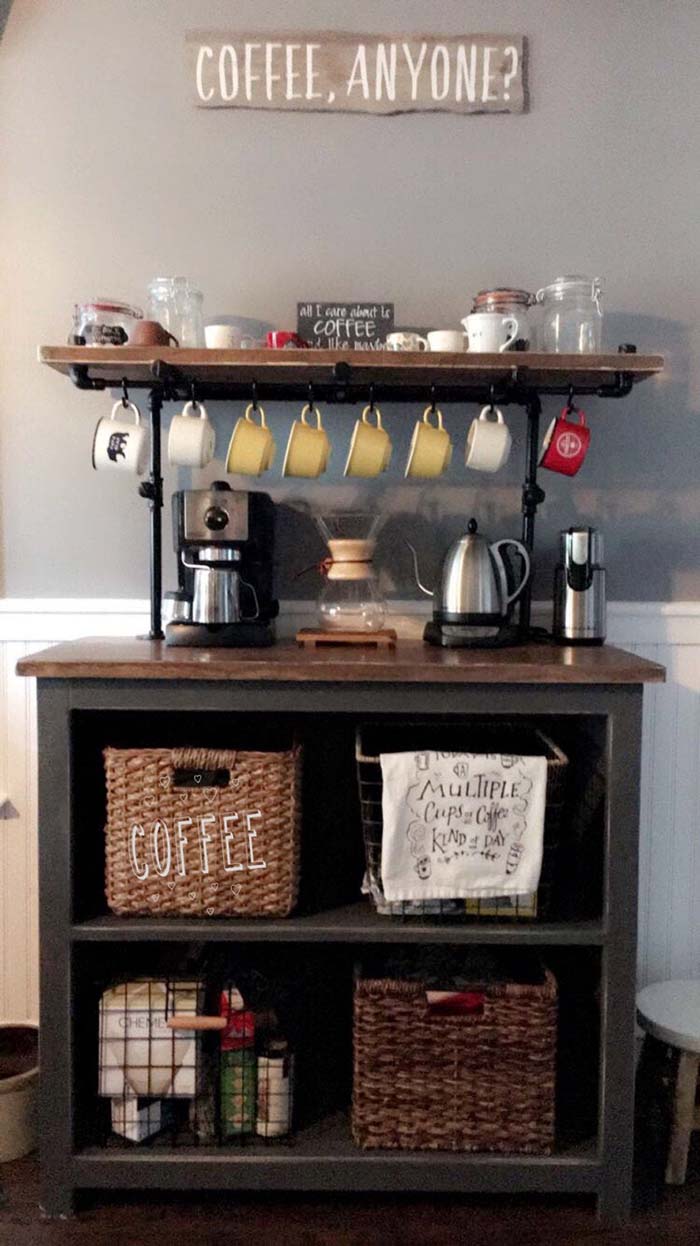 If you don't want something huge, you can use a stand and a shelf to keep everything together. This will give you a nice, yet small coffee bar.
via Etsy
47. Elevate Your Coffee Bar with a Mini Chalkboard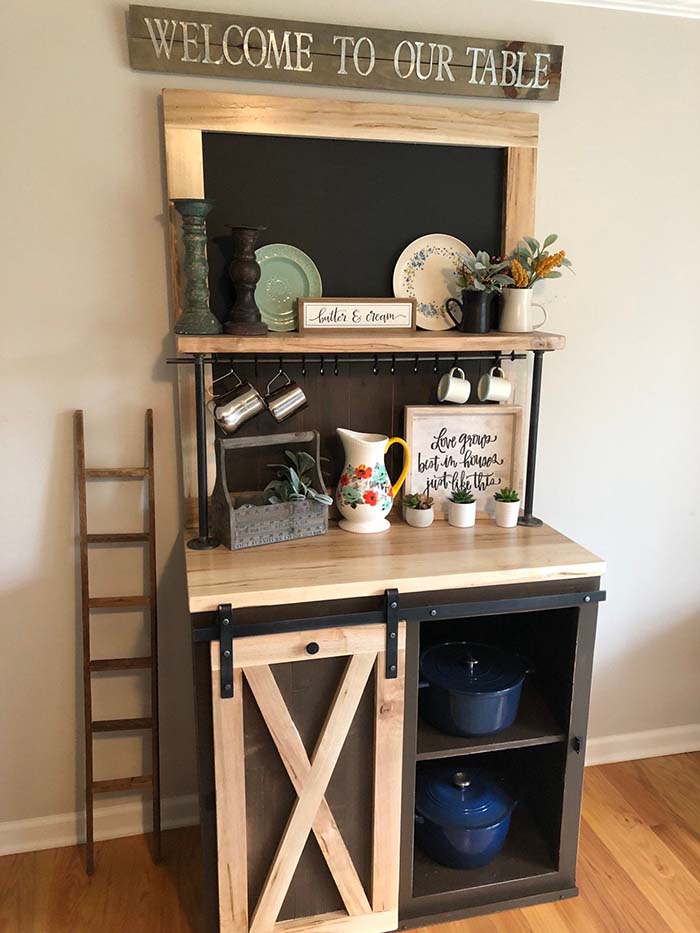 Adding a mini chalkboard behind your coffee bar will let you add cute little quotes or sayings that you'll see every day!
via Etsy
48. Utilize a Space-Saving Coffee Pot Stand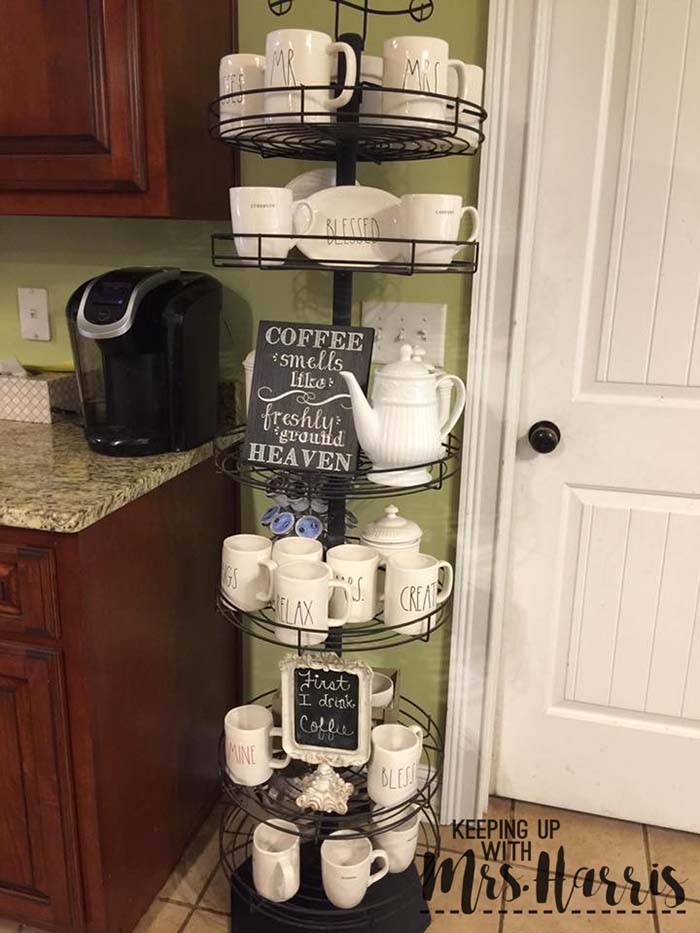 If you only have space for your coffee pot on your counter, you can invest in a circular wire stand.
You can put it next to the counter and have space for everything!
via Mrs. Harris
49. Create a Rustic Look with Cabinets and Mug Rack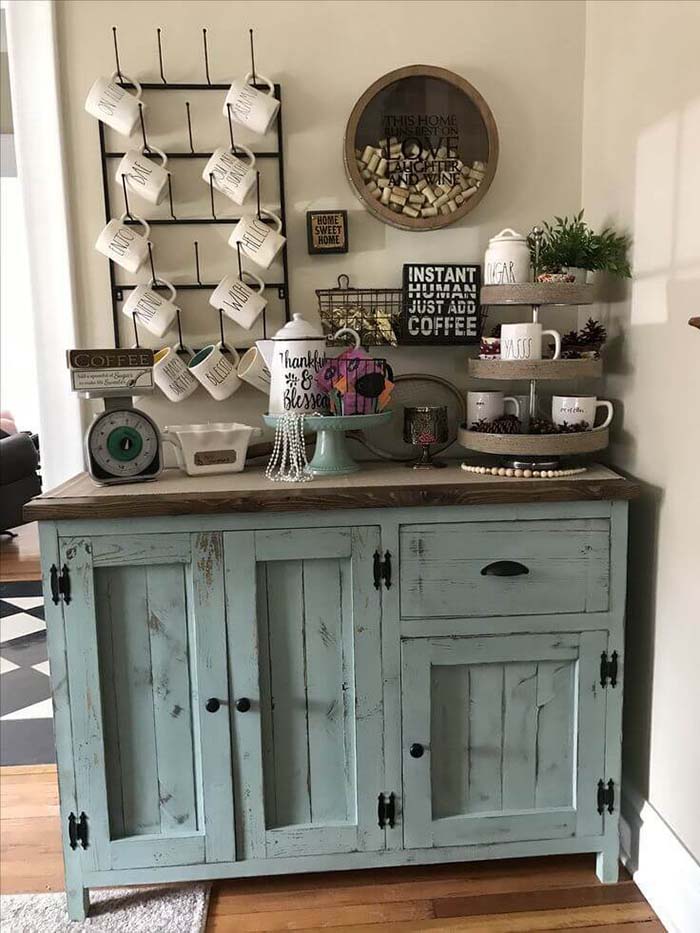 Using an old cabinet and some shelves with hooks will give you a nice rustic look. You can even distress or paint the wood to make it more rustic.
50. Make a Farmhouse Coffee and Tea Station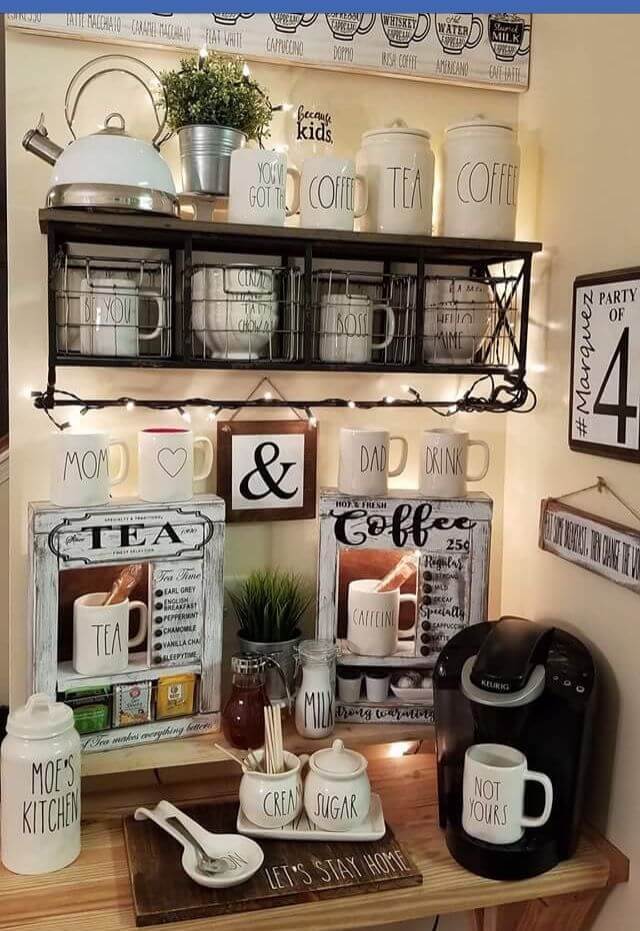 By adding some stands and shelves with lettering, you can have a coffee and tea stand in one!
If you want, you can have half full of tea supplies and the other half full of coffee supplies!
51. Stunning Coffee Bar with Elegant Decor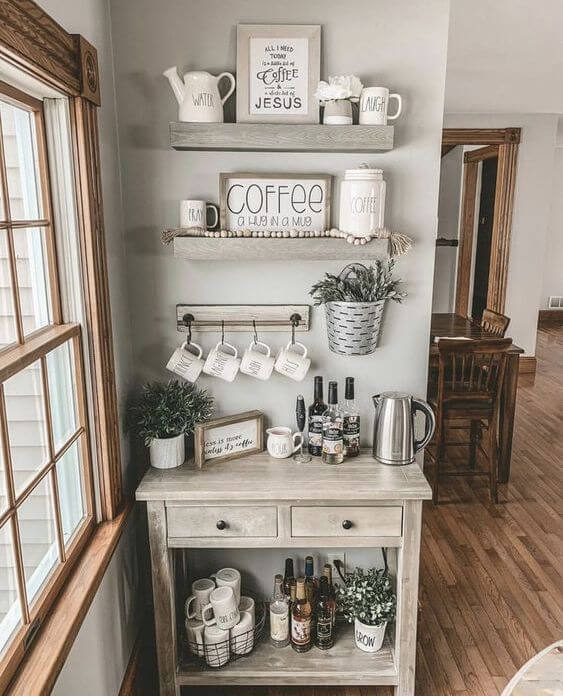 Using similar colors and decor will make decorating your coffee bar a breeze! It'll look elegant and very well put together.
52. Enjoy Hot Chocolate During Christmas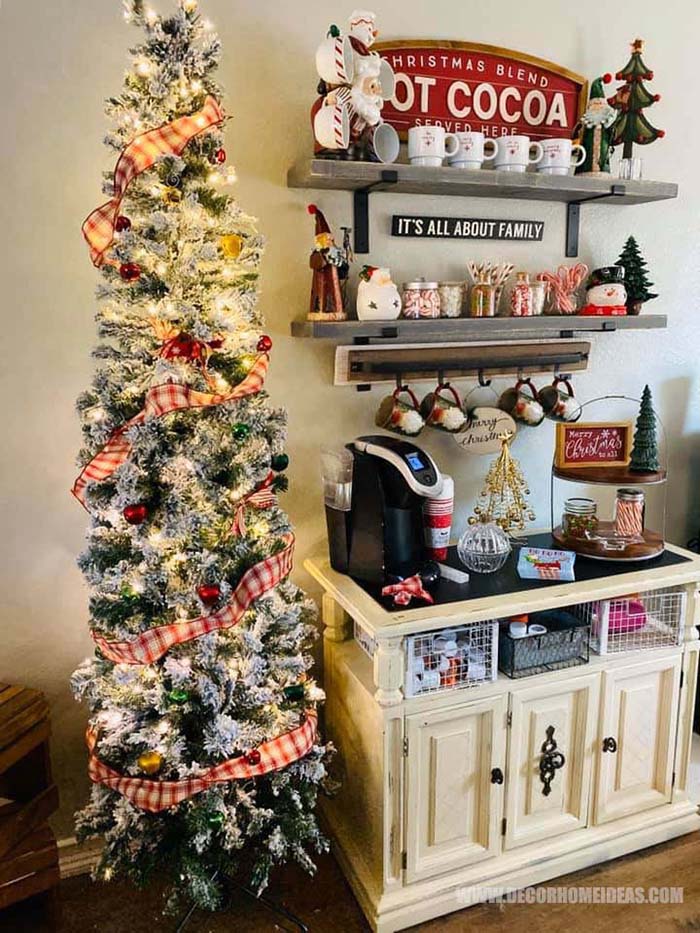 What's better than a cup of hot chocolate around Christmas?
53. Transform Your Old Hutch Into a Cozy Coffee Bar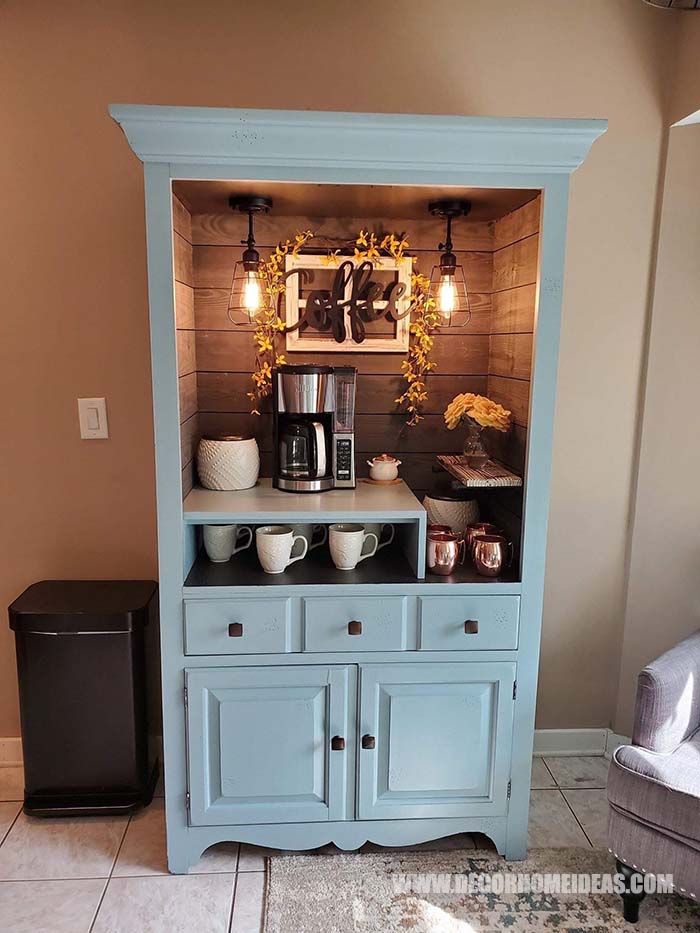 You can create a beautiful coffee bar out of your old hutch. It's really cute and charming with rustic pendants and farmhouse-style decoration.
The pastel turquoise paint makes it stand out and catch your attention.
You can see a video of how it's made here: Building a Coffee Bar
54. Create a Coffee Station on Your Countertop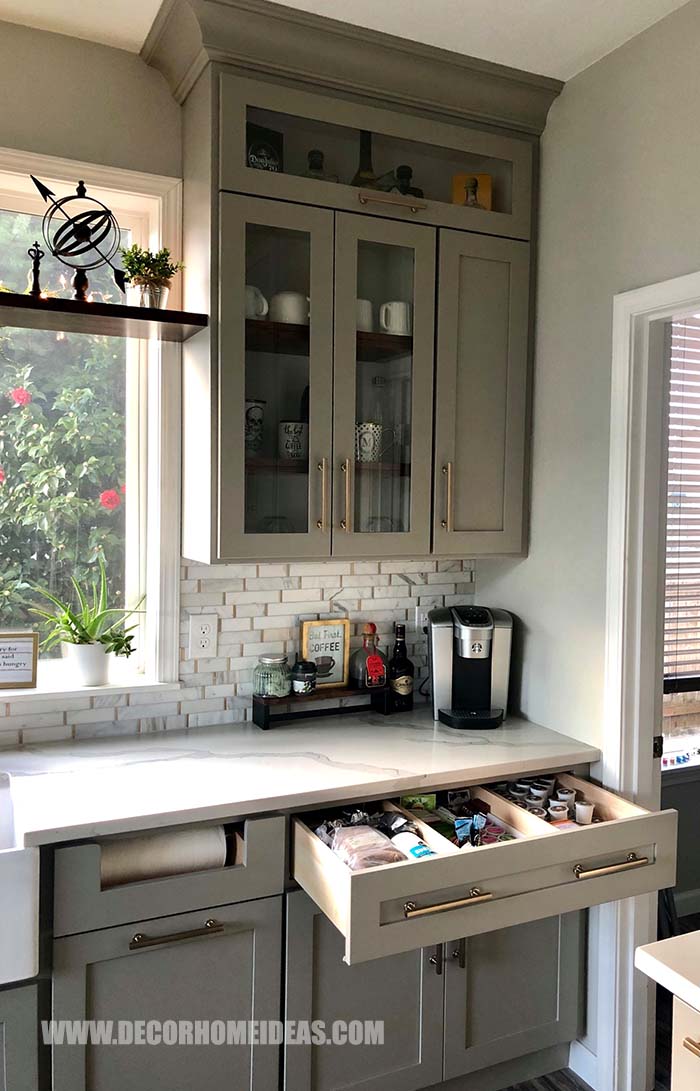 Instead of making a free-standing coffee station, you can use the countertop to place the coffee machine, accessories and decorations.
In the drawers, you can place all the supplies and flavors and your favorite mugs are safely stored in the cabinets above.
55. Upcycle a Farmhouse Table into a Coffee Bar
You don't need to buy any expensive stuff to create this beautiful farmhouse-style coffee station.
One simple table, shelves and vintage pipes to hold them is all that you need.
56. Light Up Your Corner Coffee Bar with String Lights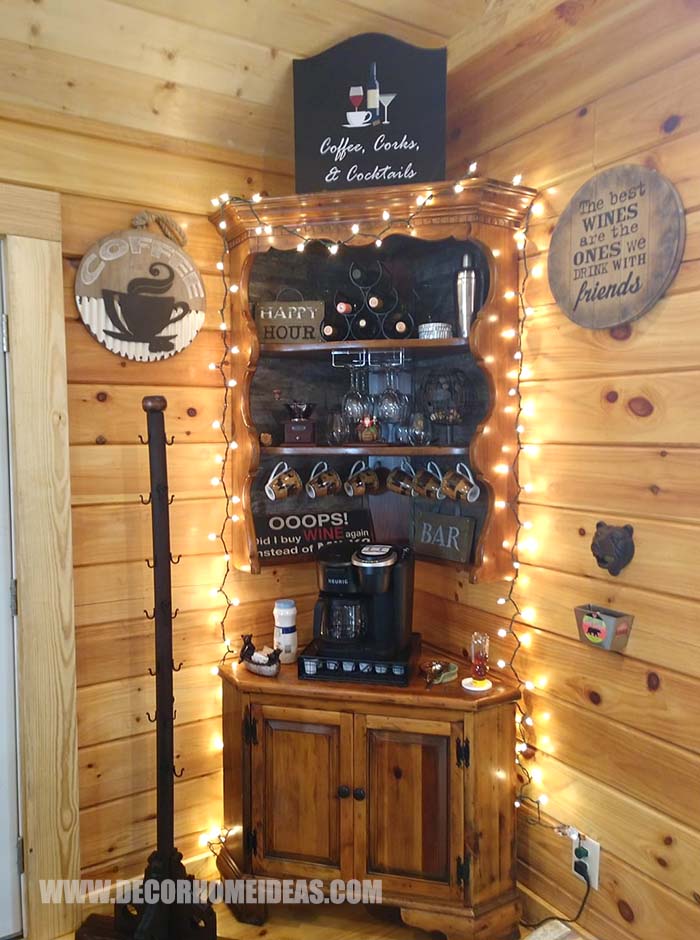 "We absolutely love how it turned out, after searching and googling corner cabinets for a long time, we ran across this in a quaint shop in Black Mountain, NC.
The owner had her gifts, soaps etc. displayed. We asked if she was willing to sell us the cabinet, that I had been searching for one for a coffee bar. . .she did!!
We put a coat of poly on it, and it was actually 2 pieces which were perfect to split so I could add hooks for mugs and have room for my Keurig!!" – said the owner.
57. Repurpose an old Piano into a Coffee Station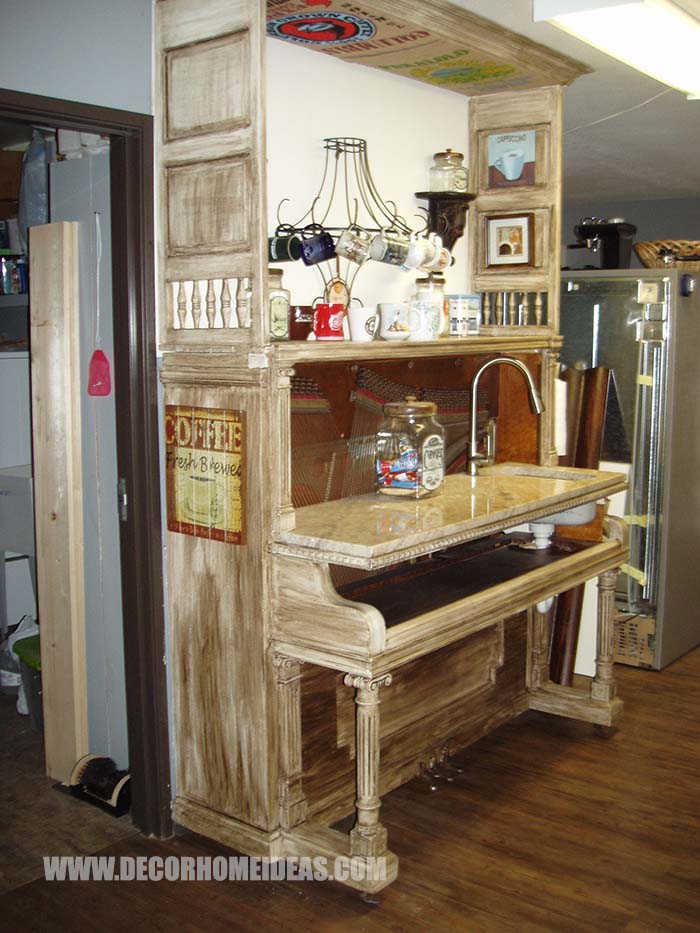 What an amazing idea! If you by any chance had an old piano that is no longer used as a piano, you can make it into a coffee bar.
58. Turn an Old Hutch into a Coffee Bar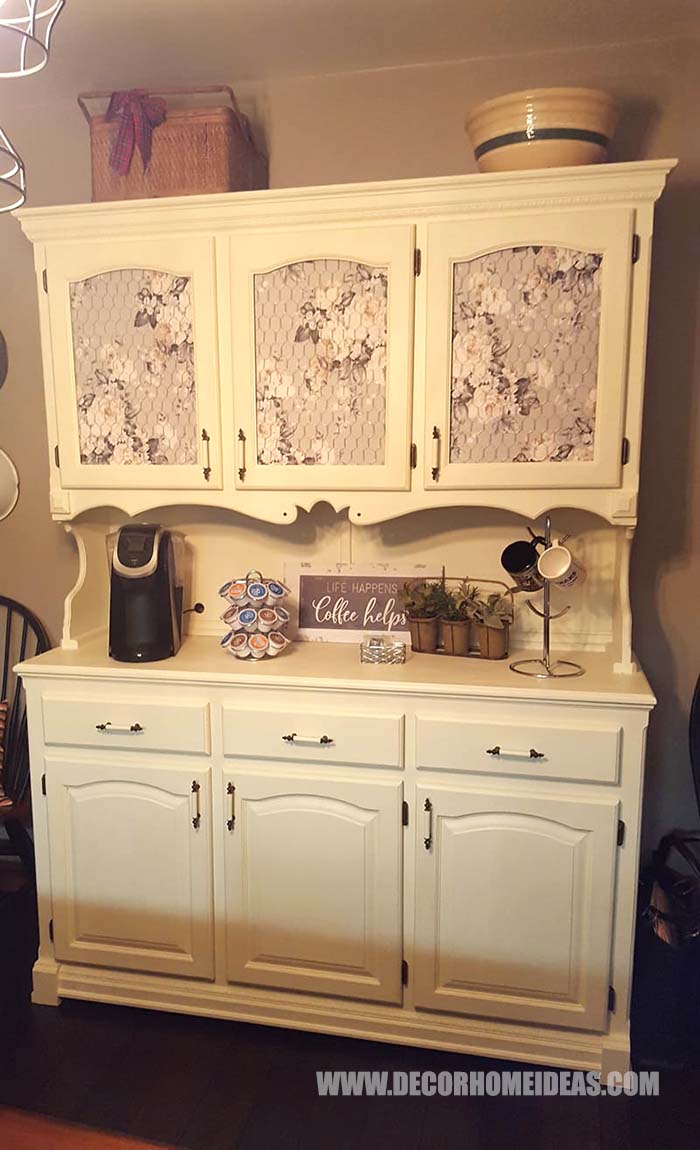 One more DIY project that is actually an old hutch makeover – sanded and painted.
She used chicken wire and wallpaper where the glass used to be to make it cuter.
59. Make a Compact Coffee Nook

Small, but very practical coffee station.
60. Add Rustic Elements to Your Coffee Station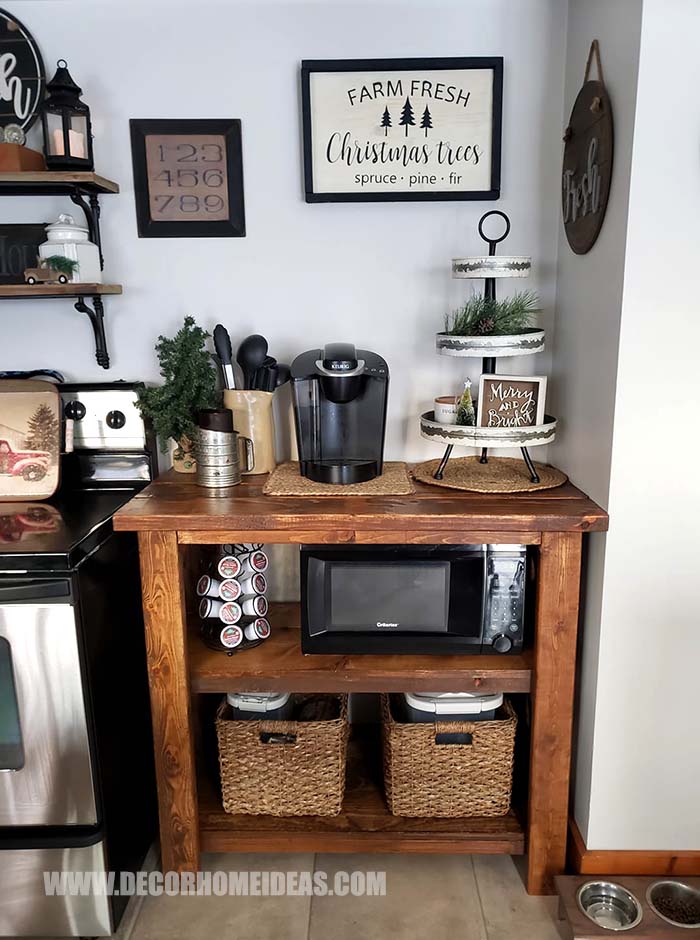 If you like the more rustic and farmhouse look of your home then this coffee bar station is the perfect DIY project for you. Looks very easy to replicate.
61. Enjoy Brewed Coffee with a Complete Coffee Station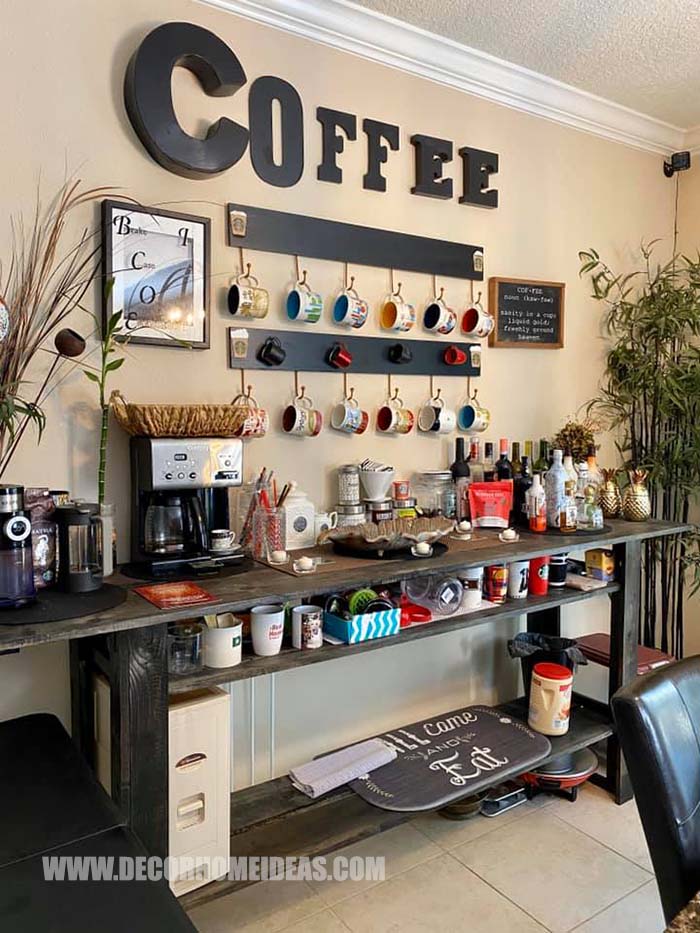 Who wouldn't enjoy this coffee station? It has everything that you would possibly need to make the best cup of coffee.
62. Turn an Empty Room into a Coffee Station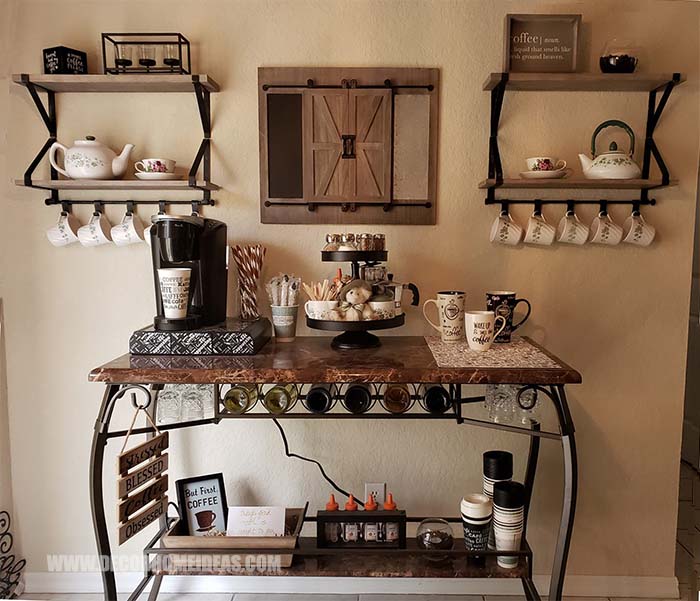 If you have an unused room or closet you can make a coffee room.
63. Show Your Mug Collection in a Modish Coffee Station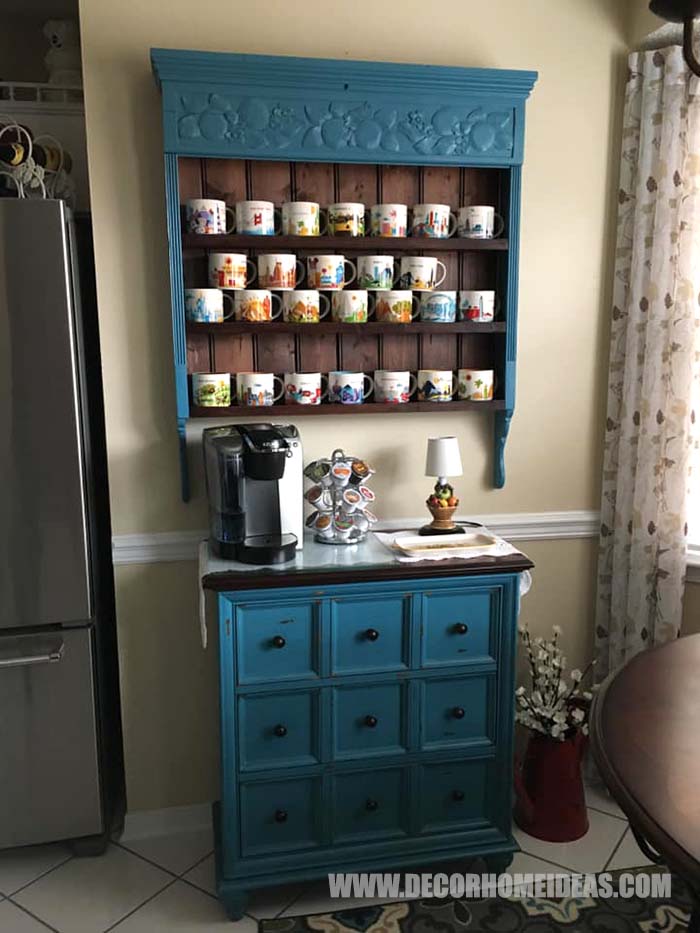 You can display your gorgeous collection of mugs in your coffee station.
64. Intricately Designed Coffee Station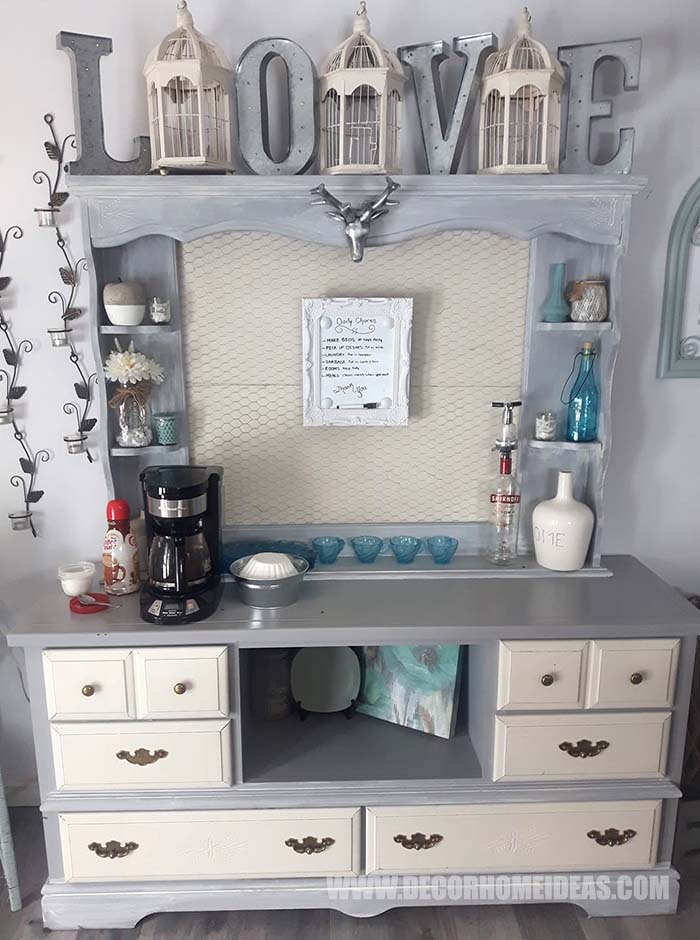 That's a lovely decorated coffee station with attention to each detail.
65. Use Reclaimed Wood for Your Coffee Station Shelves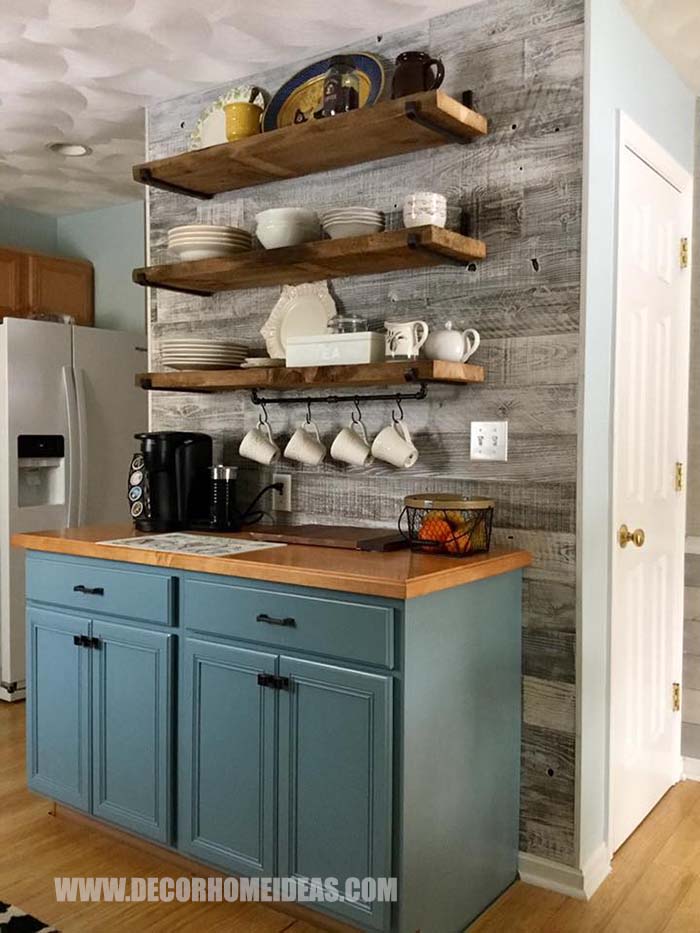 If you are wondering what the shelves are made of: "Shelves were one 10 foot long barn board that I bought at a salvage place, they cut it for me. We just washed it." – said Linda.
66. Wayfair Cabinet Coffee Station with Custom Shelves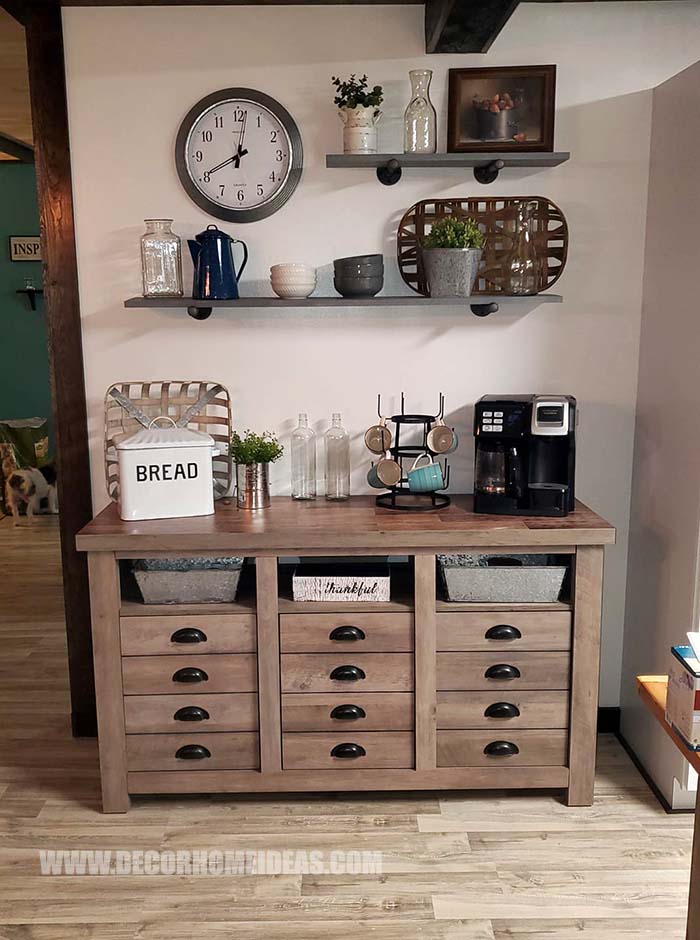 One of the most beautiful coffee station ideas for your home. The cabinet is from Wayfair and shelves are custom made.
67. Make a VIntage Coffee Station from Recycled Furniture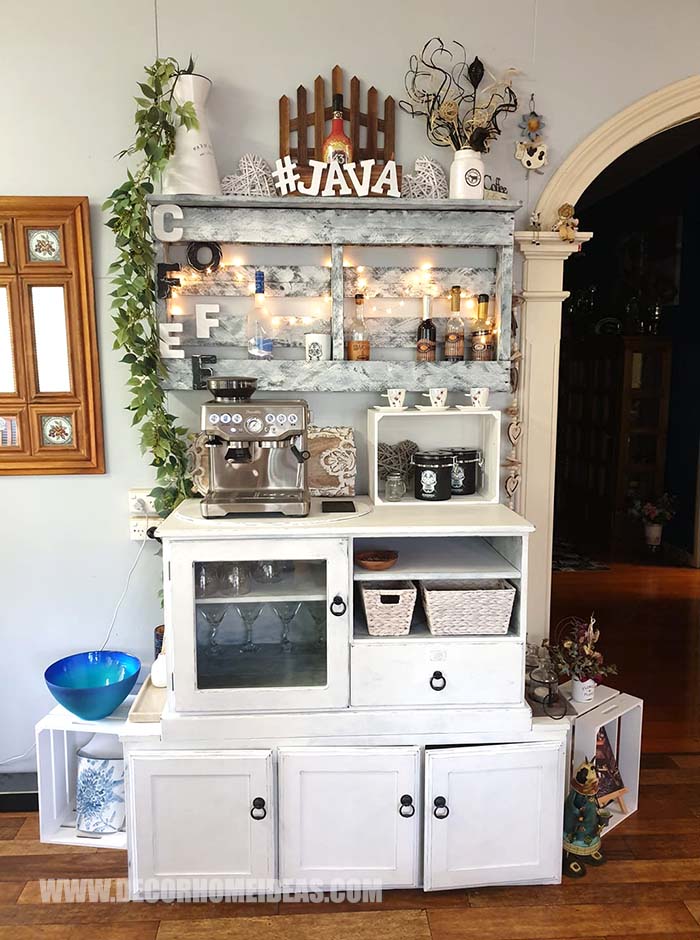 This coffee station is made from an old TV cabinet, old wall cupboard and recycled pallet.
68. Personalize Your Coffee Mugs for an Elegant Look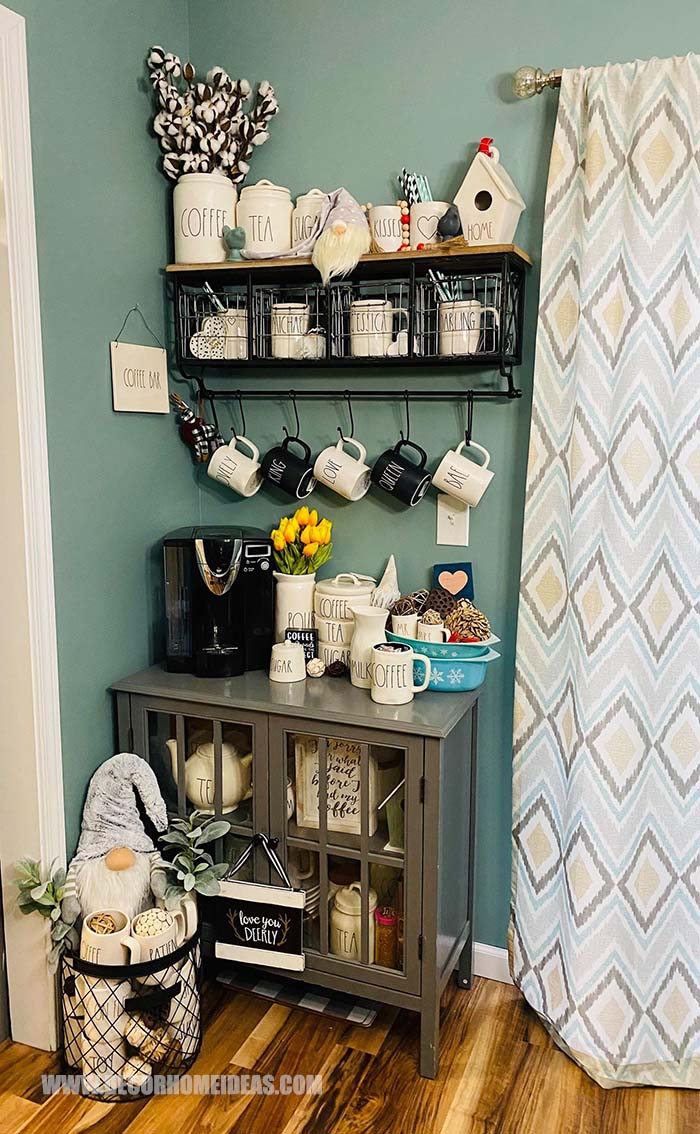 This one is so cute! Charming space with all the essentials nicely displayed and ready to serve you when you need to make your morning cup of coffee.
69. Vintage Coffee Bar with Ocean-Colored Chalk Paint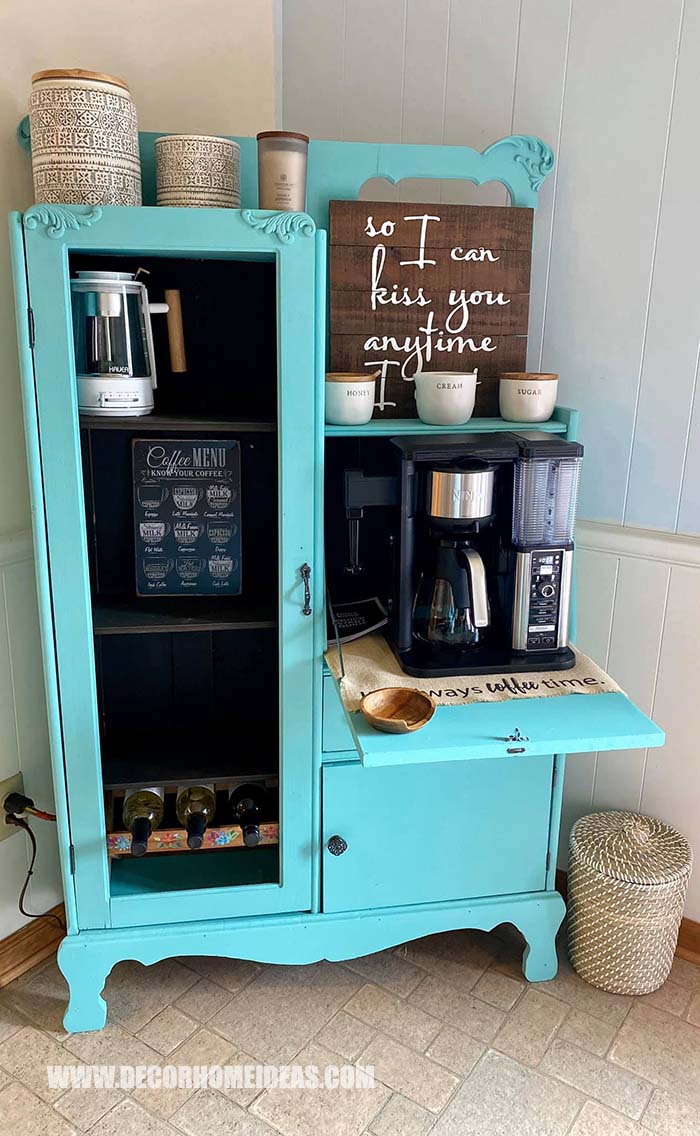 If you are more into the antique and vintage style, this coffee bar is just for you. Chalk painted with "ocean" color and decorated with coffee menu sign and some other vintage decorations.
70. Incorporate Antique Pieces into Your Coffee Bar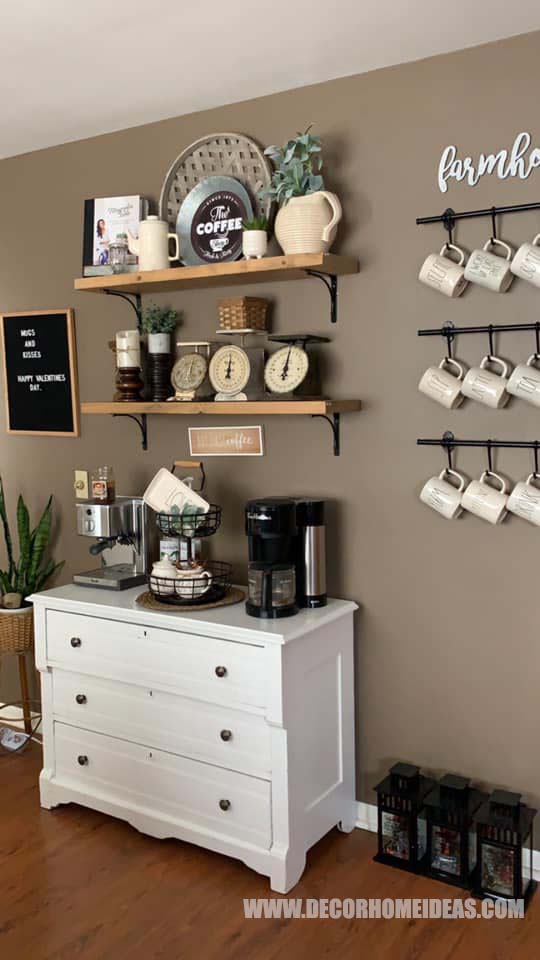 Sometimes the best coffee bars are the ones that are very simple and neat.
71. Coffee Station with Mini Barn Door Accents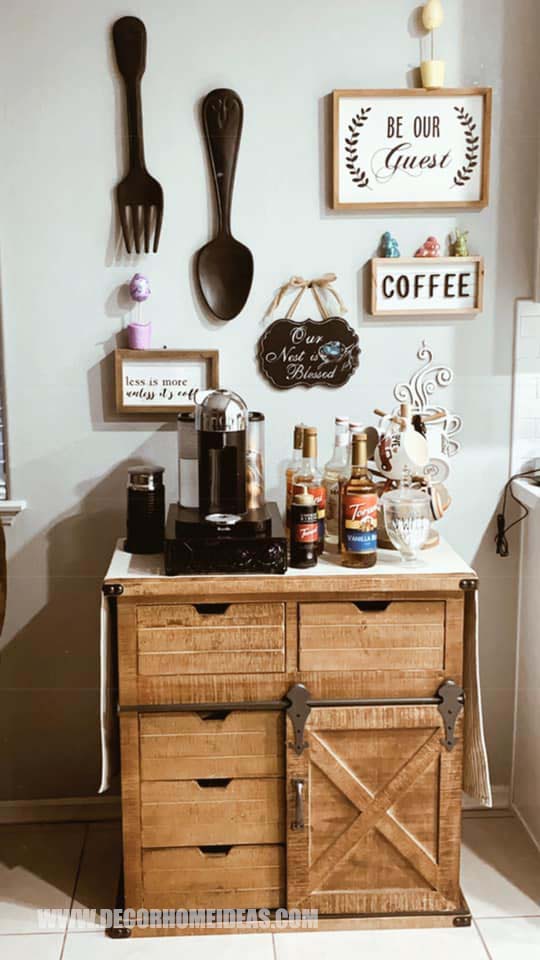 Nicely decorated coffee station with mini barn door for the accessories.
72. Decorate Your Coffee Bar with a Black and White Palette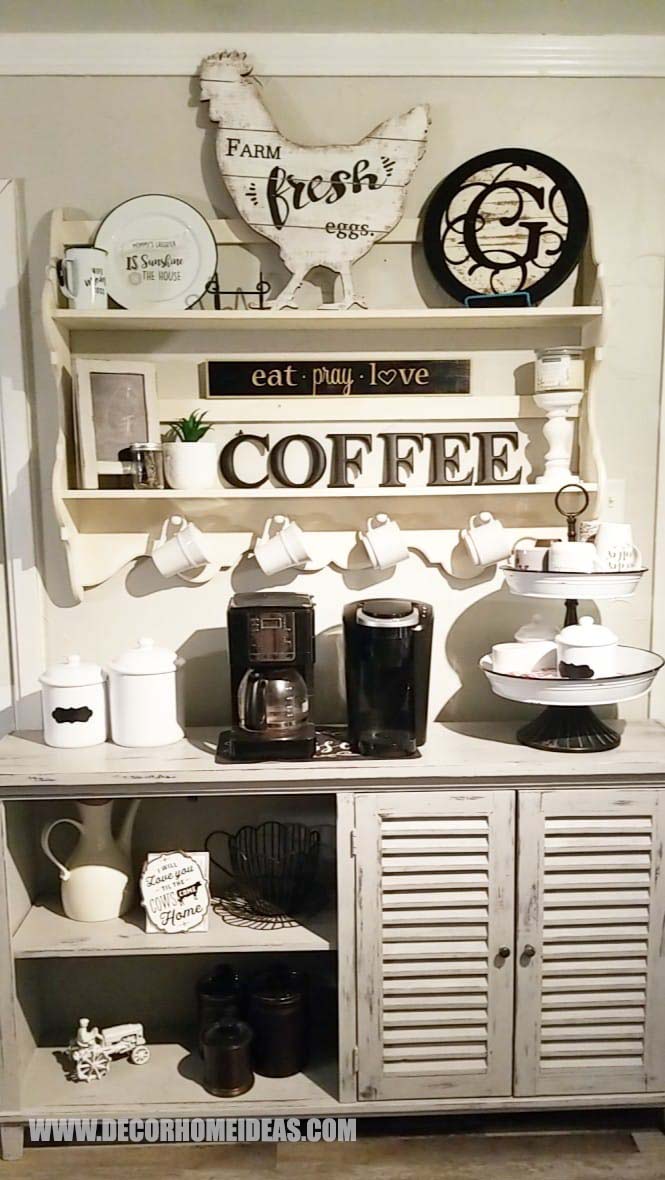 Decorating in just two colors could be challenging, but this one turned out just nice.
73. Rustic Turquoise Coffee Bar with Chalk Paint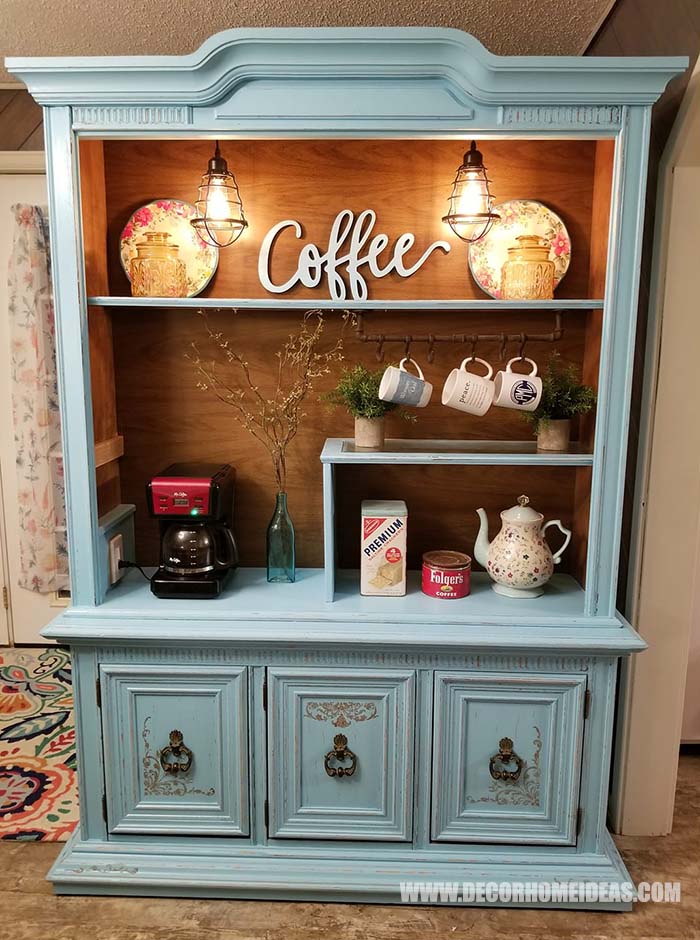 Another great coffee bar with rustic lights and chalk painted in turquoise.