Need extra space in your closet to store all your clothing and accessories?
Small closets can be increased in size without the need for a major renovation.
There are many ways that you can increase your closet space.

Some of these ways include adding shelving, using a small closet organizer, and making use of baskets to store items.
A small closet does not have to be an impairment, increasing closet space can be simple and easy.
The following closet organization ideas can help you to add more room for your needed items (they won't magically turn your tiny closet into a spacious walk-in closet, but will help a lot ).
1. Maximize Closet Space with a Small Dresser and Shelves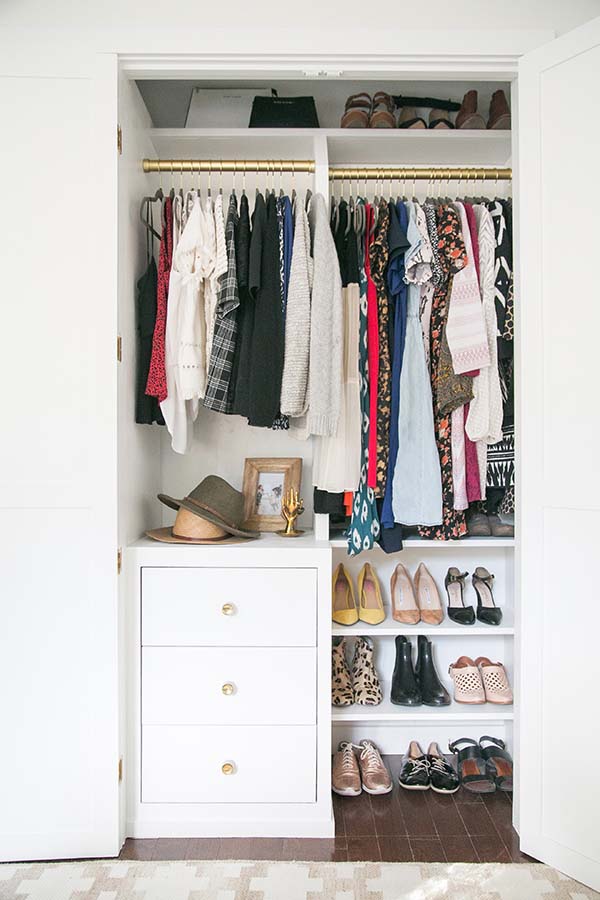 Tiny closets can be improved by adding a small dresser for items. The addition of shelving can provide a place for shoes.
Above the closet rod adding a shelf can provide you with an area for hats and other accessories.
See more at: sugarandcharm.com
2. Separate Summer and Winter Clothing Easily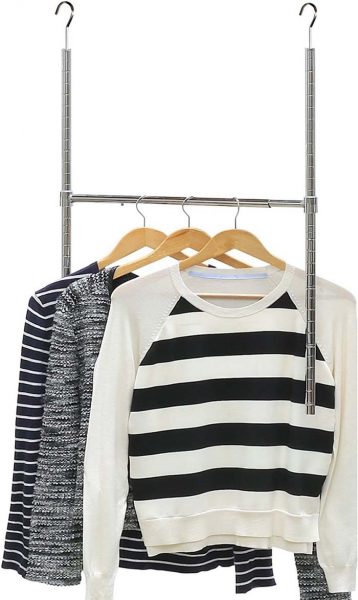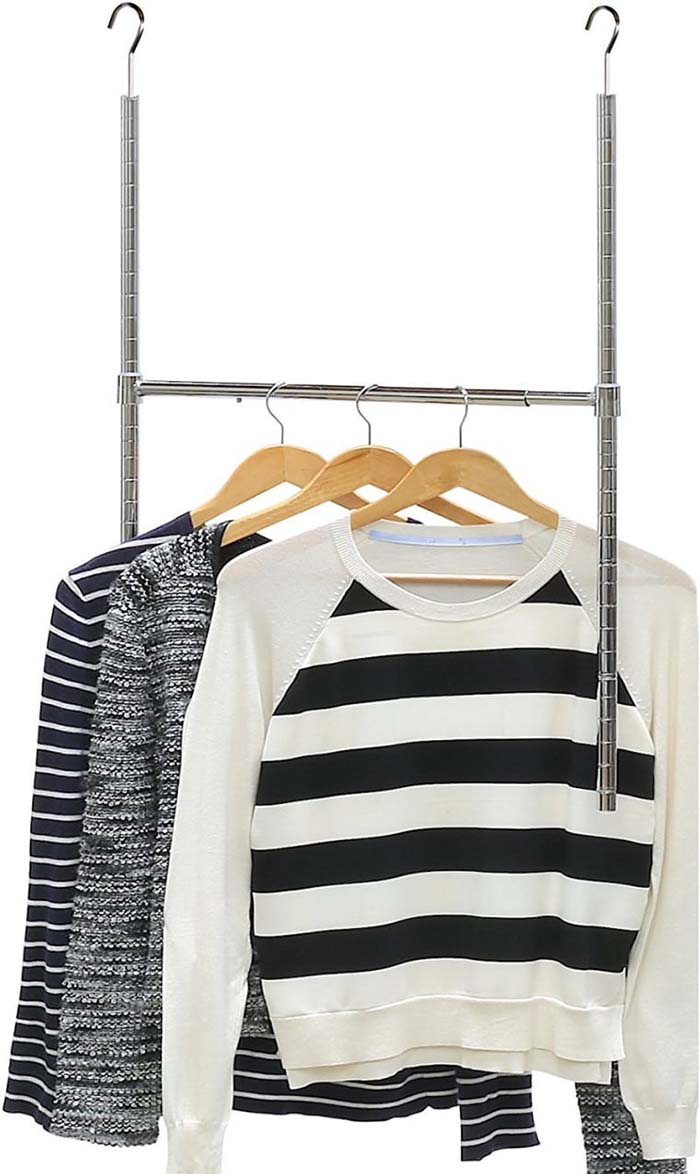 Check price: Here
Inserting a second hanging bar to the closet provides you with double to space-enhancing more room for other items.
One small closet organization idea for a hanging bar is to divide your summer and winter clothing.
The lower bar can be used to provide an area for out of season clothing while the top bar is for in-season clothing.
3. Utilize Unused Wall Space with a Rustic Clothing Bar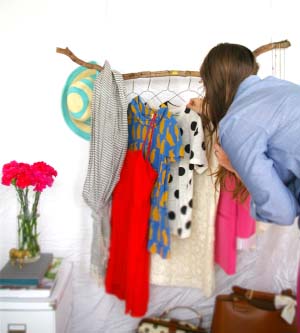 Should you not have enough capacity in your wardrobe other small closet solutions are to find an area to add a decorative bar to an empty wall.
See more at: sugarandcloth.com
4. Tidy Up Your Closet with Dividers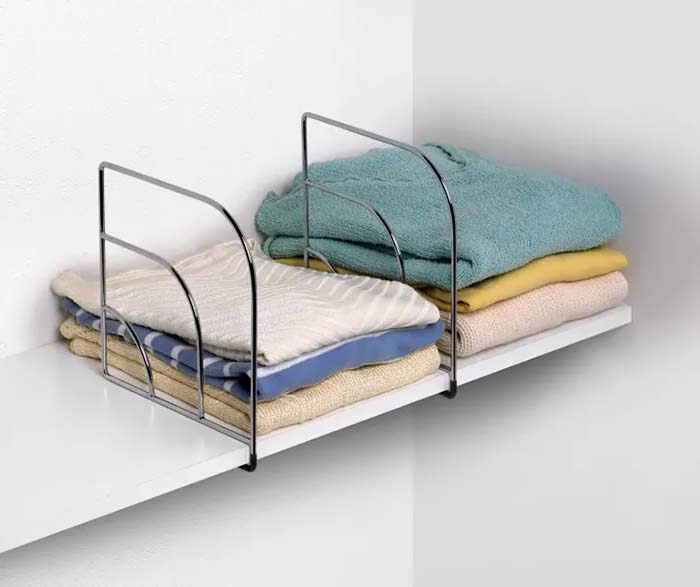 Check price: Here
Dividers are a storage idea for small closet.
This ensures that your clothing stays in a neat stack and does not end up in a pile. Shirts or pants can be folded and stacked without the hanging.
5. Double Closet Space with Shelves and Bins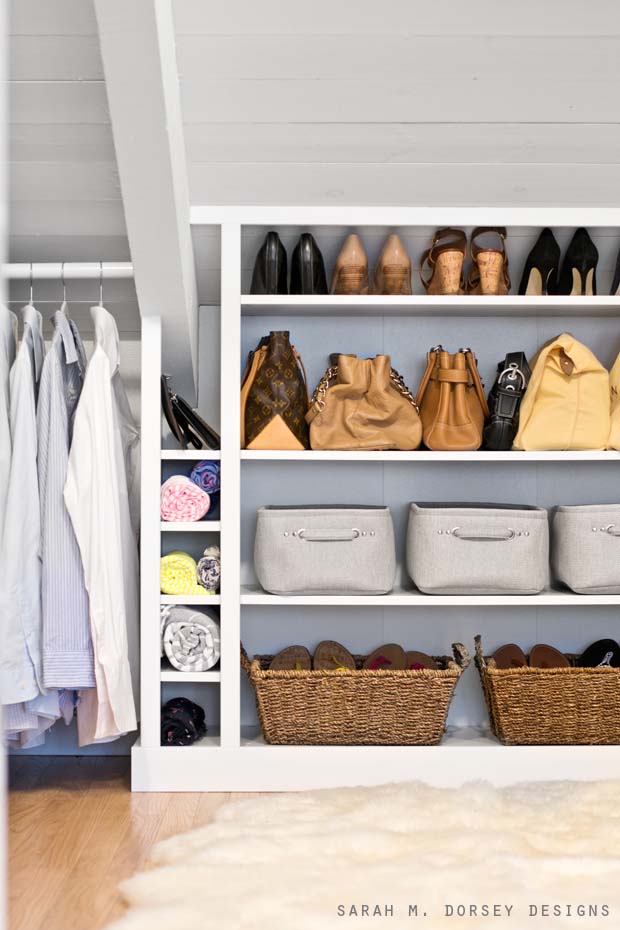 A few closet organizer ideas that can increase the area are to add shelving and bins to store smaller accessories.
These can hold a variety of things including shoes, purses, and belts.
See more at: dorseydesigns.com
6. Create More Space with Under Shelf Baskets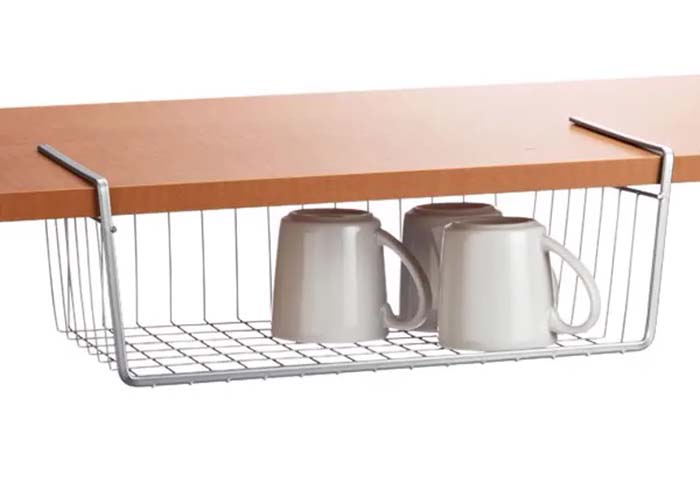 Check price: Here
Under the counter, shelving is an additional closet organizing ideas. These shelves can attach to an existing shelf and provide needed room.
They can be used to store a variety of items including belts, hats, socks, and much more.
7. Enjoy Versatile Storage Solutions with Cubbyholes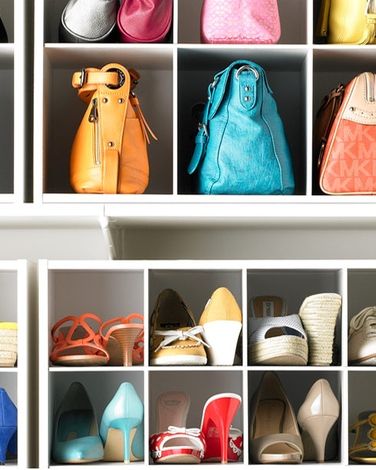 Check price: Here
A purchase of cubbyholes from your local home improvement store can increase capacity for purses and shoes.
This can also be used in a child's closet to store toys and stuffed animals.
Cubbyholes can help to ensure a neat and tidy look as well as keeping everything structured.
8. Make More Room with Hooks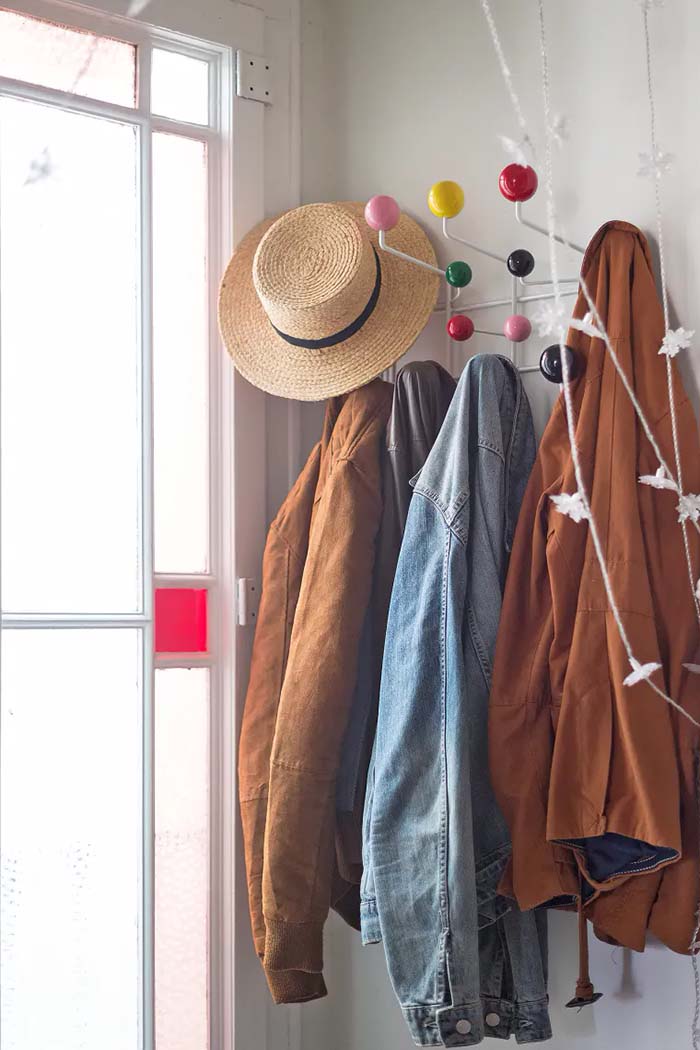 Hooks are great closet organizing ideas, they deliver further places without using the existing closet bars.
Hooks can be hung anywhere and provide an area to put purses, coats, hats, scarfs, and other objects that can be hung.
See more at: apartmenttherapy.com
9. Get Organized and Stylish with a Hanging Organizer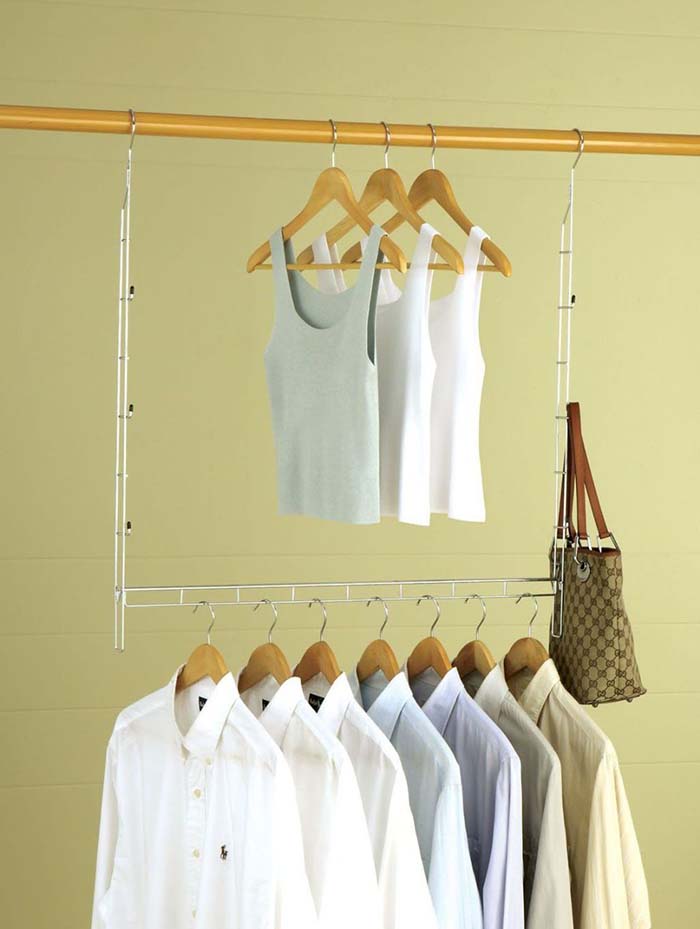 Check price: Here
A hanging organizer can add additional space by doubling the area.
The use of the top and bottom bars allows for two items to be hung in one place while also providing hooks to hang other accompaniments.
10. Free Up Closet Space with an Above Door Shelf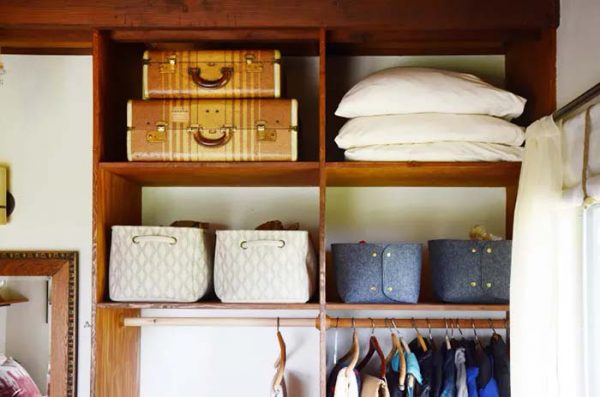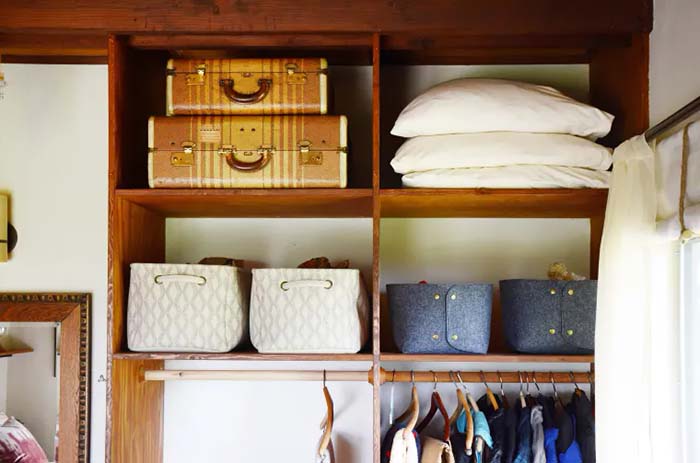 In need of more due to small closet storage, add a shelf above the door to store non-everyday items.
These can incorporate suitcases and guest pillows.
See more at: apartmenttherapy.com
11. Streamline Your Closet with a Towel Rod Sliding Shelf

Towel rods can be used in tight spaces to hang items such as ties, belts, and scarfs.
Add a sliding drawer railing and it can slide in and out.
See more at: viewalongtheway.com
12. Be Ready for the Day with a Closet Door Rack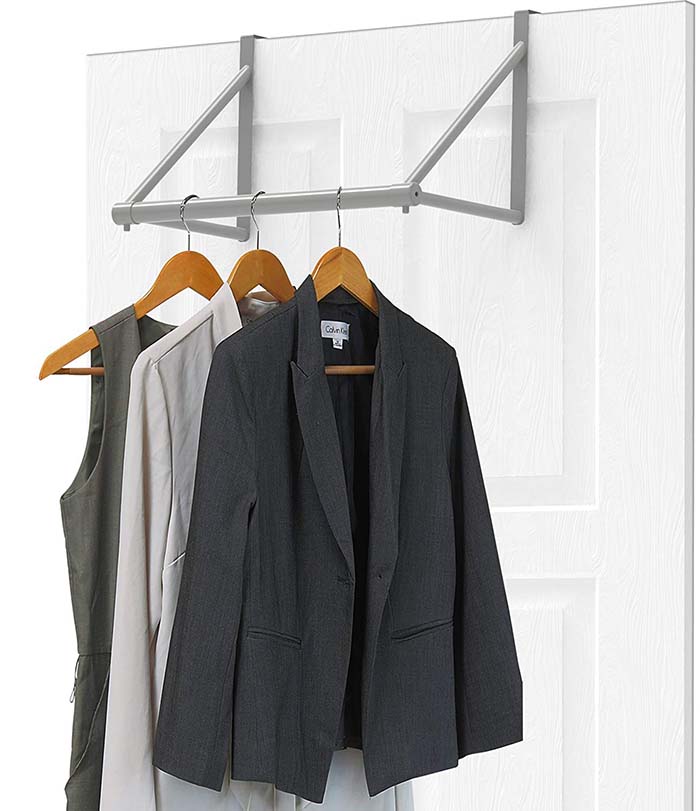 Check price: Here
Closet door racks are solutions for a master bedroom closets.
These can deliver extra rod hanging space and can be used to prepare outfits for the upcoming week.
13. Transform your Closet with Specialized Hangers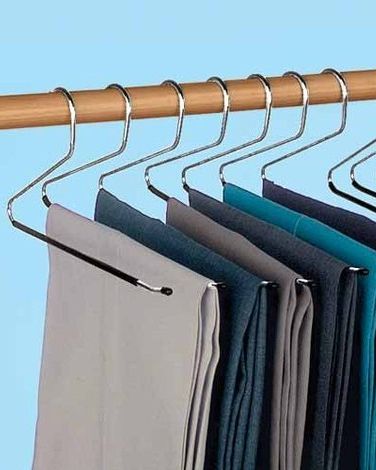 Check price: Here
Wonder how to organize a small closet?
Specialized hangers can aid you in increasing area. There are many types of specialized hangers such as these that are designed for pants to be easily taken on or off the hanger.
14. Keep Shoes Organized with a Wooden Shoe Rack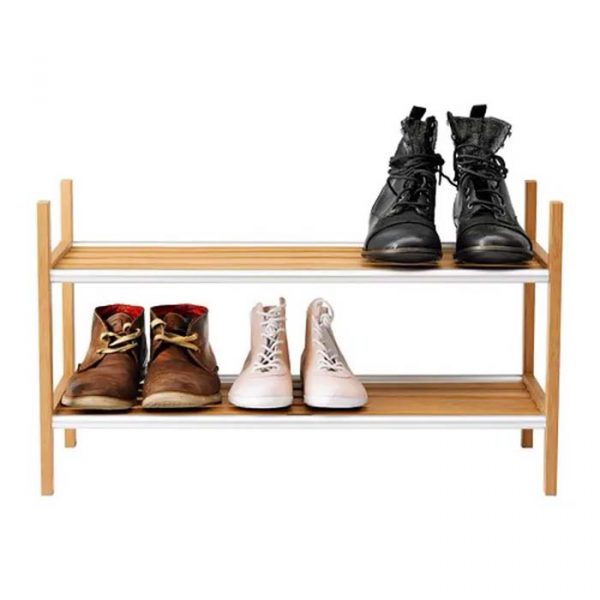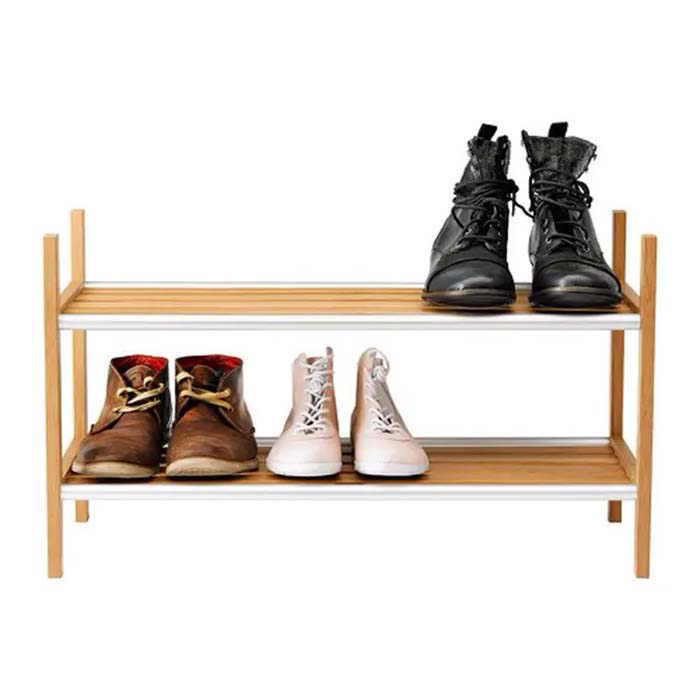 Photo: Credit
Closet storage ideas can include a variety of ways to increase and improve the needed room.
This small wooden shoe rack enables the extra area to put shoes on top and underneath.

15. Utilize a Towel Rod for your Shoe Storage Solutions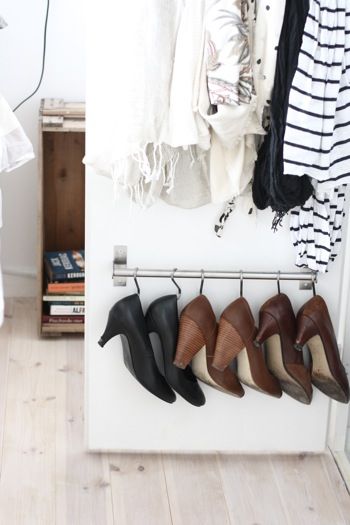 A small closet design could use attached towel rod to the inside of the door and using hooks to hang shoes.
See more at: thewaveswemake.se
16. Get Creative with Your Closet Organization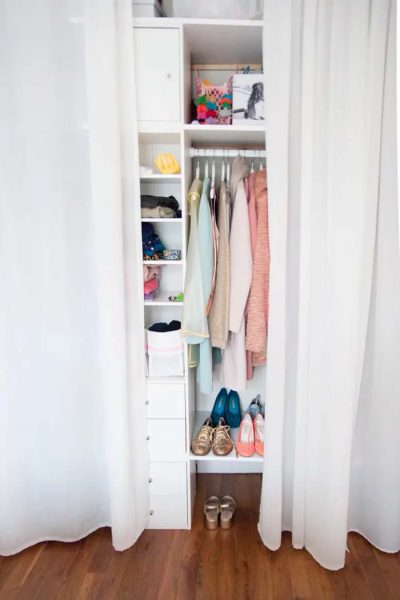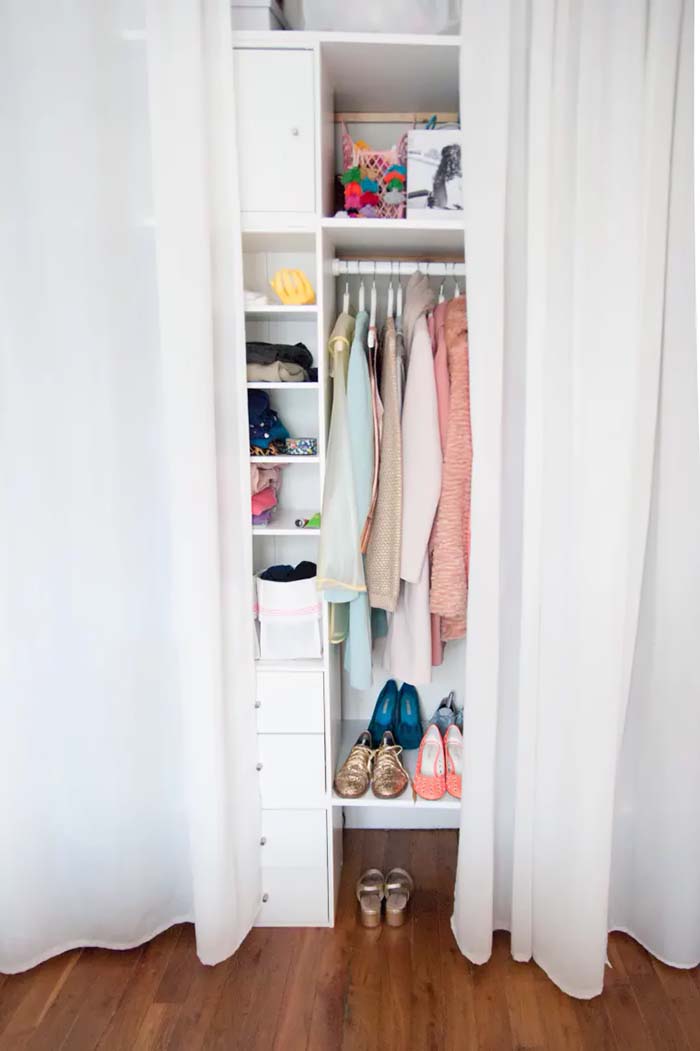 Many small closet ideas can be discovered when needing the extra room.
This closet provides both space and functionality combining shelving, drawers, a shoe bench, and overhead storage. Interestingly, it uses curtains as closet doors.
See more at: apartmenttherapy.com
17. Step into the Future with a Smart Closet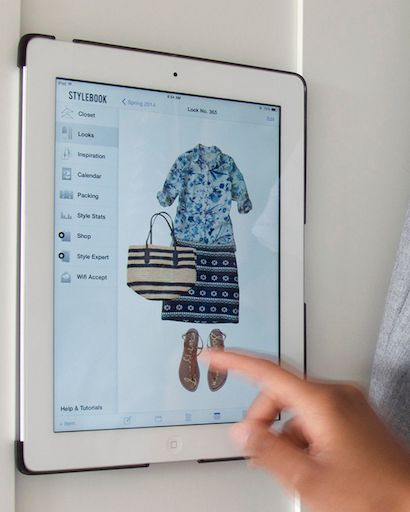 Technology takes center stage with this computerized app for small closet organizers.
The user can add different clothing that they have to the app and mix and match the perfect outfit for the day.
See more at: stylebookapp.com
18. Redefine Closet Storage with Different Level Hanging Rods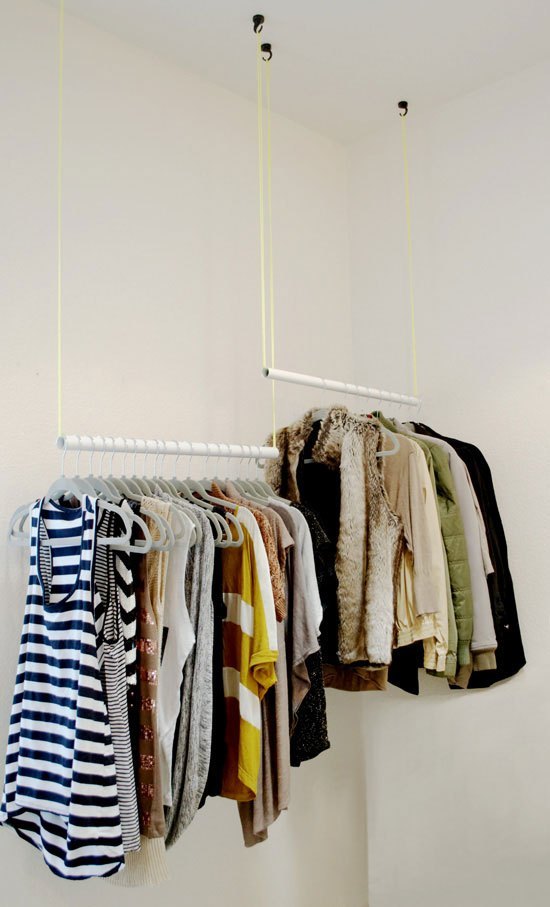 Hanging clothes at different heights is a great small closet storage idea.
Longer clothes need not linger on the ground wrinkled getting wrinkled.
See more at: thedesignconfidential.com
19. Increase Shoe Space with Rods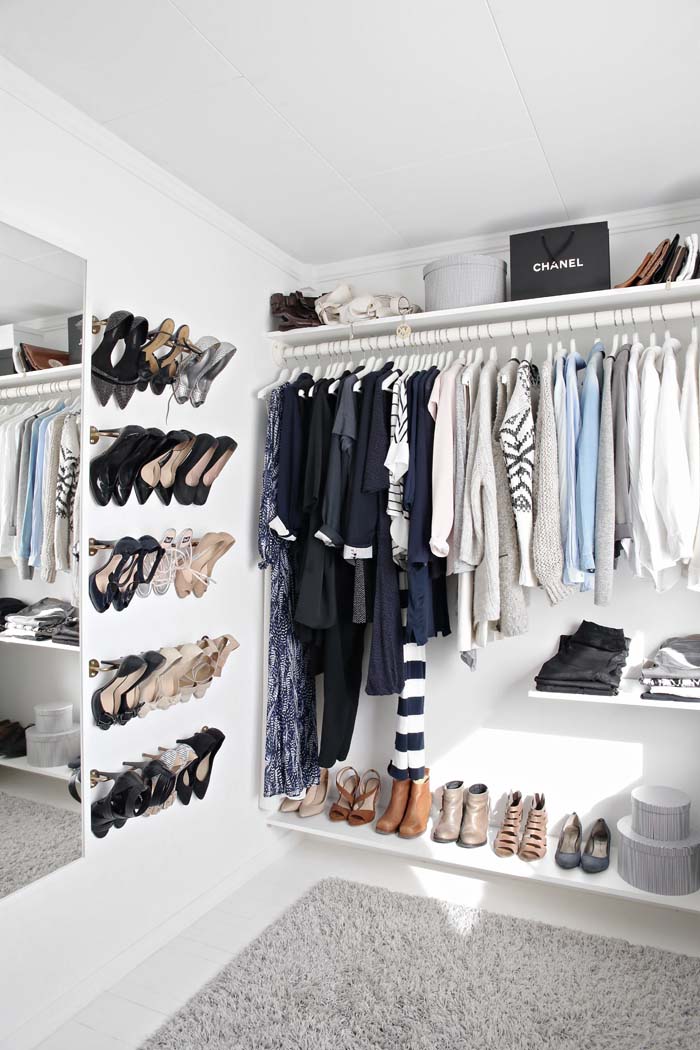 Closet systems can come in handy when you have a lot of shoes.
Attaching rods to the wall can provide you with a place for shoes or other accessories such as ties.
See more at: stylizimoblog.com
20. Organize Purses and Wallets with a File System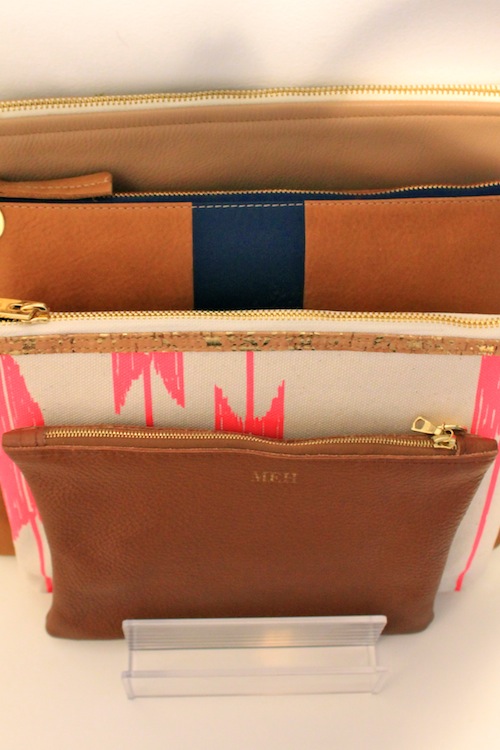 A desk file system can be used to store wallets and purses.
See more at: mackenziehoran.com
21. Store Jewelry on Small Door Hooks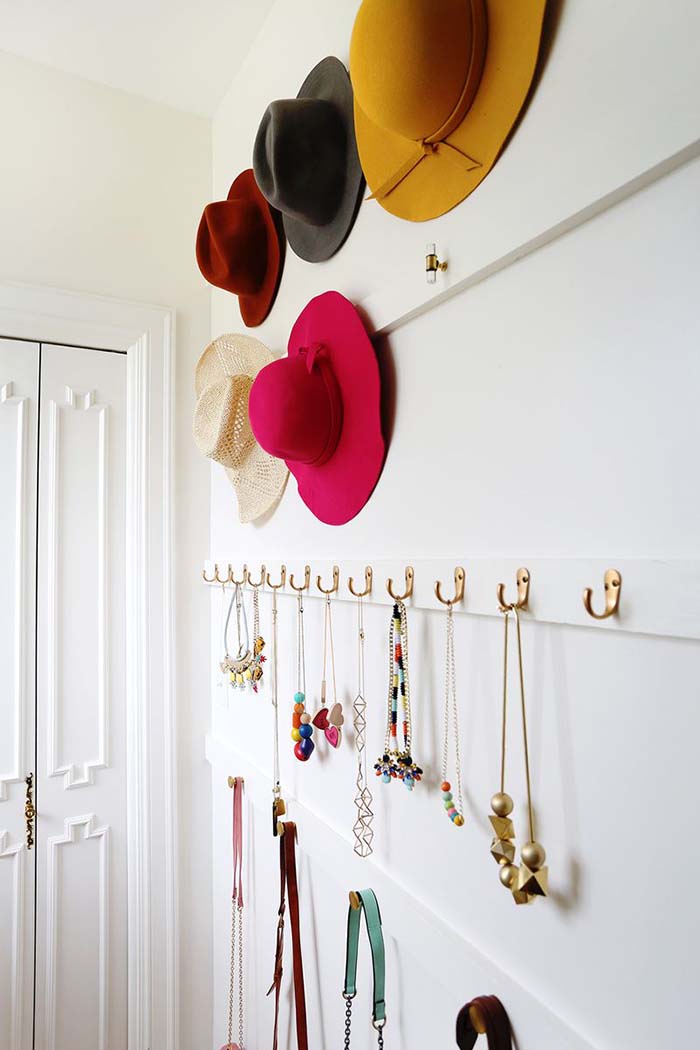 Storage closet organization ideas include where to put all those pieces of jewelry and fashion embellishments.
Small door hooks attached to a wall can provide the optimum place, ensuring that everything stays in good condition.
See more at: abeautifulmess.com
22. Hang Your Sunglasses with a Wire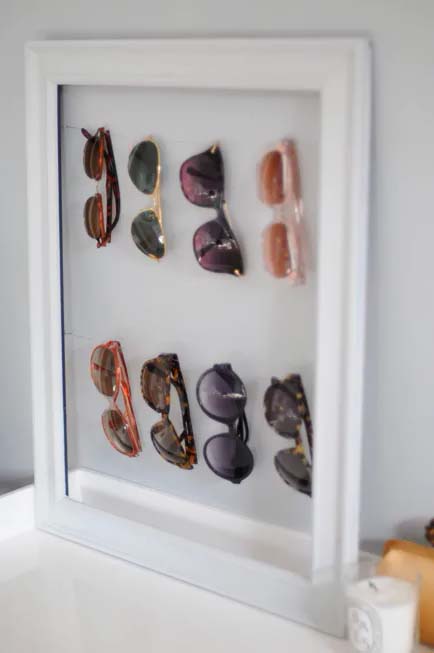 Trying to find a place to put all your sunglasses without them getting scratched.
Many ideas for a closet organization include framing a piece of wire to hang your sunglasses.
See more at: cupcakesandcashmere.com
23. Make a Personalized DIY Cubby for Your Jewelry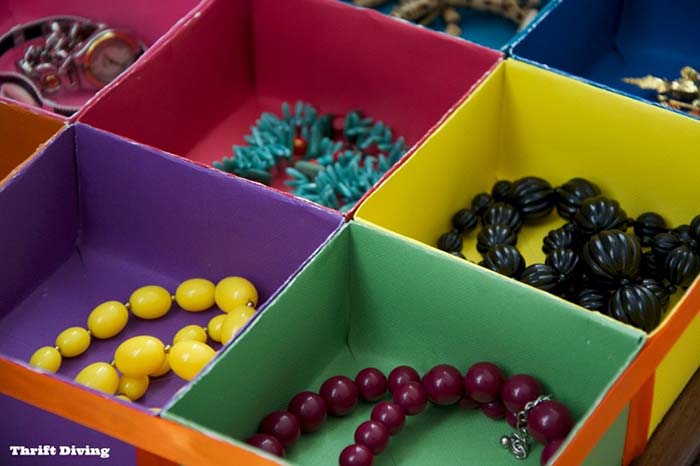 This make it yourself cubby bin can be created and highlight your personality.
A great place to put jewelry such as earrings or personal nick-knacks.
See more at: thriftdiving.com
24. Upcycle Pull Tabs to Increase Hanging Storage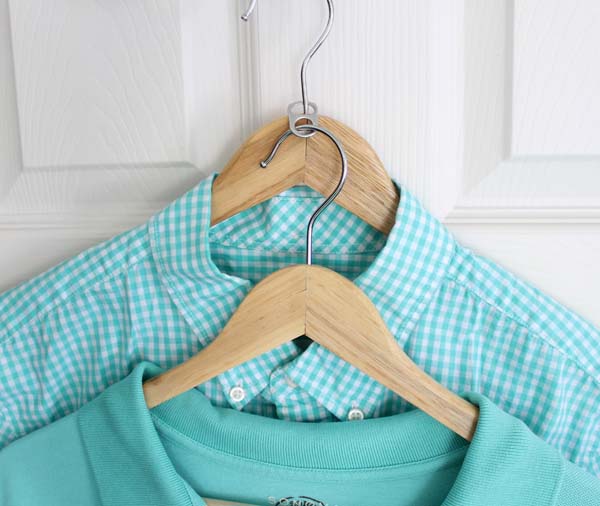 Additional closet ideas include using the pull tab from a soda can.
Hanging one hanger from the other with the use of the pull tab holes.
This can be used to create an outfit for the next day eliminating the need to get up earlier to find clothes.

See more at: theshabbycreekcottage.com
25. Make More Room in Your Closet with Storage Bins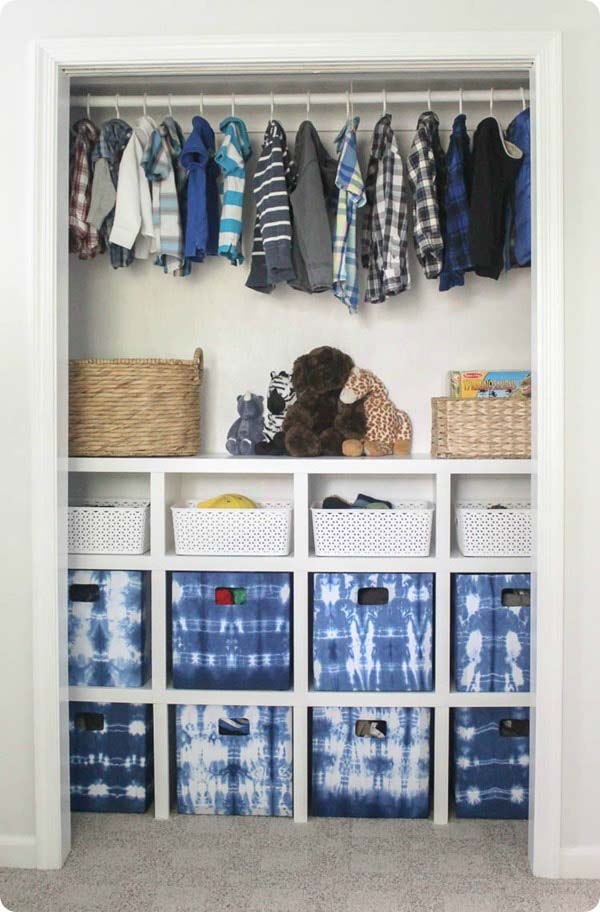 Small closets could feature using bins for storage.
They can be used to store sheets and coverings.
See more at: lovelyetc.com
26. Conquer Clutter with Stunning Organization Solutions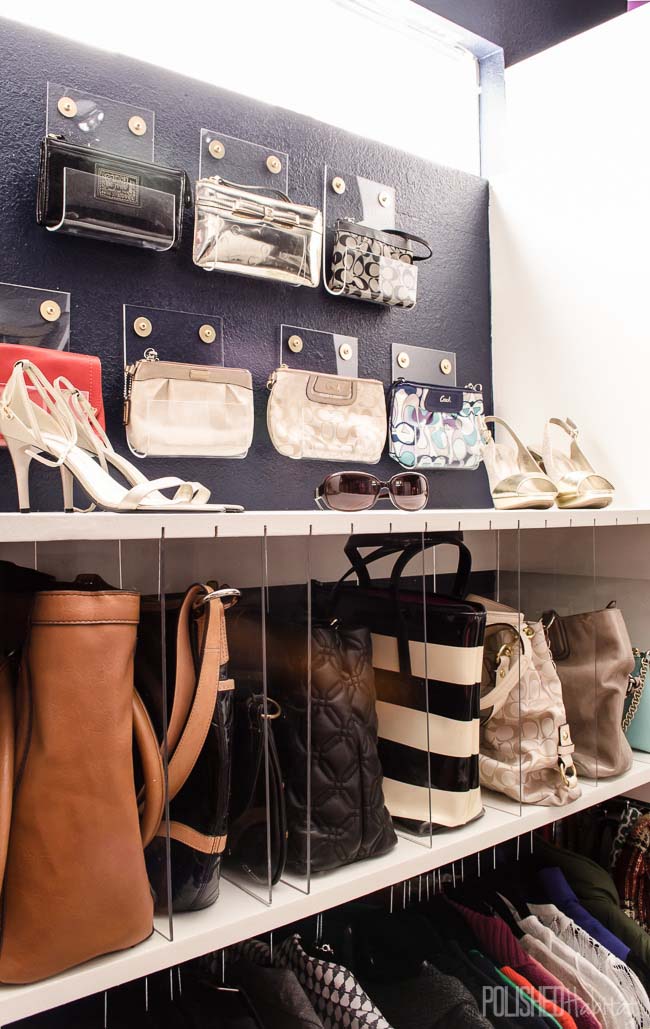 You can showcase your purses and other small items by attaching clear acrylic holders to the wall.
Separate storage cubbies can also provide an optimum place to store items such as purses, bed sheets, and bedspreads.
See more at: polishedhabitat.com
27. Keep Everything in Place with a Hanging Wire Organizer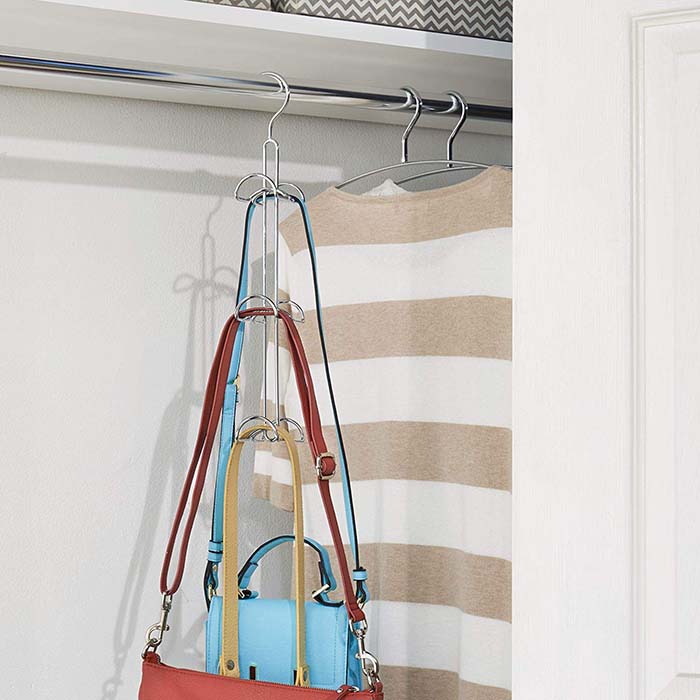 Check price: Here
A hanging storage organizer like this one can help you to keep all your handbags, diaper bags, and laptop bags in one location.
28. Add Hooks on Closet Doors for Bag Storage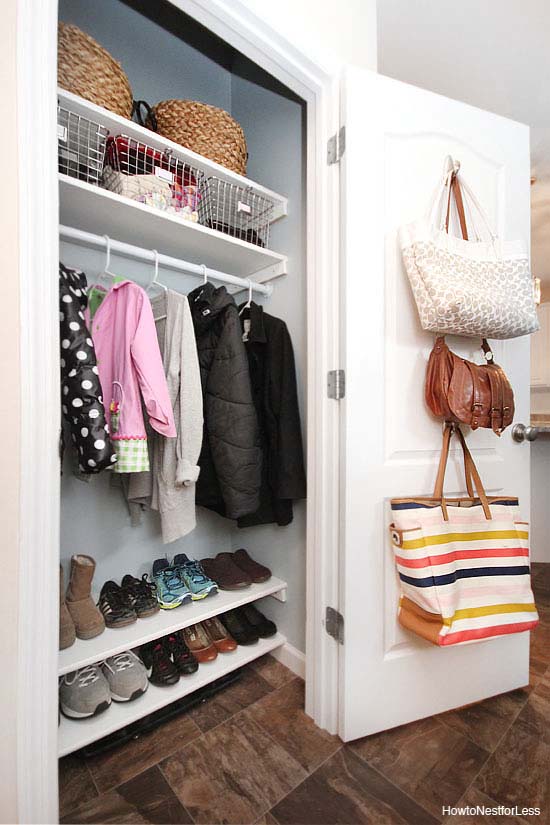 Need a place for the diaper bag or summer beach bag?
Try attaching hooks to the inside of the door.
See more at: howtonestforless.com
29. Increase Efficiency with a Drawer Unit and Bins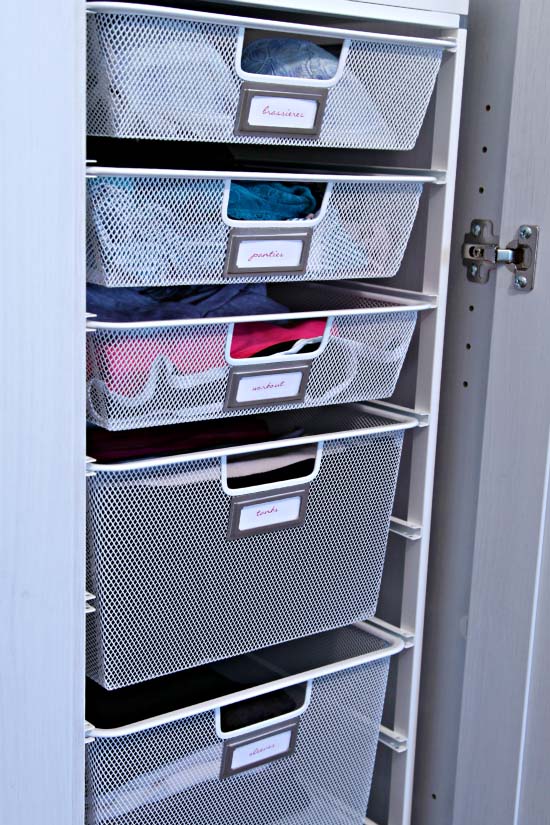 Closets for small spaces can be achieved by adding a drawer unit.
Once the unit is completed, bins can be added for the arrangement of a multiple of objects from clothing to craft supplies.
See more at: iheartorganizing.com
30. Neatly Store Scarfs with SHower Hooks on Hangers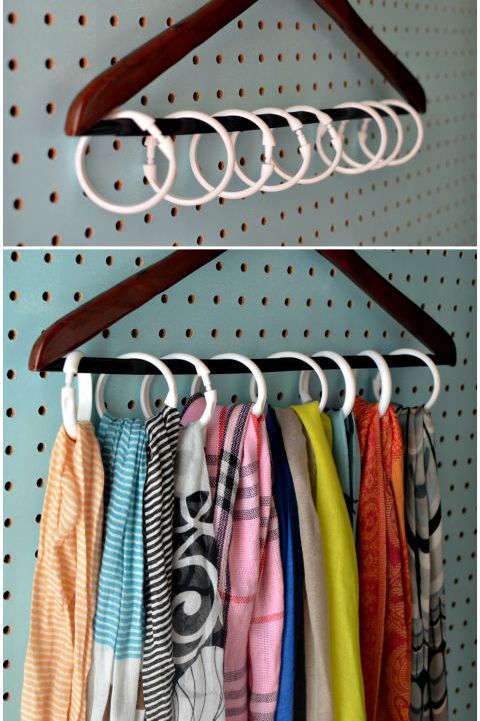 Need more small closet organization ideas, trying using a hanger with shower hooks.
This can help to keep your scarfs and belts from being in a drawer.
See more at: hip2save.com
31. Conquer Your Wardrobe with No-Slip Hangers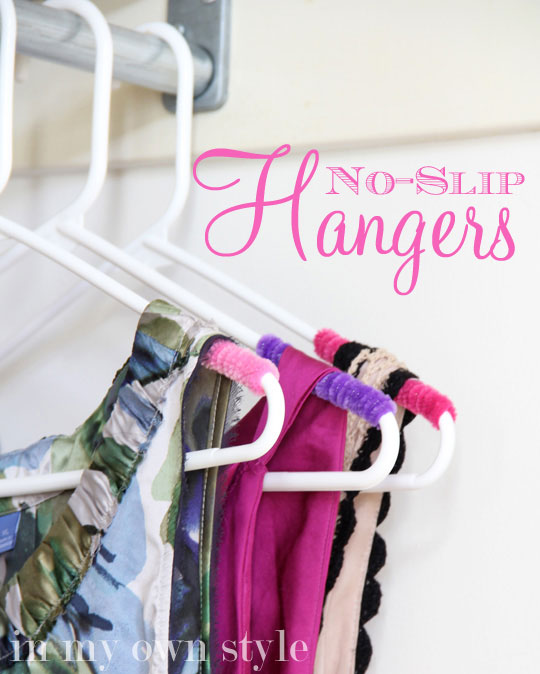 No-slip hangers are very helpful when it comes to larger clothing or dresses.
They help safeguard that clothing stays on the hanger and off the floor.
See more at: inmyownstyle.com
32. Store Your Clothes in Style with a Round Circle Hanger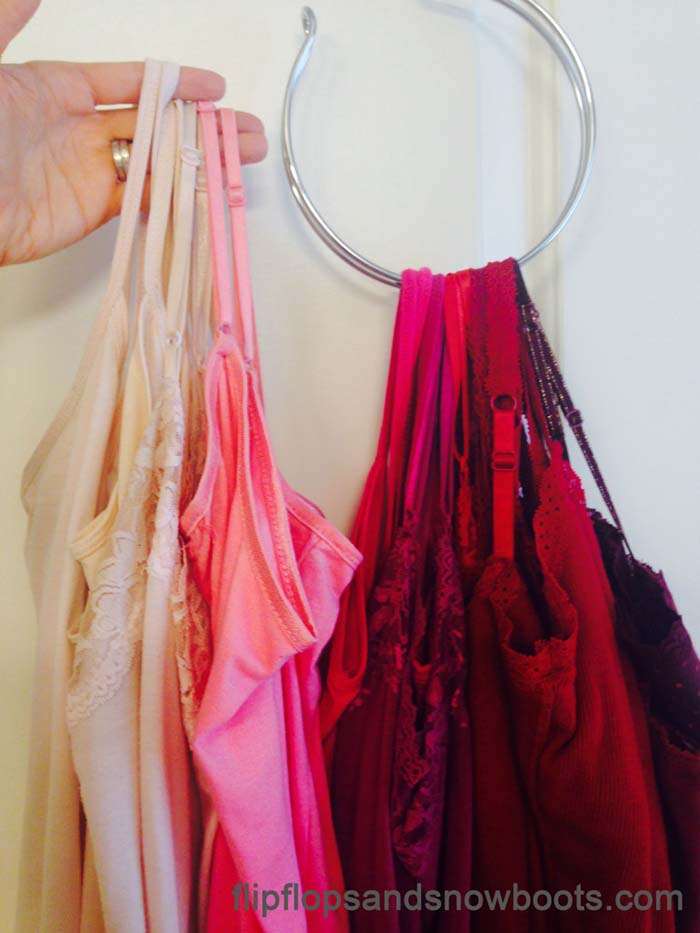 Looking for a way to hang up the tank tops and camisoles? A round circle hanger can ensure that they are hung up and ready for use.
See more at: dreamdesigndiy.com