Who has an unused closet, right?
Well, it turns out that there are a lot of people who are transforming their unused closet into something much more functional or aesthetic.

They may have found the answer to the question:
What to do with an unused closet?
The answer lays in the following 25 amazing ways to transform your unused closet.
If you on the other hand would like to know how to squeeze more space out of your closet, check out these small closet organization ideas.
1. Transform Your Nursery with a Changing Closet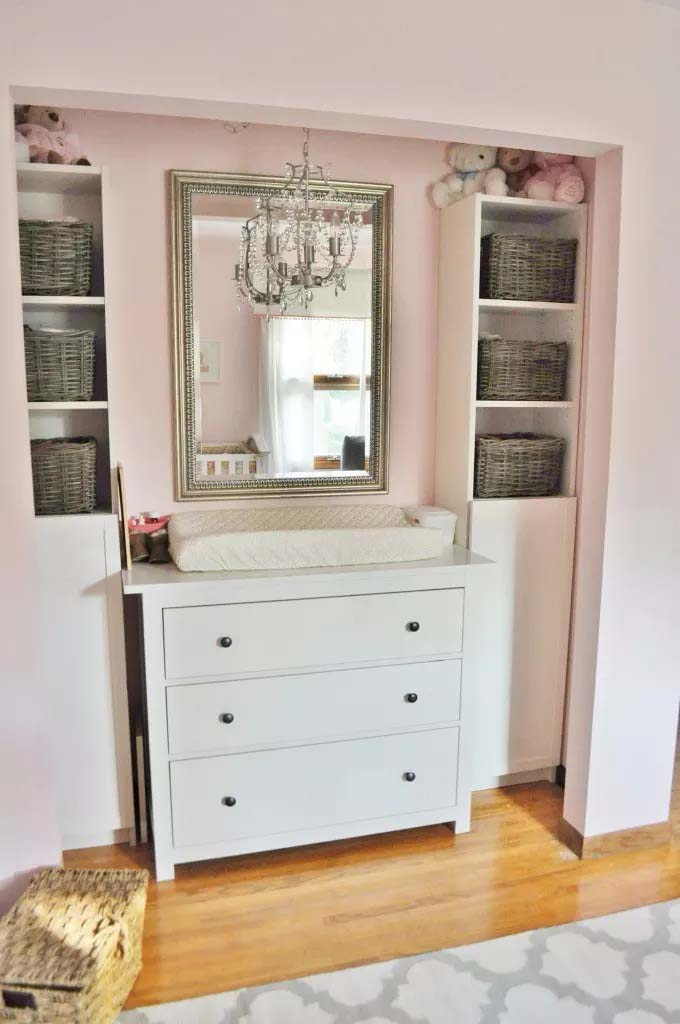 Photo: Credit
Push bulky furniture out of the way and save space in the nursery.
Putting changing table in closet could save space in the room (not just the changing table but a dresser too in kids rooms). You can still keep door if ever have to change back.
Much like us women, closets go through transformations, clean up and detox sessions.
If you are looking to revamp your closet, the first of 25 stylish ideas may give you a hint how to do it.
Try having a simple, unpretentious white closet that leaves room for play and imagination.
2. Create an Efficient Workspace with a Home Office Closet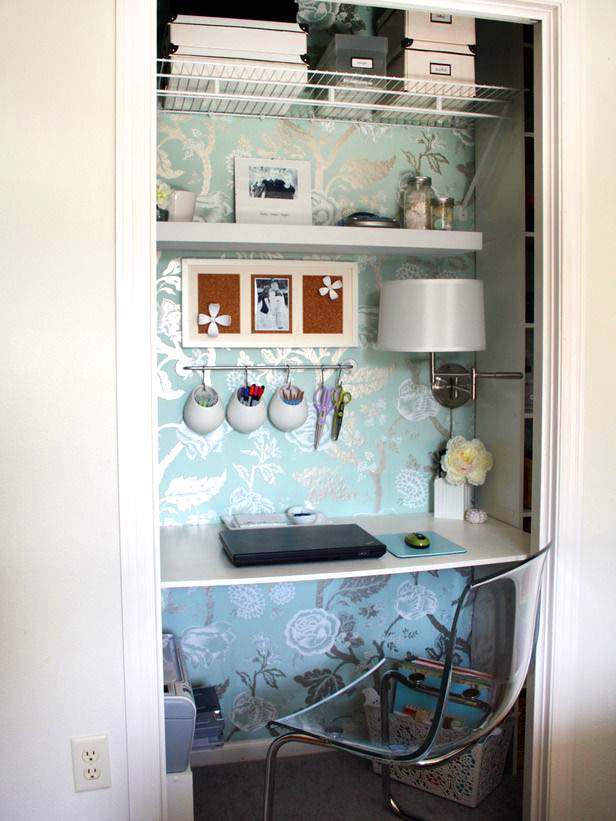 Photo: Credit
There are some reasons why you have to create closet office as the replacement of office room inside of your home while you do not have enough space on your home.
The first common reason for choosing to create it is on its easiness to do. Turning the function of your closet for an office room on your home is much easier rather than has to replace the function of any other rooms for your office.
The second idea on our list today is a former closet which was turned into a writing desk. The blue whitepaper works perfectly as a background.
Although the space is tiny, it is cozy and chic. I especially like the transparent chair, which fits great with the blue interior.
3. Transform Your Closet into an Inviting Reading Nook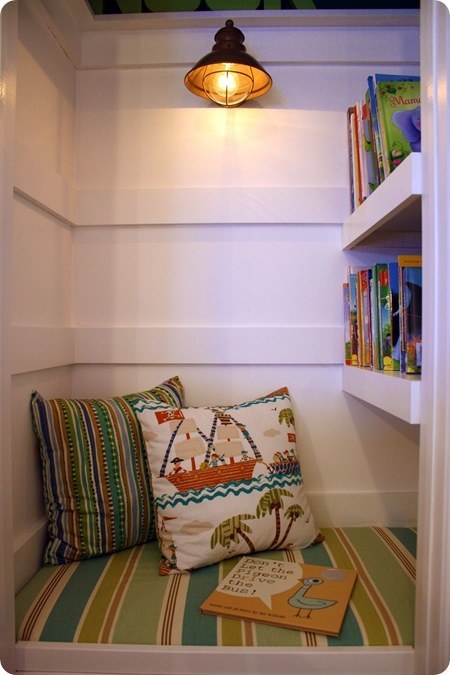 Photo: Credit
There's something that is really appealing about having a special place to curl up with a good book.  How many times since your childhood have you dreamed about having a special place to hideaway with a good book?
Creating a special place just for reading in your home is a fantastic and tangible way to show your children how important books and reading are, and how much you value spending time with good books.
Ever thought of creating your own designated reading space in the house?
Now it is time to rethink the use of the space in your closet, by creating a small comfy reading corner.
You can transfer there some of the magazines and books you adore.
4. Redefine Your Kid's Room with a Small Study Space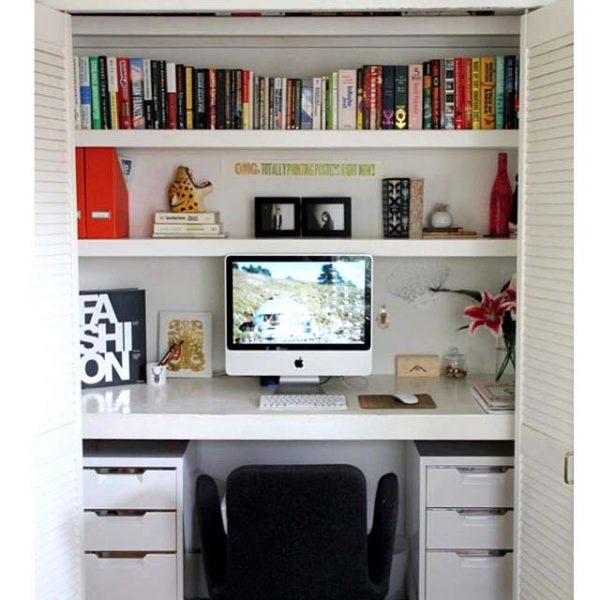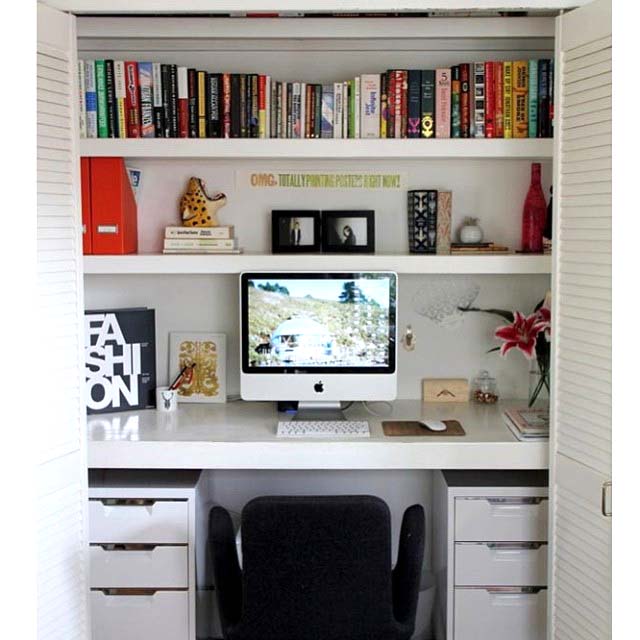 You can create a study space for your kid. There you can also store additional study books while still keeping them on display.
This is a neat and tidy setup, isn't it? All of the former closet space has been utilized according to the needs of the owner.
You see, you can save a lot of space if you are thinking in terms of height of the walls and the function of your belongings.
5. Free up Closet Space for a Fabulous Washing Room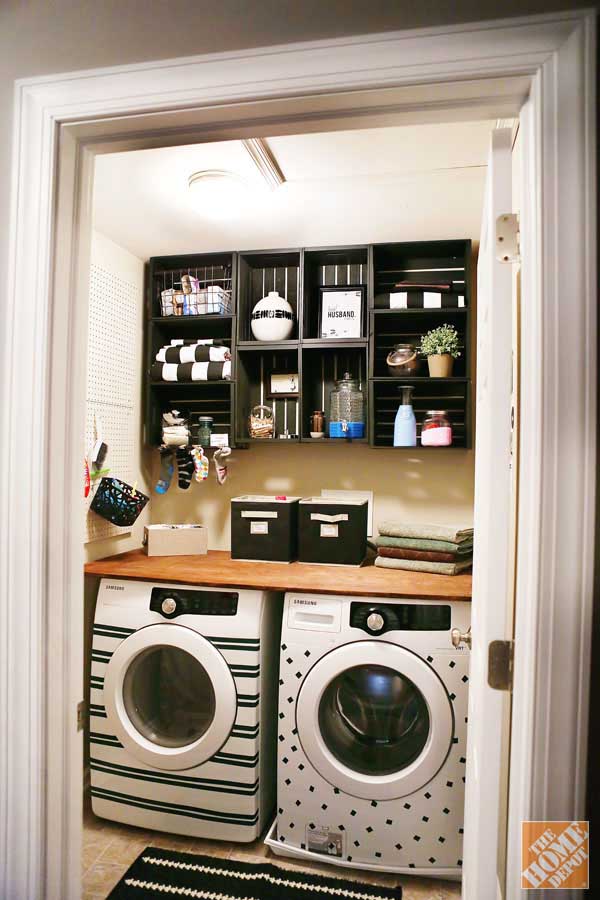 Photo: Credit
Remove closet doors for extra space that can accommodate a washer, dryer, and shelves.
Next in line, we have this pretty fabulous black and white washing room. Its design is quite unexpected and unique to have in the house.
Black dots all over the washing machine, stripes, and many small details – it is all play of décor. And a very optimal use of space.
6. Turn Your Closet into a Wine Cellar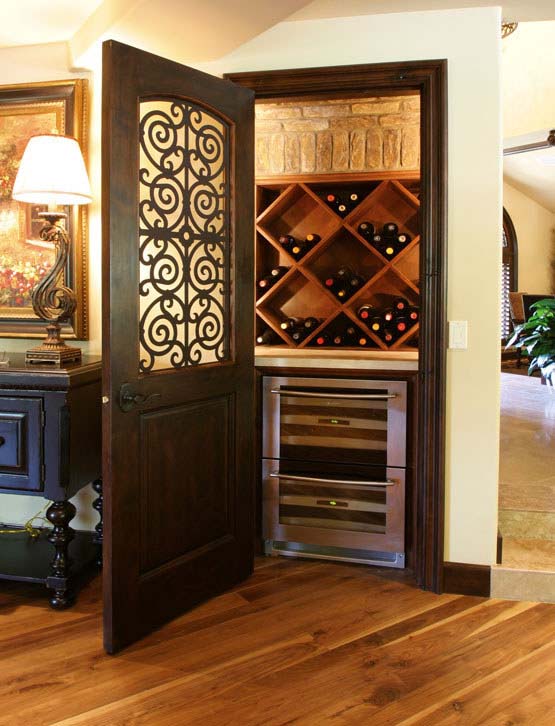 Photo: Credit
Install a wine refrigerator in your closet or just stack a few wine racks to store your precious vino.
Ever thought of thinking of transforming the closet into a small winery? This is for the real fans of wine that see that necessity is no greater than adoration.
Nevertheless, it is no wonder that we also find two ovens in there, too. We all would like to have it the most optimized way possible.
7. Create a Cozy Nook using Your Closet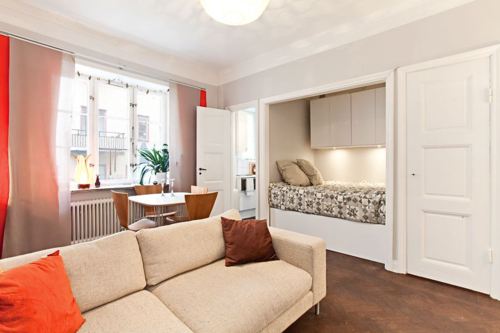 Move your bed into the closet. If you have to ditch the headboard, pick up some bed legs.
Number seven goes to show that the possibilities for former closet spaces are endless. If you are someone who has a special loving relationship with naptimes, you can always turn the closet into a relaxation corner.
All you need is a small mattress, a nice bedding, and you are good to go.
8. Repurpose a Corner Closet into a Functional Storage Space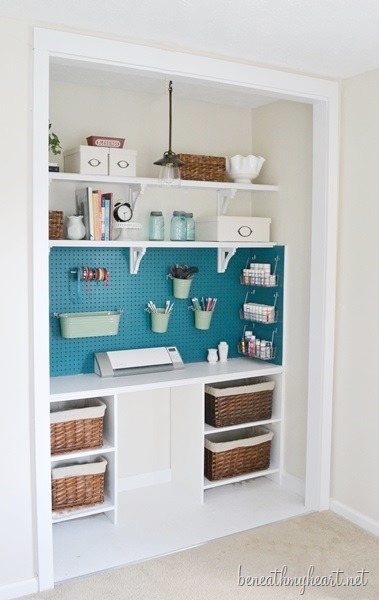 There's nothing better than feeling more organized.
So lovely! A personal corner to hold all our favorite belongings. Soft white and adorable blue shade that puts your mind at ease.
This is a well-kept spot in the house, as you can see. It is worth removing the junk from the closet to have something like this, I believe.
9. Utilize Curtains to Hide Your Office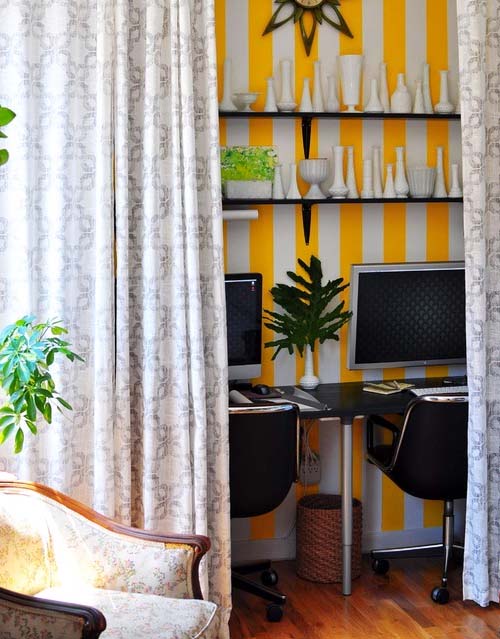 Photo: Credit
Interior designer Killy Scheer created a modern, out-of-the-way office that disappears when you want it to. Hang pretty curtains along the closet rod to cover up the space when you're ready to relax.
In our day and age, many of us have way too many electronic devices all around the house. Some homes have a couple of laptops, computers and other devices.
This is a pretty awesome idea. You can always stash everything you need behind the curtains and leave more free space in the living room, for example.
10. Transform Your Closet into a Mini Bar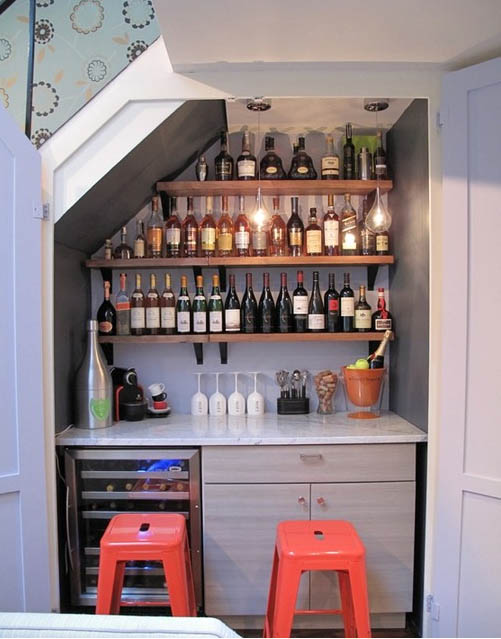 Photo: Credit
Either install countertops or use a marble-topped desk in an irregularly-shaped closet for a modern wet bar. Add two stools so guests can pour, sit, and chat.
Off we go to another incredibly sweet idea. Having your own bar inside the house could be way more exciting than adding simple cart in the living room.
You can really have a bar inside, just look at the second life of this former closet! Much more exciting.
11. Keep Kids Away from Your Personal Space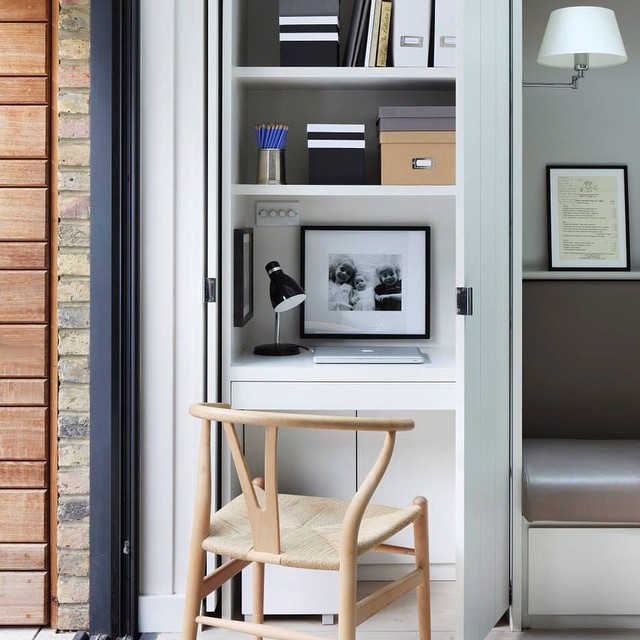 Photo: Credit
And let's step into another personalized space that can be used for writing cards, tagging and reorganizing our lives.
It might be very simple, but it surely does a lot for a mother who tries to keep her personal belongings away from the children's hands. It also separates work from pleasure.
12. Create an Enchanting Hideaway with Hanging Curtains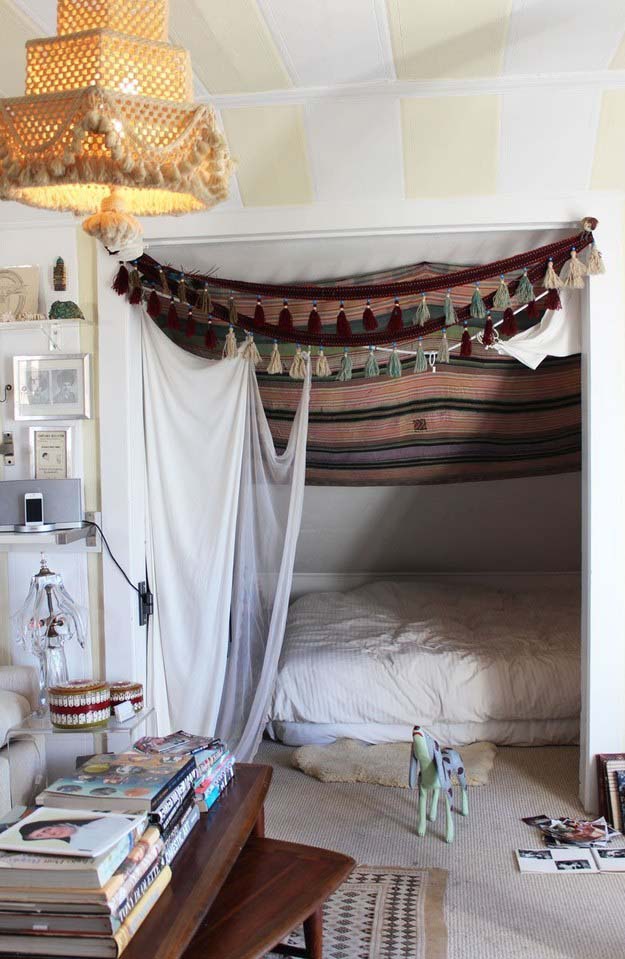 Photo: Credit
Take doors off their hinges, drop in a mattress, and nail up a few blankets for a cozy space to hang.
Now, this is a really enchanting view! I am a special fan of having extraordinary choices of designing a room, so this one is probably my favorite so far.
Both children and adults would love the hanging curtains, the feeling of liberty and the possibility of having it a different way.
13. Repurpose Your Closet into a Cleaning Storage Station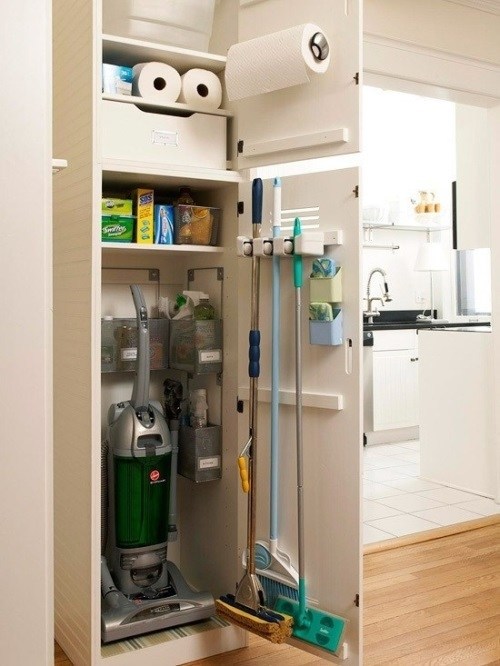 Photo: Credit
Transform your utility closet into….
a lean, mean, home maintenance machine.
Plus superstar sprays, scrubbers, mops and more.
For those of you, always wondering where to put the endless number of electric supplies we use in our homes.
You can turn the closet into a well-organized place where you can keep a stash of cleaning supplies, brooms and vacuum cleaners!
You no longer have to battle with those, they are perfectly on point.
14. Turn Your Closet into a Mini Mudroom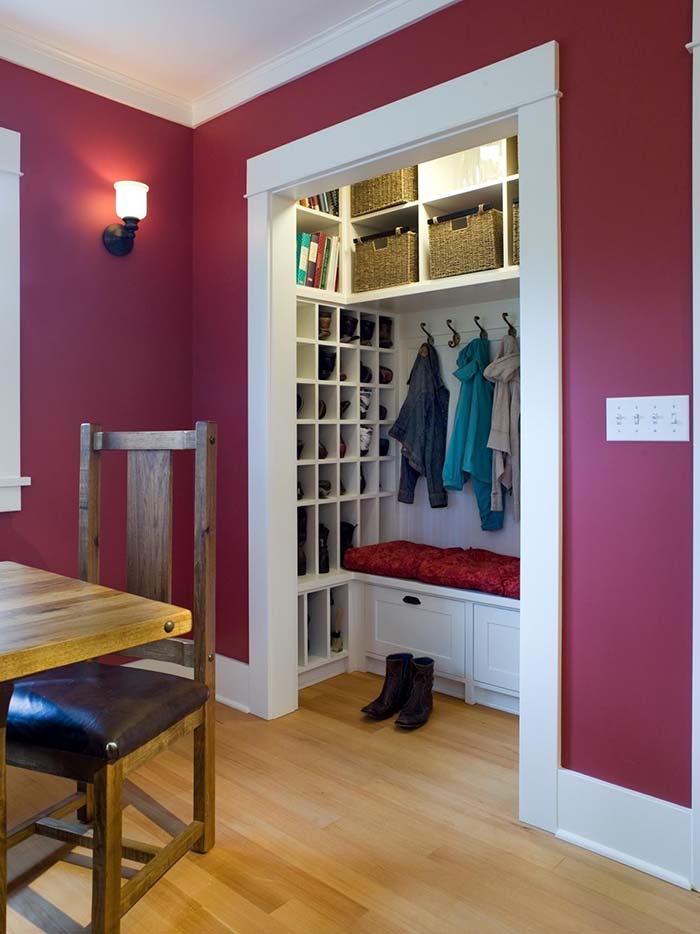 Photo: Credit
If you can afford to give up a closet, take a cue from Röm Architecture and transform it into a mini mudroom.
I intend to end this collection with a stylish, sophisticated idea. This closet is a remodeled former closet, where every single spot inside has been used.
Shoes are to be found on the left wall and the bottom cabinets; hats are organized on top, jackets and blazers in the middle section.
15. Explore Your Artistic Skills with a Closet Art Station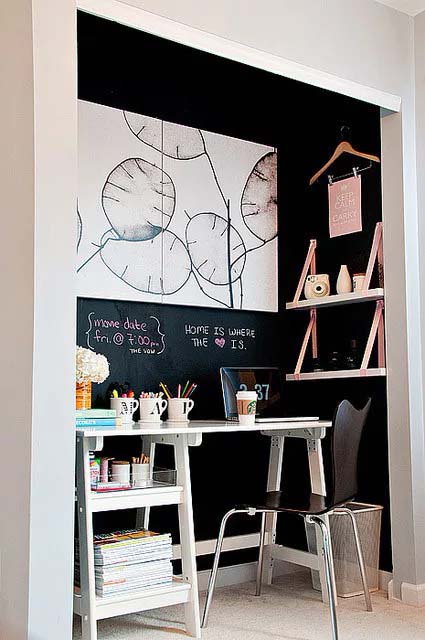 Looking for a creative space in your home? Why don't you turn your unused closet into an art studio where you can display your work.
16. Create a Special Place for Reading in Your Home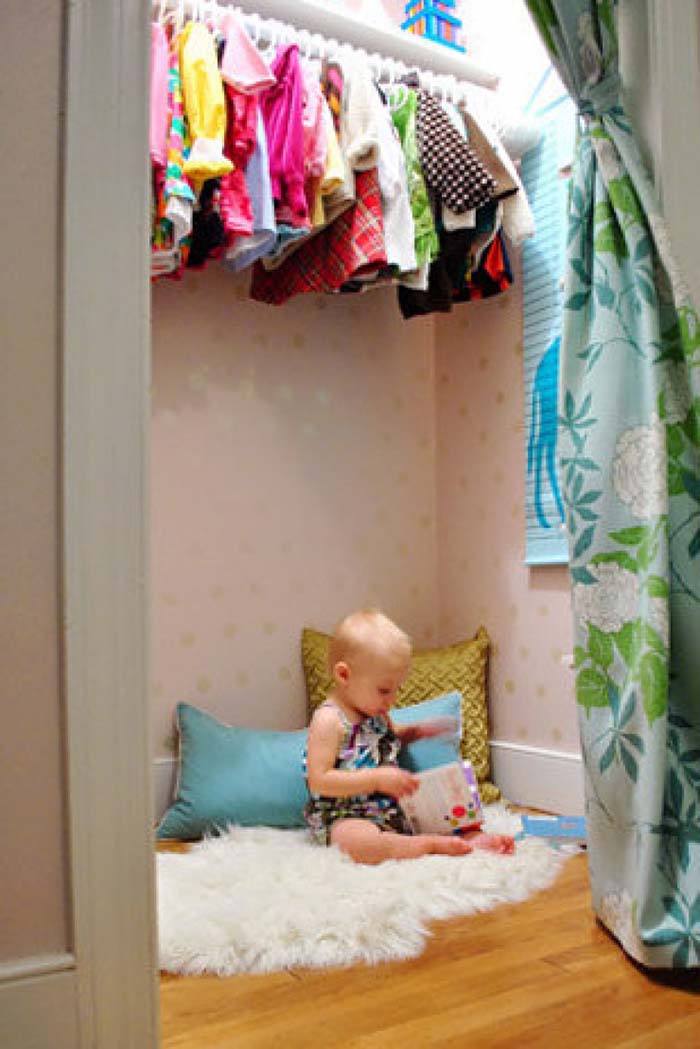 Your closet could be the perfect place for your kid to read. There is plenty of space for the little ones.
Just place a furry rug and some pillows and voila – you have the perfect kid space.
17. Build an Inspiring Playroom in a Closet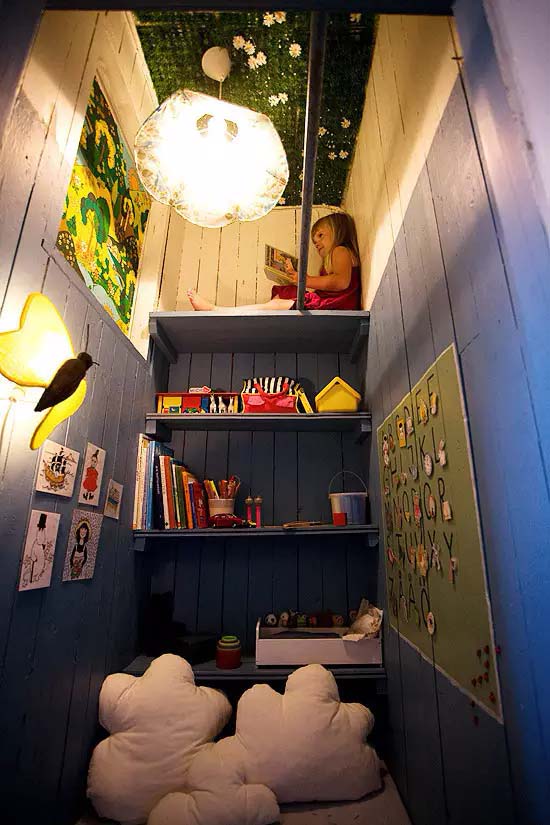 Photo: Credit
This DIY project to turn a walk in closet into a playroom is great. You can use it as a learning center for your kid.
18. Transform Your Closet into a Classic Nursery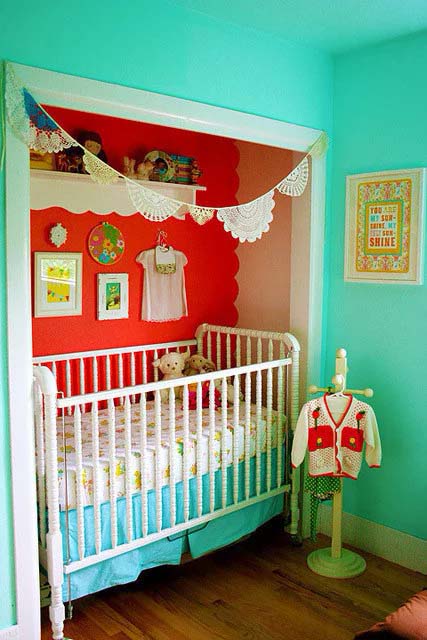 Photo: Credit
Remove closet doors and use the extra room to put the crib. It would make it even more cozier.
19. Create a Playroom with Additional Toy Storage in a Closet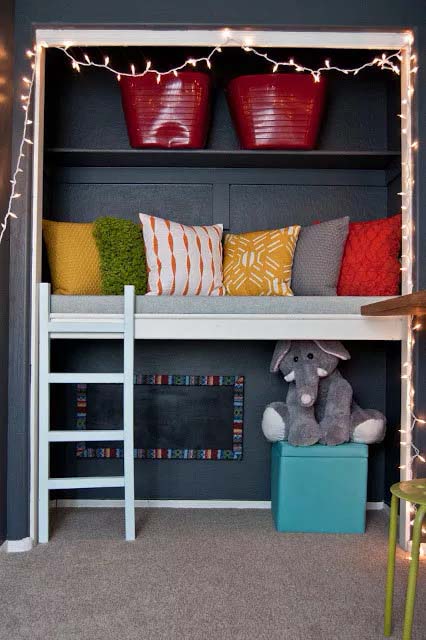 Photo: Credit
If you have a tiny playroom, use the closet as an additional toy storage. You can also add a couch and some pillow for the kid to relax or play.
20. Design a More Productive Office with Your Closet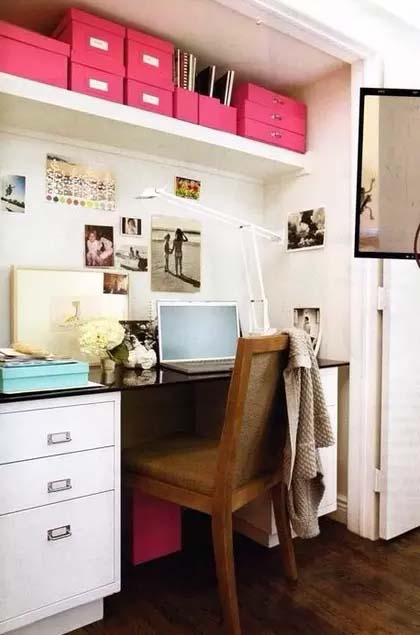 If your home office is windowless you can replace it with your closet.
21. Turn Your Closet into a Craft Station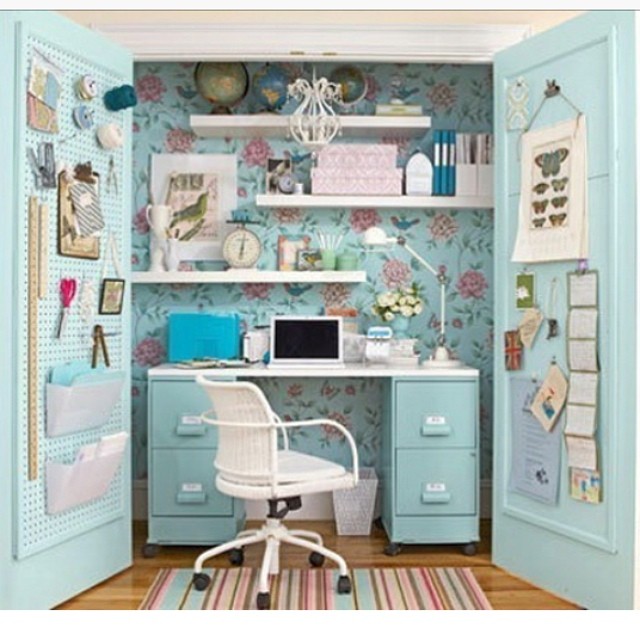 If you are into crafts like sewing, knitting or string art then your closet could be the perfect place to put your accessories and tools.
22. Create a Multifunctional Working Area with Your Closet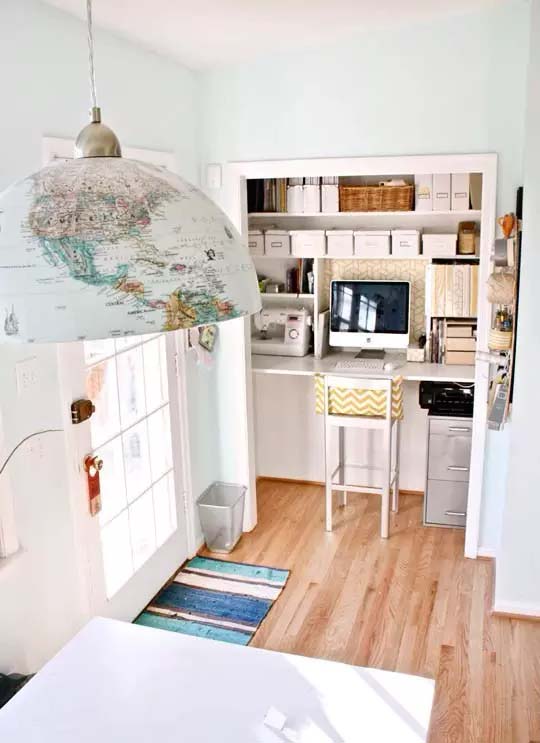 Photo: Credit
Incorporate the closet space into the room seamlessly. By removing the doors the closet may be used for sewing center or office space.
23. Reclaim Your Personal Space with a Closet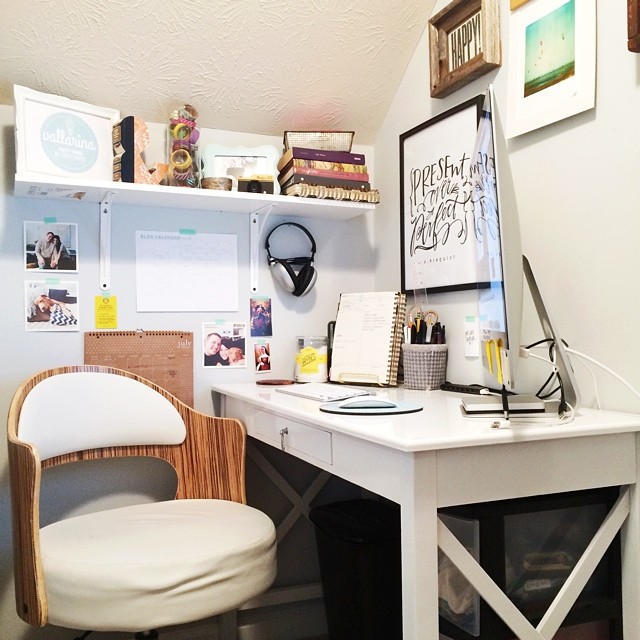 Photo: Credit
Use the closet as your own personal space where you can work, read or listen to music.
24. Maximize Laundry Storage with a Corner Closet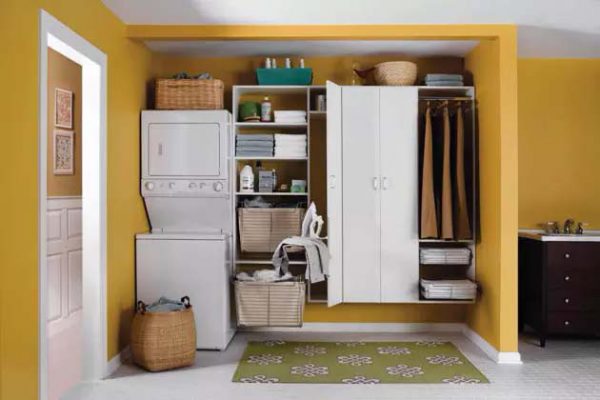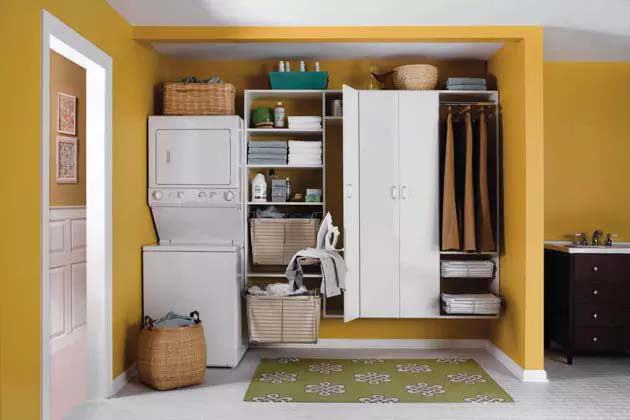 Photo: Credit
Save space by using the closet for the washing machine, dryer and other appliances.
25. Get Organized with Unconventional Storage Solutions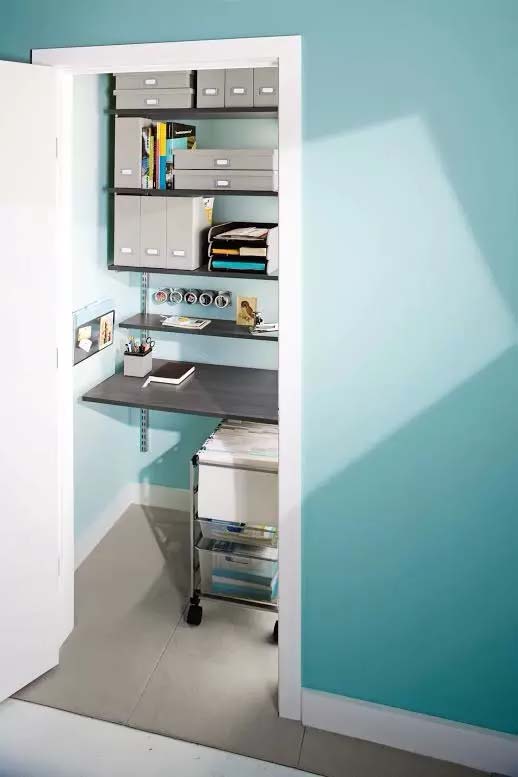 Photo: Credit
Keep your important papers and files organized with a series of shelves and a rolling file cabinet.