Closet doors don't have to be boring but so many times, they are left alone and simply take up a huge part of the wall in a room without adding anything to the space.
Instead of allowing the closet doors at your home to detract from your living space, updating them with mirrors is sure to make them more exciting and attract attention.

Any of these great mirror closet door ideas will make your home look chic and fashionable without a lot of work.
1. Step Up Your Wardrobe Game with Folding Mirror Doors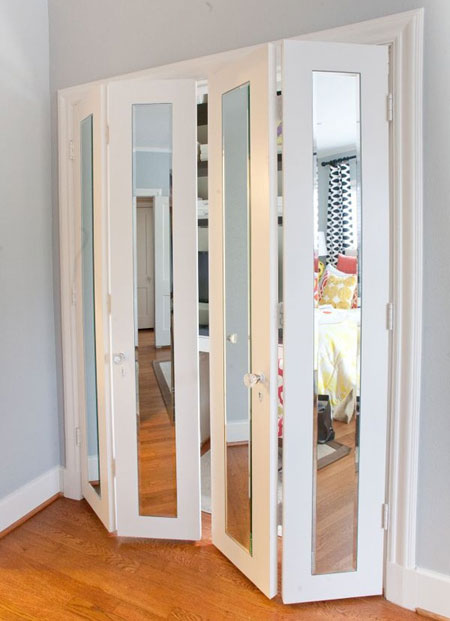 Photo: Credit
Bi-fold doors can easily be updated by adding long rectangular mirrors to the four sections.
This is an incredibly fast upgrade and since a lot of people have bi-fold closet doors, it's one that is very popular.
The updated look is modern and will instantly help to brighten up any home without a lot of work.
Related: 10 Best Closet Door Alternatives
2. Give Your Closet Mirror a Farmhouse Look with a Rustic Frame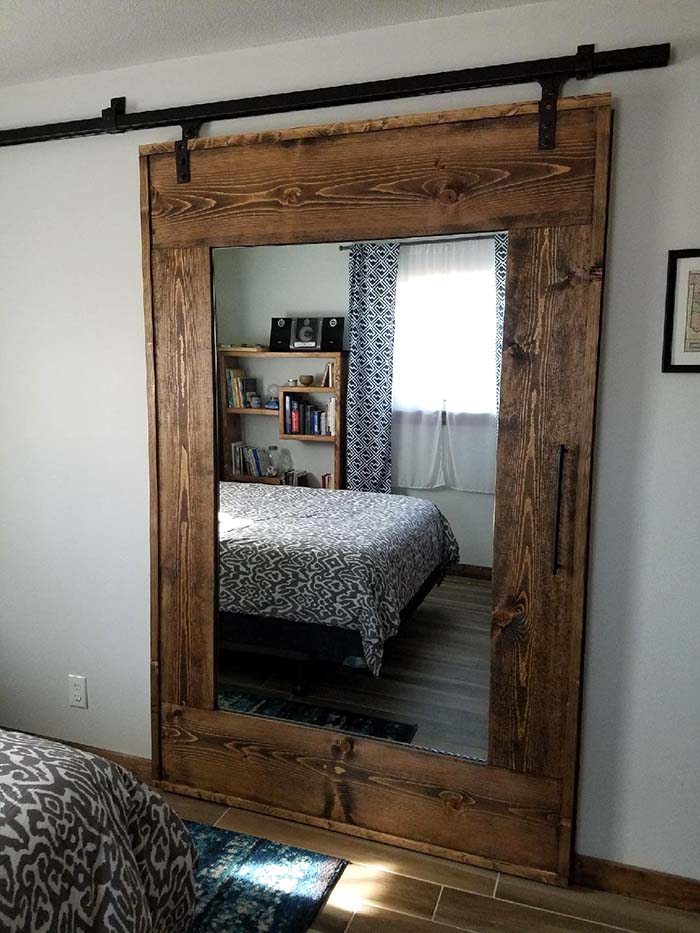 Sliding barn doors are a very popular option in rustic homes or cabins and for good reason.
They don't take up a lot of space by swinging out from the closet but do a good job hiding anything in storage.
Adding a mirror to a sliding barn door helps to break up its large, heavy shape and makes it look lighter.
Learn more: Here
3. Make an Artistic Statement with Circular Wooden Frames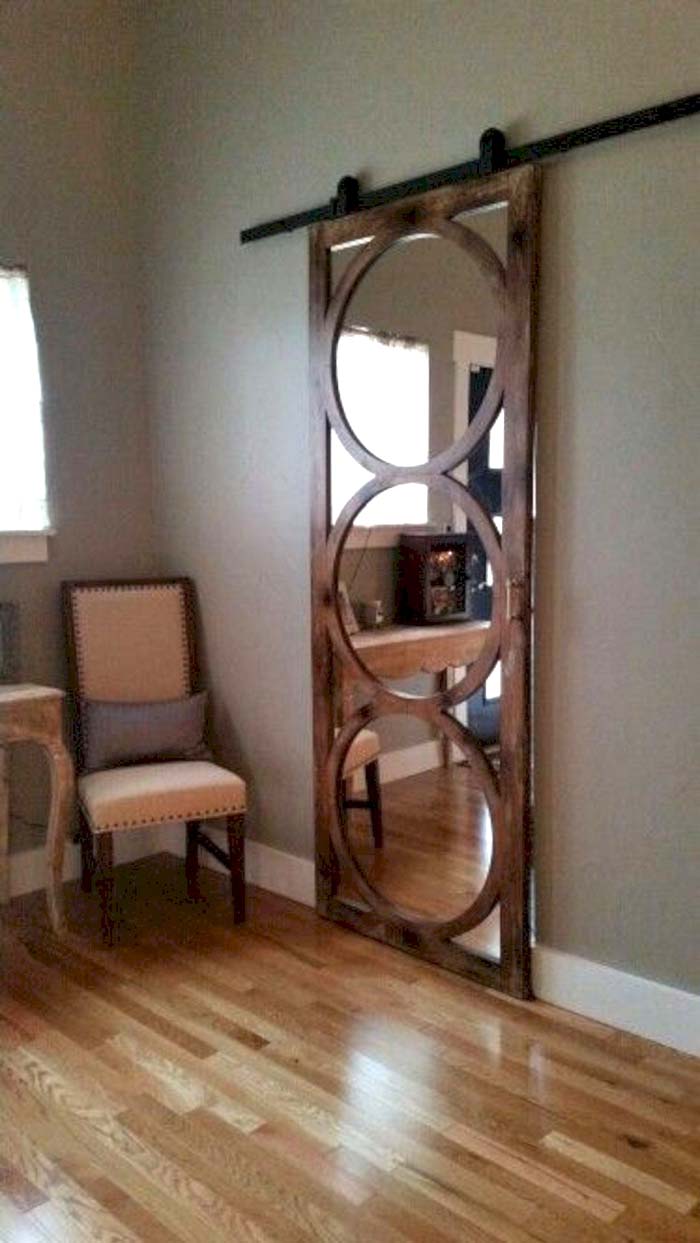 There's no reason why the mirrors used have to remain rectangular, as you can see here.
Adding a frame to the top of the mirror that is cut to make the mirror look as if it three circles stacked on top of each other quickly updates the space.
This is a great look for a more modern home.
4. Get the Luxurious Look of Mirrored Doors with No Frame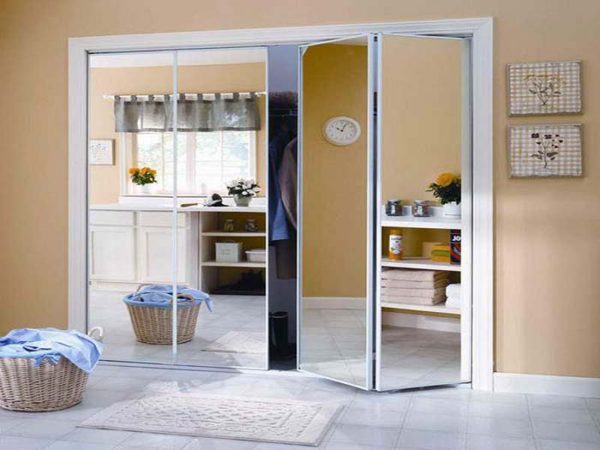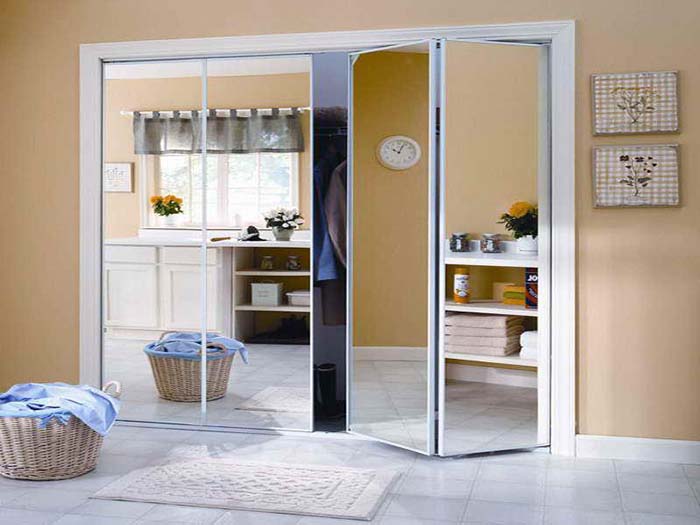 Covering folding closet doors from top to bottom and side to side with full mirrors creates an interesting look.
Rather than leaving a frame around the mirror, using large enough mirrors makes the room look huge and does a great job reflecting the light.
These mirrors look great in spaces that are already a little lighter and less cluttered.
5. Create a Chic Closet Door Mirror with Rectangular Frames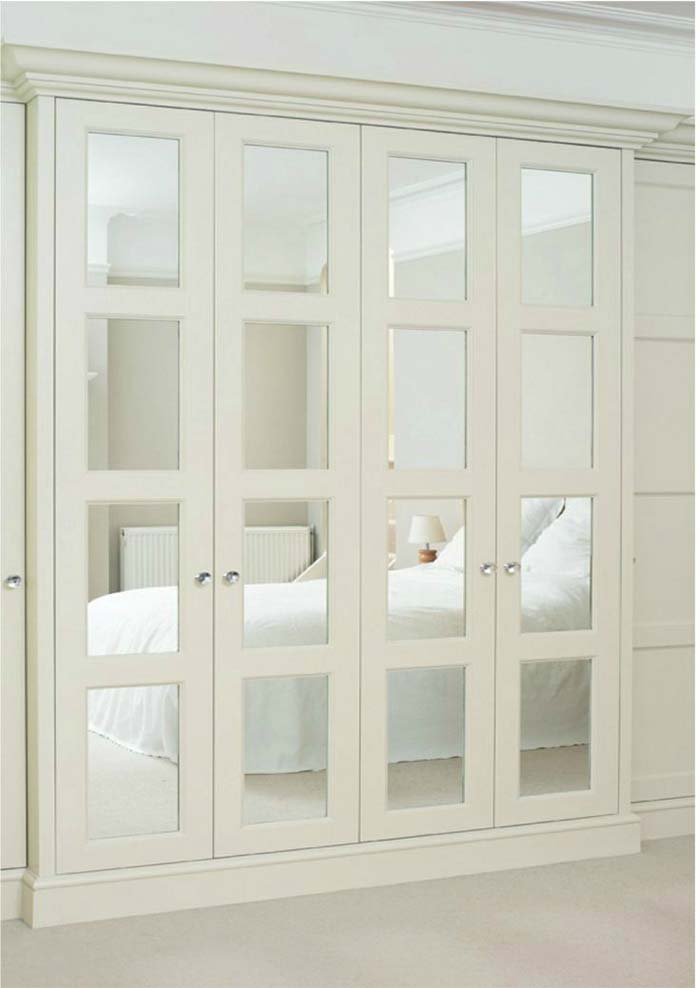 Breaking up large panels of mirrors into smaller rectangles instantly makes the mirrors look higher-end and more expensive.
This is a wonderful way to update this look and to ensure that it doesn't look just the same as other mirrored closet doors.
The look can be achieved by using lots of smaller mirrors or framing a larger mirror with a custom-cut frame.
6. Revolutionize Your Room with Wooden Criss-Crosses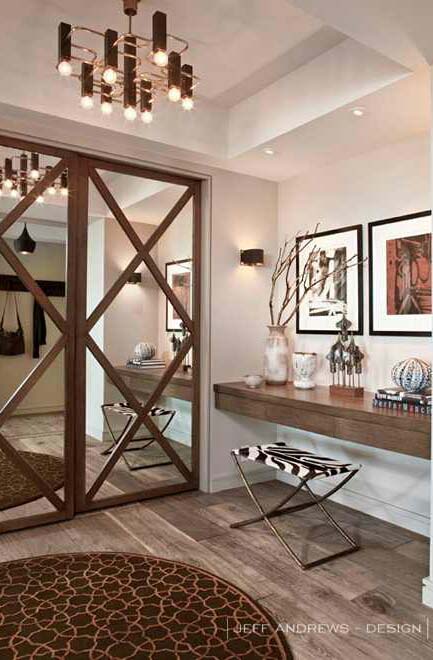 Photo: Credit
Adding deep, rich wooden criss-crosses to the mirrors helps to break up the open expanse of mirror and instantly elevates this design.
It's perfect for use in a larger room or bedroom and does a wonderful job making the mirrored closet doors look high-quality and custom-built.
7. Upgrade Your Home with Elegant Sliding Mirror Doors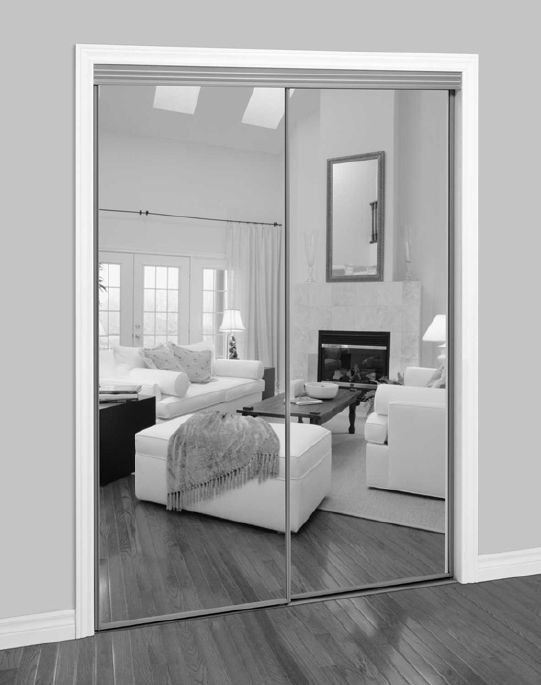 Sliding doors can also be covered with mirrors but for the best look, the entire door needs to be covered.
Doing this will make the mirrors look as if they are part of the wall.
Because these doors don't rely on hinges, there isn't any concern about the weight of the mirror damaging the door or making the doors difficult to use.
8. Upscale Your Room with a Sliding Mirror Closet Door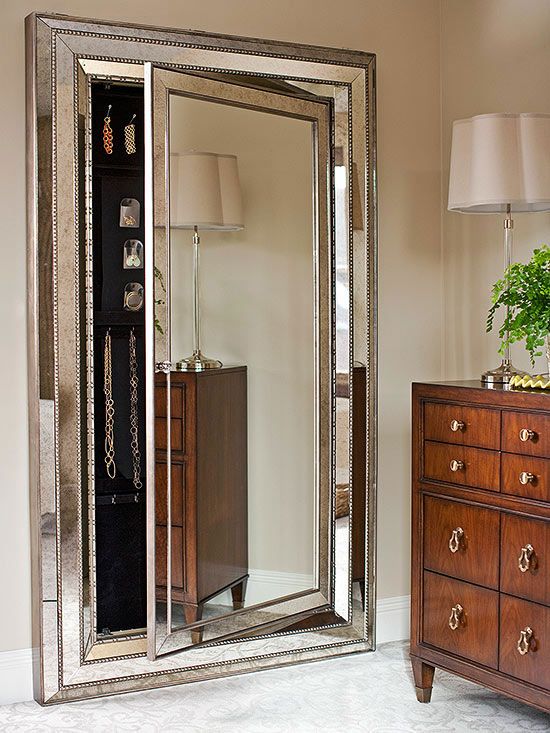 Photo: Credit
A spinning door in a bedroom is a unique way to enter the closet or to hide a smaller jewelry closet.
Rather than adding a typical closet door, using a mirror on the spinning door will make this unique and exciting.
It's a great way to add glamour and intrigue to a room but may require homeowners contacting a professional for the update.
9. Embrace Medieval Aesthetics with Ornate Carvings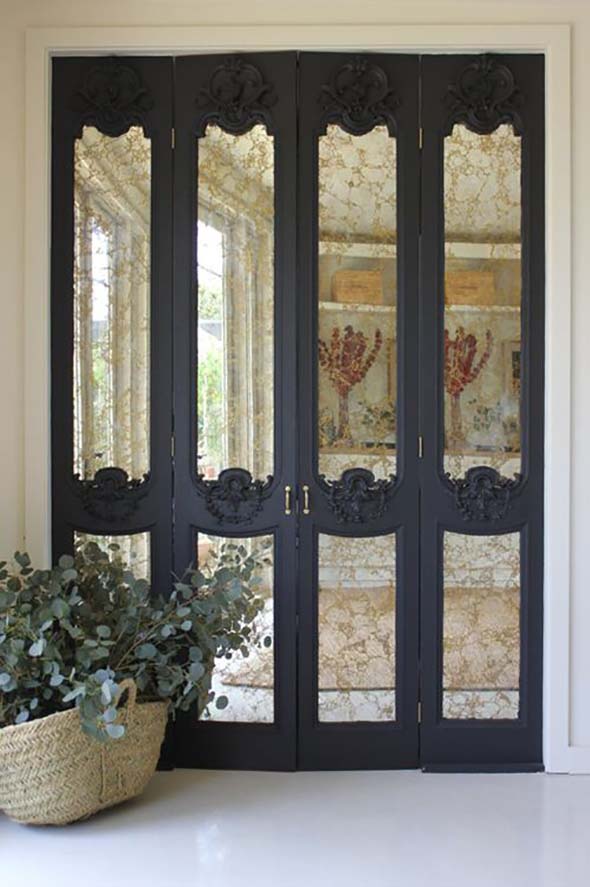 Mirrors outlined with black automatically look high-quality and adding ornate carvings to the black instantly upgrades them even more.
These mirrors are not only outlined with black frames but feature black designs across the middle.
The right carvings are gorgeous and add mystery to the doors.
10. Add Visual Interest with Diamond-Shaped Frames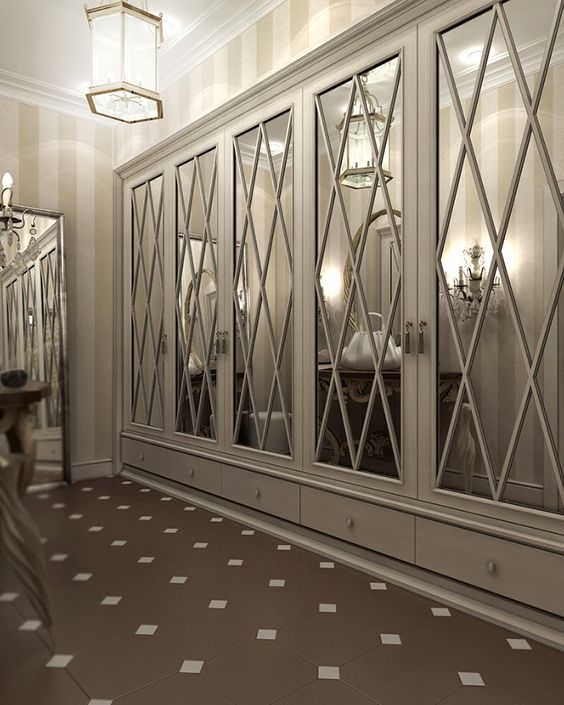 Closet doors that cover the entire wall of a room can look overwhelming and drab but not when they are covered with mirrors.
Using frame that makes the mirrors resemble large diamonds helps to break up the line of doors and also adds visual interest.
These doors are not for the faint of heart and will instantly improve any room.
11. Elevate Your Patio with Mirrored Doors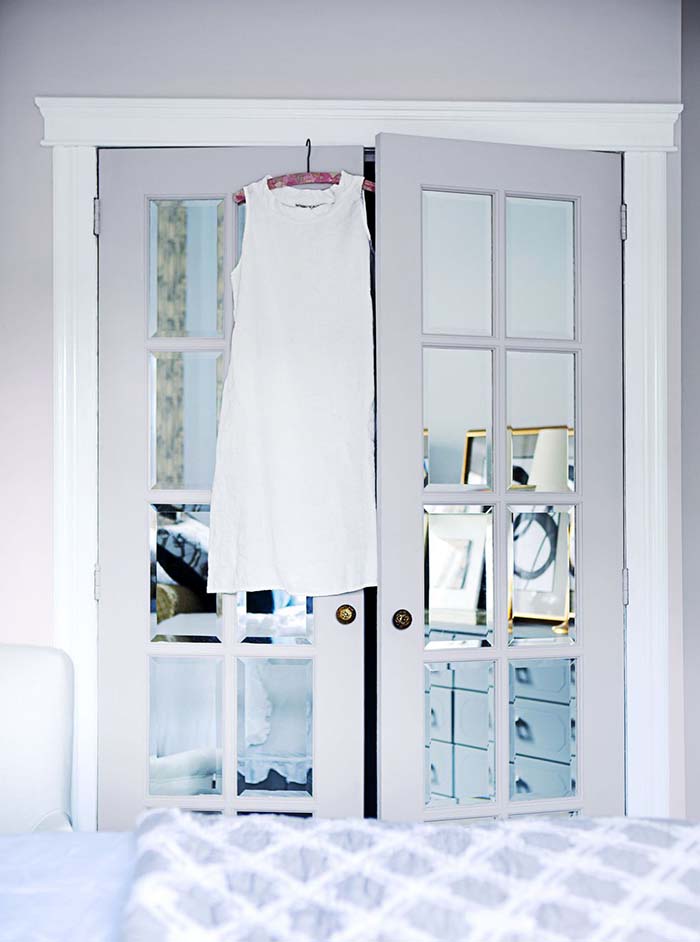 Photo: Credit
Patio doors inside the home look great but the clear windows can be a problem.
Replacing these window panes with mirrors allows homeowners to bring the open, airy look of the outside into their homes without allowing the contents of their closets to easily be seen.
These doors are very refreshing and visually light.
12. Add a Touch of Elegance with a Mossy Green Finish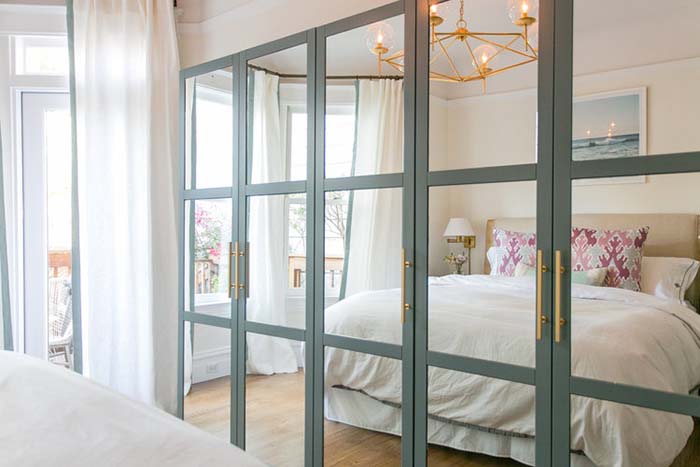 Photo: Credit
There's no reason why closet doors can't have a pop of color and adding some green trim with gold handles takes these doors to the next level.
The mossy green isn't so bright or garish that it takes away from the design of the rest of the room, allowing the color to fit in with the décor of the bedroom without being overwhelming.
13. Give Your Mirror a Contemporary Look with Geometric Frames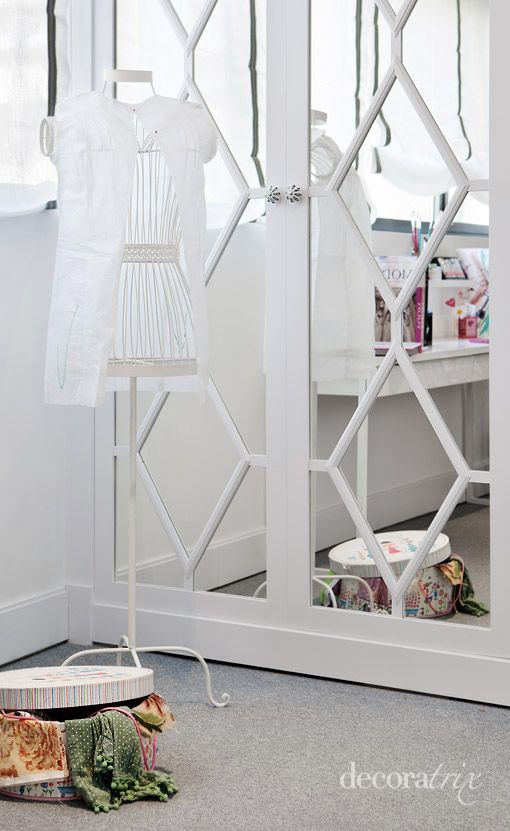 Photo: Credit
Geometric designs are a great way to break up a large mirror without taking away from its shine and beauty.
Using white frames to add designs keeps the mirrors looking light.
Adding smaller door knobs that won't compete with the geometric frames ensures that these mirrors look intentional and that the updated frames don't look out of place.
14. Go Bold with a Patterned Closet Mirror Door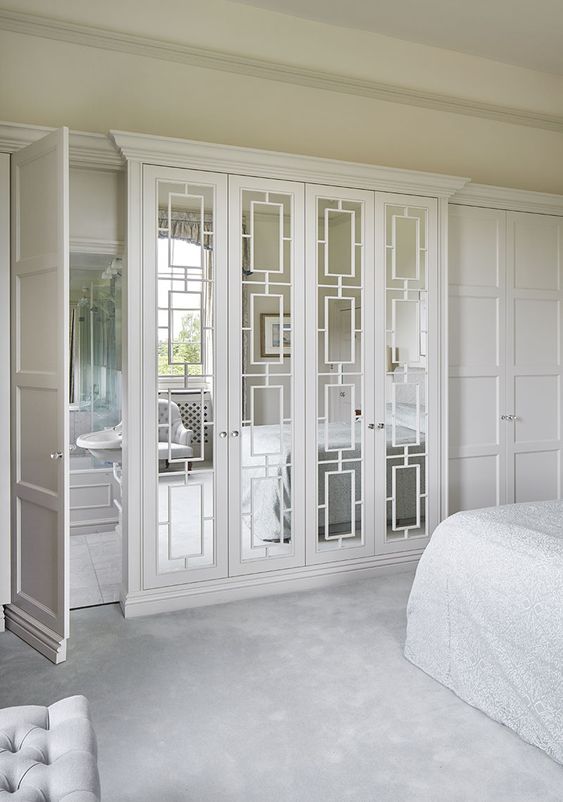 Photo: Credit
Bold patterned doors look amazing, especially when they are floor to ceiling and take up a lot of space on the bedroom wall.
These doors have intricate patterns made from framing as opposed to simple, plain mirrored panels.
The addition of these patterns sets the doors apart and adds interest to the space.
15. Add Subtle Elegance with a Black Mirror Frame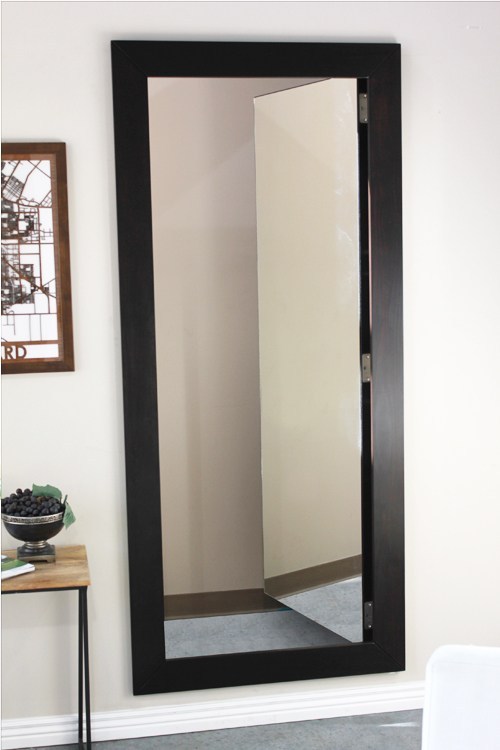 Photo: Credit
A plain black frame can really show off a mirrored closet door and make the door pop from the rest of the space.
Forgoing any intricate designs keep this look a little more modern and updated, which is great for homeowners who are interested in simple design.
16. Leave an Unforgettable Impression with a Closet Mirror Door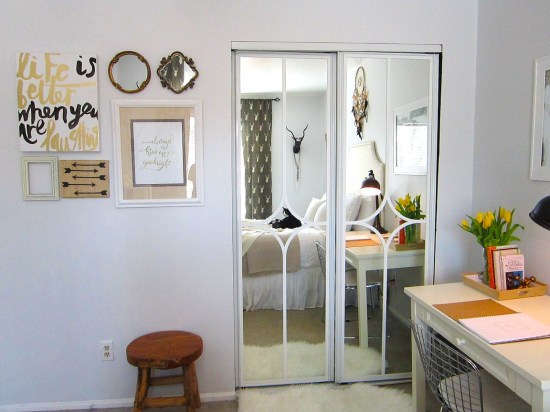 Photo: Credit
Designing doors with interesting shapes cut into the framing allows the doors to stand out.
These doors have white designs that meet in the middle of the mirror, forming a small diamond.
This makes the doors pop and helps prevent them from fading into the background of the room.
17. Create a Focal Point with Blue Sliding Doors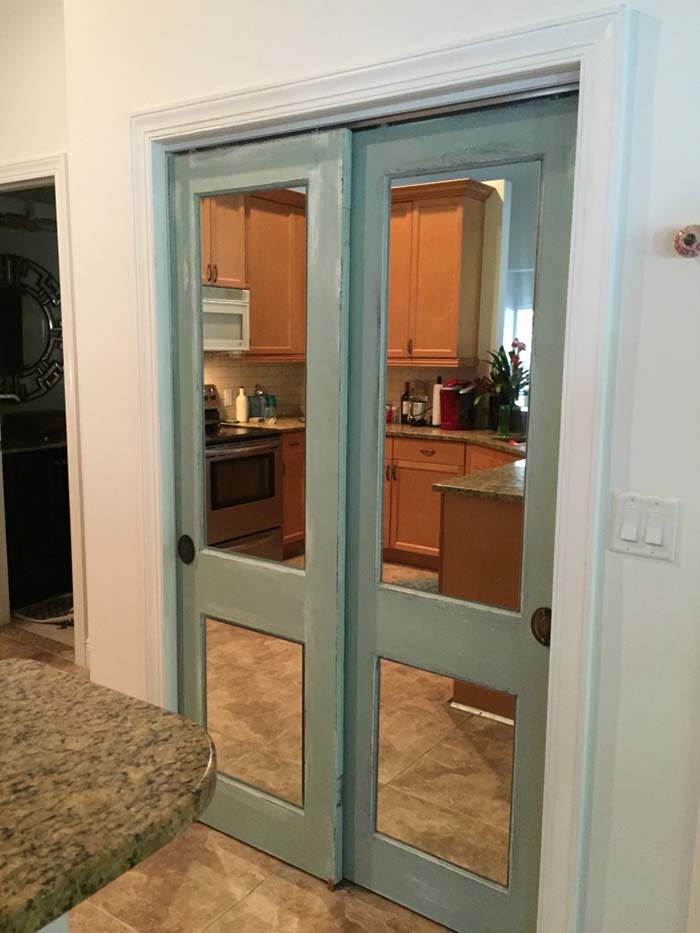 Photo: Credit
Sliding doors with thick, chunky frames are already a lot more interesting than plain mirrored closet doors.
These doors move easily on heavy-duty tracks and stand out from the rest of the wall, thanks to their bold and bright frames.
18. Add Dimension to Your Room with Mirrored Doors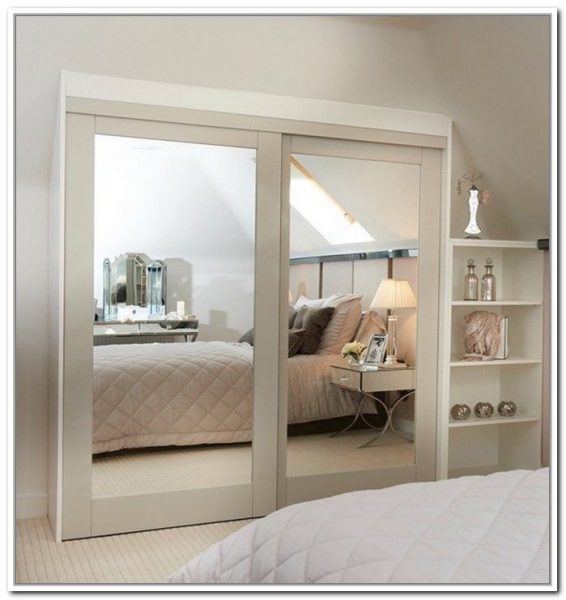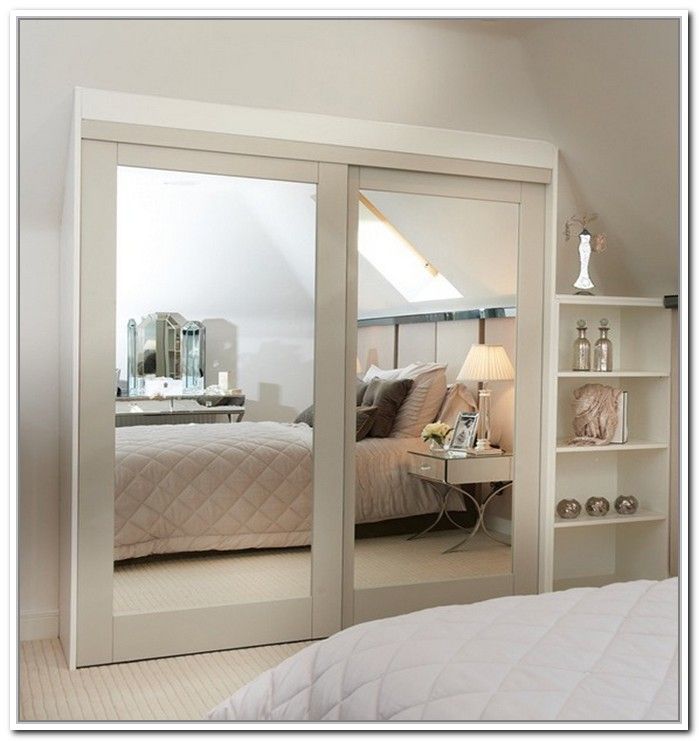 Full mirrors can actually mimic a window in the home when they are kept clean and framed out professionally.
These full mirrors are larger than average closet doors, which helps make them a true focal point of the bedroom.
Thanks to their large design, they stand out and make the room look much more interesting.
These 18 great mirror closet door ideas are sure to inspire you to upgrade your house.
Not only will they make your space look unique but adding mirror closet doors will make your home look larger, more welcoming, and brighter.
Mirrors do a great job reflecting light around the room, ensuring that your home looks bright and airy instead of dark and cluttered.