I'm pretty sure that most of you consider closet doors as something that serves the single purpose of hiding your closet interior, but believe me:
They can change the look of your bedroom tremendously.
…and that's just because there are endless possibilities with colors, materials and designs.
What kind of closet doors are best?
The most popular closet door solutions are bifold, mirrored, frosted glass, curtains, barn doors, sliding doors, french doors and chalkboard.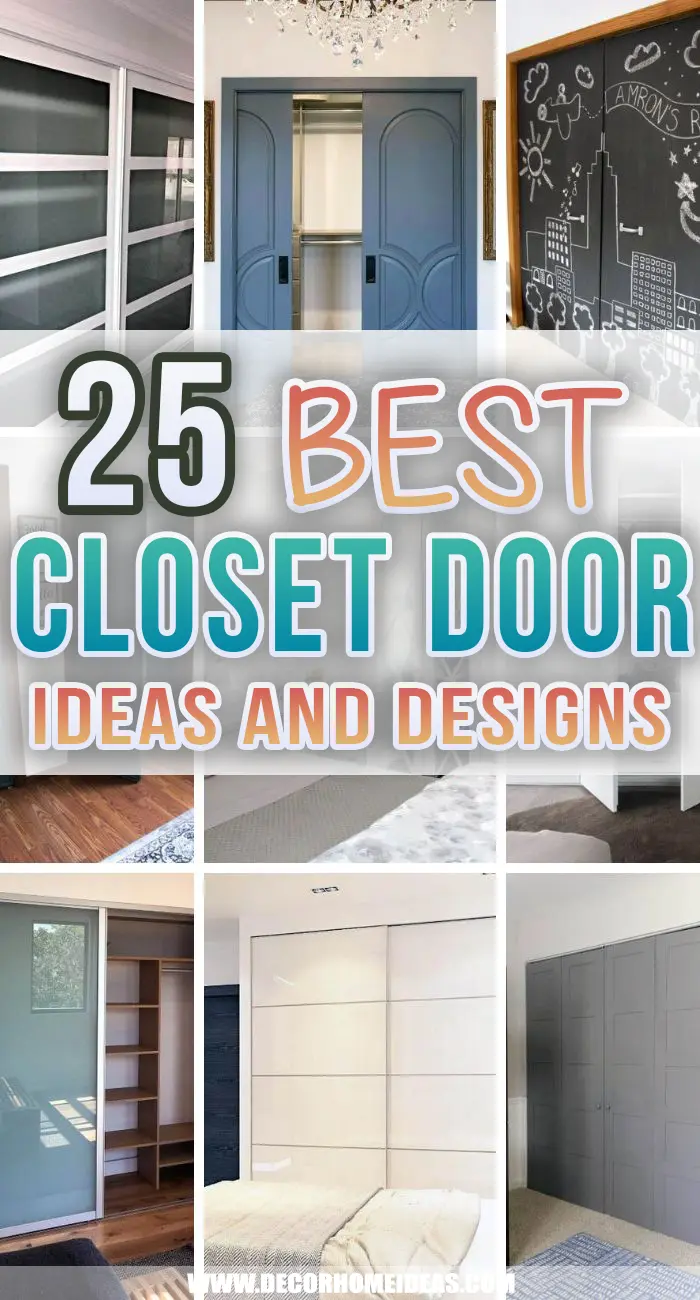 We have a detailed selection of closet door ideas by type:
Which one is the best for you depends on what is the most important for you – design, aesthetics, functionality or the price…and speaking about the price:
How much does it cost to replace a closet door?
It's really easy to add style and personal touch to your bedroom by installing cool closet doors and it doesn't need to be very expensive.
If you hire a pro to do this for you, then you can expect anywhere from $100-250 for the labor plus the cost of the door. A simple curtain is less than $50 while mirrored sliding door could be more than $2000.
However, if you are on a budget, don't worry, there are plenty of affordable DIY projects to choose from. You can use, for example, curtains or barn doors.
What can I use in place of a closet door?
You can use curtains, pocket doors or barn doors.
There are also a lot of ideas on how to cover a closet door and you can do this by either sticking a poster or wallpaper on the door or installing a mirror.
Are there any alternative closet door ideas?
Believe me or not, but you can also arrange your closet in a way that the interior could be so appealing, that you don't need to hide it.
Have you seen those chic closets of celebrities? They are gorgeous and no doors are needed.
Of course, if you need to put something instead of a door, you can try with curtains. We have a perfect selection of curtain closet door ideas here.
Related: 10 Best Closet Door Alternatives
Old closet doors can be very boring but they don't have to be.
These 25 great ideas are sure to inspire you to update the way that your home looks.
They're a fresh, updated look over plain doors and will spice up a room in an instant.
1. Add Glamour with Diamond Mirrored Closet Doors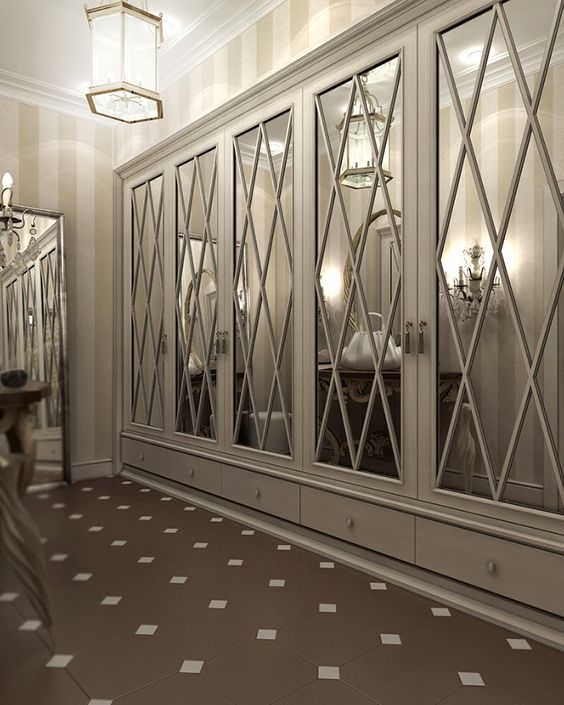 Bold mirrored doors with diamond designs are a fun, fresh look on old doors.
They look especially impressive when they span the entire length of a room and do a great job of making a small room look bigger.
2. Bring Farmhouse Charm with Sliding Mirrored Barn Door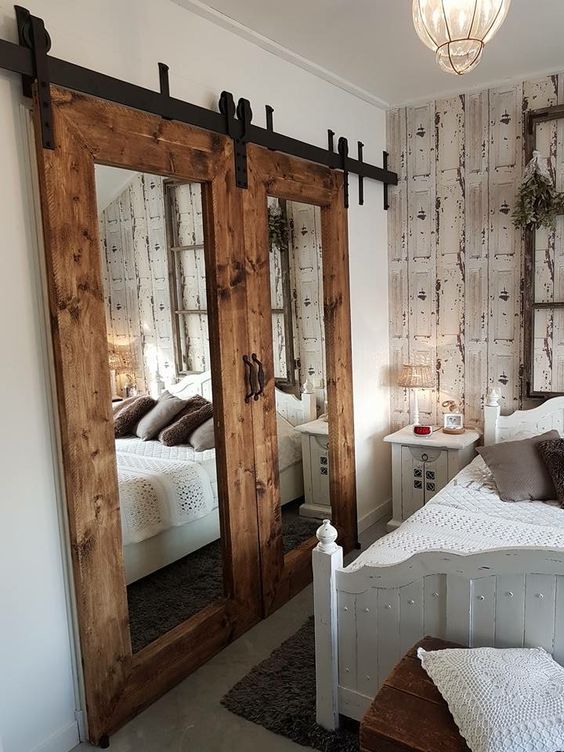 Rustic barn doors with mirrors set in the middle look effortlessly chic in a farmhouse.
Paired with textured walls and a lot of bright neutrals, these doors add a great focal point to any room.
3. Embrace Minimalism with a Curtain Closet Door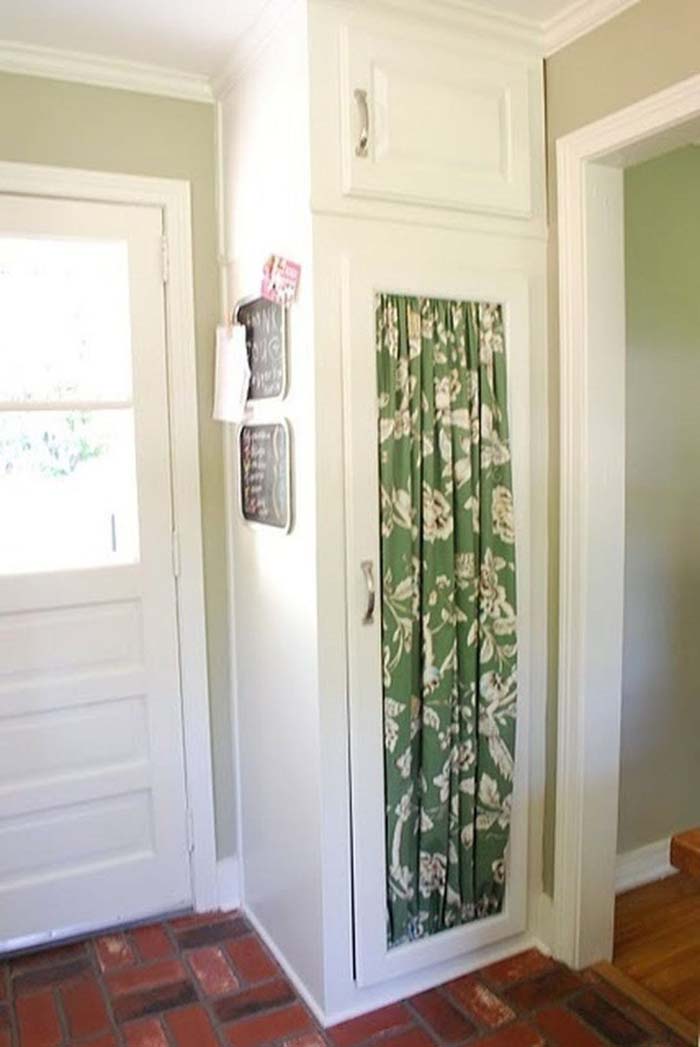 Replacing the inner panel of a closet door with bright, funky fabric makes any space look updated and fresh.
This is a great idea for anyone who loves color and who wants to be able to replace his or her fabric on a whim.
4. Achieve Modern Look with Criss-Crossed Mirrored Doors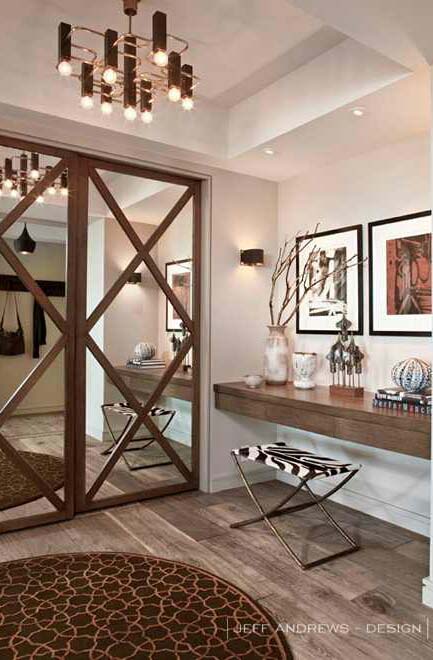 Dark wood criss-crossed across mirrored doors adds accent to the doors and helps to break up the large plain of mirror.
Match the color of the wood to furniture in the room for a very cohesive and impressive look.
5. Unleash Your Creativity with Chalkboard Doors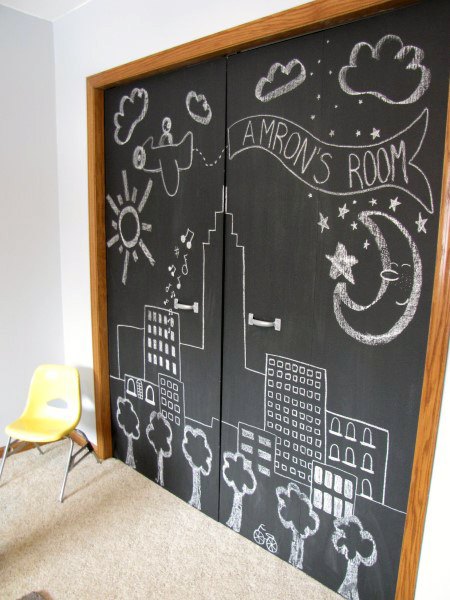 Chalkboard doors are the perfect option for use in a child's room as they call for tons of imagination and fun.
Closet door ideas video:
Since they can be drawn on over and over, this is an update that will keep giving and be loved for years.
6. Get Rustic Elegance with Double Sliding Barn Doors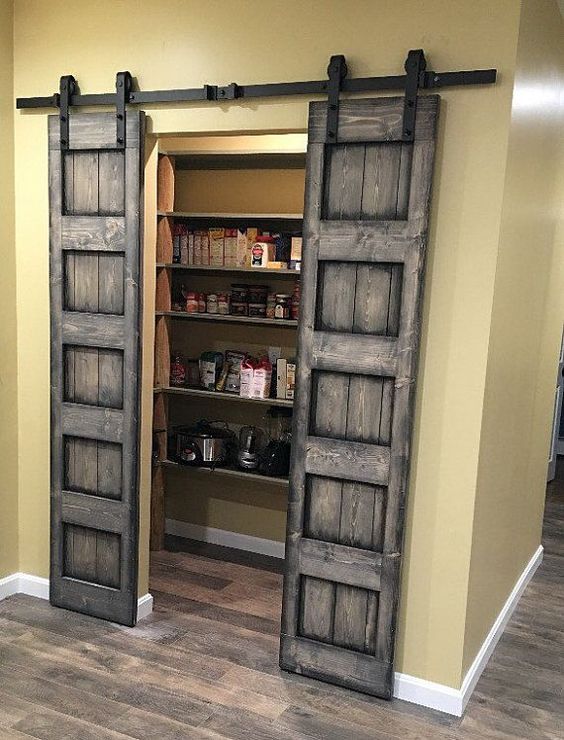 Rustic double sliding barn doors are a great way to hide a pantry and break up a large expanse of wall.
These doors can be a wonderful contrast to lighter colors in the home for an interesting look.
7. Indulge in the Lavish Look of a Swinging Mirrored Door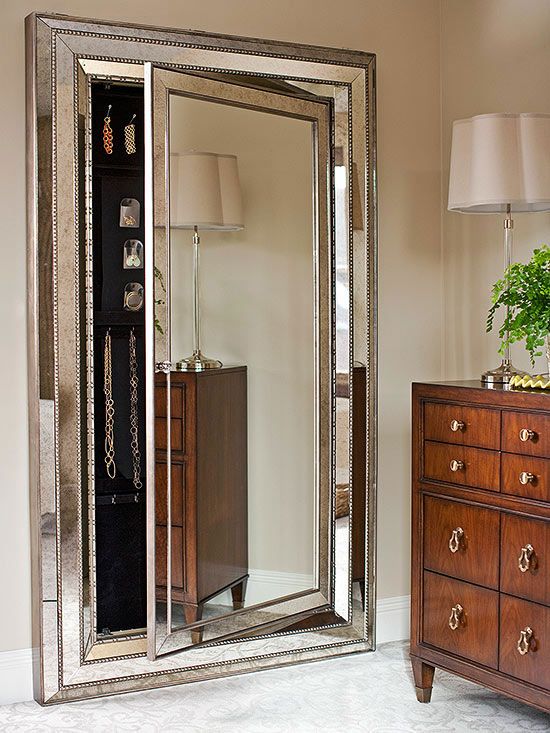 A mirrored door that swings on a central point looks secretive and is a lot of fun.
Make sure that it stands out from the rest of the room by looking for bright mirrored molding to complete the look.
8. Jazz Up Your Closet with Sliding Mirrored Doors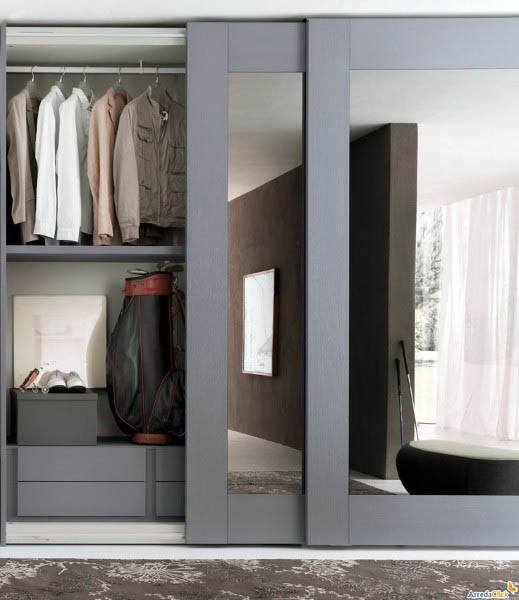 Mirrored doors that are framed with thick gray wood and slide behind each other look very modern and updated.
This is a great way to update a home without a lot of work and to keep it looking cool and chic.
9. Modernize Your Bedroom with Folding Mirrored Doors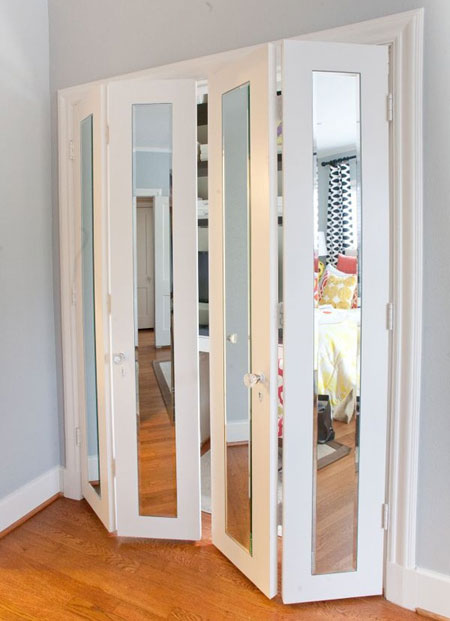 Bright white folding doors enjoy an instant upgrade with slim rectangular mirrors down the center of each panel.
These help to bounce light around the room and can make a smaller room feel much larger.
10. Bring Comfort and Style with Multi-Faceted Mirror Door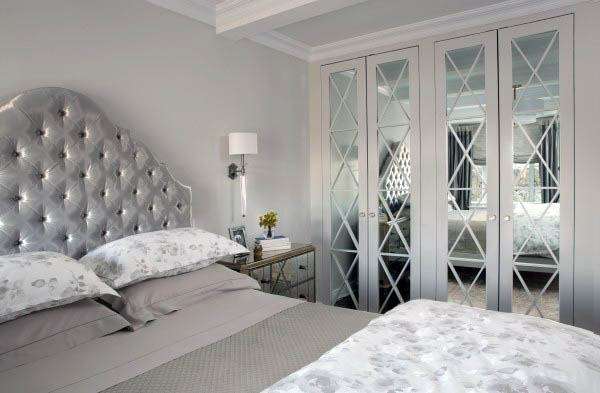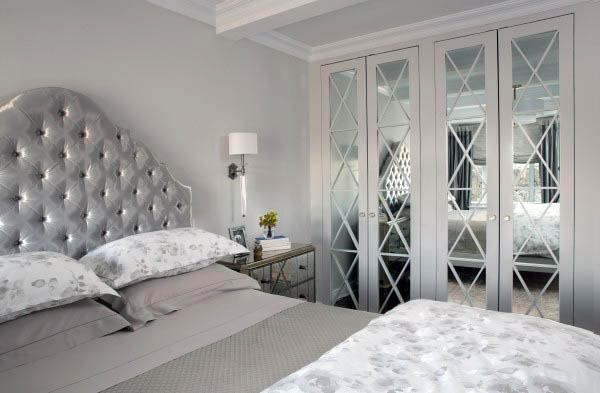 Mirrored doors can be overwhelming but breaking up the mirrors with diamonds makes them appear multi-faceted and interesting, which is a modern look.
11. Add Intrigue to Your Closet with Sleek Gray Doors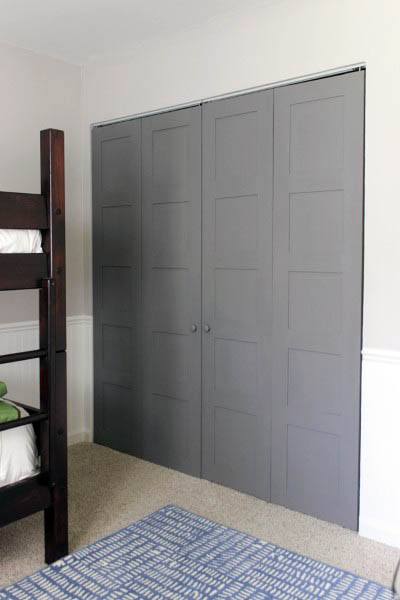 Sleek gray doors make the home look cool and effortless and add a little texture to a very neutral room.
Understated handles in the same color as the doors add to the style and help them stand out.
12. Liven Your Bedroom with White Closet Doors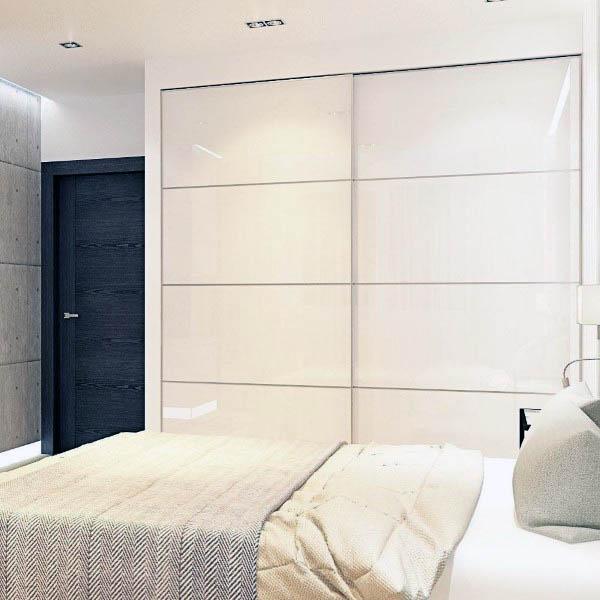 Slick white doors look bright and shiny and help instantly elevate a room to another level.
These gorgeous doors slide behind each other to make them easy to open and to close.
13. Add Lasting Charm with Thin Criss-Crossed Doors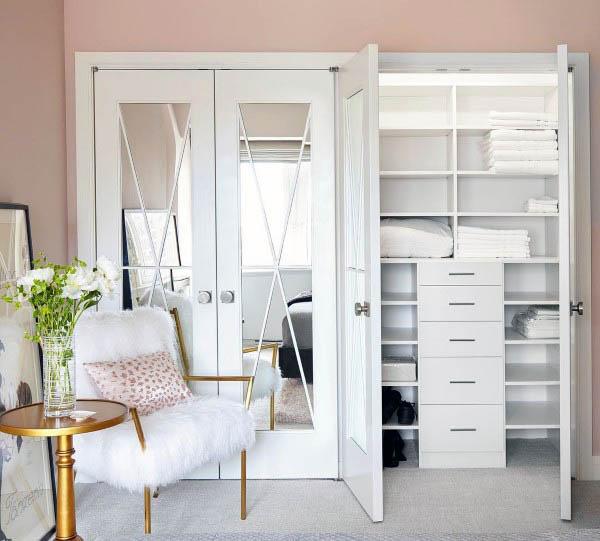 Very thin criss-crosses on mirrored doors help to break up the expanse of mirror.
These doors are white and have handles that seem to disappear into the doors.
14. Get a Polished Look with White Sliding Barn Door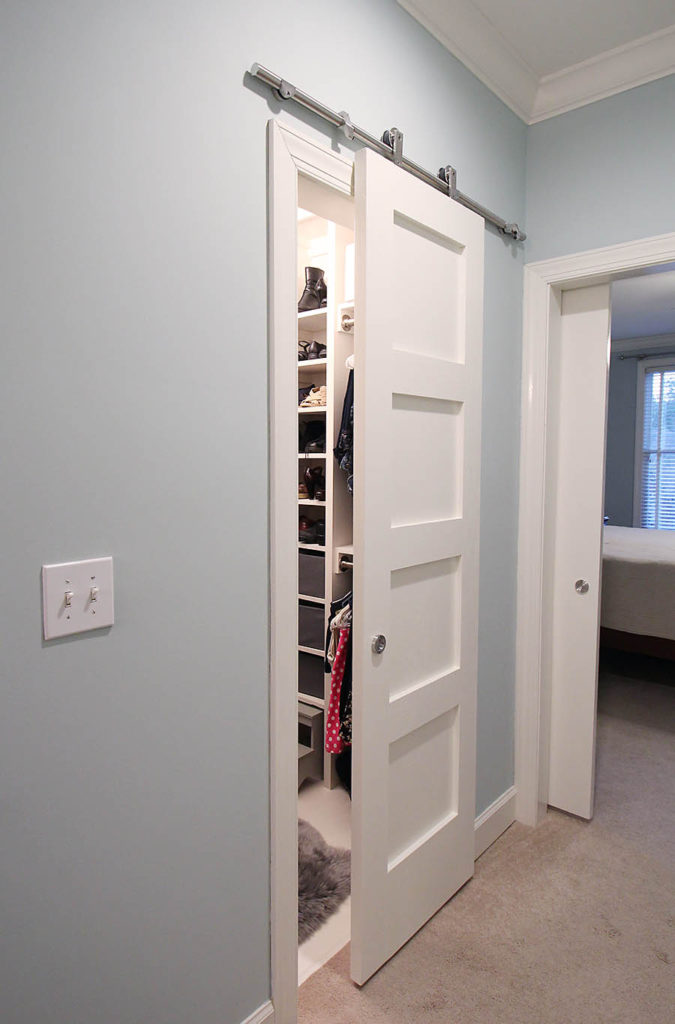 A single white sliding barn door can be a real statement piece, especially when the hardware above the door seems to pop.
This is a great option for a smaller closet where two or more doors would simply be too overwhelming.
15. Bring a Contemporary Vibe with Black Sliding Doors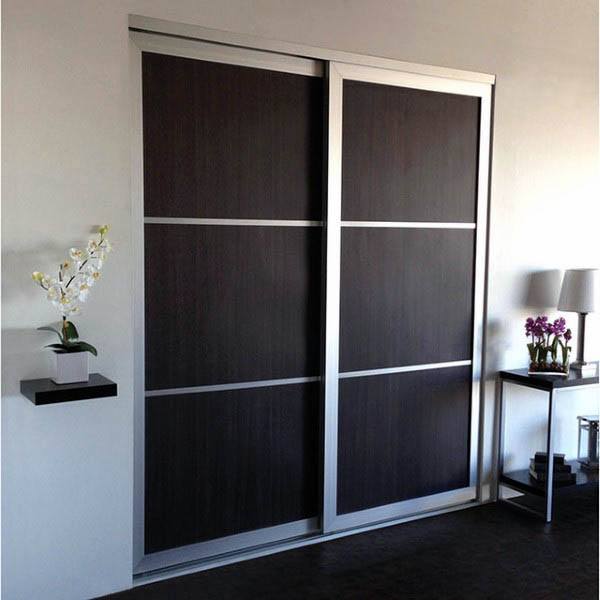 Modern dark sliding doors look moody and impressive, especially when paired with neutrals and minimalist furniture.
Silver accents prevent the doors from appearing too visually heavy.
16. Elevate Your Space with Frosted Glass Closet Doors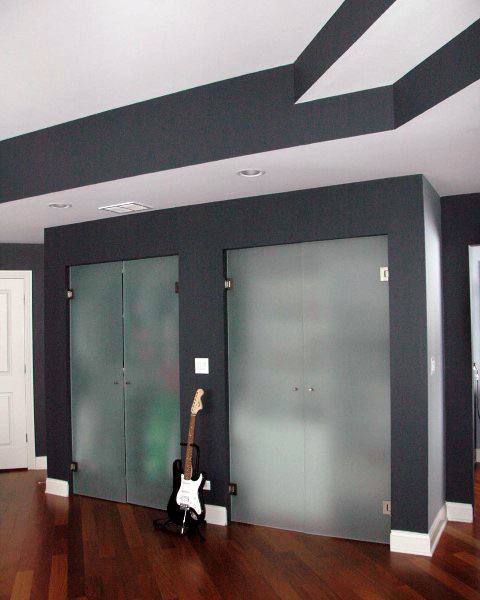 Frosted doors allow the color of the items in the closet to show through a little, which is an interesting look and helps to break up the monotony of the room.
Because they are frosted, however, there is still privacy.
17. Illuminate Your Bedroom with Modern White Doors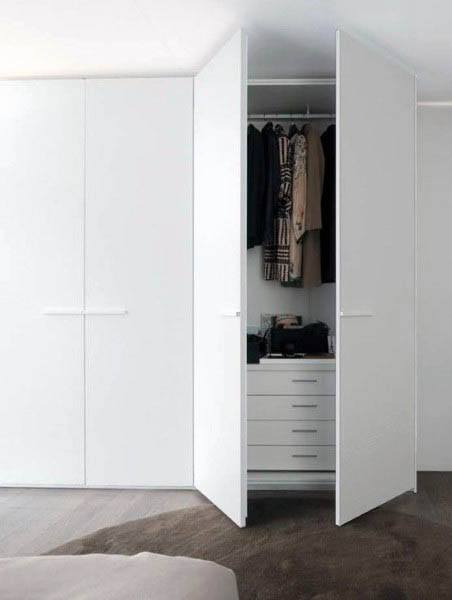 Modern bright white doors with large rectangular handles look very modern and minimalist, which makes them perfect for use in updated homes and rooms.
They complement white and neutral décor incredibly well.
18. Add Texture and Character with Teal Doors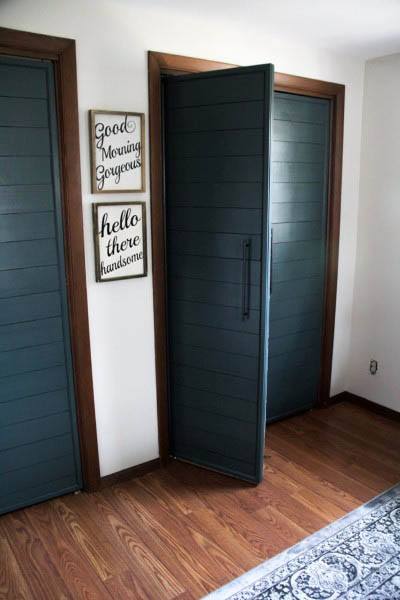 Doors don't have to be boring as these textured teal doors prove.
The bright pop of color makes them a wonderful focal point in any room and the texture prevents them from being overwhelming.
19. Make an Impression with Light-Frosted Mirrored Doors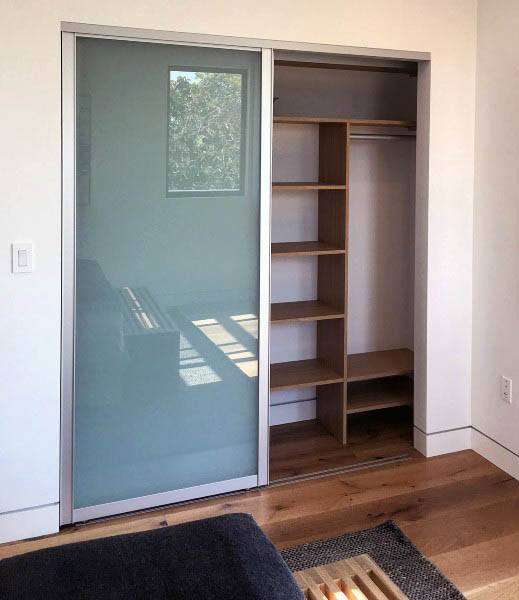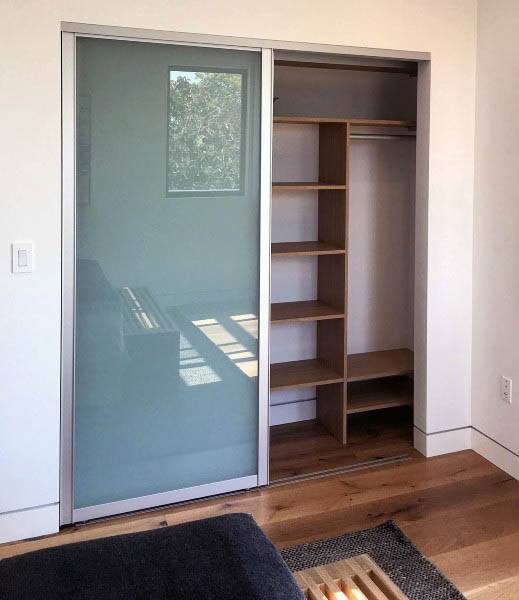 Lighter frosted mirrored doors that slide behind each other can easily be moved out of the way when you need to get something out of the closet.
They look great when surrounded with silver or gray.
20. Stand Out with Board and Batten Doors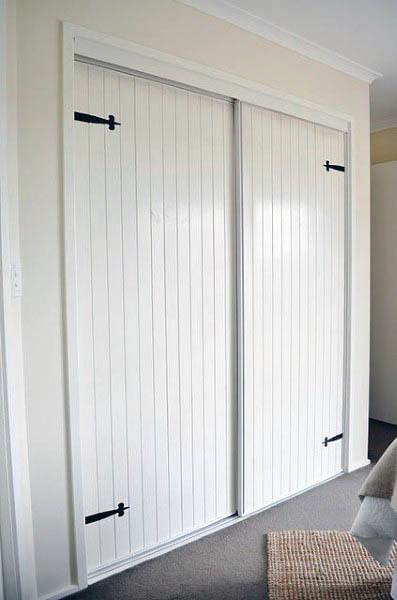 Board and batten adds great texture and instantly improves the appearance of these doors.
Thanks to the vertical lines, the doors also look much taller, which will make the room look bigger as well.
21. Transform Your Bedroom with Grid Sliding Doors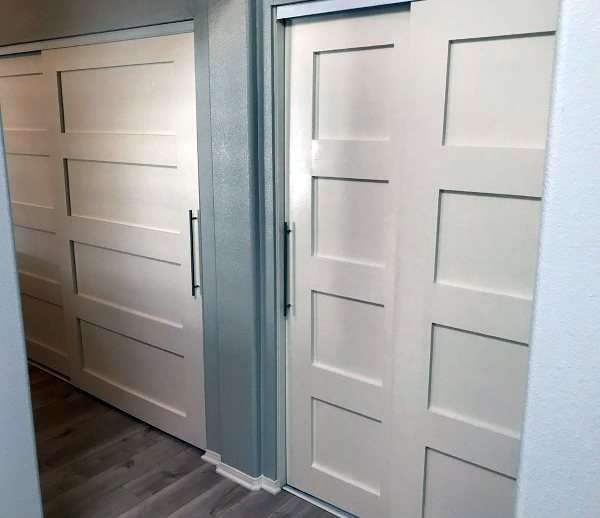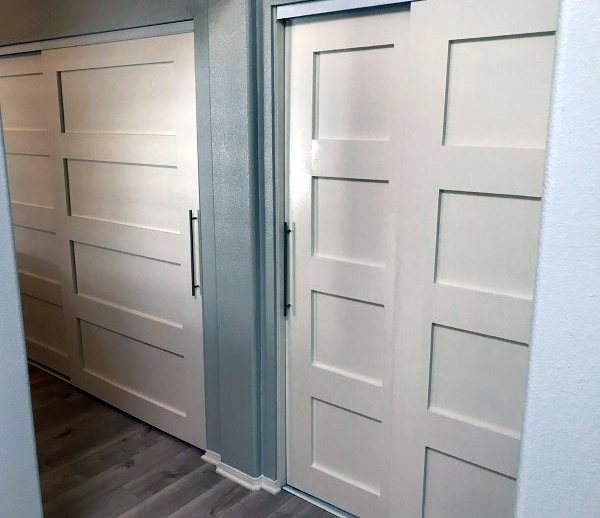 Sliding doors with large grids are visually interesting but not overwhelming.
Painting them a neutral colors helps to keep them from being too heavy in the space.
22. Create a Glamorous Bedroom with Curved Blue Doors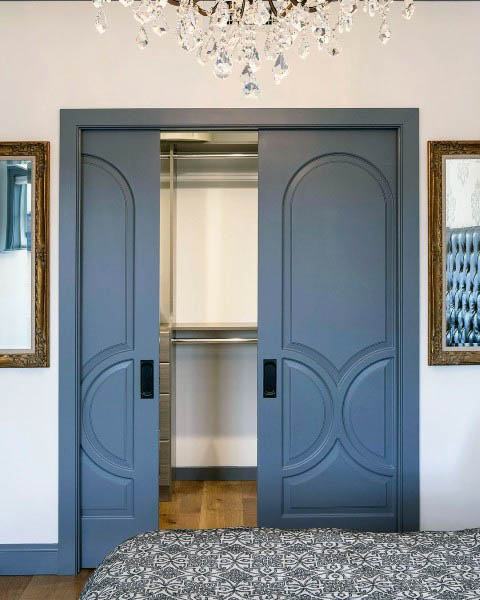 Intricately carved doors that are painted a pop of bright blue will draw the eye and make people curious.
These sliding pocket doors look amazing whether they are fully or only partially open.
23. Add Splendour to Your Home with Sliding Pocket Doors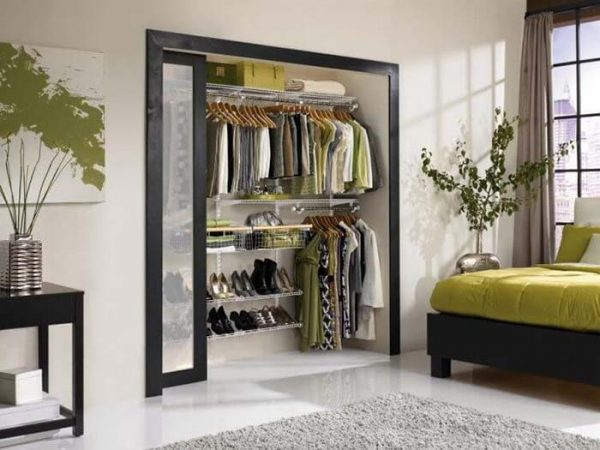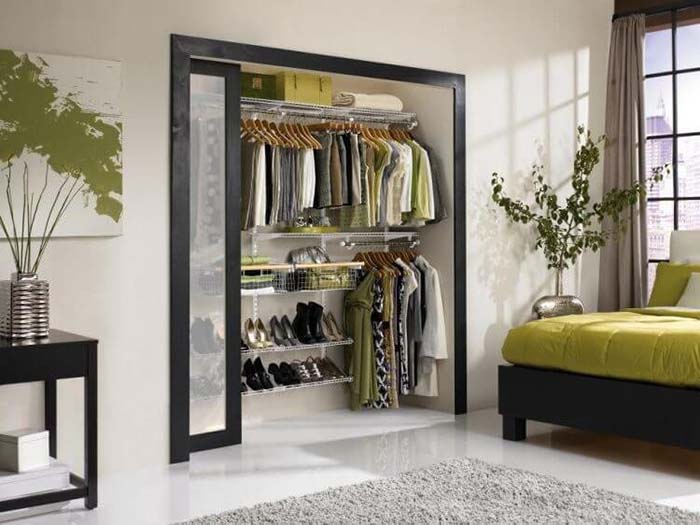 Sliding pocket doors make it easy to get into the closet when necessary. Black trim helps ensure that the closet really pops.
Using frosted glass on the doors ensures that they look very interesting and updated.
24. Create a Lavish Look with Loose Flowy Curtains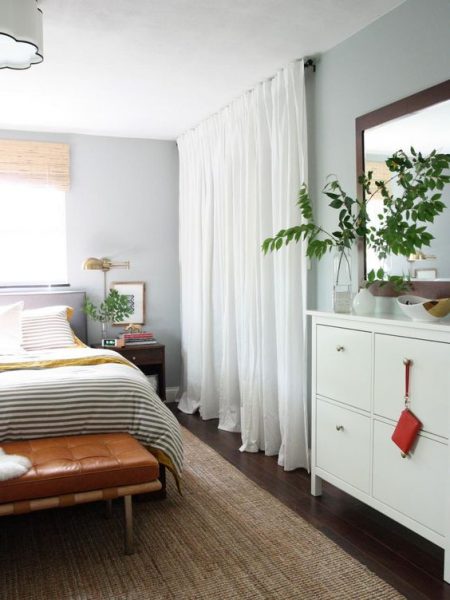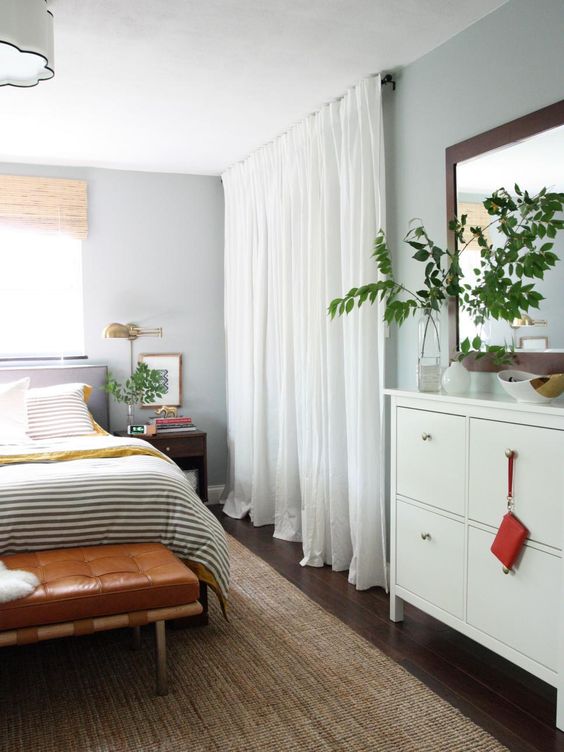 Loose, light curtains that flow gently in the breeze make a room look very feminine and attractive.
These curtains can easily be taken down and washed if necessary, making them a great option in any busy bedroom.
25. Add Style and Sophistication with Sleek Mirrors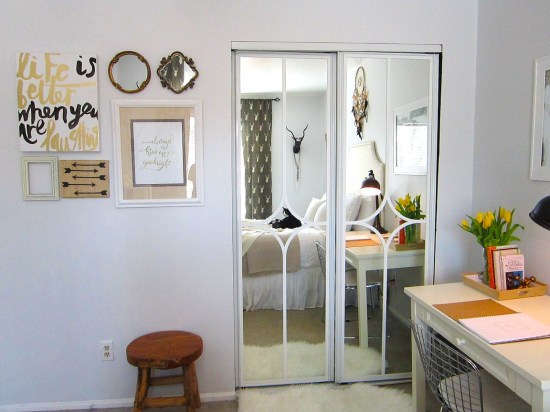 Sleek, modern sliding doors get an instant update with some lined designs across the middle with a diamond centered in the door.
Using white paint helps tie the doors together with the rest of the décor in the room.
26. Deck the Halls with Modern Wardrobe Doors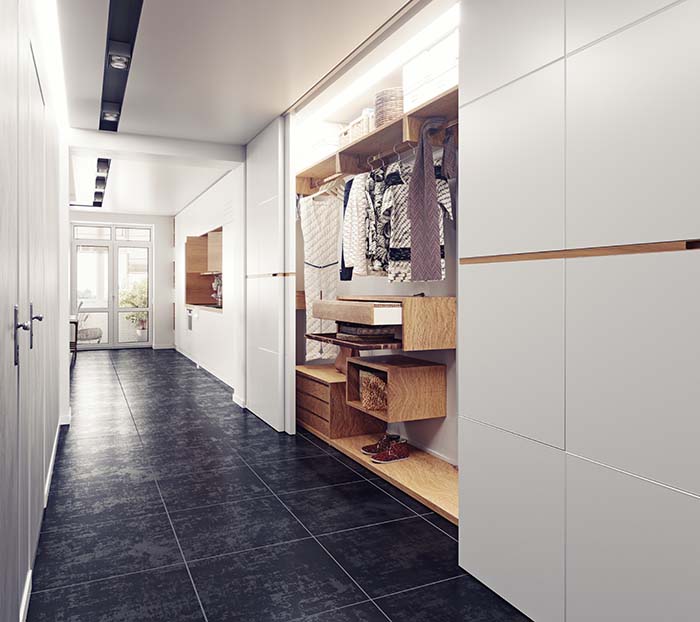 Closet space could be placed in the hallway and covered with sliding closet doors. This type of closet door is much easier to operate than the traditional closet door or bi fold door. You can choose your own design – like mirror door, glass door or barn door.
Any of these fun designs are sure to spice up your bedroom and make you fall in love with your closet doors all over again.
Replacing your old doors with one of these designs is a great option for any home.

My personal opinion is: make your closet blend with the rest of the room interior or you can go bold and make it stand out!