If you are looking to replace your old closet door or just not too fancy about an ordinary door, we have selected some closet door alternatives that look nice, don't cost a fortune and are easy to install.
…because, a home without a closet is no home at all, right?
Although closets are often underestimated or ignored in interior design and home decoration, they have their charm and beauty. Above all, they are the king of storage and organization.

The most popular way to separate a closet from a room is by using closet doors ( either bi-fold or hinged ), but if you want something different or are bored with the standard doors, we have selected the best closet door alternatives with their pros and cons.
1. Maximize Space with Closet Pocket Doors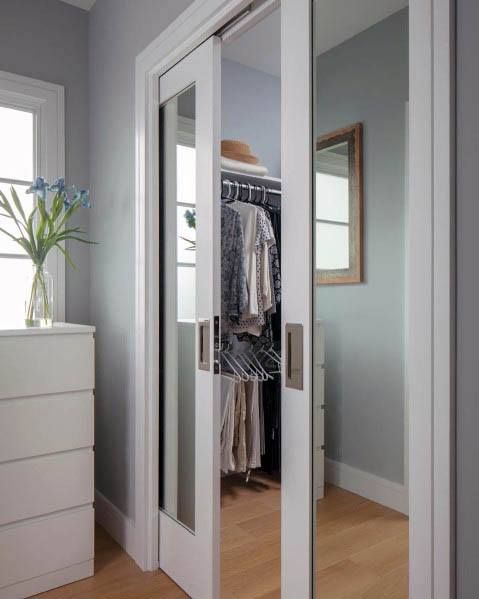 These doors are an excellent option for anyone looking to save some space when adding doors to his or her closet.
They are perfect for cramped spaces because the doors slide easily into the wall when they need to be opened, making them one of the most popular closet door alternatives.
Unfortunately, it is very difficult to install pocket doors, so homeowners often need to hire a professional to do the work, which will add to the final price of the door.
However, having a door that moves out of the way is worth it for some homeowners, especially those that can't afford a luxury walk-in closet.
2. Add Modern Flair to Your Home with Curtain Closet Doors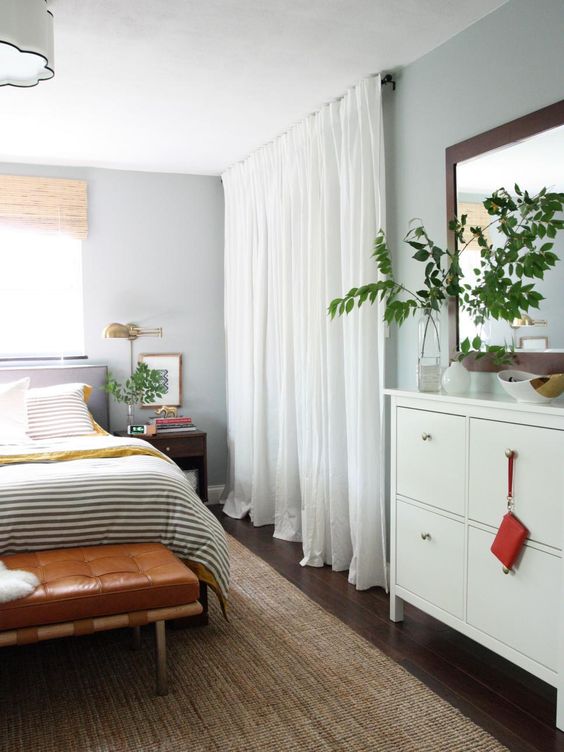 This is one of the most versatile options for people looking for an alternative to their doors.
Since it's easy to buy or make curtains in various fabrics, colors, and designs, they can be custom-made to fit the space and the décor perfectly.
Additionally, they're relatively easy to put up, change, or wash and aren't expensive.
The downside to curtain closet doors is that they don't always fit naturally into a room and some people think they are a bit of an eyesore.
Children can accidentally pull them down out of the door if they are not careful. Still, curtains are a closet door idea you should consider if you are on a tight budget.
3. Add Lasting Charm with Louvered Closet Doors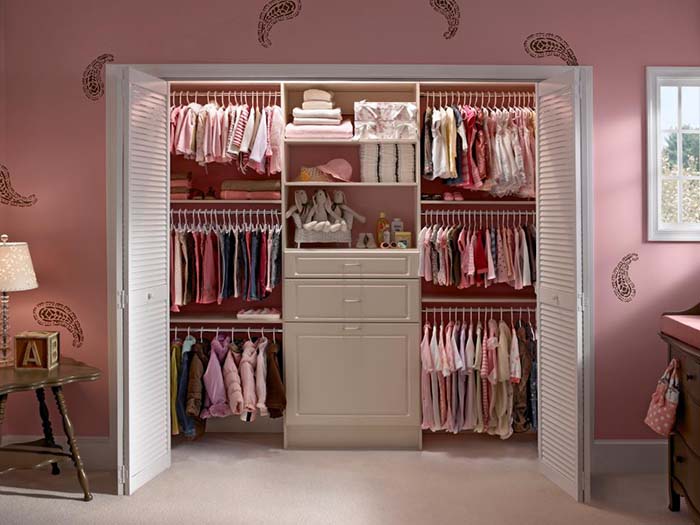 Photo: Credit
These doors open quickly to the side, allowing anybody to easily access almost every part of their closets.
The doors are on tracks that allow them to slide effortlessly and soundlessly when opening and closing, making them a quiet option.
Many louvered doors, however, are hard to keep clean due to the slatted design of the door. This means that they can quickly get dusty.
Some doors also tend to come out of the tracks. Since they can be difficult to readjust, this is frustrating for homeowners to deal with.
On the positive side – the slats in the doors allow the air to circulate inside the closet and create natural ventilation.
4. Bring Rustic Elegance with a Beads Closet Door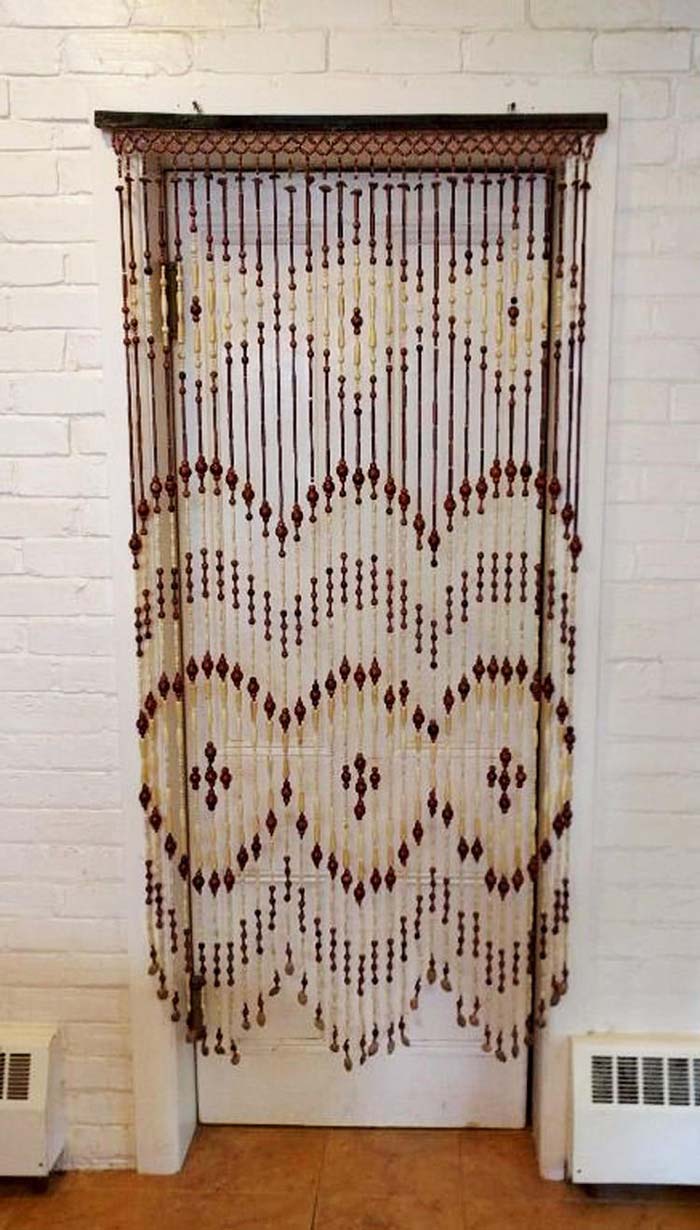 Photo: Credit
Beads make it incredibly easy to access the items inside a closet without opening a door.
It's a simple option for any homeowner who wants to add a pop of color and texture to their room without sacrificing a closet's hidden storage.
As with other alternatives, however, beads do have a few drawbacks.
One is that they can be hard to hold out of the way when trying to get something out of the closet. Another issue is that they can be noisy.
5. Indulge in the Lavish Look of French Closet Doors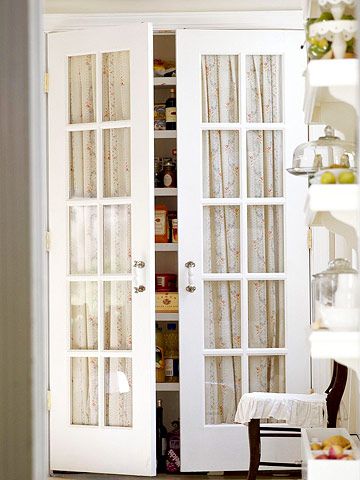 Photo: Credit
These doors look striking when used instead of closet doors, partially because they come in pairs.
They often have glass panels along the length of the door and swing easily out from the wall, making them very visually appealing.
One issue with these doors is that the glass panels can easily show off a messy closet, making some people feel uncomfortable in their rooms.
While it's possible to add curtains or frosted glass to French doors, this cuts down on the light and airy feeling that they provide space.
6. Add Style and Sophistication with Room Dividers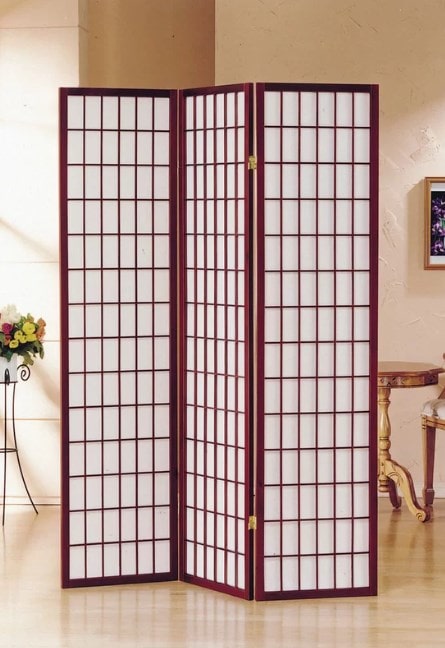 Photo: Credit
Stylish room dividers are generally inexpensive, making them an excellent option for any homeowner on a budget.
They are a great way to add privacy to a room without overspending while adding a touch of style to the space.
Since dividers will hide that a closet door is missing, they may not be the best option for homeowners who will not be happy knowing that their rooms are incomplete.
They also occupy more space in the room than a traditional door would. , but they could be easily replaced or removed, so it's an excellent option for renters.
7. Bring Farmhouse Charm with Closet Barn Doors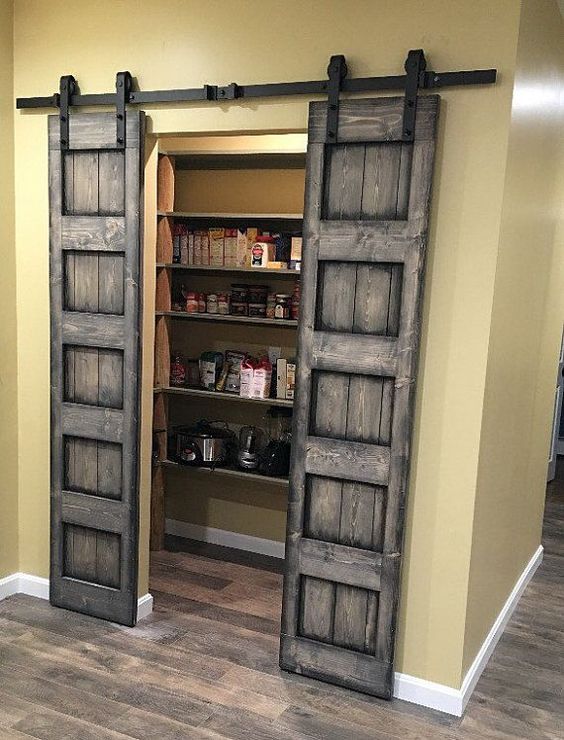 Located on tracks above the door, barn doors quickly turn a closet from utilitarian into the room's focal point.
They are striking and add a lot of visual interest. As long as the track is hung correctly, barn doors are easy to open and close and don't take up space in the room by swinging out.
Unfortunately, the hardware for these doors can be expensive, making them cost-prohibitive to install.
Additionally, they must be hung perfectly, or they will not be easy to operate, which is frustrating, especially for children.
They are a good option for adding a more rustic or vintage look to your room.
8. Get a Polished and Trendy Look with Swinging Closet Doors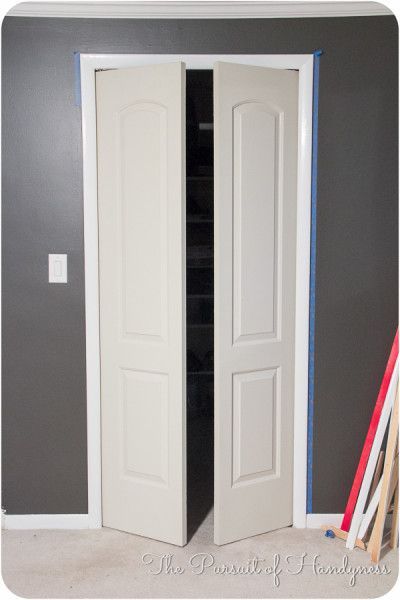 Saloon-style doors swing in both directions, making them a great option for use in a larger closet where they can move freely.
They are an excellent option for any room that feels cramped or cluttered, as they instantly make it much more open and airy.
As far as closet door ideas go, swinging doors don't have a lot of drawbacks.
They can be noisy when shut, and some homeowners may struggle to find ones that provide them with full coverage in the doorframe. However, those are the only real drawbacks.
9. Add a Touch of Elegance with Mirrored Closet Doors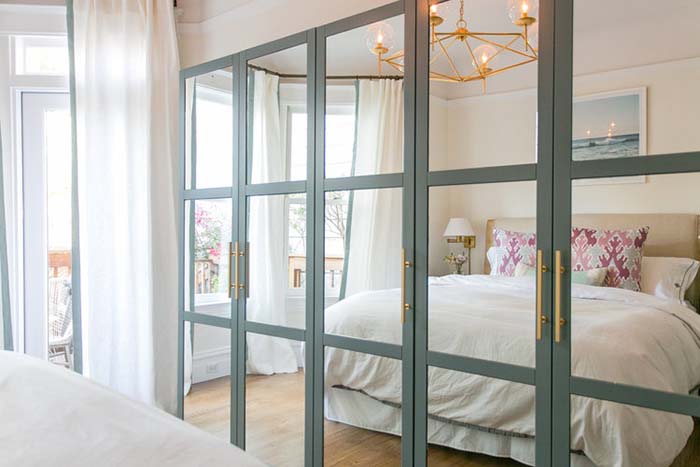 Mirrored closet doors do a fantastic job reflecting light around a space, making it feel much airier and more open.
Since they are often decorated with gorgeous trim and handles, they can make any bedroom feel like an escape and a personal haven.
The problem with mirrors is that if a room is messy, they will reflect that mess, making it feel more cluttered and busy.
Additionally, they need to be cleaned regularly to look their best and aren't dirty, hindering their ability to reflect light.
10. Bring Character And Warmth with Accordion Closet Doors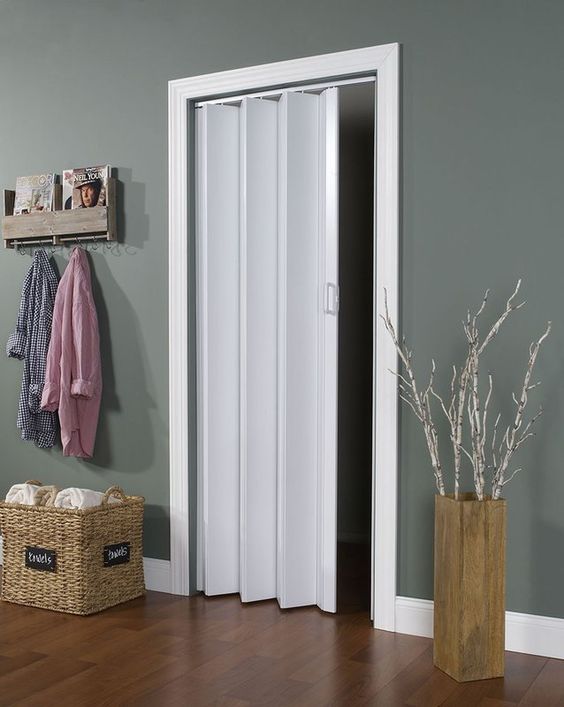 Photo: Credit
Unlike some other ideas for closet door alternatives, accordion doors are a great way to save space in the room and still allow easy access to the items in the closet.
These doors fold in on themselves so they don't take up a lot of room. They are light, inexpensive, and easy to hang. Since they stay in the doorframe, however, they can make it difficult for some people to reach the entirety of the closet.
Additionally, as they fold up on themselves, they often make a loud clacking sound that can wake others. Another downside of an accordion door is they are made of plastic so they tend to age and break.
So, after seeing all these alternative closet door ideas, is it worth replacing your closet doors with an alternative option?
The answer is – it depends. Before choosing the perfect closet door, there are too many variables to consider.
Frequently Asked Questions:
This article will also answer the most common question:
What can I use instead of a closet door?
Even though some alternatives are expensive or hard to install, some DIY options are cheap and easy to try.
How can I cover my closet without a door?
There are several options for covering the mess in your closet without installing a door. These include – sliding doors, glass pocket doors or hung curtains.
What can I use instead of bifold closet doors?
The most popular option is to install a sliding door. There are plenty of Youtube tutorials on installing a sliding closet door.
What is a bypass closet door?
One door passes by another door. Bedroom closet doors with this arrangement are sometimes called bypass doors.
Where can I find some affordable closet door alternative options?
What we recommend is to check the options on Wayfair HERE they are high in quality and would suit different tastes.