Curtains are a nice accessory to add to your home, but only until recently they were not even considered as a replacement for closet doors.
This has changed, though, and many homeowners and interior designers now see the benefits of removing the door and putting a large curtain there. Curtains are recognized as one of the best closet door alternatives.

Just pick the fabric you like and a color that matches the rest of your room's interior, and you have a calming, cozy and welcoming gamechanger to set the atmosphere.
Another thing you can use curtains for is to add a huge splash of color right in the center of the room! You can either match your window curtains or go in a brave new direction.
In this list, we will show you some of the best ideas for curtain closet doors we found, explain why they work so well, and give you tips on how to choose curtains.
1. Upgrade Your Walk-In Closet with a Glamorous Curtain Door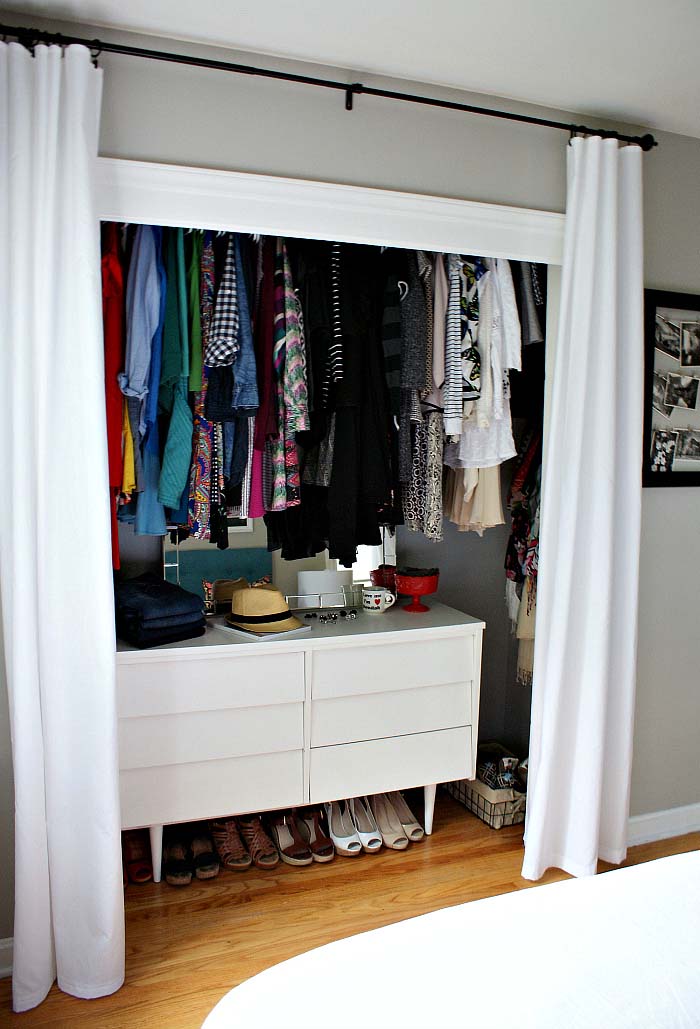 Photo: Credit
A walk-in closet is obviously for things you have many of.
And, be it books, clothes or hobby stuff, quite possibly you are proud of your collection and want it accessible, well arranged and easy to look through.
Here enters the curtain closet door: it makes it easy to enter and draws attention towards the closet, possibly making it the centerpiece of the room: a good way to highlight the contents, which would usually remain hidden to visitors.
2. Unlock Endless Design Possibilities with Matching Curtains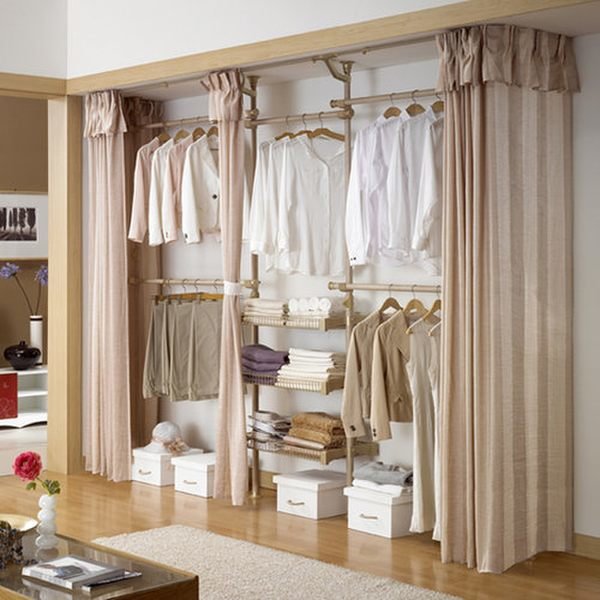 Photo: Credit
There are several items in any room you can match your curtains with.
But the addition of more curtains gives you an open license to experiment, either by matching the window curtains for a uniform stylish look, or going wild with an entirely new color, to splash energy into the room.
Here the owner went for a subtle tone to supplement the calming atmosphere of their bedroom.
3. Balance Style and Comfort with Your Curtain Closet Doors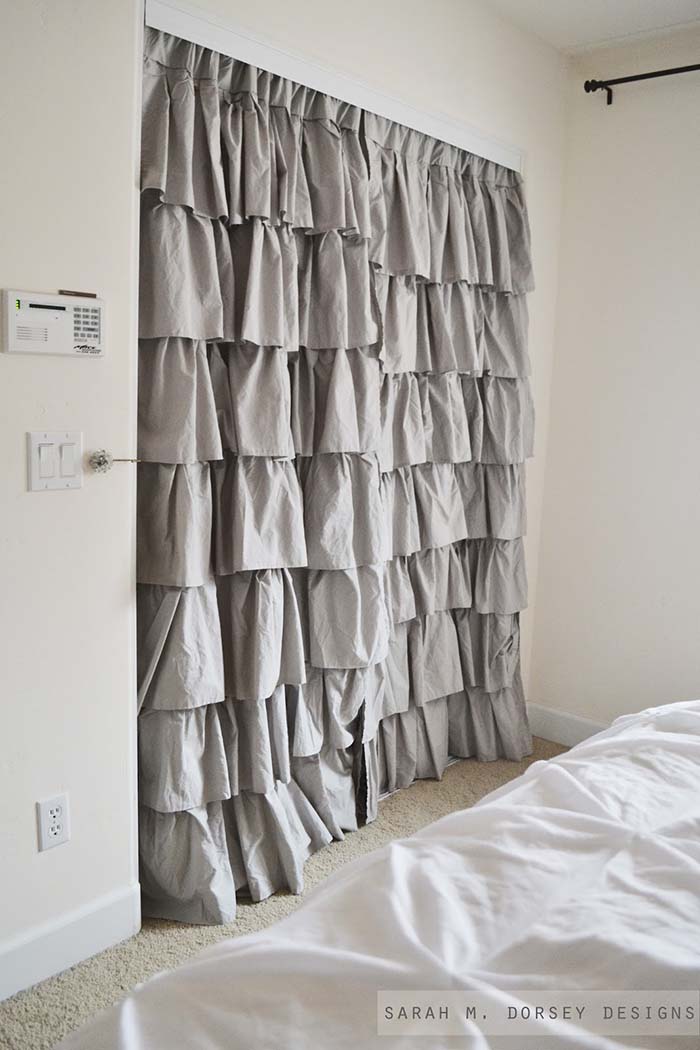 Photo: Credit
One thing curtains are great at is creating texture.
Walls or the doors of a closet are smooth surfaces, which reflect light evenly across the room.
Curtains, however, can be gathered or hanging loosely, giving the sense of texture and detail, while still maintaining a tidy look.
4. Enhance Your Small Closet with a Curtain Door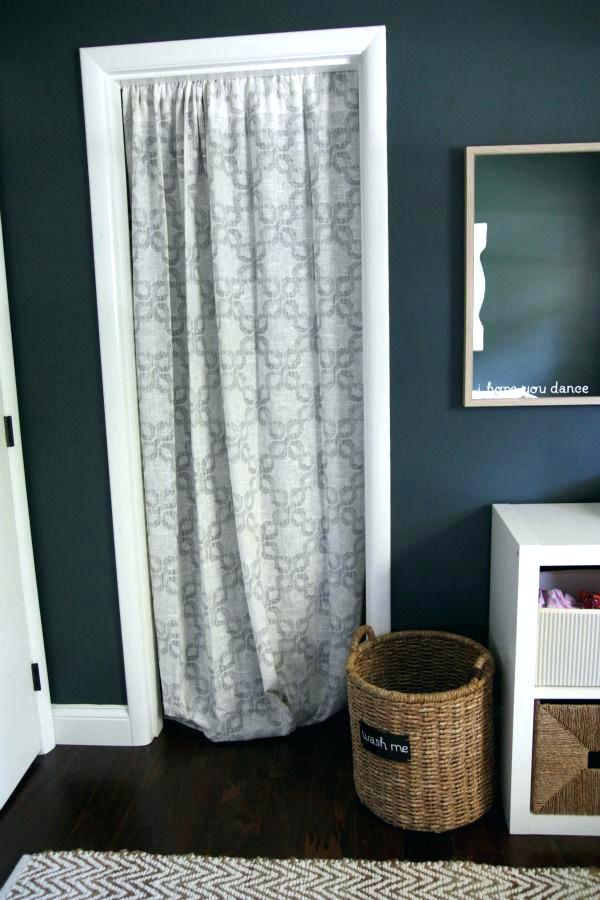 Photo: Credit
Not only walk-in closets could use curtains instead of doors.
Smaller closets are fine too, as long as you need the variety: curtains are an extremely flexible accessory, which can vary in length, width, fabric, pattern and color.
You can even put a curtain inside the closet to hide just a specific section of the interior.
5. Refresh Your Room with Stylish Curtain Doors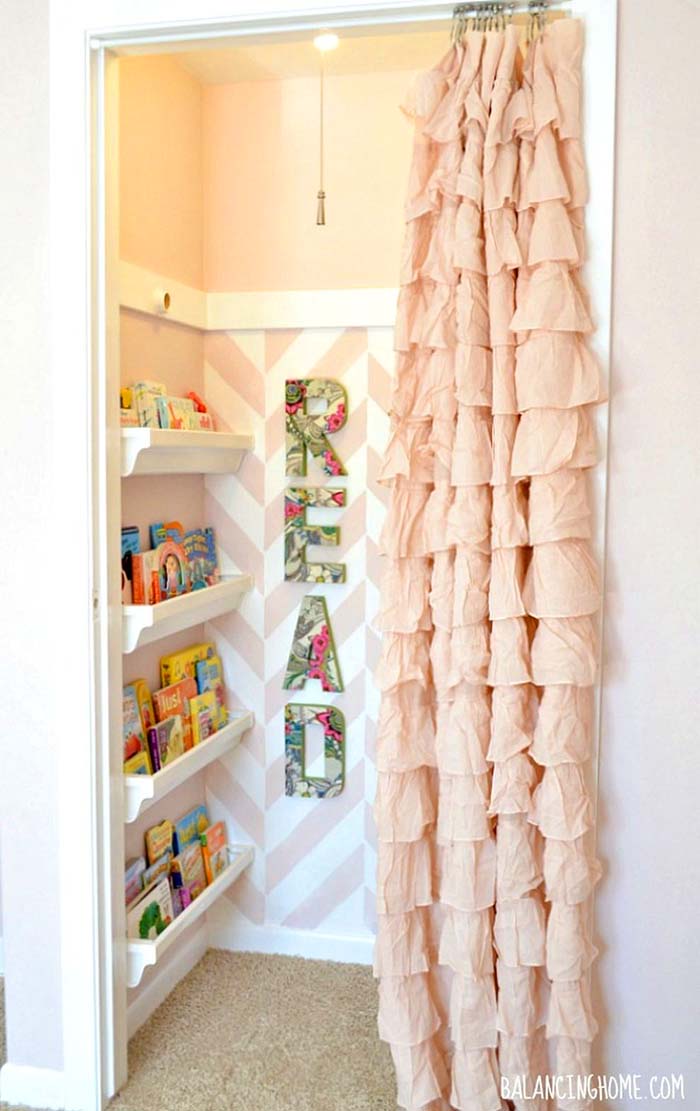 Photo: Credit
If you are a fan of sewing, you can go to great lengths with what your curtains look like, but even if you are not, there are plenty of options around.
Decide on a fancier and sophisticated, warm and comforting or plain and elegant look based on the way your room looks.
It's just a great idea on how to use curtain for closet door.
6. Keep it Private with Curtain Closet Doors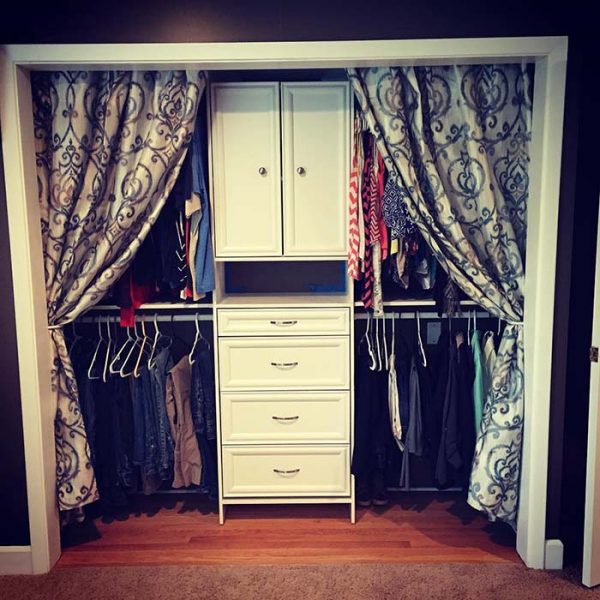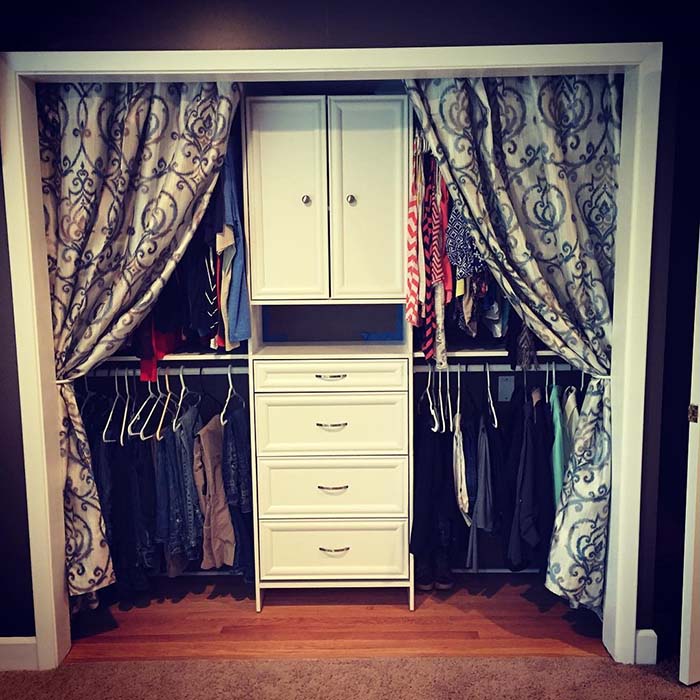 Photo: Credit
Closet doors usually hide the contents of the closet.
What if you want to show what is inside, though?
Bravely boast the cool pieces of furniture, the cool clothing or the awesome floor you have by leaving the curtains tied to the side as in this photo.
The added accessibility is an additional bonus. Want to hide something? Just close the curtains.
7. Access Your Closet's Contents Easily with Sliding Curtain Doors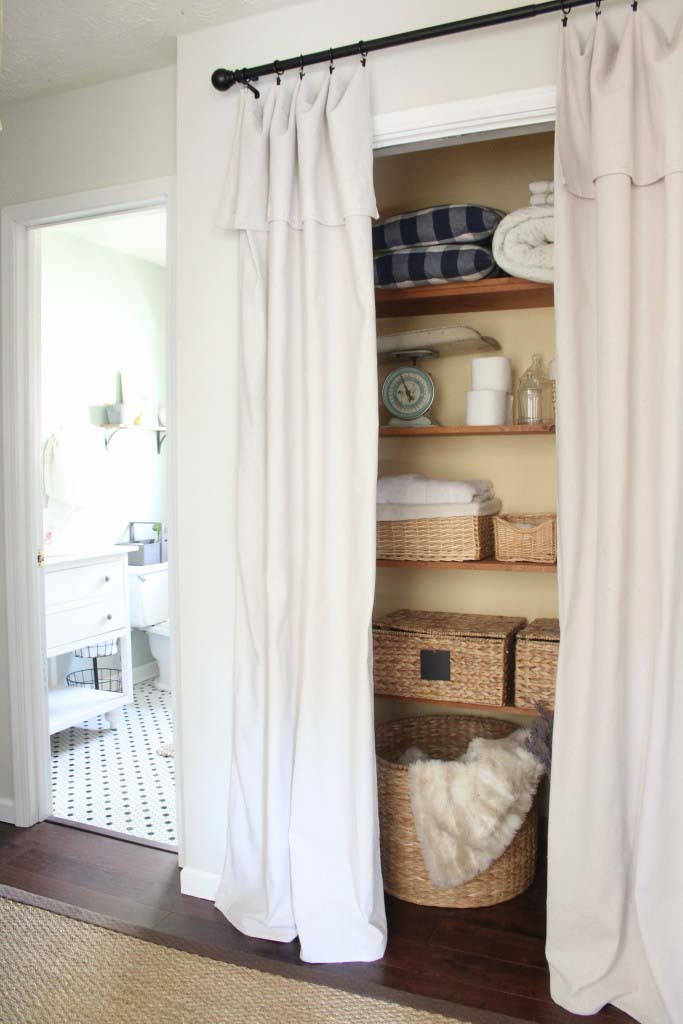 Photo: Credit
Lifting the curtain to the side looks cool, but it could let the curtain get in the way too much.
To turn the curtain door into a sliding door, you will need some clippers designed to attach the fabric to the rod.
They consist of huge rings, which go around the rod and clippers, which attach the curtain to the rings.
To get sliding curtains, just buy a big piece of cloth of your choosing and carefully cut it in two equal parts. They could fit perfectly with a farmhouse decoration.
8. A Touch of White to Brighten Up Your Room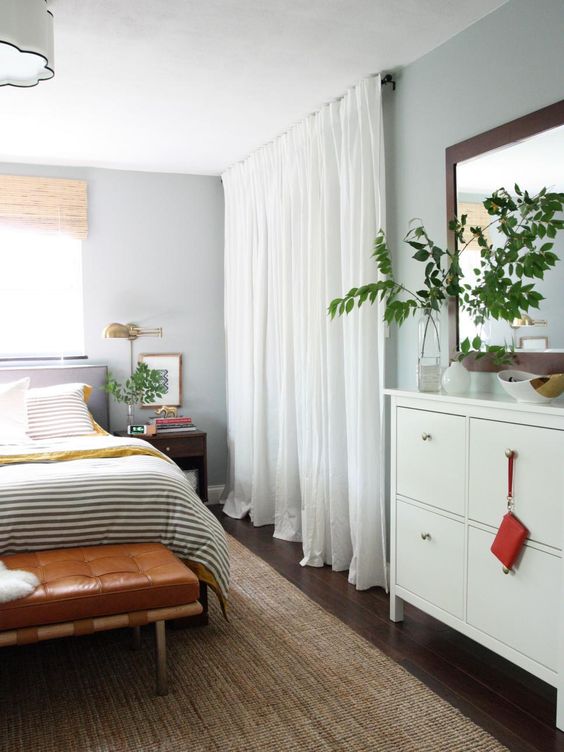 Photo: Credit
In this picture the curtain is used to cover a storage unit, but it could be either a window, or a passageway.
What it does to the exterior is basically add some texture and coziness to an otherwise compact bedroom.
The white color lets the curtain have a strong presence and drastically changes the look of the place without drawing all the attention.
9. Upgrade Your Bedroom with Luxurious Curtains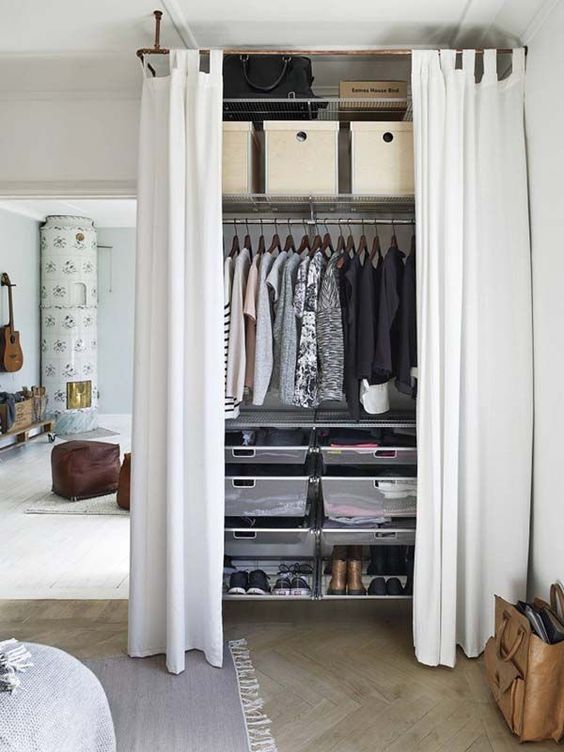 Photo: Credit
Closet curtains are a nice match for a bedroom.
Soft, calming colors and a smooth relaxing surface will create a different atmosphere from the one of the sharp edges, hard wood and even reflective surfaces of an wooden or metal door.
10. Add a Pop of Color with Pink Curtain Closet Doors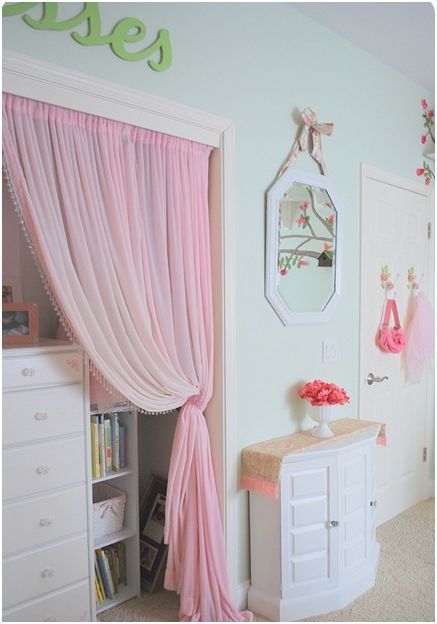 Photo: Credit
What looks like a girl's room can only benefit from this curtain taken straight out of a princess fairytale.
The pink color matches some  of the stuff, left around the place, but also serves as a great way to introduce color without buying furniture, which would seem out of place in a few years.
11. Enjoy the Convenience of Curtain Closet Doors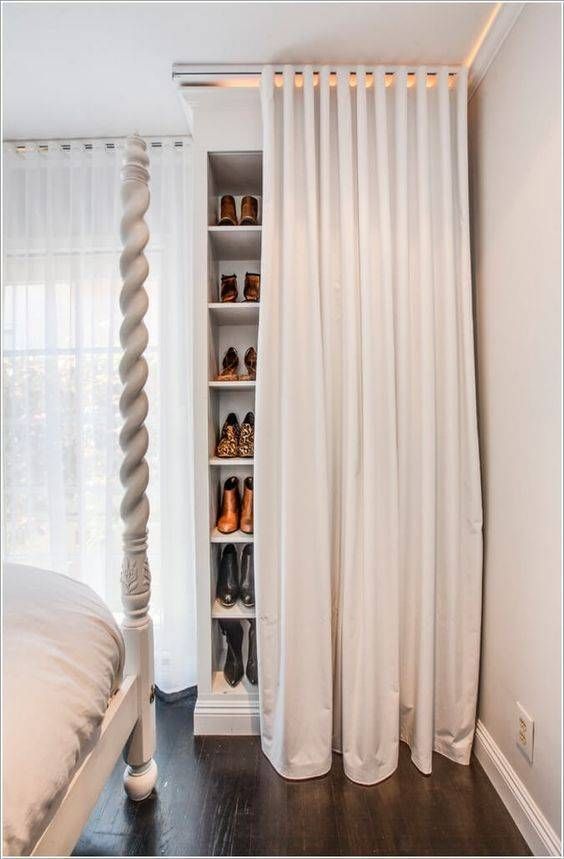 Photo: Credit
Curtains have several main advantages over actual doors.
One is that your home doesn't look messy and unkept when you forget to close them.
While an open closet normally has the door standing as an obstacle, and keeping you from moving around the room, curtains are tightly kept aside and let you move freely.
12. Create a Sophisticated Look with Curtain Closet Doors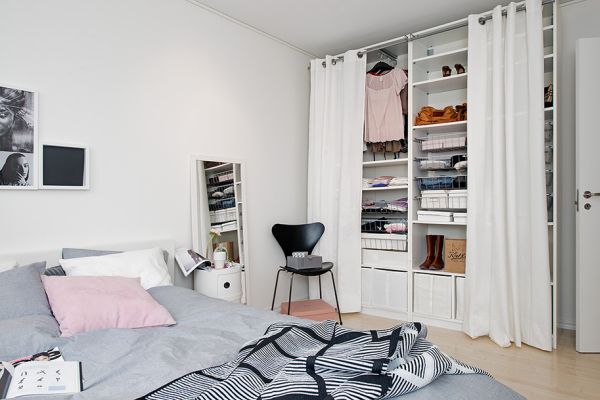 Photo: Credit
Bedrooms are a great environment for curtain closet doors.
In this picture the room is smart, elegant and sharp, that is why the curtain color is white: its owner doesn't want unnecessary distractions.
However, the curtains add texture when dispensing light into the room, so that it doesn't look too plain.
13. Transform Your Room with Elegant Sliding Door Curtains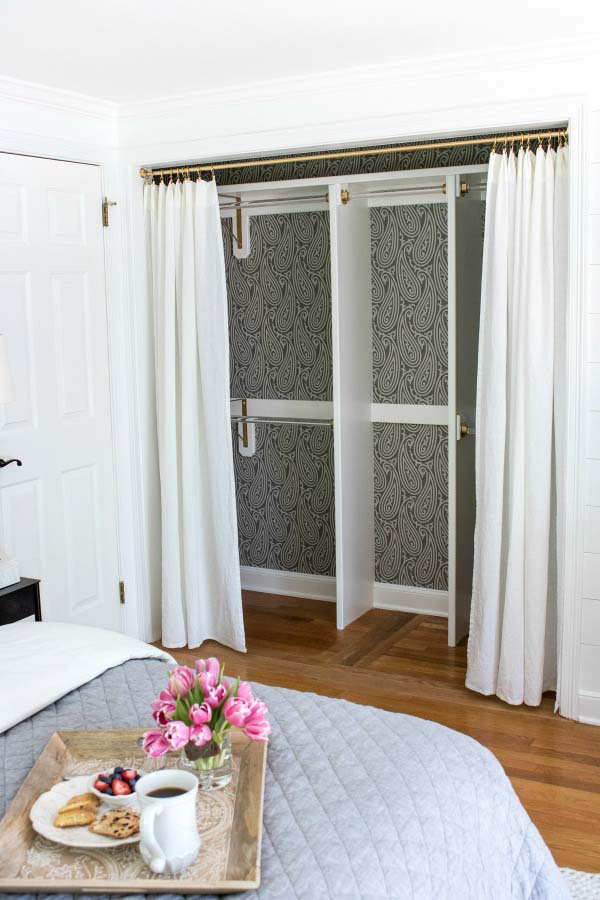 Photo: Credit
The owner of this closet found a smart way to keep the looks of the room simple and to make the interior stand out when needed.
The insides of furniture are an interesting place to try out patterns, shapes and colors and given the nice results, they will probably decide on occasionally leaving the closet curtains open for visitors to enjoy the interior.
14. Maximize Storage and Style with Curtain Closet Doors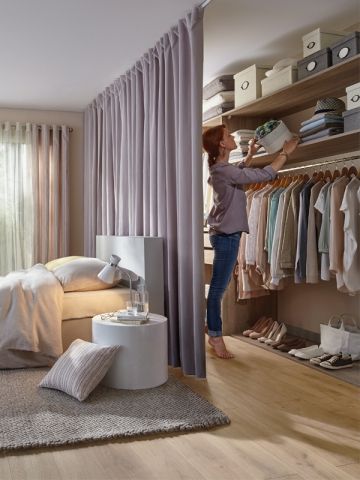 Photo: Credit
This is something different from replacing closet doors with curtains, because it is not necessary to have a closet at all and you won't need to remove any doors!
Divide the room in a way which works best for you by taking as much room for storage as you need.
You don't need to do anything more difficult than installing a rod on the ceiling.
Especially practical if you house has no designated closets or they are too small.
15. Elevate Your Decor with a Patterned Curtain Door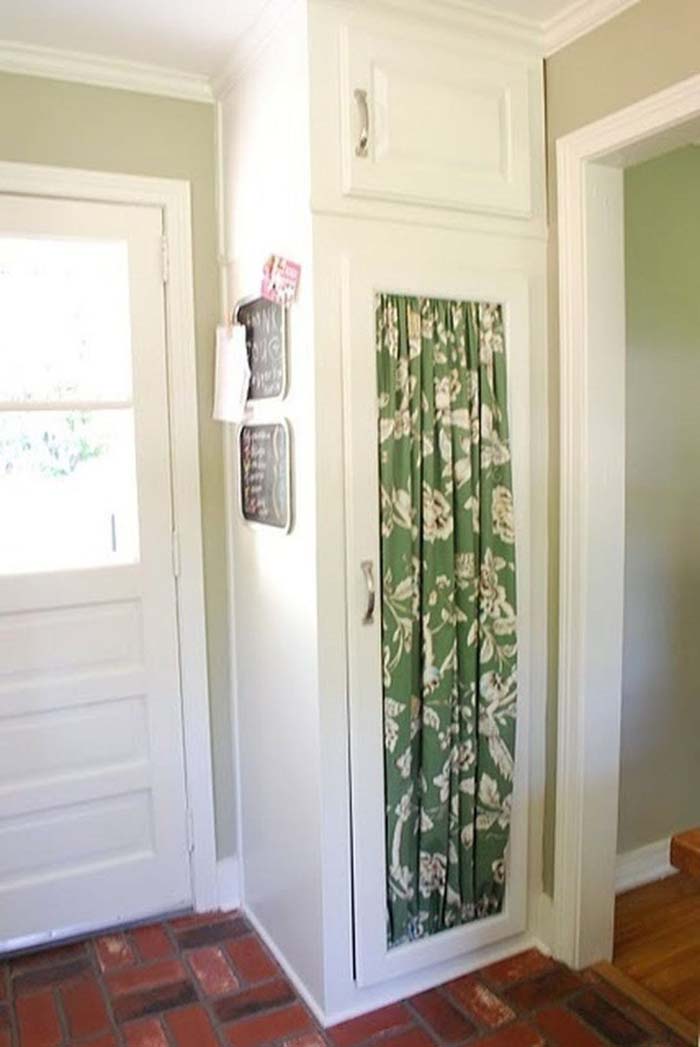 Photo: Credit
Even if you like a uniform and tidy look for your house, curtains are a good solution to add some accent without hassle.
This homeowner decided to add a sense of dynamism and came up with this lively pattern to hang in the limited closet space.
16. Install Your Curtain Doors without a Hassle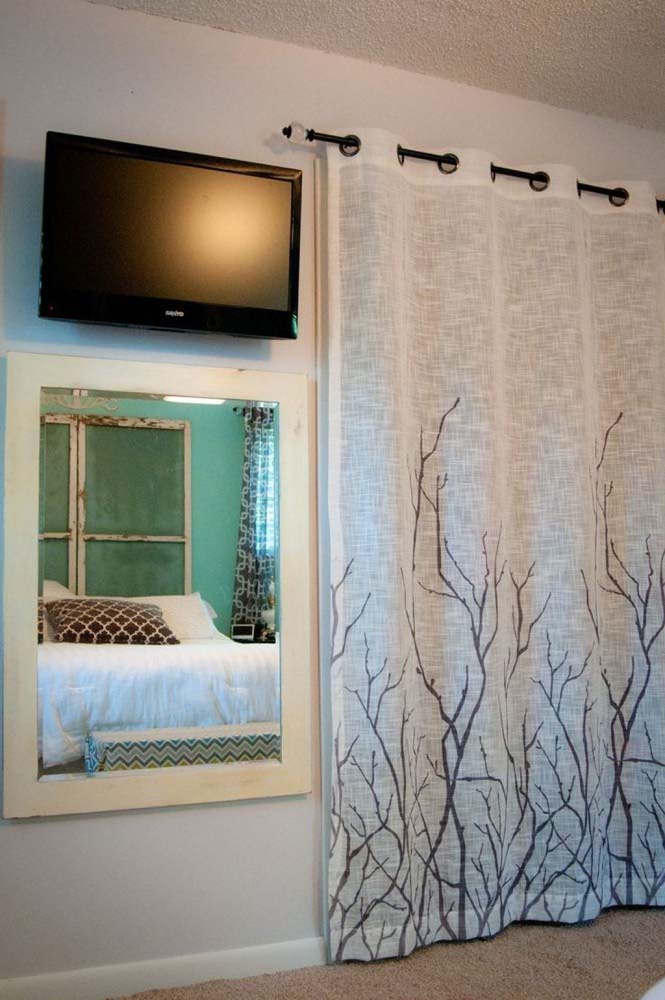 Photo: Credit
To install your own curtain closet doors, you don't only need drapes: the rod or railing holding them is just as important.
You have to install some brackets into the wall and then the rod.
The only tricky part here is in case you need to do some painting, like repaint the rod to make it match your interior (or the patterns on the curtain, as it does here).
In most cases you will also need clips to hang the curtain, and then come the actual drapes.
17. Customize Your Curtains to Get a Classic Charm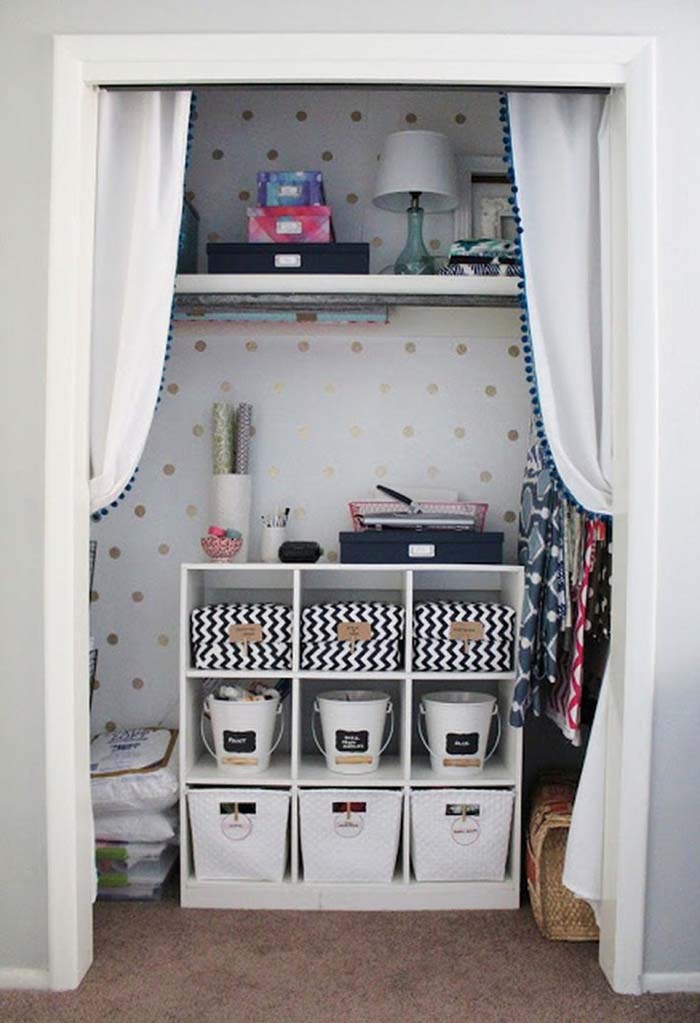 Photo: Credit
Once you pick the best cloth for the curtain, you have a few more decisions:
you can have it gathered (pick a bigger curtain than the door opening) or tight, you can have it folded at the top for a fancier look, or just keep it plain, and finally you can have it either in one or two pieces.
For the last one you only need to cut the curtain in two equal halves and distribute the clips evenly between them.
There is no catch and you get the luxurious look of old homes.
18. Add a Fresh Look to Your Curtain Closet Doors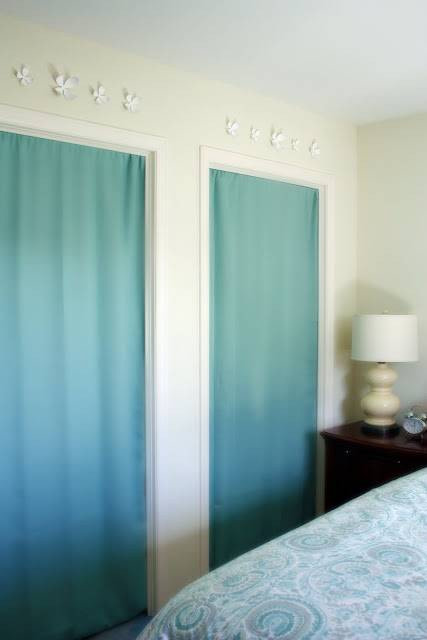 Photo: Credit
Curtains can be used for closet doors in different occasions.
Here the added effect is the nice color which matches the bed cover and stands out from the plain white wall.
As you can see in the photos above, most people prefer to install the rod on the inside of the closet so that it remains hidden and doesn't distract too much.
Those are 18 tidy curtain closet door ideas we found nice and interesting to try out.
Replacing closet doors with curtains is a very easy and quick way to change things around your home.
It doesn't take much effort and there are not too many crucial designer choices, but the options are still plenty and depend on how you imagine your dream room.
There is a solution for everybody: from luxurious heavy curtains which stand out to simple and tidy drapes to match the rest of the interior.
And, even if you change your mind, it is just so easy to switch between the two types.
Curtain closet doors add color, texture and life to any room, give extra accessibility and the option to keep them closed or open depending on what you want to show at any moment.
Give them a try if you want to impress your friends with something new and unique, and if you think your house or apartment interior can use some change.