Nowadays, barn doors are becoming more popular than ever. Prices are more attractive and affordable, and the doors themselves make it possible to perceive many interesting interior projects.
The barn doors' biggest advantage is that they are saving lots of space thanks to their sliding mechanism.

Compared to the traditional door that takes about 9 feet of space, this one is really compact. Moreover, barn doors could be the best touch to your home as they have been offered in both classical and modern styles.
Contrary to the ordinary door, this one requires a little bit of mounting, and it's always good to count on good barn door hardware to make the door fit smoothly and perfectly safe.
Some of you may be worried that the sliding doors do not seal securely and this may cause trouble, but depending on the sort you choose, you can completely close the room. Some are clickable, which closes completely.
Can you lock a barn door?
Because of the way they are installed, they are not easily locked. Locks tend to be more decorative than providing a security but will give you enough privacy.
Now let's take a look at our 12 Great Ideas of Bedroom Barn Doors.
1. Sliding Barn Door for Bedroom Closet with Wall Mirror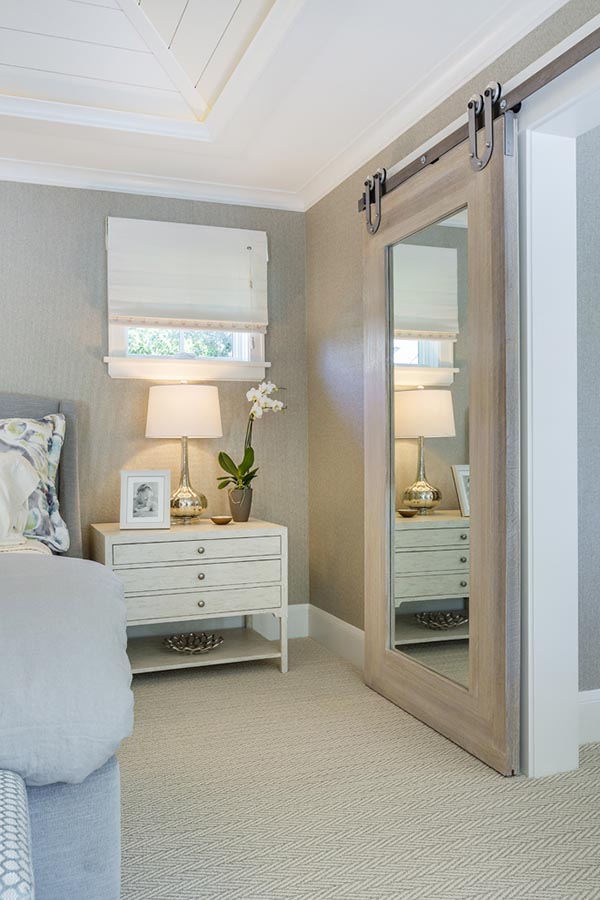 Photo:Credit
This sliding barn door for the bedroom closet contains so much beautiful detail and it's just so pretty! Plus, it is very practical with the large wall mirror mounted.
2. Add Warmth to Your Barn Door with Wooden Slats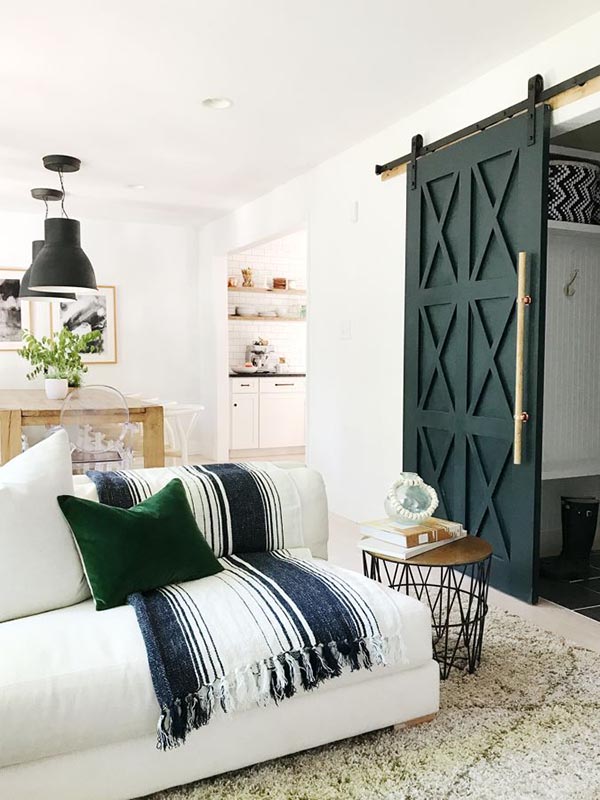 Photo:Credit
A smooth barn door can gain a lot by adding warmth and relief to the overall design.
It is as easy as buying narrow wooden slats and gluing them or nailing them to the door in different shapes.
Those of the rustic style usually create a large "X" or reduced mosaics with the same shape. For this option, it is best to find the idea that best fits your style.
3. Bring Farmhouse Charm with a White Barn Door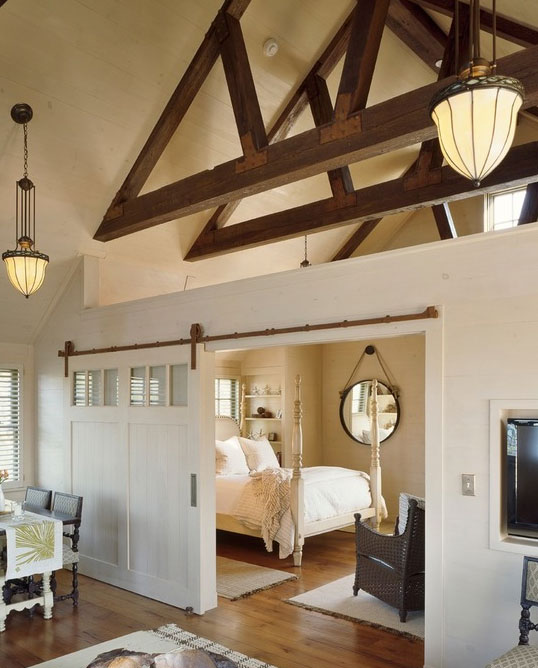 Photo:Credit
What an amazing white door for a beautiful farmhouse bedroom (made by C.H. Newton Builders, Inc.).
The white color makes the room looks more spacious. The wood is adding a rustic touch to this interior.
4. Redeemed Wood Sliding Barn Door for Bedroom Closet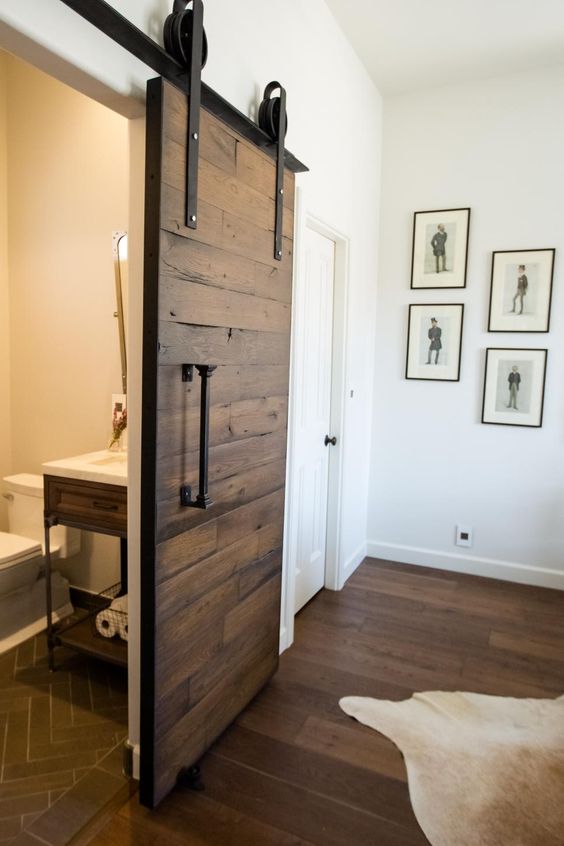 Photo:Credit
However it is kind of unconventional, this sliding barn door for bedroom closet in redeemed wood is a cool and eccentric means of introducing a new bathroom renovation brought.
The rustic door makes a strong statement in the hardware, dark color and rolling closure yet radiates a fanciful charm nonetheless.
5. Rustic Barn Door Bedroom Idea for Mediterranean Homes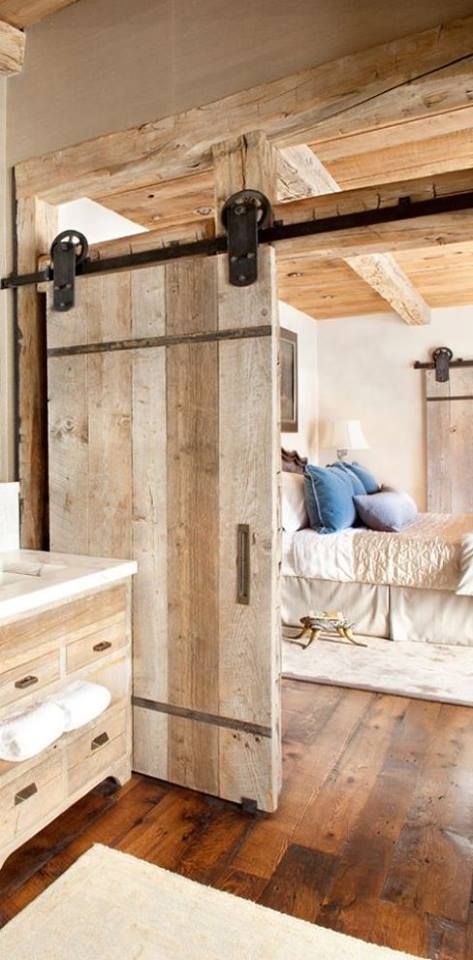 Photo:Credit
Do you feel a strong Mediterranean look when you look at this picture?
These types of barn door bedroom ideas are very common for the rustic houses in Spain and Portugal.
Thanks to the solid wood, they bring warmth and coziness to the interior.
6. Build a Rustic Sliding Barn Door with Wooden Pallets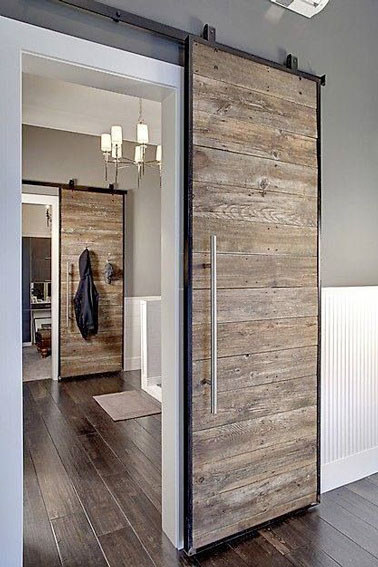 Photo:Credit
Believe it or not, this beautiful farmhouse sliding door is made of wooden pallets. A stainless steel wrist is finally attached to the door to add a sophisticated note.
7. Modern Smoked Glass Sliding Barn Door for Bedroom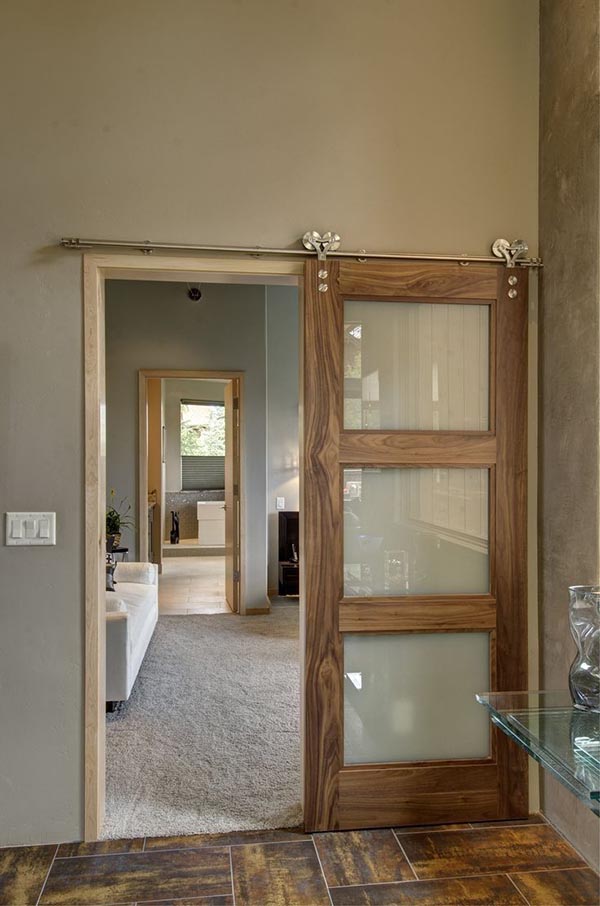 Photo:Credit
This slightly smokey sliding barn door for a bedroom, designed by VanBrouck & Associates, Inc., is really a game-changer.
It is very simple and eye-catching at the same time. Plus, the smoked glass lets some light through.
8. Enhance Room Aesthetics with a Sliding Barn Door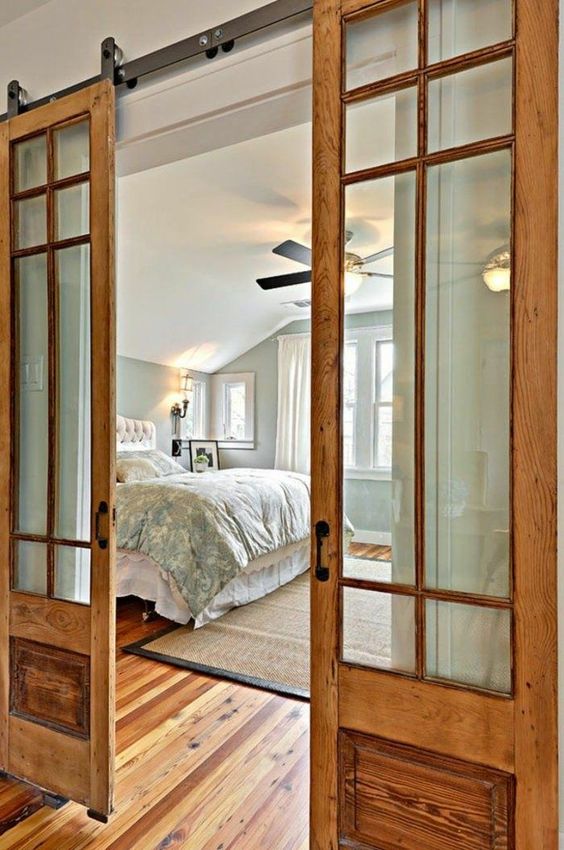 Photo:Credit
There are endless barn bedroom door ideas and it's difficult to find something affordable, durable, and stylish at the same time.
This sliding door, for instance, adds something "extra" to the area. Love the uneven windows along the whole length of the door – make both room brighter.
9. Scandinavian-Inspired Sliding Barn Door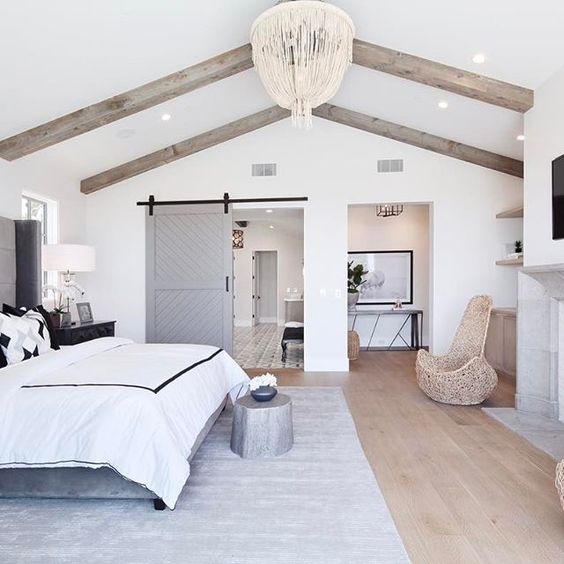 Photo:Credit
Brandon Architects designed this beautiful Scandinavian style master bedroom sliding door. It is very sharp & clean in style.
Take a moment and appreciate the neat bedroom barn door hardware which makes a great contrast with the door's color.
10. Upgrade a Bedroom with a Driftwood Sliding Barn Door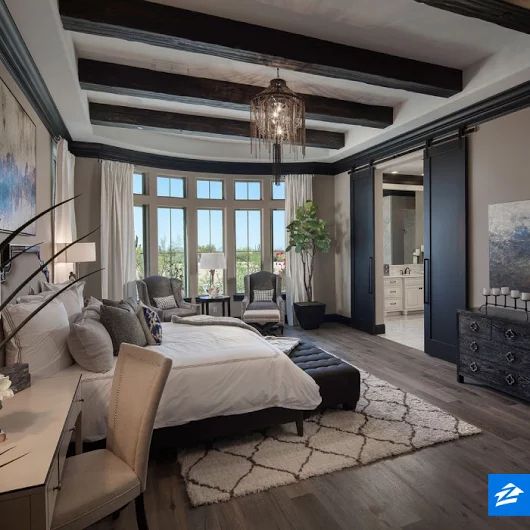 Photo:Credit
Which feature in this majestic master bedroom stands out to you most? The bay window, the geometric carper? The rustic barn sliding door? Or maybe all of them equally?!
Adore the classical yet modern look of this design!
11. Add a Salvaged Sliding Door to Vintage Bedroom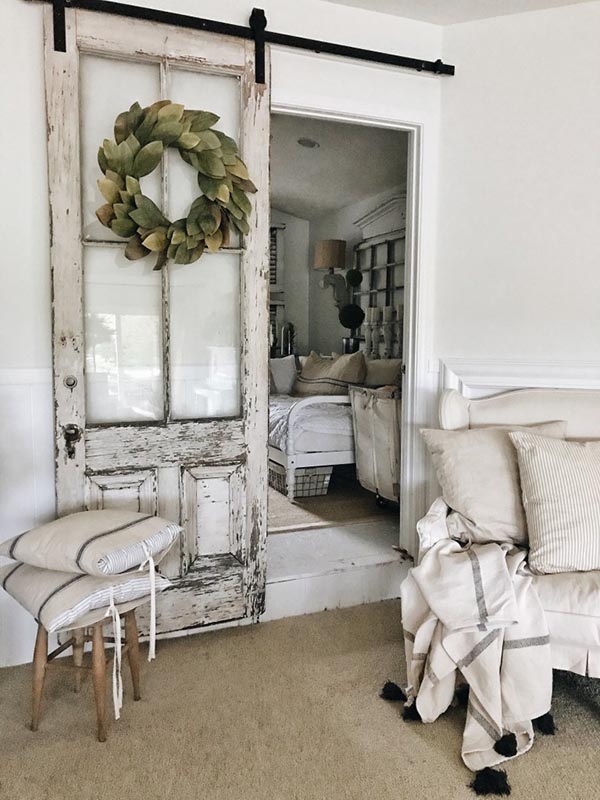 Photo:Credit
That's a quite salvaged sliding door. A gracious addition to this vintage bedroom.
You can try to get the rustic look by using sandpaper and sand down part of the old paint.
12. Farmhouse Charm with a Sliding Barn Door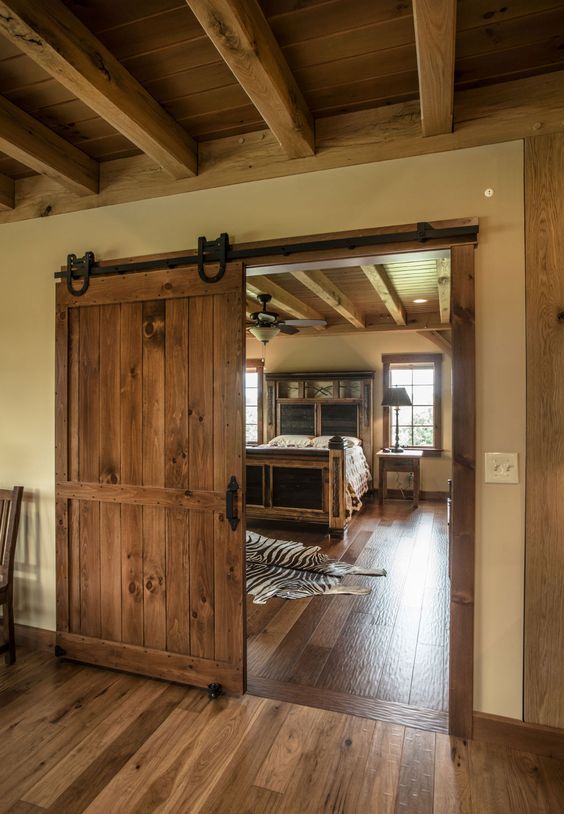 Photo:Credit
This is one of the last barn door ideas for a bedroom I'd like to share with you.
It creates a flow and harmony. Even when it is open, this wood sliding door is like a wonderful piece of farmhouse decor.
13. Decorate Your Bedroom Barn Door with Bright Colors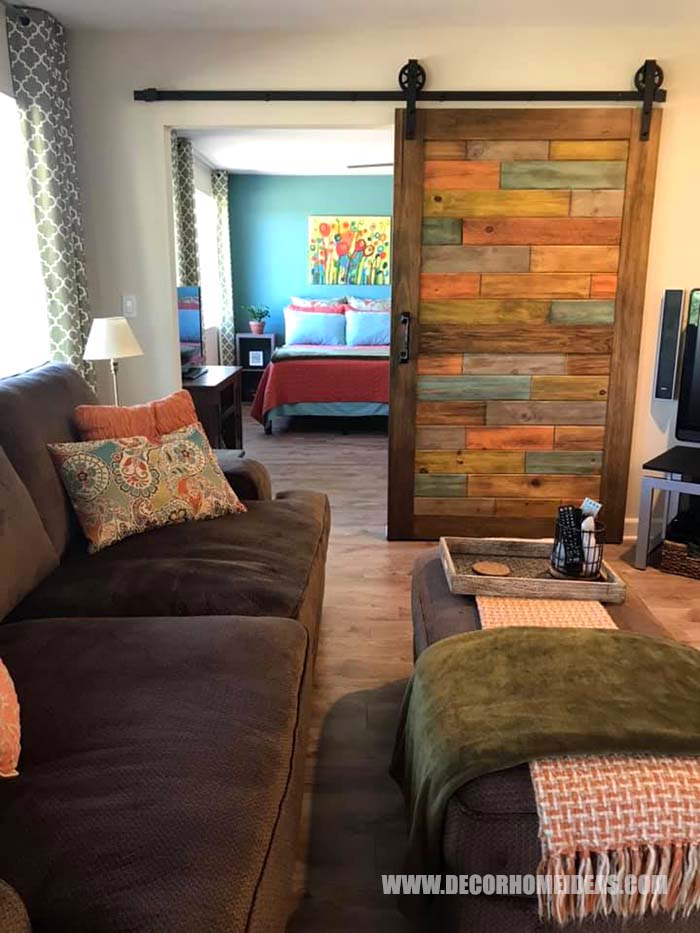 This custom-built bedroom barn door is stained in different colors and while some might find it a bit too extravagant, it's definitely a statement piece.
14. Make a Statement with a Bedroom Barn Door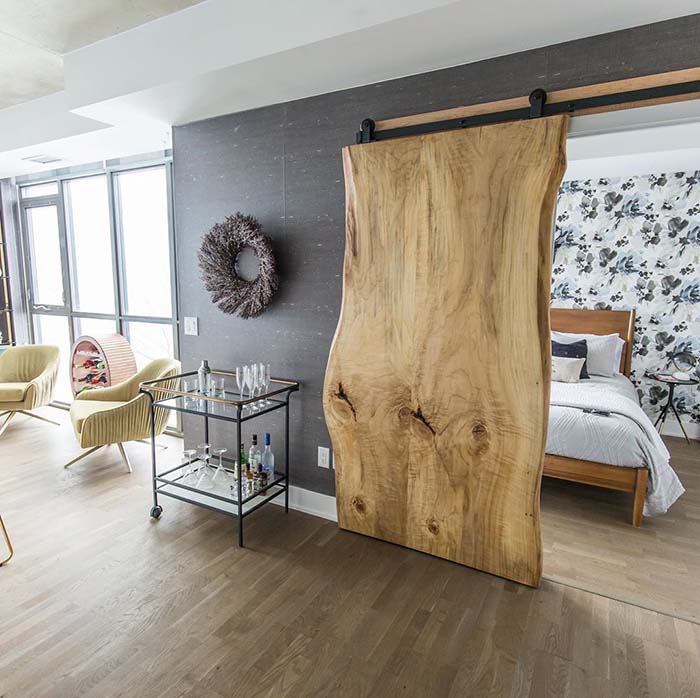 Well, we love it but we are not so sure as a bedroom door although if it was a bit darker in color it would tone in better with the floor. The walls then could be a lighter grey. Definitely a statement piece that looks awesome.
Bonus: Elegant Wooden Sliding Barn Door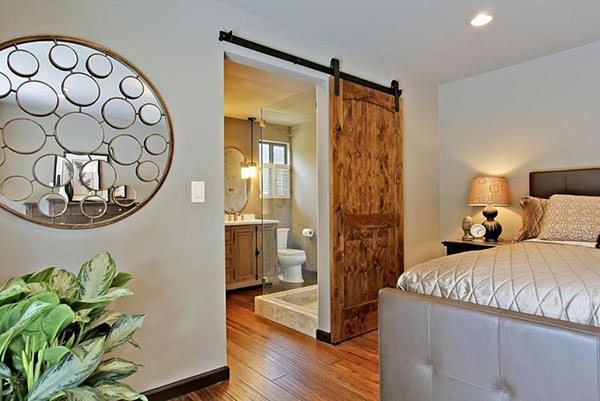 Photo:Credit
This wood sliding barn door for the bedroom leading to the en-suite bathroom can be a good choice in a smaller master bedroom.
So chic and it just exudes warmth.
In the end, I am pretty sure that not everyone is a fan of the barn doors, however, if you like this type of interior, surely you will like one or even more of these 12 pictures of barn doors in bedrooms. Keep in mind that installing such a door should be done by specialists in order to perfectly secure the door frame.
You can also find some DIY barn doors that are easier to install and do not require very special skills.