Fresh vegetables and fruits are part of our cuisine despite the season and storing them in a proper way is essential for enjoying their nutrient characteristics.
Whether you have your own garden production or you buy them from the grocery, these 25 Fruit and Vegetable Storage Ideas are compact to fit any kitchen space, handy to let you access the products you need quickly and easily and also budget-friendly.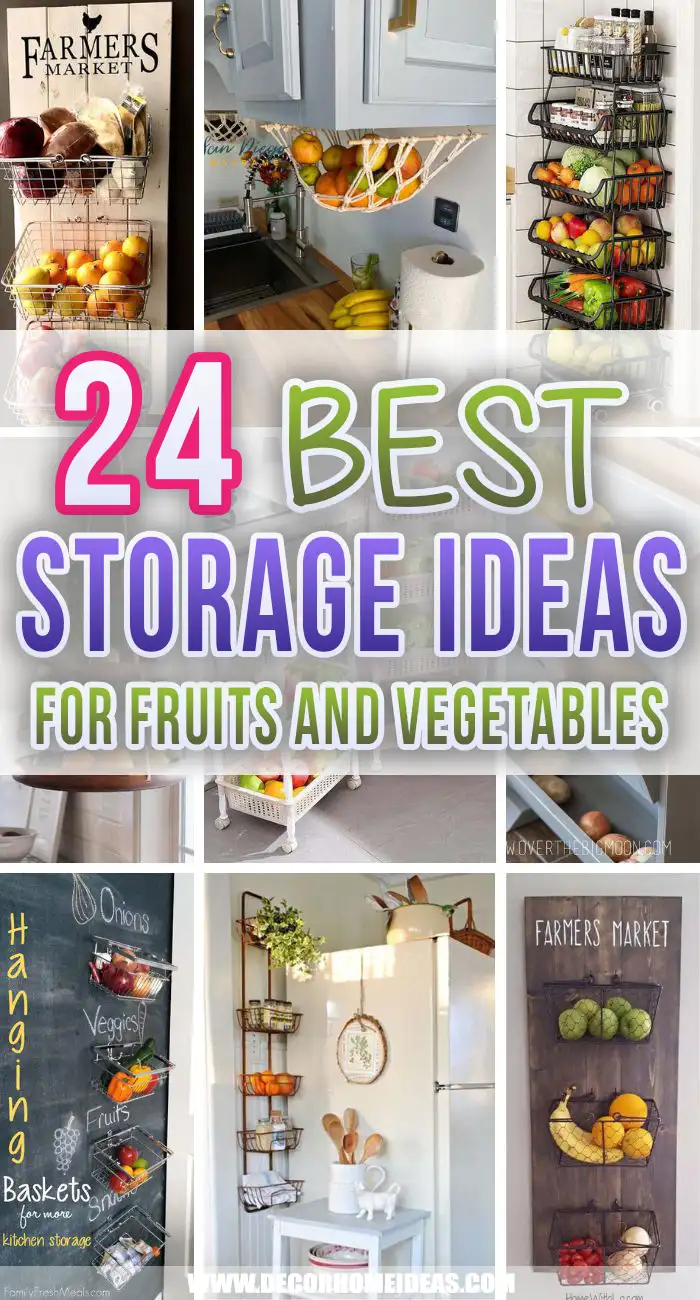 These ideas also take care of the look of the storage solution so that it blends with the kitchen interior and even add charm and texture.
1. Under-The-Cabinet Veggie And Fruit Boxes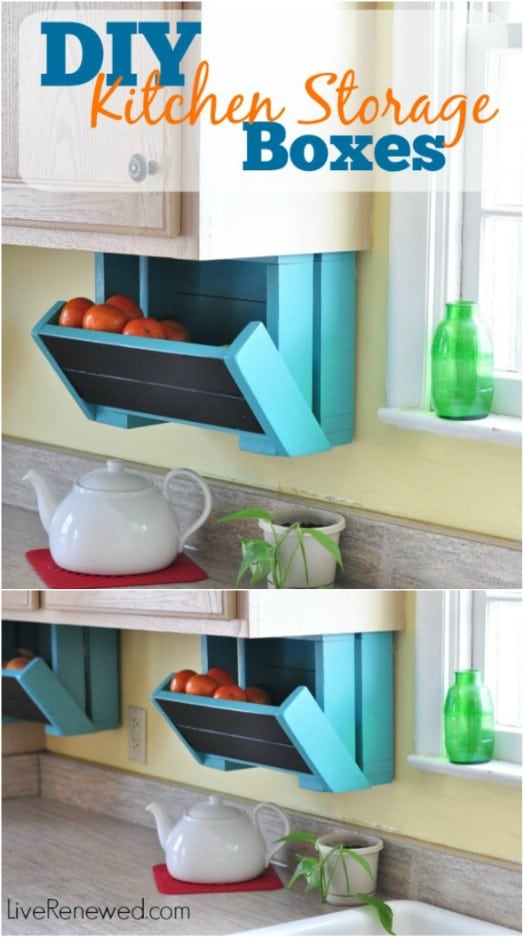 These wood boxes for storage of fresh vegetables and fruits can be mounted right under the kitchen cabinets. They don't take any of the countertop space and are perfect for charming organization of fresh products.
They are made from wood slats that can be painted a bright color to add charm and interest to the interior.
Add chalkboard labels to write the name of the product stored and change the inscribed easily as needed.
via Live Renewed
2. Hanging Round Wire Baskets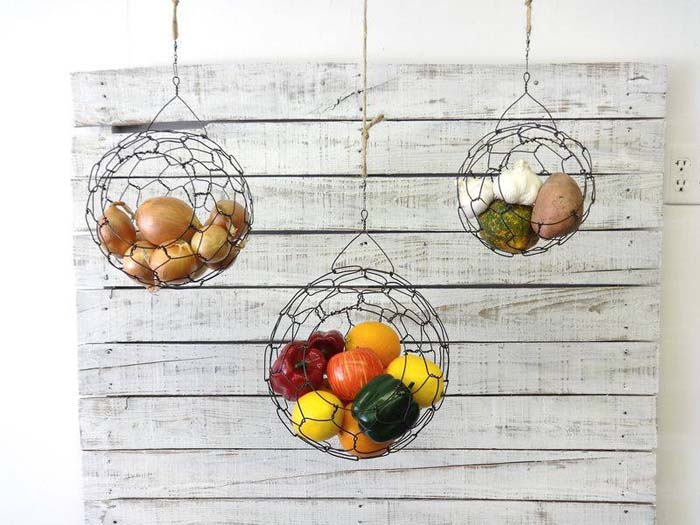 These storage round wire baskets look like art pieces when filled with colorful fresh production.
Being suspended to the ceiling creates a farmhouse point of interest that will also award you with proper storage.
The large gaps ensure good airflow that will keep the vegetables and the fruits fresh for a long time.
via Trend Hunter
3. Under-The-Cabinet Hammock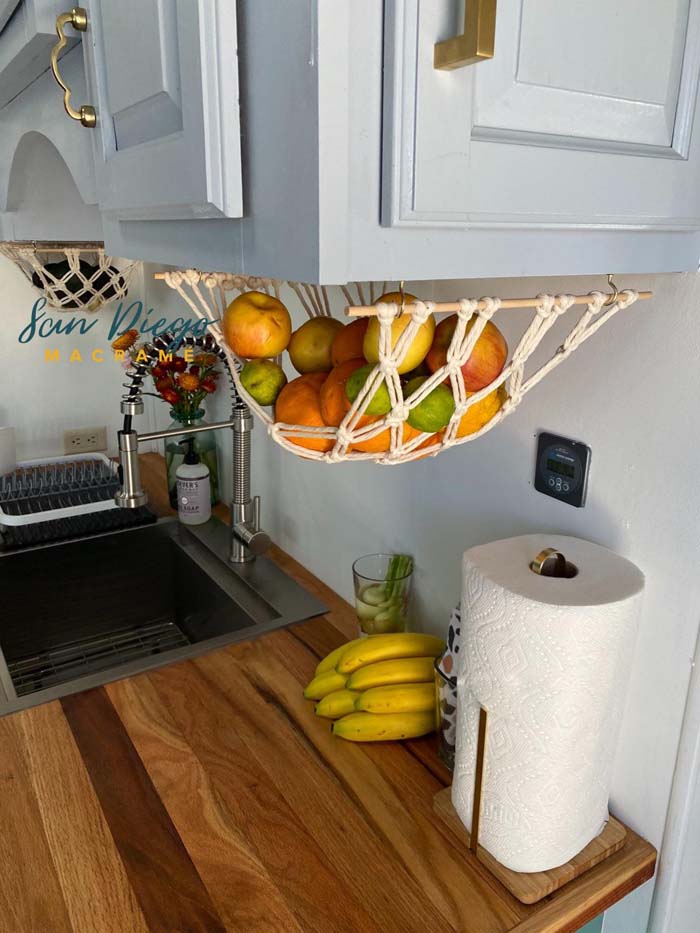 The macrame hammock is a cute storage idea that saves lots of space.
It is mounted to the bottom of the cabinet and in addition to keeping the products fresh, it adds lots of texture.
Making yourself this hammock is easy since it involves basic macrame knots.

4. Hanging Baskets For Vertical Storage Of Fruits And Vegetables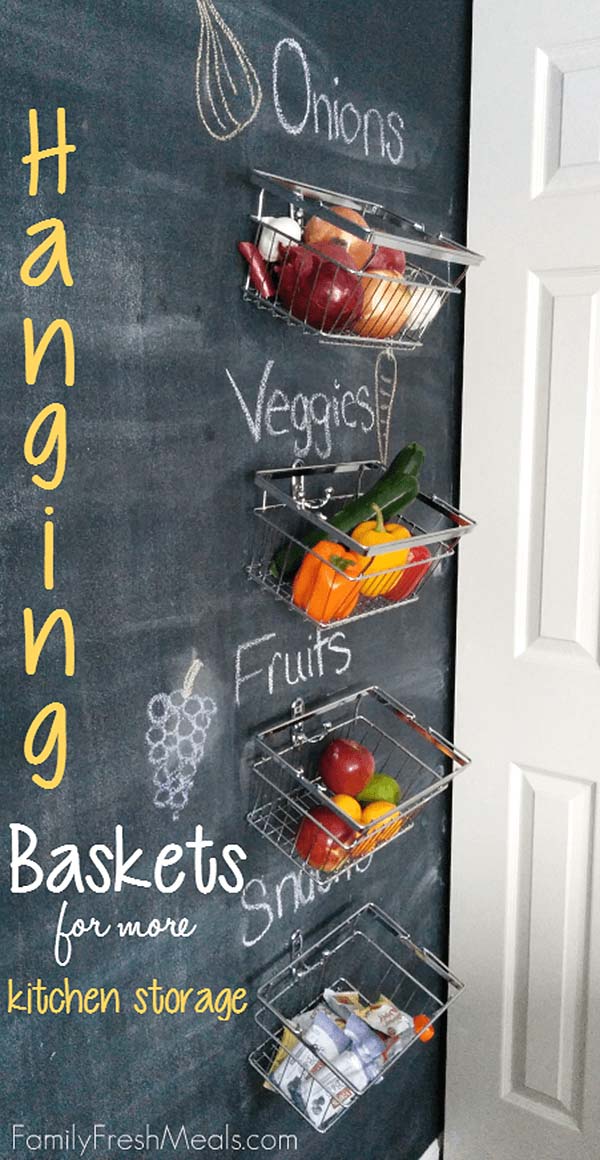 This kitchen storage idea will keep all of your fresh vegetables and fruits in one place. The wire baskets are attached to the wall with metal hooks.
Vertical storage is a great idea when space is limited or when you want to organize many items at an accessible distance.
The author has chosen to mount the baskets on a chalkboard wall which provides contrast and also space for writing the names of the stored products.
In case you install baskets to an ordinary wall, you can purchase additional chalkboard labels to ensure neat organization.
5. Tiered Storage With Plates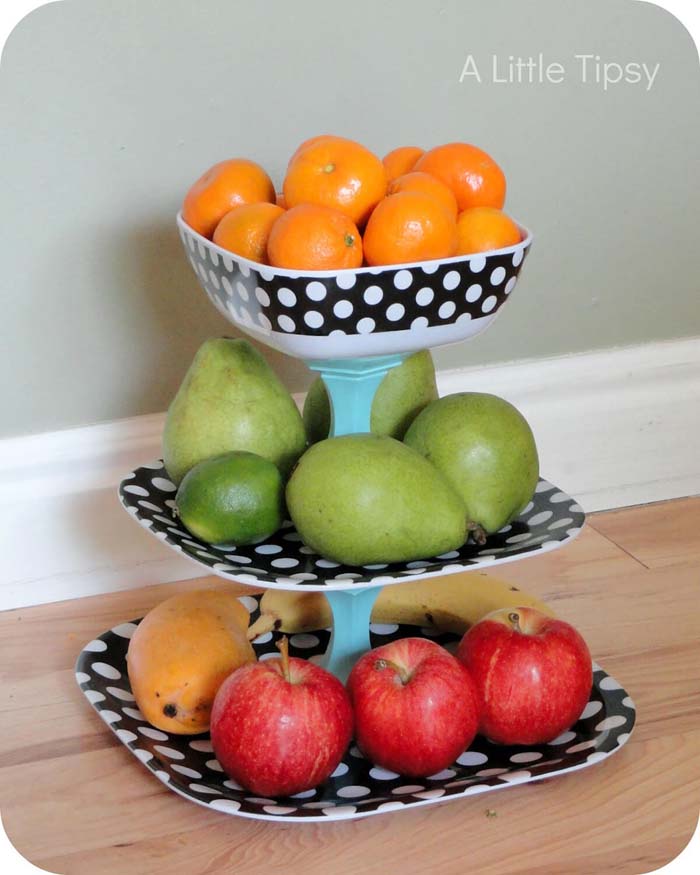 This is one great tiered stand for fresh vegetables that you can put on the countertop, on the table, or on the side table.
For that DIY fruit and vegetable storage idea you can use plates you like as long as they are of different diameters to achieve the tiered look.
The polka dots are very charming so it is worth finding such in the local Dollar Store. The post pieces that separate the plates and keep them fixed are candle sticks painted in a color that matches the design of the plates.
via A Little Tipsy
6. DIY Cabinet With Drawers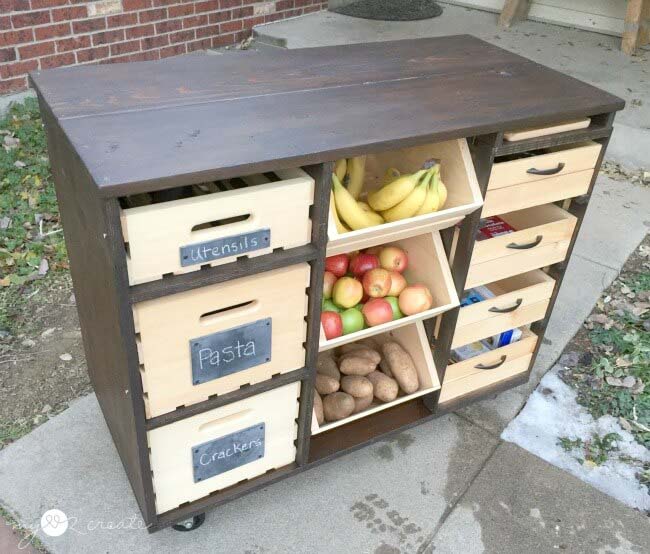 This is an amazing DIY cabinet that will let you store all of your production neatly. Drawers are crates of blonde wood with chalkboard labels.
The middle compartment keeps three crates positioned at an angle so you can access the stored products quickly.
There is exhaustive information on how to make yourself the structure of the cabinet with plywood boards so make sure to visit it if you are encouraged to improve storage and organization in your home.
7. Tall Crate With A Drawer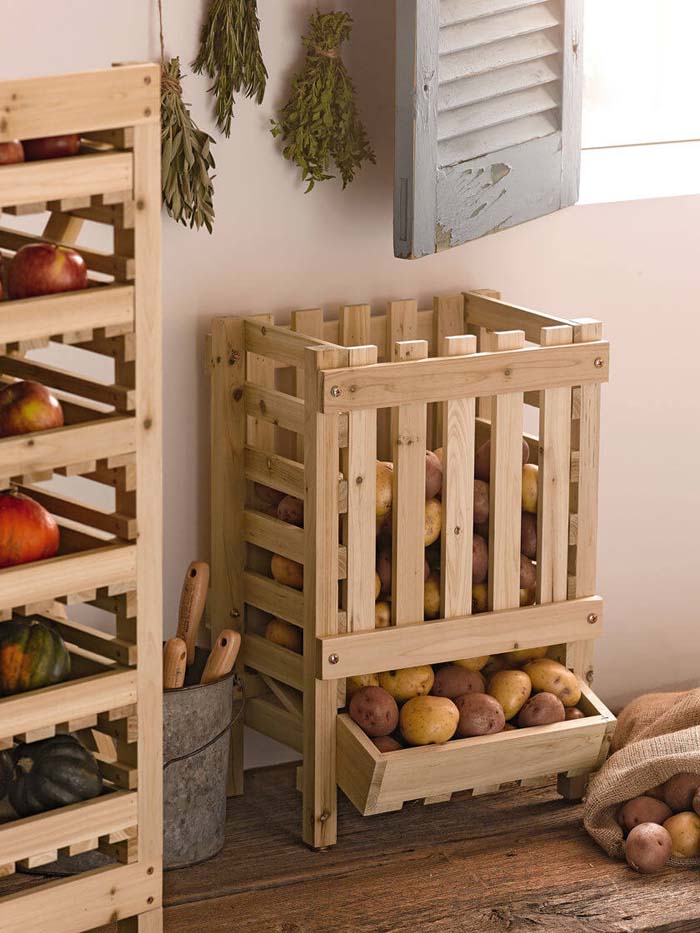 This idea is inspired by the crate design. No wonder why fresh products are stored in crates from old times. The distance between the slats lets air access the products which keeps them in a good condition for a longer time.
This kitchen storage unit features a tall crate with a movable section at the bottom.
It functions as a drawer that let you access the products stored at the bottom.
Here is the rule what comes in first gets out first.
via Gardeners
8. Vertical Storage Unit With A Farmhouse Charm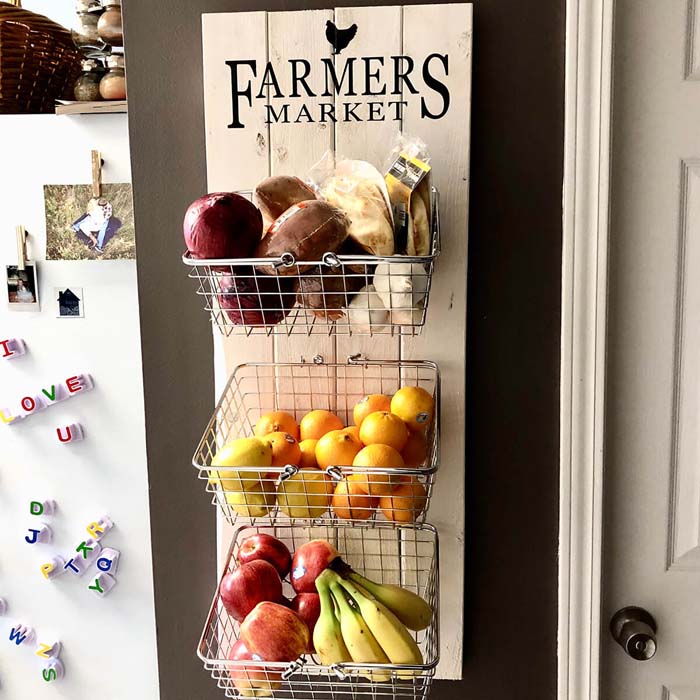 This vertical storage idea inspires by its functionality and casual farmhouse design. No doubt that anyone can make it easily in the comfort of their homes.
You need a thick wooden board and a number of wire baskets that suit your household needs.
Add the storage unit to a blank part of a wall and don't forget to decorate the top of it with a fun farmhouse inscription that matches the design.
9. Small Storage Unit With Separate Compartments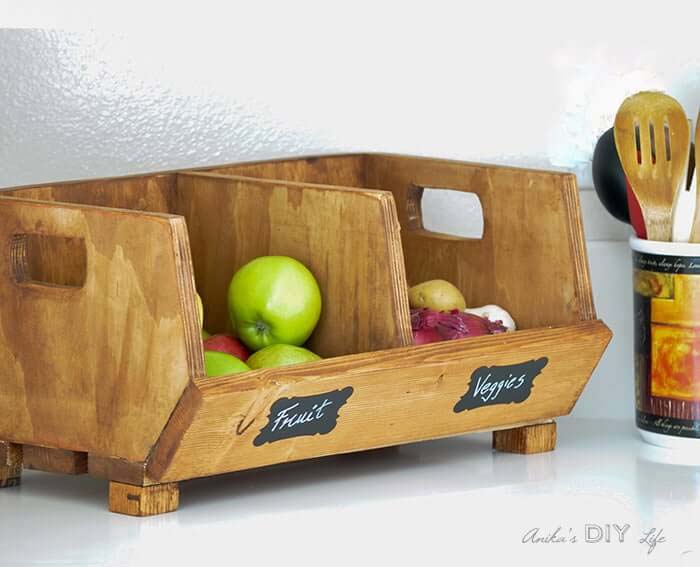 If you are looking for a compact storage unit that can be easily moved from place to place, check out this cute wooden holder. It provides two compartments- one for fruit, the other for veggies.
The narrow wooden slat at the front acts as a barrier from products falling out and also as a surface for labeling.
via Anika's DIY Life
10. Compact Tiered Crate Unit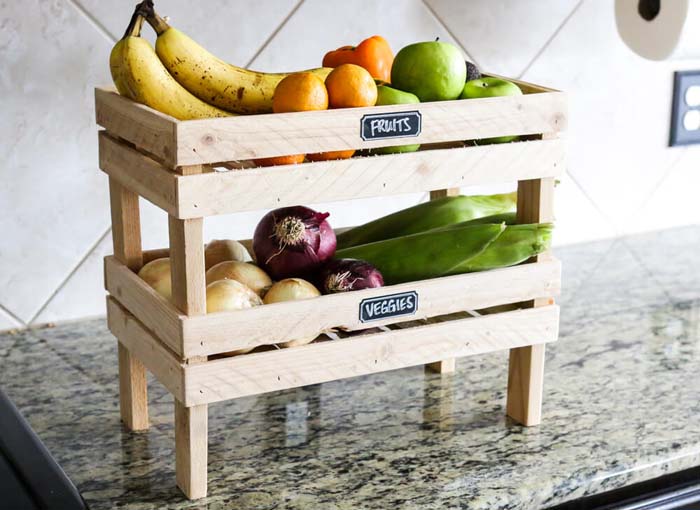 The shelves of this storage stand are small so you can easily find a place for the charming farmhouse unit. The tiers mimic crates thanks to the addition of wood slats to the sides of every shelf.
Add chalkboard labels at the front to distinguish the stored products and add a suitable farmhouse finish to the wooden unit.
via Jen Woodhouse
11. Dark Stained Farmhouse Storage Unit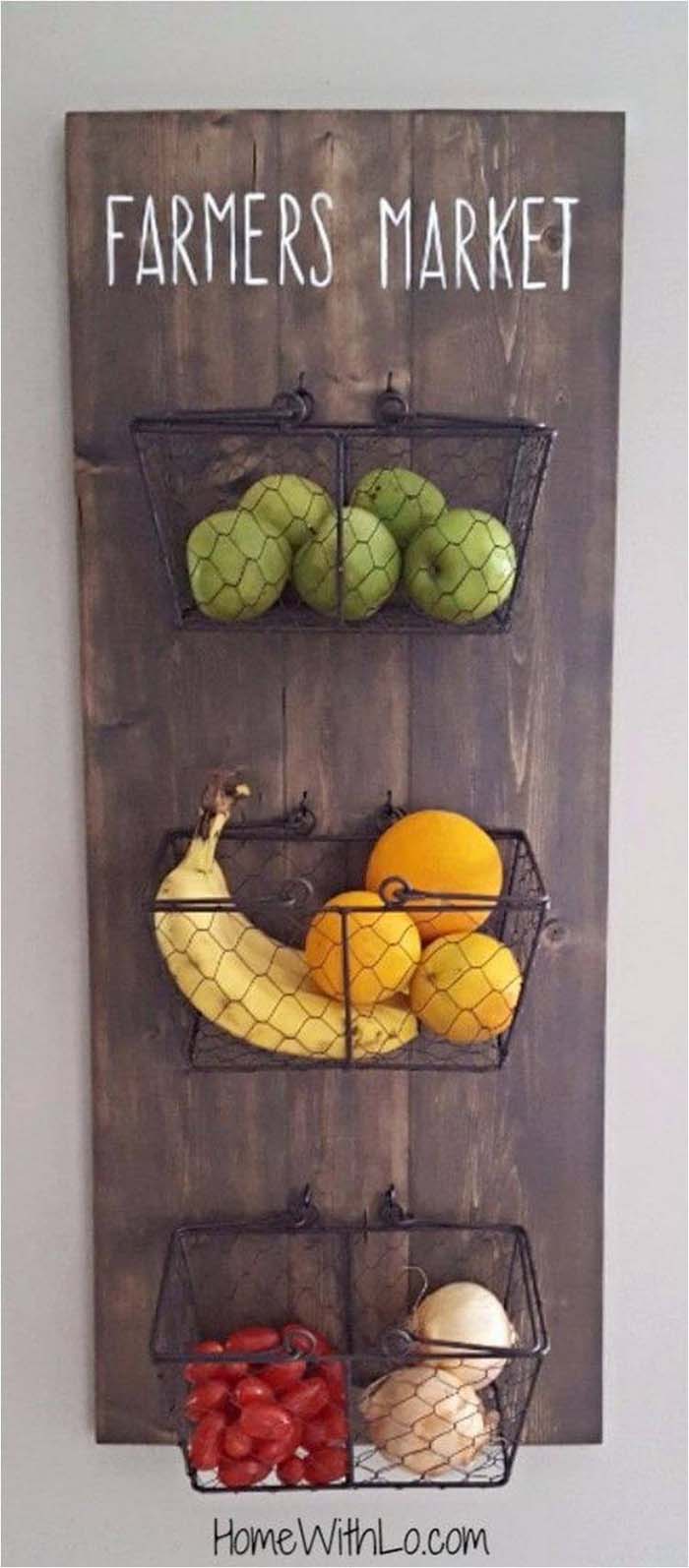 If you want to match the vertical storage unit with your contemporary home décor, check this design! The wood is stained dark and combined with black wire baskets.
This combination gives the farmhouse storage unit a more modern look.
The size of this particular unit provides three storage compartments but you can increase it in case you use a wider variety of fresh products in your home.
via Home With Lo
12. Stacked Wire Baskets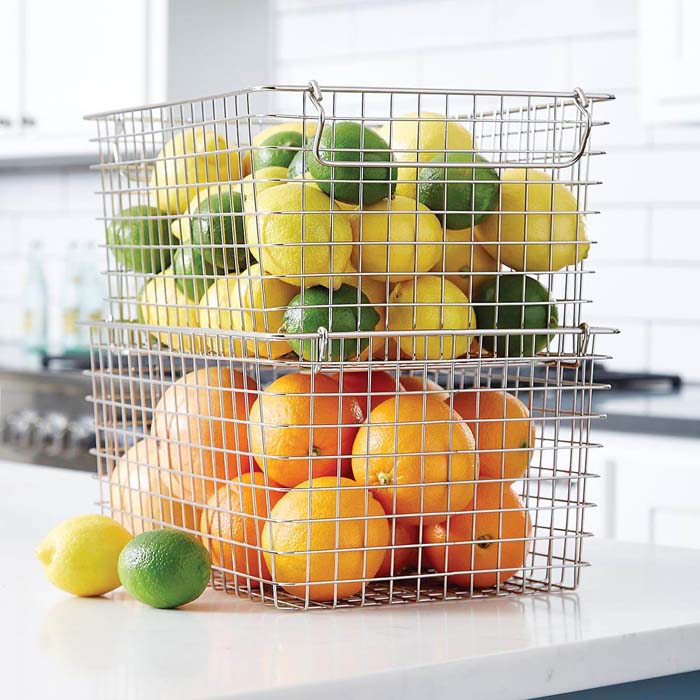 These are found at the stores and do not need any modification to be repurposed into storage compartments.
This idea is intended for storage on a flat horizontal surface. Fill the bottom basket with one product, move the handles inwards and then stack over the next basket.
via Container Store
13. Simple And Affordable Storage In Paper Bags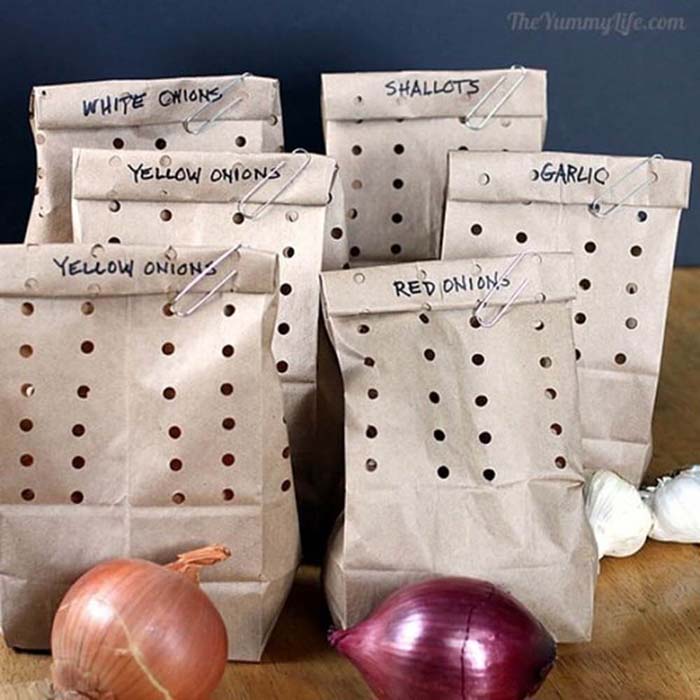 This idea is not that practical because it takes space but will surely come in helpful when you need an immediate solution for the storage of different fruit and vegetable kinds.
Brown bags are recycled and work well for storage of such products if there are holes made on the paper that will let air access the inside.
Another advantage of the brown bag storage idea is that they keep the products away from the light which affects the lifespan of some products.
via The Yummy Life
14. Pantry Plastic Bins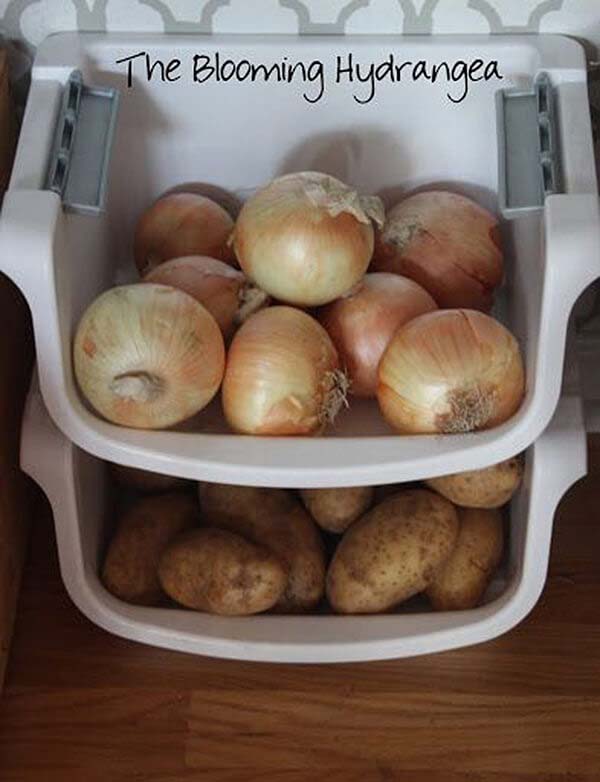 This storage idea will upgrade the organization level in the pantry. It is smart and budget-friendly and is very practical for storage, especially for potatoes and onions which need air access and light to stay in good condition for a longer time.
When you open the pantry door you can easily find these two products and access them by pulling the plastic drawer.
15. Wooden Free-Standing Unit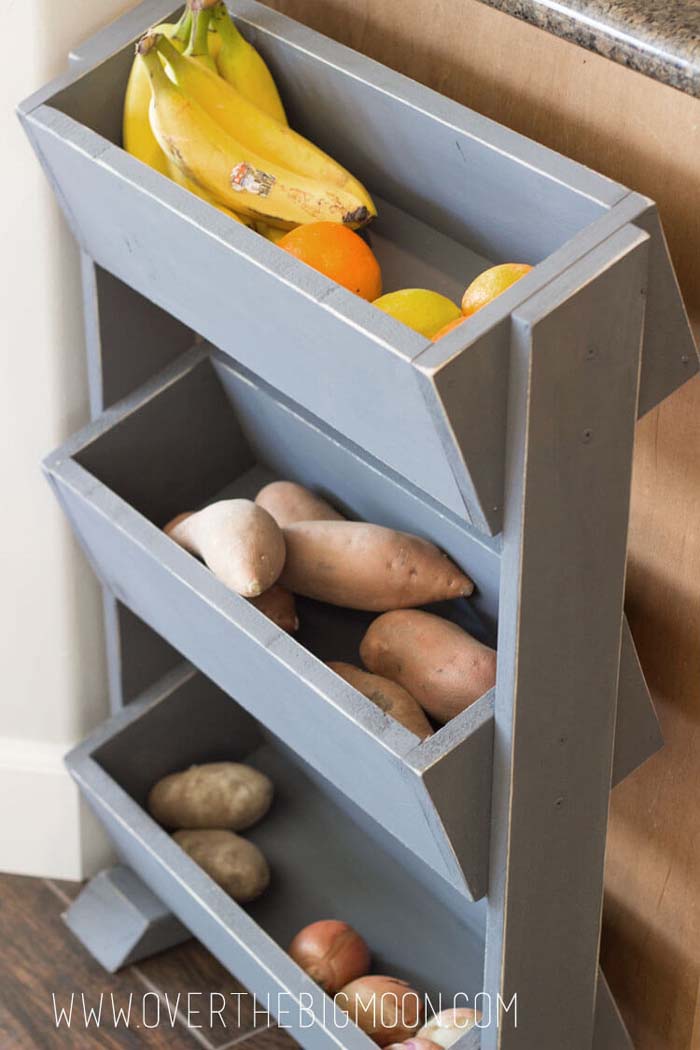 This free-standing unit is great for small spaces. It is sleek, made from wood and painted in a color that matches the existing décor.
Each compartment for storage is inclined at an angle to let filling and accessing the stored items be easy.
You will be thrilled to see how an easy DIY storage unit declutters the counters and adds a fresh farmhouse vibe to the interior!
16. Industrial Farmhouse Storage Unit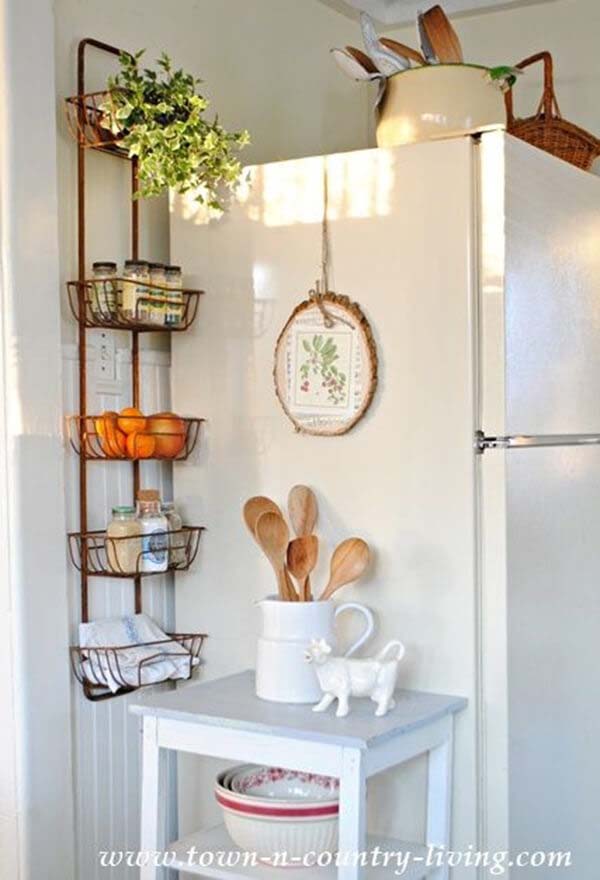 The design of this vertical storage unit has been inspired by the need for more storage places in a furnished kitchen which will also match the existing airy farmhouse look of the room.
The storage unit features 5 levels for storage in copper-plated baskets, all fixed along the height of pipe support.
The color of the storage unit gives the farmhouse space a modern twist mixed with the retro design of the baskets.
17. Your Shutter Farmhouse Market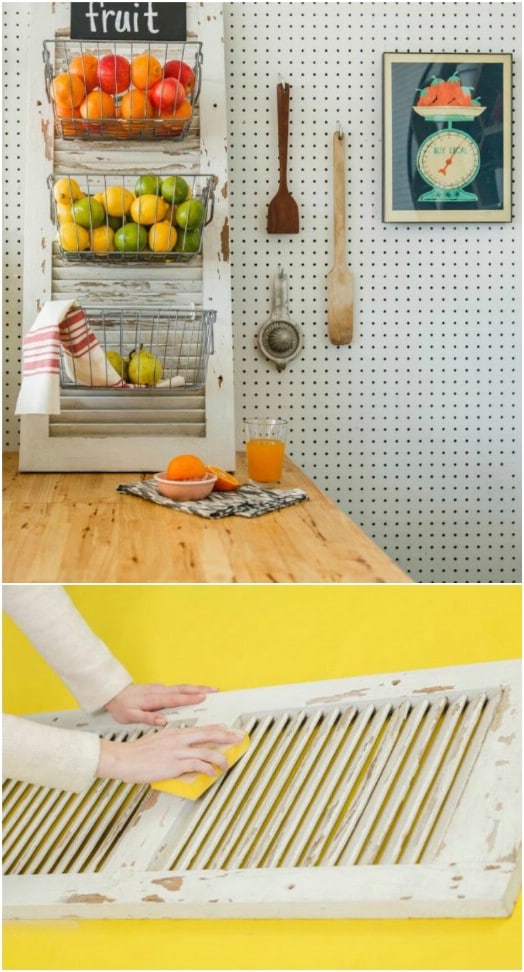 If you have liked the idea of a vertical storage unit made from a wooden basis and wire baskets, you will surely fall in love with this alternative. In the place of the thick wooden board, there is an old shutter repurposed into a stand.
The paint is weathered to spread rustic charm in the air. The metal baskets are attached to the shutter with brackets. It will be intriguing to see what this idea will look like with wood crates!
via HGTV
18. Stacked Wooden Crates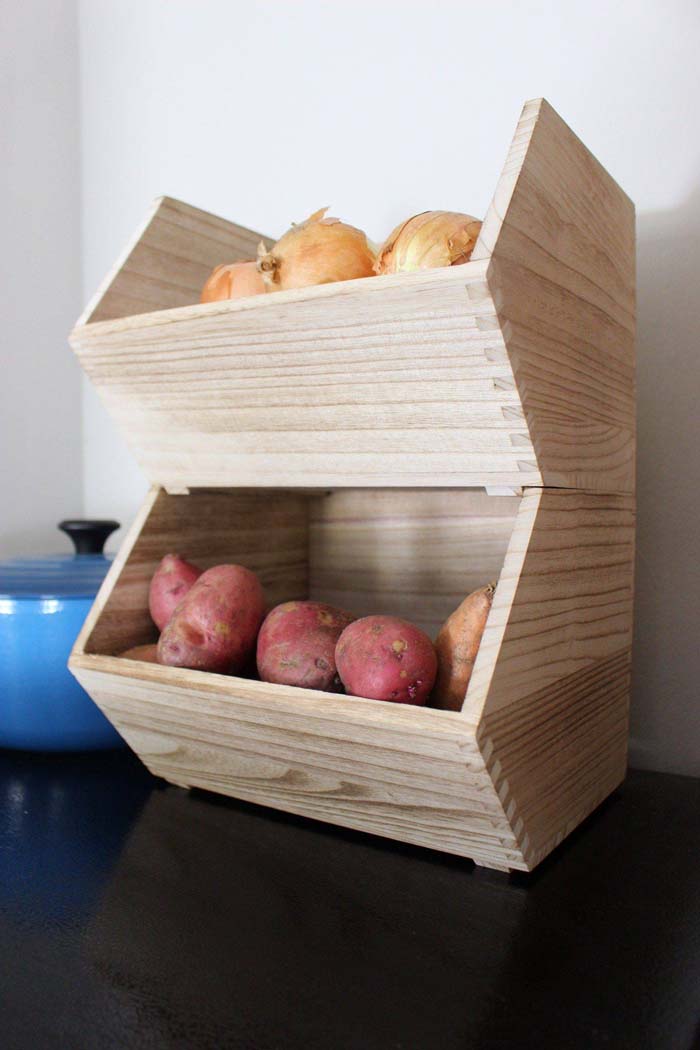 This is another inspiring idea for extra storage space suitable for tiny kitchens.
The wooden storage unit consists of two compartments inclined at an angle. It is made from bamboo which is breathable and keeps fruit and veggies fresh.
Each compartment is of design that lets stacking so you can get the number of containers you need.
via Mandy Jackson
19. Plastic Tiered Storage Units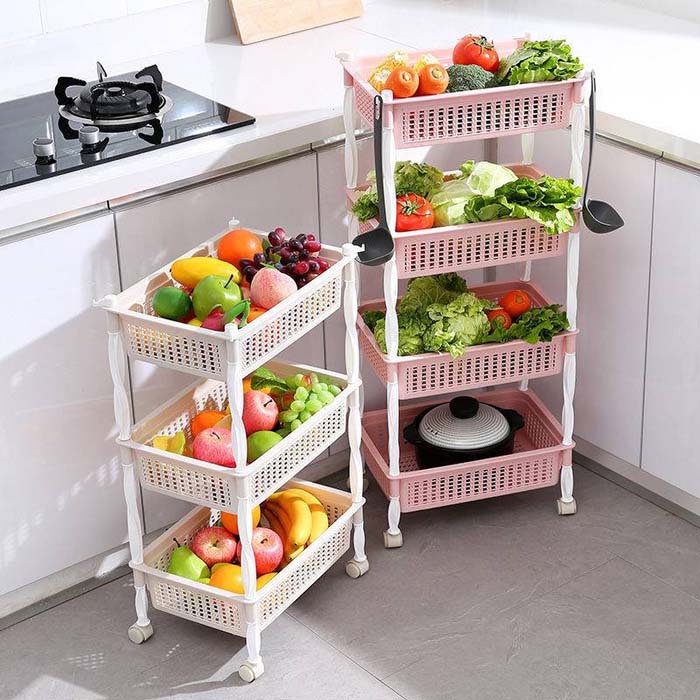 These plastic multi-layered units are great for a temporary storage solution.
They come in various sizes, basket shapes and colors and are also equipped with castors.
That is a clever feature that makes sure that you access the needed products easily and quickly.
via Round The Clock
20. Hanging Tiered Storage Unit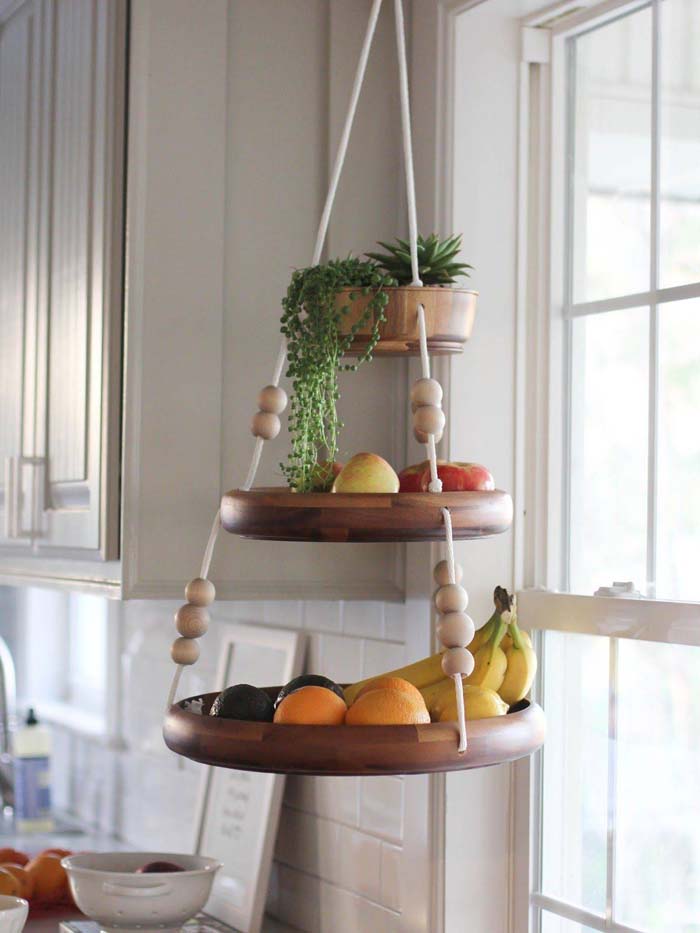 This DIY hanging fruit basket ensures that you never miss your dose of vitamins. It is made from three wooden balls in descending sizes, rope and wooden beads.
Tying of knots between the tiers keeps the platters fixed rigidly at a distance from each other.
It is cute how the top bowl has been repurposed into a flower pot which makes the fruit storage idea also décor-impacting.
21. Elegant Two-Tiered Storage Unit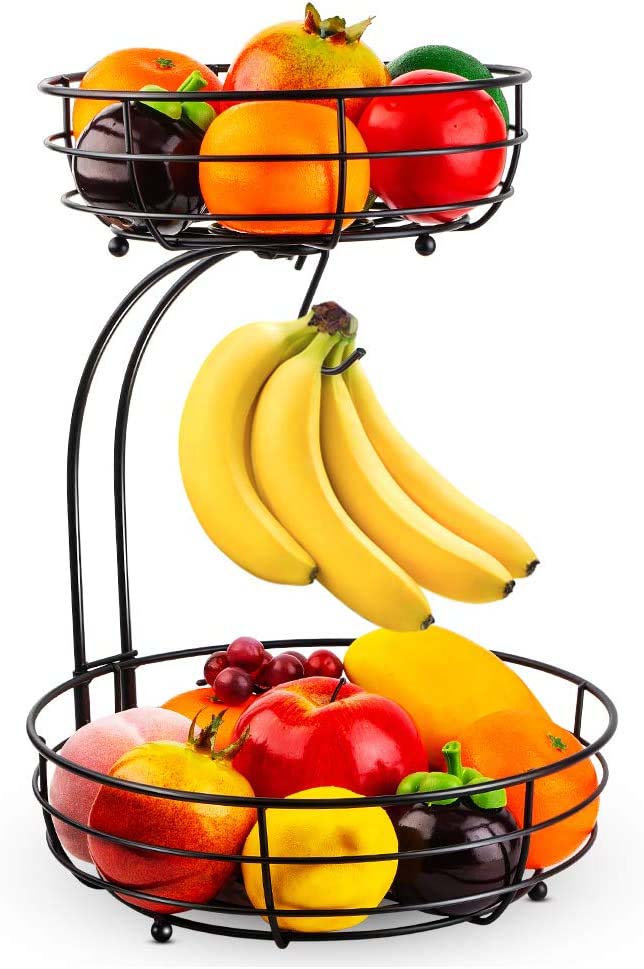 This fruit storage idea is for those of you looking for a compact and elegant design. It features two tiers for storage in wire baskets and also an intermediate one, especially for bananas.
The purpose of this unit is to remind you of the daily dose of fresh fruit than store a large amount of production. In all cases, space for it can be easily found on the counter or on the dining table.

22. Multi-Tiered Basket Storage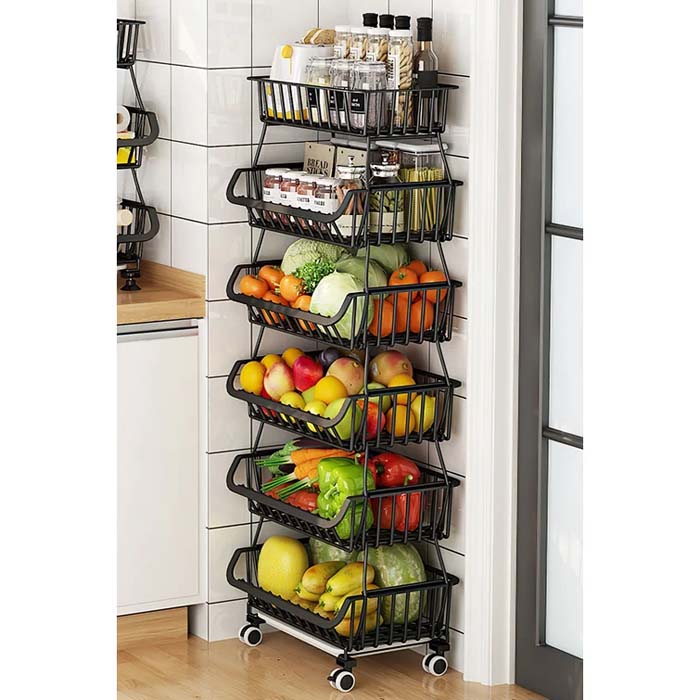 We showed you plenty of compact storage units for fresh vegetables and fruits but here we will satisfy all of you maximalists! Are you looking for a stand that can store a wide variety and heavy in weight production?
This movable stand is what you need. It features 6 basket tiers and castors to move it around the kitchen.
All six baskets are open to let you easily fill them and also get to the product you need. The color combo is black and white to make it universal and easy to fit into any décor style.

23. Four-Tiered Metal Basket Unit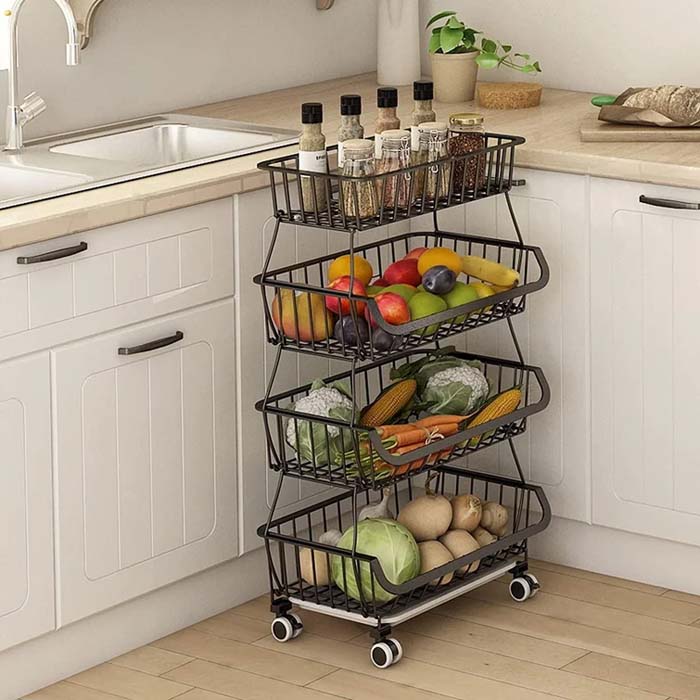 If you have loved the idea of plenty of storage places in one functional stand, here is another design that features a shorter basket storage unit.
It is also equipped with castors and a top basket for spices organization.

24. Three-Tier Wire Basket Kitchen Organizer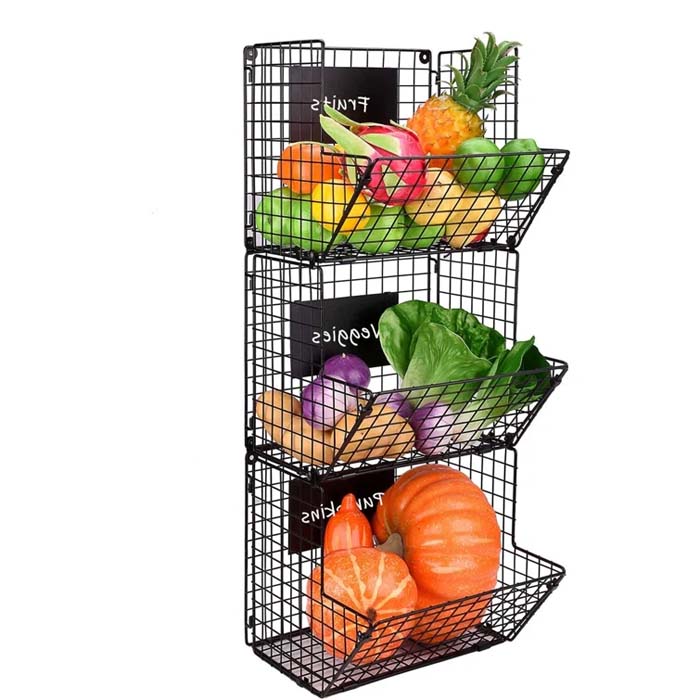 This item comes in 5 colors so you can easily find the best hue for your kitchen décor. It features three compartments for the storage of products separately.
All of them are tall and rigid enough to withstand the weight of bulkier veggies and fruit. The unit is completed with chalkboard tags where you can label the content.