Can we sit for a minute to enjoy the absolute prettiness of the farmhouse decoration?
The best thing that has always been appealing to me about it is the rustic feeling of it all. The simplicity, the wooden furniture that it's looks like it is 100's of years old.

To understand what I am talking about, here are 25 lovely farmhouse kitchen décor ideas I've found that you would fall in love with.
1. White Farmhouse Kitchen with Intellectual Grey Walls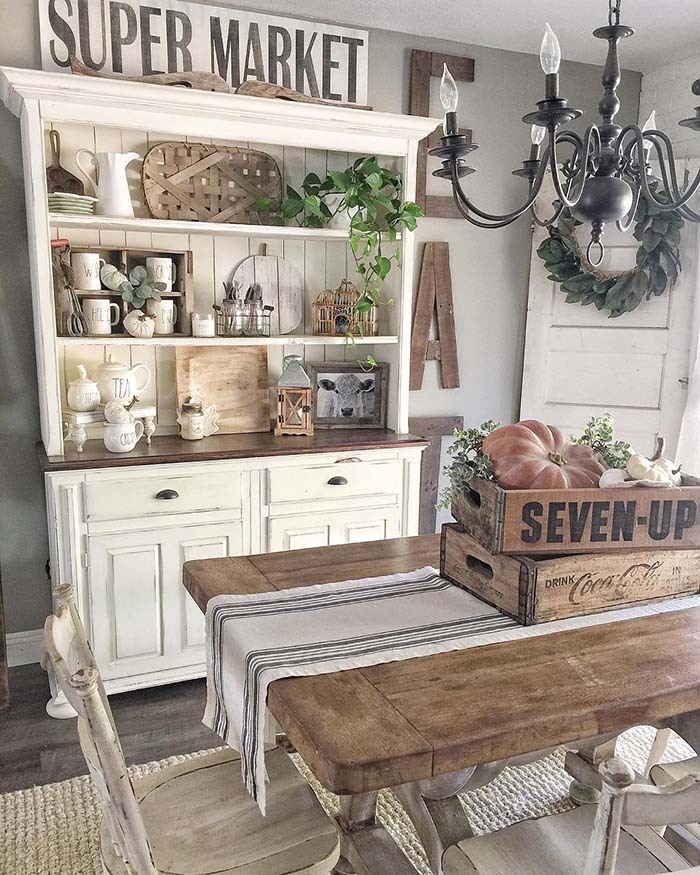 To start, I've chosen one of my favorite farmhouse kitchen ideas. What I truly like about this design are the white elements well-combined with the walls painted in Intellectual grey by Sherwin Williams.
The small colorful accents such as the greenery and the pumpkins make this kitchen decor even cuter!
via Ashley Knie
2. Upgrade Your Farmhouse Kitchen with Modern Decor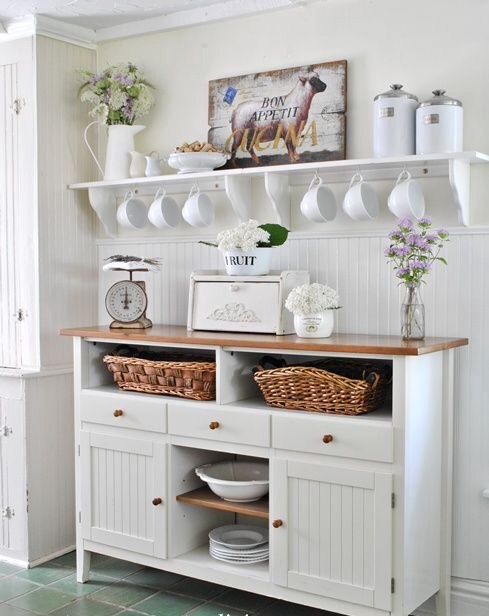 Photo:Credit
Compared to the first one, this farmhouse kitchen decor looks more contemporary. The best thing about it is the symmetry which brings a sense of harmony and coziness.
Like in our article about Farmhouse storage ideas, this one is very space-saving.
3. Bring Comfort and Style with French Farmhouse Kitchen Decor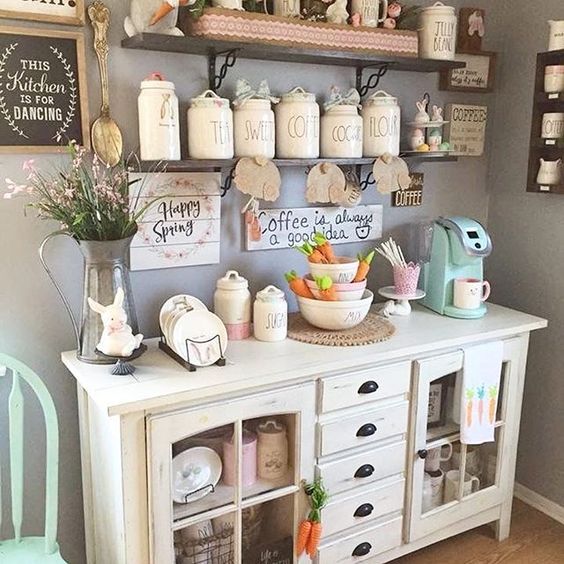 Photo:Credit
The first thing that came to my mind when I saw this picture was "a French pâtisserie" (bakery)…then I saw the cute sign "Coffee is always a good idea" and my initial association was confirmed.
The milky pastel tones of the dishes pair well with the white vintage cupboard and the tiny wooden shelves.
4. DIY 3-Tier Wood Stand for Farmhouse Kitchen Tea Station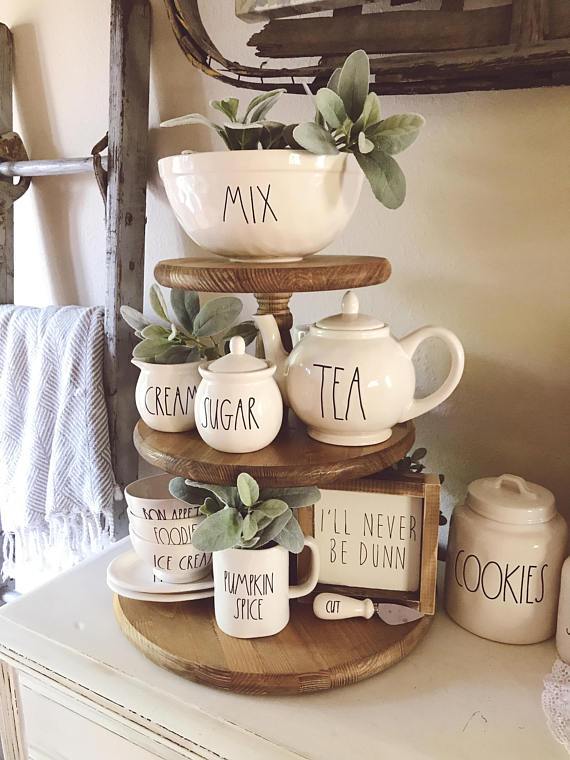 Photo:Credit
This amazing DIY 3-tier wood stand could stay over some of your farmhouse kitchen cabinets.
So every time someone comes over for a cup of tea and a piece of homemade cake, you will have all you need close to you.  😉
I've always loved how the ceramics fit well the wood.
5. Combine Wood and Metal for a Classic Farmhouse Table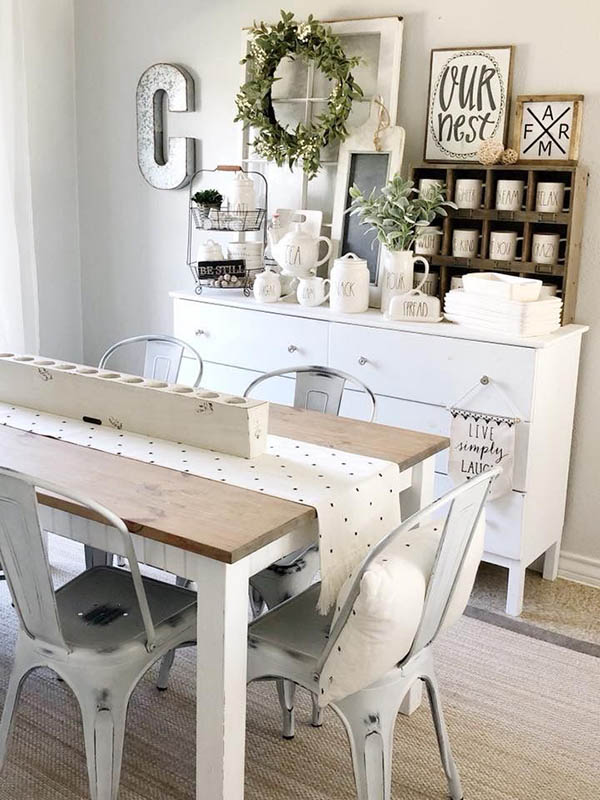 Photo:Credit
This is another white farmhouse kitchen decor that successfully combines wood and metal.
The metal chairs and the small wall signs give edgy touches to the meaning of the word classic.
6. Be Bold with Layered Texture Farmhouse Kitchen Decor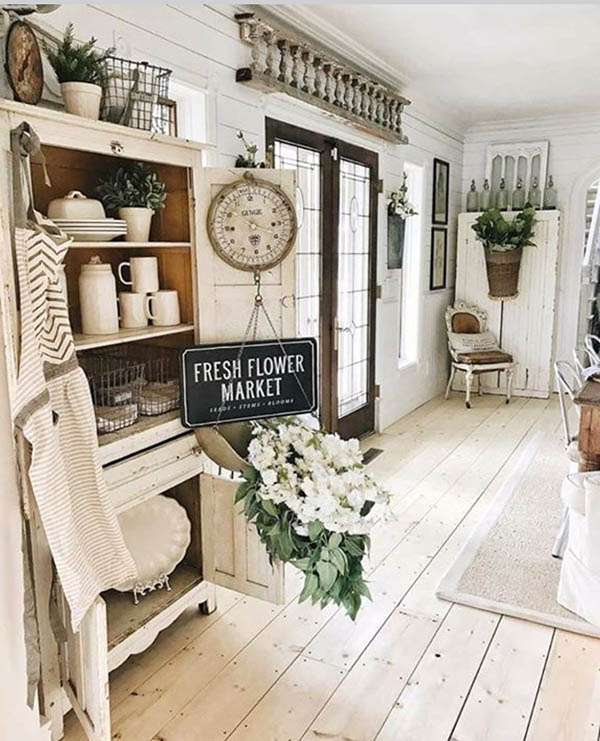 Photo:Credit
If you are wondering how to decorate a farmhouse kitchen, here is a thought – make some layers add some texture with lots of accessories, flower pots, etc.
Minimalism is not very typical for this kind of decoration.
7. Discover Timeless Beauty with Farmhouse Kitchen Roll Holder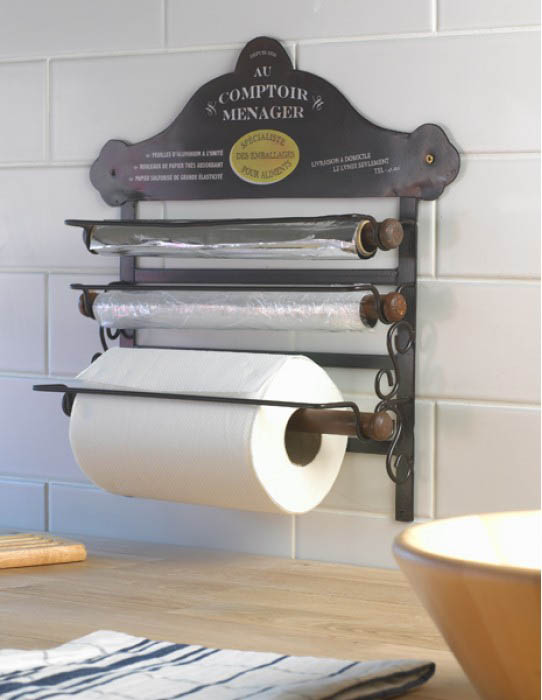 Photo:Credit
This splendid old French-styled wall-mounted, kitchen roll and foil holder is an absolute winner in a farmhouse kitchen.
8. Make a Rustic Kitchen Wall List with a Wrapping Paper Roll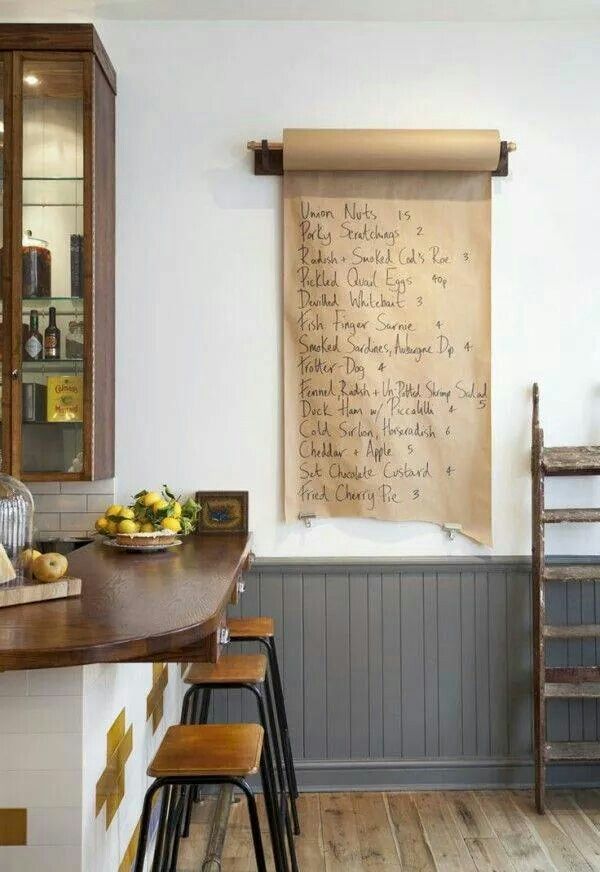 Photo:Credit
This bold farmhouse wall decor is made of a wrapping paper roll.
Just a hint – instead of making it as a page of a waiter's old server book, you can hand-write the recipe for your favorite cherry pie or cheesecake, for instance.
9. Adorn Your Pantry with a Farmhouse Chalkboard Door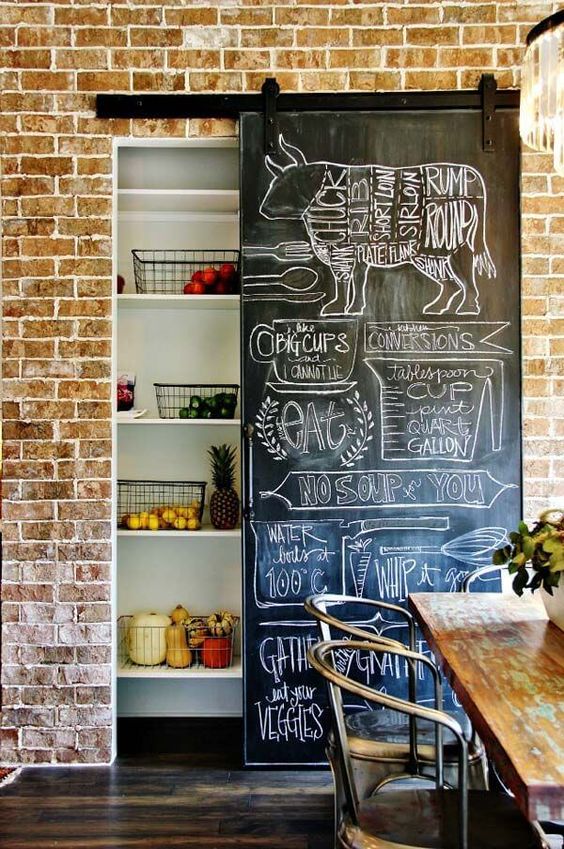 Photo:Credit
This sliding door is also a farmhouse wall art. It is painted with black chalk paint which, by the way, makes a good contrast with the brick wall. I just love this rustic vibe!
10. Bring Farmhouse Charm with a Sliding Kitchen Barn Door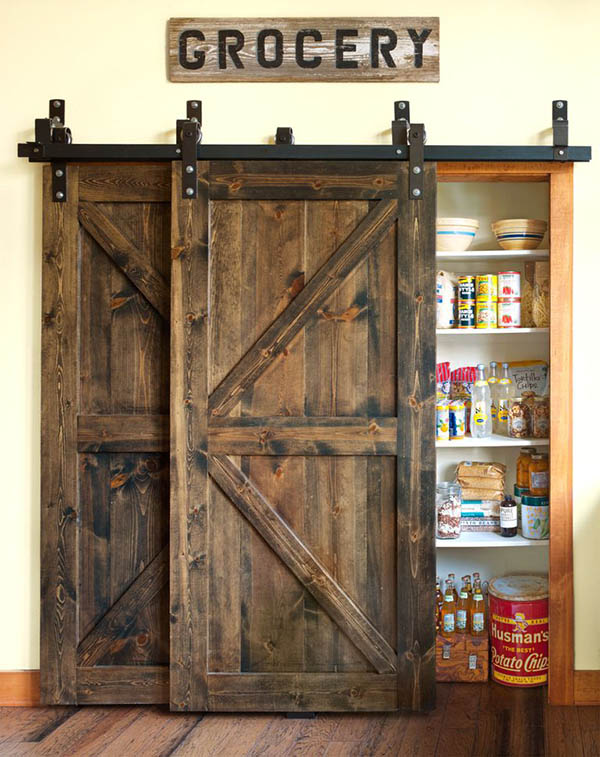 Photo:Credit
If you are looking for a way to give the functional space a vintage farmhouse look, you can just build 2 panels similar to the barn doors then stained them black and voila!
Tip: You can also hang a sign (or two) like in the picture. 
11. Add Lasting Charm to Your Kitchen with Wooden Cutlery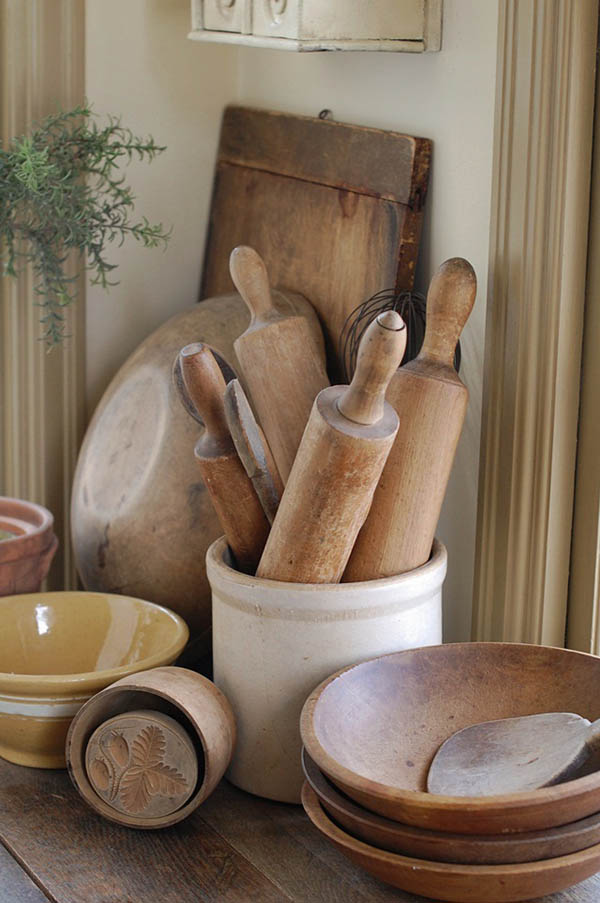 Photo:Credit
You can find tons of antique kitchen stuff in the Antique shops.
Wooden spoons and bowls, breadboard, ancient yellow ware, a spice cabinet with tiny drawers etc…I love them all!! Make sure you have some of those in your farmhouse kitchen, as well. 😉
12. Keep Vegetables Fresh with Rustic Metal Wire Baskets Stand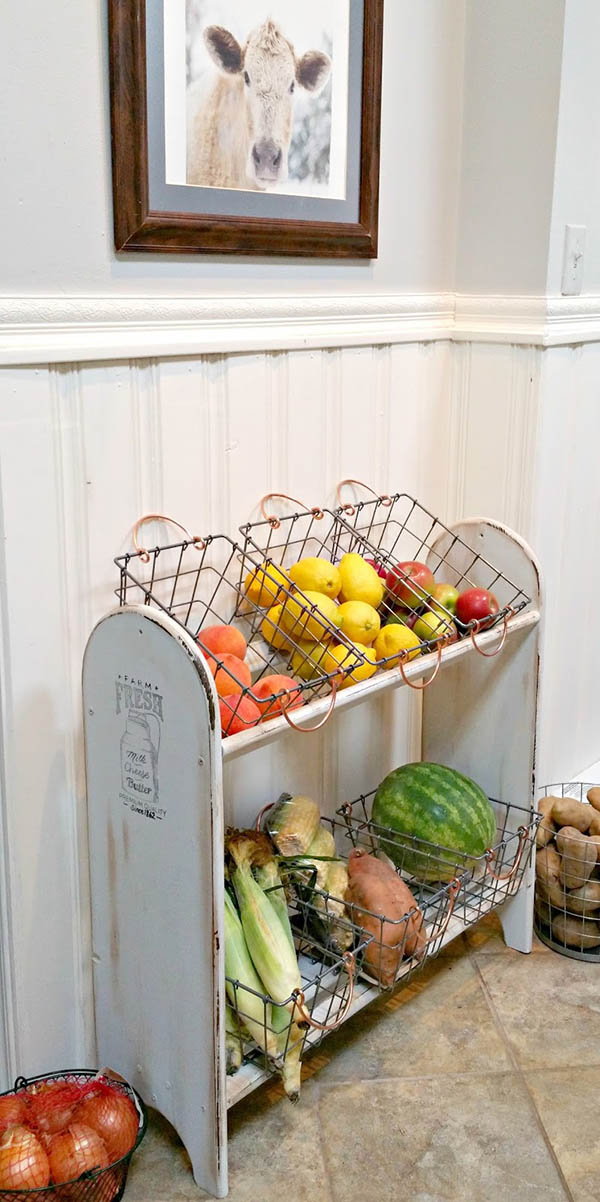 Photo:Credit
This DIY functional farmhouse kitchen vegetable (and fruits) stand reminds me of a Sunday farm market stand. It would fit well a smaller and a more spacious room. It's a great place to store food properly.
You can find the full tutorial on how to build one for yourself here.
13. Add Glamour and Personality with Farmhouse Kitchen Island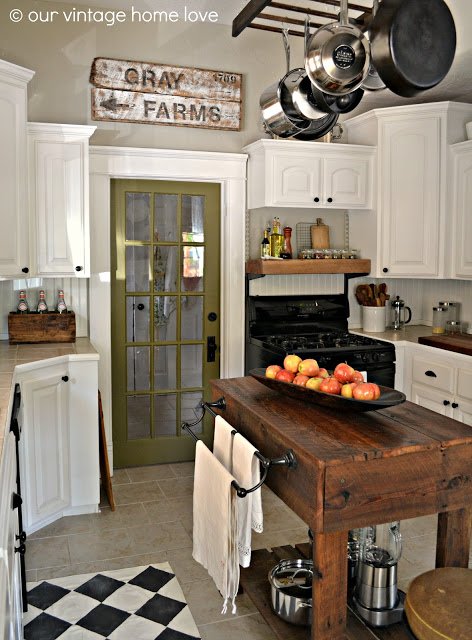 Photo:Credit
I found this wooden rustic island very functional and stylish at the same time.
It perfectly pairs with the overall design which, by the way, is a nice combination of antique and contemporary decor.
14. Brighten Your Kitchen with Elegant Farmhouse Lanterns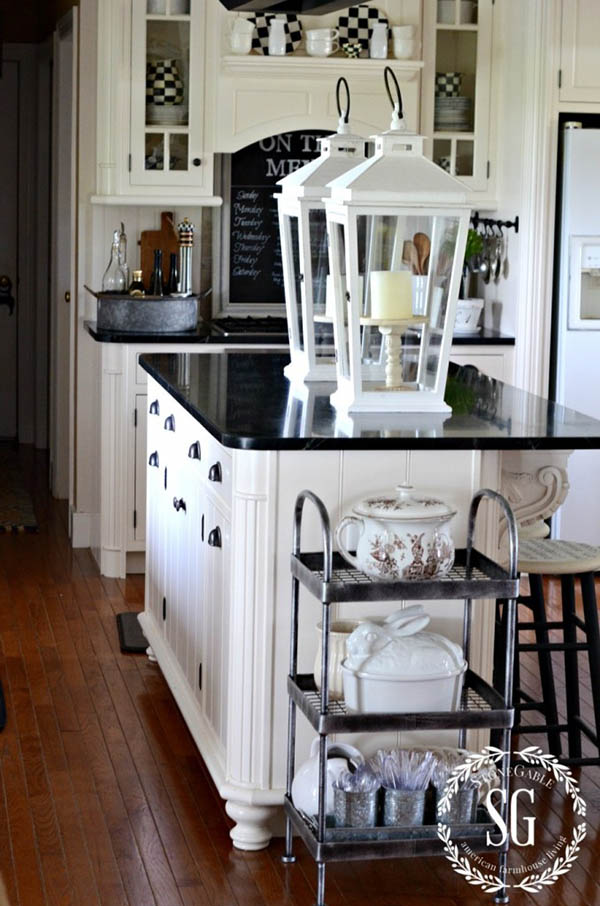 Photo:Credit
Some of you may find this small farmhouse kitchen design a bit unusual due to the oversized lanterns.
I think they add some texture and make the kitchen space more welcoming and cozy. Plus, their white color contrasts the black countertop of the island. Farmhouse pendant lights are a must-have to complete the look and atmosphere.
The wooden floor adds a warm feel and contrast to the kitchen.
15. Bring Rustic Elegance with a Modern Farmhouse Island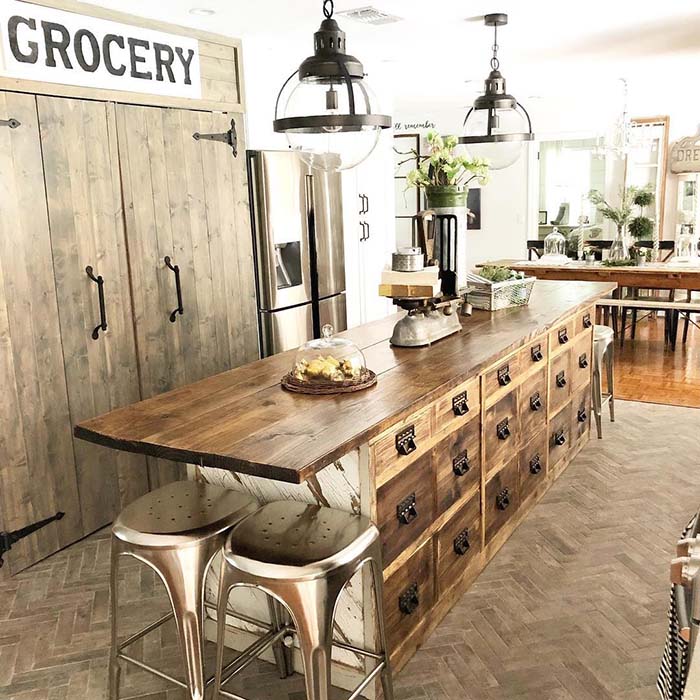 This is another idea for a farmhouse island. As the opposite of the previous ones I've shown you, this one is looking more expensive and modern.
However, the Grocery storage brings warmth to the overall design.
16. Step Up Your Kitchen Interior with Sliding Barn Door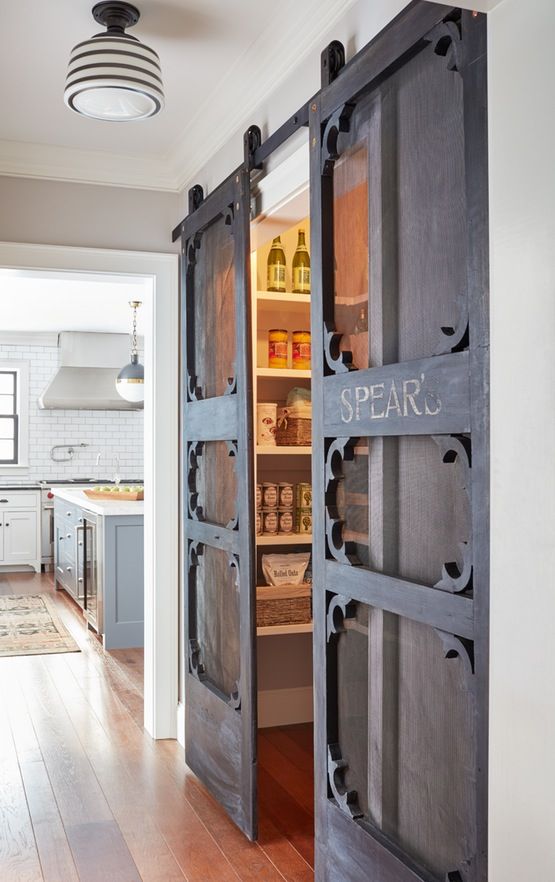 Photo:Credit
This design is made by the talented interior designer – Kristina Crestin. I love how she managed to separate a little buckle storage space by creating this stylish wooden old-looking door with a sliding mechanism.
More ideas for vintage kitchen decor from Kristina, you can find here. Enjoy!  😎
17. Add Splendour to Your Kitchen with Farmhouse Pendants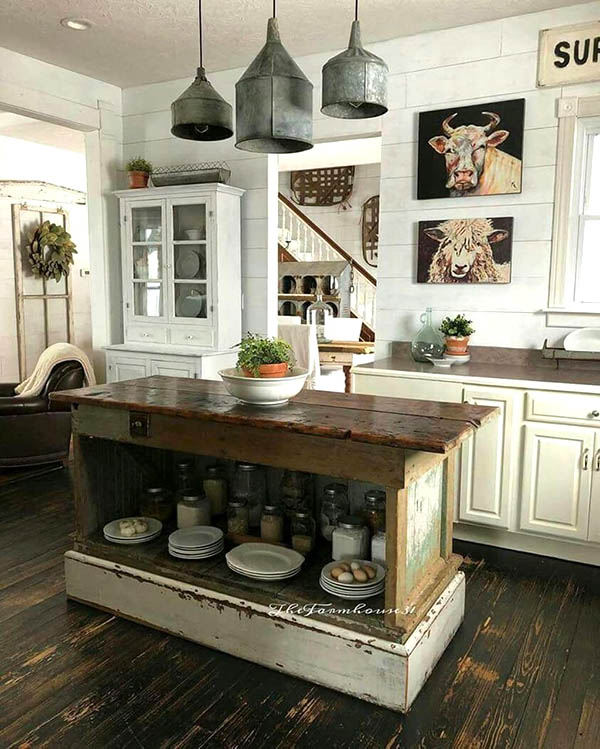 Photo:Credit
I would like to share with you this typical farm open kitchen and resting area decor with a charming island and some incredible accents like the wall art and the fabulous farmhouse pendants.
18. Create an Instant Cozy Look with Farmhouse Kitchen Design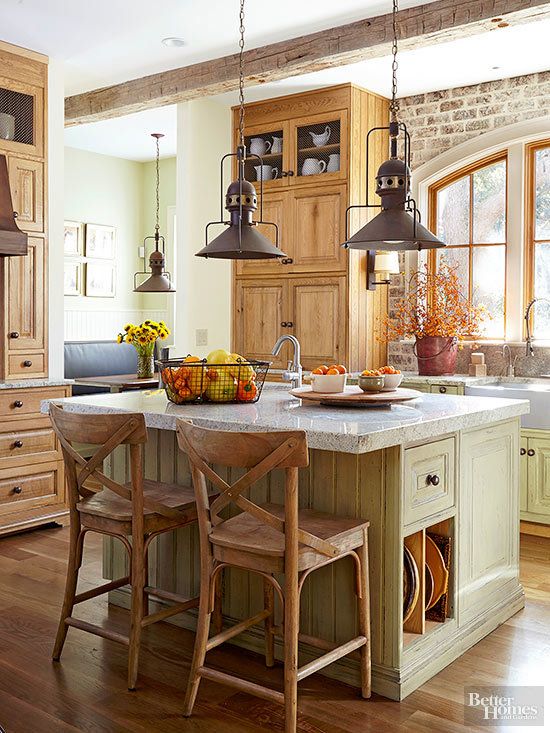 Photo:Credit
Who said that the marble countertop does not fit a vintage farmhouse kitchen decor?
Just have a look at this bold design mixing colors, materials and shapes, and you will definitely change your opinion! 😉
19. Make Your Kitchen Sparkle with Country-Style Kitchen Decor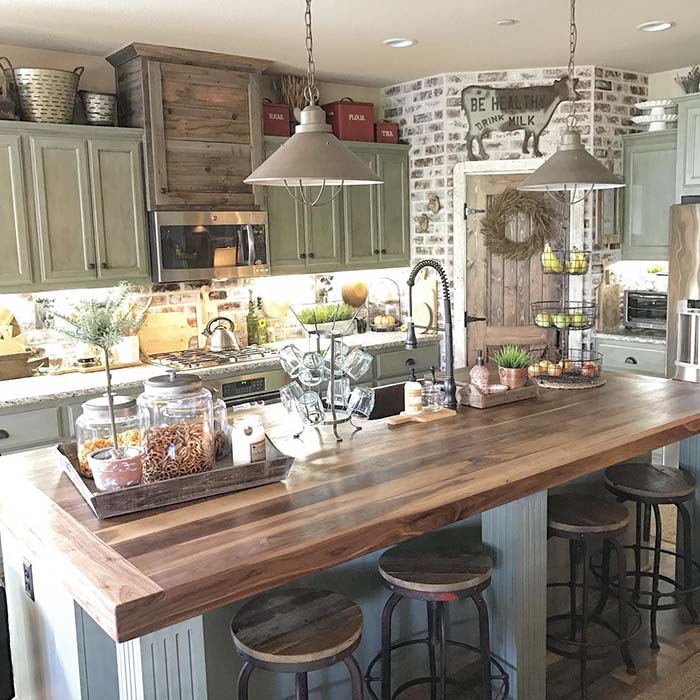 This rustic design did catch my eye because of the vintage-inspired accents and the lovely wall decor.
The massive wood kitchen island is the perfect spot to gather friends and family for a drink or an unpretentious cozy dinner.
via Rustic Farm Home
20. Blend Rustic Charm and Functionality in Your Farm Kitchen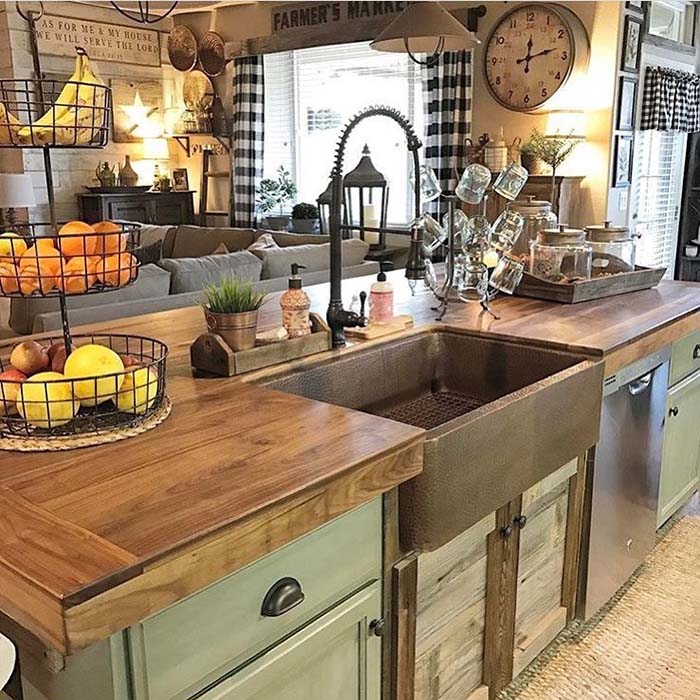 The look of this farm kitchen space is not open at all but its design is very practical and sharply-refined, with a large dark wooden butcher countertop combined with wire stands, classic glass jars, and a large vintage metal sink.
I simply love it! Hope you do, too!  😀
via Decor Steals
21. Make a Statement with Antique Farmhouse Kitchen Accents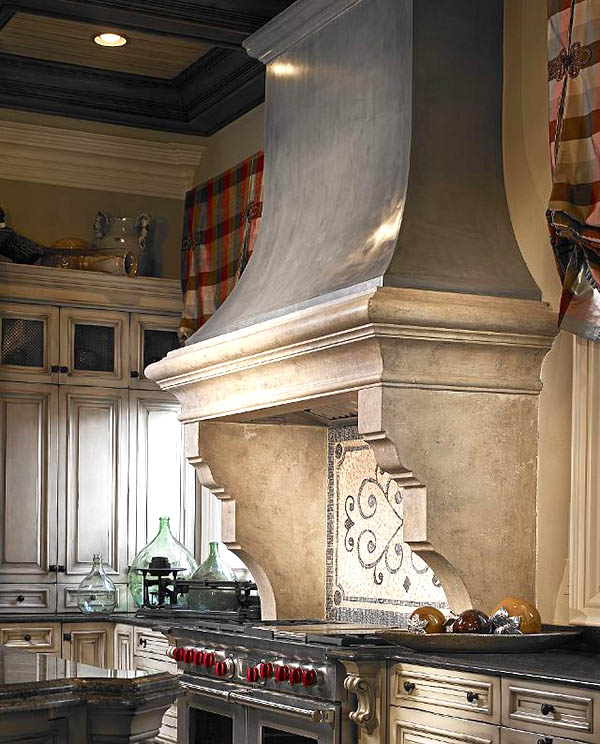 Photo:Credit
With such an authoritative piece of art (I'd say) your farmhouse kitchen will definitely shine and will turn into the most used room in the house.
Your neighbors would envy you!  🙂
22. Be Charmed with a Mason Jar Wooden Table Centerpiece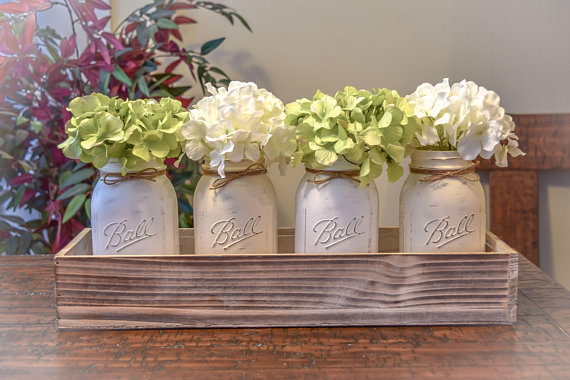 Photo:Credit
This cute table centerpiece could be easily made at home.
It includes a wood planter box, four-quart mason jars, and four hydrangea stems.
23. Add a Hint of Nature to Vintage Farmhouse Kitchen Decor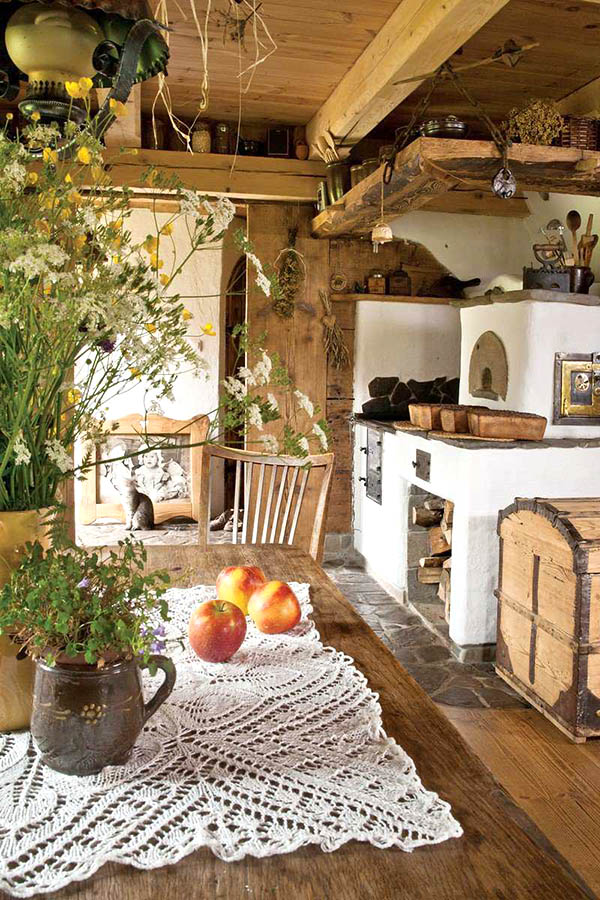 Photo:Credit
Everything in this picture screams "A-N-T-I-Q-U-E" – the Black & White framed photo, the fireplace, the massive chest wood table in the center.
I decided to share this rustic farmhouse decor idea with you because it kind of brings the sense of a past Epoque (from French, means 'time').
24. Unleash Your Creativity with Chic Farmhouse Kitchen Design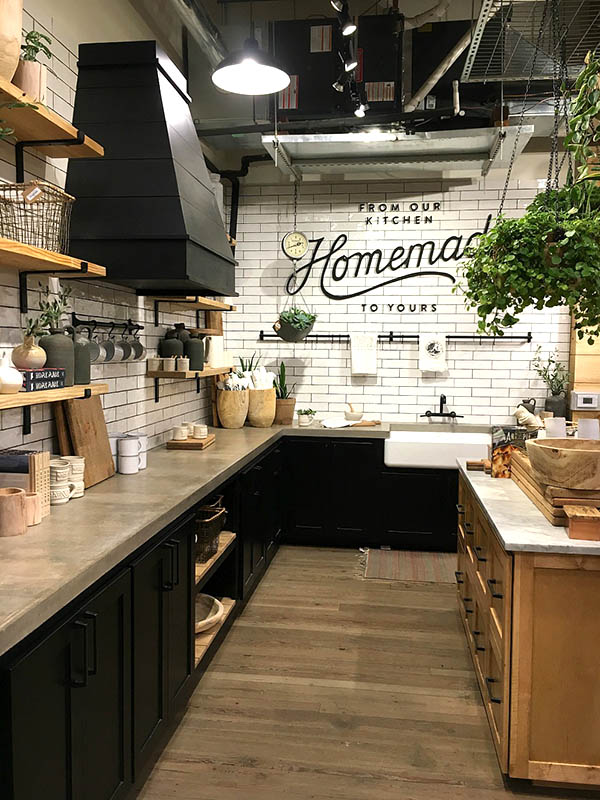 Photo:Credit
I love this design because it is very bold and it plays with materials, tones, and shapes. It reminds me a bit about one of my favorite dining spots in New York.
To create this vibe in your kitchen – have a look at the white tiles, also buy lots of kitchen farmhouse decor stuff from Amazon (like Caddy set, wire baskets, paper tower holder, metal boxes, kart, tin sign, canister, vintage mugs, wooden bows, and spoons etc.)
25. Complete Country House Kitchen Design with Shadowbox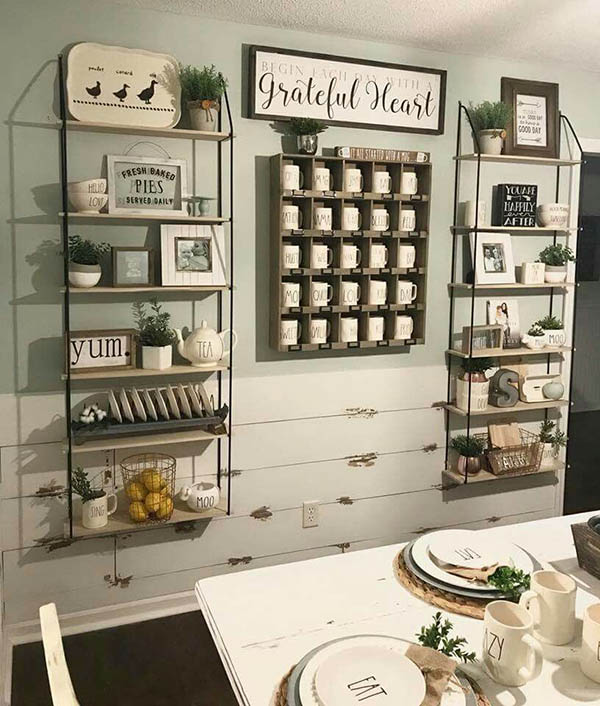 Photo:Credit
This cute shadowbox filled with tiny mugs provides a lovely backdrop in this character-driven dining area. In combination with the symmetrical open shelves, they create a perfect finished country house kitchen design.
26. Bring a Breath of Fresh Air with Roll Up Kitchen Window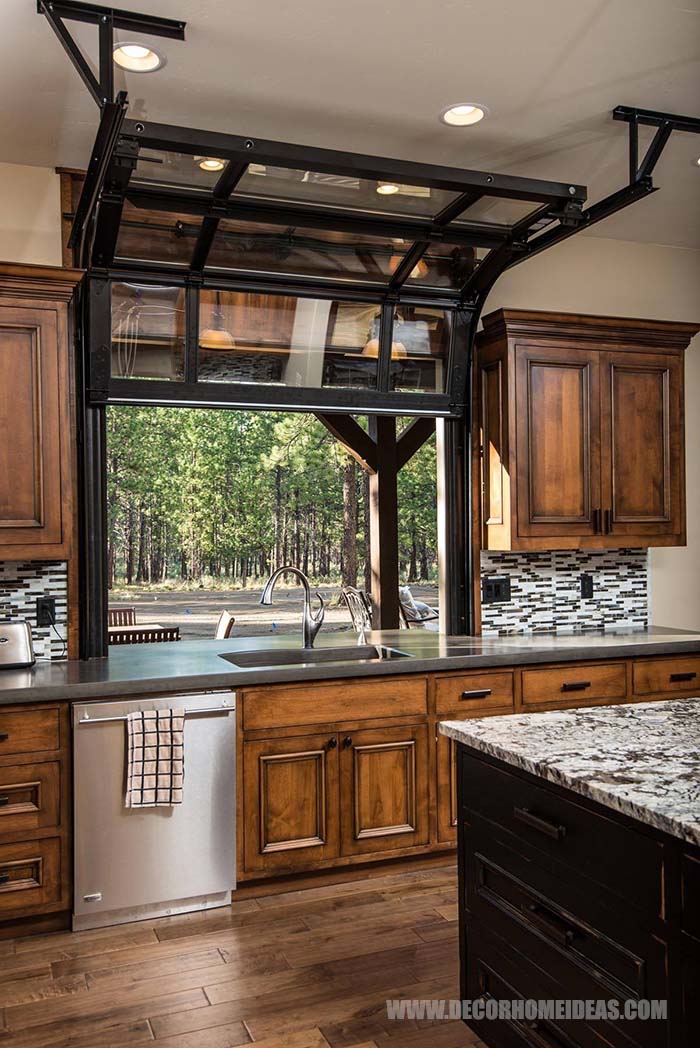 Great idea to save space and have beautiful view from your kitchen while enjoying some cool and fresh air.