While small homes can feel so cozy and charming, they could be a real challenge when it comes to creating enough storage places and an organized neat look.
And if there are tons of storage ideas on the Internet, you don't know which one is actually worth doing or buying. This is what we will like to help you with.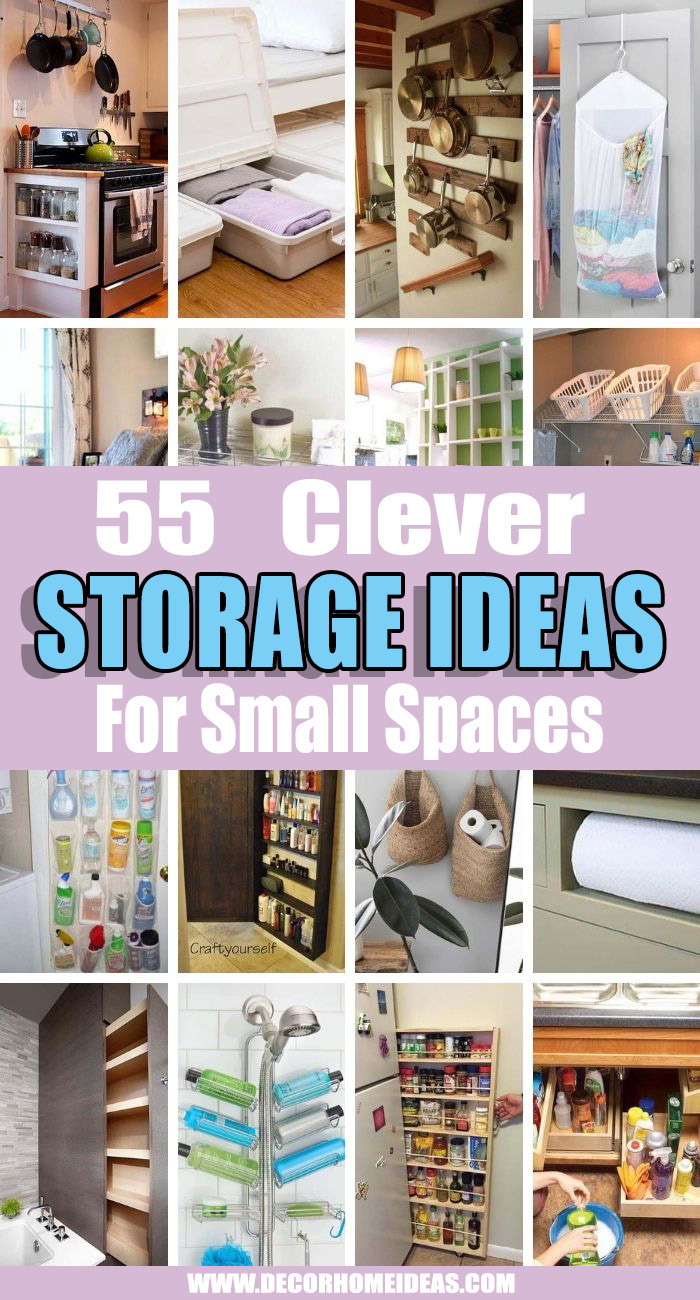 The most clever and efficient storage ideas are collected in one place to create the organized and airy home that you dream of.
1. Use Under The Bed Space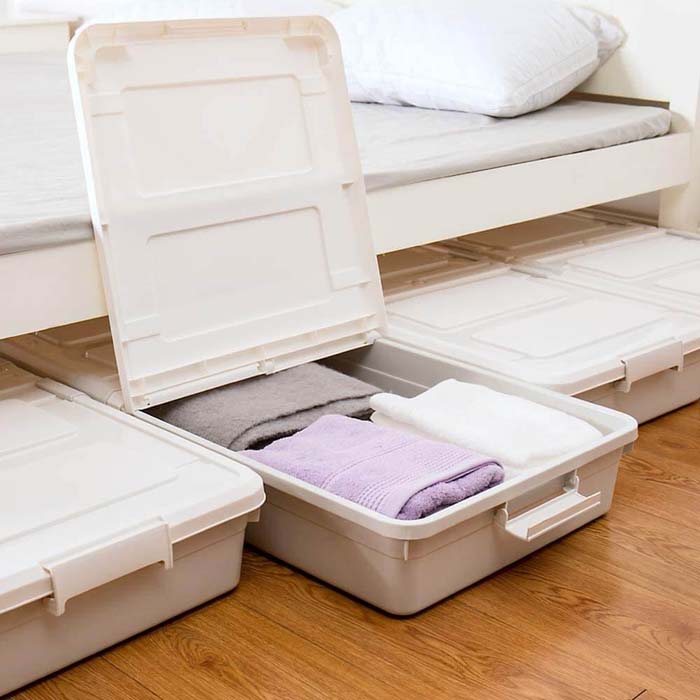 You don't have money to change your bedroom furniture with such that provides storage under the bed? That can be easily fixed with storage bins that close to keep the stored items dust-free.
They are deep and long enough to accommodate seasonal clothes, lining or whatsoever that doesn't have a place to be put. And you don't have to crawl under the bed to take them out, just pull the handle and the bin will come out thanks to the wheels installed on its bottom.

2. Slim Storage Fits Between Appliances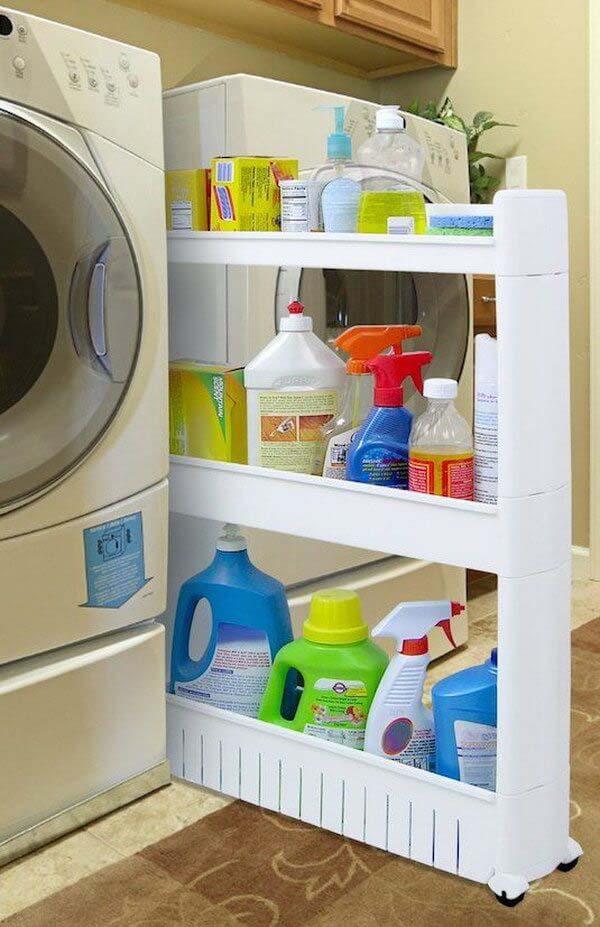 Any empty space, even the narrowest one can be a treasure for extra storage.
The distance between the drawer and the washer can be filled with a rolling shelf, big enough to hold the detergents.

3. Easy DIY Sandal Hangers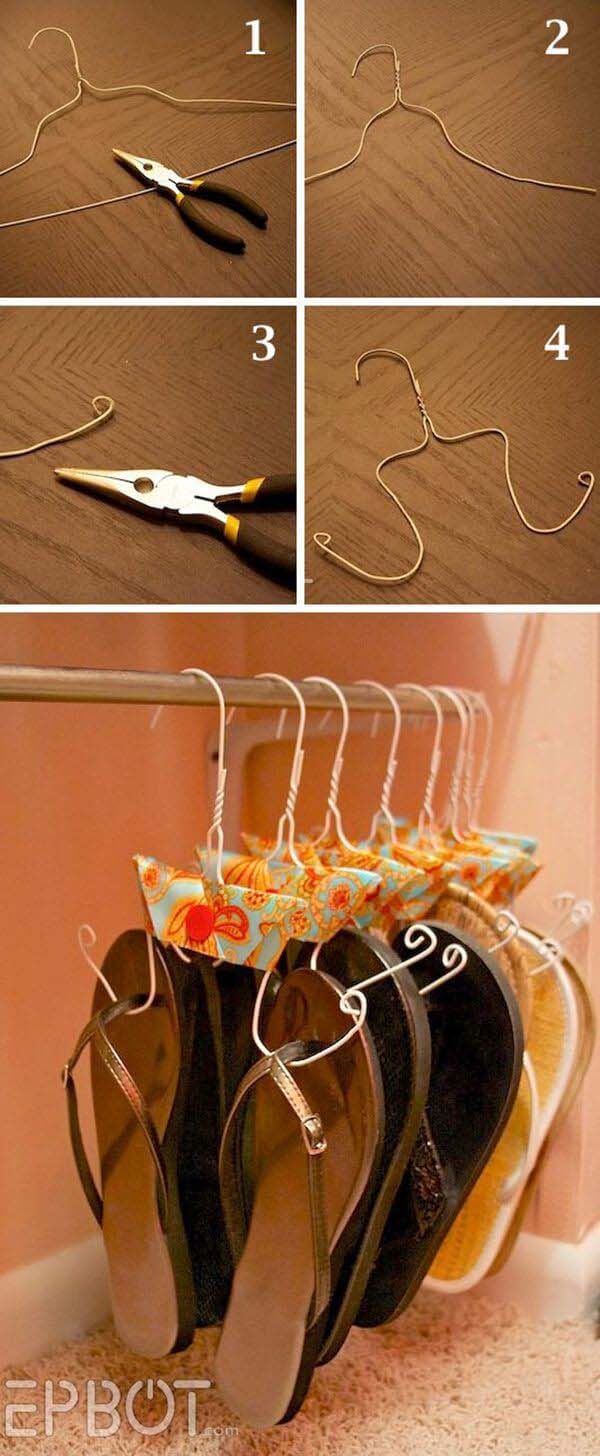 Increase the storage place in the entryway with a special rack for flip flops and sandals. You need a curtain or a towel rod.
To ensure that it looks good and doesn't take up any of the essential space, screw it under the shoe stand or under the coat rack.
The easiest way to organize your summer shoe pairs is to modify plain wire hangers the way it is shown on the image.
via EPBOT
4. Tilt Shelves For Easy Basket Access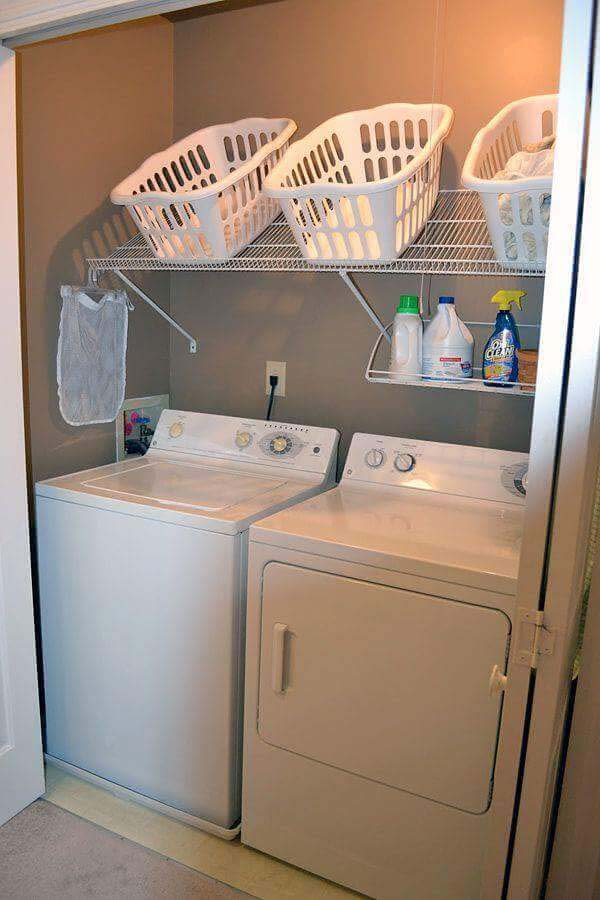 Use the space above the machines in the laundry room for laundry organization. A metal shelving unit, attached to the wall at an angle will let you properly store and even sort the clothes.
Its inclined position will ensure easier access to the baskets.
5. Chic Artwork Hides Murphy Table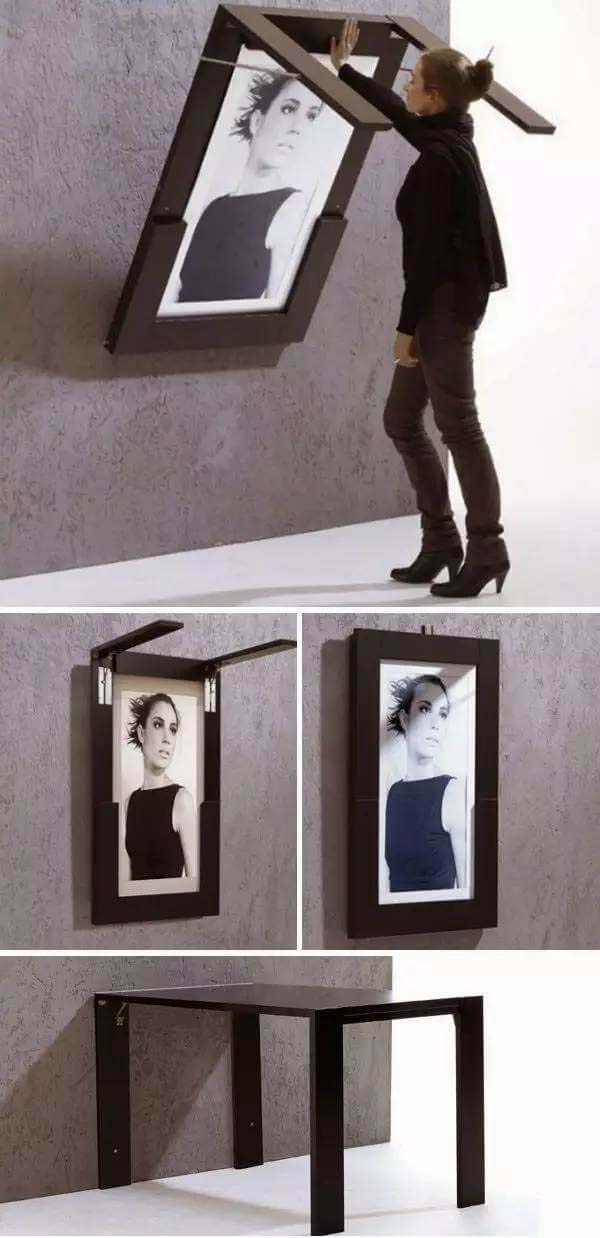 Need an extra dining area or you don't have space enough to zone a dining room?
With this multifunctional idea this problem is solved- you get a fantastic art production and a large table in one!
6. Full Height Wraparound Shelving Unit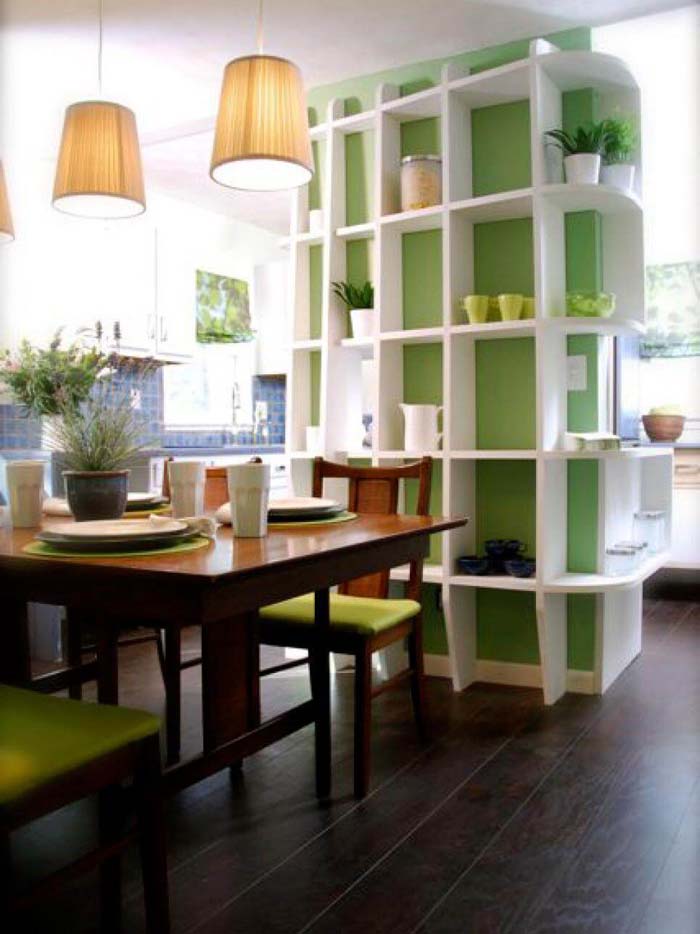 Use an architectural feature of your home to increase the storage places. This column, for example, cannot be removed because it is a load-bearing structure.
So just use it smartly by "dressing" it with open shelves. In addition to the additional storage, you also get a fantastic focal point.
7. Over Door Hanging Cabinet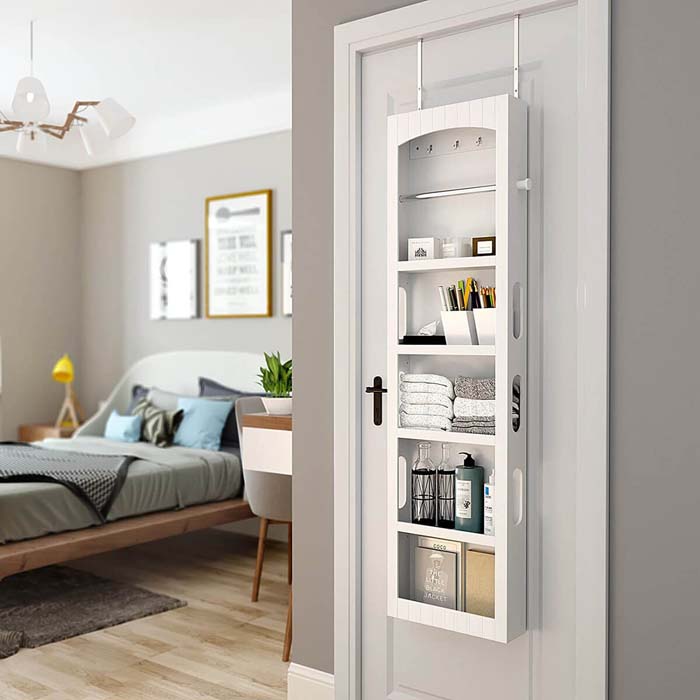 The organizer's type "over the door" are very practical for all rooms. They come in various sizes and materials so choosing the best match for your interior won't be difficult.

8. Add Bath Storage Next To Cabinets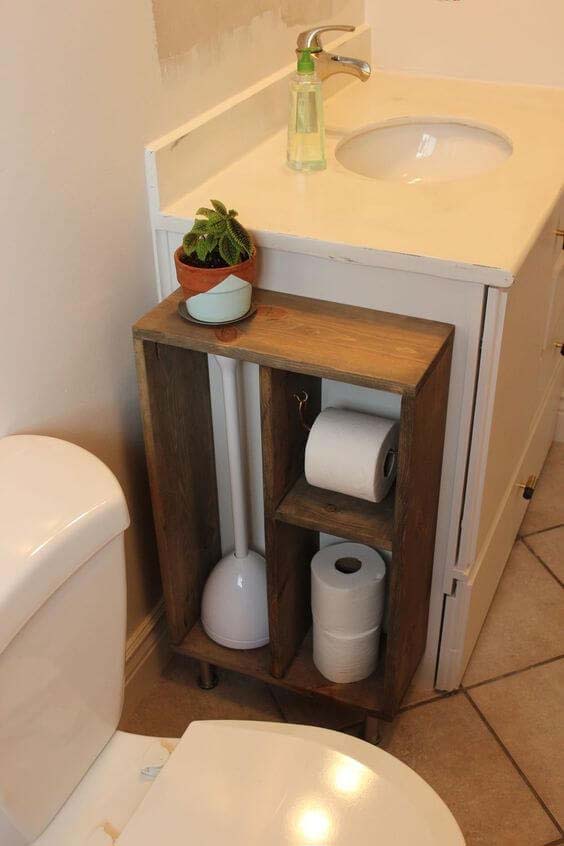 This is a free idea of how to build a small shelf that can take up the toilet accessories. It won't take up much lumber, time or space.
As a result, the toilet will look far neater and an integral part of the general interior concept.
via Homedit
9. Under Stair Cabinets Add Extensive Storage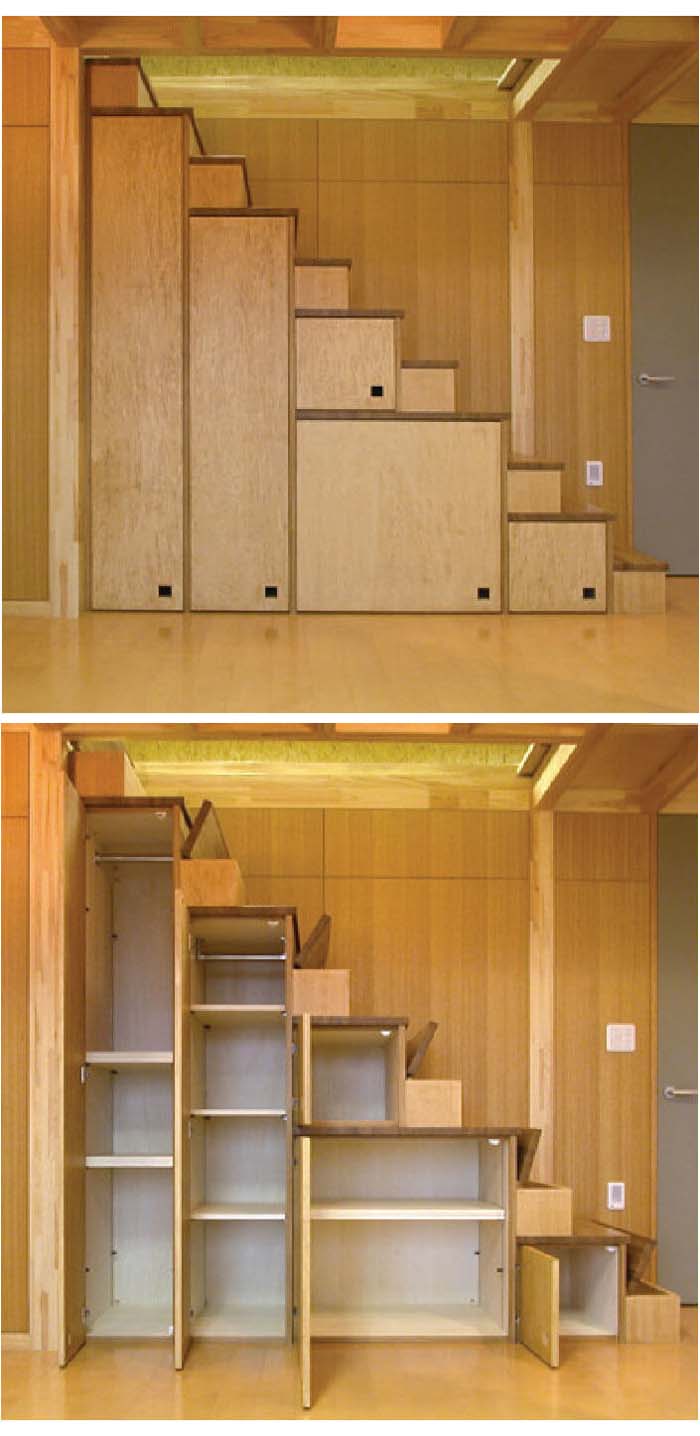 Before making the staircase to the second floor, think about how to make it practical, not only good-looking in a decorative way.
A customized cabinet following the curves and design of the staircase will reveal huge compartments for organization.
10.Toilet Back Shelf Storage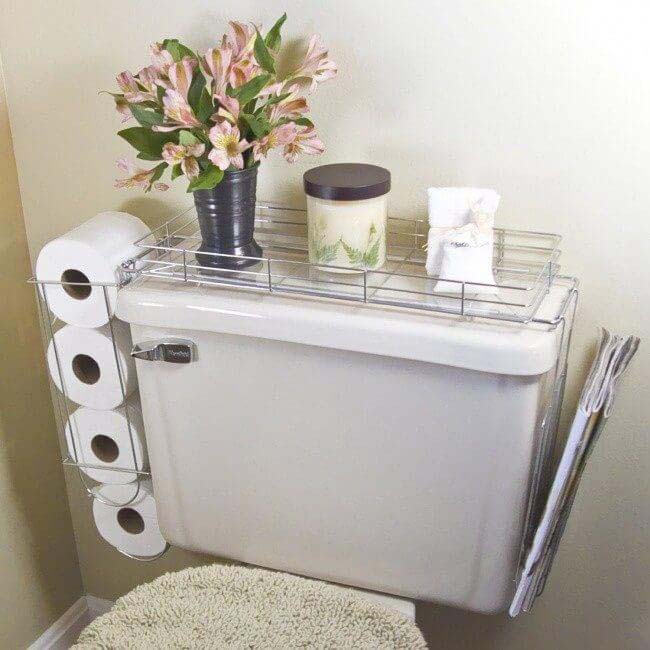 When the space is limited, we need to think about ways to upgrade the already existing and irreplaceable furnishing.
A commode shelf combining three separate wire organizers fits exactly around the flushing cistern to hold all you may need in this space.
11. Boho Hanging Baskets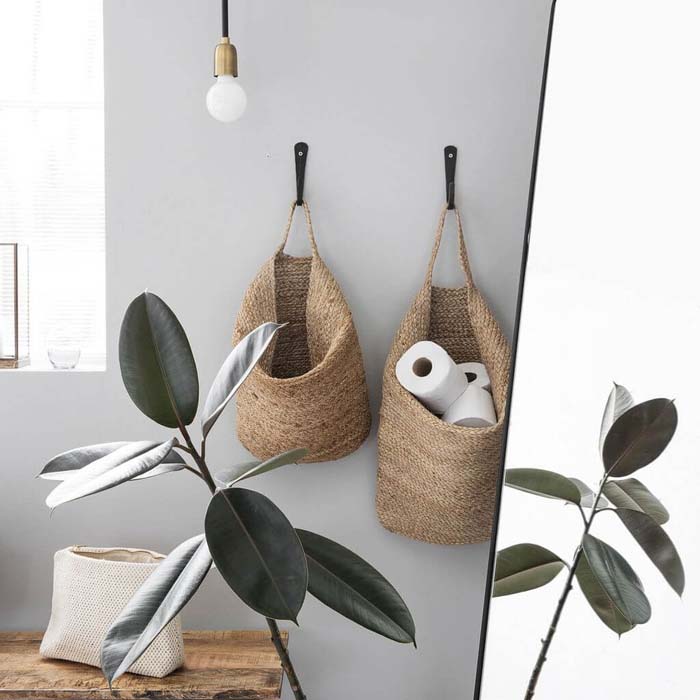 This Mira storage basket is a great and affordable way to increase the storage options when no floor is available.
All you need to do is to screw a hook on the wall. Its sturdy and rustic design will take care about the rest.
12. Recessed Jar Storage Shelves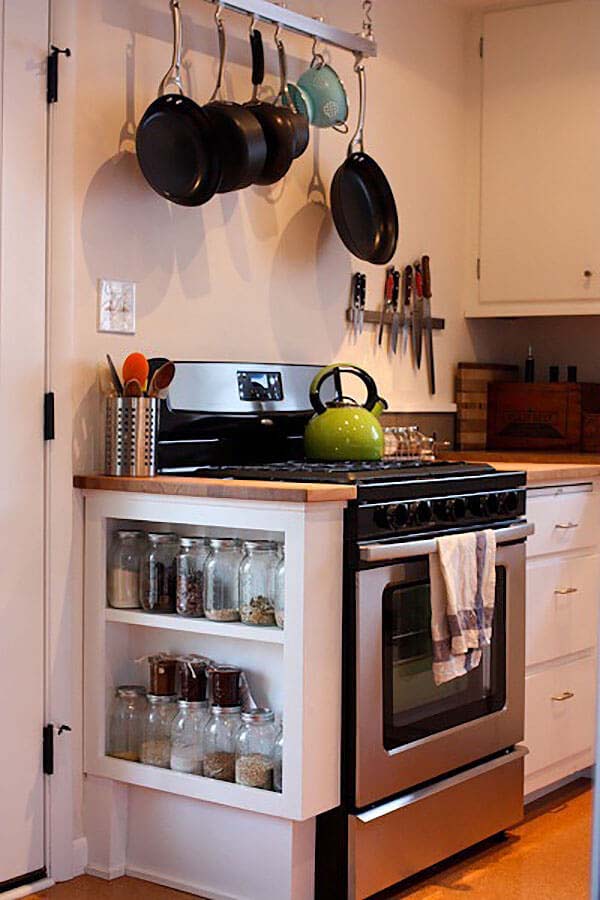 In this photo, we see three great ideas that will solve your problem with kitchen clutter.
One of them organizes all pans on a metal rack with hooks suspended over the oven.
The other one features a magnetic strip on the wall that holds all knives safely.
The third one creates a special place for the spices. The shadow-box-like cabinet is at a one-hand distance from the cooking area and doesn't take up any of the space as it is built in the side of the kitchen island.
via Kath Eats
13. Narrow Corner Bath Shelf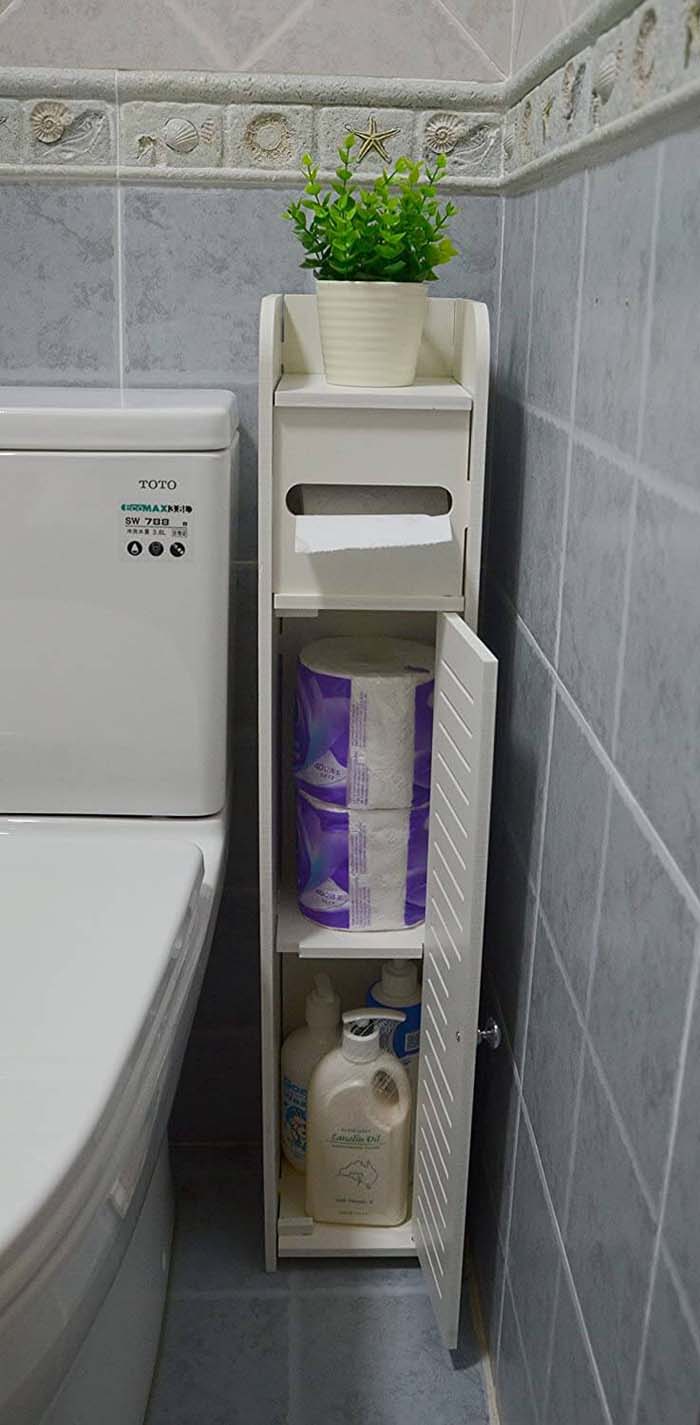 We are sure that this cabinet will easily find its place in your bathroom thanks to its slim design.
It features four compartments that can accommodate the typical accessories for this room.

14. Under Cabinet Cutting Board Holder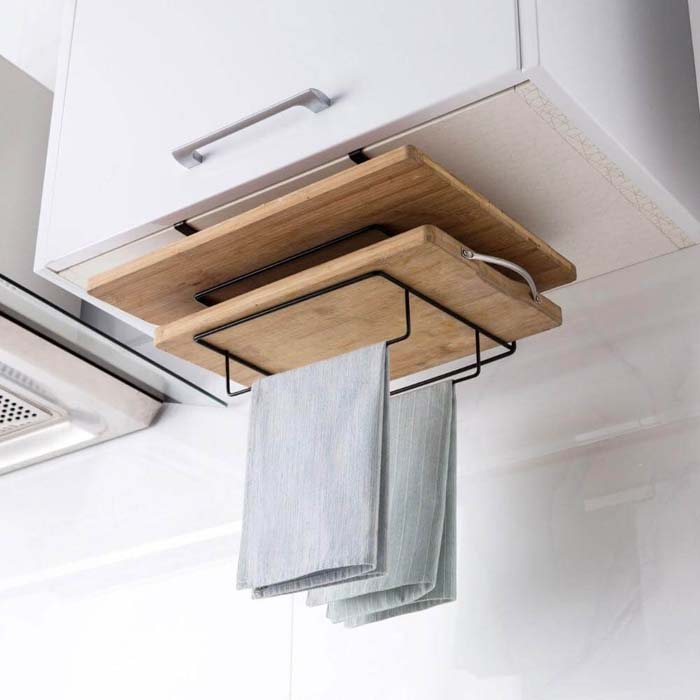 The clutter-free countertop is the key to a neat and organized kitchen. This rack comes to help with the cutting boards organization, otherwise they will be on the countertop, taking up space and creating a chaotic look.
Its design is adapted for mounting under a shelf or cupboard.

15. Stacked Can Risers Improve Visibility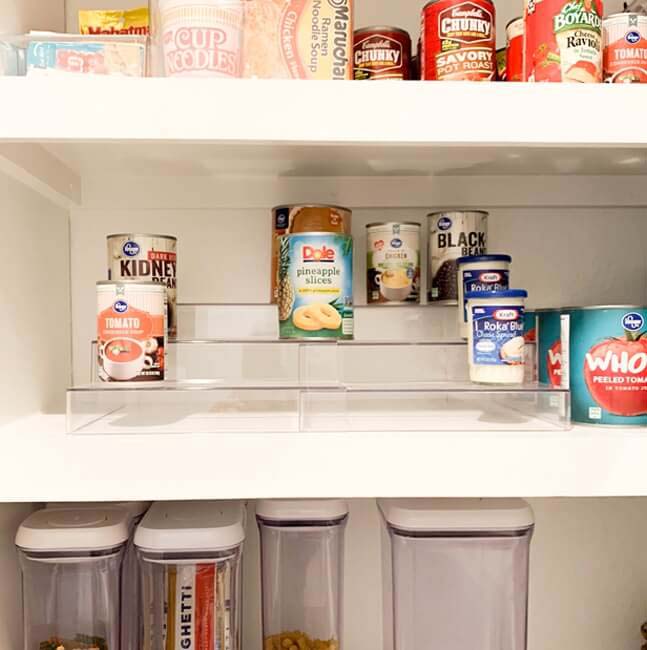 This organizer may seem like something you don't need but you will be fascinated by how easily it increases the storage places in the pantry.
The distance between the shelves is perfect for big glass jars. But when it comes to placing the tins, you will see how much free space left there is over them.
This organizer just does that- covers the entire distance providing three tiers for the smaller canned food.
via Stacy's Savings
16. Repurpose Shoe Storage For Cleaning Products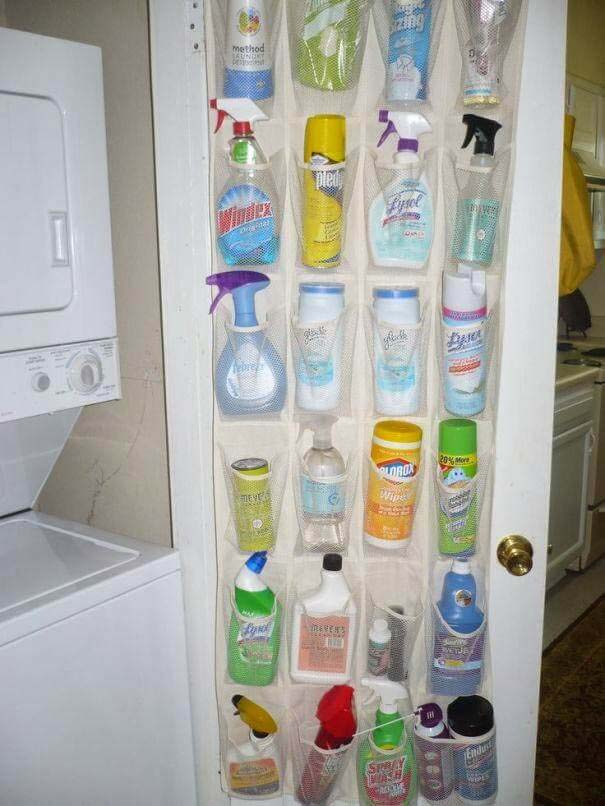 The shoe organizer is the greatest Dollar store miracle! Almost for no money, you get an easy to attach multifunctional storage place!
Whether in the bedroom, the bathroom or in the tiny laundry room, it will help you create the order your small home needs!
17. Hanging Hot Tools Cabinet Hooks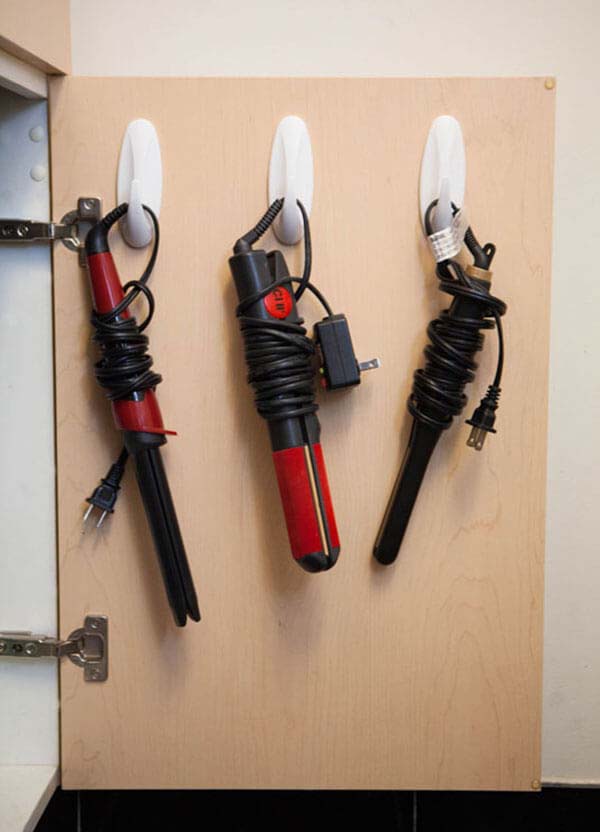 Functional storage ideas don't have to be expensive! The plain hook makes a great difference when it is placed in the right place.
And speaking about that, have you ever considered the internal surface of the cabinet door for a possible storage area?
via Cosmopolitan
18. Efficient Built In Laundry Center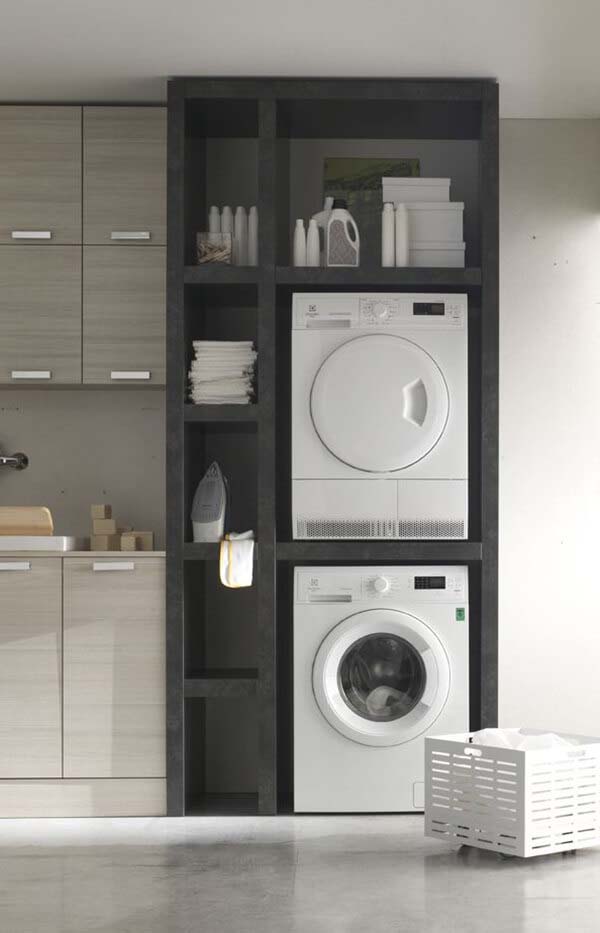 When you are short on space, think vertically! A storage unit that traces the wall on its vertical plain gives many compartments to build in appliances in a very stylish way.
via Archiproducts
19. Magnetic Refrigerator Kitchen Organizer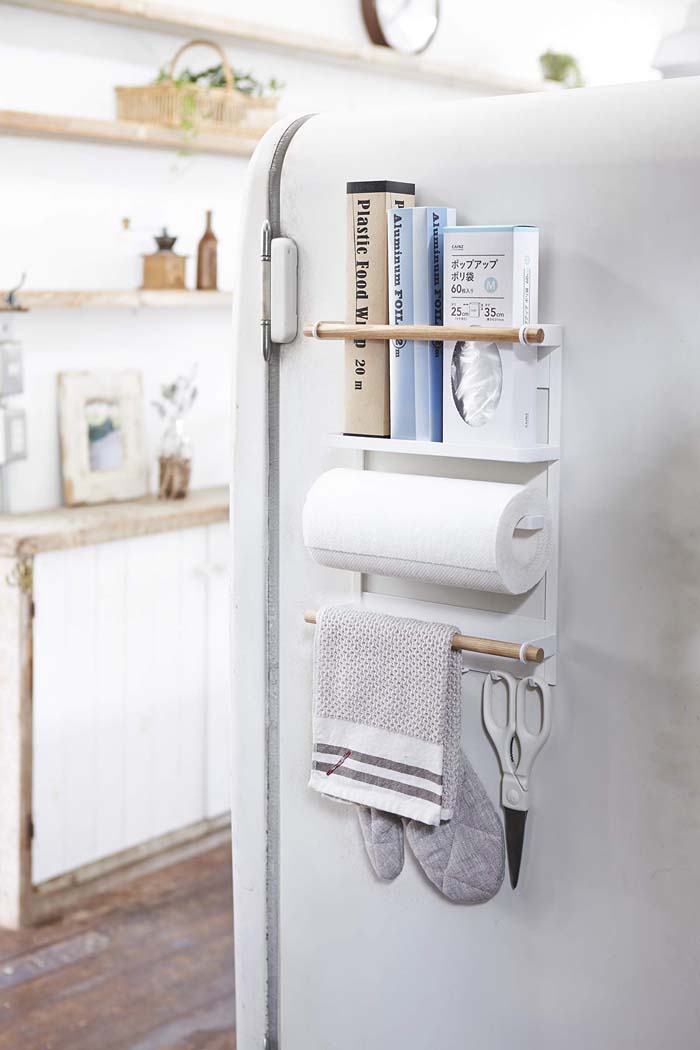 This organizer is another good idea aiming to make the kitchen countertop clutter-free.
Thanks to the magnetic strips at its back, it can be attached to an appliance in the kitchen. Placed on the stove, you can organize kitchen accessories like paper towels, cooking gloves, etc.

20. Add Extra Storage Below Cabinet Shelves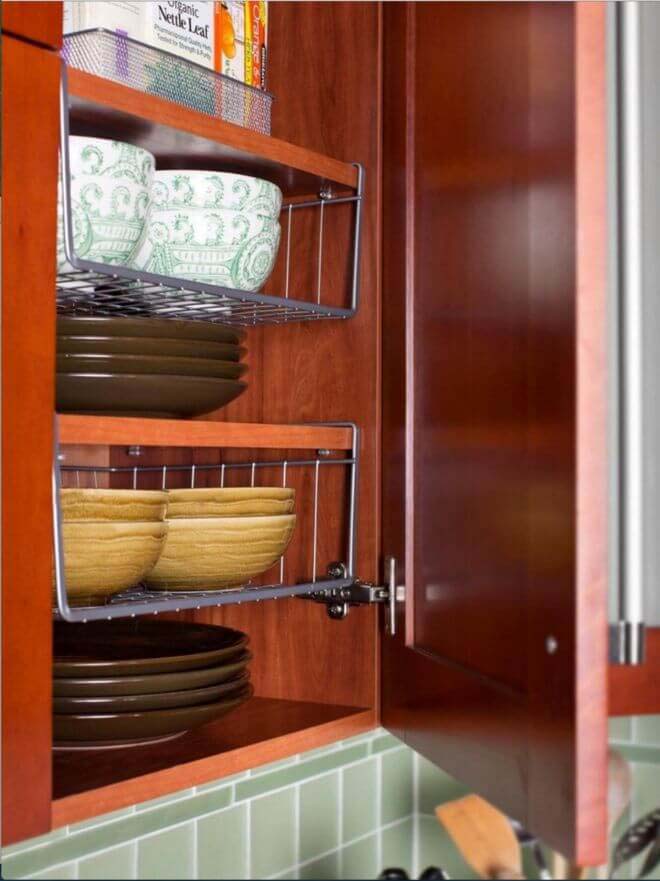 These metal racks come to double the storage place of a shelf. This type of auxiliary storage is perfect for kitchen and bathroom cabinets, as well as pantries.
via HGTV
21. Slide Out Bathroom Storage Unit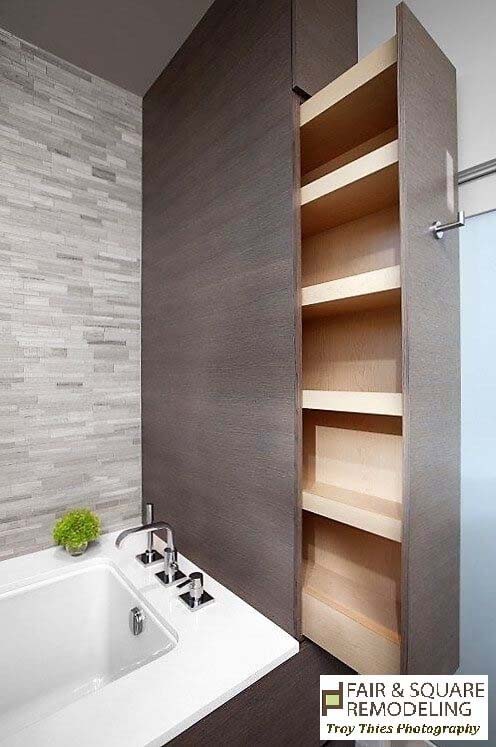 Create more space for storage in the bathroom by installing a cabinet between the wall and the tub.
Since that space is quite narrow, the design of the cabinet considers the width as an optimum way to utilize it.
22. Keep Books Tucked Under The Bed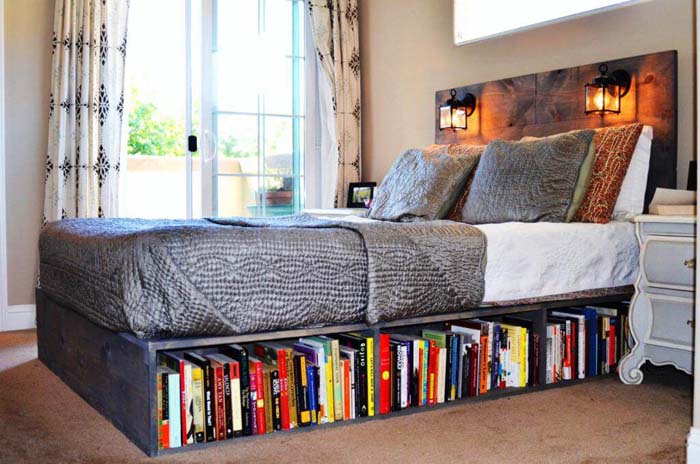 Do you enjoy reading books? In case you don't have any floor room for a dedicated library, make a compact one under the bed.
The wooden base of the bed has been designed to have a storage compartment underneath the mattress and an open shelf on both sides for books.
23. Hidden Cabinet Behind Mirror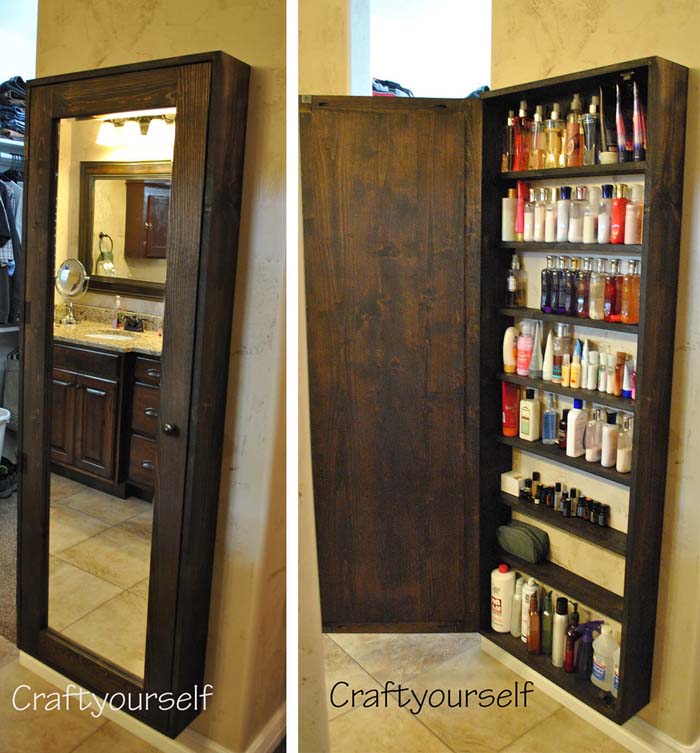 Copying the design of the shadow box, this DIY cabinet will give you a special place for your cosmetics in a very compact and elegant way.
It is slim so overwhelming the already small bathroom is excluded. However, it is just wide and tall enough to ensure 8 shelves for storage.
The best of it all is the mirror effect when the cabinet is closed- another multifunctional storage idea that will easily find its place in our homes.
via Craft Yourself
24. Integrate Storage In Cabinetry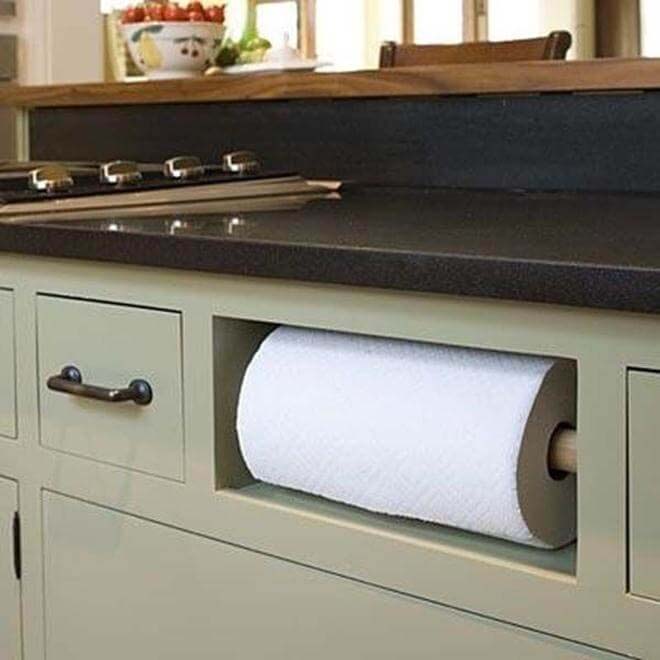 When a small space is designed two features have to be of priority- comfort and order! Otherwise, you will end up living in chaos that will never look tidy regardless of your efforts.
So before purchasing your furniture think about increasing the storage places in a practical and compact way.
25. Kitchen Command Center Organizes The Family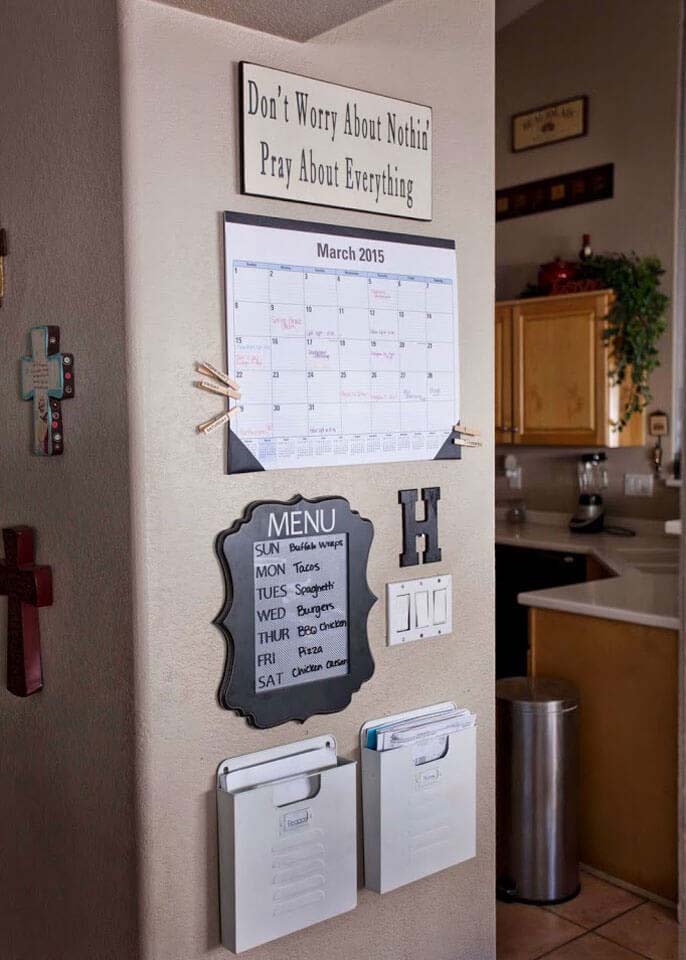 Use an empty wall as a canvas that will make your family life and activities more organized.
It can accommodate a calendar, a menu, mail organizers. To make them fit easily into the existing interior, try to make some of them yourself or combine them with signs or another type of wall art.
26. Keep Shoes Handy With A Coat Rack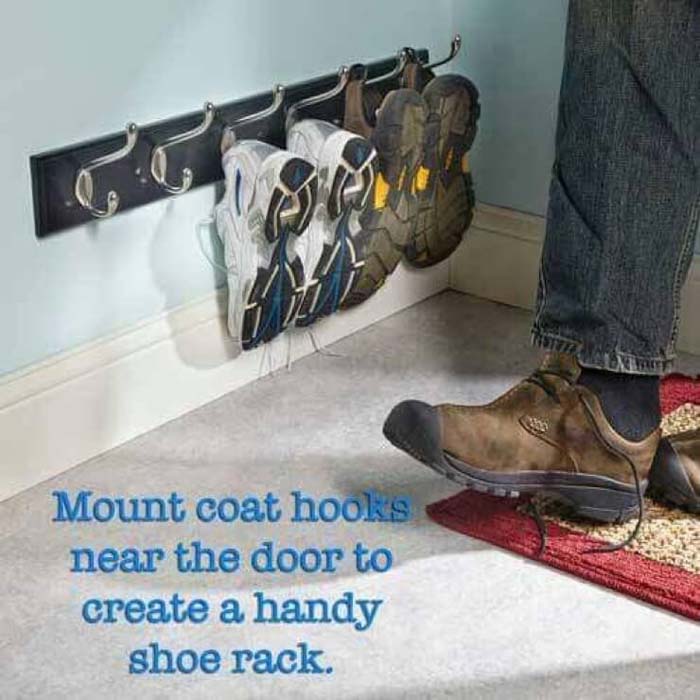 Make your entryway clutter and dirt-free with a special rack for daily used shoes.
It is one of the easiest ideas ever as you only need to mount a coat rack on a low level to the wall. The longer the rack is, the more pairs you will be able to hang.
27. Use The Open Spaces You Have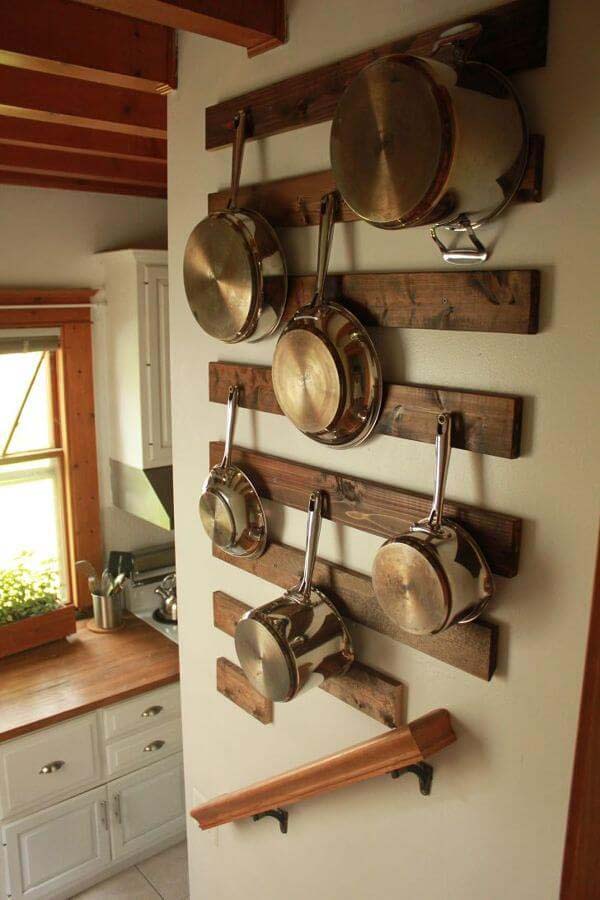 Lacking cabinet space for your pans? With this idea, you can get a double effect- a great focal point for an empty wall and a practical organizer!
You need some lumber, nails and hooks. Stain the boards in the same color as your kitchen countertop to make the wall rack feel like an extension of the kitchen.
28. Under Cabinet Kick Drawers

The toe-kick mechanisms are another great invention when it comes to storage in small spaces. They make storage under the kitchen cabinets possible.
Yes, that space which is prone to getting dirty and access to it is impossible now becomes an essential part of the kitchen storage places.
via Family Handyman
29. Double Sided Shower Caddy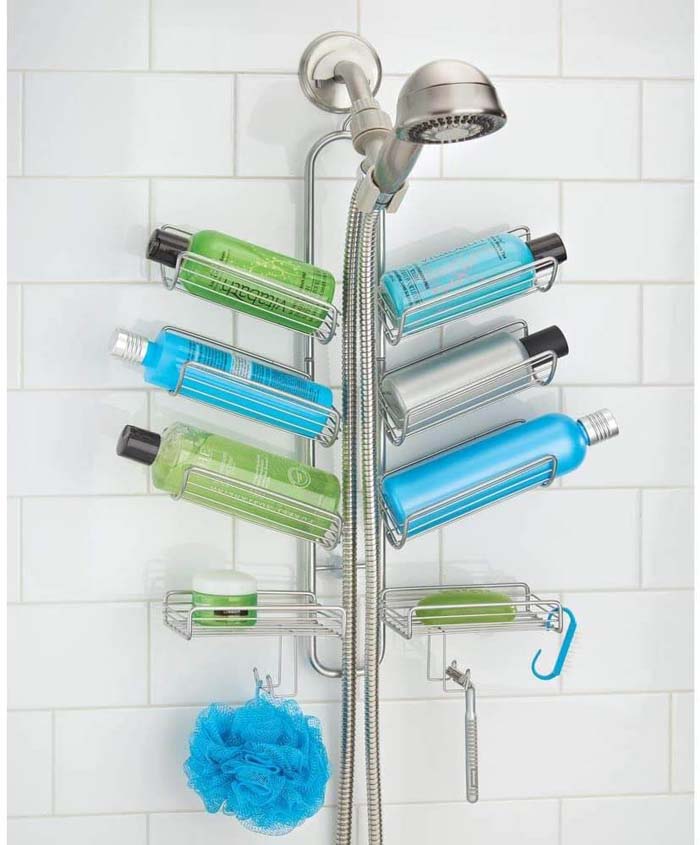 If you have a shower, then you have a special stand for it. Usually, it is just as big to take up the shower tip. The design of this stand is taken to another level, thinking about the organization in the bathroom.
The caddy gives you eight shelves and four hooks to keep everything tidy and properly stored.

30. Repurpose Hat Boxes As Storage Shelves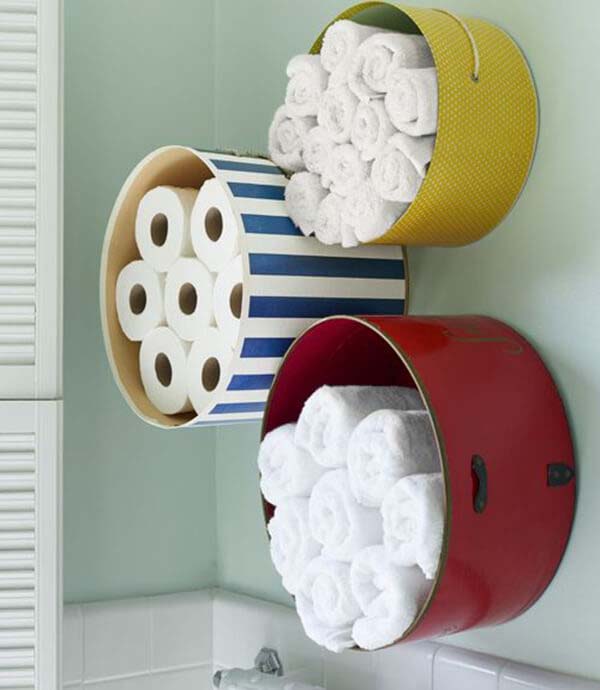 The wall over the toilet is an area that often gets underestimated. It is big enough to take up a cabinet or a few shelves that can hold all the accessories related to this space.
If you are looking for a more extravagant storage solution, here is an idea of how to use hat boxes as bathroom organizers. Their texture and colors can be customized according to the interior of the space.
via Country Living
31. Nautical Cleat Shelves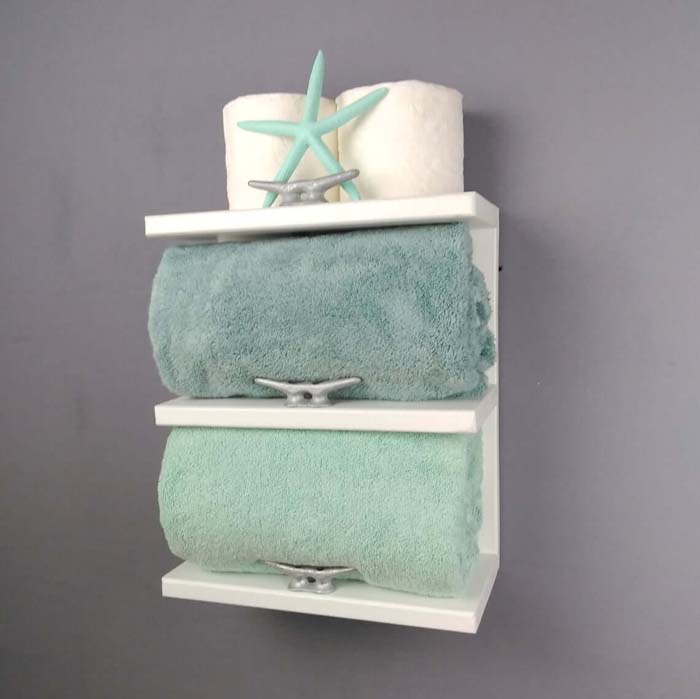 The design of this charming shelf unit considers holding three big towels safely. This is ensured by dock cleats placed centrally at the edge of each shelf.
Because of its small size, it can be mounted over the toilet or over the bathroom sink.

32. Save Floor Space With Hanging Laundry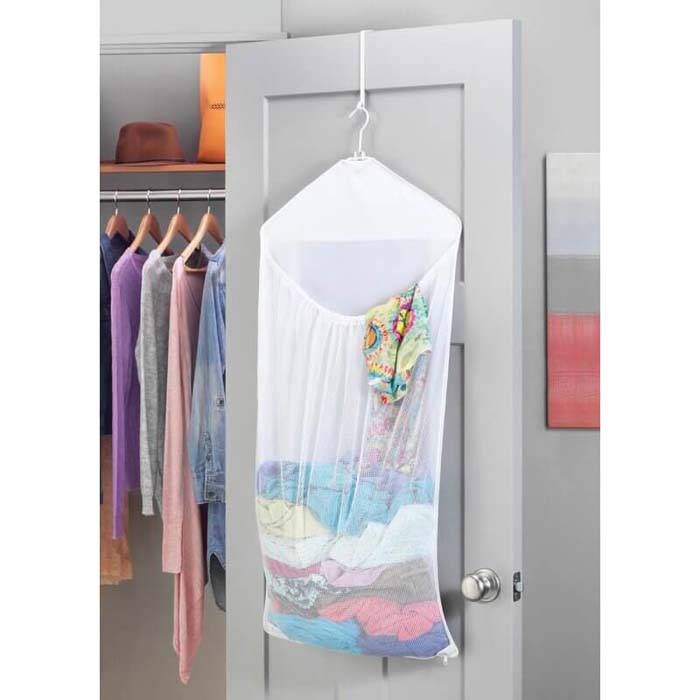 No space for laundry baskets? This over-the-door bag will take up all the dirty laundry collected during the week.

33. Space Saving Over Sink Drying Rack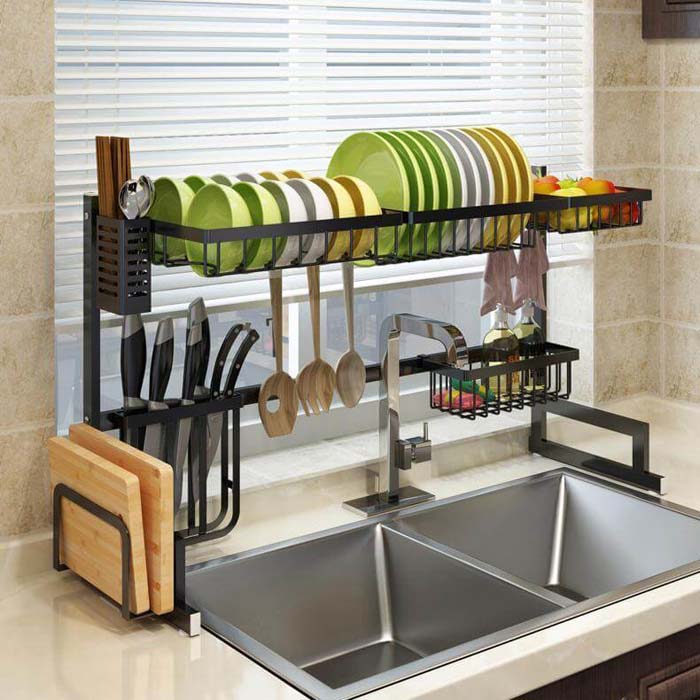 The over-the-sink dish rack is a very trendy kitchen accessory and it is totally satisfied because of the numerous advantages it features.
It is placed right over the sink so drainage of water happens in the sink.
Its compartments take care of all the variety of shapes of the household tableware.
Last but not least it won't take up any of the countertop so that means a neater look and more space for meal preparation.

34. Add Spice Shelving To A Pantry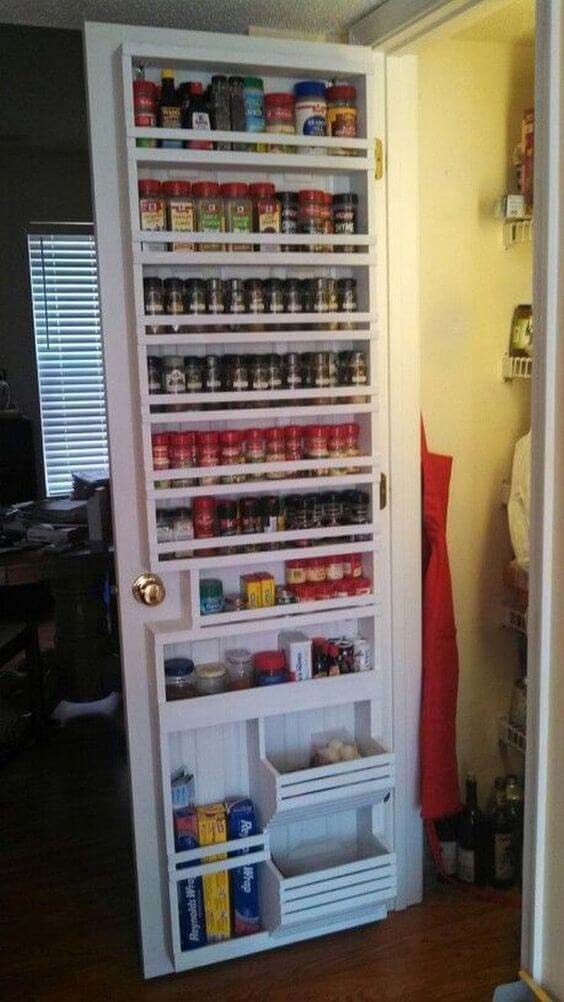 The internal surface of any door can become a new storage place. This solution is great for pantries, kitchen and bathroom cabinets where either the space is limited or the items too many.
Fortunately, you don't have to change the door. You need to build a shelving unit of size and depth that allows safe storage and also unobstructed closing of the door.
35.Utilize Narrow Space With Sliding Rack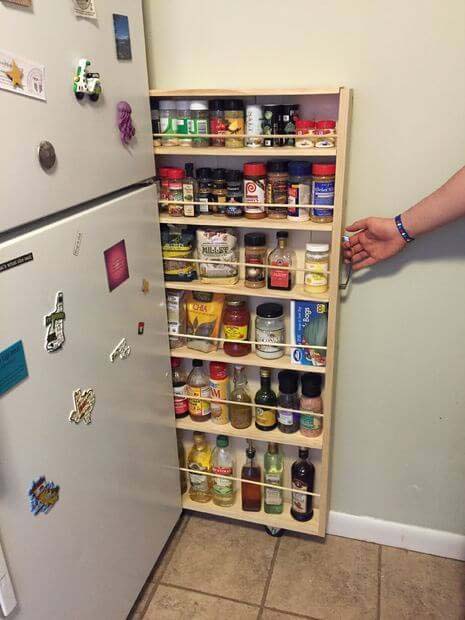 Do you have a tiny gap between an appliance and a wall in your kitchen? We bet you never thought that it can be used practically by turning it into a storage place!
With the instructions below you can make a rack for spices, wine, alcohol or whatever type of stuff you finally have to organize.
And by the way, accessing them will be very easy because it is supported on casters.
via Instructables
36. Create A Visual Wall With Storage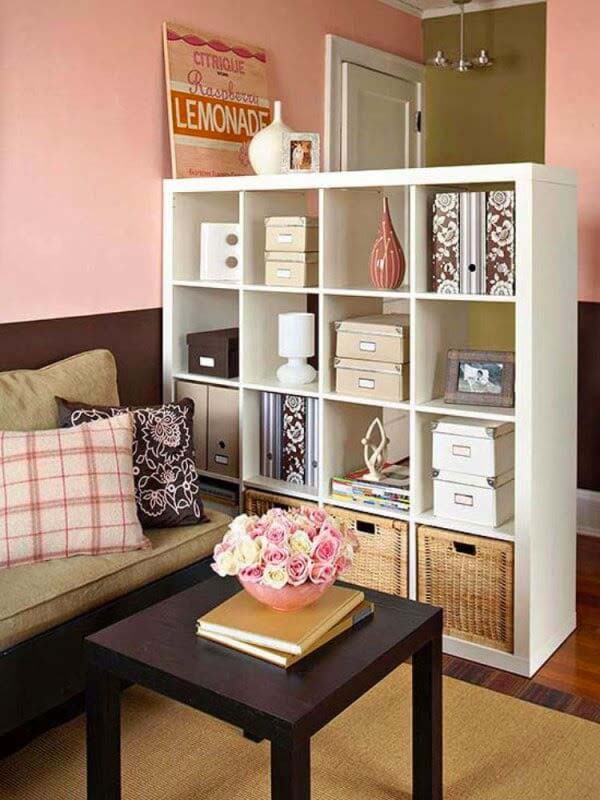 This multifunctional shelving unit comes to help you zone areas in a one-room apartment or a spacious area in a practical way.
Its cubic design lets you play with the textures of the containers and the alignment of the stored items.
You can also take a look at The Ultimate Room-by-Room Home Organization Guide for organization of all rooms.
via BHG
37. Slide Out Under Stair Closet Space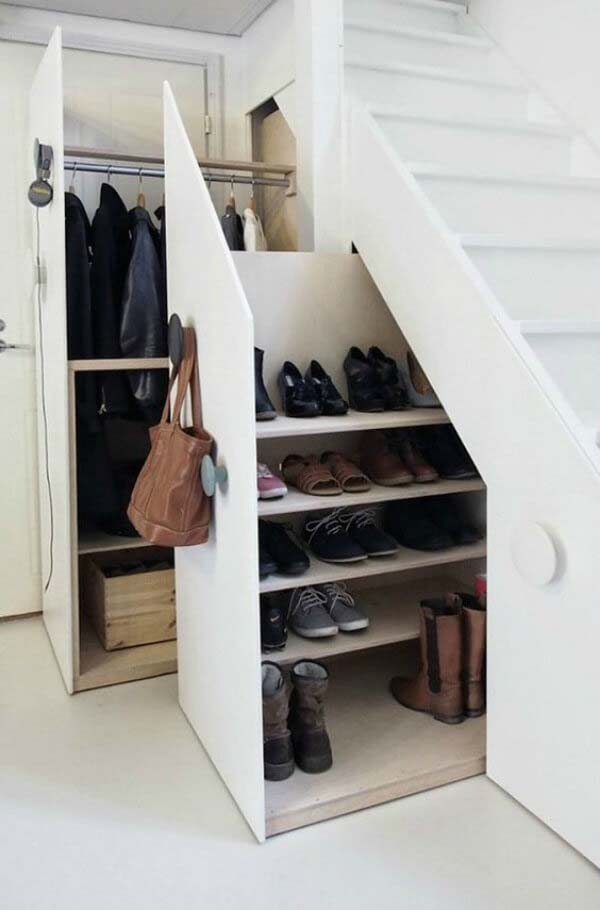 The staircase can be turned into a hidden closet. This is a great idea especially for bigger families or small one-bedroom houses.
The project requires building in drawers of size and design that follow the curves of the steps. Big round handles and sliding mechanisms make access to the stored items easy.
via Tip Toe and Co
38. Curtain Clips Maximize Product Storage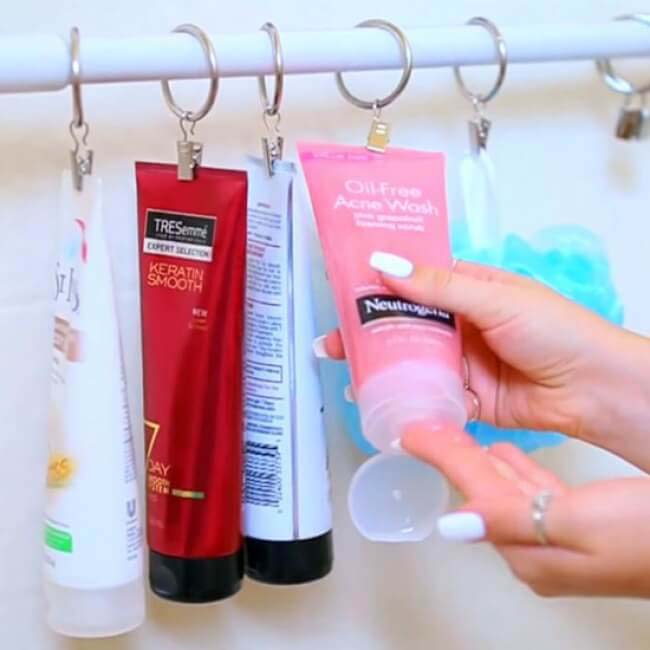 This easy and affordable hack organizes the bathroom beauty products without taking any of the floorspace!
To make it, attach a towel dowel or curtain rod to a wall, either next to the tub, over the sink or over the toilet. All tubes are attached to the rod with curtain clips.
39. Scarf Storage Shower Ring Hack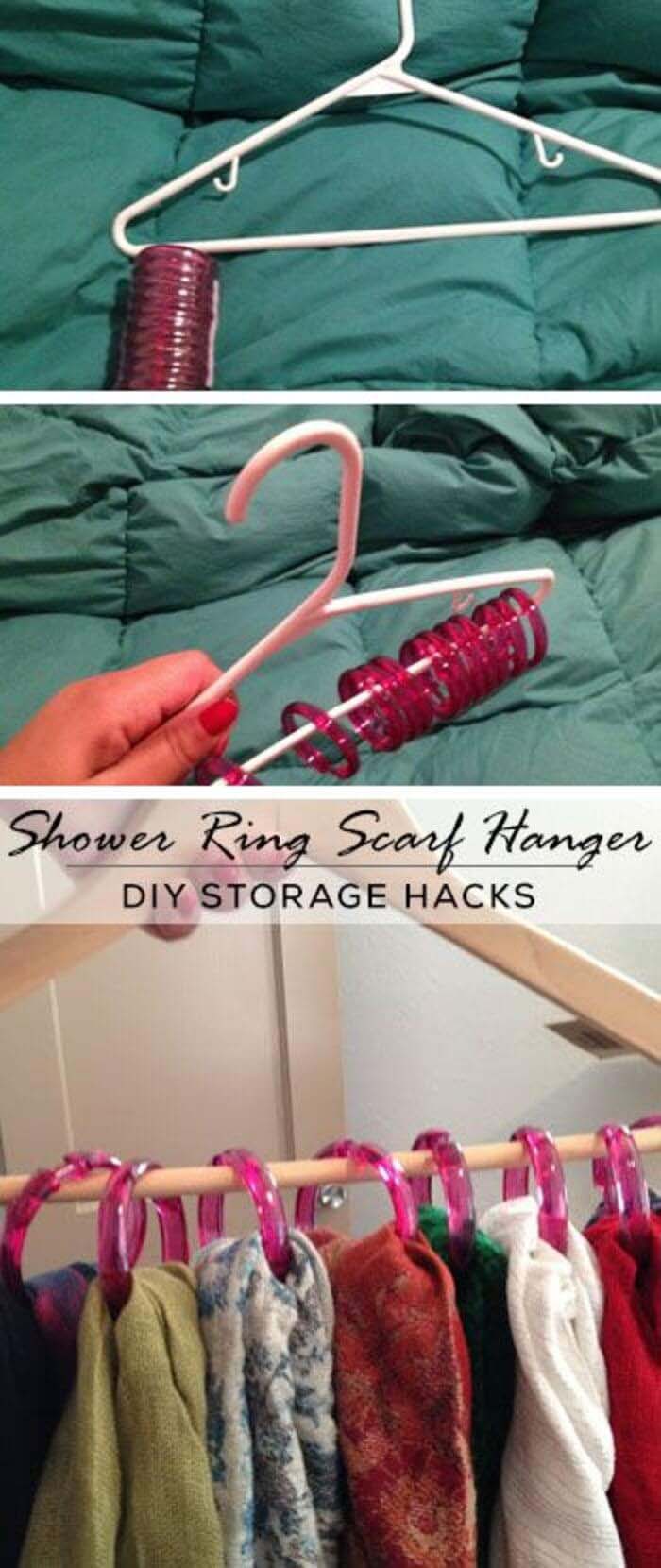 This idea reveals the secret of storing scarfs in an affordable, suitable and space-friendly way.
Shower rings from the Dollar store are inserted onto a hanger so that each one neatly stores a scarf.
via From The Desk
40. Under Sink Organization With Sliding Racks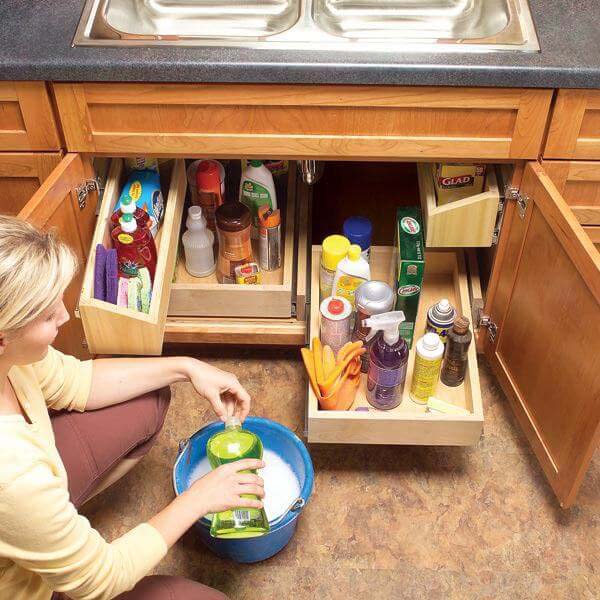 The cabinet below the sink is usually quite big. It is used for the storage of detergents and other cleaning accessories.
Have you ever noticed that it always looks unorganized? This is because we can use only the bottom surface for storage.
Clever people have already discovered this disadvantage and have found a way to uplift its design by equipping it with sliding compartments at different levels.
via Family Handyman
41. Slide Out Medicine Cabinet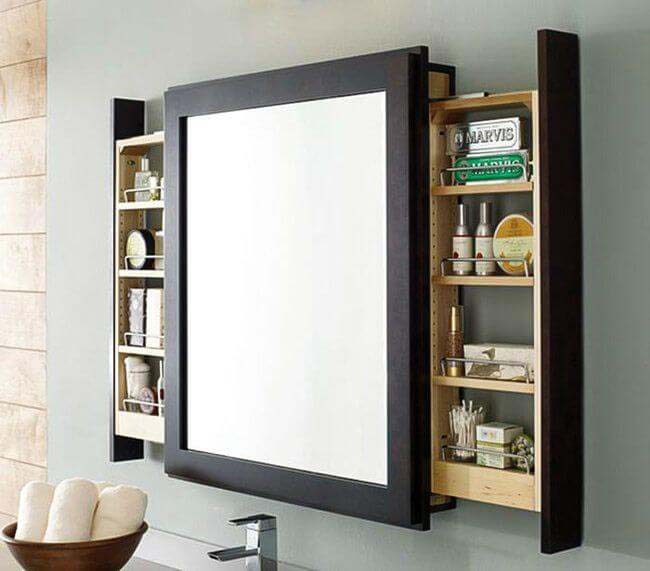 You are most probably used to a cabinet which doors is equipped with a mirror. This is an alternative design of a mirror bathroom cabinet where the compartments are getting out of the sides thanks to sliding mechanisms.
This can be a solution for limited in space bathrooms when there are obstacles to opening the door.
42. Slim Table Creates Display Space Behind Sofa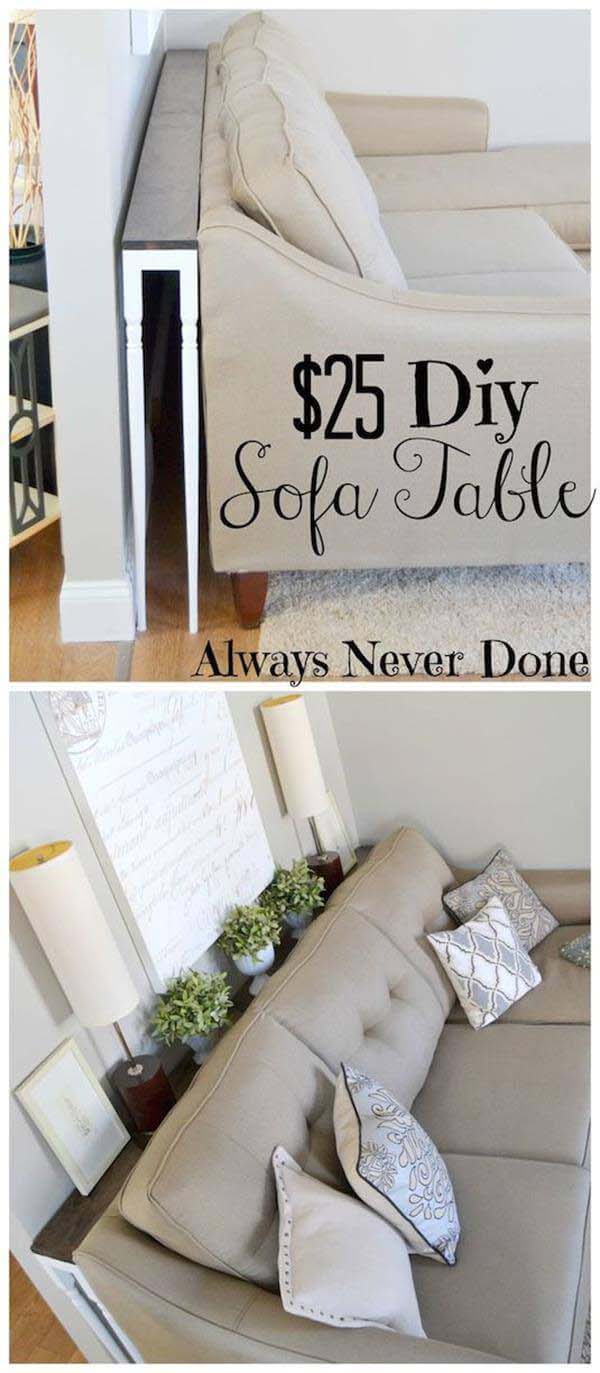 This behind-the-sofa table will help you create a cozy living room area when the space is limited or you are living in a one-room apartment.
Its sizes follow the dimensions of the sofa. The top of it can be used as a display for decorative accents, additional illumination.
This side sofa table can be additionally upgraded with slots for mobile charge leads and USB cables.
43. Under Shelf Storage With Mounted Jars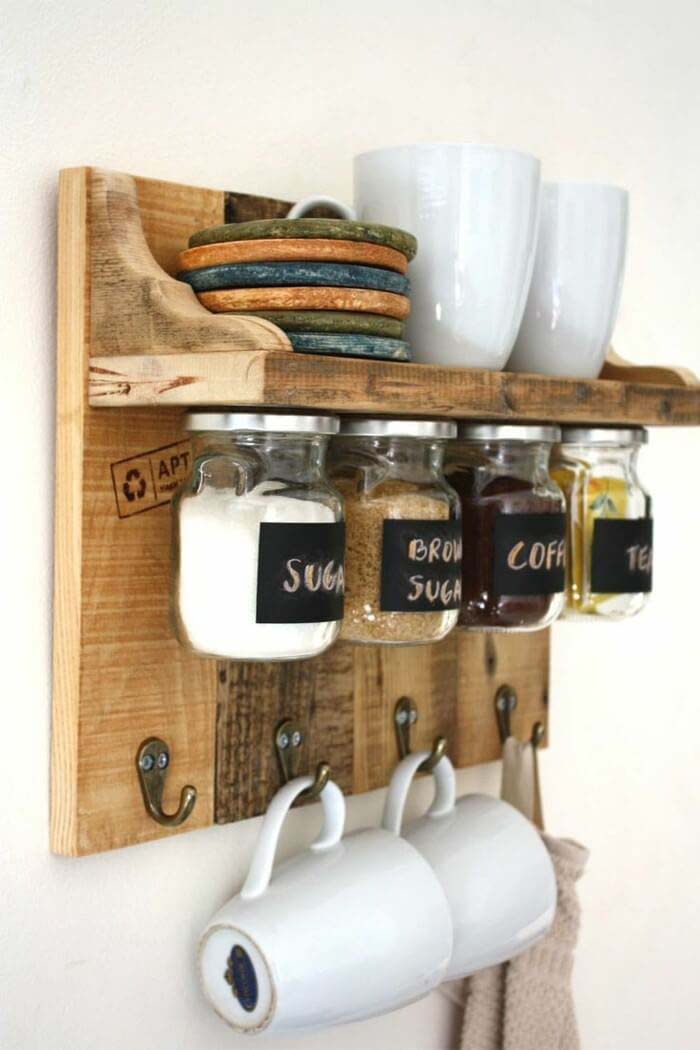 Time in the kitchen can be pleasant if it is cozy, well organized and comfortable. Making a dedicated station for coffee and tea will surely help to achieve all of these.
This idea is an inspiration that such extras are doable even in the smallest kitchens.
44. Keep The Trash Center Hidden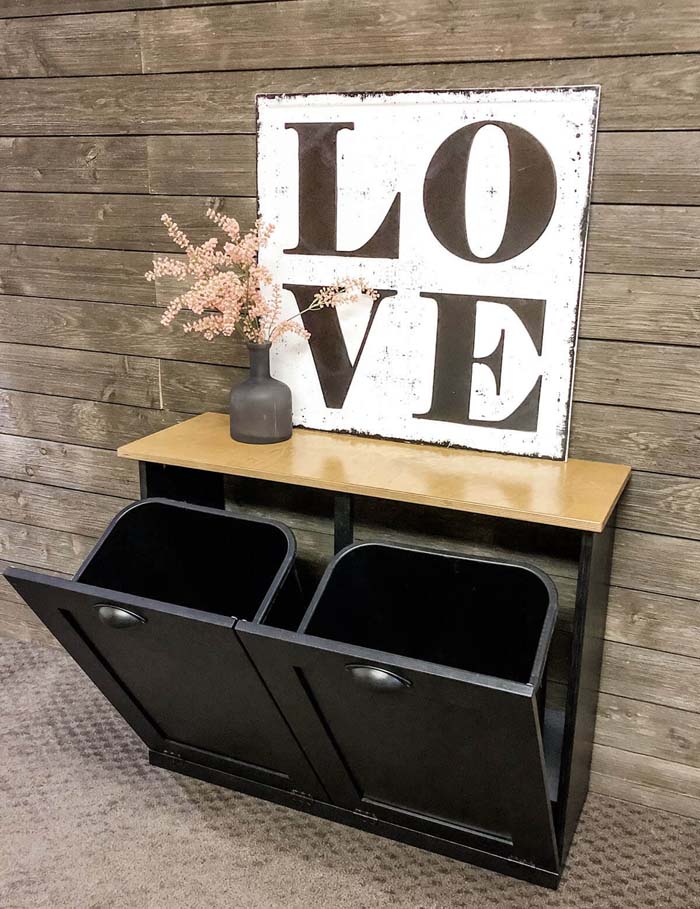 Another hint to making your small space more appealing and organized is to keep most of the things hidden.
This is an idea of how to disguise the trash bins or the laundry baskets. When the door is closed, this is just a beautiful wooden cabinet displaying decorative accents.
45. Store Spices In Magnetic Jars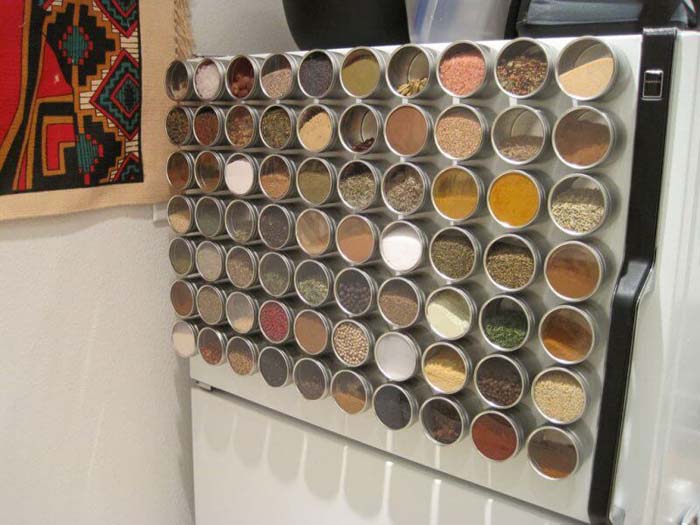 This is another great idea for the storage of spices. In case you don't have an empty slot between the wall and an appliance to make a rolling rack, you can use the surface of the fridge door to store all the spices.
46. Save Drawer Space With Utensil Slide Out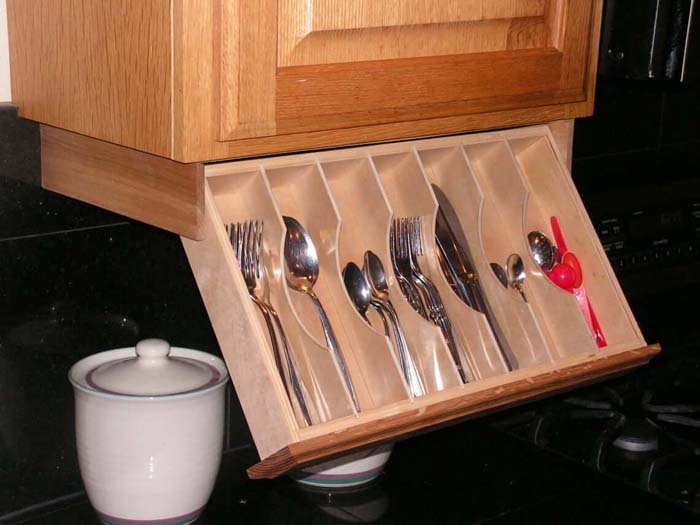 This organizer has been designed especially to hold tableware in a space that is difficult to be utilized.
It is attached under an upper cabinet. Access to the stored forks and spoons is easy- just pull it out like a standard drawer.

47. Pullout Baskets Offer Extra Space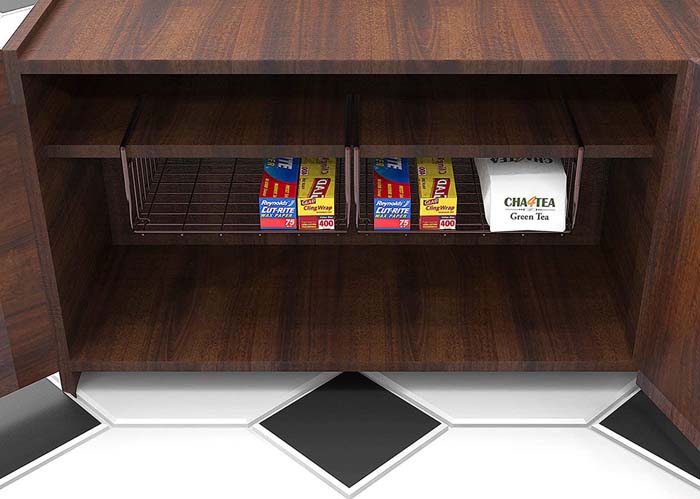 The auxiliary baskets that are intended for mounting under a shelf have become popular these years. This is why they are already offered in different sizes and colors.

48. DIY Open Jewelry Storage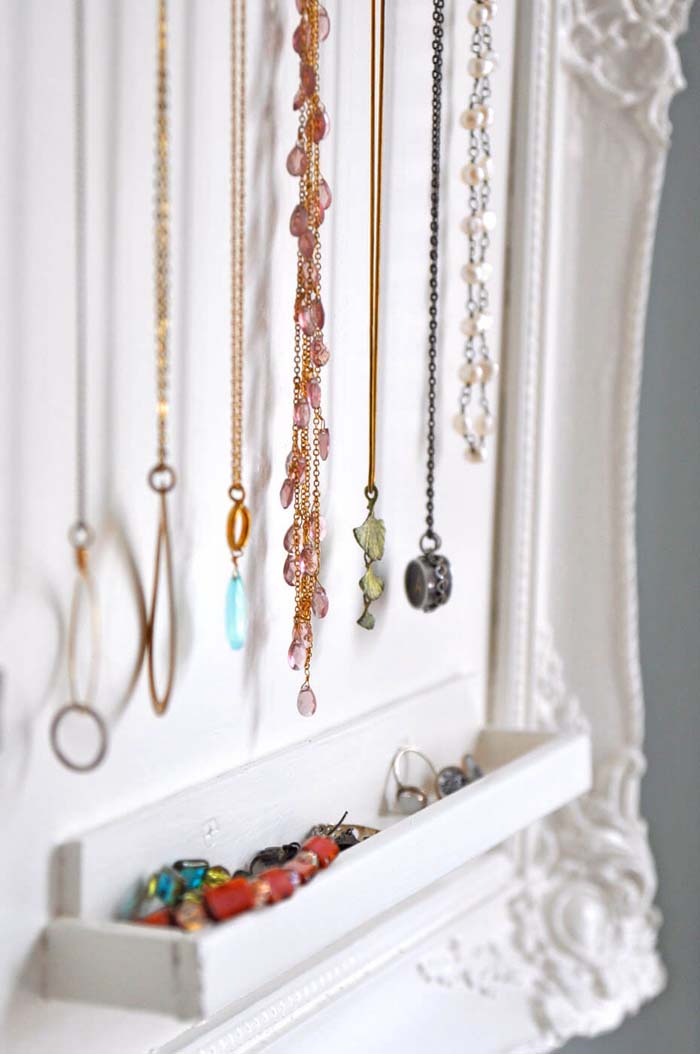 Do you love upcycling? The tutorial below must be in your "weekend projects" list as it is easy, budget-friendly and adorable!
An old wooden frame has been turned into a jewelry display where all types of accessories can be neatly stored and sorted.
via Monaluna
49. Repurpose A Magazine Rack For Baking Pans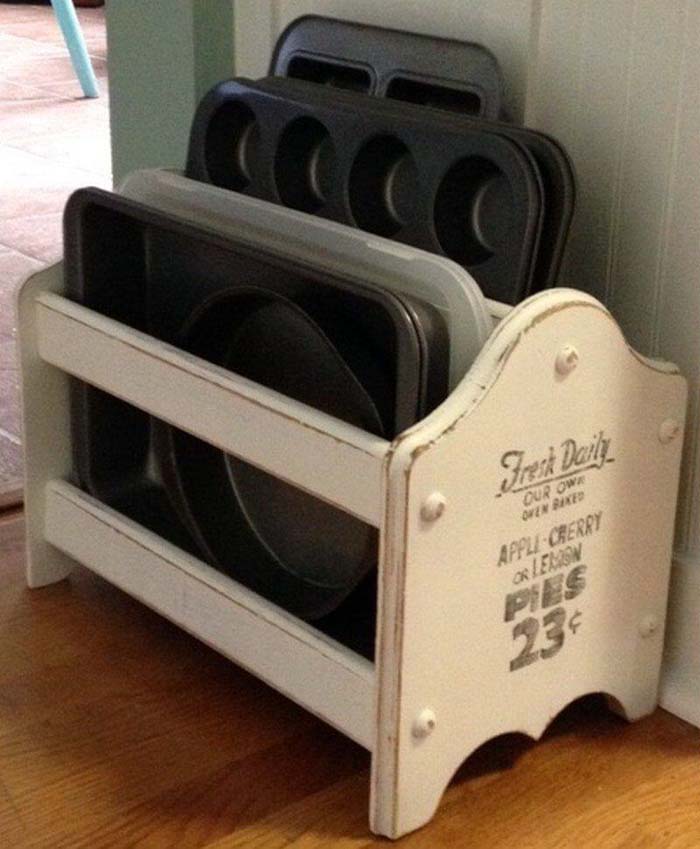 Storing baking sheets and trays in the kitchen cabinets could be a big challenge, especially when the space is limited.
So why not think out of the box and be eco-friendly? Upcycle that old magazine rack and turn it into a baking sheet holder.
50. Bookcase on Casters For Underbed Storage

Free some space from the living room and increase the storage place in your bedroom at once! Turn the old bookshelf into a large drawer that fits perfectly under the bed.
Not much work is needed to make this transformation- the bookshelf already has compartments that will ease the sorting of clothes.
What needs to be ensured is access to them. That has been solved by screwing casters to the bottom of the storage unit.
via DIY Fun Ideas
51. Kitchen Wall Shelves Store Oils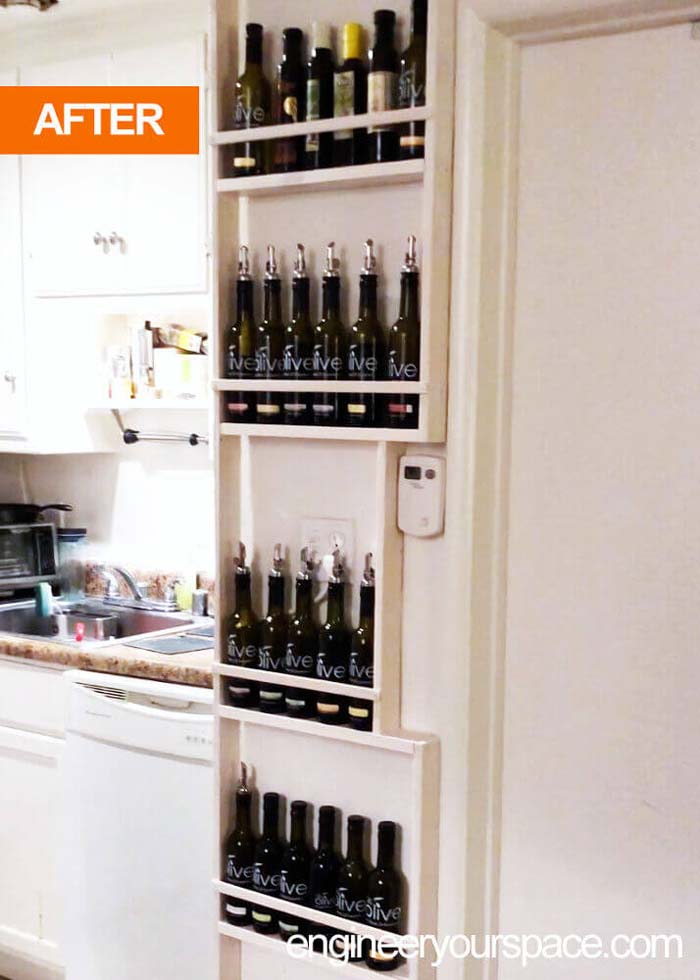 With such a vertical shelf of a slim design, you can store seasonings and oil bottles literally on every wall of your kitchen.
Going vertical in tiny kitchens will declutter the countertop and will make cooking more pleasant.
52. Keep Plates And Cups Organized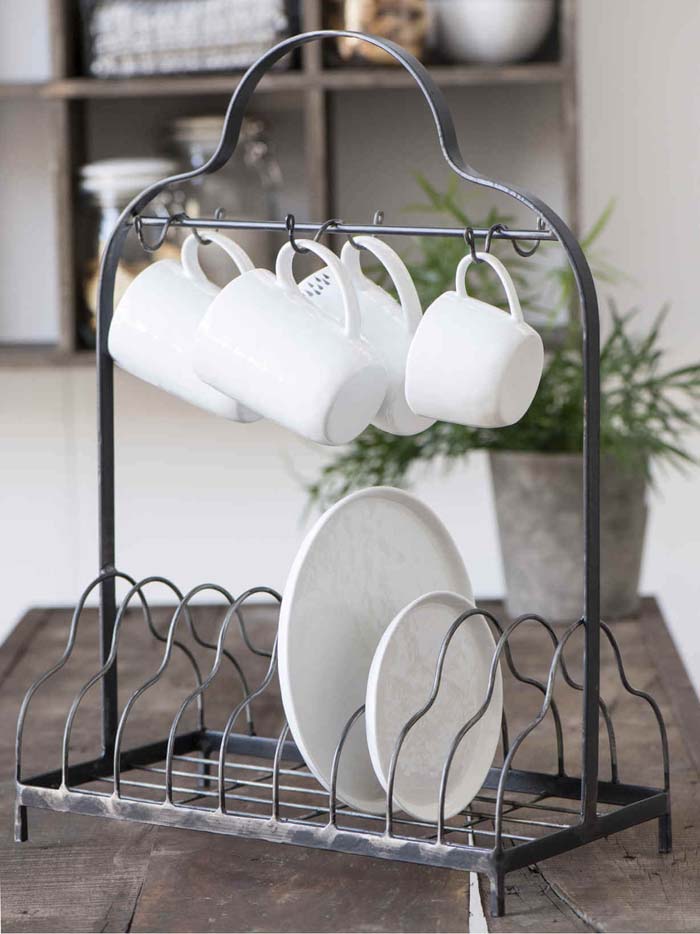 If you have liked the idea for a coffee station but you don't have space on the walls, you can make a tiny one that fits on the kitchen island or on the countertop.
It is featured by a plate and cup rack that accommodates one full coffee or tea set. The design of the rack is very practical because the handle on the top lets you move it easily from place to place.
Its metal wrought finish should also be noted as an attractive vintage vibe that will make the place very cozy.
via Nordic House
53. Hanging Cubby Space Closet Organizer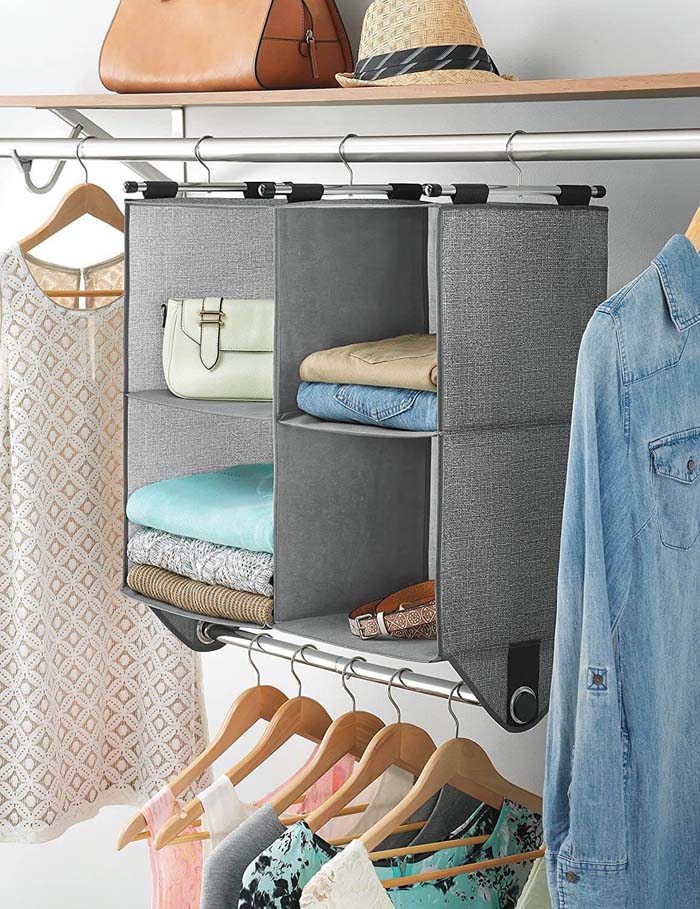 Do you need a bigger closet? If your space is limited you must have been looking for ideas and inspirations on how to do it.
Luckily, there is an organizer that will let you do it in a very affordable way that doesn't require any makeover of the space.
The organizer is attached to the existing hanger rod and then unfolds to reveal four large storage compartments. On its bottom there is a rod that will accommodate the hangers you have taken down to attach it- a clever gadget, isn't it?

54. Stack Your Pans With A Wire Rack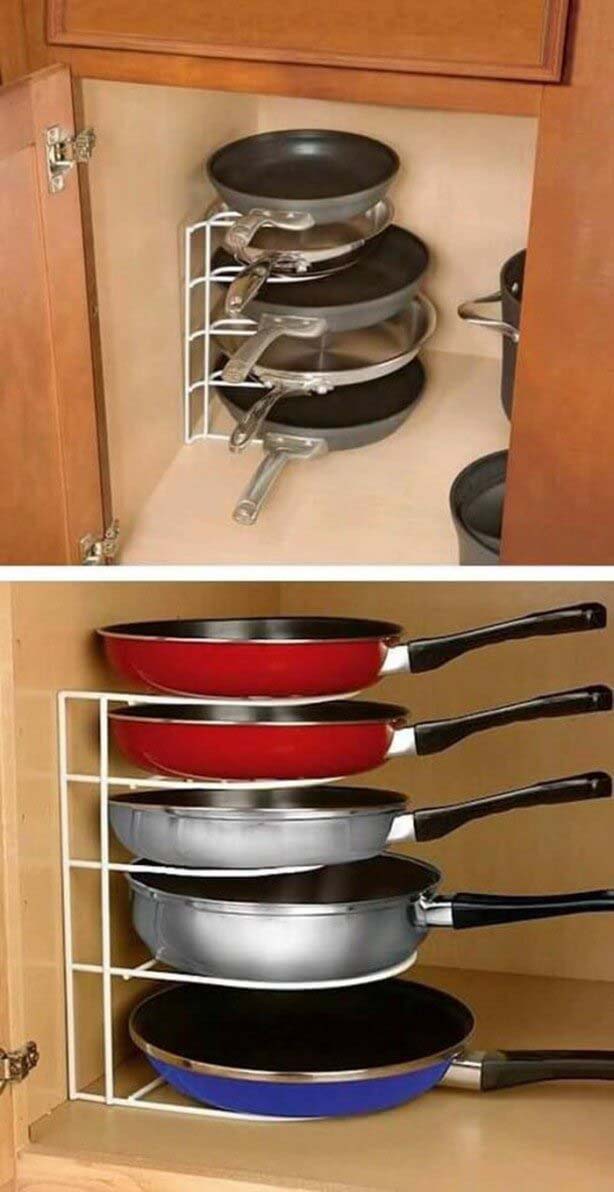 Nesting pans save space in the cabinet but it damages the cooking surface a lot, plus the sound of nesting them is terrible.
Avoid all of these with a special rack for pans that is intended to fit into a cabinet. It looks exactly like the dish rack with the only difference that the distance between the sections is a bit bigger.
55. Slide In Coffee Pod Storage Rack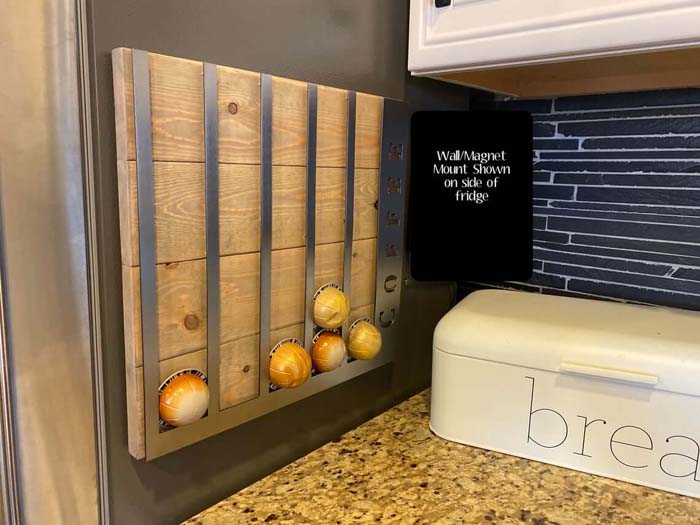 This wall organizer takes care about the coffee pods in a very stylish industrial farmhouse way.
In an organized small kitchen, the paper box with pods doesn't fit well. So in case, you don't have any space left in the cabinets to hide it or you want to continue the clutter-free concept of your home, consider getting this special storage unit.