Whether small or spacious kitchen counter, it must be neat and clean.
Organizing it well provides wide enough space for food preparation and cooking which is a warranty for a more pleasant time spent in the kitchen. Nobody likes cluttered countertops, right?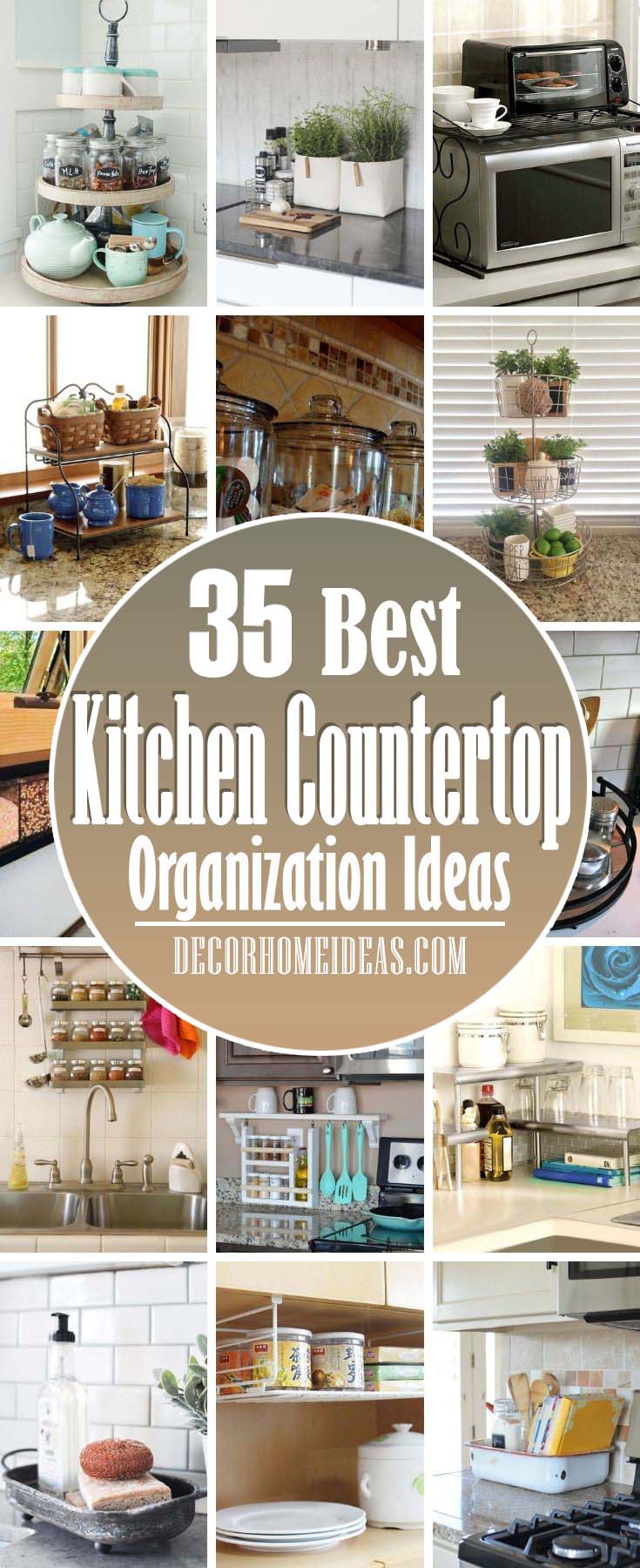 Are you curious to understand how you can make your counter as organized and tidy as possible? Where to start with decluttering? How to increase the countertop storage and what's the best place for cleaning supplies?
Kitchen countertop organization starts with these creative ideas below which will inspire you for your kitchen counter makeover.
1. Get Organized with Under Cabinet Hanging Wire Baskets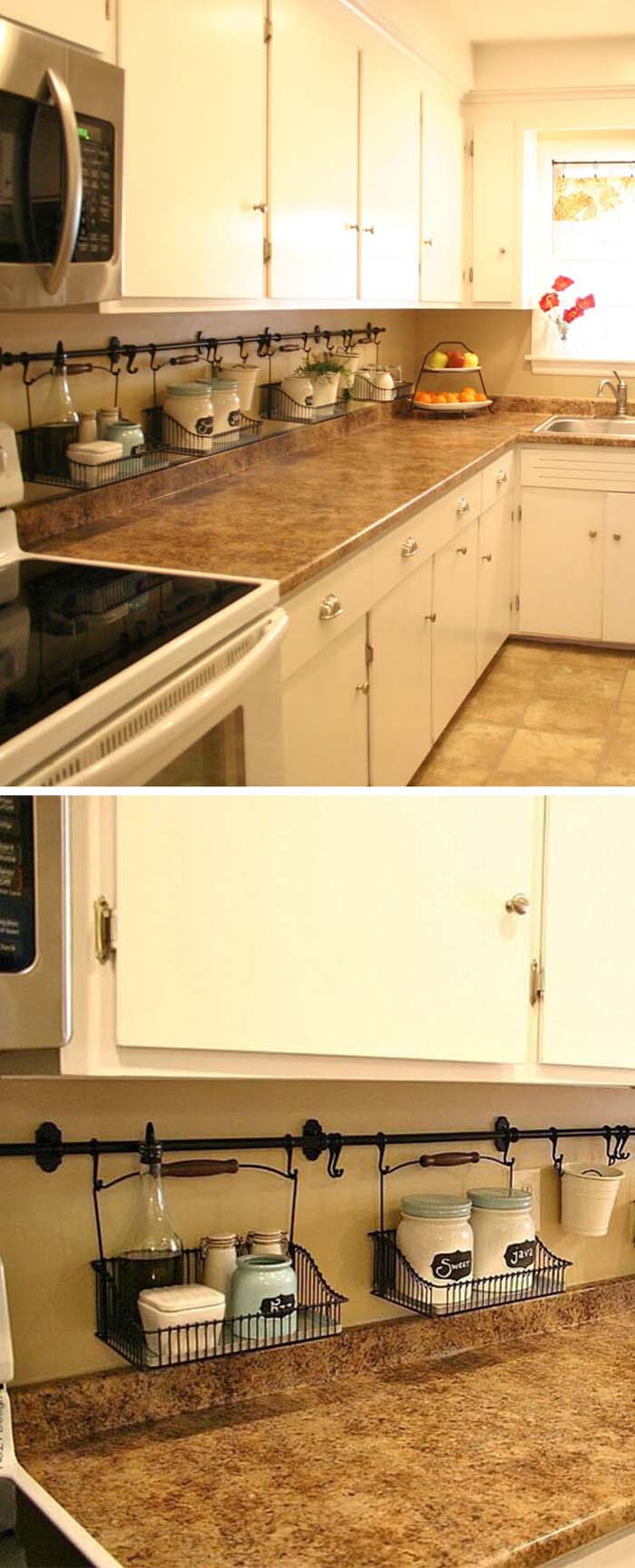 Instead of covering the countertop with plenty of jars, hang them on a rod right under the cabinets.
Ikea's rails and baskets are affordable and very cute and an easy-to-assemble solution to decrease the clutter in the kitchen.
via No 29 Design
2. Maximize Space with a Kitchen Window Shelf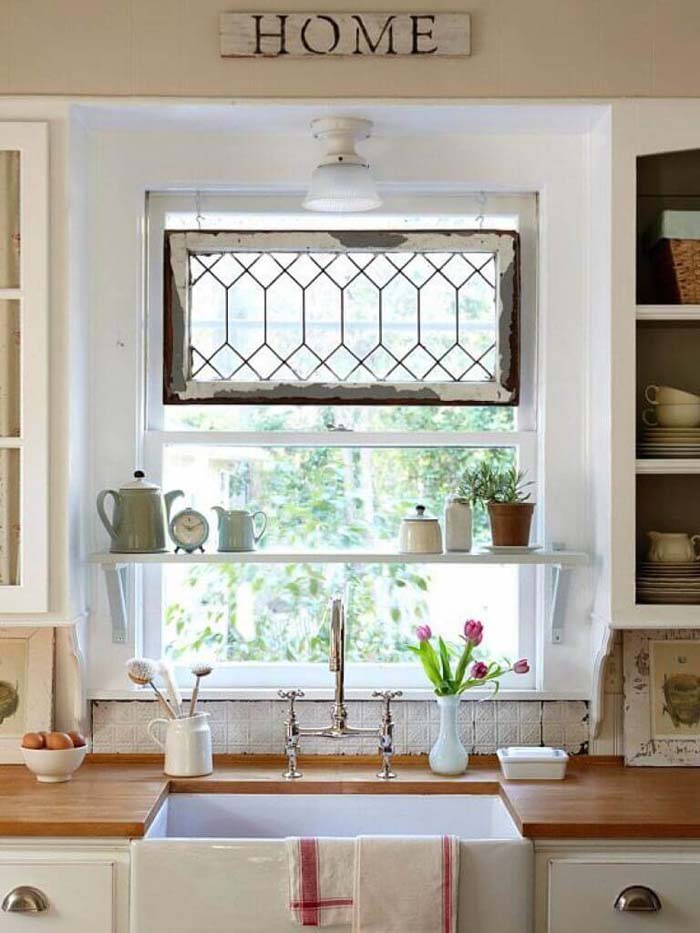 The space right above the sink is wide enough to accommodate part of the jars and containers that usually sit on the countertops.
A simple shelf suspended on brackets will look aesthetically and will give you that extra storage space.
3. Upgrade Your Kitchen Corners with Tiered Storage Solutions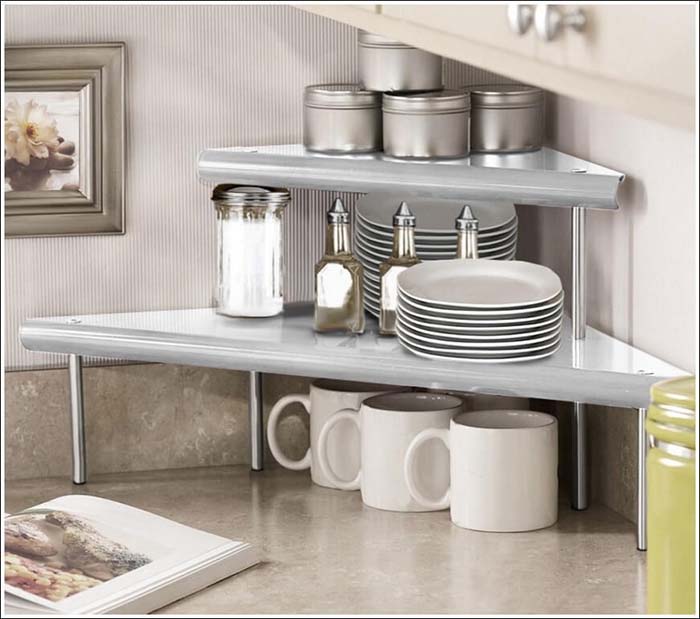 Use the dead corners in between the cabinets and the countertop for tiered storage of spices, dishes, cups etc.
Buy or make yourself a stand with two shelves which will allow a good-looking organization spot and easy access – a perfect dish rack.
4. Turn Your Cake Stand into Kitchen Sink Soap Holder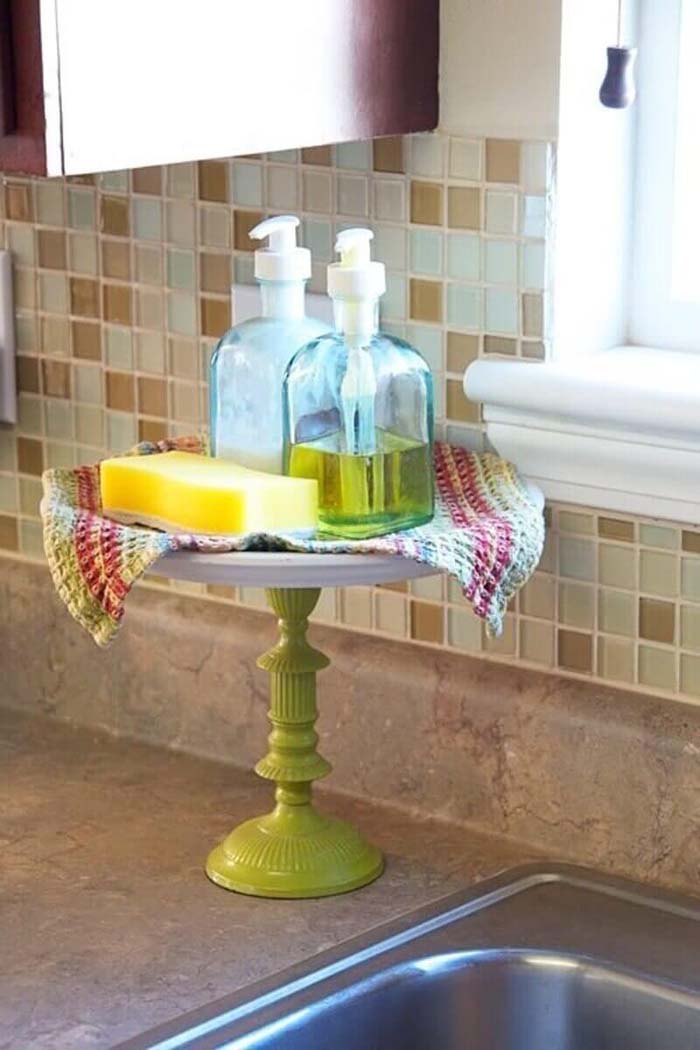 Decrease the space the washing containers cover by lifting them on a stand with a small footprint.
If you don't find any suitable product at the stores, you can repurpose a cake stand and turn it into a chic vintage soap stand.
5. Bring Farmhouse Charm with a Double-Stacked Woven Tray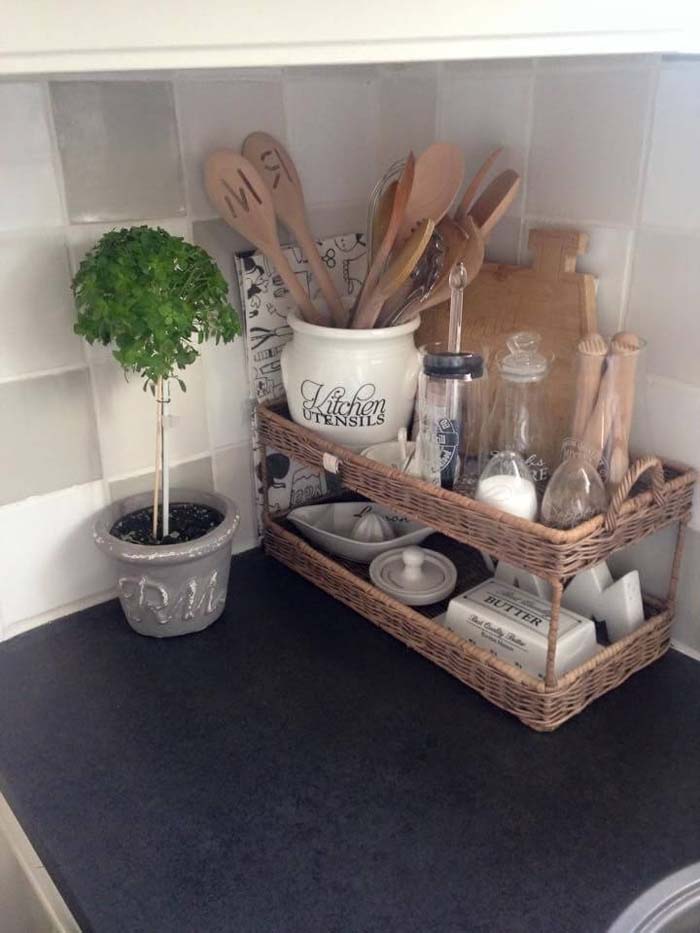 Any type of container can bring order and make the countertop looking clutter-free as they gather at one place many kitchen belongings – utensils, cutting board, salt and pepper tools, etc.
Depending on your interior, you can use wicker baskets that will suit a farmhouse decor, metal baskets that will add charm to the industrial and clean decor.
6. Store Your Paper Rolls in an Elegant Glass Vase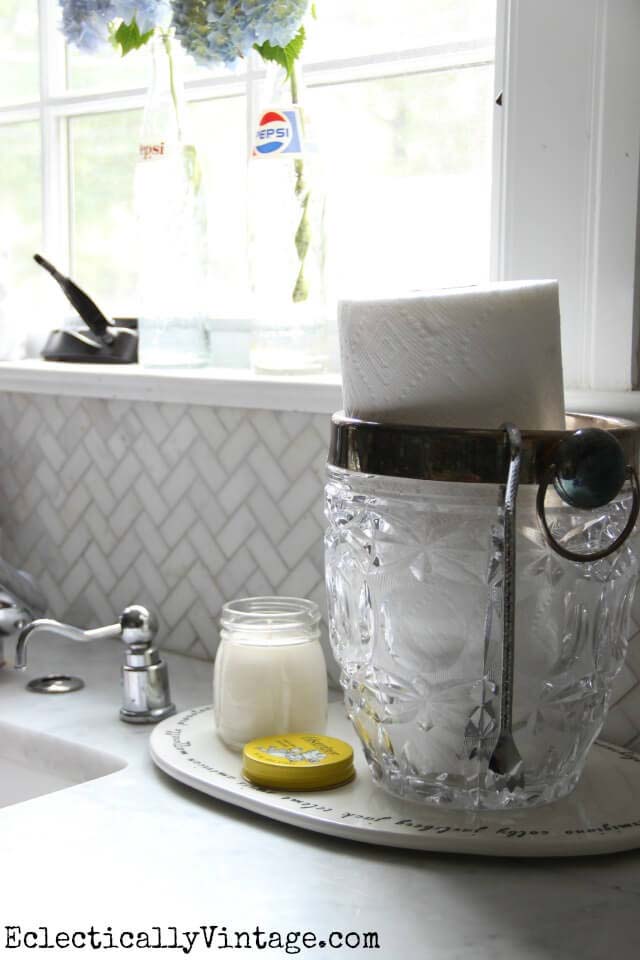 Do you have a holder for the paper rolls? If you don't, you must lose many minutes wondering where you have put them last.
When the typical stands are not per your taste, you can use an untypical container as an alternative and yet functional organizer of the paper rolls.
via Kelly Elko
7. Get Rustic Elegance with Galvanized Tray Spice Storage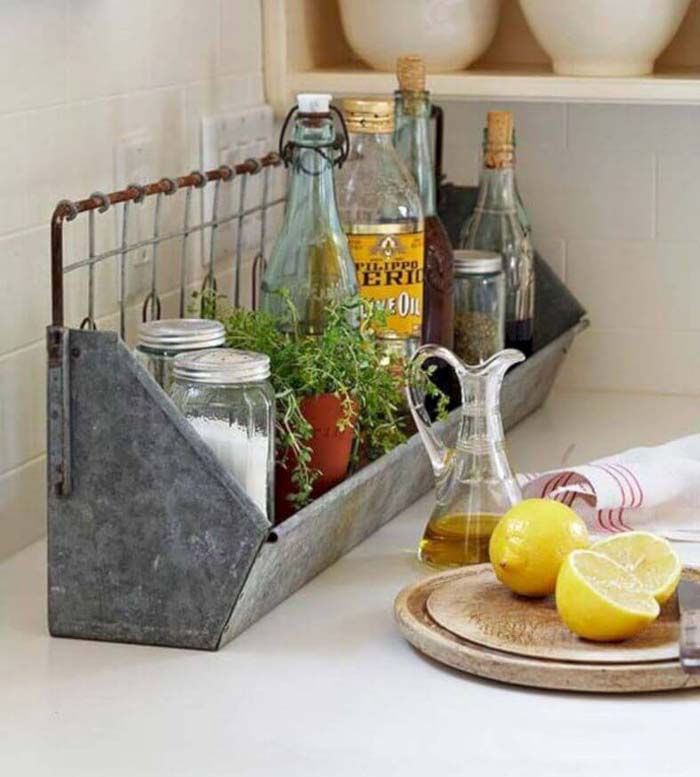 Any interior with farmhouse accents is welcoming and appealing for the activities related to it.
So when you consider adding an organizer at the countertop, choose a galvanized basket or container that will not only store items in one place but will also add charm to space.
8. Enhance Your Herb Storage with Pull-Out Drawers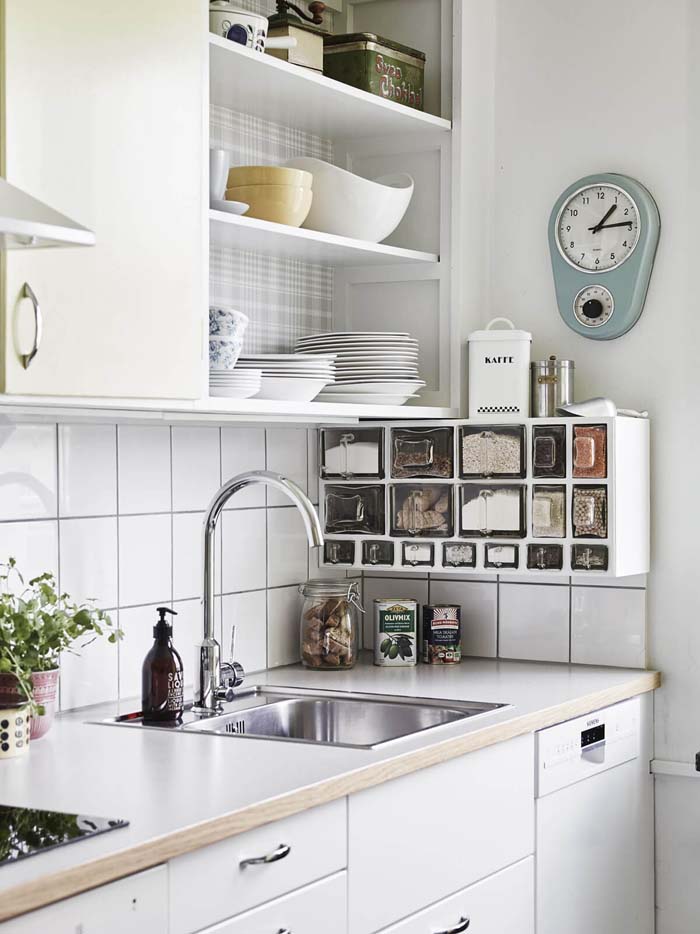 A stand with organized herbs and spices is a dream come true for cuisine lovers. However, the countertops of the kitchen do not always have space left for this extra feature.
In those cases, you can utilize the vertical space between the counter and the cabinets. A small cabinet with transparent drawers of different sizes will let you store such products in a clutter-free and stylish way and also have a mini pantry.
via Stadshem
9. Utilize Under Cabinet Rod and Hooks for Efficient Storage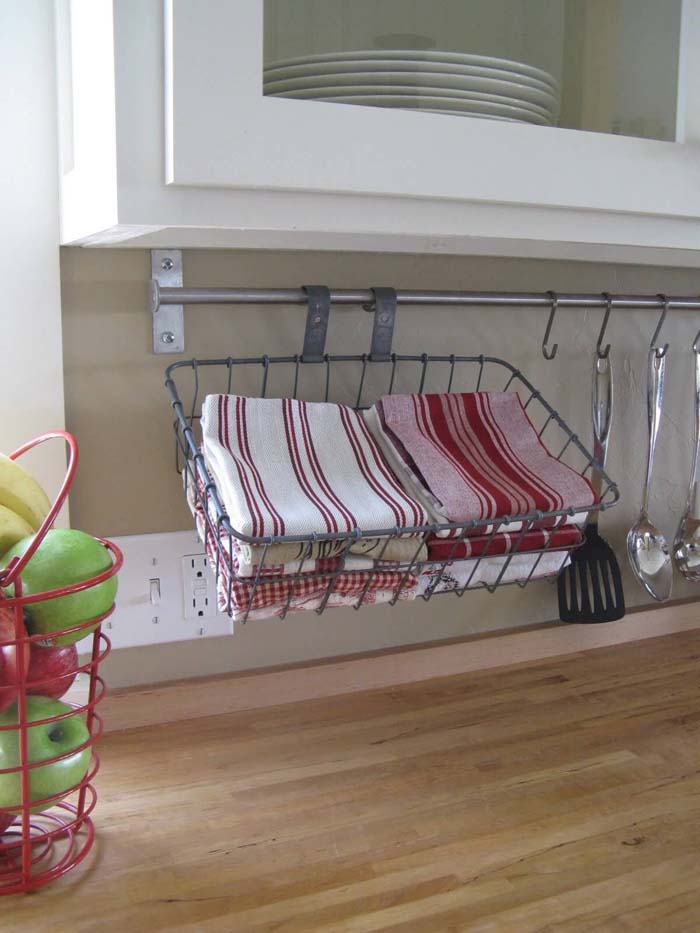 This upcycled towel organizer is an alternative to Ikea's rails and baskets. Being a DIY, it adds a unique vibe to the kitchen.
If you like the idea of repurposing a bicycle basket, go to the local store for suitable hardware to hang it on.
via Red Farmhouse
10. Showcase Your Skills with Innovative Kitchen Drawers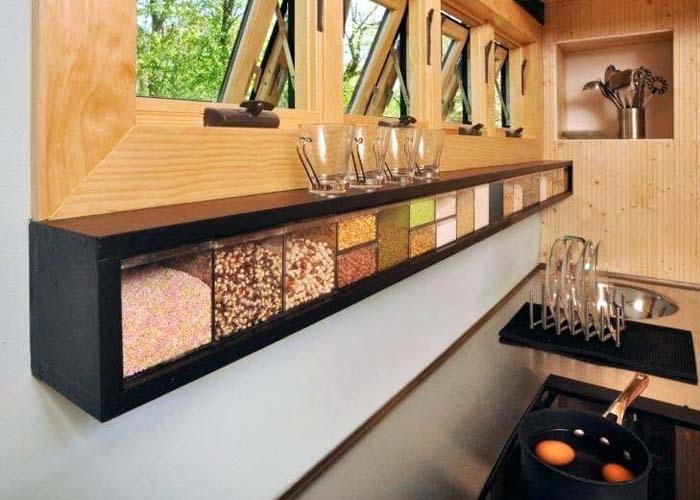 Creative people go far beyond organization when they also care about the decorative value of their kitchen.
This unique cabinet is narrow but covers the width of almost the entire wall to provide enough storage places for dry food.
This idea will be also very practical for spice and herbs storage.
via HGTV
11. Elevate Cooking Essentials Storage with a Wooden Box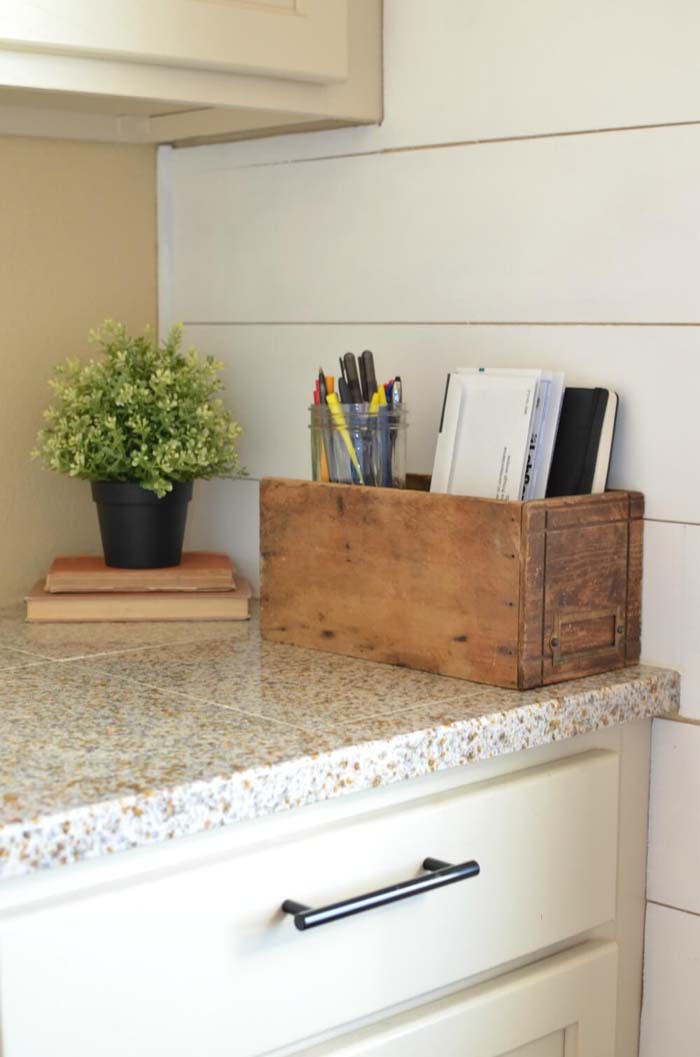 Do you have a special place for your recipes and notes? If there is no empty drawer, you can store them in a rustic wooden box.
The aged look of this upcycled drawer will add warmth to space and will organize the papers and pens in one place.
via Sarah Joy Blog
12. Keep Your Herbs within Reach with Floating Shelves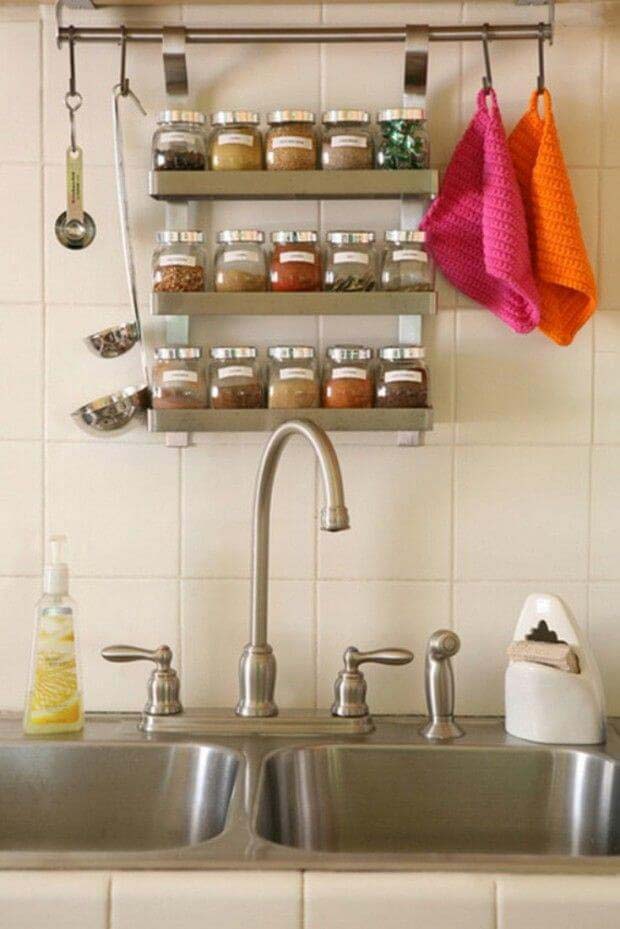 Fix a metal dowel to the bottom of the cabinet above the sink for a simple utensil holder.
With the help of S-hooks, you can store various kitchen accessories like cooking utensils, a spice shelf, etc.
via Craftionary
13. Streamline Your Vegetable Storage with Large Wire Baskets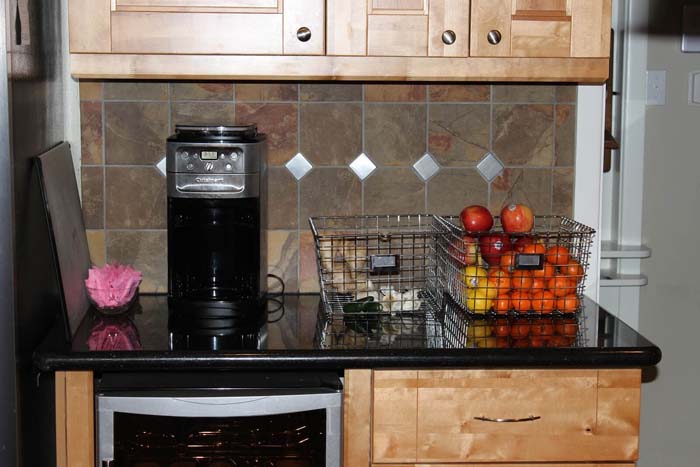 The wire baskets are suitable for fruit and vegetable storage. Access to air will keep them fresh for a long time.
These baskets are an affordable way to free space from the countertop and to make it look neater.
14. Bring Functionality with a Lazy Susan Utensils Holder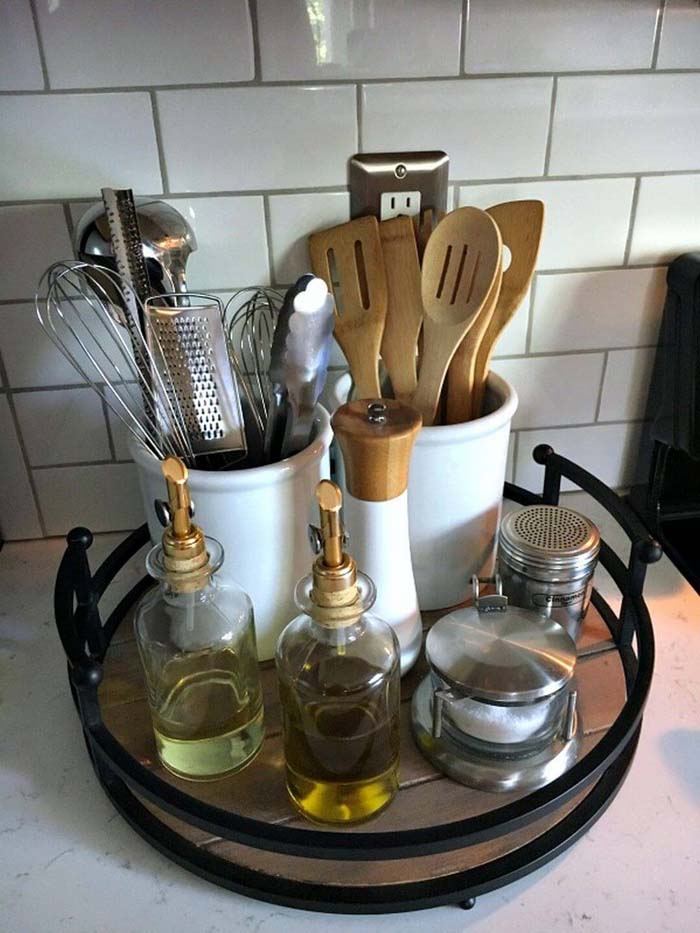 Turn a wooden tray into a countertop organizer for cooking utensils and seasonings.
The complete set will cost you not more than $20 but will look like a designer's product.
15. Redesign Your Kitchen with a Backsplash Shelf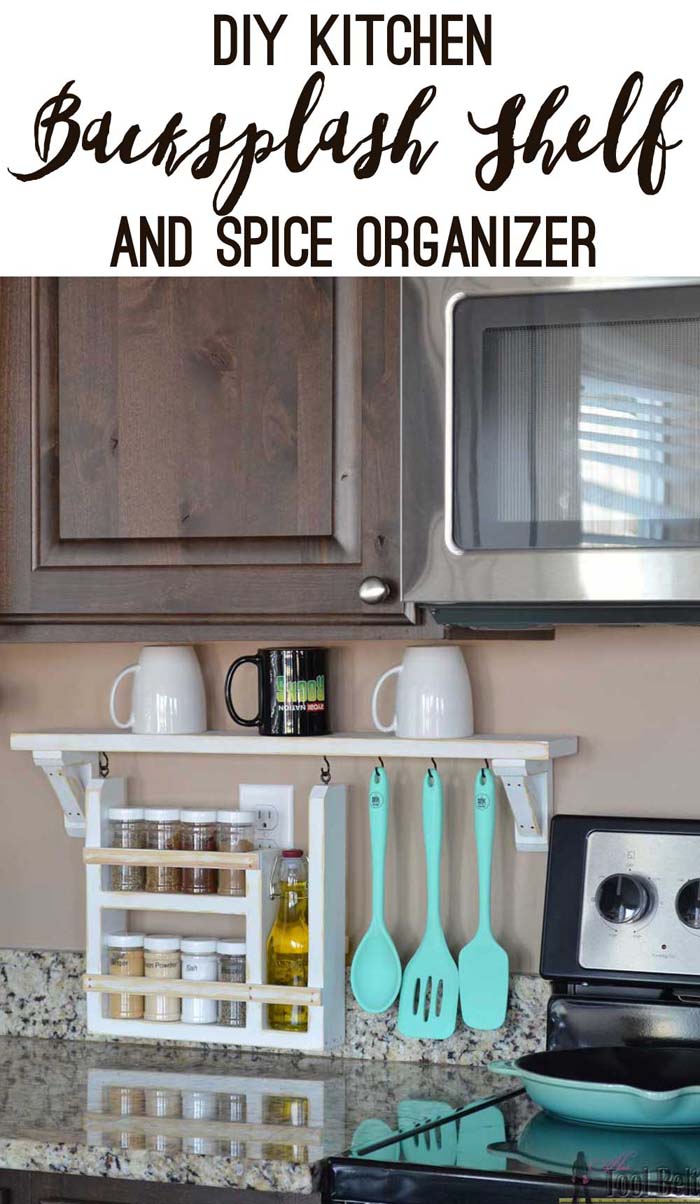 This DIY shelf can be made even by a beginner. Suitable for any kitchen, it covers a small part of the wall between the countertop and the cabinet.
The shelf suspended on corbels can be used for a display of the most often used cups. Beneath it, there is a customized spice rack and a few hooks for cooking utensils.
via Her Tool Belt
16. Get Timeless Beauty with Wash Pan Cooking Essentials Holder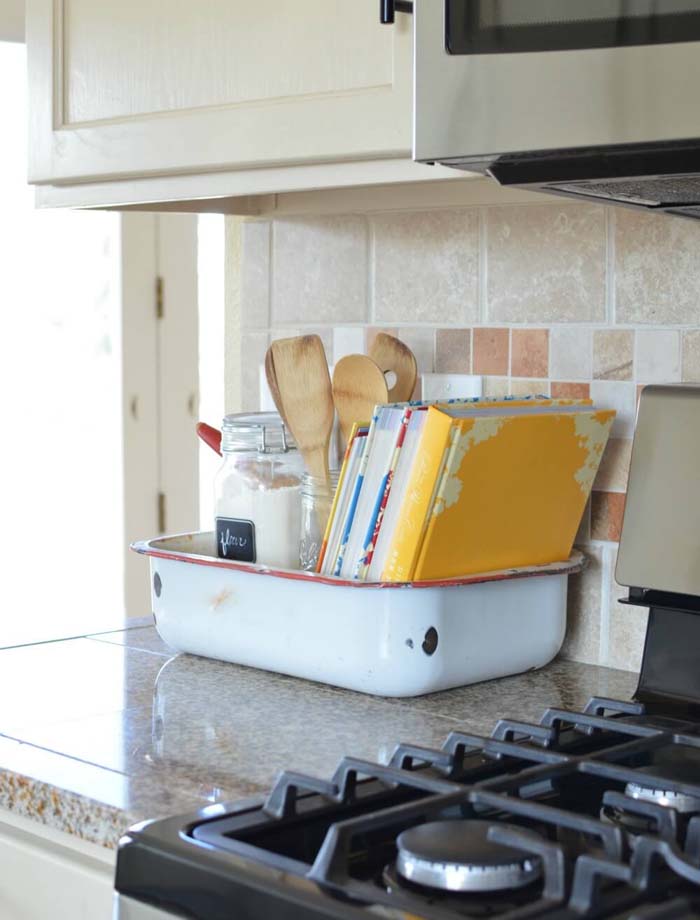 Do you have an old washpan in the closet? If you have wondered how it would ever come into usage again, this idea will inspire you.
Place it on the kitchen countertop and use it for storage of items that don't find their place in the drawers or are piled up on the counter.
via Sarah Joy Blog
17. Add a Touch of Elegance with Coffee and Tea Jars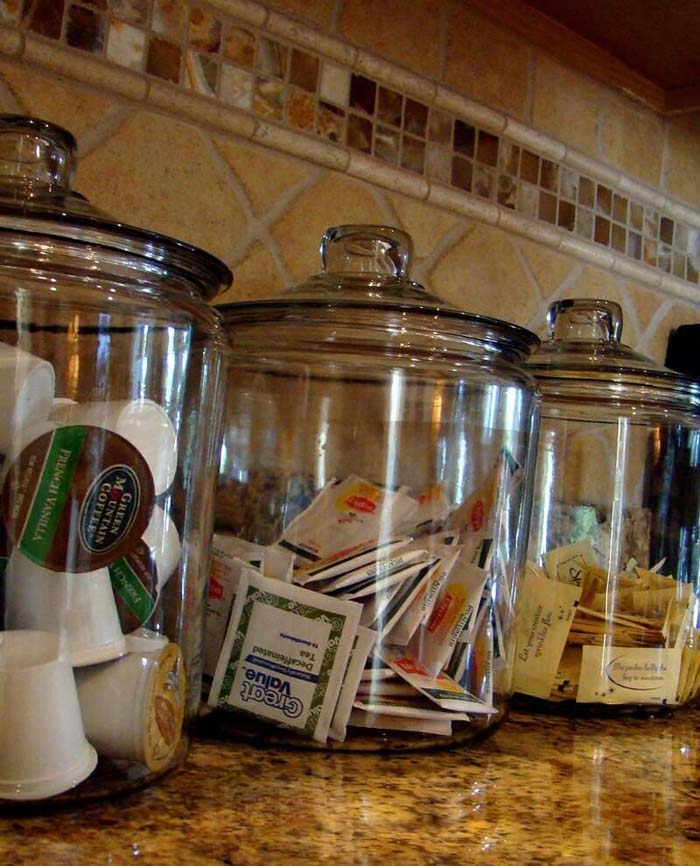 The Dollar Store is a budget-friendly source for home organizations.
These candy jars prove that functionality and attractive design don't always mean a pile of money.
You can use them to sort your tea bags, coffee cream and sugar.
18. Tidy Up Your Sink with a Reclaimed Wooden Box Soap Holder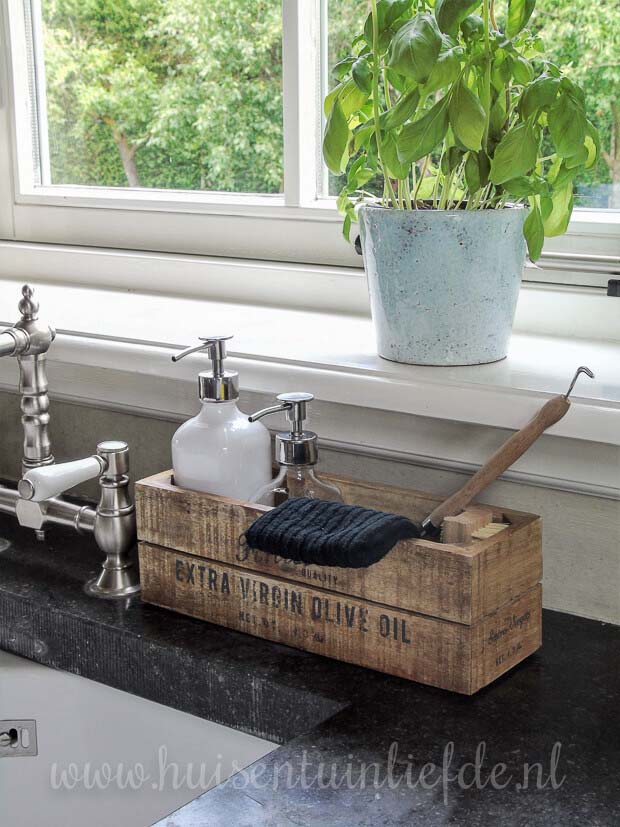 Store the soap and the dishwashing accessories in one place to let your counter look tidier.
A small wooden crate or box that tightly covers the countertop space between the sink and the wall will contribute to making your kitchen more organized and stylish.
19. Transform Your Small Kitchen with Stylish Hangables Rack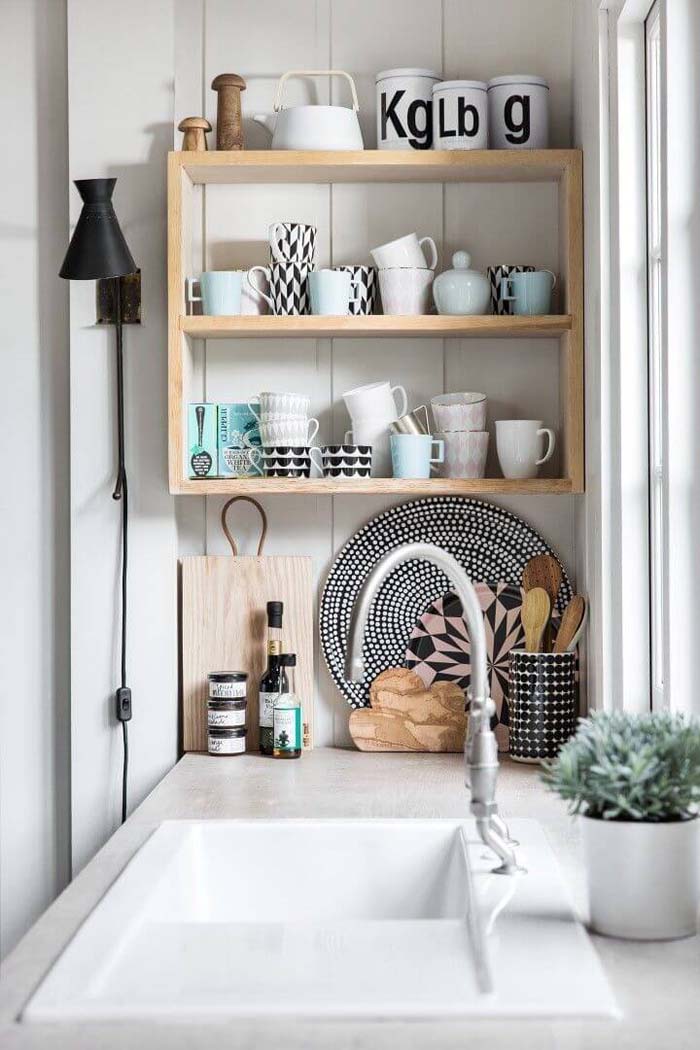 When you have a small kitchen, you need to think outside the box and make it as organized as a large kitchen without compromise its interior.
Make a customized rack for a wall that will otherwise be useless. It can become a display for cups and glasses that are used most often.
20. Maximize Countertop Space with Tiered Corner Shelving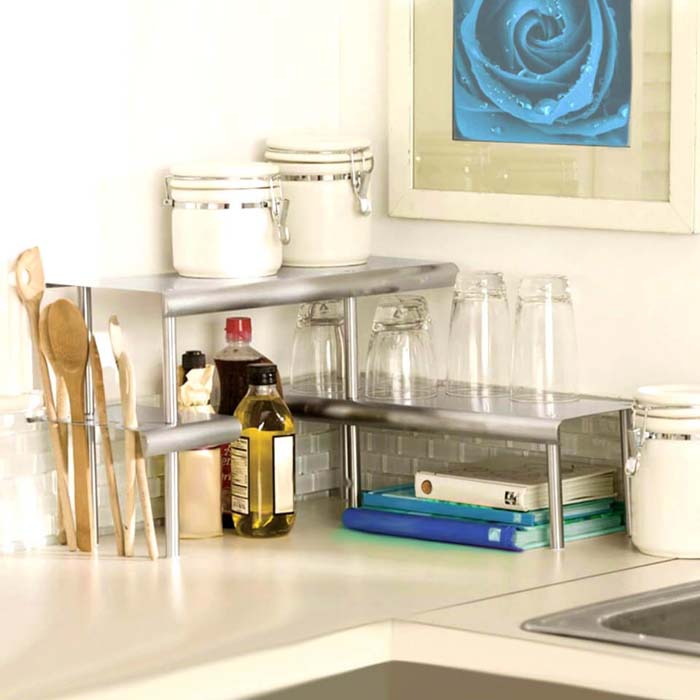 Use the corners of the countertop for customized stands.
Depending on your style preferences, the shelves can be made either of wood or metal.
Add as many tiers as the distance between the countertop and the cabinets allow.
21. Keep Oils and Seasonings in One Place with Wire Basket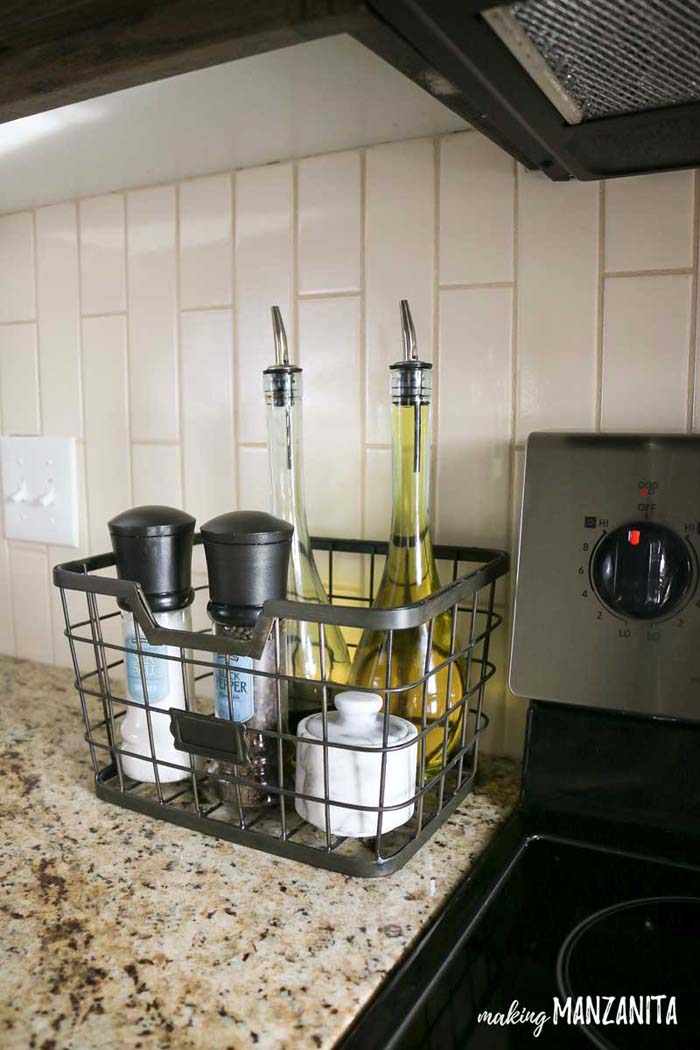 Store the oils and the seasonings in one place and right next to the stove.
Such wire baskets can be found at the Dollar Store at a very reasonable price and in a variety of sizes.
via Making Manzanita
22. Create a Tea Bar with a Three-Tiered Lazy Susan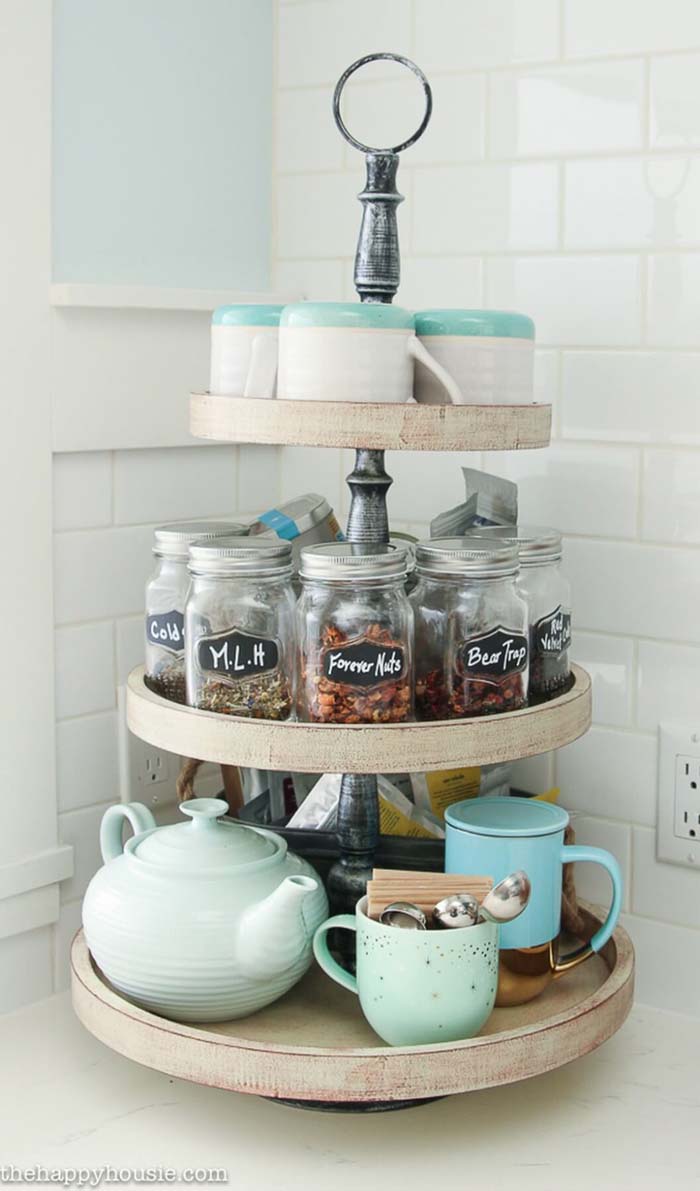 Such tiered Lazy Susan is suitable for the storage of products in the corner of the countertop.
Thanks to the tiers it can accommodate items of different. The rotation of each tray allows easy access.
This stand is also a great decor feature and could be used as a display of seasonal decoration or a collection.
via The Happy Housie
23. Add a Hint of Nature with Wire Basket and Plants Accents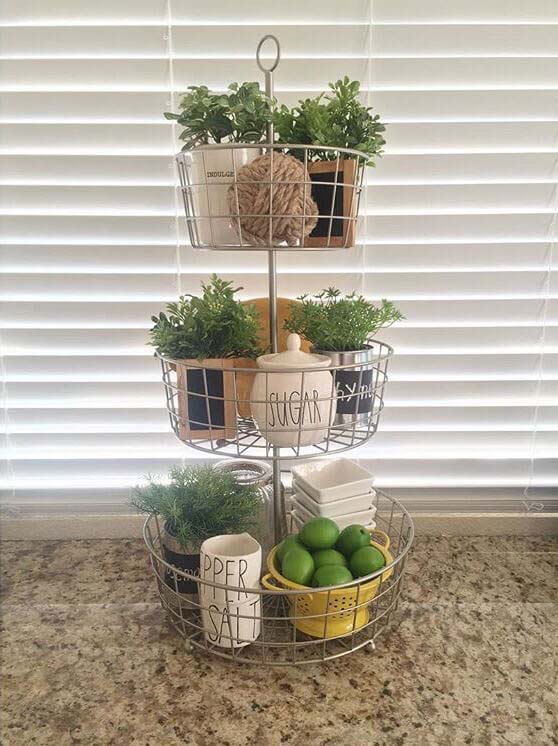 The Lazy Susan tiered stand is offered in different designs. One of them is the wire basket type which attracts with its farmhouse look and transparency.
Because of its small footprint, it can be placed anywhere on the countertop, including a corner that would otherwise be a dead space.
24. Bring a Contemporary Vibe with a Wood and Wire Shelf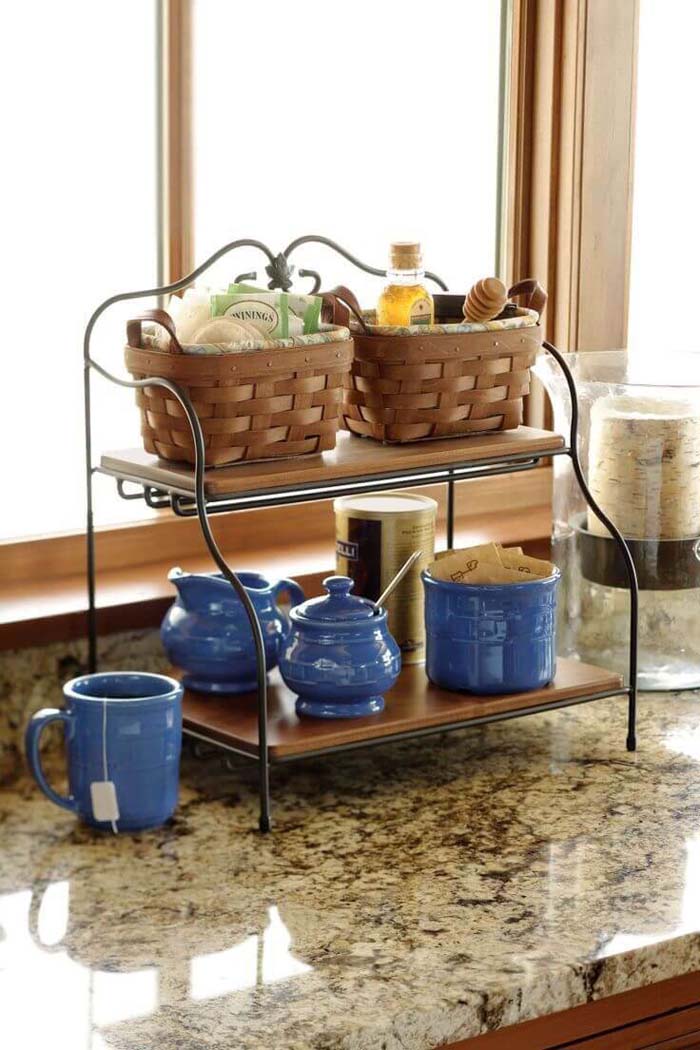 This small but aesthetic stand will help you organize the tea time accessories in one place.
The stylish tea station accommodates various tea bags, sugar and honey in cute farmhouse baskets and antique porcelain pots.
25. Hang Your Utensils with Cup Hooks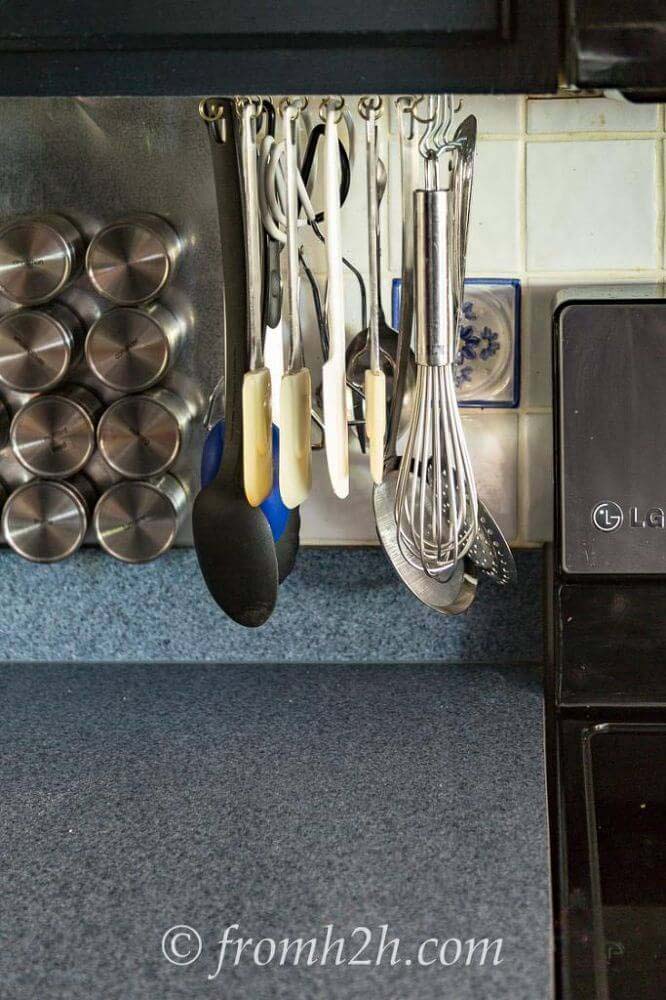 You don't have to invest any money or effort to make a functional storage place for your cooking utensils which will not cover any from the countertop.
Get a set of screw hooks and put them through the bottom of a counter.
26. Transform Pitchers into Rustic Utensils Holders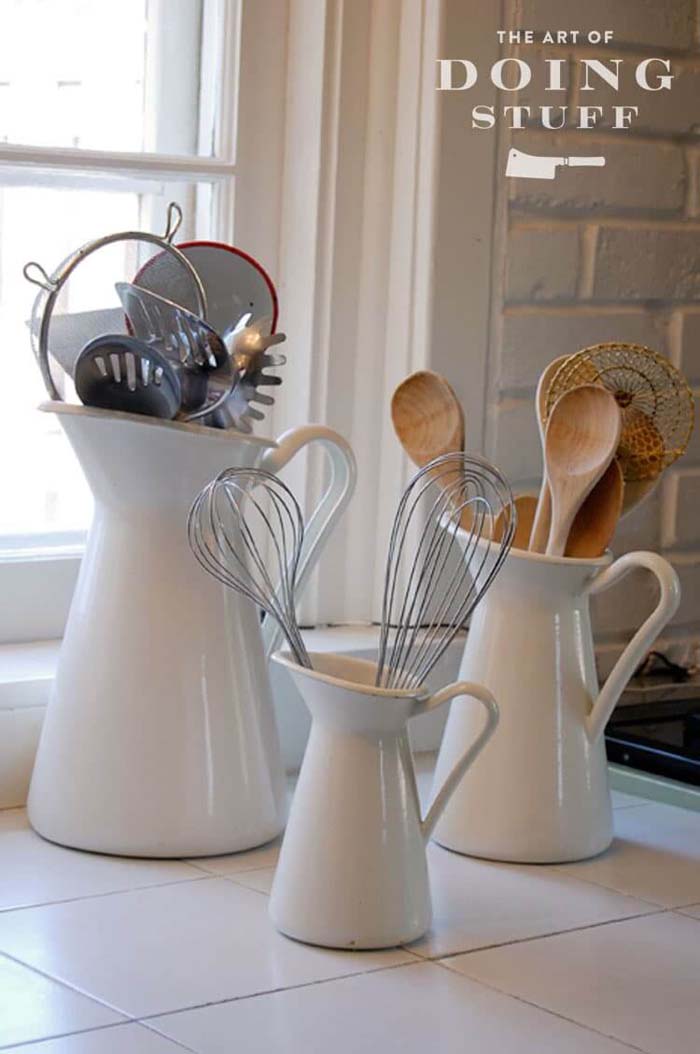 A set of jugs can be both functional and impressive. Placed on the kitchen cupboard they can store utensils or other items that would otherwise take up an entire drawer.
If you like the vintage beauty of these particular jugs, you can find them from Ikea.
27. Bring Rustic Charm with Vintage Milk Carrier and Mason Jars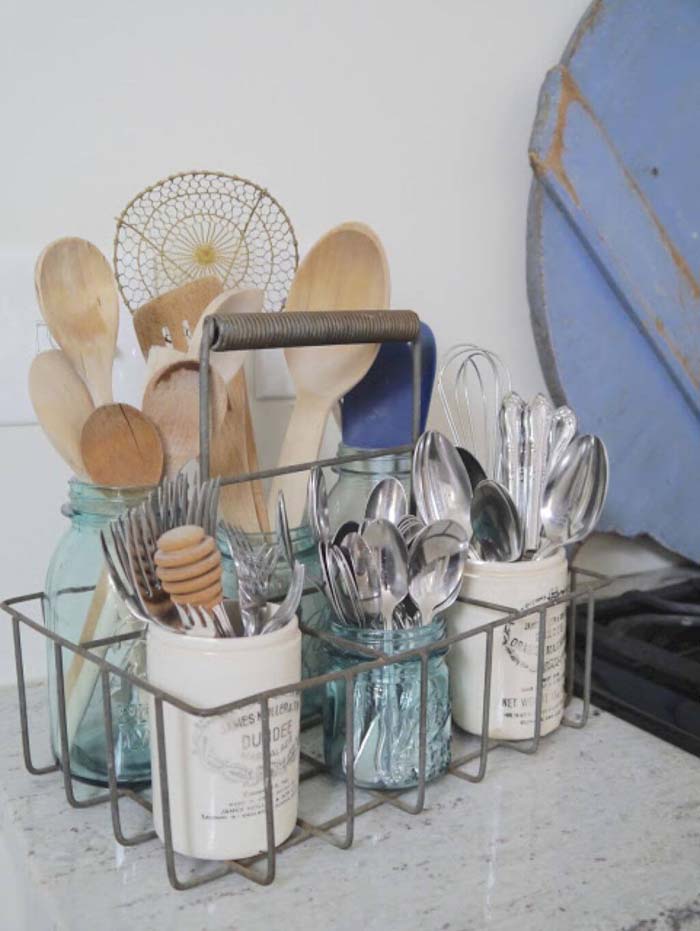 Are you looking for an inexpensive way to organize the clutter in the kitchen? Any jars, transparent or not, can help with the storage and sorting of cutlery.
Placed in a vintage milk carrier will make the storage more compact and will also give them a decorative look.
28. Add Splendour to a Kitchen with Your Vintage Soap Dish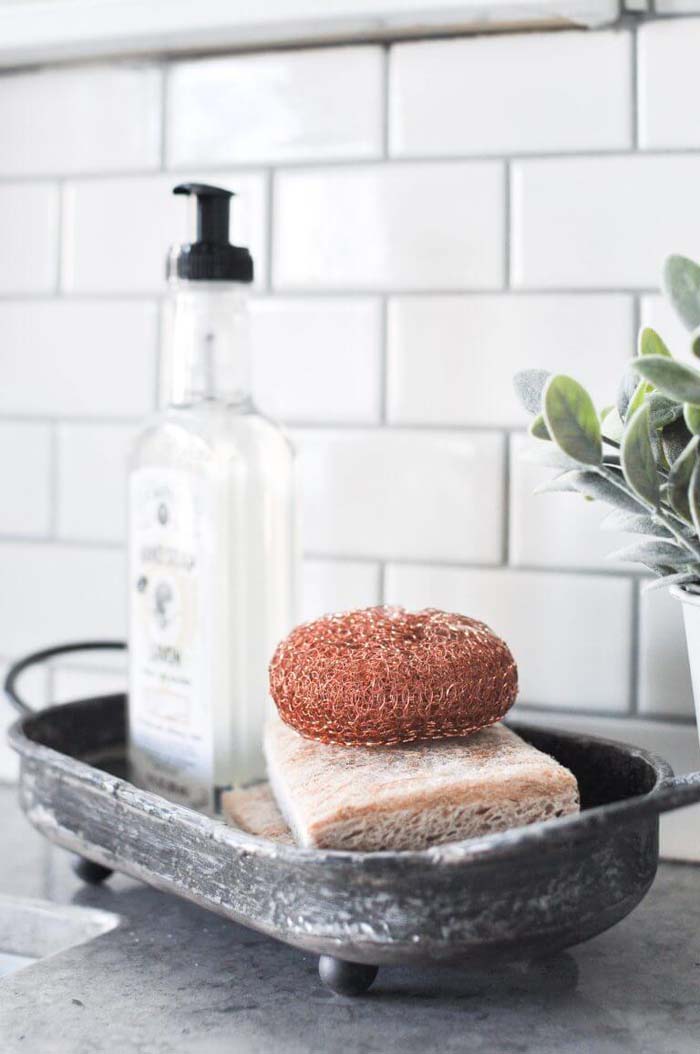 Store your soap and sponge in a vintage metal dish. In fact, there are many more rustic containers that will look just as well by repurposing them.
Such a dish will free some of the space next to the sink and will ensure a far more clean and organized kitchen countertop.
via Cherished Bliss
29. Get Creative with a White Wire Hanging Shelf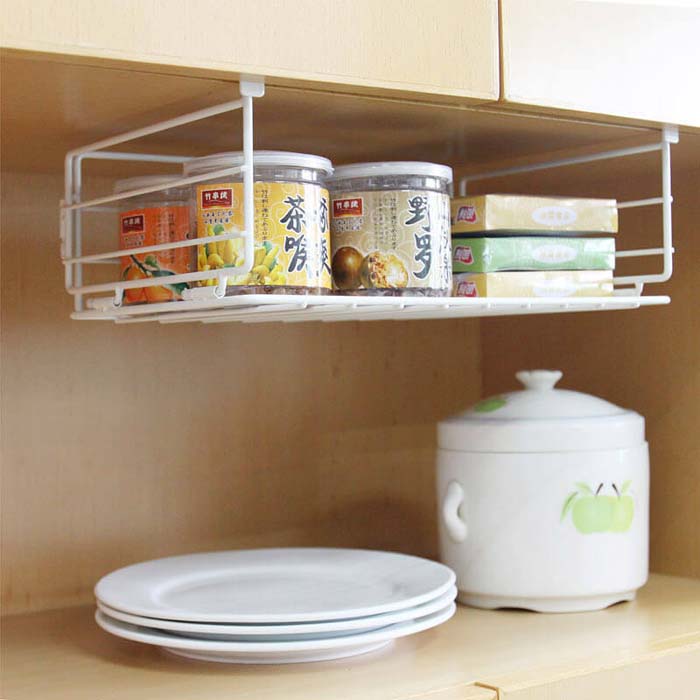 Clean the countertop from all the jars and canned food and make room for your food preparation.
If you don't have any cabinets or drawers free, you can solve the clutter issue with under-the-cabinet wire shelves.
30. Add Style to Countertop with Wire Baskets and Herb Accents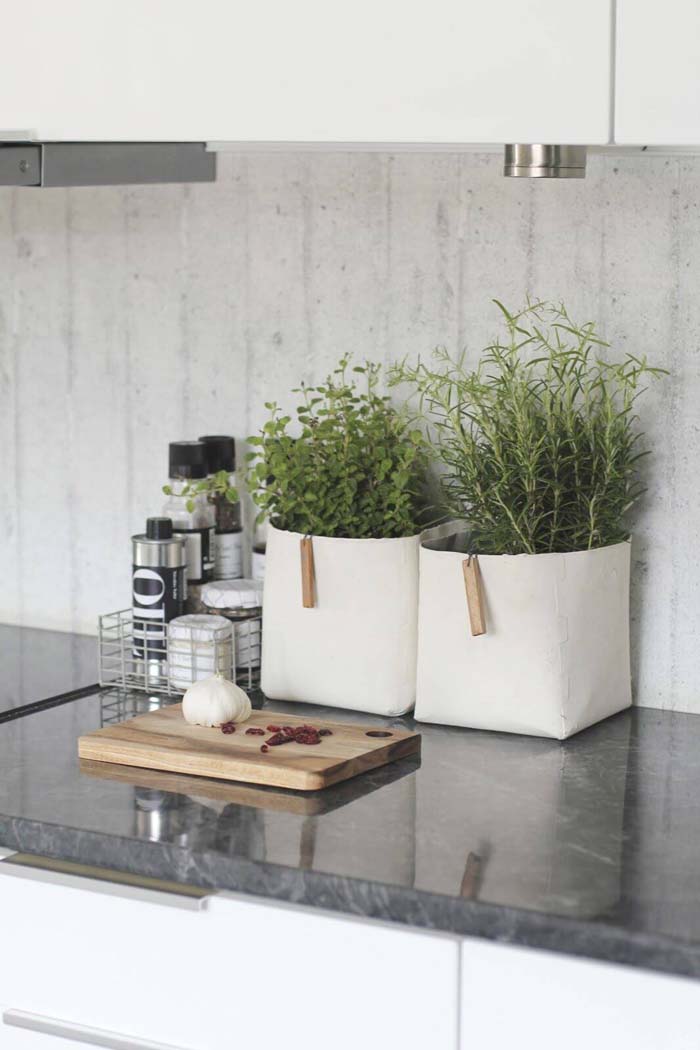 Placing the items that you store on the countertop in containers will contribute to a visually clutter-free kitchen.
Get one of the small baskets from the Dollar Store to set all oils and seasonings in one place.
If you have fresh herbs in pots, dress them in paper boxes to give them an identical look and to protect the surface from dirt.
31. Bring Industrial Charm with a Metal Wire Rack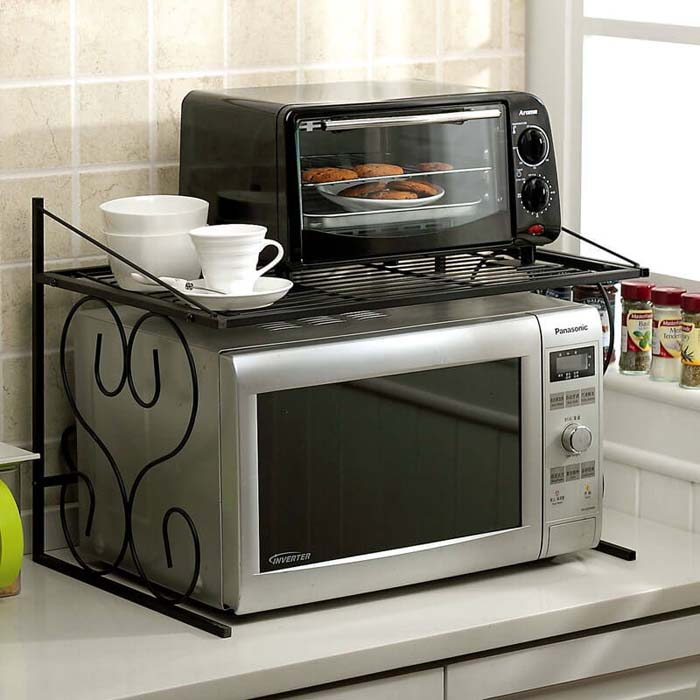 If there isn't any space left for part of the cooking appliances, you can create such thinking vertically.
A metal rack with beautifully wrought iron sides will provide a higher shelf for housing a toaster, a grill or a coffee maker and similar helpers. Below these appliances is the place for the microwave.
32. Add Texture and Character with a Woven Tray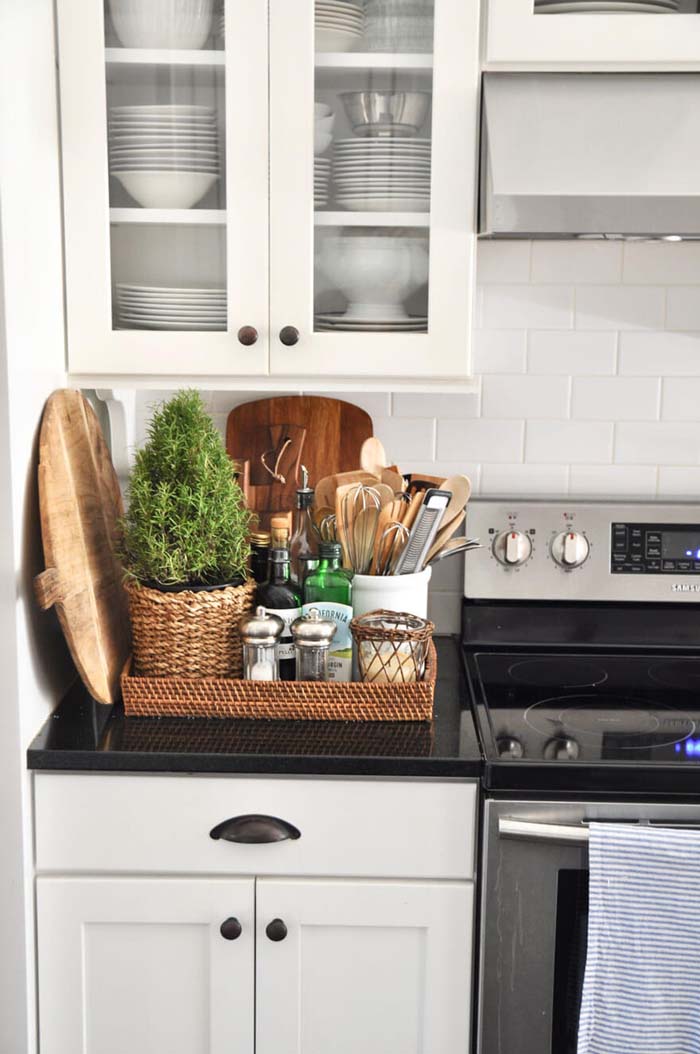 Storing all cooking accessories in a tray or a similar container ensures protection of the countertop surface from spills and dirt.
If there is any free space left in the tray, add a small pot with a fresh herb to give a fresh vibe and good aroma to the kitchen interior.