If you are dreaming of a delicate, rustic centerpiece to cheer up your home, why don't you have a look at some vintage-style wooden box centerpieces?
They are quite easy and inexpensive to make. Moreover, they surely give the space an additional warmth.

Once you have it done, spruce up some seasonal flowers, candles, Mason jars, faux grass, stones and shells you've collected from the beach, bottles, and other earthy elements inside the wooden box.
Now you've got a majestic rustic box centerpiece that can perk up any room in your home.
To help you get inspired, I've prepared a collection of 20 beautiful and easy wooden box centerpieces that do not require much skill beyond some basic crafting knowledge.
1. Elevate a Garden Wedding with a Rustic Wood Box Centerpiece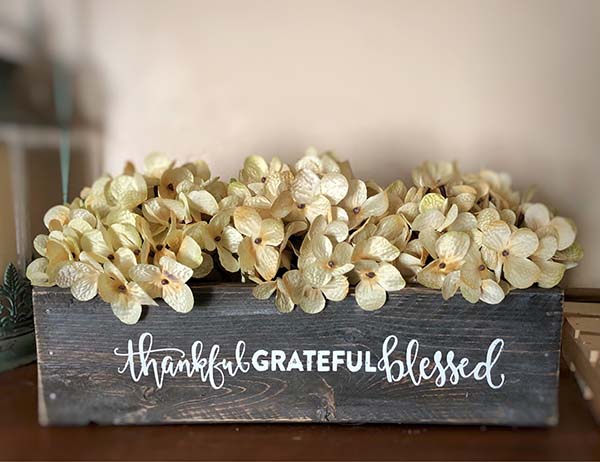 I'll start with a cute variation of the rustic wood box centerpiece, ideal for a garden wedding.
It is, however, quite adjustable and could be easily customized.
As you can see, the key element is the vintage wood box painted in white. The mason jars play a crucial role as well, being equal to the flowers in this sense.
Check availability: Here
2. Add a Touch of Rustic Style with Wood Mason Jar Centerpiece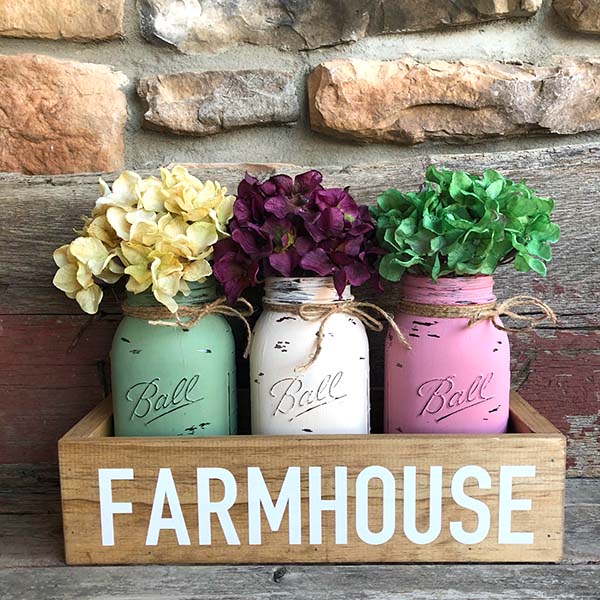 Here is a splendid rustic wood centerpiece that both is handcrafted and hand painted.
This is a perfect addition to your farmhouse style interior as well as the outdoor space (such as patio and front door space).
Check availability: Here
3. Keep Flowers Fresh for Longer with a Small Box Centerpiece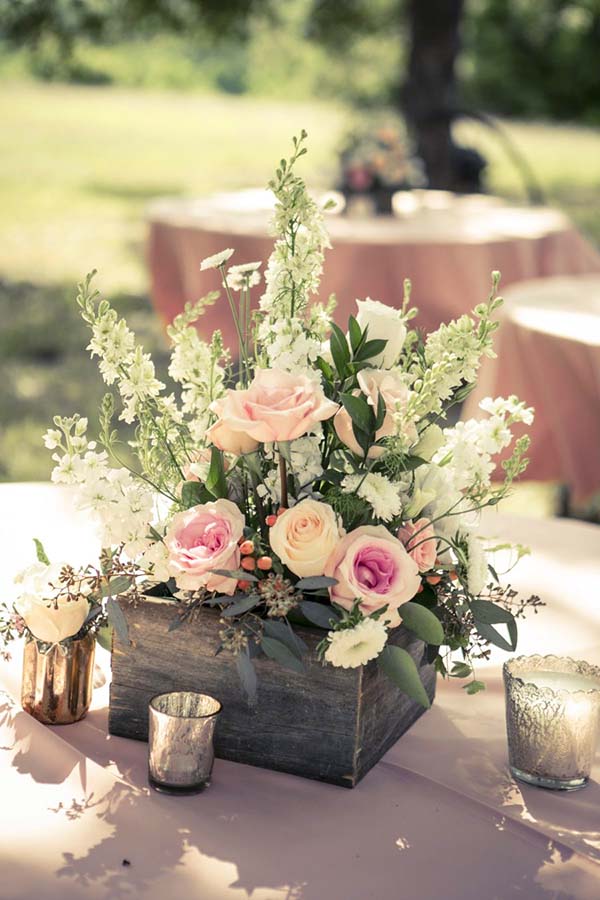 Photo: Credit
Looking for something compact and rustically chic? You've got it!
The adorable rustic box centerpiece looks like something that you could put together yourself out of some garden flowers and leftovers from other craft projects.
You can simply put a floral sponge inside to keep the flowers fresh for a long time.
4. Add Classic Charm with an Affordable Rustic Table Centerpiece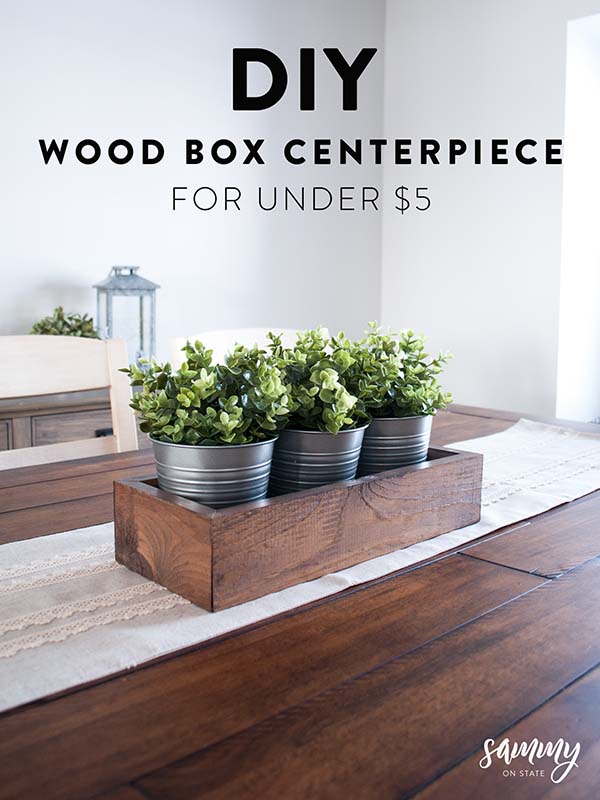 Photo: Credit
Are you looking for some cheap and cool rustic centerpieces for the kitchen?
Here is an idea of a rustic dining room table centerpiece. If you don't have any leftover wooden pieces, you can simply buy a wood box for less than $5!
Make sure it fits (at least) 3 IKEA galvanized Socker plant pots and then plant some greenery of your choice. Easy, eh?
5. Rustic Wedding Reception with a Distinctive Centerpiece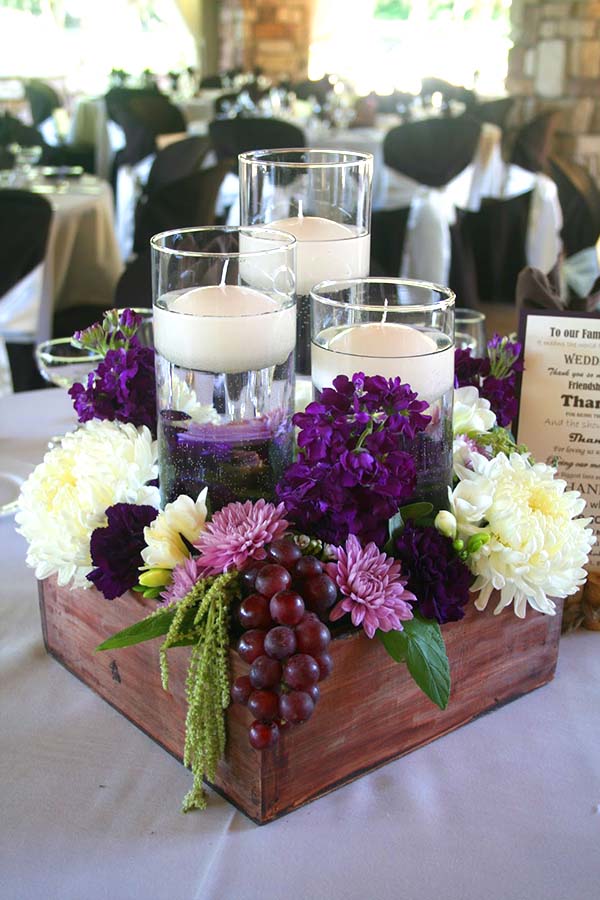 Photo: Credit
This wooden box with floating ivory candles surrounded by lush flowers and grapes could be the best rustic wedding centerpiece idea for an open-air ceremony.
It makes the dining table look very sophisticated, rustically chic and unpretentious, don't you think?
6. Make Moments Magical with a Romantic Lantern Centerpiece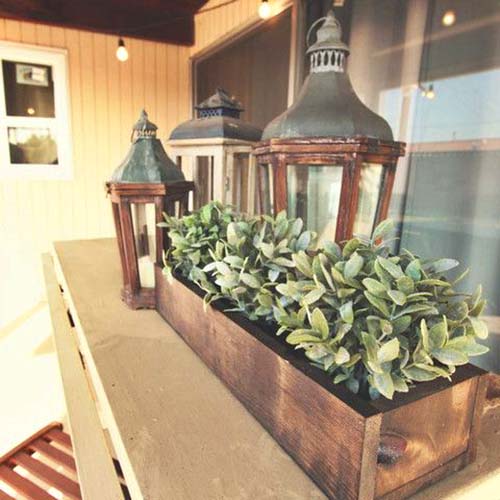 Photo:Credit
For romantic summer dinners on the terrace, or garden parties with music under the stars, here is a rustic lantern centerpiece that provides warming, cozy and light glow.
Moreover, it could be easily customized depending on everyone's choice and taste.
7. Make a Statement with a Rustic Wood Table Runner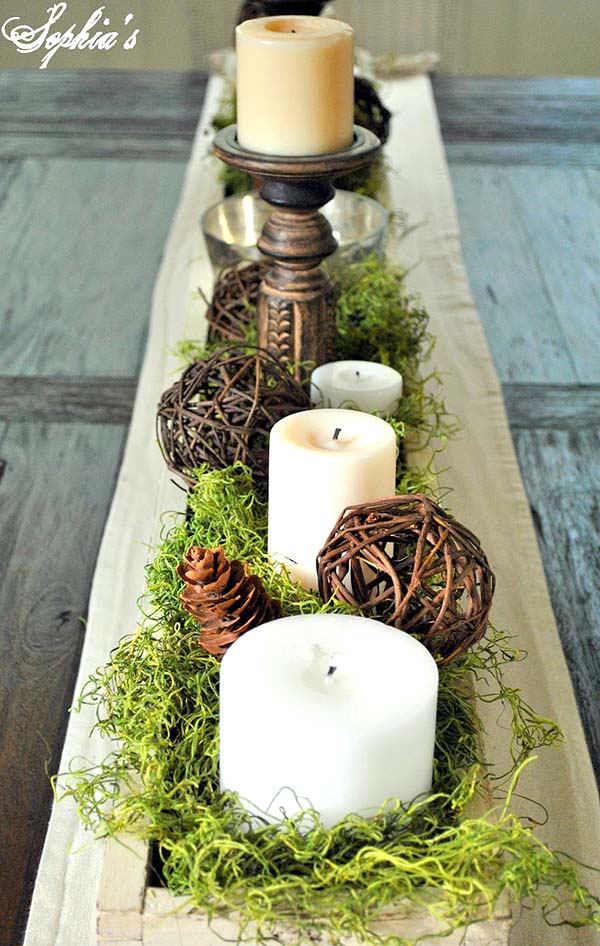 Photo: Credit
Hosting a dinner on the patio or on the terrace? Think of highlighting the long table with a rectangular rustic wood box centerpiece, decorated to your personal taste.
The box can be filled with an assortment of candles, greenery and various other earthy elements, but fruit, gourds or lines of bottles could be displayed.
8. Create a Magical Atmosphere with a Rustic Lantern Centerpiece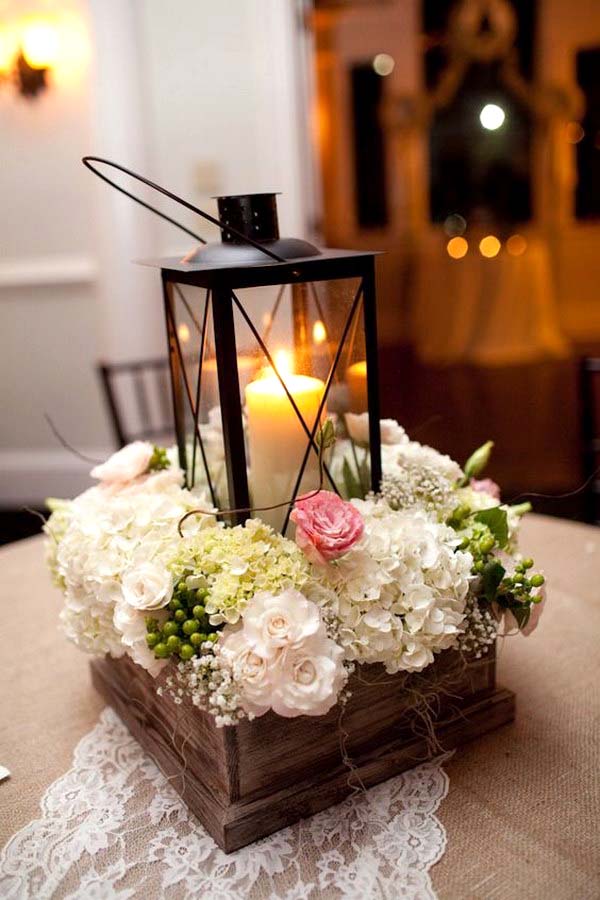 Photo:Credit
Here is another rustic lantern centerpiece that could easily fit on a dining table, or placed on a garden wall or column.
It is very small, delicate and, thanks to the vintage lantern, provides a magical and warming glow. 
9. Create a Focal Point with a Rustic Wooden Box Centerpiece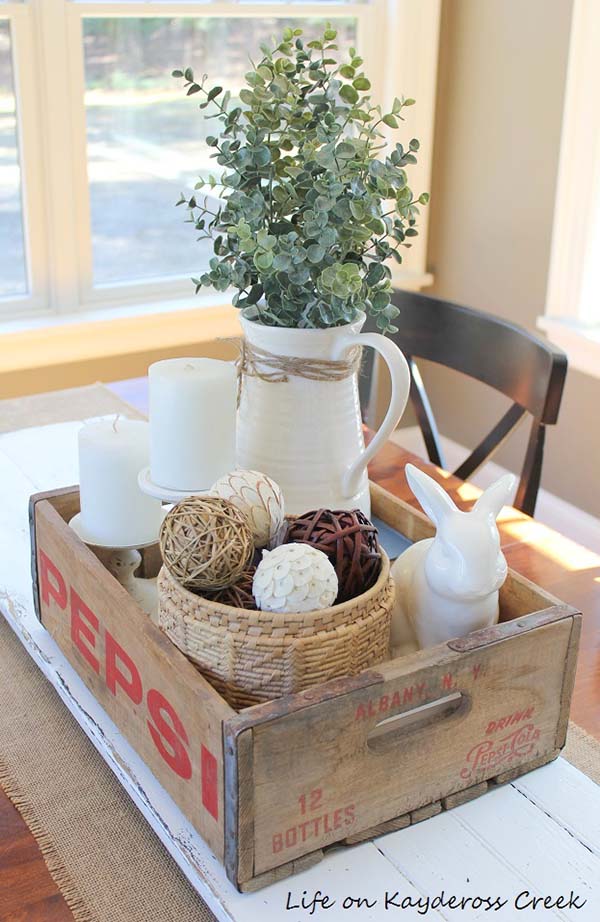 Photo:Credit
Some rustic wooden box centerpieces are so showy and glamorous in a rustic way that they easily transform the table into the focal point of the entire room.
This reclaimed wood box filled with simple, Nordic style elements and some fresh greenery, is a real example!
10. Add a Rustic Feel to Your Tablescape with Birch Flower Vases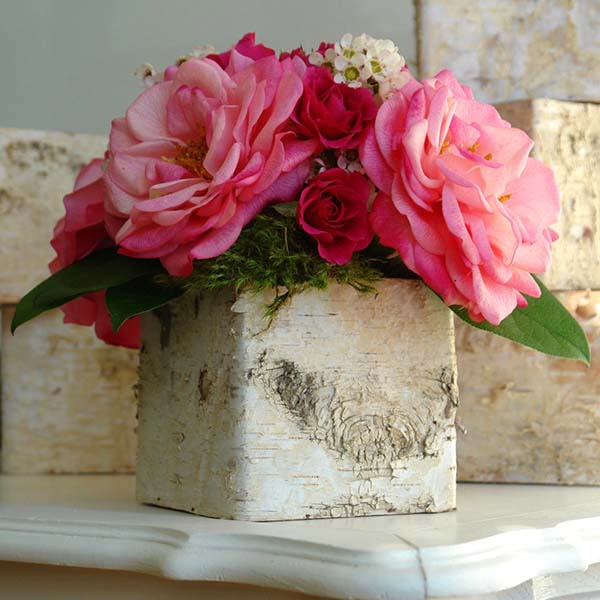 Check availability: Here
These DIY square birch bark vases are another level of wedding table decoration!
Love how the white birch contrasts with the color of the roses. So simple and earthy and yet captivating!
11. Transform Your Table with a Rustic Spring Centerpiece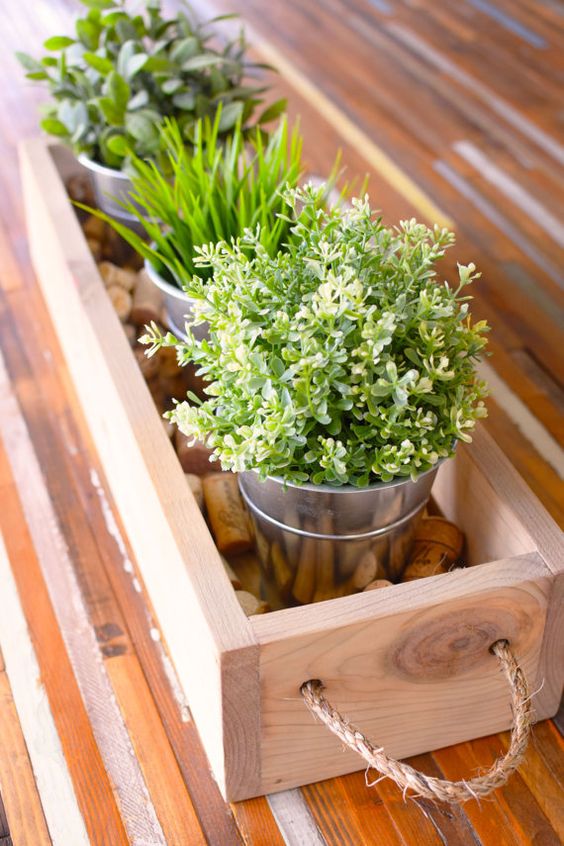 Photo:Credit
This sunny display with three different types of greenery foliage is the ideal rustic centerpiece to celebrate the upcoming spring!
Place a trip of 3 IKEA galvanized Socker plant pots in a simple wood box. Then fill up the holes with used wine corks to embellish the rustic feel.
12. Delight in Elegant Wood and Glass Flower Planters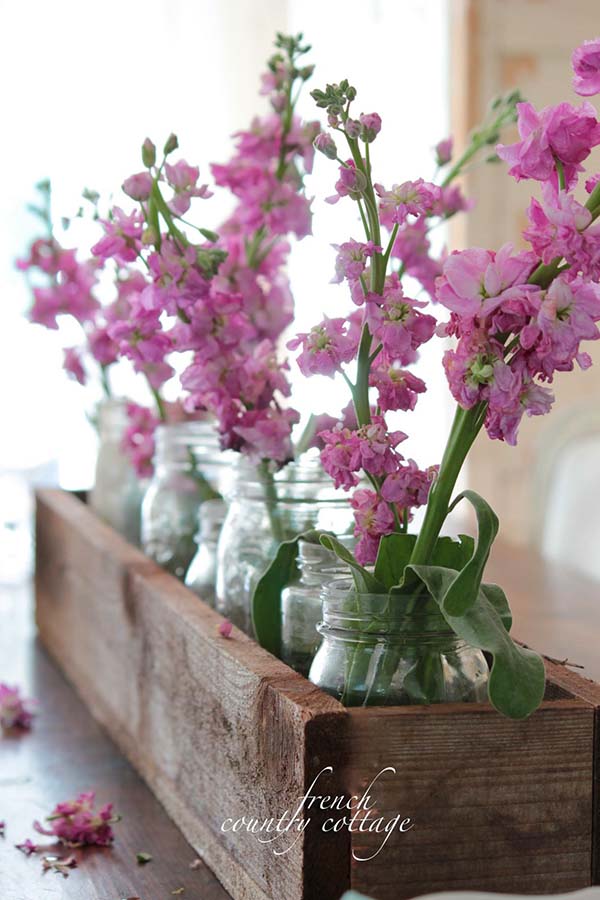 Photo:Credit
The blend of wood and glass in floral displays is timeless and delicate.
This one keeps it fresh, ethereal and innocent. The sprigs of pink garden flowers create a cheery, airy arrangement.
Just a hint: if you're using deep wooden box, make sure the glass jar is taller than the box.
13. Bring Rustic Elegance with a Small Wood Box Cactus Planter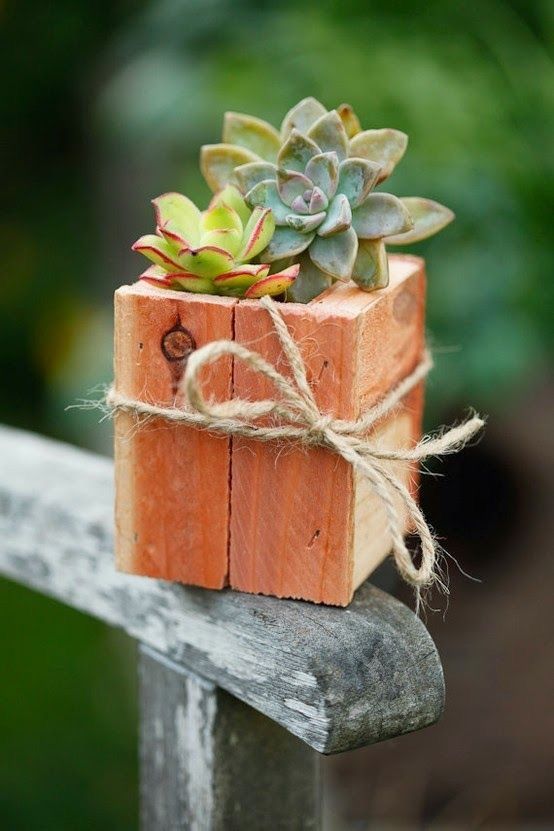 Photo:Credit
This display makes amusing use of textures and colors.
The tiny, unpretentious and rustically chic box complements the succulents ideally. The string adds another textural extent.
This would be a great accent on the windowsill of a farmhouse style kitchen, or on a small patio table.
14. Brighten Decor with a White Wood and Glass Herb Garden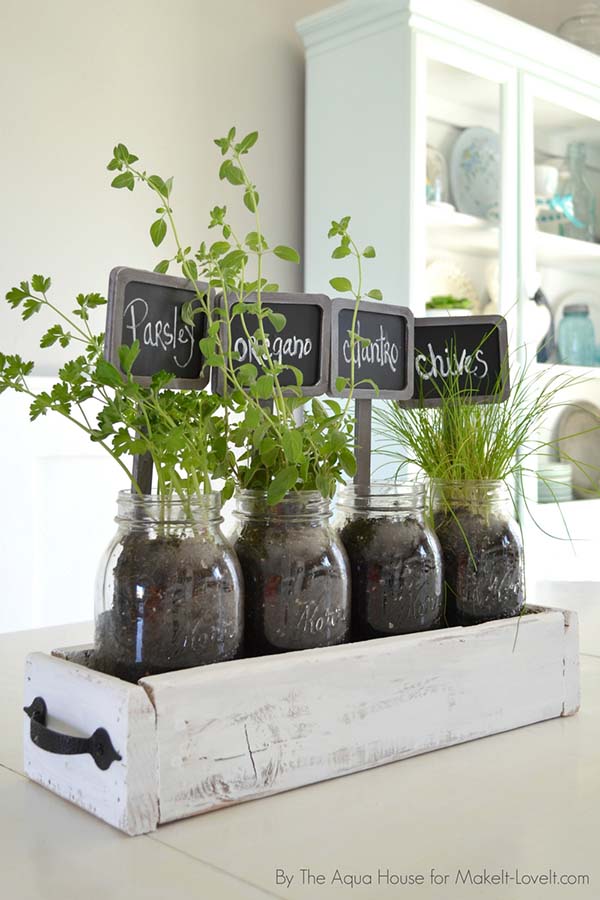 Photo:Credit
Here is a simple healthy, aromatic arrangement in a reclaimed wood box that brings the outside indoors.
This cute herb garden is crafted from a block of recycled pallet wood, with the addition of metal handles at each end. The herbs are planted in Mason jars (simple pickle jars could also work) with drainage pebbles at the bottom.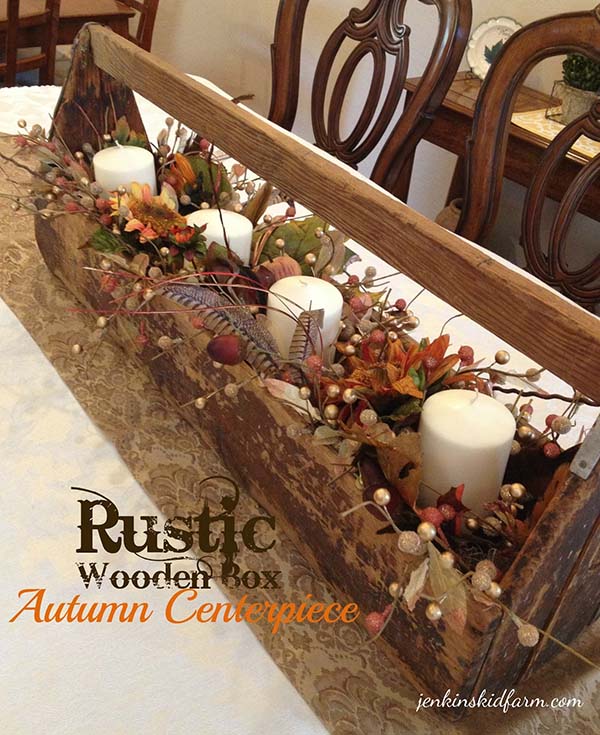 Photo:Credit
A vintage wooden toolbox used for a festive display: what a brilliance!
Even though this box is filled with autumnal flora and candles, it could be easily customized of your choice. Celebrate the new season, bring a festive vibe to your home!
16. Rustic Candle Holder Centerpiece with Gold Dust Accents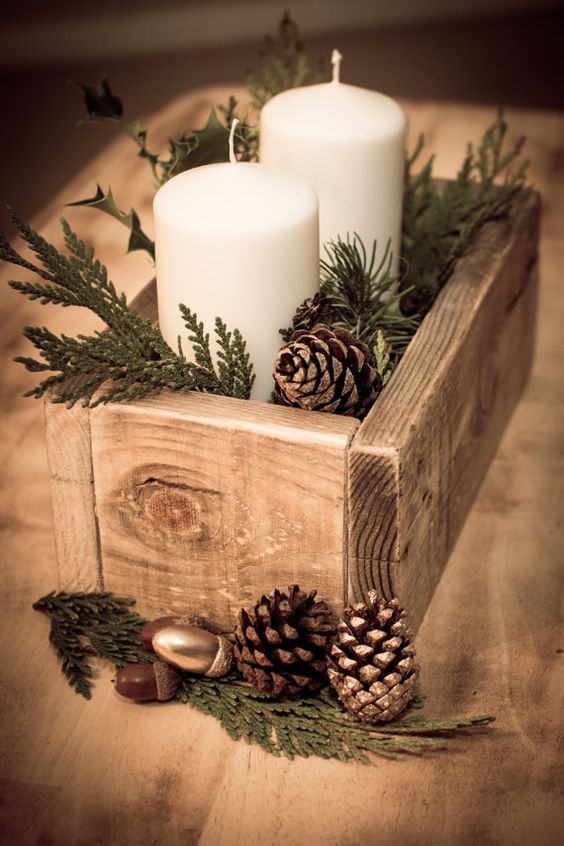 The rustic candle holder centerpiece is built of a couple of pure-white pillar candles combined with earthy elements such as evergreens, pine cones, and acorns.
The gold-dusting adds a festive vibe that would make it work as a Xmas decor as well.
17. Transform Your Living Room with a Rustic Vignette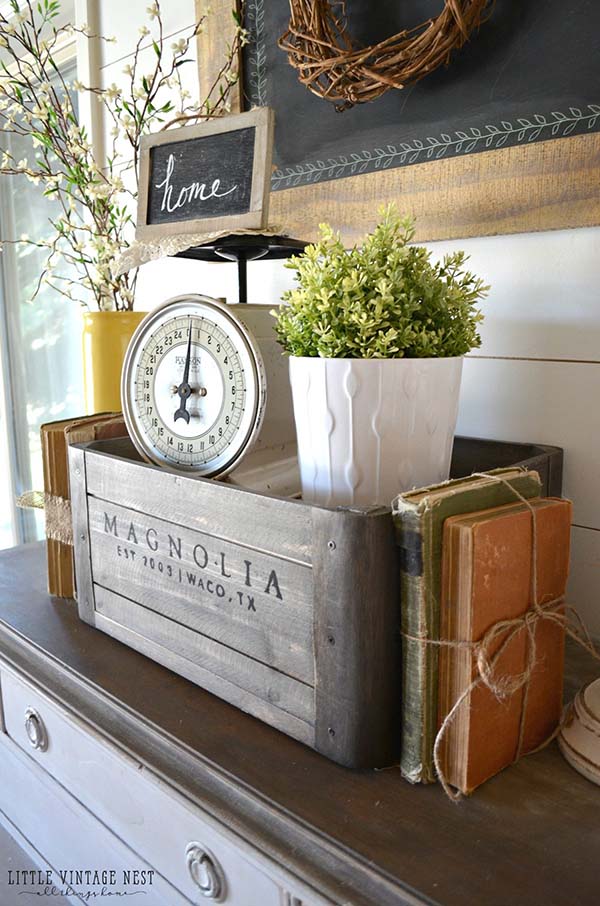 Photo:Credit
The best thing about this rustic wooden box is that it is neutral and can easily fit the rest of the decor in the house.
I love how the little farmhouse vignette is being styled around the wooden crate.
18. Bring an Understated Charm with a Wood Centerpiece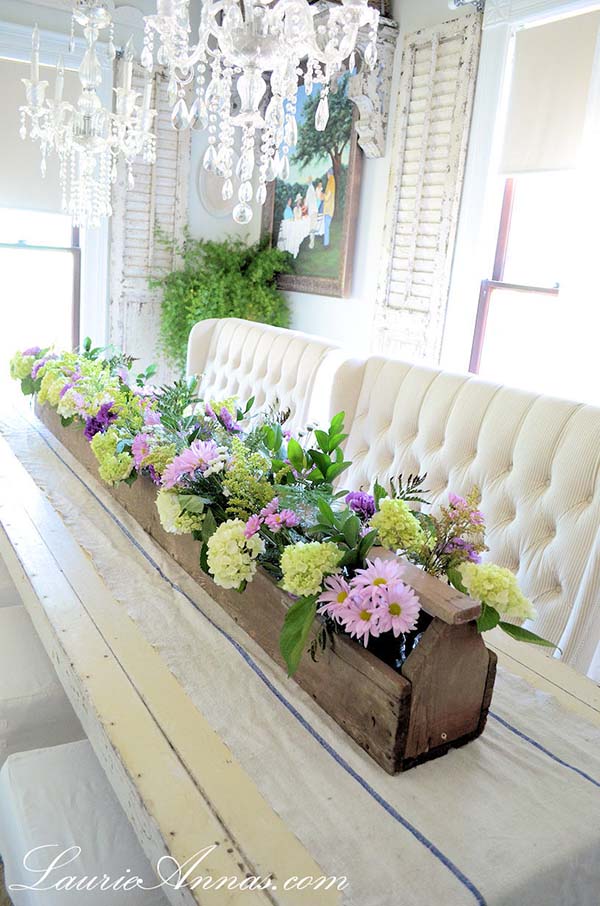 Photo:Credit
This beautiful floral arrangement embellishes the historic charm of this vintage style decorated home. The pops of color give the space a cheerful, sunny vibe.
In overall, the display is low, but this is compensated for by its wholeness and the range of floral elements and textures that it contains.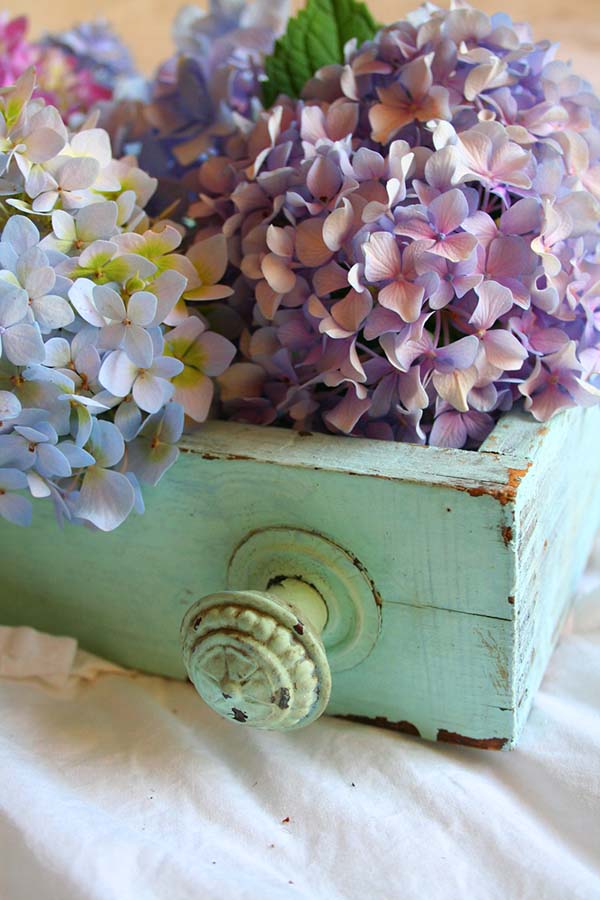 Photo:Credit
There is a vintage, heirloom quality to hydrangeas.
This beautiful floral arrangement, displayed in a blue-painted vintage drawer, is both chic and bizarre. The drawer is hollow, and the blooms are large and voluminous, so they are showcased delightfully.
Besides, this rustic centerpiece essentially shows that any rustic box can be used to display flowers and greenery.
20. Upgrade Your Decor with a Window Box Centerpiece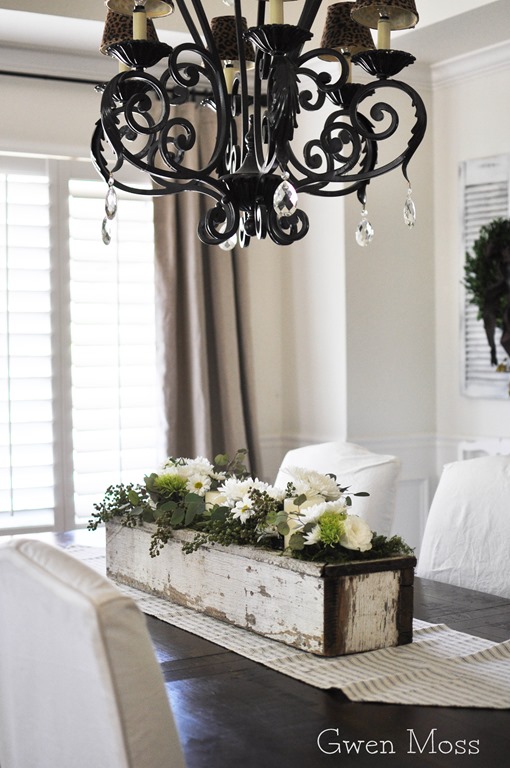 Photo:Credit
As I am a big fan of the repurposed rustic decorations, I decided to finish my collection of 20 appealing rustic wooden box centerpieces, with this beautiful DIY project made of a window box.
It is perfect for a long dining table or displayed on the window.
So, did you managed to find your dream rustic wooden box centerpieces? Which project of our collections is your favorite one?  Which one seems the most difficult to make? Let us know in the comment section below! Cheers 🙂