Making our homes welcoming and stylish is a No. 1 goal throughout the whole year. The sources of ideas are obviously endless however, some of them could cost a fortune.
Have you ever thought that you could make your home look like a million dollars without investing one million dollars?
All you need to do is go to the nearest Dollar Store and find the decorations that will suit your interior style.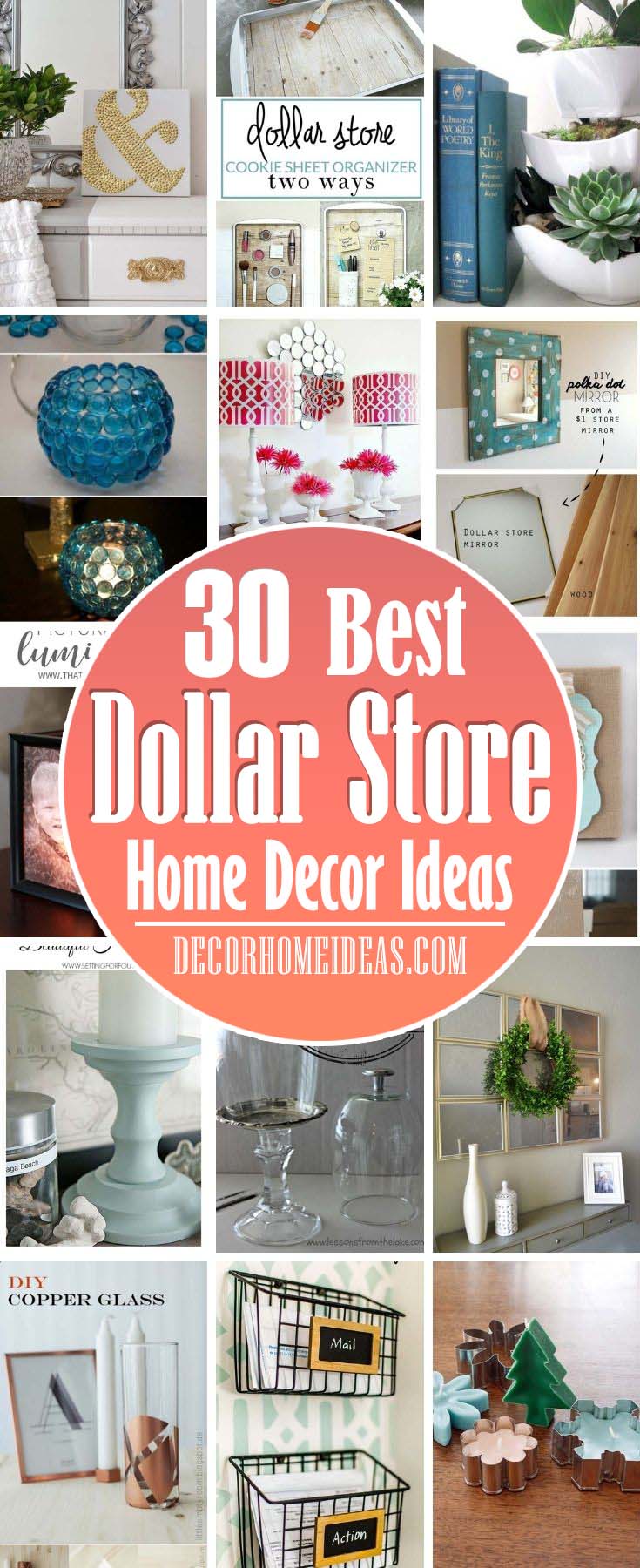 Surprisingly or not, there are good home essentials that look pretty pricey or that could be touched up a little bit and be turned into a unique decor piece.
You Might Also Like These:
This is what we are going to show you today- a list of great Dollar store items that will spruce up your interior.
1. Reorganize Your Mail with a Stylish Wire Basket

Want to organize your mail but you don't want those heavy wooden or metal mailboxes that will take up too much from the wall?
Get a plain wire basket and spray paint it in black. Add labels for a more customized look.
2. Transform Ordinary Glass into a Glitzy Candle Holder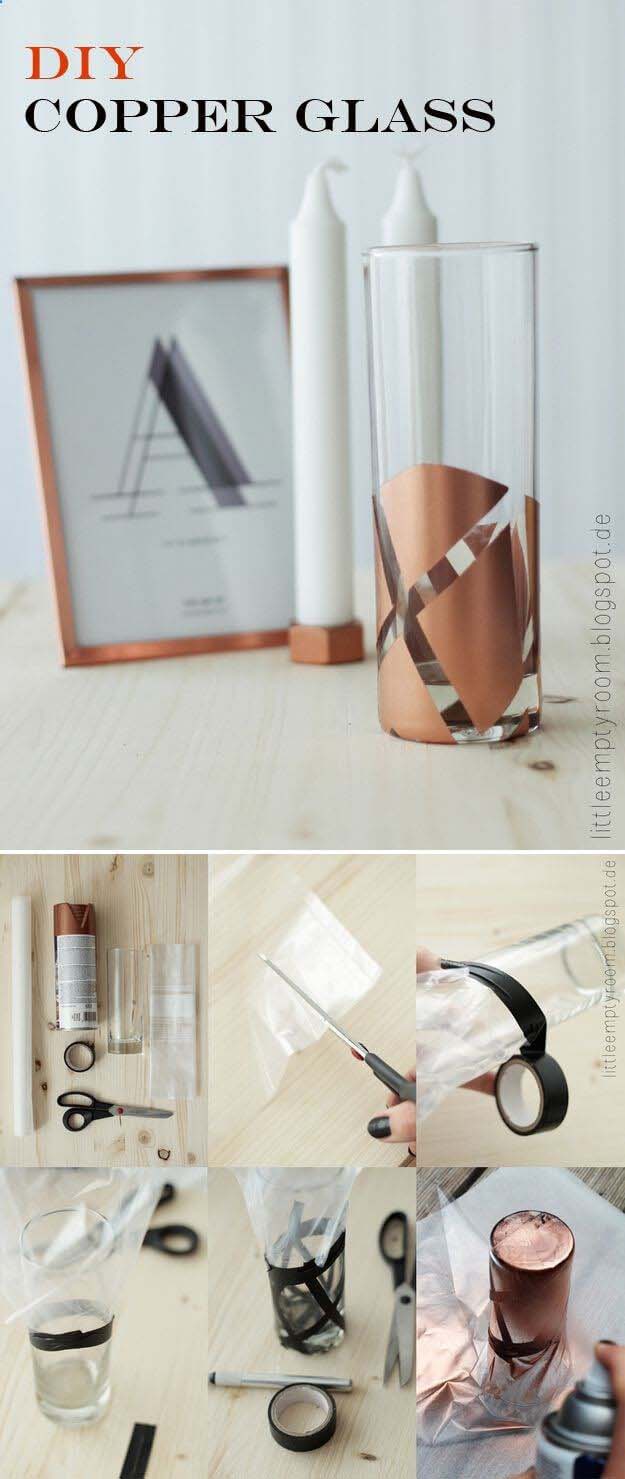 Turn ordinary glass into an art piece that can be used as a candle holder, as a vase or as an accent to a table centerpiece.
All you need is a tall glass from the Dollar Store, tape to differentiate the paint areas and form geometrical shapes and bronze spray paint.
3. Transform a Plain Mirror into an Elegant Home Décor Piece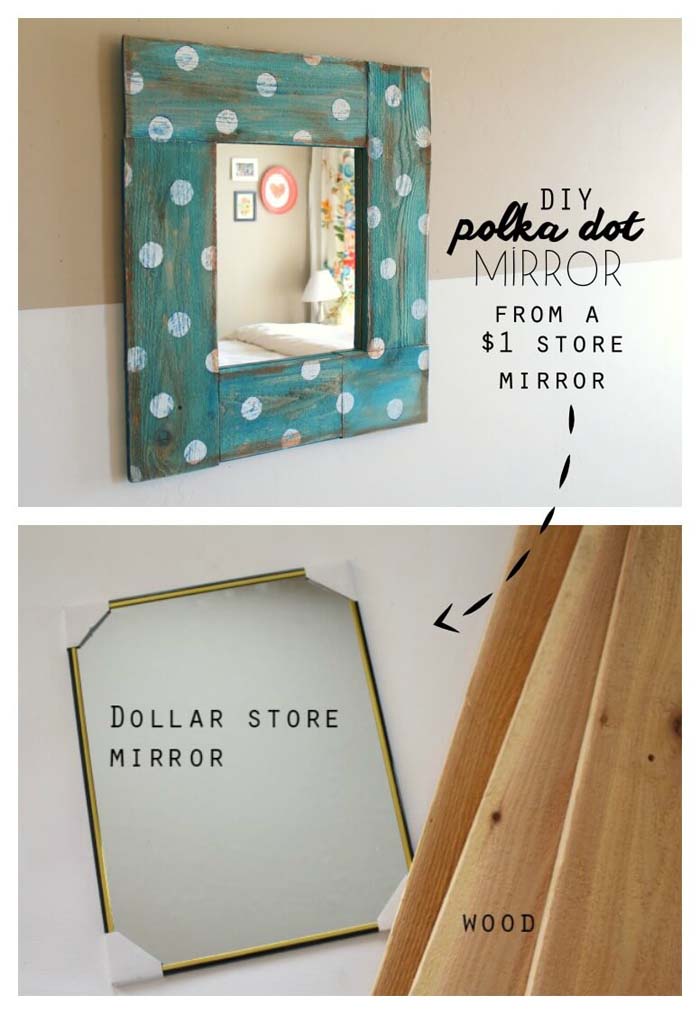 Are you looking for an ultimate and instant decor improvement? Do it with a mirror! And do it for less than $2.
Get a plain mirror from Dollar tree and make it look like a unique piece by making a wooden frame. Paint in a color you like and decorate according to match the existing interior.
4. Creative Jewelry and Make-Up Holders for Your Vanity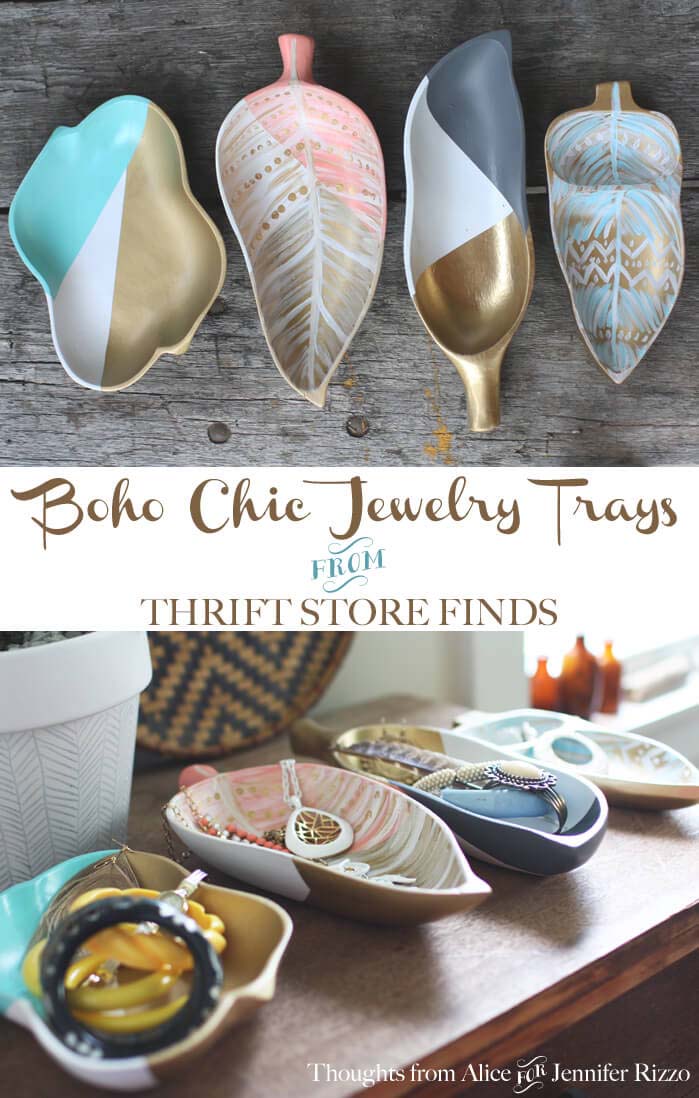 One of the ways to decorate a vanity is to do it with jewelry and make-up holders.
Combining functionality and beauty in 1, you save space and money and increase the decor value of the bedroom.
Get a few wooden leaves and change their entire look with paints.
via Alice Wingerden
5. Create Customized Farmhouse Baskets with Burlap Fabric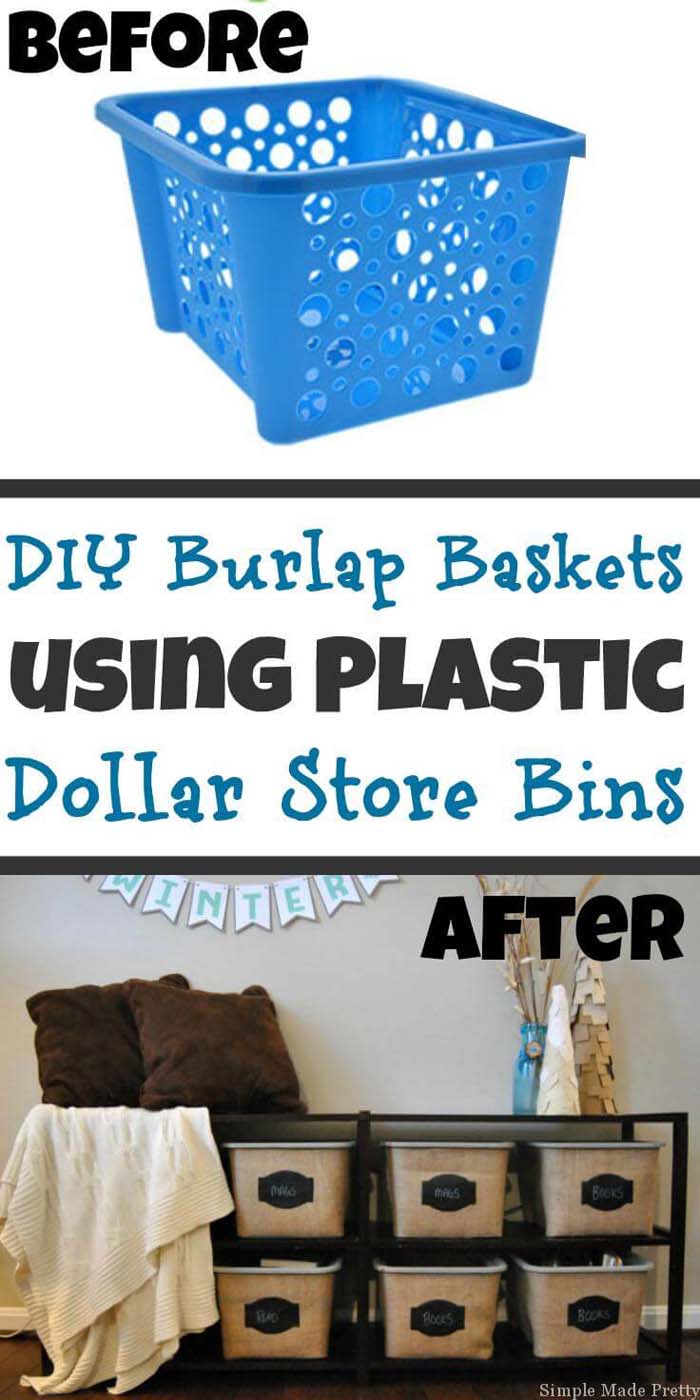 The farmhouse baskets in the furniture stores are very pretty and quite expensive. The good news is that you can make your own without investing much from your budget, only some of your time.
Get plastic baskets from the Dollar Store and wrap them with burlap fabric using a hot glue gun.
6. Keep Devices Organized with a Picture Frame Charging Station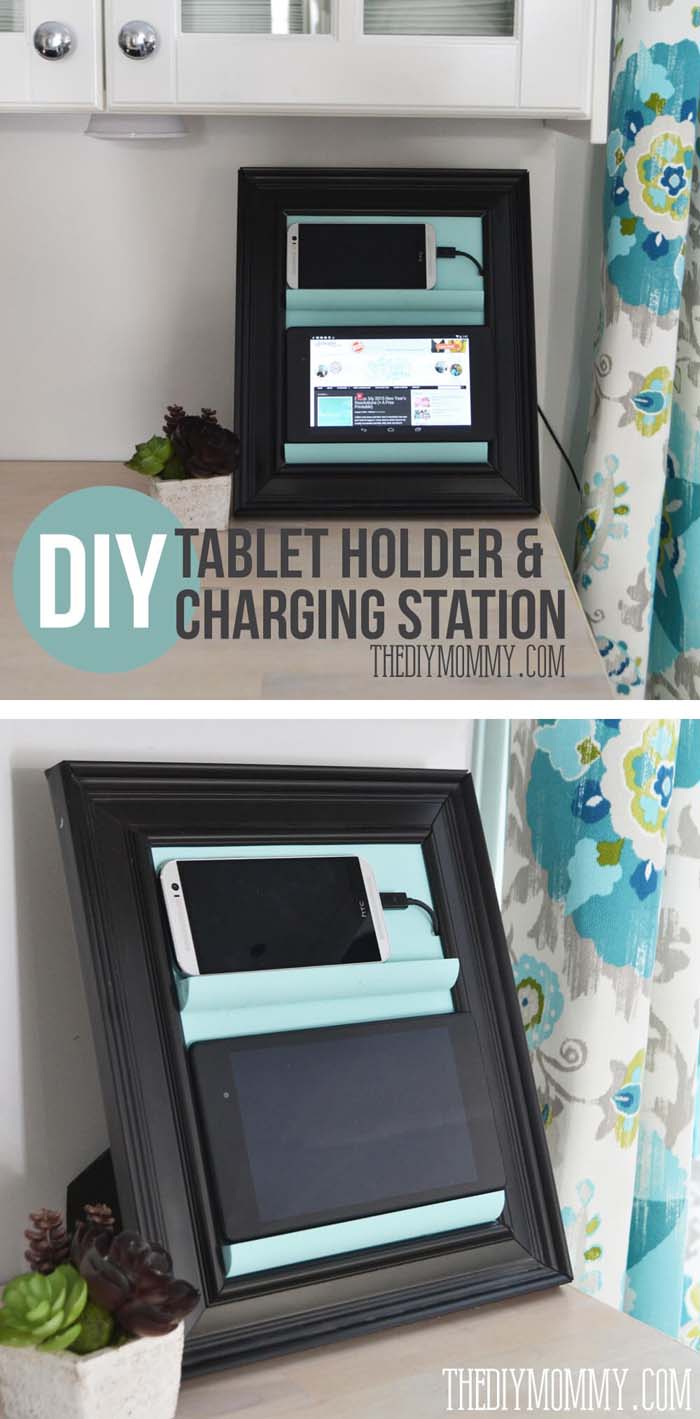 Are you always looking for your phone or tablet? This easy DIY will let you organize them in one place for almost no money.
All you need to make this functional gadget is a simple sturdy picture frame, thick cardboard, wood scraps and paint.
via The DIY Mommy
7. Create a Stylish Jewelry Tower for Your Dressing Table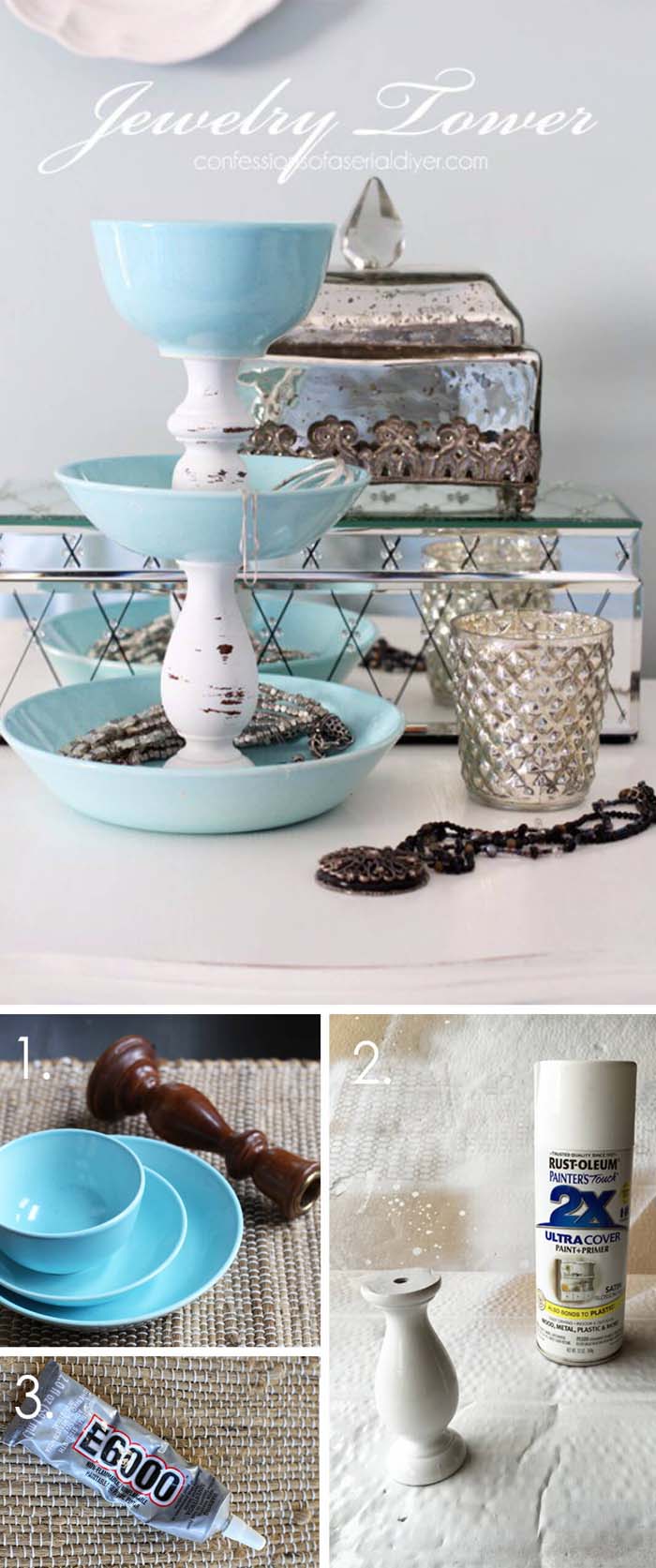 A few dishes, a set of candlesticks, spray paint and a strong glue are the supplies you need to make yourself a jewelry tower for the dressing table.
It will surely be more than a practical organizer. It will add style to the bedroom interior.
via Confessions of a Serial DIY-er
8. Add a Personal Touch to Your Décor with Layered Wall Art

Personalized decorations easily make the space more homely and therefore they are worth trying. The supplies for this layered craft are inexpensive but the final result is unique.
This type of wall art could make a wonderful gift for a new baby and newlyweds, just change the initial as needed.
9. Craft Colorful Christmas Candles with Cooking Cutters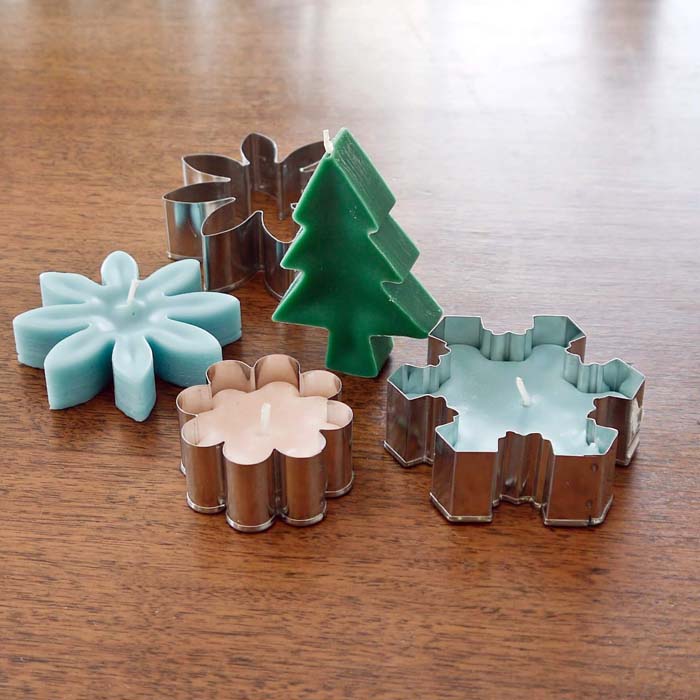 Are you wondering how to treat all your guest for Christmas? Do it with handmade candles in super cute shapes. Get a set of cooking cutters and melt ordinary candles.
If you want them in various colors, use crayons to change the melt candle liquid color.
via Pop Sugar
10. Transform Baskets with Rope and Paint for Rustic Look

Do you need inspiration for your Dollar Store plastic basket? Wrap it with thick rope to give it a rustic look.
To make it even more attractive, paint a quarter from the circles starting from the bottom in red metallic paint.
via Lydi Out Loud
11. Make a Personalized Terrarium With Picture Frames

Terrariums are an interesting decor accent, however, they could cost quite a lot. Here is an idea of how to make yourself one with cheap supplies and no compromise to the look.
Frames in different sizes are painted in one color and then the glass is glued to each frame. After the greenhouse is ready, you can use it as indoor or outdoor decoration.
via Ella Claire Co
12. Transform a Plain Mirror into a Stylish Tray with a Cute Frame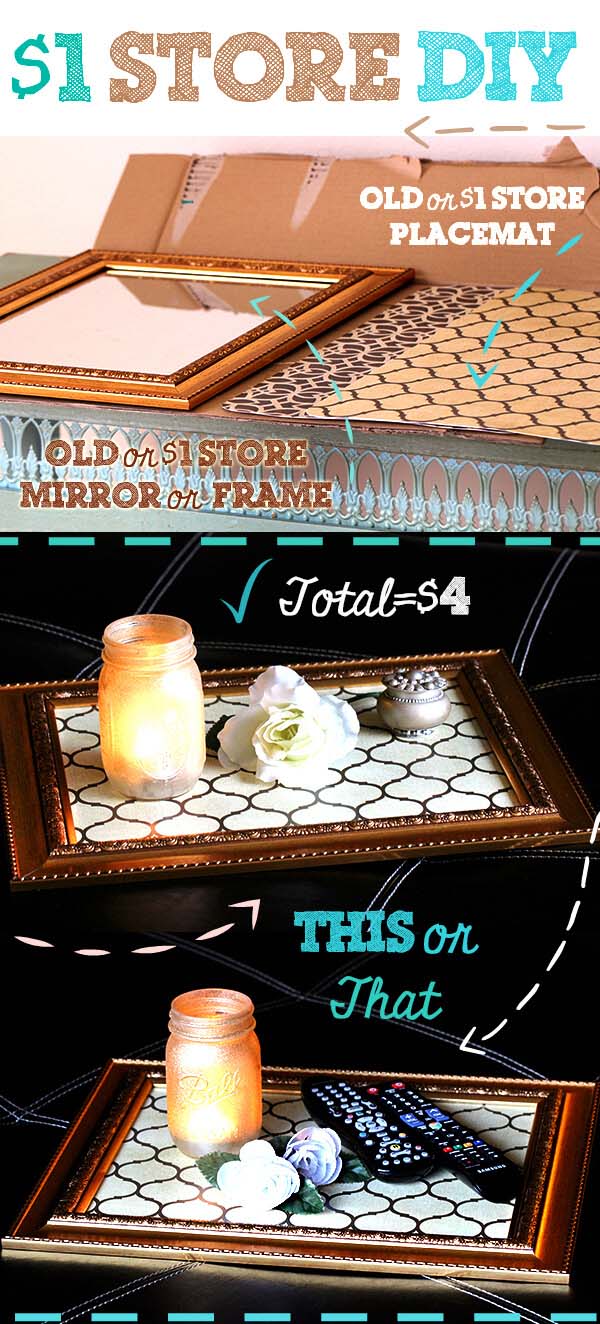 Creativity is what makes plain things unique possessions. In this case, a mirror with a chich metallic frame from the Dollar Store has been turned into a tray.
It is perfect for a table centerpiece when the mirror has been changed with a placemat.
via Cutefetti
13. Elegant Topiary Trees from Foam Balls and Faux Greenery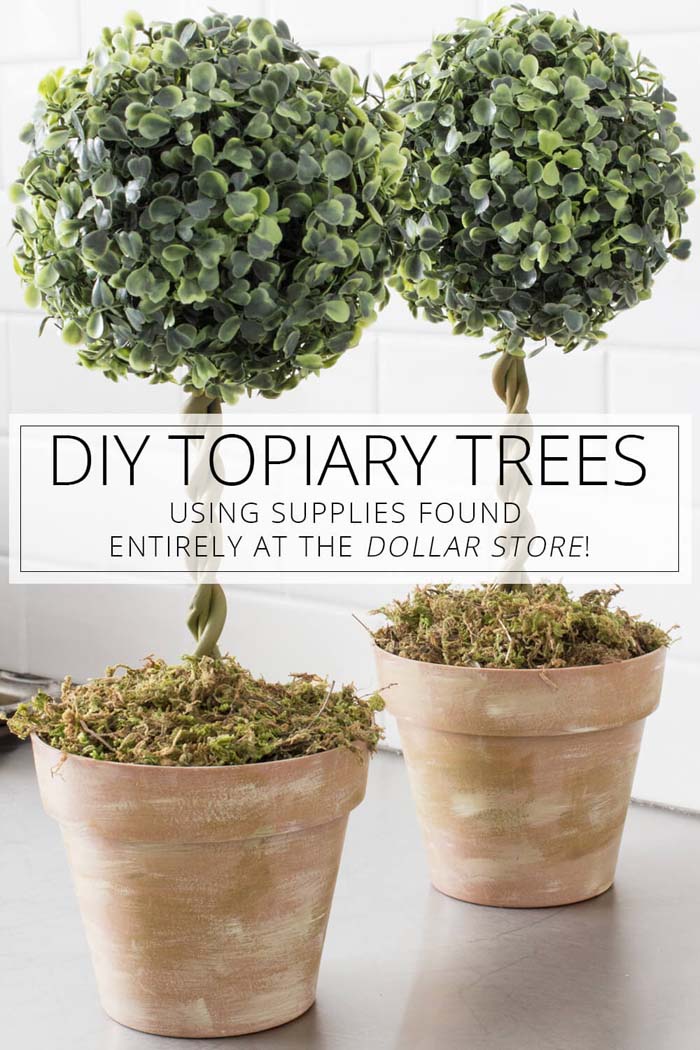 Looking like decor sold at the high-end stores, these topiary trees are great indoor and outdoor decorations.
You need foam balls, terra cotta pots, faux greenery and paint.
via Homemade Lovely
14. Create a Refined Look with Affordable Cloches and Knobs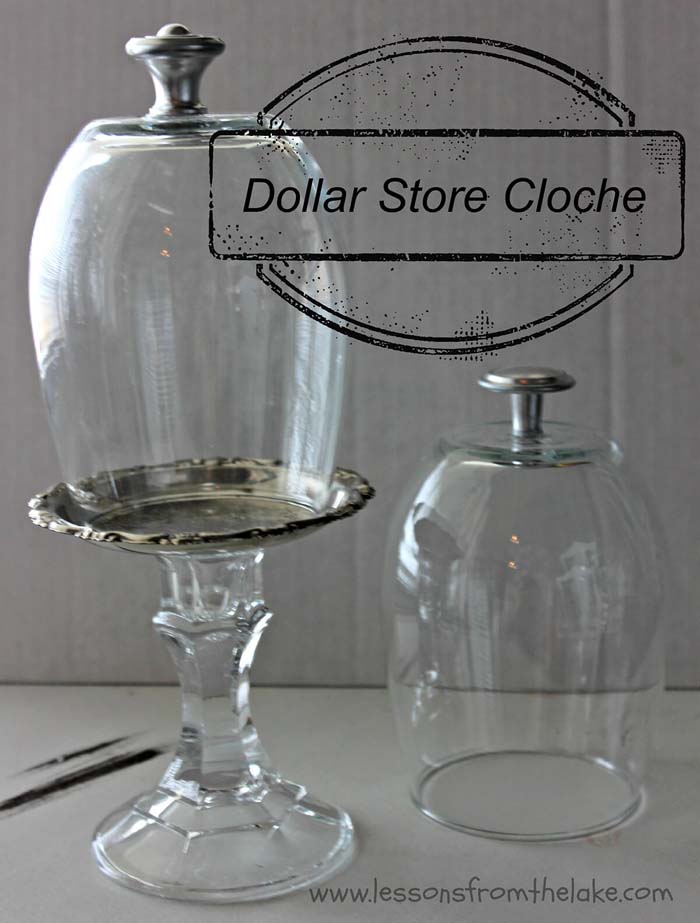 Cloches have initially be used to protect new sprouts but in the contemporary world, they have more a decorative application that marks a taste of refinement and elegance.
If you have always wanted to decorate the mantel with cloches holding moss, you can now do it in a budget-friendly way.
Get glass from the Dollar Store and just flip it over! For a finished look, glue on an interesting knob.
15. Handmade Jewelry Organizer for a Vintage Chic Look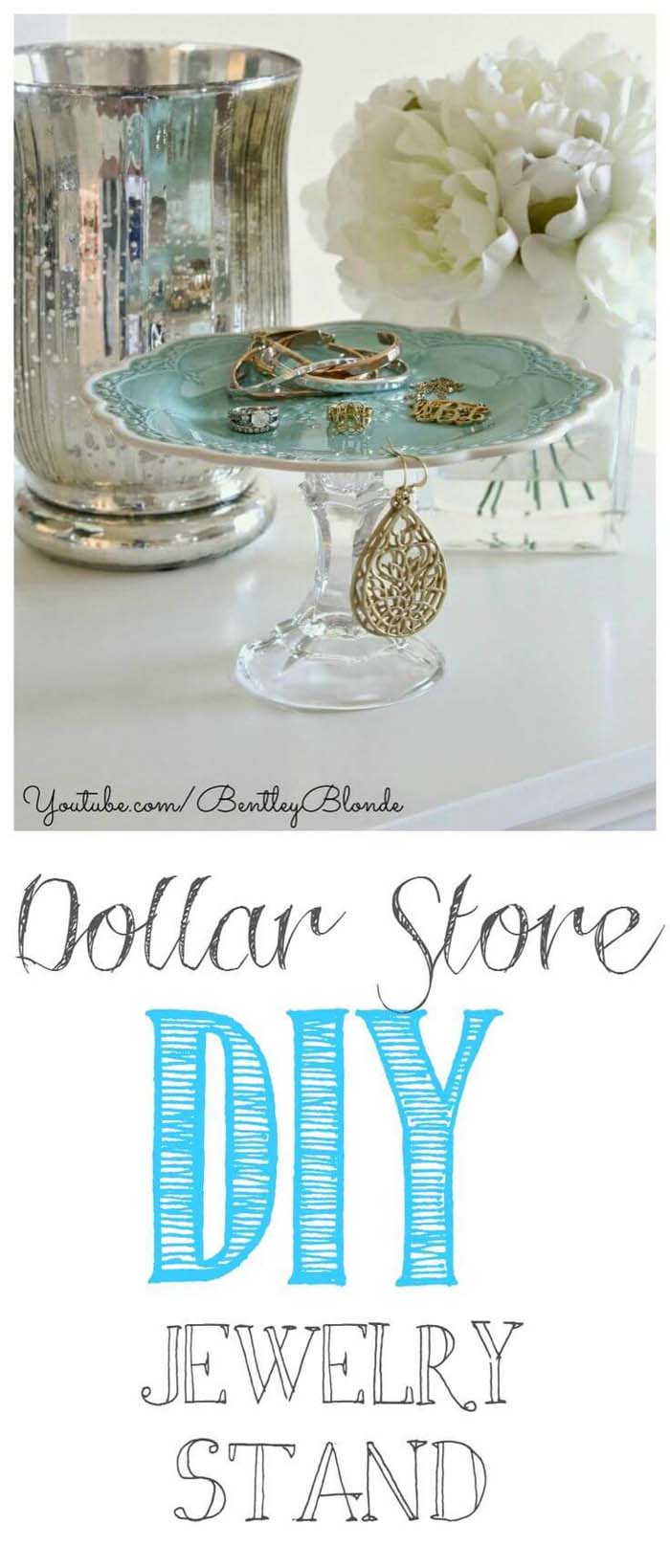 This vintage chic jewelry organizer is a handmade piece from supplies from the Dollar Store.
A cake holder, a dish or a tray glued to it could be used as a display of your most often worn earrings and necklaces.
via Bentley Blonde
16. Craft an Attractive Polka Dot Jewelry Sorter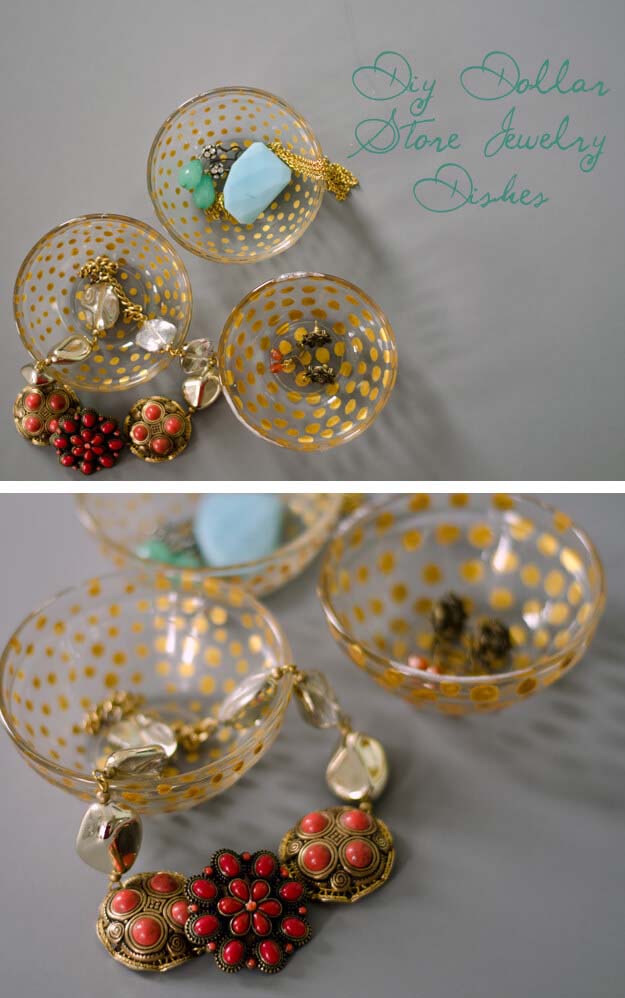 Polka dots never go out of style so choosing such a pattern will certainly make your craft attractive.
The pinch dishes have been covered with dots to become jewelry sorters.
17. Create a Stunning Mirror with Accent Gems & Acrylic Tray

Do you want to make your stand mirror more attractive?
Get accent gems, a large round acrylic tray and a plate stand from the Dollar Store and turn it into a stunning accessory.
18. Tiered Succulent Planter from Dollar Store Bowls and Glasses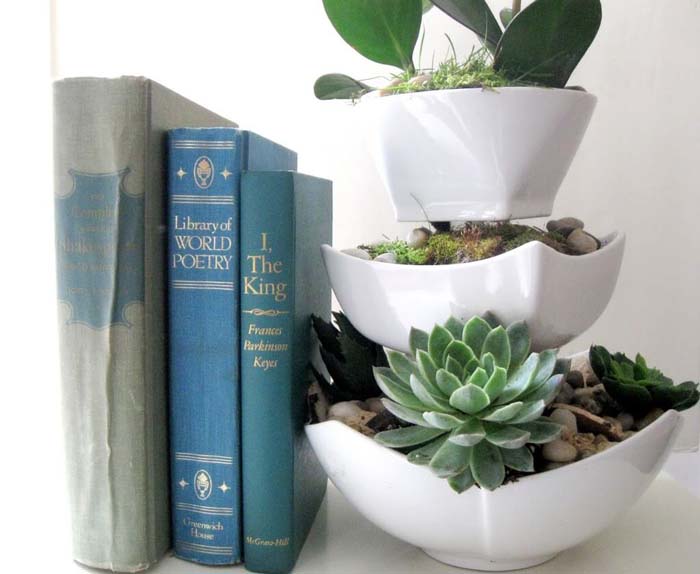 Do you need a more unique planter for your succulent collection? Get three Dollar Store ceramic bowls in different sizes and clear short glasses.
To achieve the tiered alignment, glue the glasses in between the bowls.
via Craftberry Bush
19. Modify Glass Containers into Elegant Vases with Accent Gems

Covering a small glass container with accent gems will turn it into a candle holder or vase that will play with the sunlight.
As easy as it looks, you only have to glue the gems onto the external surface of the glass.
via Mom Luck
20. Create a Gold Elephant Figurine on a Budget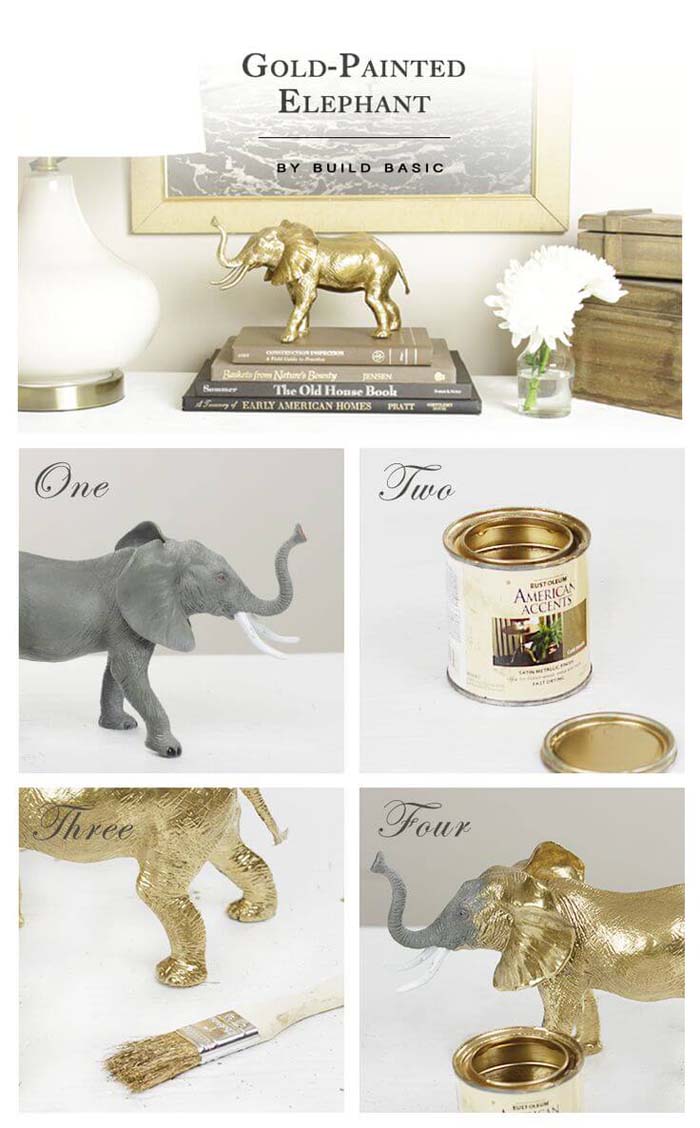 Figures of elephants are known to bring luck to the house. If you can't find one on a budget, why not make it yourself?
Grab an elephant figure from the Dollar Store and paint it in gold. Its appearance will totally change, not leaving a sign of the plastic material.
via Build Basic
21. Transform Your Canvas with Gold Thumbtacks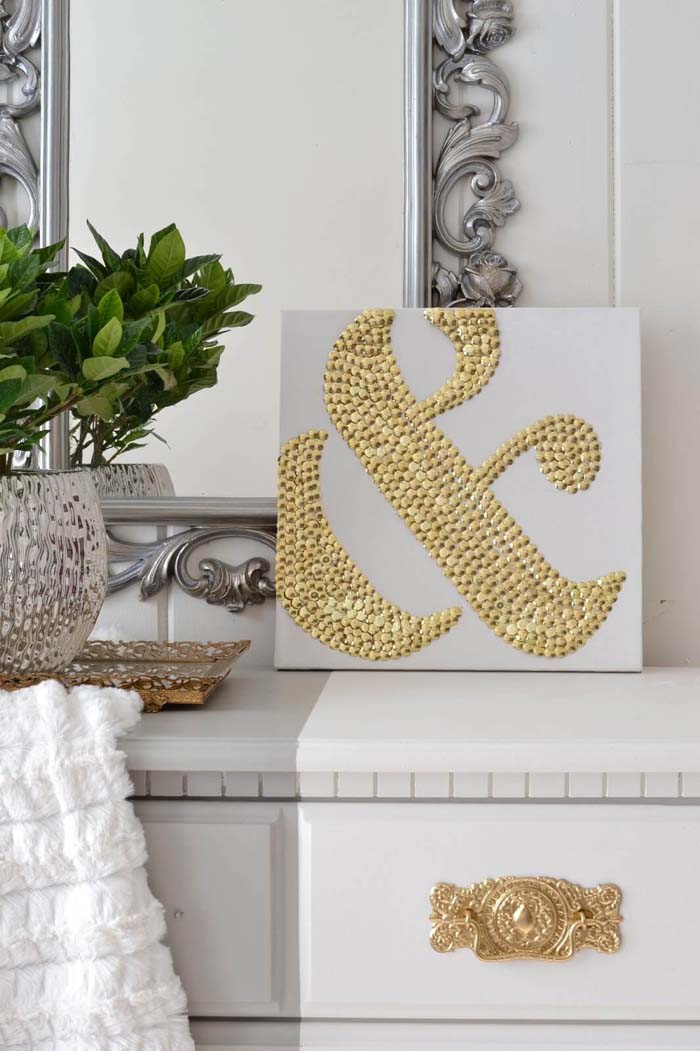 Have you ever thought that office supplies could be used for decorative applications?
Well, this DIY proves that everything is possible when there is a wish and creativity. Pick up a canvas, outline your design on it and start filling it with gold thumbtacks.
via Live Love DIY
22. Elevate Your Décor with Gold Sequins on Wood Letters

If you are looking for a way to decorate a foam or wood letter, do it with gold sequins.
The initial will certainly become a focal point of any arrangement because of its glam.
via Catch My Party
23. Create a Word Art Using Thumbtacks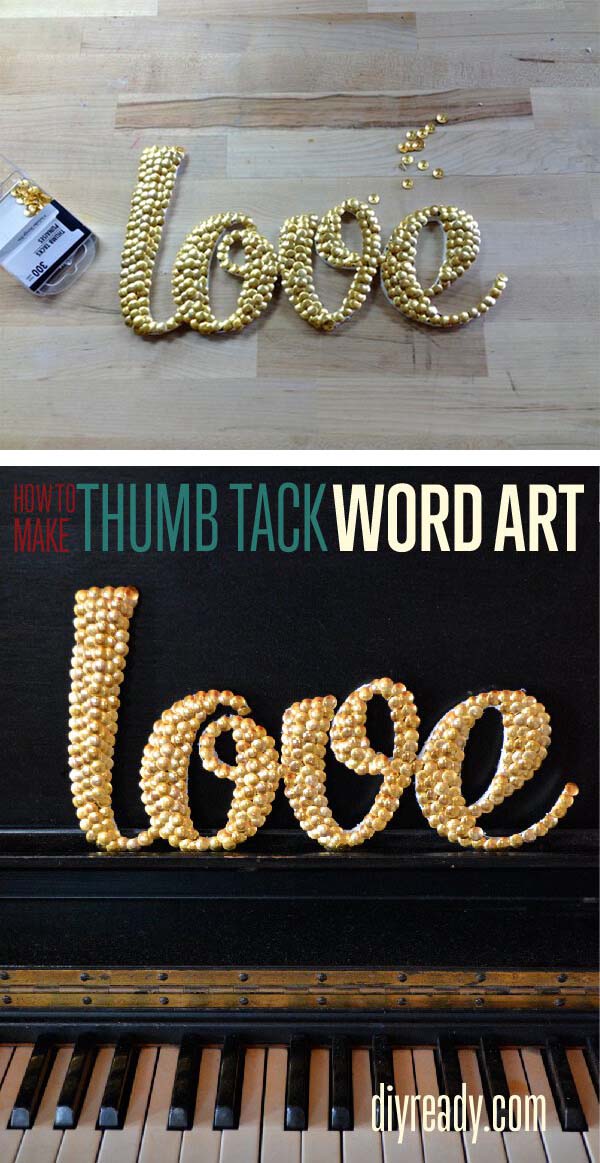 Another creative way to repurpose thumbtacks is to create your own word art. Choose the word and outline it on foam board from the Dollar Store.
After the edges are cut, start filling the top of the foam shape with thumbtacks. The end result is a fantastic sign that can be either hung on the wall or placed on a shelf.
via DIY Projects
24. Transform a Dollar Store Tray into a Magnetic Organizer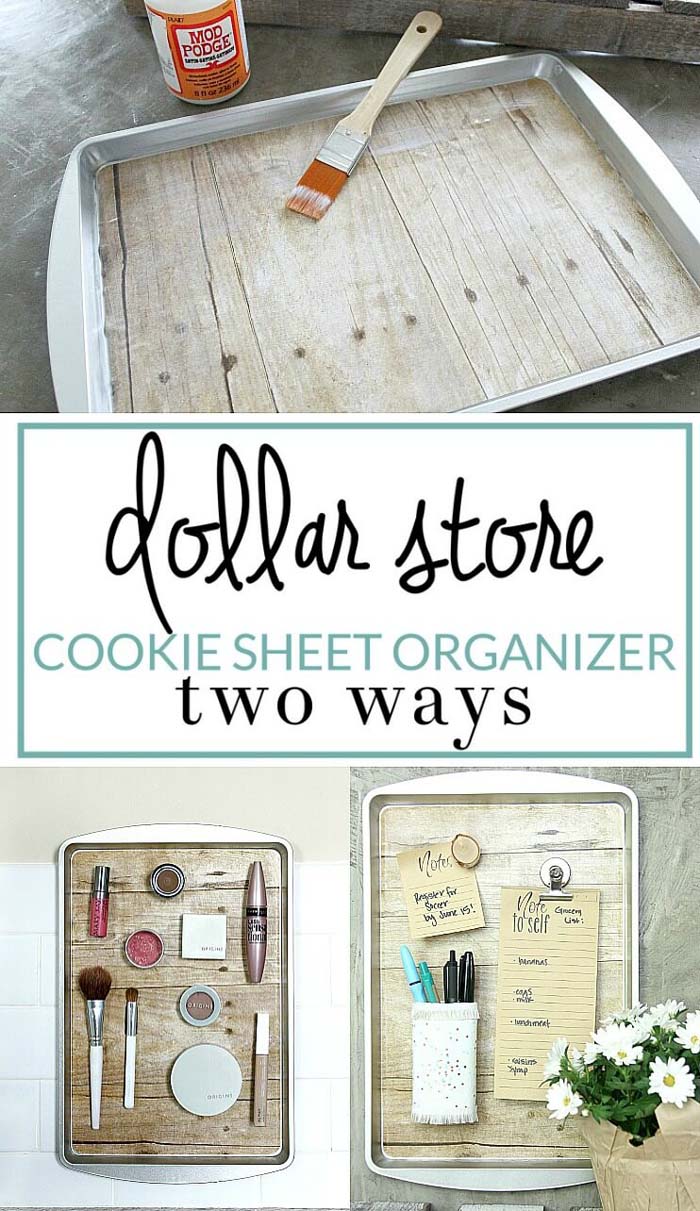 A fun and an untraditional way to use a tray from the Dollar Store is to turn it into an organizer. Depending on its application, it can attract make-up, notes for daily activities, cooking recipes and many more.
Cover the magnetic surface with craft paper cut in the size of the tray and put magnet strips to each item you are going to attach to it.
25. Revamp Your Glass Vase with Silver Rust-oleum Spray Paint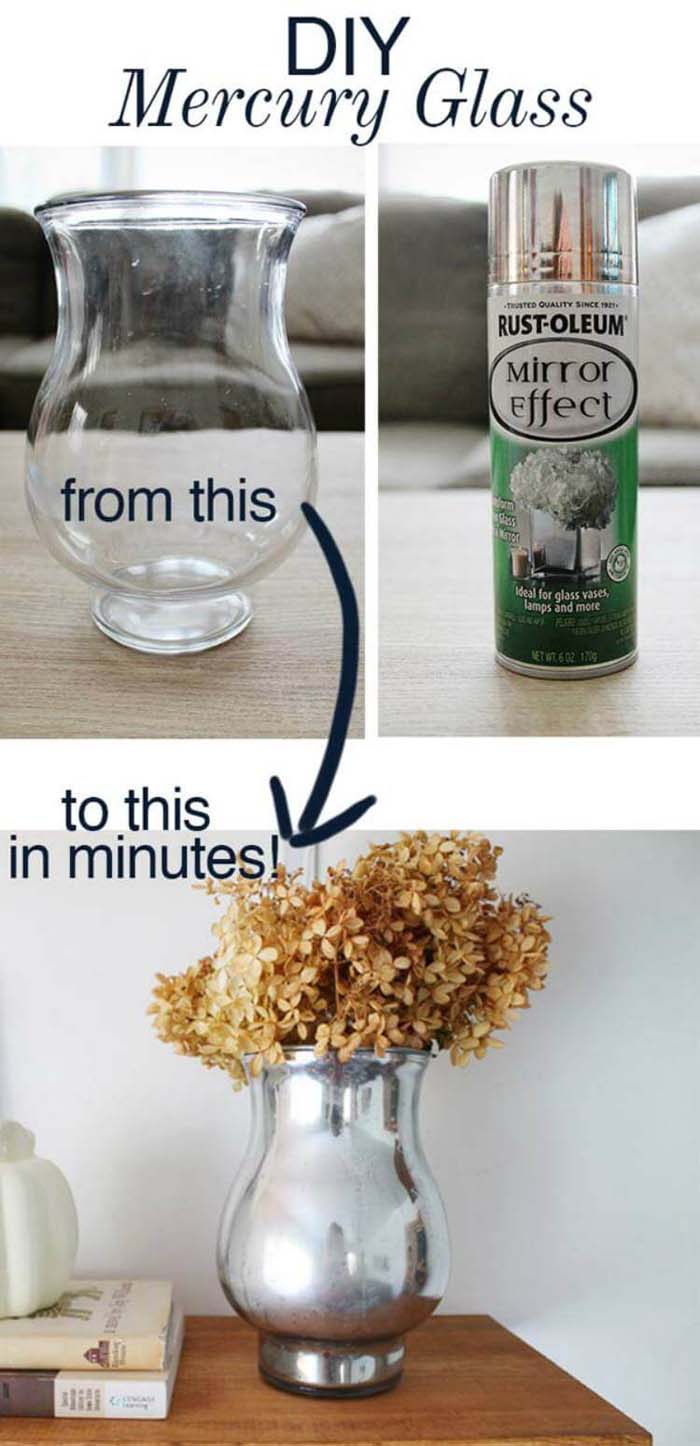 The variety of paints on the market help us transform inexpensively ordinary things into stylish decor accents as if picked up by a designer.
Spray the plain glass vase with silver Rust-oleum paint and enjoy your updated flower holder.
26. Add Color to Your Interior with Simple Paint Techniques

The easiest way to add a pop of color to your interior is to change the colors of the smaller accents. Just choose a paint color and apply it to the clean surface.
Depending on the effect you want to achieve, you can try different techniques like distressing, washing, dripping.
via Setting For Four
27. Illuminate Cherished Photos with a Personal Picture Frame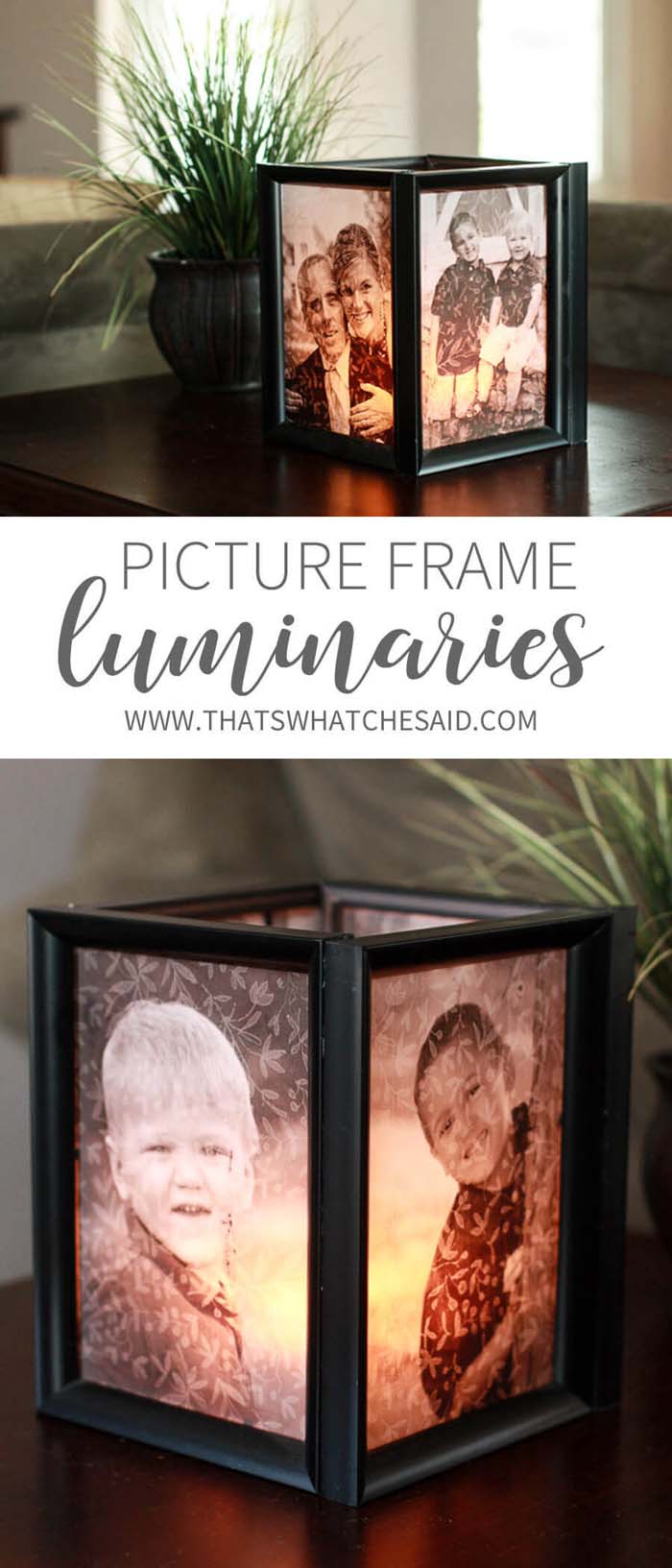 This personal picture frame would warm the atmosphere regardless of its place and regardless of the time of the year.
The structure is made of 4 picture frames from the Dollar Store that are glued to each other. Place your dearest photos and insert a LED light to illuminate them gently.
28. Create a Bright Mirror for Your Entryway Easily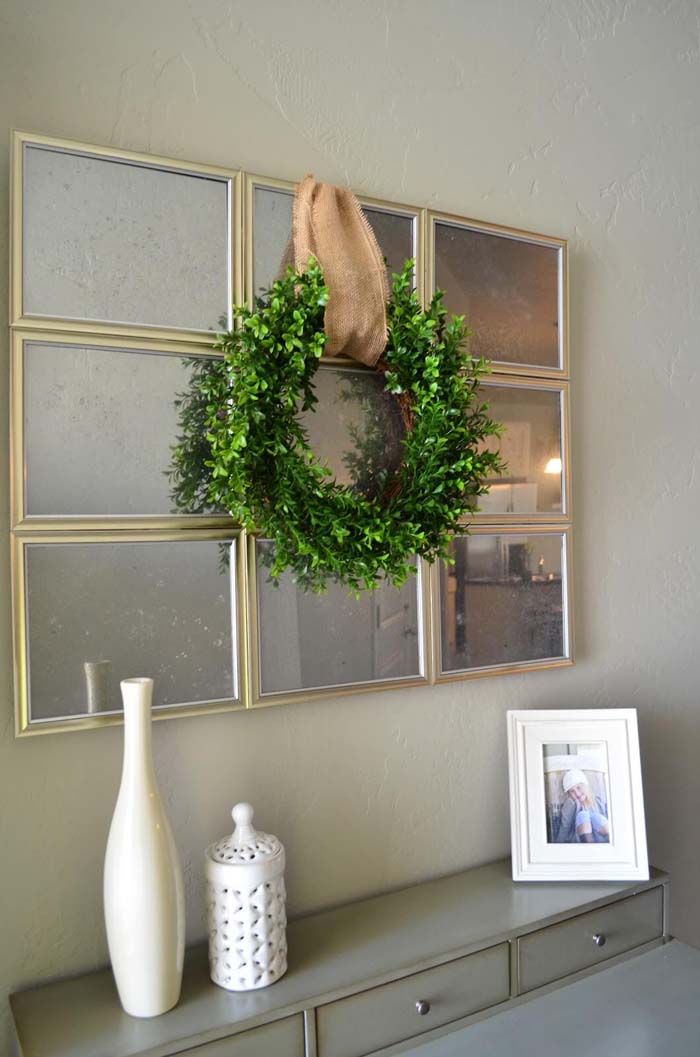 Do you need a large mirror for your entryway to make it look bigger and brighter?
Purchasing it would be quite expensive, so we have an idea that will be just as functional and attractive.
Buy a few rectangular mirrors from the Dollar Store and glue them to each other to form a larger mirror. Isn't that idea great?
29. Create a Beautiful Wall Mirror with Dollar Store Compacts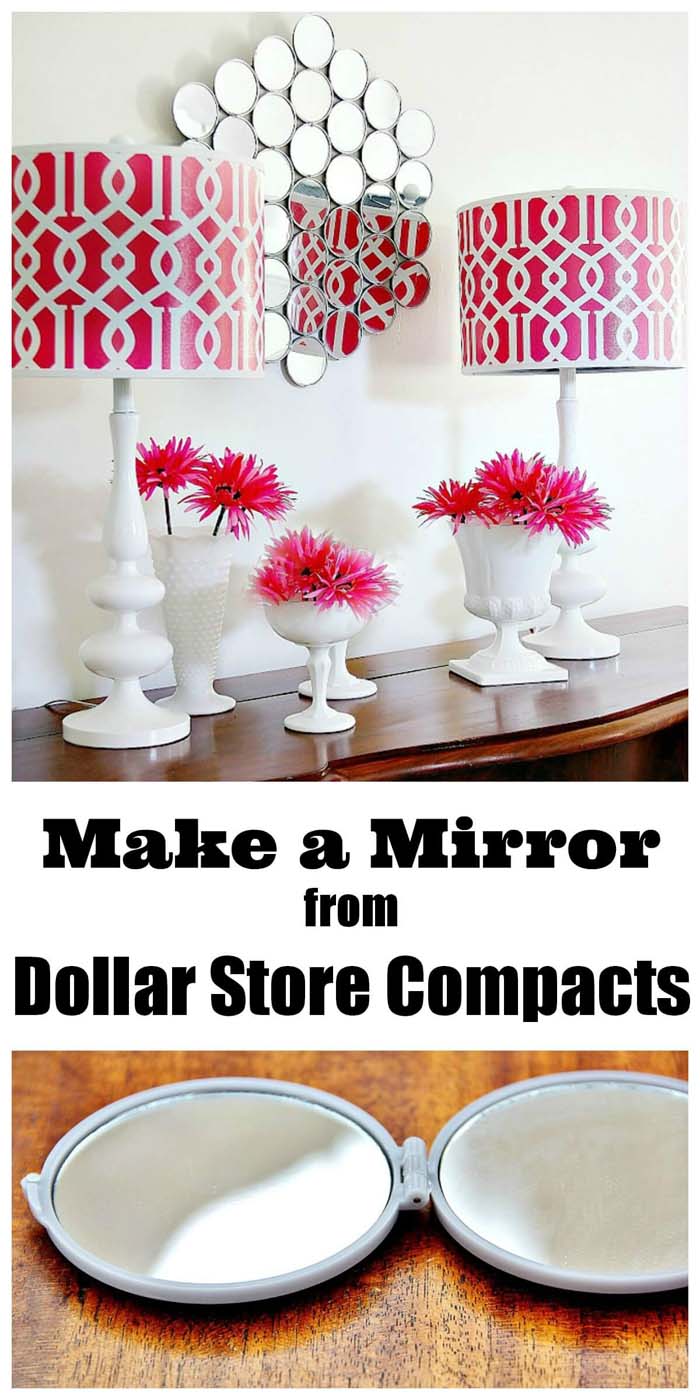 If you want to accentuate a wall in your home, do it with a mirror in an interesting shape.
The most inexpensive way you can do it is to get compacts from the Dollar Store and glue them on a wooden board with the shape you like.
This wall mirror will cost you only $20. If you buy it from a special store- approximately $300!