Flowers and plants are a proven means to instantly add a dose of coziness and color indoors.
If you place them in ordinary and boring containers you may lose this effect. So get creative and take a look for old items in your home that can be repurposed and turned into planters.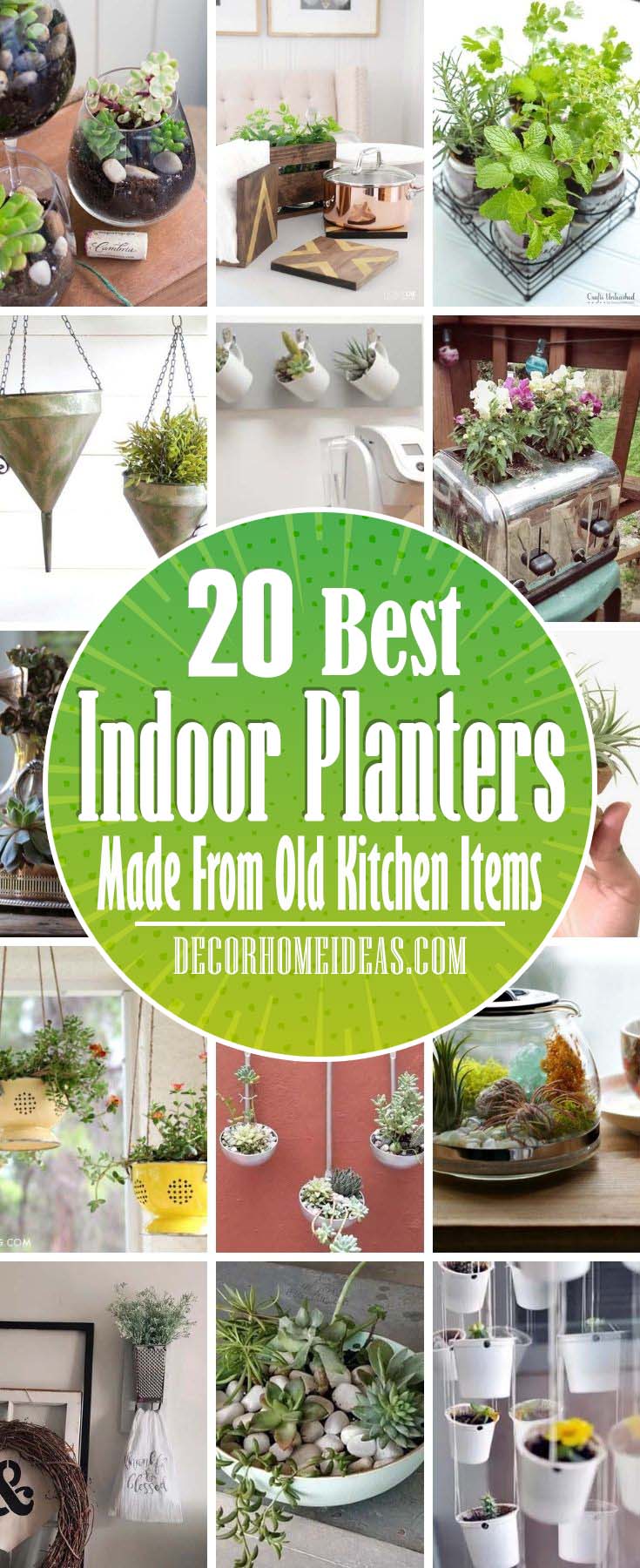 The old colander or the cracked teacups are no longer useless. The list of items you can use is endless!
Below you can find lots of inspiration on how to use old kitchenware as an attractive flower planter.
1. Cheese Grater Planter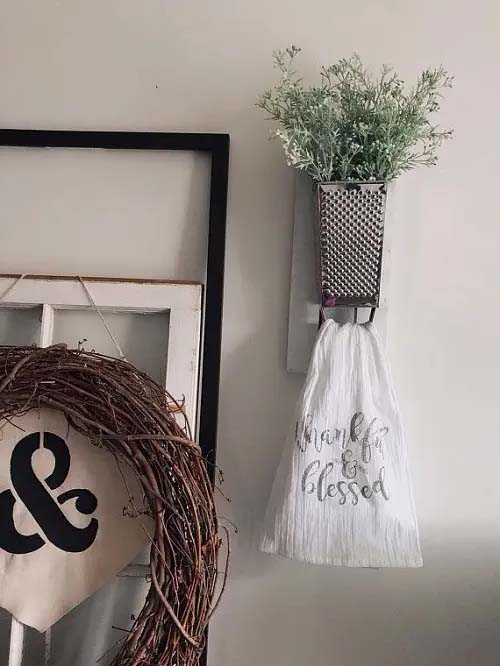 Use the existing holes of the grater to hang it on a nail of the wall.
Then use as an intriguing planter by simply placing a pot or a bouquet of faux flowers in it.
2. Coasters+Jar Lid Planter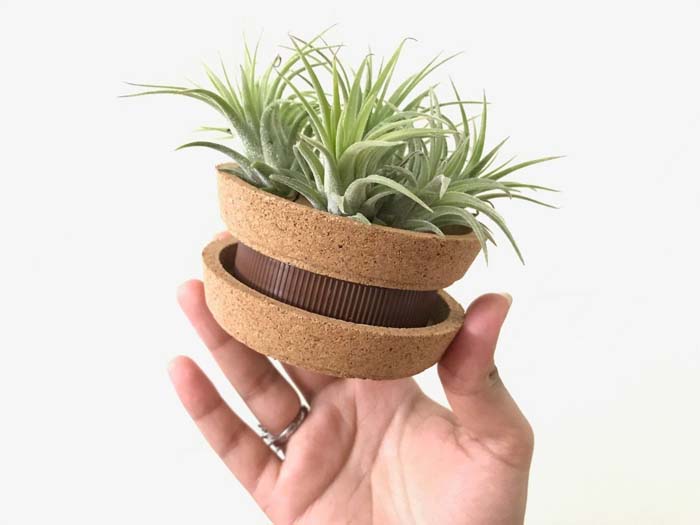 This cute small planter is made by gluing two coasters on both sides of a plastic lid. You would never recognize it after seeing the result.
Because of its small diameter, it is the perfect nest for succulents.
via Hometalk
3. Coffee Pot Terrarium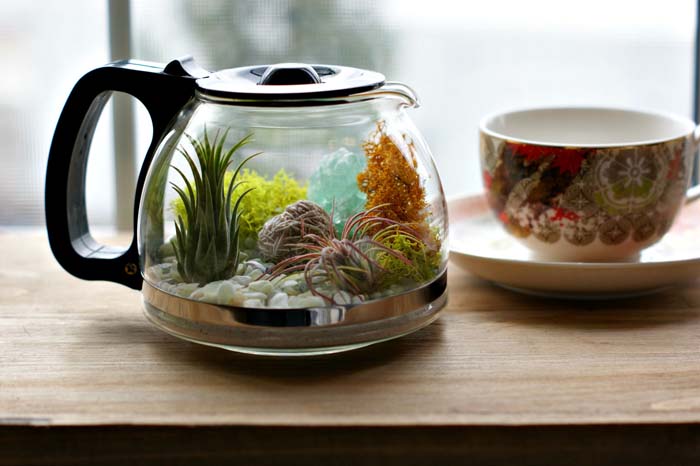 The terrariums are a gorgeous alive decoration because they look like a small world embraced by the glass.
If you have ever wanted to have such a garden, now is the time to do it with things you already have by hand.
4. Cooking Utensils Hanging Planter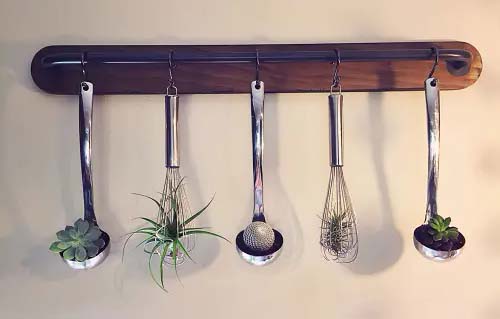 The shapes of the utensils are appropriate for planting small succulents.
This great idea for hanging them onto a rod creates a vertical and symmetrical garden that will grab attention.
5. DIY Colander Planter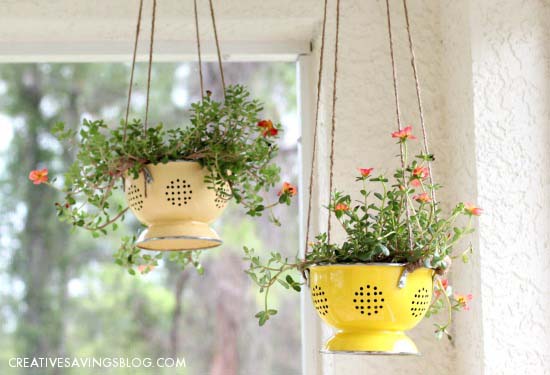 The design of the old metal colanders is perfect for turning them into hanging planters.
The lugs will help with the suspension, the predrilled holes will ensure air access and good drainage.
via Kalyn Brooke
6. DIY Succulent Planter from an Old Frying Pan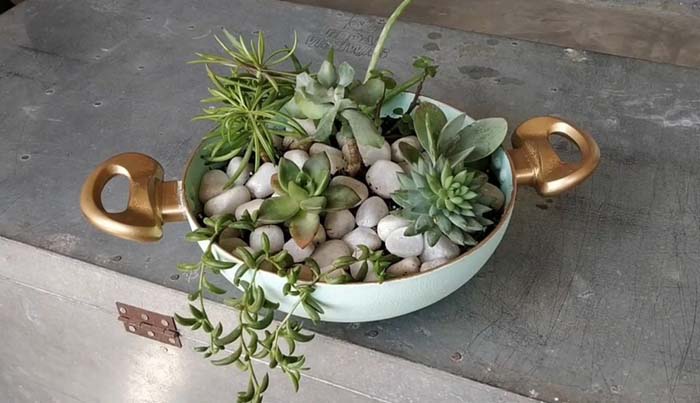 Have you got a frying pan that is damaged and no longer good for cooking? Don't throw it away as it can become a small succulent arrangement.
For that purpose, you can only repaint the handles to give them a better visual look.
The inside can be filled with potting mix, some pebbles on the top and your succulent collection.
via Hometalk
7. DIY Wine Glass Terrariums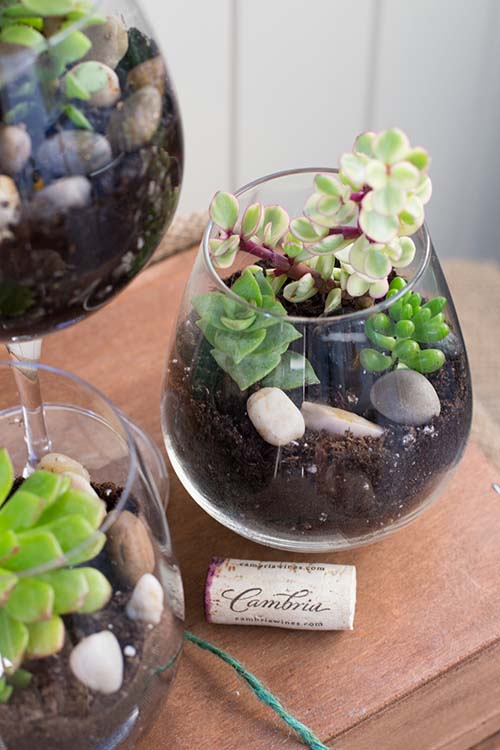 All glassware can be repurposed and used as flower pots. The variety of plants and flowers will let you find small species that will grow well in such conditions.
Of course, succulents are one of those species.
via Cambria Wines
8. Dutch Oven Planter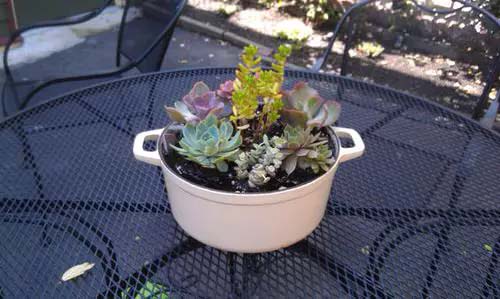 Turn the old dutch oven into a living centerpiece for your table. Placed indoors or outdoors, it will add charm and natural beauty to the space.
The big diameter allows the planting of a few plants so you can get creative and try out different arrangements.
9. Flowers in a Toaster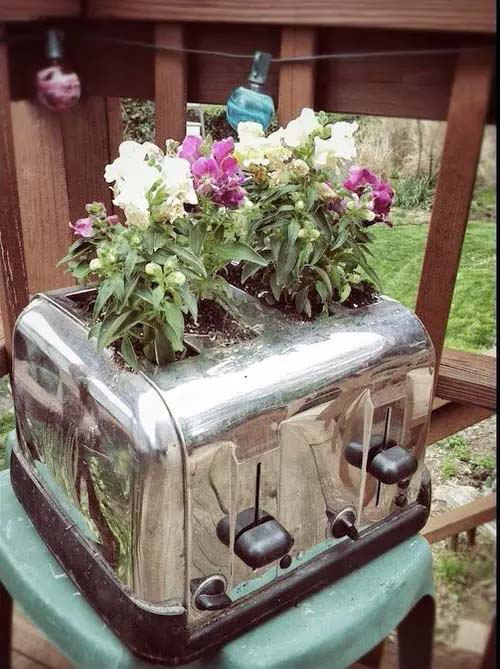 This interesting idea proves that every kitchen item, even the toaster, can become a planter, as long as there is a slot to put the flowers in.
Just fill in the bread slice openings with suitable soil and plant the flowers you have chosen.
10. Hanging Funnel Planter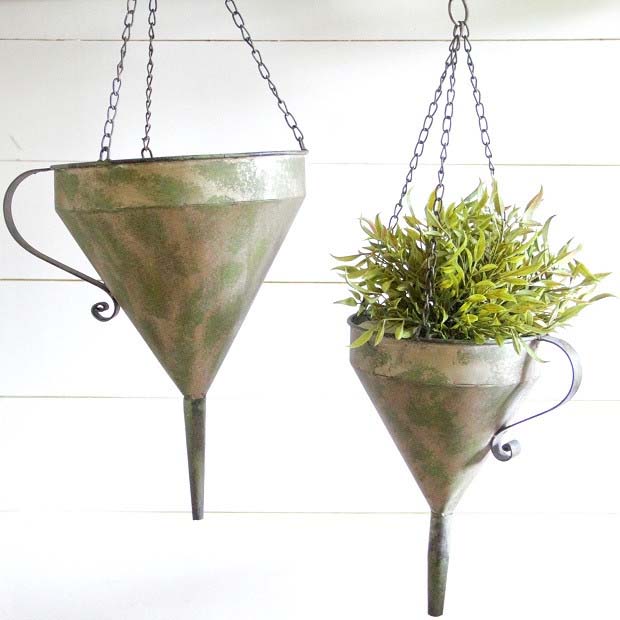 If you are looking for an aged planter, you should consider using the old metal funnels. Giving them a little retouch on the external surface can recreate an antique look.
The rest of the work is to plant a flower and hang the funnel.
11. Hanging K-Cup Planters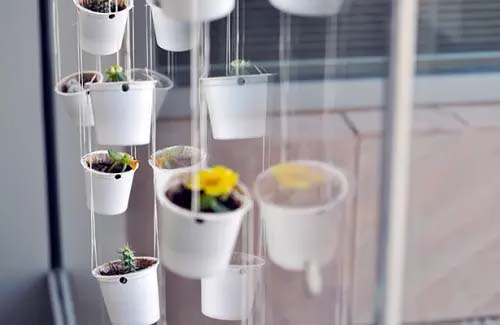 You can create a plant curtain out of plain K-cups. Make two holes on each side of the cup's rim. They will be used for securing and attaching each cup to a thread.
The fixing to the window can be done with window suction hooks or with screw hooks inserted into the window frame.
12. Hanging Wall Planters from Coffee Cups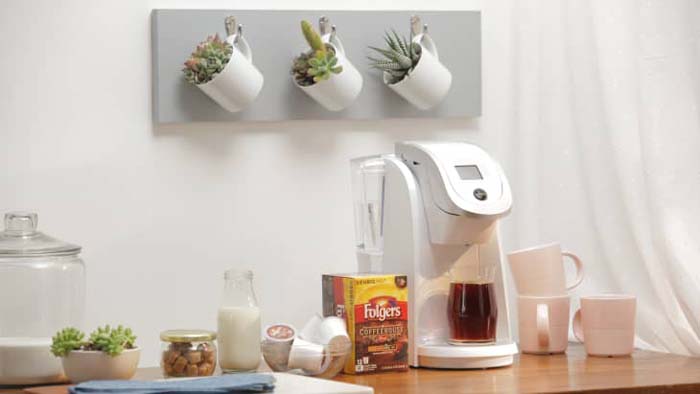 Wall art with cups with succulents will be an attractive and suitable decoration for the kitchen.
Making it yourself requires a wooden board painted in a contrasting color and a few plain white teacups.
13. Herbs in Old Kettle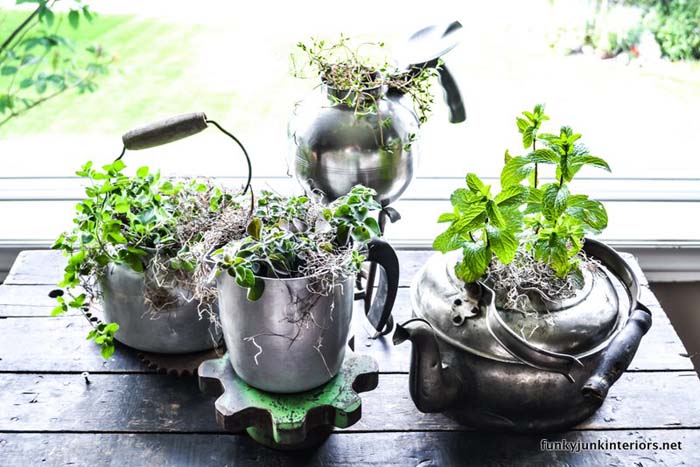 When old galvanized containers like kettles, buckets and pans are used as decoration in a contemporary home, they make the place more natural, unpretentious and welcoming.
If you decide to use them as planters, you can make an improvised herb garden by setting all of the vintage containers in one place.
14. How to Make a Glass Terrarium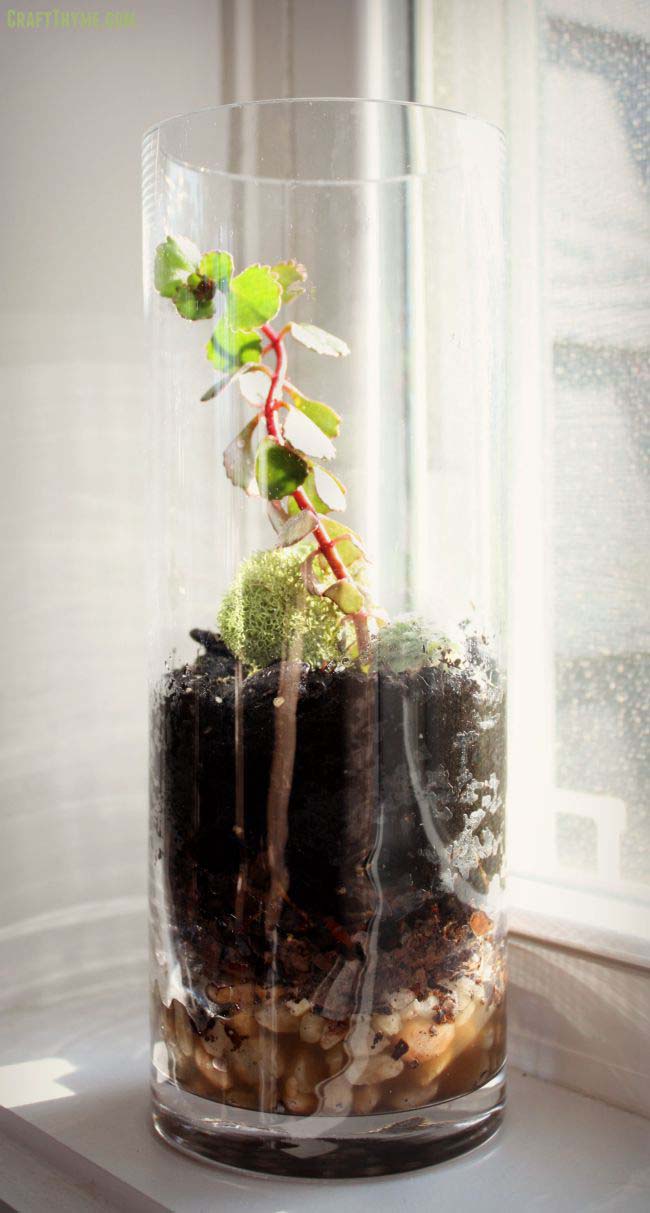 The windowsills that are well lit by sunlight are usually decorated with flowers.
If you are looking for an extraordinary planter, see below how you can make this gorgeous glass terrarium.
via Craft Thyme
15. Kitchen Utensil Planter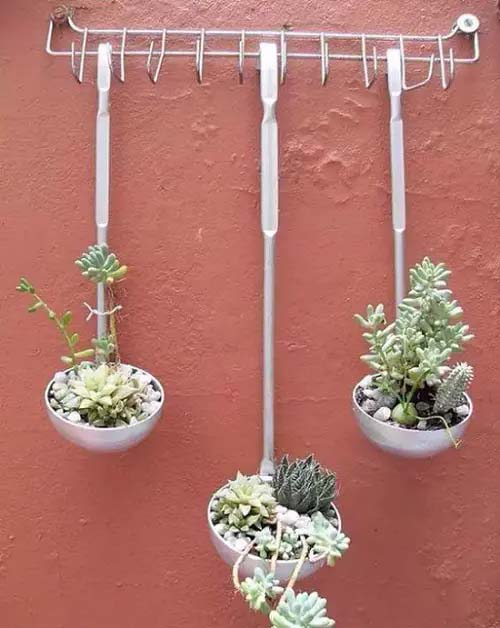 This is an idea for another pattern in which you can set your pots from old utensils.
To create a point of interest, hang the longest ladle in the center.
16. Mason Jar DIY Herb Garden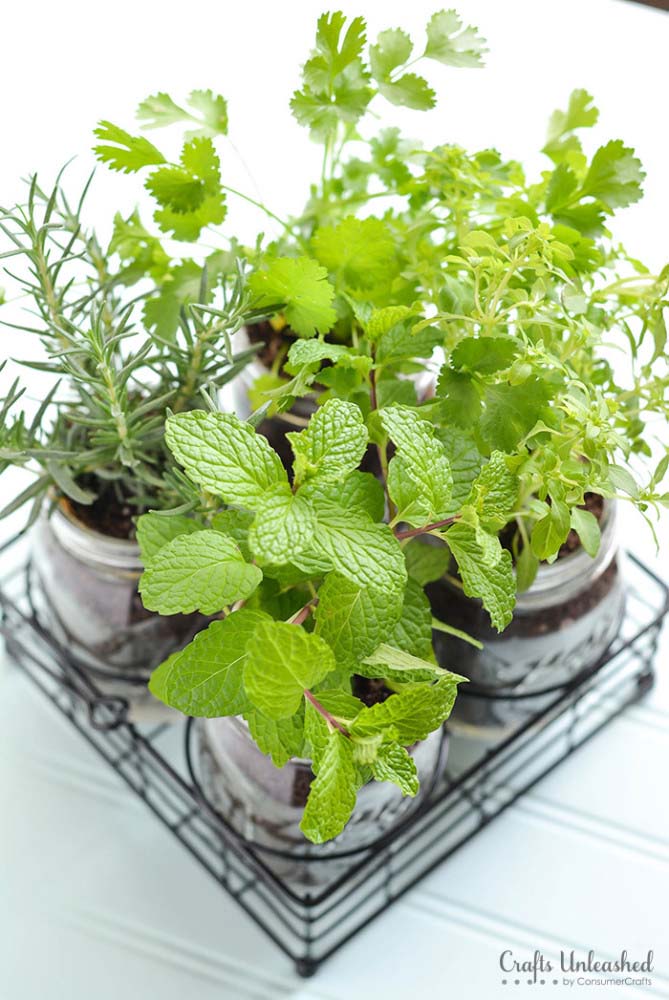 Another suitable container for herbs is the mason jar. Get as many as you want from the Dollar store and plant your favorite spices.
If you want to set all jars in one place and avoid taking too much from your kitchen counter space, use a wire basket as a holder.
via Crafts Unleashed
17. Plants in Utensil Holder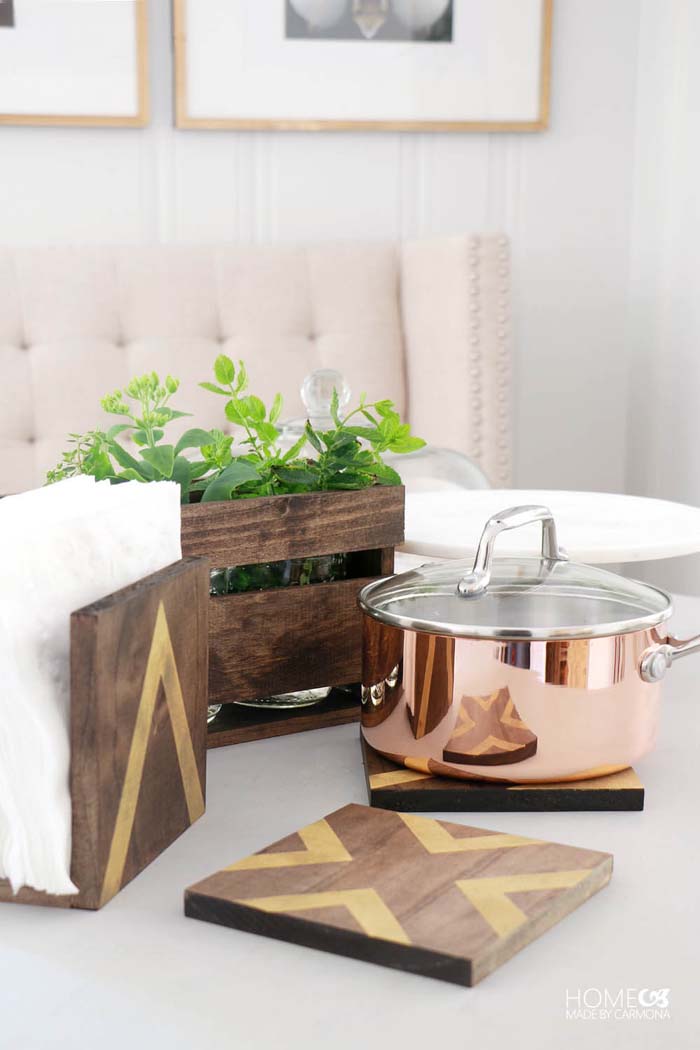 If you have a complete wooden set for your dining table but are looking for a way to add decorative interest to the room, use one of the holders as a planter.
Use small pots, jars or glasses of a size that will fit into the slot.
18. Succulents in a Vintage Silver Tea Set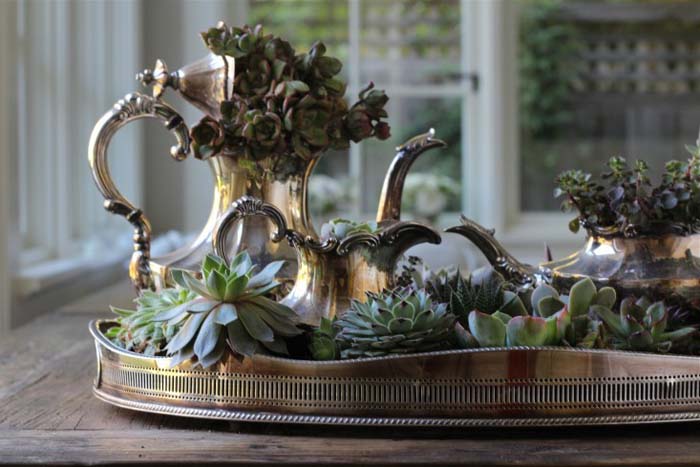 Some of our most valuable possessions sometimes don't find their place in the contemporary world.
Turning them into a planter is a good way to use them and even make them a focal point of a room.
via Gardenista
19. Tea Pot Planter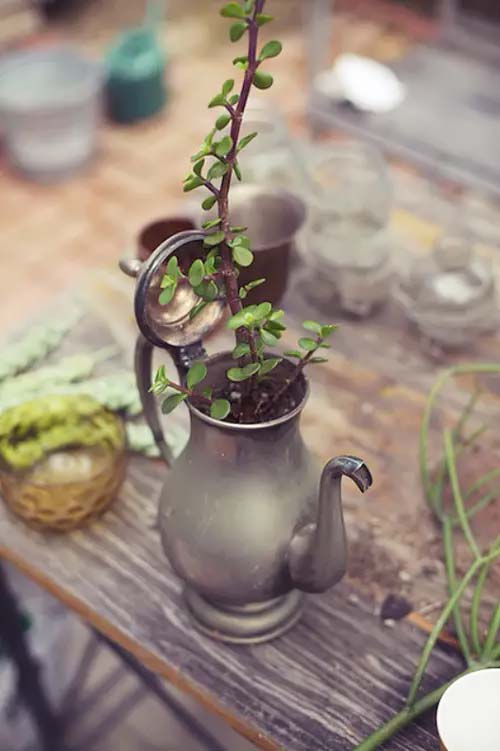 Do you want to add some vintage charm to a shelf in the kitchen or in the living room?
All you need is an old teapot. Its shape would be interesting enough so you don't have to change any part of its look.
20. White Metal Box Planter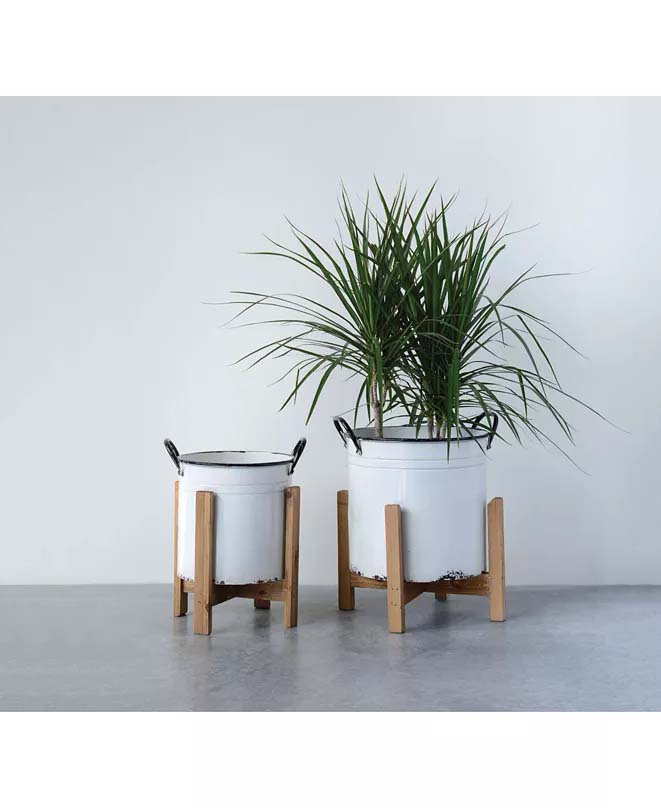 Aren't these pots great? Take a closer look and see what they have been made from- old metal cooking pots. You can see the damaged paint on the bottom but it's actually what gives them such a charm.
You can paint the handles in black to make the piece look more attractive.
via Macys