There is a saying that the first impression usually remains until the end. Figuratively or not, the same saying applies to our homes.
What the guests see at the front door is what actually defines their impression and expectations for us and for the inside of the house.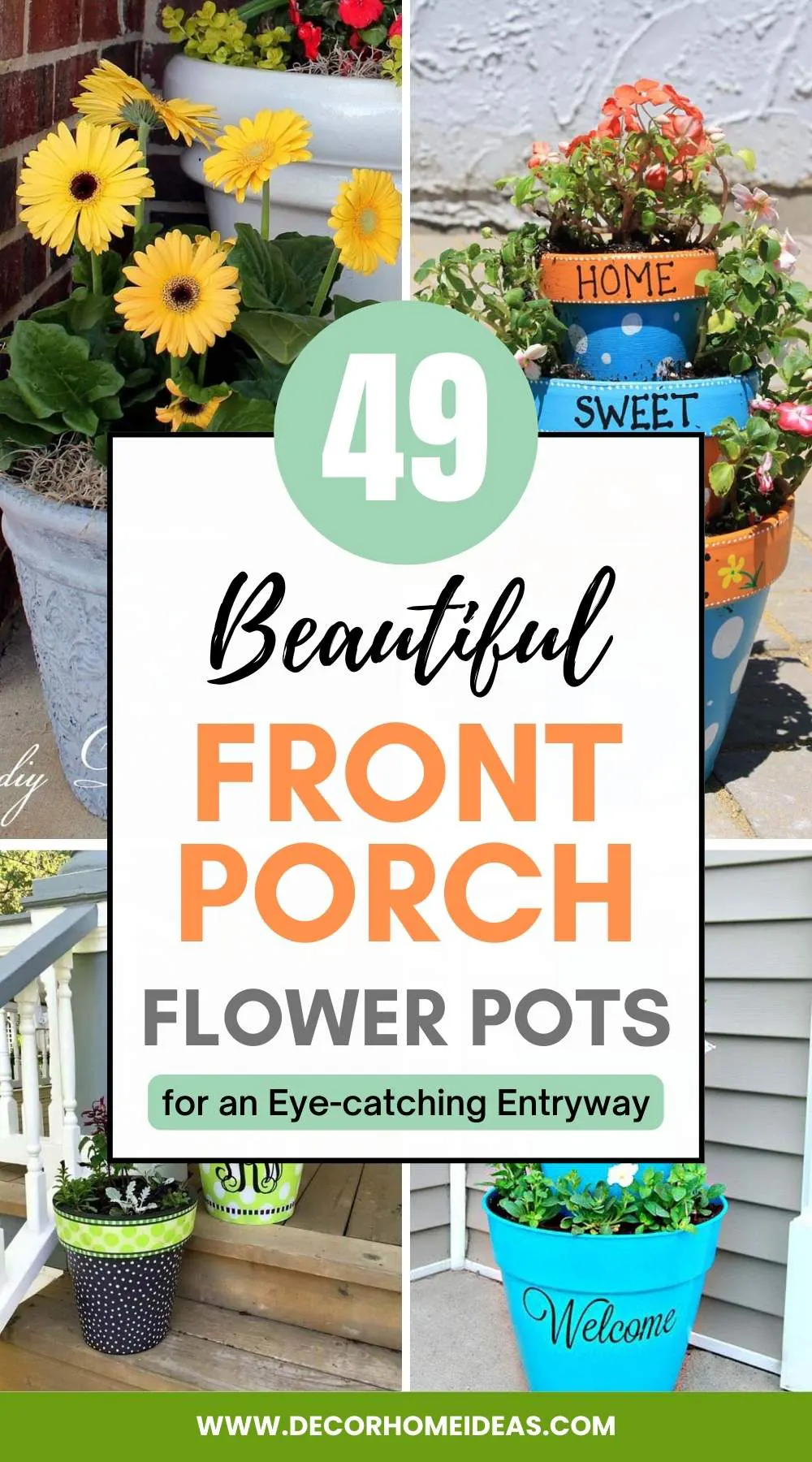 How can you make the beginning of your home more attractive and appealing?
The easiest way is to use flower pots.
The following collection shows creative usages of flower pots as decoration of a front door to make the entrance of your home the best place that gives the entire property curb appeal and spreads positive energy.
1. Build Tapered Flower Boxes with Picket Fence Boards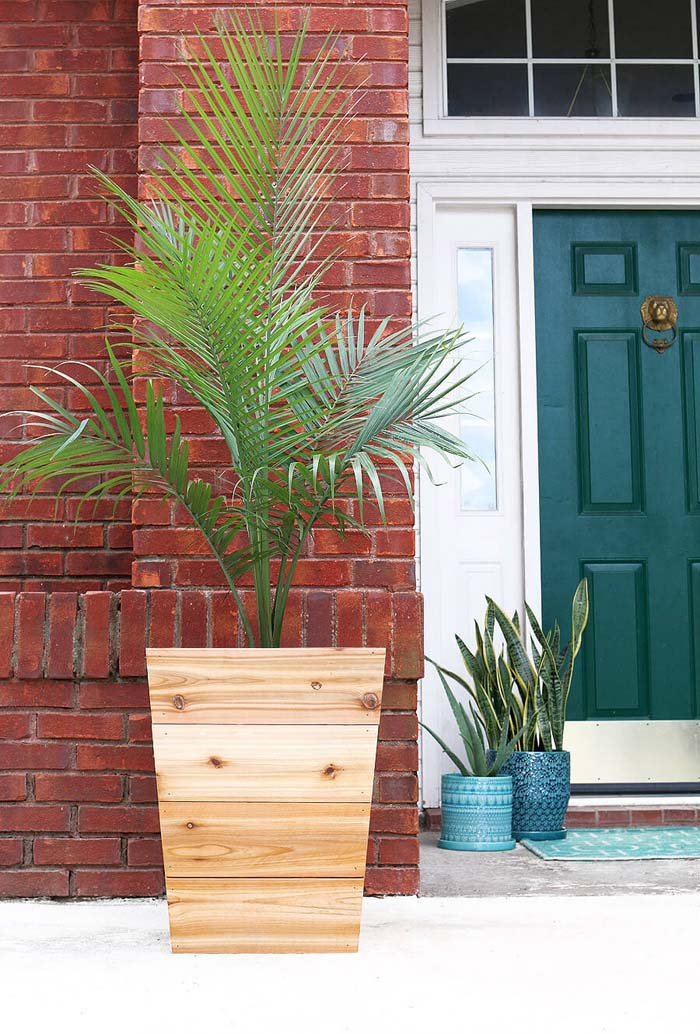 Make yourself one or two identical wood planters in a tapered shape. To make the project budget-friendly, use picket fence boards instead of cedarwood.
Such significant planters need larger plants- bushes, palms, dwarf trees.
via Jen Woodhouse
2. Decorate with a Vintage Rocking Chair and Potted Flowers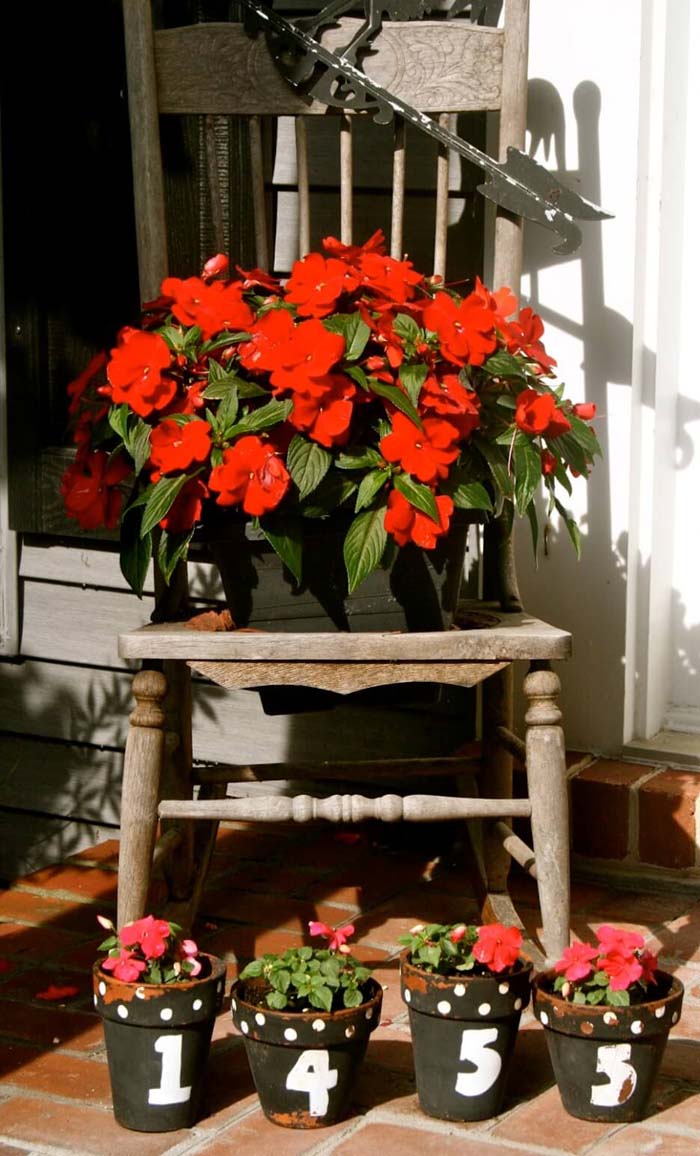 An old rocking chair could become useful again if used as a vintage decoration for the front door.
Cut a hole in the seat of a size that can accommodate a flower pot you have dedicated for there.
To complete the arrangement, place a few terra cotta pots with identical flowers in to show the number of your home.
via Where The Grass is Greener
3. Rejuvenate Your Entrance with a Rustic Milk Can Planter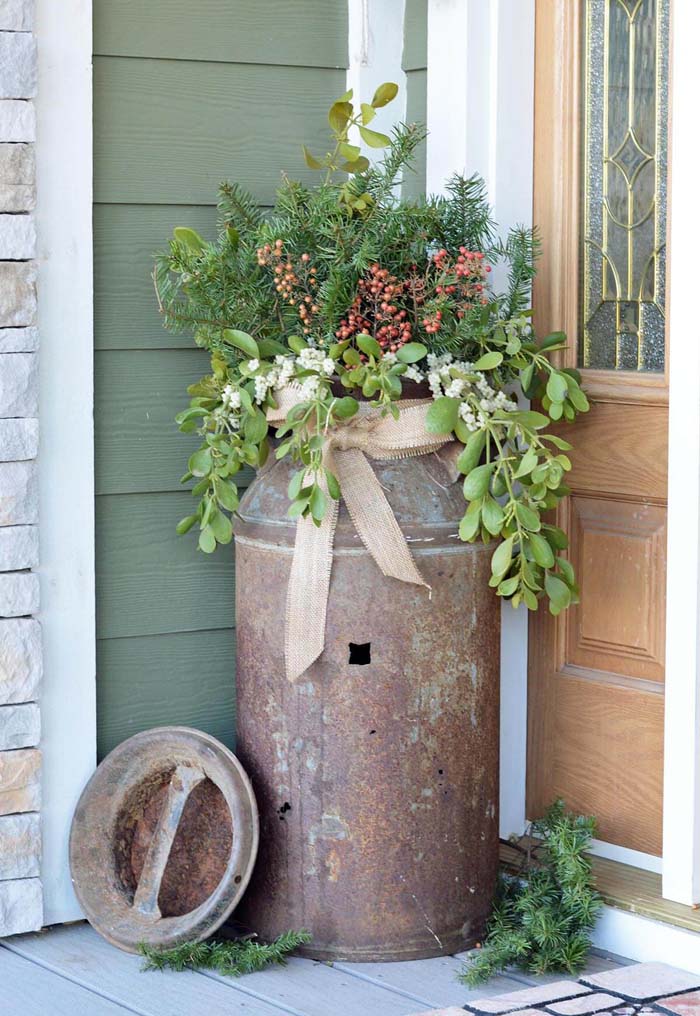 If you are looking for a large container that can accommodate different flower arrangements as the season change, you don't have to invest a lot.
An old rusty milk can will both add vintage charm to the front door and will also provide space enough for your arrangements.
4. Welcome Guests with a Magnificent Tiered Floral Garden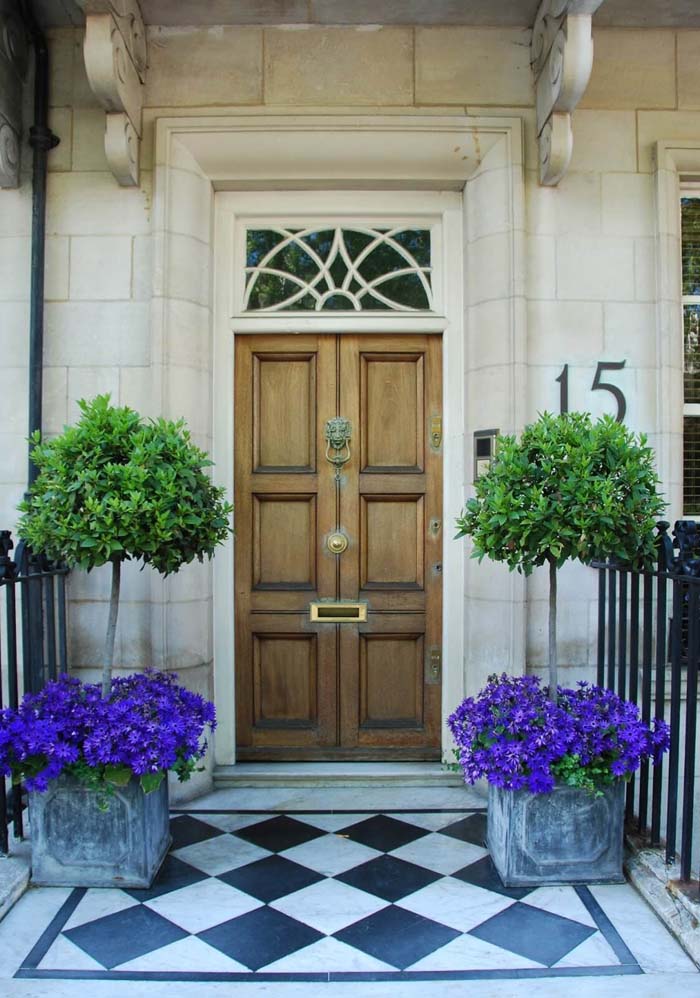 Defining the front door with flower plants has a magical impact. It is even greater if you match extraordinary floral arrangements with outstanding flower pots.
This tiered garden will surely welcome with its aroma and beauty. The galvanized containers they are planted in will not remain unnoticed as their weathered look instantly attracts.
5. Create a Stylish Home Décor with DIY Concrete Flower Pots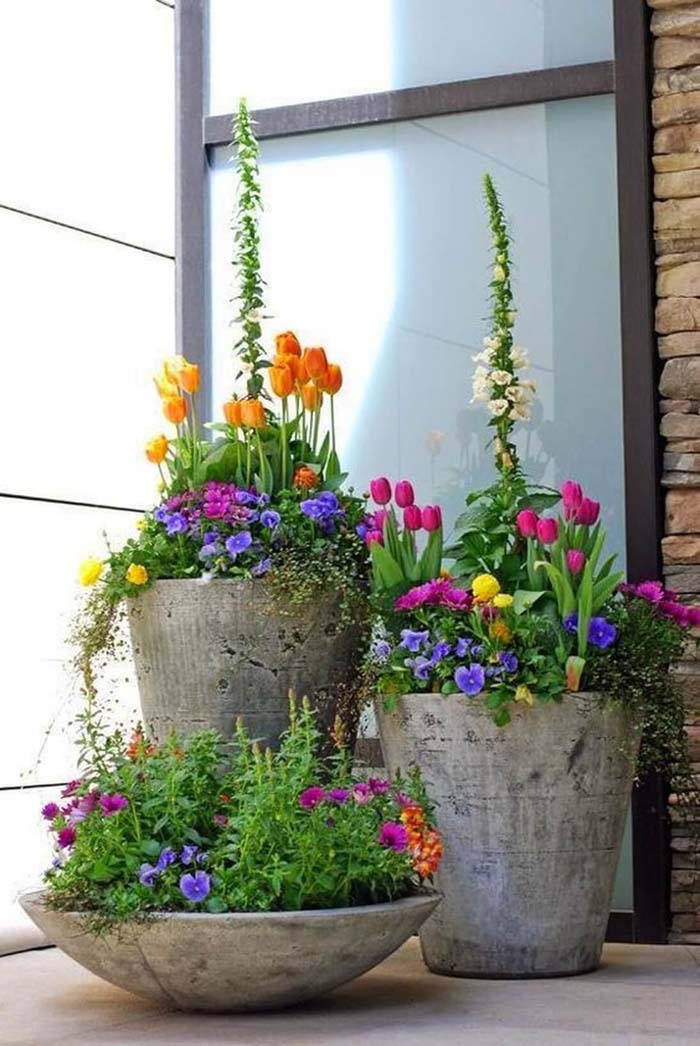 Concrete is a very trendy material these days. It is easy to work with it and the final creations add a lot of contemporary character.
You can use it to make your own flower pot set. Use a large pan, buckets or similar large items as molds to lay your concrete on.
6. Celebrate Autumn with a Copper Metal Pumpkin Arrangement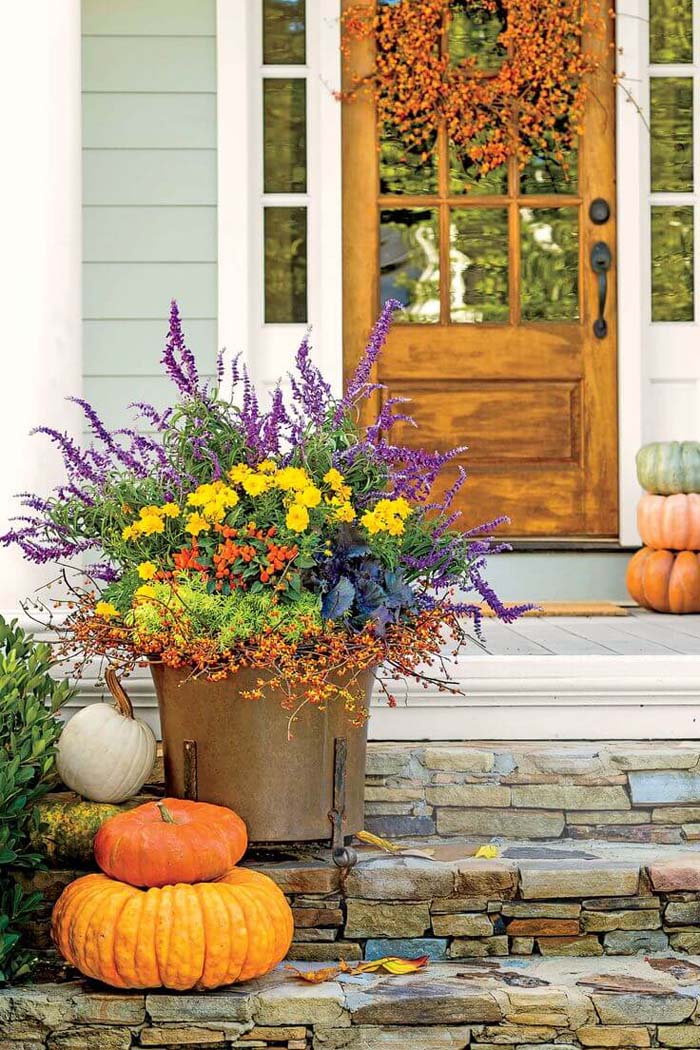 Autumn's beauty is in the colors of the surrounding nature. Take advantage of it and make an arrangement in a copper metal bucket.
Place it on the steps or next to the front door and complete the calming picture with pumpkins.
via Southern Living
7. Upcycle a Rusty Milk Can into a Contemporary Planter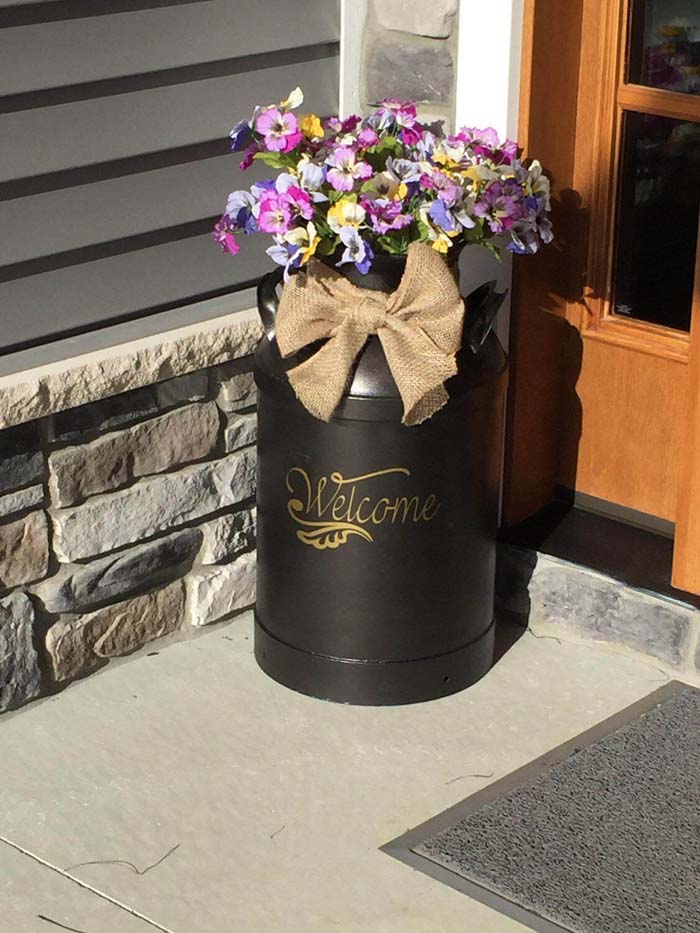 Turn the vintage rusty milk can into a contemporary container by covering it with a thick coat of paint.
Placed next to the front door its size allows large flower arrangements. If you prefer a more durable solution, put a pot inside its neck.
Seal a "welcome" decal to state your warm feelings toward the guests from the front door.

8. Elegant Vertical Planter for Your Front Door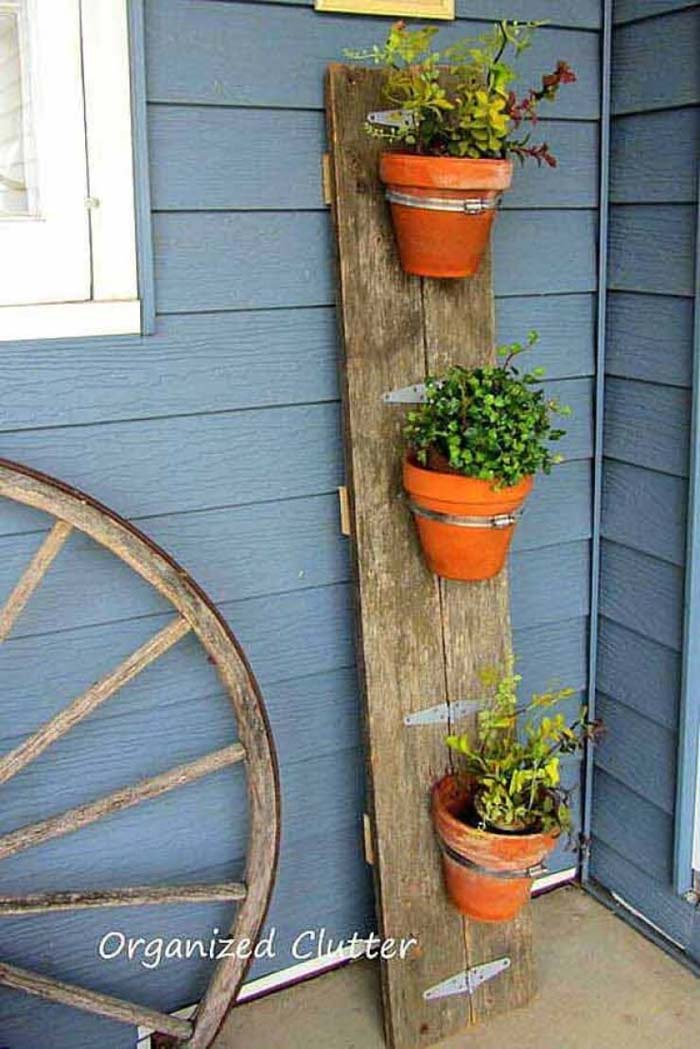 Make a simple but elegant vertical planter for your front door. Use a piece of barwood and attach adjustable metal brackets at three places for the pots.
Because of the farmhouse look of the wood, plain terra cotta pots will most suit the planter.
9. Make Quirky Minions Using Terra Cotta Pots and Cord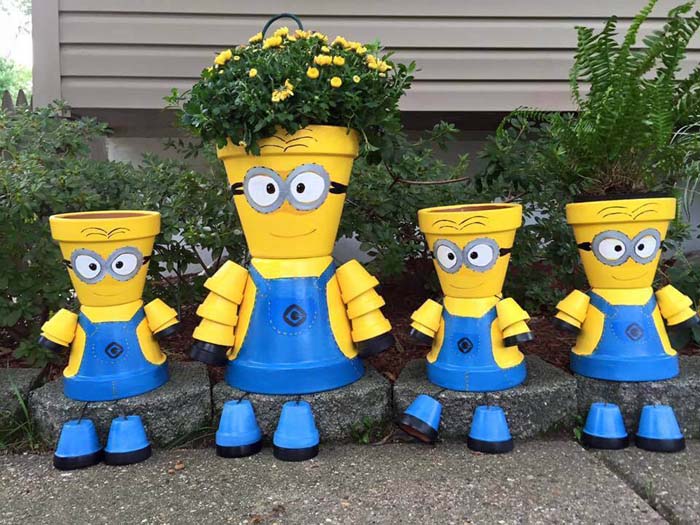 This fun minion project will provoke smiles in kids and grown-ups.
Each figure is made of brightly painted terra cotta pots of different sizes. To form the body parts, use a thick cord.
10. Create a Tiered Planter in Minutes with Minimal Supplies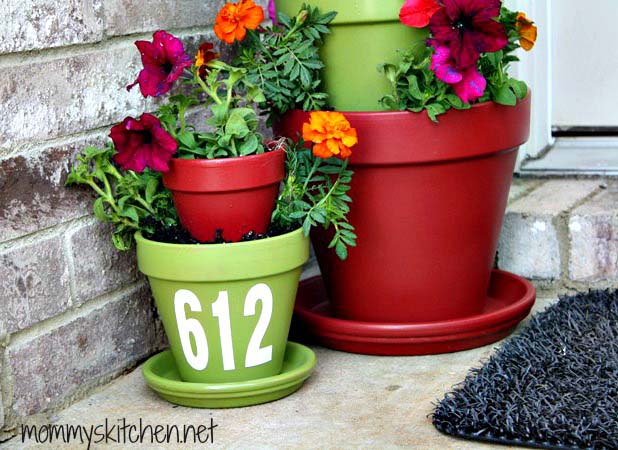 You don't need much time or supplies to make this lovely tiered planter.
A few terra cotta pots of different sizes are painted in green and red. One of the larger pots has a decal with house no. to give the planter an additional functional aspect.
via Mommy's Kitchen
11. Create a Striking Doorway with Modish Flower Pots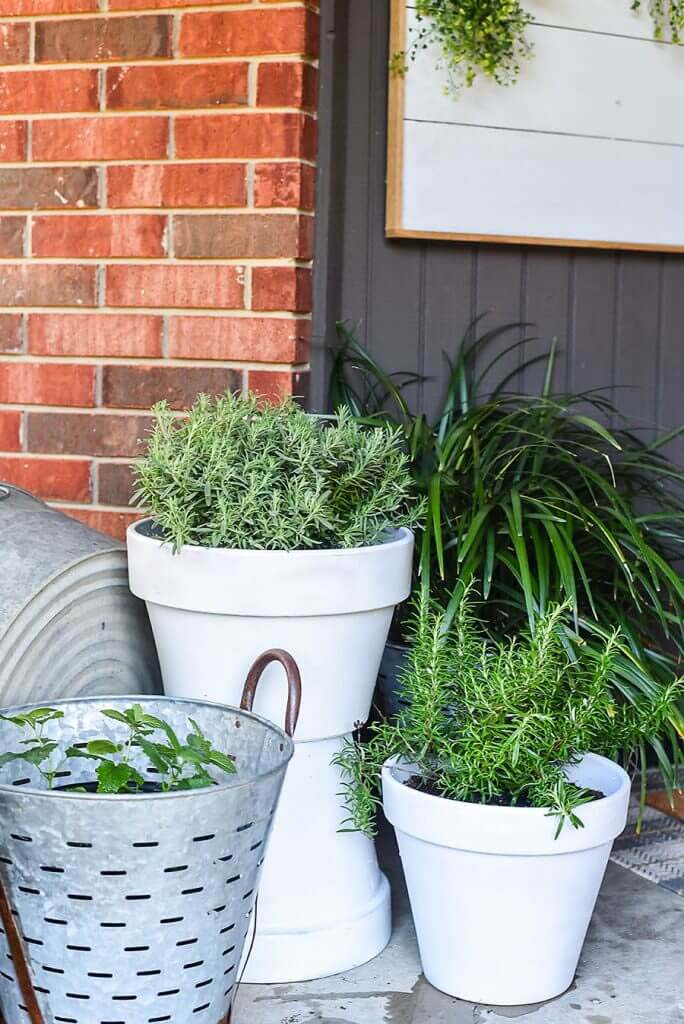 When you decorate the front door with flower pots, you need to find a way to make the arrangement more interesting and notable.
One of the ways is to make a tiered alignment, to paint them in bright colors or to play with their size and height.
For example, you can give a plain terra cotta pot extra height by placing it on top of another pot. It is a trick that will let each of your plants pop out.
12. DIY Rustic Planters with a Personalized Touch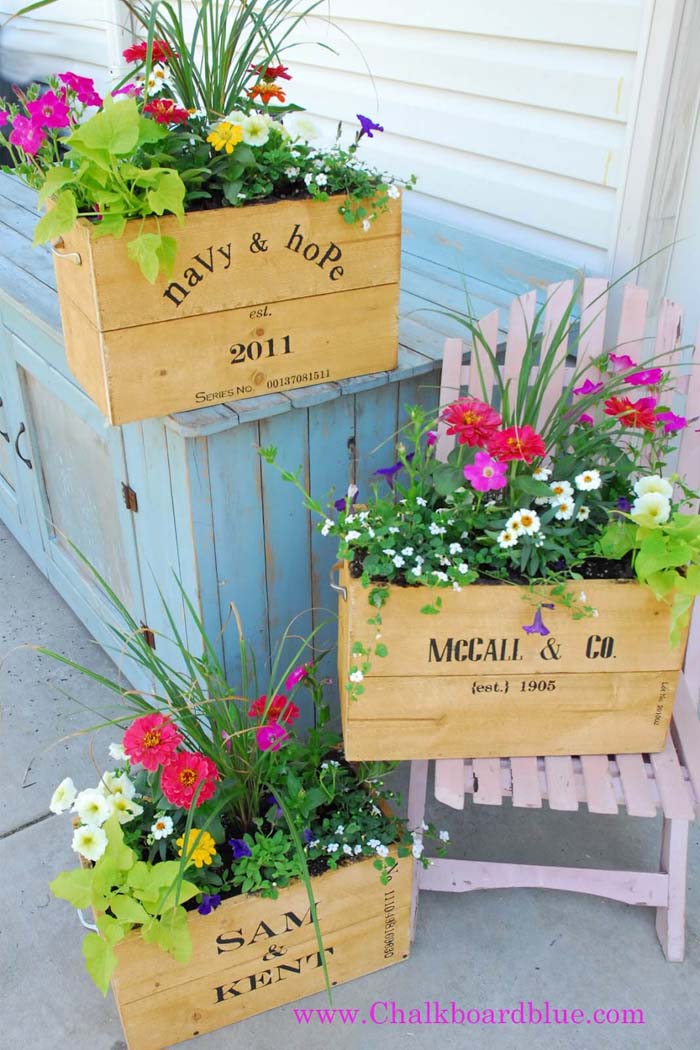 Although these crates look like old rustic pieces, they are brand new-made. Using cedar boards to build them, each one is lined with plastic and covered with pebbles on the bottom to make them suitable for front door planters.
Make them more unique by writing your family member's names with stencils.
via Chalkboard Blue
13. Add Interest with an Eclectic Mismatched Pot Arrangement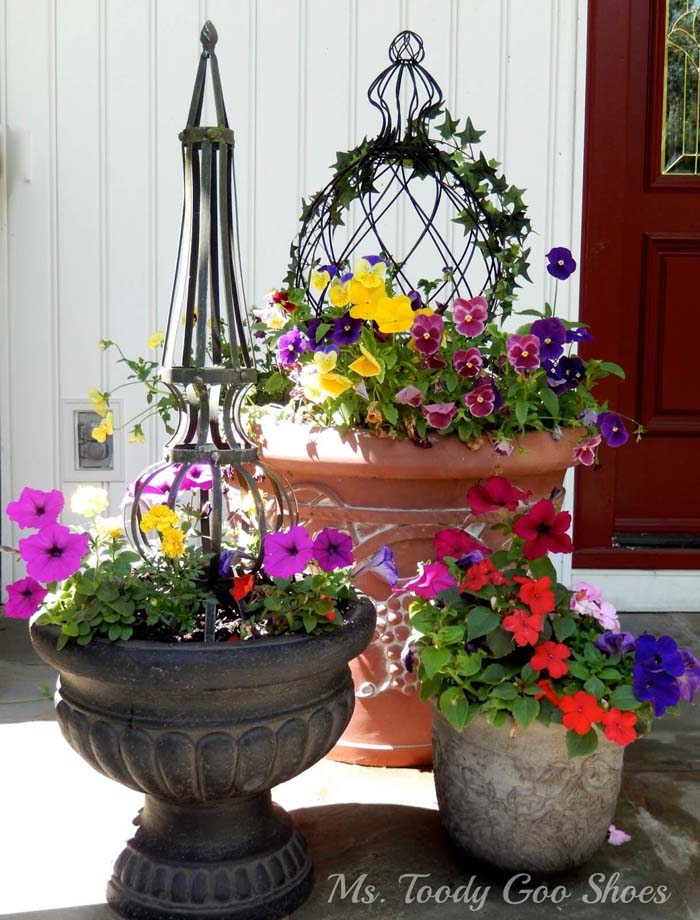 Use mismatched pots in different colors and sizes to add more interest to the front door space.
The eclectic arrangement can be completed with other flower accessories like a metal trellis in a twisted shape.
14. Invest in Realistic Faux Flowers for Lasting Front Door Décor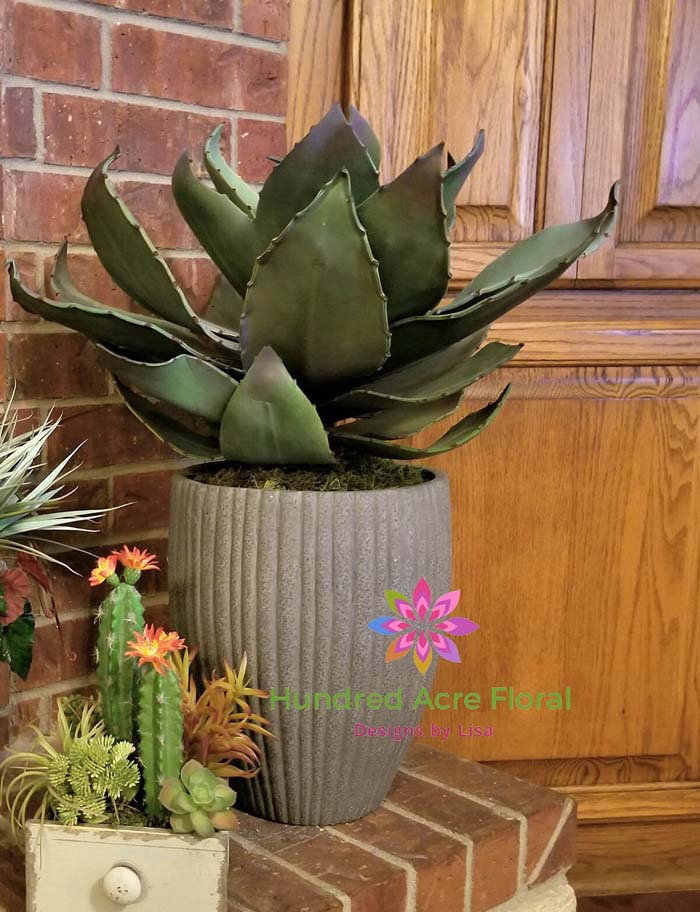 Faux flowers are a very smart solution when it comes to front door decoration.
Since you are going to invest only once in the greenery, it is worth choosing quality products that will look realistic and will last for longer.

15. Elevate Your Front Door with Aesthetic Topiaries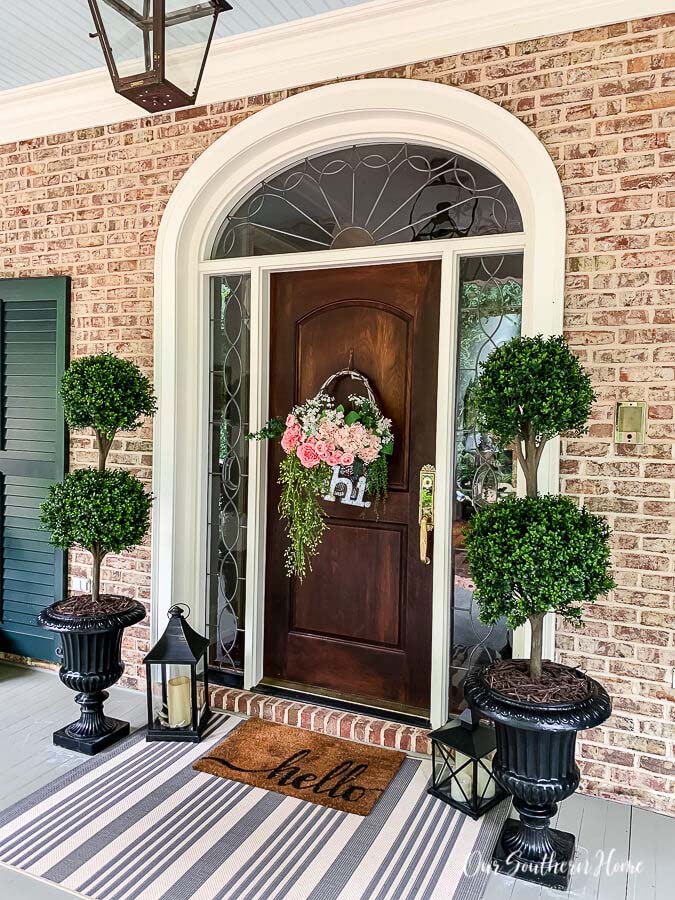 One of the most aesthetic plants for the front door are the topiaries. Their shapes and thick tuffs give the porch a fine and royal look, especially if potted into identical pot stands.
If you don't have time to maintain the greenery shapes, you can always skip that step by using faux topiaries.
via Christy Little
16. Vintage-Inspired Floral Arrangement for Porch Decorating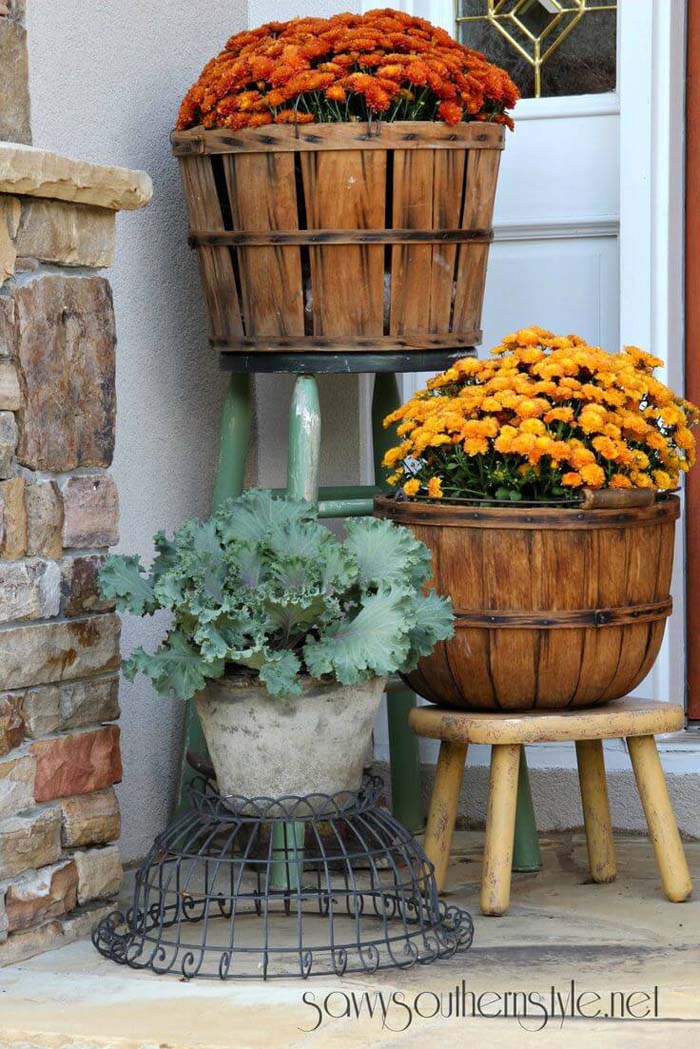 Give the front porch more texture with artistic repurposed planters and stands.
The wood baskets are made from fruit containers. Placed onto stools of different heights, each mum basket possesses a special place and has its own impact.
To make the arrangement complete, repurpose an old metal chandelier or basket to create the lowest flower pot level. An old galvanized bucket or a plain terra cotta pot will finish the vintage front door floral set.
17. Enhance Your Front Door with a Stylish Metal Bucket Planter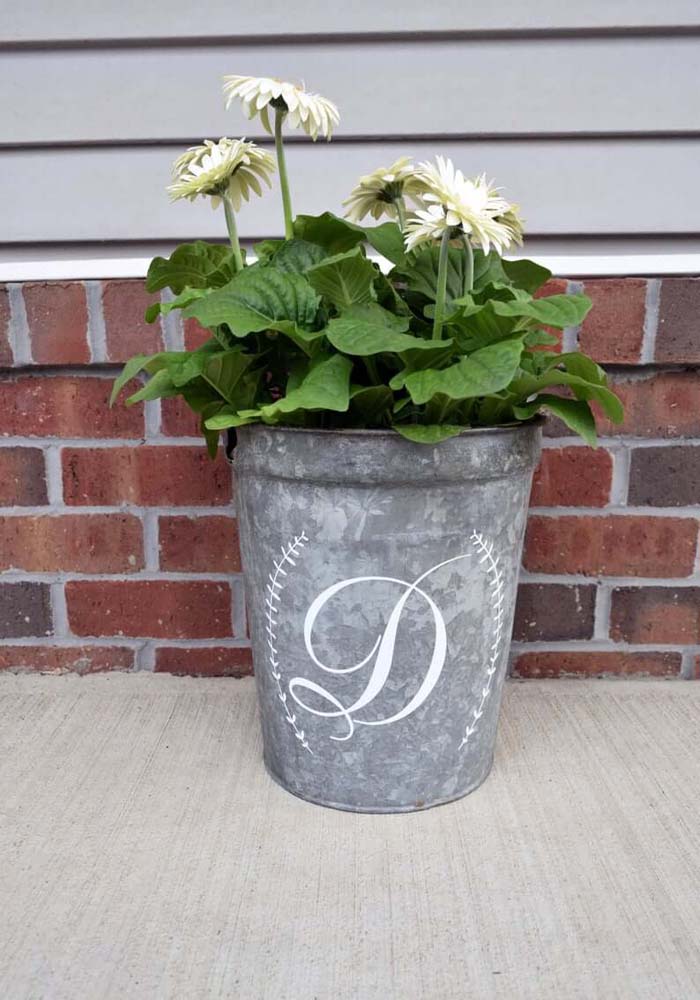 If you prefer simple decorations, then you would rather use only one planter for your front door.
Then it should be special and intriguing like the metal bucket. Decorate it with a decal with your family initial and place a pot with seasonal flowers in it.

18. Create a Cozy Farmhouse Vibe with Galvanized Containers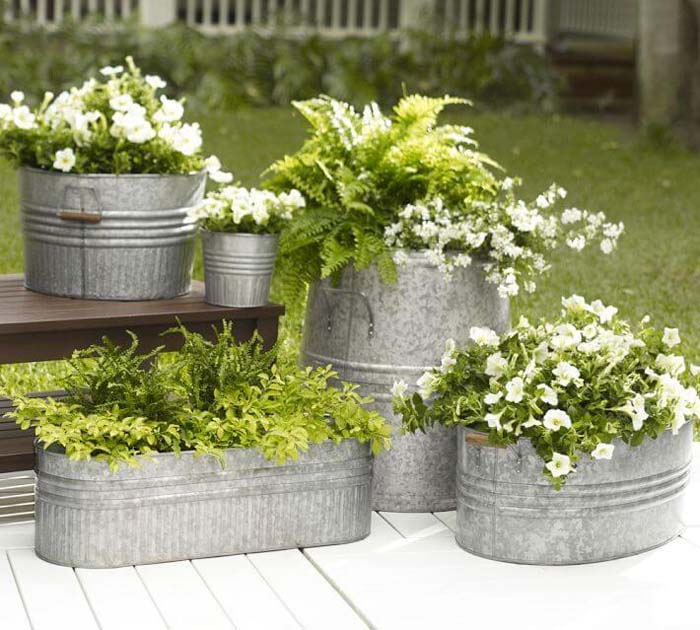 This farmhouse setting will surely increase the welcoming level of your home.
To create a point of interest, use galvanized containers of varying shapes and heights.
via Design Works
19. Enhance Your Curb Appeal with Clay Pot and Colorful Petunias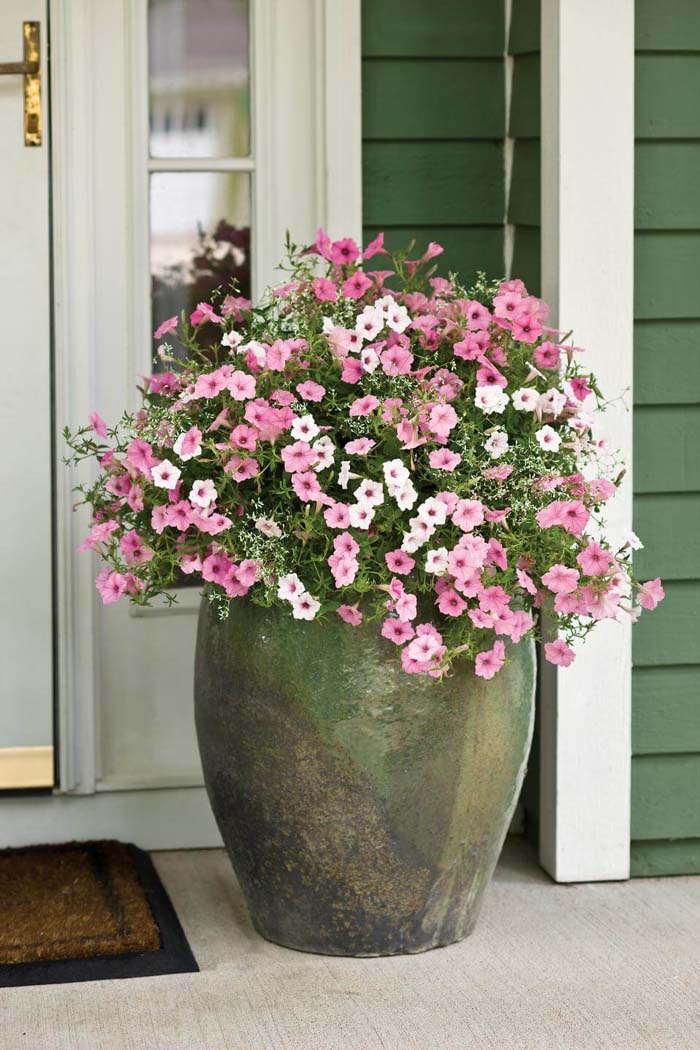 A large clay pot that blends into the colors of the exterior will be an excellent choice to hold colorful and rich tufts of flowers.
The combination of the antique look of the pot and the vivid colors of the petunias will ensure an aesthetic curb appeal of your front porch.
via Proven Winners
20. Make a Colorful, Inscribed Tiered Terracotta Pot Garden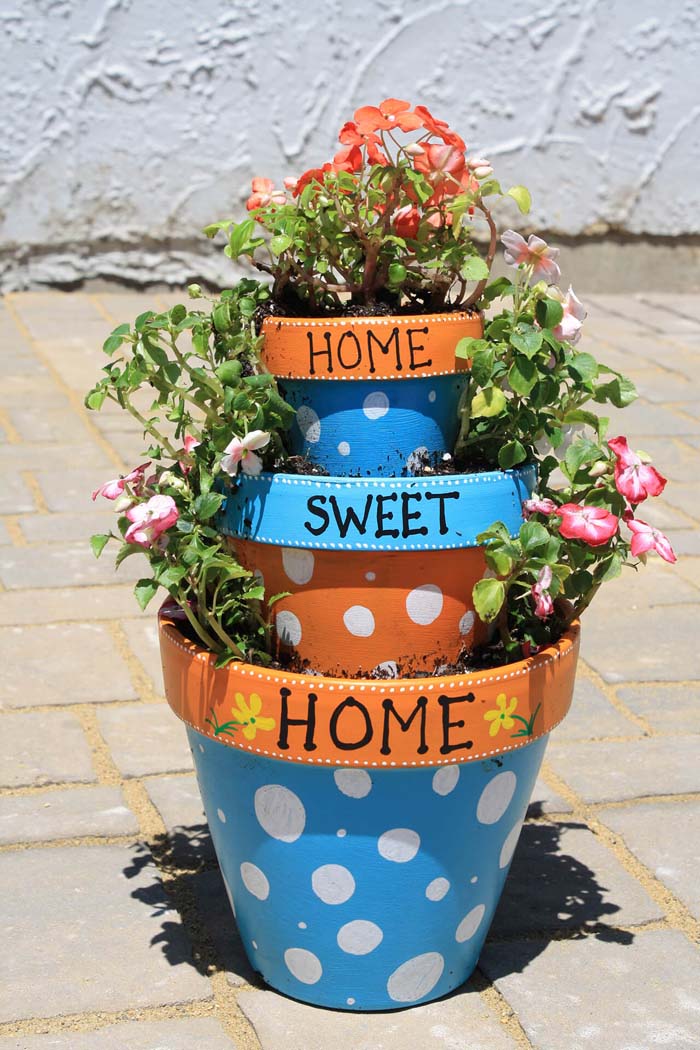 This tiered terra cotta pot garden can be made even by a DIY beginner.
Get three pots in descending size and paint them in an identical pattern. The rim of the pots should be painted in one color only as it will be the background for an inscription.
21. Upgrade Your Front Door with an Affordable Burlap Planter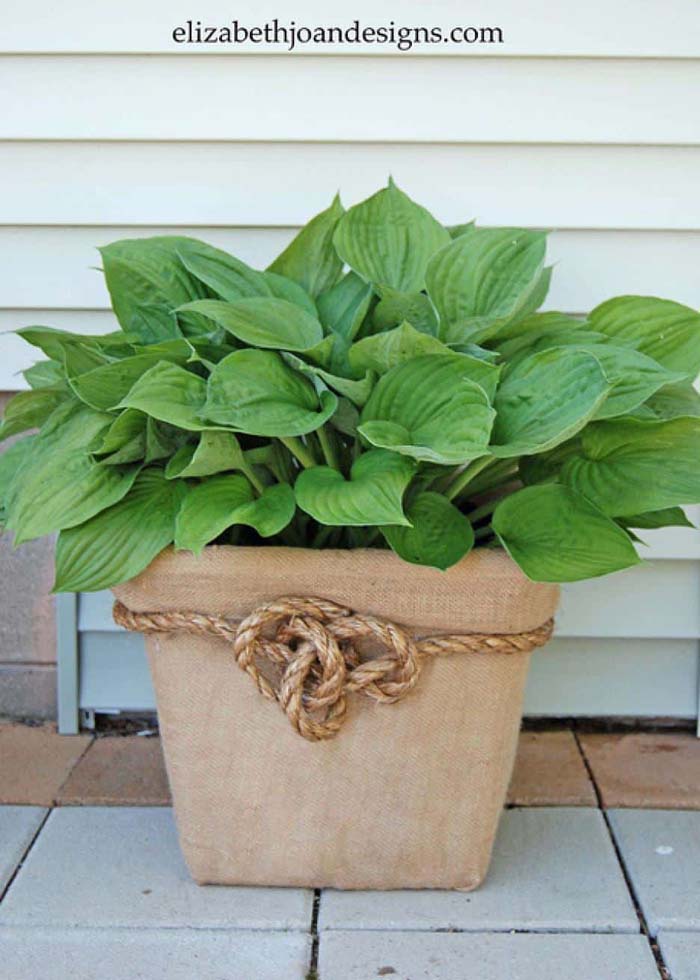 Looking for an affordable planter for your front door? Go to the Dollar store and grab one of those plastic laundry baskets.
To hide the plastic material and give the planter a curb appealing look, cover the inside and the outside with a burlap.
Finish the farmhouse upgrade with a rope ribbon.
22. Create an Eye-catching Entryway with Large Planters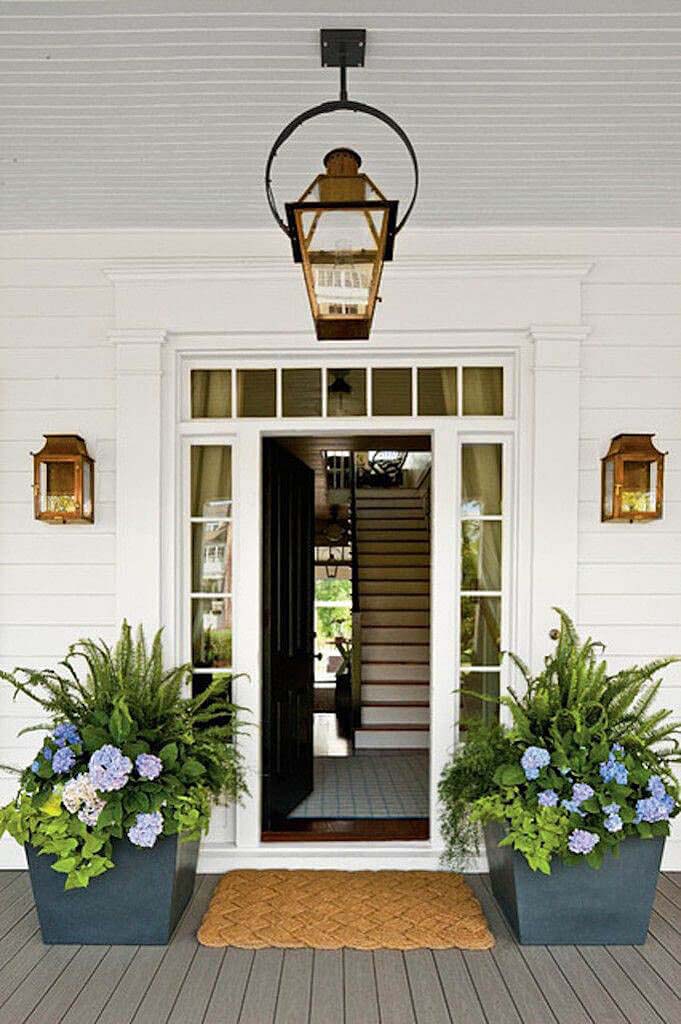 Using larger planters will let you create small gardens that will beautify the entrance of your home.
These metal containers have been wide enough to accommodate hydrangeas, ferns and sweet potato vine.
23. Transform Olive Containers into Stunning Front Door Planters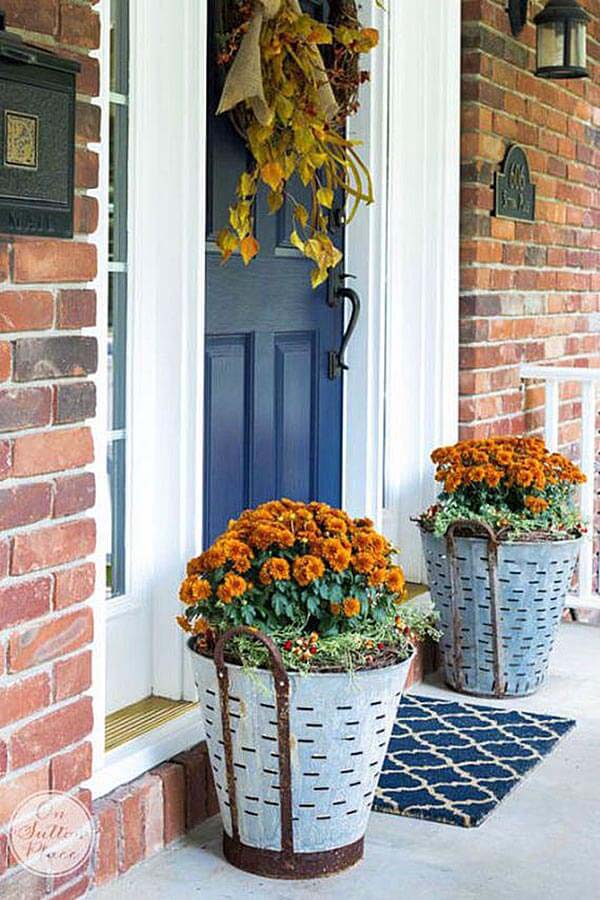 Olive containers can quickly become outstanding front door decorations. To let them easily transform into planters, use grapevine wreaths at the top.
There is a terra-cotta pot placed inside each container to serve as a support for the flower pot of mums and to give it height.
via On Sutton Place
24. Rustic Look with a Milk Can and Flower Basket Arrangement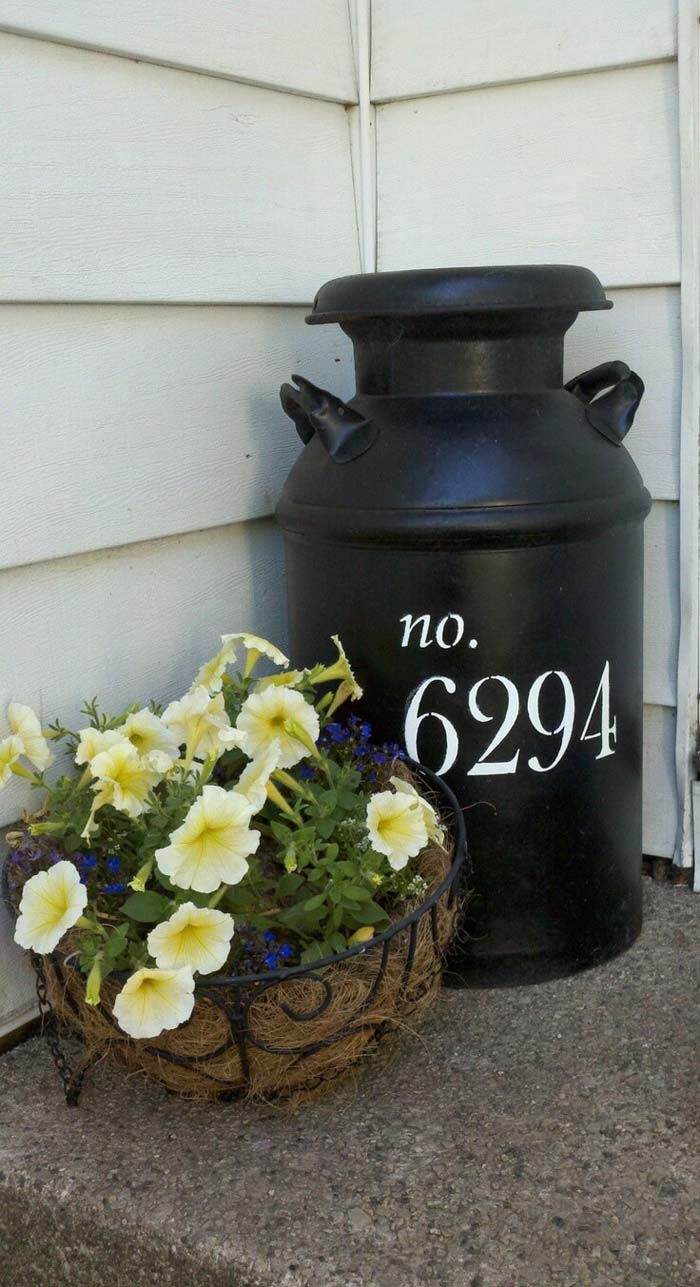 Create a farmhouse arrangement for your front door with a milk can and a wire basket of flowers.
To give it greater importance and make it more customized, paint the house number on the can.
25. Enhance Your Halloween Décor with Antique Flower Planters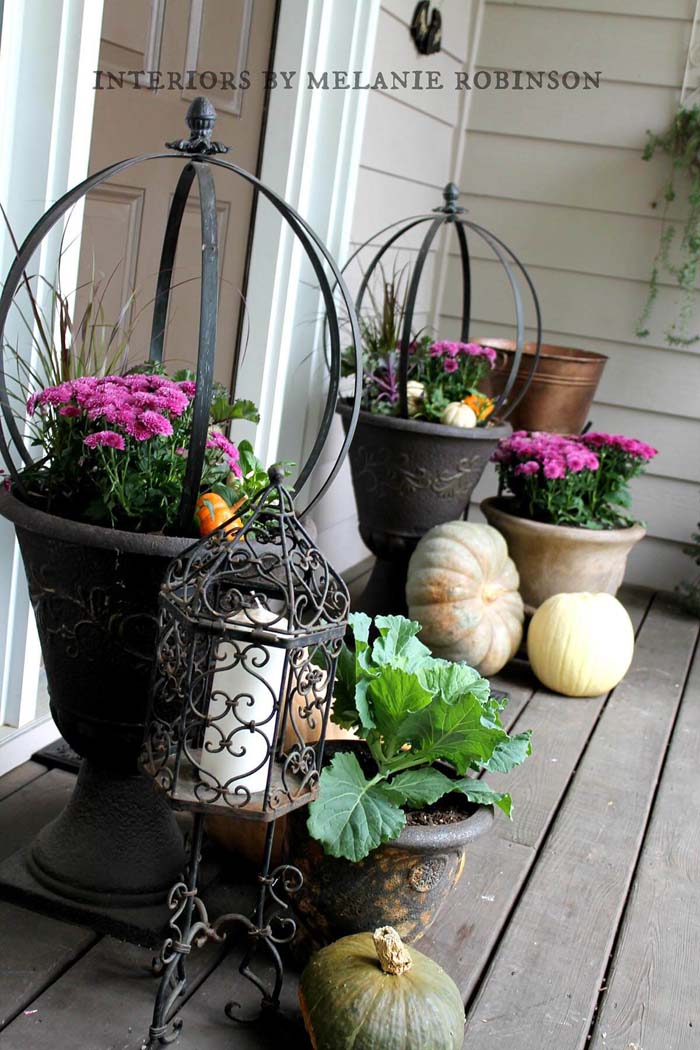 If the exterior walls of your house are white, you are given many ways to decorate the front door.
Combining white and black is a warranty for a classical and stylish look. Adding some antique shapes and textures to the pots' characteristics will give the space individual touch and appealing effect.
26. Upcycle an Old Drawer into a Front Door Planter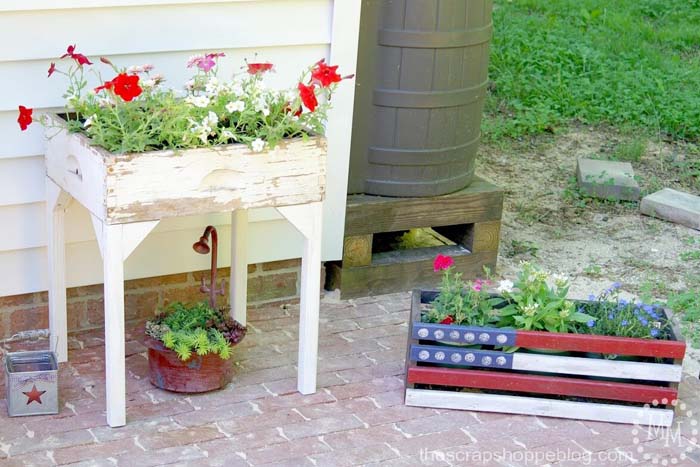 Upcycling old and useless things are not only big fun. It also gives great satisfaction after seeing the final result.
The repurposing of an old drawer to turn it into a front door planter is one of these projects.
27. Handmade Wooden Planters for the Front Porch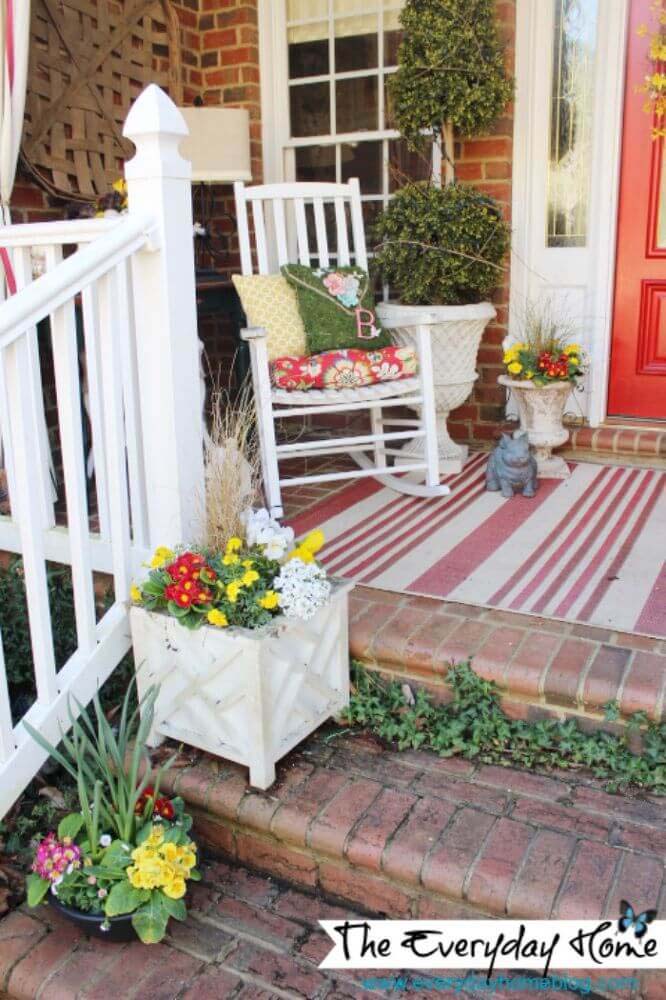 The geometrically shaped planters give the space a modern touch. However, if they are made of wood and especially distressed wood, the straight lines become smoother.
This handmade wooden box is an example of how you can combine rustic and modern to give your front porch an aesthetic and balanced look.
28. Make Your Front Door Pots Pop with Polka Dot Motifs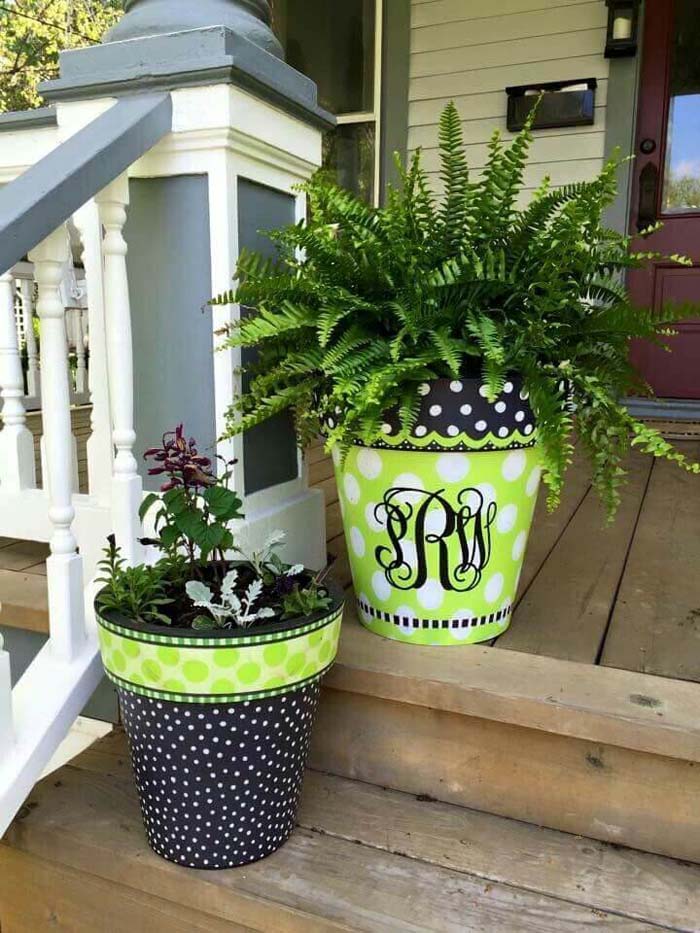 Polka dots never go out of style! They have the ability to add interest and charm to every item they are applied to.
Using them as a motif on your front door pots will have the same effects.
29. Celebrate Holidays with a Decorative Flower Stand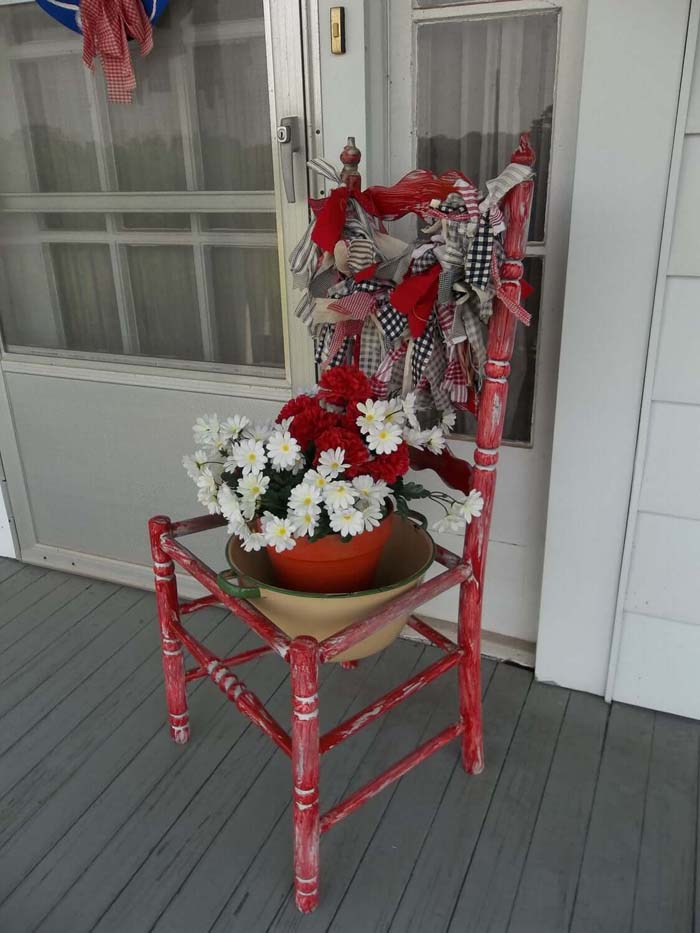 Make a special flower stand to mark the importance of the holiday from the front door.
The basis of the stand could be any old wooden chair. Remove the seat or make a hole in it for a flower pot. Tie ribbons on the back of the chair in the colors of the national flag.

30. Vertical Planter Design for Enhanced Front Porch Decoration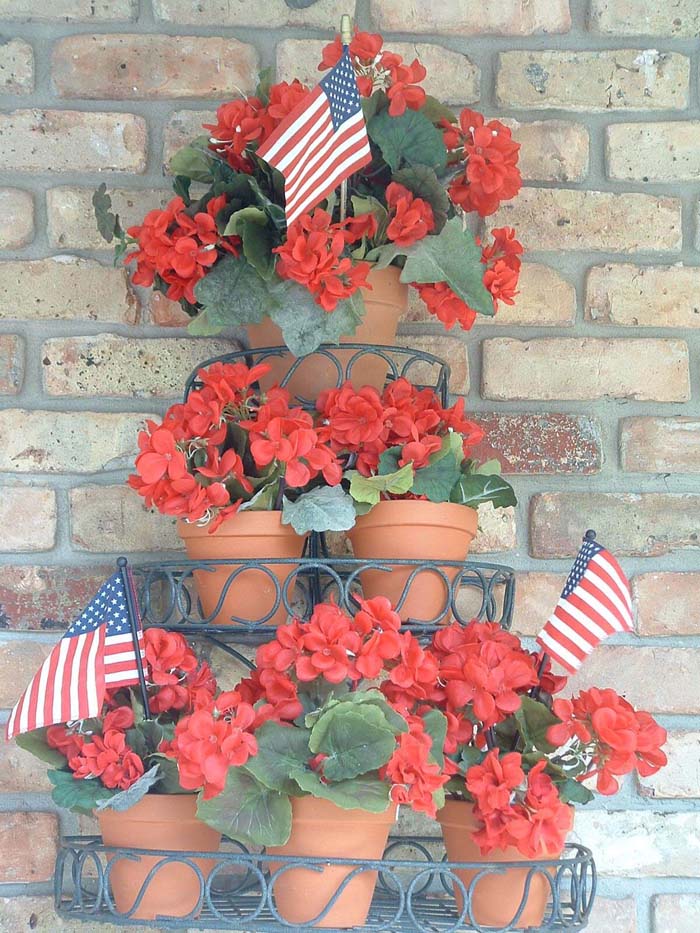 The planters for the front porch don't have to be on the floor. You can also go for a vertical design, especially when the floor space is not enough.
Such a tiered stand gives you the most of the vertical design as it provides three levels of different widths.
You can use the stand also for seasonal or holiday decoration by adding symbols or motifs to the existing pots.
31. Add Rustic Charm to Your Porch with Wicker Baskets Planters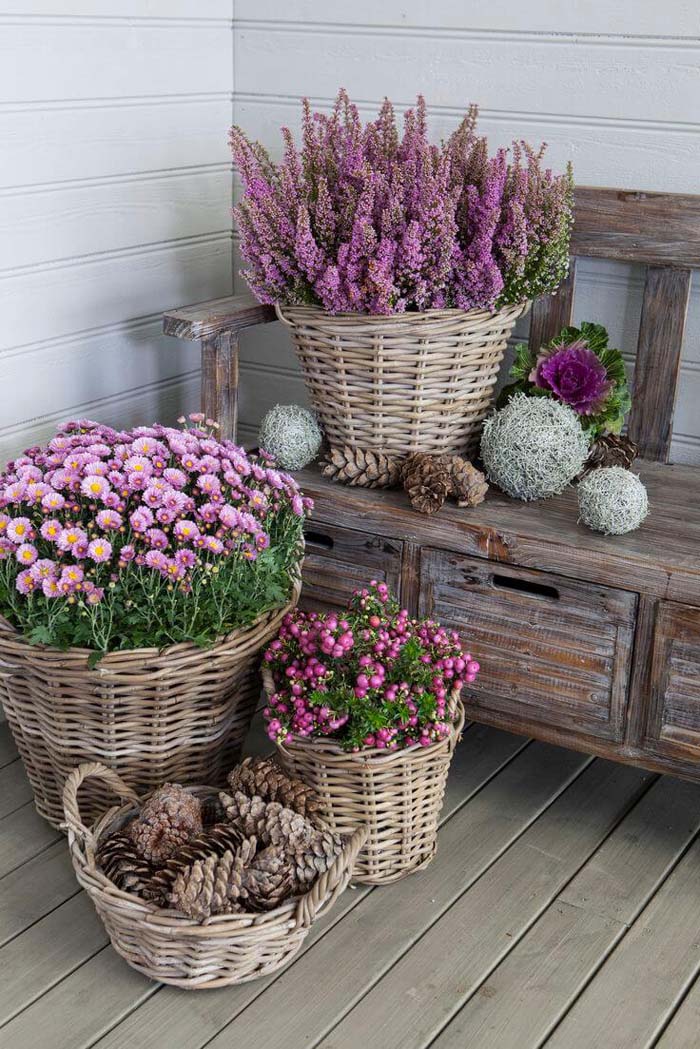 If your porch is decorated in the farmhouse or rustic style, the wicker baskets will be the perfect match when it comes to planters for that nook.
They can hold both fresh and dried plants and also other treasures from nature like pine cones, berries, moss, stones etc.
32. Upcycle Containers for a Farmhouse-Style Front Door Display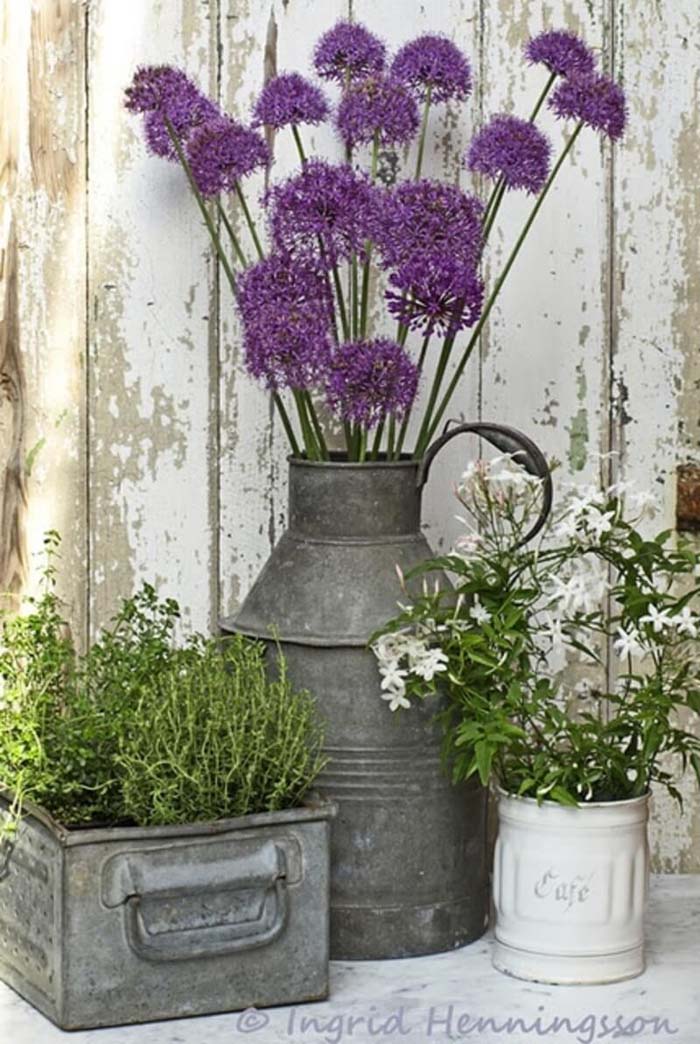 These salvaged rustic containers will give farmhouse charm to the front door especially when grouped.
They can either be filled with soil to grow herbs and flowers or can be used as vases for fresh flowers.
33. Reimagine Rustic Containers for a Tiered Mum Garden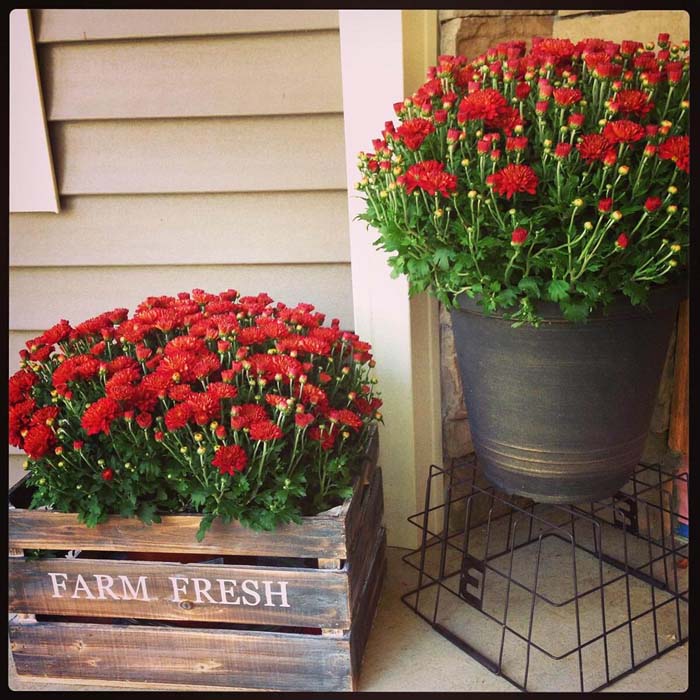 Create a tiered mum garden by using rustic containers as flower planters.
Upcycle a crate by giving it a new coat of stain and adding a fun inscription. The other rustic element you could use is an old basket. To match the crate, paint the external surface.
The tiered arrangement is achieved by simply lifting the bucket on a wire crate.
34. Create a Rustic Floral Arrangement with Long Logs and Vases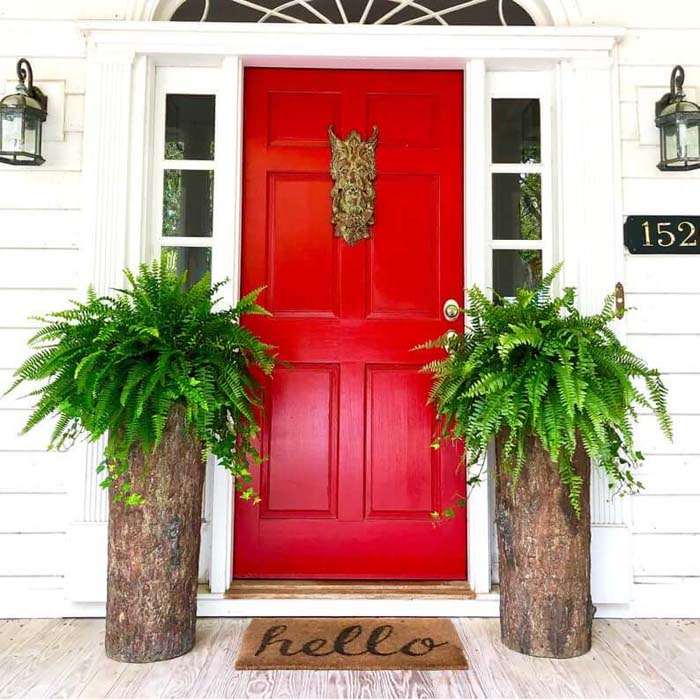 Get two long logs and make holes in their centers. The holes should be of diameter and depth as to fit a vase or a pot.
Then simply place the chosen flower and enjoy the rustic arrangement. Another alternative for the green part is to use faux flowers like a fern.

35. Create a Front Door Planter from Repurposed Garage Items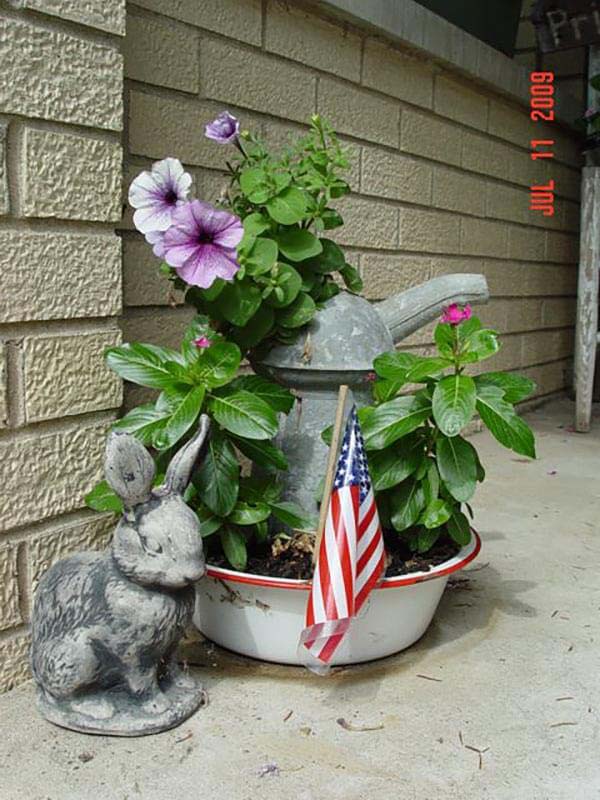 You can find great items in your own garage that can be repurposed and turned into a front door planter in your own garage.
Fill a galvanized basin and a watering can with soil. Place the can in the center of the basin.
36. Enhance Your Front Porch with Two Identical Wood Planters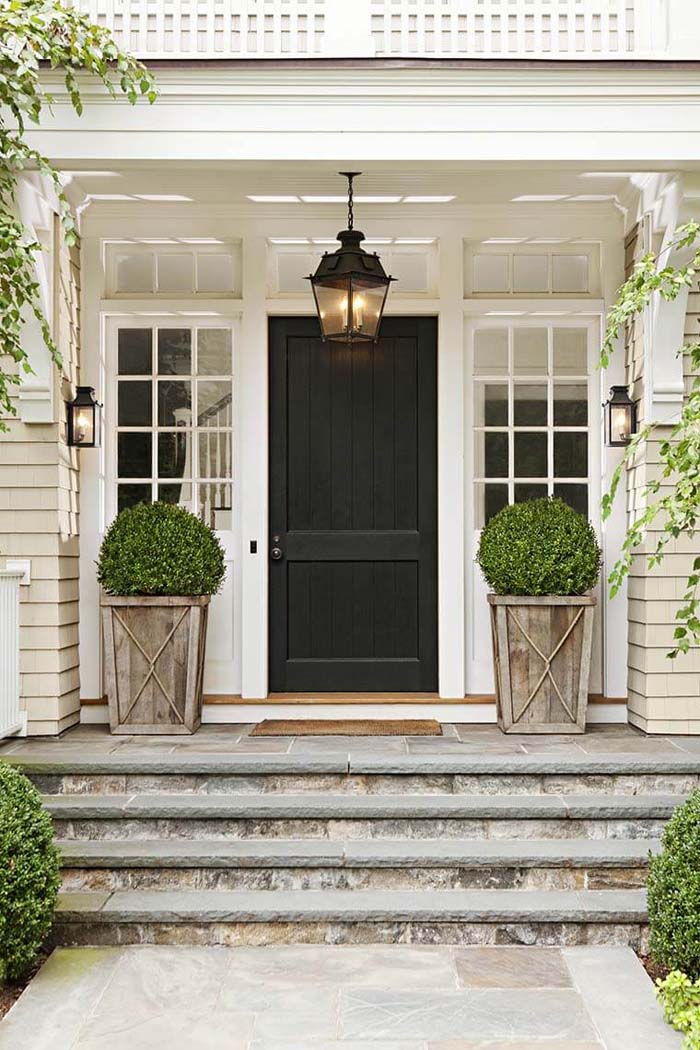 Two large identical wood platers can make a great impact on the front porch.
Made of reclaimed wood they add rustic elegance to the spacious modern porch.
via This Old House
37. Creative Repurposing of Patio Bench for Flower Box Display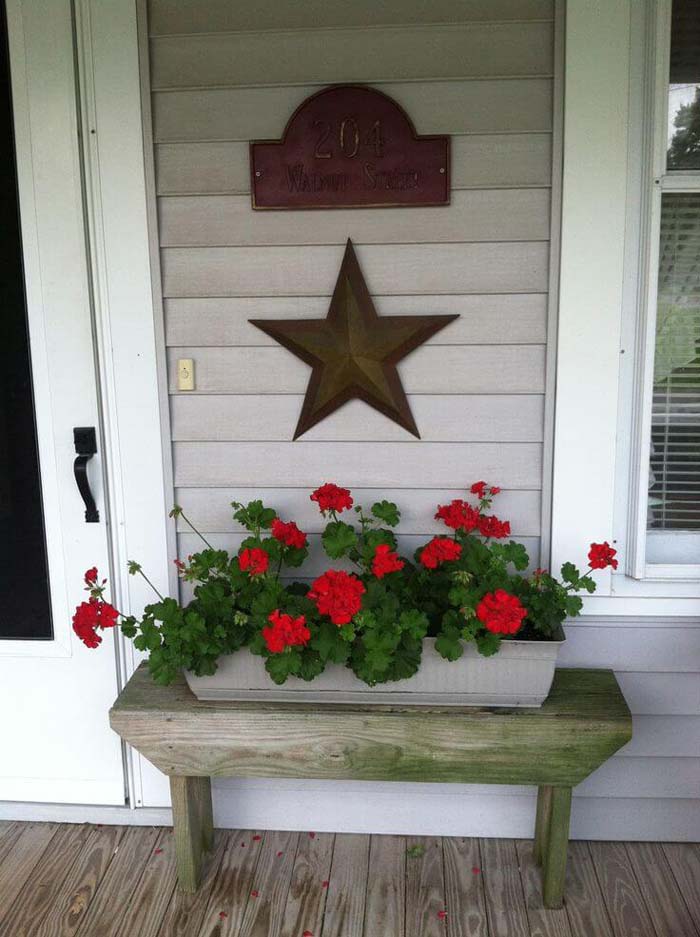 Use the bench of the patio as a vintage stand for a flower box.
This creative repurposing will give the box height to become a defining element of the front door.
38. Transform Plastic Buckets into Rustic DIY Planters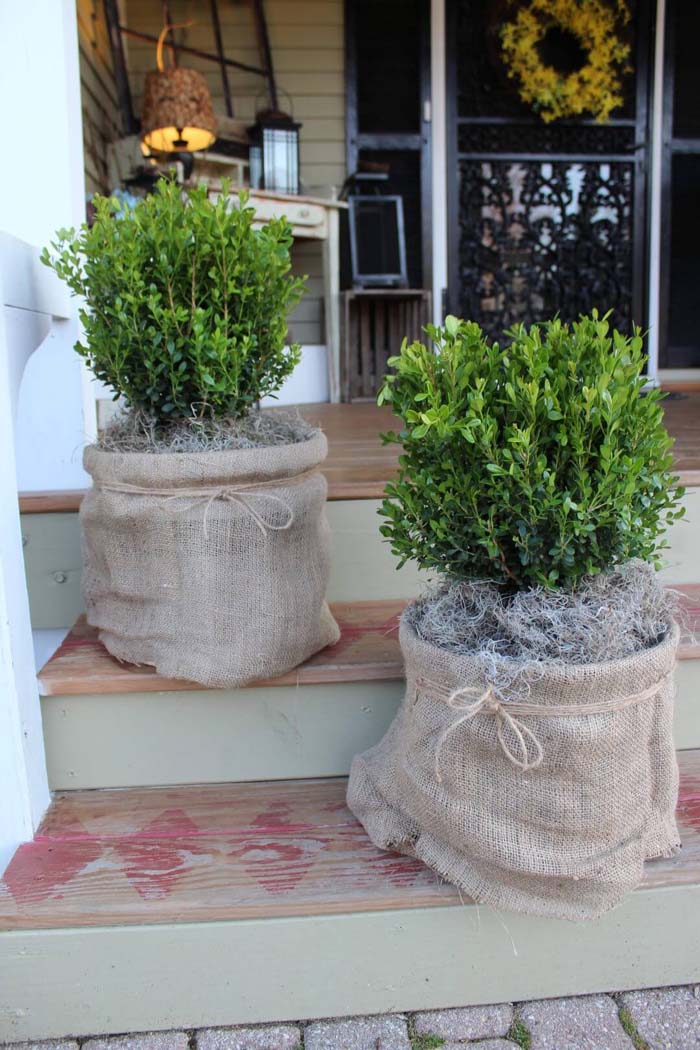 These great planters are the most affordable DIY project ever. You need a few plastic buckets like those for the paint to start with.
Wrapped around with burlap, they instantly transform into a rustic bucket with a chick twine ribbon at the top.
39. Elevate Your Porch with Customized Slim Planters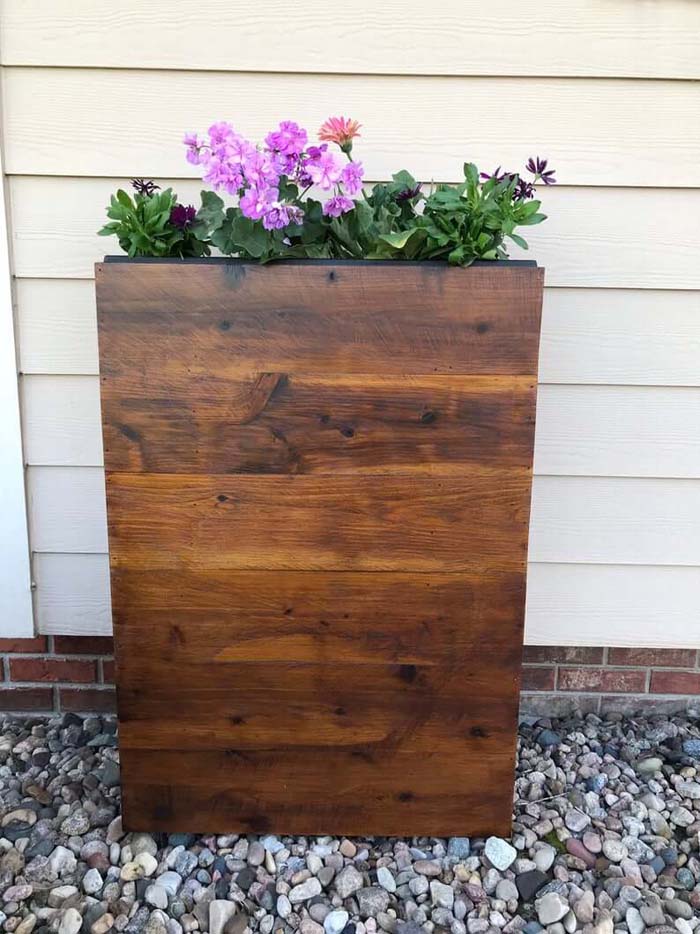 If your porch is small, then you should look for a customized planter. A planter of slim design is a suitable solution, however, it will not create any interest if it is just a low box.
It should be tall enough to grab the attention and serve as a defining element of the front door.

40. Make a Stylish Wooden Planter with Reclaimed Wood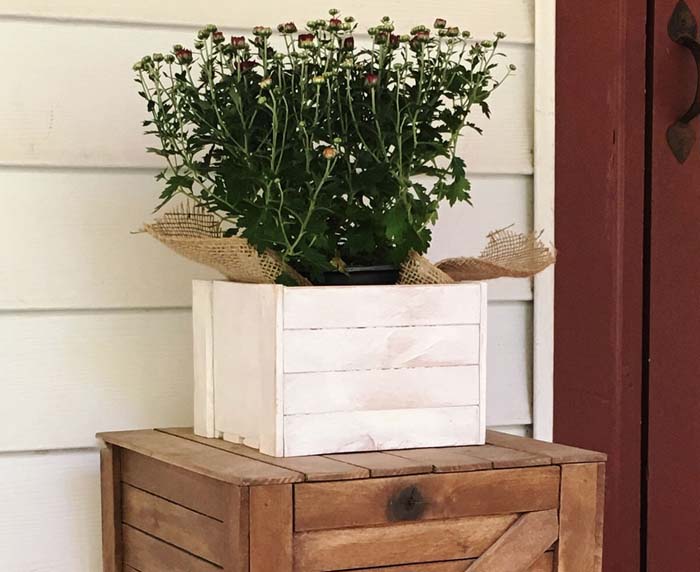 Making a wooden planter is an easy task. A few pallet slats or any other reclaimed wood are cut on size and then assembled in a box shape.
Depending on your style preferences, you can leave the wood untreated for a more rustic charm or give it a thick coat of paint for a cleaner and more contemporary look.

41. Add Vibrancy to Your Front Porch with a Thrifted Clay Pot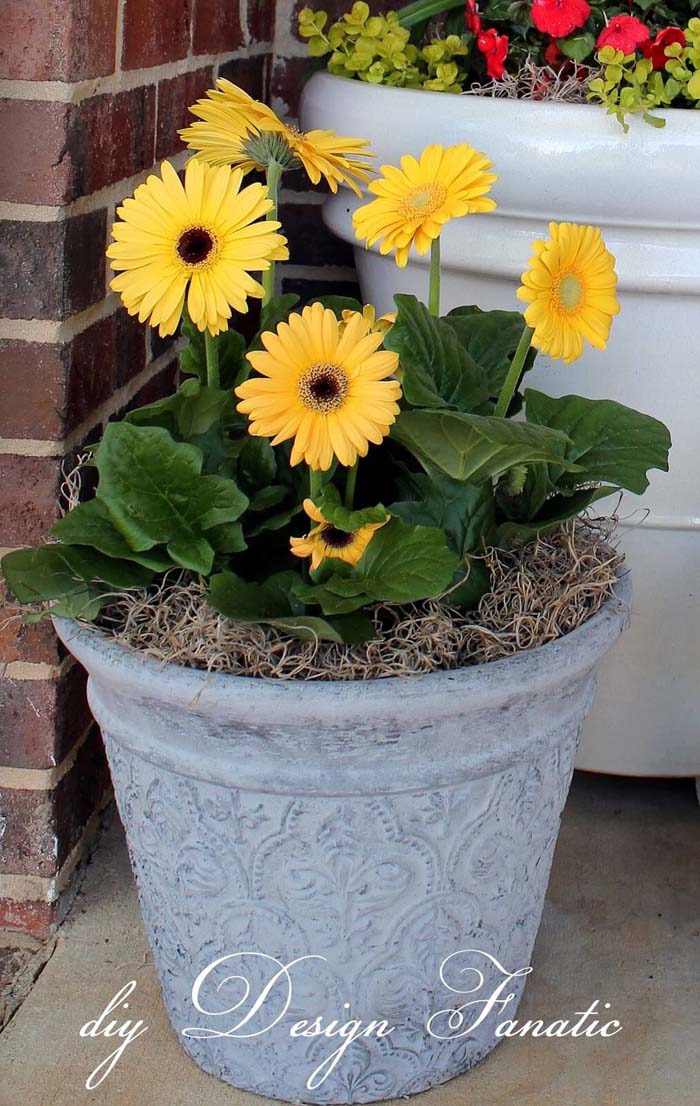 Because of its texture and size, this clay pot gives a valuable amount of beauty to the front porch.
If you find such at the thrift shop, take it without thinking too much. Its color can be easily changed as to make it blend with the rest of the exterior with spray paint.
42. Transform Your Small Front Porch with Bright Flowers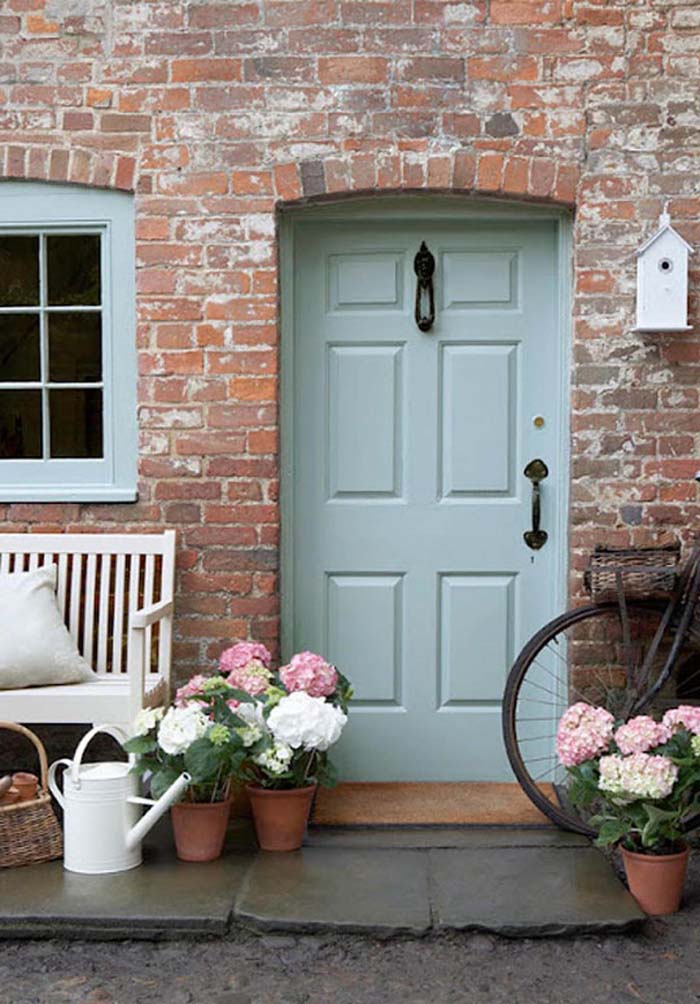 There are ways to make even the tiniest front porch more welcoming.
Group terra cotta pots with beautiful flowers on both sides of the door and enjoy the floral vignette of your home.
via Art and Branding
43. Rustic Decoration for the Front Door with a Stylish Touch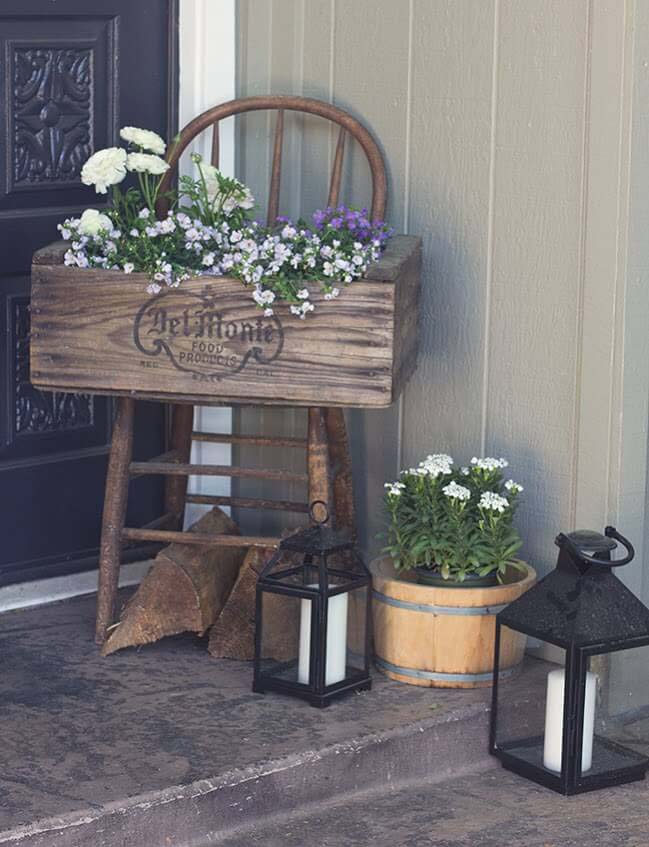 Another creative idea for the decoration of the front door includes a group of wooden and metal elements that form a rustic look.
A small antique chair is holding a crate with seasonal flowers. A smaller wooden container made of a barrel embraces another potted flower.
The varying in height pots are complemented by two lanterns that follow the same size pattern.
via Jenna Sue Design
44. Create a Striking Look with a Contrasting Planter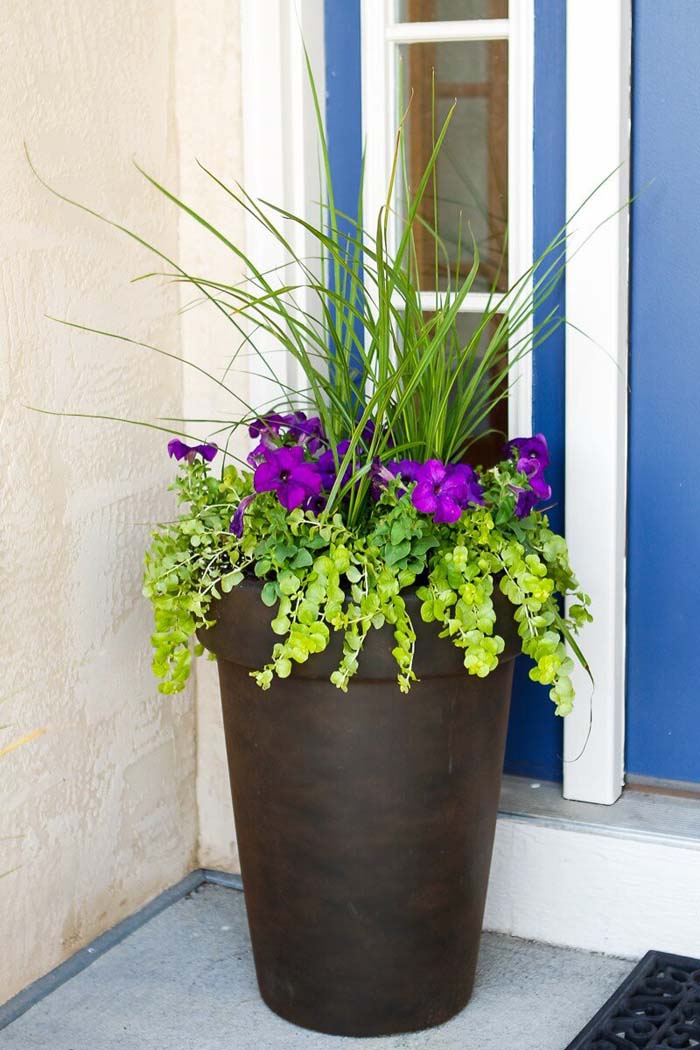 Achieve the eye-catching factor with a contrasting planter. This one dramatically controversies the exterior and makes sure that it will be noticed and appreciated.
Therefore it needs to be well-maintained and the flower arrangement thoughtfully set.
via Unsophisticook
45. Trendy Prism Shaped Planter with Rustic Wood Material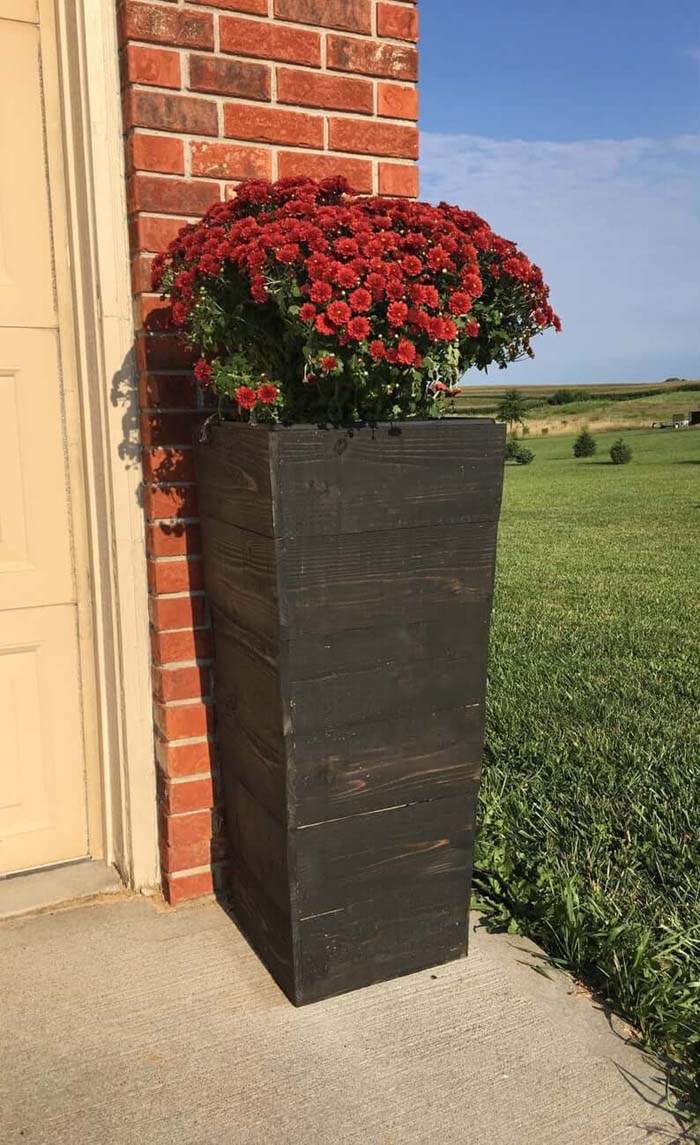 The tapered shape is very trendy when it comes to exterior planters. The prism shape not only attracts attention. It also gives a modern touch to space.
Mix the geometrical shape with wood material leads to a rustic piece that can fit in any contemporary design.

46. Illuminate Your Flower Planter Set with Solar Light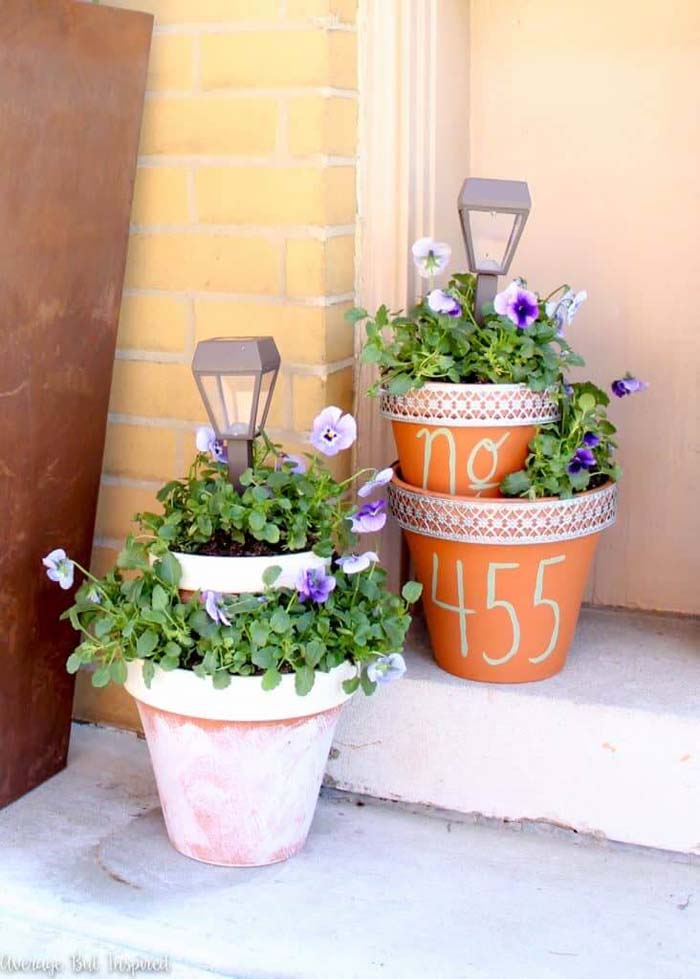 The flower planters at the front door will be clearly seen during the day but how about during the night?
There are simple means to give the planter set an illumination feature simply by inserting a solar light into the soil.
via Average Inspired
47. Brighten a Porch with a Colorful Terra Cotta Pot Arrangement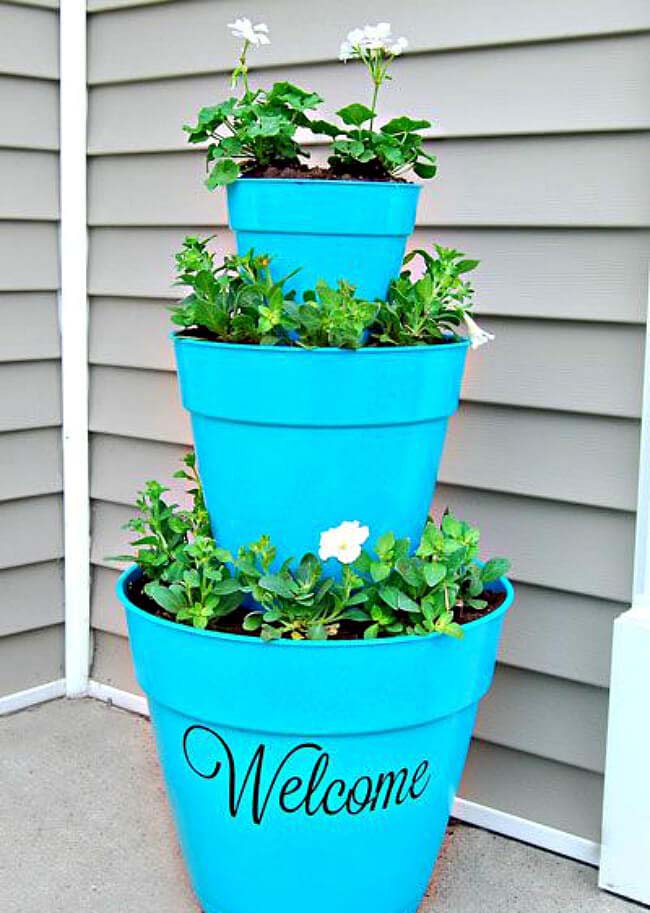 Add a pop of color to your porch with a tiered terra cotta pot arrangement. Painting it in a bright color like turquoise will grab the attention.
Write by hand a welcoming message on the biggest pot and finish the project by planting blooming flowers in each pot.
48. Transform Your Front Door with a Magical Tiered Fairy Garden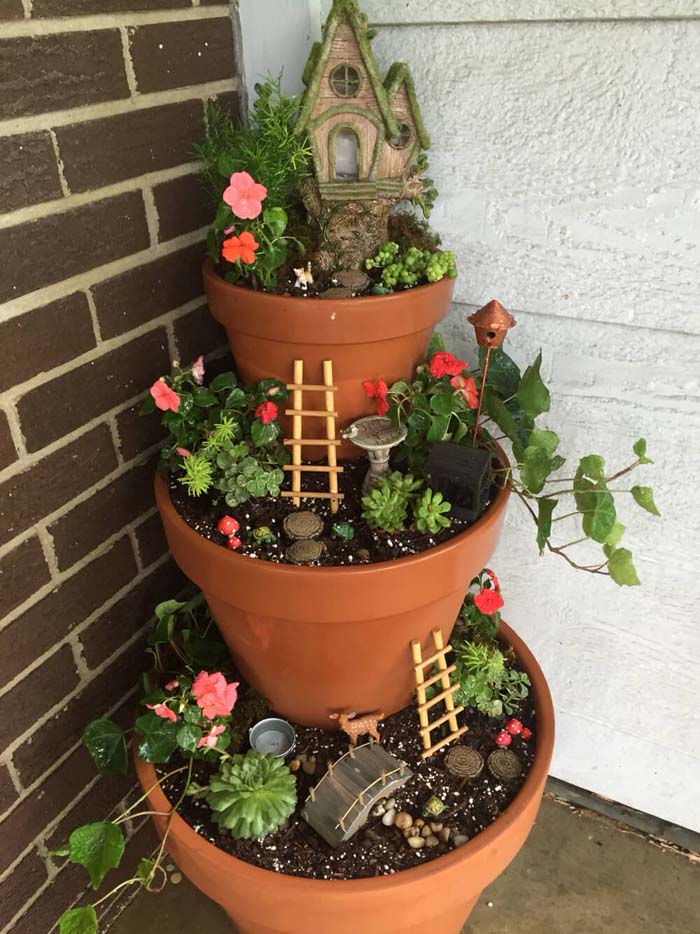 How often do you change the front door decoration? Not often, we bet. So, when doing it, you need to spend as much time as needed to make it the way you have imagined it.
A tiered fairy garden will consume a lot of your efforts and time but the eventual result will repay to you with its cuteness, complexity and magical impact.
via Julia Palosini
49. Give Your Terra-Cotta Pot an Aged Look with White Wash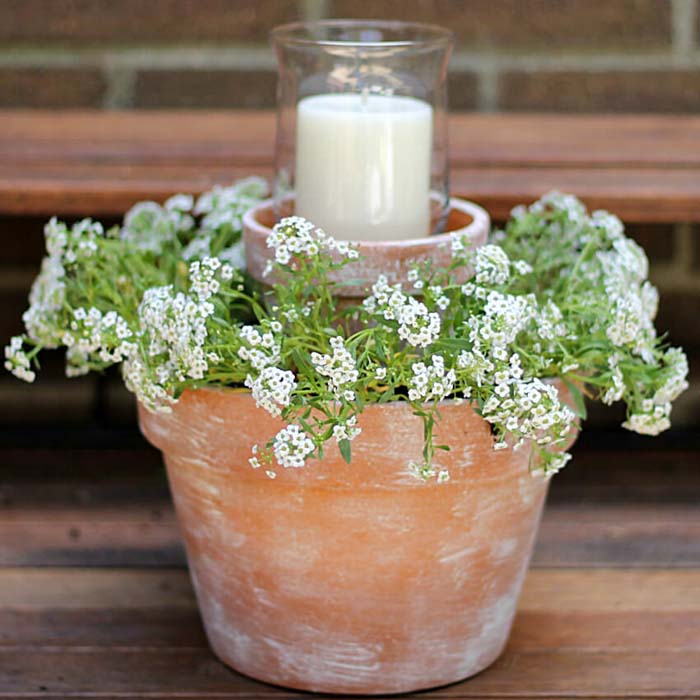 The tutorial below gives instructions on how to give a terra-cotta pot an aged look.
A white-washed pot could be the element your front porch needs to become more welcoming and relaxing. An interesting and charming decision could be to place a smaller pot into the bigger one to hold a candle instead of a flower.
via Hearth And Vine
50. Colorful Vertical Garden with Terra Cotta Planters and Rebar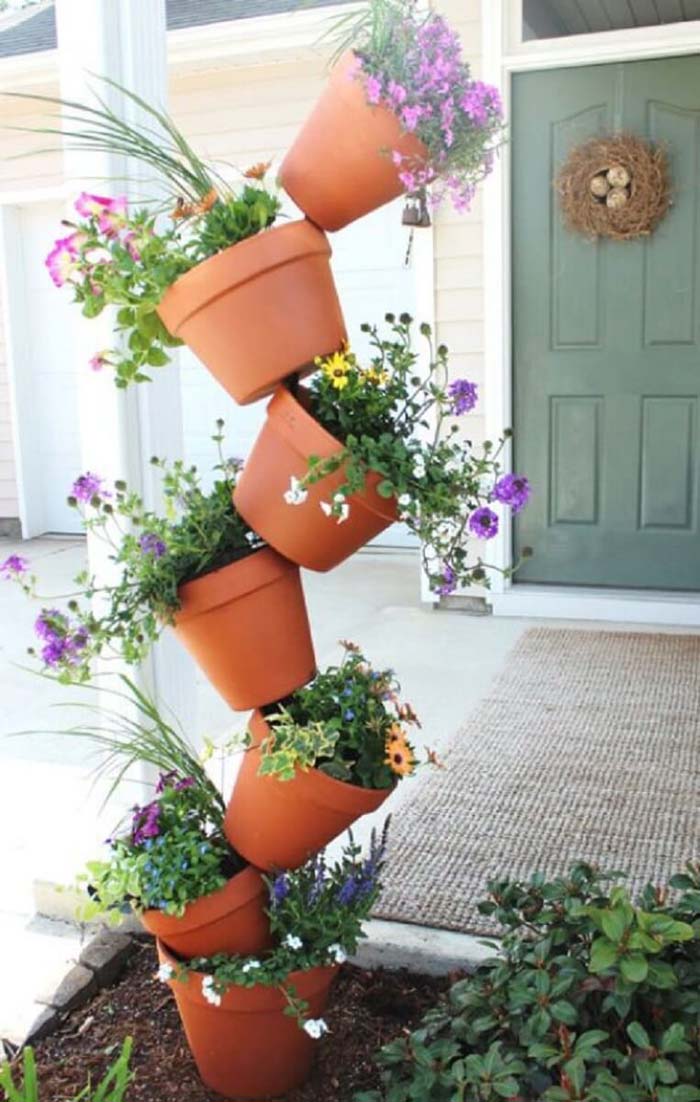 Sometimes an intriguing shape of the flower planter could create a point of interest that will be just enough decor for the front porch.
Stacking identical terra cotta pots onto metal rebar at an angle will create a vertical garden in a very affordable way.
via We Heart This
51. Rustic Flower Display with Window in a Wrought Iron Washtub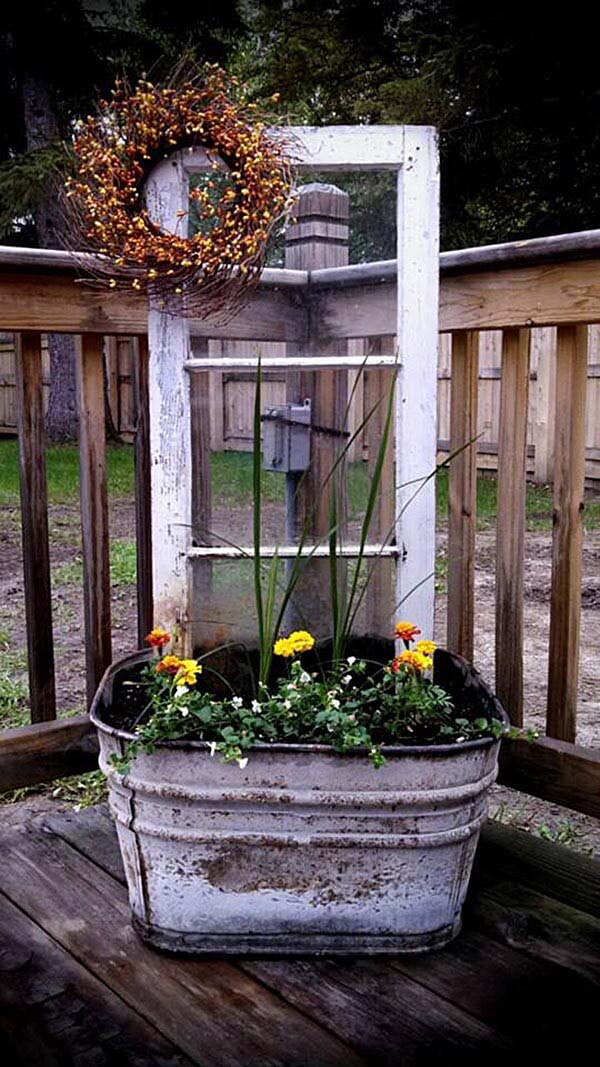 This rustic setting can be easily recreated for almost no money. Insert an old window into a galvanized rusty washtub.
Fill it with soil to secure the window and to prepare the container for the planting of flowers.
Gove the top of the arrangement another floral accent by hanging a wreath.
52. Enhance Your Porch with a Wrought Iron Bicycle Planter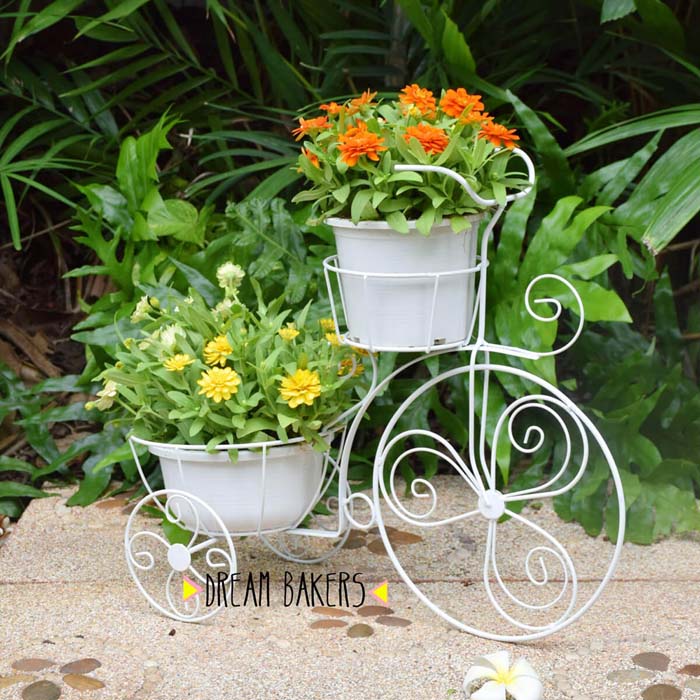 Use a farmhouse symbol for your front door decoration to increase its welcoming ambiance.
A wrought iron bicycle is both a charming and functional planter as it can hold two flower pots on two different levels.

53. Create a Functional Entryway with Multifunctional Door Décor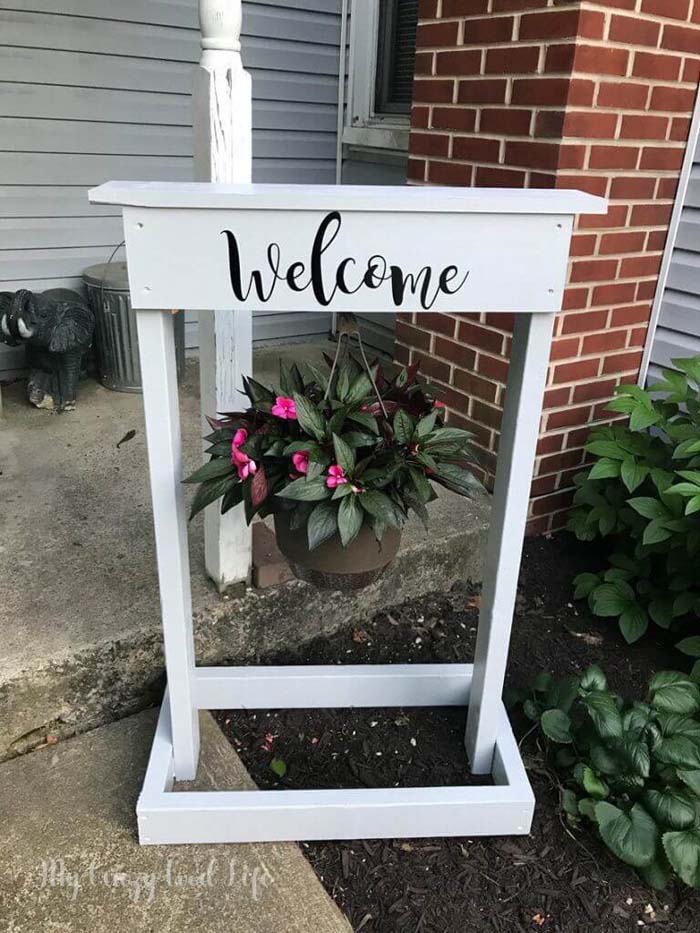 Do you like multifunctional decor? This one is all you need for your front door.
It is a combination between a sign, a flower stand and a shelf that can easily be done by anyone as long as the instructions below are followed.