The end of summer doesn't mean that the gardening season is over — the fun is just getting started.
With fall-friendly container gardens, you can add a festive splash of color to your porch, deck, or patio.
The trick is to find plants that thrive in cooler weather; to help you select the best option for your home, we've collected the best fall flowers for pots.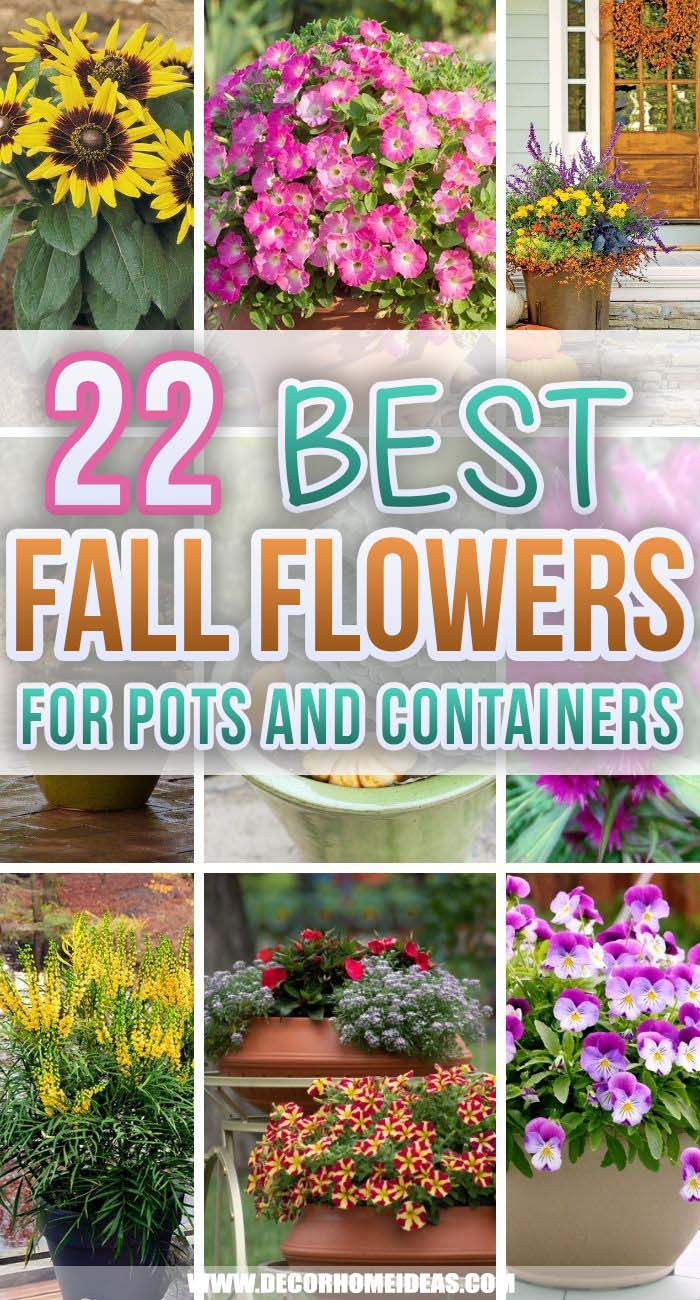 What can I plant in pots in the fall?
Flowers are fleeting, so keep the show going all season long by choosing fall container plants with rich foliage that looks lovely in autumn. Potted plants when well-arranged will take your front porch from ordinary to outstanding as the list below is filled with great fall flowers.
Best Containers For Fall Flowers
We recommend these fall planters to complement your fall decoration:
1. Aster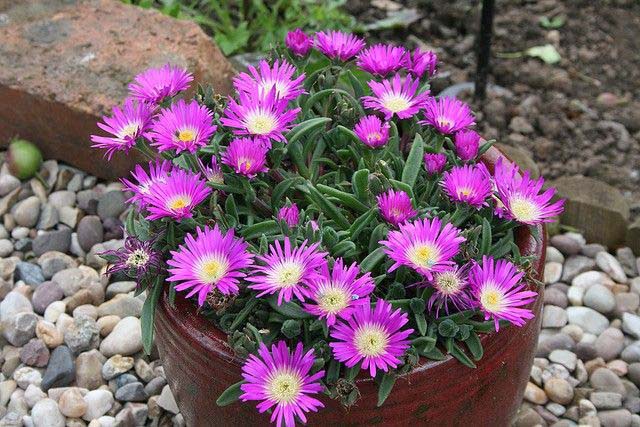 Botanical name: Asteraceae
USDA Zones: 3 – 11
Fresh and lovely, the aster brings a stunning wash of color to your fall container garden.
Choose from a range of colors, including purple, white, blue, and pink. Every variety is small and delicate, so it adds a wild feeling to an otherwise orderly space.
2. Black-Eyed Susan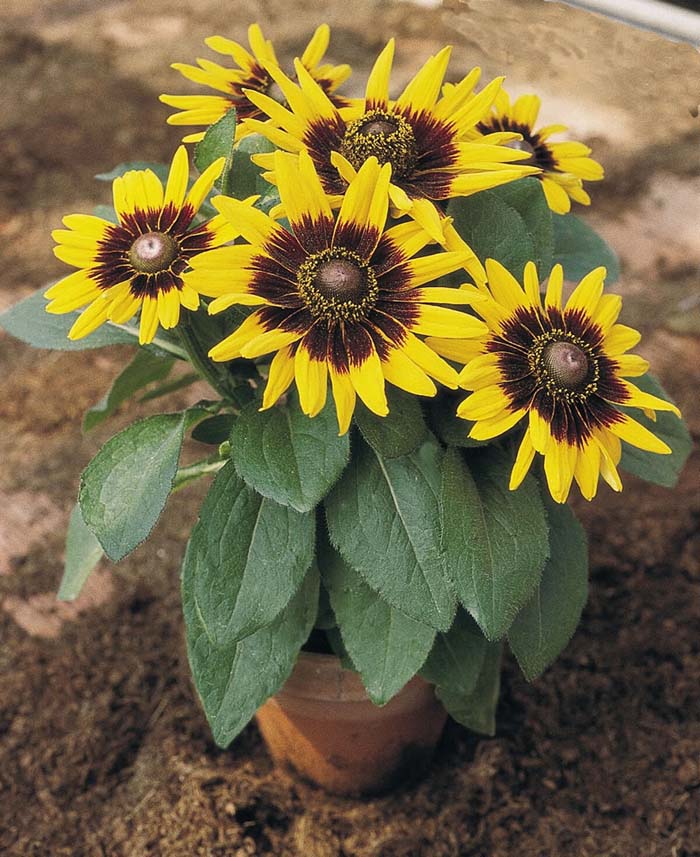 Botanical name: Rudbeckia
USDA Zones: 3 – 8
Get in the autumnal spirit with the black-eyed Susan.
With its rich golden petals and dark-brown centers, this classic fall flower sets the tone for Halloween, Thanksgiving, and the changing leaves.
It's extremely easy to grow, so it's a good choice when you're short on time.
via Brest SK
3. Caryopteris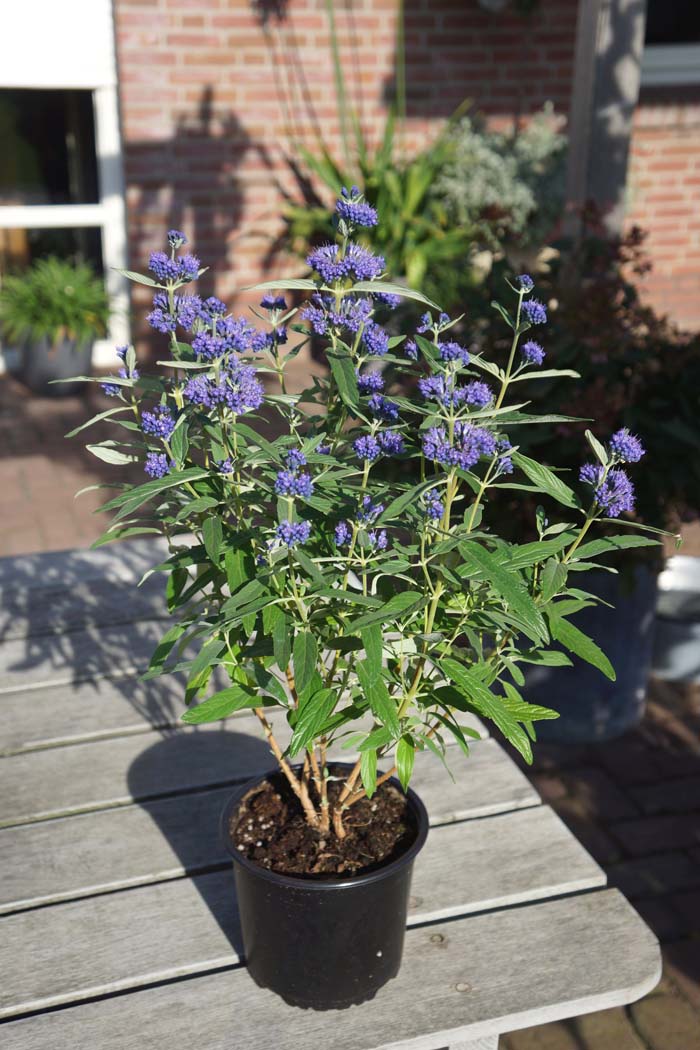 Botanical name: Caryopteris
USDA Zones: 5 – 9
Give your fall garden a little something special by planting the otherworldly caryopteris in a planter.
This plant has delicate but strong stems that grow straight up. Pointed grey-green leaves extend horizontally, giving the plant a wild and exciting style.
Topping it all off are clusters of tiny purple flowers that rise high above the planter. Since the flowers have ample nectar, this plant attracts bees and butterflies.
4. Celosia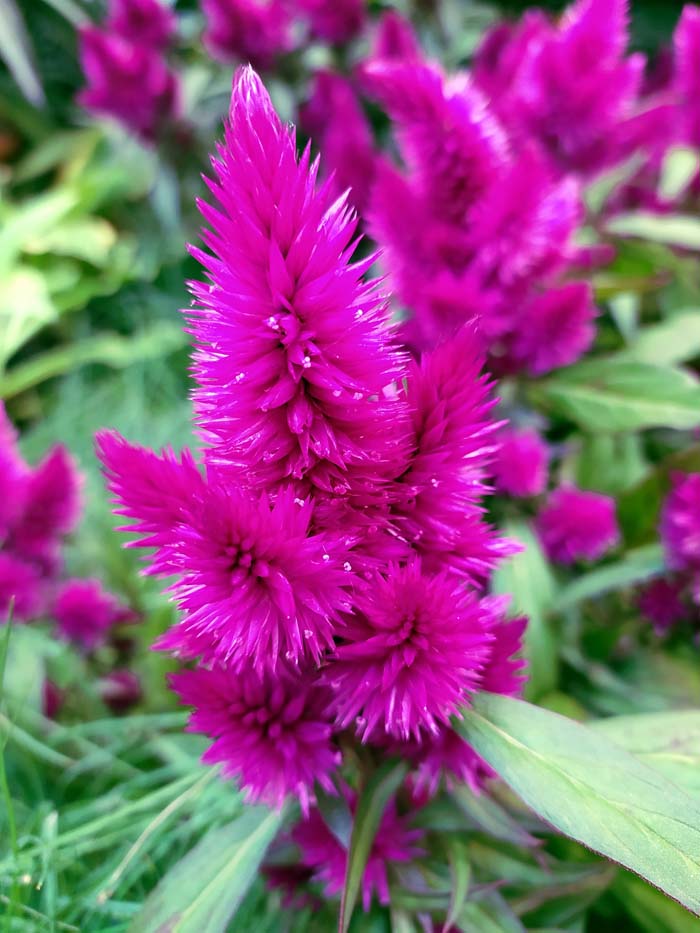 Botanical name: Celosia
USDA Zones: 10 – 12
When you want to create a fall container garden that stands out from the crowd, celosia is a must.
With its grey-green leaves and purple flowers, it's a head-turner. The real magic lies in the shape of the flowers: they grow in multi-pronged spikes for a bold, almost alien look.
5. Coleus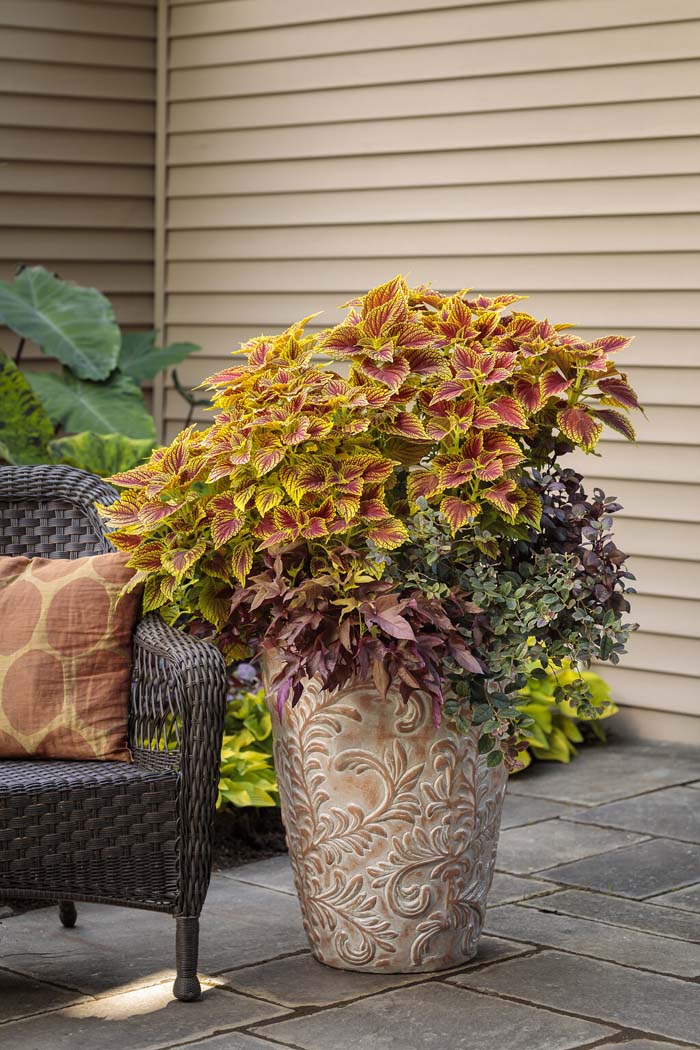 Botanical name: Coleus scutellarioides
USDA Zones: 8 – 11
Do you have an outdoor area that gets a great deal of indirect sunlight?
The coleus will thrive in your planters. This showstopper features huge, lush red leaves with striking yellow edges.
When you plant it in a tall container, it can reach several feet tall throughout the fall.
via Proven Winners
6. Coneflower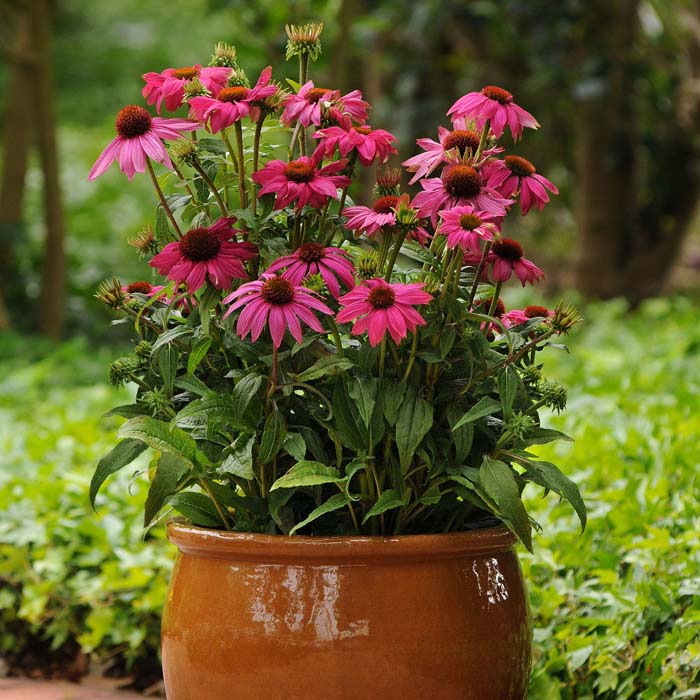 Botanical name: Echinacea
USDA Zones: 3 – 8
The coneflower lives up to its name — each bloom features a large, tall center that sometimes grows into the shape of the cone.
The daisy-like petals extend out and droop downward, adding to the distinctive profile.
Choose coneflowers in a wide range of vibrant tones, from deep orange to brilliant pink. For best results, make sure your potting soil is well-drained.
7. Coral Bells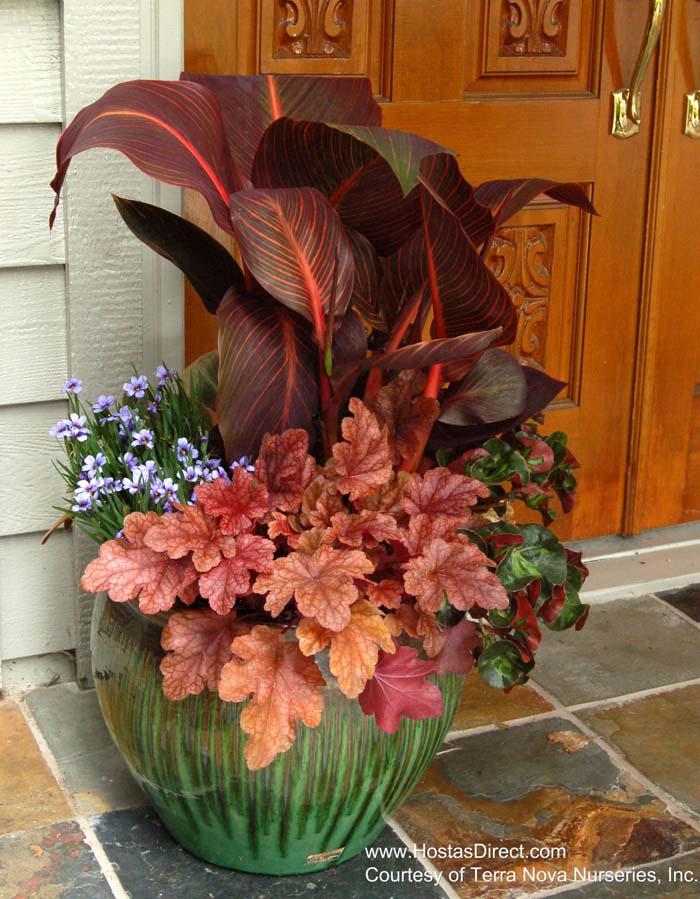 Botanical name: Heuchera
USDA Zones: 4 – 11
Do you need a plant to fill a large, spacious planter?
Coral bells can fill the space and bring dimension and texture to your garden. Before it flowers, this delightful plant grows enormous, colorful leaves that overlap in layers.
Flower spikes rise high above the leaves, supporting the delicate bells. The effect is charming, and the richly colored leaves are ideal for autumn gardens.
8. Goldenrod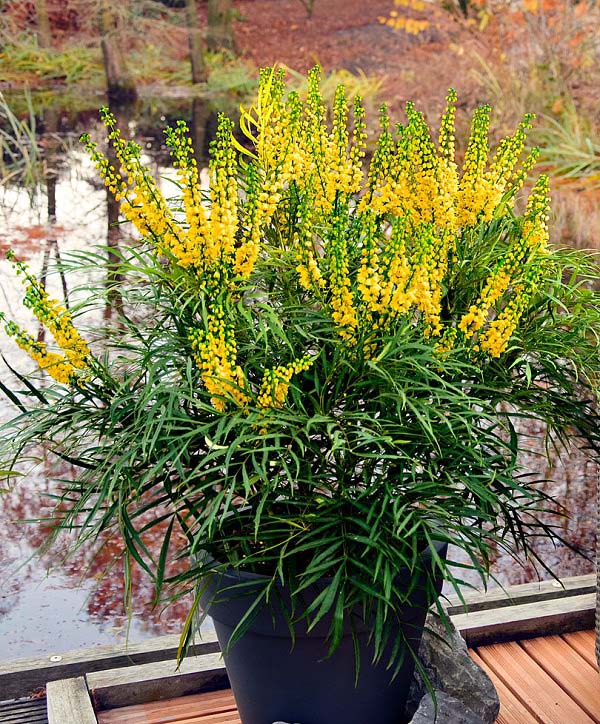 Botanical name: Solidago
USDA Zones: 4 – 9
Bring a cheerful vibe to your front entryway by flanking the door with two potted goldenrod plants.
Each plant grows many different flower spikes, creating a wash of sunny color that looks great through the summer and into the fall.
9. Impatiens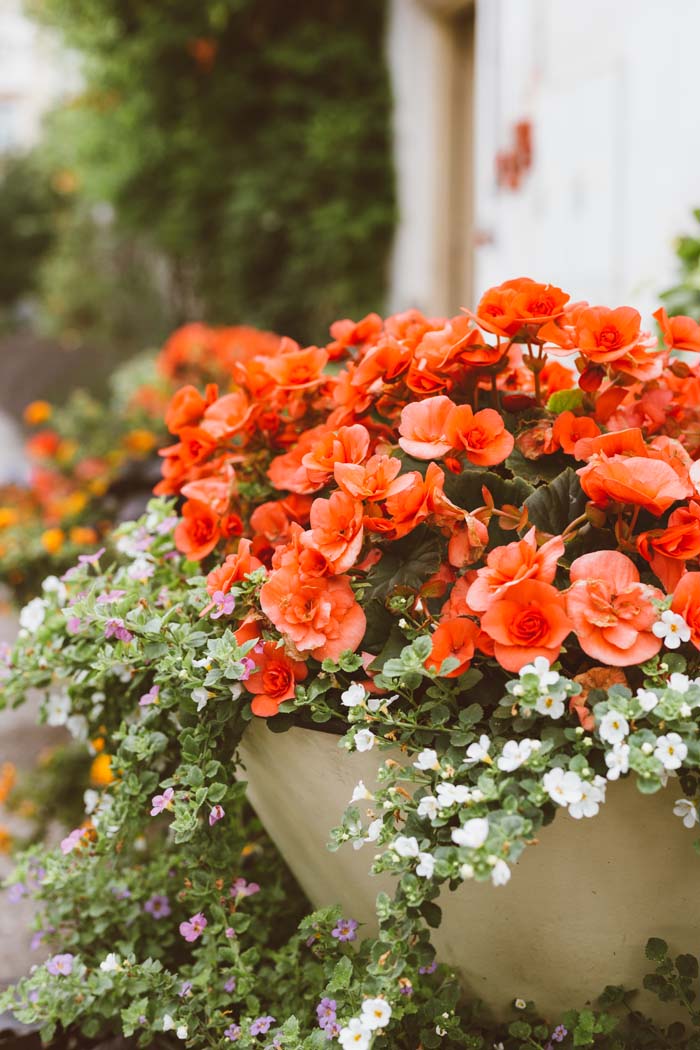 Botanical name: Impatiens walleriana
USDA Zones: 2 – 11
Are you searching for fall flowers that grow in shaded locations? Impatiens is a wonderful option.
The brilliantly colored blooms thrive away from direct sunlight, so you can place them under a covered porch or a large tree.
Make sure you have plenty of time, as these lovely plants need frequent watering and fertilizing.
10. Marigold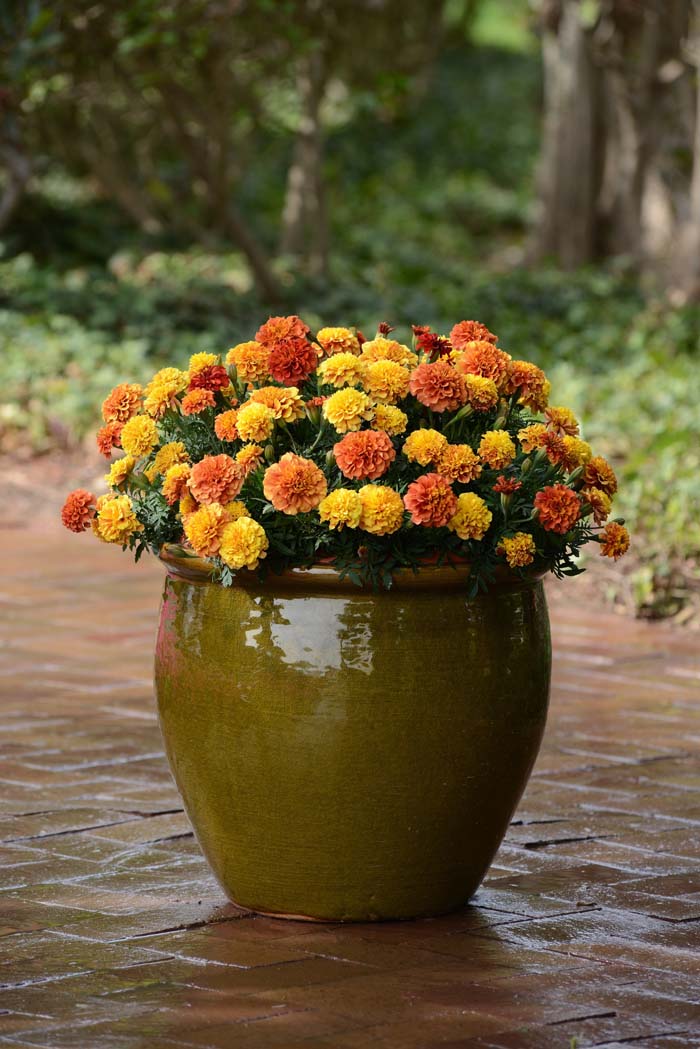 Botanical name: Tagetes
USDA Zones: 2 – 11
If the end of summer is making you feel blue, the marigold is the perfect addition to your fall plants.
These cheerful flowers feature a brilliant shade of yellow that brings new life to any part of your home.
If you use smaller containers, you can bring the flowers indoors before the first frost for long-lasting growth.
via Ball Australia
11. Million Bells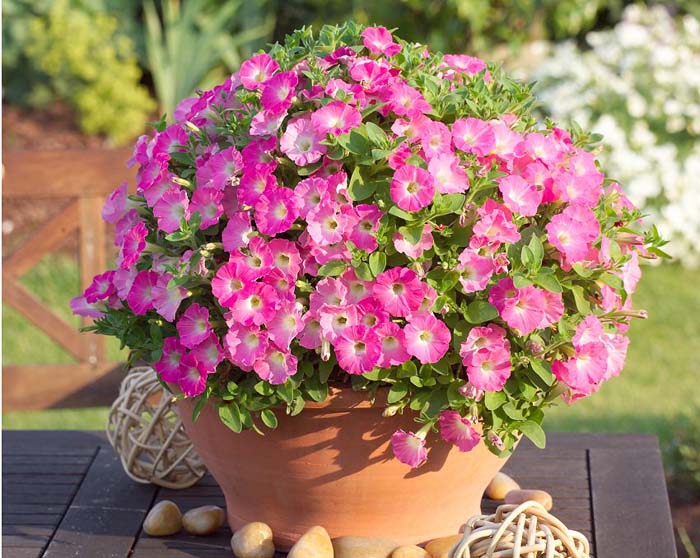 Botanical name: Calibrachoa
USDA Zones: 9 – 11
Million bells are aptly named; each plant grows a wealth of small blossoms, creating a lush look in a pot or a hanging container.
Make sure to choose a tall planter; the flowers will cascade over the side as they grow. These lovely orange and yellow flowers bloom steadily from late summer until the first frost.
12. Mums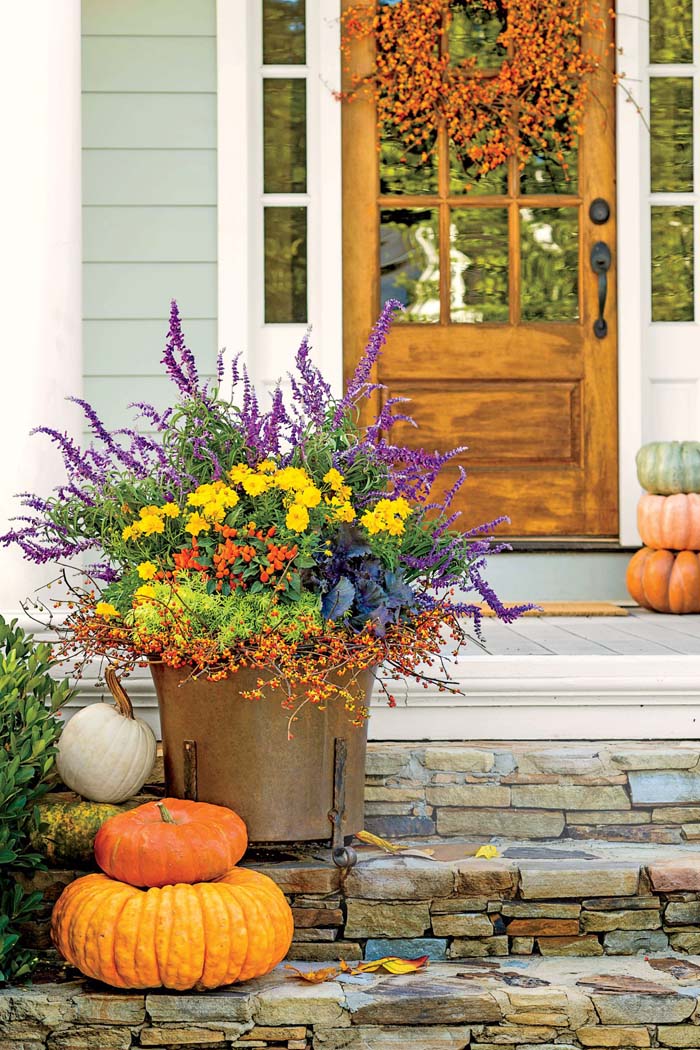 Botanical name: Chrysanthemum
USDA Zones: 3 – 11
Potted mums are a classic fall flower — they feature shades of gold, orange, and red, creating the perfect palette for the changing seasons.
When you're planting mums in a pot, make sure to choose options that aren't yet in full bloom; that way, you'll be greeted with a fresh wave of color after transplanting.
13. Ornamental Cabbage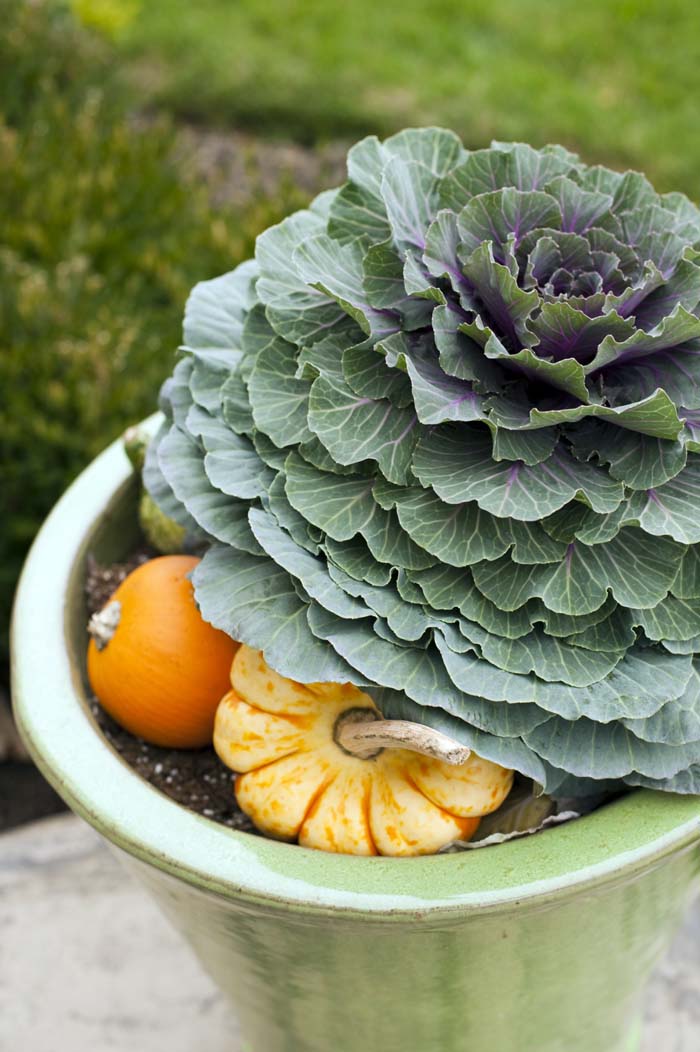 Botanical name: Brassica oleracea
USDA Zones: 2 – 11
It's impossible not to smile when you see an ornamental cabbage — with its huge size and intricate leaves, this whimsical plant looks like something out of a fairy tale.
These inedible cabbages make a big, bold statement in a pot; you can even tuck a few squash or miniature pumpkins around the base for an extra pop of fall fun.
via Brick and Batten
14. Oxalis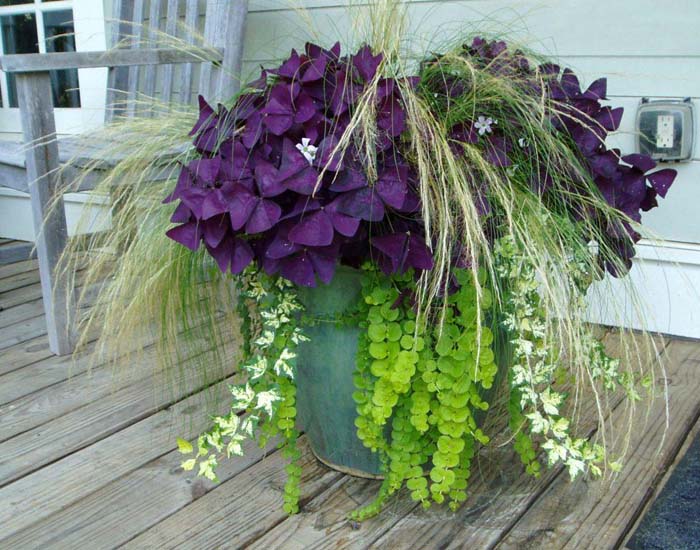 Botanical name: Oxalidaceae
USDA Zones: 7 – 11
Bring an unexpected hint of fall color to your porch with the oxalis plant.
The fun starts right away with the triangular leaves — some varieties come in a dark shade of purple, giving your space a deep, moody vibe.
Tiny, pale-pink flowers start to bloom in the late summer, creating a gorgeous contrast.
15. Pansy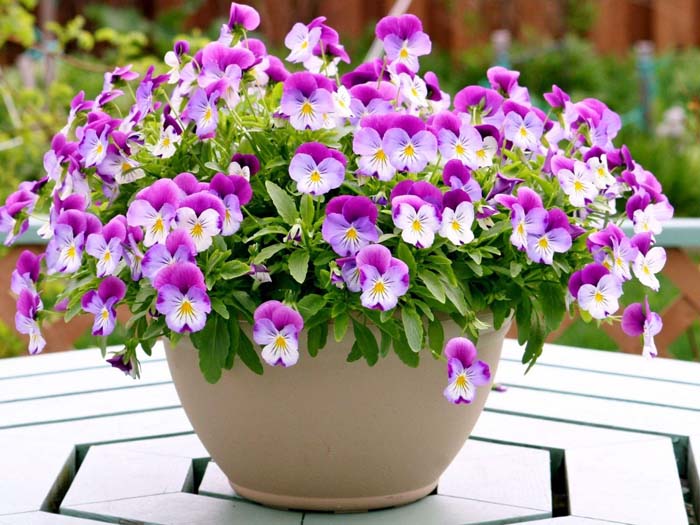 Botanical name: Viola tricolor var. hortensis
USDA Zones: 6 – 11
Is there a flower that's prettier than the humble pansy?
With its smooth, rounded petals and velvety surface, this fall flower is an instant upgrade for your front porch steps.
This is a great choice if you live in a cooler climate — pansies are pretty but tough, so they can handle cooler temperatures. When winter starts to approach, bring your pots inside to brighten up the kitchen.
16. Petunias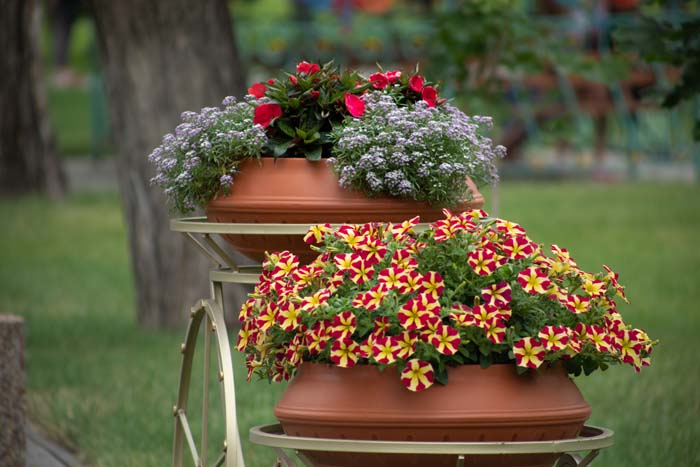 Botanical name: Petunia
USDA Zones: 9 – 11
You might think of petunias as a summer flower, but with the right type of upkeep, you can keep the color going strong into the fall.
The bright purple, white, and pink tones look striking next to your autumnal yellow and orange plants, creating a riot of color that's sure to bring a smile to your face.
17. Sneezeweeds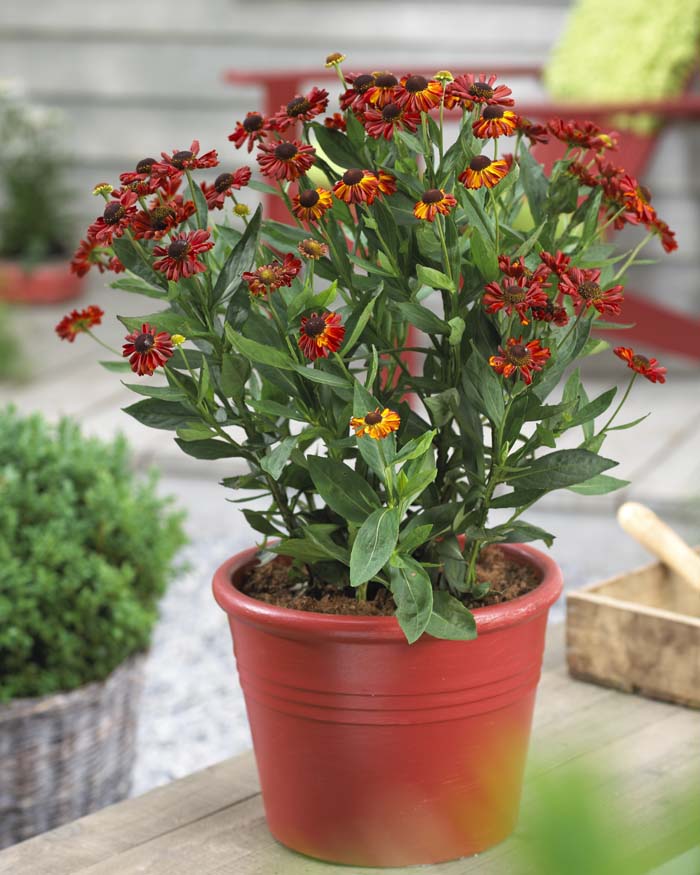 Botanical name: Helenium
USDA Zones: 3 – 8
"Sneezeweeds" is a strange name, but it's a spectacular plant.
Also known as helenium, this stunning fall plant creates enormous blooms in gradients of pink, red, orange, and yellow. Large black and yellow centers add a thrilling contrast.
Whether you're enjoying them in an outdoor setting or cutting them for indoor display, the sneezeweed flowers brighten any space.
18. Stonecrop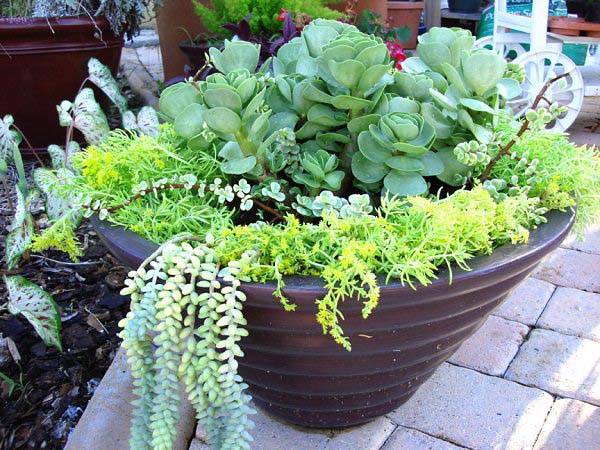 Botanical name: Sedum
USDA Zones: 4 – 10
The stonecrop is a type of succulent that's hardy enough to weather a wide range of weather conditions.
Don't worry if you forget to bring it in before the first frost — this pretty little plant will look just as great after the freeze.
Plus, you can place it in almost any area for convenient planting.
19. Sweet Autumn Clematis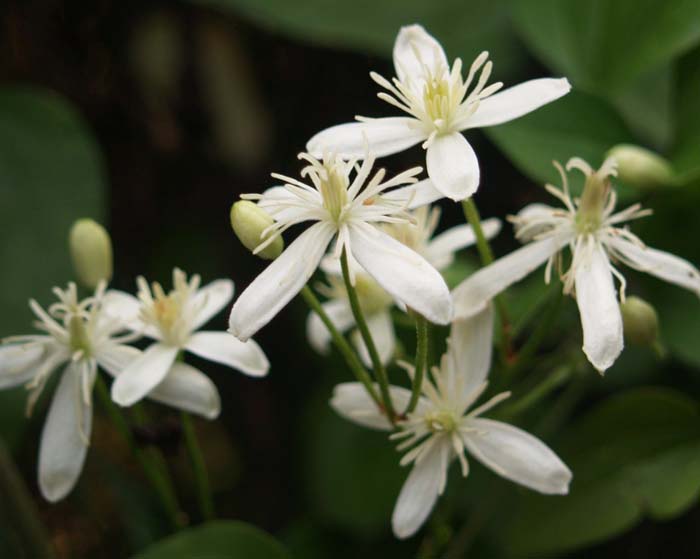 Botanical name: Clematis terniflora
USDA Zones: 4 – 11
Add a hint of levity to your orange and yellow fall container garden with the humble sweet autumn clematis.
This fall-blooming flower features four delicate petals and a wispy center, each perched on a delicate green stem.
Use it as a standalone plant or pair it with green foliage. It's particularly lovely on the porch — the sweet smell enhances your afternoon tea.
via Dave RM Farm
20. Toad Lily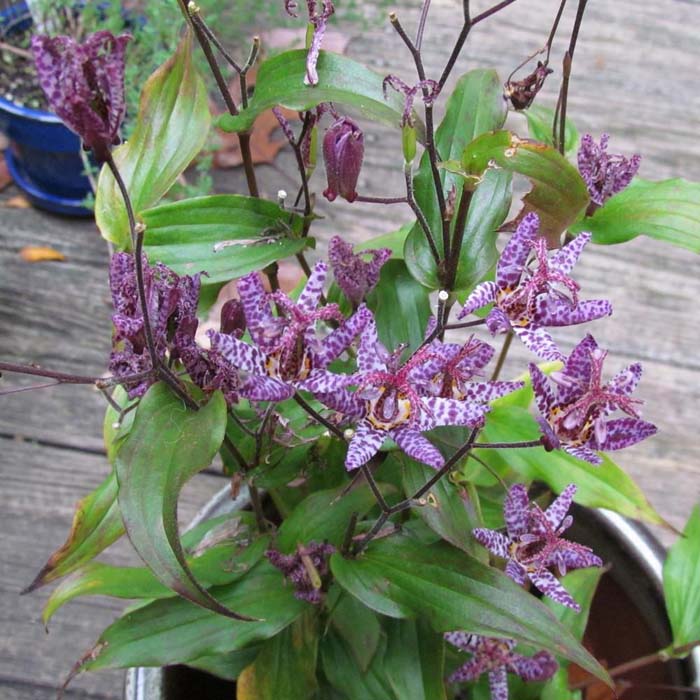 Botanical name: Tricyrtis hirta
USDA Zones: 4 – 9
When it comes to unusual fall flowers, the toad lily stands alone.
Each large petal features a dark and light pattern that resembles the texture of a toad's skin.
That's where the similarities end — this lovely flower is elegant and eye-catching, making it a good option for your front porch or backyard deck.
via Garden ORG
21. Verbena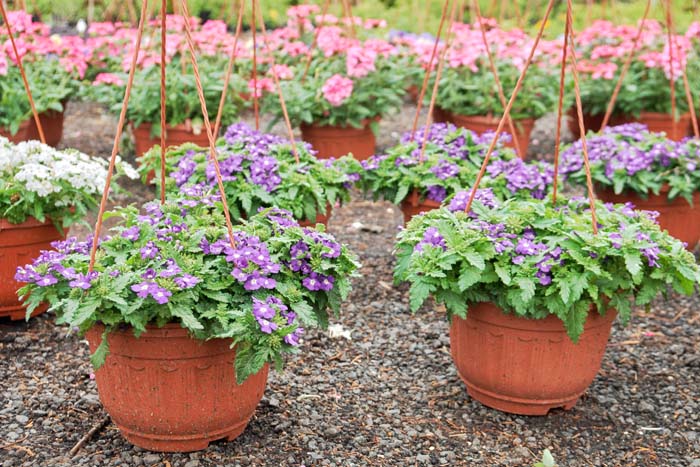 Botanical name: Verbena
USDA Zones: 7 – 9
Don't have time for a fresh planting in the fall? The verbena is a plant that blooms in the summer and keeps going into the autumn months.
Just plant it with your other summer flowers, and you can enjoy the vibrant clusters of flowers until the first frost. This is a great option for hanging planters; the stems will cascade down the sides for extra impact.