Want to improve your backyard without going over budget? We've got your back.
It doesn't have to be expensive or time-consuming to upgrade your backyard.
Your ordinary green space may be transformed into the ultimate outdoor escape with a few simple DIY deck projects and design techniques.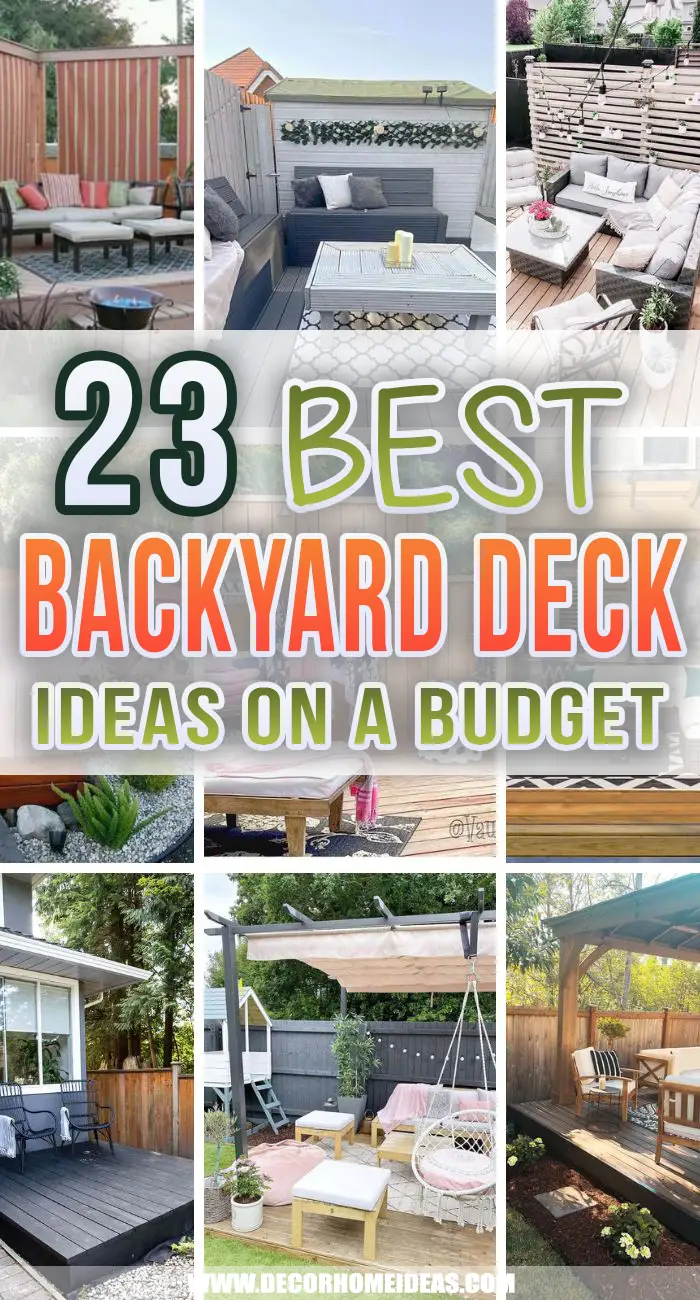 To build a backyard that you'll adore, try one or more of these backyard deck ideas on a budget and every day will turn into a stay-cation.
1. Corner Oasis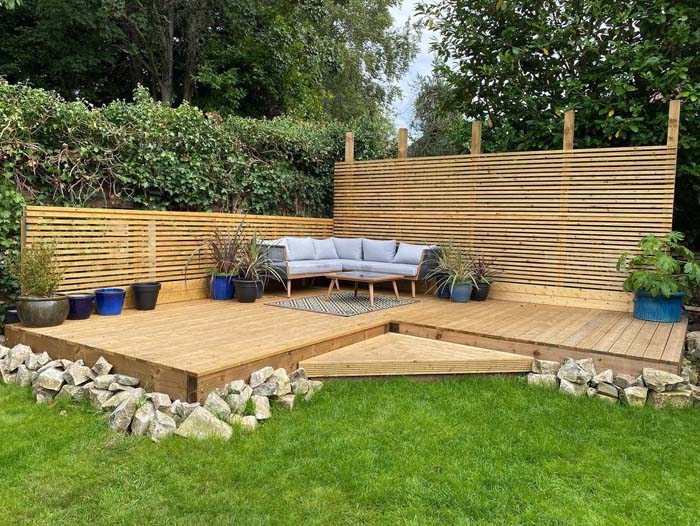 Here's a labor-intensive but definitely doable DIY design. The fence adds a ton of privacy.
The wooden deck is surrounded by large rocks that keep weeds from growing near the edge of the grass line. The corner sofa is an example of the evolution of patio design.
via The Eagles Nest
2. Add Throw Pillows and Lights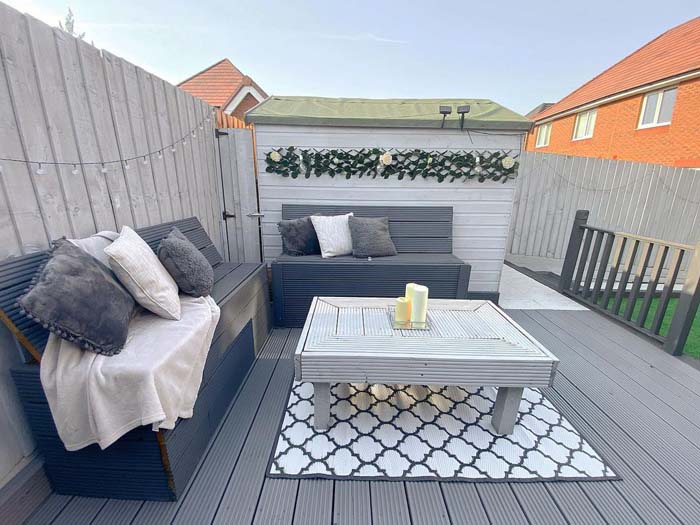 The most innovative backyard ideas bring elements of a family room or living room to an outdoor space.
Composite decking doesn't have to be boring. Simple wood patio furniture and an industrial style coffee table get an upscale look using an outdoor rug, throw pillows, blanket, and a string of lights across the fence.
3. Pergola Adds Dimension and Height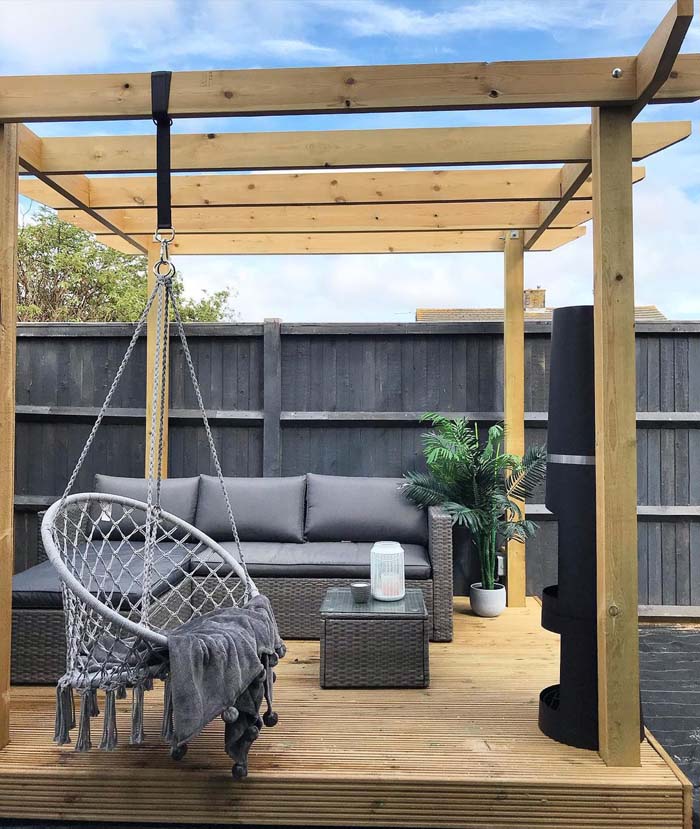 Adding a pergola creates a covered deck, defining the space. The L-shaped sectional patio sofa is great for stretching out or extra seating. 
Drop a hanging chair from the pergola and toss a blanket on it for extra coziness. The space takes cozy over the top when it's warmed up by the patio heater.
4. Covered Pergola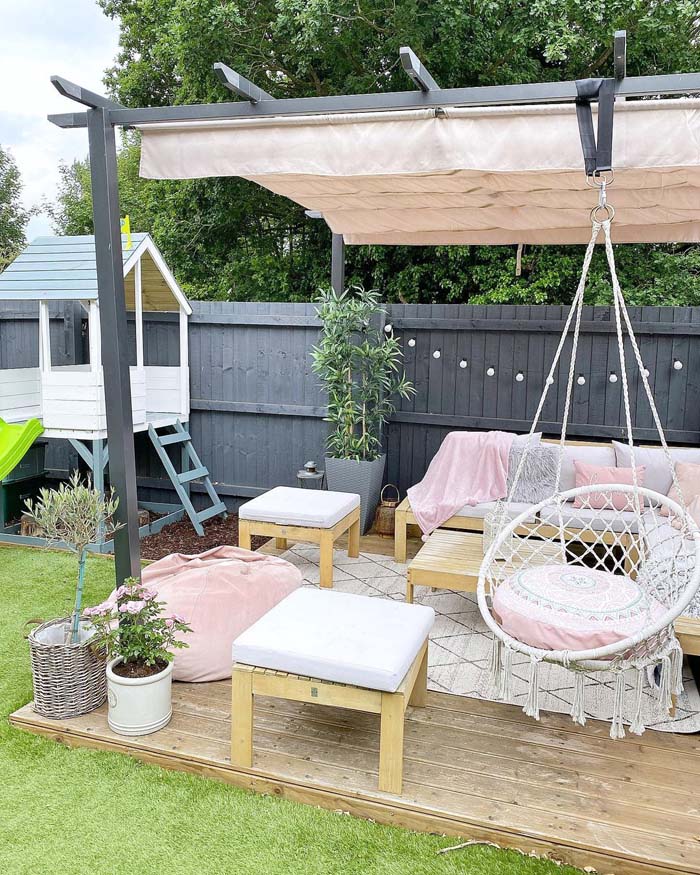 For more protection from direct sun, the homeowners dropped a covering across the top.
A hanging chair, throw rug, and bean bag add to the fun. Removable cushions turn side tables into extra seating.
via Lucky Plot 13
5. Create an Oasis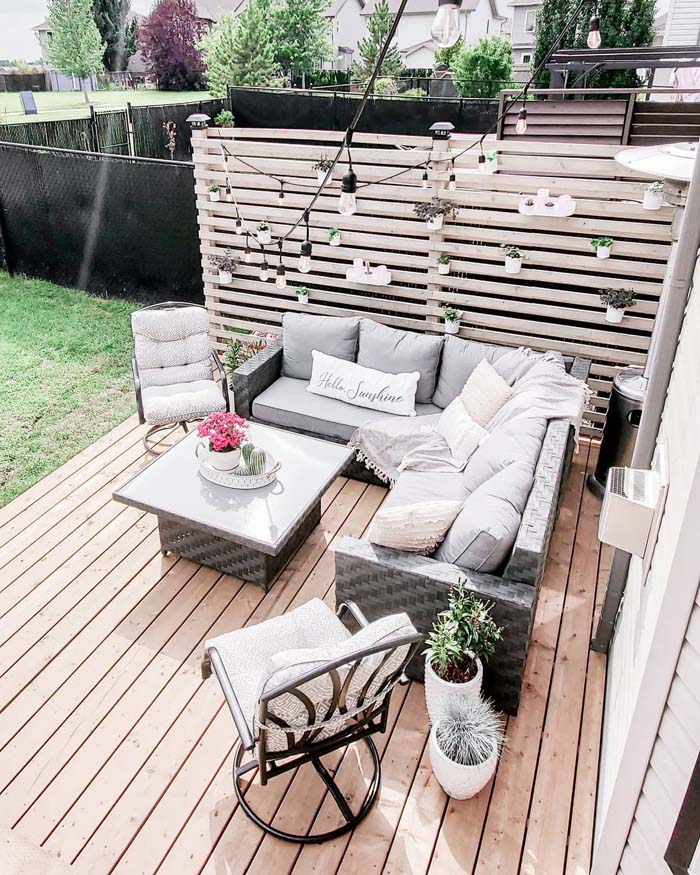 A privacy fence, some hanging lights, and vertical planters are all that was needed to create a comfortable outdoor living space.
Basic patio furniture is enhanced with throw pillows.
6. Level Up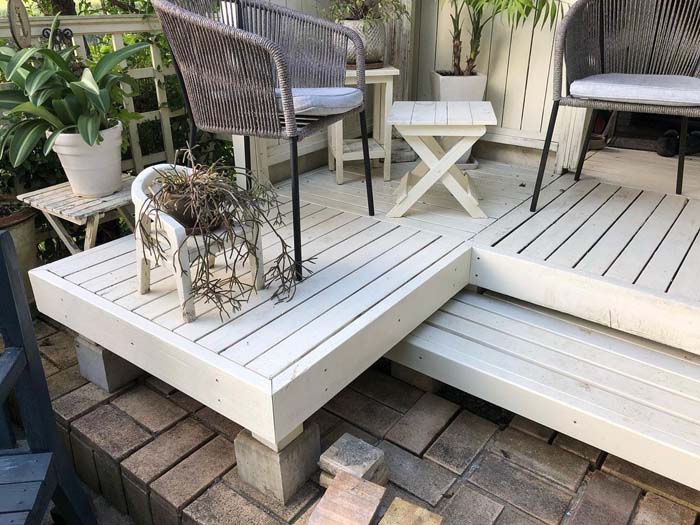 When you feel as if you really can't do anything with your brick patio, raise the deck. These homeowners installed composite decking over a brick foundation using concrete blocks.
They added a step that leads out to the yard. It makes it easier for anyone who just wants to sit outside from navigating the steps.
This could be a welcome relief if you have elderly family members or disabled family members in the home.
7. Outdoor Extension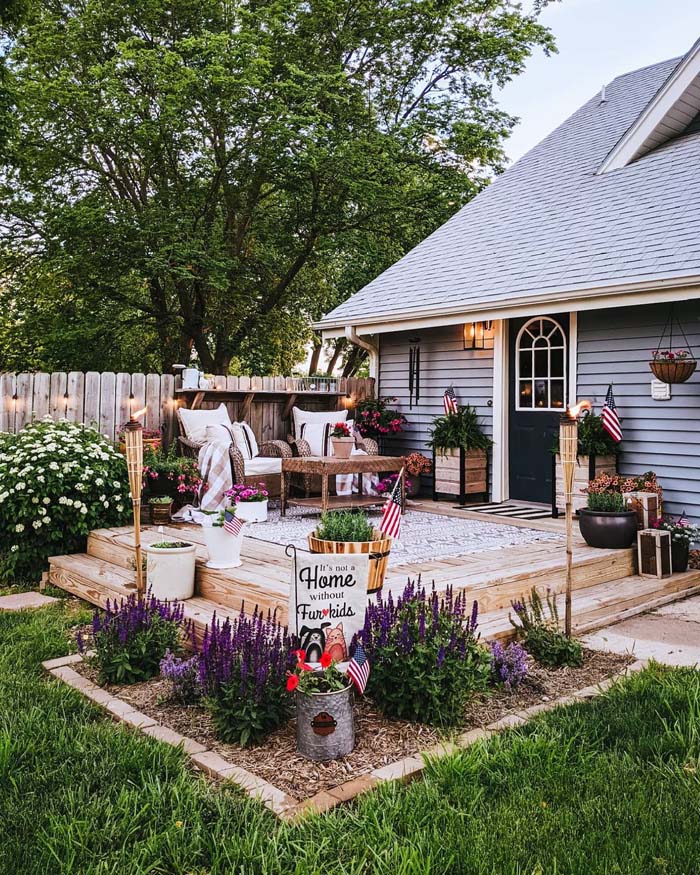 These homeowners built an oasis by using a deck to add an extension to their home. They added a patio director for a lounge area.
Outdoor rugs are great for defining a space and this one nearly covers the entire deck. With a few changes, this could easily be an outdoor kitchen as well.
via Timber Fields
8. Privacy Fence Does Double Duty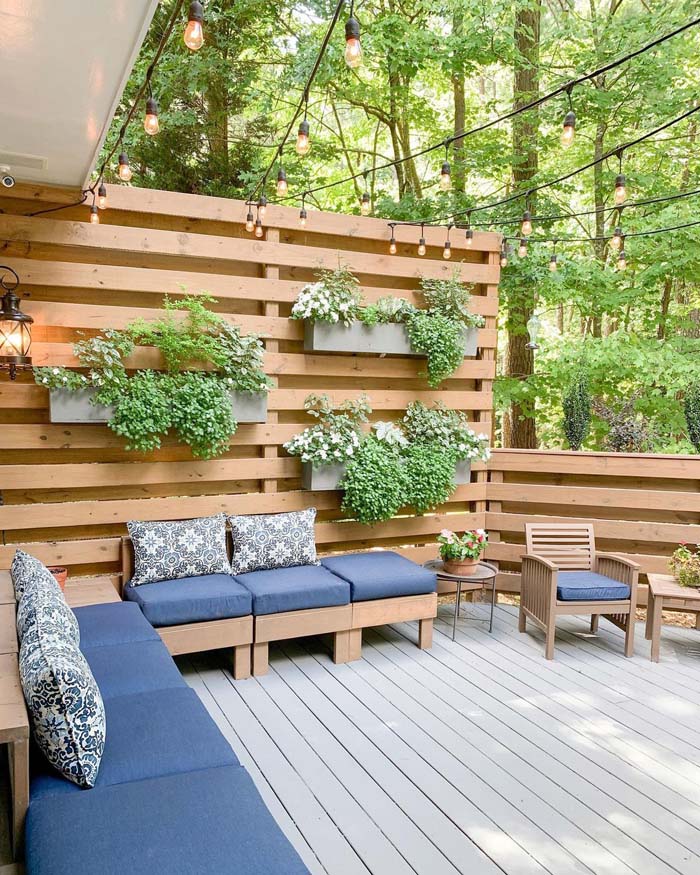 Privacy fencing that doubles as a vertical garden adds color while saving space. Simple outdoor furniture is made more comfortable with the use of throw pillows.
Rain runoff is controlled by using composite decking. Strings of light keep the party going well into the evening.
via Reveal My DIY
9. Fake a Window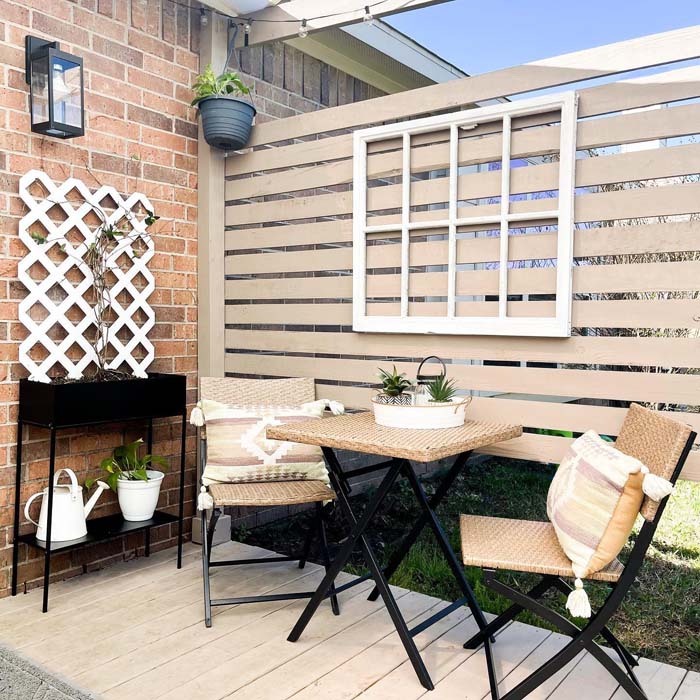 This is one of the cheapest budget patio ideas we've come across. Here, a vintage window frame has been hung on a privacy fence, giving the illusion of an indoor dining nook in an outdoor area. The simple deck boards are dropped onto the grass. The trellis over a raised garden planter will add more color as the season moves into the warmer months.
This small patio vignette can be transformed into other patio ideas. Think about using concrete pavers instead of splurging on a deck board bundle. You can pick up pavers at Home Depot and have this set up in a couple of hours.
A stamped concrete patio would be even cheaper per square foot.
10. Add an Office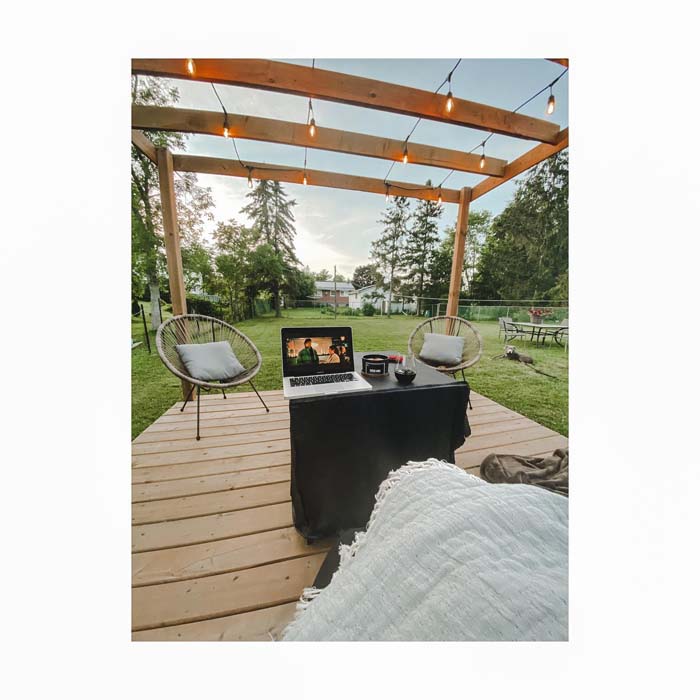 Whether you work from home full-time or part-time, it's always good to get out into the yard when you can.
This homeowner has set up a portable desk area to make it easy to access and roll away so they can get straight to relaxing after work.
11. Add a Fire Table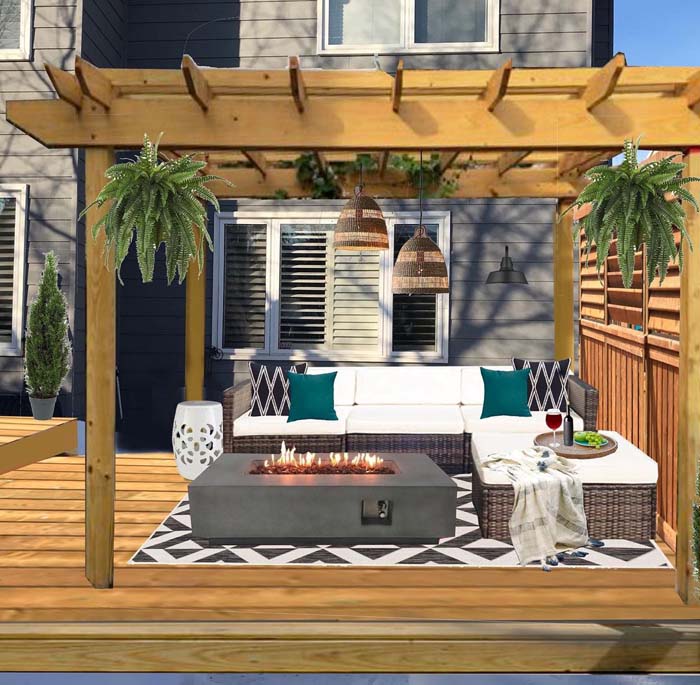 Add drama and warmth to your space with a fire table. Wooden decks can look new again by just re-staining it.
You can find similar side tables at home goods stores like Pottery Barn.
via Blooming DIY-er
12. Reuse and Refresh
If limited space is limiting your backyard patio ideas, take the party to the front.
Classic Adirondack chairs refreshingly painted in aqua blue add the right amount of color to this wood deck made from reclaimed wood.
via Mwando Mubanga
13. Poolside Relaxation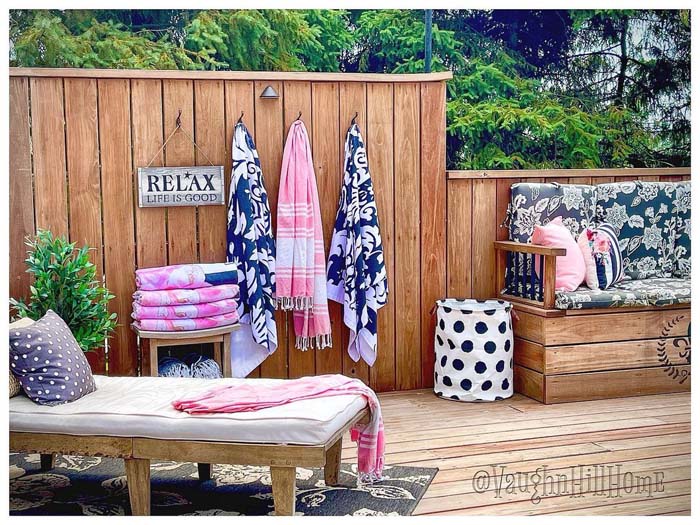 This type of pool deck is perfect for an above ground pool. Metal coat hooks keep towels off the fence. Colorful blankets and towels match the patio furniture cushions.
A fun polka dot hamper is there for wet towels. You can build a sunning lounge chair like the one pictured with leftover deck lumber.
via Carol Beckman
14. Extend the Living Area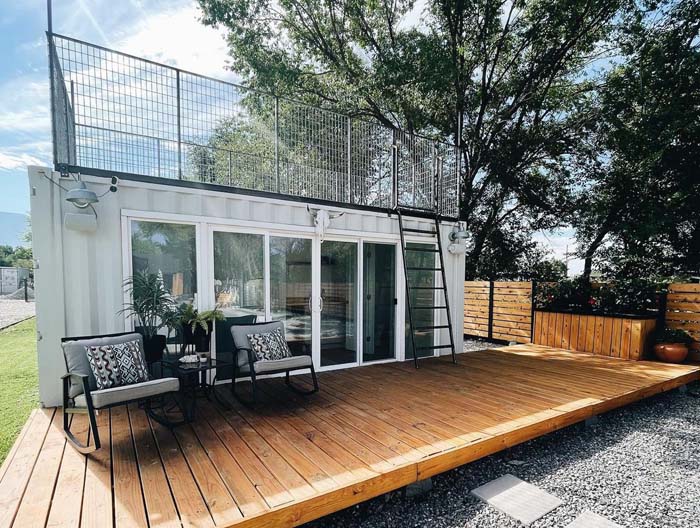 It's common to add a small floating deck to a tiny home made from a storage container. It's more comfortable than a gravel patio.
Storage containers are the shell that start many backyard ideas. This could work as a man cave or a pool house. They're also used as offices outside of the house.
15. Add Privacy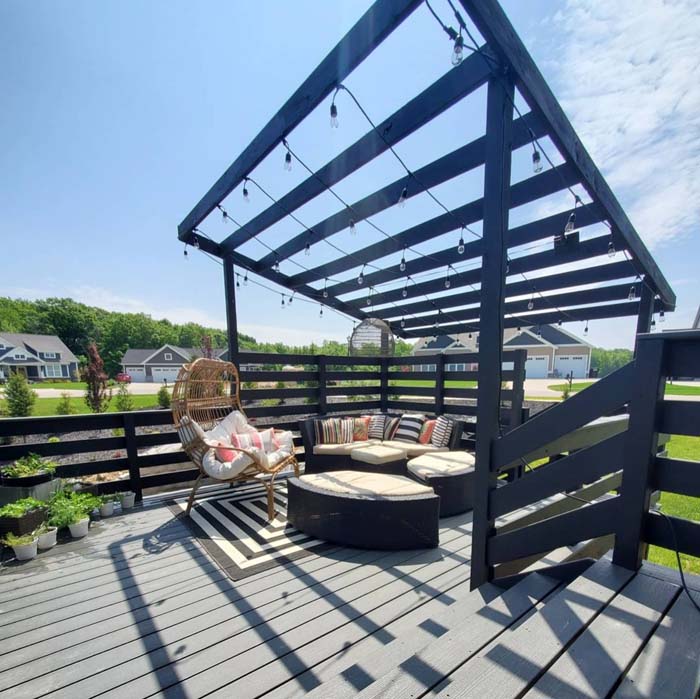 A tilted pergola not only makes a deck space more inviting, it can add a lot of interesting geometry with the angular patterns.
The back deck railing is higher for more privacy.
16. Pontoon Style Backyard Idea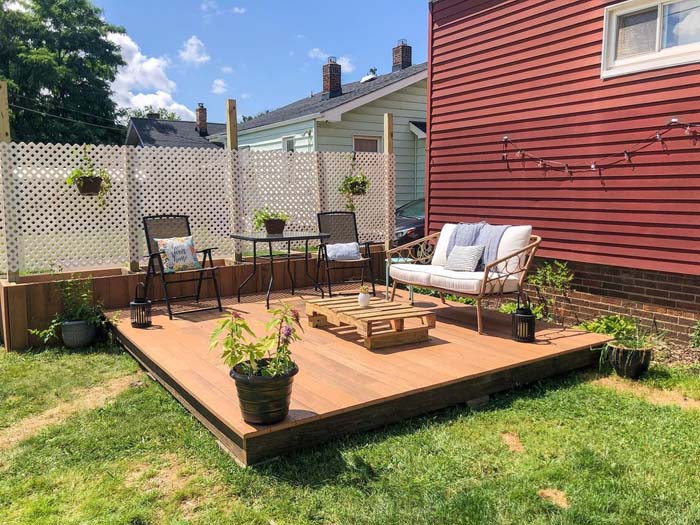 Take a look at this low-profile floating deck. It's a great backyard idea if you have a sloped backyard and a deck extension right off the backdoor isn't feasible.
A privacy fence lifted higher using raised garden beds brings privacy to the space. Reclaimed treated lumber and composite decking from another project were used to build the basis of this deck.
via Lolo Bay
17. Fire Pit and Barrel Bar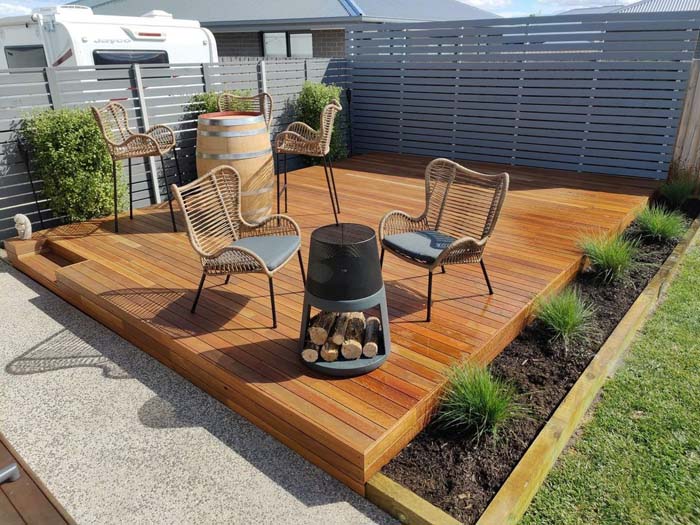 This deck was made using a product called Tuff Blocks. These allow you to set up the framing with ease. It's great for low profile decks like this beauty.
We love the beer barrel bar and bar stools on one side and a little fire pit on the other side.
via Build Tuff
18. Skirting is a Cheap Backyard Design Idea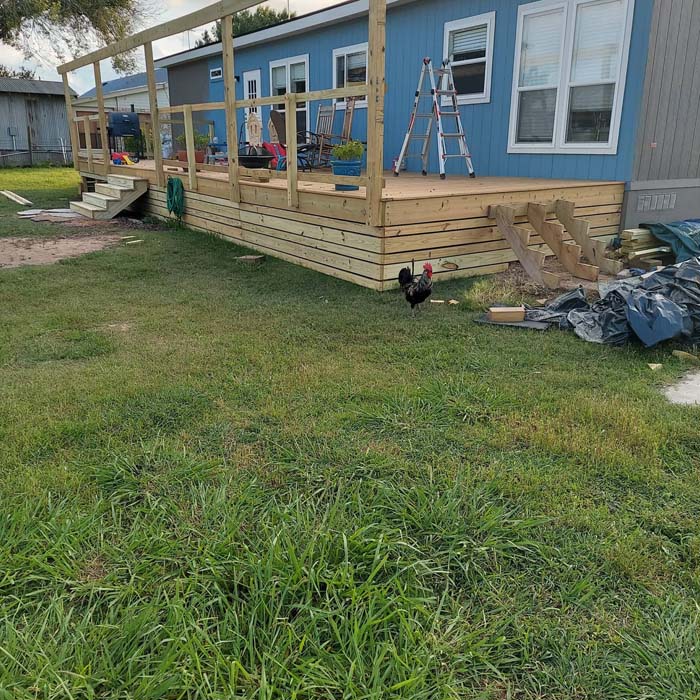 Skirting creates a nice, clean look to your deck. If you don't have a backyard patio, you can extend the deck.
This deck is still under construction, but you can see how it's going to extend the length of the house, giving the homeowners extra entertainment options for their outdoor space.
via Bean Berry Farm
19. Freestanding Patio Cover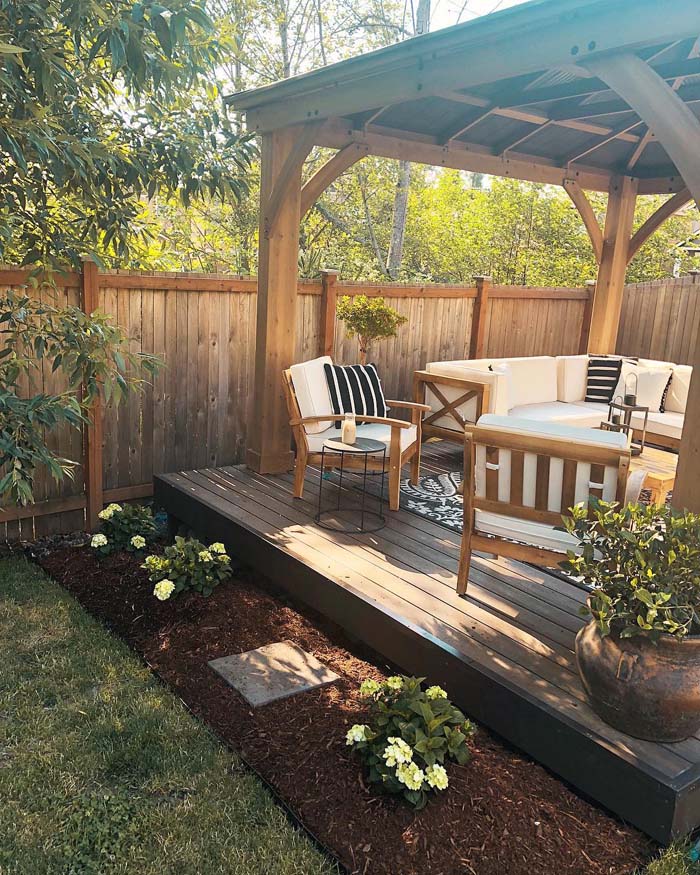 Some pergolas are simply slats positioned across a series of posts that are cemented into the ground.
Another type is the one shown here, which is also known as a free-standing patio cover. These can be assembled on top of a deck and their weight will hold them in place.
via Jess Hupf
20. Freestanding Deck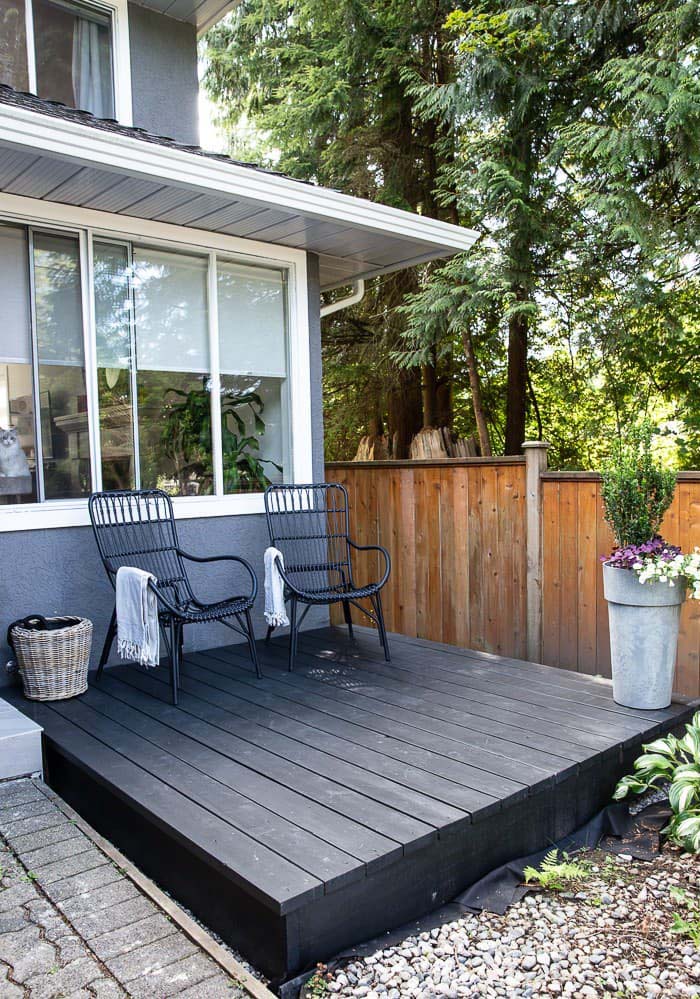 A free-standing deck can be a one-person project. This deck is in front of a home where they wanted to enjoy the sun.
It's a simple start to what can become a lovely place to enjoy a cup of coffee in the morning.
21. Elegant Edging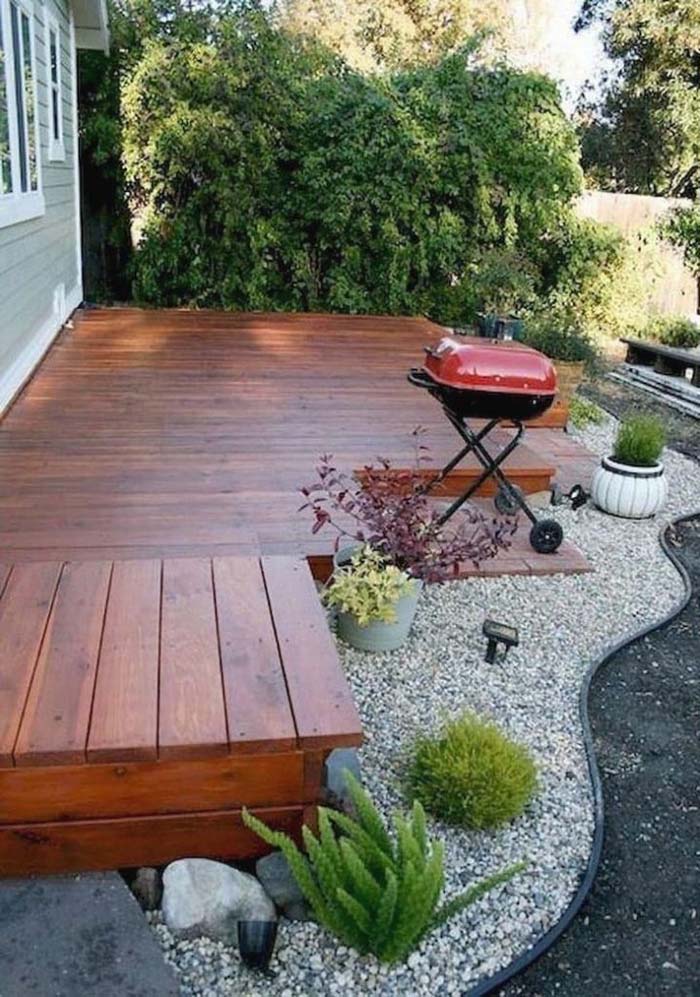 The rock garden alongside this low rise deck gets its color from crushed granite and a few low maintenance plants.
Rock gardens are cheaper to maintain than mulch and safer around charcoal.
22. Simple Intersection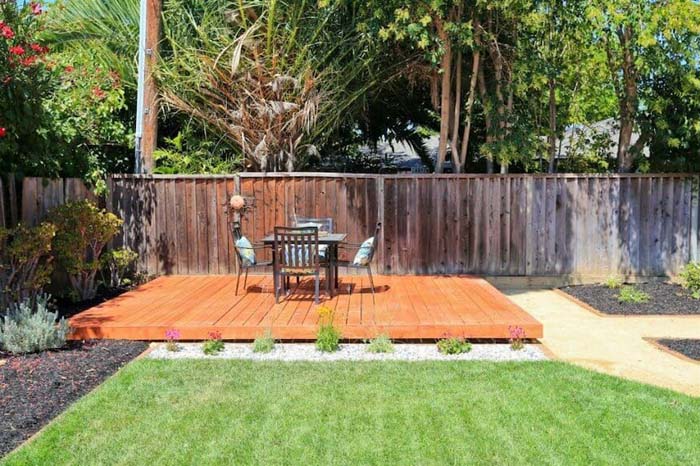 A large freestanding deck can provide a resting area instead of being an awkward, weed-filled corner.
This deck connects the pea gravel walkways and provides seating.
23. Backyard Backstage Lounge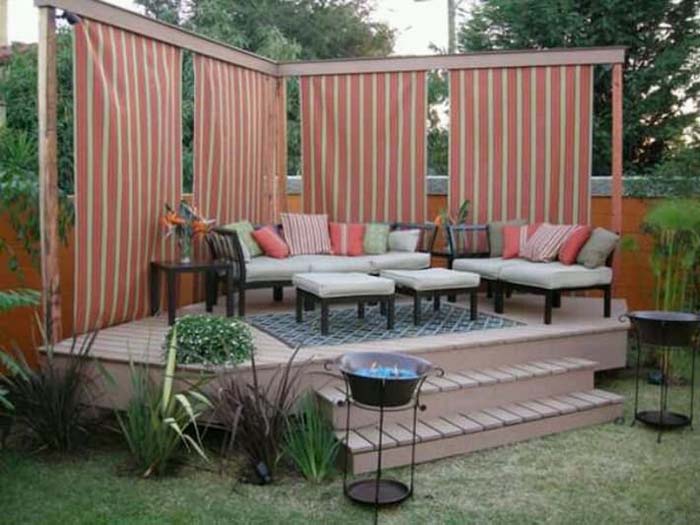 When lumber is too expensive, try fabric. This corner deck gets a big pop of color with the orange and stripes in the fabric panels.
Ornamental grasses cover the skirting underneath the raised deck, while tall citronella candles encourage everyone to take a seat on the large sofa and feel like a star.