Sloped backyards could be a real challenge to landscape when you are looking for an affordable way to improve your garden. Not to mention they are much more expensive than working on a leveled terrain. So what should we do?
The best thing is to get some sloped backyard ideas on a budget and start from there as we don't want to spend a lot of money on a landscape designer or company unless your a living in a million-dollar mansion, right?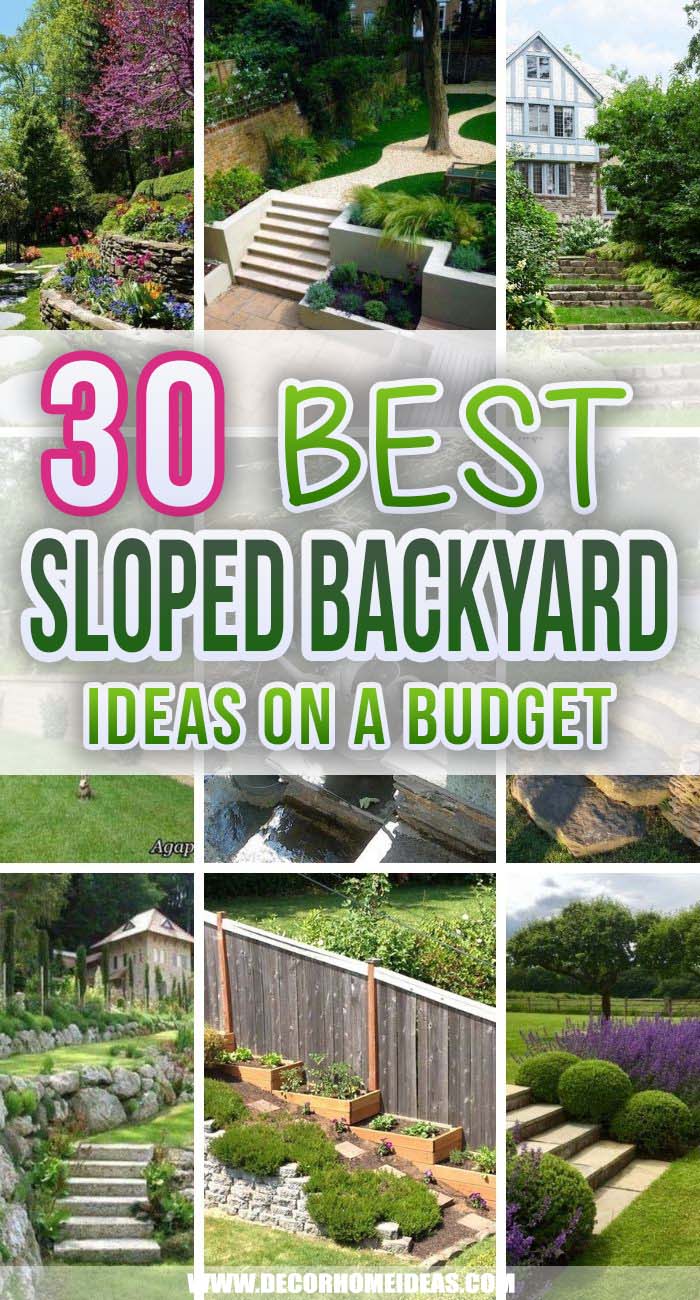 One of the challenges many homeowners face with landscaping steep slopes is soil runoff.
The topsoil on hills can easily wash off, leaving an unattractive and muddy mess. In this case, you may want to consider planting your hill with groundcover plants.
How do you landscape a sloped yard on a budget?
If you are looking for the cheapest options available, you can try with groundcover plants, rocks, mulch, or simple pavers.
What can I do with a sloped backyard?
Create a winding path or a staircase and try landscaping in tiers. Another option that is really beautiful is to build flower beds or vegetable gardens.
Create flat spaces with retaining walls that will give you a terraced landscape.
1. Budget Path for Sloped Backyard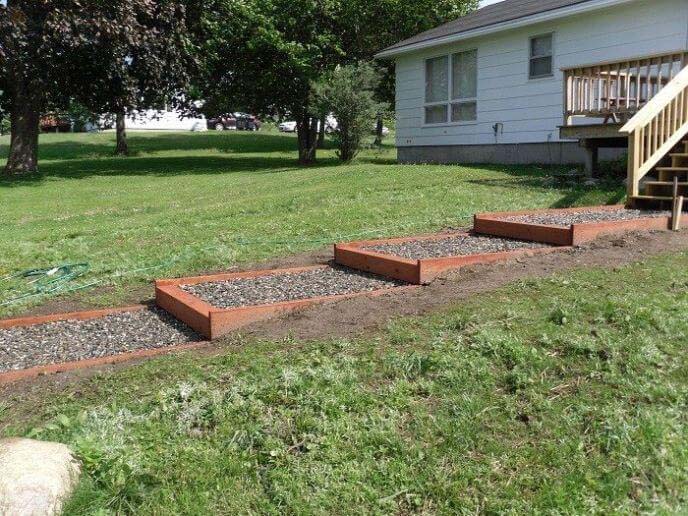 The homeowners created their own stairs using posts and two-by-eight sections of lumber for the side rails. Gravel steps are usually supported with a hard pack soil. They opted to fill the structure with topsoil.
This gives them the option of returning the yard to grass without dealing with removing the hard pack later on.
Decorative stone aggregate is filled up to the top creating a nice backyard idea.
via Scrappy Geek
2. Flower Garden On The Side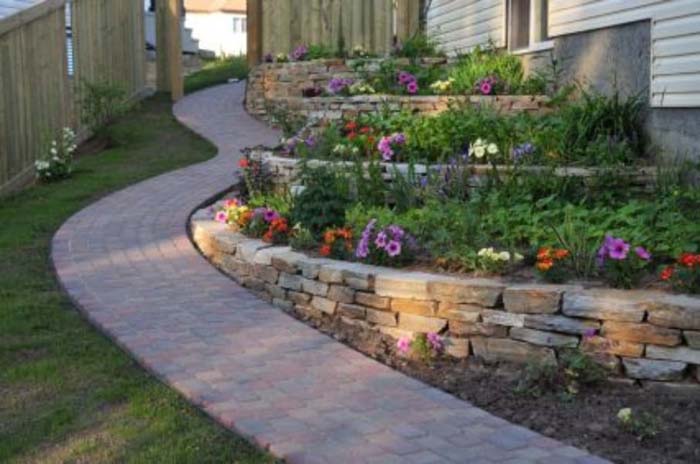 A terraced garden is a great solution for a slope. It adds color and avoids heavy drainage problems.
Filling the level in with flowers creates visual interest and eliminates the challenge of mowing and weeding right next to the house.
Add a moisture barrier to prevent water from seeping into the foundation.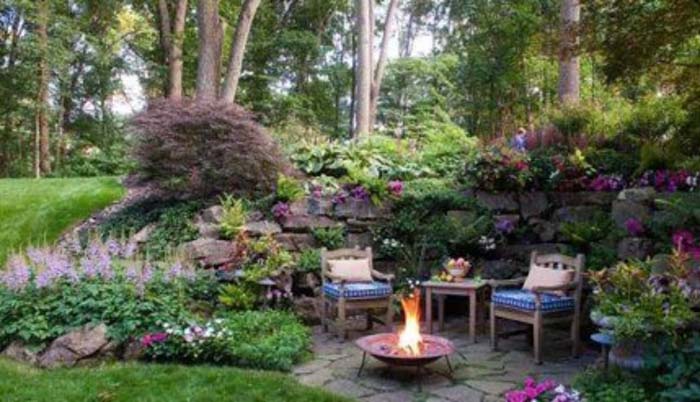 Create a secret meeting place with pavers and lots of foliage. The owners built a retaining wall with boulders. The fire pit and garden furniture add a serene touch.
Seasonal flowers bring a colorful touch throughout the year. Groundcover plants are dropped in to cut erosion.
4. Hillside Chilling Spot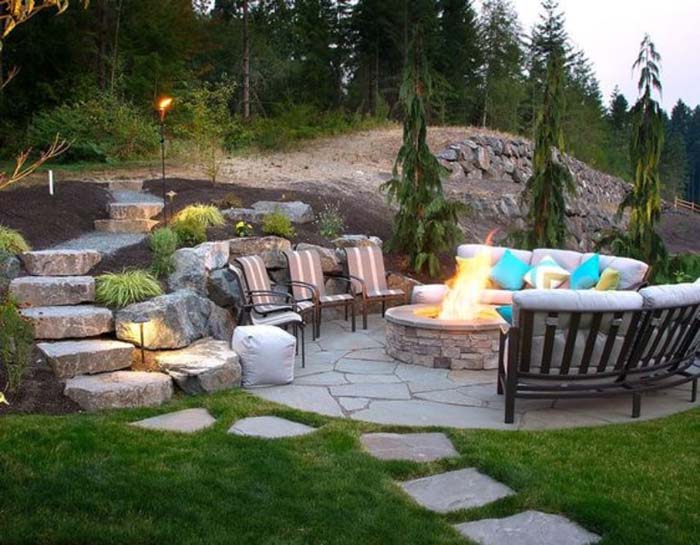 Solar lights lead the way down the granite steps to a fire pit area.
Plenty of outdoor furniture with comfortable cushions makes this a place to chill well into the evening.
5. Hillside Dining Area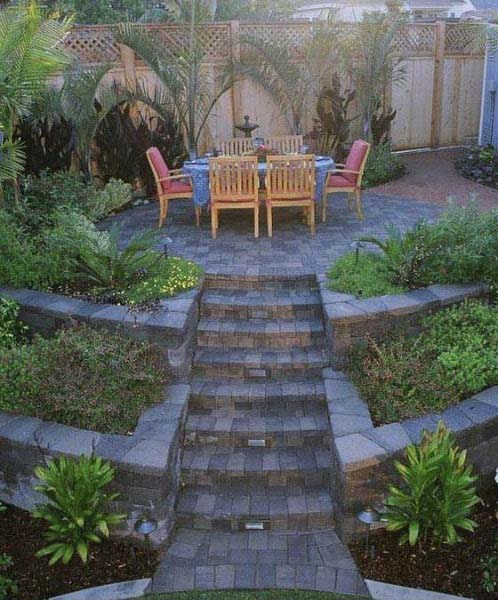 By placing the dining area at the top of the hill, everyone can enjoy looking over all the foliage on every level. A fountain was placed near the privacy wall.
Tall plants stretch in front of the wall to soften the wood. This creates an intimate outdoor experience.
6. Hillside Landscaping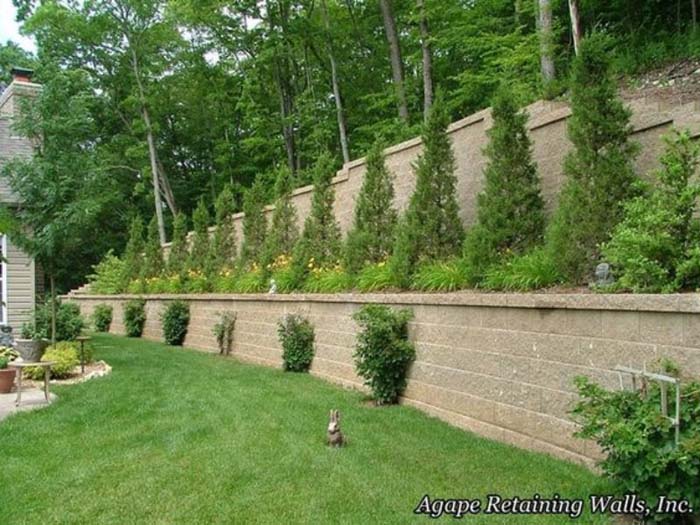 This is a solution left to the pros. This retaining wall has been professionally built.
The plants and groundcover were chosen for their hardy root systems. As the plants grow, this will become a lush wall of greenery.
via Hunker
7. Hillside Oasis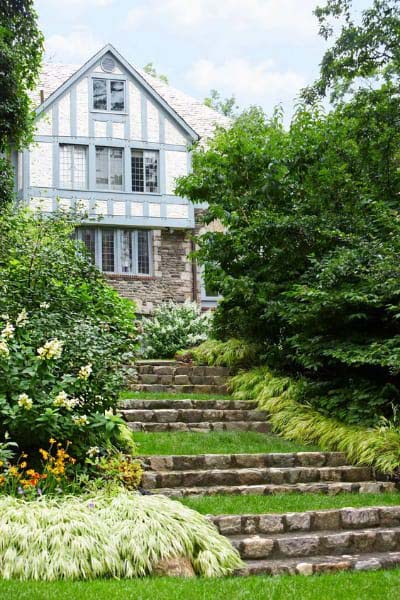 Adding stone risers to a slope can look harsh. These risers are softened with turf steps. Ground covering grasses on each side softens the look even more.
The design shows off the beauty of the stately Tudor home. The home is on a corner lot. Without the steps, it's an invitation for people to toss their trash.
via This Old House
8. Hillside Slope Garden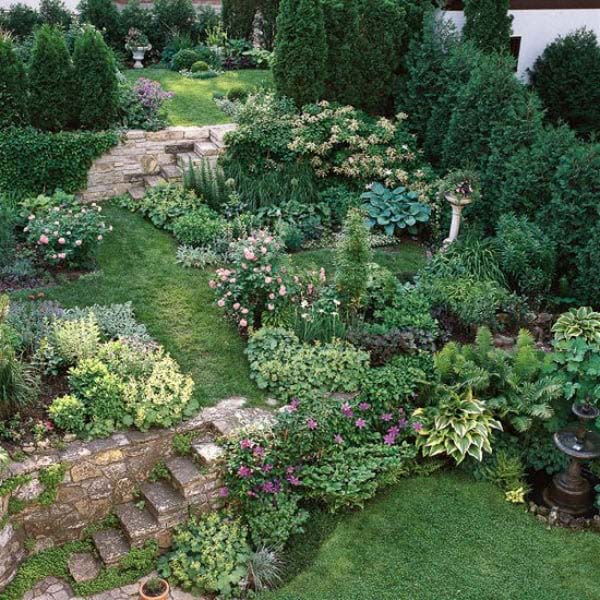 Plant hill-loving flowers and foliage next to a set of steps. This creates a nice transition area between the grass and the heavy stone stairs.
It also helps prevent heavy erosion, which can undermine the integrity of the stone wall and steps.
via BHG
9. Hillside Waterfall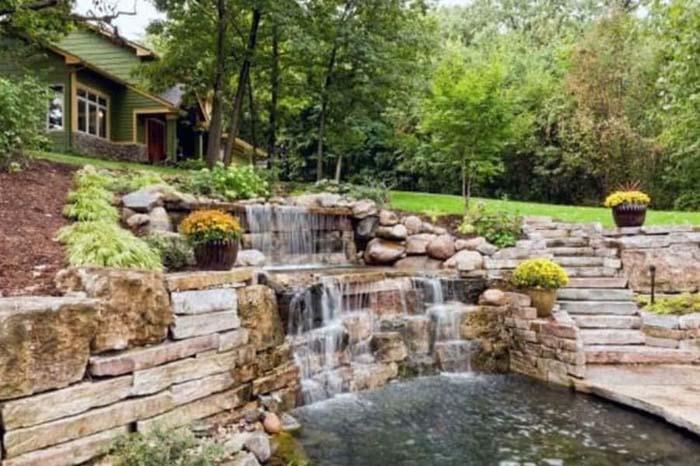 While we wouldn't file this as a weekend do-it-yourself project, it would certainly be an upgrade to your backyard's appeal.
A retaining wall with a waterfall to a pool or man-made pond takes planning, but the effort is worth it.
10. Large Garden Stone Stairs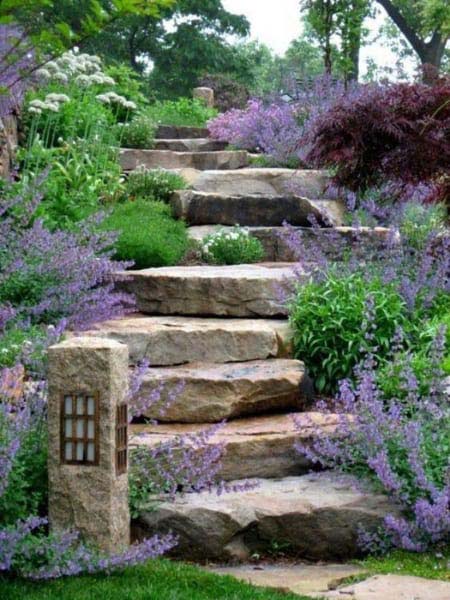 What looks like a random path takes careful planning and a lot of muscle. There are hand trucks you can rent to move the slabs into place.
The project will move faster with friends and food. Keeping the same plant selection up the stairs helps bring the eye upward. The lamppost at the foot of the steps is a welcoming addition.
11. Large Tank Pool On The Slope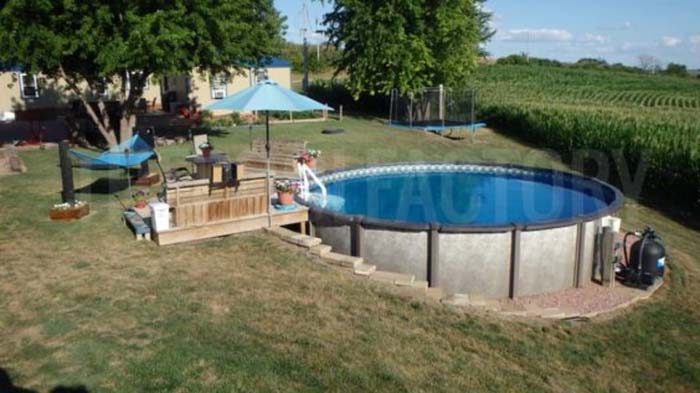 The solution to the awkward slope in this backyard was to build a retaining wall and set up a framed pool.
The deck and seating area are located at the top of the hill.
This landscaping idea works well when there are few distractions on the other side. In this case, a view of farmland is a natural barrier at the edge of the property.
via The Pool Factory
12. Luxury Sloped Backyard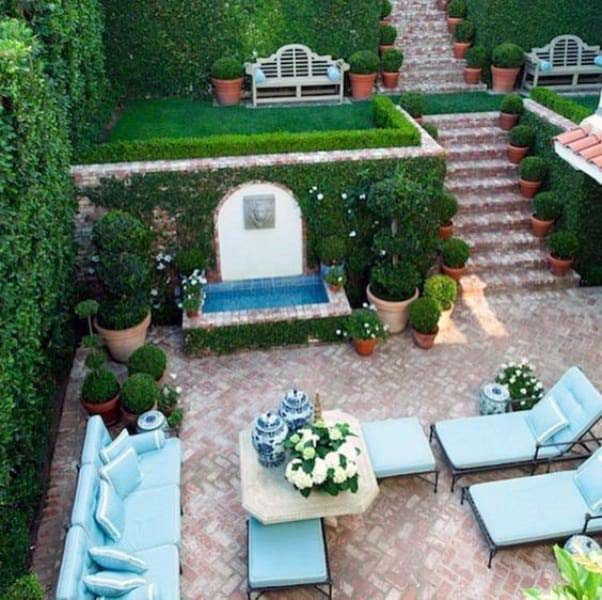 This design embraces its severe slope. Crawling vines cover the walls. Stone steps rise to dual terraces with white iron benches.
These provide welcome relief for those not accustomed to climbing stairs. The steps continue on to the top.
13. Mediterranean Pool By The Slope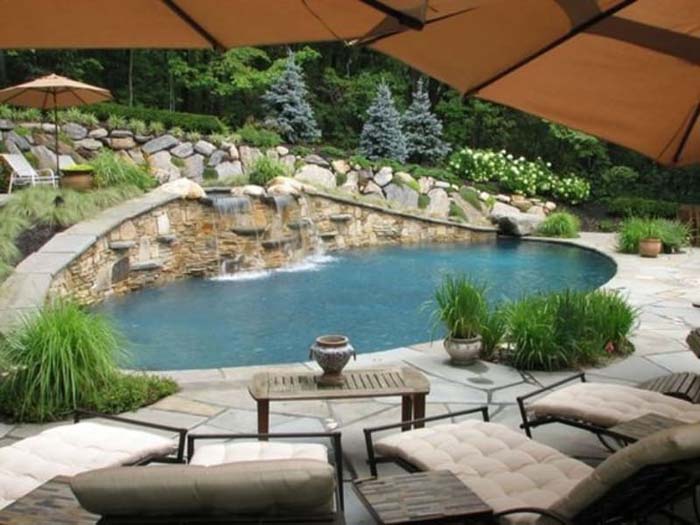 This Mediterranean style pool is positioned at the bottom of the slope.
There's enough room above the wall for more lounge chairs and patio umbrellas. Sconces break up the monotony of the wall. Put some ornamental grass in flower pots around the pool.
14. Modern Sloped Backyard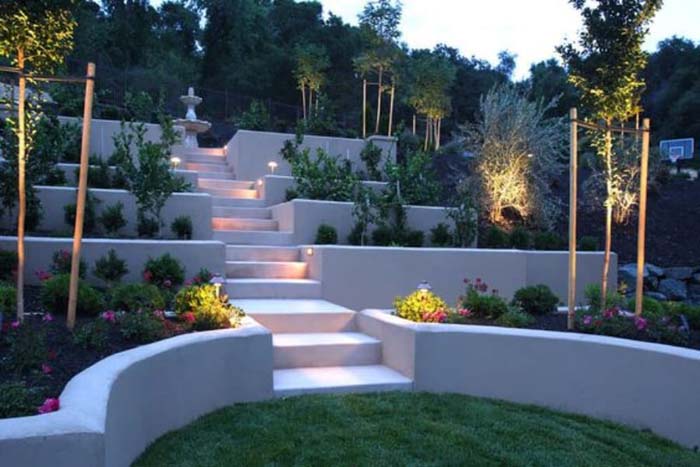 The retaining walls in these terraces get their look from poured white concrete and a lot of sanding.
Solar lights illuminate the steps and trees.
15. Pool By The Slope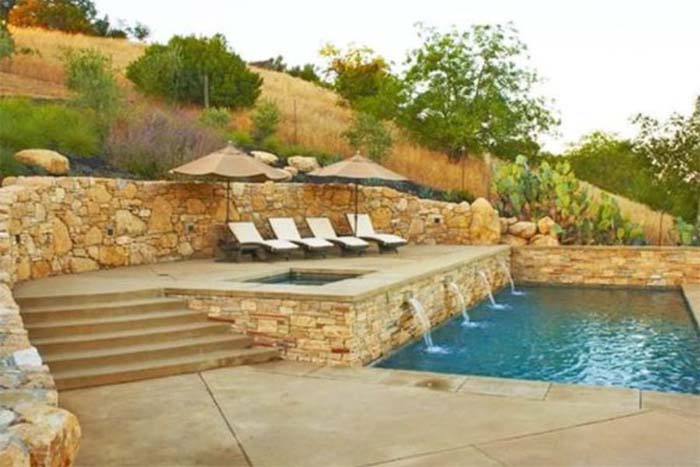 There are few spaces more inviting than a pool and spa tub at the bottom of a slope.
Retaining walls split the space into two levels. Scuppers create calming white noise as the water spills back into the pool.
16. Rock Wall Backyard Slope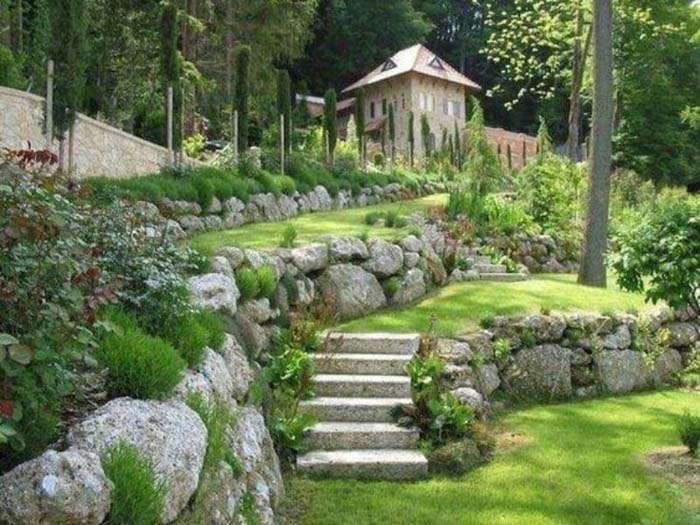 Rock walls don't have to be filled with gravel or flowers. Create grassy areas that invite leisurely, barefoot strolls.
The walls are low enough to invite seating. The grassy sections are large enough for an impromptu yoga sun salutation.
17. Serene Backyard & Slope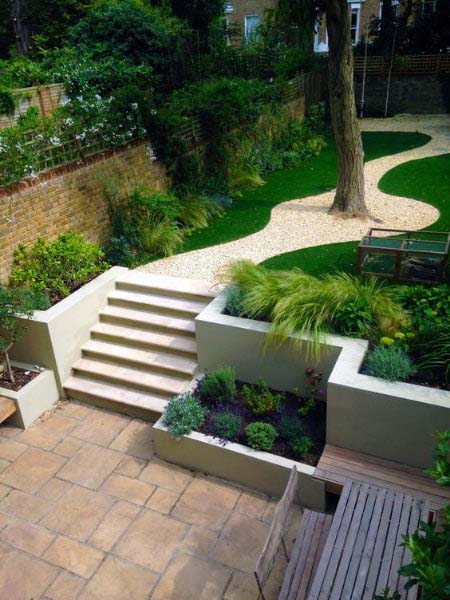 The bright path undulates like a river winding through the immaculate yard. It leads to steps that match the white retaining walls.
Lowering the level of the patio also lowers the noise level in the seating area.
18. Sheltered Seating Area for Sloped Backyard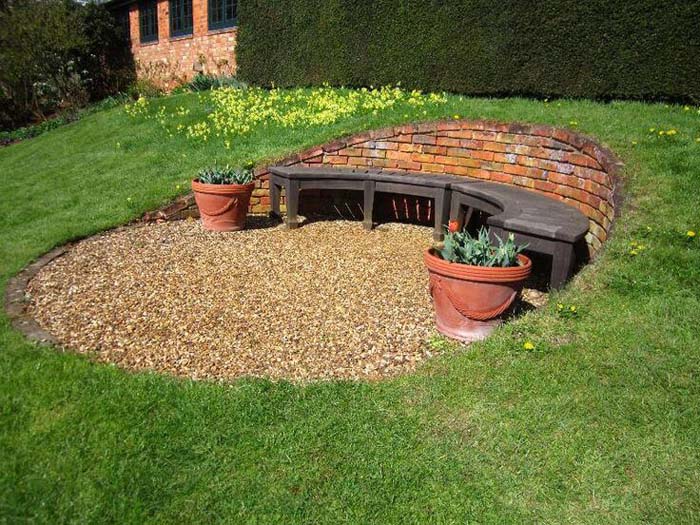 A quiet nook was created at the base of the slope with a small retaining wall.
Digging a circular turf and adding gravel makes it easy to bring in a portable fire pit.
via Secret Garden
19. Sloped Backyard Garden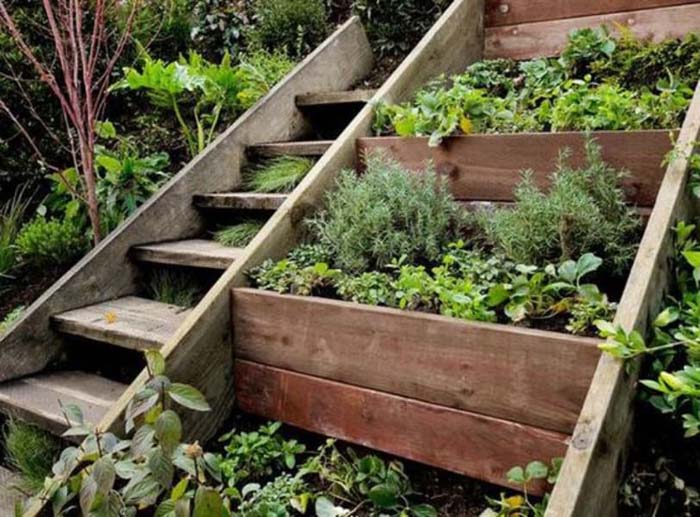 Here's two affordable projects in one. Wood stairs are a cheap and easy solution to navigating a backyard slope. A stepped garden was created next to it.
The wood boards look like planter boxes. The stairs create easy access to each level. Plants requiring longer root systems can be planted near the top.
20. Sloped Garden With Wooden Handrails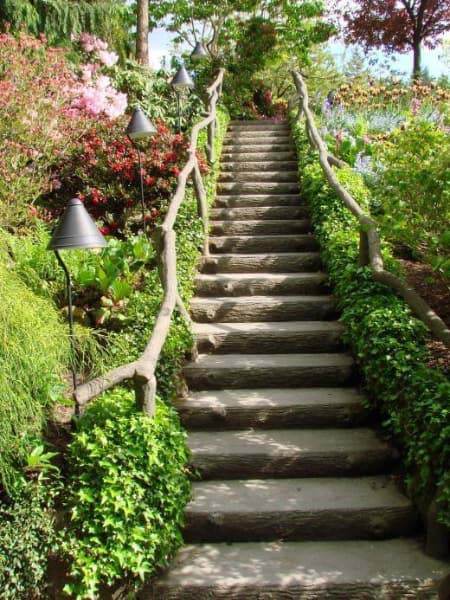 The stairs ascend a steep slope. Made from pavers, it's a project that can be done with plenty of planning and patience.
The handrails made from branches contribute to the fantasy woodland theme. Solar lights blend in along the path.
21. Sloped Backyard With Flower Beds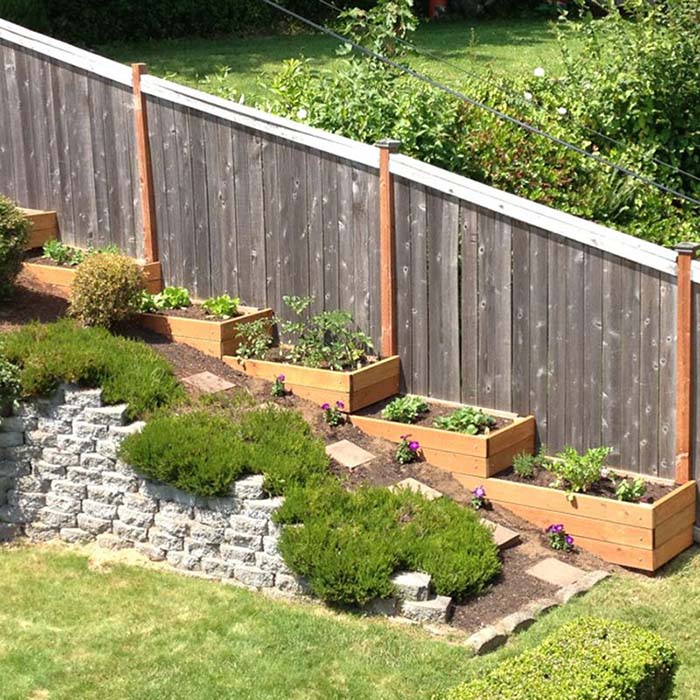 Plant stepped flower beds up a slope. Pavers are dropped in the topsoil next to the boxes.
This makes it easy to tend to each box.
22. Sloping Garden + Sitting Spot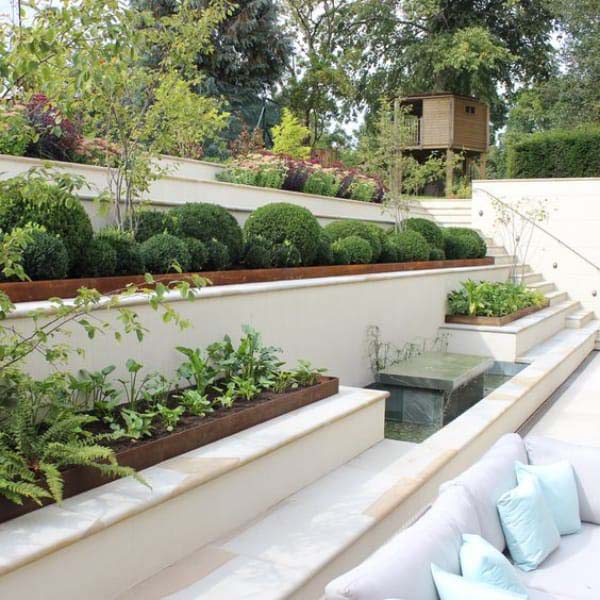 This terrace garden has a seating area in the middle.
The garden beds and walls are a design idea that can be scaled to suit most backyards. It's a great modern look.
via Ideal Home
23. Stone Slab Landscaping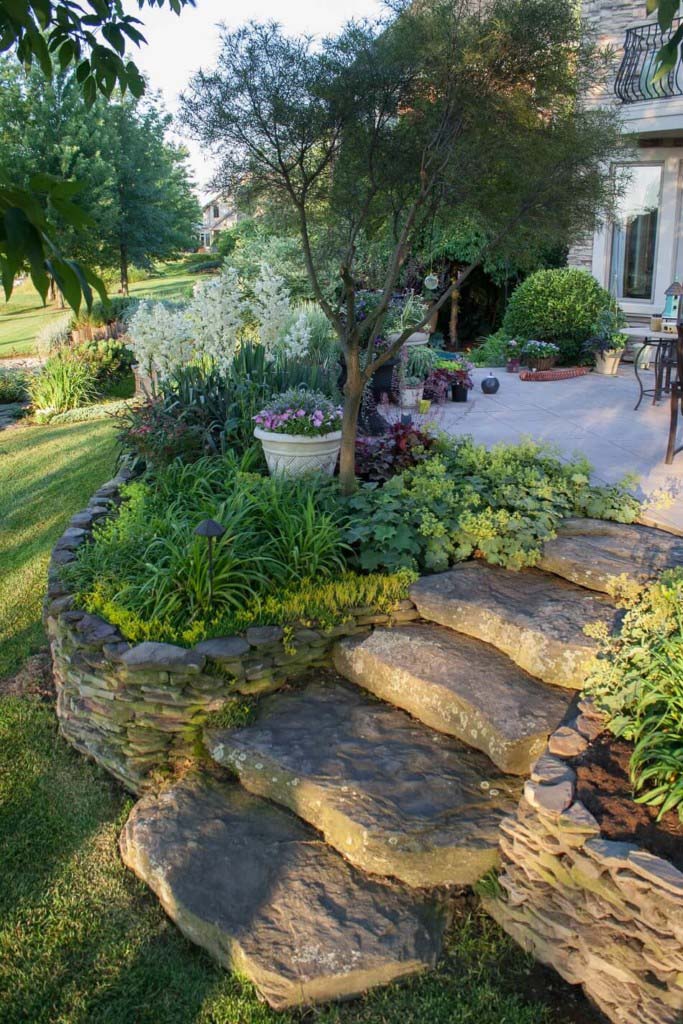 Stone slabs are great for building low retaining walls and steps that rise up the hill.
They bring a rustic but uniform look to a landscape.
via J Meissner
24. Stone Terrace With Cersis & Circular Stepping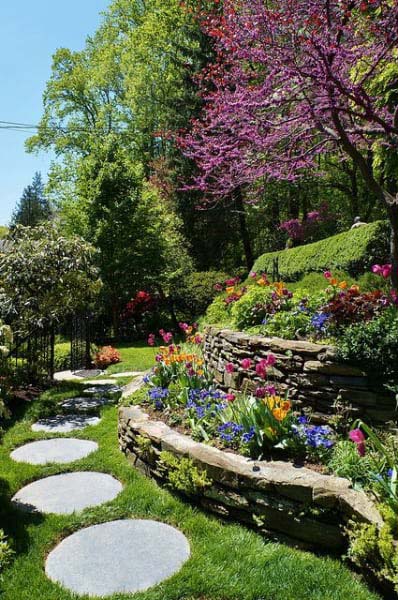 A hill creates a natural canvas for vertical gardening. Plant taller flowers on the lower tier and flowering bushes best the top.
The top of this hill shows off a gorgeous redbud tree. The round stepping stones leading from the iron gate create whimsy.
via Karl Gercens
25. Stony Flower Garden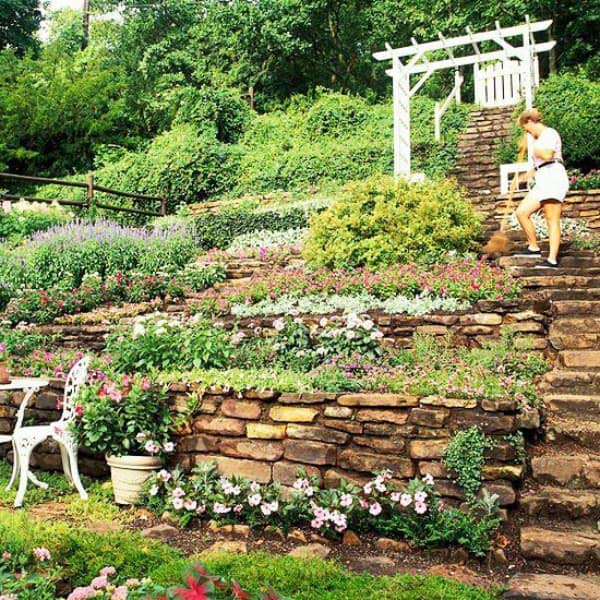 Instead of trying to level out everything, this garden embraces many levels.
Paths are created from the patio all the way up to the gate at the very top of the hill.
via BHG
26. Succulent Garden On A Slope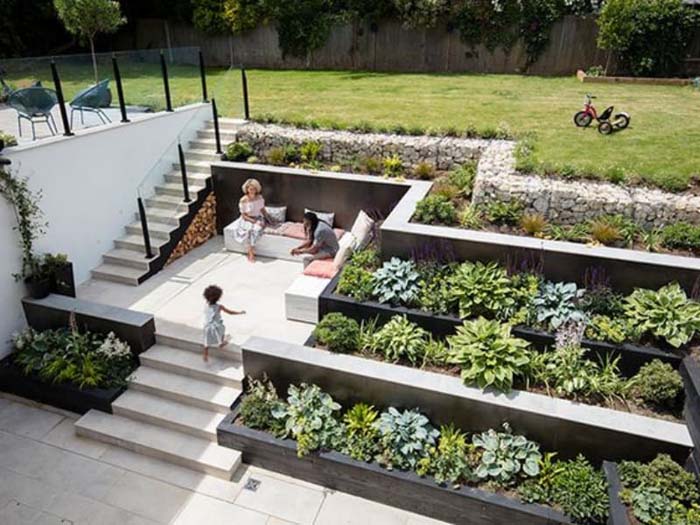 Depending on your climate, succulents may be a better choice for a terrace garden.
Note the seating area is located in the middle of the hill. This creates more privacy as it limits access.
27. Surrey Serene Country Garden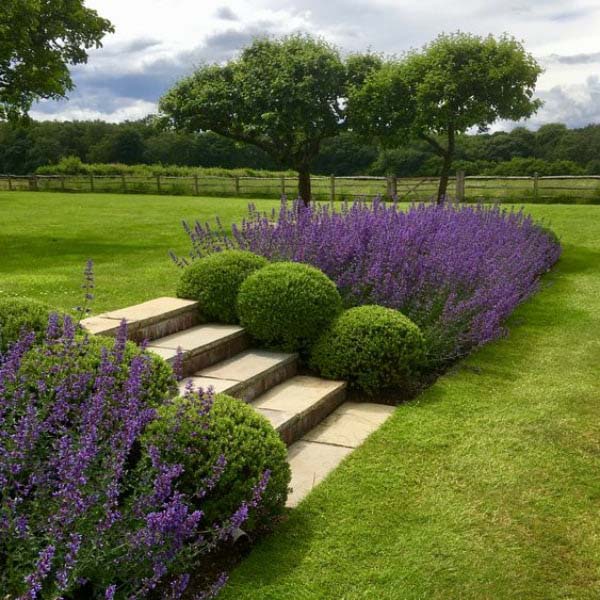 A modest slope can be dealt with by creating gentle steps with pavers.
These steps are flanked by bushes and colorful plants.
28. Terraced Garden On A Slope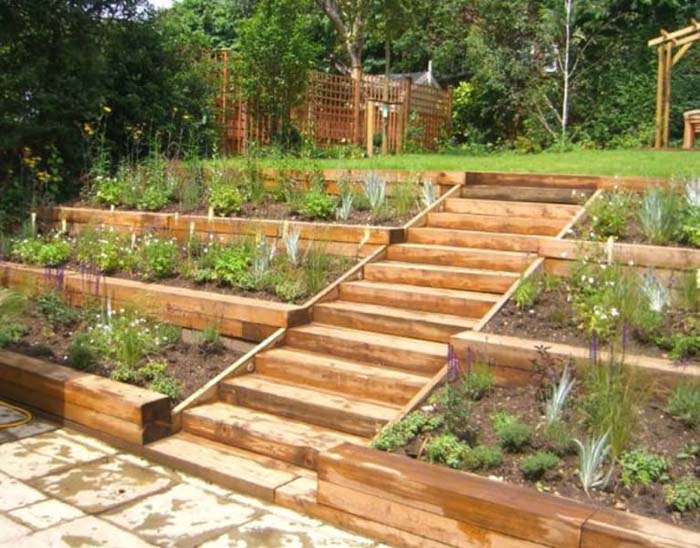 This garden shows that planting areas don't have to be narrow like window boxes.
Extra leveling will be needed, but this makes it easier to work in a longer bed.
29. Sloped Backyard Fire Pit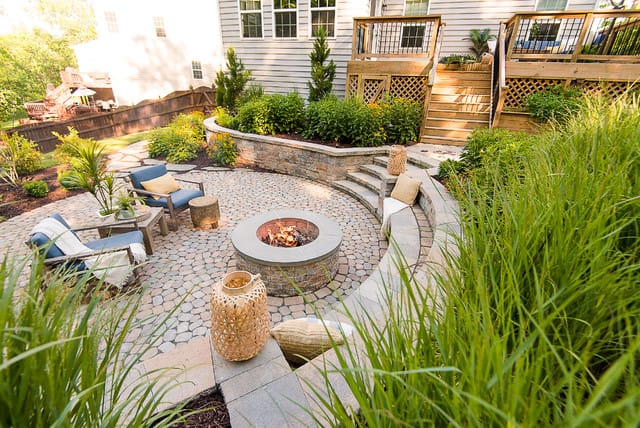 The homeowners talked with several contractors about their backyard.
They discovered it would cost less to create several levels for entertaining than to build a single retaining wall. The result is a beautiful area for a fire pit.
30. Upcycled Sloped Backyard Water Feature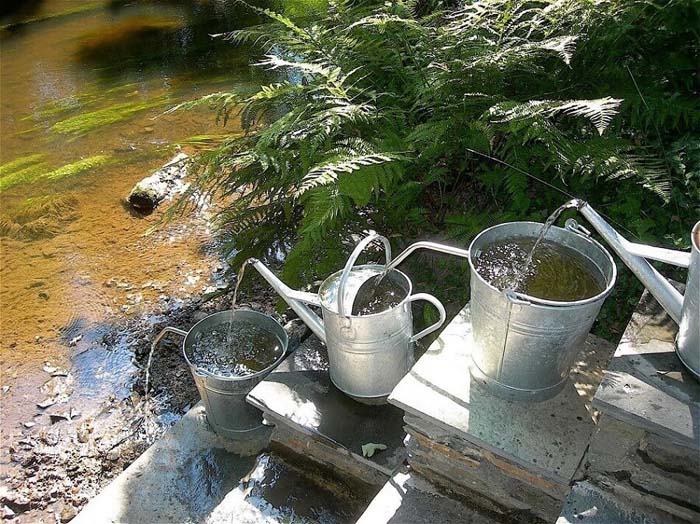 Here's a clever idea for a hill. Water from the river is pumped up to the top bucket.
The line of buckets is tilted forward enough to create a cascade effect back to the river.
via Pilgrim and Pie