In summer we spent most of our time outdoors – having a morning coffee, play with our kids, have dinner with friends. In short, we take advantage of the nice weather on each occasion.
This is why we need to pay attention to our backyards and make them more comfortable and at the same time appealing.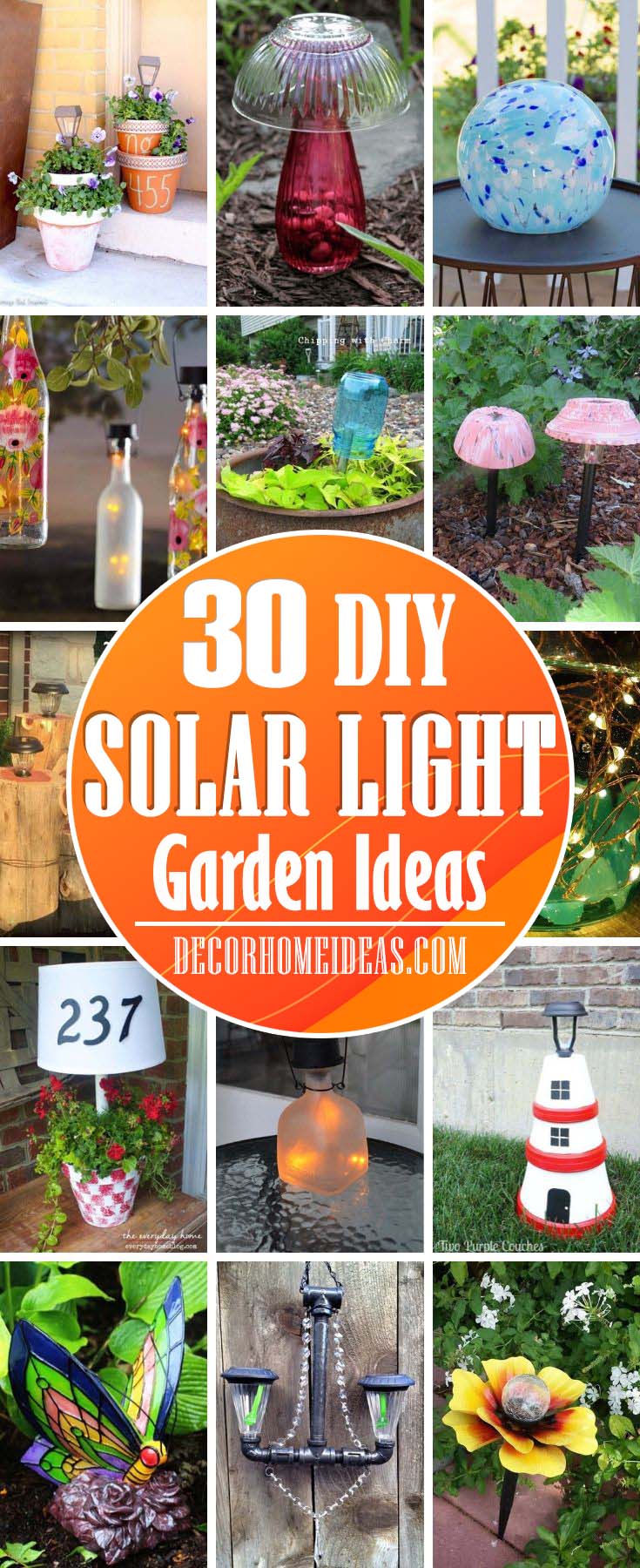 Lighting is an important part of every decor. It is the final touch that enhances the ambiance. We will focus on solar-powered lights as they are the easiest way to install lights outdoors. In addition to that, they add magic and elegance to the atmosphere and they are eco-friendly.
The best of all is that simple solar lights can be incorporated into DIY projects and be transformed into unique solar-light features that will make your garden more aesthetic and original.
Check out the best 30 DIY ideas to make yourself a different solar light for your garden.
1. Adorable DIY Glass Mushroom Garden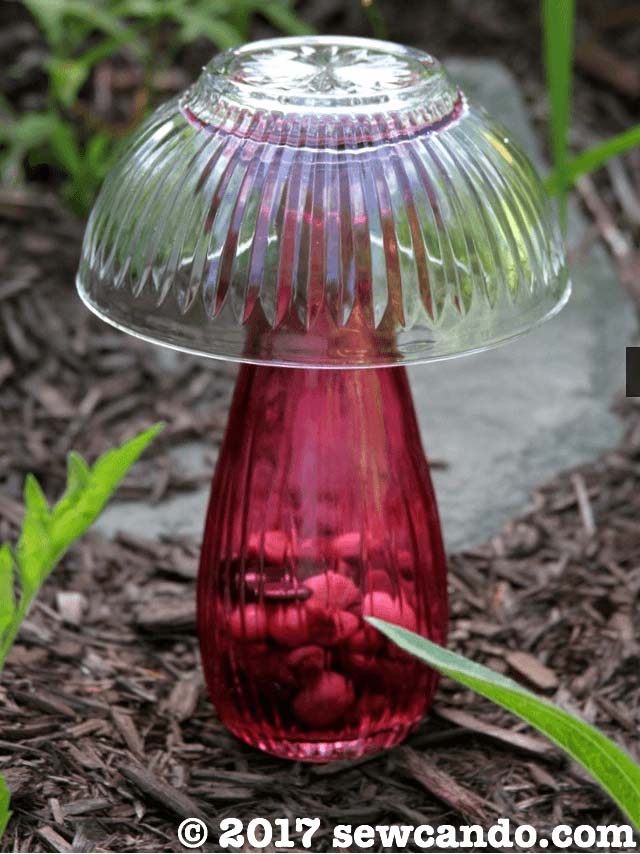 This is an idea for an interesting solar light feature for the garden. Get glass vases and bowls from the dollar store and glue a solar-powered light on each bowl bottom.
Fill the vase in with small pebbles, shells or other decorative material. Once the light is attached, glue the bowl upside down to the vase. Your solar mushrooms are ready for the garden.
via Sew Can Do
2. Bright and Sunny Floral Light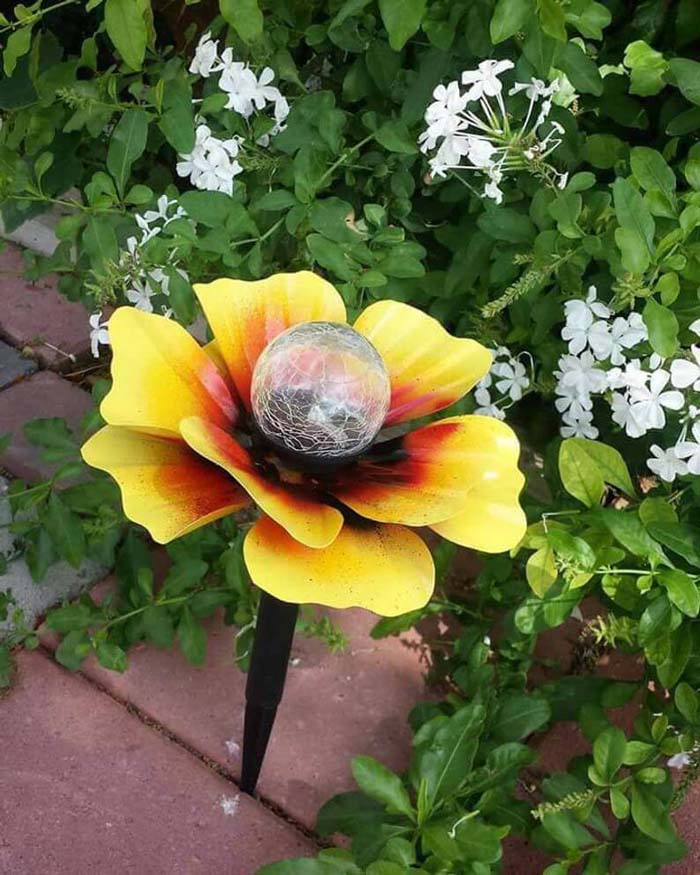 If you have solar-powered globes, you can easily transform them into beautiful large flowers by adding petals around the globe.
These can be cut from metal, craft foam or plastic sheets.
3. Bring Old Lanterns Back to Life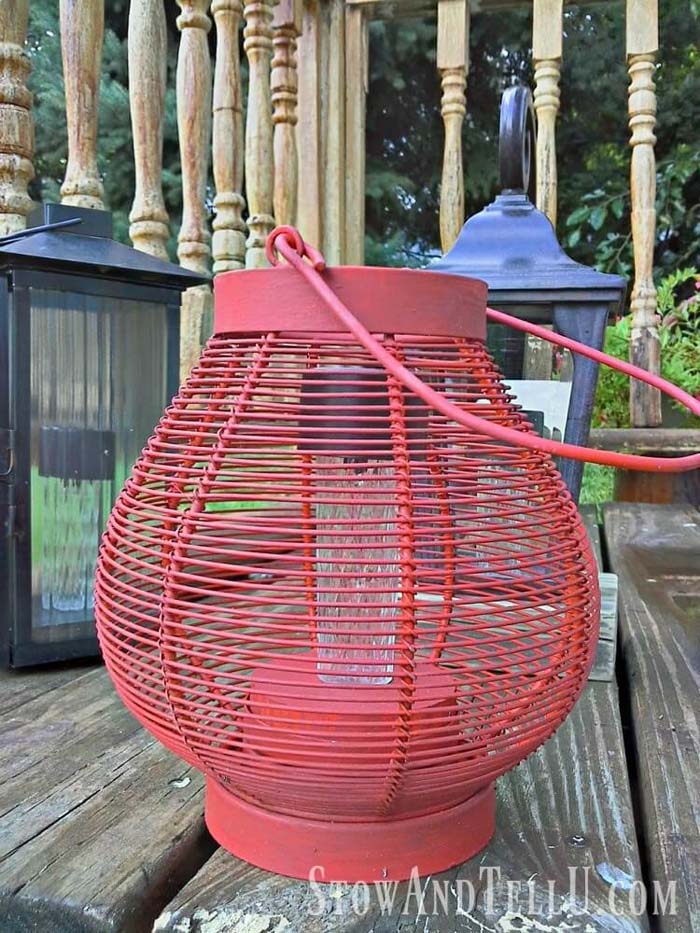 This solar-powered lantern is a combination of an old candle lantern and a short stick solar light.
The lanterns are preliminary painted in a color that matches the patio and then the solar lights are inserted into it.
via Stow And Tell U
4. Cheerful Potted Plant Solar Lamp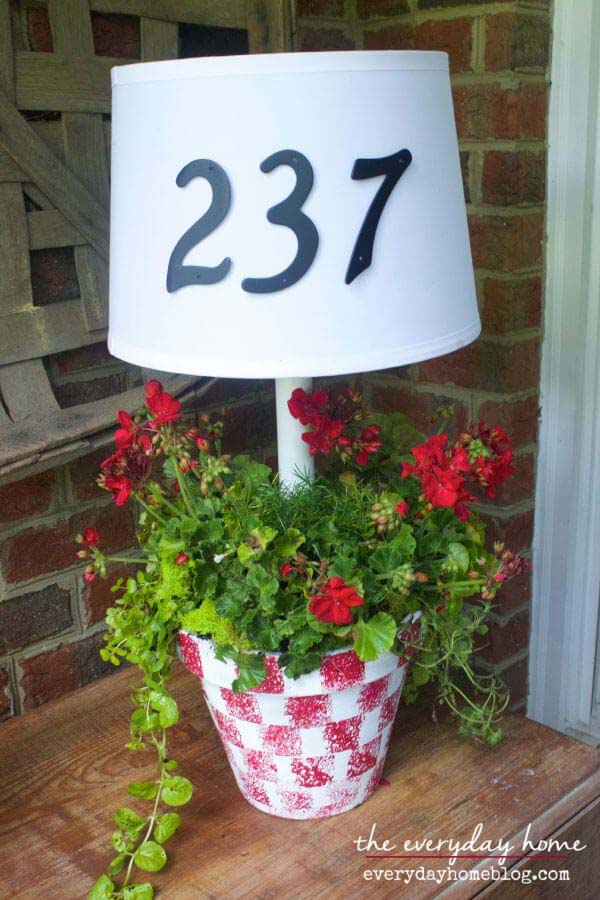 Making of this interesting pot solar light requires materials that we already have on hand- a terra cotta pot, a short piece of PVC pipe, a lampshade, a solar-powered light.
This light with flowers is the perfect final touch to any patio.
5. Clay Pot Lighthouse Garden Light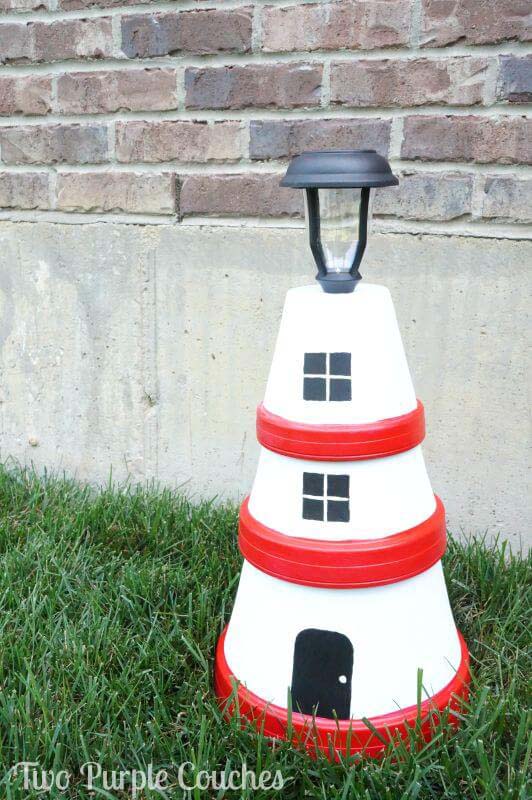 This small copy of a lighthouse is amazing during the night.
The three painted terra cotta pots are stacked around a solar-powered light which creates a realistic lighthouse effect.
6. Color-Changing Butterfly Pathway Light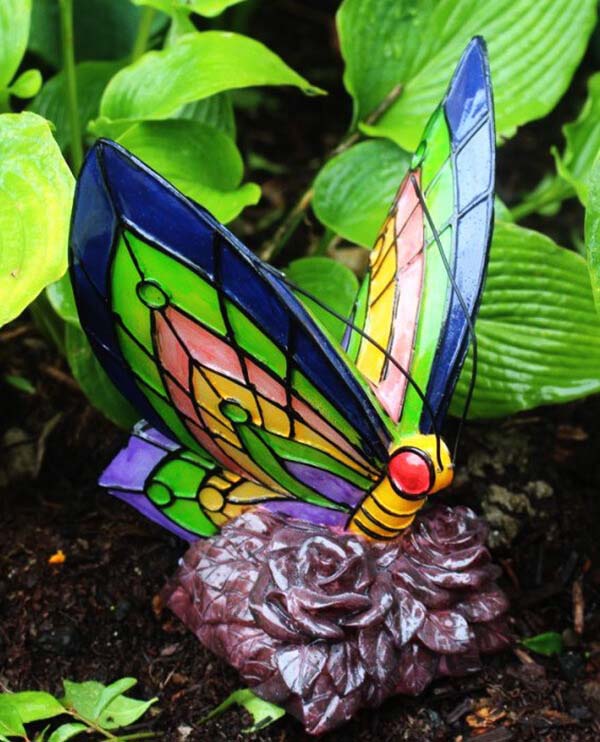 This butterfly is an example of a more complex way to decorate a plain solar-powered light.
It will be great decor for the patio or the garden and will cheer up anyone that passes by.
7. Daytime and Nighttime Fairy Light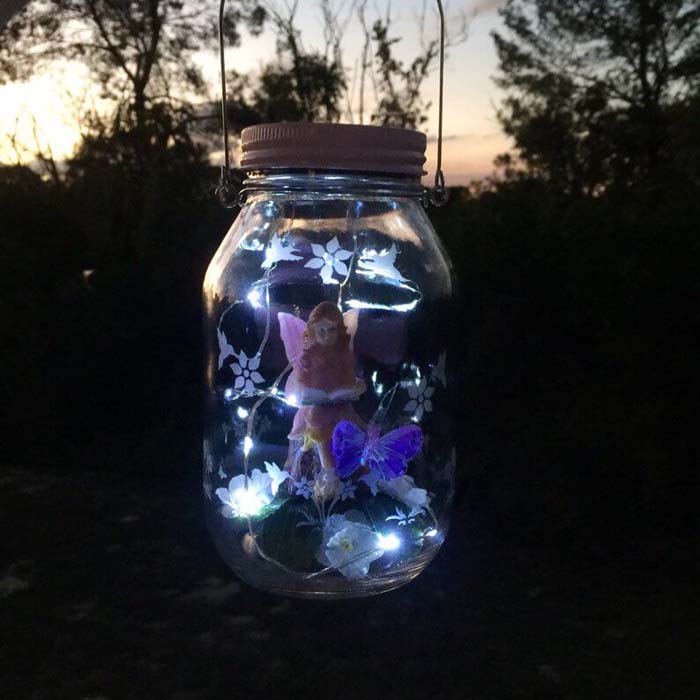 Insert a fairy sculpture in a jar and a string of solar-powered lights. This magical decoration will give you joy throughout days and nights.
You can always hand paint the jar using stencils and suitable outdoor paint.
8. Driftwood Pilons Featuring Solar Light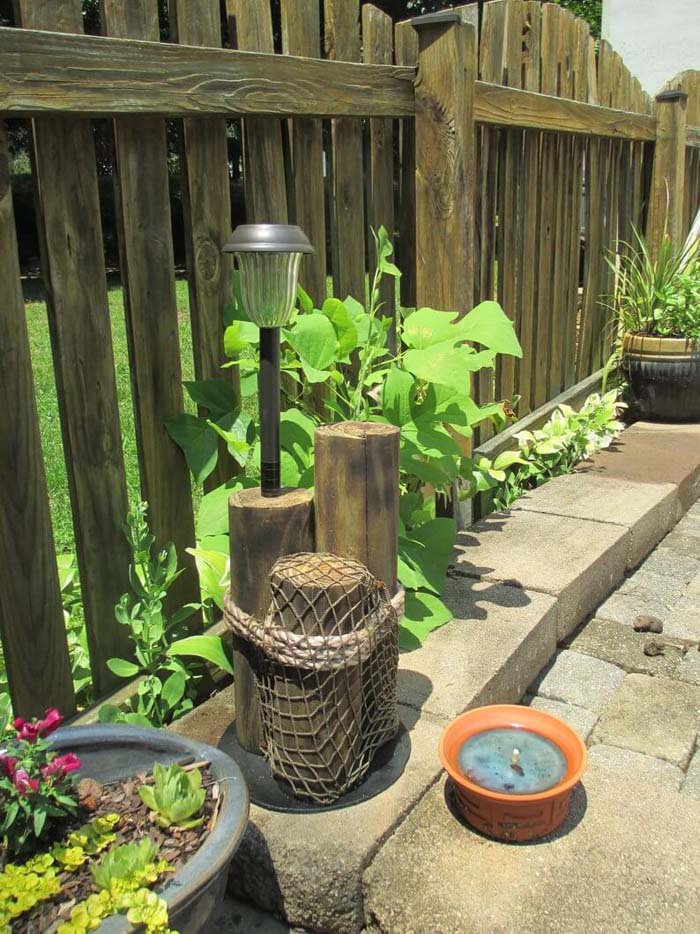 If you are keen on the beachy look, you can easily invite it to your garden with this easy-to-make driftwood light.
9. Elegant Wired Basket Solar Chandelier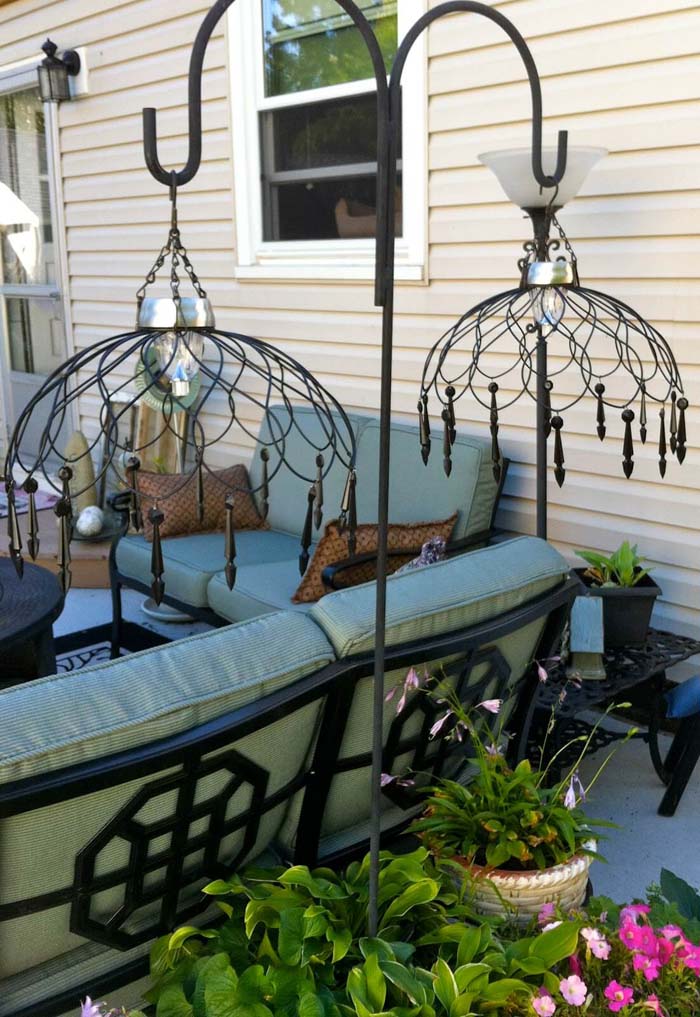 Wire pot baskets can be repurposed and turned into beautiful chandelier solar lights.
If you want, you can add some hanging plastic chandelier diamonds and make the hanging lights more glamorous.
10. Fence Post Bright White Solar Light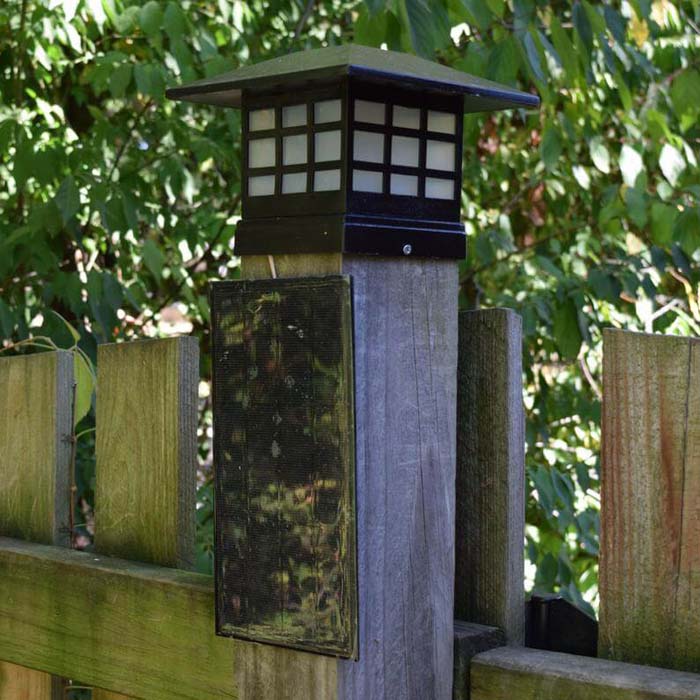 This solar-powered house-like light is made especially to match fence posts.
It will produce just the right amount of light at night as to make your backyard cozier and safer.
11. Gorgeous Glass-Blown Solar Light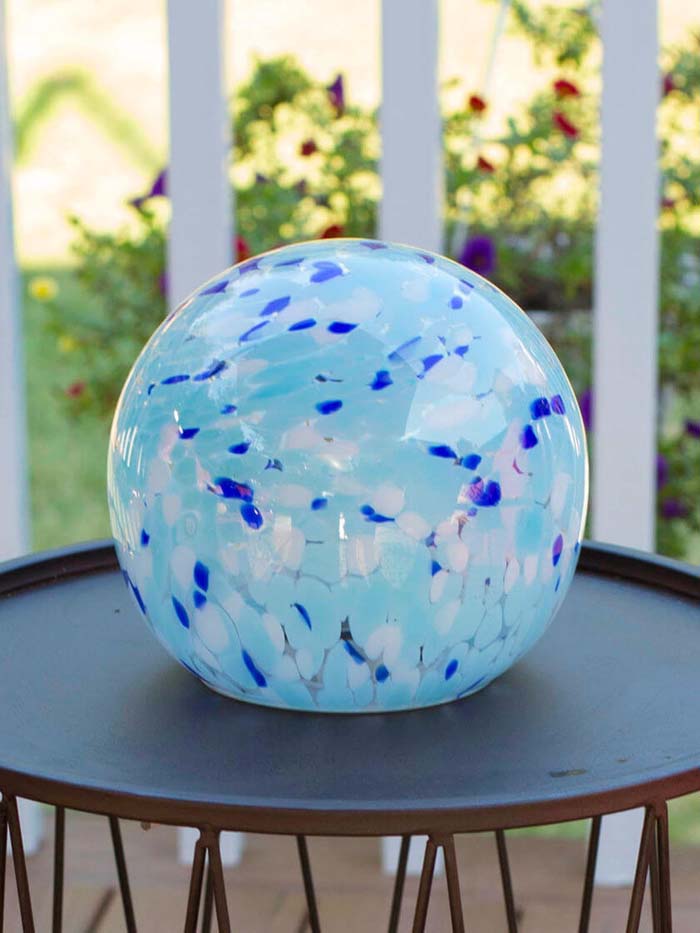 A crystal gaze ball can easily be turned into a night miracle only by installing a small solar-powered bulb inside.
Once the sun goes down the glass colors will start playing a gentle dance.
12. Hanging Solar Bottles Turned Lanterns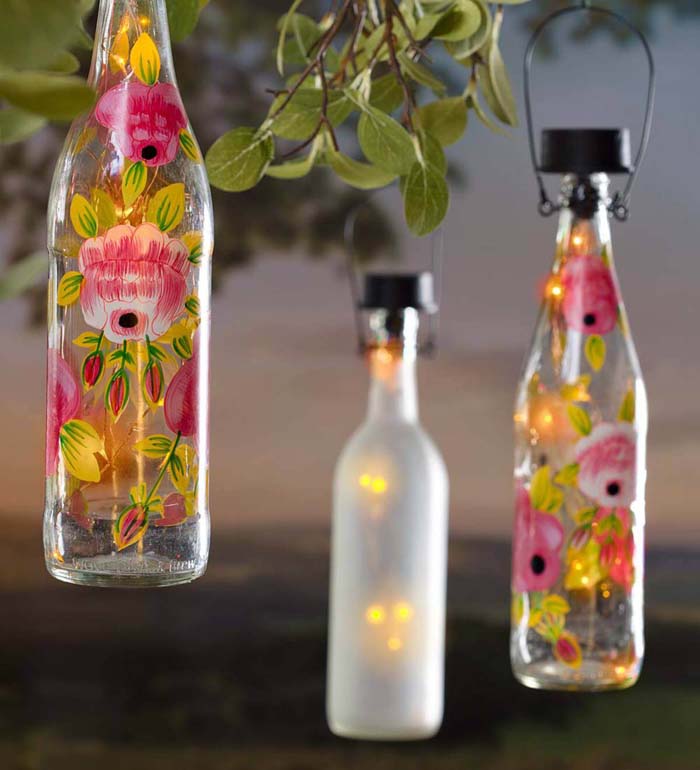 There are many ways to upcycle glass bottles. Maybe you haven't thought of turning them into solar lanterns.
Paint images on the glass, fill the bottles with solar garland and hang them on a large tree in your backyard or at your pergola.
via Plw & Hearth
13. Hard Meets Soft Industrial Chandelier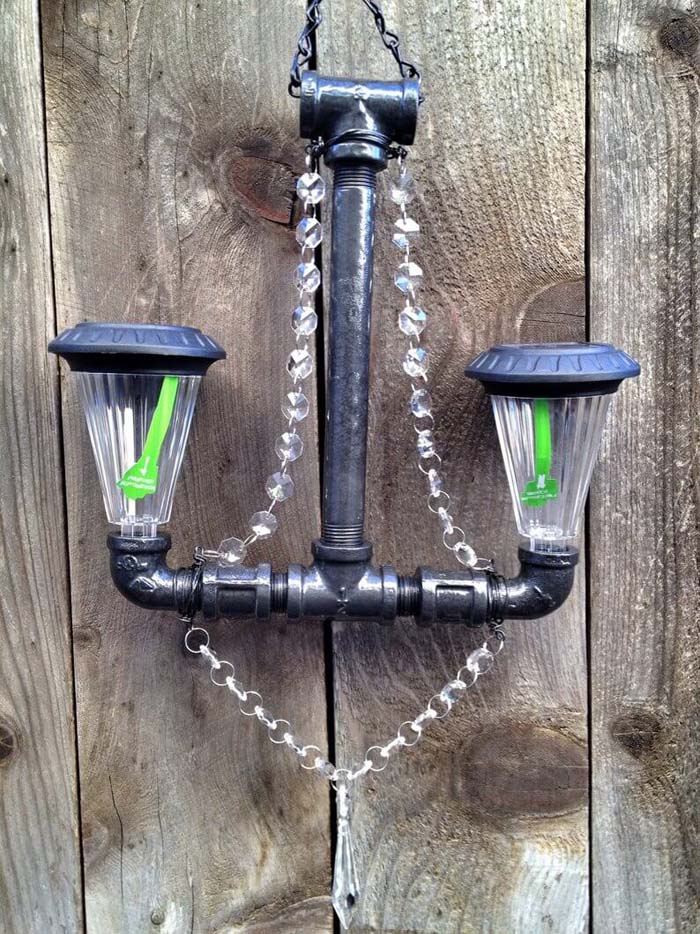 Industrial pipes and elbows have never been more artistically arranged.
They hold two solar lights and make a gorgeous industrial and yet very harmonizing chandelier.
14. Lovely Solar Candlestick Topper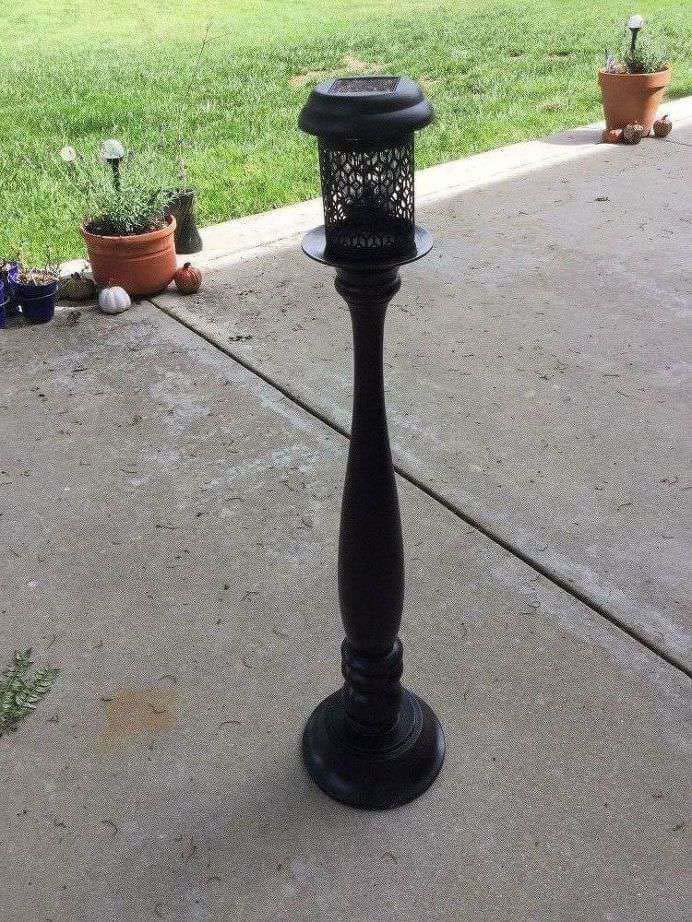 Candlesticks are so good at making the atmosphere more private. If you want to use them outside, you are risking ruining the moment because of the candle going out.
Well, you can easily fix that by replacing the candle with a solar-powered light.
15. Lovely Solar-Powered Dinner Candles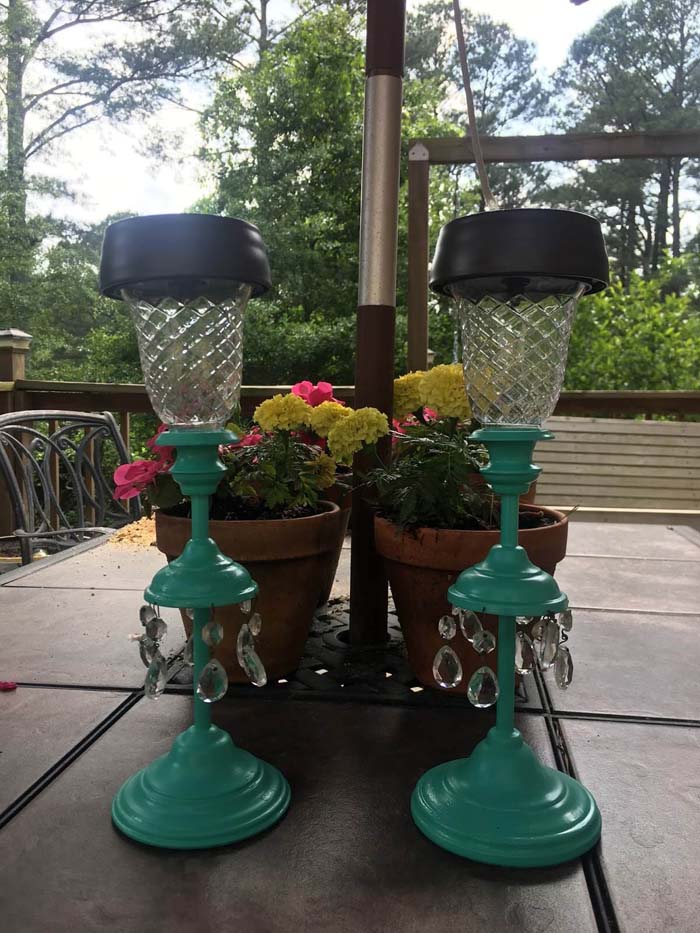 Upcycle the old dinner candle holders by painting them in a bright summer color and adding solar lights at the place for the candles.
You will enjoy their gentle light each time you are having dinner out at your patio.
via Southern Glamper
16. Mounted Solar Light Posts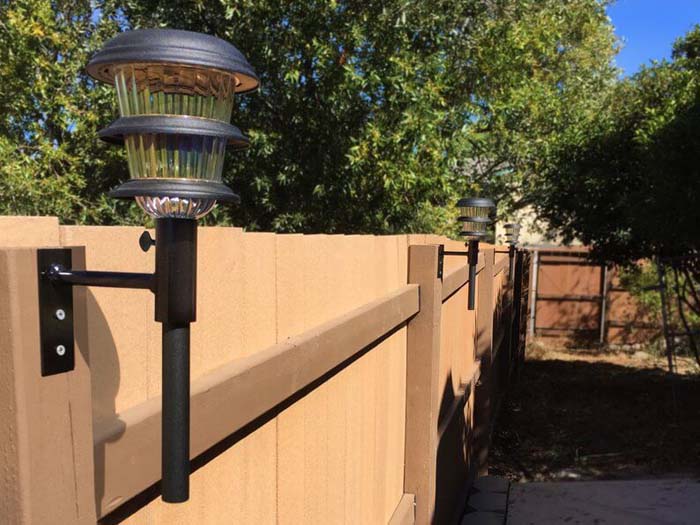 You can easily imitate electrical fence lights by inserting a solar light into a light holder.
It is as easy as a piece of cake and the best of all is that no wiring is required!
17. Opaque Lightning Bug Glass Bottle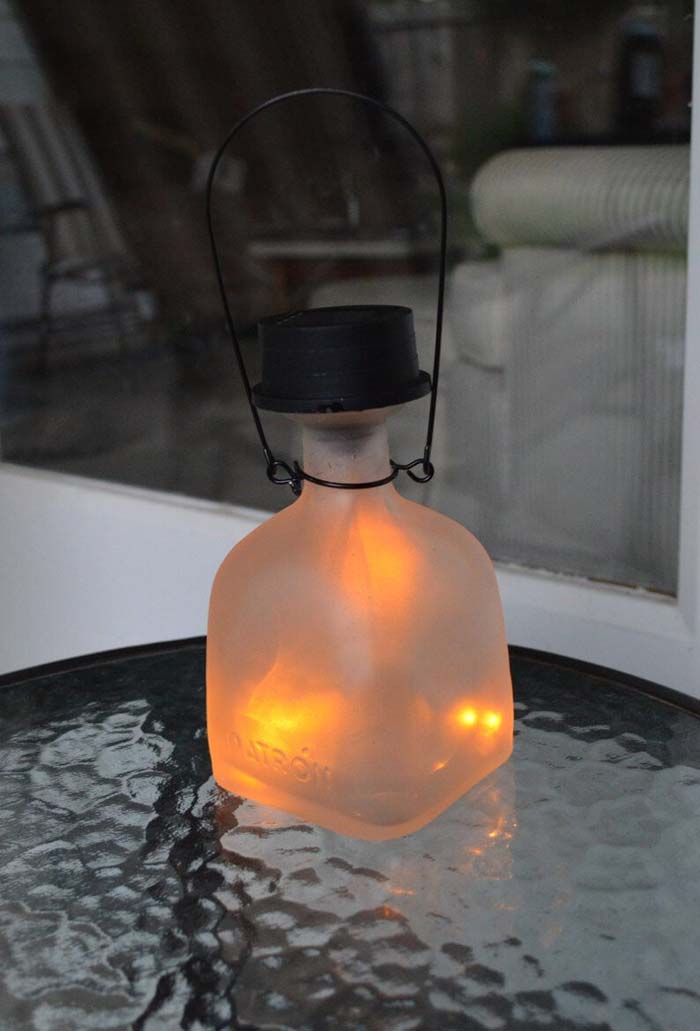 Using a bottle with a frost finish will make the solar-powered light more mystique.
If you are looking for that effect, use a bug glass bottle or a perfume bottle and place it in a short solar-powered garland.
18. Perfect Pink Painted Solar Lighting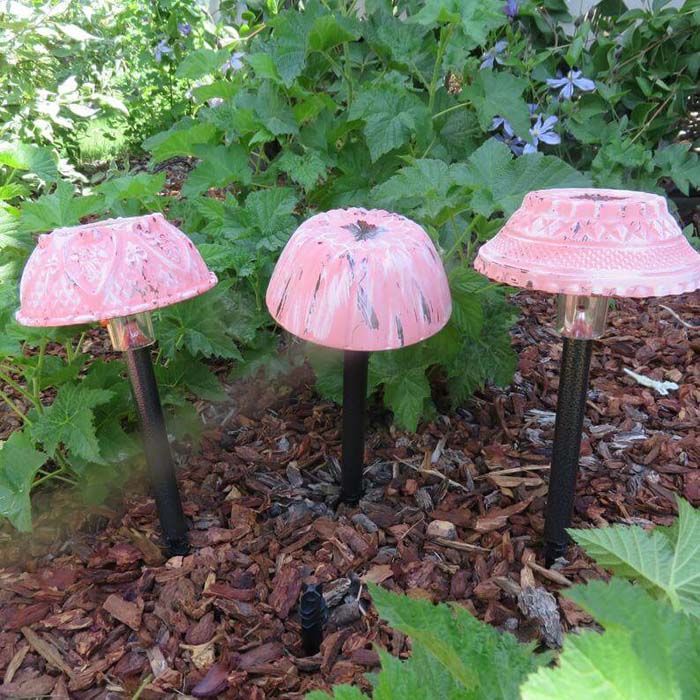 These hand-made lanterns are perfect to trace the walkway in your garden.
Paint glass bowls with suitable outdoor paint and glue on the preliminary bought solar lights.
19. Quick and Creative Mason Jar Light Covers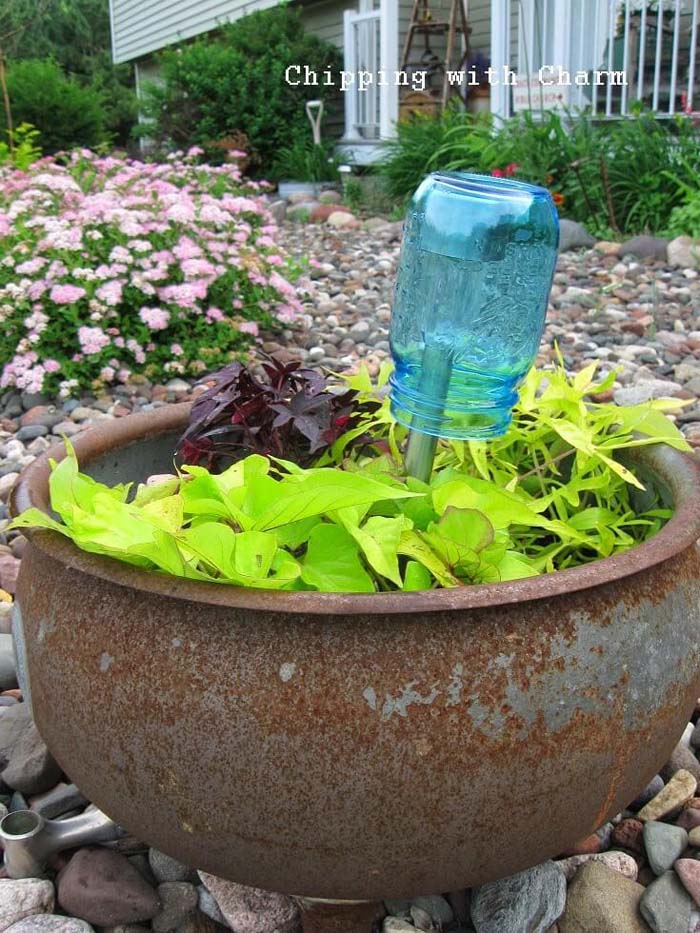 This is probably the easiest way to transform the shop-made solar light. Place the light into a flower pot and cover it up with a blue Mason jar.
Once the leaves of your flower become thicker and bigger, the way the jar is attached to the light will not be visible. Flowers will be lit up by gentle blue light.
20. Rustic and Beachy Cedar Light Holders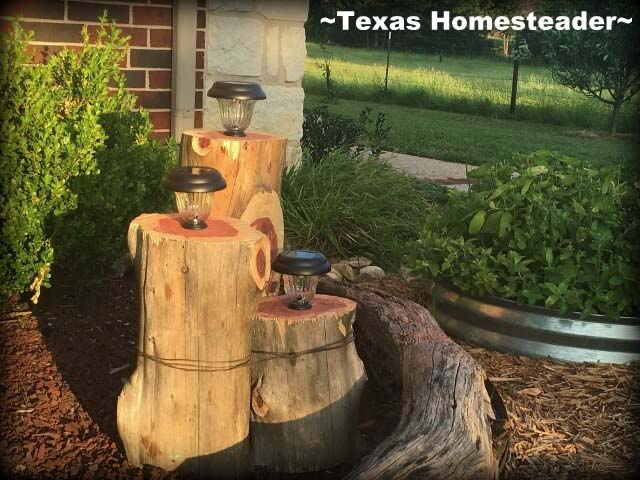 Logs are one of the best supplies for rustic decoration because of their natural and cozy,
You can use them outdoors as well by making their posts for solar lights. How? Just drill in holes to insert the solar sticks into.
21. Solar Light Lids and Glass Beaded Jars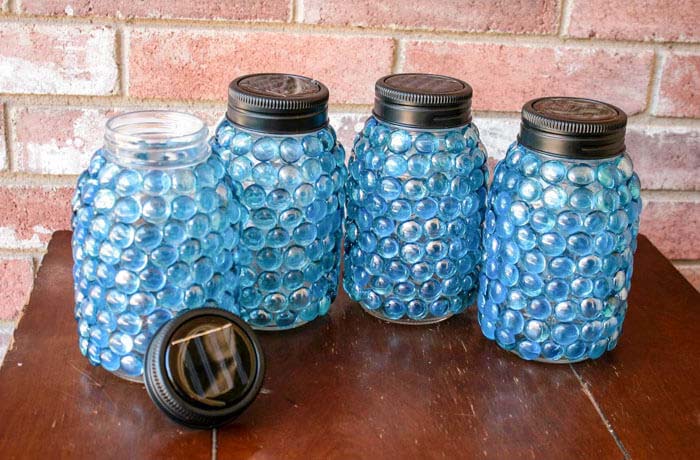 Mosaics+ Mason jars+ Solar-powered lights. This is the best outdoor decor combination ever!
These light spreaders are perfect for window sills, porch steps, tables, everywhere!
via Consumer Queen
22. String up Some Solar Fairy Lights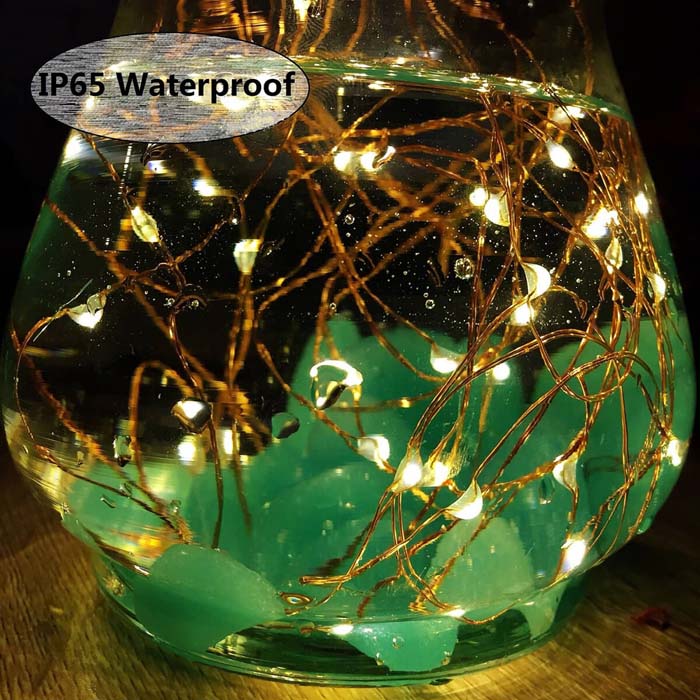 As far as you have a beautiful glass container, you can use it to store a string of solar-powered lights. You can decorate the glass with polka dots, images or random splashes.
Put the light string in the jar and the most gentle light source will be at your disposal.
23. Sturdy and Stylish Post with Piggy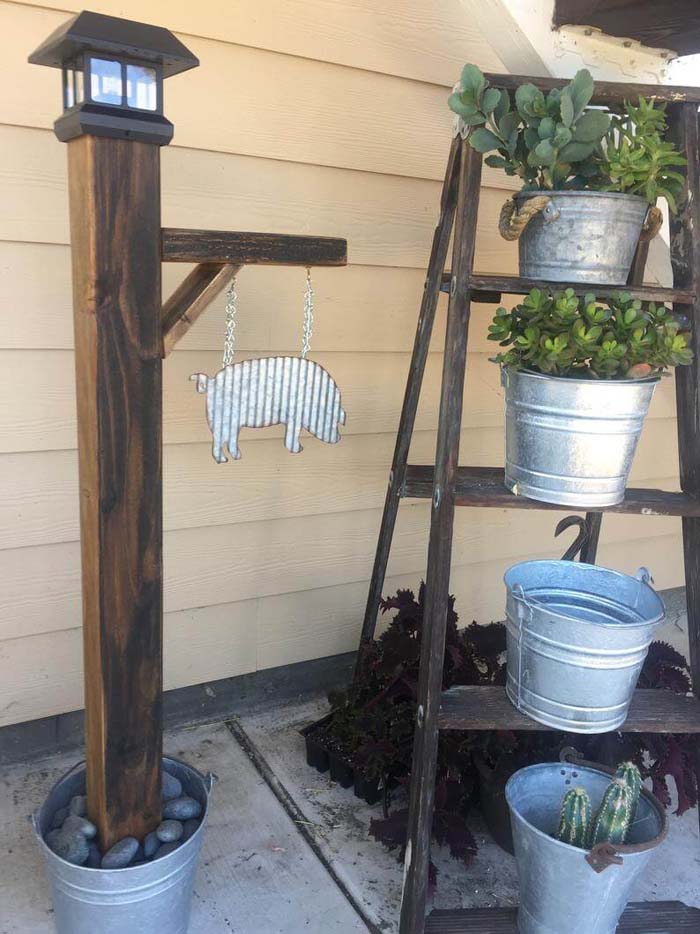 This is another solar light that is certainly made to stand on top of posts.
It will look perfect on your fence posts, pergola posts or even for a specially made focal piece for the nights spent at your patio.
24. Super Cute Lady Bug Lights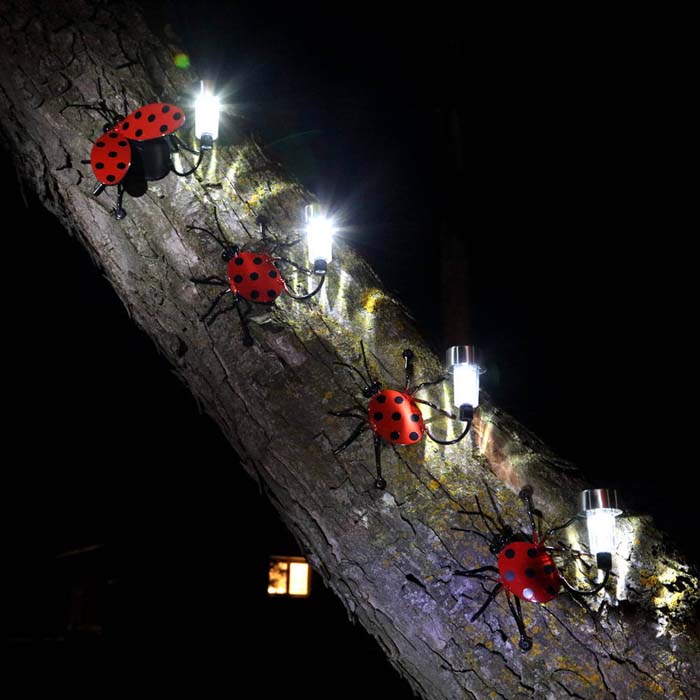 Would you like to have your own ladybug family? Get ladybugs from the dollar store and a set of the smallest solar lights available.
Glue on a bulb to each ladybug. Put the bugs on a tree, at your fence, at a big flower leaf… Whatever their place is, they will have all eyes on them.
25. Tiered Planters Featuring Solar Light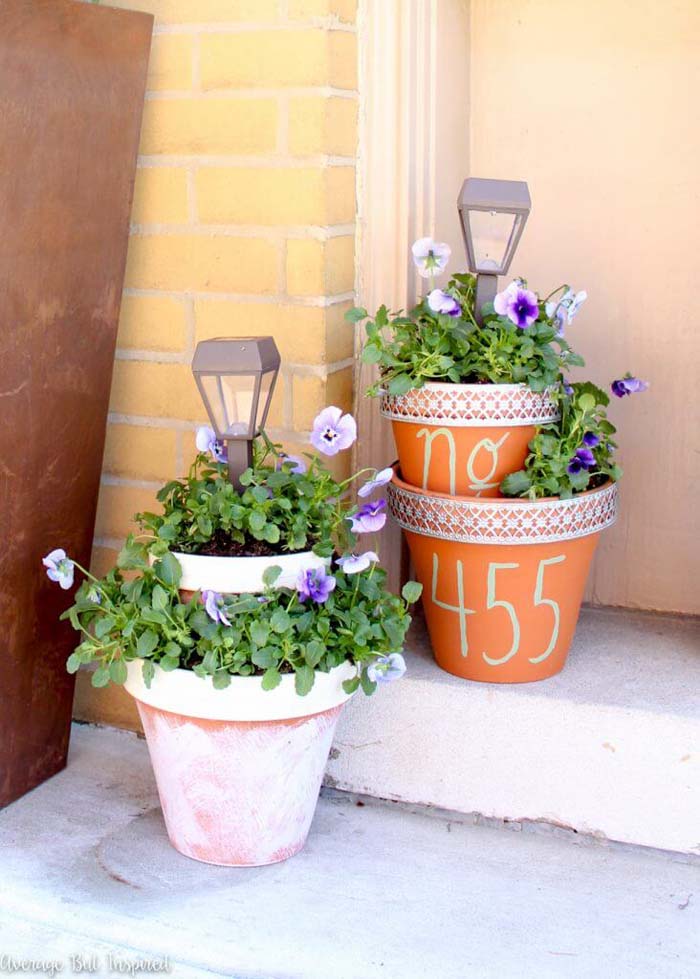 Another simple idea for decoration with solar lights is to insert them into an existing flower pot.
The deeper they are dug into the pot, the better.
26. Tiki Bar-Inspired Solar Light Toucans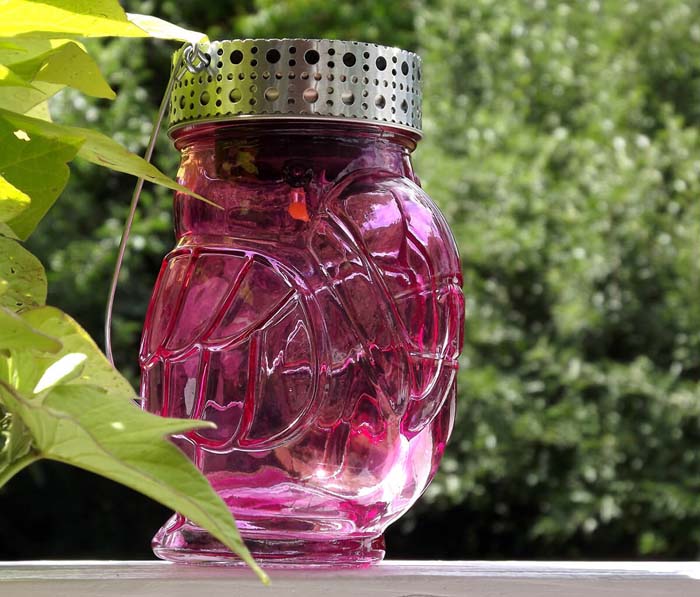 Any jar can become a great solar-powered feature as long as it is closed by a lid with incorporated solar light.
If you happen to have kept a jar with a more extraordinary shape, like the toucan above, then you know what to do.
27. Whimsical Hanging Jar Lights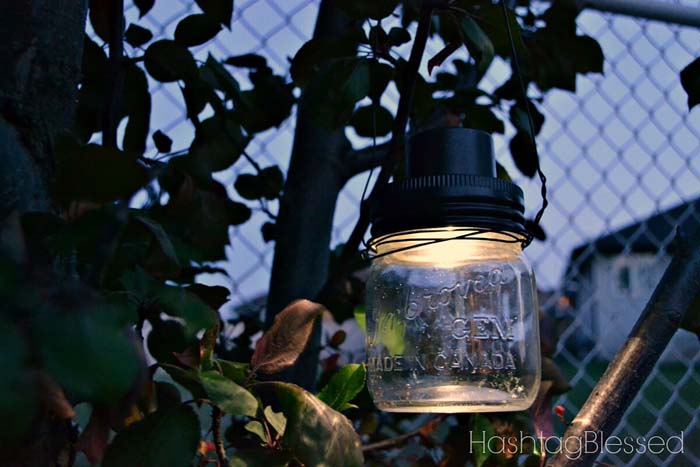 Even a small jar can be easily upcycled and turned into a lovely solar light. Smaller solar jars will decorate well trees and attract wildlife at night.
via Autumn + Ash