In ancient times mosaic has been used to decorate the castles and palaces of people from the highest social level. Nowadays, you can make your own unique mosaics and beautify your backyard.
Mosaics serve well as a decorative material so they can be added to the landscaping methods.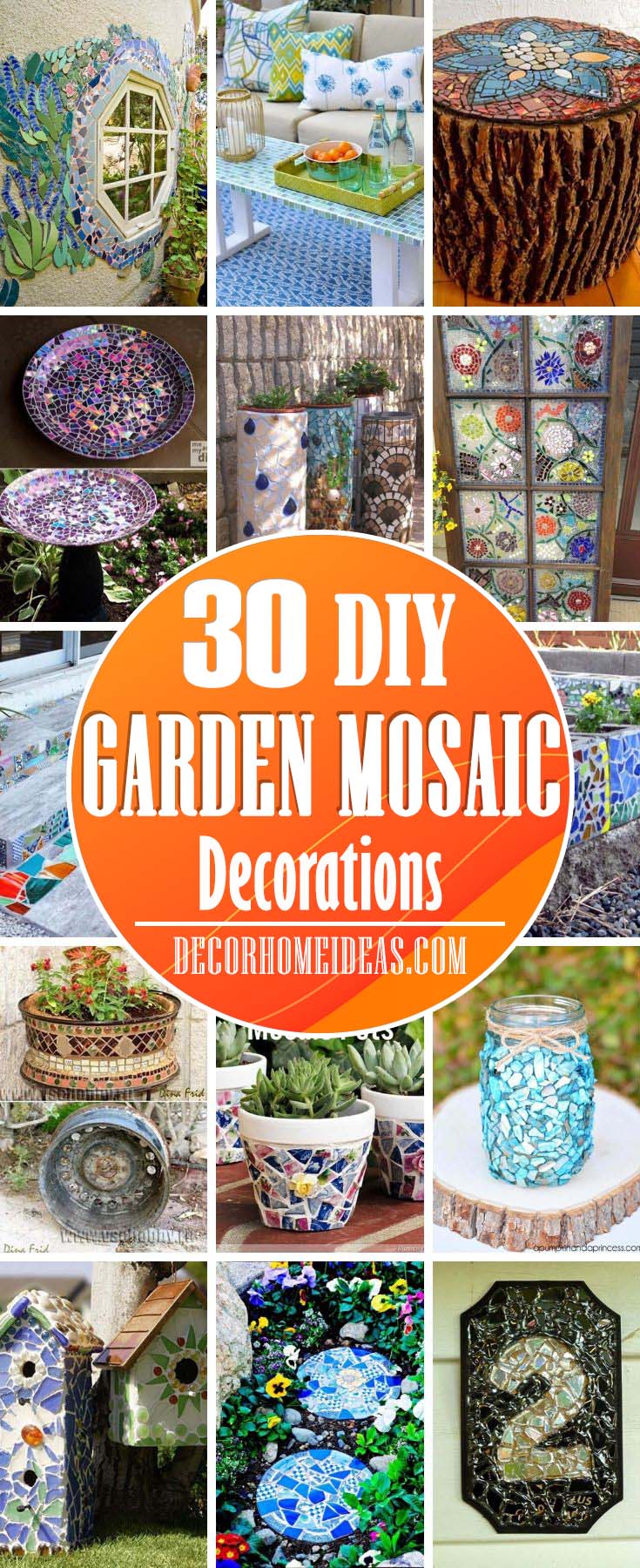 Some spare time, suitable supplies and creativity are the only requirements to making yourself a skillful mosaic that will surely transform your garden.
We have gathered for you the most beautiful and easy DIY mosaic projects that give illustrations and instructions on the process of creating various mosaics.
1. Decorate Outdoors with Customized Mosaic Ladybugs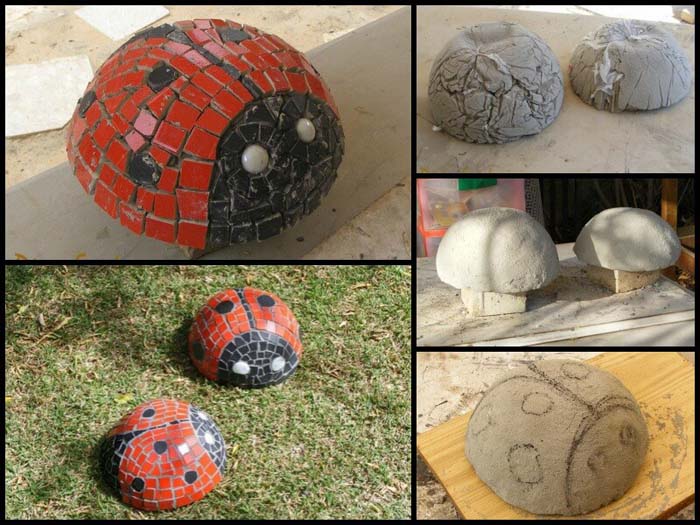 These cute ladybugs can be customized in size as the mold for the concrete is a ball.
The mosaic effect requires black and red tiles arranged in a pattern that details the ladybug features.
2. Make Mosaic Succulent Pot from an Old Metal Baking Tin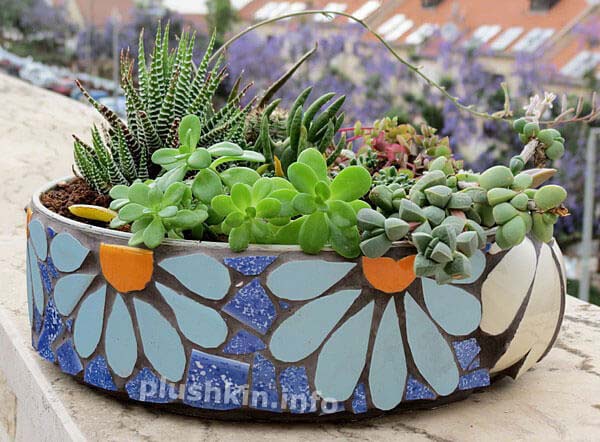 An old metal baking tin is turned into a mosaic succulent pot. The flat blue petals are cut from a tile, the white curved ones – from a mug.
The empty spaces between the daisies are covered with randomly cut pieces of a blue tile.
via Plushkin Info
3. Build DIY Cylindrical Mosaic Planters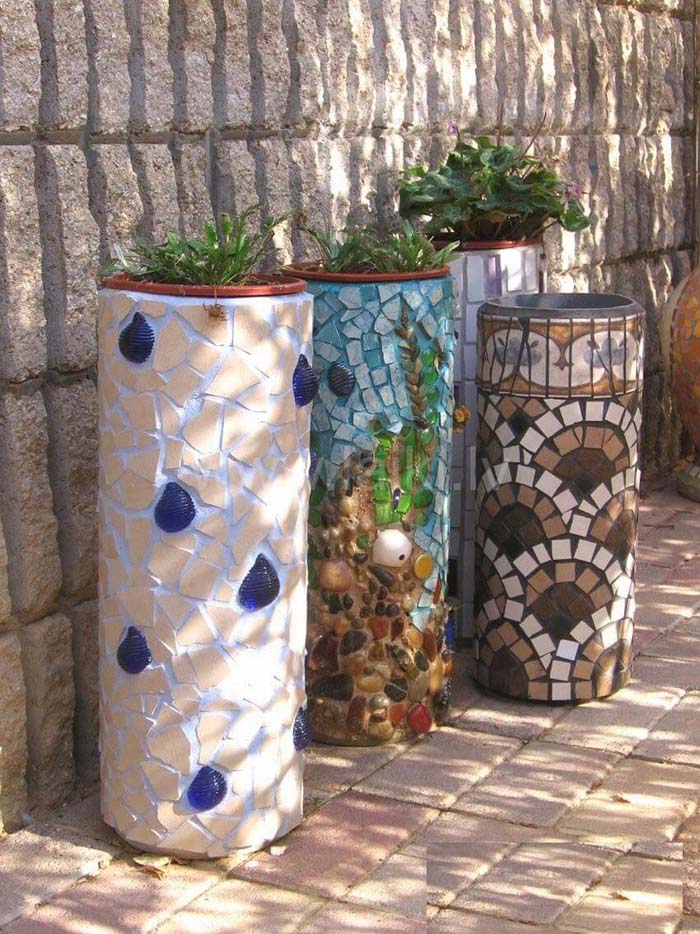 These gorgeous plant holders are made of recycled PVC tubes, all kinds of glass, ceramic, plastic pieces, seashells and tiles glue.
They will become your favorite garden plant holers as their unique design will reflect the sunlight in a magical way.
via Szines Otletek
4. Create a Stunning Mosaic Dragonfly Using Scraps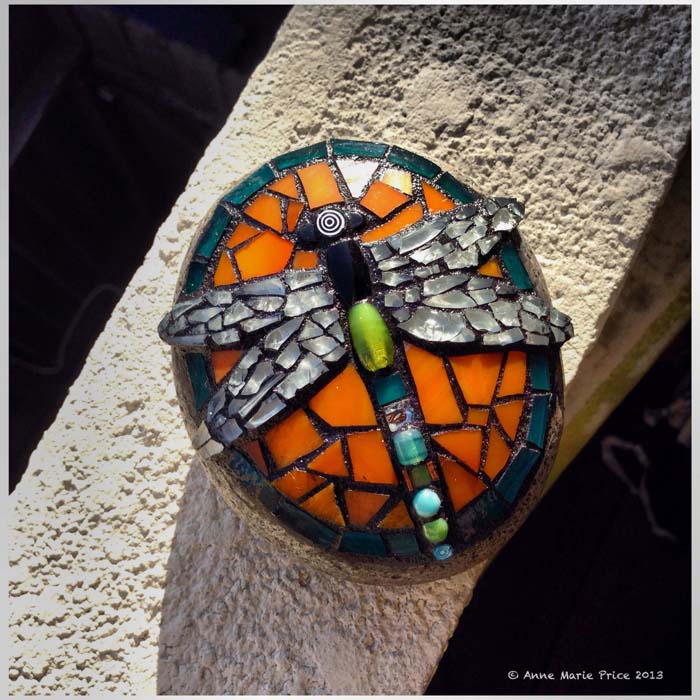 Scrapped pieces of glass, tiles, gems and beads can be skillfully arranged on a stone or any flat surface to form the image of various beautiful creatures.
This dragonfly mosaic deserves a special place on the porch and would even make a great gift.
via Boredpanda
5. Construct a Unique Outdoor Table with Mosaic Art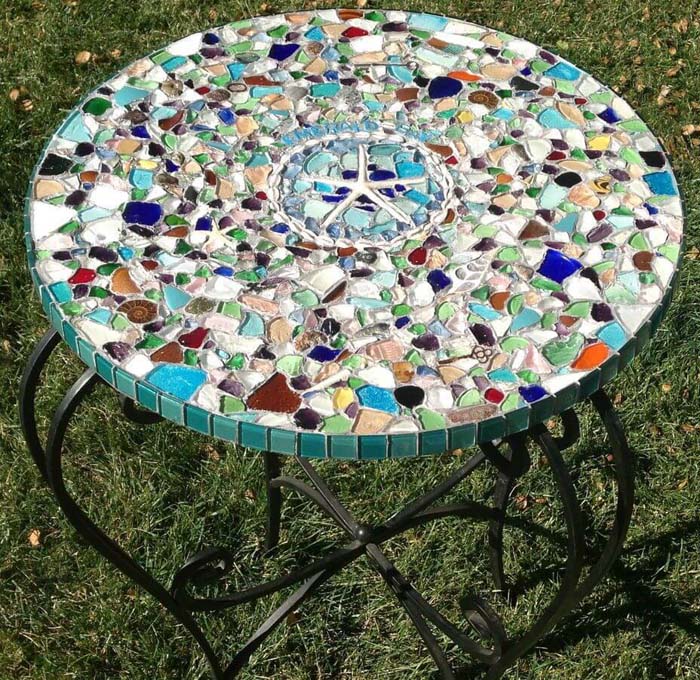 The colorful mosaic will help you renovate the old outdoor furniture. Use sea glass, shells, broken pottery to glue on the table board.
Such a beautiful table would also be appreciated as a gift.
6. Make a Colorful Mosaic Fire Pit in Your Yard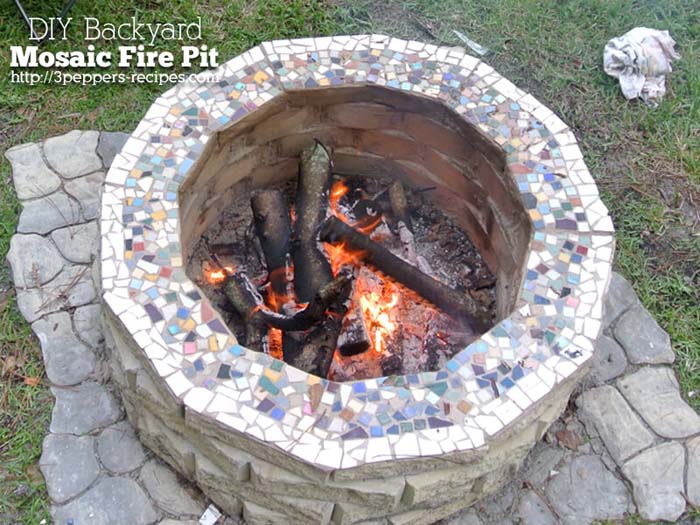 If you want to make the fire pit in your yard more colorful, there isn't a better way than making a mosaic on it top edge.
Break old tiles and glass bottles and grout them down. Glass and tiles are very suitable for such features as they are resistant to very high temperatures.
7. Transform Birdhouses with Mosaic Art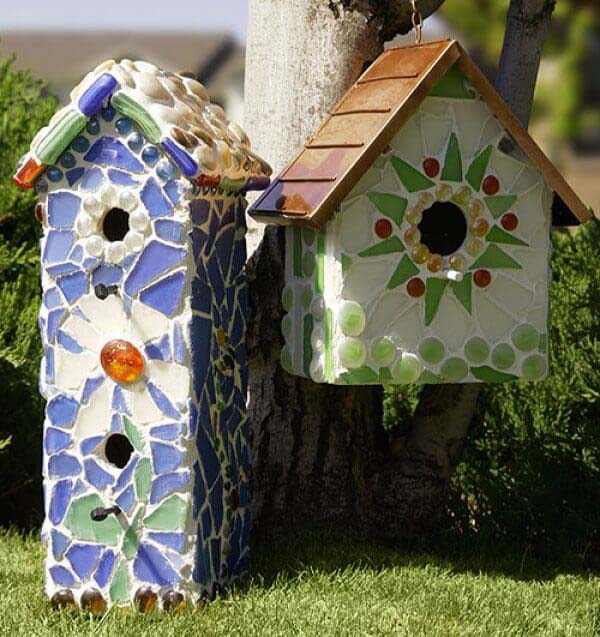 The adorable birdhouses will turn into a lovelier garden decoration with the help of the mosaic technique.
All types of scrapped tiles, glass, beads and stones will change their otherwise more ordinary look.
8. Enhance Your Garden Bed with Mosaic Stone Accents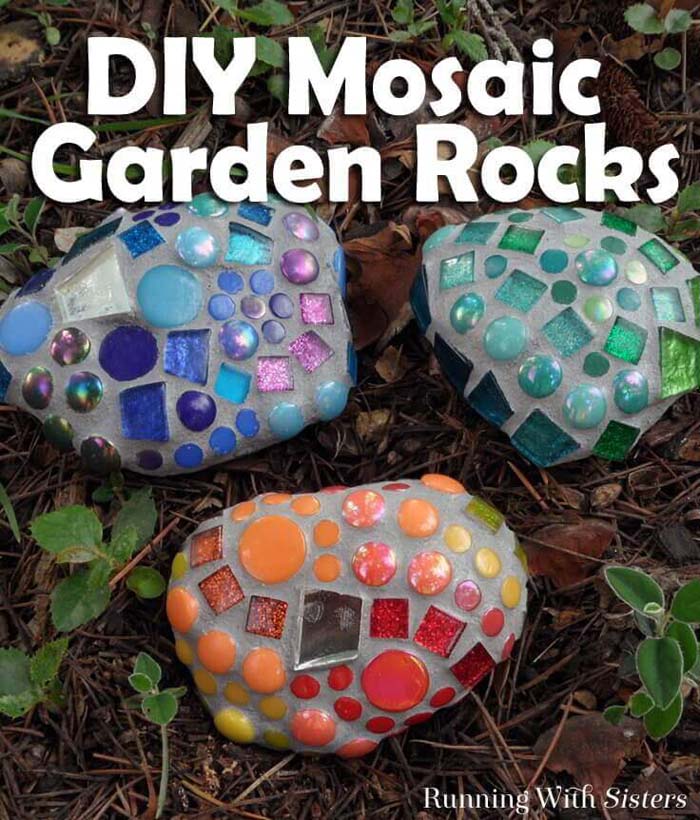 These mosaic stones would look awesome in the garden bed or surrounding the flowers.
The tiles are glued on a grout mixture that covers a rock.
9. Craft Beautiful Mosaic Mason Jar Luminaries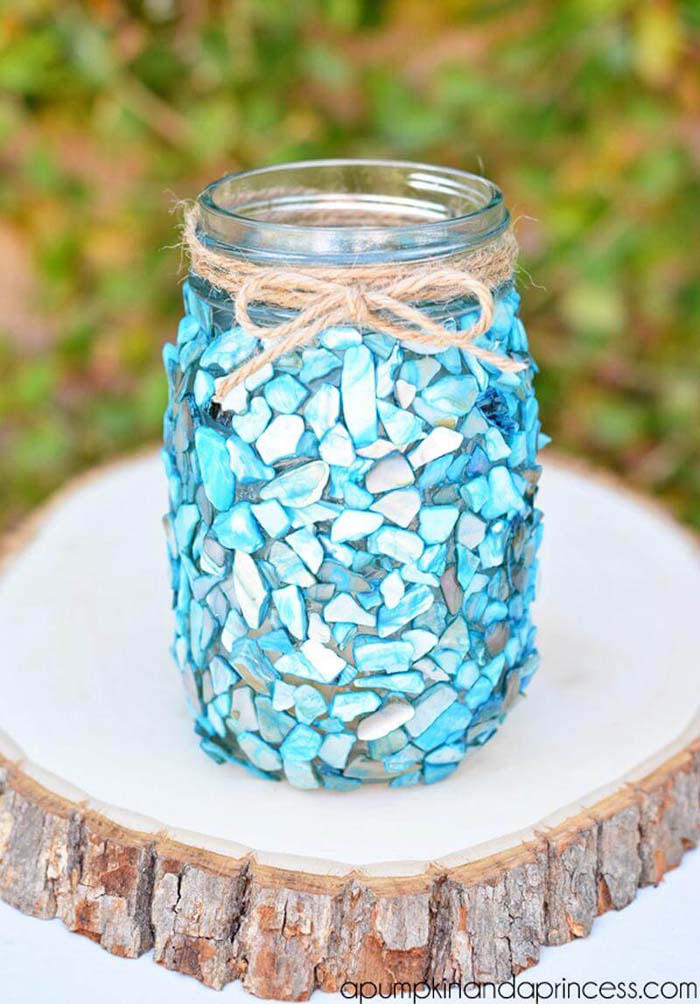 This handmade mosaic Mason jar will look fantastic as a centerpiece of wedding tables, as summer patio decoration or indoor accent.
If you don't have real shells on hand, you can buy faux rock vase filler.
10. Create a DIY Mosaic Birdbath with an Old Serving Tray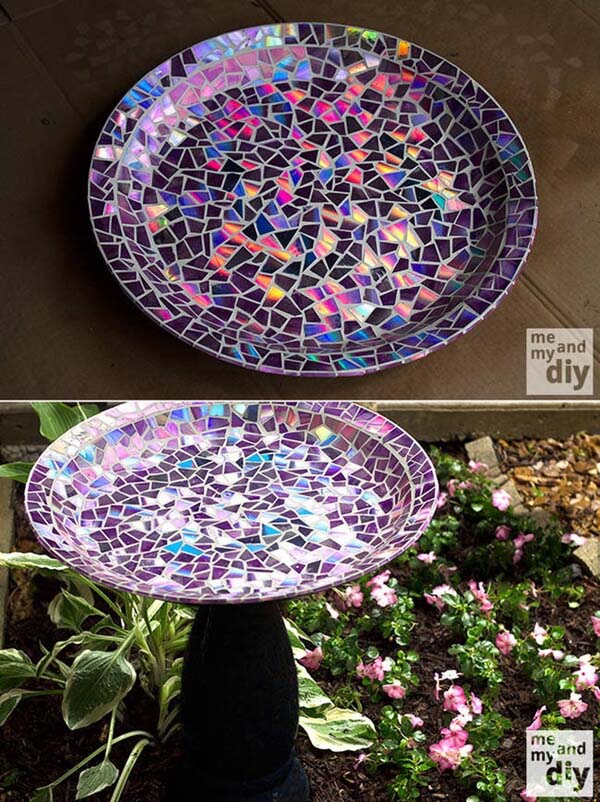 If you want to invite the wildlife to your backyard, you can make yourself a birdbath which is also a great water feature for every yard.
An old serving tray covered in broken CD pieces would make a practical and beautiful mosaic birdbath.
11. Enhance Your Garden Decor with Gazing Mosaic Balls

Gazing balls have always been preferred garden decoration.
If you want to make the reflecting balls more original, glue on faux gems that will play with the sunlight during the day.
via Time With Thea
12. Create Mosaic Garden Stepping Stones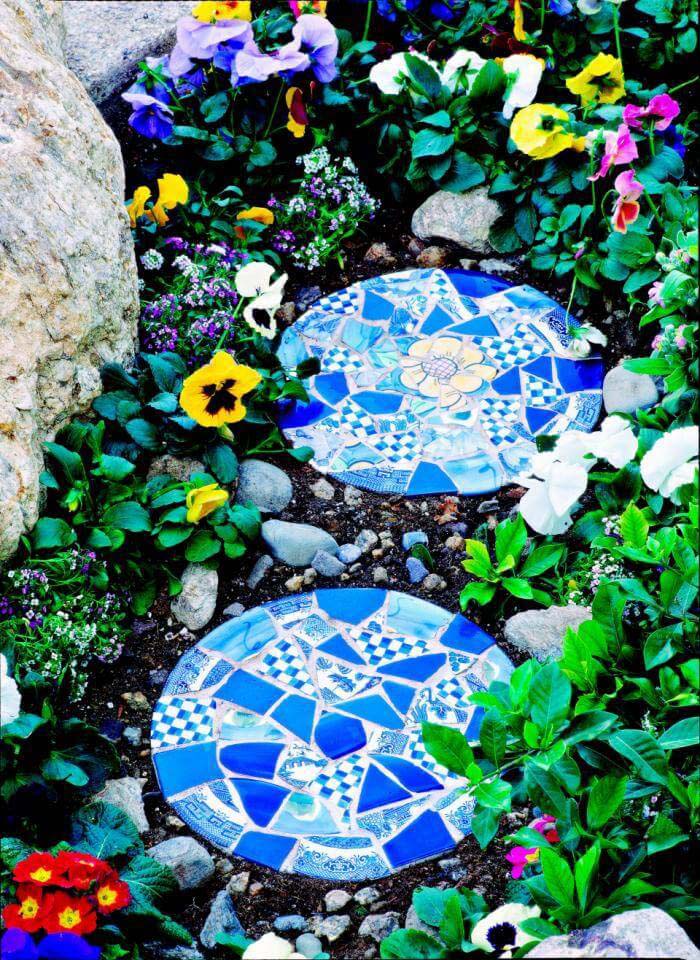 Make your own mosaic stepping stones and enjoy them each time you go to your garden.
Decorate plain concrete stepping stones with broken china, sea glass, crystals, marbles in a pattern created by your imagination.
via Midwest Living
13. Enhance Your Entrance with Mosaics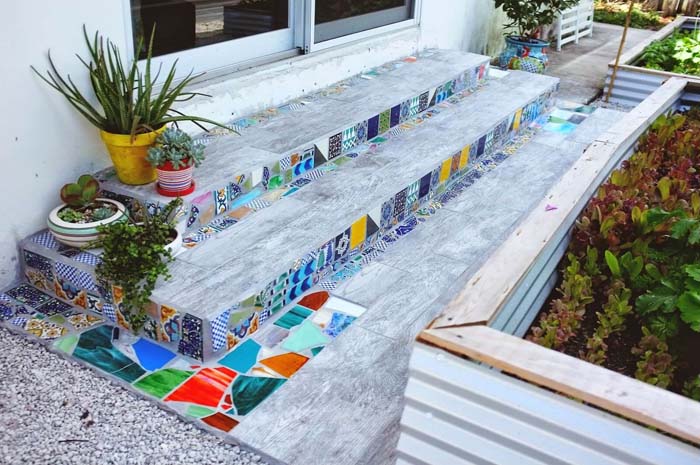 You can apply mosaics to almost every material. Why not add more color and shapes to the entrance steps?
Use all kinds of tile pieces and broken pottery and make mosaic tiles.
via Oh Dear Drea
14. Make Your Garden Magical with a Mosaic Window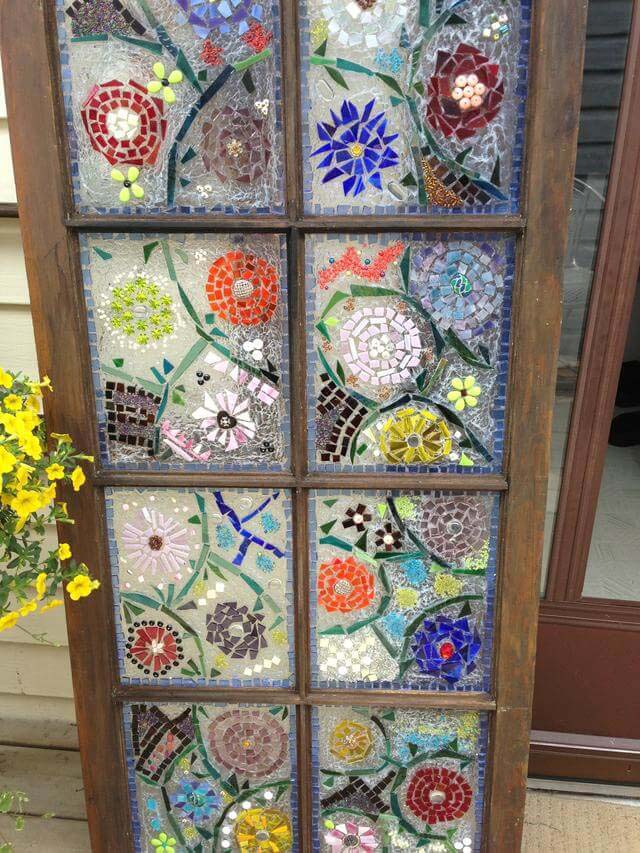 Every garden will look more magical with such artistic mosaic window.
The stained glass is cut preliminary in small pieces to allow forming of fine flower and leaves images.
via Snapguide
15. Mosaic Flower Pot Using a Cookie Tin and Glass Stones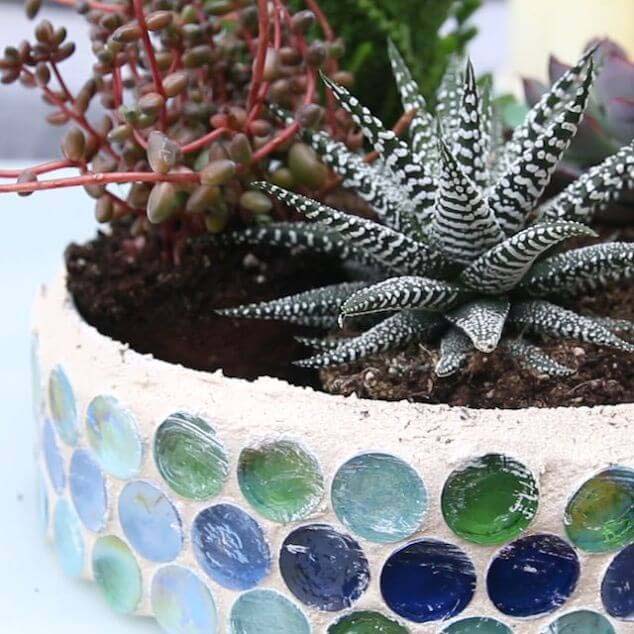 Make a mosaic flower pot with the help of a cookie tin, glass stones and grout.
Glue the stones onto the tin using the prepared grout and let dry.
via Home Talk
16. Create a Stylish Coquette Stepping-Stone Pathway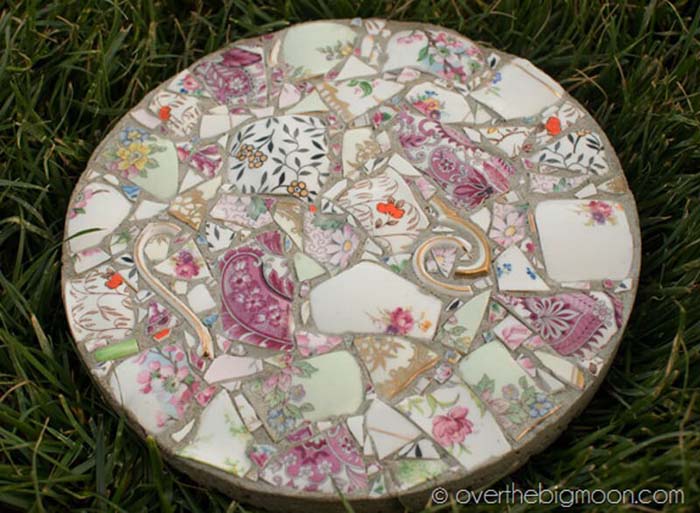 Make a coquette stepping-stone walkway in your garden by embodying pieces of porcelain pottery in laid concrete stones.
If you are able to use mosaic pieces in the same palette, the end result would be even greater.
via Gardenfuzzgarden
17. Brighten Your Garden with Mosaic Cinder Block Planters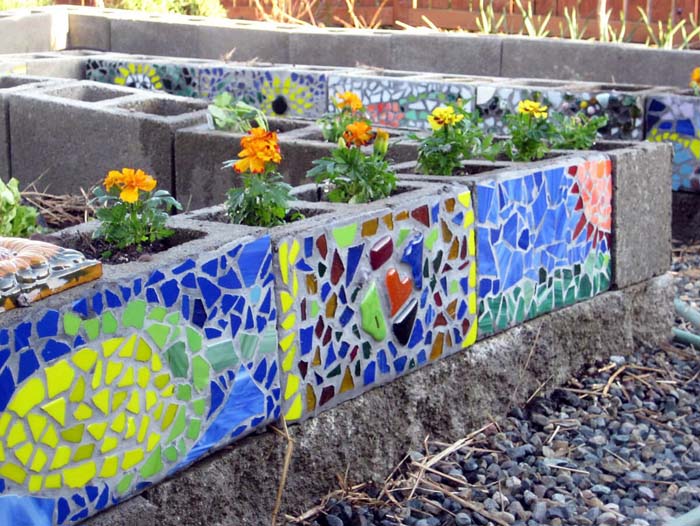 We have seen plain cinder blocks used as planters. But we have never seen mosaic cinder block planters.
Create a cheerful image on the block face using the mosaic technique.
18. Build a Rustic Mosaic Garden Chair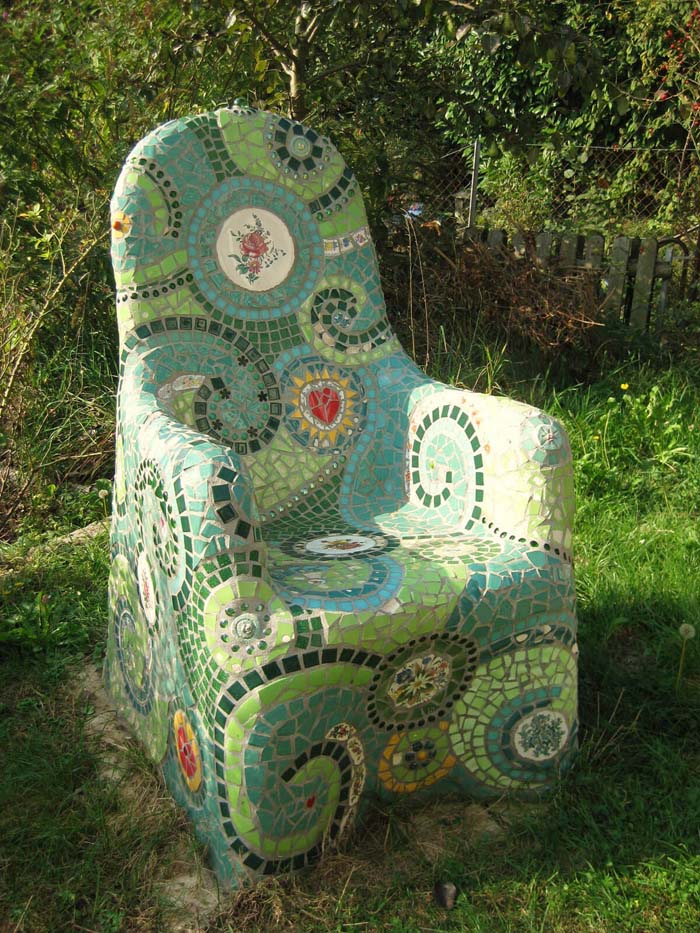 The basis of this mosaic garden chair is a plain metal chair. It is entirely covered with lots of concrete.
After the concrete has dried, you can start with the fun part – making your mosaic. Use all types of supplies- stones, tiles, pottery, shells, sea glass etc.
19. Create a Unique Mosaic Plate with Your House Number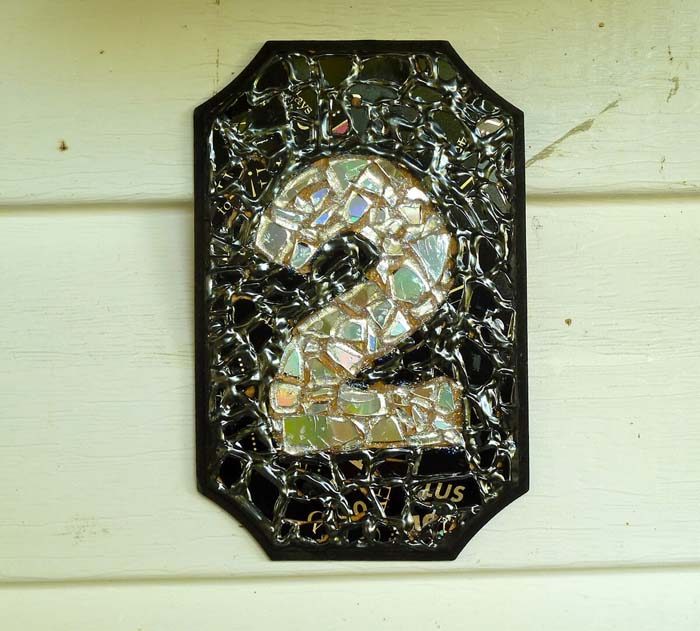 Be different and make yourself a mosaic plate with your house number.
Use CD pieces and dimensional fabric paint to cover the clearance between each mosaic piece.
20. Transform Your Home's Exterior with a Mosaic Picture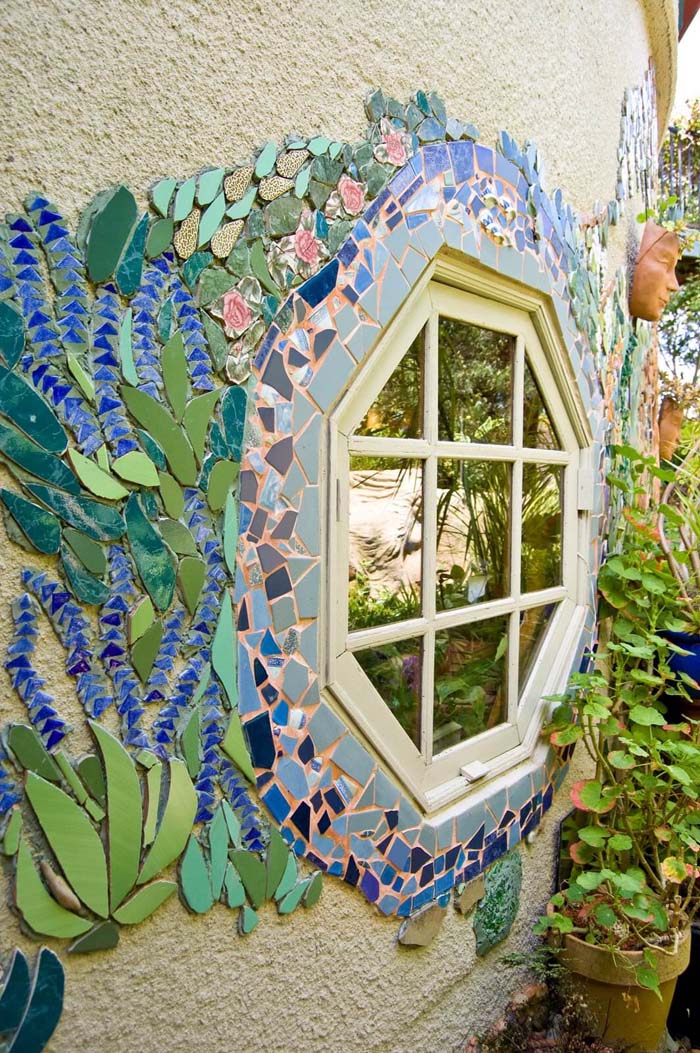 The house exterior is a suitable place to do art as it provides a wide surface and relatively smooth texture.
Transform the boring window facade with an alive mosaic picture following the basic mosaic practices.
21. Repurpose Broken Pottery for Garden Mosaics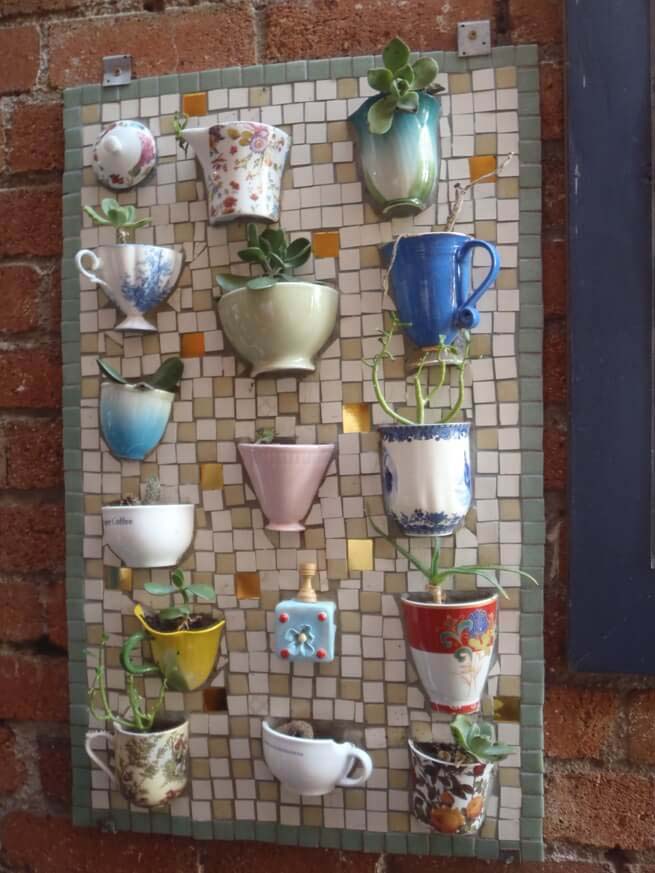 Broken terra cotta and porcelain pottery usually go straight to the bin.
Now that you see how they can be involved in an artistic mosaic panel with planted flowers, you will have second thoughts before throwing them away.
22. Make a Pebble Mosaic Art for Your Stepping Stones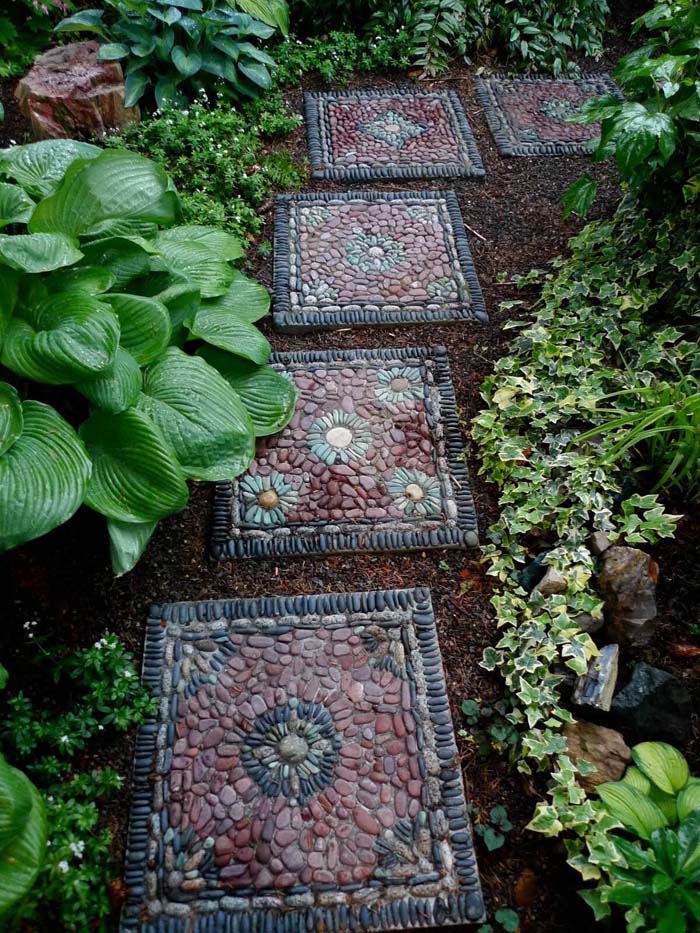 Building a pebble mosaic stone is time-consuming but is so worthy that you would like to give it a try. The variety of pebble colors and sizes is rich and that allows creating interesting patterns and fine details.
Read the instructions on the link below as they are quite exhaustive.
via Jeffrey Gardens
23. Transform Ordinary Objects with Mosaic Art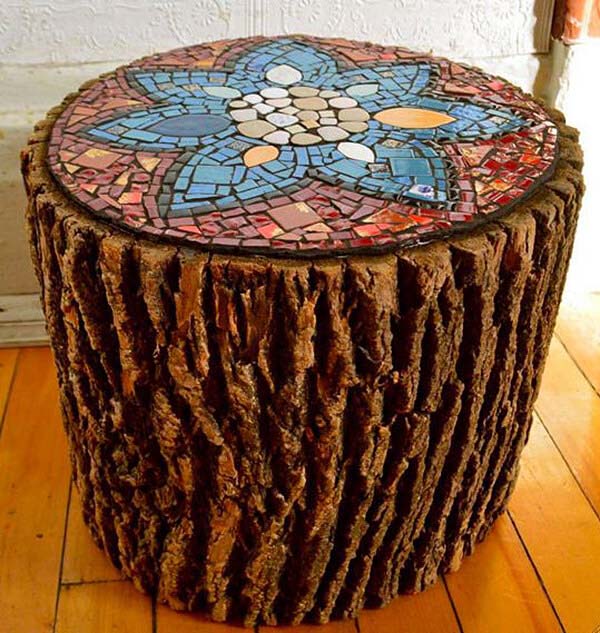 Mosaic can turn every ordinary object into an extraordinary art piece.
Old wood logs can become decorative stools only by changing their top surface.
via Recyclart
24. Upgrade Your Garden with a Mosaic Planter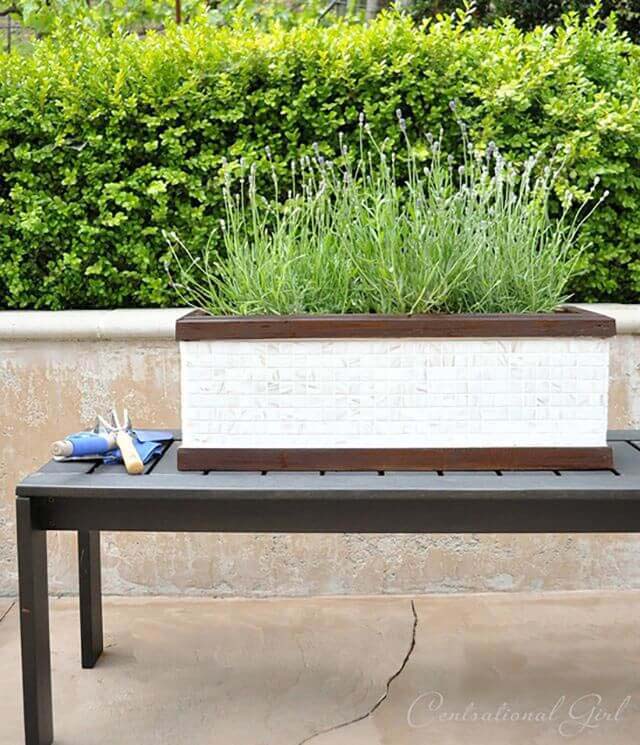 Spruce up your garden with a gorgeous mosaic planter!
The plain wood container has been turned into a modern planter with the help of tile sheets and grout.
25. Durable Decorative Mosaic Tiles for Outdoor Furniture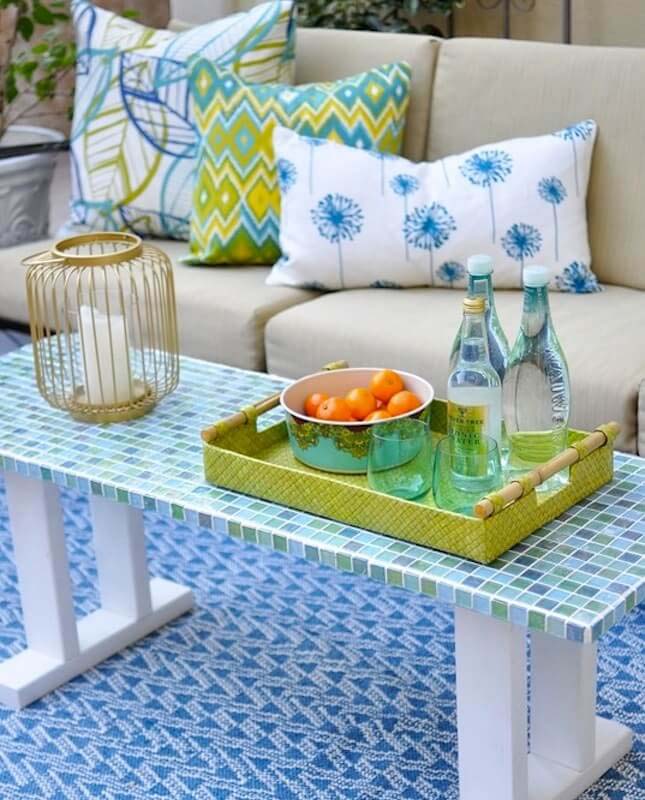 The mosaic decoration of the outdoor furniture is not only interesting but also durable.
Especially used for a table countertop, mosaic tiles will protect the wood surface from wear.
26. Decorate Terra Cotta Flower Pots with China Pieces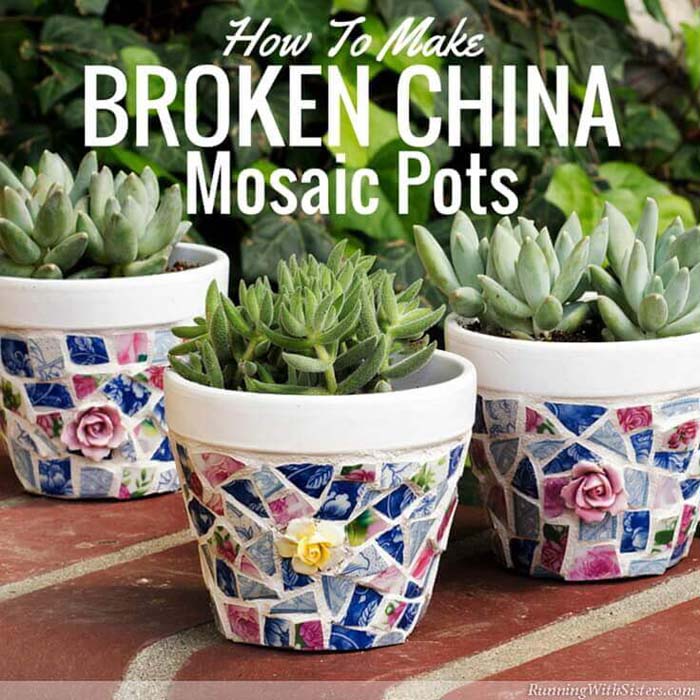 The colorful pieces of the China pots will help you turn the terra cotta flower pots into a real work of art.
For more information and tips, check the link below.
via Ideas For The Home by Kenarry
27. Brighten Your Garden with Upcycled Car Wheels

Old car wheels are big enough to accommodate many flowers in summer.
Decorating them with mosaic will give them an unrecognizable look and they will quickly become the focal decoration of your garden.