Stones and rocks are an easy, natural and attractive supply for the decoration of the garden.
Whether you are looking for ideas to form your garden or for fun and colorful projects, stones will attract attention and will contribute to a more beautiful and cheerful garden.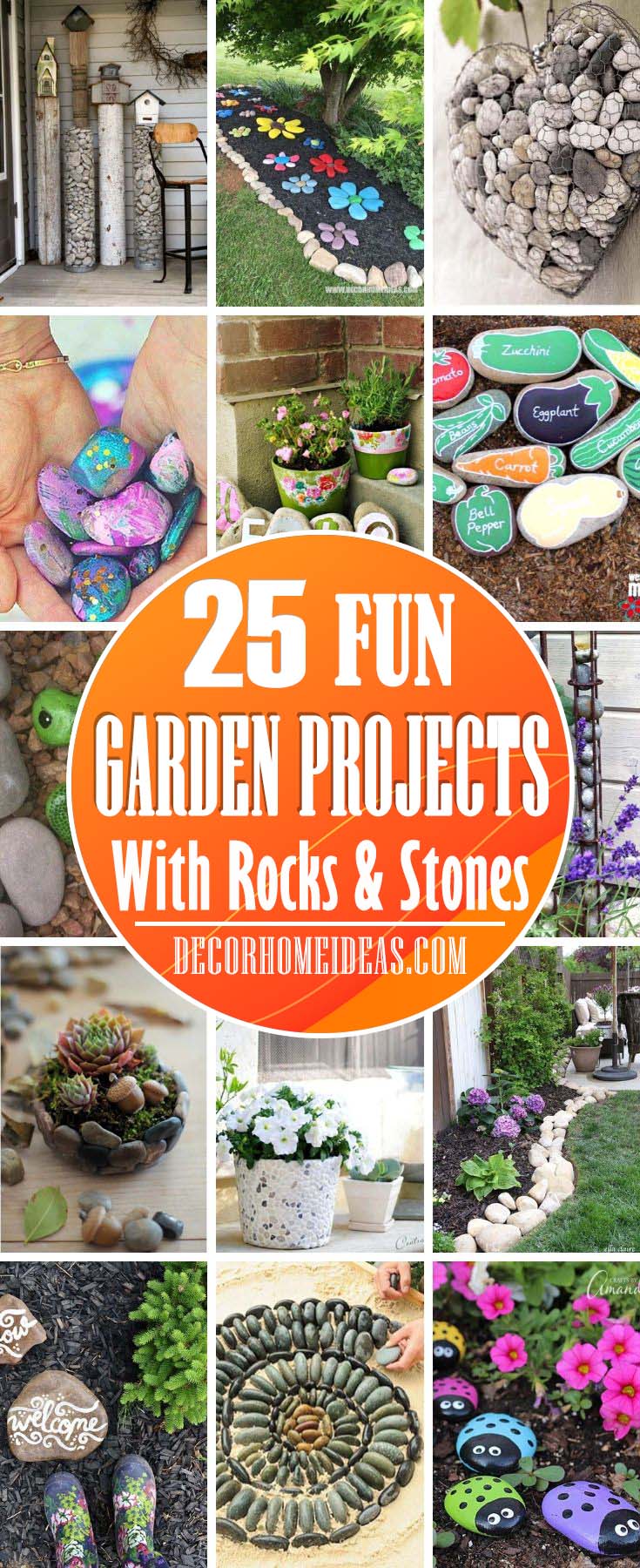 Decorating with stones and rocks is cost-friendly, especially if you are living in a rocky region.
If there aren't many stones in the surrounding nature of your region, you can always buy from stores or firms specialized in gardening or landscaping.
1. Create Fun and Functional Stone Markers for Your Garden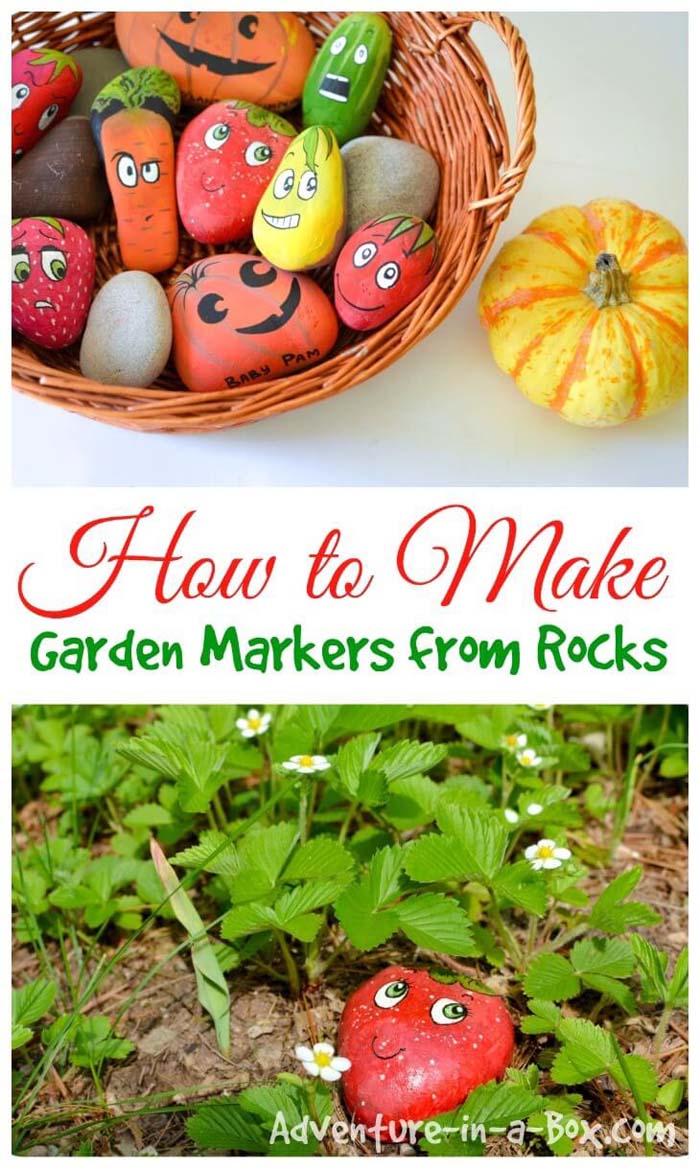 Stones can be funny and useful! Involve your kids in painting small stones like the vegetables and fruits you have planted in your garden to serve as row labels.
2. Make Adorable Hand-Painted Rock Ladybugs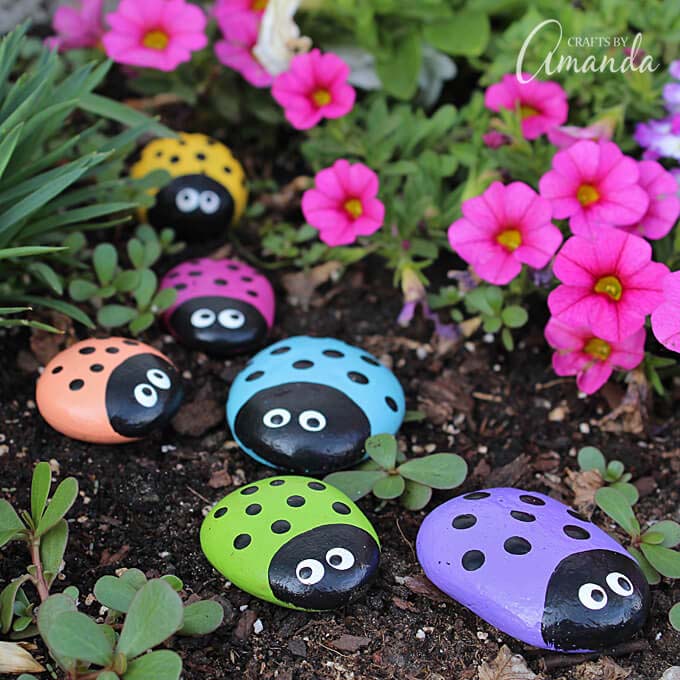 These cute rock ladybugs will make anyone smile.
Painted with patio outdoor paint, the river rocks provide a large enough surface to detail the curious eyes and dots of the bugs.
3. Create a Family of Colorful Surprised Rocks 

This family of surprised rocks looks fun and stunning.
It is a lovely composition that can be used even as stand-alone decoration.
via Oh My Creative
4. Make Colorful Flower Rocks for Garden Decor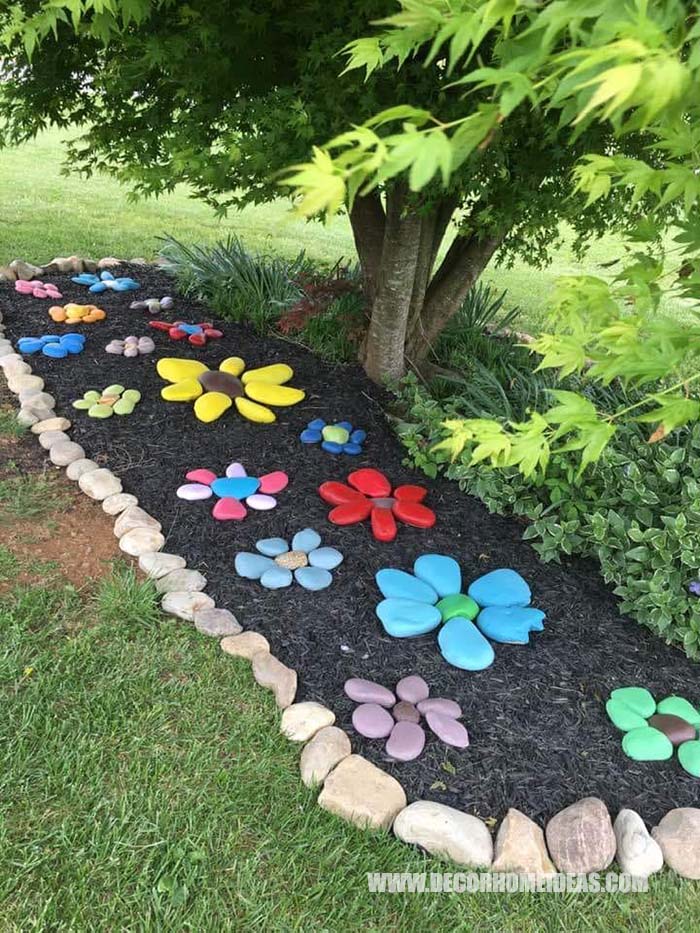 Rocks painted in different colors and arranged in the shapes of flowers could make a great landscaping addition. Making them is fun and easy, so this is a great activity for the whole family.
via Decor Home Ideas
5. Build a Raised Bed Garden with Spiral Rock Arrangement

Arrange large rocks in a spiral and make a raised bed garden suitable for small spaces.
6. One-of-a-Kind Stepping Stone with Sea Glass and Shells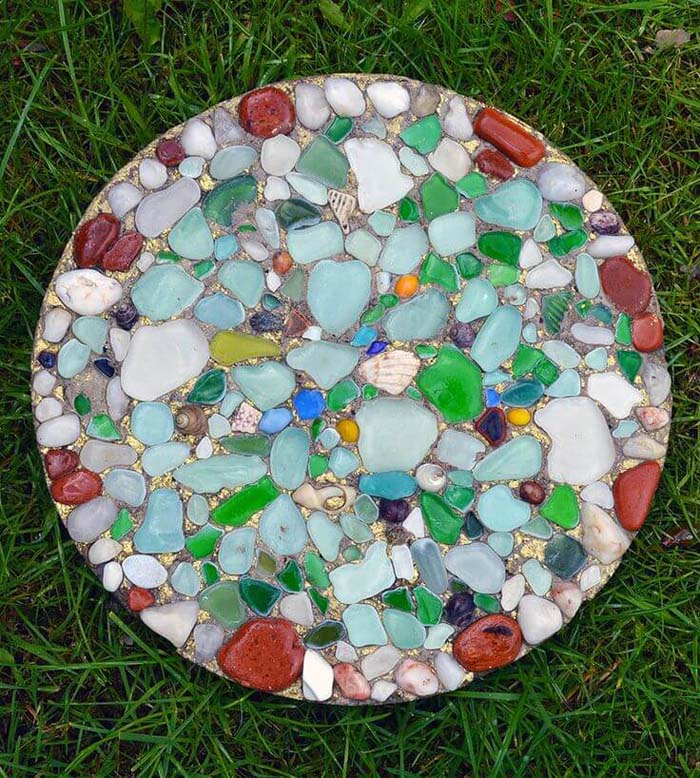 Nature creates the most beautiful shapes, even with trash.
Gather sea glass and shells and then embed them into hand-made stepping stones.
via Garden Thing
7. Create a Colorful Garden Path with Mosaic Stone Decor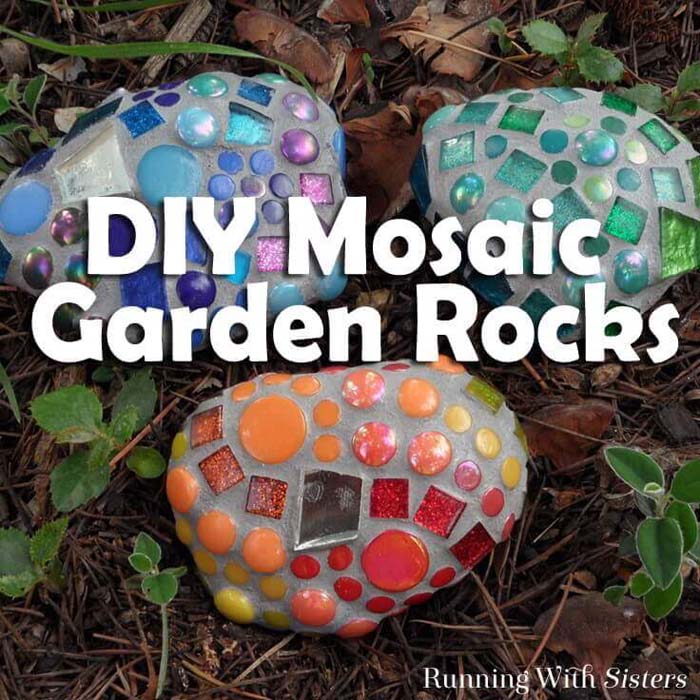 Make yourself mosaic garden rocks to decorate a backyard walkway or surround your flowers. You can add tiles you like and in the colors you prefer.
via Kenarry
8. Make a Beautiful Mosaic with Colorful Pebbles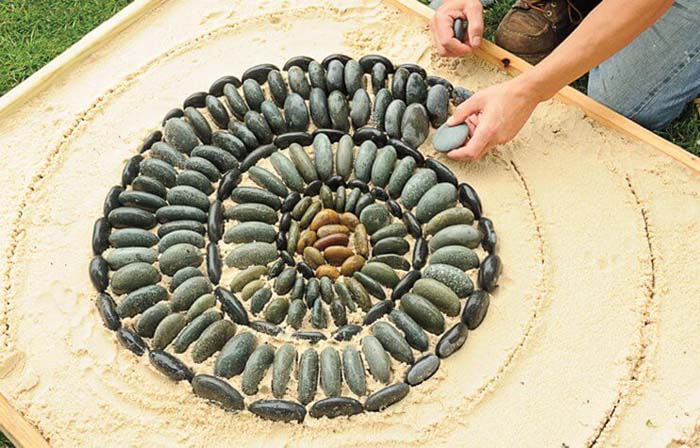 If you have pebbles in different colors, you can arrange them in a certain pattern and eventually make an impressive mosaic.
via This Old House
9. Decorative River Stones in Wire Structures

Stones can be artistic. Inserted in a tall wire structure, river rocks look like a stylish decoration for any exterior.
10. Decorate Your Planters with Bright Rocks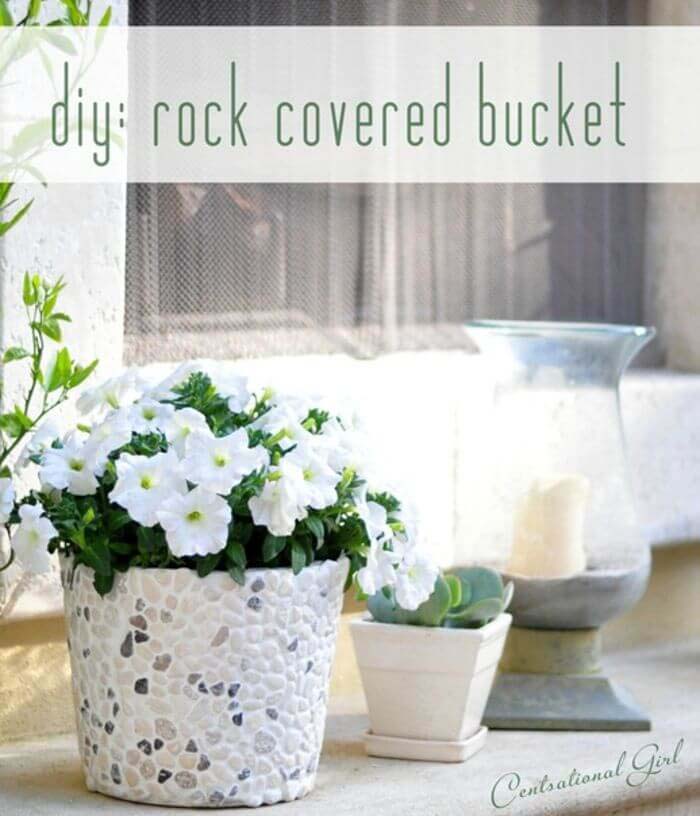 Stone is resistant material and is suitable to add texture to any surface outdoors.
With the help of a can, tiles mesh, grout and small pebbles, you can make yourself a beautiful flower pot.
via Womenio
11. Make a Small Succulent Planter using Faux Stones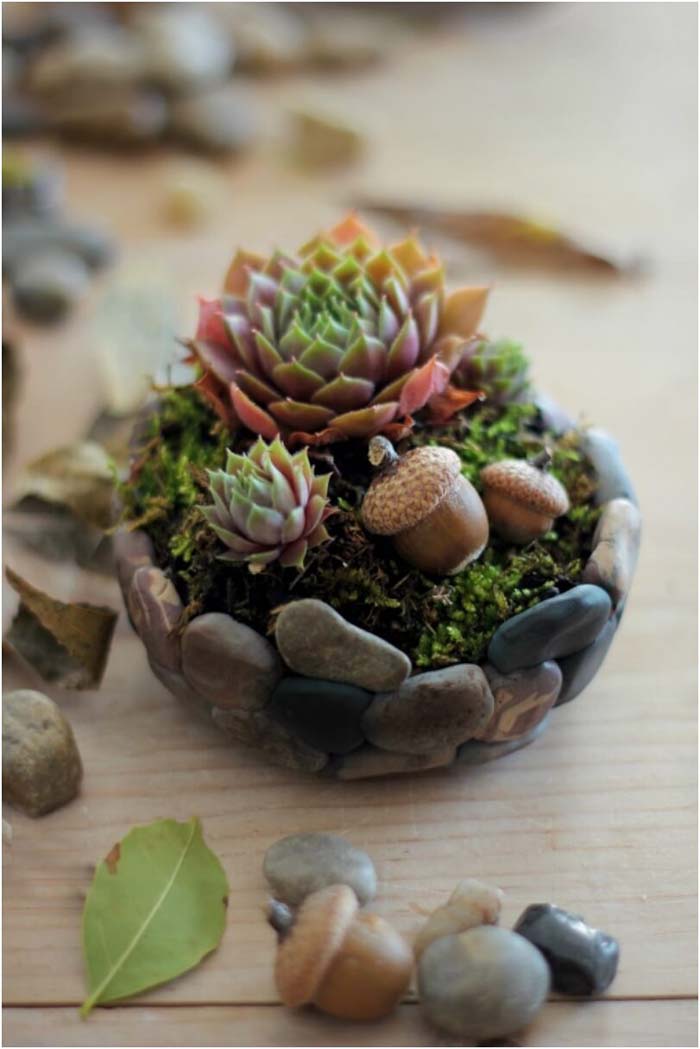 Make yourself faux stones out of clay. Prior to baking them, arrange the formed pebbles in the desired pot shape and size.
via West Valley Mom Collective
12. Edge Your Garden with Large Rocks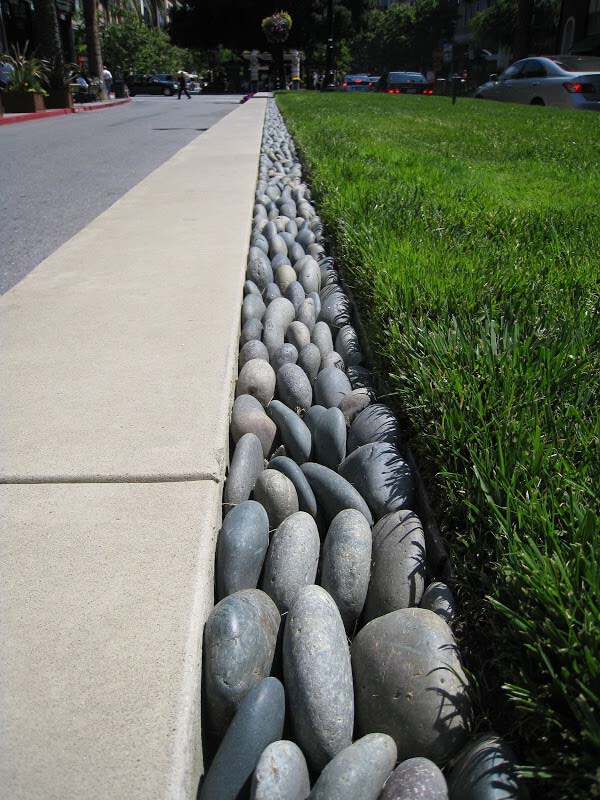 Looking for an aesthetic way to edge your garden? Make a wide row with large rocks.
They will match perfectly with any backyard surface because of their natural character.
13. Use Glittery Pebbles for a Fairy Garden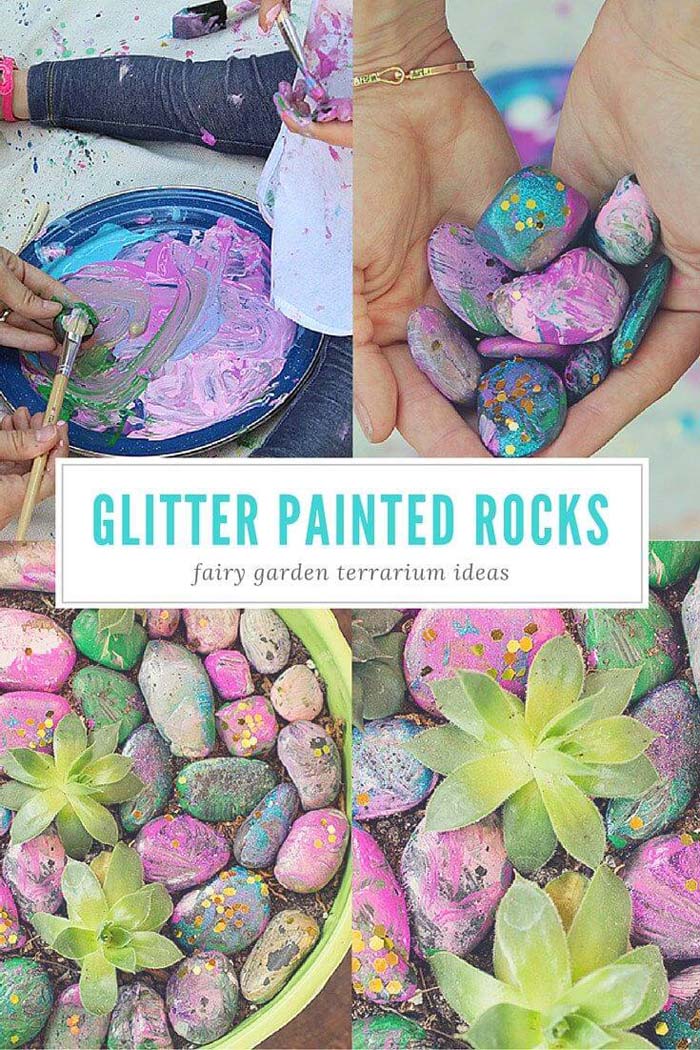 Rocks can be colorful and glittery! Gather pebbles and small stones and paint them in warm glitter colors.
Use them as decoration for your fairy garden.
via Ideas For The Home by Kenarry
14. Create a Solar-Powered Rock Walkway for Your Backyard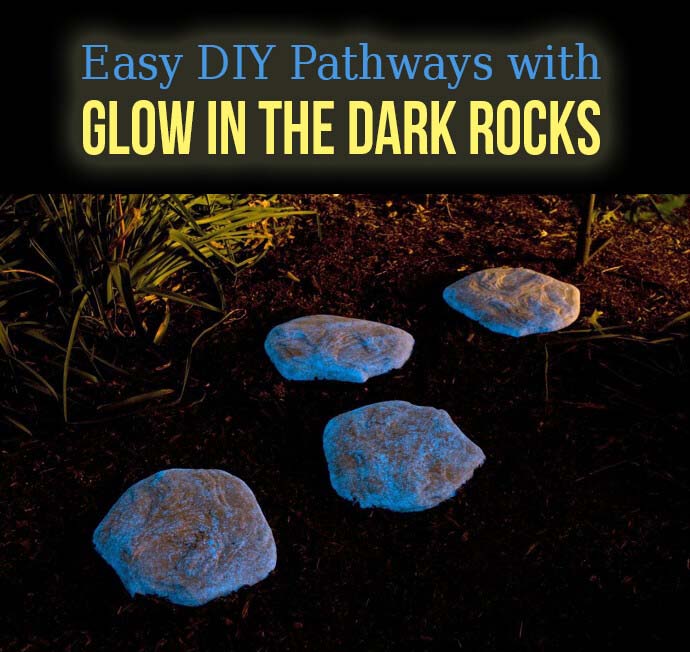 Spending hundreds for solar lights for the pathway? Forget about that and make yourself glowing in the dark rocks.
This solar-powered rock walkway will light up your backyard for 10-12 hours.
15. Utilize River Rock Garden Markers with Vegetable Decor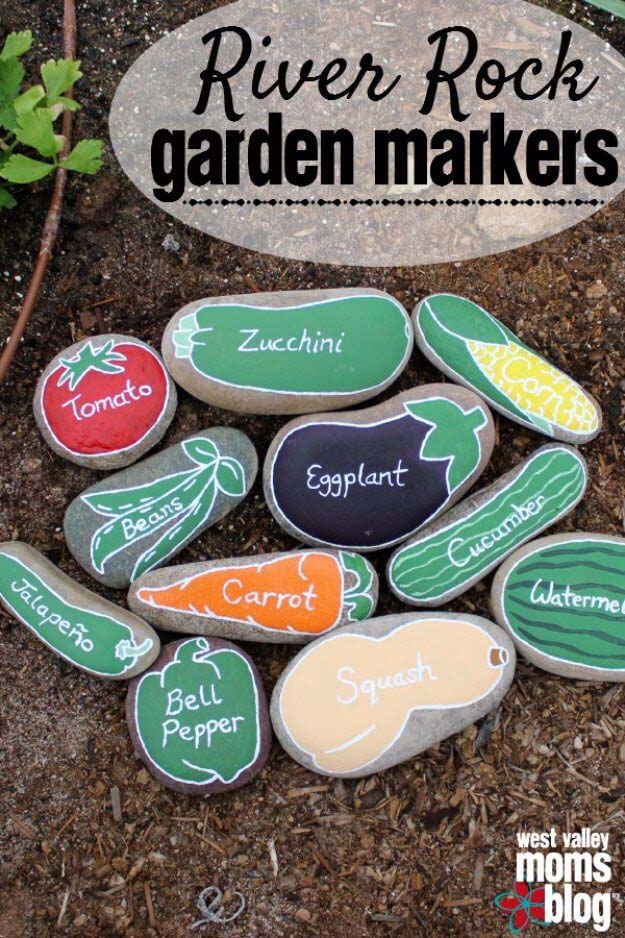 These garden markers are very thoughtful as the shape of the stone used is similar to the shape of the veg or fruit it is used to name.
16. Welcome Guests with Hand-Painted Rocks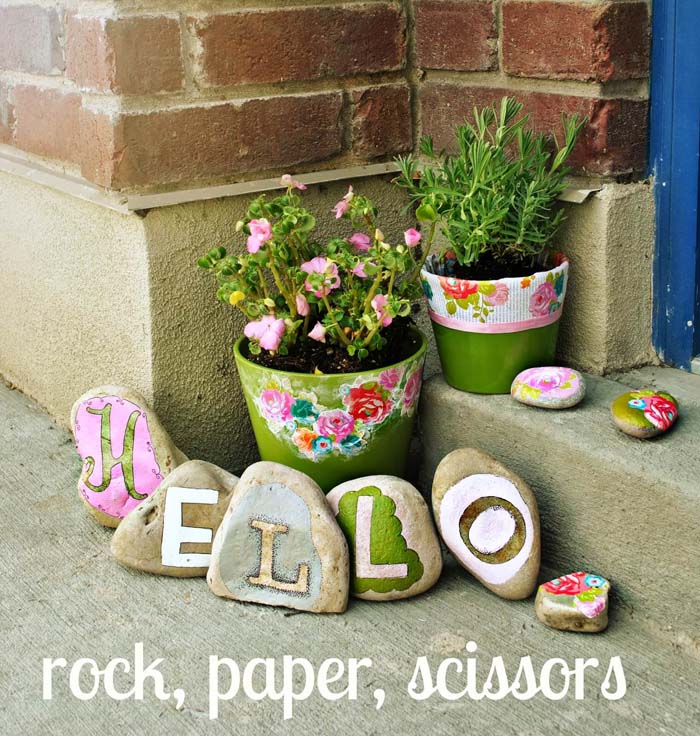 Wanna be different and state that from the front door? Say "hello" with hand-painted rocks.
Rocks have never been more welcoming!
17. Create an Attractive Rock Garden with a Stone Turtle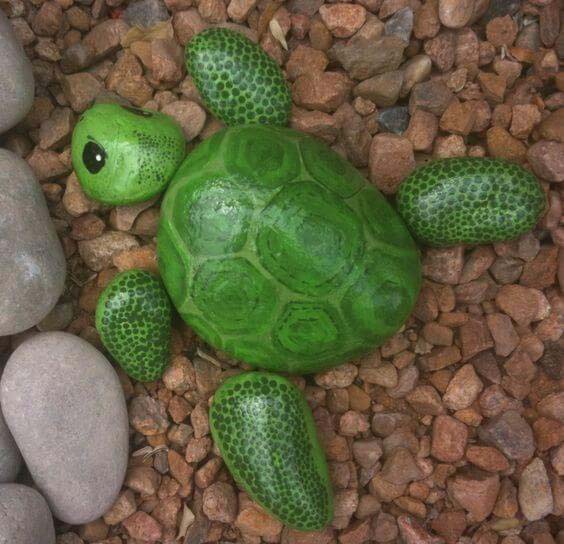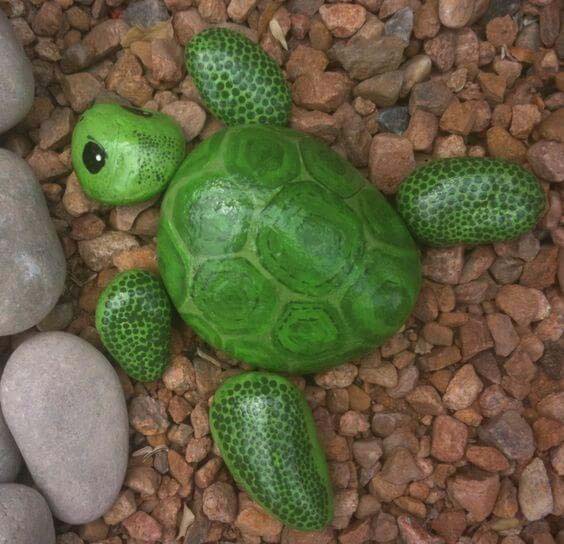 This cute stone turtle will be an attraction to your pond or your rock garden. Find suitable stones and paint them with an outdoor suitable paint.
18. Use Large Smooth Stones to Display Custom Messages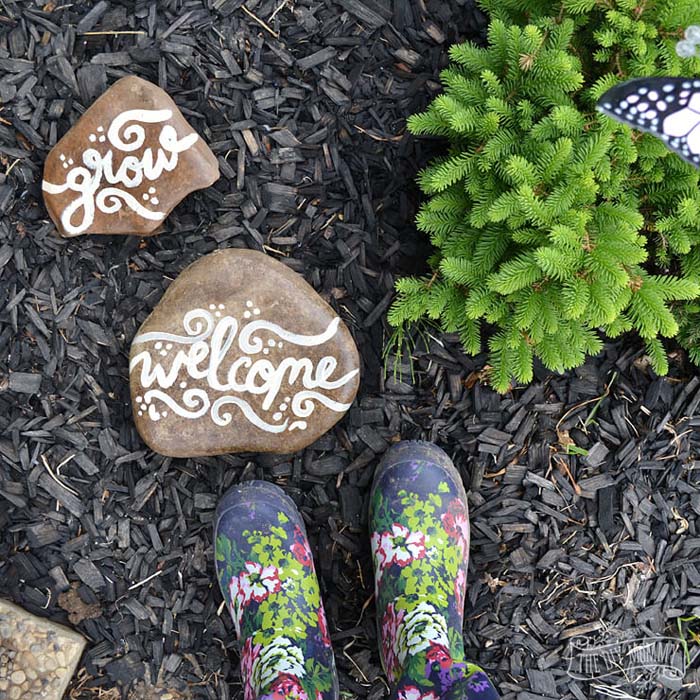 Large stones with smooth surfaces can provide a comfortable surface to do art or to add statements.
19. Craft a Heartwarming Stone-Filled 3D Heart

Make a 3D heart filled with stones. Cold stones have never been warmer!
via This Old House
20. Utilize Rock Structures as Stands on Your Patio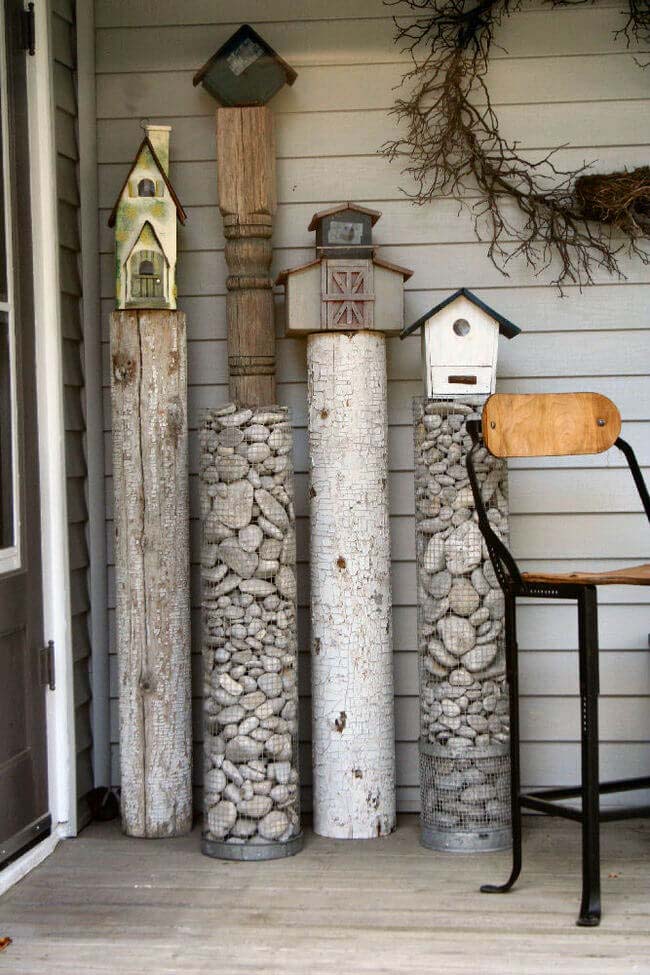 With the use of natural materials only, you can make your patio more enchanting.
Make fairy houses standing on chicken wire posts filled with natural stones.
via The DIY Mommy
21. Transform Your Backyard with a Rock Water Feature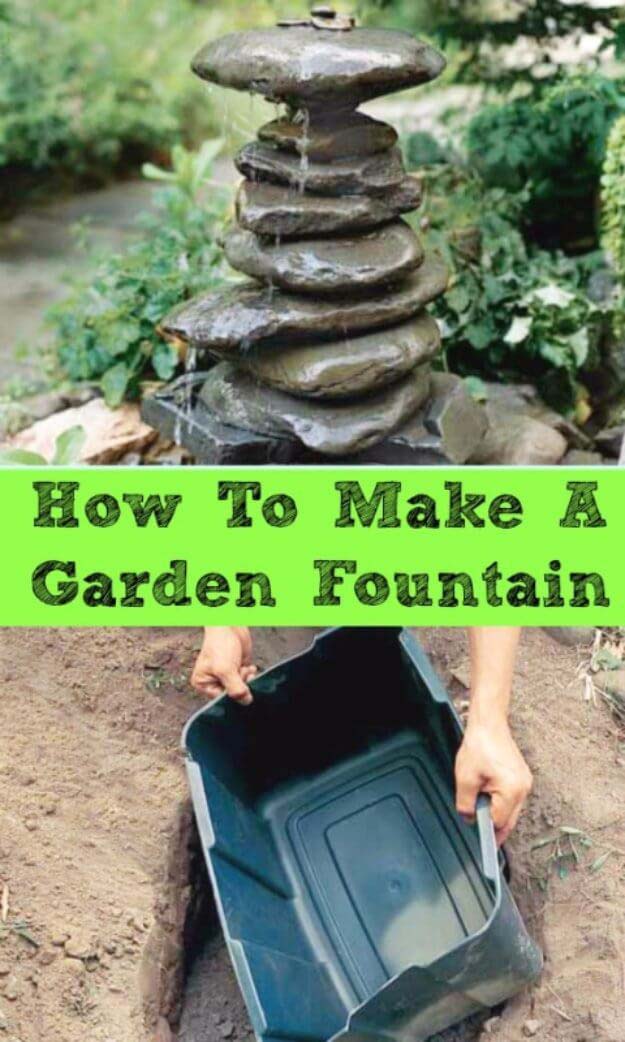 Your backyard can become the best place to relax with the help of a water feature.
And what could give the greatest effect and impact? Replicating nature!
via Lovely Greens
22. Make a Garden Bench using Stone and Slate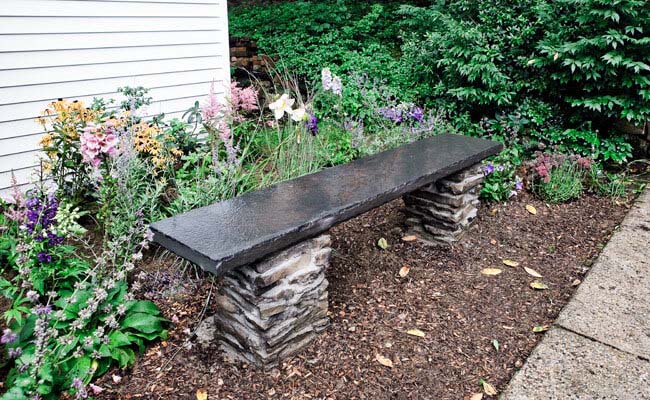 Minimal price, maximum comfort and effect! That's what you would get if you build a garden bench.
Stack two columns of stones and lay over a slate.
23. Decorate Your Flower Garden with a Curved Rock Bed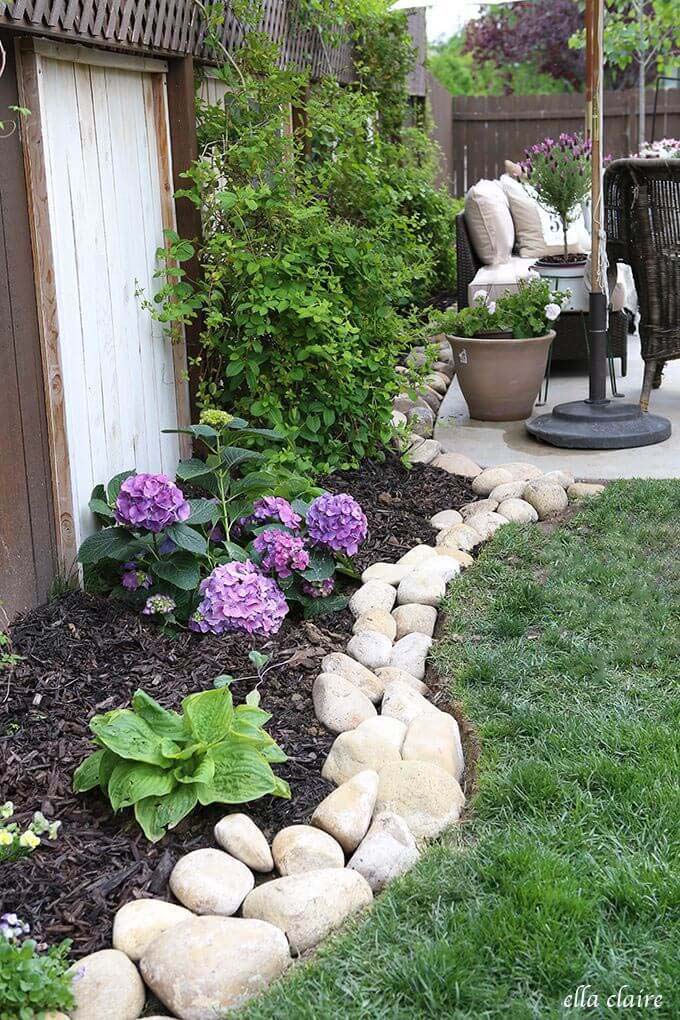 Stones provide a wide variety of ways to decorate the garden.
Dig a curved bed where the garden ends and fill it with stones of similar size.
via Crafts by Amanda